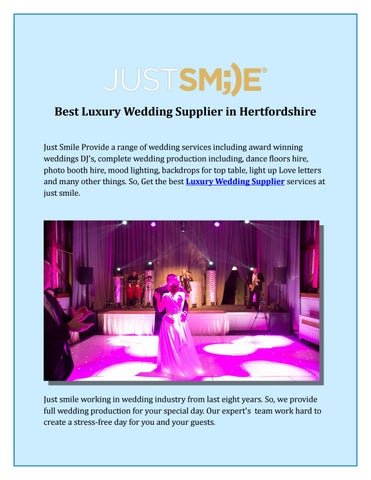 Best Luxury Wedding Supplier in Hertfordshire Just Smile Provide a range of wedding services including award winning weddings DJ's, complete wedding production including, dance floors hire, photo booth hire, mood lighting, backdrops for top table, light up Love letters and many other things. So, Get the best Luxury Wedding Supplier services at just smile.
Just smile working in wedding industry from last eight years. So, we provide full wedding production for your special day. Our expert's team work hard to create a stress-free day for you and your guests.
---
Our Wedding Services: Wedding DJ Hire  Wedding Dance Floors  Wedding Lighting Effect  Magic Selfie Mirrors  Photo Booths  Weddings Stages  wedding Backdrops  Aisle Runners/ VIP Carpets  weddings Love Letter  Wedding Sound Equipment
---
 Wedding Confetti Cannon  Live Music Wedding Bands
We provided complete Luxury Wedding Production. Our team first set up the venue for the ceremony, with white up lighting throughout the venue and motif gobo lighting on the walls through the centre of the venue. The florist had some 10ft trees with fairly lights lining the aisle which really finished off the look. Just smile happy to help you make your wedding special, for that contact our team. we cover weddings all over Bedfordshire, Buckinghamshire, Hertfordshire, and Central London.
---
Contact US: Busines Name: Just Smile Address: Aldenham Road, Bushey, Hertfordshire, WD23 2TR Email: info@justsmile.co.uk Phone No. 01923 750525 Website: https://www.justsmile.co.uk
Luxury wedding suppliers - Just Smile  
Luxury wedding suppliers - Just Smile  
If you are looking for Luxury Wedding Suppliers, Then Visit at Just Smile Website. Here, we provide a range of wedding services including aw...