Water-based Utility
Marking Paint
● For natural grass, grass sports fields, golf course markings, flower beds, and gardens
● Specifically formulated to be safe for the environment and the user.Available in bright white
● Fluid Spill and Sewage Overflow Absorbent
● Quick clean-up and odor control of sewage spills or overflows at homes, institutions, and businesses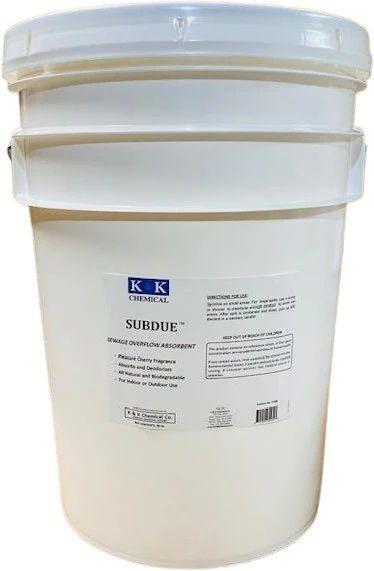 ● Use indoors or outside
● All-natural and biodegradable.
Oneshot
Efflorescence
Remover
● Removes efflorescence (salt stains) from existing concrete and masonry surfaces
● RTU-Concentrate d Lift Station Maintenance and Cleaner
● Fast-acting emulsifier cleans, degreases, and removes deposits from the vertical surfaces of lift stations as the water level fluctuates
● Contains offensive odors.
EcoStripe
KNK CLEAN Subdue
KNK CLEAN
Float
1S-AFMP
K-SBD Part No. 1S-EFF Part No. K-RF
Red
Part No.
Part No.
First-Aid Kit 25 Man
● Bulk first aid kit useful for work sites, etc
● Safety wear that creates visibility for wearer in accident-prone jobs to prevent accidents
Part No. 1889
Safety Cone
● Marking of construction sites
● 20D box
Part No. 2T11-2PG5
Uncorded Ear Plug
● Redirecting traffic
● To block off an area
● Hearing protection at work Part No. FC-380
Part No. DP1000
High-Visibility Shirt
Absorbent
● Premium bioremediation agent that can be used on land, water, and hard surfaces.
● Length adjustable solution for industrialized sized spills on land and water
Part No. 735 P
Husky
Dry Bright Floor Finish
● Ultra durable, high gloss floor finish that is ideal for low maintenance programs
● It's all natural, non-carcinogenic , and 100% biodegradable (8" x 10")
Part No. 28
Part No.
HSK-1026-10
● Scuff and scratch resistant that retains a wet-look gloss after multiple floor scrubs.
● Environmentally preferable, neutral cleaner
● Effective for cleaning various flooring, sealed wood, linoleum, terrazzo, marble, vinyl without leaving any film
● Ideal for use on high-traffic floor
Husky Neutral Damp Mop Cleaner
Part No.
HSK702-05
BioSorb Oil
BioSorb Absorbent
Boom
Sewer
Slayer
● RTU-Concentrated Sewer Line
Degreaser and Cleaner
● Designed to liquefy sewage and garbage, open leaching beds, drain lines, cesspools, grease traps, and septic tanks
● Powerful odor masking agent eliminates offensive garbage odors, trash cans, dumpsters, landfill sites, and sewage plants.
Husky
Ultra Versatile
Premium Floor
Finish
● Provides a brilliant gloss for terrazzo, vinyl, vinyl composition, and other resilient tile
Part No.
HSK1022-05
● Antifreeze containing inhibitors providing protection from freezing, overheating, rust and corrosion when used as recommended
Super
KNK Clean
S
Full Strength AntiFreeze/Coolant
Part No. K-SS
1
Part No. SUS.AFCO NC.4001.E7
BioSorb
Absorbent Pad
● Biodegradable oil spill pad and erosion control blanket
● Perfect for well servicing, vacuum and frac trucks, erosion, and floor safety
● (59" x 50' Railroad)
● Commonly used for water treatment to increase ph of acidic water
SodaAsh
275-Gallon Tote
Super S
Agriplus Hydraulic Fluid
Part No.
SUS.THAG
.1005.D83
● General purpose hydraulic fluid designed to provide lubrication in general use applications.
● Used in cars, light and heavy duty trucks, commercial vehicles, buses, on- and off-highway vehicles
● For power steering systems.
SodaAsh
Super S
Dex III/Merc Automatic Transmission Fluid
Part No. SUS.DMATF.
Part No. 839
Part No.
1232.752
Super S
Dexron VI
Multi-Vehicl
e Synthetic ATF
Part No.
SUS.DVIAT
F.1232.C30
Super S
5W-20 Motor Oil Multi-flo Synthetic Blend
● Low viscosity, full synthetic ATF formulated with a premium additive package to provide superior performance, protection and service life as compared to conventional ATFs
● Outstanding engine protection
Super S
15W-40 FG-2000 Synthetic Blend 3/1 gallon per case
● Recommended for all types of trucks and automotive diesel and gasoline engines, including those with diesel particulate filters
Part No. SUS.15W4
0.3001.B8
7
Part No.SUS.5W20
.1232.D34
● Exceeds economy standards for wear control, piston deposits, cleanliness and sludge, oxidation control, and emission system and seal compatibility.
● Exceeds economy standards for wear control, piston deposits, cleanliness and sludge, oxidation control, and emission system and seal compatibility.
Super S
5W-30 Motor Oil Multi-flo Synthetic Blend
Part No. SUS.5W30.
1232.D33
Restore
● Used in sewer treatment facilities to improve sludge filterability and increase the yield of centrifuged solids
● Increases capacity of overloaded sewer systems
● Removes large amounts of B.O.D. and suspended solids from primary effluent
● Increases the rate of sludge dewatering and drying in sand beds. Inhibits acid formation. Environmentally safe at the recommended use rate. Not affected by temperature, including sub-zero.
K&K Clean
Natural Power
Part No. K-NP
Part No. K-RST
● RTM-Eco-Safe Natural Cleaner and Odor
Remover
● Deodorizing cleaner promotes the digestion of wastes, grease, and organic matter without the use of harmful acids, alkalis, or solvents
● Neutralizes and destroys odors with the help of natural enzymes
K&K Clean
Antifreeze Orange, Extended Life
Full Strength
● New generation of antifreeze technology that can be used to upgrade any automobile or light truck cooling system to a remarkable 150,000 miles. Part No.SUS.AFC
● Multi-functional fluid used as a hydraulic medium
Fluid
● Useful for transmission, differential, power steering, power brake, power take-off (PTO), and implement drive fluid Part No. 236.2
● Multi-functional grease with outstanding high temperature and extreme pressure characteristics. It provides excellent lubrication over a wide range of operation temperatures and services.
● Has outstanding lubrication qualities that extend over a wide range of Heavy-Duty/Fleet applications including wheel bearings (disc and drum), vehicle chassis, boat trailers, universal joints, ball and roller bearings and many others.
Super S
ONC.4001.E7 2 Super S Premium Universal Tractor Hydraulic
S
Grease
Part No. SUS67 Super
High Temp Red Lithium NLGI 2
rpowell@amerimacchem.com 601-326-3400 (Office) 601-3263409 (Fax) 225-5023615 (Louisiana Office)