2 2
ADDRESS PHONE EMAIL WEBSITE
KIA ORANA
It's how we Cook Islanders say 'warm greetings and may you be well'. At Pacific Resort, we believe the magic of travel is in discovering something different. Something local, valuable and authentic.
In the warm tradition of Polynesian hospitality, our team will do their very best to help you feel more than welcome, like you belong and have a real sense of place, like you're somewhere special. Through every smile and conversation, we hope you feel the care and attention of genuine local characters, eager to share their proud culture and paradise way of life.
Our resorts are an independent, character infused collection of hotels in our little paradise of the Cook Islands, filled with local, colourful people who go above and beyond. We've created intimate, nurturing and natural environments for you to experience the vibrant essence of true Polynesia.
This compendium has been carefully prepared to provide you with essential and useful information about Pacific Resort Aitutaki's facilities and services.
Come discover a place where you will feel like a local, a world away. We look forward to making your journey a very real and memorable experience.
Meitaki e Aro'a nui, Marcus Niszow Chief Executive Officer Pacific Resort Hotel Group
OUR RESORT COLLECTION
OUR RESORT COLLECTION
PACIFIC RESORT AITUTAKI
(5 STAR)
PACIFIC RESORT AITUTAKI
(5 STAR)
The island of Aitutaki, an atoll of lush tropical foliage and white sand beaches ringed by a stunningly beautiful lagoon of turquoise water. This is where you'll find 5-star luxury resort, Pacific Resort Aitutaki, each morning greeted by a spectacular view of Aitutaki's world famous lagoon, thanks to the absolute beachfront location of the resort's 29 spacious and air-conditioned bungalows and villas. The resort provides an intimate and romantic escape where the delights of island life are presented to you in luxurious surroundings; that illustrate exactly why Pacific Resort Aitutaki is a member of Small Luxury Hotels of the World.
The island of Aitutaki, an atoll of lush tropical foliage and white sand beaches ringed by a stunningly beautiful lagoon of turquoise water. This is where you'll find 5-star luxury resort, Pacific Resort Aitutaki, each morning greeted by a spectacular view of Aitutaki's world famous lagoon, thanks to the absolute beachfront location of the resort's 29 spacious and air-conditioned bungalows and villas. The resort provides an intimate and romantic escape where the delights of island life are presented to you in luxurious surroundings; that illustrate exactly why Pacific Resort Aitutaki is a member of Small Luxury Hotels of the World.
TE MANAVA LUXURY VILLAS & SPA
(5 STAR)
TE MANAVA LUXURY VILLAS & SPA
(5 STAR)
Situated on the beautiful golden sand beach of Rarotonga's stunning Muri lagoon, your private villa awaits. Designed for those who appreciate beautiful, natural surroundings, 5-star self-contained accommodation and independence. Each luxurious villa includes a full gourmet kitchen, laundry facilities and individual pool. How you choose to use it is completely up to you.
LITTLE POLYNESIAN RESORT
(4.5 STAR)
Situated on the beautiful golden sand beach of Rarotonga's stunning Muri lagoon, your private villa awaits. Designed for those who appreciate beautiful, natural surroundings, 5-star self-contained accommodation and independence. Each luxurious villa includes a full gourmet kitchen, laundry facilities and individual pool. How you choose to use it is completely up to you.
Our award winning 4.5 star luxury boutique resort is nestled on the southern tip of Rarotonga, located on a stretch of golden sand, fringed by palm trees and mesmerising lagoon views. With an intimate collection of contemporary beachfront bungalows and garden studios, you are guaranteed to find serenity, seclusion and romance in Rarotonga's only Small Luxury Hotels of the World member.
LITTLE POLYNESIAN RESORT
(5 STAR)
PACIFIC RESORT RAROTONGA
(4 STAR)
Our award winning 5 star luxury boutique resort is nestled on the southern tip of Rarotonga, located on a stretch of golden sand, fringed by palm trees and mesmerising lagoon views. With an intimate collection of contemporary beachfront bungalows and garden studios, you are guaranteed to find serenity, seclusion and romance in Rarotonga's only Small Luxury Hotels of the World member.
Rarotonga's leading full service, authentic boutique resort situated in an unrivalled location on the glorious golden sands of Muri beach. Pacific Resort Rarotonga offers an intimate collection of 64 studio rooms, suites and two and three bedroom villas. All decorated in a contemporary Polynesian style; where simple, lazy days meet luxurious evenings.
PACIFIC RESORT RAROTONGA
MOANA SANDS GROUP
(4.5 STAR)
Rarotonga's leading full service, authentic boutique resort situated in an unrivalled location on the glorious golden sands of Muri beach. Pacific Resort Rarotonga offers an intimate collection of 64 studio rooms, suites and two and three bedroom villas. All decorated in a contemporary Polynesian style; where simple, lazy days meet luxurious evenings.
(3.5 STAR)
Moana Sands Group; three properties set along the sparkling shores of Rarotonga's lagoon, offering a range of accommodation options in the most unspoiled tropical settings. Moana Sands Beachfront Hotel and Villas are both located on Rarotonga's stunning southern coast, directly overlooking the idyllic Titikaveka and Vaimaanga beaches. Moana Sands Lagoon Resort, located in magical Muri, features spacious rooms, striking lagoon views and modern facilities.
4
06 Our Top Things To Do 07 Resort Map 08 - 09 Environmental and Sustainability Policy 10 - 11 The Beach 12 Dining Options 13 Tiare Spa 14 The Island Way, Tours and Activities 15 Happy Hour 16 Safety and Security 17 - 19 Room Information, Resort Services and Facilities 20 Transportation, Airports and Flights, Emergency and Medical Procedures 21 Communications 22 Emergency Plan
OUR TOP THINGS TO DO AT PACIFIC RESORT AITUTAKI –
Unwind and indulge yourself with a relaxing spa or beauty treatment at Tiare Spa
Let your days drift by, relaxing in a hammock or sun lounger on the picturesque Amuri beach
Launch into the Aquatic Eco Trail to discover the world that lies beneath the lagoon surface
Enjoy the views and contemporary cuisine at Rapae Bay
Expand your knowledge about Aitutaki by joining in conversations with a Cook Islander
Settle on the beach with sand between your toes and your favourite cocktail, watching the sun go down
Enjoy the tranquillity of the lagoon with the freedom of your own kayak or stand-up paddleboard
Enjoy a relaxed al fresco lunch experience and refreshing tropical cocktails at Black Rock
Gaze at the stars from the comfort of your private deck
6 6
7
ENVIRONMENTAL & SUSTAINABILITY POLICY –
Pacific Resort Aitutaki is one of the leading resort properties in the Cook Islands. We provide superior accommodation facilities and feature restaurant and bar operations, providing a comprehensive food and beverage selection to our discerning clientele. Located on Aitutaki lagoon, our focus is to ensure that our overarching vision, our policies and operational procedures mitigate our environmental impact on these fragile eco-systems.
VISION STATEMENT
OUR VALUES
• We will strive to respect the Cook Islands' culture and customary practises and harness the positive aspects of traditional ways in achieving our environmental sustainability.
• We will ensure that our individual and industry environmental initiatives comply with all Cook Islands legislation and regulations.
• As a resort business, we will become leaders in setting standards for our region and our local community in the field of environmental protection.
• Our guests, like our owners and employees, enjoy their island life and environment, considering it their home. We will foster a strong environmental ethic to underpin our operations, making us stewards of our natural surroundings as a basis for our commitment to constant improvement in environmental conditions.
• Our accommodation, food & beverage and leisure facilities contribute to improving the quality of life of thousands of visitors each year and because the natural surroundings enhance those experiences, we will strive to balance human needs with ecosystem protection.
• We are committed to working with our staff, our guests, our stakeholders and our community to ensure that a continued awareness and understanding of the concept of sustainability and environmental issues is heightened.
• We are committed to the continuous improvement of our environmental and sustainability procedures by way of benchmarking initiatives.
ORGANISATIONAL, SOCIAL AND SUPPLIER COMMITMENTS
To maximise our effectiveness in completing our sustainability initiatives, we will ensure that our vision and values are driven from the top of our organisational chart and that our community and supplier interaction is also underpinned by our environmental and sustainability values.
• Our vision and values have been formulated and will be driven by the CEO and Resort Managers of Pacific Resort Hotel Group and the mandate for all staff and stakeholders to embrace and achieve our sustainability objectives has been sanctioned by our Board of Directors and Shareholders.
• We will continually present and reinforce our vision, values, objectives and achievements to our staff, guests and community by featuring this information in our staff employment handbooks, on notice boards,at our reception desk, in guest room compendiums and on our website.
• We will also provide opportunities for continual improvement and refinement of our initiatives by encouraging landowners, staff, guests and suppliers to contribute with feedback and suggestions.
• We will strive to employ and develop the skills of Cook Islanders before we employ non Cook Island workers. We will also maximise our efforts to recruit from our immediate village to reduce the impact that transportation has on our carbon footprint.
8
To be leaders among Pacific Island accommodation providers by managing our business in a way that demonstrates our commitment to environmental protection, sustainability and stewardship while meeting the expectations of our visitors and the people of the Cook Islands.
• We will enhance the principle of waste prevention by purchasing greener products. We are committed to buying local produce to again minimise the impact that transportation has on our carbon footprint. We will also work with local and offshore suppliers and make them aware of our vision and values. In particular, we will request that they demonstrate their sustainability policies and subsequently work with them to ensure that we minimise our combined environmental impact. Packaging is one major area that will receive continual focus.
• We will be active in our local and business community in promoting the principles of sustainability. We will provide manpower and financial assistance to organisations that are champions of the environmental sustainability cause.
RESOURCE AND WASTE MANAGEMENT
To promote sustainability we will ensure we carefully choose the types and quantities of resources we consume. Furthermore, we will ensure that the outputs from our business in the form of waste is released and disposed of in a manner which ensures preservation of our environment:
• Establish procedures to promote continuing improvement of compliance with all applicable environmental laws and regulations.
• Minimise water and electricity consumption through the education of our guests and staff members.
• Endeavour to collect and filter rainwater in order to 'top up' normal water supplies.
• Utilise solar power as much as possible to store and generate energy for electricity and water heating.
• Ensure that any power generators are maintained regularly to ensure efficient operation when in use.
• When waste cannot be prevented, ensure as many of the materials as possible are recovered, preferably by recycling.
• Ensure that recycled products are then disposed of appropriately.
• In recognition of the extreme importance that our lagoon has for our business, we will ensure that all health and environmental regulations are met. In particular we will regularly test our treated grey water and ascertain levels of nutrients present so that we can correctly dispose of that water. We will be vigilant in our quest to ensure that no grey water containing nutrients is directly released into waterways or the lagoon.
9
Environmental and Sustainability Policy – Pacific Resort Hotel Group
THE BEACH –
BEACH SAFETY
For your safety and for the care of our beach, lagoon, marine life and water sports equipment, we appreciate your assistance by noting the following:
• There are no lifeguards or coastguard services.
• Always swim, snorkel and explore the lagoon with a friend.
• The reef environment is a living organism. Please take care to ensure its beauty and proliferation.
• When you are using any watercraft, always keep a good look out for coral formations.
• Please do not swim, snorkel, paddleboard or kayak further from the shoreline than the boundary indicated by the Orange Buoy placed in the Lagoon.
• For your own safety, we insist that you do not attempt to take kayaks or standup paddleboards near or over the reef.
• Coral cuts are annoying and can quickly become infected so always wear protective shoes when swimming.
• Reef shoes can be collected from Guest Services.
• Please do not litter the beach or lagoon.
LIFE JACKETS
Life Jackets are available on the beach by the Kayaks.
BEACH TOWELS
Beach towels are located in your room. If you require additional beach towels we have a supply in the towel cart by the pool.
SUN LOUNGERS
Sun loungers are complimentary for house guests. They are a heavy piece of furniture and we sincerely recommend you stand up when adjusting the recliner mechanism, to prevent against possible injury. If you need assistance with moving or adjusting your sun lounger, please ask a staff member.
AQUATIC ECO TRAIL
We are passionate about taking care of the environment and many areas in the Cook Islands are marine protected sites. Pacific Resort Hotel Group partnered with the Pacific Islands Conservation Initiative in 2011 to raise awareness of the fragile eco system and challenges facing our reefs through the introduction of the Cook Island's first Aquatic Eco Trail on the reef at Pacific Resort Aitutaki. The Pacific Resort Aquatic Eco Trail is a self guided snorkelling and education tour of Pacific Resort's lagoon environment. Guests may choose to visit just one area and learn about its elements or navigate the entire trail. Five different lagoon habitats have been identified. The trail map in your room provides an overview of what is likely to be found in each, enabling guests to explore the different habitats at their own pace.
10
The five lagoon habitats are named: Mature Porites Bommies, Regenerating Corals, Acropora Nursery, Holothurian Beds and Near Shore Sandy Nursery. A variety of marine species can be found in the specific sites including, green sea turtle, angelfish, buttlerfly fish, whitespotted eagle ray, octopus, blue star fish and leopard moray eel. Discover the exciting eco-trail at Pacific Resort Aitutaki.
LAGOON FISH
The shoreline and lagoon area directly in front of Pacific Resort Aitutaki is not known to have any stone fish or dangerous coral outcrops. However, we recommend you wear reef shoes at all times. During our summer, the little Trigger fish in the lagoon are known to harmlessly nip you if you swim or snorkel too close to their breeding area.
SEA CUCUMBERS
You will see numerous sandy black sea cucumbers or 'rori' in the lagoon. They are completely harmless and are a vital part of the lagoon ecosystem. Sea cucumbers are important to the lagoon environment because they scavenge on the reef and turn over the sand on the lagoon floor, preventing the buildup of decaying organic matter that would otherwise be retained under layers of sediment and cloud the water.
WATER ACTIVITY EQUIPMENT
Should you not have reef shoes, a selection of different sized shoes is available from the Guest Services desk for use during your stay.
REEF SAFE SUNSCREEN
When choosing a sunscreen we usually look for an SPF number, water resistance, PA rating, etc. However, we often fail to consider how the products we use affect our oceans and the fragile coral reefs in particular. Scientists have discovered that an estimated 4,000 to 6,000 metric tons of sunscreen rinses off of swimmers every year and, as a result, up to 10 percent of coral reefs are threatened by sunscreeninduced bleaching. Although this is not the worst problem that coral is facing, it is relatively easy to fix.
At Pacific Resort Aitutaki, we reccommend all our guests to use Reef Safe Sunscreen to help protect our beautiful lagoon.
PleaserespectAitutaki'sbeautifullagoon, youarewelcome totakephotographs,howeverpleasebecarefulnotto touchthecoralstoavoidanyunpleasantencounterswith lagoonplantsoranimals.
Pleasepracticeandencouragesafeandsensiblewater activities.Shouldyouhaveanyquestionsaboutthelagoon, reeforbeach,pleasedonothesitatetoaskoneof our staff members.
Pleasenote:nudityisnotpracticedonthebeachesofthe CookIslandsandisculturallyoffensive.
11
RAPAE BAY & BLACK ROCK
Both of our resort dining venues have stunning lagoon and ocean views and together offer a wide range of food and beverage choices for you to enjoy.
Rapae Bay - Our renowned Rapae Bay serves complimentary à la carte breakfast daily from 7.30am to 10.30am featuring a menu of freshly prepared and tasty dishes to start your day. In the evening, Rapae becomes a romantic, candlelit destination for relaxed fine dining, island style. Dinner is served from 6.00pm to 9.00pm and showcases the exceptional talent of our awardwinning culinary team, recognized for creating the finest food in the Cook Islands. Dinner reservations are strongly recommended to ensure a table is ready at the time you wish.
Black Rock - Black Rock is our al fresco lunch location by the sea, where you can enjoy a robust all day menu of refreshing salads, savory sandwiches, perfect pastas, fresh seafood, succulent steaks, and the finest island specialties, including our famous Ika Mata. Our bar features outstanding tropical cocktails, classic mixed drinks and ice cold beverages. Black Rock is open daily from 12.00pm to sunset (weather permitting) with our all day dining menu available until 4.00pm. Pool side meal and drink service is also available. Reservations are recommended for dinner. Please contact Guest Services at 3900 or Black Rock at extension 3913 to secure a table at the time you like.
ROOM SERVICE
If you prefer to dine in the privacy of your own room, you may order lunch or dinner, or light snacks, anytime from 12.00pm until 9.00pm. The Room Service menu is located at the back of this directory. Simply contact Rapae Bay at extension 3912 to place your order. An NZ $10 service fee is added to all room service orders.
GRATUITY
Tipping is not expected in the Cook Islands. However, if you feel that you have received exceptional service from any member of our team, please feel free to leave a gratuity if that is what you wish to do. Again, tips are not required, but they are always appreciated.
ATTIRE
We respectfully request that guests dress appropriately when dining. For Black Rock, beach wear with cover-ups, shorts, swim trunks and singlets are all acceptable in the daytime. However, after 6.00pm we request no singlets for men. For dinner at Rapae Bay in the evening, casually elegant attire is suggested. Men are requested to wear collared shirts, dress shorts or long pants. No singlets please.
NON-RESIDENT GUESTS
Should you have friends staying elsewhere on Aitutaki, they are welcome to join you for a meal at Pacific Resort at any time. Please note, however, that due to license restrictions on Sundays, non-resident guests wishing to drink alcohol are required to also dine.
Please note that the swimming pool and beach areas are for the exclusive use of resident guests and are not available to non-resident guests.
Children under 12 years of age are not permitted on property.
12
–
DINING OPTIONS
INDULGE IN A MASSAGE OR FACIAL TREATMENT AT
TIARE SPA
A TRULY LUXURIOUS SPA EXPERIENCE
Visit our on-site Tiare Spa to pamper yourself with a therapeutic massage or one of our signature beauty treatments and experience ultimate relaxation in a peaceful Polynesian setting. You may also choose to enjoy your massage in the privacy of your own room or on the beachfront location of your choice. Our facials feature Te Tika products. Te Tika is a line of organic products made from ingredients sourced exclusively from the Cook Islands. The Te Tika range is also available for purchase at the Spa.
Whichever treatment you choose to indulge in, our internationally trained team will make you feel relaxed, renewed and rejuvenated. Tiare Spa is open 7 days a week, appointments are essential to avoid disappointment. Please contact the Guest Services team for a copy of our current spa menu and to make your booking.
13
THE ISLAND WAY
LANGUAGE
English and Cook Islands Maori are the two official languages spoken in the Cook Islands. Cook Islands Maori is spoken widely and you may find some of the following phrases helpful:
Kia Orana – Hello
Aere ra – Goodbye
Meitaki – Thank you
Meitaki Atupaka – Thank you very much
Ae – Yes
Kaore – No
Tane – Man
Vaine – Woman
Kai (Kai Kai) – Food
Teia ra – Today
Apopo – Tomorrow
Koai toou ingoa – What is your name?
Eaa te ora – What is the time?
ISLAND TIME
Time slows down in the Cook Islands, so should you. Now you are on island time we suggest not wearing your watch (no tan line too!). The table below, highlights a number of our most common visiting nationalities and their time difference from the Cook Islands.
New Zealand 22 hrs ahead 23 hrs ahead
Australia 20 hrs ahead 21 hrs ahead
Germany 13 hrs ahead 12 hrs ahead
United Kingdom 12 hrs ahead 11 hrs ahead
United States (LA) 2 hrs ahead 3 hrs ahead
SOME TIPS
• Never park your vehicle under a coconut tree.
• Always wear protective shoes in the lagoon.
• Cook Island's business hours are 8.00am to 4.00pm Monday to Friday, and 8.00am to 12.00pm on Saturdays. There is typically no trading on Sundays with the exception of a few general stores.
• Swimwear is okay on the beach, but it can offend Cook Islanders if worn in public areas, especially shopping areas, villages and townships.
• Please note that nude and topless sunbathing is often seen as offensive to the local community.
TOURS & ACTIVITIES
The Aitutaki lagoon is rated as one of the most beautiful in the world. While you are here we suggest you take the opportunity to enjoy an escorted lagoon cruise with either an organised group tour or private charter. Alternatively, you might prefer to head outside the lagoon for a fantastic deep sea fishing experience, or snorkel the outer canyons.
We also suggest a visit to the Aitutaki Marine Research Centre, located near the airport, where you can see baby clams which are part of the native clam breeding programme. For those seeking some adventure, you could try a local safari or cultural tour or take a walk up to Mt Maunga Pu (124m), the highest peak on the island and enjoy its amazing views.
For additional information on the range of tours available, contact Guest Services who can provide further details and brochures on all island activities and can assist you in selecting the perfect tour or activity to meet your needs.
14 From Rarotonga Standard Time Daylight Saving
HOUR
SUNSET POOLSIDE COCKTAILS
Sipping cool, refreshing cocktails while dining beachside under swaying palms is what one dreams of when visiting a tropical island paradise. You can experience all this and more at Pacific Resort Aitutaki's renowned Black Rock Bar - the perfect place to relax and unwind.
Join us for our daily Happy Hour 4 - 5 pm.
HAPPY
JOIN US AT BLACK ROCK FOR
ENVIRONMENTAL PROTECTION
Environmental issues are very important to us given that we are situated on a fragile lagoon on an island in the middle of the South Pacific.
Our focus is to ensure that our overarching vision, policies and operational procedures mitigate our environmental impact on these fragile ecosystems.
Our housekeepers will remove any rubbish from your room during daily housekeeping service. Alternatively we request that you deposit your rubbish in a thoughtful and clean manner. All Pacific Resort Aitutaki staff are trained in waste disposal so feel free to ask any member of our team for assistance.
SAFETY & SECURITY
LIABILITY STATEMENT
Pacific Resort gives notice that neither the Resort, employees, agents or representatives shall, under any circumstances whatsoever, be liable for injury, death, loss, damage or destruction suffered by any person or to any property as a result of being upon the resort premises and that all guests and visitors enter the resort premises at their own risk. Furthermore, we do not assume responsibility for any accidents, injury, or death that may be suffered or sustained as a result in your participation in any transfers, tours and activities provided by third party operators and you release and indemnify Pacific Resort (as well as its management and staff) from any and all claims, losses, damages, and injury, of any kind whatsoever and however arising, from any transfers, tours and activities provided by third party operators booked through Pacific Resort Hotel Group.
DRONE FREE ZONE
To protect the privacy of our guests, all Pacific Resort Hotel Group properties are designated 'No Drone Zones'. There may be exceptions where drone usage is authorised by Resort General Managers.
PERSONAL PROPERTY
Security is everyone's responsibility. When leaving the resort, ensure that all your entry doors are secure and locked. We encourage the use of your in-room safe for the security of your valued personal items, passports and money.
DIPLOMATIC ASSISTANCE
Diplomatic assistance for citizens of New Zealand, Australia, France, Germany and Great Britain is available in the Cook Islands. For diplomatic assistance for other countries, the Cook Islands Ministry of Foreign Affairs and Immigration are able to contact respective representatives through the Cook Islands High Commission in New Zealand. For assistance, please contact Guest Services.
SMOKING POLICY
Pacific Resort Aitutaki is proud that all of our guest rooms are smoke-free. We kindly ask that you help keep our smoke-free rooms just that. Guests found to be smoking in guests rooms will be charged NZ$300 to cover the cost of sanitising the room. We thank you in advance for your understanding.Guests are provided with an ashtray for use on deck areas only.
16
–
RESORT INFORMATION
• Our Guest Services desk operates from 7.00am to 10.00pm. For assistance please dial 3900. Outside of office hours overnight security is available on 3900.
• Check-out time is 10.00am and check-in time is 2.00pm. Late check-out is subject to availability and rooms can be held until 6.00pm for an extra charge, please enquire with our guest services team for availability and costs.
• Your account is best settled the night before your departure or at least 2 hours prior to your transfer pick-up.
• Weather conditions, tides and daily activity information can be viewed at Guest Services.
ROOM INFORMATION
AIR CONDITIONING
Air conditioning units in the rooms are activated by sliding your key tag into the slot on the wall. To change the ambiant temperature, the remote control has a temperature modification button (+ or -). Please note that special sensors on doors and windows disconnect the air conditioning system if they remain open. In the interests of conserving energy, please switch off the air conditioning unit when you leave your room. As Aitutaki's power supply is diesel generated, this small action assists in reducing fuel consumption and emissions.
LAGOON AWARENESS
There are a number of marine reserves designated by the Aitutaki Island Council. We invite you to enjoy our unique environment but please do not take anything away from their natural habitat.
We recommend you wear reef shoes in the lagoon at all times (complimentary reef shoes are available at the Guest Services desk).
POWER
Pacific Resort Aitutaki has its own generator which will automatically provide power should the island supply fail. There may be a momentary dip in service during the switch over. Should you require a torch you will find one located in the drawer of the bedside table, closest to the door.
ELECTRICITY VOLTAGE
Voltage in Aitutaki is 220 - 240 VAC/ 50 hz cycle, the same as New Zealand and Australia. Three pin plugs are used and your bathroom has a dual voltage outlet for a 110-volt shaver. Some international adaptors are available at the Guest Services desk; however, we do not have transformers. Aitutaki's power supply is diesel generated and the cost of this service is very high. Every energy saving action, no matter how small, will assist in reducing fuel consumption and emissions. Your support in this regard is greatly appreciated. In an effort to conserve power, we ask that you practice the following:
• Turn off all lights, fans and appliances when you leave your room.
• Please remove your key tag from the socket when leaving your room to ensure that your air conditioning unit is switched off.
• Advise Guest Services of any malfunctioning utilities.
17
HOUSEKEEPING
Housekeeping ensures rooms will be serviced daily. If you prefer not to be disturbed, please hang your 'Do Not Disturb' sign on the outside of your entry door. Should you wish to arrange a more convenient time for us to service your room, please contact Guest Services. Bedroom linen is changed every third day throughout your stay. If you do not wish to have your towels replaced, please hang them on the towel rail. If you wish for your towel to be replaced, please leave it on the floor. Housekeeping will lock the room once it has been serviced. If you leave your room, please ensure to take your key with you or leave it at Guest Services.
UNWELCOME TROPICAL FRIENDS
Insects are prevalent in all tropical environments. We have provided mosquito coils and insect spray in your room to assist with the extermination of any undesirable pests. We also carry out regular spraying for insects and administer other pest control measures. Should you see a 'moko' (gecko/lizard) in your room, don't be alarmed as they are harmless and facilitate eradication of any insects. If you need assistance, please contact Guest Services.
SAFE
Safes are installed in your room to protect your valuable personal items, passports and money. A set of instructions to program your safe is provided. For larger items, we have a main resort safe with your own locked bag at the Guest Services desk. The safe bag is padlocked (we give you the key) and then placed in our safe. Access to your safe bag is provided from 8.00am to 10.00pm. For assistance on how to operate your in room safe, please contact Guest Services.
TV & MOVIES
We have an inhouse on-demand entertainment system which includes complimentary movies & TV shows on demand.
DRINKING WATER
The resort's water supply is filtered and purified. However, we recommend that you do not drink the water from our taps due to its high calcium content. While the natural underground spring water is of good quality, we suggest that it is only suitable for showering and brushing your teeth. We provide complimentary filtered and UV treated 'Rapae Rain' water to guest rooms daily in clear bottles for you to drink. Bottled imported mineral water is available for purchase in your minibar or at Rapae Bay.
WAKE UP CALLS
To manually set up a wake up call, dial 3999 and follow the voice prompts.
PILLOWS, BLANKETS, TOWELS & BATH ROBES
If you require more frequent linen changes or supplies including additional pillows, blankets, towels and other amenities, please contact Guest Services. For your convenience, bathrobes are provided for your use while in residence at Pacific Resort Aitutaki. If you would like your towels replaced during your stay, please place them on your bathroom floor and our housekeeping staff will attend to them.
RESORT SERVICES & FACILITIES
SPA
& MASSAGE SERVICES
Massage and spa services are available on site in one of our two treatment rooms at the Tiare Spa or in the comfort of your own room. Couples massages are also available. Please contact Guest Services for more information and to make a booking.
LAUNDRY FACILITIES
Should you require laundry services, please contact Guest Services on extension 3900 for assistance. A charge per item will apply. Please see the itemised laundry listing inside the laundry basket in your wardrobe.
SWIMMING POOL
Our swimming pool is reserved for the exclusive use of resident guests and is open from dawn until dusk.
As our pool and swimming areas are not patrolled, it is essential that guests observe safe swimming habits and follow all rules featured on the notice boards. We would also like to ensure that all our guests are able to enjoy the peace and tranquility the island offers, so please be considerate of other guests with regard to noise levels, particularly in the evenings.
SPECIALTY GIFT SHOPS
Bergman & Sons pearl boutique and Pacific Memories gift shop are located opposite Guest Services in the lobby. Please see the opening times displayed on the window of the shop, or contact Guest Services.
Bergman & Sons are the preeminent black pearl specialists in this region. Established over 30 years ago, Bergman & Sons were the first local company to specialise in the exotic and beautiful black pearl.
CONVERSATION WITH A COOK ISLANDER
Each day we offer a free Cook Island Cultural Activity here in the hotel for you to enjoy. These discussions and demonstrations range from how to make the traditional floral Ei necklaces and crowns commonly worn by local women, to how to speak Maori, to a guided tour of our spectacular tropical gardens.
GOLF CART ASSISTANCE
Should you require extra assistance for any reason to travel around the resort, we have golf cart transport available. Please contact the Guest Services desk on extension 3900.
18
NOT SO SUNNY DAYS
Just as in any part of the world, the weather here is unpredictable – so we make the following suggestions for days that aren't so bright.
• Explore Aitutaki – don't forget your umbrella.
• Swimming in the rain is good for the skin.
• Play a good board game with your partner.
• Enjoy a movie from our in-house selection.
• Book a relaxing massage at Tiare Spa.
• Curl up in bed with a good book.
We would appreciate that items borrowed from Guest Services are returned after their use for the enjoyment of other guests.
DRESS CODE
The dress code for the Cook Islands is simple and informal. The colourful pareu is very popular with women and can be worn in many different styles.
For men, dress shorts or casual pants, pareu shirts and dress sandals are appropriate anywhere. Something warm might be required for the cooler months of June through October. These guidelines may be used to meet the dress code at Rapae Bay where casually elegant attire is required.
19
TRANSPORTATION
DRIVING IN THE COOK ISLANDS
If you have a car or motorbike endorsement on your current drivers licence, you can drive your rental vehicle for up to 6 months in the Cook Islands. Should you wish to drive a scooter and you do not have this endorsement on your licence, then you will need to take a theory and practical test at the Police Station in Amuri township.
For more information on obtaining a Cook Islands drivers licence, please visit our team at the Guest Services desk.
VEHICLE RENTAL
Our Guest Services desk handles scooter and car hire. They also can help with reservations for all tours and activities.
• Motorbikes (scooters) are charged per 24 hours.
• Rental cars are charged by half or full day.
• Bicycles are provided on a complimentary basis at the bike shed.
PUBLIC TRANSPORT
At this time, Aitutaki has not developed a scheduled island bus service. However, an organised bus trip for groups can be arranged upon request.
The resort can provide local air conditioned transport around Aitutaki to nearby restaurants and shops.
Local transfers are subject to pre-booked guest arrival and departure requirements. We have a preferred local transport company.
Please contact Guest Services on extension 3900 for more information or to arrange your taxi.
AIRPORT & FLIGHTS
FLIGHT CONFIRMATION
Should you wish to alter your onward domestic flight reservation, please contact Guest Services who will liaise with the airlines to determine if your requested amendment is possible, and then assist you with the change process.
TRANSFERS
Departure and airport transfer information is available from Guest Services. However, we will send a letter to your room summarising your departure information the day prior to your departure. We will also update you if there are any flight delays.
BANKING, CREDIT CARDS & FOREIGN CURRENCY EXCHANGE
LOCAL BANKS
There are two banking establishments in Aitutaki. Opening hours are Monday to Friday 8.00am to 3.00pm, however all banks are closed from 12.00pm - 1.00pm for lunch. The closest ATM is in town provided by the Bank of the South Pacific.
CREDIT CARDS
Visa, MasterCard and American Express are all accepted by all Pacific Resort Hotel Group properties.
FOREIGN CURRENCY EXCHANGE
Foreign currency exchange can be transacted at the Guest Services desk. We use the daily conversions provided by the Bank of the South Pacific (Monday to Friday). We charge a resort commission fee plus a nominal bank fee on all transactions. The banks in town are also a good option for foreign currency exchange. Travellers' cheques are not accepted nor exchanged by the resort, but the major banks do exchange these for a nominal fee.
EMERGENCY PROCEDURES
CYCLONES
Cyclone season coincides with the rainy season (November through April). In the event of the build up of a tropical depression, we have internal procedures in place to see that you are well informed and cared for in the event of a tropical storm.
FIRE
Fires are unlikely, but if one occurs in your room or you notice one close by, dial 3900 immediately and report the location of the fire. Please vacate your room and move to the designated area. Please familiarise yourself with the evacuation assembly point on the Fire Evacuation Card at the back of this compendium.
TSUNAMIS
Tsunamis are rarely a threat to Aitutaki, largely because of the lack of a continental shelf around the island. However, when we are alerted by authorities of a potential tsunami, we will assist in moving people to higher ground. In case of emergency resort staff will be on hand to provide assistance and direction.
MEDICAL DOCTORS
Contact Guest Services (dial 3900) if you require a doctor.
FIRST AID
For first aid assistance, please contact Guest Services (dial 3900). First aid supplies are available if needed and in more serious cases we will seek professional assistance to take you to the hospital or call an ambulance.
20
CONTACT US
RESTAURANTS & DINING
COVID-19 GUEST HUB
SPA & BEAUTY
NEWS & EVENTS
PACIFIC RESORT FACEBOOK
@PACIFICRESORT
PACIFIC RESORT INSTAGRAM
@PACIFICRESORT
LIKE US ON FACEBOOK
@PACIFICRESORTAITUTAKI
FOLLOW US ON INSTAGRAM
@PACIFICAITUTAKI
OFFERS
KIA ORANA & WELCOME TO THE
COOK ISLANDS
ATTRACTIONS - MAPS - EVENTS - SERVICES VIEW DIGITAL EDITION
ARA ARA METUA TAPU ARA ARA METUA TAPU ARA ARA METUA TAPU ARA ARA METUA TAPU ARA ARA METUA TAPU ARA ARA METUA URUAU DVE TAPU Titikaveka Turoa RAROTONGA Motu Tapu Oneroa Koromiri Taakoka Rarotonga Golf Club Takitimu Conservation Area Raemaru Park Avarua Har b ou r Av ati u Har b ou r Ngata n gii a H ar b ou r Ng atan gii a S chool Avana Passage Matavera Wall T he P inn acles Maritime Reefer Croc Caverns Alberto's Paradise Swiss Reef Sand River Rarotongan Avaavaroa P assag e Papua P assag e R uta ki P assag e Aror ang i B eac h P uaiku ra B eac h S out h B eac h Aroa B eac h Turoa B eac h T iti kaveka B eac h Tik io ki B eac h Mu ri B eac h S un r is e B eac h B lack Rock B eac h Arorangi Aroa Vaimaanga Tikioki Muri Ngatangiia Matavera Tupapa Pue Avarua Avatiu Nikao Raemaru Track Cross Island Track Te Manga Walk Te Kou Walk Cultural Village Highland P a r adise Paradise Garden Power Station Papua Waterfall Scenic View Avana Point Historic Ruins Mat av era Field Cook Islands Library and Museum Ministry of Justice Punangi Nui Market Rarotonga International Airport Scenic View Scenic View Scenic View Scenic View Scenic View Scenic View Arai Te Tonga National Archives National Stadium Parliament of the Cook Islands Rarotonga Hospital Tropical Sands S out h P aci c Oc ea n S out h P aci c Oc ea n Avana Matavera Tupapa Pue Turoa Akapuao Raungaru Totokoitu Taipara Stream Stream Stream Stream Stream Stream Stream Stream Takuvaine Vaikapuangi Avatiu Stream Stream Stream Murivai Stream Ruiaki Ngatoa Papua Stream Stream Stream Stream Te Rua Manga (The Needle) Te Manga (653 m) Raemaru Peak (350 m) Maungatea Ikurangi Te Kou Prison Quarry N 0 Scale 1 km Main roads Other roads Local roads Walking Trail Parks Hospital Places of Interest Picnic area Parking Dive site Beach Reef Dangerous swimming location 7 6 5 4 3 2 1 7 6 9 8 9 10 10 8 5 4 3 2 1 A A B B C C D D E E F F G G H H K K L L M M N N I I J J Rutaki RAROTONGA, COOK ISLANDS
Cook Islands
Whether this is your first time to the Cook Islands or you're returning to enjoy this tropical haven, we invite you to indulge yourself in this tiny nation. Relax, take it easy and make sure that you take the time to explore.
From the moment you arrive and step into the warm tropical air, you are adorned with a 'ei' made from tropical blossoms and serenaded by local musicians playing ukulele rhythms, you can feel the holiday vibes settle in.
With a total landmass of 240 square kilometres, its 15 islands and atolls cover a sea area of 2.2 million square kilometres between American Samoa and French Polynesia, South of Hawaii.
The Cook Islands comprise 15 islands split between two island groups, which have carried individual names in indigenous languages including Cook Islands Mãori and Pukapukan throughout the time they have been inhabited. The islands as a whole are named after British Captain James Cook, who visited during the 1770s.
These idyllic and enchanting islands are home to approximately 17,000 people. Cook Islanders are true Polynesians connecting directly back to the finest seafarers of the Pacific. The islands' official name in Cook Islands Mãori is Kuki 'Airani.
Avarua is located on the island of Rarotonga and is the capital of the Cook Islands. Rarotonga is fringed by a coral reef and boasts shallow lagoons, pristine beaches and snorkelling hotspots. The language spoken in the region is known as Cook Islands Mãori, which is similar to New Zealand Mãori.
There's so much to see and do in the Cook Islands. Explore the coral reefs and local marine life, trek some of the Cooks' rugged terrain or check out one of the spectacular cultural night shows.
Whatever you do in the Cook Islands, you're sure to enjoy your time in this tropical oasis. For more
to www.cookislands.travel
information on the Cook Islands, go
One Foot Island, Credit: Island Love Photography, Alisha Street
KIA ORANA & WELCOME TO THE
–
Palm-fringed beaches, stunning mountain scenery and endless tropical weather are all part of the resplendent character of the Cook Islands.
Welcome to the Cook Islands, our little piece of paradise, where the greeting "Kia Orana" translates to "may you live long."
We are thrilled to welcome both returning visitors and newcomers to our little paradise after a challenging few years. As we rebuild and regenerate, we encourage you to be a part of our efforts.
Upon your arrival, we will adorn you with an 'ei, a floral necklace, symbolising our commitment to taking care of you during your stay and expressing our joy that you have chosen the Cook Islands as your destination of choice.
Life here is calm, relaxed, and our warm-hearted people are known for their hospitality and willingness to assist you. Whether you want to bask in the sun on our stunning beaches, take a relaxing dip in the lagoon, or embark on adventurous explorations of our landscapes, there is plenty to do.
Rarotonga offers breathtaking mountain treks, while the vast Pacific Ocean presents excellent fishing and snorkeling opportunities. Our culture is rooted in "tiakitanga," the concept of looking after one another, and we invite you to immerse yourself in it.
Embrace responsible travel by supporting local businesses, respecting our natural environment, engaging in activities that promote the well-being of our community and embrace the rich history and culture of the Cook Islands.
Enjoy the golden sands, bask in the Kia Orana spirit, and take in the breath-taking views. Whether you venture into the depths of the ocean or enjoy our local flavors, which celebrates the bounty of the land and sea, we want your time here to be carefree and delightful.
We hope you will enjoy our little paradise as much as we enjoy sharing it with you.
Kia orana e kia manuia
Hon. Mark Brown
Cook Islands Prime Minister and Minister of Tourism
"Turou oro mai"
Pukapuka, Credit: Cook Islands Tourism / Tayla Beddoes
Little Paradise
However, your time here can be so much more than just a means of escaping the daily grind; it can also be an opportunity to give something back.
In the Cook Islands, we embrace the philosophy of mana tiaki, which embodies responsible and mindful stewardship. It represents our duty as guardians of our rich culture and abundant resources. During your time here, we invite you to join us in not only enjoying, but caring for and preserving our beautiful island home, so that our future generations can do the same.
Regenerative travel, also known as mindful travel, is the concept of leaving the Cook Islands in a better state than you found it. It involves minimising the negative impacts of your trip while maximising the positive contributions you can make. Whether it's learning about coral reef protection during a lagoon cruise, savoring fresh produce from local farmers, or opting for eco-friendly transportation like a bicycle, there are numerous opportunities to enhance your holiday experience while leaving a positive impact on our little paradise.
HOW CAN YOU HELP?
An easy way is to consider the "Four C's" of regenerative travel: Commerce: Supporting the local economy goes beyond just spending money; it involves considering when, where, and how you spend. Travelling during off-peak seasons and purchasing locally owned and produced goods and services can also make a significant difference.
Conservation: Offsetting your carbon footprint, supporting local conservation efforts, and engaging in voluntourism activities that can help protect our environment are all great ways to help protect our beautiful islands.
Community: Embracing the Cook Islands community means supporting businesses that prioritise corporate social responsibility - things like hiring local workers, paying fair wages, and contributing to local projects or events. Similarly, getting involved with community initiatives, events, or voluntourism activities can foster a deeper connection with the local people.
Culture: Our culture is vibrant and alive, and you'll likely encounter it during your stay. You can support cultural development by attending traditional shows, purchasing locally made arts and crafts, participating in cultural tours, or backing culture-based projects and events. By doing so, you contribute to the preservation and passing down of our treasured songs, arts, and stories, keeping our rich Cook Islands culture thriving.
BECOME A MANA TIAKI
Becoming a Mana Tiaki, a responsible guardian, is within everyone's reach. Here are some further actions you can take to protect what makes the Cook Islands so special:
1. Watch our "Protect a little paradise" video series for entertaining ideas on how to safeguard our home.
2. C hoose tour operators and businesses accredited under the Cook Islands Quality Assured and Mana Tiaki Certification.
3. Opt for visitor experiences and events that support environmental conservation or community and cultural development initiatives.
4. Support locally owned businesses and choose locally produced goods and services.
5. Take the opportunity to learn about the Cook Islands' rich history and culture.
6. M inimise waste, water, and energy usage to reduce your environmental footprint.
7. Show kindness, courtesy, and respect for Cook Islands culture and traditions.
Whether you're an experienced traveller or embarking on your first adventure, the Cook Islands offer a unique and exceptional experience. We invite you to embrace the concept of mana tiaki and enjoy our little paradise in a way that ensures future generations can do the same. Let your holiday be more than just a holiday; let it be an opportunity to give back and make a meaningful difference.
Arorangi District, Credit: Cook Islands Tourism
Credit: Alexandra Adoncello
PROTECT OUR
Welcome to our little paradise. Here, you will find breathtaking natural beauty, warm and friendly locals, a vibrant culture, and the chance to immerse yourself in exciting new adventures.
With
MOANA SANDS HIBISCUS SPA Relax, rejuvenate and revitalise yourself while on your tropical island getaway!
in paradise, treat yourself or that someone special to a luxurious spa treatment.
a wide range of massage and beauty treatments, there is something for everyone, from relaxation massages, reflexology, pregnancy treatments to soothing facials, manicures and pedicures.
located at Moana Sands Lagoon Resort on the Southern end of Muri beach, Hibiscus Spa offers multiple treatment rooms.
While
With
Conveniently
our internationally trained and friendly team, you can rest assured you will be in good hands while enjoying your well-deserved break here in the Cook Islands. Ara Tapu • Ngatangiia • +682 26 189 • resort@moanasands.com NO FEES FOR KIWIS while you are on holiday! Spend like a local *Terms and Conditions Apply *If you hold a New Zealand issued card to a New Zealand bank depicted on our ATM, you will not be charged an international fee by BCI.** ** BCI will not be responsible for other bank charges bci.co.ck | cash@bci.co.ck | +682 29341 *
THINGS TO See & Do
With its palm fringed beaches, turquoise lagoons and volcanic peaks, take the time to explore this wonderous paradise.
SNORKELLING
Snorkel around the lagoon that surrounds Rarotonga and Black Rock Beach. Go Local Cook Islands offer sustainable and ecofriendly ocean adventures and tours.
DIVING
Boasting over 30 dive sites around Rarotonga alone, embark on a diving tour.
FISHING
For fishing enthusiasts, there's plenty of opportunity here to pull in some marlin, yellow fin tuna, wahoo or mahi mahi.
MURI BEACH
On the southeast coast of Rarotonga, Muri Beach or Muri Lagoon is one of the most popular beaches on the island. A great spot for snorkelling and you can grab a bite to eat at one of the many nearby restaurants and resorts.
TITIKAVEKA BEACH
On the southwest coast of Rarotonga, Titikaveka Beach is one of the island's best areas to swim and snorkel as the water is so clear. The lagoon is dotted with blue sea stars and there is plenty of marine life around the coral heads. There is a small settlement nearby where you can visit the coral stone Cook Islands Christian Church dating back to 1841.
MARIE NUI GARDENS
A short stroll from Titikaveka Beach, the Maire Nui Gardens is a lovely place to explore with 7 acres of vibrant Cook Islands' flora, with lily-topped ponds, wild ginger, hibiscus, palms, and many tropical plants flourishing here. Enjoy a bite to eat at the little open-sided café.
CROSS ISLAND HIKE TO TE RUA MANGA (THE NEEDLE)
Trek through fertile rainforest along the Cross Island Walk, which is about 6km in length. Trekkers can explore the local flora and enjoy a lovely panorama on top of the Needle. On the way down, the track meets Wigmore's Waterfall where you can swim and refresh. A guided tour is highly recommended. Be sure you follow the safety tips.
EXPLORE THE CAVES
Mauke is the perfect place to go caving. Hidden among the island's 'makatea' (limestone rock) is a selection of caves and most of Mauke's caves have a swimming pool, locally known as 'vai'. The best swimming cave is Vai Nauri which features a deep pool with clear blue water extending more than 100m back and 50m across with striking limestone features. A short walk from Ngatiarua village, there's a 500m trail through gardens and jungle to this popular swimming hole with a platform to make getting in and out easy. Sturdy shoes are a must, along with insect repellent.
GET MUDDY
Buckle up for some serious fun with Raro Buggy Tours. Strap into an open-sided buggy on a muddy slipping and sliding adventure around the twists and turns of a purpose-built track winding through a hillside papaya plantation. Ending at Papua (Wigmore's) Waterfall for a swim. Definitely an adventure to remember! Tip: Don't wear your best clothes.
Snorkelling, Aitutaki, Credit: Alexandra Adoncello
Te Rua Manga, Credit: Johnny Hendrikus
Vai Nauri, Mitiaro, Credit: Noel Bartley
Raro Buggy Tours, Credit: Ben Teina @jungleclix
The Cook Islands is flush in beautiful attractions and holiday activities.
TE VARA NUI VILLAGE OVER WATER NIGHT SHOW
Perfect for families, the Te Vara Nui Village Over Water Night Show & Buffet Dinner is a wonderful cultural experience. The over-the-water setting, costumes, dancing, music and islandstyle feast make for a great evening. You may even be called upon to participate!
CULTURAL NIGHTS
Take part in one of the famous Cultural Nights and enjoy great food and vibrant local entertainment. You will be treated to dances and songs, local music and a feast which includes an 'umu', where food is cooked in an underground oven.
ENJOY THE SUNSET
Take in a stunning sunset at Wilson's Restaurant & Beach Bar at Castaway Resort. Set on the beach with some of the best cocktails around, enjoy the stunning view, live music and bonfires. Order a Cook Islands Lager from the Rarotonga Brewery.
SPA TREATMENT
Relax, unwind and recharge with a pampering spa treatment at Moana Sands Hibiscus Spa, Spa Nautilus at Nautilus Resort, or The Spa at Muri Beach Club Hotel.
AVARUA, RAROTONGA
On the north coast of Rarotonga is Avarua, is the capital of the Cook Islands. This lovely little town has shops, restaurants, and tourist attractions. Take in the cultural history of the islands at the Cook Islands Library and Museum. Enjoy Maori hymns on Sunday mornings, at the Avarua CICC (Cook Islands Christian Church). Explore the rusted wreck of the Matai, a popular spot to snorkel.
DISCOVER MARINE & WILDLIFE ECO CENTRE
Visit the Discover Marine & Wildlife Eco Centre, a great interactive centre to learn about the creatures that inhabit the Cook Islands, both on land and in the sea. Entry fees help with the rescue and rehabilitation programme run by the centre.
AROA LAGOONARIUM MARINE RESERVE
The crystal-clear waters of the Aroa Lagoonarium Marine Reserve are among the best places on the island for swimming and snorkelling. It is an ideal spot for families with small children as the lagoon is off-limits to motorised boats. Parrot fish, angelfish, Moorish idols, and moray eels are just some of the species you might spot here.
AITUTAKI LAGOON
This picture-perfect lagoon is the ideal tropical paradise setting. Voted one of the best places to visit, at Aitutaki's world-famous lagoon you will find 21 motus (islets) dotting the turquoise clear waters. You can visit some of the small motus by kayak or to visit the larger islands via a cruise or tour.
TAPUAETAI (ONE FOOT ISLAND) AITUTAKI
Tapuaetai, or One Foot Island as it is more commonly known, is the most visited of Aitutaki's motu. Book a tour from Aitutaki to explore the island. Hermit crabs scuttle along the shore, and you can walk around the entire island in around 20 minutes. Among the sea life spotted here are giant clams, giant trevally, and brightly coloured coral.
MOUNT MAUNGAPU AITUTAKI
Mount Maungapu is the highest point on Aitutaki, standing at 124 meters. The short 30-minute hike to the top rewards you with spectacular views over the lagoon. The trailhead is marked by a sign on the road opposite Paradise Cove. Bring plenty of water and insect repellent.
EXPLORE THE SISTER ISLANDS
Visit the Sister Islands, namely Atiu, for their unspoilt beauty and natural attractions including caves, beaches and birdlife.
Credit: Alexandra Adoncello
Avatiu Harbour, Avarua, Credit: Cook Islands Tourism
Whaling Exhibition Discover Marine Eco Centre, Credit: Cookislandspocketguide.com
One Foot Island, Aitutaki, Credit: Zhang Da Qiang
Beautiful Rarotonga
Boasting
The lagoon surrounding Rarotonga is a shallow haven for people of all swimming abilities and is very popular with families and keen snorkellers. Nude and topless bathing are deemed offensive in the Polynesian culture and visitors are reminded to wear appropriate swimming attire when visiting the beaches. The beaches on the north/north eastern side of the island are best suited for surfers as the reef lies close to the shore. It is recommended that you surf with a local.
AVARUA TOWN
On the north coast of Rarotonga, about five minutes drive from the international airport, Avarua Town is a pleasant seaside township with a number of restaurants and boutique shops. The Saturday morning market is a fantastic place to buy local produce, such as fruits, vegetables, handcrafted items and souvenirs. There are also two international banks and a local bank with ATMs and supermarkets available here.
MURI BEACH
Set on the south-east corner of Rarotonga, Muri Beach is a popular spot for watersports, including kitesurfing and standup paddle boarding. The white sandy beach with coconut palms and ironwood trees stretches for about a mile. There are four small uninhabited islands within the reef which can be reached by wading across at low and high tide, or by renting a kayak. Maire Nui Gardens, the only botanical gardens on the island, is situated on the coastal island road around 3kms clockwise from Muri and about 600m past the Fruits of Rarotonga. The gardens are well laid out, and contain many samples of the fruit and flora of the islands.
SOUTH COAST RAROTONGA
Majestic deserted beaches make the south coast of Rarotonga the perfect place for those seeking their own private paradise. About a ten minute hike inland from the South Coast Road you'll find Papua Waterfall, otherwise known as Wigmore's waterfall, which is an excellent spot for swimming. The falls are usually in full flow between November and May and a fee of $5 is required for vehicles accessing the falls. Tip: don't forget your mosquito repellent!
WEST COAST RAROTONGA
Meandering along the entire west coast of Rarotonga, the beaches are backed by dense, natural wilderness which is perfect for exploring. This area also contains a great selection of bars and restaurants where you can sit and enjoy Rarotonga's stunning, warm sunsets.
picturesque beaches and lush mountain views, Rarotonga offers fun water and leisure activities as well as excellent walking treks.
Rarotonga, Credit: Cook Islands Tourism / Daniel Fisher
Rarotonga, Credit: Creators Hype
Food & Dining Out
If you're seeking a dining experience that allows you to absorb the local culture, try a progressive dining tour. Progressive dining tours take you inside the homes of Rarotongans to experience authentic Cook Islands cuisine and that special hospitality that the locals are known for. The tour takes up to five hours and includes three courses which are hosted across three homes.
For a fresh food experience try the Punanga Nui Market on Rarotonga, which occurs every Saturday morning from 7am to 12pm. The Muri Night Market is open Tuesday, Wednesday, Thursday and Sunday from 5pm for delicious food and great entertainment.
In Rarotonga, you won't be short on options for dining out, with chefs serving up a delicious blend of Pacific and international cuisines. Utilising the finest of local ingredients and specialty imports, you'll discover a culinary oasis within the island's spectacular surrounds. It's recommended that you try Ika Mata (a raw fish dish) and Poke (a local delicacy that is pudding-like and typically made with bananas).
Some of the restaurants on the island only open for dinner so it's a good idea to book as in peak trade periods you risk missing out. It's also worth noting that there's a tendency to eat early in the Cook Islands so many restaurants will close their kitchens as early as 9pm.
Generally speaking, restaurants provide entertainment which means you can sit back and dine while the entertainment comes to you. In most cases, restaurants are licensed to serve alcohol. The dress code for restaurants is casual, and women are encouraged to wear a flower behind their ear in true Cook Islands style. Most food establishments are open for breakfast and lunch.
In Aitutaki, the Pacific and international food fusion continues with restaurants serving up a mix of fresh locallycaught seafood, pizza and pasta, and curries. Relax, eat and unwind with beautiful ocean views.
Food is an important part of the Cook Islands hospitality experience, so take full advantage of the exciting array of dining options.
Beach picnic, Kutekute Food, Credit: Cookislandspocketguide.com
26657
Nightlife & Entertainment
If you've never experienced a Cook Islands Cultural Night then you're in for a treat. This event is a reflection of the history and diversity particular to the Cook Islands. At the Island Nights, visitors get a glimpse of what the tradition of Maori culture in the region means, and how it has developed to produce such a proud and strong race. Each Island Night differs from the next and visitors are encouraged to take the time to see a number of shows to truly appreciate the experience.
The Crown Beach Resort and Spa hosts a Cultural Island Night and Show every Thursday from 6pm, which boasts local entertainment and a fantastic dance and drum show. Enjoy an Umu Feast at Highland Paradise and experience awe inspiring cultural shows and interactive tours, all brought to life by descendants of King Tinomana. The Islander Hotel also hosts a spectacular Island Night complete with a buffet, cultural show and fire dance. For a great night of food and entertainment, Te Vara Nui hosts a Spectacular Over Water Night show and Buffet Dinner.
The nightlife in Avarua is great and bars such as the popular Rehab Nightclub and the Raro Pub Crawl (party bus) are fantastic places to hang out and be entertained. Whether you are going for a drink, a meal or simply somewhere just to enjoy the relaxed local culture, you won't be disappointed when you venture out.
Rarotonga, Credit: Craig Owen
w w w.t e v a r a n u i .c o .c k Phone: +682 24006
If you're seeking entertainment to relax and unwind, you'll be delighted by what the Cook Islands have to offer.
COOK ISLANDS
Music and dance are important components of the lifestyle in the Cook Islands, and the locals are regarded as fine Polynesian dancers. The lively, upbeat drumming which accompanies dance performances further emulates the vibrancy of this wonderful culture.
Traditional Cook Islands art has revolved around decorative woodcarvings, tattooing and Tivaevae designs. Today, there are several contemporary carvers sculpting local wood and supplying boutique shops with Tangaroa (the male fertility God) statues and other trinkets like the pate slit drums. Some intriguing examples of Tangaroa can be seen in the Cook Islands National Museum in Avarua Town. The Cook Islands Library and Museum Society also has cultural displays that are worth checking out.
The two official languages of the region are Cook Islands Maori and English. Each island has their own Cook Islands Maori dialect. There are many differences in dialect between the southern and northern islands .
ESCAPE NAUTILUS RESTAURANT SPA NAUTILUS FOR A DAY OR A GETAWAY... MAKE A RESERVATION Ph: 25125 E: dining@nautilusresortrarotonga.com E: spa@nautilusresortrarotonga.com
Culture
Kick back, relax and soak up the culture of the Cook Islands.
A Mangaia Pe'e, Te Maeva Nui competitions, Credit: Noel Bartley
Rarotonga, Credit: Cook Islands Tourism
INLAND
Trekking
Before doing so, please consider our safety points.
• A sk a local for advice
• Wear strong footwear
• Advise your accommodation or host of your intentions
• Do not attempt treks if it has rained or rain is forecast
• A llow at least 3-5 hours walking time for the trek
• Take a jacket & drinking water
• E xplore with at least a party of three
• Do not rely on mobile service whilst on the trek, reception is unreliable
• Plan to be back down before it gets dark
• Be advised - considerable physical effort is required on parts of the trek
• I f you are unsure, book a guided tour with a local professional
• C heck your footwear is clean from plant debris or seeds to stop invasive species entering new areas
For emergencies call 999
Te Rua Manga, Credit: Kieran Scott
Useful Information
CURRENCY
The Cook Islands' unit of currency is the New Zealand Dollar, supplemented by unique local coins and notes, including the only $3 note in circulation in the world. On Rarotonga, banks and money exchange agencies are located in Avarua and are generally open Monday to Friday 9am to 3pm.
ATMs are conveniently located around Rarotonga including one at the international airport after you clear customs. EFTPOS and credit card facilities are available at most retail outlets, restaurants and businesses.
DRIVING
Vehicles are driven on the left hand side of the road. The motor scooter speed limit is 40kmph and safety helmets are mandatory for both drivers and passengers. The maximum road speed is 40kmph in town and villages, and 50kmph outside of built up areas. Special 20kmph zones are in place around schools during school times, and 30kmph zones are in place in Avarua and Muri. Visitors from New Zealand, Australia, US, Canada, UK and the EU can drive a motor vehicle on their full overseas license for up to six months in the Cook Islands. Those who don't have a motorbike license will have to obtain a Cook Islands drivers license. The cost is a total of $40: $10 for the theory test, $10 for the practical test, and $20 for the license.
WATER
Visitors are generally advised not to drink the tap water in the Cook Islands. Most resorts and hotels have installed their own filtration systems and there's a number of local filling stations in villages which are free for people to use.
SAFETY & SECURITY
Free call 999 for medical services and other emergencies including the police and fire service. Be aware of your own safety and security especially when enjoying your outdoor adventures. Visitors are encouraged to explore the forests and lagoons, using accredited businesses. Ask your hosts or other locals first before swimming or snorkelling at a beach with a reef passage. It is unsafe to swim or snorkel alone and is recommended you tell others where you are going. Look out for safety signs and keep valuables safe at all times.
DRESS
Although the dress code is informal, brief attire is not to be worn when visiting town, churches or villages. Nude or topless sunbathing/swimming is also to be avoided.
Mini Cooper Car Rental Transport, Credit: cookislandspocketguide.com
Shopping & Black Pearls
Take a piece of the Cook Islands home with you by purchasing some island crafts which showcase the unique culture of the region. Don't forget that the area is treasured for its stunning black pearls. What better souvenir to remind you of the exquisite beauty of the Cook Islands?
You'll also find hand painted sarongs and bedding for sale, which reflect the sunny atmosphere of the region and its people.
BLACK PEARLS
Cook Islands cultured black pearls are exquisite, rare gems perfected by nature in the stunning lagoons of the Northern Cook Islands.
The lustre of the pearl is reminiscent of the rainbow belonging to Rongo, the Polynesian God of peace, who descended from the heavens on a rainbow. A thousand years later, pearls remain the most treasured of all gems found in the Pacific Islands.
The Cook Islands' long heritage in pearl farming started in the 1800s when the lagoons of Manihiki and Penrhyn (Tongareva) were harvested for natural pearls and the black-lipped mother-of-pearl shells. Although pearl cultivation began in the 1970s, commercial pearl farming did not commence until the 1980s on Manihiki and then later extended to the islands of Penrhyn and Rakahanga.
Strict benchmarks and standards are monitored by the Cook Islands Pearl Authority. The small annual crop makes them a truly rare gem, and so they are only available through a network of accredited outlets in the Cook Islands.
While the Cook Islands are known for tropical beauty and popular activities such as snorkelling and diving, the region also provides some great shopping.
Credit: Melanie Cooper Photography
Credit: Cook Islands Pearl Authority
Credit: Cook Islands Pearl Authority
Spectacular Marine Life
The lagoon around Rarotonga is a haven for marine life, thanks to the protective coral reef on the southern side that acts as a wall between the ocean. Once you pass over the reef, the ocean floor falls to a depth of approximately 4,500 metres. While it is safe to snorkel in the lagoon there are some areas to avoid: the water passages that enter from the land are dangerous and should be avoided at all times.
The snorkelling on the south-eastern side of Rarotonga is superb between Muri Beach and the Fruits of Rarotonga. There is also great snorkelling on Aroa Beach, Titikaveka Beach and Social Centre Beach. Be sure to wear reef shoes when you snorkel because some of the rocks and shells can be sharp. Reef shoes are available throughout Rarotonga, both at the resorts and through various small hire operators situated along the roadside.
It is extremely important to remember that the reef is a delicate eco system that is under constant threat from modern day interference. Visitors are encouraged to view, swim through and admire the reef, but are asked to avoid walking or stepping on coral. It is also recommended that you shuffle your feet so that you don't crush the delicate sea flora and crustaceans.
For divers to the region, Rarotonga alone sports over 30 dive sites. The east coast offers up Avana Passage, while the north is abundant in sites including Maritime Reefer, Croc Caverns, Alberto's Paradise, Swiss Reef and Sand River. In the south, try The Pinnacles, Rarotongan, Papua Passage and Avaavaroa Passage.
Boasting the most pristine waters in the world as well as a stunning range of marine life, the Cook Islands draw divers and snorkellers from all over the globe.
Credit: Charlotte Piho
DIVE CHARTERS Adventure Cook Islands - Reef To See 22 212 Dive Rarotonga 21 873 Pacific Divers 22 450
RAROTONGA
Fishing
Close to shore, fishermen can pull in marlin, yellow fin tuna, mahi mahi and wahoo. These are all great fighting fish and it's quite common to reel in a 16kg specimen. Charter boats can target specific species such as giant trevalley, yellow fin tuna, red snapper (deep bottom), bluefin trevalley, wahoo and marlin.
If you are travelling to Aitutaki, be sure to try your hand at bonefishing. The area is famous for the sport and monster bonefish of up to 9kgs have been caught in the region. Bonefish are generally caught on fly and the Aitutaki lagoon's large expanse gives the visitor a few options on where to fish at different times of the day.
Many of the fish in the lagoon around Rarotonga carry a toxin called 'ciguatera' which can cause severe food poisoning. Visitors are asked to refrain from fishing in the waters of this lagoon.
Aitutaki, Credit: Turama Photography
Fishing in the Cook Islands is simply world class.
Amazing Aitutaki
Aitutaki, surrounded by a shimmering turquoise lagoon, is the quintessential island getaway. The main village Arutunga is located on the west coast and features shops, a post office and a wharf.
CULTURE
On Island night you can see the Tamanu Beach Cultural Fire and Dance Show. Showcasing authentic costumes and dancers, the show is a testament to the island's enduring customs.
ATTRACTIONS
The lagoon is undoubtedly the highlight of a visit to Aitutaki. You can enjoy bone fishing, kite boarding, Polynesian paddling and traditional voyaging, as well as world class diving, snorkelling and swimming. Get your passport stamped on One Foot Island, and escape to Honeymoon Island for a sun-soaked romantic getaway. Traditional conservation reserves are in place in the lagoon so be sure not to take anything except photographs. Check your permit requirements before fishing.
While on Aitutaki, check out Mount Maunga Pu, which is a simple 30 minute walk to the flat top. To continue to the peak, please be mindful that the trek can be slippery. A great way to explore the island is by scooter or bicycle, and day cruises depart from Aitutaki to the smaller surrounding islands.
AITUTAKI ESSENTIAL
Services
AITUTAKI POLICE 31 015
AITUTAKI HOSPITAL 31 002
The Post office is located at the main 4 way junction in town. Open Monday-Friday 8am-4pm.
Aitutaki has two ATMs - BSP and BCI
Air Rarotonga Flights available Monday–Sunday with 2-4 flights per day. Call Air Rarotonga on 31 888 for bookings.
Vodafone WiFi hotspots can be found all around the main island of Aitutaki.
Aitutaki Airport AKITUA ANGAREI MANGERE PAPAU TAVAERUAITI TAVAERUA AKAIAMI MURITAPUA TEKOPUA TAPUAETAI RAPOTA MAINA HONEYMOON - MOTU TAVAKE ISLAND MOTURAKAU MOTUKITIU EE Maungapu (124 m) One Foot Island Golf Club Wreck of Alexander Giant Clam Reserve Te Koutu Pt Ootu Peninsula ARUTANGA VAIPAE AMURI Kaiami - Akaiami Beach Sunset Beach Ootu Beach Tamanu Beach AITUTAKI Aitutaki Lagoon Arutanga Passage Maina Pinnacles The Coral Gardens The Turtle Hole Eagle Ray Alley Roads Local roads Foot tracks Hospital Places of Interest Dive site Beach Reef 0 Scale 2 km N So ut h Pacifi c Oc ean So ut h Pacifi c Oc ean AITUTAKI
Aitutaki is a small, tranquil island less than an hour's flight from the main island of Rarotonga. Its sheer beauty is unsurpassed.
Credit: Ben Teina @jungleclix
Getting Around
In Rarotonga, there are two passenger buses which operate clockwise and anticlockwise on a regular basis. There are nominated bus stops, however, in the typically friendly Cook Islands way, visitors can simply flag down a bus from anywhere and in most cases the bus driver will stop. As this practice has now become common, many bus drivers will expect you to signal from a designated bus stop. So don't be shy, wave away! Bus timetables can be found at all accommodation establishments.
Two roads circle Rarotonga: the coastal road (Ara Tapu) and the inner road (Ara Metua), the latter of which is said to be the oldest in Polynesia. By scooter you should be able to circumnavigate the island in an hour. At a leisurely pace, a bicycle ride will take you around three hours, though with sightseeing included you can easily make it a full-day adventure. Bicycles are readily available for hire on Rarotonga and are a great way of getting around.
Visitors generally travel to the outer islands by air. Air Rarotonga is the only domestic airline and flies to nine of the 15 islands. Contact Air Rarotonga for the latest flight information on 22 888.
COOK'S ISLAND BUS PASSENGER TRANSPORT LTD
Cook's Island Bus Passenger Transport Ltd not only operates the public transportation on Rarotonga, they also provide bulk airport transfers and charters for all types of visiting groups as well as nightlife tours.
Public Transportation
We operate our busses daily, running clockwise and anticlockwise around Rarotonga. Please check our schedule for departure times.
Group Charters & Airport Transfers
We offer transportation for small or large groups (20+ passengers) anywhere on Rarotonga. We also offer group transportation to and from the airport and also can provide large luggage transportation if needed. Please note that group services are charged at a per bus rate and is suited for groups of 20+ passengers.
Nightlife Tour Bus 'Raro by Night'
Experience Rarotonga's nightlife with our Raro by Night Tour. On this tour you'll check out the entertainment hot spots of Rarotonga while being provided with an easy way to get home at the end of the night.
For individual nightlife tour bookings, you can go through the Edgewater Resort and Spa (Wednesday and Friday nights) or The Rarotongan Beach Resort and Spa (Friday nights only).
DAYTIME TIMETABLE Minutes past hour LOCATION CLOCKWISEANTI-CLOCKWISE Cooks Corner, Avarua 0 30 Club Raro Resort 4 15 Avana Condos 12 9 Pacific Resort 15 5 Maire Nui Gardens / Little Polynesian 20 0 Palm Grove Motel 25 54 Rarotongan Beach Resort 30 50 Edgewater Resort 40 40 Airport 46 35 Cooks Corner, Avarua 50 30 NIGHT-TIME TIMETABLE (Mon - Sat) Minutes past hour LOCATION CLOCKWISE ONLY Cooks Corner, Avarua 00 Club Raro Resort 4 Pacific Resort 15 Vaima Steak House 26 Rarotongan Beach Resort 30 Edgewater Resort 40 RAROTONGA ROUND THE ISLAND BUS TIMETABLE
Travelling by road, bicycle or foot, Rarotonga has everything within easy reach.
IMPORTANT Tsunami Information
Educate yourself about tsunamis. Refer to signposts throughout the region. For up to date information, go to www.met.gov.ck Take official tsunami warnings seriously. Call 999 in case of an emergency.
BE AWARE OF NATURAL SIGNS:
• Strong earthquakes
• L oud roaring sounds
• Receding sea water
• Odd animal behaviour
IF A TSUNAMI IS APPROACHING:
• Do not stand near the shore to watch it.
• Head inland or seek higher ground immediately, avoiding roads.
• L eave belongings behind.
• I f you can't leave your building, move to a higher level or roof.
• Do not return to low lying areas until an official "all clear" has been given by local authorities.
Water Safety
• Do not swim, snorkel or kayak in or near passages
• Do not swim, snorkel or paddle alone
• Tell others where you are going
• A lways wear a life jacket when kayaking
• I f you are caught in a current SIGNAL FOR ASSISTANCE IMMEDIATELY
• Swim ACROSS (sideways to) the current to shallow water. If you cannot reach shallow water RELAX.
• STAY AFLOAT, RELAX, WAIT, REMAIN CALM.
STRONG CURRENTS & RIP TIDES PRESENT
FOR YOUR SAFETY
Do Not Kyak, Swim or Snorkel in the passages indicated below
Snorkelling in a coral lagoon, Credit: Cookislandspocketguide.com
YWAM Base
Old Sheraton Hotel Avaavaroa Passage
Papua Passage Rutaki Passage
Arorangi CICC Church
Arorangi Passage
Calendar of Events
JANUARY
Cook Island's Rugby League 9s
Cook Islands Beach Games
FEBRUARY
BSP Team Triathlon, Cook Islands Triathlon
MARCH
Te Mire Atu: Composers Song Competition
Te Mire Ura: Cook Islands Dancer of the Year
BSP Women's Triathlon, Cook Islands Triathlon
Penrhyn Gospel Day (26 March)
Pursuit in Paradise Marathon, Aitutaki
Christian Church Bi-Centennial Celebration, Aitutaki
APRIL
Easter Celebrations
Mana Tiaki Week
Korero Maori Speech Competition
Rarotonga Schools Festival
Maori Auri Tinman Triathlon
Kia Orana Youth Football Festival
Te Mire Ura: Cook Islands National Dancer of the Year
MAY
Triathlon Festival Rarotonga
Te Mire Ura: Cook Islands National Dancer of the Year
JUNE
National Strings Competition
Tangi Kaara – Cultural Drumming Competition
Palmerston Gospel Day (7 June)
Mangaia Gospel Day (28 June)
Raro Fire & Food Festival
JULY
BSP 100k Cycle Race, Cook Islands Triathlon
Te Maeva Nui – Constitution Celebrations
Atiu Gospel Day (19 July)
Mitiaro Christian Church Bi-Centennial Celebration
Mauke Christian Church Bi-Centennial Celebration
Rarotonga Christian Church Bi-Centennial Celebration
Te Maeva Nui (cultural festival) starts
Whale watching season begins
AUGUST
Te Maeva Nui (cultural festival) continues
Constitution Day (4 Aug)
The Aitutaki Liftoff
Manihiki Gospel Day (8 Aug)
Rakahanga Gospel Day (15 Aug)
Manureva Aquafest, Aitutaki
SEPTEMBER
Round Rarotonga Road Race
OCTOBER
Cook Islands Squash Open
National Gospel Day (26 Oct)
Aitutaki Gospel Day (27 Oct)
Whale watching season ends
NOVEMBER
Te Mire Tiare Flower Festival
Raro Rugby 7s
Vaka Eiva Canoeing Festival
DECEMBER
BSP Netball in Paradise
Pukapuka Gospel Day (6 Dec)
Motu2Motu Canoe Races Aitutaki
Tropical Christmas Santa Parade
Christmas in the Park
Koni Raoni, Aitutaki
Boxing Day Touch Rugby Tournament
For the most up to date Calendar of Events and dates, go to www.cookislands.travel
i
Aitutaki, Credit: Cook Islands Tourism / Daniel Fisher
Services
ANZ
Open Monday to Thursday 9am - 3pm, and Friday until 4pm (ATM available)
Bank of the Cook Islands – Maire Nui Drive, Avarua
Open Monday to Friday 9am – 3pm (ATM available)
BSP Bank – Main Road, Avarua. Open
ATMs are conveniently located around Rarotonga and Aitutaki and EFTPOS is available at most hotels and stores.
INTERNET/WIFI
Vodafone WiFi Hotspots are located throughout Rarotonga and Aitutaki at a variety of places such as the international airport, restaurants & cafes, resorts, bars, shops and more.
Free WiFi is extremely rare in the Cook Islands so be prepared to pay for the data you use. Vodafone vouchers can be purchased from any Vodafone outlet or reseller.
Local
seafood, curries, drinking coconuts and desserts. Stalls are cash only. Sunday,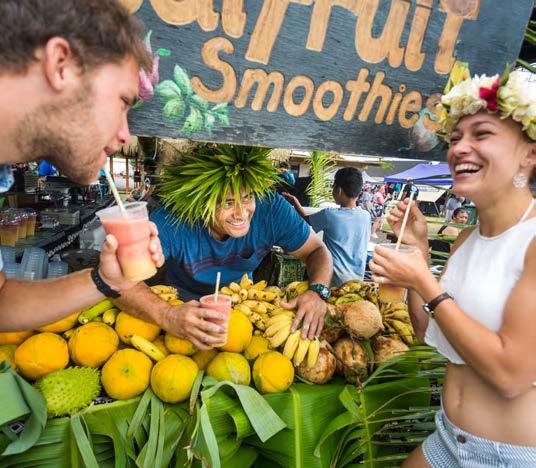 5pm
EMERGENCY SERVICES Police / Fire / Ambulance 999 POLICE Cook Islands Police (682) 22 499 Ara Tapu, Avarua District HOSPITAL Rarotonga Hospital (682) 22 664 Sanatorium Rd, Avarua District PHARMACY CITC Pharmacy (682) 29 292 CITC Shopping Centre Ara Tapu, Avarua District TRANSPORT Island Car & Bike Hire (682) 22 632 Cook's Island Bus Passenger Transport (682) 25 512 AVIS (682) 22 833
& ATMS
BANKS
Bank – Maire Nui Drive, Avarua
weekdays 9am
Western Union (682) 29 907
- 3pm, (ATM available)
CICT Supermarket (682) 22 777 Ara Tapu, Avarua, Rarotonga CITC Foodland (682) 23 127 Ara Tapu town centre, Avarua, Rarotonga Prime Foods (682) 22 259 St Joseph's Road, Avarua, Rarotonga Wigmore's Superstore 24 hours/7 days (682) 20 206 Ara Tapu, Vaimaanga, Titikaveka, Rarotonga KAPS Matavera (682) 27 747 Cnr Ara Tapu & Tamarua Road, Matavera, Rarotonga Kavera Central (682) 22 962 Ara Tapu Arorangi District, Rarotonga Super Brown 24 hour service station (682) 20 140 Ara Tapu, Tupapa, Rarotonga The Bond Liquor Store (682) 21 007 1 Maire Nui Drive, Avarua, Rarotonga VISITOR INFORMATION CENTRE Located next to the ANZ Bank in Avarua. (682) 29 435
Nui Markets
food stalls, drinks &
mornings in Avarua.
Night Markets
SUPERMARKETS
ESSENTIAL Markets Punanga
Local
souvenirs. Saturday
7am to 12pm Muri
Tuesday,
&
BBQ meals,
Wednesday
Thursday evenings from
in Muri Beach Village. LOCAL
Punanga Nui Market, Credit: Zhang Da Qiang
Punanga Nui Market, Credit: Cook Islands Tourism
JOHN BATMAN GROUP
We respect and honour Aboriginal and Torres Strait Islander Elders past, present and future. We acknowledge the stories, traditions and living cultures of Aboriginal and Torres Strait Islander peoples on this land and commit to building a brighter future together.
The information contained in this publication is provided as a guide only. Although every effort has been made to ensure the accuracy of the information, John Batman Group disclaims any liability or responsibility for the accuracy of the information contained herein. Advertising material appearing in this publication is supplied by the operator or service provider and John Batman Group is not responsible for the accuracy of advertising content.
This guest services room publication is compiled and produced by John Batman Group, publishers of specialist room directories and magazines.
John Batman Group and Just Brilliant Guides are trademarks of Frankie119 Pty Ltd. Compiled with
FREECALL
johnbatman.com.au
1800 339 493
Images courtesy of
Islands Tourism. Front Cover: Credit: Ben Teina @jungleclix (top) Credit: Alexandra Adoncello (bottom) Back Cover: Credit: Jyo Shankar © Copyright all rights reserved. JBG–X
the assistance of Cook Islands Tourism
Cook
Scan To View Digital Edition IN ASSOCIATION WITH Address: PO Box 726 Ringwood,
3134 Australia Email: info@johnbatman.com.au
Victoria