GAME DAY READY 2023 swigwholesale.com
DOWN FOR BREWS. SET ON SIPS. SCORE THE CUPS!
START WITH A MINIMUM OF 3-5 SHAPES IN YOUR FAVORITE PRINTS!
• Variety is what sells Swig, so don't be shy.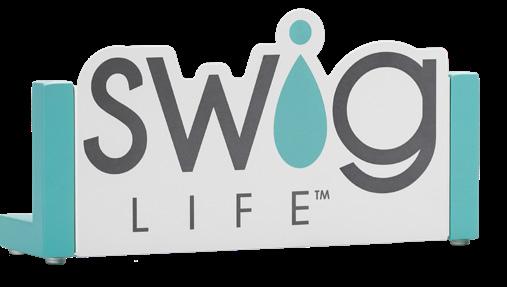 • Add in a few solid colors, too.
New styles are added every season.
BE SURE TO INCLUDE TOP SELLERS!
Mugs, tumblers, and wine cups
When selecting prints,
customers.
DON'T FORGET THE EXTRAS!
on straws
Consider a floor
lids,
must-haves.
your area
impact.
2 SHOP NOW @ SWIGWHOLESALE.COM
•
•
are
•
consider
and your
• Add
+
customers will ask for them. •
fixture for
Tailgate time! SW-MFX-TBL Tabletop Sign 11"W x 5.5"H x 3"D $25.00 EA SW-MFX-TLPG Tall Floor Display 25"W x 69"H x 17"D $200.00 EA DISHWASHER SAFE NONSLIP SILICONE BASE TRIPLE-INSULATED TECHNOLOGY ECO FRIENDLY GREAT FOR GIFTING CUP HOLDER FRIENDLY MADE FOR WOMEN BY WOMEN
ADD A DISPLAY!
CRIMSON
S110-C32-TCR
Touchdown Crimson 32oz Tumbler $20.00 EA
Min of 6 - $120.00
S110-M40-TCR
Touchdown Crimson 40oz Mega Mug $24.00 EA
Min of 6 - $144.00
S310-NBTL-TCR
Touchdown Crimson Bottle Coolie $4.50 EA
Min of 6 - $27.00
S310-NSLM-TCR
Touchdown Crimson Skinny Can Coolie $4.50 EA Min of 6 - $27.00
S310-NCAN-TCR
Touchdown Crimson Can Coolie $4.50 EA Min of 6 - $27.00
S110-C32-FCR
Fanzone Crimson 32oz Tumbler $20.00 EA Min of 6 - $120.00
S110-M40-FCR
Fanzone Crimson 40oz Mega Mug $24.00 EA
Min of 6 - $144.00
S310-NBTL-FCR
Fanzone Crimson Bottle Coolie $4.50 EA
Min of 6 - $27.00
S310-NSLM-FCR
Fanzone Crimson
Skinny Can Coolie $4.50 EA
Min of 6 - $27.00
S310-NCAN-FCR
Fanzone Crimson Can Coolie $4.50 EA Min of 6 - $27.00
3SWIG LIFE GAME DAY 2023 CATALOG
BLACK + RED
S310-NCAN-TBR
Touchdown Black
Can Coolie
- $27.00
S310-NSLM-TBR
Touchdown
S310-NBTL-TBR
Touchdown
-
S310-NCAN-FBR
Fanzone
S310-NSLM-FBR
Fanzone
S310-NBTL-FBR
Fanzone
S110-M40-TBR
Touchdown
Touchdown
S110-M40-FBR
Fanzone
S110-C32-FBR
Fanzone
4 SHOP NOW @ SWIGWHOLESALE.COM
Black + Red Bottle Coolie $4.50 EA Min of 6 - $27.00
Black + Red 32oz Tumbler $20.00 EA Min of 6 - $120.00
Black + Red 40oz Mega Mug $24.00 EA Min of 6 - $144.00
+ Red
$4.50 EA Min of 6
Black + Red Skinny Can Coolie $4.50 EA Min of 6
$27.00
Black + Red Bottle Coolie $4.50 EA Min of 6 - $27.00
Black + Red 32oz Tumbler $20.00 EA Min of 6 - $120.00
Black + Red 40oz Mega Mug $24.00 EA Min of 6 - $144.00
Black + Red Can Coolie $4.50 EA Min of 6 - $27.00
Black + Red Skinny Can Coolie $4.50 EA Min of 6 - $27.00
PURPLE + YELLOW
S110-M40-TPY
Touchdown Purple + Yellow 32oz Tumbler $20.00 EA
Min of 6 - $120.00
Touchdown Purple + Yellow 40oz Mega Mug $24.00 EA
Min of 6 - $144.00
S310-NBTL-TPY
Touchdown Purple + Yellow Bottle Coolie $4.50 EA
Min of 6 - $27.00
S310-NSLM-TPY
Touchdown Purple + Yellow Skinny Can Coolie $4.50 EA Min of 6 - $27.00
S310-NCAN-TPY
Touchdown Purple + Yellow Can Coolie $4.50 EA
Min of 6 - $27.00
S110-C32-FPY
Fanzone Purple + Yellow 32oz Tumbler $20.00 EA
Min of 6 - $120.00
S110-M40-FPY
Fanzone Purple + Yellow 40oz Mega Mug $24.00 EA
Min of 6 - $144.00
S310-NBTL-FPY
Fanzone Purple + Yellow Bottle Coolie $4.50 EA
Min of 6 - $27.00
S310-NSLM-FPY
Fanzone Purple + Yellow Skinny Can Coolie $4.50 EA
Min of 6 - $27.00
S310-NCAN-FPY
Fanzone Purple + Yellow Can Coolie $4.50 EA
Min of 6 - $27.00
5SWIG LIFE GAME DAY 2023 CATALOG
ORANGE
S310-NCAN-TOR
Touchdown Orange Can Coolie $4.50 EA Min of 6 - $27.00
S310-NSLM-TOR
Touchdown Orange Skinny Can Coolie $4.50 EA Min of 6 - $27.00
S310-NBTL-TOR
Touchdown Orange Bottle Coolie $4.50 EA
Min of 6 - $27.00
S110-M40-TOR
Touchdown Orange 40oz Mega Mug $24.00 EA Min of 6 - $144.00
S110-C32-TOR
Touchdown Orange 32oz Tumbler $20.00 EA Min of 6 - $120.00
S310-NCAN-FOR
Fanzone Orange Can Coolie $4.50 EA Min of 6 - $27.00
S310-NSLM-FOR
Fanzone Orange Skinny Can Coolie $4.50 EA Min of 6 - $27.00
S310-NBTL-FOR
Fanzone Orange Bottle Coolie $4.50 EA
Min of 6 - $27.00
S110-M40-FOR
Fanzone Orange 40oz Mega Mug $24.00 EA
Min of 6 - $144.00
S110-C32-FOR
Fanzone Orange 32oz Tumbler $20.00 EA Min of 6 - $120.00
6 SHOP NOW @ SWIGWHOLESALE.COM
ORANGE + PURPLE
S110-C32-TOP
Touchdown Orange + Purple 32oz Tumbler $20.00 EA
Min of 6 - $120.00
S110-M40-TOP
Touchdown Orange + Purple 40oz Mega Mug $24.00 EA
Min of 6 - $144.00
S310-NBTL-TOP
Touchdown Orange + Purple Bottle Coolie $4.50 EA
Min of 6 - $27.00
S310-NSLM-TOP
Touchdown Orange + Purple Skinny Can Coolie $4.50 EA Min of 6 - $27.00
S310-NCAN-TOP
Touchdown Orange + Purple Can Coolie $4.50 EA Min of 6 - $27.00
S110-C32-FOP
Fanzone Orange + Purple 32oz Tumbler $20.00 EA Min of 6 - $120.00
S110-M40-FOP
Fanzone Orange + Purple 40oz Mega Mug $24.00 EA
Min of 6 - $144.00
S310-NBTL-FOP
Fanzone Orange + Purple Bottle Coolie $4.50 EA
Min of 6 - $27.00
S310-NSLM-FOP
Fanzone Orange + Purple Skinny Can Coolie $4.50 EA
Min of 6 - $27.00
S310-NCAN-FOP
Fanzone Orange + Purple Can Coolie $4.50 EA Min of 6 - $27.00
7SWIG LIFE GAME DAY 2023 CATALOG
ROYAL + ORANGE
S310-NCAN-TRO
Touchdown Royal + Orange Can Coolie $4.50 EA Min of 6 - $27.00
S310-NCAN-FRO
Fanzone Royal + Orange Can Coolie $4.50 EA Min of 6 - $27.00
S310-NSLM-TRO
Touchdown Royal + Orange Skinny Can Coolie $4.50 EA Min of 6 - $27.00
S310-NSLM-FRO
Fanzone Royal + Orange Skinny Can Coolie $4.50 EA
Min of 6 - $27.00
S310-NBTL-TRO
Touchdown Royal + Orange Bottle Coolie $4.50 EA Min of 6 - $27.00
S310-NBTL-FRO
Fanzone Royal + Orange Bottle Coolie $4.50 EA Min of 6 - $27.00
S110-M40-TRO
Touchdown Royal + Orange 40oz Mega Mug $24.00 EA Min of 6 - $144.00
S110-M40-FRO
Fanzone Royal + Orange 40oz Mega Mug $24.00 EA
Min of 6 - $144.00
S110-C32-TRO
Touchdown Royal + Orange 32oz Tumbler $20.00 EA Min of 6 - $120.00
S110-C32-FRO
Fanzone Royal + Orange 32oz Tumbler $20.00 EA Min of 6 - $120.00
8 SHOP NOW @ SWIGWHOLESALE.COM
ROYAL
S110-C32-TRY
Touchdown Royal 32oz Tumbler $20.00 EA Min of 6 - $120.00
S110-C32-FRY
Fanzone Royal 32oz Tumbler $20.00 EA Min of 6 - $120.00
S110-M40-TRY
Touchdown Royal 40oz Mega Mug $24.00 EA Min of 6 - $144.00
S310-NBTL-TRY
Touchdown Royal Bottle Coolie $4.50 EA Min of 6 - $27.00
S310-NSLM-TRY
Touchdown Royal Skinny Can Coolie $4.50 EA Min of 6 - $27.00
S310-NCAN-TRY
Touchdown Royal Can Coolie $4.50 EA Min of 6 - $27.00
S110-M40-FRY
Fanzone Royal 40oz Mega Mug $24.00 EA Min of 6 - $144.00
S310-NBTL-FRY
Fanzone Royal Bottle Coolie $4.50 EA Min of 6 - $27.00
S310-NSLM-FRY
Fanzone Royal Skinny Can Coolie $4.50 EA Min of 6 - $27.00
S310-NCAN-FRY
Fanzone Royal Can Coolie $4.50 EA Min of 6 - $27.00
9SWIG LIFE GAME DAY 2023 CATALOG
MAROON
S310-NCAN-TMR
Touchdown Maroon Can Coolie $4.50 EA Min of 6 - $27.00
S310-NSLM-TMR
Touchdown Maroon Skinny Can Coolie $4.50 EA
Min of 6 - $27.00
S310-NBTL-TMR
Touchdown Maroon Bottle Coolie $4.50 EA
Min of 6 - $27.00
S110-M40-TMR
Touchdown Maroon 40oz Mega Mug $24.00 EA
Min of 6 - $144.00
S110-C32-TMR
Touchdown Maroon 32oz Tumbler $20.00 EA Min of 6 - $120.00
S310-NCAN-FMR
Fanzone Maroon Can Coolie $4.50 EA Min of 6 - $27.00
S310-NSLM-FMR
Fanzone Maroon
Skinny Can Coolie $4.50 EA
Min of 6 - $27.00
S310-NBTL-FMR
Fanzone Maroon Bottle Coolie $4.50 EA
Min of 6 - $27.00
S110-M40-FMR
Fanzone Maroon 40oz Mega Mug $24.00 EA
Min of 6 - $144.00
S110-C32-FMR
Fanzone Maroon 32oz Tumbler $20.00 EA Min of 6 - $120.00
10 SHOP NOW @ SWIGWHOLESALE.COM
MAROON + ORANGE
S110-C32-TMO
Touchdown Maroon + Orange 32oz Tumbler $20.00 EA Min of 6 - $120.00
S110-C32-FMO
Fanzone Maroon + Orange 32oz Tumbler $20.00 EA Min of 6 - $120.00
S110-M40-TMO
Touchdown Maroon + Orange 40oz Mega Mug $24.00 EA Min of 6 - $144.00
S110-M40-FMO
Fanzone Maroon + Orange 40oz Mega Mug $24.00 EA Min of 6 - $144.00
S310-NBTL-TMO
Touchdown Maroon + Orange Bottle Coolie $4.50 EA
Min of 6 - $27.00
S310-NSLM-TMO
Touchdown Maroon + Orange Skinny Can Coolie $4.50 EA Min of 6 - $27.00
S310-NCAN-TMO
Touchdown Maroon + Orange Can Coolie $4.50 EA Min of 6 - $27.00
S310-NBTL-FMO
Fanzone Maroon + Orange Bottle Coolie $4.50 EA
Min of 6 - $27.00
S310-NSLM-FMO
Fanzone Maroon + Orange Skinny Can Coolie $4.50 EA
Min of 6 - $27.00
S310-NCAN-FMO
Fanzone Maroon + Orange Can Coolie $4.50 EA
Min of 6 - $27.00
11SWIG LIFE GAME DAY 2023 CATALOG
MAROON + BLACK
S310-NCAN-TMB
Touchdown Maroon + Black Can Coolie $4.50 EA Min of 6 - $27.00
S310-NCAN-FMB
Fanzone Maroon + Black Can Coolie $4.50 EA Min of 6 - $27.00
S310-NSLM-TMB
Touchdown Maroon + Black Skinny Can Coolie $4.50 EA Min of 6 - $27.00
S310-NSLM-FMB
Fanzone Maroon + Black Skinny Can Coolie $4.50 EA Min of 6 - $27.00
S310-NBTL-TMB
Touchdown Maroon + Black Bottle Coolie $4.50 EA Min of 6 - $27.00
S310-NBTL-FMB
Fanzone Maroon + Black Bottle Coolie $4.50 EA Min of 6 - $27.00
S110-M40-TMB
Touchdown Maroon + Black 40oz Mega Mug $24.00 EA Min of 6 - $144.00
S110-M40-FMB
Fanzone Maroon + Black 40oz Mega Mug $24.00 EA Min of 6 - $144.00
S110-C32-TMB
Touchdown Maroon + Black 32oz Tumbler $20.00 EA Min of 6 - $120.00
S110-C32-FMB
Fanzone Maroon + Black 32oz Tumbler $20.00 EA Min of 6 - $120.00
12 SHOP NOW @ SWIGWHOLESALE.COM
RED + GREY
S110-C32-TRG
Touchdown Red + Grey 32oz Tumbler $20.00 EA Min of 6 - $120.00
S110-C32-FRG
Fanzone Red + Grey 32oz Tumbler $20.00 EA Min of 6 - $120.00
S110-M40-TRG
Touchdown Red + Grey 40oz Mega Mug $24.00 EA
Min of 6 - $144.00
S310-NBTL-TRG
Touchdown Red + Grey Bottle Coolie $4.50 EA
Min of 6 - $27.00
S310-NSLM-TRG
Touchdown Red + Grey Skinny Can Coolie $4.50 EA Min of 6 - $27.00
S310-NCAN-TRG
Touchdown Red + Grey Can Coolie $4.50 EA Min of 6 - $27.00
S110-M40-FRG
Fanzone Red + Grey 40oz Mega Mug $24.00 EA
Min of 6 - $144.00
S310-NBTL-FRG
Fanzone Red + Grey Bottle Coolie $4.50 EA
Min of 6 - $27.00
S310-NSLM-FRG
Fanzone Red + Grey Skinny Can Coolie $4.50 EA
Min of 6 - $27.00
S310-NCAN-FRG
Fanzone Red + Grey Can Coolie $4.50 EA
Min of 6 - $27.00
13SWIG LIFE GAME DAY 2023 CATALOG
NAVY + RED
S310-NCAN-TNR
Touchdown Navy + Red Can Coolie $4.50 EA Min of 6 - $27.00
S310-NCAN-FNR
Fanzone Navy + Red Can Coolie $4.50 EA Min of 6 - $27.00
S310-NSLM-TNR
Touchdown Navy + Red Skinny Can Coolie $4.50 EA Min of 6 - $27.00
S310-NSLM-FNR
Fanzone Navy + Red Skinny Can Coolie $4.50 EA
Min of 6 - $27.00
S310-NBTL-TNR
Touchdown Navy + Red Bottle Coolie $4.50 EA Min of 6 - $27.00
S310-NBTL-FNR
Fanzone Navy + Red Bottle Coolie $4.50 EA Min of 6 - $27.00
S110-M40-TNR
Touchdown Navy + Red 40oz Mega Mug $24.00 EA Min of 6 - $144.00
S110-M40-FNR
Fanzone Navy + Red 40oz Mega Mug $24.00 EA
Min of 6 - $144.00
S110-C32-TNR
Touchdown Navy + Red 32oz Tumbler $20.00 EA Min of 6 - $120.00
S110-C32-FNR
Fanzone Navy + Red 32oz Tumbler $20.00 EA Min of 6 - $120.00
14 SHOP NOW @ SWIGWHOLESALE.COM
NAVY + ORANGE
S110-C32-TNO
Touchdown Navy + Orange 32oz Tumbler $20.00 EA
Min of 6 - $120.00
S110-M40-TNO
Touchdown Navy + Orange 40oz Mega Mug $24.00 EA
Min of 6 - $144.00
S310-NBTL-TNO
Touchdown Navy + Orange Bottle Coolie $4.50 EA
Min of 6 - $27.00
S310-NSLM-TNO
Touchdown Navy + Orange Skinny Can Coolie $4.50 EA
Min of 6 - $27.00
S310-NCAN-TNO
Touchdown Navy + Orange Can Coolie $4.50 EA Min of 6 - $27.00
S110-C32-FNO
Fanzone Navy + Orange 32oz Tumbler $20.00 EA Min of 6 - $120.00
S110-M40-FNO
Fanzone Navy + Orange 40oz Mega Mug $24.00 EA
Min of 6 - $144.00
S310-NBTL-FNO
Fanzone Navy + Orange Bottle Coolie $4.50 EA
Min of 6 - $27.00
S310-NSLM-FNO
Fanzone Navy + Orange Skinny Can Coolie $4.50 EA
Min of 6 - $27.00
S310-NCAN-FNO
Fanzone Navy + Orange Can Coolie $4.50 EA
Min of 6 - $27.00
15SWIG LIFE GAME DAY 2023 CATALOG
BACK TO SCHOOL COLLECTION
16 SHOP NOW @ SWIGWHOLESALE.COM
Lime Slime
Boxxi Lunch Bag $20.00 EA
Min of 3 - $60.00
S602-LBOX-NV
Blue Tide
Boxxi Lunch Bag $20.00 EA
Min of 3 - $60.00
S602-LBOX-CL
Coral Crush Boxxi Lunch Bag $20.00 EA
Min of 3 - $60.00
Cotton Candy Boxxi Lunch Bag $20.00 EA
Min of 3 - $60.00
S102-S12S-LM
Lime Slime
12oz Flip + Sip Slim Tumbler $16.50 EA
Min of 6 - $99.00
S102-S12S-BT
Blue Tide
12oz Flip + Sip Slim Tumbler $16.50 EA
Min of 6 - $99.00
S102-S12S-CL
Coral Crush 12oz Flip + Sip Slim Tumbler $16.50 EA
Min of 6 - $99.00
S102-S12S-CO
Cotton Candy
12oz Flip + Sip Slim Tumbler $16.50 EA
Min of 6 - $99.00
S102-B16S-LM
Lime Slime
16oz Water Bottle $17.50 EA
Min of 6 - $105.00
S102-B16S-BT
Blue Tide
16oz Water Bottle $17.50 EA
Min of 6 - $105.00
S102-B16S-CL
Coral Crush 16oz Water Bottle $17.50 EA
Min of 6 - $105.00
S102-B16S-CO Cotton Candy 16oz Water Bottle $17.50 EA
Min of 6 - $105.00
17SWIG LIFE GAME DAY 2023 CATALOG
8001 Franklin Farms Dr #100 Richmond, VA 23229 (804) 288-7465 www.swigwholesale.com info@swiglife.com looking for a rep in your area? Contact our corporate office and we will be happy to help you! Let's be Friends! @SWIGLIFE | #TAKEASWIG