JFS Community Specialist, Tina Serota shares flower gardening techniques with Village members
The pandemic further placed JFS' important work with adults and older adults at the forefront. Assisting elderly people is at JFS core and continues to remain a priority as community members' age. In September 2021, JFS renamed the Village in memory of longtime friend and philanthropist, Lynn Kramer. Now, The Lynn Kramer Village by the Shore has blossomed to having nearly 200 members throughout the region. As a result, the program has seen a variety of changes, improvements and expansions. We're excited to share that Kosher Meals on Wheels are now provided by a new supplier, Betty the Caterer. This change offers an expanded array of sumptuous culinary selections. With decades of experience preparing kosher cuisine, this Philadelphia caterer provides beef, chicken, fish and dairy meals including beef brisket, chicken marsala, maple glazed chicken, stuffed cabbage, baked fish with newburg sauce and blintzes with apple raisin chutney. In addition, the meal includes bread, soup, dessert and fruit making for healthy, well-balanced meals. Kosher Meals on Wheels, which are delivered weekly by JFS volunteers, are ready to heat and eat. Thus far in 2022, JFS has provided more than 1,350 meals to Village members.Forthose who enjoy participating in programs to stimulate the mind and body, each month the Village offers a wide variety of programs. Recently, we began to offer the workshops in-person, while we continue to also offer them virtually. Socialization activities include Memoir Writing, where you may capture your life's adventures, Trivia Game Day for entertainment or history buffs, Comfort Cooking to learn healthy alternatives to your favorite meals, Coffee Klatch to discuss today's current news and lifestyle topics, and Village Movie Society to reminisce about some of your favorite films. Programs are offered complimentary to Village members and at a nominal fee for guests or community participants. A complete list of activities are online at www.jfsvillagebytheshore.org.
For some people having a helping hand is essential. With a multitude of appointments, medications, bills and more, it can become overwhelming. With a Village staff Care Coordinator, they'll sort out and review all of the information with you to make sure everything is clear and in order. At JFS, we know that sometimes it takes a village and our Village is here for you, so take advantage of all that the program has to offer. For more information on The Lynn Kramer Village by the Shore, contact Tina Serota at 609.287.8872 or tserota@jfsatlantic.org or visit jfsvillagebytheshore.org.
The Lynn Kramer Village by the Shore
2 I Program Spotlight 3 I Volunteer Spotlight
Summer 2022 4 I Boomer Spotlight 5 I Special Events 6-7 I Community Connections 8 I Member Spotlight
While the pandemic limited transportation, the Village recently reinstituted all rides for members. Need a ride to a doctor's office, to pick-up a prescription, grocery store or hair salon? A JFS Village driver provides door-todoor service in an agency car. Village members can take advantage of having a personal driver to an appointment, shopping or a day of pampering. Transportation follows CDC and NJDOH guidelines, so all occupants are masked. Sanitizer is provided within the vehicle and the cars are cleaned between trips. For many adults living independently in their own homes, a little assistance makes all the difference. The Village now provides improved grocery shopping and delivery and care coordination services. If you're looking for assistance with grocery shopping, the Village offers the perfect program with Shop at Home. JFS volunteers work directly with you to secure a grocery list and payment information, then they pickup the products and deliver right to your home. What a great way to assure you have hearty and nutritional foods available.
Expansions & Improvements in 2022
Our beautiful stereo remained lodged in the corner. A dark, unpromising space continued to evolve into the safest escape in the house. Many years later when I was twentysix and married with a house of my own, our brother TJ, ten years younger than me, moved into the basement bedroom. He decorated with hand-painted scenes from Lord of the Rings, not knowing that a few years later he would be in a wheelchair. Upon returning from months of rehab, TJ said, "I'll never see my paintings again." My husband, Roy, cut the basement wallboard, framed the artwork, and delivered it to TJ's Florida home.
Kenny, the youngest of our brothers, escaped to the basement bedroom as a young adult. He renovated our space into a beautiful bedroom and spa bathroom complete with jacuzzi. His hard work provided just the place he needed to begin his career in computer science. The basement, once dark and forbidding, became a haven for each of us when we needed it most.
Harriet is the renowned author of four books, My Oceanography, How Fast Can You Run, Girl in Cap and Gown, which was a PEW Fellowship in the Arts discipline winner and National Poetry Series finalist, and Harriet's debut poetry book, The Christmas Show, winner of the esteemed Barnard New Women Poets Prize, the Alice Fay di Castagnola Award from the Poetry Society of America, and the Ellen LaForge Memorial Poetry Prize. Born in Philadelphia, Pennsylvania, Harriet has used her writing and teaching to promote grassroots change in South Sudan, Haiti, and the U.S. Currently, she is Director of the Certificate Program in Writing and Publishing at Drexel University, where she teaches writing in the English department on the undergraduate level and in the MFA Program in Creative Writing.
Barbara Law shares her excerpt from the Village Memoir Writing class
Meet the Host . .
Program SpotlightStrength injfsatlantic.oCommunityrg 2 We were drawn to the basement. It was damp, musty, smelling of moldy wet concrete. It was dark and a perfect place for us to escape. The steps were treacherous…open, steep, rickety wood. We always kept the door to the basement closed, and no one ever tumbled down to the unforgiving floor. The basement became many things to us, transforming into what we needed at any given moment in our lives. I needed space for my ballet. Frank and I were taking ballroom dance lessons. Dennis needed an escape from pesty younger brothers. My parents, anxious to have us somewhere safe, cooperated and purchased a stereo for our new basement room. It stood on legs and was a large square mahogany box capable of playing records as loud as we needed. We moved assorted discarded furniture into the space, a couch, chair, and some end tables. My mother needed space for her food supply. As a child whose mother had died at a young age, she had to take care of young siblings and deal with the threat of not enough food. Mom stocked the basement with a vast pantry—a mini grocery store. She always made sure there were plenty of pickles known as the VanLangen green vegetable.
.
My father decided to take up lapidary as a hobby, and he sectioned off a corner of our basement as his workshop. He would escape to that space, smoking endless Pall Mall cigarettes. Dad created beautiful semi-precious gems. Despite his skill with jewelry, his handyman skills were lacking. On one memorable afternoon when I was a teenager, he decided to fix the water pipes in the basement. The stream of water rushed from an open pipe and flooded our wonderful basement. My little brothers, seeing an opportunity, grabbed their surfboards and floated gleefully around the basement with cries of "Surf's Up!" Dad did not find this funny. My Halloween birthday celebrations always took place in that basement. It was easy to hang orange and black decorations from the rafters and transform the space into the creepy place that was its origin. We would hang apples from the rafters instead bobbing into a bucket of water. My brothers, Frank and Den, eventually escaped our little brothers and made a bedroom in a corner of the basement. We made sure to preserve our entertainment spot and dance floor.
Each month, award-winning author Harriet Levin Millan, shares with program attendees how to capture their life adventures, history, and ancestry at the Village Memoir Workshop. She encourages attendees to focus on all aspects of one's life – even the littlest moments. From a memorable vacation to coffee with a friend or relative to a chance encounter or simply basking in the warm summer sun, there's always a special moment you can vividly recall and share in your writing.
Join Us in the Basement: A memoir excerpt
Volunteer SpotlightStrength injfsatlantic.oCommunityrg 3 Filler Ad? VOLUNTEERS NEEDED! Learn more about how neighbors are helping neighbors. Give back safely! JFS follows all CDC recommended COVID-19 guidelines. Vanessa vsmith@jfsatlantic.org609.822.1108VolunteerSmithSupervisorx249 CONTACT: Meredith
education and career experience, I feel like I'm able to share my knowledge with a client."
honed expertise, Meredith works to understand a JFS client's intricate nutritional needs and the fruits, vegetables and proteins that best fit their dietary restrictions. Some weeks, Meredith delivers the overflowing JFS grocery bags which gives her an opportunity to spend time speaking with the client to garner a better prospective on their preferences and how food supports their respective conditions. In addition to packing and delivering grocery bags, she also checks expiration dates on canned and boxed foods as well as stocks and straightens products on the pantry shelves. Meredith knows the importance of volunteering and shares that when her mother, Rosalyn August, retired from working endless hours in retail about 13 years ago, she began volunteering. Currently, she serves on the Executive Boards of Jewish Adoption and Family Care Options (JAFCO) of South Florida, Birthright of South Florida, and the American Technion Society. As Meredith said, "Even from a young age, I've been thankful for having what my family and I need. To me, giving a gift is much better than getting a gift and by using my Cheifetz
For more information on Volunteer opportunities, contact Vanessa Smith at vsmith@jfsatlantic.org.
When not working or volunteering, Meredith enjoys Canasta and Mahjong with friends, playing tennis and golf, reading, walking her dog on the beach, and working out at the Jewish Community Center. "I love being involved in the community and Margate has certainly been warm and welcoming to my family and me," she said.
For anyone looking to volunteer at JFS or another organization, Meredith said, "Just do it. Doing a good deed helps someone in need and you feel good that you were able to assist."
Prior to moving to the beachside community, Meredith Cheifetz and her husband of 25 years, Steve, loved to spend summers at the shore with their children, Lauren, Ben and Jessica. From dipping their toes in the sparkling ocean to strolling the soft caramel sandy beaches and making family memories at amusement parks, mini-golf courses and savoring shore favorites like pizza and salt water taffy, Meredith and Steve always knew they wanted to own a piece of paradise. More than a year ago, they made that dream a reality by relocating to the Jersey Shore. After settling in their Margate home, Meredith looked for organizations where she could donate her time. With a professional background in nutrition and wellness, Meredith knew the Food Pantry at Jewish Family Service would be a perfectEachmatch.week, she spends two hours packing 15 – 20 food bags for clients who have special dietary needs. As a seasoned Nutrition Counselor in private practice for 20 years, Meredith's passion in health and wellness is evident. She works as an independent provider with insurance companies including Blue Cross, Aetna, and United Healthcare on their health and wellness programs for the Philadelphia School District, St. Christopher's Hospital, Arcadia University and General Electric to name a few. "I love helping my clients develop healthier lifestyle habits to improve their health and feel well," sheWithshared.her
Servicing over 20,000 Members of the Healthcare Community Employee Benefit Consultants • Health • Vision & Dental • Life & Disability • Individual Services Medicare • Individual (Supplements, Advantage & Prescription) • Vision, Dental, Final Expense & Cancer Insurance 609 New Road Linwood, NJ hafetzandassociates.com866-99-HAFETZ Tips to Avoid Being Scammed Below are tips to help minimize scammers taking advantage of you. • Know when your Medicare sign-up time is! Scammers love to put you in a panic, not thinking you have time to confirm their information and saying yes to them because of pressure. Do research and know what timeframes you have for enrollment. • Work with a company that offers multiple carriers and plan types. These companies can show multiple options to compare, so you can make an educated decision on what plan best fits your needs and budget. • Talk to friends, relatives, community leaders, etc. for referrals. Knowing who you are working with and that others had a good experience can help alleviate the stress of working with strangers. Remember, you can report any Medicare waste, fraud, or abuse to https://seniormedicarepatrolnj.org/ *Hafetz & Associates specializes in Medicare, employee benefits, worksite products, and life and disability products for individuals and employer groups. For questions or more information, contact 866.99.HAFETZ (423389). For specific Medicare account questions, contact 1-800-MEDICARE (1-800-633-4227).
Is Medicare calling you? Be cautious about who is on the other end of your phone call. Do not give any personal information including your Social Security number, Medicare ID number, date of birth, etc. Companies are using very alike caller IDs to make you think they are someone other than who they are, which is likely a call center looking to change you out of your current Medicare plan to another plan. Is that postcard real? Did you get a somewhat official looking postcard in the mail asking you to complete and send information back? This was not sent from Medicare or Social Security. Filing out and sending the postcard back will add you to call and mailing lists for that company's plans. Is everything free? Sorry, but Medicare is not free. Yes, there are some plans that give extra benefits but be wary of anyone pushing to give you free benefits. Advantage plans can offer some dental, vision and hearing benefits, whereas Supplemental plans offer discounts on those same benefits.
Boomer SpotlightStrength injfsatlantic.oCommunityrg 4 M edicare fraud is a pervasive program that costs taxpayers billions of dollars each year. The fraud is primarily caused by identify theft when someone uses your personal information without your consent. Have you ever spoken to a telemarketer who recommends you order an unneeded back, wrist or knee brace? What about a misleading television commercial that advertises how they can offer you more coverage than Medicare? Navigating around the misinformation has become an increased responsibility for the Medicare market. "It's important for individuals who are about to sign-up, or are currently Medicare participants, to understand even the basics of the program in order to avoid potentially getting scammed," said Amanda Reese, Medicare Department Manager at Hafetz & Associates. "There are three important factors to know related to Medicare." Out Medicare Scams
Watching
for
$75 each. Raffle tickets are $20 each or 6 for $100.
Card Party Get Together T he 8th Annual Card Party will take place at the Harbor Pines Golf Club on Thursday, August 25 beginning at 10:30am. This event provides a wonderful opportunity to gather your friends and family for a fun afternoon of exciting games of Mahjong, Canasta, and Bridge. In addition, guests will enjoy a delicious lunch as well as a chance to bid on auction items and win door prizes. Players need to bring their own cards and/or game set.The Card Party is dedicated to our late friend and community philanthropist, Bonnie Gurwicz. As an ardent JFS supporter, Bonnie inspired the card party concept to bring together friends while raising funds for the agency. Reserve your seat. For more information, contact Susan Kotzen at 609.822.1108 x218 or visit www.jfsatlantic.org.
A fter a two year hiatus, the highly-anticipated House Tour returns on Monday, August 1 beginning at 11am and will provide attendees with exclusive tours inside several luxurious Downbeach homes. A mustattend community fundraiser, presented by Surroundings Interiors, will enthrall guests with the old-world charm and grandeur of stately homes as well as newly-constructed beach houses. Guests will enjoy a rare opportunity to explore state-of-theart gourmet kitchens, custom woodworking, modern décor and lighting, beautiful landscaping, and breathtaking views from each spectacular home. To purchase tour or raffle tickets, visit eventbrite.com.www.jfshousetour.Ticketsare
Andrea Berk, Renee Kelleher, Lynda Safian, and Fran Jonas participated in last year's JFS Card Party 5
Proceeds from the House Tour and Card Party benefit The Lynn Kramer Village by the Shore, a membership program for adults over the age of 50. The program provides intergenerational events, transportation, grocery shopping and delivery, Kosher Meals on Wheels and more. For information or to join the Village, contact Tina Serota at 609.287.8872 or tserota@jfsatlantic.org or visit jfsvillagebytheshore.org.
Strength injfsatlantic.oCommunityrg Special Events Annual House Tour
33rd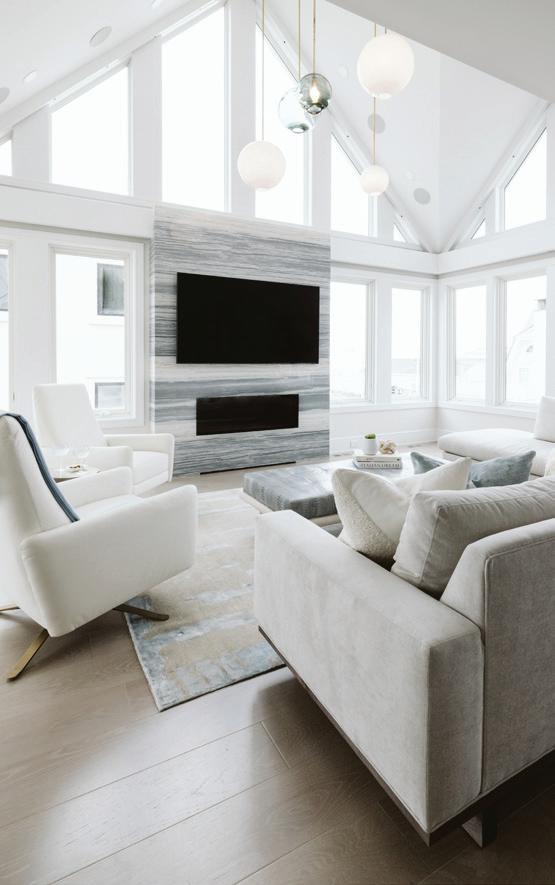 JFS Senior Director of Communications and Donor Relations Beth Joseph (center) accepts a check from Visiting Angels Owner Patty Laychock. The home healthcare business has been supporting and participating in JFS programs including The Lynn Kramer Village by the Shore, Card Party, and Turkey Drive for over 13 years. With Beth and Patty are Visiting Angels staff Samantha Stroby, Jennifer Duffy, and Lily Sutton.
As Gideon Taylor, President of the Claims Conference, said, "We are proud to announce this significant allocation at a time when these funds are critical, due to the age, poverty and increasing disability of our waning survivor population, and as they also continue to face the ongoing uncertainty and threat of COVID-19. We know these funds provide vital support during these difficult times."
6 Community ConnectionsStrength injfsatlantic.oCommunityrg
JFS received a $181,299 grant from the Claims Conference to assist the nearly 25 Holocaust survivors who live in this region. The funds were part of a $720 million allocation to more than 300 social service organizations worldwide. JFS provides services to Survivors and seniors including home care, case management, Kosher Meals on Wheels, transportation and virtual socialization programs.
JFS Volunteer Services Supervisor Vanessa Smith and JFS Retired Senior Volunteer Program Coordinator Mary DeMarco congratulate Paula Koiro (center) on being presented with the 2022 Volunteer of the Year Award at the agency's Annual Meeting on June 16. Last year, Paula volunteered 111 hours delivering groceries and meals to older adults. JFS is honored to have more than 65 people who selected to leave a legacy in their will, trust, retirement account, or life insurance policy to our agency. With approximately $3 million in future funding, the Life & Legacy program ensures JFS will be here to help future generations. For information on the Life & Legacy program, contact Beth Joseph at bjoseph@jfsatlantic.org.
Claims Conference Funds Holocaust Survivor Programs and Services
"At JFS, we are honored and humbled to take care of Holocaust survivors in our county," said Andrea Steinberg, JFS CEO. "By providing essential support, we can immeasurably add to their quality of life as they age with grace and dignity."
(Left to right standing): Ed Gurwicz, Randi & Izzy Posner, Miriam & Larry Hirsch and (seated) Patti & Leo Schoffer, and Andrew Renny & Barbara Harvis attended the South Jersey Holocaust Survivor Project and Luncheon at the Jewish Community Center in Margate on June 12.
services to support the clients being served in this counseling program, so that older adults, including Holocaust survivors, impacted by trauma can be connected to additional resources in the community.
Thewww.JSGFunerals.com609-927-2424*notaffiliatedwithanyothergoldsteinfuneralhomeinnewjerseyorpennsylvaniaonlynameyouneedtoknownowandforthefuture
*This program is made possible by federal funds from a grant through The JFNA Center on Holocaust Survivor Care and Institute on Aging and Trauma. Approximately 75% of the project, or $150,000, comes from federal sources. Approximately 25% or $50,000 comes from non-federal sources.
"The pandemic has shown what a difference we can make when we come together, especially for those older adults at highest risk of COVID-19," said Mark Wilf, Chair of the JFNA Board of Trustees. "Holocaust survivors are our teachers and our heroes, and we are committed to empowering them to live with comfort in their communities. The Federation system is humbled and proud to help thousands of Holocaust survivors, as well as other older trauma survivors and their families during their time of need."
thngreStinrgityunCommjfsatlantic.o 7 Experienced local senior care for total peace of mind. PROVIDING: Bathing Assistance • Dressing Assistance • Grooming • Assistance with Walking • Medication Reminders • Errands • Shopping • Light Housekeeping • Meal Preparation • Friendly Companionship • Flexible Hourly Care • Respite Care for Families 609.641.7200 VisitingAngels.com/Eggharbortwp Each Visiting Angels agency is independently owned and operated. License #HP0065700 ®2021 Visiting Angels is a registered trademark of Living Assistance Services, Inc. Some estimates suggest that up to 90% of older adults in the United States have experienced a traumatic event during their lifetime, which can affect them as they age. The challenges have become even more acute with social distancing and threats posed by COVID-19. JFS received a $150,000 grant from The Jewish Federations of North America's (JFNA) Center for Holocaust Survivor Care and Institute on Aging and Trauma. These funds will enable JFS to provide new programming for older adults. JFS is hiring a full-time therapist to provide individual and group therapies to older adults impacted by trauma. The individual therapy offers in-home, office, or remote visits based on client needs and preferences. Group therapy is also available remotely and will move to inperson or a hybrid as safe practices allows. Additional funds were awarded to provide case management The Jewish Federations of North America Awards Grant in-home arrangements available for pre-need or at-need services Jason S. Goldstein, CFSP, Manager, NJ Lic. No. 4633 6050 Main Street, Mays Landing, New Jersey 08330 montgomery and bucks county, pa facilities also available
"Between the pandemic and my children living on the east and west coasts, it will be our first get together in seven years. We're certainly going to have lots of hugs."
The petite, soft-spoken former literacy teacher expresses the same enthusiasm when she talks about the services and programs offered through The Lynn Kramer Village by the Shore. "During the pandemic, I really appreciated the volunteers who went grocery shopping for me," Lynne said. "The programs that Tina (Serota) brought on-line offered me a morning activity. I particularly enjoyed the Positivity Project, Comfort Cooking, Movie Society, and my favorite, Coffee Klatch, an outstanding, multi-sided conversation where everyone is encouraged to participate."It'sthatsame sense of enthusiasm that Lynne and her late husband, Bob, who were married for 38½ years, enjoyed as avid travelers. The couple liked sightseeing and making memories on their world adventures to Greece, Turkey, England, Asia, Hawaii, African Safari – the nature and animals were beautiful – and Israel, which is closest to her heart. "I was carrying a book by James Michener, The Source, which tells the story about a freshwater well just north of Makor (Hebrew for "source") when we were actually going through the area in Israel. It was amazing," said Lynne. Now, with pandemic restrictions easing, Lynne is excited to get back to doing in-person things like the planned family reunion with her children, Howard, Jeff and Dana, their spouses, and her grandchildren this summer in Virginia.
"I have enjoyed so many programs and services in my three years as a Village member. I encourage everyone to join the Village and take advantage of everything it has to offer. You can be part of something so helpful in our community," Lynne shared. Village memberships are $18 per month. For more information or to sign-up, contact Tina Serota at tserota@jfsatlantic.org.
The Lynn Kramer Village by the Shore 609.822.1109 • villagejfs@jfsatlantic.org 607 North Jerome Avenue, Margate, NJ 08402jfsvillagebytheshore.org
Strength injfsatlantic.oCommunityrg When Lynne Walters speaks about several of her eight grandchildren, she beams with pride. As she shared, "My oldest grandchild is pursuing her doctorate in chemistry and the twins, who are seniors at Lehigh University studying English and Engineering, respectively, are enjoying a semester in Ireland. My youngest granddaughter recently celebrated her Bat Mitzvah."
Member SpotlightStrength injfsatlantic.oCommunityrg 8
Until then, Lynne keeps busy participating in Village programs, playing Bridge, exercising, reading biographies and mystery novels – something she's done since being 10-years-old with Agatha Christie books – and making homemade soups, a hobby she picked up from the Comfort Cooking Workshop, within the past two years. "I work from a recipe and modify the ingredients a bit. So far, I've made chicken with matzo balls, carrot soup, butternut curry and parsnip and leeks soup." In addition, with the Atlantic City Boardwalk outside her front door, she strolls the sandy beach and takes late afternoon walks.
JFS is an affiliate agency of the Jewish Federation of Atlantic & Cape May Counties and a partner agency with United Way of Greater Philadelphia and Southern New Jersey in Atlantic County Lynne Walters Would you like to be considered for a Member Spotlight feature article in the Village newsletter? For more information, contact Susan Kotzen at skotzen@jfsatlantic.org or 609.822.1108 x218