September 2022: Industry News, Hotel Openings, Outdoor Furniture, Technology, Lighting... Hotelier & Hospitality Design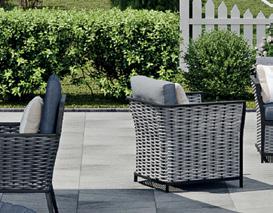 Moda, where outdoor furniture really means business.
Unlocking the potential of your outdoor space can be a seriously good business move. Whether you need a place to close deals with clients, a second meeting room or a nineteenth hole par excellence, taking your work outside offers huge attractions. And as the UK's leading luxury outdoor furniture brand, Moda is ideally placed to help turn your vision into reality. Having started out as a family-run company in 2014, Moda has quickly established a reputation for innovative furniture solutions with exceptional customer service. This has led to a growing demand for their services from an increasingly diverse client base, as a greater variety of commercial sectors have looked to transform their outdoor spaces.
Uniquely modular, uniquely Moda Your outdoor space can change from one day to the next, which is where Moda's flexible modular systems really come into their own. All of their furniture ranges have a number of modular configurations that can be customised - move them around your business areas, expand your collection, split them up or put them together to complement your changing commercial Itrequirements.createsacompelling fusion of aesthetics and adaptability.
A tailored approach With a dedicated Commercial team, Moda's clients can choose from a vast collection of furniture sets to meet all business requirements. Expert account managers are on hand to offer a tailored approach, managing site visits and sampling to guide you through the process of your Withpurchase.Moda's market-leading 3d rendering service, designs can be modelled into businesses' properties and space, providing visual impressions and assisting with further planning and decision-making.
Take the first step to maximising the use of your outdoor space. Talk to one of Moda's Commercial Business Development Managers. Tel: 033 3363 7015 or email: commercial@modafurnishings.co.uk modafurnishings.co.uk/commercial
The choice is almost limitless, with a host of options of sofa combinations, not to mention dining ranges which incorporate unique features such as drinks coolers and fire pit inserts. Smart furniture to drive businesses forward With their all-weather materials and uncompromising build quality, Moda furniture collections are meticulously engineered to withstand the demands of the modern workplace - and the great British weather. Every item of luxury outdoor furniture is designed exclusively in-house. This allows Moda to offer a perfect balance of both style and substance that can be enjoyed all year round. What's more, Moda's market leading three-year commercial guarantee offers commercial clients peace of mind and their aftercare policy and maintenance packages reinforces their commitment to client satisfaction. Expert delivery and installation Moda is well placed to meet the demands of the commercial market with stock available for timely delivery via their impressive fleet of 150 in-house vehicles. This enables Moda to exceed client expectations through fast delivery, meticulous installation and aftercare. Their team of fully-trained engineers are available to you at no extra cost, covering unpacking, furniture placement and the removal of all packaging for recycling.
ContentsSeptember2022 Contact Us Dan Draper Publication Manager 01843 Jodiedan@hotelierandhospitality.com570940Little Publishing Director 01843 Anthonyjodie@jetdigitalmedia.co.uk595818Field Editor 01843anthony@hotelierandhoteldesign.com570940 www.hotelierandhospitality.com Hotelier & Hospitality Design Magazine is the leading publication and established web resource in the business. Providing comprehensive reporting on hotel industry news and exclusive coverage of the latest ecological-friendly green hotels and bar designs, HHD Magazine keeps you updated on the latest hotel trends in technology and innovative ideas. The perfect finish to any bathroom To make life easier, we give many of our taps and showers a flawless contemporary chrome finish. No need for chemicals. Just a quick wipe with a wet cloth and you're done. Brilliant. www.bristan.comOYNOLLEWSTCELFEFORCHROMESOBRILLIANTITRUTURNTOBRISTAN 3895 Hotelier and Hospitality AW.indd 1 13/09/2019 15:45 11658.01_EatDrinkSleep_Magazine-Cover.indd September 2022: Industry News, Hotel Openings, Outdoor Furniture, Technology, Lighting... Hotelier & Hospitality Design

Unprecedented travel chaos has left distraught holidaymakers facing queues snaking through carparks and cancelled flights. Now more Brits than ever are opting to staycation, offering huge opportunities for savvy restauranteurs, says Jaipal Yadav, managing director of restaurant software business, Favouritetable.
Marketing to the £15.5 billion UK staycation trend
Innovate to acquire new customers Create and trial promotional offers, and highlight special opportunities and occasions on your booking website to help upsell to a variety of audiences. These could include couples, families with children and remote workers. Why not put special offer on your online booking page and then encourage visitors to take up additional offers such as early bird discount codes? Also try adding offers prominently to online menus and automated booking confirmations, as well as using existing customer data to target those with particular preferences and those who have attended previous events. Go beyond food Tie in lunch and dinner options to special deals with nearby accommodation or retail partners. Cater to demands for highly specialised individual occasions – like beer tastings, dinner and a lecture or charity events – rather than simply mirroring the same tired and formulaic promotions used by big chains. Get the party started Smart party booking software allows diners to book and amend group or event bookings online, without the need for multiple and lengthy phone calls to the restaurant. The right system enables guests to pre-order and pay for all of their group's menu items, so the restaurant has a solid view of any reservation complexities, plus the comfort of a deposit or full payment. Staycation party ideas could include sports-themed group bookings for walkers, climbers, yoga groups, or even surfers if your restaurant is near the coast. Then there are the more traditional occasions designed to suit meal events combined with stag or hen dos, birthdays, reunions and anniversaries. Value your data A good restaurant management system will always record vitally important data about your customers' preferences, likes and dislikes, and is a powerful instrument in your marketing toolbox. Careful use of data makes it easy to run marketing campaigns and ensure they target exactly the right segments of your staycation Inaudience.conclusion, whether those enjoying a great British staycation choose to remain at home or visit a holiday cottage or hotel – they will often decide to treat themselves to a high-end, dine-in takeaway or opt for a special meal out. Either way a restaurant delivery or table should be available to book quickly, efficiently and with confidence using outstanding management software. Sign-up to Favouritetable by 1st September and get your first month free. For further details please visit: www.restaurant.favouritetable.com
Let's begin with the obvious –international travel is a mess at the moment. Recent research carried out by air travel data provider OAG estimates that since January 1.7million people flying into or out of the UK have been affected by cancellations within 48 hours of their flight. This doesn't include the inevitable knock on effect of prospective holidaymakers who have changed their habits and plans to avoid being stuck in traffic or playing a lottery with travel providers. Indeed, a record year for staycations is expected to deliver an estimated £15.5billion boost to the British economy.
The UK rental property provider Independent Cottages also reports an 80 per cent spike in last minute bookings as Brits abandon flight plans while British airlines and airports struggle to cope with Alldemand.ofthis comes on top of the searingly-hot weather the UK has been experiencing over the past couple of months, with temperatures ranging from the mid to high 30s, making parts of Britain more like the best of the Continent's top holiday destinations than the Continent itself. So what does this suggest for UK restaurants seeking to capitalise on a population increasingly determined to holiday at home? Put simply – this is the time to market your business like never before, both to capture a bigger slice of the immediate market, and to build longer-term loyalty and repeat business. A successful restaurant marketing mix includes websites, social media, emails, apps and SMS. Of course, restaurant management systems such as Favouritetable mean you can employ a marketing module to manage all of this activity in one place.
Here are five other ways your business can capitalise on the rising staycation trend: Get smart - automate your marketing Automated marketing allows restaurateurs to engage with guests and do much more than just confirm bookings. This could involve prompts based on key triggers like birthdays or anniversaries and can allow clients to react to and interact with your marketing communications. For example, try creating locally focussed events like barn dances, wine tasting or sporting celebrations, then showcase them via SMS, email and social media.
According to Sykes Holiday Cottages' annual Staycation Index, 77 per cent of Brits will holiday in the UK this year, spending an average of £822. North Wales remains at the top spot for destinations for the second year in a row, with Cornwall and the Lake District coming in second and third.
4 DesignHospitality&Hotelier
RoyalRochesterRamsgateMargateHerneFavershamDealCanterburyBroadstairs&WalmerBayTunbridge Wells RyeEastbourneSussexWhitstableWestTenterdenSevenoaksSandwichRyeMallingQuizTrails
SHOW YOUR GUESTS AROUND YOUR LOCAL TOWN WITH QUIZ TRAIL
They've been developed by Kent-based amateur historian Liz Foster, who decided to turn her history hobby into a time-filler during the pandemic.
6 DesignHospitality&Hotelier
Liz said: "When the girls were young, we did what most of us do - have a day trip or a stay somewhere, walk around the middle popular bit, have something to eat and drink, get an ice cream and go home all having had a lovely day out. "But we went home not knowing very much about the place we'd just visited. Who were the people of the past? What were the town stories? What went on there? Who was misbehaving?!
Quiz Trail could be the answer – a fun, historical walking trail presented as a beautifully-designed booklet to set them off Whetherexploring.you gift them to guests or have them for sale, your guests will very quickly find their way, learning some interesting history along the way.
She started with one book about her home town of Rochester and has now expanded to 15 Kent titles and two Sussex ones, selling them online, to gift shops and hotels to help people explore and have a cheap day out Start at a designated spot and follow clues to the next checkpoint, reading facts and looking up, down and across at historical things along the way; windows, signs, road names or architecture, for example. They're written for a dual audience of adults and children, with information in there for everyone. Start and finish in the same day or pick up on another day if the weather turns. Or of course, if a pitstop turns into an afternoon in the same spot! Keep it cheap and take a picnic or dive in somewhere local.
All common questions your guests may ask when they visit your hotel, bar, restaurant, shop or other tourism business.
The routes give very clear information about accessibility too - drawn from Liz's real-life experience of a close relative who used a wheelchair.
"History can be known for being boring and so the challenge I set myself was to find an exciting way to get it all across - and that's when we came up with the circular route, quiz and booklet combo." Trails costs between £4 - £5.99 and once finished, buyers can enter a competition using the clues they have collected. Trails are from 1-2 miles and take 1-2 hours, or more if you stop lots. "What is there to do around here?" "What do you recommend?"
"Tell me something interesting."
Kent Quiz Trails
QuizBuy: Trail can be sent to you as a starter/tester pack to gauge www.quiztrail.co.uksales.
Additionally, the interchangeable nature of the Kärcher Battery Universe Platform enables users to swiftly move the battery from one machine to another during the cleaning process. This helps to reduce the amount of energy usage as less batteries need to be charged to power a wide range of equipment. Instead, the user can swiftly go from mopping up spillages using the BR 30/1 C Bp to vacuuming up lose dirt with the HV 1/1 Bp handheld vacuum cleaner. Offering greater flexibility for the user, battery powered machines can allow for up to 50% reductions in cleaning times, enabling staff more time to focus on the finishing touches to help make the guests' experience more enjoyable and rewarding. With more to clean and the same number of hours in the day to do the work, the efficiency that more sustainable battery powered equipment offers is a great benefit to the end user. Another benefit from moving the battery powered machines is the reduced sound output that enables them to be used in a wider range of spaces throughout the day. This helps cleaners to begin their working shifts earlier without impacting on the overall experience for the guest. For instance, hotel rooms can be cleaned earlier as the noise will not impact other guests or busy restaurants can be cleaned on the go, in an efficient and effective manner without ruining other guest's meals with sound. With many added benefits, moving to battery powered equipment is a great way to boost productivity and efficiency within the hospitality sector whilst reducing energy usage in the process. Implementing small changes such as these can go a long way to enable businesses to meet their sustainable targets while providing an exceptional experience for guests.
With a growing emphasis on sustainable practices throughout business culture, what steps can businesses take to ensure that they are having minimal impact on the environment around them? Is battery powered cleaning the way forward?
IsSustainablewww.karcher.comcleaning:itpossible? 7 DesignHospitality&Hotelier
Sustainability is an increasingly important focus throughout the cleaning industry, as businesses work to reduce their environmental impact whilst striving to meet the same high-quality demands that customers have come to expect. Understanding the right measures to implement throughout the hospitality sector will allow businesses to adopt efficient and environmentally friendly cleaning methods that meet demand and avoid disrupting guests. Adjusting current cleaning practices is a great way to reduce the amount of energy and water that is used during everyday cleaning tasks. For instance, when it comes to cleaning spillages, traditional mop and bucket cleaning continues to dominate as an easy and efficient way of removing the unwanted dirt. However, using a mop and bucket involves the use of vast amounts of water and detergent. Over the space of two years, someone cleaning a 200m2 space daily would use up to 360 litres of water and over 1.1 litres of Alternativelydetergent.making use of battery powered machines, such as the BR 30/1 C Bp, can help to massively reduce the amount of water and detergents that are needed. The BR 30/1 C Bp is a compact walk behind scrubber drier that enables the user to swiftly mop up spillages. When used over the same period to time and cleaning the same 200m2 space, the BR 30/1 C Bp would use as little as 43 litres of water and only 0.15 litres of detergent. This provides an overall reduction of 88% in water usage, 86% in detergent usage and an overall cost saving of roughly 40%.
Small changes such as these are ideal for on-the-spot cleaning which can be tackled swiftly using battery powered equipment, that can be easily put to work without the need for power sources and cables. Cables strewn across floors are a health hazard for guests and should be avoided at all costs to reduce the risk of trips and falls. However, switching to battery powered machines negates this issue as the machines do not have cables attached to them when in use. This makes them ideal for spot cleaning as vast areas do not need to be closed off to allow for effective cleaning.
"We increased trade dramatically!" • parasols, awnings, fixed structures etc. • zero deposit leasing over 2-5 years • huge range of sizes, styles & colours wearenowquotinganincredible2-3weekleadtimeonselectedawningmodels! "alfresco luxury all year round" creating shelter for diners outdoors encourages people to stick around, whether we're experiencing random heatwaves or good old english rain. infact, over 79% of UK diners have attested that they would be willing to spend more time and money in a restaurant if they incorporated outdoor dining. we might not be blessed with the weather in the UK, but we certainly know how to brave the elements and make the most of time outside! www.indigoawnings.co.ukwww.indigoawnings.co.uk/enquiries@indigoawnings.co.uk / 01352 740 164 BOOK A FREE SITE VISIT TODAY
9
Accor's Heart of Hospitality returns with UNWTO
I
NATALIA UNWTOWORLDEDUCATIONDIRECTORBAYONAOFINNOVATION,ANDINVESTMENTSTOURISMORGANIZATION,
DesignHospitality&Hotelier
"If you have the energy and if you want to learn different things, you can empower yourself to an amazing career," says Natalia of her career and the opportunities in the tourism sector.
Listen to the full episode on www.heart-of-hospitality.com/podcast/
On the latest episode of Accor's Heart of Hospitality podcast, Duncan O'Rourke and Natalia Bayona talk about the importance of innovation; the role of technology in service, sustainability and education; the incredible value and power of education and the importance of leadership and development in global Withcommunities.acareer spanning nearly two decades, Natalia Bayona rose quickly from a young, energetic and driven millennial joining the Department of Tourism of the Tourism Trade in her home-country of Columbia, to an international career championing education, innovation and sector investment around the world with the UNWTO.
The episode celebrates the valuable voice and perspective of the youth, a demographic that contributes 50% of the global tourism workforce, and discusses the opportunities and importance of young people in the sector. "Innovation has to be led by the youth and we need to empower them in order to shape the future. Hospitality is the sector that employs the most number of youth, so it's a very young, dynamic and innovative sector. It is the most human economic sector, for people and by people. Because it is so human-centric you need to innovate every single moment because each human is different in the world."
Accor's HEART OF HOSPITALITY campaign returns for a second season, championing the travel and hospitality sector, sharing talent stories from across Europe and bringing new voices to the HEART OF HOSPITALITY podcast
For more information about careers in hospitality, visit www.careers.accor.com
"The best way to get educated is by travelling because it's the way you open your brain to cultures. Tourism is a driver of peace, enabling you to see how people from different cultures are joined together for the same cause."
Natalia concludes, "That's the magic of tourism - it is very human and you can see the benefits immediately. It's not a thing of five years from now or five months from now. It's something that can change your life immediately, so I don't think any other sector can do that for you."
Accor's Heart of Hospitality campaign returns this week with a new podcast series and a wealth of hospitality worker case studies from across Europe, sharing the passion, craft, creativity and heart that fills the travel and hospitality sector. As the global staffing crisis continues, Accor is using its sector leadership in Europe to spotlight the industry, its people, opportunities and careers and champion hospitality as an economically crucial sector and a personally fulfilling career choice. Duncan O'Rourke, CEO Accor Northern Europe said: "Travel and hospitality is fuelled by people. As the world reopens and recovery continues at an exceptional pace, people are once again travelling the world, experiencing different places and cultures, creating memories that will last a lifetime and extending their business beyond the virtual screen. It is people that make that possible, who craft those moments and welcome travellers all over the world. Hospitality and tourism contributes billions each year to global economies. It remains the employer of 1 in 10 people around the world. Far beyond this macro view, hospitality is all about people and the heart, craft and passion they demonstrate as they grow through their rewarding careers." "Hospitality and travel is the most human economic sector"
n the first episode of season two of the Heart of Hospitality podcast, Duncan O'Rourke, CEO Accor Northern Europe and host of the industry podcast, is joined by Natalia Bayona, Director of Innovation, Education and Investments at the World Tourism Organization, UNWTO. They discuss how education, technology and innovation can make a lasting change in the landscape of tourism, the importance of engaging local communities and building experiences locally and how by empowering the younger generation we will better shape the future of the sector.
SEBO AUTOMATIC THE CHOICE OF PROFESSIONALS XP 20 • Powerful Performance • 890W Efficient Motor • Extremely hygenic 5.3L Triple Layer Bags • S-Class Filtration • 37cm Cleaning Head • Cleans flat to the floor • Crevice and Upholstery Nozzle • Easy Maintenance • Quiet & Easy to Use • Built to Last • Made in Germany Light to use due to a very low pushing force, the SEBO XP 20's computer-controlled height adjustment ensures optimum cleaning performance. The low-profile design allows it to clean under furniture and the telescopic tube and tools are conveniently located and ready for instant use. Made in Germany, SEBO vacuum cleaners are used in hotels throughout the world and are recommended by leading carpet manufacturers.www.sebo.co.uk | sales@sebo.co.uk | Follow us on Q E D Also available, XP 10 with 31cm cleaning head and XP 30 with 44cm cleaning head. For exclusive deals, please call 01494 465533 and quote the code HOTEL2022
Whether you're running a hotel, B&B or a holiday rental, the interior design is vital in shaping the guest's opinion of their stay, as Marketa explains "Interior design in the hospitality industry is of vital importance when it comes to creating a positive experience for your guests, your staff, and anyone else who steps foot into your establishment."
The bedroom is arguably the most important room as it is the main base for the duration of a guest's stay. Marketa suggests "Regardless of your budget, it's always best to think quality over quantity when it comes to the bedroom décor. Do your research and invest in quality lighting. The material the lights are made from makes a big difference, so avoid plastic finishes as these will devalue the whole look of the "Tointerior."accomplish a warm, welcoming room, you need to embrace the whole range of lighting sources available" advises Marketa. "This may include, pendant lights, recessed lights, chandeliers, track lighting, tall floor lamps, small table lamps, wall sconces, under cabinet lighting, and other spot lighting. I always advise customers to vary the lighting in a bedroom to create little pockets and pools of light" adds Marketa.
3. Adding dimming controls gives guests a more unique experience to meet their needs with ease.
4. Choose handcrafted, highquality fixtures that will bring an extra touch of luxury and add some texture to the space too. Try choosing copper or pewter designs to create a relaxed, cosy environment, or glass for a brighter, luxurious look. Brass designs work really well with dark bathrooms, which have become very popular recently as the brass really stands out against dark tiles or paintwork. With UK Staycations set to rise further in 2022 and 2023, Marketa Rypacek, Managing Director at Industville Ltd, gives her expert advice on how to get your business guest-ready.
Get your Business ready for a UK Staycation Boom
1. Large scale light fixtures offer a bold statement when mounted overhead. This provides the general lighting for the room and should be placed as high as possible. If possible, ensure overhead lighting clears the top of the mirror to put it in perspective. This will also help prevent glares and reduce unflattering shadows.
2. Wall sconces or hanging pendants mounted on both sides of the mirror are ideal because they distribute light equally on both sides of the face when a guest looks in the mirror without casting harsh shadows.
"Consider task lighting such as placing pendants or wall lights either side of the bed. This will provide ideal lighting for late night reading as well as a bold style statement that removes the need for clunky lamps that take up valuable space on the bedside table. Accent lighting can then be used to highlight a piece of artwork, plants or architectural features in the bedroom" reveals Marketa. Bathroom Retreat "Bathrooms tend to be bright and clean, so ensuring that there is enough task lighting overhead is of integral importance. Then, you will need to focus on creating a relaxing, spa-like atmosphere that people will be able to enjoy, whether they're indulging in a long hot bath or pampering themselves ahead of a big night out! The flexibility to transition from day-to-day tasks to evening detox is vital, and something you will need to consider before you begin to implement bathroom lighting" adds Marketa. Marketa's Bathroom Lighting Tips
Blissful Bedrooms
11 DesignHospitality&Hotelier
Oasis Rattan Sofa Set only £945.20 Cool Side Chair Polypropylene only £46.75 each Bespoke Furniture & Planters Full information online. Parasols - various colour options from £51 SALEON Durham Picnic Table only £131.75 SALEON Lancaster Round Table only £253.30ONSALE SALEON SALEON Madrid Rattan Furniture from £40.00 Regent Rattan Furniture from £116.45 SALEON A UK leading trade supplier of Outdoor, Indoor & Recycled Plastic Furniture All prices are subject to VAT. Prices and promotions correct at time of going to press. Get in touch: E: sales@leisurebench.co.uk T: 01949 862 920 VISIT OUR WEBSITE FOR ALL OF OUR SUMMER SPECIALS! Recycled Brown & Black A-frame Picnic Table Recycled Black A-frame Picnic Table Recycled Brown & Black Square Picnic Table Recycled Black Square Picnic Table Our very own... RECYCLED PLASTIC FURNITURE! 100% Recycled Plastic 15 Year EnvironmentalGuarantee&Ethical Including benches and a wide range of picnic tables with stylish plastic planters now available! Scan to view more Outdoor Furniture P.O.A Ordering more than one? Up to 15% discount available! Visit: www.leisurebench.co.uk Late Summer SALE Joy Side Chairs only £40.80 each SALEON Aberdeen Picnic Table only £295.80ONSALE Devon Hardwood Furniture from £46.75 SALEON NewDay Ltd. UK only. 18+ Subject to status. T&C's apply.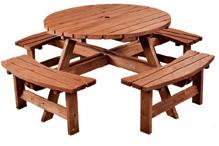 Available to view online, or as a hard copy from local distributors, the catalogue caters for a wide choice of budgets, with standard, superior, finest, premium and luxury collections. For more information, advice, or to place your festive order, please call 01204 795 955 or visit www.jangro.net.
Jangro launches its Christmas Supplies Catalogue 2022
JANGRO GETS INTO THE CHRISTMAS SPIRIT
13 DesignHospitality&Hotelier
For the professional catering and hospitality businesses providing celebratory food, drinks, and parties in December, the festive season has already begun. Early planning is essential, so Jangro, the largest network of independent janitorial and cleaning distributors in the UK and Ireland, is delighted to announce that its 2022 Christmas Supplies Catalogue is now available to help businesses get Theahead.Jangro Christmas Supplies Catalogue 2022 is packed with festive essentials, including streamers, balloons, and colour co-ordinated tableware. Once again, Jangro is proud to supply the Tom Smith range of catering crackers, which combine social and environmental sustainability with on-trend designs to bring every Christmas table to life. Made from recycled board, they are fully recyclable, and completely free from glitter and plastic – including the contents. For every case of the catering crackers sold, £2.00 is donated to the Trussell Trust, which is also the dedicated charity that Jangro is supporting this year. This worthy charity supports a nationwide network of food banks to provide emergency food and care to people locked in poverty. Jo Gilliard, CEO at Jangro comments, 'Last year, pubs, bars and restaurants missed out on £3bn in sales over the festive period as the spread of the Omicron coronavirus variant kept the public at home, resulting in a second "lost Christmas" for financially embattled proprietors . Now all restrictions have lifted, there are high hopes for December 2022.
Christmas is officially ON and is set to be bigger, better and more festive than ever! Therefore, preparing early is crucial. Not only to ensure you offer the best possible experience, but also to avoid any additional pressures at what is one of the most hectic times of the year for bars and restaurants.'
D Panaz creates photo worthy finish for El Hefe Supermacho Taqueria
Featuring straightforward editing tools, El Hefe Supermacho Taqueria, Scottsdale's must-visit nightclub and restaurant, has been transformed by Costa Mesa based designers, Davis INK, utilising custom fabrics from one of Europe's leading suppliers of decorative fabrics for the hospitality sector, Panaz.
ensurepatternwhilstthecoulddesign.customuploadquicklyenabledReMake,textileexclusiveINKcollaborators,PanazDavisutilisedPanaz'sbespokeplatform,whichthemtoandeasilytheirownScorpionThedesignersthenamendcolourandscale,checkingtherepeattothehighest
possible finish. The bespoke vivid Scorpion and Rose design created by Davis INK for the upholstery of the booths perfectly complements El Hefe's stylish new look, creating an exceptional environment for guests to enjoy. The finished interior reflects Davis INK, RHG and Panaz's passion to create a unique and captivating venue that pushes the boundaries of the hospitality landscape, whilst simultaneously setting the standard for quality and functionality.
Once in the main section of the venue, the designers utilised bold graphics and contrasting colours for the bottle service booths that line the space's perimeter.
avis INK worked in partnership with Riot Hospitality Group (RHG), who specialise in co-creating unique brands, to produce eye-catching interiors that would accommodate a full restaurant throughout the day, whilst easily transforming into a high energy nightclub environment during the Theevening.designers created a vibrant, Instagram worthy entrance that features a graphic floral tunnel, laced with three dimensional lighting and completed with a custom candle chandelier, which entices visitors into the central bar.
As part of this design, Davis INK required upholstery fabric that could hold its own, both visually and physically, to not only suit the new design scheme, but also As regular
-Indigo Awnings Customer, Scarborough it's not too late to order for late summer with the hospitality industry growing and more good weather predicted for august and september, you may be regretting not ordering your awning this year luckily, we are now quoting an incredible 2-3 week lead time on selected awning models! order today to utilise your outdoor areas in time for the late summer rush andBOOKbeyond...AFREE SITE VISIT TODAY • zero deposit leasing • expert fitting teams • branding screen printing • optional heating & lighting • 22 years industry experience • huge range of sizes and colours www.indigoawnings.co.ukwww.indigoawnings.co.ukwearenowquotinganincredible2-3weekleadtimeonselectedawningmodels!/enquiries@indigoawnings.co.uk/01352740164BOOKAFREESITEVISITTODAY
A touch of extravagance to world-class fine dining in the heart of Mayfair with bespoke linear lighting The Ivy Asia
www.ledflexgroup.com
PapadiotisGavriil:Photographer|London:Location|18fifty:DesignLighting
Wash Series Connect to your on-premise laundry dosing system like never before SEKO's Wash Series multi-machine laundry dosing systems allow operators to manage their equipment wherever they are in the world courtesy of IoTenabled remote access. www.seko.com • Connect to multiple SEKO laundry systems remotely via the SekoWeb smartphone app • Move this bullet to the bottom of the list • Access live and historical chemical and equipment performance data 24/7 • Adjust programmes at work, at home or on the move for immediate e ciency improvementsScanto arrange a meeting with a SEKO product specialist at Interclean DataSekoWeb2022ondemand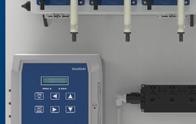 There are many background music companies out there, how does MBC differ from their competitors? We are very different from our competitors in terms of our ethos and the way we work. We have been working in luxury hospitality for over 15 years and have worked with all the leading hospitality brands. Because we are a small family-run artisanal company brands who want something different and that extra attention to detail want to work with us. We hand pick every track and never use generic playlists created by algorithms. Because we are all professional musicians, producers and DJ's our playlists are of the highest quality and consistency, which I feel definitely gives us the edge over our competitors. For us it's all about the music!
The right music has such a huge impact on the guests overall experience that we feel the small investment in the correct professional company will reap huge dividends for the brand. For more information: www.mbc.eu.com
What makes a successful playlist? The art of eachmusicreallylevelaways.andissuccessfulcuratingplaylistsincrediblysubtlecanworkintwoThefirstisonaveryconsciouswhenguestsarelisteningtotheandenjoyingsong.Thismakes them want to stay longer as they feel good. The second is when the music is not even noticed but the overall ambiance that is created is perfect. This affects the guest on a subconscious level making them feel happy and relaxed. If you come for an aperitif the music needs to be energising but not intrusive. It has to be lively and happening whilst still allowing conversation to flow effortlessly. If the wrong music is played at the wrong time of day you will unconsciously feel something is wrong and will want to leave without even realising why. It is very easy to get it wrong. If the music is jarring and incongruent it is as offensive as bad lighting or bad food!
What have you been working on recently? As artisanal curators we spend a lot of time sourcing new music and constantly updating our playlists. We have now released a mobile application that allows customers to control their music from a phone or tablet. This has been a real hit with customers who need to quickly and easily change their playlists to match different ambiences, and who want a  more "hands-on" approach to their music. What new trends do you predict within the industry? Wellness is a big buzzword in hospitality right now. We have been researching how music can affect a person's overall wellbeing for the past couple of years and have a specialist wellness curator. Currently I think we are the only background music company in the world who infuse their spa playlists with special healing frequencies. I think using data to further personalise the guest experience will become the norm in the next few years. Luxury travellers already expect this. We are working on a couple of projects to create personal musical experiences for guests, curating personalised playlists for their rooms and to upload on their devices.
18 DesignHospitality&Hotelier
And finally any advice for our readers when selecting a music company? Music should be considered an integral part of the marketing strategy when planning budgets, not an after thought or box ticking by the head office procurement team. Often brand ideals and messages will get watered down with this approach. Music is an art form and so an artistic approach should be taken when considering which company to employ.
A successful playlist that cleverly defines the space is an essential element of branding today and should be given the thought and attention it deserves.
Stephane Malca, CEO of Music Brand Communication discusses all things musical from artisans versus algorithms to healing frequencies!
NEW BRAND GAINS FIRST AWARD AND EXPANDS ITS OPERATIONS
SIXTOWNS are now hard at work transforming its new, 3500 square foot space to create its new look Distillery. In keeping with its brand and heritage, the location at the World of Wedgwood is the perfect place for the next chapter of the SIXTOWNS story where it will have a shop, cocktail bar and host distillery tours, gin tastings, cocktail masterclasses plus its very own gin school. It will be opening its doors later this year so customers can share the passion for crafting premium spirits, whilst being immersed in Staffordshire's
ince its launch in November 2020, Stoke-on-Trent based SIXTOWNS has gone from strength to strength in a very short time, now securing its first award for the London Dry Gin at The Spirits Business Gin Masters 2022. The company have marked this success by re-designing the bottle in silver, offering a 1000 limited edition Allrun.SIXTOWNS products (as well as Gin, they offer Rum and Vodka) are unique - produced in one-of-a-kind, brick effect, ceramic kiln-shaped down through three generations of the founders' families and the inspiration driving the business is being able to encapsulate the fine craftmanship and 300-year-old heritage found in its Thelocality.SIXTOWNS
www.brosdistillery.co.uk
• Spirits Business Gin Masters 2022 Silver Award - London Dry Gin.
• New product launch – SIXTOWNS Pink Gin – August 2022.
• New facility - relocated distillery, with enhanced operations, at the iconic World of Wedgwood.
Theyheritage.are also now preparing for the launch of their new product, SIXTOWNS Pink Gin, next month –this evolved from celebrating the first news of the award – a new spirit just had to be created with the London Dry as its base – a sweet, fruity and refreshing pink gin.
19 DesignHospitality&Hotelier
Speaking today, founding owners, Vitalijs and Alex Rackovs comment 'We are absolutely delighted to have received The Spirits Business Gin Masters 2022 Silver Award. This is a ringing endorsement of our generational expertise and to receive this recognition fills our hearts with pride and hope of many more accolades to Wecome.continue to be inspired by the tremendous craftsmanship we are lucky to be able to employ in producing our stunning craft spirits. To celebrate we are releasing a limited-edition silver design bottle, which is confined to just 1,000 bottles and still contains our award-winning gin of course!; Watch out too for our new product –SIXTOWNS Pink Gin, launching in August'.
expansion also continues with the launch next month of its latest product, SIXTOWNS Pink Gin and with the concluding development of its new facility at the World of Wedgwood, Barlaston.
AND UNIQUELY INNOVATIVE, HERITAGE-STEEPED
S
"We're all too aware of food and plastic waste, but what about the invisible waste that we cannot see, such as the volume of energy businesses consume each day and night unnecessarily?
• Nearly 40% are looking to train their teams in sustainable practices in the workplace
BRITA VIVREAU (water dispensers): 0345 674 9655, www.brita.co.uk/water-dispensers
New report reveals the ways in which operators can reduce their energy consumption by targeting sources of invisible waste
Businesses should download the Invisible Waste report to ensure equipment isn't draining energy.
As well as identifying which pieces of equipment can be safely turned off overnight to improve overall energy efficiency, the report is brimming with actionable tips and hints that can help streamline the process to better sustainability across the board.
20
To help operators combat the energy crisis, and learn simple, energyefficient steps to reduce their energy consumption by identifying sources of invisible waste, BRITA has partnered with sustainability experts as part of its new Invisible Waste insights report.
Almost half of hospitality businesses are still leaving equipment on overnight despite 65% not knowing how much energy the equipment uses
Nearly three-quarters of decision makers (72%) say they have goals and targets in place to decrease their energy usage and overall environmental impact, yet 86% believe their business could be doing more to achieve this.
With UK hospitality operators facing an unprecedented rise in the cost of goods and energy prices shooting up, 92% of decision makers are concerned, according to new research from BRITA UK. These results are revealed in a new report from the leading water filtration and dispenser brand and reveals the ways in which hospitality businesses can cut costs.
For more information contact BRITA UK and discover all the ways it can support businesses on the journey toward better sustainable practices.
Twitter: LinkedIn:@BRITAPROBRITAGroup
The sector's energy concerns and desire to operate more sustainably add to the many plates its businesses are already spinning, with existing challenges including recruitment and retention issues, the rising cost and availability of raw materials and ingredients, and some areas of the UK continuing to see a reduced footfall.
DesignHospitality&Hotelier
One of the major sources of invisible waste in hospitality is equipment being left on needlessly overnight, which is something 45% of decision makers admit to, despite 65% of them not knowing how much energy the equipment uses during this time.
It's vital that we collaborate with companies to tackle the sources of invisible waste together, and there are simple, energy-efficient steps that can be taken to contribute to real change."
David Hall, Managing Director of BRITA UK, says: "With hospitality operators feeling the pressure to improve their sustainability in an authentic way that avoids 'greenwashing' their processes, they cannot ignore the impact of the waste they produce on the environment.
Though some venues such as hotels operate 24/7, equipment including ovens, commercial washers, microwaves, and hobs are all examples given by decision makers of equipment left on unnecessarily overnight, with 25% letting these appliances go into standby mode. 18% say it is easier to just leave equipment on and, for one in 10 businesses, equipment remains on simply because there is no one responsible for turning it off.
BRITA Professional (water filtration systems): 01869 365 851, www.brita.co.uk/professional
• Over the next five years, two-thirds (66%) of businesses will actively be trying to reduce energy usage
• Perceived challenges to improving environmental impact for businesses include cost (66%), time (42%) and team resource (29%)
The rapid growth and re-growth of bamboo is just one of the main reasons it is considered a "miracle grass"; it is also renowned for being stronger than wood, concrete, and bricks. But what are the health benefits to consuming bamboo water?
21 DesignHospitality&Hotelier
In a time where climate change, deforestation, and the devastation of our planet are becoming more and more real, it's never been more important to look at sustainable resources with new eyes. Bamboo is one of the most sustainable and renewable resources on our planet, as it grows at an astounding rate. Inner Beauty
The Bamboo Water Hype
Well not only is it sustainable, but it's also beneficial to our inner and outer health and beauty – and here's a little insight into why Bamboo Water is the next big health drink…
Sustainability
Bamboo water contains antimicrobial properties that protects you from various bacteria and strengthens your immune system, and these properties have also been used in many traditional medicines over the years to treat wounds and relieve mild Drinkingindigestion.Bamboo water may also help to fight against common cold and flu germs, reduce heavy menstrual bleeding, ease menstrual pains and some say – help with labour pain! Outer Beauty Like other natural waters, Bamboo Water is naturally hydrating which benefits a clearer and healthier complexion. The silica content also boosts collagen production, which helps to combat wrinkles and fine lines, plus it doesn't end there – it is also great for improving the strength and quality of your hair and nails. Bamboo can be enjoyed straight from the source by cutting a notch in the stem of the bamboo, and simply tipping the water out. The bamboo stem itself acts as a unique filter, so the water is crystal clean and safe enough to drink naturally. However, who wants to go hunting for bamboo and doing all that hard work – that's where Juno's Bamboo Water comes into the picture… Juno's Bamboo Water is the first botanical water made with infused bamboo leaf. It is sugar free, caffeinefree, and low in calories. A multi-pack of 12 bottles is available to purchase at www.bamboo-water.com for And£26.90.watch this space – a new flavour is coming soon…
he team around Operations Director Brian Conroy enlisted EV infrastructure specialist Be.EV to design a bespoke charging solution that meets increasing demand from guests and staff, respects the hotel's stunning setting and connects into the local community. The chargers will be available to the general public, who can access them via the Be.EV network - the largest public charging network in Greater Manchester that is expanding rapidly across the WhileNorth. the project contributes to local climate action like Low Carbon Barrow and the Zero Carbon Cumbria Partnership, the hotel did not draw on any public funding available through these initiatives. The solution was provided by Be.EV at zero cost to the hotel or the on one of the ultra-rapid chargers, while guests staying overnight or for the day can plug into one of the fast chargers. Be.EV developed the solution in partnership, working out exactly how the charging facility will work on the site, what signage will be needed and anticipating the planning needs of the listed building. Brian Conroy explains: "We knew we needed to offer EV charging for our guests, but we didn't know where to start. The Be.EV team helped us get our head round the different types of chargers, all the different aspects you need to "Theyconsider.looked at what we need to provide now, based on visitor trends and existing local infrastructure. But they also made sure we have a plan for the next decade, as the number of EVs increases. Asif Ghafoor, CEO of Be.EV, commented: "Abbey House is a great example of the role hotels can play in the EV revolution. Guests and visitors now demand EV charging, but it is still early enough to be a first mover and reap the benefits that come with that. Our work with the Abbey House team shows that EV charging can be done well and in keeping with the heritage of a site."
The new EV charging facilities are currently awaiting planning permission, with a projected go live in later this year.
T
Abbey House was designed by Sir Edwin Lutyens in 1914 and has been Grade II listed since 1949. Any developments on the 14-acre site have to be sensitive to this status and the importance of building.
The Be.EV team can advise and support hospitality businesses and hotels across the North and beyond on the right EV
Abbey House Hotel & Gardens, a Grade II* listed luxury hotel and wedding venue in Cumbria, is set to install an electric vehicle (EV) charging hub of 10 ultra-rapid and fast charging bays at its extensive grounds in Barrow-in-Furness.
Lutyens-designed hotel to deliver 21st century EV charging
• Dimitris Manikis, President EMEA, Wyndham Hotels & Resorts
Europe's only resort-focused investment conference returns to Portugal Resort and Residential Hospitality Forum (R&R) set to take place from 17th-19th October 2022
• Ana Beatriz, CEO, ABC Sustainable Luxury Hospitality
• A first look at the latest ventures, investment opportunities and innovations from the world of resort and leisure
•
• Thomas Emanuel, Director, STR
• Kathrin Cockhill, Director of Hotel Intelligence, HotStats
Exhibitors will include the most prominent hoteliers and investors representing the full spectrum of resort and leisure asset classes across beach, alpine, lakes, spa and wellness, branded residential and recreational resort activities such as golf resorts, marinas and theme parks. R&R offers a unique opportunity for these key players in the industry to come together to share knowledge and expertise and to shape the future of the sector.
• Themed around 'sustainable returns in leisure', this year's event includes educational sessions featuring a stellar line-up of world-class speakers  Networking events connecting delegates with great minds across the industry Opportunities to strike deals with active global investors
23 DesignHospitality&Hotelier
Early bird tickets available at €1,999 before 29th July. General sale tickets available at €2,299 Register at https://www.eventbooking.uk.com/randr/
•
Last year's event was a huge success, attended by over 40 exhibitors, 70 investors, 50 C-suite executives and with over 20 countries represented over the course of the forum. Set to be an even bigger event than 2021, this year's programme is themed around 'sustainable returns in leisure' and will address the industry's key issues and trends, including; wellness, experiential travel, intergenerational living, sustainability and locality that impact both the real estate and the commercial sides of leisure hospitality. Delegates at R&R will have the opportunity to explore the principal opportunities and subjects affecting the resort, residential and leisure sectors, as well as having access to networking sessions with senior leaders, independent operators and forwardthinking investors. An experience in itself, attendees will leave inspired and armed with ideas, insights and a new energy to drive forward future investment strategies. In between sessions, R&R will take care of the mind, body and soul with its simultaneous wellness programme packed with beach runs, sunrise yoga and 'walk and talk' networking sessions fuelled by a nutritious and balanced F&B menu.
• Roger Allen, Group CEO, RLA Global • Branimir Blajić, Partner, Best solutions d.o.o., Croatia
The Resort and Residential Hospitality (R&R) Forum has announced its return for 2022. Industry professionals are now invited to book their ticket to this year's event, which will take place at the Tivoli Marina Vilamoura Resort, Algarve, from 17th-19th October 2022.
• Miguel Casas, Managing Director, Hospitality,StonewegSpain
• Cristina Fernandez Hoyo, Country Manager Spain & Portugal, Covivio
Key confirmed speakers at R&R 2022 include -
Deep-dive sessions will explore a range of topics such as; the increasing need for data and its role in establishing meaningful KPIs, seizing opportunity in the expanding branded residential space, requirements for sustainable development, the growth of 'bleisure', opportunities beyond beach resorts, and more. Whether it's ESG strategy, a deep dive into the shifting investment landscape or the new stakeholders to know about, attendees will come away armed with a smile, and insights to help drive their firm's hospitality investment strategies.
• Joao Madeira, Head of Real Estate, Sonae Capital, Portugal
• Georgios Filiopoulos, CEO, Enterprise Greece
Eden Furniture has a massive selection of Indoor, Outdoor and Poolside Furniture. Our Padstow and Harrogate Ranges have become increasingly popular with their rustic and rural designs. The Padstow is available as an armchair and two seat sofa both with cushions and a coffee table. The Harrogate Range is all made to order so we can accommodate most sizes. Tables can be square or rectangular and also at bar / poseur height. Benches and stools complete the range.
The Salford is a great looking all-weather stackable chair with an aluminium frame in an Antique Vintage finish
SalfordDchair
harrogateRangeEye RANGE
The Salford Chair can be used both indoors and outdoors and we stock these in Antique White and Antique Grey
Available for QUICK DELIVERY
outdoorcatchingfurniture BOHEME
F U R NITU R E Call: 01527 519580 E: sales@edenfurniture.co.uk Warehouse & Showroom Unit 16 Padgets Lane, South Moons Moat, Redditch, Worcs B98 0RA www.edenfurniture.co.uk PadstowRange
The Boheme
is a best selling Italian manufactured range consisting of a side chair, armchair, square and rectangular Stackabletable. for easy storage and available in four different colours - Anthracite, Mocha, White and Jute
Rustic Vintage Style Furniture
Instagram topped two billion users in early 2022 and has the highest engagement rate of any social media platform at 81% (compared to Facebook's 8%), thanks to its focus on high quality image and video content. "We are seeing more hotels, restaurants and bars becoming creative with their Christmas decorations to create a focal point for people to take photos for their social media. There's no limit when it comes to Christmas – the bigger, and more imaginative, the better. We worked with Studley Castle Hotel in Warwickshire to create bespoke Alice in Wonderland-themed Christmas displays and pink flamingo trees to fit the unique décor of the hotel's rooms, for example. "We are also seeing more hospitality businesses using the season to make a statement or send a message. Last year, we helped Novotel Blackfriars London, one of the UK's most sustainable hotels, make a statement with specially designed 'eco trees' that used only sustainable decorations like hessian, pampas grass and dried fruits to echo its environmentallyfriendly ethos and encourage guests to be more sustainable at Christmas time. "The hospitality sector knows it has to step up during the festive season when competition is fierce. This year looks set to see big central displays take centre stage. Think festive-themed living walls, reception centrepieces with multiple trees and accessories, unusual decorations and bespoke lighting displays for extra wow factor." phs Greenleaf supplies more than 2,500 decorated Christmas trees and displays to businesses every Itsyear.specialist Christmas production team spend most of the year decorating artificial trees in preparation for the festive season, while Greenleaf's real trees are harvested at a sustainable farm in the Midlands. The Christmas designers install each tree and display on location. Trees are available in a wide range of sizes – from a standard 7ft tree to as high as 30ft tall, alongside the 3ft tabletop tree, decorative wreaths, garlands and floral arrangements. As well as bespoke items, phs Greenleaf has a wide range of pre-decorated trees businesses can choose from in a variety of designs and colours.
Christmas 2022 is all about creating a 'social media moment', according to one of the hospitality sector's leading Christmas tree providers.
Christmasaremoments'media'Socialkeythis
phs Greenleaf predicts a trend towards large 'Instagramable' Christmas displays rather than individual trees this festive season, as the hospitality sector leans more towards influencers and social media to drive sales and repeat business. "It's not just about putting a large Christmas tree in your reception," says Emily Vernon, Managing Director of phs Greenleaf. "It's about creating something unique or inspiring that people feel compelled to share on social media which, in turn, encourages others to visit and experience for themselves and create their own content around."
phs Greenleaf offers hospitality businesses a range of horticultural services from interior and exterior planting to landscaping.
www.phsgreenleaf.co.uk
19TH & OCTOBER20TH EXCEL LONDON FREE TICKETS HOTELINNOVATIONEXPO.CO.UK @HOTELINNOVATIONEXPO #HOTELINNOVATIONEXPO 300 EXHIBITORS 150 SEMINARS OPPORTUNITIESNETWORKINGINDUSTRYAWARDS DEBATESPANEL
Woods Nina comments: "The wood additions to the collection link us to our immediate surroundings, with a focus on local European species, such as Oak, Ash, Walnut and Elm. As we learn to appreciate our habitats, we want to introduce its natural beauty into indoor spaces. Moving towards greyed and desaturated tones of woods in both warm and cool tones gives our woods palette a beautiful variety and balance of tone and colour."
The new Formica Collection recently launched in the UK at Formica Group's new flagship showroom in London. The showroom charts the company's history and rich pedigree in interior innovation, and is a hub for architects, designers and specifiers to learn how to incorporate Formica® laminate into projects. To see the new colour palette and wood finishes for yourself, book a visit to Formica Group's showroom by www.formica.com/ukshowroomvisiting:
European Design Lead for Formica Group explains: "The new collection encompasses a sense of organic sophistication. Both the new colours and woods resonate with current culture and the ongoing trends for natural and earthy interior environments, combined with the move towards artisan design and the handmade approach."
Biophilic design: the new colour collection from Formica Group has it covered
Formica Group, the world's leading and original creator of laminates, has launched a striking and sophisticated new collection, drawing inspiration from the natural world to create a range of complementary palettes.
Plus Color It is "the ultimate laminate tool box for interior designers, providing the chance to experiment with colour and texture in multiple ways," explains Nina, "the range taps into many core trends, such as tone on tone palettes and the tactile approach to sensory design. The addition of eight new on-trend colours to the Plus Color range, in a selection of premium finishes that tap into texture trends for rhythmical repeats, matte soft touch and glossy finish options adds sophistication and grounding tones ideal for multiple uses and sectors."
The Formica® Collection introduces 15 new plain colours, 34 new wood patterns, and eight new Plus Colors in four premium finishes, addressing a growing trend in design that brings natural influences, colours and patterns into our Ninainteriors.Bailey,
27 DesignHospitality&Hotelier
Introducing the new collection: Plain colours "There are three series in the new plain colour additions – Greens, Reds and Night, and one single colour, Brite White," explains Nina. "The earthy, grounding colours bring the outside in, and range from light blush terracotta to the deepest blue/black. These shades are uncompromisingly rich, luxurious and elegant. Our Brite White addition is already a firm favourite around the world, and we're excited to add it to our collection here in Europe."
Nina agrees: "It was important to us that our new collection evoked a sense of calm that the natural world provides –even our richer colours are deeply connected with organic hues. "Redefining commercial interior design is where we excel, and as retail, hospitality and offices reopen, this is a golden opportunity to rethink how those spaces are used and presented."
For the past two years as the world shut down, people adapted to living their lives almost entirely from home. Working, shopping, exercising – even online doctor appointments – were conducted from the comfort of our living rooms. People sought comfort and reassurance from their surroundings, resulting in an interior design trend for indoor plants, and colours and textures derived from nature. Now, as the world reopens, commercial, hospitality and leisure spaces are embracing socalled biophilic design –incorporating nature and natural inspiration into interiors - as they welcome back employees and entice customers into their stores, hotels, restaurants and other public spaces.
Smeg UK Ltd - Foodservice Division The Magna Building, Wyndyke Furlong, Abingdon, Oxfordshire OX14 1DZ - Tel. 0344 5731 370 - foodservice@smeguk.com THE NEW ALFA43 ELECTRONIC OVEN RANGE Combining exclusive Italian design and pure cooking excellence, Smeg convection ovens represent the perfect solution for modern catering services, coffee shops, bakeries and supermarkets that require a compact oven with peak performance. www.smeg foodservice .co.uk ALFA43XE2HDS2stagemultistepcookingDualspeedfanwithhumidification4trays435x320mm4withDual3ALFA43XE1HDSstagemultistepcookingspeedfanhumidificationtrays435x320mmor2/3 GN USB port and app for recipe development and upload ASSISTANCEYEAR WARRANTY Inclusive of parts and labour
Lost Property is set to open on 19th July 2022 - developed by London based property developers, Dominvs Group, its opening marks the latest addition to Curio Collection by Hilton's growing hotel portfolio of one-of-akind Locationhotels. Situated in the City of London – Roman London's original site and one of the capital's oldest historical districts – Lost Property is within walking distance of some of the world's most iconic landmarks, and just 100 metres from St Paul's Cathedral. The area continues to be a hive of activity, with eateries, bars, members clubs and cafes cropping up in an area that is now a melange of old and new. The City of London is the perfect place from which to explore the capital, with Central London, Shoreditch and South Bank just around the corner and the riverbank within walking distance.  Design
29
Lost Property to open its doors in historical City of London
The sense of mystery that is embedded in Lost Property's DNA, runs right through to the hotel's atmospheric ground-
floor bar and restaurant, Found, which offers a classic food and drinks menu with a nostalgic twist. The bespoke bar is eight metres long and crafted out of bright blue resin, with stunning Murano glass pendants creating mood lighting and a cosy feel. The centrepiece of this social space is an ornate chandelier, crafted from Murano glass and made of individual figurines of extinct birds forming the shape of a hovering eagle. The extinct birds represent a lost natural treasure, immortalised in this quirky hotel, and echoed in the bespoke wallpaper specially designed for Lost Property by Timorous Beasties. Nightly room rates start from £170, or Hilton Honors members can redeem Points using the  Points Explorer tool.   Click here to read the full article.
Food & Beverage
DesignHospitality&Hotelier
Located in an area steeped in history and heritage, this interior design partnership between Ica and Rani Ahluwalia, founder and creative director of Key interior and Designs, captures the vibrancy of the local area; where modernity meets legacy and the curious come to play. In this stunning grade II listed building, guests can choose between 145 uniquely designed rooms and suites across six categories and six floors: Guest rooms, Superior Rooms, Deluxe Rooms, Junior Suites, St Paul's Junior Suites and Family Rooms, of which several have prime views of the cathedral. The bright and light bedrooms are sleek and modern with marble bathrooms and an industrial touch – a nod to the hotel's urban surroundings. Bespoke red and blue colour schemes were carefully selected to reflect the city's heritage, and eye-catching colour-pops and patterns contrast with clean lines and timeless neutral walls. The interiors celebrate the intricacies of lost craftsmanship and innovative design, echoing the shapes and architectural forms found in St Paul's Cathedral and the neighbouring streets.
Opening in July 2022, the capital's newest hotel offers stylish bedrooms, atmospheric dining and bar at 'Found', premium coffee house 'Tattle' and a celebration of the City of London's rich history
Without the talented, hard working music creators, they're just instruments... By purchasing TheMusicLicence you are supporting the future of music by ensuring those people who write, perform, compose, record or publish music are fairly paid for their work. Support the future of music! 0800 0868 801 (Mon - Fri, 8am-6pm) pplprs.co.uk