HOME-DESIGNER AND ARCHITECT MAGAZINE
May 2023
Suited Range from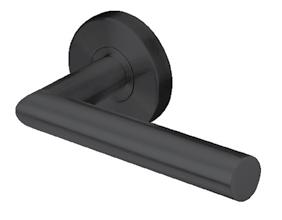 AVOCET ADD TO THEIR STAINLESS STEEL DOOR HARDWARE RANGE.
Pull bars are statement pieces of door furniture. They are big, bold and stunning and Avocet have a wide portfolio of stainless-steel pull bars to accommodate the current appetite for distinctive hardware.
IT COMES DOWN TO BEING ABLE TO CATER FOR AESTHETICS AND FUNCTIONALITY AT THE SAME TIME
something that could fill that gap as well as being…just a little different.
Rob I'anson, Sales Director for Avocet Door and Window division, had this to say: "We challenged ourselves to move away from our standard suited hardware and look deeper into the market to provide a solution that truly complimented an external bar system. It needed to be aesthetically pleasing but also adapt able and we're very happy with what we've brough to the marketplace."
Avocet launched their new Rose Lever hardware in January 2023 with three stunning finishes, polished stainless steel, satin stainless steel and the in-demand matte black.
"The stainless-steel furniture space is changing, and we have seen a real trend towards black, so it was important that we brought that increasingly popular finish into our range," continued Rob. "It's really bold and looks fantastic when it's been fitted."
appreciate," commented Rob.
Thought has also gone into their accompanying escutcheons with a round and an oval being provided within the set. When we asked why this was, the answer once again pointed to the considered way Avocet defined their range,
"It comes down to being able to cater for aesthetics and functionality at the same time," said Rob. "The round escutcheon is provided to match the rose lever on the interior, giving that extra finishing touch which homeowners will appreciate, and the oval escutcheon means the installer can avoid the door rebate. These may look like small considerations, but they add up to making a big difference for our customers."
This new hardware is also complimentary to their very own Smart Bar, ARC, which was launched at the FIT show in 2022 and indeed was one of the catalysts to investing in this new range.
"There were already murmurs at FIT, that ARC, which was exceptionally well received, may benefit from having a bar/lever configuration and that's what set us off on investigating the possibilities," remarked Rob.
Avocet's national team of sales managers are on the road ready to show their customers samples of this new range and have also developed a new stainless steel, Affinity Ultra brochure to include this new range as well as their regular offering. This can be downloaded from their website www.avocet-hardware.co.uk or for more information and to arrange for a personal contact, please call Avocet on or email sales@avocet-hardware.co.uk
CONTENTS May 2023 Jake Page Publication Manager 01843 581364 jake@homedesignerandarchitect.co.uk Jenna Burridge Editor 01843 581364 jenna@homedesignerandarchitect.co.uk CONTACT US HOME-DESIGNER AND ARCHITECT 16 Doors & Windows 22 Industry News 24 Kitchens 32 Bathrooms
When creating a unique home, glass gives you a wide range of options, not just for use in atriums and balconies, but also as a versatile room divider to make the best use of your internal space, as Susan Sinden, Commercial Manager of leading glass processor ESG Group Ltd, explains.
THE
VERSATILITY OF GLASS
One of the most common themes we see in the creation of the ideal home is a desire for space and light. Glass is therefore an unsurprising choice of material as there are many ways in which it can solve practical challenges and enhance aesthetics.
If, for example, you are opting for an atrium in order to maximise light and emphasise spaciousness and height, you have a few choices to make. Glass can now provide added security, privacy and even sound attenuation, as well as protection from the weather and great looks, so you should consider its purpose as well as the setting.
You can, of course, use single panes of glass, known as monolithic glass, very successfully. However, many architects and self-builders are choosing to use toughened laminated glass, such as ESG Tufflam, for practical and aesthetic reasons. Toughened laminated glass is manufactured by taking two panels of toughened glass (which is four to five times stronger than untreated annealed glass of the same thickness) and laminating them together with an interlayer of PVB (PolyVinyl Butyrall.) Should either of the toughened glass panels break for any reason, the interlayer holds the glass fragments together, so that although the glass is visibly cracked, it can be left in situ while you arrange a replacement.
Toughened laminated glass can be used effectively in dividing up and zoning your living spaces. Well known for its use in commercial settings, it can also add value in providing partitions in a domestic context. For example, you may wish to create the
illusion of an open plan space from kitchen to living and dining areas, but you may also wish to contain cooking smells. A glass wall between two well-defined areas will give the illusion of open plan and allow you to see and share in life beyond the kitchen, but it can also keep unwanted aromas from seating and relaxing areas.
•5•
continues...
The interlayer between the glass panels can be used to fulfil a number of purposes. One of the most popular options at the moment is privacy, or Switchable glass, which is created using an interlayer through which an electric current can be passed. When the current is switched off, the glass will form an opaque panel, but when the current is switched on, the glass becomes transparent, letting in light and creating a clear view, at the touch of a button. This can be used anywhere that a current can be applied, in doors, windows, atriums, partitions or balcony panels with equal success. Our most recent product, Secure Vue, even allows you to install a switchable glass panel to the front door, using battery rather than mains power.
You can also use the interlayer in laminated glass to add colour. A wide range of coloured Vanceva interlayers can allow you to choose different colours of glass panel. This could allow you to paint internal walls white but enjoy a changing colour wash according to the movement of the sun, for example. A sound reducing interlayer can also be used to help insulate different choices of music within the home,
or to provide a quieter study area, so adults, as well as children, can be seen and not heard. Neither are you restricted to a single purpose interlayer, as it is entirely possible to add sound attenuation, added strength, privacy and colour to a single panel. For the simplest solution, we can provide a simple satin or frosted interlayer, for light with permanent privacy, but interlayers can also be used to encapsulate motifs, decorative films or even fabrics. You could apply a special effect to just one atrium or wall panel and leave the others clear. The permutations are numerous and allow a great deal of choice.
There are, of course, instances in which you don't want to be seen at all, and this is where privacy glass scores very highly. Using this highly innovative building material, you can screen off entire areas, allowing you to create a mezzanine bedroom, a study, or even more impressively, an ensuite, which allows light to pour through when unoccupied, but provides complete privacy when needed, especially when bathing or dressing. As you have to turn the current on to make the glass transparent, the risk of getting it embarrassingly wrong is minimal.
Privacy glass is proving very popular in conversion projects such as warehouses, and other buildings which start as large open spaces. Instead of constructing exclusively solid walls, glass partitions can be installed to allow for natural light when desired, but to shield areas from view at the touch of a button.
Switchable glass can also be used as a window treatment. If you favour unimpeded clean lines and are not fond of curtains or shutters, you can opt for privacy glass; turn the current on to enjoy the view, then switch it off for total privacy.
Toughened laminated glass can be applied to internal and external balconies and balustrades. There are several types of balustrade and balcony construction currently in use. Balustrades are often fully framed, with the glass panels being fixed within a steel or aluminium framework, but frameless structural balustrades are now proving very popular. These are fixed solely along the bottom edge with glass panels aligned and sealed against each other without a framework, providing exceptionally clear, uninterrupted sightlines. For frameless balustrades, toughened laminated glass is normally used, even at ground level, as its added strength helps to provide a very robust structure. Glass can also be used as on staircases. Banister elements can certainly be made from glass panels, but we can also use multi-layered toughed laminated glass to form the treads, making the staircase appear to float. For those converting historic mills or riverside properties, glass floor panels also often hold great appeal.
Balconies can be constructed as a platform integral to the structure of the building, or bolted on afterwards. Increasingly, we are seeing a trend towards the use of pre-fabrication, in which the entire balcony is fabricated and glazed off site. With all types of balcony construction, you must ensure that the loading of the balcony from the weight of the frame and the glass is firmly within the appropriate safety standards. The glass processor, although they can advise on options for type of glass, functionality and finish, cannot specify panel size, load bearing or structure. For this you should consult the balustrade constructor and a structural engineer.
On the patio, at ground floor level, you might also wish to consider a glass balustrade to provide protection from the wind while dining or enjoying the view and the garden. 15mm monolithic glass is frequently used as a highly practical solution, but if you have keen cricketers and footballers in the family, you might still wish to consider toughed laminated glass here too.
Undoubtedly, when creating your dream home, the advances in design and functionality in glass have resulted in there being far more glazing choices to make than simply the size of your windows.
www.esg.glass
•7•
KELLER; ALWAYS STRIVING TO BEING ENVIRONMENTALLY BETTER
In 2021, a partnership was born with ZLTO, Keller Kitchens' parent company, DKG, and two farmers to start the Carbon Farmingproject to sequester carbon into their soil.
The collaboration was established over a five year period in which the farmers apply Carbon Farming techniques that are scientifically backed with data. The techniques used are equivalent to at least 15 tons of stored CO2 per farmer per year.
Keller/DKG are delighted to announce the initiative is working extremely well and the CO2 is binding into the soil better than expected. In addition, there are further benefits which include – biodiversity, which is increasing, and agriculture is also proving to be more
•8•
resilient to climate extremes. Averages over the next four years are expected to reach CO2 sequestration to a level of 292.4 tCO2/ha. This will allow nature to do the rest.
Keller is well known for offering the widest range of colours (2,050 NCS) and finishes in the kitchen furniture market – along with a vast
range of cabinet options, all produced by the most sustainable means possible. The company is proud to be a Carbon Neutral kitchen manufacturer since 2017 and is now on the way to becoming Carbon Negative.
For further information, please visit www.kellerkitchens.com
•9•
PACKED PROGRAMME PUTS HEALTH AND SAFETY AT WORK HIGH ON AGENDA AT UKCW LONDON
Ahead of World Day for Safety and Health at Work (28th April), UK Construction Week London has reaffirmed its commitment to steering important conversations around health, safety and wellbeing at work in the construction industry, with a comprehensive programme of events throughout the three-day show.
UKCW London returns to London's ExCeL from 2nd to 4th May 2023, with a myriad of workshops and talks from relevant, high-profile speakers, alongside a world-class education programme which features debates and discussion around themes such as building safety and regulation; mental health and wellbeing; quality control and more.
UKCW London also recently announced that it has teamed up with Construction Sport, London's Royal Docks and waste management and recycling service provider Powerday, on a sustainability 'boating regatta challenge' on the opening morning of the show.
The challenge, which will see exhibitors build a boat from construction waste materials and race across Royal Victoria Dock, aims to shine a spotlight on how team sports can help improve the mental health of those working in the industry.
The UK's largest event for the built environment also features a dedicated Culture Change Hub that will deliver daily programmes on topics that focus on improving inclusivity within the built environment, mental health and wellbeing, neurodiversity and its impact on the workforce and professional development.
UKCW London will host more than 300 exhibitors in the industry showcasing their latest innovations and over 10,000 products and services including stands selling PPE, promoting health and safety and fire prevention for workers on site.
Nathan Garnett, UKCW event director, said: "UKCW plays a pivotal role in uniting the industry, encouraging important conversations, debates and learning opportunities that raise awareness around topics with a strong emphasis on how the industry can move forward and tackle its biggest issues including fire safety, quality, health and wellbeing and improving diversity and inclusion at work. This year, we're continuing our theme of Culture Change, an important message that plays an integral part of this discussion."
According to the International Labour Organization (ILO) almost three million workers die each year from occupational accidents and work related diseases and World Day for Safety and Health at Work is an annual international campaign that promotes safe, healthy and decent work.
Register for UKCW London for freeukcw-london-2023.reg.buzz/cab-campaign-pr
•10•
BEHOLD GOTHAM'S LATEST SUPERBUILDING
It's time to add New York University's new $1.2 billion mixed-use superbuilding to Manhattan's pantheon of structural marvels.
Welcome to John A. Paulson Center, a 23-story, 735,000 square-foot building that reimagines the scope and scale of higher education in an urban setting. Imagine, for example, a city block-sized building housing 400 first-year students, dozens of NYU faculty and their families, nearly 60 classrooms, 70 instruction and practice rooms, and a 350-seat theatre.
That's just for starters. Below grade is a wonderland of athletic and sports facilities, including a six-lane pool, varsity arena, squash courts, track, four-court gym, and wrestling and fencing rooms.
To make this vertical, campus-in-the-sky concept work with New York class and style, the architectural team of Kieran Timberlake and Davis Brody Bond inverted design convention. John A. Paulson Center reverses the expected building vocabulary by pushing foot traffic to the transparent perimeter, classrooms to the core.
Result:
Interior walkways are drenched in natural light and showcase the outside buzz and vibrancy of Greenwich Village. Conversely, outside strollers are greeted to a building animated by color, art, and the energy of NYU in motion. John A. Paulson Center is the architectural embodiment of the college experience.
Making all this transparency and openness possible, of course, is glass:
Textured Façade . Rather than monolithic planes of glazed cladding,
the structure adds a distinctive texture with staggered setbacks and angled wedge panels tailored in shape and placement to amplify daylight harvesting and reduce glare. Inside, wedge panels double as inviting window benches to chat, study, or take in Village life below.
Bird Friendly Glazing . Environmental considerations are a foremost concern for the LEED Gold-targeted project. Among them: Safeguarding the local bird population. Today it's estimated that up to 230,000 birds die each year in New York due to glass collisions. John A. Paulson Center may be one of the city's safest glass clad buildings, thanks to sintered glass with enough frit and pattern design to alert flying birds.
Fire-Rated Glass … Everywhere . In fire rated areas such as exit corridors, stairwells and occupancy separations, low-iron fire resistive glazing tested to ASTM E-119/UL 263 was used for vision and transparency. Life safety is paramount.
Ordinarily fire resistive ASTM E-119/UL 263 compliance means using opaque materials like sheet rock. However,
that's a disruptive barrier to daylight flow and visual wayfinding. SAFTI FIRST's director of architectural promotion Mike Augustine worked with design team in the early stages of the project, providing pre-design details and budget numbers. "Achieving maximum transparency with fire resistive glass & framing became a key design feature in these high traffic areas such as corridors, stairwells, vestibules and athletic areas including the pool." Because aesthetics was also an important design consideration, SAFTI FIRST provided low-iron SuperLite II-XL 120 in GPX Architectural Series Framing for the 2 hour walls and low-iron SuperLite II-XL 90 in GPX Builders Series Doors for the full vision 90 minute temperature rise doors.
The lifting of the 'opaque veil' is especially transformative in below-grade facilities, offering surprisingly robust illumination and visual connectivity between spaces. Fire resistive glass manufacturer SAFTI FIRST, a U.S. company, proved instrumental in helping the architectural team achieve their design intent without risking life safety. SAFTI FIRST's fire rated products are widely used throughout John A. Paulson Center.
•12•
Slated for a spring 2023 opening, John A. Paulson Center promises to transform the New York University campus.
Solutions to Domestic Repairs
A company is only as good as its support sta so at the Magicman head o ce in Brighton, there are dedicated teams of technical experts and call handlers ready to help customers 6 days a week.
Magicman have repair technicians available nationwide so there is always someone ready to help customers in their local area. However the story doesn't begin or end there, they are supported by dedicated teams of friendly call handlers and technical experts at Magicman's head o ce and call centre in Sussex. There are specialists in every department ready to help with General Enquiries, Desktop Analyses, Insurance Claims, Bookings and After Care, six days a week.
Customers can upload photos and a few details about their damaged items through Magicman's 'Get an Estimate' form on our website, company Facebook page or FREE APP for iPhone and Android devices. Technical experts with years of experience in the eld, carry out a Desktop Analysis to determine whether a successful and lasting repair can be carried out.
An estimate is then dispatched based on time needed to carry out works. This means that for most customers a site visit is not necessary, speeding up the bookings process and avoiding call out charges.
Suppliers of Specialist Repairs to Wood
Laminates
Veneer
Ceramics
Marble
uPVC
Glass
Chips
Cracks
Dents
Scratches
Holes
Burns Stains
....and much more, just ask!
For a free estimate visit magicman.co.uk/get-an-estimate/ or get our FREE app available for Apple and Android smart phones
Before
Before Before After After
After
SHOREWOOD HOMES COMPLETES FIRST PROJECT UNDER PARAGON'S GREEN HOMES INITIATIVE
Shorewood Homes has completed the first project under Paragon Development Finance's Green Homes Initiative.
Consisting of eight family houses over two sites, Shorewood's Winchester development has achieved an Energy Performance Certificate rating of A - with the company using the latest materials and construction techniques to produce homes that minimise their environmental impact.
Paragon's  Green Homes Initiative  aims to support SME housebuilders developing new domestic properties with the highest energy performance standards. Under the scheme, developers delivering homes with an Energy Performance Certificate rating of A will receive a 50% reduction on loan exit fees.
The initiative is designed to support the UK Government's target of net zero carbon emissions by 2050 and reducing emissions by 78% by 2035. The Future Homes Standard, from 2025, will require new homes built to produce between 75% and 80% fewer carbon emissions.
The deal was led on behalf of Paragon by Relationship Director Toby Burgess.
Shorewood Homes is a leading property development company, focusing on Winchester and the wider Hampshire area. The company aims to create sustainable homes which fit well within the traditional environment of Winchester, with period-style features.
Richard Wickins, Director at Shorewood Homes, said:  "We're delighted that our Chilbolton Avenue development is the first project completed under Paragon's Green Homes Initiative. We are proud to deliver a development of exceptional quality and of the highest energy efficiency, benefitting occupiers' energy costs and the environment.
"Over the course of the project we have developed a strong relationship with Toby and the development finance team; we share their passion for the environment and value their understanding of our business."
Toby Burgess, Paragon Development Finance Relationship Director, said:  "With Shorewood's latest development achieving the highest energy performance rating, I'm delighted that they will benefit from Paragon's Green Homes Initiative exit fee discount.
"Providing funding to support the creation of energy efficient homes is not only of huge importance to the environment but it will also help reduce energy bills for homeowners. I look forward to working with developers throughout the country to deliver further projects under our Green Homes Initiative."
•14•
Find
New VELUX Heritage conservation roof window brings daylight and fresh air to historic buildings
out more
Whether in a conservation area or a listed building, it pays to extend the life of our traditional and historic buildings through careful and appropriate product design and specification. The new VELUX Heritage conservation roof window allows homeowners to modernise their historic houses whilst respecting the heritage of the building.
The new Heritage conservation roof window has been co-created with conservation officers and architects to ensure that it complies with the design requirements for historic, heritage and conservation buildings, while at the same time meeting the standards of modern living with its high thermal performance glazing. The glazing comes with premium features like safety lamination, an easy-to-clean coating and compatibility with blinds for extra comfort and light control, and seamless integration with the roof.
The slim, black exterior of the roof window sits flush and blends beautifully into the roofing materials, while its glass-to-edge technology lets in as much daylight as possible. The aesthetics of the roof window mimic old cast iron windows and by using the original handwinder for natural ventilation, the homeowners can enjoy a fresh indoor climate and light feeling to their space. The Heritage conservation roof window has now launched in nine different sizes to match all types of retrofitting or roofing projects.
Just like all VELUX roof windows, the new Heritage conservation roof window is a high-quality product that has been built to last. It is designed and extensively tested to provide full durability – wherever it's installed, whatever the weather.
-
Senior Market Director of Great Britain & Ireland, VELUX.
Manual, top-hung operation
9 sizes
Flush installation blends into roofing material
Sleek, slim-fit profiles
Suitable for slates and plain tiles
Roof pitch: between 20°- 65°
Rain noise reduction, safety lamination, toughened outer glass, easy-to-clean coating and UV filter
"
With our new Heritage conservation roof window, homeowners can improve their historic homes and preserve the character of the building. The slim profile and flush fitting window are designed to sensitively integrate with original roofing materials, providing the benefits of natural daylight and fresh air inside the home whilst improving the energy performance of the historic building.
"
Alex O'dell,
Members of the Steel Window Association (SWA) are helping to create stylish interior spaces for locations such as restaurants, hotels and residential properties which are demanding the industrial, fashionable steel look.
These internal partitions are normally fabricated using the W20 sections, rather than the higher energy performing W30 or W40 systems favoured for exterior openings. Whilst the majority of screens installed are single glazed, some clients still often select double glazed screens - featuring 16mm Krypton filled units. This enables spaces like wine stores to be kept chilled while diners enjoy warmer ambient temperatures. And the same glass specification is also able to cut sound transmission where steel partitions are chosen to create meeting rooms within offices.
There is a choice of door types. Side hinged remains the most common, but sliding doors are increasingly popular with customers being able to choose between recessed or face mounted rails; various styles of sliding mechanism are offered to suit the designers' preferred aesthetic.
All doors and most partitions will be glazed with toughened or laminated glass for safety, while enhanced locking can be fitted to offer the same security as for exterior applications.
The SWA offers UK wide coverage with member companies able to carry out the full range of contracts from the repair and restoration of heritage windows through to the installation of major fenestration packages in contemporary commercial, residential and other types of developments.
For further information on the Steel Window Association or if you're interested in becoming a member, please visit www.steel-window-association.co.uk
STEEL SCREENS FOR STYLISH INTERIOR SPACES
•18•
Steel doors and windows are synonymous with rugged performance and slim sightlines; and these same distinctive frames and profiles are now being specified for inside a building too.
doors & windows
A SIGNIFICANT SHIFT TO THERMALLY EFFICIENT BI-FOLD DOORS
The popularity of bi-fold doors has increased over the many years of their existence. Now, with the rise of aluminium as a strong and stylish alternative to PVCu, they are even more in the spotlight.
There is another reason for an increased uptake in bi-fold interest – thermal efficiency. Once upon a time, such doors were notorious for leaking heat from underperforming double glazing and the various joints used in their construction. Not now. Today's bi-folds have very low U-values, offering superlative heat retention while keeping out draughts.
There's no doubt that the market is very much leaning towards
ever-increasing ways of saving energy In part, this is driven by the Government's [efforts] to cut fuel inefficiency by 2025, but also because of increasing inflation and the costs of heating the average home.
It means all of us in the sector are having to think much smarter and more quickly too, which is a good thing because it drives innovation. At CDW Systems we have introduced a new bi-fold door – the AluK Luminia F82 – to our range due to increasing consumer and trade demand for a high-end product with excellent thermal efficiency.
Over the years we've had enormous success with the versatile BSF70 bi-fold from Aluk but we want to
make sure we can offer customers an upgrade if they want a more high-end aluminium bi-fold door. It won't take over from the BSF70HI, but there will certainly be a demand for it due to its better sightlines and its thermal properties, which is its biggest USP.
As fabricators, it's also never been a more important time for all of us to listen to our customers, especially when they need guidance on areas such as thermal efficiency. They need to know about compliance, and thanks to our industry experience and knowledge we understand the high standards set by industry in terms of product, specification, and compliance.
www.cdwsystems.co.uk
•20• Doors & Windows
Jeremy Phillips, CDW Systems' group chairman, discusses the rise in thermally efficient bi-fold doors.
GRACE & ELEGANCE:
GREEN MARBLE AND NATURAL STONE FROM CULLIFORDS
A shade that embodies natural beauty and organic elegance, green surfaces have become an increasingly popular choice for interior designers and homeowners alike. From captivating bedroom feature walls and bathroom panels to eye-catching kitchen splashbacks, this natureinspired shade will bring a natural and exquisite essence to interiors of all styles.
Featuring green, grey and white marbling, Fusion Green is a spectacular Brazilian Quartzite that offers the perfect alternative to the more common Italian surface choices. The hint of green in the veining injects a sense of nature into interiors and will act as a wonderful statement within a sage green Shaker-style kitchen as well as in a luxurious boutique-inspired bedroom setting.
As bathrooms become increasingly akin to at-home spa sanctuaries, the incorporation of more nature-inspired materials and design concepts has become more prevalent. A unique brecciated schist with a beautiful shimmering sparkle from within the stone, the Emerald Glitter Brazilian granite will add arresting detail to a bathing space, in particular when complemented with a dark, luxurious colour palette. With cloud shaped forms that resemble the look of a lush green leaf under the
•22• INDUSTRY NEWS
priced from £1500 per m2
Fusion Green Quartzite,
FUSION GREEN IS A SPECTACULAR BRAZILIAN QUARTZITE
microscope, Verde Vitoria is another Brazilian quartzite that will create a sense of connection to the outside world. With colours running from dark rich green through to brighter sage and acid green pops, team this stone with lighter surfaces and dark accents for a bathroom that will transport you to a calming state of serenity.
Nothing catches the eye quite like a statement splashback in the kitchen. For a striking yet understated introduction of green, consider a dramatic Onyx surface to contrast against a clean, white scheme. Onyx Smeraldo is a transluscent stone characterised by powerful striations of greens, reds and browns, and is guaranteed to add the wow-factor to the heart of the home. A quartzite with depth,
Caravaggio displays a range of reddish and brown hues in a mesmerising pattern, with striking veins of white and grey throughout. Ideal for more luxe-inspired kitchen settings, this unique material will add a refined essence to the finished scheme.
Sourcing some of the world's most exotic and finest materials, Cullifords' range of exceptional fine quality stone is guaranteed to help you make a truly stunning statement. From kitchen splashbacks and worktops to bathroom walls and surfaces, the arresting detail, rare colouring and striking patterns of Cullifords' stones will transform your interior into an extraordinarily distinctive setting.
geraldculliford.co.uk
•23• INDUSTRY NEWS
Fusion Green Quartzite, priced from £1500 per m2
Emerald Glitter Granite, priced from £650 per m2
Jade Honed Marble, priced from £280 per m2
Verde Vitoria Quartzite, priced from £998 per m2
ABODE LAUNCH UTILITY-STYLE SINK COLLECTION, SYSTEM SYNC
This month, Paul Illingworth, Design Manager at Abode talks about the launch of System Sync: an exclusive range of stainless-steel kitchen sinks with complementary accessories, which are
and SYNCHRONISE the kitchen sink and prep zone...
Perfect for optimising space in the kitchen, System Sync allows UK homeowners to select a sink format that is right for them with three available bowl sizes crafted from 0.8mm 304 grade brushed stainless steel:
1. 180mm Caddy-style Sink which is ideal when a second wash zone is required
2. 340mm Single Bowl option for smaller sized arrangements
3. 500mm Single Bowl providing ample space to soak large pots and pans, or separate dishwashing from essential food prep
Designed with three complementary accessories, choose from a multi-functional prep board, stainless steel colander, and a roll-up FlexRack and create a customisable sink solution that no matter the space available, still delivers on function!
With the rise in cooking from scratch at home rather than eating out, the kitchen is looking towards state-of-the-art sink designs, which fully maximise the available space in the wash zone and accommodate two options of install from one product; either undermount or inset installation. By creating an essential tool kit with System Sync,
we're able to transform the kitchen sink area into a multi-purpose wash station that elevates both the home and lifestyle.
In 3 easy steps, you can create the perfect System Sync arrangement for your kitchen: Step 1. Choose your bowl combination. Step 2. Choose how it is fitted, either inset or undermount. Step 3. Purchase the trio of accessories or buy them separately to suit your cooking style. All sink models come with an Abode flush plate overflow, orbit waste and fully integrated smart rail that securely holds each accessory in place.
•24•
designed to STREAMLINE, SIMPLIFY
System Sync 500mm Single Bowl Sink with prep board, colander and FlexRack, paired with a Genio Semi Professional Pull Around Matt Black AT2183
From the small to the spacious kitchen, a System Sync solution can be crafted to suit all whilst enhancing the available functional space in every instance.
Specially designed to transform the wet zone, System Sync is created to work with you and your kitchen, offering more than just a bowl to wash up in! Providing a customisable user experience in terms of essential food prep, cooking and dishwashing, System Sync will adapt to any style and size of kitchen. Made from quality stainless steel which is naturally strong and hygienic, this new sink range is the perfect solution to capture the ongoing trend for top-tier engineered sinks identified by their overall form and function.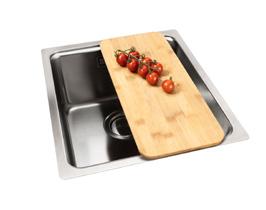 When we look at the global picture for the kitchens sink market, metallic options comprise over 50.5% with granite, marble, cultured marble and composite marble taking up roughly a third. Stainless steel therefore remains the go-to choice for the modern homeowner thanks to its
ease of fabrication, hygienic clean finish, impact resistance, strength to weight advantage, fire and heat resistance and long-term value.
With the market now offering a variety of single, 1 ½, 1 ¾ and double bowl sink designs, with or without a drainer and designed to be flush fitting, inset or undermounted, designers can now choose the most suitable sink model for their customers design of kitchen or island unit. In fact, the kitchen island continues to adapt and change its role, helping to improve lifestyles and bring new levels of functionality in the modern kitchen to become an all-purpose work, cook and wash station.
By creating an essential tool kit, System Sync by Abode is able to transform the kitchen sink area into a multi-purpose wash station that elevates both the home and lifestyle. Available to buy from 1st April 2023, all sink models in the collection come with a 10-year guarantee with 1-year on System Sync accessories.
For further info, please contact Abode: call 01226 283 434, email info@abodedesigns.co.uk, visit www.abodedesigns.co.uk, www.pronteau.co.uk and www.proboil.co.uk
•25• kitchens
180mm with colander
340mm with prep board
500mm with FlexRack
System Sync Accessories: prep board, colander and FlexRack
System Sync 180mm Caddy-style Sink and 340mm Single Bowl Sink with prep board and FlexRack, paired with a Pronteau HotKey® Project 3-part 4 IN 1 Matt Black PT1054
ELICA TO BRING SHOW TRAILER AND BRAND-NEW APPLIANCES TO THE HEART OF CLERKENWELL DESIGN WEEK
Elica, the marketing-leading Italian designer of cooker hoods and extractor hobs, will be bringing its show trailer and a number of brand-new appliances across Europe to Brewhouse Yard in the heart of the action at this year's Clerkenwell Design Week.
The show trailer will be the first opportunity for UK designers, kitchen studios and interior designers to see LHOV, a brand-new product that integrates hob, hood and a revolutionary extractor oven in a single appliance.  The design of LHOV will complement and enhance modern kitchen design, whilst providing extraction that removes vapours and odours not only from the hob but from the oven as well. The extraction system has been discreetly hidden, while the oven is positioned under the hob at the perfect height for ergonomic use.
Among other highlights will be:
NikolaTesla Unplugged  the latest extractor hob which brings together the elegance of the hugely successful NikolaTesla Switch and the benefits of analogue control. NikolaTesla Unplugged is controlled through fixed clickrelease knobs with analogue touch and feel which provide instantaneous and intuitive access to all its features.  All elements are incorporated into a boldlined appearance, developed to intelligently separate the cooking zone from the control area
The new range of  VIRTUS  ovens and  RATIO  hobs which fuse high performance and Elica's uniquely elegant design language.
Veritas - Elica's brand new built-in wine coolers
The Elica show trailer will also display many more of the iconic NikolaTesla extractor hobs and of course a selection from Elica's huge range of discrete ceiling, ultra slim wall-mounted and minimalist built-in cooker hoods able to satisfy the requirements of every plan and style of home.
NAUTICAL NAVY ELEGANCE FROM KELLER
Keller Kitchens has embraced the freedom of the seas with a new Nautical Navy scheme.
The island in navy blue, combined with the tall wall units in the new Ribbonwood grooved veneer in warm walnut, give the design contrast while the T-shape of the composite top complements the layout of the open units in the rear wall. The wine cabinet in smoked glass with LED lighting, and appliances, provides the luxurious finishing touch.
Keller is well known for offering the widest range of colours (2,050 NCS) and finishes in the kitchen furniture market – along with a vast range of cabinet options, all produced by the most sustainable means possible. The company is proud to be a Carbon Neutral kitchen manufacturer since 2017 and is now on the way to becoming Carbon Negative
For further information, please visit www.kellerkitchens.com.
•28• kitchens
WWW.CHAPLINS.CO.UK Your One Stop Design Solution
SIGN-UP FOR A TRADE ACCOUNT ONLINE OR VISIT OUR LUXURY LIFESTYLE SHOWROOM | UXBRIDGE ROAD HATCH END HA5 4JS | 020 7352 6195
SUPPLYING THE BIGGEST AND MOST EXCITING FURNITURE & LIGHTING BRANDS IN EUROPE
TESTING YOUR metal
availability. Copper, for example, saw prices soaring as sanctions were imposed on Russian exports following its invasion of Ukraine (in 2020, Russian was seventh in the world's copper producing nations.)
Compounding this, a fall in the value of the GB Pound against the US Dollar has pushed up some material prices on the domestic market because metals are traded in US Dollars on the London Metals Exchange.
Moving away from the norm
As a global commodity, metal products have always been subject to price fluctuations driven by global demand and international events. Up until 2022 these were relatively predictable and it was possible to forecast, with reasonable accuracy, the likely cost of metal roofing products in advance. Metals such as copper
offered specifiers and architects value, both in terms of cost and product performance.
However, last year represented a huge shift in the norm and pricing forecasts suddenly became a lot less reliable. 2022 saw big price fluctuations due to soaring energy prices and rapidly changing
Copper has long been seen as an ideal material for metal cladding and roofing. However, amid warnings of potential slowdowns in the construction sector and spiralling prices, specifiers are starting to search for alternatives.
The key has been to find an alternative to copper which maintains the performance qualities, ease of installation on site, and has a similar aesthetic over time. Reflecting this trend, aluminium has seen a huge increase in interest as an alternative.
•30•
With regulation changes and a market still in recovery mode, specifiers and architects looking to utilise metal for roofing and cladding should expect fresh challenges over the coming months, says Simon Walker at SIG Design and Technology
Aluminium combines the benefits of being lightweight and easy to work with – making for efficient installations. For architects and specifiers, it's available in a wide choice of colours and with unique surface patterns or effects to match as closely as possible to typical copper applications.
Depending on the product, aluminium cladding comes in a number of varying shades as standard with bespoke colours available upon request. This flexibility and durability have made it a highly sought after solution.
Keeping up with the standards
On top of the challenge of specifying different products to stay within budget, the other hurdle architects and specifiers must overcome is ensuring compliance with the latest changes to the fire regulations. More specifically in England & Wales, to Approved Document B which includes the ban on the use of combustible materials as part of an external wall construction for residential buildings.
In 2018, Regulation 7 of the Building Regulations was amended to explicitly ban the use of combustible cladding in the external walls of residential buildings with a storey at least 18 metres above ground.
The recent amendments to the Building Regulations (including Document B) were introduced in June 2022 and came into effect on 1 December 2022. From this date, the ban on the use of combustible cladding has been extended to include any building with at least one storey 11 metres above ground level and which contains one or more dwellings, including student accommodation, care homes, sheltered housing, hospitals, and dormitories.
While metal is largely unaffected, it's the substrate the metal cladding is attached to which is where many of the changes will impact how products are specified.
For example, on Barchester Street, a scheme for 115 new affordable homes in Poplar, east London, SIG Design and Technology worked with the project team to develop a fire compliant solution for the zincclad facades.
The solution utilised a steel frame system and comprised a cement particle backing board, mineral wool insulation, aluminium rails to support the steel sheeting (in place of plywood) followed by a breather membrane. This was then covered with angled zinc standing seam cladding.
The above paragraphs highlight the importance of understanding the new rules relating to fire and how it affects the materials used in a roofing or cladding application. While the temptation might be to reuse an existing specification, it's now critical to check that each component is fit for purpose and that the system as a whole satisfies the requirements of the Building Regulations.
Use your supply chain
The information to help specifiers and architects is out there and readily available from manufacturers, but finding and making sense of it is a task in itself.
It's here where early engagement with the supply chain can make overcoming these challenges easier. Distributors can leverage their relationships with manufacturers to ensure the information needed is readily available, removing the pain of searching.
Some companies go one step further in not only supplying complete cladding solutions but offering technical and regulation specialists that are there to support customers in developing a compliant solution.
It is also worth looking at whether system component warranties are offered by your supplier. This is critical as while individual warranties will likely be in place for single products, the focus is on how these all perform as a system. Therefore, a system approach to solutions and warranties is the best way to ensure peace of mind for you and the building owner.
•31• industry news
Simon Walker is category manager at SIG Design and Technology –Hard Metals
SCHLÜTER®-SYSTEMS SUPPLYING STYLISH, FAILSAFE TILING AND WATERPROOFING PRODUCTS ACROSS MULTIPLE MARKETS
Schlüter ®-Systems offers a comprehensive and well-engineered range of product solutions for the creation of waterproof, safe, comfortable and attractive tiled surfaces in a wide variety of settings.
Established in Germany in 1966, Schlüter-Systems is a family-owned business with a wealth of experience in meeting the aspirations of clients, consultants and contractors involved in the construction, conversion or renovation of both interior and exterior environments.
The company has already earned a reputation for style and reliability amongst architects, interior designers, contractors and other specifiers involved in commercial, retail, leisure, residential and other types of development. With reliability being a key benefit
across the portfolio, many of the company's 10,000 product lines find applications in the most challenging conditions, with bathrooms and wetrooms being areas of speciality.
Wherever the situation and whatever the substrate, SchlüterSystems can provide an answer with underlayments like its innovative Schlüter ®-KERDI-BOARD which is able to span varied or irregular surfaces, including masonry and timber; while there is a selection of matting and membranes developed to waterproof and safeguard tiles from movement and moisture ingress. Profiles can further protect edges or achieve trip-free transitions in level, while areas such as bathrooms, kitchens or living spaces can be optimised with a choice of underfloor heating systems.
Schlüter-Systems' complete range can be explored on the company's website and there are also technical advisory and site support teams operating from the UK headquarters in Coalville, Leicestershire.
The company has plans in place to grow its impressive turnover in the UK, strengthening its position as the premier supplier of tiling and waterproofing products, through superior service and quality. In the words of the founder, Werner Schlüter: "Our products cannot be sold, they must be understood."
For further information, call 01530 813396 or visit www.schluter.co.uk
•32•
"Our products cannot be sold; they must be understood."
Black Edition Stainless Steel Towel Rails by JIS Europe 100% stainless steel towel rails 01825 722988 www.sussexrange.co.uk info@jiseurope.co.uk
BMA BATHROOM ZONE IS SET TO MAKE A SPLASH AT INSTALLERSHOW 2023
The BMA Bathroom Zone at InstallerSHOW is a brand-new, dedicated hub for bathroom manufacturers and industry peers, making its debut at this year's InstallerSHOW in June.
Returning to the NEC, Birmingham on June 27-29, the event will be bigger and better than ever – with 400+ exhibitors set to welcome 15,000 industry professionals. Building on the success of its Birmingham event last year, the show will feature an expanded offering for visitors to reflect the growing momentum towards net zero solutions.
From its origins as an exhibition focused on the heating and plumbing installation community, InstallerSHOW has evolved to encompass multiple sectors and industry stakeholders – and the bathrooms arena is no exception.
Bathroom and shower products were high on the agenda at InstallerSHOW 2022 and, with installers having an increasingly bigger influence on the selection and sourcing of bathroom solutions, the new hub has proved incredibly popular, with companies such as Triton, Mira, Hansgrohe, Geberit, Vitra, Impey, Croydex, Cistermiser, Tyde, Purus, Hamberger Sanitary, Siamp, Neoperl, Aqualisa already on board.
Visitors to the BMA Bathroom Zone can see new products, get guidance and advice from bathroom industry experts and see a packed conference programme in action.
Tom Reynolds, BMA CEO, says: "The Bathroom Manufacturers
Association eagerly looks forward to InstallerSHOW 2023 at the NEC from 27-29 June. This event represents a fantastic opportunity for BMA members to showcase the latest innovations and technologies in bathroom design and installation.
"Many bathroom brands will be exhibiting their latest products and solutions. They'll use it to connect with key industry players and professionals, exchange ideas, and explore new opportunities for growth and collaboration. The show also provides a platform for the BMA to share its vision for a sustainable future in the bathroom industry.
"I'm delighted that BMA is working with the organisers of Installer and elemental to bring you the bathroom zone at next year's show. Water scarcity and how we can all collaborate to address the issue will feature prominently in the programme for the event. I look forward to seeing many readers there."
BiKBBI Chief Executive, Damian Walters, who will be speaking in the Bathroom Zone, comments: "An important element of our role as an institute is to be the conduit between the KBB installer community and the wider construction sector, and partnerships such as the one we have formed with the InstallerSHOW are vital to us being able to fulfil that role. The extensive line up of content across three days will undoubtedly be of value to our stakeholders, and likewise, the opportunity to update other areas of the sector on the progress we are making on our strategic objectives will also be beneficial."
With sustainability and water efficiency issues high on the agenda, and with specifiers and installers hugely interested in new developments, the Bathroom Zone is set to provide ideas, inspiration and an opportunity to connect for the bathroom industry.
You can see the event timetable for InstallerSHOW click here.
Registration for the event is open, secure your free visitor pass now, including free parking, click here.
•34•
Bathrooms
THE SHOWER LAB ANNOUNCES LAURA JANE CLARK AS NEW BRAND AMBASSADOR
The Shower Lab has announced their new brand ambassador is architect, TV presenter, author and influencer
Laura Jane Clark.
Clark is probably best known for presenting the BBC 2 and Netflix series, Your Home Made Perfect and as well as Channel 4's Ugly House to Lovely House. She also appeared on George Clarke's Amazing Spaces as well as acting as a judge and presenter of Shed of the Year on Channel 4.
Clark said: "The Shower Lab are an incredible company. For me, their focus on design and innovation is something that I absolutely love, coupled with the quality and detailing is second to none. I am thrilled to be working with The Shower Lab showing how their innovative shower enclosures and screens can be integrated into bathrooms small and large to create beautiful bespoke feeling spaces."
The Shower Lab MD Max Finaldi added: "We are delighted to be working with Laura and proud she is representing our growing brand. We share Laura's sustainability ambitions and her love of making the most of the spaces we have."
OPTIDEK COLLABORATES WITH SALLY COULDEN TO LAUNCH
THE EARTH COLLECTION
Wall coverings specialist
Optidek has unveiled its latest collection of wall panels designed by Sally Coulden, the abstract artist and founder of Red Dog Glass Design.
The Earth Collection, which has been developed for use as kitchen splashbacks, bathroom panels, or as wall art, is designed to evoke the beauty and majesty of the natural world.
The panels come in three colourways: Atlantic Ocean, featuring blue hues; the green-toned Deep Forest and Raw Earth, which uses terracotta pigments, warm reds and earthy browns. They are created by digitally deconstructing Coulden's original canvases at the bespoke
size required. The digital artwork is then applied to a high-quality, heat-resistant 6mm low iron toughened glass panel at Optidek's factory.
Anthony Barker, Optidek sales director, said: "We are very proud to be exclusive partners with Red Dog Glass Design. Sally Coulden has built a dedicated following of premium
and luxury kitchen and bathroom retailers, architects and interior designers. Judging by the products showcased at ISH Frankfurt and during London Design Week at the Design Centre Chelsea Harbour, dramatic colours and patterns that reflect the natural world are absolutely on-trend. Sally Coulden's Earth Collection is beautiful and perfectly timed."
•36• bathrooms
GYLES QUARME ARCHITECTS
The Peter Pan House, an early 19th Century suburban villa and Grade II* listed former home of JM Barrie has been beautifully restored to its former glory by Giles Quarme Architects. Following its completion, the project has been shortlisted for RIBA Awards.
•38•
GQA
were hired to undertake a comprehensive repair and restoration of the entire house, which had remained untouched for over 60 years. They have enhanced and preserved its historic character and features whilst sensitively introducing new services.
The house has a rich history, reflected in the significant architectural additions. Barrie and his wife were responsible for the Edwardian extension, with the first ever solid glass floor. The 2nd Lord Kennet commissioned Alison and Peter Smithson to build a new wing to the rear, producing a very fine example of Brutalist architecture.
The completed restoration has used traditional and sustainable materials to allow the historic character of the building to speak for itself without imposing a modern interpretation of its history. It has been seamlessly restored to reveal its architectural evolution over 200 years. It is clear that the project has succeeded in integrating a sustainable design that complements and does not harm the historic fabric of this exceptionally important house.
www.quarme.com
•39•
CHALLENGE ASSA ABLOY WITH YOUR SPECIFICATION QUESTIONS AT CLERKENWELL DESIGN WEEK!
ASSA ABLOY is inviting architects, designers and specifiers to challenge them with their specification questions at Clerkenwell Design Week, where the company will be showcasing a wide range of solutions (stand E15; 23rd-25th May).
Visitors to the stand can send ASSA ABLOY their specification challenges in the run-up to the show – whether that be around sustainability, inclusive design, slamming doors or more. ASSA ABLOY's expert team will then help solve each one.
The ASSA ABLOY stand will include an array of products from across the Group, including the Elmes collection of door hardware. Incorporating a variety of materials such as bronze, wood and chrome, the Japanese design-led range has been created to make an impact, and features in prestigious projects around the world.
Also on show will be the Pocket Door Pro from P C Henderson, a professional pocket door kit that enables doors to slide effortlessly into a cavity wall. Designed with a high-quality, aluminium cavity frame, the system is extremely robust, making it ideal for a wide range of applications including homes, educational buildings, hospitals, hotels and office blocks.
Visitors to the stand will also be able to inspect the AURA® range from Lorient. This is made up of a selection of drop seals, perimeter seals, door bottom seals, threshold plates and ramps that provide outstanding protection for all four sides of a door against sound, smoke, light, draughts, and dust – all while seamlessly integrating into beautiful doorsets and floors through bespoke colour matches.
In addition, ASSA ABLOY will show a selection of door openings and access solutions for homes, businesses and institutions, including doors, door hardware, mechanical and smart locks and access control.
Peter Ashworth, Sales Director at ASSA ABLOY, comments: "We have great confidence in our design-led products and expertise – and that's why we're asking visitors to Clerkenwell Design Week to bring their specification problems to us so that we can help solve them.
"Whether it's stylish door hardware, intumescent seals or access control systems, we have the products to complement modern building designs and enhance an architect's vision. We can't wait to show these off at Clerkenwell Design Week."
ASSA ABLOY will also be showcasing its unique project collaboration software Openings Studio™, which streamlines the specification process for doors and ironmongery and helps reduce costs, increase efficiency and enable collaboration throughout the project lifecycle.
Paul Thompson, BIM Manager at ASSA ABLOY, adds: "The Building Safety Act sets out a clear pathway for how buildings should be constructed and maintained, and the drive to reduce cost must not compromise the safety performance of a building.
"Openings Studio™ enables the golden thread of information, putting safety at the heart of every stage of a project, providing gateway points at design, construction, completion and management phases. We welcome visitors to our stand at Clerkenwell Design Week to learn more about unlocking the BIM tools needed for more efficient planning, design and building processes."
Get in touch with ASSA ABLOY regarding your specification questions by visiting www.assaabloy.com/uk/en/solutions/ clerkenwell-design-week.
To find out more about ASSA ABLOY and its range of products, please visit www.assaabloy.com/group/en
•41•
THE LOOK OF WOOD WITHOUT THE HASSLE
They're incredibly durable and suitable for a variety of outdoor uses. Made from 60% recycled wood, 40% plastic, RinatoTM decking boards look like wood but without the hassle, with an authentic colour and texture that mimics the look of timber. They're also splinter-free, UV resistant and anti-slip, with a workability similar to wood.
Rinato decking boards come in three different ranges. Natural features a 360-degree wraparound polymer Capstock shield, offering year-round protection against the elements. Available in three colours, with one side of the board featuring an enhanced natural woodgrain effect and the other a traditional flat sanded effect, it is suitable for a variety of outdoor uses.
The Victoria M board incorporates less composite material, thanks to the new dynamic 'M' design on its underside, making it lighter and more economical. Double-sided with a traditional grooved or woodgrain effect, and available in four colours, our Victoria M board is the perfect choice for any garden, patio or balcony.
Our robust Classic boards, available in 4 colours, are double-sided with a natural-looking woodgrain on one side and a traditional grooved effect on the other, and as the composite runs through the whole board, it is easy to sand. Altogether an excellent choice for areas with high footfall or weight, such as under a hot tub,
making them a natural fit for both residential and commercial applications.
We also supply decking substructure, which can be used as a standalone product or with our pedestals or cradles. Our Polymer profiles are made from 100% recycled plastic and are some of the strongest joists available on the market, as well as being weather and rot resistant.
Fixing clips and starter and fascia boards are also available, along with
edge and corner deck trims, in 6 designer RAL colours, for a seamless finish to complete your decking.
Whichever way you use them, our Rinato decking boards will complement any outdoor space.
All Rinato decking boards come with a UK-backed warranty.
If you'd like to learn more about our Rinato range, or order a sample, please visit www.fhbrundle.co.uk
•42•
F.H. Brundle's range of composite decking boards offer a robust, sustainable and easy-to-maintain alternative to timber.
PoolLock Safety Covers s
With over 30 years of experience, PoolLock is one of the world's leading manufacturers of automatic and manual safety covers, automatic slatted covers and heat pumps for swimming pools. Thousands of satisfied customers in Britain over the past 10 years bear testament to the quality, service and reliability of PoolLock products.
In 2013, PoolLock opened its first UK production facility in Gatwick, London,
24
a
a
t
with installation teams that are available
hours
day / 7 days
week. The result: even better service and faster delivery times for our UK customers. For more information on our complete range of products, please contact us at www.poollock.com PoolLock Slatted Covers
December2022 HOME-DESIGNER ANDARCHITECT MAGAZINE JIS A4 Advert Layouts.indd 2 January 2023 HOME-DESIGNER AND ARCHITECT MAGAZINEFebruary 2023 HOME-DESIGNER AND ARCHITECT MAGAZINE STAY IN THE KNOW SUBSCRIBE FOR FREE NOW Industry News - Build Show Preview - Doors, Windows & Architectural Hardware - Drainage, Plumbing & Water Saving Solutions - Ecobuild Preview (inc CAD & BIM solutions) - Ecobuild Review (inc CAD & BIM solutions) - Fire, Safety & Security - Floors, Walls & Ceilings (inc Acoustic Solutions) - Focus on CAD & BIM - Focus on Education - Focus on Health - Heating, Ventilation & Energy Efficiency - Housebuilding & Residential Development - Interior Design - Kitchens, Bathrooms & Washrooms - Maintenance & Refurbishment - Retail, Commercial & Industrial - Roofing, Cladding & Insulation - Stairs, Lifts & Balustrades - Sustainability & Eco Solutions - Urban Design & Landscaping 15915 CWC Riber View FC Advert V3.indd 1 27/02/2023 11:46 MARCH2023 ANDHOME-DESIGNER ARCHITECT MAGAZINE HOME-DESIGNER AND ARCHITECT MAGAZINE www.homedesignerandarchitect.co.uk