September eat.drink.sleepwww.eat-drink-sleep.com2022
Unlocking the potential of your outdoor space can be a seriously good business move. Whether you need a place to close deals with clients, a second meeting room or a nineteenth hole par excellence, taking your work outside offers huge attractions. And as the UK's leading luxury outdoor furniture brand, Moda is ideally placed to help turn your vision into reality.
Moda, where outdoor furniture really means business.
Having started out as a family-run company in 2014, Moda has quickly established a reputation for innovative furniture solutions with exceptional customer service. This has led to a growing demand for their services from an increasingly diverse client base, as a greater variety of commercial sectors have looked to transform their outdoor spaces.
Take the first step to maximising the use of your outdoor space. Talk to one of Moda's Commercial Business Development Managers. Tel: 033 3363 7015 or email: commercial@modafurnishings.co.uk modafurnishings.co.uk/commercial
With a dedicated Commercial team, Moda's clients can choose from a vast collection of furniture sets to meet all business requirements. Expert account managers are on hand to offer a tailored approach, managing site visits and sampling to guide you through the process of your Withpurchase.Moda's market-leading 3d rendering service, designs can be modelled into businesses' properties and space, providing visual impressions and assisting with further planning and decision-making.
Uniquely modular, uniquely Moda
Moda is well placed to meet the demands of the commercial market with stock available for timely delivery via their impressive fleet of 150 in-house vehicles. This enables Moda to exceed client expectations through fast delivery, meticulous installation and aftercare. Their team of fully-trained engineers are available to you at no extra cost, covering unpacking, furniture placement and the removal of all packaging for recycling.
What's more, Moda's market leading three-year commercial guarantee offers commercial clients peace of mind and their aftercare policy and maintenance packages reinforces their commitment to client satisfaction.
of luxury outdoor furniture is designed exclusively in-house. This allows Moda to offer a perfect balance of both style and substance that can be enjoyed all year round.
Your outdoor space can change from one day to the next, which is where Moda's flexible modular systems really come into their own. All of their furniture ranges have a number of modular configurations that can be customised - move them around your business areas, expand your collection, split them up or put them together to complement your changing commercial Itrequirements.createsacompelling fusion of aesthetics and adaptability.
Expert delivery and installation
Smart furniture to drive businesses forward
A tailored approach
The choice is almost limitless, with a host of options of sofa combinations, not to mention dining ranges which incorporate unique features such as drinks coolers and fire pit inserts.
With their all-weather materials and uncompromising build quality, Moda furniture collections are meticulously engineered to withstand the demands of the modern workplace - and the great British weather. Every item
eat.drink.sleepSeptember2022For more information on the publication or to talk about advertising within the next issue. Contact one of the team via the details below: Publication Manager Dan dan@jetdigital.co.uk01843Draper591523 Publishing Director Jodie jodie@jetdigitalmedia.co.uk01843Little582733 Editor Jeremy Contactjeremy@eat-drink-sleep.comTringUs To find out more visit our www.eat-drink-sleep.comwebsite: 11625.05_EatDrinkSleep_Magazine-Cover_v2.indd September eat.drink.sleepwww.eat-drink-sleep.com2022 caféculture CafeCulture Ltd, 6 Edith Road, Orpington, Kent. BR6 6JQ Call us on 0800 917 526 or drop us a line at www.cafeculture.bizsales@cafeculture.biz Outdoor Hospitality Products We are an independent supplier of outdoor hospitality goods based on performance, style and value. We believe in supplying goods that look good, are well made and extremely durable through season after season. Our outdoor products include: • Planters with real or artificial plants • Tables and chairs • Windbreaks and barriers • Jumbo parasols • Awnings and shelters • Lighting and heating • Restaurant screens • and more!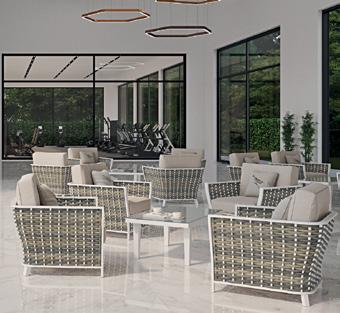 Hyatt Regency and Hyatt House London Stratford completes refurbishment
Inspired by the Golden Age of Travel, Scott Brownrigg's design for the refurbishment of the Hyatt Regency London Stratford and Hyatt House London Stratford in the East End of London has completed. We step inside to have a look…
Industry News SLEEPDRINK.EAT. 2022September
are an understated nod to a Victorian railway carriage and provide an elegant feature along the perimeter of each space. Guests also enjoy access to meeting space, gym and an open-air terrace.
Designed to cater for a seamless transition from work to play, a spacious lobby on the third floor features a range of seating arrangements ideal for socialising or for focused work or meetings during the day, and intimate dining and cocktails at night. Bar and dining booths, with fixed seating and contemporary fluted detailing,
"The addition of these two hotels will be another exciting step in growing Hyatt's brand presence in the United Kingdom and in creating a network of hotels across the key commercial and leisure markets in the country," said Felicity Black Roberts, Vice President of Development Europe, Hyatt.
Located within an existing single building on the edge of Westfield Stratford City, the new Hyatt Regency, sheltering 225 guestrooms, provides a stylish destination for both business and leisure while the 125 guestroom Hyatt House provides a new 'home from home' for those on extended stays. The interior design by Scott Brownrigg mirrors the connectivity of Stratford, with subtle nods to the Victorian Golden Age of train travel. Archways, typical of London's railway, form entrances to common spaces and inspire bespoke detailing throughout. A rich palette of brass light fittings, marble fixtures and luxury velvet furnishings alongside jewel colours offer a contemporary take on the glamour and travel of the 1920's.
5
Both Hyatt hotels provide a peaceful sanctuary to guests, away from the hustle and bustle of the city. Hyatt Regency rooms feature fresh interiors, with bold splashes of colours and high quality brass fittings, including bespoke designed 'pill' lights and details on the mini bar area. Hyatt House rooms provide modern, apartment-style suites with fully equipped kitchens and flexible workspaces. Where possible, existing mechanical, electrical and plumbing services have been retained and refurbished. Low-lit corridors and different room lighting options help contribute to the peaceful atmosphere.
"We worked closely with M&L Hospitality and the wider design team to create a new destination in Stratford," said David Mason, Director, Scott Brownrigg. "With a nod to the glamour and elegance of travel, we wanted to connect people back together and design fabulous spaces for work, rest and play."
The refurbishment follows a new management agreement between an affiliate of Hyatt and Stratford City Hotels Limited, a wholly owned subsidiary of M&L Hospitality, identifying Hyatt Regency and Hyatt House as the right brands for the location.
Restaurant is elevated by top mixology, signature cocktails such as 'Saski Mule' and 'Hungarian King', an extensive wine list and local and home-made liquors and vodkas. A bespoke trolley serving tableside cocktails each evening creates a truly special ambience and the further combination of the rich, storied history and musical heritage of the building add to the experience.
6 Industry News SLEEPDRINK.EAT. 2022September
Hotel Saski Krakow, Curio Collection by Hilton joins five hotels in the Hilton portfolio in the city: DoubleTree by Hilton Krakow Hotel & Convention Centre, Hampton by Hilton Krakow, Hampton by Hilton Krakow Airport, Hilton Garden Inn Krakow and Hilton Garden Inn Krakow Airport.
"Marking the debut of Curio Collection by Hilton in Poland, Hotel Saski Krakow is a stunning addition to our portfolio of over 120 unique hotels and resorts around the world, handpicked for its distinct character," said Jenna Hackett, Global Brand Head, Canopy by Hilton and Curio and Tapestry Collections by Hilton. "The hotel will open its doors with a rich 200-year history, offering guests an authentic insight into Krakow's cultural past while providing modern comforts of a boutique hotel. Hotel Saski Krakow joins a growing number of fantastic Curio Collection properties in Europe, including Sea Breeze Santorini Beach Resort and The Emerald House Lisbon, which opened earlier this year."
Curio Collection by Hilton debut's in Krakow
in which legendary composers Francis Liszt, Johannes Brahms and Ignacy Paderewski performed, has been reopened with frescos restored by hand. As well as designs referencing the hotel's history, among the many modern amenities guests have at their disposal are a swimming pool, spa and fitness centre, as well as a business Thecentre.hotel's elegant Regale Bar & Restaurant offers an authentic Polish venue with a modern, international touch. Dishes are prepared with premium quality local ingredients and served with innovative and delightful touches by Roman Pawlik, one of the most renowned chefs in Krakow. The drinks experience at Regale Bar &
Hotel Saski Krakow draws on its musical and cultural traditions for the hotel's design. In cooperation with worldfamous Krakow-born photographer Ryszard Horowitz, corridors and rooms are decorated with portraits of musicians and composers such as Louis Armstrong, Krzysztof Penderecki, Aretha Franklin, Czesław Niemen and more. Saska Hall, the historic ballroom
Located in the heart of Krakow's Old Town, the 117 guestroom property is well located within walking distance of the city's many art and history museums, as well as Wawel Royal Castle, one of the most historically and culturally significant sites in Poland. Krakow's Old Town is known for its historic churches, interesting museums and Main Market Square, the largest in Europe. With the bustling squares of the Jewish district of Kazimierz and the quiet alleys of the Old Town, the city is a key feature of every tourist's trip to Poland and Hotel Saski Krakow, Curio Collection by Hilton provides guests with access to these unique experiences from a location right in the heart of the city.
The opening of Hotel Saski Krakow, Curio Collection by Hilton, marks the debut of Curio Collection by Hilton in Poland. With a 200‑year‑long legacy in Poland's cultural capital, the design draws on the musical and cultural traditions of the hotel, combining carefully restored historic features with modern design elements…
"It's not just about putting a large Christmas tree in your reception," says Emily Vernon, Managing Director of phs Greenleaf. "It's about creating something unique or inspiring that people feel compelled to share on social media which, in turn, encourages others to visit and experience for themselves and create their own content around."
seeing more hospitality businesses using the season to make a statement or send a message. Last year, we helped Novotel Blackfriars London, one of the UK's most sustainable hotels, make a statement with specially designed 'eco trees' that used only sustainable decorations like hessian, pampas grass and dried fruits to echo its environmentally-friendly ethos and encourage guests to be more sustainable at Christmas time.
Instagram topped two billion users in early 2022 and has the highest engagement rate of any social media platform at 81% (compared to Facebook's 8%), thanks to its focus on high quality image and video content.
bespoke lighting displays for extra wow factor."
"The hospitality sector knows it has to step up during the festive season when competition is fierce. This year looks set to see big central displays take centre stage. Think festive-themed living walls, reception centrepieces with multiple trees and accessories, unusual decorations and
phs Greenleaf supplies more than 2,500 decorated Christmas trees and displays to businesses every year.
Its specialist Christmas production team spend most of the year decorating artificial trees in preparation for the festive season, while Greenleaf's real trees are harvested at a sustainable farm in the Midlands. The Christmas designers install each tree and display on location. Trees are available in a wide range of sizes –from a standard 7ft tree to as high as 30ft tall, alongside the 3ft tabletop tree, decorative wreaths, garlands and floral arrangements. As well as bespoke items, phs Greenleaf has a wide range of pre-decorated trees businesses can choose from in a variety of designs and colours.
for people to take photos for their social media. There's no limit when it comes to Christmas – the bigger, and more imaginative, the better. We worked with Studley Castle Hotel in Warwickshire to create bespoke Alice in Wonderland-themed Christmas displays and pink flamingo trees to fit the unique décor of the hotel's rooms, for "Weexample.arealso
www.phsgreenleaf.co.uk
Christmasaremoments'media'Socialkeythis
phs Greenleaf predicts a trend towards large 'Instagramable' Christmas displays rather than individual trees this festive season, as the hospitality sector leans more towards influencers and social media to drive sales and repeat business.
phs Greenleaf offers hospitality businesses a range of horticultural services from interior and exterior planting to landscaping.
Christmas 2022 is all about creating a 'social media moment', according to one of the hospitality sector's leading Christmas tree providers.
"We are seeing more hotels, restaurants and bars becoming creative with their Christmas decorations to create a focal point
SEBO AUTOMATIC THE CHOICE OF PROFESSIONALS XP 20 • Powerful Performance • 890W Efficient Motor • Extremely hygenic 5.3L Triple Layer Bags • S-Class Filtration • 37cm Cleaning Head • Cleans flat to the floor • Crevice and Upholstery Nozzle • Easy Maintenance • Quiet & Easy to Use • Built to Last • Made in Germany Light to use due to a very low pushing force, the SEBO XP 20's computer-controlled height adjustment ensures optimum cleaning performance. The low-profile design allows it to clean under furniture and the telescopic tube and tools are conveniently located and ready for instant use. Made in Germany, SEBO vacuum cleaners are used in hotels throughout the world and are recommended by leading carpet manufacturers.www.sebo.co.uk | sales@sebo.co.uk | Follow us on Q E D Also available, XP 10 with 31cm cleaning head and XP 30 with 44cm cleaning head. For exclusive deals, please call 01494 465533 and quote the code HOTEL2022
clears the top of the mirror to put it in perspective. This will also help prevent glares and reduce unflattering shadows.
Marketa's Bathroom Lighting Tips
The bedroom is arguably the most important room as it is the main base for the duration of a guest's stay. Marketa suggests "Regardless of your budget, it's always best to think quality over quantity when it comes to the bedroom décor. Do your research and invest in quality lighting.  The material the lights are made from makes a big difference, so avoid plastic finishes as these will devalue the whole look of the "Tointerior."  accomplish a warm, welcoming room, you need to embrace the whole range of lighting sources available" advises Marketa. "This may include, pendant lights, recessed lights, chandeliers, track lighting, tall floor lamps, small table lamps, wall sconces, under cabinet lighting, and other spot lighting. I always advise customers to vary the lighting in a bedroom to create little pockets and pools of light" adds Marketa.
Blissful Bedrooms
1. Large scale light fixtures offer a bold statement when mounted overhead. This provides the general lighting for the room and should be placed as high as possible. If possible, ensure overhead lighting
Bathroom Retreat
4. Choose handcrafted, highquality fixtures that will bring an extra touch of luxury and add some texture to the space too.  Try choosing copper or pewter designs to create a relaxed, cosy environment, or glass for a brighter, luxurious look.  Brass designs work really well with dark bathrooms, which have become very popular recently as the brass really stands out against dark tiles or paintwork.
"Consider task lighting such as placing pendants or wall lights either side of the bed. This will provide ideal lighting for late night reading as well as a bold style statement that removes the need for clunky lamps that take up valuable space on the bedside table. Accent lighting can then be used to highlight a piece of artwork, plants or architectural features in the bedroom" reveals Marketa.
"Bathrooms tend to be bright and clean, so ensuring that there is enough task lighting overhead is of integral importance. Then, you will need to focus on creating a relaxing, spa-like atmosphere that people will be able to enjoy, whether they're indulging in a long hot bath or pampering themselves ahead of a big night out! The flexibility to transition from day-to-day tasks to evening detox is vital, and something you will need to consider before you begin to implement bathroom lighting" adds Marketa.
3. Adding dimming controls gives guests a more unique experience to meet their needs with ease.
With UK Staycations set to rise further in 2022 and 2023, Marketa Rypacek, Managing Director at Industville Ltd, gives her expert advice on how to get your business guest-ready.
Get your Business ready for a UK Staycation Boom
9 SLEEPDRINK.EAT. 2022September
2. Wall sconces or hanging pendants mounted on both sides of the mirror are ideal because they distribute light equally on both sides of the face when a guest looks in the mirror without casting harsh shadows.
Whether you're running a hotel, B&B or a holiday rental, the interior design is vital in shaping the guest's opinion of their stay, as Marketa explains "Interior design in the hospitality industry is of vital importance when it comes to creating a positive experience for your guests, your staff, and anyone else who steps foot into your establishment."
QuizBuy: Trail can be sent to you as a starter/tester pack to gauge www.quiztrail.co.uksales. RoyalRochesterRamsgateMargateHerneFavershamDealCanterburyBroadstairs&WalmerBayTunbridge Wells RyeEastbourneSussexWhitstableWestTenterdenSevenoaksSandwichRyeMallingQuizTrails
They're written for a dual audience of adults and children, with information in there for everyone.
Keep it cheap and take a picnic or dive in somewhere local.
Trails are from 1-2 miles and take 1-2 hours, or more if you stop lots.
Start and finish in the same day or pick up on another day if the weather turns. Or of course, if a pitstop turns into an afternoon in the same spot!
SHOW YOUR GUESTS AROUND YOUR LOCAL TOWN WITH QUIZ TRAIL
The routes give very clear information about accessibility toodrawn from Liz's real-life experience of a close relative who used a Lizwheelchair.said:
"History can be known for being boring and so the challenge I set myself was to find an exciting way to get it all across - and that's when we came up with the circular route, quiz and booklet combo."
"But we went home not knowing very much about the place we'd just visited. Who were the people of the past? What were the town stories? What went on there? Who was misbehaving?!
Quiz Trail could be the answer – a fun, historical walking trail presented as a beautifully-designed booklet to set them off Whetherexploring.you gift them to guests or have them for sale, your guests will very quickly find their way, learning some interesting history along the way.
10 SLEEPDRINK.EAT. 2022September
Kent Quiz Trails
They've been developed by Kent-based amateur historian Liz Foster, who decided to turn her history hobby into a time-filler during the pandemic.
"When the girls were young, we did what most of us do - have a day trip or a stay somewhere, walk around the middle popular bit, have something to eat and drink, get an ice cream and go home all having had a lovely day out.
Start at a designated spot and follow clues to the next checkpoint, reading facts and looking up, down and across at historical things along the way; windows, signs, road names or architecture, for example.
She started with one book about her home town of Rochester and has now expanded to 15 Kent titles and two Sussex ones, selling them online, to gift shops and hotels to help people explore and have a cheap day out
Trails costs between £4 - £5.99 and once finished, buyers can enter a competition using the clues they have collected.
All common questions your guests may ask when they visit your hotel, bar, restaurant, shop or other tourism business.
"What is there to do around here?" "What do you recommend?" "Tell me something interesting."
11
Yvan Seth, Owner, Jolly Good Beer:
Jolly Good Beer uses honest, transparent communication to increase recycling and improve the flow of waste material in the industry. Besides distributing to independent pubs and bars across the Midlands, East and South East England, it educates customers about the bigger environmental picture and the importance of handling sustainable plastics
Jolly Good Beer collects empty KeyKegs during deliveries, limiting the number of unnecessary journeys and reducing its carbon footprint. It then crushes and bundles the empty Kegs for OneCircle to collect. OneCircle shreds, separates and sorts the different plastics on an automatic recycling line to recover the raw materials. As much recycled material as possible is used to produce new KeyKeg parts, while the remainder is recycled for other uses.
Beer Distributor Uses Closed-Loop Keg Recycling to Raise Sustainability Awareness
"Jolly Good Beer is proud to be a part of the OneCircle recycling programme, through which we can offer our customers
Jolly Good Beer's Environmental Focus Promotes a Circular Economy in Hospitality Through Empty KeyKeg Collection
The Jolly Good Beer team started collecting empty KeyKegs, in partnership with producer OneCircle, after local resources.collected,increaseinBeer.emptytheeverywhereAngliafromcorrectly.thatcompanieswaste-managementwereunabletoguaranteecircularmaterialsarerecycledHospitalityprofessionalsYorkshiretoLondon,EasttotheWestMidlands,andinbetween,cannowhelpenvironmentbyreturningalltheirKeyKegsthroughJollyGoodTheamountofrecycledmaterialeachnewKeyKegwillalsosteadilyasmoreemptyKegsareprotectingpreciousnatural
a better service whilst contributing to the reduction of single-use plastic waste in our industry. Through OneCircle we are sending tonnes of plastic Keg materials back to the manufacturer, to be made into more Kegs."
www.keykeg.comwww.jollygoodbeer.co.uk
KeyKegscorrectly.aresustainable, designedfor-circularity Kegs that, once empty, can be recycled into the actual raw materials used to produce new KeyKegs. Each month, Jolly Good Beer collects around 750 empty KeyKegs for recycling that may otherwise have ended up as landfill, although it aims to collect many more across the regions.
Oasis Rattan Sofa Set only £945.20 Cool Side Chair Polypropylene only £46.75 each Bespoke Furniture & Planters Full information online. Parasols - various colour options from £51 SALEON Durham Picnic Table only £131.75 SALEON Lancaster Round Table only £253.30ONSALE SALEON SALEON Madrid Rattan Furniture from £40.00 Regent Rattan Furniture from £116.45 SALEON A UK leading trade supplier of Outdoor, Indoor & Recycled Plastic Furniture All prices are subject to VAT. Prices and promotions correct at time of going to press. Get in touch: E: sales@leisurebench.co.uk T: 01949 862 920 VISIT OUR WEBSITE FOR ALL OF OUR SUMMER SPECIALS! Recycled Brown & Black A-frame Picnic Table Recycled Black A-frame Picnic Table Recycled Brown & Black Square Picnic Table Recycled Black Square Picnic Table Our very own... RECYCLED PLASTIC FURNITURE! 100% Recycled Plastic 15 Year EnvironmentalGuarantee&Ethical Including benches and a wide range of picnic tables with stylish plastic planters now available! Scan to view more Outdoor Furniture P.O.A Ordering more than one? Up to 15% discount available! Visit: www.leisurebench.co.uk Late Summer SALE Joy Side Chairs only £40.80 each SALEON Aberdeen Picnic Table only £295.80ONSALE Devon Hardwood Furniture from £46.75 SALEON NewDay Ltd. UK only. 18+ Subject to status. T&C's apply.
The Bamboo Water Hype
Well not only is it sustainable, but it's also beneficial to our inner and outer health and beauty – and here's a little insight into why Bamboo Water is the next big health drink…
Water is the first botanical water made with infused bamboo leaf. It is sugar free, caffeinefree, and low in calories. A multi-pack of 12 bottles is available to comingAndat www.bamboo-water.com forpurchase£26.90. watchthisspace–anewflavourissoon…
In a time where climate change, deforestation, and the devastation of our planet are becoming more and more real, it's never been more important to look at sustainable resources with new eyes. Bamboo is one of the most sustainable and renewable resources on our planet, as it grows at an astounding rate.
The rapid growth and re-growth of bamboo is just one of the main reasons it is considered a "miracle grass"; it is also renowned for being stronger than wood, concrete, and bricks. But what are the health benefits to consuming bamboo water?
your immune system, and these properties have also been used in many traditional medicines over the years to treat wounds and relieve mild Drinkingindigestion.  Bamboo water may also help to fight against common cold and flu germs, reduce heavy menstrual bleeding, ease menstrual pains and some say – help with labour pain!
Sustainability
Outer Beauty
Bamboo water contains antimicrobial properties that protects you from various bacteria and strengthens
Inner Beauty
Like other natural waters, Bamboo Water is naturally hydrating which benefits a clearer and healthier complexion. The silica content also boosts collagen production, which helps to combat wrinkles and fine lines, plus it doesn't end there – it is also great for improving the strength and quality of your hair and nails.
Bamboo can be enjoyed straight from the source by cutting a notch in the stem of the bamboo, and simply tipping the water out. The bamboo stem itself acts as a unique filter, so the water is crystal clean and safe enough to drink naturally. However, who wants to go hunting for bamboo and doing all that hard work – that's where Juno's Bamboo Water comes into the Juno'spicture…  Bamboo
13 SLEEPDRINK.EAT. 2022September
The Brewers Association recently explored the flavour dynamic between seven high quality, diverse American craft beers with equally high quality food dishes in a four-course pairing menu devised, cooked and served by third year students at Westminster Kingsway Catering College in London under the leadership of Adam Dulye, Brewers Association Executive Chef and renowned beer pairing expert. The aim was to create an enhanced and elevated pairing experience that sparked interest in student chefs
14
pineapple, coconut ice, lime meringue paired with Pineapple Mana Wheat, Maui Brewing LotteCompanyPeplow, Brewers Association's American Craft Beer Ambassador for Europe, comments: "Beer's wide flavour spectrum makes it the ideal pairing partner for almost any food but can be overlooked in favour of wine in some fine dining restaurants. We want to change that perception by encouraging catering students to experience the amazing flavour combinations and versatility of beer when paired with food in order to gain familiarity with beer and use such knowledge and experience in their future careers. Although a one-off event we will be encouraging students to explore the wide range of resources on the Brewers Asssociation's website for pairing beer with food."
Retailers and chefs are welcome to make use of the wealth of free resources, available on www.brewersassociation.org including the newly updated and expanded Craftbeer.com Beer & Food Professional Course, downloadable free of charge at www.craftbeer.com/printedCourse
"Josper"Companycharred
By instilling a knowledge and experience of beer pairings it is hoped student chefs will be able to apply such learnings as they advance through their careers and progress into professional kitchens
American craft beer is available from Athletic Brewing, the Cascade Club, or select national wholesalers. www.brewersassociation.org
SLEEPDRINK.EAT. 2022September
The Brewers Association, the not-forprofit trade association for small and independent American craft brewers, is targeting student chefs in a new initiative to stimulate understanding and trial of American craft beer and food pairing at an early stage in their careers.
BREWERS ASSOCIATION TARGETS STUDENT CHEFS WITH BEER AND FOOD PAIRING INITIATIVE
Aylesbury duck, roast and confit, potato press, heritage carrots, veal and blackberry sauce with Baker's Ordinary Bitter, Virginia Beer Company and Kriek, Upslope Brewing
Cannelloni of Brixam crab, mango and chilli salsa with Weekend Vibes, Coronado Brewing Company and Joint Resolution, DC Brau
Salad of Heirloom tomatoes, pickled watermelon, wasabi and ginger granita with Chuckanut Asian Lager, Chuckanut Brewery and Paradox Pilsner, Paradox Brewery
The menu comprised:
The SIXTOWNS expansion also continues with the launch next month of its latest product, SIXTOWNS Pink Gin and with the concluding development of its new facility at the World of Wedgwood, Barlaston.
SIXTOWNS are now hard at work transforming its new, 3500 square foot space to create its new look Distillery. In keeping with its brand and heritage, the location at the World of Wedgwood is the perfect place for the next chapter of the SIXTOWNS story where it will have a shop, cocktail bar and host distillery tours, gin tastings, cocktail masterclasses plus its very own gin school. It will be opening its doors later this year so customers can share the passion for crafting premium spirits, whilst being immersed in Staffordshire's heritage.
They  have also been preparing for the launch of their new product, SIXTOWNS Pink Gin, this month – this evolved from celebrating the first news of the award –a new spirit just had to be created with the London Dry as its base – a sweet, fruity and refreshing pink gin.
• launch Gin – August 2022.
New product
New facility - relocated distillery, with
NEW AND UNIQUELY INNOVATIVE, HERITAGE-STEEPED BRAND GAINS FIRST AWARD AND EXPANDS ITS OPERATIONS
– SIXTOWNS Pink
• enhanced operations, iconic
at the
Since its launch in November 2020, Stoke-on-Trent based SIXTOWNS has gone from strength to strength in a very short time, now securing its first award for the London Dry Gin at The Spirits Business Gin Masters 2022.
Speaking today, founding owners, Vitalijs and Alex Rackovs comment 'We are absolutely delighted to have received The Spirits Business Gin Masters 2022 Silver Award. This is a ringing endorsement of our generational expertise and to receive this recognition fills our hearts with pride and hope of many more accolades to come.
Spirits Business Gin Masters 2022
World of Wedgwood.
www.sixtownsgin.co.uk
We continue to be inspired by the tremendous craftsmanship we are lucky to be able to employ in producing our stunning craft spirits. To celebrate we are releasing a limited-edition silver design bottle, which is confined to just 1,000 bottles and still contains our awardwinning gin of course!; Watch out too for our new product – SIXTOWNS Pink Gin, launching in August'.
SLEEPDRINK.EAT. 2022September
The company have marked this success by re-designing the bottle in silver, offering a 1000 limited edition run.
All SIXTOWNS products (as well as Gin, they offer Rum and Vodka) are uniqueproduced in one-of-a-kind, brick effect, ceramic kiln-shaped down through three generations of the founders' families and the inspiration driving the business is being able to encapsulate the fine craftmanship and 300-year-old heritage found in its locality.
• Silver Award - London Dry Gin.
Catherine Goswell, OOH Category Manager says: "The number of outlets stocking the Sanpellegrino range continues to increase¹ as retailers recognise the importance of having a more premium soft drinks offer. Wholesalers should replicate this within their portfolio, ensuring the range is readily available to secure returning trade from retailers. Sanpellegrino has seen particularly strong growth within the Convenience channel, where sales are up 11.6%² and growing faster than the total Carbonates category. Within Convenience, alongside the growth of the 2 top sellers Sanpellegrino Limonata and Aranciata 33cl, the brand has also seen exceptional growth within Aranciata Rossa 33cl (Blood Orange), up 39.4%³ in value as retailers look to offer differentiated flavours to cater for their customers' needs. To maximise sales, wholesalers should stock an extended range of Sanpellegrino flavours to drive volume and provide choice."
The Tastefully Light & Classic Taste sparkling fruit ranges provides customers with the superior taste Sanpellegrino is renowned for, thanks to the provenance of its ingredients and Italian flair. Since 1932, Sanpellegrino has crafted Italian sparkling drinks with selected and refined ingredients, masterfully mixed by Italians to create authentic, refreshing premium drinks with a distinctive citrus flavour.
16 SLEEPDRINK.EAT. 2022September
The new look will be supported by a new 360 degree summer campaign covering ATL, digital, social media led by the tagline 'Life sparkles under the sun.'. The Mediterranean sun – at the core of the campaign – is what brings to life the fruits used to craft Sanpellegrino Drinks allowing people to enjoy the taste of life at its best.
Sanpellegrino Tastefully Light & Classic Taste sparkling fruit ranges is available to purchase in most major wholesalers including Booker, Bestway, Costco, Dhamecha, Brakes, Bidfood, Parfetts & ForHyperama.moreinformation, please visit www.sanpellegrinofruitbeverages.com/uk/
The Sanpellegrino Tastefully Light sparkling fruit range includes Limonata (lemon), Aranciata (orange), Aranciata Rossa (blood orange), Melograno & Arancia (pomegranate & orange), Limone & Menta (lemon & mint) and Pompelmo (grapefruit). Each can includes at least 16% real fruit juice sourced from Italy and the Mediterranean and stevia from natural sources. The Tastefully Light range of beverages are non HFSS* and compliant with the incoming HFSS promotional regulations.
SANPELLEGRINO Create New Visual Identity For Tastefully Light & Classic Taste Sparkling Fruit Ranges
The entire range has now switched to a new premium 33cL sleek can design and multipacks, which feature updated visuals reinforcing Sanpellegrino's distinctive values of natural ingredients and Italian origin. The new visual identity also sees the drinks manufacturer reducing plastic packaging by replacing the can's plastic shrink wrap with cardboard cartons.
The whole range is also not liable for the Soft Drinks Industry Levy. Michela Tasso, Sanpellegrino UK Brand Manager says: "We are delighted to unveil a completely new and refreshing visual identity for both our Classic Taste & Tastefully Light sparkling fruit ranges, aiming to delight consumers by offering a more premium drinking experience, without compromising on Sanpellegrino's iconic taste and naturalness. In addition to the new, sleek can and updated visuals, we are reducing the amount of plastic packaging we use by switching from classic plastic wrapped cans to carton."
A permissible treat - thanks to its selection of Italian ingredients and real fruit juice - the TasteTastefullySanpellegrinoLight&Classic sparkling fruit ranges, have long been a favourite with consumers looking for a truly thirst quenching and delicious citrus drink.
Same delicious taste - new premium, sleek can design and upgraded visuals
17
Jo Gilliard, CEO at Jangro comments, 'Last year, pubs, bars and restaurants missed out on £3bn in sales over the festive period as the spread of the Omicron coronavirus variant kept the public at home, resulting in a second "lost Christmas" for financially embattled proprietors . Now all restrictions have lifted, there are high hopes for December 2022. Christmas
JANGRO GETS INTO THE CHRISTMAS SPIRIT
For the professional catering and hospitality businesses providing celebratory food, drinks, and parties in December, the festive season has already begun. Early planning is essential, so Jangro, the largest network of independent janitorial and cleaning distributors in the UK and Ireland, is delighted to announce that its 2022 Christmas Supplies Catalogue is now available to help businesses get ahead.
is officially ON and is set to be bigger, better and more festive than ever! Therefore, preparing early is crucial. Not only to ensure you offer the best possible experience, but also to avoid any additional pressures at what is one of the most hectic times of the year for bars and Availablerestaurants.'toviewonline, or as a hard copy from local distributors, the catalogue caters for a wide choice of budgets, with standard, superior, finest, premium and luxury collections.
Made from recycled board, they are fully recyclable, and completely free from glitter and plastic – including the contents. For every case of the catering crackers sold, £2.00 is donated to the Trussell Trust, which is also the dedicated charity that Jangro is supporting this year. This worthy charity supports a nationwide network of food banks to provide emergency food and care to people locked in poverty.
For more information, advice, or to place your festive order, please call 01204 795 955 or visit www.jangro.net.
Jangro launches its Christmas Supplies Catalogue 2022
The Jangro Christmas Supplies Catalogue 2022 is packed with festive essentials, including streamers, balloons, and colour co-ordinated tableware. Once again, Jangro is proud to supply the Tom Smith range of catering crackers, which combine social and environmental sustainability with on-trend designs to bring every Christmas table to life.
Automated marketing allows restaurateurs to engage with guests and do much more than just confirm bookings. This could involve prompts based on key triggers like birthdays or anniversaries and can allow clients to react to and interact with your marketing communications. For example, try creating locally focussed events like barn dances, wine tasting or sporting celebrations, then showcase them via SMS, email and social media.
So what does this suggest for UK restaurants seeking to capitalise on a population increasingly determined to holiday at home? Put simply – this is the time to market your business like never before, both to capture a bigger slice of the immediate market, and to build longer-term loyalty and repeat business.
Indeed, a record year for staycations is expected to deliver an estimated £15.5billion boost to the British economy.
Innovate to acquire new customers
Smart party booking software allows diners to book and amend group or event bookings online, without the need for multiple and lengthy phone calls to the restaurant. The right system enables guests to pre-order and pay for all of their group's
According to Sykes Holiday Cottages' annual Staycation Index, 77 per cent of Brits will holiday in the UK this year, spending an average of £822. North Wales remains at the top spot for destinations for the second year in a row, with Cornwall and the Lake District coming in second and third.
A good restaurant management system will always record vitally important data about your customers' preferences, likes and dislikes, and is a powerful instrument in your marketing toolbox. Careful use of data makes it easy to run marketing campaigns and ensure they target exactly the right segments of your staycation audience.
In conclusion, whether those enjoying a great British staycation choose to remain at home or visit a holiday cottage or hotel – they will often decide to treat themselves to a high-end, dine-in take-away or opt for a special meal out. Either way a restaurant delivery or table should be available to book quickly, efficiently and with confidence using outstanding management software.
All of this comes on top of the searinglyhot weather the UK has been experiencing over the past couple of months, with temperatures ranging from the mid to high 30s, making parts of Britain more like the best of the Continent's top holiday destinations than the Continent itself.
The UK rental property provider Independent Cottages also reports an 80 per cent spike in last minute bookings as Brits abandon flight plans while British airlines and airports struggle to cope with demand.
Create and trial promotional offers, and highlight special opportunities and occasions on your booking website to help upsell to a variety of audiences. These could include couples, families with children and remote workers. Why not put special offer on your online booking page and then encourage visitors to take up additional offers such as early bird discount codes? Also try adding offers prominently to online menus and automated booking confirmations, as well as using existing customer data to target those with particular preferences and those who have attended previous events.
Get the party started
Go beyond food
18 SLEEPDRINK.EAT. 2022September
A successful restaurant marketing mix includes websites, social media, emails, apps and SMS. Of course, restaurant management systems such as Favouritetable mean you can employ a marketing module to manage all of this activity in one place.
Get smart - automate your marketing
Let's begin with the obvious – international travel is a mess at the moment. Recent research carried out by air travel data provider OAG estimates that since January 1.7million people flying into or out of the UK have been affected by cancellations within 48 hours of their flight.
Here are five other ways your business can capitalise on the rising staycation trend:
menu items, so the restaurant has a solid view of any reservation complexities, plus the comfort of a deposit or full payment. Staycation party ideas could include sports-themed group bookings for walkers, climbers, yoga groups, or even surfers if your restaurant is near the coast. Then there are the more traditional occasions designed to suit meal events combined with stag or hen dos, birthdays, reunions and anniversaries.
Marketing to the £15.5 billion UK staycation trend
Tie in lunch and dinner options to special deals with nearby accommodation or retail partners. Cater to demands for highly specialised individual occasions – like beer tastings, dinner and a lecture or charity events – rather than simply mirroring the same tired and formulaic promotions used by big chains.
This doesn't include the inevitable knock on effect of prospective holidaymakers who have changed their habits and plans to avoid being stuck in traffic or playing a lottery with travel providers.
Value your data
Sign-up to Favouritetable by 1st September and get your first month free. For further details please visit: www.restaurant.favouritetable.com
Unprecedented travel chaos has left distraught holidaymakers facing queues snaking through carparks and cancelled flights. Now more Brits than ever are opting to staycation, offering huge opportunities for savvy restauranteurs, says Jaipal Yadav, managing director of restaurant software business, Favouritetable.
Nearly three-quarters of decision makers (72%) say they have goals and targets in place to decrease their energy usage and overall environmental impact, yet 86% believe their business could be doing more to achieve this.
Almost half of hospitality businesses are still leaving equipment on overnight despite 65% not knowing how much energy the equipment uses
The sector's energy concerns and desire to operate more sustainably add to the many plates its businesses are already spinning, with existing challenges including recruitment and retention issues, the rising cost and availability of raw materials and ingredients, and some areas of the UK continuing to see a reduced footfall.
Businesses should download the Invisible Waste report to ensure equipment isn't draining energy.
As well as identifying which pieces of equipment can be safely turned off overnight to improve overall energy efficiency, the report is brimming with actionable tips and hints that can help streamline the process to better sustainability across the board.
20 SLEEPDRINK.EAT. 2022September
To help operators combat the energy crisis, and learn simple, energyefficient steps to reduce their energy consumption by identifying sources of invisible waste, BRITA has partnered with sustainability experts as part of its new Invisible Waste insights report.
"With hospitality operators feeling the pressure to improve their sustainability in an authentic way that avoids 'greenwashing' their processes, they
"We're all too aware of food and plastic waste, but what about the invisible waste that we cannot see, such as the volume of energy businesses consume each day and night unnecessarily? It's vital that we collaborate with companies to tackle the sources of invisible waste together, and there are simple, energy-efficient steps that can be taken to contribute to real change."
• Perceived challenges to improving environmental impact for businesses include cost (66%), time (42%) and team resource (29%)
With UK hospitality operators facing an unprecedented rise in the cost of goods and energy prices shooting up, 92% of decision makers are concerned, according to new research from BRITA UK. These results are revealed in a new report from the leading water filtration and dispenser brand and reveals the ways in which hospitality businesses can cut costs.
BRITA VIVREAU (water dispensers): 0345 674 9655, www.brita.co.uk/water-dispensers
cannot ignore the impact of the waste they produce on the environment.
David Hall, Managing Director of BRITA UK, says:
For more information contact BRITA UK and discover all the ways it can support businesses on the journey toward better sustainable practices.
BRITA Professional (water filtration systems): 01869 365 851, www.brita.co.uk/professional
Twitter: LinkedIn:@BRITAPROBRITAGroup
New report reveals the ways in which operators can reduce their energy consumption by targeting sources of invisible waste
One of the major sources of invisible waste in hospitality is equipment being left on needlessly overnight, which is something 45% of decision makers admit to, despite 65% of them not knowing how much energy the equipment uses during this time.
Though some venues such as hotels operate 24/7, equipment including ovens, commercial washers, microwaves, and hobs are all examples given by decision makers of equipment left on unnecessarily overnight, with 25% letting these appliances go into standby mode. 18% say it is easier to just leave equipment on and, for one in 10 businesses, equipment remains on simply because there is no one responsible for turning it off.
• Over the next five years, two-thirds (66%) of businesses will actively be trying to reduce energy usage
• Nearly 40% are looking to train their teams in sustainable practices in the workplace
"We increased trade dramatically!" www.indigoawnings.co.ukwww.indigoawnings.co.uk/enquiries@indigoawnings.co.uk / 01352 740 164 "make money out of fresh air" UTILISE YOUR OUTDOOR SPACES WITH GIANT PARASOLS, COMMERCIAL AWNINGS, FIXED STRUCTURES & SCREENING. • 22 years industry experience • zero deposit leasing over 2-5 years • huge range of sizes, styles & colours • optional heating & lighting • personalised branding screen printing • fully trained fitting teams BOOK A FREE SITE VISIT TODAY
NewDay Ltd. UK only. 18+ Subject to status. T&C's apply. A UK leading trade supplier of Outdoor, Indoor & Recycled Plastic Furniture All prices are subject to VAT. Prices and promotions correct at time of going to press. Get in touch: E: sales@leisurebench.co.uk T: 01949 862 920 Ordering more than one? Up to 15% discount available! Visit: www.leisurebench.co.uk Scan to view more Outdoor Furniture Recycled Brown & Black A-frame Picnic Table Recycled Black A-frame Picnic Table Recycled Brown & Black Square Picnic Table Recycled Black Square Picnic Table Our very own RECYCLED PLASTIC FURNITURE! Including benches and a wide range of picnic tables with stylish plastic planters coming soon! VISIT OUR WEBSITE FOR ALL OF OUR SUMMER SPECIALS! 100% Recycled Plastic 15 Year Guarantee Environmental & Ethical Lancaster Round Table only £268.20 Joy Side Chairs only £40.80 each Madrid Rattan Furniture from £40.00 Bespoke Furniture & Planters Full information online. Parasols - various colour options from £54 Durham Picnic Table only £131.75 Oasis Rattan Sofa Set only £945.20 Devon Hardwood Furniture from £49.50 Aberdeen Picnic Table only £313.20 Cool Side Chair Polypropylene only £46.75 eachONSALE SALEON SALEON SALEONSALEON Regent Rattan Furniture from £130.15 SALEON SALEON SALEON
Bamboo water contains antimicrobial properties that protects you from various bacteria and strengthens your
Bamboo can be enjoyed straight from the source by cutting a notch in the stem of the bamboo, and simply tipping the water out. The bamboo stem itself acts as a unique filter, so the water is crystal clean and safe enough to drink naturally. However, who wants to go hunting for bamboo and doing all that hard work – that's where Juno's Bamboo Water comes into the picture…
Sustainability
The rapid growth and re-growth of bamboo is just one of the main reasons it is considered a "miracle grass"; it is also renowned for being stronger than wood, concrete, and bricks. But what are the health benefits to consuming bamboo water?
Well not only is it sustainable, but it's also beneficial to our inner and outer health and beauty – and here's a little insight into why Bamboo Water is the next big health drink…
Like other natural waters, Bamboo Water is naturally hydrating which benefits a clearer and healthier complexion. The silica content also boosts collagen production, which helps to combat wrinkles and fine lines, plus it doesn't end there – it is also great for improving the strength and quality of your hair and nails.
this space – a new flavour is coming soon…
Juno's Bamboo Water is the first botanical water made with infused bamboo leaf. It is sugar free, caffeinefree, and low in calories. A multi-pack of 12 bottles is available to purchase at www.bamboo-water.com for
The Bamboo Water Hype
Drinking Bamboo water may also help to fight against common cold and flu germs, reduce heavy menstrual bleeding, ease menstrual pains and some say – help with labour pain!
In a time where climate change, deforestation, and the devastation of our planet are becoming more and more real, it's never been more important to look at sustainable resources with new eyes. Bamboo is one of the most sustainable and renewable resources on our planet, as it grows at an astounding rate.
immune system, and these properties have also been used in many traditional medicines over the years to treat wounds and relieve mild indigestion.
And£26.90. watch
23 SLEEPDRINK.EAT. 2022September
Outer Beauty
Inner Beauty
Representing a new flagship physical embodiment of the high-end vodka brand, the X MUSE Temple is home to their Helicon workshop – an expertly guided tasting experience that delves into the brand's inspiration and philosophy and explores its smooth and complex flavour, which took three years to perfect. As a vodka to sip and savour, X MUSE is produced using two heritage varieties of barley, Plumage Archer and Maris Otter and guests will
Open until 30th September, the X MUSE Temple resides at Jupiter Artland in Edinburgh alongside large-scale artworks by notable artists such as Tracey Emin, Antony Gormley, Cornelia Parker, and Anish Kapoor.
Designed by renowned Milan-based studio, Formafantasma, most recently designers of the Central Pavilion at this year's Venice Biennale, the X MUSE Temple is designed to be the ultimate, bespoke brand experience housing a state-of-the-art tasting workshop.
Luxury vodka brand X MUSE opens NEW immersive tasting experience at Scottish sculpture park, Jupiter Artland
X MUSE, pronounced 'tenth muse', the first blended barley vodka inspired by Scottish spirit-making, has just revealed its X MUSE Temple – a new immersive tasting experience at Jupiter Artland in Edinburgh.
24 SLEEPDRINK.EAT. 2022September
X MUSE vodka sits at the convergence of drinks innovation and art thinking, and as the spiritual home of the brand, guests are invited to immerse themselves in the inspirations behind the luxury spirit, with the price of entry to Jupiter Artland sculpture park included in each booking of the tasting experience.
have the opportunity to sample the individual component vodkas as well as a delicious signature cocktail.
participating gins are 100 per cent Better Cotton and can be traced back to licensed farmers. The 100 per cent Better Cotton bales are then purchased by traders and spinners. From this point on, Better Cotton can be mixed with conventional cotton and spun to make the cotton used in Richard Haworth's wide range of products.
The UK's leading provider of bed, bath and table linen to the hospitality sector, Richard Haworth, is celebrating a huge milestone in its support of the Better Cotton Initiative, after purchasing a million units of Better Cotton in under three years.
To view the full Richard Haworth range and purchase online www.richardhaworth.co.ukvisit.
The BCI's Mass Balance chain of custody ensures that the quantity of physical cotton sold with a Better Cotton claim cannot
Linen Manufacturer Marks
Richard Haworth has purchased over 1,000,000 units of Better Cotton since 2019
25
Richard Haworth's range of bed, bath and table linens are created using the highest quality fabric and are used by some of the most prestigious hotels, restaurants and spas across the country.
Many Richard Haworth products are manufactured in the UK and all are designed with the quality and durability that prestigious hotels require, with a range of products to suit every budget, style and need.
"To have surpassed the million units of cotton sourced from a BCI gin is a huge achievement for our manufacturing output and our overall CSR aims to ensure we are producing and selling the most sustainable products possible."
1 Million Kilo Milestone in Global Better Cotton Initiative
Raj added: "BCI relies on a Mass Balance system, where Better Cotton can be mixed with other types of cotton on its journey from the field to the final product. Our aim at Richard Haworth is for 50% of our total cotton purchased to be Better Cotton within the next 5 years."
The Greater Manchester--based business became a member of the BCI - a not for profit organisation that works to make global cotton production better for the people who produce it, better for the environment it grows in and better for the sector's futurein 2019. And in just three years the textile manufacturer has acquired more than a million units of Better Cotton - the equivalent of over a million kilograms of cotton.
Raj Ruia, director of Richard Haworth, said: "By being a part of the BCI initiative we are supporting responsible cotton farming practices where it matters the most - right on the farms growing the cotton. The BCI promotes better standards in cotton farming around the world and we are proud to be able to champion the initiative's renewable methods.
Better Cotton licensed farmers must follow and adhere to the BCI's seven guiding principles to produce cotton in a way that is better for themselves, their communities and the environment. As part of its core offering the BCI trains and supports its 2.7 million licensed farmers to adopt more sustainable processes.
exceed the quantity of cotton purchased with a Better Cotton claim.
When Better Cotton is harvested, it is physically segregated from the farm to the gin ensuring all Better Cotton bales produced by
Enhancing brands and communicating sustainability credentials
Branded paper products from Celebration Packaging
Paper delivers sustainable and hygienic brand enhancement"
Making the correct material choices
26 SLEEPDRINK.EAT. 2022September
From restaurants and pubs, to cafés and takeaways, printed disposable paper products have an important role to play. Sustainable and hygienic, they can convey positive messages, communicate a venue's brand values via print, and maintain consumer confidence.
sales@celebration.co.ukwww.celebration.co.uk01283538259
immediately recognise paper as being a sustainable material, and that helps to reinforce a venue's environmental sustainability credentials. We have always said that foodservice operators should involve their customers in their sustainability story, telling them about the packaging choices they have made. This will help consumers to understand their role in ensuring a responsible 'end of life' for the food packaging from foodservice establishments and help to improve their environmental sustainability credentials."
Indeed, safe, secure and hygienic food throughoutplayedpackagingakeyrolethepandemicandwillcontinuetodosoformanymonthstocome. "
As a packaging supplier to the foodservice and takeaway industries, Celebration Packaging has always been material-neutral, believing that both paper and plastic solutions have their place – alongside the well-established EnviroWare® range of disposables which are made from natural, renewable and sustainable Ideally,resources.EnviroWare®
"The pandemic heightened awareness around hygiene and safety and as a result, we have seen a resurgence in the popularity of paper products and individually wrapped items. Printed paper products deliver immediate and visible hygiene benefits.
We talk to Celebration Packaging Managing Director Nick Burton.
composted. If this end-of-life option isn't viable and the packaging does end up in landfill, it still has a lower environmental impact and carbon footprint in comparison to traditional oilbased "Whileplastics.plastichas been somewhat demonised in recent years, it is often the best solution for protecting food and extending shelf-life, therefore helping to reduce food waste. We offer a consultative approach to ensure that operators choose the most appropriate packaging for their offering, taking every aspect into account, from food safety, practicality and presentation, through to end-of-life.
"When pubs and bars reopened after lockdown, our printable hygienic white card glass covers, and single-use paper cutlery sleeves became extremely important, reassuring customers that they were using clean, uncontaminated glasses and cutlery. This focus on the benefits of disposable paper items takes Celebration full-circle to the start of the business in 1983 when our first products were personalised tissue coasters."
"I've said many times that disposable food packaging is key to ensuring the operational efficiency of takeaways," concludes Nick Burton.
"Printed paper products are a perfect – and relatively low-cost way – to enhance branding and deliver important messages in an obviously sustainable way," says Nick Burton. "From tray liners, place mats and paper cutlery pouches to drinks coasters, glass covers, and napkins, branded paper products create visual continuity across all service "Withoccasions.4-colour or spot-colour printing and finishing techniques from tactile and subtle debossing to luxurious metallic foil, branded paper products deliver an upmarket feel and can help to build "Anotherbrands.
Celebration Packaging also supplies many different types of hygienic paper table-top items such as place mats and tray liners, and recently invested in new flow-wrapping machinery to hygienically and individually wrap its award-winning FSC® EnviroWare® paper cutlery, and Vegetarian Society approved FSC® paper straws.
clear benefit is that consumers
packaging –made from natural materials such as paper, PLA cornstarch, bagasse non-wood fibres, wood and palm leaves – should be commercially
interpersonal connections that bring the magic to the experience."
meeting customer needs throughout the challenges of the past few years at the expense of frontline employees, reveals exclusive research from YOOBIC, the digital workplace leader, in its 2022 State of the Frontline Employee Experience survey.
LIGHTENING THE LOAD FOR UK'S FRONTLINE HOSPITALITY WORKERS
51% of UK hospitality employees say job demands are now worse than during the peak of 64%COVIDdescribe their teams as understaffed 26% want a managementtasktool to make their job easier
"Oureasier.research
shows currently just 13% of hospitality workers surveyed have access to a task management tool despite such technology giving employees additional time for tasks which are more personally fulfilling and valuable to the business – like spending time serving customers," said Haiat.
27 SLEEPDRINK.EAT. 2022September
For further information and action plans detailing how employers can improve the employee experience and boost retention and productivity, download the latest YOOBIC report.
Fabrice Haiat, CEO and co-founder of YOOBIC, commented: "The hospitality industry is uniquely impacted by challenges created by operating in the tightest labour market in years. The successful and memorable hospitality experiences that keep customer coming back are created by the frontline staff delivering them. From the barista that remembers your coffee order to the maître d' who ensures you get your favourite table – these are the
Unprecedented staff shortages within the hospitality sector have reached record highs, causing nearly half of operators to cut trading hours or capacity to cope, which is estimated to be costing the industry £21bn in lost revenue1. This situation has been further exacerbated as employers have prioritised evolving to keep
Two thirds (66%) of the UK's hospitality frontline report feeling so exhausted at the end of their shift that they don't enjoy their time away from work at least once a week.
Haiat continues: "There is no easy fix to the challenges facing the UK's hospitality industry today. But employers must prioritise investment in improving working conditions to ensure they can retain existing staff, reduce turnover and win the competition for frontline talent in an employee's market."
The survey highlights the majority (87%) of hospitality workers want to feel supported by management, but only half (56%) are satisfied with the support they currently receive. More than a quarter (26%) report wanting access to a task management tool to make their job
Hospitality workers surveyed describe being short staffed at work (41%) and the high turnover of employees (38%) as two of the biggest challenges they face in their roles. Overall, 64% of respondents described their teams as understaffed - but increased demands on employees are also widespread. Over half (51%) of UK hospitality workers describe their job demands and the amount of work they are expected to complete as being worse than the onset of the COVID-19 pandemic.
sequences that make guests walk across a flooded square to get to a beautiful view or a sitting meditation deck under a huge hanging rock seemingly about to collapse upon you, are all examples of awkward moments that make fantastic spaces and memories – and as well as awe-inspiring and creating lasting memories of our place, tap into our primordial need to explore and discover – it's our design DNA.
We need to step out in courage and embrace imagination and playfulness. Word of warning though, it all needs to be balanced carefully. Playfulness without foundation or reason will instantly become indulgent and unrelatable.
Some of my favourite inspiration points are unusual atmospheres, the beauty of awkwardness and a sense of daring to be different. The atmosphere of a place is magical, it moves everyone in a different way, it makes us feel different. The most powerful thing about it is that it is very subtle and elemental. I enjoy exploring ways of making guests feel different without obviously knowing why.
Photo by Sisi Burn
I love that inspiration tends to blindside me, it may come from a conversation with someone, while painting, reading – or even taking a step away to design something else –as well as exploring what is inspiring the fashion runways that season, or revisiting seasons past.
This brings me to, 'the beauty of awkwardness', which at first glance probably needs a bit of explanation. On a personal note, I'd occasionallyconsidermyselfabitofagawkyperson,andthebeautyofthisisthatItendtoquicklypickuponthequirksandawkwardspacesinarchitecture.Spacessuchashotelarrival
Where do you seek inspiration from?
Chin Lim architect at HKS
28
Leading global architect on 'the beauty of awkwardness and daring to be different' and what's next for the wellness travel industry as the world opens up…
As Architects and Designers, it is easy for us to fall into the trap of the 'norm'. As our work is grounded in function,
buildability, construction methods and the pragmatic side of architecture, it's easy to forget the joy and wonder that architecture really creates.
SLEEPDRINK.EAT. 2022September
Inspiration is a strange and wonderful thing. It very rarely comes from a pure focus on the brief nor the end product for me. Inspiration is the journey itself, a journey of discovery through trial and error. I remember in school; I had a strange habit of stepping away from my painting / artwork very frequently and gazing at it from a far. It helped me physically step out of my thoughts and relook at what I was creating. Hilariously this habit carried though to when I was working as a young architect even as the industry moved away from physical drawing boards and into computers. Halfway through working on something on my computer, I would stand up take a few steps back from the screen and with a tilt of my head, reassess what was being created in the virtual world. My colleagues found great mirth in this strange quirk.
has had a renewed sense of putting oneself first in terms of wellness and experiences. We are seeing a surge in guest indulging on their getaways. A pre-pandemic 3* or 4* holiday maker is now willing to splurge on a 5* and ultra-luxury stay. Life is unpredictable and short – the pandemic has taught us that. At the forefront of all these guests' wish lists is to have a memorable experience and engage in wellness – and in some cases, transformative Medicalwellness.wellness
pandemic, the world
The knowledge we all share of the world, and particularly within our industry has changed greatly over the years. In the past, we would only be able to physically experience the best hotels of the world if we moved in the right circles to hear about them and had to means to go. Today, the internet has opened up our world and provides a lens into places and spaces we might only be able to dream of visiting – voyeuristically voyaging the newest, most innovative and creative designs in the world. This hyperavailability means of course that there is rarely an occasion where your client isn't aware of what their competition is across the globe; clients are now more knowledgeable and sophisticated than ever, so in order to offer anything of true value, we must be creative and
be it for business or leisure. We are seeing all the hotel brands offering increasingly sophisticated wellness facilities and some, such as the 1 Hotels brand, even stretch the definition of wellness further by integrating it into the architecture and the very fabric of their Comingbuildings.outofthe
hotels have a very different relationship in today's world. Long gone are the days where spa and wellness facilities were a token gesture of a few pokey rooms that the hotel had forgotten to renovate for the last 20
29
How has inspiration changed over the course pandemic?
does wellness play a big part in the key selling points of the hotel of today, but it is also actually a prerequisite of almost every guest
Four Seasons Bodrum, HKS
provide design solutions that amplify their vision and then some!
The fact that information is so readily available, it forces innovation within our industry which is so refreshing and is something we should absolutely What'sembrace.next
Notyears.only
for the wellness industry & how does your approach to design and where you seek inspiration from move with these changes in the wellness travel Wellnesssector?and
SLEEPDRINK.EAT. 2022September
With the lens of the world increasingly focused on this aspect of the travel industry, we at HKS are responding with an inclusive, forward-thinking approach to create bespoke designs for our clients, their guests and communities. We are balancing beauty and performance in each environment we create - it's a vastly exciting growth 'space' to work in!
offerings in hospitality are set to increase as the general population ages and seek out light medical interventions during their wellness stays – an MOT and service for the body while on retreat if you like. As designers we need to find innovative ways to create an environment for these often-unsettling experiences to take place, an environment that will sooth, engage and reconnect the soul to nature and oneself.
Hospitality Access People for Hospitality The complete employee lifecycle solution, your whole workforce will enjoy using!HR & ManagementWorkforce Staff Scheduling & Labour Optimisation&RecruitmentExpensesOnboardingalso Employee screening & RTW checks Payroll alsoEarlyPayAccess ManagementTraining also CPL Learning Access People for Hospitality delivers: Get your FREE hints and tips eBook! Find out how to maximise sales, save costs and increase productivity. Download FREE eBook
Find out how Access People for Hospitality can help support all your people processes t: 0845 340 4542 e: hospitality@theaccessgroup.com w: theaccessgroup.com/HospitalityHR One Solution Every HR Process Made easy All delivered through Access DeliverImproveWorkspaceemployeeengagementgreatguestexperiencesOnedatasource-asinglesourceoftruth sign-onSingle Reduce staff churn and labour costs Powerful collaboration tools for more informedmakingdecision Attract and retain talent DevelopmentRecruitment PerformanceOnboarding Rewards and Benefits Exit Full visibility over all HR processes in one place productivityIncrease Intuitive dashboardseasy-to-useand Become a employertop
19TH & OCTOBER20TH EXCEL LONDON FREE TICKETS HOTELINNOVATIONEXPO.CO.UK @HOTELINNOVATIONEXPO #HOTELINNOVATIONEXPO 300 EXHIBITORS 150 SEMINARS OPPORTUNITIESNETWORKINGINDUSTRYAWARDS DEBATESPANEL
DESIGNED FOR KITCHEN PROFESSIONALS IDEAL FOR HACCP COMPLIANCE Thermapen ® One thermometer.co.uk Manufactured in the UK, The New Thermapen ONE offers faster, more accurate temperature readings in just ONE second!
My Sardinian Home Cooking: New Sardinian Travel Guide and Cook Book Embraces Some of the Island's Favourite Dishes- Sunshine on a Plate!
34 SLEEPDRINK.EAT. 2022September
Keensunshine.toimpart
all that it means to be Sardinian and to love your food, the author also provides an insightful and helpful 'survival guide'designed to assist readers navigate cookery terms, ingredients and Amore.stunning and multi-faceted book, that is also a remarkable tribute to the author's beloved mother, My Sardinian Home Cooking one of those books that will touch the heart of all foodies and lovers of island life keen to bask in metaphorical Sardinian sunshine, whilst sharing utterly delicious plates with their loved ones.
As Sardinia becomes a regular international tourist hot spot, I introduce as a native of the Italian island an authentic taste of home-cooked Sardinian, Mediterranean and Italian food. The tourists have always appreciated restaurant food, but this is the first cookbook of Sardinian home cooking.
Garnering five star reviews, Amazon readers say:
"A great book by an author who is passionate about cooking, culture and family. We really enjoyed trying some Italian recipes that we have never seen before, Sardinian style!!! Bravo!" –
"This is a wonderful self-published book that takes you into Sardinia and gets the taste buds going. Stefano the author really pours his heart and soul into this heartfelt book. Using recipes from his mamma, this book is party history, part auto biography with delicious recipes and pictures in between. Can't wait to see more from this talented author! A must if you are into traditional rustic Italian cooking."  - auditor123
Paperback (£28.00)https://amzn.to/3LolKjJ
my recipes laid out as in the usual way from starters to desserts with delicious and healthy ingredients, tips and how to make: from the bread starter to sourdough bread loaf and spelt bread; starters like bruschetta and sea food, pasta dishes mixed in a varieties of meat, fish and vegetarian; how to make classic tomato sauces; full on flavour meat and fish dishes baked and grilled; vegetarian side dishes for all tastes; delicious zesty fresh salads and two spongy cakes for dessert. I have created a unique and original book presenting my food and a short story combined with high quality photos all copyrighted by me.
"Stefano has a passion for the food and culture of his native Sardinia that comes through in his writing, while the fact that so many of the recipes have been passed down from his mother adds a sentimental charm. Beautiful photography throughout the book entices you to have a go at the recipes. While I have yet to go on holiday to Sardinia, these recipes can transport me part of the way until circumstances allow." – Johnny Maltby
The Italian & Sardinian art of simple, healthy and delicious food; my family guide to food and culture.
"Remembering my time with mother; it was in a blissful time we had spent together enjoying her food, her home was always uplifting with joy and laughter, embracing tasting flavours and aromas with her exquisite home cooking, simply made with love for food and life itself. I wish to share her humble legacy."
The author says:
"This book is written from the heart, excellent easy to read notes and recipe and lovely pictures too. This is proper healthy and authentic Sardinian cooking." – R A Maltby
Independentlydave99published My Sardinian Home Cooking is available on Amazon as Hardcoverfollows: (£34.00)https://amzn.to/39uVS8O
Kindle Format (£11.90 or free on Kindle Unlimited) - https://amzn.to/3sHgCki
So much more than a recipe book, Stefano De Luca's My Sardinian Home Cooking not only introduces authentic Sardinian recipes lovingly taught to the author by his mother, but in possibly the  first book to promote Sardinian home-cooking, this foodie par excellence also shares his enthralling Sardinian backstory through images and family anecdotes
My mother taught me to cook when I was 8 years old in such a simple and effective way. I now proudly present my Sardinian home cooking guide, with its colourful and delicious food flavours combined with photographic landscapes offering 50 years of emotions with 50 selected recipes. I dedicate this book to my mother, a wonderful mother and cook, who had inspired me greatly. My cookbook offers the reader how to cook simple and delicious recipes, through my step-by-step instructions, for all budgets.
Dedicated to his mother, this volume of 50 carefully selected recipes showcases the vibrancy and mouth-watering range of traditional Sardinian home cooking, as well as its versatility and use of inexpensive ingredients that almost guarantee the taste of
"I love this book, not just for the amazing recipes, it leaves you with the feeling that you have been to Sardinia. It tells the story of the place, and you can imagine all the lovely food on your table sharing with friends and family.I shall look for more from Stefano De Luca!" – J Merryweather
A stunning book that bursts with the author's passion for the delicious, healthy and colourful cuisine of his native Sardinia, as well photography (the author's own) that captures the vistas, culture and joy de vivre of his fellow Sardinians.
Synopsis:
This volume is of 18 chapters: Chapters 1-9 present my mission statement and vision for this book, an introduction about the island, an easy reading survival guide to Italian food terms and daily meals, Sardinian ingredients, including herbs with their qualities and healthy factors, all available in supermarkets, dry and fresh pasta categories, meat and fish production, the healthy food & lifestyle, its natural Chapterbeauty.9-18present
Sustainability is an increasingly important focus throughout the cleaning industry, as businesses work to reduce their environmental impact whilst striving to meet the same high-quality demands that customers have come to expect. Understanding the right measures to implement throughout the hospitality sector will allow businesses to adopt efficient and environmentally friendly cleaning methods that meet demand and avoid disrupting guests.
efficiency that more sustainable battery powered equipment offers is a great benefit to the end user.
Small changes such as these are ideal for on-the-spot cleaning which can be tackled swiftly using battery powered equipment, that can be easily put to work without the need for power sources and cables. Cables strewn across floors are a health hazard for guests and should be avoided at all costs to reduce the risk of trips and falls. However, switching to battery powered machines negates this issue as the machines do not have cables attached to them when in use. This makes them ideal for spot cleaning as vast areas do not need to be closed off to allow for effective cleaning.
With many added benefits, moving to battery powered equipment is a great way to boost productivity and efficiency within the hospitality sector whilst reducing energy usage in the process. Implementing small changes such as these can go a long way to enable businesses to meet their sustainable targets while providing an exceptional experience for guests.
SLEEPDRINK.EAT. 2022September
Adjusting current cleaning practices is a great way to reduce the amount of energy and water that is used during everyday cleaning tasks. For instance, when it comes to cleaning spillages, traditional mop and bucket cleaning continues to dominate as an easy and efficient way of removing the unwanted dirt. However, using a mop and bucket involves the use of vast amounts of water and detergent. Over the space of two years, someone cleaning a 200m2 space daily would use up to 360 litres of water and over 1.1 litres of detergent.
www.karcher.com
With a growing emphasis on sustainable practices throughout business culture, what steps can businesses take to ensure that they are having minimal impact on the environment around them? Is battery powered cleaning the way forward?
Alternatively making use of battery powered machines, such as the BR 30/1 C Bp, can help to massively reduce the amount of water and detergents that are needed. The BR 30/1 C Bp is a compact walk behind scrubber drier that enables the user to swiftly mop up spillages. When used over the same period to time and cleaning the same 200m2 space, the BR 30/1 C Bp would use as little as 43 litres of water and only 0.15 litres of detergent. This provides an overall reduction of 88% in water usage, 86% in detergent usage and an overall cost saving of roughly 40%.
35
Additionally, the interchangeable nature of the Kärcher Battery Universe Platform enables users to swiftly move the battery from one machine to another during the cleaning process. This helps to reduce the amount of energy usage as less batteries need to be charged to power a wide range of equipment. Instead, the user can swiftly go from mopping up spillages using the BR 30/1 C Bp to vacuuming up lose dirt with the HV 1/1 Bp handheld vacuum cleaner.
Sustainable cleaning: Is it possible?
Another benefit from moving the battery powered machines is the reduced sound output that enables them to be used in a wider range of spaces throughout the day. This helps cleaners to begin their working shifts earlier without impacting on the overall experience for the guest. For instance, hotel rooms can be cleaned earlier as the noise will not impact other guests or busy restaurants can be cleaned on the go, in an efficient and effective manner without ruining other guest's meals with sound.
Offering greater flexibility for the user, battery powered machines can allow for up to 50% reductions in cleaning times, enabling staff more time to focus on the finishing touches to help make the guests' experience more enjoyable and rewarding. With more to clean and the same number of hours in the day to do the work, the
eat.drink.sleep Advertise With Us www.eat-drink-sleep.com Please send your latest news and press releases to our ourinthemwhoJeremy@eat-drink-sleep.comeditorcanconsiderforpublicationthemagazineornewsfeed. To receive the magazine on a monthly basis please subscribe here. Follow us on @eatdrink_sleep With over 82,000 opt in subscribers and a further 20,000 monthly unique visitors to the website, Eat Drink Sleep can insure that your products and services get viewed by a substantial number of the target audience.