WHERE THERE'S A NEED, THERE'S A LION | MAY/JUNE 2023 |
Meet the International Guest at the 2023 MD27 State Convention May 11-13
As the month of May arrives, we all get really excited for the weather to warm up. We're also very excited that our state convention is approaching as well! Be sure to join your fellow Lions and Leos in Stevens Point Thursday, May 11 through Saturday, May 13 for three packed days of fun and learning.
Hit the golf course on Thursday at the beautiful Glacier Wood Golf Course in Iola. Then on Thursday evening, plan a visit to Wisconsin Lions Camp. For $20, you can enjoy the tailgate party with brats, hamburgers, hot dogs and all the fixins'. The entire Foundation Staff and WLF Directors will be there to greet you, as well as give you a tour of the facilities to see some of the changes that have taken place recently, and give you information on major upcoming projects.
Friday and Saturday, you can experience presentations from the Restoring Hope Transplant House, Lions Camp, Lions Eye Bank of Wisconsin and educational seminars about leadership succession, bullying issues, Wisconsin gaming rules, setting up a 501(c)(3) for Lions Clubs and Critical Incident Stress Management (CISM).
You'll also hear from our International Guest, Robert K Y Lee and the luncheon speaker, Todd Kukkahn, certified leader of the John Maxwell Team. There are so many opportunities to get information about Lions and what we do, as well as learn about current issues that arise locally where your club can help.
Visit the state convention website for more information at md272023stateconvention.com.
wisconsinlions.org INSIDE STATEWIDE ARTICLES: 2023 MD27 State Convention May 11-13 ...............1 Resolution #1 to be Considered by State Convention Delegates .........................2 2023 State Convention Schedule .......................2 Six Successful Service Projects .........................3 No Mow May .........................................3 Meet the Incoming District Governors! .................4 The Future of the Wisconsin Lions State Newspaper ....7 Leos in Wisconsin ....................................7 A Personal Vision Story 32 Random Acts of Kindness 32 COMMITTEE/DISTRICT UPDATES: Message from Council Chair Tammy Rockenbach 8 Lions Eye Bank of Wisconsin 8 Lions Pride Endowment Fund 9 Wisconsin Lions Foundation 9 District Reports 10-29 Memorials & Honorariums 30 Award Recipients 31
International
Hawaii, was elected to
term as a
of Lions Clubs International at the association's 104th International Convention, last June.
Volunteer? It's not for the money; it's not for fame; It's not for any personal gain. It's just for love of fellow man; It's just to send a helping hand. It's just to give a tithe of self, That's something you can't buy with wealth. It's not for medal won with pride; It's for that feeling deep inside. It's that feeling that you've been a part Of helping others far and near; That makes you a Lion Volunteer. – Written by Paul Halversen from Altoona Lions
The 2023 Wisconsin Lions State Convention will be held at the Holiday Inn Convention Center in Stevens Point May 11-13.
Guest: Robert K Y Lee from Honolulu,
serve a two-year
director
Why Be A Lion
Resolution #1 MD27 LIONS ANNUAL CONVENTION
PURPOSE: To change the MD27 Constitution to be consistent with the Lions Clubs International By-Laws relative to schedule of annual convention.
WHEREAS: Article VIII, Section 1 of the MD27 Constitution presently reads: The State Convention shall be held each year commencing on any of the first three Fridays of May. The State Convention must be completed at least thirty days prior to the commencement of the International Convention, and
WHEREAS: The 2022-23 Council of Governors has directed the Constitution and By-Laws Committee to prepare a resolution to change MD27 Lions annual convention to conform with the Lions Clubs International By-Laws relative to annual conventions.
THEREFORE, BE IT RESOLVED: that Article VIII of the MD27 Lions Constitution shall be changed to read: The State Convention shall be held each year. The State Convention must be completed at least sixty-one (61) days prior to the commencement of the International Convention.
This change is effective with the 2026 MD27 annual convention.
Note: A 2/3 affirmative vote of the delegates in convention is required for approval of this resolution.
Submitted by: 2022-23 Council of Governors
2022-23 Council of Governors Recommends approval
2023 State Convention Schedule
The following listing of seminars is accurate as of April 10, 2023; however, circumstances may necessitate changes to the times or topics presented.
Thursday, May 11, 2023
9am-4pm
4:30-7:30pm
5:30-6:30pm
5-7pm
Friday, May 12, 2023
Tournament - Iola 10am tee off
Stevens Point Holiday Inn and Convention Center
8am-5pm
Golf
Lions
Camp Social
Food
Council
of Governors Meeting in Memorial Building at Lions Camp
Registration,
Traders
Raffle
Strides Scavenger Hunt
WLF Board of Directors Meeting
Elections Committee
What does it take to become an International Director
Birch Sturm Meeting
International Convention
Restoring Hope Transplant House 11-11:50am Fraud 11-11:50am Meet the ID 11-11:50am Bullying within your club 12-1:50pm Luncheon-Speaker Todd Kuckkahn 2-2:50pm First Timers 2-2:50pm 501(c)3 steps 2-2:50pm DGE Spouses Meeting 3-3:50pm Lions Camp 3-3:50pm Energize your clubs 3-3:50pm Leadership Succession 4-4:50pm PDGO 4-4:50pm GMA 6:30-10pm Hospitality-Hawaiian Theme-DJ/Music
May 13, 2023
Point Holiday Inn and Convention Center 7am-8:30pm Breakfast 8am-2pm Strides Scavenger Hunt 8am-5pm Registration, Exhibitors, Pin Traders 9am-4pm Raffles 8:30-9:30am District Meetings 9:45-11am Wisconsin Gaming 9:45-10:35am State Bowling 9:45-10:35am Lions Eye Bank 10:45-11:35am Future of the Lions Newspaper 10:45-11:35am CISM-Critical Incident Stress Management 10:45-11:35am LCIF 11:45-1:50pm Luncheon/Keynote Speaker ID Robert Lee 2-2:50pm WLF Annual Meeting 3-3:50pm Business Meeting 4-4:45pm Voting 5pm Hospitality-Cash Bar 6-8pm Governors Honor Banquet Are you looking for an awesome fundraiser? Contact Lion Rebel Ron 414-640-6125 Big Bend / Vernon Lion 13 years+ www.awesomeshrimp.com 2 WisconsinLion MAY / JUNE 2023
Exhibitors, Pin
9am-5pm
11am-5pm
9-9:50am
9-9:50am
9-9:50am
10-10:50am
10-10:50am
10-10:50am
Saturday,
Stevens
Six Successful Service Projects
BY CC TAMMY ROCKENBACH
At District Convention, over 200 Lions around the district and state participated in six service projects. For the Badger Honor Flight, we signed cards of thanks for 235 Veterans to read in Mail Call on the way home from their flight to Washington DC. We made 55 Birthday Kits to be given to the Badger Prairie Needs Network for children having birthdays. Restoring Hope Transplant House was given supplies such as bleach, laundry detergent, paper towels, toilet paper, garbage bags and more. Once again this year, we put together Thank You bags for Health Care Workers, to be distributed to three facilities in our area. For the Pediatric Cancer Patients, we created 53 port accessible t-shirts for patients going through chemo. Blessing Backpacks were put together for the homeless teens in Dane County. We served over 500 with these projects.  Many clubs are taking these ideas and adapting them for their own communities.
No Mow May
Environmental Chair Report for Spring
No Mow May is a growing movement aimed at reducing lawn mowing during the month of May to provide a safe haven for pollinators and other wildlife. It can have a positive impact on local ecosystems including:
1. Allowing wildflowers and grasses to grow, creates a diverse and welcoming environment for pollinators, including bees, butterflies, and other insects.
2. Allowing grass and other vegetation to grow can create a safe haven for other wildlife, including small mammals, reptiles, and birds.
3. Help reduce air pollution by reducing the amount of gas used for lawn mowers.
4. Healthy, diverse lawns can actually increase property values in the long run.
By participating in No Mow May, you can take a small step towards creating an eco-friendlier future and protecting the natural world around them.
I Want To Mow Your Lawn Inc.™
PO Box 3572 Wayne, NJ 07474
501(c)(3) Non-Profit Organization Public Charity Tax ID 853447661 Follow our #MOWmentum
SAVE THE DATE 2nd Annual Lions CARe Cruise Marshall, Deerfield, Cottage Grove, and Cambridge Lions Scan our QR Code For all the details! SATURDAY, MAY 13, 2023 Four local Lions Clubs coming together to benefit The Miracle League of Dane County Please visit our official Facebook Event Page: 2nd Annual Lions CARe Cruise or www.sightfirst.com for information and details! Food,Fun, Raffles, Prizes,Cruising andmore!
MAY / JUNE 2023 WisconsinLion 3
Meet the Incoming District Governors!
A1: Tal Janowitz
Hello Fellow Lions, Lioness/Lions and Leos of District 27-A1. It is an honor to be your incoming District Governor for the 2023-2024 year. My wife Lion Darlene, whom I have been married to for 29 years, and I are excited for this year. We are members of the Lions Club of Waterford. I have been a Lion for 22 years. Before I started on the trek of being a district governor, I was district cabinet secretary, president of the Wisconsin Lions Foundation, Environmental chair, district tail twister, and zone chair, to name a few. My wife and I are active in doing vision screening in our club. We are excited and continue to look forward to coming to your club events or meetings. We are ready to serve this district and guide it along with the district cabinet for a successful Lionistic year of 2023-2024.
A2: Brenda Rumppe
I am retired and live in West Bend with my husband, Skip. We have two boys and two girls. We have five grandchildren and one great granddaughter.
I have been a member of the Allenton Lions for 18 years. I joined the Lions to do service work and help those in need. I have had, and still have, great mentors, who have helped and encouraged me throughout my time in the Lions. During this time, I have been a club President, Secretary, Membership Chair as well as the District Newspaper editor, Zone Chair, and WI Mission Chair.
As District Governor, I am excited to work alongside of the Lions and Leos to make our 2023/2024 Lions year a great success. I am excited to hear about your service projects and the service work each of you are passionate about. I have been very passionate about, service work within my local communities as well as Mexico and South Dakota. My passion for service involves Mission work, Children's Vision Screening, as well as many other projects.
B1: Greg Kubichka
My theme for the 2023-2024 year is, "Ignite the Passion for Service" When we are passionate about helping others, those around us will also become passionate about helping others.
My name is Greg Kubichka. I have been married for 18 years to my amazing and supportive wife Amy. We have two wonderful boys, Austin 14 and Owen 10. I enjoy sports, bowling, Potter ball, and track. I served in the National Guard for eight years. This June I will be a fireman with the Chilton Fire Department for 21 years. I am a Regional Property Manager for 500 units for northeast Wisconsin. I am in multiple service clubs to help landlords, youth and our communities. The club I am most proud of is Delightfully Calumet. A drive-thru Christmas Light show at Calumet County Fairgrounds in December. It is a way to raise canned food donations. We started in 2017, and raised over 26,000 lbs. for our local food pantries.
B2: Shirley Dahlke
I am from the Denmark Lions Club. I started my service journey by helping at various club fundraisers prior to becoming a Lion. I felt welcomed and comfortable helping them.
When asked to become a Lion, it was an easy decision to make. I have been a Lion for 17 years having held various offices in my club and District. In this time, I have continued to grow and learn not only as a person, but as a Lion. I could not have asked for better guides, mentors, and teachers through this process in continuing "To Serve". I hope and pray to be a district governor who will be a great ambassador for state of Wisconsin, but also for District 27-B2. Thank you for this opportunity to continue my Lion journey "To Serve".
C1: Patty Hollis
In my life, I value serving others with a heart. I have been proud to be part of the Stevens Point Noon Lions for the past six years. Along with being a Lion, I am an ambassador for the Portage County Business Council. The past five years I have been working in my husband's (Phil) business as a Community Relations Director.
My husband, District Governor Phil Hollis and I own an insurance agency in downtown Stevens Point. When we are not serving as Lions, we are kept busy with our three fur babies. We are proud grandparents to five grandchildren. We love to travel - our favorite place to go is Tennessee as we enjoy the mountain views and the slow pace. I enjoy watching documentaries, as I love to learn new things. Together, Phil and I like doing anything that allows us to be a team.
I can't wait to start my year as District Governor. With all the training for the past two years, I feel ready. With good Lions in our district, we will continue to serve our communities. Make A Difference…One at a Time
C2: Don Meeder
I was born and raised near Pittsburgh and moved to Three Lakes with my lovely wife Joan and our first two children in 1993. We added a "native born" daughter in 1994. I joined the Three Lakes Lions Club in 2009 and became a Club Director in 2014. Since then I have served as Club President for four years, Service Chair, and Treasurer as well as Zone Chair. I'm a Melvin Jones Fellow, and have certifications from RLLI and Servant Leadership training.
I hold a Bachelor's degree in Recreation and Park Administration and a Masters degree in Counseling Psychology from Slippery Rock University in Pennsylvania. Though currently retired, I am still a Licensed Professional Counselor and have worked for numerous organizations.
My motto for the District next year will be "It's time for some Serious Fun". Our Global and Wisconsin Lions Goals are targeting some very serious challenges for our communities, but, to quote Dale Carnegie, "People rarely succeed unless they have fun in what they are doing."
4 WisconsinLion MAY / JUNE 2023
D1: Jeff Winkler
Jeff and Mary Winkler were married while they were attending UWPlatteville in 1980. They have three sons, TJ, Andrew, and Jordan, along with six grandchildren. Jeff grew up in several parts of the country, living in eight different locations before graduating high school. Jeff has been employed at Vita Plus, a livestock feed company, since 1984. He started as a swine nutritionist and is currently general manager of their Madison manufacturing and distribution operations. Jeff started his Lions journey with the Deerfield Lions Club in 2008. He enjoys attending Lions events as Leo the Lion, so you might not see him, but he is there! Jeff and Mary have always enjoyed raising animals and currently have five dogs and three reptiles. Jeff loves traveling and camping with his converted cargo trailer and taking his camera along with him to document his travels. Jeff is excited to be part of the Council of Governors and lead the district during 2023-24.
D2: Anita Kelley
My name is Anita Kelley and I'm the current FVDG for 27-D2. I'm the oldest of 12 children and the first lady in the Soldiers Grove Lions Club. I've been a Lion since 2003. I'm currently the Secretary/Treasurer of our club and Region 3 Chair for the district. I worked for the Grant County Highway Department as a bookkeeper for 30 years and am now retired. I enjoy doing things with my family and helping others when needed as our motto says, "We Serve". I look forward to serving as your District Governor for 2023-2024.
E1: Dennis Sykora
I've been happily married for 26 years to Brenda and have a daughter, Jessica, who is married to Marcus, and a four year old grandson, Archer. In my free time, I enjoy camping with friends and family, hunting, and spending time with my grandson. My family has a long history of involvement with the Lions Club organization. My father, Bernard Sykora, was a Charter member of the Tilden Lions Club when it originated 50 years ago. He was an influential member until he passed seventeen years ago. My mother, Frances Sykora, has also been an active Club member for several years. I have been a Tilden Lions Club member since 2002 serving as President for two terms and Zone Chair for four years. I have also been on the Board of Directors for more than half of my time as a member and I am a Melvin Jones Fellow. Upon my appointment in July, I will be the first District Governor from the Tilden Lions Club. It is with great pride that I will accept my position as the District Governor and I look forward to continuing to advance the impact of the Lions Club members in our local communities. I await the opportunity to meet and work with all the members and partners of the 27-E1 district. I am excited to share with you my theme for the upcoming 2023-2024 service year, "Lend a Helping Hand." In alignment with the Lions Club's mission, the generosity of our members to serve their communities by lending a hand can and will lead to change in the world and make a lasting impact locally and globally. I encourage you to please join me in bringing this campaign to life.
Lastly, I want to say thank you to all the Club members for everything you have done and will do. Without your commitment and selfless contributions, the Lions Club is unable to continue its long-standing tradition of compassionate and noble service.
E2: Jay Nesseth
Greetings Lions of MD27-E2. My name is Lion Jay Nesseth, and my wife of 20 years is Lion Stacey Nesseth. Together we have served as a team in our District in many capacities and are looking forward to serving as your District Governor again in 2023-2024. We are looking forward to visiting your clubs again, visiting with old friends, making new friends, and seeing how you have been serving your communities. Club visits are the best part of being Governor and we have made wonderful friends from those visits. I have recently retired, I am looking forward to spending time at the campground starting my retired role of campground host along with plans to do lots of fishing.
I look forward to working with my Council and serving the Lions of our District and the Lions of Wisconsin. Thank you for all you do and your commitment to serving your communities and helping those in need. WE SERVE!!
At the March 3rd Council of Governors Meeting Friday Night, a Birthday Cake Kits Service Project was completed and will be distributed to food pantries in our state. Each District Governor was given four kits for their local food pantry. Lions Lynn Klug, Nancy Johnson, Sonny Hagen, Greg Clark, Heidi Brinkman, Betty Ingwell, Amy Reil, Kate Pryor, Greg Pryor, Joanne Cerniglia, and Tom LeCleir
MAY / JUNE 2023 WisconsinLion 5
MD27 GLOBAL ACTION TEAM 2023-24: David Strudthoff, GLT; Stacey Peterson Nesseth, GST, Bert Freeman, GMT.
NAME
ADDRESS
2017: Centennial Pin
$1.00
$1.00
$1.00
$1.00
$2.50
$3.00
MAY / JUNE 2023
Wisconsin Lion (USPS No. 688-740) is published six times a year for the 17,500 Lions of Wisconsin at 3834 County Road A, Rosholt, WI 54473. Periodical postage paid at Rosholt, WI and additional mailing offices.
POSTMASTER: Send form 3579 with new address to: 3834 County Road A Rosholt, WI 54473
DEADLINE: 1st of preceding month.
EDITORIAL BOARD
Bert Freeman Chair
Patty Hollis Vice Chair
Back Patch
Shipping & Handling 1-8 pins:
Geri Schlender GLT
Don Drew GST
BJ Blahnik GMT
Evett Hartvig WLF
Adam Crowson LEBW
DISTRICT EDITORS
A1 a1@wilions.org
A2 27a2editor@gmail.com
B1 terryerbstoesser@gmail.com
B2 27b2pr@gmail.com
C1 c1lionnews@gmail.com
C2 sanderson.cherie@gmail.com
D1 pr@lions27d1.org
D2 wilions27d2news@gmail.com
E1 barb.dulmes@gmail.com
E2 chamaca@frontiernet.net
STORY SUBMISSIONS
Articles and events (accompanied by photos of Lions in action) should explain the successful completion of a project or fundraising activity and should be submitted to that Club's District Editor. Include a mailing address, daytime phone and e-mail of the person submitting the story. Submission guidelines at: wisconsinlions.org/wisconsin-lion/
Statewide content can be submitted to DG Bert Freeman at lionsubway206@gmail.com.
Recognition for Melvin Jones, Birch-Sturm, Knight of Sight & Ray Hempel awards should be submitted to the State Editor at jen@jennifercreative.com.
ADVERTISING & SUBSCRIPTION OFFICES: Subscriptions: $10/ yr. Contact the State Office for details.
Volume 69 No. 6 Keep
OUR MISSION
To empower Lions clubs, volunteers, and partners to improve health and well-being, strengthen communities, and support those in need through humanitarian services and grants that impact lives globally, and encourage peace and international understanding.
OUR VISION
To be the global leader in community and humanitarian service.
MD27 CONTACTS
COUNCIL CHAIR: Tammy Rockenbach 212 Sterling Dr. Oregon, WI 53575 608-438-9572 lzrock@charter.net
INTERNATIONAL DIRECTOR: Lee Vrieze (Mary) 18807 122nd Ave Jim Falls,WI 54748 (715) 382-3404 lvrieze2@charter.net
STATE OFFICE: JoAnn Burk, Office Manager 3834 County Rd A Rosholt, WI 54473 715-677-4764 md27@wisconsinlions.org
LIONS EYE BANK OF WISCONSIN: Stacey Troha, CEO 5003 Tradewinds Parkway Madison, WI 53718 608-233-2354 info@lebw.org
WISCONSIN LIONS FOUNDATION OFFICE: Evett J. Hartvig, Executive Director 3834 County Road A Rosholt, WI 54473 877-463-6953 ehartvig@wlf.info
LIONS PRIDE ENDOWMENT FUND OFFICE: Amber Young 3834 County Road A Rosholt, WI 54473 715-677-7000 prideoffice@lionspride.org
Visit WISCONSINLIONS.ORG/EVENTS for
CHANGE OF MAIL/EMAIL ADDRESS Contact your Club Secretary AND the State Office at md27@ wisconsinlions.org with updates to your mailing and/or email address.
up with all the latest Wisconsin Lion news and share your news, too
'MD27 Lions of Wisconsin' on Facebook a list of event and accompanying registration forms.
EMAIL
MD27 STATE MERCHANDISE ORDER FORM
CITY/STATE/ZIP PHONE /
COST AMOUNT PINS
$1.50
NOTE: UPS will not deliver to a P.O. Box. Please provide a street address. Prices include tax.
$1.00
2018: Monarch Butterfly
2019: Karner Blue Butterfly
2020: Tiger Swallowtail Butterfly
SPECIAL SALE - 2020 State Convention
2021: Bog Copper Butterfly
2022: Centennial Pin
$5.00
$6.25 9-14
15-25
$10.75
$6.30 5-12 back patches: $7.80
your order & payment (incl S&H) to: Wisconsin Lions State Office 3834 Cty Rd A Rosholt WI 54473 NEW! 6 WisconsinLion MAY / JUNE 2023
2023: Walleye Pin
pins: $7.55
pins: .....................
25+ pins: ................. Call for cost 1-4 back patches:
TOTAL: Send
The Future of the Wisconsin Lions State Newspaper
BY EDITORIAL BOARD CHAIR BERT FREEMAN
At this year's 2023 Wisconsin Lions State Convention being held in Stevens Point, a vote will be taken on the future of the paper version of the Wisconsin State Lions Newspaper. The vote will be held on Saturday afternoon, May 13th. Prior to the voting, a meeting will be held Saturday morning, devoted to the future of the Wisconsin Lions State Newspaper. At this event, we will be discussing the current state of the newspaper budget and the future budget concerns as it relates to the Wisconsin Lions State Newspaper. Please come with your questions and thoughts on this topic.
Currently, the Lions Newspaper is $9,000 over budget as a result of print production and postage increases. The current budget for 2022-23 was for set for $63,000. Expect the budget for 2023-24 to be $78,000. The unknown of additional postage increases July 2023 and January 2024 does not allow an accurate budget for 2023-24. Editorial Board Chair Bert Freeman does expect some sort of periodical postage increase, just like we had January 22nd.If the vote is approved for digital only, the budget will be $16,000. This amount represents the cost of graphic design for the six fiscal year issues for 32 pages.
With the projected budget of $78,000, this amount represents 50% of the dues paid by Multiple District 27 Wisconsin Lions. Here is the question that will be presented for voting of the future of the newspaper.
Beginning July 2023, the Wisconsin Lions State Newspaper will be Full Color, Bi-Monthly Digital Publication, only.
Yes or No
It is important that those attending the state convention have their voices heard, so please make plans to attend this year's state convention May 11th - May 13th Holiday Inn Convention Center, Stevens Point.
Leos in Wisconsin
BY MD27 LEO CHAIR, DEB FREEMAN
TIME to support our Leos in Wisconsin and help them attend the 6th USA/Canada Leo Leadership Forum which will be held in Rockford, IL on August 2-6, 2023.
REGISTRATION is now open and can be found at leosforum.org. Our Leos are a big part of our future and as Lions we can help support them by helping them to attend this fantastic Leadership Forum that is almost in our backyard. It has never been a better time to get our Wisconsin Leos to a Leadership Forum where they can learn and interact with Leos from the U.S. and Canada and meet leaders in our Leo/Lion Programs.
This year's program has not yet been announced but last year's program is still on the website if you want to take a peak at some of the things they may be learning. I do know that the field trip for this year's program is a trip to the offices of LCI where they will get a walking tour of everything Lions and Leos.
The Leos will be planning on ways to raise funds to pay for their expenses. Hopefully you will be there to help with monetary donations to your closest Leo Club or transportation in getting them to and from Rockford. If we get enough Leos in the State to sign up there is always the hope that we could raise enough money to charter a bus to take the Leos together all in one big group. Now wouldn't that be AWESOME!!
05526019 • MEDICARE • FINANCIAL PLANNING • AFFORDABLE HEALTH CARE OPTIONS • LIFE INSURANCE • RETIREMENT Make Your Insurance Work for You Call Today 715-544-1062 22 Years Experience * Locally & Veteran Owned * Trusted in Your Community secureheritageinsurance.com
LIONS APPAREL STATE LIONS APPAREL * LCI Licensed Your Source for: MAY / JUNE 2023 WisconsinLion 7
LEBW Updates
LEBW Health Fair a Success
The Lions Eye Bank of Wisconsin with volunteers from Anderson & Shapiro Eye Care, Elite Hearing Centers of America's Madison office, and Lions from District 27-D1 put on a successful health fair on Saturday, April 15. In total, 139 adults received a vision screening and were fitted for eyeglasses. 100 eyeglasses were distributed. We ran out of some strengths and are holding a second distribution date to get people their eyeglasses. Lions from 27-D1 screened 21 kids and 17 kids received a referral. In addition, 35 people had their hearing screened from the Elite Hearing Center of America's Madison West location. Lions from 27-D1 also helped distribute recycled eyeglasses for those who were fitted and helped work information tables.
This was one of the first eyeglass fitting missions in the state of Wisconsin where
Lions were able to fit Wisconsin residents with recycled eyeglasses collected and sent to the Eyeglass Recycling Center in Rosholt.
Thank you to all of our volunteers for being a part of this event! We could not have done it without you. Also a big thank you to Anderson & Shapiro Eye Care, Elite Hearing Centers, and the Wisconsin Lions Foundation for partnering with the Lions Eye Bank of Wisconsin to make this event possible. And finally, a personal thank you to Lions Liz Shelley and Keith Mueller for helping advise our committee on how to obtain used eyeglasses for this event. Until next time…
New Communications and Outreach Manager
Lions Eye Bank of Wisconsin is excited to announce that Lion Adam Crowson has been promoted to Communications and Outreach Manager. He will continue to oversee the LEBW transporter program and your contact for all things Lions-related. But he will also oversee LEBW's marketing duties. Adam has an extensive professional background in communications having worked as a journalist, graphic artist, and marketing coordinator. Adam spent ten years working in newsrooms, as a reporter, copy editor, page designer, and photographer before leaving the industry to work as a graphic artist. He then spent nine years working for a wholesale distributor of souvenirs and giftables where he developed the company's catalogs, sales flyers, email blasts, and marketing collateral, before coming to LEBW in May 2022. Adam also brings a
Council Chair Report
knowledge of social media marketing to this role.
As of 3/30/23, Lions from 97 clubs have made 490 transports throughout the state of Wisconsin.
LEBW is excited to announce several upcoming events we are hosting or participating in. Please be sure to mark your calendar and join us virtually or in person.
Save the Date:
• 2023 Wisconsin Lions State Convention –LEBW will exhibit, and Stacey Troha, LEBW CEO, will present on Saturday, May 13, at 9:45 a.m. The convention will be held at the Holiday Inn and Convention Center in Steven's Point.
• Emily C. Lyons 9th Annual Memorial Golf Outing will be Saturday, July 8, 2023, at Old Hickory Golf Course, Beaver Dam, WI. Proceeds benefit Lions Eye Bank of Wisconsin, UW-Organ and Tissue Donation, Restoring Hope Transplant House, and the Emily C. Lyons Memorial Scholarship fund. For more information contact, Adam Crowson, LEBW Communications and Outreach Manager at acrowson@lebw.org.
• The 2023 LEBW Annual Meeting will be Thursday, July 13, 2023, at 5 p.m. at the Lake DuBay Lions Park in Knowlton, Wis. This will be an in-person event. Please RSVP to Adam Crowson at acrowson@lebw.org if you'd like to attend.
Has Your Club Achieved Club Excellence?
BY COUNCIL CHAIR TAMMY ROCKENBACH
We are nearing the end of the Lions year, but we're not done yet. Have we accomplished all that we set out to do? There is still time. Has your club achieved Club Excellence? This is a great template to build a stronger, successful club.
1. Membership
This year, if you have maintained your membership you will qualify. If you have lost members, you have time to rectify this. You can
recruit new members, or you can charter a new Lions Club, create a Club Branch, or charter a Leo Club.
2. Service
Has your club contributed to our foundation, LCIF? You can donate any amount to qualify. Did you start a new service project? What does your community need you to do? Has your club conducted three service projects? These can be big or small. They are all impactful.
3. Leadership
Are you in good standing? If not, get your dues paid as soon as possible. Report your new officers to LCI. This is critical to continue to
know what is happening in our organization at all levels, including state and district. Participate in Club Officer Training. These are important to keep up with any changes that are occurring.
4. Marketing
How does your club let your community know what you are doing?
Our Districts and State are only as strong as our individual clubs. You have time to complete all of this to become a Club of Excellence.
It has been a pleasure to serve as Council Chair this year. I have met so many wonderful Lions throughout the state. Thank you for all that you do.
Lions Eye Bank of Wisconsin 877-233-2354 | info@lebw.org | lebw.org
8 WisconsinLion MAY / JUNE 2023
Into the New Year 2023 with Lions Pride Endowment Fund
BY RENEE PETERSON, PRESIDENT LIONS PRIDE ENDOWMENT FUND
It was great to be in attendance at several of our district conventions over the last few months. I'm amazed by the great force of dedicated Lions we have in MD27. It is obvious in attending, that we also have so many amazing projects and initiatives, focused on helping those that fall within the Lions mission. That makes me feel ever more grateful for your generosity this year.
Lions Pride Clay Shoot
We are busy planning for the Lions Pride Clay Shoot, our annual fundraiser that will be held at Milford Hills, near Johnson Creek on June 10th. This is our only fundraiser for the year. It's all hands on deck for the Pride team, who are working to provide a great experience for shooters who come from all across the state. If you shoot, we'd love to see you there. You can register by visiting our website, lionspride.org. If you would like to volunteer that day, sponsor a station, or provide a donation, you can email prideoffice@lionspride.org. Donations can be monetary or a raffle item.
Lions Pride Endowment Annual Meeting
The annual meeting of Lions Pride Endowment will be held on July 21st at the WLF building, at Lions Camp at 1pm. The annual meeting typically coincides with the Birch-Sturm Golf Outing, which brings Lions to the Rosholt area for the weekend. The annual meeting is a great time to learn more about the work the Pride is doing. This is also an opportunity to ask questions and see how we spend our time and efforts to continue to grow our endowment. If you are interested in attending, you are required to RSVP to the email address previously mentioned in this article.
Lastly, while attending conventions, I was often asked, 'What's next for Lions Pride?' I think we're continuing to define what that looks like, but our goal to ensure the lifelong legacy of camp remains and we hope you consider the Pride in your annual giving.
To contact President Renee Peterson directly, call 920-210-8940 or email reneep@horiconbank.com
What we do for Others Remains Immortal
BY LION LARRY TESTA, PRESIDENT, WISCONSIN LIONS FOUNDATION
My year as President of the Wisconsin Lions Foundation is coming to an end. This is my final article for the State Newspaper and, before I say anything else, I want to thank each of you for allowing me this fantastic experience. I have been asked many times why I became a Lion. My answer has always been the same –"Because my boss told me to!" However, the next question should then be – why did you remain a Lion for 47 years? My answer to that question is – "I fell in love with what we stand for and the camaraderie we share with our fellow Lions, both at Home, within our State, and across the World."
I was able to attend all ten District Conventions, culminating with the State Convention in Stevens Point. There were several fantastic motivational and informative speakers and sessions at all the Conventions. Being from the far West side of Wisconsin, I saw many beautiful parts of the State I had never seen before. More importantly, I met many Lions and Leos and learned of the outstanding things we are all doing to benefit our communities, the State, and Lions International.
My adventures also included the Pride Shoot at the Milford Hills Hunt Club in Johnson Creek, the Birch-Sturm Golf outing at the Glacier Woods Golf Course in Iola, Hustle S'More at the Lions Camp, WLF Board meetings, Council of Governors meetings, District Cabinet meetings, Zone meetings and Club meetings, all of which contributed to my appreciation of what being a member of the largest service organization in the world truly means. The word "service" in my last sentence
is the key to this understanding. Our motto is - "We Serve" and was exemplified by my fellow Lions, everywhere I went.
I would be remiss if I did not thank each of you for your continued support for all five of our Wisconsin Lions Foundation projects: Lions Camp, Eye Glass Recycling, Diabetes Awareness, Hearing and Vision Screening. In addition, I would like to thank the other 20 members of the Foundation Board, along with the WLF office and Camp staff. They all play an integral role in providing the best possible service we can to those we serve.
In closing, please allow me the opportunity to end this article just as I did all my presentations at the District Conventions, with this quote from John Bunyan regarding service – "You have not lived today until you have done something for someone that can never repay you. "
Yours in Lionism, Lion Larry
Lions Pride Endowment Fund 715-677-7000 | prideoffice@lionspride.org | lionspride.org Wisconsin Lions Foundation 715-677-4969 | 877-463-6953 | wlf@wlf.info | wlf.info
Lions Pride Shoot June 10, 2023
MAY / JUNE 2023 WisconsinLion 9
Milford Hills Hunt Club, Johnson Creek Watch our website for registration and details.
CAMBRIDGE LIONS CLUB – The annual Fisheree fundraiser at J&T Bait Shanty on Lake Ripley was held on February 3rd and 4th. It was a beautifully frigid weekend and some whoppers came out of the lake including a 9.4lb, 33" Northern Pike, 5.57 lb, 24" Walleye, 2.5 lb, 17" Bass, and a 2.63 lb Panfish.
FRANKLIN LIONESS/LIONS CLUB – The Club delivered donuts to the teachers and staff at all the Franklin Public schools in appreciation for their dedication and hard work.
CAMBRIDGE LIONS CLUB – The annual Spring Bowling Night was held on March 31st at Lake Ripley Lanes with "Scotch Doubles" and "red head pin" bowling fun. A cash raffle, bowling bag and ball raffle, bucket raffle, and silent auction were also held. While primarily a local event, members from the Fort Atkinson Lions joined us!
FRANKLIN LIONESS/LIONS
CLUB –
The Lioness Club helped the Lions Club stuff eggs for their Annual Easter Egg Hunt that took place on Saturday, April 8th at Lions Legend Park. They always enjoy helping the Franklin Lions, and a delicious taco bar and wine raffle were the reward.
HALES CORNERS
WEST ALLIS/HALES CORNERS LIONS
CLUBS – The Clubs, in partnership, purchased a "Connect 12 Portable Magnifier 25 X Distance Viewing devise" and donated it to Norah Spindler , just in time for Christmas. The device was requested by her mother in a letter to the West Allis Club which detailed the difficulty Norah, who is legally blind with restricted vision in only one eye, was having reading her schoolbooks and viewing the classroom blackboard. Her mobility is also affected and requires the use of a "white cane" to walk. Lions Terry and Gloria Lemke investigated the request and researched the device details. The cost of the device was $3,500. The Hales Corners Lions Club agreed to contribute one half of that amount to make the purchase. In front of her classmates at Garland Elementary in Milwaukee and later to the West Allis Lions Club, Norah enthusiastically demonstrated how the device worked and how dramatically it improved her ability to participate in classroom activities.
HALES CORNERS LIONS CLUB – A chili dinner was provided for the residents of Kathy's House.
LIONS CLUB –President Jim Bain presented a $500 check to Megan Schwanke of Hunger Task Force during March Madness when donations are doubled.
Pictured is Norah (pink framed glasses) along with her Mother Andrea (right side) and some of her classmates as well as Lions Terry and Gloria Lemke and Hales Corners Lion, PDG Neil Winchell
President Michelle Krueger and daughter Zoe with a young helper drawing winners for the bucket raffles.
Lioness Peg Kukla (left) and Lioness Helen Kacmarynski (second from right).
Lionesses Judie Gamboa and Terri Fischbach
Lioness Pam LeHouillier (left) and Lioness Peg Kukla (right).
Fort Atkinson Lions joined in the fun. Bowlers included Lions
Patti Hurtgen, John Anderson, Michelle Ebbert, and Nancy Onufer.
10 WisconsinLion MAY / JUNE 2023 27-A1 NEWS wilions.org
Pictured (l to r): Jerry Kasmar, Secretary, Amy Pidsosny, husband Jesse Pidsosny, Dixie Kasmar and Dixie's father enjoy a night of bowling.
Eagle Lions Club Golf Outing
Saturday, May 13th, Begins 8am
Eagle Springs Golf Resort, W352 S10355
Tuohy Rd., Eagle
• Four-person scramble begins at 8am
• Deadline May 1st
• eaglelionsclub.org
3.1 Zone Meeting
Tueday, May 23th
New Berlin V.F.W. Hall
Burlington Jamboree
Friday, May 26th to Monday, May 29th
Burlington Lions Club hosts the beer and refreshment tent over Memorial Day weekend, for those enjoying the bands throughout the day and night.
OAK CREEK
LIONS CLUB –
A1 Cabinet Appreciation Picnic
Saturday, June 3rd, 11am-4pm
Waterford Town Park, 28463 Jensen Pkwy, Waterford
Fort Atkinson Lions Club
Tour de Fort
Saturday, August 26th, Starts at 8:30am
• Popular bike ride begins with a mass start at Jones Park in Fort Atkinson.
• Registration fee is $30, bikers welcome to register the morning of the ride.
• Children are welcome to participate.
• Distance options for riders: 18, 36 or 63 miles.
Waterford Lions Club Car Show
Sunday, September 10th, (Raindate September 24th), 9am-3pm Cotton Exchange Restaurant, Waterford
The Oak Creek Lions partnered with the Oak Creek Community Center on a successful St Paddy's Day Fundraiser. The event included bag pipers and Irish dancers, incredible food, and the Lions World Famous Meat Raffle Team. The Oak Creek Lions also hosted their annual Brewers Home Opening Day Watch Party at the Oak Creek Community Center on April 3rd. The very well-attended event included a ceremonial check presentation to the Little Warrior Foundation from the District Lions Childhood Cancer Challenge, which was part of the Oak Creek Lions $10,000 Match program. A check in the amount of $22,586 was presented to this incredible Childhood Cancer Foundation. Special thanks to the 14 District 27-A1 clubs that participated with their generous donations. Clubs included Prospect Lions, Racine Lions, Cambridge Lions, Kenosha Noon Lions, South Milwaukee Lions, Sharon Lions, East Troy Lions, Paddock Lake Area Lions, Waterford Lions, Elkhorn Lions, St Francis Lions, Hales Corners Lions, Tichigan Lake Lions, and Oak Creek Lions. Pictured are Little Warrior Foundation Warrior Dad, Piero Spada and E.D. Katie Weil receive a check from the District Childhood Cancer Challenge from Oak Creek Lion Terry Tveita as DG David Steadman looks on.
OAK CREEK
LIONS
CLUB – PDGs
Larry Redlin and Carl Marquardt enjoying St Patty's Day in Oak Creek.
FROM THE 27-A1 DISTRICT GOVERNOR
DAVID STEDMAN
tubabuzz@charter.net
920-650-2113
Happiness Is Lions Pride
Well, it's hard to believe but here we are, approaching the end of yet another Lionistic year. Seems like only yesterday our Lions International President Brian Sheehan was encouraging us that "TOGETHER WE CAN" and "TOGETHER WE WILL". We truly have worked together to remain a strong and healthy volunteer service organization. You have reported your service activity to help us surpass our goal of having 80% of our club report their service to actually have 98% percent of the clubs in our district reporting service activities. You came to realize the importance of keeping our Foundation strong and helped us reach our goal of having 82% of our clubs donating to our foundation. Membership in our clubs has been a rollercoaster ride this year, but our district is at a net gain at the writing of this article, and that speaks volumes of the effort of our clubs to help Lions members maintain and continue to discover their passion for being a Lion and serve those in our communities.
We have said that "Teamwork Makes Lions Work", and you have showed that by working together, with everyone having the same vision for our district, we can achieve great things. What a great District Convention we had back in January –many more clubs represented than we had seen in recent years. It showed that we are rebounding from the pandemic that we struggled with. Thanks to the convention committee for making that event such a success. Your District Cabinet worked hard to provide the opportunities and resources our clubs needed to be successful and continue to be ready to serve in their positions and helped you and your clubs.
The Leadership Team had opportunities to attend club and zone meetings, fundraisers, and grow in their own development as District Leaders. They saw the tremendous work our clubs are doing for their communities and say "WELL DONE" as you continue to make our district strong and vital in our efforts to make our communities we serve better. It truly has been about "TEAM" and never about individuals working independently.
So as the Lionistic year starts to wind down for 2022-2023, as your District Governor, I can truly say that "HAPPINESS HAS BEEN LIONS PRIDE" for me to be part of this great district. Thank all of you for making my year as your District Governor a memory that will last a lifetime. To my Partner in Service, Lynn Klug ; the District Cabinet; Convention Committee; Leadership Team; Club Officers; and all the Lions of Multiple District 27A1, I thank you for making this Lionistic year enjoyable, and hope you continue to make our district successful. As the gavel gets passed to District Governor Elect Tal Janowitz , show him the same kindness and respect you showed me. Let's keep this district moving forward for our communities as "WE SERVE" as Lions jointly serve for the betterment of all.
DISTRICT GOVERNOR
MAY / JUNE 2023 WisconsinLion 11 EDITOR: Patti Hurtgen | a1@wilions.org | 612-616-5383
NEWBURG LIONS CLUB – Shown here, at the Ozaukee Christian school outside of West Bend, are Newburg Lions Art Seyfert and Bart Bartholomew and Julie Burgmeier, mother of Eden, presenting second grade student Eden, with a CCTV reading machine, purchased by the Lions, used for the visually impaired.
LANNON FALLS LIONS CLUB – The first ever chili cook off event at the Region 3 Zone 1 meeting was held. 1st Place Sussex Lions, Melissa Buckingham, 2nd Place ThiensvilleMequon IPDG Bob Gosewehr, 3rd Place Kellie Jenson
FREDONIA LIONS/LEO CLUB – The Leos from the Ozaukee Middle and High Schools recently held a drive for collecting used eyeglasses which are screened and refurbished by the Lions and distributed to needy people all over the world. Pictured seated are: Middle School Leo Officers Owen Uselding, Marissa Ter Maat, Grace Bleichwehl. Pictured standing are: Lion John Dowe, Becky Hoffmann, Tessa Thomas, Ariana Goemer, Lion Al Krier Teacher John Kirmse is the Leo Club Advisor.
GRAFTON LIONS CLUB – The Club recognized four outstanding Grafton High School Students at its February 21st membership meeting that was held at the Edgewater Golf Club in Grafton. Lions Citizenship Award Plaques were presented to Seniors, pictured (l to r): Bella Boiland, Jordan Guerra, James Rhines, and Amanda Hoenecke. These students are involved in many activities such as Grafton Leos Club, Best Buddies, Sports, Student Council, Work Camp, Kapco Toy Drive and Church Choir to name a few. The awards are given for advancing the community through the highest standard of character, integrity and community service. The students are nominated from letters of recommendation from Grafton High School Teaching staff or other students. Pictured with the students is Grafton Lions President, Rose Sauers.
OCONOMOWOC LIONS CLUB – Pictured is President Robert Yarbrough presenting $1,000 scholarships to Ava Radler and Ashur Mariano from their newly established scholarship program.
GRAFTON LIONS CLUB – Grafton Leos shared what they've done. Each year they put up a sign with a wrecked car warning of the dangers of drinking, driving and texting, costume characters in the Christmas Parade, sell nuts at the Lions Nut Sale, serve pancakes at the annual Breakfast With Santa before the Holiday Parade as well as volunteering to be Bell Ringers at the Salvation Army Red Kettles. Pictured are Lion Rusty Meyer, Grafton High School LEO Advisor, Leo Club President, Trevor Nauta, 2nd Vice President, Keegan Vaculik and 1st Vice President, Braden Meyer.
27-A2 NEWS lionsdistrict27a2.org
ASHIPPUN LIONS CLUB – A successful award winning pancake breakfast held on March 26.
CLYMAN LIONS CLUB – A successful and world famous pork chop dinner.
12 WisconsinLion MAY / JUNE 2023
19th Annual Rummage Sale & Brat Fry
Friday, May 19th, 8am-5pm and Saturday, May 20th, 8am - 3pm
Ashippun Firefighters Park
• Bread Basket food pantry bake sale
• Questions? Lion Lee @ 262-443-7272.
58th Annual Lionfest
June 9-11, Thiensville Village Park
• Chicken Dinner Saturday, Bingo, Men's Softball, Carnival Rides, Live Music.
• tmlions.org/lionfest
GRAFTON LIONS CLUB –
Another new member, Eric Wall, was inducted to the Club and they would like to welcome him. They look forward to working with him and getting to know him better in becoming part of the Grafton Lions Family. Congratulations!
Pictured are (l to r): Lion President Rose Sauers, Past District Governor, Lion Dan Montaine, Eric Wall, and Sponsor Lion Brad Diamond
OCONOMOWOC LIONS CLUB –Certificate for Eye Glass recovery Lions at the Club level. Pictured are (l to r): Lion Ken Schulte with President Robert Yarbrough
FROM THE 27-A2 DISTRICT GOVERNOR
BERT FREEMAN
lionsubway206@gmail.com
608-733-1801
DISTRICT GOVERNOR
"Every ending is a beginning. We just don't know it at the time." -Mitch Albom
July 1st, 2023, we begin a new fiscal year, new district leaders, new message, and a new vision. Our district is in great hands and I am excited for the future. Led by incoming District Governor Brenda Rumppe , our Governor Team had put a greater emphasis on seeking the next generation of 27-A2 Lions Leaders and quite frankly, I could not be more pleased with what lies ahead for our valued district. The pipeline is filled with new leaders hungry to take on greater roles and be the new voice for our future as many more are seeking to be part of the continued renaissance of District 27-A2. A few years back at our 2021 District Convention, I stood before our convention and spoke of a climate of growth, new direction, new voices and I used the term Renaissance as our renewed focus for our future.
My friends, the future of our district is bright. Service remains the main focus for our district membership and that will be the the catalyst for future membership growth. We remain committed to growing membership, new clubs, and seeking new and creative service projects to gain greater visibility in our communities and that will garner growth within our clubs.
In closing, I want to thank my Governor Team for their support, Cabinet Secretary Darrel Blank and Lion Shelly , District Governor Elect Brenda Rumppe, and my favorite District Convention Chair First Vice District Governor Elect Deb Freeman , Second Vice District Governor Slava Krol and all of the Lions who extended their hand in friendship. Did my year as District Governor turn out exactly as I planned a year ago. Honestly, it is very close. I sought clubs supporting each other, growing attendance at zone meetings, filling the leadership pipeline, and to increase the attendance at our 2023 District Convention. (Yes, the pie in my face was worth it and I would do it again in a heartbeat) My District Governor team set out to be approachable and visible at club service projects and fundraisers and we did exactly that. I personally have cleaned tables at pancake fundraisers, (Lions do not serve Waffles or French Toast), made pizzas and prepared deer hides for our deer hide collection for our Lions Camp. I have introduced myself to many, heard the whispers that the Governor Team is here, working. As your Governor, I continued to do the service projects that I love about being a Lion. Vision Screening, planting trees, roadside cleanup, and transporting eye tissue.
I have been so proud to wear the red jacket as your District Governor and did so with pride. I would not trade one single day as your District Governor, as it has been an amazing journey and it is all because of the amazing Lions in our District, State, and Beyond. I will close as I have throughout my term as your District Governor with the sentence that defines me as your 27A2 District Governor…
"I meant what I said, and said what I meant."
LEBANON LIONS CLUB – Pictured are the foursome of 40 year members: Lions Jerry Zastrow, Rick Reichert, Jack Ewert and Wes Kuehl. Congratulations!
MAY / JUNE 2023 WisconsinLion 13 EDITOR: Diane Lechner | 27a2editor@gmail.com | 920-210-8691
BEAVER DAM LIONS CLUB – Members participate in the highway cleanup crew. Good job, Lions.
PLYMOUTH LIONS CLUB & OTHER CLUBS IN ZONE 3 – On January 9th, the Plymouth Lions Club was able to successfully deliver over 400 deer hides to the Lions Camp in Rosholt. The partnerships established with other Lions clubs in Zone 3 have been key to this contribution to WLF and Lions Camp. Zone 3 works together to collect donations, preserve the hides and store many pallets during the deer hunting season. Other substantial contributors included local businesses that advertised and collected hides for the Plymouth Lions. In addition, local butchers and farmers as well as the Wisconsin DNR and other sportsmen that helped establish donation sites with carcass disposal dumpsters. This is truly an example of the community coming together to help those around us. The Plymouth Lions and the Clubs in Zone 3 are already looking forward to next season! Wisconsin DNR and other sportsmen that helped establish donation sites with carcass disposal dumpsters.
OXFORD LIONS CLUB – The annual Fisheree was held February 18th. Cash prizes were awarded for the largest fish caught in five species. There was also a cash raffle, 50/50 raffles and lots of door prizes. The Fisheree is a big fundraiser for the Club and has been held for the past 68 years.
Sheboygan Lions 20th Anniversary Celebration
Lions Fest on Friday, June 23, 12-10:30pm at Firehouse Park
• Bands start at 2pm with the North Drumline performing during the break. Banquet on July 30 at Town & Country Restaurant
Wayside Morrison Lions Club
Music in the Park 2023
6-8pm, Shelter building located at Brown County WayMor Park at 3832 Park Road, Greenleaf
June 7 – Homemade Brew
June 21 – Eddie Larson & Classic Memories
July 5 – ACME Pickers
July 19 – North 40
August 9 – Biscuit Creek Band
August 23 – Bent Grass
• Free music & vanilla ice cream & toppings
• Burgers & drinks available for purchase
• Bring us your used eyeglasses, used hearing aids, new/unused hearing aid batteries, old cell phones, and non-perishable food items for local food pantries.
• The Brown County Bookmobile will also be on site for all to enjoy.
STOCKBRIDGE AND CHILTON
SAVE THE DATE!
WILD ROSE LIONS CLUB – At the February meeting, the Club acknowledged and honored members with a Vision Award Pin as part of the Global Cause initiative. Members volunteered their time to become certified in the usage of the Spot Vision Camera and then volunteered at various schools and community functions to offer free testing. Last year 25,821 children were tested in the 27 B1 District, of those 3,142 were referred for further testing by an optometrist. Pictured are (l to r): Jim Morgenroth, Dave Przekurat, Betty Reimer, Diane Pinter, Sandy Batton, Laura Scheifelbein.
OAKFIELD LIONS CLUB –
Recently, the Lions served the food for "Get Hooked on Fishing, Not Drugs", a program sponsored by the Lighthouse Anglers of Fond du Lac. The program was held at the Fond du Lac Aquatic Center. There was a casting contest in the pool for school aged children with many rods and reels given out for prizes. The children were entertained by the Oakfield Lion mascot. Pictured are (l to r): Back row - Ed and Linda Smith, Vic Jewson, Diane Kuslits, Judi and Al Messner. Front rowOakfield Lion mascot Clayton Reed and Karen Bovee-Kern.
VALDERS LIONS CLUB –Members installed their first wheelchair ramp in Valders with the assistance of the Sherwood Lions Club. Pictured are: Valders Lions Bob Wigen, Dan Sabel and Roger Hallberg along with several Sherwood Lions members.
LIONS CLUB – The Clubs presented checks to the Kolbe Family Memorial Foundation for use in their effort to build an "all inclusive" area to Chilton's Nenning Park. Pictured are (l to r): Stockbridge Lion Marvin Thiel, The Kolbe Family members; Ron, Sandy, Emily, and Luke Kolbe, Chilton Lion Rick Jaeckels.
District 27-B1 Lions Workshop
July 15 – 212 Church St., St. Nazianz
July 29 – 401 W. Fond du Lac St., Ripon
• 2 Sessions: 10am-12:00pm
Lunch 2 Sessions: 1-3pm
• Zone Chairs Current & Future –3-4:30pm
• Watch for more details Questions contact GLT/PDG Tom Wendt, trwendt@hotmail.com, 920-517-2724
Send your District Calendar additions to lionsof27b1@gmail.com
CHILTON LIONS CLUB – Chilton
VAN DYNE LIONS CLUB – On February 25th, the Lions made over 2700 pizzas for their annual pizza sale. It was a long day but it included fun and laughs.
Mayor Tom Reinl honored the Chilton Lions Club for 50 years of service to the community.
Pictured are (l to r): Lion Derek McDermott, Mayor Reinl, Lions Rick Jaeckels, Greg Garton Sr., Terry Friederiches.
14 WisconsinLion MAY / JUNE 2023 27-B1 NEWS wilionsb1.org
SHEBOYGAN NOON
LIONS CLUB – Lt. Heather and Lt. Wiley Gladney from the Sheboygan Salvation Army spoke about the many wonderful things they do for people in the community. After the presentation, Club President Lion Lea Thibodeau presented them with a check to help them reach some of their goals.
ST. PETER AND WINNEBAGO EAST SHORE LIONS CLUB
–
Recently, the two Clubs teamed up to write a matching grant through LCIF for a walk-in cooler and freezer at the Holyland Food Pantry. Both Clubs have been big supporters of the food pantry since its start in 2014. Because of both Club's donations they were able to secure a $3,000 grant through LCIF. Both Clubs also donate meats to the pantry for Thanksgiving, Christmas and Easter. Pictured: St. Peter Lions- Joe Buechel , Doug Simon , and Larry Dikeman and Winnebago East Shore Lions- Mark Fritz , Gary Roehrig , and Joe Bord
FROM THE 27-B1 DISTRICT GOVERNOR
DAVE BRINKMAN
brinkdav@yahoo.com
920-344-2585
DISTRICT GOVERNOR
Hello to all the great Lions of District 27 B1,
It has been my greatest honor and pleasure to serve as your District Governor for the Lions 2022-2023 year. It has been an "Awesome" experience getting out to know the Lions of our District through club and zone meetings, and Lions events. Before I get into the thank you's, let's dive into what is left for this year.
Club Excellence Awards, we will have a lot of clubs eligible for this award but many clubs don't know what it is or how to qualify. Go to lionsclubs.org and do a search for club excellence awards and it will pop up. The District will send out a copy for your club to go over.
For those that use My Lion or My LCI, that system is being replaced. It would appear that International will shut down the current system on June 15th and turn on the new system July 15th. What does that mean to you? You have to get your 2023-24 club officers (including their email addresses) and service activities reported before June 15th. Annual donations to LCIF, Leader Dog, Wisconsin Lions Camp, Lions Eyebank of Wisconsin, and so many more will not be affected but in order to report them in My Lion, you will have to report them before June 15th.
If you have new members, get them reported before June 15th as well. District Awards for Service and Membership will be tallied no later than June 1. The last three months of the Lions year typically have the most drops in membership. Let's correct that trend and keep our Lions members engaged and informed of all your club activities.
June 4th we will have a District Appreciation Day at the Van Dyne Lions Park from 1-4 PM. Watch for an email from the District.
We've had many accomplishments to date. We had an exceptional District Convention. The evaluations sheets that were turned in and the personal feedback received from those in attendance from our District and across the state was exceptional. Many thanks to Jerry and Meg Post, Tom and Roxanne Wendt, Mike DeBaere, all the raffle folks, including the Hustlin' Bushwackers, who sold a record number of 50-50 raffle tickets. Everyone on the committee did an excellent job. Another big accomplishment has been our service reporting on My Lion. Our District led the way across the ten Districts in the state.
RANDOM LAKE LIONS CLUB – The Club, together with Gabe from ADAPTIVE Technology Resources, are surging ahead with a new glasses mounted reader. It is in testing with Random Lake Lion Ken Borchart. The glasses mounted reader can be programed to recognize faces and can read newspapers, menus, etc. It can also be programed to tell time. With almost 400 programmable functions they are just getting to learn what this can do and how it can help those with vison challenges in the community. Pictured are: Lions President Bill Singer, Ken Borchart and Gabe from Adaptive Technology Recourses.
MISHICOT LIONS CLUB – The Club has been busy! They had their Chili Dinner on January 26th at the Mishicot High School in partnership with Mishicot FFA; a rose sale/delivery April 20th; and Fryout on May 13th at the Mishicot Cenex. $500 scholarships were awarded to two Mishicot High School graduates. One Badger Girl and one Badger Boy are being sponsored this year.
A big thanks to all those who served on the District Cabinet. It's been a great year across the District. You should all be proud of what you do for your communities. Let us finish up strong in membership and show the state who we are. July you will have a new District Governor, Greg Kubichka. Show him the same support you showed the current District leaders.
Thank you for your support,
DG Dave Brinkman
CHILTON LIONS CLUB – A "Big Bucks Raffle" was held, which turned out to be their biggest fundraiser to date.
Pictured: The 50th Anniversary Chilton Lions members present at the raffle.
??
MAY / JUNE 2023 WisconsinLion 15 EDITOR: Terry Erbstoesser | terryerbstoesser@gmail.com | 920-376-3505
BELLEVUE
LIONS CLUB –
Club members painted the interior of two houses for Habitat for Humanity.
January 24th and February 4th.; four hours per day per volunteer. The Bellevue Lions Club has volunteered to paint five houses in the past eight years. Club volunteers included Lions Bob Kropp, Jenny Suda, Joe Plumbroeck, Susan Strand, Thad Majkowski, Tracy Cisneroz, Collett Mitchell, Kim Specht, Carl Pauc, Travis Lipsh. Lunch duty Larry Guyette and Joan Schlag
CRANDON LIONS CLUB – A large crowd was present at the Crandon Lions 39th Annual Winterfest held at Charlie's Lake Metonga Resort. Food and refreshments were plentiful, ticket sales were popular and sold out. Over 60 local businesses donated to the event, making contributions possible. Three $1,000 scholarships were presented, and six event winners were announced. The recipients of the scholarships shown in the picture are (l to r): Lion Marj Tipler, President Larry Sommer, Haley Walentowski, Alexis McCorkle and Lion Cathy Bahcow Cassidy Marvin was absent. Congratulations!
Sue Laskowski ventured on her 32nd eye mission with the group of three optometrists, one dentist and seven support staff from Wisconsin VOSH (Volunteer Optometric Service to Humanity) to Rancho Arriba, San Jose de Ocoa province, Dominican Republic from January 13th–21st. The group provided eye exams for 1,158 people in the community from ages 18 months to 92 years and fit them with used eyeglasses that were as close as possible to the prescription. Each of the VOSH team brought at least 300 pairs of used eyeglasses in their suitcases along with tools and equipment. The clinic was set up at a local high school, which had the best source for electricity. It is a wonderful feeling when a person can see clearly for the first time in their life. The blessings the volunteers received and smiles on the faces makes each mission so rewarding. For many this will be the only eye care they will receive in a lifetime. Rancho Arriba is a town in a mountain region of San Jose de Ocoa province, with an approximate population of 12,586. Most of the people in the area are farmers with the main crops of coffee, sugarcane, beans, peppers, tomatoes, plantains, bananas, and yuca. Thank you to the Laona Lions Club for the support on Lion Sue's eye missions and all the Lion members for the collection of eyeglasses. Giving the gift of sight makes the world a better place.
NIAGARA LIONS CLUB – The Club recently screened over 200 students and staff at the BeecherDunbar-Pembine Schools, a free service provided by the Club. They also conducted screening in the Niagara Public School in mid-March. The Spot Vision Screener (camera) is a handheld vision screening device that helps quickly and easily detect vision issues on patients from six months of age through adult. Spot screens both eyes at once from a nonthreatening three-foot distance. The camera accurately detects the potential indication of these common vision problems: Myopia (nearsightedness), Hyperopia (farsightedness), Astigmatism (blurred vision), Anisometropia (unequal retractive power), Strabismus (eye misalignment), Anisocoria (unequal pupil size). Pictured in the back are Lions Terry Youren, Steve McMillan, and Dan Decker. In the center is school nurse Remi Jones holding her two girls, Jane and Lillian who participated in the vision screening.
MARION LIONS CLUB – A
Christmas Dinner Show featuring Daddy D Productions was held on December 13th. With the proceeds from the 50/50 drawing, the Club was able to raise $838 and donated it to the Marion/ Clintonville Good Fellows. This was the 11th Christmas Dinner show. 330 people attended the event. The next Christmas Dinner is December 19th, 2023 again at Northwinds. Pictured is Lion Ron Krueger handing the check to Steve Conradt of the Marion/ Clintonville Good Fellows.
KAUKAUNA LIONS
CLUB –Member Dennis Wittman received the City of Kaukauna
Area Service Organizations
Lifetime Achievement Award at its annual awards dinner on February 15th at Van Abels Supper Club. Current treasurer, Dennis Wittman, was nominated by the Kaukauna Lions Club for his lifetime of service to the Kaukauna Community.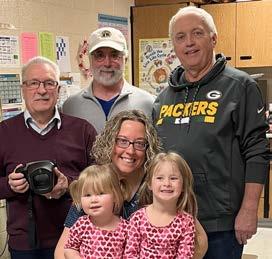 18 Hole Golf Outing
Saturday, May 20th, Shotgun Start at 10:30am, Maplewood Golf Course, Pickerel
• Cost $75/person (Includes: 18 Holes of Golf with Cart, Bag Lunch, Spaghetti Dinner).
• Call Maplewood Golf Course at 715-484-4653 by May 10th to register.
GRAND CHUTE LIONS CLUB –
The Club completed their 500th wheel chair ramp on February 15th. They started building wheelchair ramps on November 12, 1993. Pictured are (l to r): Lions Al Robinson, John Wilharms, Jim Leppla, Dave Boden, John Kafura, Steve Townsend, Terry Gross and Tim Bantes
LAONA LIONS CLUB – Lion
Hyland Lakes Lions Club
16 WisconsinLion MAY / JUNE 2023 27-B2 NEWS
MANAWA LIONS CLUB –
Another $500 was donated to the Manawa Area Veterans Freedom Park. In the past, the Manawa Lions donated a total of $10,000 towards the construction of the park. The current $500 will help the park be completed. The three projects left to complete include a bridge over a canal, connecting the memorial side of the park to the shelter house and family side of the park. Other projects include helping blacktop the area around the shelter house and a wall recognizing military supporters. In the picture President Wayne Heiman presents a $500 donation to John Smith of the Manawa Area Veterans Freedom Park for upcoming park projects.
MANAWA LIONS CLUB –
Lion Peter Ziebell received a Melvin Jones Fellowship from PID Wayne Heiman at the Manawa Lions Club's December 2022 Christmas Party meeting.
PESHTIGO LIONS CLUB –
MANAWA LIONS CLUB – At the January meeting, the Club chose Emma Smith as the local Peace Poster winner. The members voted Emma as the winner from over 30 local entries. The Manawa Lions have conducted the contest off and on for over twenty years. Pictured are: local Peace Poster winner, Emma Smith, and Lion Chair Jim Quinn
FROM THE 27-B2 DISTRICT GOVERNOR
JOHN REIL
lionjohnr27b2@gmail.com
920-759-1388
Hello to all of you in the B2 District.
DISTRICT GOVERNOR
It saddens me to say that this is my last article for this paper as your Governor. I have had such a wonderful time visiting so many clubs and getting to know your members. It is and has been my favorite part of the whole past year. I have met so many wonderful Lions and made some lifelong friends throughout this past year and I am truly blessed to have been your Governor. I look forward to whatever comes next for me in Lions, and I hope I will have your support in whatever that may be. Thank you All for supporting me throughout this past year and I hope I served you well.
My successor is 1st Vice District Governor Elect Shirley Dahlke. Shirley is a very hard working and dedicated Lion and a wonderful person. She has a heart of gold and a compassion and dedication for her fellow Lions and Lions Clubs International. Please read her Bio on the opposite page and welcome her, invite her to your clubs and give her the support that you gave me. Thank you!
• REMINDER: The Lions website will be shutting down on June 15th, and is expected to be back online on or around July 15. Everyone will need to have their own personal email address to access the new Lion Portal Website. You will no longer be able to share emails with anyone else. Please, if you don't have an email address listed in your contact information in MyLCI, be sure to add one.
MANAWA LIONS CLUB – Lion
Floyd Gerl (54 years) on the left and Lion Ken Groholski (56 years) on the right were recognized for a combined 110 years of service at the January meeting of the Manawa Lions.
Members assisted the Marinette Salvation Army with another Feeding America Food distribution event. The truck, loaded with food for over 300 families, comes from Feeding America of Western Michigan. Community members come to the YMCA in Menominee, MI and line up for a drive-thru food acquisition process, some showing up as early as 6am for the 10am distribution. The Peshtigo Lions Club helps the Salvation Army every other month with the Feeding America events. Some of the Club members also assist the YMCA with their Feeding America food distribution on the alternate months.
Pictured front row: Lucy Lemire (granddaughter of Lion Jim Doemel), and Lion Dale Edlbeck, back row: Lions Jim Doemel, Rhonda McClain, Steve Peterich, Dennis Rysewyk, Riki Rysewyk, Terry Gardon, and Tom Gryzwa. Participating but not pictured was Tom Russell
• Membership is going good but not great. Let's finish out the year strong and bring in new members before June 14th. Remember, the club that brings in the most new members, gets a cookout for their entire club. I will supply the food and do the cooking. The winning club will be determined by using a percentage scale based on my year end Health Club Assessment report that I receive from Lion International. Don't wait until the last day to enter your members because there could be a huge number of other clubs doing the same thing and that could cause a major problem with the website.
• Continue to register your service projects so other clubs can see the great work you are doing for your communities. They also need to be entered before June 15th.
Once again, thank you for an amazing year and your support.
DG John
WABENO LIONS CLUB – Lion
John Harter presented a $1,000 check to Wabeno Area Players President Carol Bartlein. The occasion was the Wabeno Area Players' 2023 Launch Party on Sunday, January 15th. The Players presented information on the upcoming productions for the 2023 season. Information pamphlets, refrigerator magnets, desserts, drinks, and door prizes were all an entertaining part of the launch. To get access to this information, contact Carol Bartlein at (715) 473-5466, or check out f@wabenoareaplayers. Supporting the Arts is one of the many ways the Wabeno Lions serve Wabeno and surrounding communities.
MAY / JUNE 2023 WisconsinLion 17
27b2pr@gmail.com | 920-217-8554
EDITOR: Stephanie Schlag |
Rueden named Abbotsford Lions Club Student of the Quarter
Abbotsford High School senior Kelsey Rueden has been named the Abbotsford Lions Club Student of the Quarter for the third quarter of the 2022-23 school year. Rueden carries a rigorous class schedule that includes World Literature and Composition, Calculus, Foundations of Art and Design, Intro to Psychology, Horticulture, Personal Fitness, and Treble Choir. Her co-curricular activities include National Honor Society, Basketball, and Track.
English Teacher, Amber Schneider, highly recommended her for the Student-of-the-Quarter award. "Kelsey is an exemplary student and person," Schneider stated. "She is always prepared, shows up to class with a smile and positive attitude, and has been a standout student by challenging herself with the classes in which she is enrolled. She has taken numerous dual credit courses, allowing her to accumulate 19 college credits before she graduates. Kelsey has become a CNA and is among the top ten in her class. She continues to excel in whatever she puts her mind to and remains kind and humble along the way. She receives my highest and sincerest recommendation for this award."
Rueden's volunteerism attests to her belief in community service. She has been actively involved by volunteering at nursing homes, raking leaves, planting trees, and walking dogs for elderly neighbors.
When asked to identify an outstanding feature of the community, Kelsey applauded the Abbotsford community for helping each other in times of need, stating, "Especially during the COVID year, we had food pantries for those who could not afford healthy meals, vaccination sites to help people stay healthy, neighbors helping neighbors, and strangers helping strangers. We could always count on someone to come through. Living in a small town is a lot more beneficial than in bigger cities."
When asked to define a major world problem, Rueden responded, "If I could solve a major problem right now, it would be Alzheimer's disease. I recently got my CNA certification and have worked in a healthcare facility that has an Alzheimer's unit. I never realized how awful this disease is; patients forget family, friends, who they are and how to live. Seeing families visiting loved ones with this horrible disease is heartbreaking; I hope someone will find a cure in the near future."
Kelsey has worked part time at All Metal Stamping and the Clark County Rehabilitation and Living Center. After graduation, she plans to attend UW-Oshkosh, majoring in nursing; her passion is to help the sick and mentally ill.
She is the daughter of Scott and Patty Rueden of rural Abbotsford.
ABBOTSFORD LIONS CLUB – The Club held their annual award night and holiday get together. Lion District Governor Phil Hollis, from Stevens Point was also in attendance. He gave an update on the workings of the District as well as Lions Clubs International. He installed a new member to the club and also gave out the special service years awards. Pictured in left photo for Years of Service are: 27-C1 District Governor Phil Hollis, New Lions member, Christina Sessions, sponsor, Lion Greg Fifield. Pictured in right photo are: Front row; Past District Governor Jim Schiferl - 45 Years of Service and for sponsoring 25 new members over the years, 27-C1 District Governor Phil Hollis, Lion Bob Morrow Charter - Member 55 years. Back row; Lion Bonnie Weix - 25 years, Lion Paula Ruesch - 15 years, Lion Larry Mader - 10 years, Lion Paula Mader - 10 years, current Abbotsford Lions president. Those not present for the picture were: Lion Frank Archambo - 40 years, Lions Jack and Kathy Trautman - 20 years, Lion Dr. Baldus - 20 years, and Lion Logan Weix - 15 years.
NEKOOSA LIONS CLUB –
Another successful Sportsman Calendar Raffle fundraiser was completed. They had 225 entries each hoping to win one of the 31 prizes awarded each day during the month of March. The total prizes awarded was over $10,000 and each year they completely sell out the 225 tickets. Pictured are: Lion Terry Whitmore, Lion President Jason Dhein and Lion Dan Schmidt who drew the winning entry each day for the Calendar raffle during the month of March.
27-C1 CABINET MEETING – Some great guest speakers in March.
18 WisconsinLion MAY / JUNE 2023 27-C1 NEWS e-district.org/sites/27c1
Pictured are (left) Lion Kandis and Tim Tam, (center) Anita le Clair, State Hunger Chair with PDG Tom le Clair,(right) Judy Hatz, State GMA Chair.
Thank you Lion Jim Ross for visiting the Library. He conducted eye screenings for the Storytime group. The Plusoptix machine is such a great tool for helping our area children 'SEE' a bright future!
WISCONSIN RAPIDS LIONS
CLUB – The annual Soup and Dessert Night was held with 17 soups and 15 desserts. There was a total of 45 people and nobody went home hungry! We even sold quarts of soup and desserts to go! Fun was had by everyone! Pictured are back: Lioness/Lions
Kathy Pyburn, Sharon Panzer, Mari Austin, Elaine Neukirchen, Kris Slattery, Nita Sullivan, Susan Deakles, Marge Skerven.
Front: Lioness/Lions Vicki
Lohr, Carolyn Saylor, Donna Schlinsog and DG Phil Hollis
FROM THE 27-C1 DISTRICT GOVERNOR
PHILLIP HOLLIS
lionphilhollis@gmail.com
715-460-4831
DISTRICT
GOVERNOR
As my year as District Governor is buttoning up, I have to say that I have truly had the best year of Lions yet. Meeting you all has been a joy and privilege. Going to fundraisers, service projects, and clubs has taught me many things. The passion that each Lion has for their communities is what links all of us. The service that you all do on a daily basis has humbled me. I see all these grassroot Lions who have been part of their clubs for 20, 30, 40, 50, and even 60 years. This shows me that we are the doing something right, straight from the heart.
I want to recognize each Lion and each club for all their hard work as the Lionistic year comes to an end. Each of you have put sweat, heart, and soul into each project you have accomplished. I can't wait to see what the future holds. It will be a bright one.
This year we said goodbye to great Lions. I want you to know that I hold each Lion that is no longer with us in my heart. I know that they are guiding us all as we continue to Come Together and Serve With A Heart.
As a district we have brought in many new members while retaining the ones we started with. I will be filling out many club excellent award applications. One thing we just need to make sure of is that we have the correct information for everyone plus get e-mails from our members. This is important at the club level, so that we can keep all members informed.
I can't wait to see you at the State Convention in Stevens Point this year. It will be an exciting time. It's a time to see old friends and make new ones. If you have never been out to the Lions Camp, Thursday night is the perfect time to do so. There is a registration form in this paper.
Just because my year is coming to an end, this is not goodbye. I will be around, serving next to you at fundraising, service projects, and fellowship. As DGE Patty Hollis is my wife, I will still see all of you at your club meetings in the year to come.
STRATFORD
LIONS CLUB –
The Stratford FFA Chapter attended our meeting. They have a service project of collecting eye wear in the area. They have collected 138 pair so far. Pictured are: VP Scott Winch, Jasmine Grell, Sydney Kafka, Becky Wirkus and Barry Brubaker
Thank you to all that made my year special, and special thanks for those who were by my side guiding me in the right direction. I will always be thankful that I have the Lions in my life. Lions is not just a service organization; it is a way of life.
Congratulations to Marshfield Middle School 7th grader, Hannah Schindler for winning the Lions Peace Poster for 2022
2023 LIONS 27-C1 WORKSHOP
Stratford Lions Club
Brat Fry Fundraisers
Friday, May 19th and Friday, June 23rd Held at the intersection of Hwy 97 and Hwy 153 at the Provision Gas Station
The district has two dates for the Lions Workshop. First date is Tuesday May 23rd at the Lions Camp in the WLF Boardroom. The second date is Thursday, June 8th at the Abbotsford City Hall. Both events are free to Lion members starting with a light meal provided at 5:30pm and discussions from 6-7:30pm. Discussions will include President, Secretary, Treasurer, Zone Chair, and General Lions information. To Register send your name, club, email or phone, and your preferred discussion topic to johncz2190@gmail.com or call or text 715-218-2190 at least three days prior to workshop of your choice.
ROCHE A CRI LIONS CLUB –
STRATFORD LIONS CLUB – Deer hides on Lions trailer in Stratford, heading to Lions Camp.
MARSHFIELD LIONS CLUB –
MAY / JUNE 2023 WisconsinLion 19
c1lionnews@gmail.com | 715-460-4832
EDITOR: Patty Hollis
|
BOULDER JUNCTION LIONS
CLUB – The Club presented their annual $1,500 donation to the Boulder Junction Volunteer Fire Department. The funds were used to purchase leather radio holders. Pictured are Wendi Neupert, Boulder Junction Lions Club President; Josh Thompson, Boulder Junction Volunteer Fire Department Assistant Chief; and Phil Lewandowski, Boulder Junction Lions Club VicePresident.
EAGLE RIVER LIONS CLUB – The first quarter of 2023 was a strong start for the Club! They received a generous gift of $1,050 from ReMax Property Pros to help the club continue the important work they perform for the community. Pictured left to right are Mike Sanborn, Club Board of Directors member, and Lion Bob Merz, ReMax Property Pros Realtor.
MERCER LIONS CLUB – 38 Fishermen competed on three different lakes - Grand Portage (Tank), Echo, and Mercer Lakes for the Ice Fishing Jamboree Fundraiser on February 18. First place in the game fish category went to Kevin Marti with a 25" Northern with 2nd place awarded to Brianna Dalbec for a 21-3/4" Northern. In the Panfish category, first place went to Matthew Weber with a 9-1/2 " perch and 2nd place went to Paul Marti with a 9-3/8" Crappie. Dalbec also won the prize for the smallest fish, a 4" perch. Mark your calendars for February 2024 for the next Mercer Lions Ice Fishing Jamboree. Pictured are event chairperson Lion Amy Burgess; Leo Cameron Patton; Mercer Lion President and event co-chair, Mike Burgess; and Dave Minisan
BOULDER JUNCTION LIONS
CLUB – Their annual $1,500 donation was presented to the Boulder Junction Volunteer Fire Department's Emergency Medical Service. The funds will be used to purchase new AED batteries for EMS members that carry AEDs in their vehicles. These batteries are very expensive and need to be replaced every 2-5 years. The donation will also be used to purchase equipment to increase the level of care the EMS team can offer. Pictured are Wendi Neupert, Boulder Junction Lions Club President; Dan Wahlgren, Boulder Junction EMS Director Deputy Chief; and Phil Lewandowski, Boulder Junction Lions Club Vice-President.
PLUM LAKE LIONS CLUB – Their annual Meat Raffle was held on February 25 at the Sayner Pub. This is the club's biggest fundraiser and it was a huge success. Pictured are Sayner Pub owner, Taylor Klingaman, and Plum Lake Lion, Sara Thompson
Presque Isle Lions Club
44th Annual Live Lobster and Pulled Pork Dinner
Saturday, May 13 from 4-9 pm at the American Legion on Highway W just West of Presque Isle.
GLEASON LIONS CLUB – Along with brothers, Dan, Ves and Ev Kniess the Club helped in hosting the Aging and Disability Resource Center luncheon at the Gleason Area Park. These luncheons take place every third Wednesday of the month for local seniors.
This fun and delicious event for the whole family started as a birthday celebration for one of the Lions and has grown into one of the most popular dinners in the Northwoods. For more information, contact any Presque Isle Lion member or call 715-686-2073. Reservations for the dinner must be in by May 5. Whole Lobster tickets are $60, Lobster Tail tickets are $40, Lobster Tail with Tenderloin steak are $50 and Tenderloin Steak dinner tickets are $40. Conover Lions Club
Annual Take a Kid Fishing Day
Sunday, June 18, 12 noon-3pm at the Conover Town Park
Celebrate with Dad or someone special with a day fishing and try to catch "Marvin" the big trout. Admission is free. Poles and bait will be provided; along with food, beverages and prizes.
THREE LAKES LIONS CLUB –Their Annual Easter Egg Hunt was held at the Three Lakes School on April 8th. Children hunted for Easter eggs and received an Easter bag full of goodies. The Easter Bunny and Parker the Dog also joined in the festivities! Shown In the photo in the front row is the Easter Bunny and Parker the Dog. Shown in the photo in the back row left to right is Lion Bob Borek, Lion Tom Wasilewski, Lion Tammy Anderson, Lion Michole Farrin, Lion David Sorgel and 1st VDG Lion Don Meeder.
20 WisconsinLion MAY / JUNE 2023 27-C2 NEWS e-district.org/sites/27c2
FROM THE 27-C2 DISTRICT GOVERNOR
BOB BERTCH
bobbertch22@gmail.com
715-892-2366
MANITOWISH WATERS LIONS
CLUB – presented their year-end $2,000 donation to Camp Jorn YMCA. In 2022, the Manitowish Waters Lions were able to donate $12,000 to Camp Jorn's various programs including their Strong Kids Campaign, Child Care Program, and Capital Campaign.
Shown in photo left to right: Lion Larry Voss, Lion Mike McKeon, Camp Jorn YMCA Director, Trueman Hoffmeister, Lion John Hanson, Lion Lynn Schroeder and Lion Phil Rose.
EAGLE RIVER LIONS CLUB – The Nicolet National Foundation, an outreach charity of the employees of Nicolet Bank, also presented the Eagle River Lions Club with a check for $500. They thanked the Eagle River Lions Club for the good work they do for the community. Pictured left to right are Jackie Weight, Nicolet National Foundation Representative, and Brian Boone, Eagle River Lions Club Treasurer.
MEDFORD LIONS CLUB – $5,000 was donated to "Our Village Playground" Phase II being built inside Medford City Park. Pictured are "Our Village Playground" Committee Chairperson, Joseph A. Greget (center), and multiple Medford Lions Club members.
ASHLAND LIONS CLUB – The Club donated smoke detectors and carbon monoxide detectors to the Ashland Fire Department. Pictured are Lion Tim Oksiuta and Lion Amy Jacobson with members of the Ashland Fire Department.
DISTRICT
GOVERNOR
It is now the final months of this Lions Calendar year and we have accomplished a lot as a district. Many thanks to all of our District C2 clubs. We still have time to grow our clubs before the end of this year. I have been asking all clubs to grow by at least two positive members before the end of this year. Many of you are doing great, and some still have time to accomplish this goal.
Sadly, as your Governor, I only have a few months to go before my term is done. I have been very proud to be your Governor and will remember all the great service you have done over this past year. It has been great meeting some of you for the first time and for some of renewing old friendships.
I still have time to come and see some of you in May and June. I look forward to those visits.
Please welcome your incoming DGE Don Meeder as your new Governor for 2023-2024 and give him the respect and help you have given me. My best to you all. Remember, being a Lion is an honor. WE SERVE!
The 30th Annual District 27-C2 Zone 3 Dinner Meeting
hosted by the Hurley Lions Club was held at Joany's Sidekicks in Iron Belt on Tuesday, February 21. Hurley Lions President, Gary Pelkola, welcomed District Governor Bob Bertch, 1st Vice President Don Meeder and Lions Clubs from Boulder Junction, Manitowish Waters, Mercer, Hurley, Presque Isle, and the Mercer Leo Club - which is the only Leo Club in the district at this time. Each club's representative shared their club's projects and highlights. Zone chair, Laura Bertch, talked about the Food for Kidz project that will be held again at the Lakeland Union High School on October 21, 2023. The basket raffles were held with money being donated to the Wisconsin Lions Foundation. The upcoming zone dinner meetings will be hosted by the Winchester Lions in 2024, Manitowish Waters Lions in 2025, Mercer Lions in 2026, Presque Isle Lions in 2027, and Boulder Junction in 2028.
Robert Traczyk, Hurley Lions Club Secretary; Gerald Pisani, Hurley Lions Club Vice President; Don Meeder, First Vice District Governor; Phil Lewandowski, Boulder Junction Lions Club Vice-President; Bob Bertch, District Governor; Gary Pelkola, Hurley Lions Club President; and Dave Sorgel, Three Lakes Lions Club.
MAY / JUNE 2023 WisconsinLion 21
Sanderson | sanderson.cherie@gmail.com | 715-892-0761
EDITOR: Cherie
DEERFIELD LIONS CLUB – The first free community dinner was held since 2020. Over 200 guests were served. Lions enjoyed bringing the community together over food and offer a sincere 'thank you' for the community support received through club fundraisers.
MOUNT HOREB LIONS CLUB – Club
President
a
MAZOMANIE LIONS CLUB – The Club held it's first Bunco Fund Raiser on Saturday, March 4th with about 50 people playing a game that the majority did not know how to play. Very easy learn and a great fun evening.
DODGEVILLE LIONS CLUB
– The Club celebrated it's 50th anniversary with a celebration and the presentation of their limited edition 50th anniversary pin. Pictured are three current and charter Lions Club of Dodgeville members, Lion Mike Reilly, Lion Bob McNeill, and Lion Jerry Whitford
RESTORING HOPE
TRANSPLANT HOUSE – Left: The Council of Governors donated this beautiful planter to Council Chair Tammy Rockenbach to be displayed at Restoring Hope Transplant House. Right: DG Al Johnson repairing the screen door at Restoring Hope Transplant House
Krisann Holthaus presents
$1,000 check to Mary Klopotic from the Mount Horeb Community Foundation.
NOON BELOIT LIONS CLUB – (Top) An American Flag was donated for the new Meals on Wheels Building. (Bottom) Two Noon Lions and threes Grandson assembled tables for the Beloit Library.
22 WisconsinLion MAY / JUNE 2023 27-D1 NEWS lions27d1.org
CERTIFICATE OF APPRECIATION – Lion Diane Langmeier receiving a certificate of appreciation from District Governor Al Johnson at this year's district convention.
LION OF THE YEAR –
Brenda Steele was selected as our "Lion of the Year" at the District 27-D1 Lions with District Governor Elect Jeff Winkler.
FROM THE 27-D1 DISTRICT GOVERNOR
ALAN JOHNSON
aj542012@gmail.com
608-513-4984
DISTRICT
GOVERNOR
Greetings District Lions of 27-D1! Thank you for helping make the District Convention fun and exciting. The election results for 2023-2024 are complete. Congratulations to District Governor Elect Jeff Winkler, First Vice District Governor Elect Ron Wright, Second Vice District Governor Elect Jim Klubertanz. The Wisconsin Lions Foundation Director will be John Elvekrog and the Lion Eye Bank of Wisconsin Representative will be Erica Singley. The District Bowling went to Cuba City Lions and Cuba City Lioness Lions.
The 2023 Lions Convention opening message was presented by the Badger Honor Flight Chairman, Brian Ziegler. Next was the Necrology service as we honored 23 Lions who passed. This year there were six breakout sessions: Fraud and Scams, Charitable Gaming / Bingo Do's and Don'ts, GMA/Happy Lions: Plans and Successes, LeaderDog: What's New, Bullying and Harassment Prevention and Handling, Pros and Cons of 501(c)(3) Foundation.
Our special guest was Past International Director Justin Faber from Michigan and his message was well received. Service by Lions though Membership, Service Project Reporting, Leadership Participation and Lions Clubs International Foundation (LCIF) giving and Grant Program. PID Justin, as always, Fired up those attending with humor and engaged the members with, FIRE UP… Lions.
The Awards and Recognition followed. The afternoon was filled with multiple service projects for Health Care Thank You Bags, Mail Call for Badger Honor Flight, and Birthday Kits for the Food Pantry, Blessing Backpacks for Homeless Teens, T-shirts for Pediatric Cancer Patients, and Supplies for Restoring Hope Transplant House. The business meeting was held with WLF President Larry Testa giving a presentation for the Wisconsin Lions Foundation. The evening Banquet was well attended and those in attendance were treated to a murder mystery show.
The planning for next year has started, so please hold your officer elections and enter them into the LCI Data base by June 01, 2023. The LCI website (MYLCI) will not be available between June 15 and July 15, 2023. This will be an up grade and a user friendly reporting system will be in place. (Salesforce). This will be an improvement of the current information gathering and should be easier to navigate for all Lions members. Please review the your current information in MYLCI and provide updates to your Club Secretary, such as your email address, mailing address and your birthday so they can be corrected into the site. Your email address will be your identification for the Lions website. District Governor Elect Jeff Winkler is currently seeking Lions to fill his cabinet. Please consider volunteering to lead a cabinet position in the coming year.
LAKE WISCONSIN LIONS CLUB – The Club presented checks to Lodi and Poynette Blessings in a Backpack projects. Lions Jean , Tami and Steve presented. This program anonymously provides students in need with food for the weekend when they leave school on a Friday.
Lastly, I would like to thank all of the Lions from District 27-D1 who made my year as your District Governor memorable. It was an honor to serve as your District Governor.
"Sharing the service". "Together We Can"
MOUNT HOREB LIONS CLUB – PDG Bob Faliveno gave a talk about the Lions organization to several attendees at a Mount Horeb Chamber event. He spoke of the history of Lions and the start of the LCIF. PDG Bob described the various activities of the Lions District and the history of the Mount Horeb Lions Club.
Lion
MAY / JUNE 2023 WisconsinLion 23
| pr@lions27d1.org | 608-698-1683
EDITOR: Bill Clausius
Smiles For A Child
BY MARILYN GILLIGAN
A story of how two clubs came together for "Smiles For A Child". The Hombres Motorcycle Club (MC) in Richland Center, WI started raising money in 1992 to donate to the local Jaycees Club to buy toys for local underprivileged children for Christmas. The first year we raised around $300, which bought toys for 30 children.
The events to raise money grew every year. Entry to the event would be $10 per person or $5 per person with a new toy. After a few years the Hombres MC took over all aspects of the program. We composed an application to be filled out and handed back to the Richland County Health and Human Services Dept. I would pick up the applications. Each application is given a number and a shopping tag is filled out only with the child's number, age, gender, and the choices the parents put of what they would like bought for their child. These choices were not always toys. There can be games, clothes, shoes, etc. We have had formula for babies, diapers, world globes, work gloves and a Bible. During this time, we held a contest to rename the program from "Toys for Tots", so all the money would stay local.
We picked the perfect name from the Community contest, "Smiles For a Child". During the beginning years we had a friend of the Hombre's and a friend to all, Lion Dean Rinehart, who helped us at our events for several years. Dean was a member of the Ithaca Lions Club and when our Hombre's MC club members started to dwindle, Dean said, "What if I present it to the Ithaca Lions to merge together for this fundraiser and the two clubs have worked together for around 25 years of the 30 years this program has been going.
The Hombre's MC and the Ithaca Lions did a yearly event fundraiser, which had attendance of between 200 and 250 people with food, hundreds of raffle prizes, 50/50 raffles and a live auction until COVID-19 came along. Now we have brat stands and bake sales. The community and other clubs make considerable cash donations also.
We then do group shopping where we shop with the tags for between 100 –150 kids at a time. We load all the bags into the Ithaca Lions Club trailer until the distribution day when the parents come to our local Community Center with a confirmation letter that we send to them with their child or children's numbers on it to pick up their child's gifts.
We started with raising funds for 30 children and with the Hombre's MC and the Ithaca Lions working together, we now serve 300-350 children at Christmas time. Our largest year was in 2009 when we served 465 children. I am so appreciative that the Ithaca Lions joined with the Hombre's MC and that there are many more years of collaboration ahead of us.
There is also a monetary donation made to the Lions Camp every year from the money raised. After all, there is no better feeling but to help a Child. Over $32,000 has been donated to the Wisconsin Lions Camp over the duration of this program.
HILLSBORO LIONS CLUB – Die-hard bingo enthusiasts, equipped with totes of their lucky daubers, come early to stake out the best spots once a month from September thru April (excluding December). There's also door prizes, raffles, silent auctions, 50/50 and pull tabs that add to the fun, as do appearances by seasonal celebrities such as Cupid (pictured). Various non-profit organizations, such as FFA, are invited to handle the food concession at bingo to aid their own fundraising efforts.
BARABOO LIONS CLUB – To celebrate their 80th year, the Club invited various members of the community to Mike's Italian Restaurant in Baraboo for a complimentary meal as well as to share the Baraboo Lions focus, accomplishments, and future goals. Various displays were created to share accomplishments within Membership, Community Service, Vision, and Diabetes and an informational power point was scrolling throughout the night detailing meetings, officers, teams/committees, as well as national Lion efforts. The Baraboo Lions recruited four new members at that meeting, plus added one shortly before the celebration.
BARABOO LIONS CLUB – Meals on Wheels are provided to the home-bound in our area through the Aging and Disability Resource Center. Participants receive home-delivered meal each day – last week packed by members of the Baraboo Lions Club. Pictured are: Nancy Brickl, Keri Luther, Jeanette Bolz, Teri Ficher, Dawn Olsen, Kandie Beckwith, and Mark Olsen
LA FARGE LIONS
CLUB – This year's Community Service Award was presented to Natalia Breuer for her extensive efforts in the coordination of clothing donations shipped to Poland and Ukraine for those displaced by war. Pictured is Natalia and her family, and Lion Thea Muniz. DG Tom Knudson presented a Melvin Jones Award to Lion Steve Brandl, honoring his dedicated service. Charter Member Brad Steinmetz, was also recognized for being a member since the Club began on February 13th, 1973. Also pictured is Lion Brad Steinmetz presenting a check as part of their Giving Back from the Heart Project. Each year the La Farge Lions donates $200 to each local K-12 class who then selects a project, program or individuals to receive their donation.
NORWALK LIONS CLUB – $5,000 was donated towards the new sign in front of Brookwood High School. Pictured are Jeremy Mack, Brookwood Business Agent Contract; Phil Haun, Club Vice President; Glen "Ope" Degenhardt, Club Past President; Mike Karis, Club Treasurer; and Travis Anderson, Brookwood Superintendent.
24 WisconsinLion MAY / JUNE 2023 27-D2 NEWS md27d2.org
BANGOR LIONS CLUB – The Club has donated to numerous community groups over the past couple months in our continuing effort to support these groups. They also participated in the Trunk or Treat event in Bangor helping provide 300 youngsters with numerous treats on Halloween. The donations included Bangor First Responders $4,000, Bangor/Burns fire department $2,500, Bangor Library $1,000, Christmas Gift Fund (for needy children) $500, Food Pantry $400, Shell-Bell's (community Christmas lights) $250 and the Bangor Community Thanksgiving Dinner $200. The Bangor Lions also worked to help prepare the turkeys for the Thanksgiving Community Dinner.
CASHTON LIONS CLUB – Sleep
in Heavenly Peace, Inc. hosted a "Build Day" on February 25th at the Monroe County Fairgrounds in Tomah where about 100 volunteers from several groups and organizations cut, sanded, drilled, assembled and finished the wooden parts necessary to make 40 handcrafted beds. Lumber is cut, sanded, drilled and then soaked in a vinegar and steel wool solution. Nearing the finish, headboards and footboards are attached, and the bed assembled. Finally they are branded with the SHP logo. All of the power tools and necessary equipment is provided. The beds with mattresses and all of the necessary bedding are given to families in need living within Monroe County.
STODDARD LIONS CLUB –The Club and D2's newest branch club: Viterbo University Servant Leadership Lions Club donated money to New Horizons Shelter and Outreach Center of La Crosse. Pictured are Club President Emma Blackdeer presenting New Horizons Volunteer and Education Coordinator Doreen with a $125 check.
SAUK PRAIRIE LIONS CLUB –Members of Bridges Elementary School shared how the Pyramid Model is being used to help 4K students by teaching them to solve and come up with solutions that work for them and others in the Sauk Prairie School System. This program has helped enhance social and emotional skills of young children and since it started seven years ago, they've trained 20 teachers. The Club presented a check to help buy additional material and training.
GOVERNOR
I can't believe this is going to be my last newspaper article as your District Governor. I honestly don't know where the time has gone! It has been a great year so far, as of today our District is a +21 in membership which is awesome! My main goal of the year was to have two straight years with positive membership and we are very close to achieving that goal. Also as a reminder if your Club has not held a membership drive, please to try hold one this Spring to try to find a few new members to help your Club with future events.
Just to inform everyone some things will change next year.....it just won't be the District Governor visits, International is adding the 1st and 2nd Vice District Governors to help with this. This is new to our District, but some Districts already do this.
Pretty much most Clubs are doing well in the District, some could use help in membership and the District will be holding a Guiding Lions training to help with either new Clubs or for Clubs that want assistance in finding new members or to assist in rebuilding their Club to a healthy status. This brings me to the potential new Club in our District, Gotham, it sounds like there is a good group in the works and we are just waiting on a few more members to physically form this Club and set a Charter Night and introduce our new Club to the District.
I want to thank the District Clubs for their hospitality in my Club visits this year, the Club visits have been one of the best things of the year, as I get to learn many different Club projects and meet so many wonderful Lions that I will remember forever. I will probably go back to help with some of their Club projects.
Also, there will be a new Lions Website later this Summer, Lions Portal, so please be ready for this, keep in mind our International President and many sitting International Directors are IT people, so hopefully this is going to be a fairly smooth transition. Accept there may be a few hiccups with this change. My last reminder is for the Club Secretaries to fill out the PU101 report by June 1st to ensure all your new officers receive information and invoices from International, this is very important as my biggest headaches this year was tracking down Clubs that did not fill this out and I was getting their invoices and any other correspondence that they would normally be getting directly.
From the bottom of my heart I want to say "Thank you!" to the entire District! It has been a wonderful year and I am looking forward to being a Past District Governor!
DE
KNUDTSON
FROM THE 27-D2 DISTRICT GOVERNOR
TOM
tknudt12@gmail.com 608-792-5700 DISTRICT
SAUK PRAIRIE LIONS CLUB –President Leon Mindham presented a $2,500 check to John Lehan, Sauk Prairie Community Education and Recreation Director towards the new Culver Community Park.
OOPS! – The previous edition misidentified the Lions Club pictured with Santa as St. Joseph's Ridge, instead of Seneca. Our apologies!
SOTO LIONS CLUB – Pizza Party for the Prairie View Elementary celebrating 100 days, Valentine's Day and pizza from the Lions Club! It was great day for these lil' kiddos!
MAY / JUNE 2023 WisconsinLion 25 EDITOR: Loretta Ewelt | WILions27D2News@gmail.com | 608-269-3062
CHEQUAMEGON LIONS CLUB – The February 8th Community Dinner was our annual Souper Bowl theme on the Wednesday before the Super Bowl. Lions either wore Lions gear or their favorite NFL team clothing. We served 85 meals of two soups (chicken noodle or beef barley), salad, crackers and football cookies! February 23rd was the Birkebeiner bib pickup for racers from across the US and internationally. Here are a few Lions that volunteered on this shift but many others volunteered during the race days at aid stations, food tents, the dogs races, kids races and set up/take down for this huge event!
LAKE WISSOTA
LIONS CLUB –
The Club had an incredible turnout for their 10th Annual Jig's Up Ice Fishing Fundraiser in February!
Pictured are Co-Chair David Prescher and a new ice fishing enthusiast!
Over $10,000 was raised during the event benefitting UWEau Claire. Our 50/50 Raffle sold $2,800 in tickets, so $1,400 went to local Veterans in the Chippewa Falls area. Kids could come to the Lake Wissota Lions area to learn how to ice fish with sponsor partner Sheels Sports providing poles and drilling holes. A total of 38 kids were also treated to a free lunch from the Lake Wissota Lions. Our thanks to the generous sponsors and ice fishers who made this event such a success!
Dresser Lions Club Hears Presentations on Four Youth Leadership Projects
r): Dresser Lions President Rodger Cameron, Marge Cameron, Scott Peckman, Kim Bensen, Secretary Jean Measner, Marsha Hovey from the Skatepark, Treasurer Eric Anderson, Vice President Ginger Dosch, BrenNel Ward, and Past President Boyd Dosch.
Pictured
At our March 14th meeting, the Dresser Lions heard presentations on four youth leadership projects. All four projects are great. There is a project by Torianna Hastings called Let's Help Heal to support middle school students that have endured trauma. She is providing care packages for comfort and stress relief. We also heard from Sarah Carlson on her Self-Care for Healthcare project. Her project aims to burn out and stress to local nurses at Osceola Medical Center. She has done research and also sent out questionnaires to the nursing staff to help her understand what would help them. She is providing care packages with self-care items. The Dresser Lions also heard from Adely Ellefson. She and her partner, Emma Stroshane, are working on a project called Kits for Courage. They aim to reduce the mental stress felt by kids when they are hospitalized. They are making three different kits for kids in the hospital to distract and entertain. Finally we heard from Deryn Coppernoll, Gabby Neumann, and Cooper Hennemann. Their project is called Why Waste? They are tackling food composting at the Osceola High School. They have met with many groups for approvals, ideas, and problem solving. They hope to have their project become a staple at the school for years to come.
This is the third year the Dresser Lions have heard presentations on projects and sponsored these great kids. Over the last three years the Dresser Lions have given $3,450 in sponsorship. It has been amazing to see the originality, problem solving, and commitment these kids have.
The Dresser Lions continue to support the Osceola Skatepark project. Friday, March 10th, the Lions held a meat raffle at Ward's Bar, Dresser, WI. With fantastic community support $1,170 was raised for the Skatepark. The Dresser Lions have made raising money for the Skatepark a priority. To date the Dresser Lions have raised in excess of $13,000 for the Skatepark Project.
CLEAR LAKE/ CLAYTON LIONS
CLUBS – Club members joined together to conduct vision screening at the Clayton Elementary School on March 3rd.
Meyer
CLEAR LAKE LIONS
CLUB – The Club delivered snacks of cheese, sausage and crackers to the residents of Willow Ridge Healthcare, Golden Age Manor and Amery Memory Care on January 11th.
, Gene Burns and Mary Mara
Pictured: Lions Marv Sias
Pictured: Ed Cerney, Ervin
, Cheryl Paulson and Mike Grosskreutz
26 WisconsinLion MAY / JUNE 2023 27-E1 NEWS district27e1.org
are (l to
FROM THE 27-E1 DISTRICT GOVERNOR
BRIAN DULMES
bldulmes@gmail.com
715-829-1454
WEBSTER LIONS CLUB – The Club made presentations to help make Christmas Merry for those in need. Lion Norm Bickford presented $300 from the Webster Lions Club to Burnett County Sheriff Tracy Finch for this year's Shop with a Cop. President Charlie Weis presented Kathy (Daisy) Eckstrom with a $500 donation for this year's Toys for Tots.
HAYWARD LIONS CLUB – The Hayward Lions Club was very active during 2022. They were involved in many events that allowed them to raise funds that are then returned to different community organizations. Their main fundraising events are: Musky Fest, Octoberfest, the Birkie, and the Sawyer County Fair. The Club also sponsors the pre-Birkie that is held each year. Currently, the Club has 45 members. For further information regarding the Lions Club or to become a member, visit them on Facebook at Hayward Lions Club. The Club would like to thank everyone that has supported their worthy causes during 2022.
RICE LAKE LIONS CLUB – 17 members of the Rice Lake Lions Club gathered to sort over 5,200 pairs of donated glasses in preparation for transport to the District 27-E1 Convention.
WINTER LIONS CLUB – Winter/ Radisson Cub Scouts were excited to use their new four-lane track, donated by Winter Area Lions, for their Annual Pinewood Derby and dedication of the track. Lions Ron Higgins, Diane Holland, Mike O'Mara and Karen Skogen attended the dedication.
DISTRICT GOVERNOR
I write this having just completed our District Convention, and I thank each and every one who attended. I hope you found it as rewarding as I did. The Friday night entertainment did not disappoint and set the tone for the whole weekend. Those high school students remind us that when we hear how lazy or bad kids are these days, there are many ambitious and great kids out there as well. The speakers and breakout session leaders gave us much to think about and to act upon with our clubs to help those in need and to make our clubs better and more involved. I really enjoyed seeing all the interaction between everyone. That to me is one of the most important parts of conventions, meeting fellow Lions and making new friends that have likeminded goals to help our communities and the world.
As our International Director TJ said, "We need to have fun while we are serving". I was hearing quite a bit a laughing and seeing a lot of smiles which is what we need to keep us charged and eager to serve.
As we enter the last few months of the Lionistic year, we still have some work to do. In order to make the goals that we set as a district, we need let people know what we do as Lions and the benefits of the great feeling it brings when we help others and ask them to join us so they can get those rewards as well. We not only need to let our friends know but to let the world know by reporting our service and getting the word out in social media, newspapers, and in any other form that we can.
Barb and I are enjoying meeting all of you and the willingness that you have to share with us the things you do and why you enjoy being Lions. Sowing Seeds of Volunteerism is not just a slogan, it is the way I feel about the great Lions we have and the work we do. Remember that we need to nourish those seeds so that they grow into great Lions. We are all in this to help people including those who have willingly taken on leadership roles and those who have reluctantly taken them, let's give them all the support we can so that, as in the words of our International President Brian Sheehan, Together We Can and Together We Will.
Club Excellence Award presented to Amery Lions Club 2021-22 at the E-1 Convention. Pictured: ID TJ Tijerina, PDG Diane Fansler and DG Brian Dulmes.
Girl Scout Color Guard.
Chi Hi Wire Choir.
Speaker author John Kinville District Governors and ID TJ Tijerina and Juanita
SCENES FROM 27-E1 CONVENTION
Jim Ahrens presents check to Hayward Primary School for Rewards for Kids.
MAY / JUNE 2023 WisconsinLion 27 EDITOR:
Dulmes | barb.dulmes@gmail.com | 715-289-5280 or 715-829-4090
Jim Ahrens presents check to Mrs. Lee of Hayward Intermediate School for Rewards Program for Kids.
Barb
Elk Mound Lions Spread Love With Lights
Elk Mound Lions first Lights of Love event was a huge success in so many ways! Their community really got behind the event with 23 businesses and personal sponsors. Elk Mound Lions received great feedback from their community as well. The Club made themselves visible to their community by providing a very special event. They served hot drinks and some cookies, music by local musicians, and all with a smile. The club made a beautiful handout booklet with all the names and donors, and did the same with a huge bill board so all could read and enjoy. RED was for Season's greetings. BLUE was in memory. GREEN was for the Memory of a Armed Forces member. YELLOW was for in Honor of someone living. For their first Love of Lights the Club cleared over $6,000. Way to go ELK MOUND LIONS! They learned a lot this year and plan to make it even better next year. One small club can do big things.
COLLECTOR'S CORNER
Pins from Around the World
BY LION REID MEYER, ELLSWORTH LIONS CLUB
We held our 38th Annual District 27E2 Convention on March 17th-18th in Eau Claire and a special twist to the Friday night hospitality was a heritage theme, where we had a number of Lions throughout the District setup display tables to showcase their own heritage – some tables had foods to sample, others had items on display – it was a really nice and unique touch to this year's convention.
Given the theme, I thought it would be nice to showcase Lions pins from around the world. I had a box full of international pins, but the challenge was how to display them in a meaningful way. After considering different options, I decided to arrange the pins in a number of display cases that essentially aligned to how you would look at a world map itself (i.e., North American pins were displayed in the upper lefthand corner, South American pins in the lower lefthand corner, …, and Australian pins in the lower righthand corner). I printed simple labels for each country where I had a pin to display, and over 60 countries were included in the display. While it's hard to see in the picture provided, I even tried to arrange the pins in the shape of the country/continent where possible (e.g., Mexico, Italy, India, Australia).
Putting together a pin-related heritage table was a fun exercise, it forced me to brush up on my world geography and I realized the other countries of the world have some really interesting, cool Lions pins!
Email me at reidmeyer69@gmail.com for any future collecting topics you'd like to see covered and in the meantime – Happy Collecting!
E2 is a Vision
A vision screener certification course was held at the recent 27-E2 Convention. The new WLF Vision Screening Manual was introduced and sixteen vision screeners were certified. We plan to hold several more training sessions this year.
28 WisconsinLion MAY / JUNE 2023 27-E2 NEWS md27e2.org
Fundraise with a Pair of Shoes or More
Want to combine an environmental project with a fundraiser? Check out gotsneakers.com where they will pay your club for sending in used athletic shoes. You can register on their website and they'll send you some large collection bags with FedEx shipping labels already attached. Fill up a bag with 10-12 pairs of tennis shoes and drop at the nearest Fed Ex pick up location.
The organization will reuse shoes it can and recycle the rest. It's a great way to clean out your closet without creating more landfill plus you'll earn a little money for your club to put to good use. $7 for excellent condition, $2 for good condition, $1 for fair condition and 25 cents for recycled.
FROM THE 27-E2 DISTRICT GOVERNOR
MARCIA HAGEN
hagen.rjmk@gmail.com
715-896-0421
It was so good to see so many of you when we came together at our District 27 -E2 Convention. It was great to see old and new friends learning, having fun, planning, and serving together. It was a great time. Thanks to all of those who helped with the district SWOT analysis. This information is already being used by plan how to make our district better in service, leadership, and membership. Thanks especially to the "first timers" that provided some great ideas to help carry our district forward with strength and energy. We have had several Lions who have expressed an interest in serving in zone and cabinet positions and we are excited to have them serve with fresh perspectives and energy. In our district we will be planning already for the next Lion year starting July 1st and are thankful for Past District Governor Jay Nesseth's help in planning for the next year's Governor's role.
The results of the election show the Lion Kayleen Rosman will be the Wisconsin Lions Foundation representative, Second Vice District Governor James Dimock will be the new First Vice District Governor, and Hudson Lions will Host our District Golf Tournament next year.
CLUB – Three members received the Chevron Award for years of Lions service. Gary Gilbertson, 35 years; Harvey Wood, 40 years; and Ole Olson-45 years. Congratulations and thank you!
CLUB – Team Vlach with John Larkin, Ed Vlach, Shawn Callisto, Ole Olson, and Bill Mickelson won 1st place, 2nd event at the Medford Lions curling bonspiel held January 6-8.
Here are some of the highlights of our district successes. Currently our district and our multiple district show an increase in membership. We have had two well attended officers' workshops and online officer training available. Our individual support of LCIF is well above last year. And, we are near meeting our Lions Eye Bank giving goals. There is still time to give to the Lions Eye Bank of Wisconsin and now you may designate "missions" in the "remarks" to donate money to help with the new start up project to perform cataract surgery in Guatemala. I am very proud to be part of the work of the LEBW as part of my role on the Council of Governors.
I am very happy and proud of the work we are all doing in our district. It is amazing to see how much we are getting done to help our neighbors here and around the world.
"Together We Can and Together We Will"
BLACK RIVER FALLS LIONS
BLACK RIVER FALLS LIONS CLUB – The All Abilities Playground project is inclusive to children of all ages, including those with special needs. Pictured presenting the donation is Treasurer Jeff White, President John Jordan, Nicole Thompson, and Secretary Shawn Callisto. The Deer Hide Committee collected 363 hides this year and raised over $1,800, which was donated to the Wisconsin Lions Camp.
WLF HEARING AID APPLICATIONS
Information and applications for assistance with obtaining hearing aids for financially needy individuals in our District through our WLF Hearing Aid Program can be easily downloaded from the WLF website, wlf.info, under the Hearing Program tab. The application is also available from our District website, md27e2.org, in the District Organization tab.
CLUB – Member Ole Olson is a true example of the true sense of Lionism. Ole has been a Lion for over 45 years, starting his Lions journey in Grove City, Minnesota. Eventually, he and Judy, his wife of 62 years, settled in the Black River Falls area near her family. They have three childrenJeffrey, Suzy, and Jacqueline. He was self-employed as a stump grinder and enjoys curling with Lion friends in Centerville and watching Viking football. He and his wife enjoy going out to the local establishments for their meals, eating out every day! Ole is now 85 years old, yet is very active in the Lions Club and the community. He is on the Deer Hide committee, Sunshine/Recognition committee, and curling team. If he is not working for a fundraiser or project, he will bring his wife to the event to participate. Ole enjoys gardening and canning, selling his prize pickles and beets at the local farmer's market twice a week in summer.
DISTRICT GOVERNOR
BLACK RIVER FALLS LIONS
BLACK RIVER FALLS LIONS
MAY / JUNE 2023 WisconsinLion 29 EDITOR: PDG Ronda Bierbrauer | chamaca@frontiernet.net | 612-636-5044
In Memory / In Honor of…
WISCONSIN LIONS FOUNDATION DONATIONS
*Donation to Birch-Sturm Fund
MEMORIALS
PDG DEXTER BADINGER
Eagle Lioness Lions Club
PID Wayne & Cheryl Heiman
Gary Payne & Nancy Palmer Payne
JULIANNE BARKER
Hillsboro Lions Club
TOM BARNES
Appleton Noon Lions Club
JAMES BELOHLAVEK
Lake Dubay Lions Club
SARAH R. BOARDMAN
De Soto Area Lions Club
ART BOSTWICK
Cathy Bostwick
ANN BRITZ
Darrel & Laura Dwyer
WLF Director Jim Fletcher
Larry & Cindy Testa
ID Lee & WLF PP Mary Vrieze
SHARON CASPER
Fredonia Lions Club
BILL COLLINS
Richfield Lions Club
JOYCE CRAMER
Dennis & Mary Dettmering
JEAN DIELSCH
Ed & Dolores Prohaska
JIM FOOTE
Poplar-Wentworth Lions Club
LAWRENCE "FRITZ" FREDERICKSON
Tomah Lions Club
GEORGE GANTZ
Margie Gantz
Sharon Guyette
Richard & Barbara LaPlant
PDG Susan Selner
FRANK GERMINARO
David & Tracy De Angelis
Darrel & Laura Dwyer
WLF Director Jim Fletcher
The Germinaro Family
Cindy Huber
Arthur & Joann Marson
Jack & Dorothy Reindl
Larry & Cindy Testa
ID Lee & WLF PP Mary Vrieze
PDG FREDERICK "FRITZ" E. GESKE
PCC Robert & Dianne Bayerl*
Fall Creek Lions Club
PDG Dan & Sally Gaeu
PID Wayne & Cheryl Heiman
PID Phil & Betty Ingwell
PCC Dale L. Schroeder
Bernie & Colene Stuttgen
ID Lee & WLF PP Mary Vrieze
Dennis & Cathy Zempel
Richard Ziemann
CAROL GROENE
Cedric & Margaret Veum
MICHAEL "MIKE" IVES
Pleasantville Lions Club
DOROTHY KERHIN
Melissa Kerhin
Patricia Kerhin
Northwestern Mutual
Kristine Wells
LAWRENCE "LARRY" KIPFER
Ed Duklas
Kathryn Houpt
Arlene Kaiser
Gregory Kipfer
Robert Mercer
Jerry & Mary Mudlaff
Carl & Bonita Rynders
Victoria Ann Wenke
HAROLD KOBBERVIG
Caledonia Lions Club
TOM KOSS
Union Grove Lions Club
CATHY LAMBRIES
Manitowoc/Two Rivers Lions Club
THOMAS LAPINSKE
Neshkoro Lions Club
LINDA LEWANDOWSKI
David & Tracy De Angelis
Barbara & Richard Gorsegner
MICHAEL LEWANDOWSKI
David & Tracy De Angelis
Barbara & Richard Gorsegner
T. J. LOVELAND
Sparta Lions Club
DAVID MARELLO
Hillsboro Lions Club
JANET J. MCHUGH
Terry Adelbush
PDG Ron & Eldean Grosskopf
Beckie McHugh
Michael Papendorf
Jeffrey Smith
PID JERRY L. RADLINGER
PID Wayne & Cheryl Heiman
PCC Dale L. Schroeder
JOHN REICHLING
Winchester Lions Club
PDG KENNETH "KEN" ROHDE
Ellen Cheney
PDG Ron & Eldean Grosskopf
PID Phil & Betty Ingwell
PDG Mike & Roseanne Levendoski
Myra Schneider
Sheboygan Evening Lions Club
PDG Mike & Carolyn Tiber
Andrea Yenter
MERLE ROSS
Janice Winters
BARRY SCHEUERMANN
Gleason Area Lions Club
Gary & Mary Ann Gretenhardt
GERALD SCHULTZ
Judith Schultz
VALENTINE "VAL" SIKOWSKI
Crivitz Lions Club
MARY SUGDEN
David & Tracy De Angelis
PDG Greg & Kate Pryor
STEVE TONDI
Hillsboro Lions Club
DARLEEN ULRICH
Marge Jasinski
FERN WILLIAMS
Don & Gwen Nelson
HONORARIUMS
27-B1 CABINET MEMBERS
27-B1 District Lions Club
27-B1 PAST DISTRICT GOVERNORS
27-B1 District Lions Club
DG PHIL HOLLIS
Rib Mountain Lions Club
DG TOM KNUDTSON
West Salem Lions Club
ED NECKAR
Kate Neckar
WLF PRESIDENT LARRY TESTA
2022-23 WLF Board of Directors
Evett Hartvig
VIROQUA LIONS CLUB'S 75TH
ANNIVERSARY
Cashton Lions Club
La Farge Lions Club
WALES-GENESEE LIONS CLUB'S
50TH ANNIVERSARY
David & Tracy De Angelis
LIONS EYE BANK DONATIONS
HONORARIUMS
GRESHAM LIONS CLUB
DG John Reil
MEMORIALS
ROZELLA FERN
Joan Stone
PDG FRITZ GESKE
PDG Del Plank
PDG KEN ROHDE
PDG Del Plank
CAROL JAHN
PDG Del Plank
JUDY KRAUSE
PDG Del Plank
EMIL EWALD
PDG Jerry Wille
JERRY HAGMAN
Thomas and Susan Meyers
ROLAND ROHDE
John and Sally Daubert
LIONS PRIDE ENDOWMENT FUND DONATIONS
MEMORIALS
TED KANE
Cadott Lions Club & Doreen Mrotek
LION PETER TABOR
Holmen Lions Club
RICHARD HETZEL
Nancy Breckenfelder
KENNETH REINHOLD ROHDE
Margene Reyer
LION JOHN DAHLGREN
Lion Sam Kochel
Alphabet Soup
Lions
CC Council Chair (red jacket)
CS/T Cabinet Secretary/Treasurer
DG District Governor (red jacket)
DG-E District Governor-Elect (green jacket)
GLT Global Leadership Team
GMT Global Membership Team
GST Global Service Team
ID International Director
IP International President
IPDG Immediate Past District Governor (navy blue jacket)
IPID Immediate Past International Director
IPIP Immediate Past International President
IVP International Vice President (there is a 1st and 2nd)
PCC Past Council Chair (navy blue jacket)
PDG Past District Governor (navy blue jacket)
PID Past International Director
PIP Past International President
VDG Vice District Governor (1st and 2nd VDG) (green jacket)
VDG-E Vice District Governor Elect
WLF Dir. Wisconsin Lions Foundation Director (light gray jacket)
ZC Zone Chair
ORGANIZATION/PROGRAMS
CEP Club Excellence Process
COG Council of Governors
DFG Diabetes Focus Group
GAT Global Action Team
LCI Lions Clubs International
LCIF Lions Clubs International Foundation
LEBW Lions Eye Bank of Wisconsin
LEHP Lions Eye Health Program
Leo Leadership, Experience, Opportunity
Lions Liberty, Intelligence, Our Nations Safety
LPEF Lions Pride Endowment Fund
MD Multiple District
WLF Wisconsin Lions Foundation
YE Youth Exchange
AWARDS and RECOGNITIONS
BSF Birch-Sturm Fellowship
KOS Knight of Sight Fellowship
MJF Melvin Jones Fellowship
RHF Ray Hempel Fellowship
Whether you're a new member or a veteran, here's a refresher on what all the abbreviations we use mean.
30 WisconsinLion MAY / JUNE 2023
MELVIN JONES BIRCH-STURM KNIGHT OF SIGHT RAY HEMPEL FELLOWS
MEDFORD LIONS CLUB – President Steve DeLonay (center) presented the Knight of Sight Award to Diane Solberg (on the right) & Betty Herrell (on the left) for their exceptional contribution to helping provide the "Gift of Sight" to individuals with sight impairments. Joining the Medford Lions in presenting the awards are District Governor Bob Bertch and Laura Bertch. Diane & Betty are employed by HealthView Eye Care Centers and recently participated in a mission trip to the Dominican Republic. Betty & Diane were with VOSH (Volunteer Optometric Services to Humanity) International Mission Trip. While there, they helped perform 1,158 eye exams and dispensed roughly 1,400 pairs of glasses. The used glasses were donated to Lions Clubs throughout our state. In Medford, containers for the donation of used glasses are located in County Market, Frances L. Simek Memorial Library, HealthView Eye Care Center, Medford Motors, Nicolet Bank & Wisconsin Eye Care Center. Thanks to Diane & Betty and those who have donated used glasses to the Lions – you have provided the "Gift of Sight" to many!
IRON RIVER
LIONS CLUB
– members Ray Levine and Chris Olson were named Melvin Jones Fellows by Lions Clubs International Foundation at the December 2022 meeting of the Iron River Lions Club.
TOWN OF TEXAS
LIONS CLUB – Lion
Falton Fischer was presented a chevron and certificate denoting 50 years of service (actually 55 years!).
'Fisch' joined Lions in 1967, and has provided exemplary service as a Lion in the greater Wausau community. Also pictured are Lions Secretary Matt Waltz and Immediate Past President Tracy Reierson
BOULDER JUNCTION LIONS CLUB – Cherie Sanderson was named a Knight of Sight Fellow by the Lions Eye Bank of Wisconsin for her dedication, service, and commitment to helping provide the gift of sight. Pictured are Lion Cherie Sanderson, Wendi Neupert, Boulder Junction Lions Club President; and Bob Bertch, District 27-C2 Governor.
BOULDER JUNCTION LIONS CLUB –Betty Clough and Linda Hanh have been named Melvin Jones Fellows by Lions Clubs International Foundation (LCIF) in recognition of their commitment to serving the world community. Shown in photo left to right are Bob Bertch,District 27-C2 Governor; Lion Linda Hahn; Lion Betty Clough; and Wendi Neupert, Boulder Junction Lions Club President.
STEVE BRANDL Melvin Jones La Farge (D2)
MARC JACOBS Melvin Jones Amery (E1)
DIANE FANSLER Melvin Jones & Knight of Sight Amery (E1)
DENNIS DRAKE Birch-Sturm Boulder Junction (C2)
"DOC" NICCUM Birch-Sturm Amery (E1)
BRADLEY ROLE Knight of Sight Coon Valley (D2)
CURT HORMAN Knight of Sight Coon Valley (D2)
Congratulations!
ROBERT KERSKA Birch-Sturm Coon Valley (D2)
MAY / JUNE 2023 WisconsinLion 31
PETER ZIEBELL Melvin Jones Manawa (B2)
A Personal Vision Story
A heartwarming story that exemplifies what it means to be a Lion. It was an amazing experience to be see so many take it as a personal mission to make this happen to help someone in need and provide the gift of clear vision.
I am a disabled individual who had a hard time getting an eye exam because of physical limitations. My family took it upon themselves to start looking for an optometrist who could travel to my home and perform an eye exam. They called every optometrist they could find in Milwaukee County, but to no avail. One day, my brother-in-law heard about the new artificial intelligence website that can answer questions. He asked it a question about traveling optometrists, and oddly enough the Lions Club appeared.
He started doing more investigating and came up with the name Karyn Birmingham from the Greendale Lions Club. Karyn seemed to take it upon herself to solve my problem. I was very surprised – even doubtful. But sure enough, a few days later, my family called to say that Karyn found a optometrist, Dr. Emer, in Kenosha, who was willing to help me. The appointment was set for Tuesday. I was excited, but still couldn't believe it was really happening.
Tuesday came and I finally meet Karyn and an eye technician, Dave. He used a $5,000 piece of laser eye equipment to take the measurements he needed to provide to the optometrist. Just two days later, Karyn called to say that the optometrist would be coming on Saturday to complete the eye exam and talk with me.
On Saturday, Karyn, Dr. Emer, and Dave came together to complete the exam. After Dave took more measurements, Dr. Emer did his eye
Random Acts of Kindness
BY PDG DIANE FANSLER E1
After dealing with a multitude of problems with my house leading to its near destruction, I am also even more aware and appreciative of kindness. For this issue, I am highlighting Acts of kindness by Wisconsin Lions, including Acts submitted by Lions from D2, E1, and E2, as well as Acts submitted to me at the E1 Convention from Lions from B1, D2, E1, and E2. It will be apparent to Readers that many Acts of Kindness were submitted for this issue during the heavy snow and ice storms in March! Hopefully we Lions will continue our kindnesses during better weather as well.
FROM B1 AND D2: A Lion from Stevens Point (B1) reminds us of the small acts of kindness that we can do in our daily lives and believes that "Chivalry is still alive". She observed several kindnesses by Lions using the hotel elevator during the E1 Convention - allowing others to enter/exit before yourself and holding the door for passengers with mobility challenges. Also at the E1 Convention, a Lion from LaCrosse (D2) submitted his observations of Lions kindnesses to others while using the hotel elevators. These Acts of Kindness remind us that even small courteous behaviors are kindnesses and can positively impact others.
FROM D2: The St Joseph Lions Club and Lion Joe Shikonya generously contributed beds and bedding to LaCrosse area children in need. Club members helped to construct twin bed
measurements and testing and said he would do his final calculations at his office. The following Wednesday, Dr. Emer called me to say he was having a set of eyeglasses made for me to try, and that I would be happy with the results.
A couple of weeks later, a pair of glasses arrived - what a change! At first, they were blurry but after my eyes adjusted over the next few weeks, my vision sharpened. There was a slight blurry/shadow effect remaining so Dr. Emer fine-tuned the prescription and ordered me a new pair which proved to work out very well. He was very helpful and patient.
I would personally like to thank Karyn Birmingham from the Greendale Lions Club for making it her mission to coordinate everything, Dr. Emer from the Kenosha Lions Club (who drove over 40 miles to give me an eye exam), and Dave, the eye technician who came out of retirement to help me. All three of them gave up a Saturday – and I believe it was even Dave's anniversary that day (I apologized to his wife). These three Lions came together, never having met each other, to help me – a complete stranger – get an eye exam and see the world in a much clearer fashion.
Finally, I would like to truly thank my family, Debbie and Mike for taking it upon themselves to care enough about me to start this whole process. My gratitude could never be enough. Thank you again to the Lions Club organization, and all the members who help other people in need and solving their challenges.
frames as part of the "Sleep in Heavenly Peace" project and Lion Joe Shikonya challenged residents in his neighborhood to donate sheet sets for the beds. Lion Joe matched every five donations with one of his own. A total of 82 complete sheet sets were collected and delivered before Christmas!
ALSO FROM E1: The historic snowfalls this winter are featured in five Acts of kindness submitted by Lions from Amery, Cadott, Chetek, and Rice Lake Clubs, who all removed snow by plowing, blowing, and shoveling for elderly, ill, and absent neighbors.
FROM E2: Two Acts of kindness with snowplowing were also submitted by Lions from Altoona and Mondovi. The Altoona Lion even plowed a Township Road before the Township was able to plow it so that his elderly neighbors could safely exit their property.
FROM E1: A Lion from Turtle Lake Lions Club shared the extra kindnesses by the Editor of the Amery Free Press to E1 Lions. The newspaper Editor attended a presentation by Turtle Lake Lions PDG Gary and Lion Dorie Solum to the Amery Lions Club. The Editor was so impressed by the Solum's Pin Board representing MD27 DG Pins that she featured the Solums on a large front page article with several photos. The Solums then donated the board to the auction at the E1 Convention, thus contributing another $160 to District E1 Lions.
ALSO FROM E2: A Lion from Somerset described her recent Acts of Kindness at her local restaurant, where she occasionally pays for other patrons' meals and consistently is mindful to treat the servers with smiles and kindness. This Lion stated: "Why do I do this? I know I have been blessed so many times in my life with random acts of kindness. In return I give smiles, I make someone's day better, I wish someone a wonderful holiday, or I just do it because I can. I do sometimes hope someone I have done the kindness for will in return do one for someone else. One action, one day in someone's life, one moment of kindness, can make all the difference."
If you wish to submit an Act of Kindness by a Lion, please email a brief description with the District and Club name to Diane at dianefansler@yahoo.com. Please put Lions Kindness in the Subject Line.
32 WisconsinLion MAY / JUNE 2023