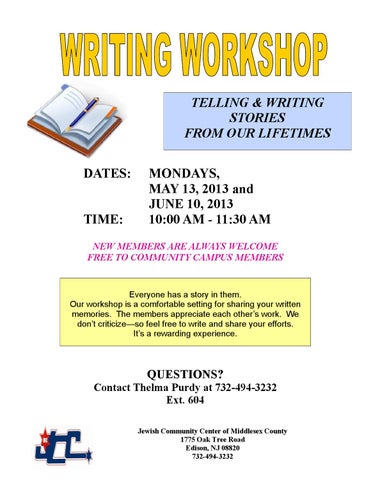 TELLING & WRITING STORIES FROM OUR LIFETIMES DATES: TIME:
MONDAYS, MAY 13, 2013 and JUNE 10, 2013 10:00 AM - 11:30 AM
NEW MEMBERS ARE ALWAYS WELCOME FREE TO COMMUNITY CAMPUS MEMBERS
Everyone has a story in them. Our workshop is a comfortable setting for sharing your written memories. The members appreciate each other's work. We don't criticize—so feel free to write and share your efforts. It's a rewarding experience.
QUESTIONS? Contact Thelma Purdy at 732-494-3232 Ext. 604 Jewish Community Center of Middlesex County 1775 Oak Tree Road Edison, NJ 08820 732-494-3232
WritingworkshopMayJune2013