VILLES D'AVENIR COLLECTION VOLUME 12 | ISSUE 2 PP 41614528 CHARMING COSMOPOLITAN AND WELCOMING
Building for the future.
Partnering with industry leaders for over 30 years to deliver real estate projects that support our economy and enrich our communities.
MAESTRIA –
Partners: Devimco Immobilier and Fiera Immobilier CLORIA –
Partner: Cloriacité Développement NOVIA – LONGUEUIL Partner: LSR GesDev ESPACE MONTMORENCY – LAVAL Partners: MONTONI, Groupe Sélection and Montez Corporation fondsftq.com/immobilier
MONTRÉAL
TROIS-RIVIÈRES
PUBLISHER
Jacques Boisvert
EDITOR-IN-CHIEF
René Vézina
EDITORIAL
Pierre Théroux, Nathalie Vallerand and René Vézina
TRANSLATION, REVISION AND PROOF-READING
Kat Coric, Catherine Faucher and Neil Kroetsch
PRODUCTION
Supervision : Edith Lajoie
Graphic design : Carole Bordeleau from Carbodesign Layout : Jack Marketing
PHOTOGRAPHS
Denis Bernier, Laëtitia Boudaud, Éric Carrière and Stéphan Poulin
COVER PAGE PHOTO
© Stéphan Poulin
ADVERTISING
Claire Boisvert Sales advisor
Camille Fréchette
Responsible for Quality and Customer Satisfaction 450 670-7770
ADMINISTRATION
Edith Lajoie Executive Director
ACCOUNTING
Catherine Faucher Philippe Bérubé CPA
PUBLICATIONS POST Agreement no PP 41614528
RETURN ADDRESS
70 De La Barre Street, suite 120 Longueuil QC J4K 5J3
SUBSCRIPTIONS
Fatima Reynel Gracia Responsible for subscriptions abonnement@jbcmedia.ca www.jbcmedia.ca
Legal deposits — Library and Archives Canada and Bibliothèque et Archives nationales du Québec, 2009. All requests for copies must be made in writing to the publisher. If your request is accepted, it must clearly indicate the source, as follows : From Villes d'avenir, Montréal Economic Powerhouse Edition The name of the author or photographer must also appear. Please note that this magazine appears seasonally. Publication dates subject to change.
ISSN 2293-8362
Villes d'avenir, Montréal Economic Powerhouse Edition is published by JBC Média inc.
President : Jacques Boisvert
70 De La Barre Street, suite 120 Longueuil QC J4K 5J3
Telephone : 450 670-7770 Toll free : 1 866 446-3185 Fax : 450 670-7771 info@jbcmedia.ca
GREATER MONTRÉAL IN RECOVERY MODE WITH THE SUPPORT OF MAJOR PLAYERS
www.jbcmedia.ca
We acknowledge the financial support of the Government of Canada
René Vézina
The pandemic hit hard, but in Montréal as elsewhere now is the time to get back on track. All over the world, many other cities are re-imagining their future, seeking to regain a momentum lost due to the destabilization of the pandemic. But much depends on the state of a city's economy.
Fortunately, the city has managed to cope fairly well. It can take advantage of its many strengths, such as its attractiveness to international tourism, especially for conventions and conferences, as confirmed by leading players in the tourism industry.
At the same time, employers are adapting their practices to reconcile telecommuting with the need for staff being physically present in the office. The Chamber of Commerce of Metropolitan Montréal presented the findings of a recent study on the future of commercial real estate. It proposes several measures to revitalize the downtown core in this post-pandemic moment.
The entire city can benefit from new initiatives. That is the focus of the city's Economic Development Department, which has been identifying strategic hubs and targeted actions. Add to this Montréal's strength not only as a university and research centre, unique in North America, but also in terms of culture and new technologies, and it is apparent that the city is well positioned to recover from the lethargy caused by COVID. What is required is for all stakeholders to contribute, each in their own way but all focused on the same goal. This issue of Montréal Economic Powerhouse is a testament to this new approach, and will no doubt be of great interest to our readers.
Pleasant reading!
René Vézina Editor-in-chief
MONTRÉAL ECONOMIC POWERHOUSE : : FALL 2022 EDITION 3 WORD FROM THE EDITOR-IN-CHIEF
www.mipim.com
the business of building businesses Built by MIPIM 2023 Better Places. Greater Impact. Stronger Business. 14-17 MARCH 2023 CANNES, FRANCE
ln
Montréal's economic situation is both unique and enviable, and we owe it to our tightly knit ecosystem and to the numerous ongoing and upcoming projects stemming from a fruitful collaboration with partners and corporate stakeholders.
We can take pride in our city's dynamic economy, as it has yielded Canada's highest job creation and the second highest in North America between February and July 2020.
We are also doing very well in terms of direct foreign investments, with $ 3.8 B invested in Montréal in 2021.
What's more, retail sales have reached $ 21.6 B for the 2nd trimester of 2022, which amounts to nearly 8 % more than the same period in 2021.
Montréal's tourism industry is also recovering well. Already this summer, we have welcomed over 8 million tourists, which represents 80 % of the summer affluence recorded back in 2019.
All these encouraging signs indicate that something special is happening in Montréal, something that is unlike anything else in North America at this time.
The next few months are promising. I am particularly eager to see the first accomplishments of our new facilitating unit, created in order to accelerate the realization of real estate projects in Montréal.
We are also counting on our renewed strategy for the downtown core, as we revitalize the area. This significant milestone will yield an evermore robust and dynamic economy, creative and cultural vitality year-round, as well as high quality inclusive developments in the very heart of our metropolis. After all, Montréal is and will remain Québec's economic and cultural driving force.
By continuing to work together, we will enhance Montréal's appeal, as well as the quality and affordability of life in our city, so as to continue to attract talents in order to address the current labour shortage.
Montréal will also be stronger to overcome the challenges that lie ahead, namely with respect to the increasing cost of living.
We are committed to maintaining our local and international leadership role in order to complete our ecological transition, so as to protect urban biodiversity while building a prosperous, resilient and sustainable city.
VALÉRIE PLANTE
Mayor of Montréal
MONTRÉAL ECONOMIC POWERHOUSE : : FALL 2022 EDITION 5
CITY OF MONTRÉAL
6 MONTRÉAL ECONOMIC POWERHOUSE : : FALL 2022 EDITION 3 A WORD FROM THE EDITOR-IN-CHIEF 5 A MESSAGE FROM THE MAYOR OF MONTRÉAL SPOTLIGHT ON THE ECONOMY 7 ENSURING MONTRÉ AL'S FUTURE, ONE SECTOR AT A TIME 10 MONTRÉ AL'S ECONOMY BENEFITS FROM ITS INTERNATIONAL STATUS 13 ENERGY TRANSITION KEY TO GROWTH OF GREATER MONTRÉAL GRE ATER MONTRÉAL MAYORS' TRIBUNE 22 SAINT-CONSTANT FOCUS ON THE WELL-BEING OF CITIZENS AND R AISING THE REGION'S PROFILE 23 SAINT-BRUNO-DE-MONTARVILLE AN EXCEPTIONAL LIVING ENVIRONMENT 24 TERREBONNE A NEW UNIVERSIT Y DISTRICT RE JUVENATING THE DOWNTOWN CORE 26 BACK TO THE OFFICE MONTRÉ AL IN SEDUCTION MODE 29 VIC TORIA SUR LE PARC / 700 ST.JACQUES A SIGNATURE PROJECT FOR MONTRÉAL'S INTERNATIONAL DISTRICT 32 UNIVERSITIES AND GRADUATES – ECONOMIC ENGINES FOR MONTRÉAL 36 DELEGATION FROM GREATER MONTRÉAL AT MIPIM 2023 A MUST-ATTEND BUSINESS INITIATIVE FOR THE REAL ESTATE INDUSTRY PROMOTIONAL SECTION CONTENT : : FALL 2022 EDITION The inside pages are printed on Rolland Enviro® Satin, 60lbs Text. This paper contains 100% post-consumer fiber, is manufactured using renewable energy—biogas—and is processed chlorine free. It is FSC® and Ancient Forest FriendlyTM certified. 100 % ECO-CALCULATOR Based on the Rolland products you selected compared to products in the industry made with virgin paper, your savings are : 9 59 trees 3902 15,548 km driven by car 19 18,850 km driven by car 17 177 10-minute showers in North America GJ 104 479,211 60-W light bulbs for one hour metric tons of wood m3 world eq. of water kg CO2 NMVOC
ENSURING MONTRÉAL'S FUTURE, ONE SECTOR AT A TIME
BY RENÉ VÉZINA
The economic development of Montréal remains a huge challenge, and priorities must be determined. The city's Economic Development Department is now targeting interventions aimed at three distinct sectors : eastern, central and western.
"For us, it is important to take into account the specific nature of neighbourhoods, in partnership with a wide variety of players who can accomplish a great deal working with the City, thus accelerating the completion of major projects," said Dieudonné Ella Oyono, interim director of the department. To achieve that goal, he and his dedicated team are actively involved in promoting those three axes, supporting companies and investors interested in developing these neighbourhoods.
EASTERN AXIS : SIGNIFICANT FUNDING FOR URBAN REVITALIZATION
"In late 2019 we received from the Québec government an envelope of $100 million to support the rejuvenation of this sector."
Efforts are focused on two sub-sectors. The first is the Pointe-de-l'Île industrial area, which covers a territory extending from Pointe-aux-Trembles to Anjou. The second is an industrial park now called Écoparc industriel de la Grande Prairie. It is located in Mercier–Hochelaga-Maisonneuve near the Assomption subway station.
"This involves much more than simply decontaminating the land," he noted. "After consultations with stakeholders, we are now putting into place a vision for a better working environment, promoting sustainable mobility, for example. The development plan will be presented in the coming months. "One thing for sure," he added, "is that we're going to be looking at green spaces such as preserving Steinberg Woods, a project recently announced by the City and Hydro-Québec. In general, it is important to eliminate nuisances such as heat islands as best we can, and to establish physical links to the river as much as possible."
Access to the St. Lawrence River, still surprisingly problematic in Montréal, will be an issue and will most likely become even more important in the years to come. Under such circumstances, it is understandable that emphasis will be placed on improving the quality of life, given that the area has suffered from the decline of its industrial base, plus the impact of the many road and highway projects that surround it.
MONTRÉAL ECONOMIC POWERHOUSE : : FALL 2022 EDITION 7
JBC MÉDIA BY ÉRIC CARRIÈRE
SPOTLIGHT ON THE ECONOMY
CENTRAL AXIS : SPECIAL FOCUS ON THE DOWNTOWN CORE
The heart of the city suffered during the pandemic. "We want a downtown that is vibrant at all hours of the day and that builds on its strengths, on its know-how, culture, innovation and social inclusion," said Dieudonné Ella Oyono. Two strategic neighbourhoods are being targeted. The first lies east of the Faubourgs sector, and includes the former Radio-Canada building and the old Molson Brewery. They are the focus of a special urban plan (PPU des Faubourgs).
The second is the Bridge-Bonaventure sector around the Samuel-De Champlain Bridge. "It is important to maintain and even improve its attractiveness to employers," insists Mr. Ella Oyono. High-tech companies such as Mel's film studios are already present there, and the intention is to focus on cultural and creative industries "without excluding other industries."
There are four main objectives for the downtown core specifically :
• Reinforce its role as an economic and cultural engine, which will benefit Montréal and by extension, all of Québec.
• Think of new approaches for downtown not only in terms of restaurants and cultural events, but also as a place to live.
• Place more emphasis on the residential component, on neighbourhood life that welcomes a diversity of people and industries.
• Plan development so that it includes green transition, not just in terms of more green space but also as regards fluid transit systems, sustainable mobility and addressing the matter of homeless people in the downtown area.
WESTERN AXIS : PROMOTE THE REM RAPID TRANSIT NETWORK
"We work with other boroughs across Greater Montréal and assist them with their various projects." The priorities of the department in the western sector are focused on two aspects, i.e. promoting Technoparc Montréal and its role as a science park, and the fact that it will be readily accessible in the medium term via the REM light rail network.
The Hodge-Lebeau neighbourhood in the St. Laurent borough is also of interest to the City, with many buildings dating back to the 1950s and 1960s, such as the former National Film Board building on Highway 40. It has great potential for redevelopment, although this once thriving area has clearly not aged well.
"We also need to realize that our actions can extend farther west, to places like Kirkland or even Sainte-Annede-Bellevue, at the western tip of the island." The City of Montréal clearly supports the economic development of adjacent towns.
AN EXPANDED MANDATE, A COMMITMENT TO DEVELOPMENT
All this will involve decontaminating former industrial sites, renovating obsolete buildings and encouraging inclusive real estate projects. It means renewing and refurbishing the city to make it more attractive, but will that be the case?
"We sometimes hear people say that it takes longer in Montréal than elsewhere," admits Dieudonné Ella Oyono. "But we always hear from people who are dissatisfied, rarely those who are happy. To speed up the completion of real estate projects, the City recently created a special task force to address the problem. In addition to optimizing consultation with citizens and facilitating project authorization, we want to work in conjunction with developers to build comprehensive, thriving neighbourhoods that offer an exceptional quality of life."
Understandably, the role of director of Economic Development is not an easy one, as it entails maintaining an equilibrium, ensuring that the city's core objectives are met and also that Montréal's competitiveness is maintained. Despite the challenges, he remains committed. "When it comes to economic development, those we used to refer to as our clients must become our partners. Montréal has many technical resources and financial assistance programs at its disposal. Everything is in place so that, with our partners, we can pursue a dream. Together, we can build the Montréal of tomorrow."
Well then, time to take the plunge!
8 MONTRÉAL ECONOMIC POWERHOUSE : : FALL 2022 EDITION
SPOTLIGHT ON THE ECONOMY ISTOCK BY NICOLASMCCOMBER
Find out more about our service to businesses
Contact Affaires Montréal at : 514 394 -1793
City employees will assist you with any questions regarding programs, funding and support for businesses and stores.
MONTRÉAL'S ECONOMY BENEFITS FROM ITS INTERNATIONAL STATUS
BY RENÉ VÉZINA
Montréal's economy has been doing quite well, despite a pandemic and a recession. One of the reasons it continues to stand out is because of the people who come to visit the city, visitors from abroad, from across Canada and from other regions of Québec.
That is what emerges from observations made by two leading figures in the Montréal economy, Yves Lalumière, CEO of Tourisme Montréal, and Emmanuelle Legault, the new CEO of the Palais des congrès de Montréal. "Yes, it's true. There was a significant drop in business in Montréal and across Canada, as we were seen as too strict in terms of measures employed to control the pandemic, which made it difficult for people to come for a visit," said Yves Lalumière, who took up his current position in 2013. "We focused our promotional campaigns on Quebecers, urging them to discover or rediscover what Montréal has to offer," he added.
And that approach worked. The hotel occupancy rate has remained at nearly 80%, figures for 2019, due in part to travel packages offered to encourage tourists from across Québec. "It was literally a new clientele. Our task is to attract people to Montréal, no matter where they come from. We are now expecting a strong uptick in international visitors, starting with those who will be attending COP15 in December."
LANDMARK EVENTS
COP15 is a major biodiversity conference that will bring together 12,000 delegates from 185 countries, highlighting the city's international character. Participants will develop an action plan for protecting nature and halting biodiversity loss around the world, in a context of climate change. And Québec can serve as a model, given its reliance on renewable energy, particularly hydroelectricity.
"This will be a landmark event, with an estimated economic impact of $250 million, and it is not the only one," noted Emmanuelle Legault, who was named
YVES LALUMIÈRE CEO Tourisme Montréal
CEO of the Palais des congrès in August 2021. "Our objective is to become a catalyst for generating economic, social and intellectual spin-offs that benefit our entire community and that contribute to rejuvenating a vibrant downtown core."
10 MONTRÉAL ECONOMIC POWERHOUSE : : FALL 2022 EDITION
SPOTLIGHT ON THE ECONOMY
JBC MÉDIA BY ÉRIC CARRIÈRE
MONTRÉAL ECONOMIC POWERHOUSE : : FALL 2022 EDITION 11 SAN I TAT IO N S OL UT CL EAN I NG SERVICE CARPET C L EAN ING WI ND O W C L EAN ING TO TA L SANITI Z AT SERV I CE S L ANDSCAPING & SN PO ST-C O NSTRUCTI TECHN I CA L B UI L DING MANAGEMEN ENERG Y MANAGEMEN RENEWA BL E ENERG PUMPS, M OTO RS, & CH ILL ER S PL UM BI NG, MECHANICA & B OIL ER S HVAC/ R EL ECTR I CAL SERVICE B UI LDI NG AUT O MATI For all your building maintenance needs, experience GDI's integrated solutions INTEGRATED MAINTENANCE MANAGEMENT EV CHARGING STATION gdi.com ainsworth.com
STÉPHAN POULIN
LEGAULT CEO Palais des congrès de Montréal
She points to the 24th International AIDS Conference held in Montréal last summer, an event attended by thousands of participants from around the world. "We're not simply collecting rent for use of the convention centre. We are here to encourage discussions, to get local firms, universities and research centres involved in developing solutions for pressing issues. That approach will benefit Montréal."
She downplays traffic constraints, a sore point for many. "The convention centre is easily accessible by subway, which is not always the case for similar venues elsewhere. Delegates can stay in hotels near the convention centre, so they won't really be inconvenienced by the ongoing road repair work."
She is expecting a large number of delegates, and for good reason. "Montréal is the number one city in North America in terms of the volume of international events that are held here," she added, pointing out the role played by universities and research centres and the many meetings and conventions their work generates. "We can take pride in the fact that the city is home to 11 institutions for higher education. The city is a beacon for academics in both Canada and the United States, which adds to its appeal."
That claim is backed by recent statistics. "We are already fully booked for 2023, with 135 events confirmed. That bodes well for the future."
STRONG TOURIST POTENTIAL
Yves Lalumière also adopts an optimistic outlook. "Overall, we expect a very good year for tourism year in 2023, with a full return by 2025. That projection is for business travel in particular. We're aiming for 500 business events, the number we had in 2019."
Still, he remains cautious. Who knows what the future holds in store? He mentioned a few events that revitalized tourism in Montréal, and thus the local economy as well. "Take Complètement Cirque for example. That international circus festival enhanced the city's international reputation. Add to that the art installation The Ring at Place Ville Marie, the free outdoor events and activities at PVM's Esplanade, the facade of the Museum of Fine Arts lit up every night from sunset to 11 p.m., plus other attractions across Montréal."
The city can also build on its enduring reputation for diverse, top-notch restaurants. "Initiatives like Montréal à table, which highlights great restaurateurs this fall, help celebrate local cuisine and attract people from all over," said Mr. Lalumière. Obviously, the shortage of personnel in the hospitality industry creates problems, but Montréal is not alone in having to deal with this recurring problem.
DOWNTOWN – AN ECONOMIC VECTOR
People are still flocking to the downtown area, with sidewalks sometimes crowded during rush hour. That's a far cry from the desolation seen during the pandemic, but the downtown core could be even more crowded. Yves Lalumière hopes that government officials will also lend a hand. "It's time for the various levels of government to bring their operations back downtown. It could help us have an even better winter." He realizes that telecommuting is here to stay, but that it should not overshadow face-to-face activities.
Emmanuelle Legault has her eyes on the future. "We want to identify other sectors capable of attracting 50,000 delegates." For the moment, the size of the Palais des congrès limits those ambitions. She mentions the possibility of expanding the facilities. "We could add height to the building, and also expand toward the east. That remains to be seen."
She points out that attendance at the convention centre and the economic spin-offs it generates benefit not only Montréal, but other regions as well. "Many people who come here extend their stay and discover the Laurentians, the Eastern Townships and the Charlevoix region, for example. We have what it takes to become a real engine of growth for the tourism industry."
A healthy, vibrant Montréal also means a healthy, vibrant Québec – a goal worth pursuing.
12 MONTRÉAL ECONOMIC POWERHOUSE : : FALL 2022 EDITION
EMMANUELLE
JBC MÉDIA BY ÉRIC CARRIÈRE
SPOTLIGHT ON THE ECONOMY
ENERGY TRANSITION KEY TO GROWTH OF GREATER MONTRÉAL
BY RENÉ VÉZINA
Despite the turmoil of the past few years the economy of Québec, and Greater Montréal in particular, is doing relatively well, especially when compared to other urban centres around the world. Maintaining this momentum will require, among other things, implementation of a successful energy transition plan, something Greater Montréal is well positioned to achieve.
That is the main thrust of the impressive Metropolitan Economic Development Plan (MEDP) 2022-2031 prepared by the Metropolitan Montréal Community (MMC). The report will be formally presented in November, and the intent is to "accelerate the change towards a more productive, more inclusive and greener economy."
Note that the MMC comprises 82 municipalities that make up Greater Montréal, including the islands of Montréal and Laval, Longueuil along with northern and southern suburbs, as well as a substantial portion of the outlying Montérégie region and the outskirts of the Lanaudière and Laurentian regions.
The MMC includes more than 4 million inhabitants and generates more than half of the Québec economy. In 2020 its real gross domestic product was roughly $248 billion. In 2018 and 2019 the economy of Greater Montréal posted, at 3.5% and 3.4% respectively, the highest annual growth of all major Canadian cities. What's more, growth of the MMC economy benefits all of Québec. The report points out that from 2010 to 2020 "the metropolitan economy accounted for 82% of jobs created in the province."
Very impressive, but how do we keep that momentum going? That was precisely the objective of this study. Its aim is to propel the MMC into the next decade.
MONTRÉAL ECONOMIC POWERHOUSE : : FALL 2022 EDITION 13
FOCUS ON THE METROPOLITAN MONTRÉAL COMMUNITY
JBC MÉDIA BY ÉRIC CARRIÈRE
SYLVAIN GIGUÈRE
Chief Economist and Head of Metropolitan Economic Development Metropolitain Montréal Community
Terrebonne An Exceptional Place to Live
A population of 121,000
One of Quebec's highest proportion of young families and an average age of 38 4th largest city in the Montréal Metropolitan Community (MMC) and 10th in Quebec
Strategically located: A territory crossed by highways 40, 640 and 25 and a station on the Mascouche commuter train line Naturally wealthy with the Rivière des Mille Îles, the Biodiversity Corridor and the Ruisseau de Feu Conservation Park.
Discover
The upcoming university district, The future Industrial Ecopark, with its 1.6 million square metres.
An effervescent city with exciting projects such as:
the university district project
CLIMATE CHANGE THE MAJOR FOCUS
"Responding adequately and intelligently is something that will be playing out everywhere," said Sylvain Giguère, chief economist at the MMC. His mission focuses on the economic development of the Greater Montréal region. "We have a great advantage in that we generate less greenhouse gas because of our significant renewable energy resources, starting with hydroelectricity. Imagine the advantage that gives us. For example, Québec could become a world reference in intermodal transport if we are able to capitalize on and exploit our impressive expertise in that area."
The MMC is already doing well. Its unemployment rate is the lowest it's been in 47 years, at around 5%. Income inequality is among the lowest in North America, which mitigates the risk of violence. Until recently, the labour force was relatively dynamic and accessible due to the contribution of immigrants, who are remarkably skilled. The city has a large number of foreign students, which helps make Montréal 11th of 40 large North American cities as regards the proportion of students in their population.
One could add the financing potential that has grown over time for new investments, with financial players now jumping into the fray, along with paragovernmental organizations like Investissement Québec.
"In addition, we have adjusted to new realities," notes Sylvain Giguère. "Montréal's advances in artificial intelligence, for example, are recognized around the world. The knowledge economy is exploding here." That's all very nice (but roses also have thorns), if not for some weak points. And MMC's thorns have a lot to do with its lagging productivity. "We must admit that we have work to do," says Sylvain Giguère. "Our post-secondary graduation rate has improved, but the most important thing for metropolitan regions with a strong focus on the knowledge sector is the university graduation rate. There is a very strong correlation between the number of university graduates and productivity. In that respect, the MMC is in 32nd place among the 40 biggest cities in North America. The demands of the new economy are high all over the world, and we have to keep up. We need to do more in education, at all levels."
IMPRESSIVE ASSETS TO PROMOTE MONTRÉAL INTERNATIONALLY
At Montréal International, the image of Montréal as a green metropolis is being used to attract new
STÉPHANE PAQUET President and general manager Montréal International
investments to the region. In 2021 for example, it was announced that the city will host the new International Sustainability Standards Board, an organization responsible for establishing environmental financial disclosure standards for all companies worldwide. A sort of watchdog, in short, it will oversee international finance, and Montréal had good arguments in its favour.
"In that spirit, we and the MMC are speaking the same language," said Stéphane Paquet, president and general manager of Montréal International. "Are we going to encourage investments in a new cement plant? No. What we are now aiming for is so-called clean technology, and we have three people working on it. We also want to reinforce the new economic ecosystem of Greater Montréal."
MONTRÉAL ECONOMIC POWERHOUSE : : FALL 2022 EDITION 15
FOCUS ON THE METROPOLITAN MONTRÉAL COMMUNITY
JBC MÉDIA BY ÉRIC CARRIÈRE
Active
by promoting healthy lifestyles through its sports infrastructures and its leisure offer.
Saint-Constant, a city that is ...
Inclusive
by listening to its citizens through its participatory governance.
Balanced
where nature and modernity live together and evolve in harmony.
A city that looks like us and brings us together
That does not mean wiping the slate clean, but instead working to gradually transform the economic profile of Greater Montréal. "When I travel abroad to promote the city," he added, "what I promote is the city's new positioning, one based on the knowledge sector and research." That would be fine if Montréal was the only player in the game, but other major cities around the world are also making similar claims. Moreover, new companies are likely to compete with those that already have a strong foothold in the MMC. "That forces us to be better, to place the emphasis on innovation. That approach might eventually lead to new networks and new alliances that are profitable to all parties. For example, a small or medium-sized firm in Mascouche could rely on a newly established Asian company to develop new markets there. New blood is a good thing!"
Greater Montréal must be able to truly showcase its strengths in the knowledge economy. Talking about it is good, but focusing and actively working on it is even better. "The reality is that we have caught up in knowledge-intensive services, to the point where we have progressed faster than Toronto or Vancouver," noted Sylvain Giguère. He is ever mindful, however, of the importance of catching up with that other weakness, poor productivity.
Hence the other central statement that appears in the MEDP : "To make Greater Montréal a productive, inclusive and green metropolitan economy." The reference to inclusion is strategic, as the report clearly indicates that the progress of recent years has coincided with improved incomes for less fortunate families, especially when compared to the United States, where disparities of income are often extreme. Even during the pandemic, the various measures taken in Canada by all three levels of government helped mitigate what could have become a terrible social divide. At the same time, Greater Montréal's reputation for tolerance has helped to position the city as a welcoming place for people persecuted elsewhere.
THE INESCAPABLE ISSUE OF LABOUR SCARCITY
Social inclusion is a matter that is also closely tied to the labour scarcity problem. Any intervention that maintains or increases the participation of labour forces that traditionally have had a smaller presence on the job market (such as recent immigrants, First Nations people or the handicapped) helps fortify the MMC economy."We prefer to talk about a labour scarcity rather a labour shortage," notes Stéphane Paquet. The problem is not unsolvable, since we can go abroad to recruit the skilled people we are looking for.
Recent efforts at Montréal International have also borne fruit. Over 100,000 international candidates are currently (autumn 2022) registered with the recruiting platform Talent Montréal, which is almost 45,000 more than at the close of 2021. The platform allows companies in Greater Montréal to post local job openings. The organization promotes them online through digital campaigns that connect local employers with international workers. Candidates come from Europe, Latin America and Africa, for the most part. In autumn 2022, 173 firms in Greater Montréal called on the recruiting services of Montréal International, a high point for an organization that has been working in this sector for the past decade. Thanks to the initiatives of Montréal International, in 2021 some 1135 skilled individuals from other countries moved to Québec, hired by companies in need of reinforcement. It is not enough to attract businesses here. We must also attract the people that the Montréal economy needs.
MONTRÉAL ECONOMIC POWERHOUSE : : FALL 2022 EDITION 17
ISTOCK BY 7POSTMAN FOCUS ON THE METROPOLITAN MONTRÉAL COMMUNITY
18 MONTRÉAL ECONOMIC POWERHOUSE : : FALL 2022 EDITION NEXT STEPS: FALL 2022 Architectural contract awarding 2025-2026 Construction works END OF 2026 Unveiling / Opening 2023 – 2024 Preparation of plans and specifications for construction / Architecture and engineering works
This raises a practical question, however. If they are already in place and want to expand their horizons, is there space to do so? And for recent arrivals, what can we offer them, when affordable land and housing are becoming increasingly scarce?
"Yes, available space is indeed scarce," said Sylvain Giguère, "and that could become an obstacle to development. "But Montréal is full of dilapidated, sometimes abandoned buildings related to the 'old economy'. They can be renovated and upgraded." There is no shortage of such buildings. Just think of the huge industrial complex, now obsolete, located at 4000 St. Patrick Street alongside the Lachine Canal, currently the focus of a major competition to rejuvenate the space. "A number of these old industrial sites in the downtown core and in the outskirts may need to be decontaminated, but they can be given new life," he added.
The MEDP report specifically emphasizes that "Revitalization of industrial building stock must be carried out according to the highest environmental standards." In other words, retrofitting these industrial heritage sites is a great opportunity so long as it helps improve productivity, the standard of living and the shift to energy transition.
An ambitious approach, indeed. That is why it is important that the MMC actively pursue it, for Montréal is not the only city to find itself with an industrial heritage that is now obsolete. Québec's advantage remains its high production of renewable energy, so it is in a strong position at the head of the pack.
But the picture is not uniformly rosy. "Housing used to be relatively affordable but no longer is. It is also becoming increasingly scarce," admitted Mr. Giguère. That is why there must be a housing policy for the whole of Greater Montréal. It becomes illogical to want to recruit workers if they cannot find housing for themselves and their families. Even if they manage to move to the suburbs, where costs are lower, they will still need to get around without being obliged to use their cars. They will thus need access to an efficient public transit system, a need that reflects the report's objective of building a green economy for the MMC. The MMC recently drafted a Metropolitan Housing Policy with action
plans designed to surmount the affordability crisis, making it easier to attract new talent.
"Greater Montréal's reputation already attracts foreign workers, and its excellence in artificial intelligence reinforces that perception, as do advances made in the life sciences, for example," noted Mr. Paquet. "Several major international groups have taken notice. We are a force to be reckoned with."
Obviously, these analyses and objectives will have to be promoted abroad if that international approach is to make headway. But for the MMC, simply acknowledging our strengths at a time when the outlook is somewhat bleak can help us to look ahead, in this case to 2031. "We are already in action mode," said Sylvain Giguère. "It is important to mobilize our government and municipal partners to sign on, to join with us in implementing these objectives."
We're all about solutions.
Advice. Expertise. Guidance. lavaleconomique.com
MONTRÉAL ECONOMIC POWERHOUSE : : FALL 2022 EDITION 19
FOCUS ON THE METROPOLITAN MONTRÉAL COMMUNITY
Clearly, the focus on energy transition is crucial. It is not just a matter of draping ourselves under a cloak of "green virtue" whereby we advocate a reduction in greenhouse emissions by making informed industrial and technological choices. The MEDP report describes what's at stake as a communal and a human challenge, based on real advances that can help maintain and even raise our standard of living. There is the risk of paying a stiff price for remaining
too attached to hydrocarbons, which are condemned to decline as a source of energy, even as their cost is currently rising due to Russia's invasion of Ukraine. What will Greater Montréal look like in 2031? It's hard to say. Given the undeniable progress made in recent years, along with Québec's priceless heritage of renewable energy and the technological advances that continue to be made, the picture, even if vague, is beginning to become clearer. It looks promising.
20 MONTRÉAL ECONOMIC POWERHOUSE : : FALL 2022 EDITION
FOCUS ON THE METROPOLITAN MONTRÉAL COMMUNITY
BY GUY BANVILLE
ISTOCK
MONTRÉAL ECONOMIC POWERHOUSE : : FALL 2022 EDITION FROM LEFT TO RIGHT AND TOP TO BOTTOM : ISTOCK BY MARCHMEENA - ISTOCK BY RIDOFRANZ - ISTOCK BY GORODENKOFF - ISTOCK BY KAR-TR ISTOCK BY VIOLETASTOIMENOVA - ISTOCK BY GOODVIBES PHOTO - ISTOCK BY MIHAILOMILOVANOVIC - ISTOCK BY GILAXIA - ISTOCK BY OKRASYUK ISTOCK BY MOON SAFARI - ISTOCK BY RECEP-BG - ISTOCK BY SDI PRODUCTIONS - ISTOCK BY CECILIE ARCURS - ISTOCK BY ARCURS GORODENKOFF UNIVERSITY DISTRICT A LEADING LIGHT IN THE REGION THE WELL-BEING OF CITIZENS EXCEPTIONAL LIVING ENVIRONMENT GREATER MONTRÉAL MAYORS' TRIBUNE PROMOTIONAL SECTION 21
CITY OF SAINT-CONSTANT FOCUS ON THE WELL-BEING OF CITIZENS AND RAISING THE REGION'S PROFILE
With sports facilities to promote physical exercise, a carbon-neutral bridge, a new sports and cultural complex to fill a void in regional cultural infrastructures, plus an innovative building to increase the local housing supply, the City of Saint-Constant offers a living environment very much attuned to current needs and concerns.
Development projects in Saint-Constant are structured around seven hubs. The regional recreational hub being built along road 132 will provide services primarily to local citizens, but also to those in the adjacent Roussillon Regional County, a catchment area of more than 200,000 people.
It has long been known that adopting and maintaining a healthy lifestyle provides positive health benefits, but the recent pandemic highlighted its importance. "In the midst of COVID, we were able to complete the construction of the Complexe aquatique Saint-Constant on time and on budget," said Mayor Jean-Claude Boyer. The modern 43,000 square-foot sports facility (a $13.8 million investment) opened in May 2021. It includes a 10-lane, 25-metre pool, a recreational pool and a winding "river", as well as gradual beach-style access to the water and other features.
"We are very pleased with the finishing touches, the quality of the facilities and the use of energy-efficient technologies," he added.
To connect the two banks of the Saint-Régis River in the heart of the regional recreational hub near the Aquatic Complex, the municipality built a legacy bridge, named in honour of the 275th anniversary of the founding of Saint-Constant. "We are particularly proud of that bridge," noted Jean-Claude Boyer. "First of all, because not many are being built these days, but also because in addition to its practical role, it looks like a work of art. It is a showcase of Québec know-how." The beams and arches of the 29-metre bridge, which opened to traffic in July 2021, were built from black spruce from a renewable, sustainable forest in Abitibi, with the logs processed at Chantiers Chibougamau. The spruce was chosen because its greenhouse gas emissions are lower than those generated by concrete and steel, and also because of the ecofriendly, sustainable nature of wood.
The municipality plans to complete other major projects by 2025, including a tennis complex with six indoor and four outdoor courts, as well as an innovative building that will be home to a fire station topped by one floor of office space and then additional floors of residential units. "It's a unique concept in Québec. You have to go to the United States or Western Canada to see this type of building."
22 MONTRÉAL ECONOMIC POWERHOUSE : : FALL 2022 EDITION GREATER MONTRÉAL MAYORS' TRIBUNE
n < COMPLEXE AQUATIQUE SAINT-CONSTANT & PONT DU LEGS DU 275E
JEAN-CLAUDE BOYER Mayor of Saint-Constant
SAINT-BRUNO-DE-MONTARVILLE
AN EXCEPTIONAL LIVING ENVIRONMENT
Saint-Bruno offers nature, a high quality of life and booming economic development.
"Few towns of our size have managed to keep intact a traditional village ambience that is warm and welcoming. The local economy is diverse and includes many restaurants. We also have a lake in the centre of town, plus a mountain park," said Mayor Ludovic Grisé Farand, adding that in 2018 the magazine MoneySense named Saint-Brunode-Montarville as the best city in Canada to raise a family, placing it in fourth position overall of the 415 cities and towns ranked across the country.
"We continue to innovate for young families," he added, noting the creation of 280 new places in three daycare centres over the next two years.
Another factor that contributes to Saint-Bruno's exceptional quality is the easily accessible mass transit system. The Réseau de transport de Longueuil serves the city, as does the exo commuter train station. Saint-Bruno-de-Montarville is also surrounded by working farms whose status is protected by law.
"We are a dynamic town with a lot of activities for families, including cultural events and sports," he said. "In fact, we are beginning the construction of a multi-sport complex, a $55 million investment, that we expect to be ready by the end of 2026.
TWO INDUSTRIAL PARKS
"We are pursuing an approach balanced between economic development, real estate development and sustainable development," noted Ludovic Grisé Farand. "First, there is the more traditional Gérard-Filion business park. Then there is an industrial eco-park whose stricter environmental standards allow us to achieve an equilibrium between industrial development and sustainable development. No activities that require a chimney are allowed, for example. Our goal with this park is to attract quality businesses that offer well-paying jobs."
In September the Montoni Group broke ground on the future $450 million industrial complex to be built in the ecopark. The complex will meet zero-carbon building standards and will aim for LEED certification. "Our industrial parks are strategically located near Highways 30 and 20 and Route 116, which are major arteries in the North American supply chain."
In the vicinity of Promenades SaintBruno, a large shopping centre, 3,000 new housing units will soon be built. The complex will include social housing and affordable housing.
Some 27,000 people live in Saint-Brunode-Montarville, a territory that is 43 km2 in area, 17% of which is woods and green space. n
MONTRÉAL ECONOMIC POWERHOUSE : : FALL 2022 EDITION 23
AERIAL
<
VIEW OF LAC SEIGNEURIAL IN PARC NATIONAL DU MONT-SAINT-BRUNO
LUDOVIC GRISÉ FARAND Mayor of Saint-Bruno-de-Montarville
TERREBONNE A NEW UNIVERSITY DISTRICT
In response to a call for submissions made by the Centre régional universitaire de Lanaudière to build a campus, the City of Terrebonne recently submitted a proposal to create a comprehensive, dynamic living environment for people living in the Lanaudière region. In partnership with the Fonds immobilier de solidarité FTQ investment fund and Medifice Construction, the campus project will include university classrooms, student residences, a swimming pool, a gymnasium and affordable housing, and will also be close to rivière des Prairies and the ruisseau de Feu nature park. Municipal infrastructure is already in place, and the district is easily accessible via Highways 40 and 640.
"We want to promote social diversity and synergy with existing institutions such as the Pierre-Le Gardeur Hospital and the future Écoparc, a 1.6 million square metre industrial park to be developed north of Highway 640. What we want is to interconnect the various municipal functions and make them accessible throughout the campus," said Serge Villandré, general manager of the City of Terrebonne.
"This transit-oriented development (TOD) is a neighbourhood close to stores and businesses, the gare de l'Est train station, restaurants and bars. We aim to create an environment conducive to students' academic progress," added Mayor Mathieu Traversy. He noted that the graduation rate in Terrebonne (17% in 2016)
is among the lowest in Québec, one of the explanatory factors being the travel time to universities in Montréal. Involving several connections from one transit line to another, it can be very long. "If students in the Lanaudière region and in the east end of Montréal (which is also poorly served by institutions of higher education) could reduce their commuting time and devote it to their studies, a part-time job or family and friends, their quality of life would be improved. And quality of life is an important value among younger generations."
"Terrebonne is the tenth largest city in Québec, but the only one of the ten that does not have an infrastructure of higher education within its territory," the mayor noted.
"With the nearby Écoparc, which will implement the principles of the circular economy and establish an environmentally responsible living environment for all who work there, we are seeking companies that employ green, carbon-neutral technologies. That is why there is a lot of networking to be done, and what better place to address those challenges than in a campus and a university district?" said the city's general manager Serge Villandré. n
24 MONTRÉAL ECONOMIC POWERHOUSE : : FALL 2022 EDITION GREATER MONTRÉAL MAYORS' TRIBUNE
MATHIEU TRAVERSY Mayor of Terrebonne
SERGE VILLANDRÉ General Manager
City of Terrebonne
< SKETCH OF THE FUTURE
DISTRICT
UNIVERSITY
Terrebonne announces its La Croisée urbaine project, a university campus and also a dynamic living environment.
MONTRÉAL ECONOMIC POWERHOUSE : : FALL 2022 EDITION 25 1 866 446-3185 450 670-7770 www .j bcm ed ia.c a Immobilier commercial magazine is aimed at major real estate developers, owners, investors and professionals in this sector in Québec. Published six times a year, this is the perfect publication to promote your expertise to potential customers THE BEST MAGA ZI N ES T O REACH YOUR CUSTOMERS! PP 41614528 NATALIE VOLAND NOUVEAU CRÉNEAU, MÊME PHILOSOPHIE VOLUME 15 NUMÉRO 6 12,00 $ TOP 60 DES TRANSACTIONS IMMOBILIÈRES RENCONTRE AVEC MAX FRANCISCHIELLO UN LOCATAIRE A-T-IL DROIT À DES ESPACES NON MENTIONNÉS DANS SON BAIL ? MIPIM 2023 Voir page 40 ÉDITION À CONSERVER 2022 RÉAGIR AU MANQUE DE MAIN-D'ŒUVRE DOUZE PÔLES DE CROISSANCE TRIBUNE DE MAIRES ET MAIRESSES VOLUME 12 NUMÉRO VOLUME 12 NUMÉRO 4 LA BIOSPHÈRE UN LIEU DE MAGIE ET DE POSSIBILITÉS RENCONTRE AVEC ISABELLE ST-GERMAIN DIRECTRICE DE LA BIOSPHÈRE MIPIM 2023 Voir page 32 ,00 $ VOLUME 12 NUMÉRO VOIR GRAND ET VOIR LOIN RÉUSSITE EN AFFAIRES DOSSIER SPÉCIAL MONTARVILLE GESTION + CONSTRUCTION Voir page 21 POMERLEAU EN MODE VIRAGE DURABLE INDUSTRIE DU CAUTIONNEMENT ENTRE CROISSANCE ET DÉFIS
BACK TO THE OFFICE : MONTRÉAL IN SEDUCTION MODE
BY PIERRE THÉROUX
The start of the fall season suggests better days ahead for Montréal and its downtown core. After more than two difficult years of the pandemic, things are now looking much better.
"There's much more traffic, both workers and students," said Jessica Bouchard, Senior Director, Content Strategy, Economic Affairs and Downtown Relaunch at the Chamber of Commerce of Metropolitan Montréal (CMMC). She is delighted with the new energy and sense of purpose that the resumption of activities has brought to the economic heart of the city.
The pandemic had a significant impact on the Montréal business landscape, which has been greatly affected by the prolonged absence of workers. In the first quarter of 2022, the citywide office vacancy rate was 16.9%. The rate in the VilleMarie borough was roughly the same at 16.8%, an increase of 8.2% over two years. Despite the increase in activity observed in recent weeks, the availability of commercial space remains high.
THE NEW WORK REALITY
Two-thirds (68%) of employees have returned to work; on average two to three days a week, indicates a survey conducted in April by the CMMC. While the proportion of staff returning to the office will grow, the fact remains that the health crisis has transformed the traditional organization of work and propelled us into a new era where the adoption of hybrid home/office models has accelerated and become widespread. The general consensus is that hybrid work is here to stay. As a result, the number of workers in the downtown area on a daily basis is expected to be 19-25% less than in the prepandemic period, notes the CMMC report.
The organization is hopeful, however, that this decline will be partially mitigated by the creation of new jobs generated by economic conditions and business growth. "You can feel an economic dynamism in Montréal, and it attracts people to the city," said Jessica Bouchard, who points out that several international companies have announced investment projects in recent months to set up shop in Montréal.
26 MONTRÉAL ECONOMIC POWERHOUSE : : FALL 2022 EDITION
REJUVENATING THE DOWNTOWN CORE
JESSICA BOUCHARD
Senior Director, Content Strategy, Economic Affairs and Downtown Relaunch Chamber of Commerce of Metropolitan Montréal
JBC MÉDIA BY ÉRIC CARRIÈRE
In the meantime, Montréal employers are encouraged to review the management and layout of their office spaces in order to adapt to this new work reality and to facilitate the return of their employees. "There is a real willingness on the part of business leaders to put in place conditions to encourage workers to return to the office, and to ensure that there is added value in face-to-face work," added Ms. Bouchard. Three-quarters of businesses plan to accelerate their investments to make their workplaces more attractive, according to a recent survey conducted by the CMMC.
ENCOURAGING A RETURN TO THE DOWNTOWN CORE
In recent months the CMMC has been engaged in discussions and brainstorming to mitigate the
consequences of the pandemic, and to consider the future of commercial real estate in Greater Montréal. It has just published a Guide to the Best Innovative Practices in Commercial Real Estate in Montréal, which lists a dozen possible action plans.
One measure consists of creating spaces that meet the post-pandemic needs of personnel. In an era of labor shortage, attracting and retaining talent is a key issue, "It is in the best interests of companies to focus on the well-being of employees by offering them new workplaces with dedicated spaces that promote not only collaboration, but also relaxation," suggests Ms. Bouchard.
MONTRÉAL ECONOMIC POWERHOUSE : : FALL 2022 EDITION 27
STÉPHAN POULIN
Establishing partnerships with other firms in the same building or in the same sector of Montréal, in order to share office space, is another approach being promoted. The creation of the virtual platform Espaces et cie, launched in April, is specifically designed to help businesses maximize workspace management. "We see companies using this platform not only to post or find available office space downtown, but also to take advantage of service networks and greater synergy." she added.
THE COMMUTE NOW A MINI BUSINESS TRIP
While these initiatives are primarily aimed at businesses, other measures are more specific to actions that can be undertaken by the City of Montréal, such as making zoning regulations more flexible to allow for multi-functional environments. Allowing changes in the use of office space in the downtown core and elsewhere will encourage
the addition of specialized services (e.g. daycare, dentists, massage therapists, notaries), and will help transform workplaces into living environments.
Montréal must also capitalize on the abundance of festivals, cultural activities and restaurants (a key source of its reputation as a tourist destination), to further promote art, culture and cuisine, all of which attract people to the city, especially the downtown core.
"Employees now find themselves in a context where coming to the office in downtown Montréal can be perceived as a mini business trip. They can come to the office two or three days a week to meet with colleagues or clients, while also enjoying the various restaurants and cultural activities on offer in the city centre," said Jessica Bouchard.
12 ACTION PLANS PROPOSED
• Create spaces that meet the post-pandemic needs of employees
• Create incentives for those who work in the office
• Prioritize mobility issues so that staff encounter as few impediments as possible as they travel to work
• Focus on employee safety and well-being to ease their return to the workplace
• Support the development of smart parking software to make it easier for staff to find parking spaces available and at reasonable cost
• Expand the use of multi-functional spaces so that they accommodate employees' hobbies and interests
• Establish partnerships with other companies so as to increase synergy and a sense of belonging
• Make cleanliness and air quality priority issues
• Make zoning regulations more flexible to allow for multifunctional environments
• Promote the arts, restaurants and culture that are the strength and pride of Montréal
• Provide daycare and other services, either in the workplace or in nearby premises
• Encourage businesses to value history and heritage
Source : Chamber of Commerce of Metropolitan Montréal (2022), Guide to the Best Innovative Practices in Commercial Real Estate in Montréal.
https ://www.ccmm.ca/fr/medias/infrastructure/pratiques-exemplaires-et-innovantes-en-immobilier-commercial/
28 MONTRÉAL ECONOMIC POWERHOUSE : : FALL 2022 EDITION REJUVENATING THE DOWNTOWN CORE
BY THE CMMC
A SIGNATURE PROJECT FOR MONTRÉAL'S INTERNATIONAL DISTRICT
BY NATHALIE VALLERAND BROCCOLINI
As it nears completion, the Victoria sur le parc complex at 700 St. Jacques is already reshaping the downtown horizon. With 58 floors and a height of 200 metres, this prestigious address will be the tallest mixed-use highrise building in Montréal.
This new project by the real estate development group Broccolini includes a 400-condo residential tower (Victoria sur le parc) as well as a 10-storey tower (700 St.Jacques) of commercial and office space, with the lower floors for retail and business services. Along with its height, the building also stands out for the quality of its architecture and design, which skillfully blends a modern look and conveniences with a historical heritage.
The stone on the façades evokes the look of the old buildings in what was once the city's financial district, while the glass residential tower has a decidedly modern mien with its V-shaped cap and subtle angles.
"This project changes the image and profile of Montréal," said Roger Plamondon, president, Real Estate Development at Broccolini. "Along with the soon completed National Bank tower that, as general contractor, we are also building, Victoria
sur le parc / 700 St.Jacques will transform a sector that was once a scar on the urban landscape." Both projects are being built on a vacant lot purchased by Broccolini in 2018, one of the last remaining lots to be developed in the International District.
FOCUS ON WELL-BEING OF OCCUPANTS
Victoria sur le parc / 700 St.Jacques offers an exceptional environment to building occupants : state-of-the-art air exchangers, floor-to-ceiling windows, several garden terraces, ceilings up to 13 feet in height, restaurants and shops on the ground floor, etc. "Everything has been thought out for the well-being of the occupants," said David SalomonLima, vice-president, Business Development at Broccolini. "The complex has WELL certification and has been Certified Gold by WiredScore, an indication of the superior quality of its technological infrastructure."
MONTRÉAL ECONOMIC POWERHOUSE : : FALL 2022 EDITION 29
VICTORIA SUR LE PARC / 700 ST.JACQUES
ROGER PLAMONDON President, Real Estate Development Broccolini
This category AAA building is also aiming for LEED Gold certification, as it might help convince workers to return to the downtown core. "The pandemic raised awareness among firms about the need to provide a top-quality workplace for their employees. Our unfinished interior spaces allow for a lot of design flexibility," he noted.
Its strategic downtown location in the heart of the International District is a definite asset. "This project is part of a 15-minute neighbourhood where people can live, work, shop and play within walking distance of their apartment," added Roger Plamondon.
Connected to the subway and Montréal's underground city (RÉSO) as well as an upcoming REM light rail station, the building promotes active, sustainable mobility. It will have 120 bicycle storage spaces and a car-sharing service. "We're doing everything we can to minimize the use of single-occupant vehicles."
Some 330,000 square feet of rental space is available at 700 St.Jacques for businesses and retail shops. Broccolini is in discussions with potential tenants, but nothing has been signed yet. As for the residential component, nearly all the units were sold in the first few months after the project was officially launched in October 2018.
30 MONTRÉAL ECONOMIC POWERHOUSE : : FALL 2022 EDITION
REJUVENATING THE DOWNTOWN CORE
MONTRÉAL ECONOMIC POWERHOUSE : : FALL 2022 EDITION 31
UNIVERSITIES AND GRADUATES – ECONOMIC ENGINES FOR MONTRÉAL
BY RENÉ VÉZINA
People who continue their education through university improve their lot. At the same time, they contribute to enriching their community. Montréal is an eloquent example of what has been confirmed over the decades, and the city's attractiveness for students from elsewhere is an essential element.
In a nutshell, that is what we learn from a major update of a study first conducted in 2016 and recently presented by the Chamber of Commerce of Metropolitan Montréal (CMMC). It takes note of several encouraging elements, but also a few more worrisome aspects.
"Initially, Montréal stands out in the world because of its excellent academic institutions, their attractiveness and their impact," said Michel Leblanc, president and general manager of the CMMC. "But we need to strengthen our position, for we are not the only ones seeking to recruit talented students from abroad. We're facing stiff competition."
STRONG IMAGE ABROAD
Why is that so important for the Montréal economy? Just look at some compelling statistics in the new CMMC document. An estimated 173,000 students attend universities in Greater Montréal, threequarters of Québec's entire university population. That proportion is even greater at the post-graduate level. They represent almost half of all doctoral students in the province. Moreover, 46.3% of that group come from other countries.
In a competitive economy where the knowledge sector plays a increasingly bigger role, one might imagine that to be a leading asset. But the Québec talent pool has its limits, which the CMMC document makes quite clear. "Without that growth in the number of international students, the total number of university students would have decreased."
Michel Leblanc agrees. "Their presence boosts Montréal's reputation and enhances our open-tothe-world image. Universities pay substantial taxes,
32 MONTRÉAL ECONOMIC POWERHOUSE : : FALL 2022 EDITION
MICHEL LEBLANC
President and general manager Chamber of Commerce of Metropolitan Montréal
UNIVERSITIES: ENGINES FOR ECONOMIC GROWTH
JBC MÉDIA BY ÉRIC CARRIÈRE
thus benefitting public finances. But it is imperative that we improve university graduation rates among Québec youth. Otherwise, without immigrants we'll be left behind."
Take a look at the numbers. They prove him right. Between 2006 and 2021, statistics in the Montréal census (Région métropolitaine de recensementRMR) indicate that employment increased by 108% for people with a post-graduate degree, and by 63% for those who had at least a B.A. But the rate for people with just a high school education slipped, falling by 16%.
UNIVERSITY GRADUATES A DRIVING FORCE
The CMMC study estimated that for the period 20192020, university graduates contributed $29 billion to the economy of Greater Montréal. By comparison, Québec's gross domestic product was $426 billion in 2019, according to the Institut de la statistique du Québec. Theirs is a significant contribution, especially since we are talking about workers who end up earning above-average salaries. And again, universities and research centres could have done better had their ranks been completely filled.
"In the current context of manpower scarcity," added Mr. Leblanc, people with a high school diploma will manage to find a job, but they might end up cleaning the floors. While Québec has managed to improve basic high school graduation rates, that is not enough anymore, especially since Montréal's economy is undergoing a transformation. Over the past few years municipal leaders have decided to focus on the knowledge economy. For example, there was a lot of talk about the global video game industry, which is very appreciative of Québecers' skills in the field and the advantages that the province has to offer. That industry continues to develop branches here. But firms that are leaders in artificial intelligence are also quite active, and Montréal's ambitions go far beyond web-based video games.
Companies that focus on information technologies and communications employ 160,000 people in Greater Montréal. They are the flagship of Montréal's new economy, and naturally have a high proportion of university graduates. That is also the case for finance and insurance, life sciences and health technologies, aeronautics and even the food processing sector. The updated CMMC study assessed the output of these high tech firms and their impressive cohort of university graduates as being worth some $60 billion. That is huge, but by no means guaranteed.
"Our universities produce highly qualified graduates," noted Michel Leblanc. "Despite some challenges they are managing to expand, establishing new
campuses in in Outremont, for example, and at the former Royal Victoria Hospital. Some citizens took offence, however. That was the case when the former Shriners Hospital for Children, an exceptional institution, sought to meet the growing needs of young patients beyond its former location on the slopes of Mount Royal. The Shriners Hospital was eventually integrated into the new McGill University Health Centre in Montréal.
DYNAMIC CONTRIBUTION TO SOCIETY
"It is essential that we recognize the contribution of universities to our collective well-being," said Mr. Leblanc, who prefers to see the glass as half full rather than half empty. "Do you know what the total payroll for university personnel amounts to? No less than $5.3 billion a year. That means a substantial amount of taxes going into government coffers. Our universities help build a more robust society."
"This is all the more important if we want to compete with the best. Keep in mind that the total population of Québec, some 8.7 million people, is roughly half that of the New York City area! For a long time we were in catch-up mode, but the dynamic has changed. Today, it's a question of building on what we have learned and shifting into growth mode.
The contribution of universities spills over to the general population. "Governments end up raising more money, which means they can commit funds to social programs, reduce distress, invest in encouraging better lifestyles, etc. Québec universities contribute directly to improving the quality of life."
MONTRÉAL ECONOMIC POWERHOUSE : : FALL 2022 EDITION 33
ISTOCK BY MAPODILE
SAINT-MICHEL PLACE-DES-ARTS D'IBERVILLE PROLONGEMENT DE LA LIGNE BLEUE VILLA-MARIA PLACE-SAINT-HENRI OUTREMONT ÉDOUARDMONTPETIT ROSEMONT ANGRIGNON BERRI-UQAM PIE-IX McGILL JOLICŒUR Elevator installation Legend Waterproo ng system BLUE LINE EXTENSION To provide our customers with a better experience on our bus, métro and paratransit networks, we must carry out major new projects and make the necessary investments to modernize the current network. See an overview of the major projects in our métro network. stm.info/en/works
Elevator installation Legend Major renovation Waterproo ng system
Setting big projects in motion
Other ongoing projects in the métro
Along with improvements to our stations, there are many projects in the works or set to begin in 2023 to upgrade infrastructure essential for the smooth operation of the métro (mechanical ventilation stations, power stations). We also aim to have a total of 30 métro stations accessible by 2025.
SOCIÉTÉ DE TRANSPORT DE MONTRÉAL
MAJOR INVESTMENTS IN MAINTENANCE AND MODERNIZATION OF MÉTRO FACILITIES
More than 120 renovation projects are underway to improve service in the Montréal métro system, to maintain and upgrade infrastructure and to ensure the safety and comfort of passengers.
"The Montréal métro is a heritage asset that contributes to the growth of the metropolitan economy by providing transit for workers, students, visitors and consumers. It is important not only to keep it in good working order but also to respect the integrity of the existing system, especially since the original network infrastructure dates back nearly 60 years," noted Chantal Gauthier, executive director, Engineering and Major Projects at the Société de transport de Montréal (STM). Its assets are valued at $31 billion, and its annual budget, including asset maintenance and accessibility, is $1.6 billion.
Métro Stations accessible to All
Making métro stations universally accessible is one of the major projects underway, and work will be completed at 24 stations by the end of 2022. The objective is to upgrade 6 more by 2025.
Given that the Montréal métro system is in service from 5:30 a.m. to 0:30 a.m., some of the work can be done only at night. "Contractors and their crews might only have a 2.5-hour window each day to do the work. That's not a lot of time, which is why jobs are spread out over long periods," she added. "It calls for extensive coordination. It's like a choreography where everyone moves according to a precise plan. Workers and machinery wait every evening for the signal that the electricity on the tracks has been cut off before starting to move."
In addition to installing elevators for universal access, six mechanical ventilation stations are currently being upgraded. They are the lungs of the métro, providing emergency ventilation and ensuring the comfort of passengers and those who work at night. Seven stations are currently undergoing major renovations: Pie-IX, McGill,
Berri-UQAM, Outremont, PlaceSaint-Henri, D'Iberville and SaintMichel. The system's waterproof membrane also needs to be replaced in several places. "Often just under the pavement, it is the roof of the métro. With the increase in severe weather incidents, waterproofing becomes a very important component. When we close off a street, it's often because we're in the process of replacing that membrane," the director added.
It is important to note that all these projects are being done in line with high sustainable development standards. Indeed, the underground Côte-Vertu garage recently received Platinum Envision Award from the Institute for Sustainable Infrastructure, and the Vendôme station received the Gold Envision Award for its new intermodal hub.
"At long last, the Blue Line extension has finally commenced. Next year people will be able to see hydraulic excavators at work," said Chantal Gauthier.
For more information, visit stm.info/en/works
MONTRÉAL ECONOMIC POWERHOUSE : : FALL 2022 EDITION 35
PROMOTIONAL FEATURE < REPLACING THE WATERPROOF
AT
STATION
MEMBRANE
MCGILL
CHANTAL GAUTHIER Executive Director, Engineering and Major Projects
A MUST-ATTEND BUSINESS INITIATIVE FOR THE REAL ESTATE INDUSTRY
For real estate industry leaders from around the world, MIPIM (International Market for Real Estate Professionals) is an event not to be missed, and for good reason. This annual event takes place at the Palais des Festivals in Cannes, France, bringing together some 25,000 participants from a hundred countries, more than 25% of them investors. The next edition will take place from March 14 to 17, 2023. The theme will be carbon neutrality (Road to Zero).
Once again and for the 17th time, Greater Montréal will be well represented by a delegation of thirty-some firms and municipalities. With assistance from the City of Montréal's Economic Development Service (SDÉ), the Metropolitan Montréal Community (MMC) and Investissement Québec International, the delegation will consist of real estate developers and companies in the engineering, construction, technologies and service sectors.
BY NATHALIE VALLERAND
MAJOR PROJECTS TO PROMOTE
"Our presence at MIPIM aims to showcase the knowhow of innovative Québec companies, as well as our various economic hubs," said Dieudonné Ella Oyono, acting director of SDÉ. Promoting development opportunities among investors will be a major focus, as the City of Montréal wants to redevelop its economic clusters. "For example, the one-car-lot-after-another model of industrial park no longer meets today's needs," added Mr. Ella Oyono. "What we need now are more attractive environments with green spaces, public transit and diverse services. We also need to reduce the carbon footprint of buildings."
To pursue those goals, the MMC will be attending the MIPIM event. "We want to promote our efforts to transform, densify and accelerate the ecological transition underway in our industrial spaces," said Sylvain Giguère, chief economist and head of
36 MONTRÉAL ECONOMIC POWERHOUSE : : FALL 2022 EDITION
DIEUDONNÉ ELLA OYONO
FROM GREATER MONTRÉAL AT
2023
Interim Director Economic Development Service City of Montréal
DELEGATION
MIPIM
JBC MÉDIA BY ÉRIC CARRIÈRE JBC MÉDIA BY ÉRIC
SYLVAIN GIGUÈRE Chief Economist and Head of Metropolitain Economic Development MMC
CARRIÈRE
FOR MORE INFORMATION Johanne Royer jroyer@mipim-canada.ca 514 999-8128 OFFICIAL BROADCASTER
JEAN Vice-President, Exports Investissement Québec
Vice-PresidentDevelopment
metropolitan economic development. "It is a large-scale project. A plan for the redevelopment of such spaces will be developed for each of the 14 regional municipalities in the surrounding area." It is vast territory encompassing 82 towns and municipalities that account for more than half the jobs and half the economy of Québec.
For its initial foray at the MIPIM, the MMC will be looking for ideas and contacts. "Many countries before us have faced a scarcity of industrial spaces and the pressing need to make them more appealing and greener," he added. "We want our elected officials and municipal leaders to establish contact with representatives from other cities so that we can learn from them and adopt best practices."
As for Investissement Québec, its main objective is to support Québec exporting companies in their marketing efforts abroad. "Our teams of experts organize individual meetings with architectural firms, contractors, real estate developers and municipal representatives attending MIPIM," said Marie-Ève Jean, vice-president, Exports. Last year, Investissement Québec organized 130 meetings with European principals for some 15 Québec companies.
"MIPIM is also a good place for a firm to position itself for possible contracts linked to the Olympic Games in Paris in 2024 and Milan-Cortina in 2026," added Ms. Jean.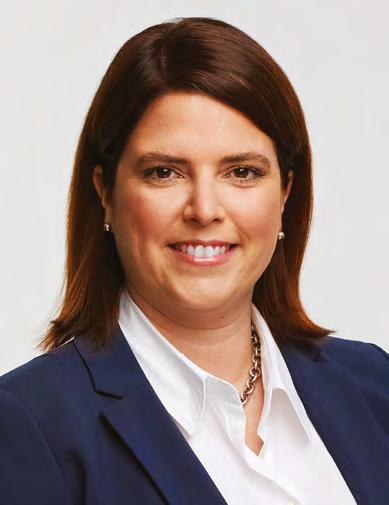 NEW BUSINESS OPPORTUNITIES
The Alfid Group, which has attended the MIPIM convention on three occasions, sees it as a opportunity to promote its property management and investment services to
international commercial real estate firms. Investors get a good return on their investment, while also diversifying their portfolios geographically and also in terms of international currencies. The Alfid Group offers properties for purchase, orchestrates project financing and afterwards provides a full range of property management services. That prospecting work is, however, a long-term affair. "Our presence at MIPIM allowed us to engage in discussions with potential partners, but the pandemic slowed down our development process," noted Frédéric Bossart, vicepresident, Development at Alfid.
He is not discouraged, because MIPIM also facilitates exchanges between real estate players... from Québec! Freed from their current obligations in the context of the event, they are more open to discussion. "This has led to a community spirit among members of the Québec delegation, which has allowed us to carry out certain projects in Québec," added Mr. Bossart.
For its part, Macogep considers its presence at MIPIM essential to its local and international development. "This event is a gathering point for all the real estate professions. We are able to meet with clients and partners and to stay up to date on innovations within the industry," said Louis yves LeBeau, president and CEO of the project management firm. Involved for many years in projects with high environmental value, Macogep has developed expertise in including ESG values (environmental, social and governance criteria) in real estate projects. "MIPIM is a great opportunity for us to adapt our expertise to the challenges facing the real estate industry."
MONTRÉAL ECONOMIC POWERHOUSE : : FALL 2022 EDITION 37
MARIE-ÈVE
FRÉDÉRICBOSSART
Alfid
JBC MÉDIA BY DENIS BERNIER
LOUISYVESLEBEAU PresidentandCEO Macogep