NEWLY REFURBISHED ZOBEL DINING ROOM August2023,5thEdition
President's Message:
Dear Members, Employees, and Friends of Makati Sports Club Inc , I hope this message finds you all in good health and high spirits. As your President, I am thrilled to share some recent milestones and exciting updates for our beloved club
First and foremost, let me extend my heartfelt gratitude to all of you for contributing to the success of recent celebrations From the Club's 48th Anniversary to the various themed events, including our Meet the Board & New Members' Induction and the Employee Sports Fest, it was heartwarming to witness the strong sense of community and camaraderie that MSCI embodies Your enthusiasm and support truly made these events memorable. Inside our newsletter, you will see captivating pictures of significant events that happened during the first half of 2023
In line with our commitment to providing you the best facilities, I am delighted to announce that we have completed several upgrades that are sure to enhance your club experience Among them are our beautifully renovated main dining, the colorful tennis courts resurfaced like the US Tennis Open courts, and picturesque landscaping Also lined up is the renovation of our bowling alleys
Join us in upcoming events such as the Octoberfest, Wine and Cheese Festival, Year end Bazaar, Pro- Am Tennis Open, and the President's Cup. Your involvement makes our club vibrant and fosters the sense of belonging that has always been the hallmark of Makati Sports Club.
Thank you for your continued support and dedication to our Club. Together, we will continue to make Makati Sports Club a place where cherished memories are created and friendships are forged.
Wishing you all the best in your endeavors.
Sincerely,
Mr Ismael Melendres
President VicePresident MembershipCommitteeChairman Atty.GodofredoC.DeGuzman CorporateSecretary HRDCommitteeCharman
Board of Directors Ismael L. Melendres, Jr. Atty.SimplicioM.VirtudazoJr.
DexterE.Quintana Treasurer FinanceCommitteeChairman EduardoV.Francisco HouseCommitteeChairman
Sports&GamesCommittee
PlanningandDevelopment
FranciscoS.Rondilla ConstructionCommitteeChairman LeopoldoM.LopezJr.
CarlosSimonT.Casas SocialsCommitteeChairman EmmanuelY.Mendoza
CommitteeChairman
TABLE OF CONTENTS INDUCTION CEREMONY 8-9 EMPLOYEE WELFARE 12 CLUB DELI 13 JAPANESE FESTIVAL & MONGOLIAN FESTIVAL 15 ZOBEL DINING ROOM 14 CONSTRUCTION AND MAINTENANCE 16 CLUB ANNIVERSARY 1-7 MSCI EMPLOYEE SPORTS FEST 17 FATHER'S DAY 11 MOTHER'S DAY 10
48 CLUB ANNIVERSARY th
A festive 48th Club Anniversary welcomed members and guests on June 12, 2023 as they were treated to many exciting activities such as the Fun Run, Turn Over Ceremony, Marching band, Grand Lunch Buffet and the different sports activities like the swimming and bowling events and racket sports tournaments.
The highlight of the Anniversary was the Car Explosion Raffle Draw which was planned and executed successfully. 5 participants won Php50,000 each and 1 lucky member received a brand new Honda HR-V 1.5 V Turbo CVT Honda Sensing.
01
Makati (Sports) Club, Inc.
02 Makati (Sports) Club, Inc.
GRAND LUNCH BUFFET 03 Makati (Sports) Club, Inc.
05 orts) Club, Inc. SWIMMING ACTIVITY
TENNIS TOURNAMENT
06 Makati (Sports) Club, Inc.
07 Makati (Sports) Club, Inc. BADMINTON TOURNAMENT
JOEMARTAJONERA LEAHGAN
ALEXEDU CLARENCEEDU
ANGELICAVALERA DAKSHPAGARIA
INDUCTIONCEREMONY
Three years since the pandemic began and after holding several virtual induction ceremonies, the management held the first face to face Induction Ceremony on June 16, 2023 at the newly refurbished Zobel Dining Room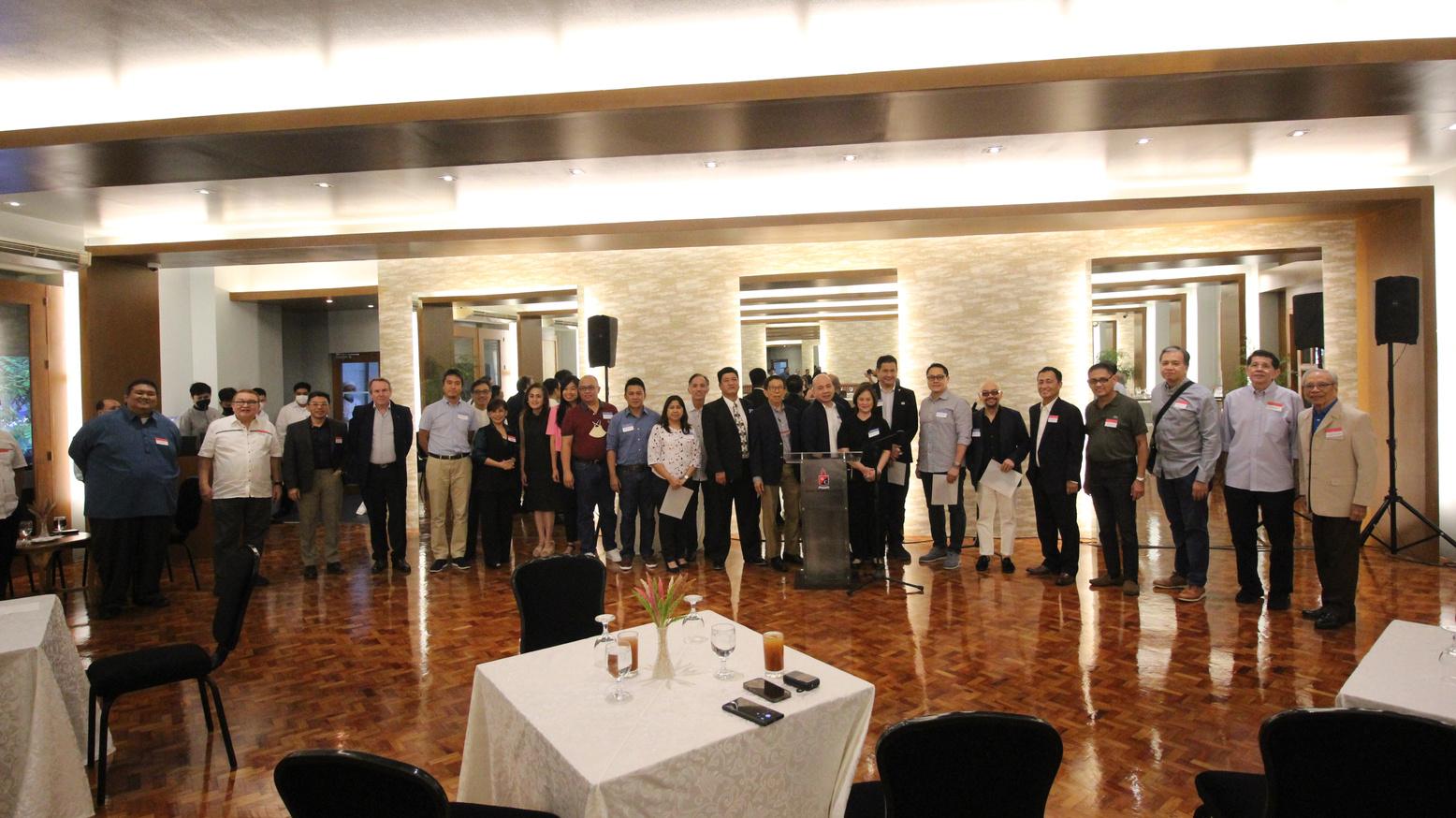 It was a meaningful day to welcome new members as it was also the blessing and the re-opening of the Zobel Dining Room which is considered to be one of the most stylish and elegant function rooms in the club.
The Induction Ceremony was led by the club President, Mr. Ismael Melendres and the Membership Committee Chairman, Atty. Simplicio Virtudazo Jr Some directors, committee members, and managers also attended the event
The new members who attended the Induction Ceremony are as follows:
1. Ronald W. Anderson
2. Leopoldo Fernando Calixto II
3. Felipe Enrico V. Calvelo
4 Buck M Guico
5 Rosalie Habana
6. Rogelio C. Lalu
7. Renato L. Magadia Jr.
8. Glenn M. Mangaoil
9. Antonilo D. Mauricio
10 Meredith Ngo
11 Elcid C Pangilinan
12. Yuichiro Yoi
Makati (Sports) Club, Inc. 08
09 Makati (Sports) Club, Inc.
MOTHER'S DAY
The Mother's Day celebration was held last May 14, 2023 at the San Miguel Function Rooms.
Members and guests were delighted at the sizzling Hawaiian themed event and enjoyed the sumptuous lunch buffet which the club prepared.
10 Makati (Sports) Club, Inc.
FATHER'S DAY
A Mediterranean themed event was held in celebration of Father's Day last June 18, 2023
Members and guests feasted on pizza, pasta, sausage, kebab, salads, and other flavorful dishes in honor of all the fathers. Fathers were also given small Heineken beer bottles as tokens of gratitude and appreciation.
11 Makati (Sports) Club, Inc.
EMPLOYEE WELFARE
Employees' Summer Outing
Employees braced the scorching heat of the sun on March 18, 2023 as they flocked to Sea Spring Resort in Batangas for their annual summer outing.
Games and other activities were also held to foster the camaraderie and cooperation among employees
Managers' and Officers' Outing
Managers and supervisors trooped to Batangas to enjoy the soft sand, rolling waves, and the endless sunshine on April 2, 2023
Suggestions and plans for the improvement of the club were also discussed during that day.
12
Makati (Sports) Club, Inc.
CLUB DELI
As a commitment to giving the members the best products and services, the Club Delicatessen or the Club Deli has been re-branded as a coffee shop on March 15, 2023 to cater to members who may want to relax and chill longer while eating light refreshments and beverages
New sandwiches were offered such as the smoked salmon, Rueben, turkey ham, flying saucer adobo and corned beef.
13
Inc.
Makati (Sports) Club,
"A new venue for a new experience" – the Zobel Dining Room was finally re-opened last June 19, 2023 after undergoing several weeks of renovation and refurbishment.
Mr. Ismael Melendres, MSCI President and Architect Minerva Villarosa, one of the chief architects of the club led the blessing of the venue last June 16. Mr. Ronaldo Limbo, the club's General Manager and some directors also graced the occasion.
14
Makati (Sports) Club, Inc.
JAPANESE FESTIVAL
A Japanese Festival was held from June 19 to 23, 2023. Members were extremely pleased by the mouthwatering dishes which the club's F&B personnel put together.
Due to insistent demand, the Mongolian Festival was held from June 26 until June 30. Once again, it made a blast and members savored the appetizing ingredients and delectable spices of the scrumptious dish.
MONGOLIAN FESTIVAL
15
Makati (Sports) Club, Inc.
This is where your membership dues go...
Function Room (Legaspi, Urdaneta, San Miguel) Operable Walls
Resurfacing of the Indoor Tennis Courts
Resurfacing of the Outdoor Tennis Courts
Landscaping and Beautification of the club's surroundings
Makati (Sports) Club,
ANDMAINTENANCE 16
Inc.
EMPLOYEE SPORTS FEST KICKS OFF
The club believes that "a strong mind makes a strong body". It also believes that "teamwork begins by building trust".
The club held the Employees' Sports fest on July 14, 2023 after a 3-year hiatus because of the pandemic. With the objective to develop the employees' strong mind and strong body, the participants showed teamwork and solidarity by joining in the activities and showing their ingenuity in the best muse and escort talent competition. Some directors and managers led by Mr. Lito Melendres, Atty. Jun Virtudazo, Mr. Jun Lopez, Mr. Charlie Casas, and Mr. Ron Limbo graced the occasion. All teams namely the blue, green, yellow, and orange teams participated zealously during the event and the Orange Team won the Best Muse and Escort for this year's sports fest.
17
Makati (Sports) Club, Inc.
WWW. MAKATISPORTSCLUB.COM