N E W S L E T T E R
President Traci Beaurivage nhmropresident@gmail.com 603-714-4242
President Rick Daynard 978-994-0256 Treasurer CJ Lynch nhmrotreasurer@gmail.com
Contact nhmromembership@gmail.com Secretary Patti Pike NHMRO BOARD of DIRECTORS Steve Beaurivage Tom Pelkey Don Pike NHMRO Toy Run Director Betty Rock Ride SMART & Legislative Director Imre Szauter MRF Representitives Traci Beaurivage CJ Lynch NHMRO Does Not Endorse Any Advertiser or Product In This Publication
Vice
Membership
The New Hampshire Motorcyclist Rights Organization (NHMRO) was founded in 1975 to fight the freedoms that were being systematically taken away.
NHMRO was incorporated as a non-profit organization, under the laws of the state of New Hampshire, and the internal revenue tax codes. Our sole purpose is to protect the rights of ALL motorcyclists to choose how they ride and to maintain and preserve their freedoms as riders.
All articles and photo's within the contents of this newsletter and our website are the property of …
NHMRO
You may not use them without the express written consent of the newsletter editor, webmaster or the association board.
Call
QUESTIONS ?
officers
New Hampshire Motorcyclist's Rights Organization
Encourages all members to submit letters, articles or cartoons they feel may be of interest to fellow members. Supports the rights of ALL motorcyclists. Does Not endorse any products or services other than its own.
The thoughts and opinions expressed in this newsletter are those of the individual contributors alone and do not necessarily reflect the views of the NHMRO board and it's members.
MAILING ADDRESS P.O. BOX 16398 Hooksett , NH 03106 NHMRO
other
Does Not Endorse Any Advertiser or Product In This Publication
one of the listed
and they will be glad answer your questions, and provide any
information. NHMRO
Wow, I can't believe its May already! Time really does fly when you are having fun and speaking of fun, I really enjoyed seeing those of you who came out to our Membership Appreciation Dinner March 25th. It was a fun night and Rocky Fox, our Motorcycle Riders Foundation lobbyist really enjoyed being here with all of you! SEE PHOTOS THIS ISSUE
I, like all of you are looking forward to warmer weather, lots of riding and of course the 100th Anniversary of the oldest Bike Rally in the country, Laconia Bike Week. Celebrating 100 years of anything is quite an accomplishment and it is very cool that Laconia held the first motorcycle rally in the country. I'm sure it will be well attended, and I am sure it will be one to remember. If you are planning to attend, please remember to RideSMART2Laconia, Safely, Maturely, Aware, Respectfully and Trained!
The board will continue to meet over the summer and will keep you informed through the newsletter, Facebook and our website. I will be traveling to Heartland Steam at the end of April to meet with peers from other SMRO's and discuss things we can do to help each other and strengthen our voices. I will also be headed to Washington DC in the middle of May for Bikers in the Beltway, where hundreds of bikers from around the country go for one day to let their voices be heard. I will be meeting with Chris Pappas, Annie Kuster, Maggie Hassan and Jeannne Shaheen to discuss the things that are important to us as motorcyclists, both nationally and in New Hampshire. It's an important opportunity for me to put a face to NHMRO and to let them know just how important the issues are to us.
As all of you know, we are always fighting behind the scenes on issues that concern motorcyclists. Sometimes it seems that we don't have a lot "going on", but I can assure you that there is a lot that gets discussed. We try and bring your attention to the main topics that are in the forefront of our legislation in NH and in Washington, but there are many discussions happening on both fronts all the time to keep our voices heard and issues dealt with. There are countless emails between myself and other states on how to help each other write and pass legislation that is good for motorcyclists, as well as what we need to do to help Rocky, our MRF lobbyist in Washington. I look back through all of the notes and minutes from NHMRO that I inherited when I accepted this position, and the issues and fights that have come before this time. Some are similar, some are not. One thing for sure is there has always been some type of fight and the ones we are facing now are much more extreme. I hope that all of you will continue to support and stand with NHMRO and MRF to continue to fight to be heard, to be seen by autonomous vehicles and to have a choice on riding the type of motorcycle we choose, such as internal combustion engines. Many of you have heard me say I believe in being unstoppable, it's something I have always strived to accomplish with whatever I do in my life. If WE can all BELIEVE that WE as a collective group are UNSTOPPABLE, WE CAN BE HEARD AND WE CAN MAKE A DIFFERENCE!
Live Free RideSMART, Traci Beaurivage President
NHMRO Does Not Endorse Any Advertiser or Product In This Publication
In 1975 450 bikers met at Massabesic lake and rode to the state house in Concord to protest the helmet law. They did this again in 1976, and in this year President Ford signed legislation removing the sanctions on states. In 1977 NHMRO was successful in repealing the helmet law in NH, which was their first attempt as back then our sessions were biannual.
Look for more interesting facts on NHMRO in upcoming issues!!
NHMRO Does Not Endorse Any Advertiser or Product In This Publication
New Hampshire Legislation News
U.S. House Resolution Seeks Halt to California's Zero Emissions Vehicle Regulations
According to SEMA (Specialty Equipment Market Association), H.R.1435 (https:// www.congress.gov/bill/118th-congress/house-bill/1435), introduced by U.S. Representative John Joyce (R-PA) on March 8, seeks to protect consumer choice in motor vehicle propulsion systems. Titled "Preserving Choice in Vehicle Purchases Act", the bill would prohibit the U.S. EPA (Environmental Protection Agency) from enforcing California's ban on internal -combustion engine (gas and diesel) equipped passenger vehicles, light trucks and SUVs.
As of April 6, the House Resolution has 66 cosponsors, but neither New Hampshire Rep. Ann Kuster (https://kuster.house.gov) nor Rep. Chris Pappas (https://pappas.house.gov) are among them.
To get involved in supporting H.R.1435, visit the SEMA website at https:// www.semasan.com/legislative-alerts/national/us-house-representatives-bill-introducedstop-californias-car-ban and click on the "Contact Lawmakers" radio button to make your voice heard.
Better yet, determine which New Hampshire Congressional District you live in, then contact Rep. Kuster or Rep. Pappas directly to request they sign on as an H.R.1435 cosponsor. Remember, the New Hampshire House of Representatives just soundly defeated NH HB92, legislation that would have banned the sale of internal-combustion engine-equipped passenger vehicles, light trucks and SUVs by 2035, by a 341 NAY to 40 YEA margin (https:// www.gencourt.state.nh.us/bill_status/billinfo.aspx?id=58&inflect=2).
H.R.1435 seeks to accomplish at the federal level what New Hampshire residents already know – California's motor vehicle regulations that ban internal-combustion engineequipped vehicles destroys consumer choice.
Autonomous Vehicles
As reported by the MRF (Motorcycle Riders Foundation) on March 31, Ford Motor Company has requested withdrawal of a petition it had filed with the NHTSA (National Highway Traffic Safety Administration, a division of the U.S. Department of Transportation) that sought approval to deploy up to 2,500 Level 4 Automated Driving System (ADS) feature equipped vehicles annually.
NHMRO Does Not Endorse Any Advertiser or Product In This Publication
The SAE (Society of Automotive Engineers) defines six (6) levels of driving automation:
Level 0 – No Driving Automation
Level 1 – Driver Assistance
Level 2 – Partial Automation
Level 3 – Conditional Automation
Level 4 – High Automation
Level 5 – Full Automation
Vehicle automation has been a concern for motorcyclists since it was first announced to the public. As motor vehicle manufacturers rush advanced technologies in their products to market, many roadway users are concerned these unproven technologies are not being sufficiently designed, tested, and verified to recognize everything a motor vehicle operator normally encounters.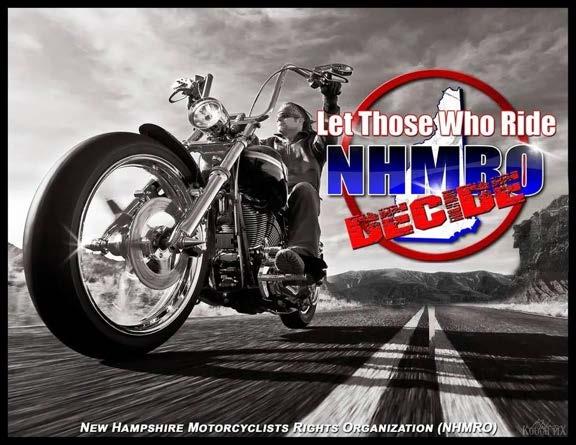 Ford's request to withdraw its petition is significant because it casts doubt on the manufacturer's belief that Level 4 (High Automation) ADS (defined as "The vehicle performs all driving tasks under specific circumstances. Geofencing is required. Human override is still an option.") is ready for even limited deployment. Although framed as an economic decision ("…we believe the road to fully autonomous vehicles, at scale, with a profitable business model, will be a long one."), Ford's decision only elevates our concerns that other manufacturers will continue the technology charge ahead, compromising roadway user safety in pursuit of corporate profit.
To read the MRF news release, visit https://mrf.org/alerts and click on "Major Car Maker Having Second Thoughts?" To read the NHTSA notice in the Federal Register, visit https:// www.federalregister.gov/documents/2023/03/31/2023-06670/ford-motor-companypetition-for-temporary-exemption-from-various-requirements-of-the-federal-motor. Ford's letter to the NHTSA follows this article.
NHMRO Does Not Endorse Any Advertiser or Product In This Publication
NHMRO Does Not Endorse Any Advertiser or Product In This Publication
NHMRO Does Not Endorse Any Advertiser or Product In This Publication
Rick Daynard Editor
Here we are in the second week of April already, there is something going on every weekend, and it looks like summer weather's coming!! Time to get out and ride…
With one meeting left before summer, I was thinking of some of the things we've done since last September. The Toy Run, and the party at Auburn Pitts after. Iowa and the MRF Meeting of the Minds. Getting our newsletter rolling (big thanks to Rick Gresham at Island Newsletters!) and our "Members Appreciation Night" (Did you catch Rocky Fox wearing the NHMRO hoodie???).
By the time you read this, we'll have been out at the Milford & Company MC Motorcycle Flea Market spreading the word and signing up members, and co- hosted "NH Rides Day" at the DMV on the 29th. Rumor is that the Rock 101 FM crew will be there.
May and June look will be busy months as well, with 2 more swap meets, "Wake the Lake", and the 100th Laconia Bike Week. Hope to see you all out at these events!
Personally, I'm blown away at this organization, the participation of its members, and the membership growth we're experiencing. We're grateful for your support, and we can't do this without you!!
See you soon,
Rick Rick
NHMRO Does Not Endorse Any Advertiser or Product In This Publication
NHMRO May MRF Update
On March 31st Ford announced that is dialing back their testing and investment on "self-driving cars." It appears that this decision is based on the economic reality surrounding this new technology. They stated, " We believe the road to fully autonomous vehicles, at scale, with a profitable business model, will be a long one." While this might be based on economic concerns for Ford, this decision is pausing the deployment of this unproven technology on our nation's roads. In December, the Motorcycle Riders Foundation (MRF) worked with bipartisan lawmakers in Washington, DC to get answers from the National Highway Traffic Safety Administration about this new technology. The deployment of vehicles like the type mentioned in the Ford letter continue to be a major concern to motorcyclists. This is something that Rocky, our lobbyist in Washington, and MRF will stay on top of for us. Speaking of Rocky, it was great to have him visit us here in New Hampshire for our Member Appreciation Dinner March 25th. We celebrated the profiling legislation we passed last session and finally got a picture with myself, Sherm and John Eddington from Granite State Brotherhood MC, who was instrumental in helping to put the legislation together.
The MRF has long supported the Protection of Motorsports ACT (RPM ACT), which would ensure that modifying motor vehicles into racing vehicles used for competition would not violate the Clean Air Act. An updated version of the RPM ACT is anticipated this spring. MRF will continue to work diligently for passage on this piece of legislation. Some of these parts and technology we are looking to protect are used in the EPA allowances for one-per-lifetime custom bikes and tier 1 eligible motorcycles we fought for two decades ago.
As the state rep, I encourage all of you to join MRF if you have not done so. Like NHMRO, we need support, and it takes many voices to get heard in Washington. If you want to continue to have choices and freedoms, as well as be protected by being seen by autonomous vehicles, then put your money where it matters to motorcyclists!
Best,
Traci Beaurivage MRF State Rep
NHMRO Does Not Endorse Any Advertiser or Product In This Publication
How Good Are You?
In last month's column, we examined the NHMRO Ride S.M.A.R.T. program in some detail. We provided background of how it came into being, the groups, agencies and organizations that helped shape it, and what it means to the riding community.
This month, we'll take a look at one of the agencies that's an important part of the program, what it focuses on, and how we all benefit from it.
For many years, the NHMRO has been a strong supporter of the Motorcycle Rider Training (MRT) Program, a division of the NH Division of Motor Vehicles (DMV). The NHMRO was there to defend the program'sfunding when the state legislature sought to reallocate registration fees collected from motorcyclists for the MRT Program.The NHMRO has consistently promoted awareness of the program's life-saving potential to anyone willing to listen.
When you say "rider training," most folks automatically assume the novice rider course that, over the course of a weekend, provides classroom and range instruction on many of the mental and physical skills required to safely operate a twowheeled motor vehicle. And yes, that's partially correct. "Rider training" is much more than just the basics.
New Hampshire offers three courses designed by the Motorcycle Safety Foundation (MSF) for operators with skills and experience levels ranging from "none" to "pro,"to address the knowledge and skills required to safely ride a motorcycle.
The Basic RiderCourse (BRC), designed for those new to motorcycling and those returning to two wheels after not riding for years, provides over five hours of classroom instruction and ten hours of on-range activities, and assumes no prior knowledge or experience on a motorized two-wheeler.
NHMRO Does Not Endorse Any Advertiser or Product In This Publication
The current fee for the BRC is $155.00 for New Hampshire residents and $205.00 for non-residents. The course fee includes the use of an appropriately-sized training motorcycle and the guidance of two highly-skilled and dedicated instructors (RiderCoaches).
One significant incentive to successfully completing the BRC is that a course completion card allows the student to obtain a New Hampshire motorcycle endorsement on their driver's license without taking the DMV written examination and the skills test ontheir own motorcycle.The DMV motorcycle endorsement fee is $30.00. In addition, some insurance companies may provide a discount on their motorcycle insurance policies for those successfully completing the course.
The next level, called the Intermediate RiderCourse (IRC), builds on the knowledge and skills acquired during the BRC in a one-day refresher course. Held exclusively on the range with course-provided training motorcycles, riders who were unsuccessful in passing the BRC skill evaluation their first time (or someone just looking for extra riding practice before purchasing a motorcycle) will benefit once again from expert RiderCoach guidance and "handgrip time." End-of-course successful completion of the skill evaluation entitles a New Hampshire rider to waive the state written and skill testing requirements to obtain their motorcycle endorsement. A nonresident who successfully passes the skill evaluation will receive an MSF course completion card that may entitle them to a waiver from their state's written and/or skill testing requirements.The current IRC course fee is $60.00 for residents and $80.00 for non-residents.
The Experienced RiderCourse (ERC) is the third level of training offered by the MRT Program. This one-day course is designed for an endorsed motorcyclist seeking to hone their skills on their own machine. Focused on advanced skills such as crashavoidance maneuvers, control at low speed, corneringand limited-space maneuvers, even the most experienced rider will gain more confidence and sharpen their techniques, especially when taken at the beginning of a new riding season. After all, two-wheeling in New Hampshire has a limited season and "muscle rust" isn't easily removed without practice. Note that the New Hampshire ERC is not open to passengers. Students who complete all the exercises are entitled to a course completion card. There is an optional end-of-course skill evaluation for those wishing to display their skills. Remember to ask your insurance company if they offer a policy discount for successfully completing the ERC. The course fee is $65.00 for residents, $85.00 for non-residents.
Know someone interested in learning to ride, but doesn't have the knowledge, skills, or a motorcycle? Consider contributing to or covering their BRC fee. Even if they don't successfully complete the course, you would have provided them with a professionally-designed and implemented program to help make their mind up if motorcycling is for them.
ABATE of the GARDEN STATE Does Not Endorse Any Advertiser or Product In This Publication NHMRO Does Not Endorse Any Advertiser or Product In This Publication
After all, isn't it a better approach to first take a course and then decide whether to purchase a motorcycle, than the other way around?
Many of you reading this may feel you already possess the knowledge, skills and discipline to safely ride your motorcycle. You may have even helped others, such as a family member or friend, get into riding. Perhaps you just can't get enough twowheeled time to satisfy what for many is not a sport, but a way of life. If this describes your passion for riding, perhaps you should consider taking it to the next level – becoming a certified RiderCoach.
It was written by the Roman philosopher Seneca that teaching someone else is the best way to learn – "While we teach, we learn." What better way to not only help mold a novice or coach an experienced rider, but to improve your own skills?
An often neglected but vital part of rider education is self-assessment. Not only for yourself, but for someone just starting out on two wheels. There is no dishonor in a student stepping back during a range exercise to reassess their motivation, determination, and confidence to continue in the course. If that student decides they are unprepared, not properly motivated, or just not confident in accepting the risks associated with motorcycling, they can make a smart choice by withdrawing from the course and not purchasing their first motorcycle. There are no statistics that show how many people prevented personal injury or death by electing not to ride, but a conversation with those involved in rider training will convince you that for their own good, some folks just shouldn't be on a motorcycle.
Whether you're a novice or experienced rider (or somewhere in between), consider scheduling a BRC, IRC, or ERC for yourself. Know someone interested in riding but who doesn't know where to start? Steer them toward the MRTProgram. Finally, are you motivated to give back to your own community as a RiderCoach? You can find more information at the MRT Program website at https://www.dmv.nh.gov/ drivers-licensenon-driver-ids/motorcycle-rider-training-program.But don't delay –courses fill up quickly.
Becoming a RiderCoach takes time, determination, and a commitment to excellence, so get that process started if you're motivated to teach what you live and love.
Ride safe, Ride S.M.A.R.T.
Imre Szauter Director, Ride S.M.A.R.T.
ABATE of the GARDEN STATE Does Not Endorse Any Advertiser or Product In This Publication NHMRO Does Not Endorse Any Advertiser or Product In This Publication
NHMRO Does Not Endorse Any Advertiser or Product In This Publication
NHMRO Does Not Endorse Any Advertiser or Product In This Publication
NHMRO Does Not Endorse Any Advertiser or Product In This Publication
New Hampshire Events
Saturday May 6th
KT Cycles Open House, 2pm. 14 Howard Drive, Hudson
Sunday May 7th
NHMRO Meeting, 1:30 pm.
American Legion Henry J. Sweeney Post 251 Maple St, Manchester.
Keene Swap Meet, 9 to 5.
Cheshire Fairgrounds, Rt 12 South, Keene
Friday May 19th - Sunday May 21st
4th Annual "Wake the Lake"
Lakeside Ave., Weirs Beach, Laconia
Sunday May 21st
Stateline Swap Meet, 8 to 4. Rochester Fairgrounds, 72 Lafayette St, Rochester
If you or your organization has an upcoming motorcycle community or veterans related event, or a motorcycle related story you would like featured in our newsletter,on our website,or social media, please submit details along with your event flyer (if applicable) to:
NHMROgranitestatement@gmail.com
NHMRO Does Not Endorse Any Advertiser or Product In This Publication
NHMRO Does Not Endorse Any Advertiser or Product In This Publication
NHMRO Does Not Endorse Any Advertiser or Product In This Publication
NHMRO Does Not Endorse Any Advertiser or Product In This Publication
NHMRO Does Not Endorse Any Advertiser or Product In This Publication
NHMRO Does Not Endorse Any Advertiser or Product In This Publication
NHMRO Does Not Endorse Any Advertiser or Product In This Publication
NHMRO 2023 SPONSORS
The Hawk 104.9
NHHVAC Systems Inc.
Twisted Cycles
Ted Bantis Excavating
New Hampshire Automobile Dealers Association
Lafayette Press
HK Powersports
Old Bikers RC
Massabesic Quick Lube
R&R Cycles
Laconia Motorcycle Week Association
Alphas Barbershop
IHeart Media
DES-FAM Heating and Cooling
Heritage Riders
Auburn Pitts
Arties Electric
Motorcycles of Manchester
Superior Interiors
Sponsor's Offering MEMBER DISCOUNTS
(You must present your card to get the discount)
KT Cycles
The Bar Food and Spirits
Lowell St Automotive
RJ's/RPM Motorsports
Please support our sponsors!!!!
NHMRO Does Not Endorse Any Advertiser or Product In This Publication
NHMRO Membership Contest!!!
We need YOU, our members, to help us build and grow our organization. Spread the word to your family and friends, and anyone who enjoys the freedom of riding motorcycles here in New Hampshire.
April 1st- September 1st sign up new members, win prizes!!!
1. Have NEW members sign up online, through the mail, or at meetings April 1st through September 1st and list YOU as "referred by". Prizes awarded for most new members.
2. 1st place $150 gift certificate to HK Powersports, 2nd Place $100 gift certificate to KT Cycles, 3rd place $50 gift certificate to The Bar Restaurant.
3. Winners will be announced at this year's Joanne Packard Memorial Toy Run.
NHMRO Officers are ineligible.
NHMRO Area Representatives WANTED
NHMRO is looking for individuals across the state of New Hampshire to help us organize and attend events in your area. If you, or someone you know, would be willing to invest a small amount of time to help us, please contact any officer or member of the board. OR…you can email us at: NHMROgranitestatement@gmail.com
NHMRO Does Not Endorse Any Advertiser or Product In This Publication
1)… To initiate , endorse and sponsor educational programs such as rider safety, public awareness, legislative and affirmative action and, individual freedoms and rights.
2)… To create and promote a positive public image of motorcyclists and motorcycle groups and to dispel and disprove media hype and unfounded propaganda
3)… To encourage goodwill and mutual understanding among motorcyclists, law enforcement personnel and the general public.
4)… To serve as an information source on matters pertaining to current laws, pending legislation, personal rights, political inclinations of elected officials and their constituents, and voter awareness.
MEMBERS
Long Island ABATE Does Not Endorse Any Advertiser or Product In This Publication
5)… To act as a central responsive agency to devise and coordinate recreational, legislative, educational, and charitable activities. PLEASE SUBMIT Articles..Pictures..District Information Pictures.. Run / Party / Shows This is YOUR publication. PLEASE SEND ALL INFORMATION TO NHMRO Does Not Endorse Any Advertiser or Product In This Publication
Looking for Motorcycle Rallys in 2023?
Below are the dates and locations of the major rallys around the United States .
Myrtle Beach Bike Week…May 12–21 … Myrtle Beach, SC
Americade Touring Rally… May 31– June 4 … Lake George, NY
Republic of Texas Biker Rally… June 9–12 … Austin, TX
Laconia Motorcycle Week… June 10–18 … Laconia, NH
Women on Wheels Ride-In… July 4-6 Harrison AR
Sturgis Motorcycle Rally… August 4–13 … Sturgis, SD
Four Corners Motorcycle Rally… Sept 1 –Sept 3 … Durango, CO
Bikes Blues & BBQ… September 20-23… Fayetteville, AR
Texas Lone Star Rally…November 2-5 … Galveston , TX
Did We Miss Any?
If you have a favorite that's not on the list
ABATE of OKLAHOMA Does Not Endorse Any Advertiser or Product In This Publication NHMRO Does Not Endorse Any Advertiser or Product In This Publication
Submit it to
your newsletter editor and we'll add it!
NHMRO Does Not Endorse Any Advertiser or Product In This Publication
A friendly entrance into the biker community Join the cause & become a member today ! …What are the membership rewards ? YEAR Individual NHMRO State Membership ANNUAL DUES INFORMATION New Hampshire Motorcyclists Rights Organization Membership Dues & Renewal Fees Membership Type Donation Duration Individual Membership $20 12 Months Individual Membership Three Year $50 36 Months Couples $30 12 Months Couples Three Year $80 36 Months https://nhmro.org/ NHMRO Does Not Endorse Any Advertiser or Product In This Publication
NHMRO Does Not Endorse Any Advertiser or Product In This Publication New Hampshire Motorcyclist's Rights Organization P.O. BOX 16398……..Hooksett, New Hampshire 03106 Name:____________________________________________ Referred By:_____________________________ Phone:__________________________________Email:_____________________________________________ Add: (Name for Couple membership)_______________________________________________________ Address:___________________________________________________________________________________ City:____________________________________State:____________________Zip:______________________ Registered Voter:___________________________________________________________________________ What Would YOU Like To See Done For Motorcyclists of New Hampshire? ____________________________________________________________________________________________ ____________________________________________________________________________________________ ____________________________________________________________________________________________ NEW MEMBERSHIP Individual Couple RENEWAL Change of Address Member # Annual Membership Fee 1 YEAR 3 YEARS
NHMRO Does Not Endorse Any Advertiser or Product In This Publication
NOTE: All dates are subject to be changed/postponed/cancelled. Please reach out to the organization regarding their event.
The site below is one of the most complete listings of motorcycle related activities all around the country.
www.lightningcustoms.com/motorcycle-events/
MAY 30th - JUNE 4th 2023
Lake George New York
Each year since 1983, over 50,000 riders and passengers attend Americade in Lake George, the world's largest multi-brand motorcyle touring rally.
MAY 12th - MAY 21st 2023
Myrtle Beach Bike Week Spring Rally
Enjoy cruising daycations to Charleston or up to Wilmington, N.C. Harley Davidson locations are hot-spots throughout the week along with hangouts like Jamin' Leather, Beaver Bar, the Rat Hole, Suck Bang Blow, Ocean Annie's Beach Bar and many others.
AUGUST 4th - AUGUST 13th 2023
The Sturgis Motorcycle Rally is the largest motorcycle rally in the world. It is held annually in The Black Hills and in Sturgis, South Dakota for 10 days during the first week of August. It was started by local Indian dealer Pappy Hoel in 1938. Since its beginning, private area businesses throwing events such as races, concerts, and rides have made, and continue to make, the Sturgis Rally what it is today. 2023 will mark the 83rd annual Sturgis Motorcycle Rally
NHMRO Does Not Endorse Any Advertiser or Product In This Publication
NHMRO Does Not Endorse Any Advertiser or Product In This Publication
NHMRO Does Not Endorse Any Advertiser or Product In This Publication NHMRO Does Not Endorse Any Advertiser or Product In This Publication
NHMRO Does Not Endorse Any Advertiser or Product In This Publication
P.O. Box 188 Centerport, NY 11721 ADVERTISING SPACE AVAILABLE Contact us….516.359.1894 provided by... 5 6 7 8 9 10 11 12 13 14 15 16 17 18 19 20 21 22 23 24 25 26 27 28 29 30 31 1 2 3 4