ANNUAL REPORT 20212022
Table
of CONTENTS 03 04 08 09 10 14 16 18 20 22 21 Letter from the Director of Community Affairs About inspirED Year In Review Goals & Vision GO Center Mentors Destination Success College & Career Expo Revenue Team Members Sponsors
Letter from the Director of Community Affairs
I'm pleased to share the inspirED annual report for our 2021-2022 fiscal year, and what a year it was. We were so excited to bring back some of our in-person events while also keeping some of our new virtual programming. inspirED was there to meet students and families where they were and help them get ready for college, career or military.
Although everything is not back where it was pre-COVID, I'm very proud of everything we accomplished this year. We offered in-person and virtual advising appointments. We developed a FAFSA / TASFA campaign for the new graduation
requirement, complete with marketing materials, videos, handouts and email scripts. We delivered much deserved treats to counselors. We continued our large-scale events with Arlington and Mansfield ISDs to include in-person events and classroom lessons.
Our college access services are more important than ever. Last year, we added two GO Center locations in partnership with the Arlington ISD, and this year we added the last remaining AISD location. inspirED now has 22 high school-based GO Centers as well as a new community-based center in our offices.
Last year, we served 10,632 students and parents through GO Center services, presentations and outreach programs last year. We hope to continue to grow the number of students served, especially through GO Center services.
What we achieve is made possible by our many community partners and donors with whom we work. Thank you for your trust and partnership. It is only together that we can inspire students to achieve a higher education. I encourage you to stay in touch and support our work this year. Visit our websites (inspiredoutreach.org and yourgocenter.com) and follow us on social media.
LESLIE BIRDOW Director of Community Affairs
3
Mission:
students to achieve a higher education by promoting a college-going and
culture.
Inspiring
career-focused
inspirED does this through outreach activities, services and community partnerships. We accomplish the mission by providing: GO Center Services, Presentations & Workshops, Counselor Engagement, Mentor the Mentor Program, and Community Events.
1978
Higher Education Servicing Corporation (HESC) was founded
The Story of
1998
HESC began its outreach programs by offering FAFSA presentations throughout North Texas
2010
Expanded programming to include services such as GO Centers, college planning events and counselor engagement
2014
Rebranded the outreach division as inspirED to help increase our presence as a premier provider of college access services throughout North Texas
Present
inspirED continues to inspire students to achieve a higher education by promoting a college-going and career-focused culture in North Texas
5
Inspiring Higher Education
Making the leap from high school to college or the workforce can be frightening! That's why inspirED provides outreach programs and services to equip students with the information and knowledge they need to be prepared for the future.
6
inspirED currently operates 23 GO Centers in four neighboring school districts, one charter school network as well as a community GO Center. Mentors work in coordination with high school counselors to assist students on their college, career or military path.
Each GO Center has dedicated mentors that work one-on-one to help students and parents plan for every step leading up to college or their entry into the workforce.
Our mentors are trained to focus on:
• ACT / SAT / TSIA2 Test
Registration
• College Application Assistance
• FAFSA / TASFA Assistance
• Financial Literacy
• Job Application Assistance
• Major & Career Exploration
• Scholarship Search
Presentations & Workshops
Each year, inspirED offers presentations and workshops to schools and community organizations throughout the North Texas area.
Presentations include:
• College & Career Prep
• FAFSA Prep
• FAFSA/TASFA Assistance
Community Events
In partnership with the Arlington and Mansfield ISDs, inspirED produces annual college and career readiness events for students and families.
These free events provide:
Career Readiness Workshops
College Application Assistance
College & Career Fair
College Prep
Mentor the Mentors
We are committed to helping our mentors develop their skills and abilities during their time with inspirED and after they leave the program!
Our goal is to ensure our mentors are ready to successfully enter the workforce once they graduate by utilizing all of the skills they acquire as mentors.
The mentors will have:
Counselor Engagement
We partner with area school districts to provide specialized programs that meet the needs of the Guidance & Counseling Departments in support of their efforts to engage and help students during and after high school.
FAFSA / TASFA Prep
Financial Literacy
• GO Center Services
inspirED also partners with P-16 Councils and other organizations for college access events.
• Leadership Training
• Mock Interviews & Resume Assistance
• Professional Development
7
•
•
•
•
•
•
2022 Year in Review
seniors served in 2021-2022
8 Kathryn Bryan Memorial Scholarships awarded
college applications completed
22
operated GO Centers for 2021-2022
students completed College and Career Expo lessons
presentations made to schools & community organizations
FAFSA / TASFA completed with GO Center mentors
unduplicated visits from students at the GO Center
total student & parent impressions in 2021-2022
8 2,204
4,658
10,632
70
1,381
1,182
2,320
Goals & Visions
Purpose:
To be the premier nonprofit provider of college and career programs and services in the Greater Arlington area in order to ensure students and families have access to a higher education and future careers.
RESULTS 2020 - 2021 RESULTS 2021 - 2022 GOALS 2022 - 2023
Student and Parent Impression reached 5,910 people
Program Funding for inspirED $94,244.95
GO Centers operated 19 centers
Presentations conducted 45 presentations
Student and Parent Impression reached 10,632 people
Program Funding for inspirED $104,675.00 GO Centers operated 22 centers
Presentations conducted 70 presentations
Student and Parent Impression reach 10,000 people
Program Funding for inspirED $108,000.00 GO Centers operate 23 centers
Presentations conduct 65+ presentations
9
GO Center
WHAT IS THE GO CENTER?
GO Centers are college and career focused sites located within schools that help create and promote a college-going culture. Students at all grade levels can learn about careers and college preparation in the GO Center. This consists of financial aid, scholarship search, college applications and more.
GO CENTER MENTORS
inspirED mentors are students at Dallas Baptist University, Tarrant County College, Texas Wesleyan University, UT Arlington and UT Dallas. They work one-on-one with students to help them plan for every step leading up to college.
PERFORMANCE
The GO Center activities from 2021-2022 met and exceeded inspirED goals for the school year. We expanded our partnership with schools and districts to support the HB3 mandate for FAFSA completion. We also participated in an application drive with University Crossroads.
10
GO Center Locations
ARLINGTON ISD
Arlington Collegiate High School
2224 Southeast Pkwy. Arlington, TX 76018
Arlington High School
818 W Park Row Dr. Arlington, TX 76013
Bowie High School 2101 Highbank Dr. Arlington, TX 76018
Dan Dipert Career and Technical Center 2101 Browning Dr. Arlington, TX 76010
Lamar High School
1400 W Lamar Blvd. Arlington, TX 76012
Martin High School 4501 W. Pleasant Ridge Rd. Arlington, TX 76016
Sam Houston High School 2000 Sam Houston Dr. Arlington, TX 76014
Seguin High School 7001 Silo Rd. Arlington, TX 76002
The Learning Center 600 New York Ave. Arlington, TX 76010
Venture High School 600 SE Green Oaks Blvd. Arlington, TX 76018
MANSFIELD ISD
Early College High School at Timberview 7700 S. Watson Rd. Arlington, TX 76002
Frontier High School / Ben Barber Academy
1120 Debbie Ln. Mansfield, TX 76063
Lake Ridge High School
101 Day Miar Rd. Mansfield, TX 76063
Legacy High School
1263 N. Main St. Mansfield, TX 76063
Mansfield High School
3001 E. Broad St. Mansfield, TX 76063
Phoenix Academy
902 E. Broad St. Mansfield, TX 76063
Summit High School
1071 Turner Warnell Rd. Arlington, TX 76001
Timberview High School
7700 S. Watson Rd. Arlington, TX 76002
KENNEDALE ISD
Kennedale High School
901 Wildcat Way Kennedale, TX 76060
HURST-EULESS-BEDFORD ISD
Trinity High School
500 N. Industrial Blvd. Euless, TX 76039
FORT WORTH
Uplift Mighty Preparatory
3700 Mighty Mite Dr. Fort Worth, TX 76105
11 2021-2022
12 1,381 College Applications Completed 1,011 FAFSA / TASFA Started1,182 FAFSA / TASFA Completed 437 College Search 850 College Applications Started 476 Scholarships 279 Career Exploration 96 SAT / ACT Registration Started 71 SAT / ACT Registration Completed 2021 - 2022 GO Center Activities
KATHRYN BRYAN MEMORIAL SCHOLARSHIP
inspirED and Higher Education Servicing Corporation launched the inaugural Kathryn Bryan Memorial Scholarships in April.
Students must be high school seniors graduating from a school served by inspirED, who have visited the inspirED mentor in the GO Center at least once during their senior year.
Eight scholarships were awarded totaling $19,000.
13 2018 - 2019 3,579 2,872 1,170 3,390 1,350 2,320 5,574 2,738 395 3,374 1,235 2,497 2019-2020 2020-2021 2021-2022 7,311 6,641 5,910 10,632 2021 - 2022 Student / Parent Impressions Student Unduplicated Visits / Lessons College & Career Special Events Presentations
Mentors
inspirED hires work-study students to serve as GO Center mentors at high schools and community-based centers throughout Arlington, HEB, Kennedale and Mansfield. Much of the work our mentos do focuses on asisting students and parents through the college process from start to finish.
14
Through monthly trainings, meetings and professional development, inspirED works to ensure our mentors leave the program ready for their first professional job. Topics include professional communication, soft skills, resume assistance and more.
15
1 DBU student 8 UTA students 19 TCC students 3,047 GO Center visits conducted $41,295 work-study funds awarded $500 scholarships given to a mentor
PERFORMANCE
In partnership with Mansfield ISD, Destination Success is an evening of free college and career readiness events, activities and presentations. Topics include College Prep, Paying for College and a college student panel.
people attended
Fair
& colleges
in the
17 292 total
49 universities
participated
College
8 presentations given 232 presentation attendees
PERFORMANCE
In partnership with Arlington ISD, College & Career Expo includes student and parent workshops, a college fair, a career fair, and online classroom lessons. Workshop topics include Paying for College, College Prep and College Athletic Recuiting and Scholarships.
18
19 624 total people attended 1,166 total registrants 62 universities & colleges participated in the College Fair 38 businesses participated in the Career Fair 9 presentations given 113 presentation attendees 20 college & career readiness lessons 8,625 lessons completed
Revenue
$90,990
Financial Program Results 2021 - 2022
Arlington Higher Education Finance Corp. $90,990
$88,163
United Way of Tarrant County $5,800
Bank of Texas / Oklahoma $5,000
Impact Deposits Corp. $1,300
North Texas Giving Day $1,085 Constellation Energy $500
Total: $104,675
Arlington Higher Education Finance Corp.
External Money
20 0 20000 40000 60000 80000 100000 2018-20192019-20202020-20212021-2022 $76,538 $12,457 $83,538 $13,402
$6,082
$13,685
Revenue Through Partnerships
Sponsors
Without the financial support of business partners, foundations, organizations and individuals who are dedicated to serving our community, inspirED would have been unable to provide vital college and career guidance to the nearly 10,600 students and parents we reached during the 2021-2022 school year.
As a sponsor, your financial support will directly help increase college access and success opportunities and impact the lives of local students and their families.
Champion ($10,000+)
Partner ($5,000+)
Advocate ($1,000+)
Supporter ($250+)
Friend ($100+)
Leslie & Donnie Birdow
Stephanie & Patrick Buduhan
Denise Dunn-Trakshel & Gary Trakshel
Shannon & Rob Lamberson
Julie & Tony Pompa
Tiffani & Philip Wambsganss
21
Team Members
We often say we can't do it without you, and this annual report is proof. Many of the accomplishments, new initiatives and successful outcomes included are made possible by our awesome team, advisory committee and community partners.
INSPIRED TEAM ADVISORY COMMITTEE
Cindy Dao Community Leader
Cynthia Carter
Sam Houston High School
COMMUNITY PARTNERS
Arlington ISD
Dallas Baptist University
Fort Worth ISD
University Crossroads
University of Texas at Arlington
University of Texas at Dallas
Leslie Birdow Director of Community Affairs
Eric Phillips Arlington ISD Glenn Spoons Community Leader
Joel James US House of Representatives
Jennifer Castrillo Mansfield ISD
Greater Arlington Chamber of Commerce Hurst-Euless-Bedford ISD
Kennedale ISD
Mansfield Area Chamber of Commerce Mansfield ISD
United Way of Tarrant County
Uplift Mighty Preparatory
Jessica Delmar Outreach Coordinator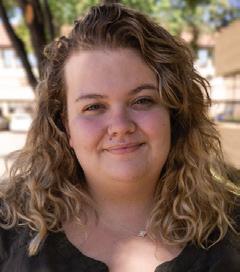 Dr. Stacy Burrell Fort Worth ISD
Stacy Garcia Arlington Public Library
Stephanie Buduhan CPA
North Texas Regional P-16 Council
Tarleton State University
Tarrant County College
Texas Wesleyan University
Savanna Limas Program Assistant
Vanna Ngo Tarrant County Commissioner's Office
22
WEBSITES
SOCIAL MEDIA
23 inspirEDoutreach inspirED_tx inspireHIGHERED inspired-outreach
inspirEDoutreach.org YourGOCenter.com
24