TRENDS
AW 23/24 MEN'S
x FASHION SNOOPS Takeaway Guide
ABOUT THIS TAKEAWAY GUIDE

AW 23/24 is a season that will be all about contrasts. Consumers will be seeking to reconcile the uncertainty of an ever-changing world, coupled with the need to feel grounded, comforted, and inspired. From movie-like, daydream-inspired vignettes of daily surroundings to a whole new appreciation for the ancient, mystical wisdom of the universe, it will be a season full of juxtapositions, complex craft, and a strong reconnection to our natural instincts. By loosening the reins on traditional expectations and order, we will be guided to a more authentic place.
Upon this new season, Informa Markets Fashion has partnered with the global forecasting agency FS (Fashion Snoops) to lead the way with an inspiring and informed look at what is happening for AW 23/24 in the menswear market.
As a complement to the digital discovery session, this guide identifies the four overarching Design Aesthetics that will frame the season. Finding a way to align newness in design with consumer culture, these edited takeaways are meant to inspire and examine how each theme will influence color, silhouette, materials, print and pattern, and key items for the season ahead.
x FASHION SNOOPS
INTRO
MAGIC Las Vegas
February 13-15, 2023
SHOP THE TRENDS
Shop AW 23/24 trends at upcoming Informa Markets Fashion's live events
PROJECT New York
January 24-25, 2023 projectfashionevents.com
PROJECT Las Vegas
February 13-15, 2023 projectfashionevents.com
SOURCING at MAGIC
February 13-15, 2023
magicfashionevents.com sourcingatmagic.com
PROJECT Tokyo
March 14-16, 2023
project-tokyo.com

x FASHION SNOOPS

x FASHION SNOOPS AW 23/24 DESIGN AESTHETICS 1 MYSTIC 3 UNTAMED 2 POETIC 4 PARADOX
Serdar Camlica
Sven Brandsma
Lauren Probyn
Calida Garcia Rawles
MYSTIC

1Unusual surfaces and somewhat uncomfortable design makes up this Design Aesthetic that puts a fresh spin on cold weather goth. Elevating the grunge look to an entirely new place, these are styles that bring together menswear troupes like workwear and the great outdoors in a darkly industrial way. Deliberately distressed and seemingly chemically treated, it's gloomy character that adds an edge to otherwise basic silhouettes.
x FASHION SNOOPS AW 23/24 DESIGN AESTHETIC
Heliot Emil TAAK
Wael al Awar
Hiroshi Sambuichi
The bewitching shades in MYSTIC cast a darkly romantic spell, with hues like Bloodstone, Coal, Nocturnal, Jade, and Skyfall breathing new life into seasonal jewel tones—more mysterious than they are opulent. The entire palette is a modern day gothic tale with elements of earth, water, and air. There are witchy-inspired colors like Enchantment, Spanish Moss, Compost, Neon Night, and Pomegranate that float from the cosmos to the terrain, while delicate tones like Cool Taupe, Awaken, Heavenly, and Nautilus speak to the immense strength of ethereal pastels—seemingly floating while also feeling grounded.

x FASHION SNOOPS Bloodstone Coal Nocturnal Enchantment Cool Taupe Awaken Spanish Moss Compost Smoke Jade Black Skyfall Neon Night Pomegranate Heavenly Nautilus
MYSTIC AW 23/24 DESIGN AESTHETIC
COLOR PALETTE

x FASHION SNOOPS
Nocturnal Pomegranate Nautilus Skyfall Heavenly Enchantment Black COLOR USAGE MYSTIC AW 23/24 DESIGN AESTHETIC
Bloodstone
19 XCV
Alexander Young
Linda Westin
Jade
MEN'S CONTEMPORARY KEY ITEMS
DIPPED MOTO
As a new alternative to camo, blotchy rust stains and chemical spills add a much more industrial edge to workwear-inspired design.
Slick, leather-like or rubberized coatings are brushed onto woolen surfaces to give garments a high-contrast textural appeal.
TENSION STRAPS

Industrial grade straps and details actually shift the silhouette of technical outerwear by allowing for adjustments throughout the garment.
Distressing for denim takes on a more embellished feel with deliberate shredding along the edges of jacket lapels.
x FASHION SNOOPS
CHEM CAMO TRUCKER
SHREDDED OVERCOAT
MYSTIC AW 23/24 DESIGN AESTHETIC
A COLD WALL*
TAAKK
Heliot Emil Diesel
MONOCHROME SHIRT

Inspired by myths and folklore, a classic shirt takes on a macabre look when printed in a monochromatic, etching-inspired print style.
EMBELLISHED TRUCKER
With a mix of rugged glamor, the trucker jacket in a grey rinse looks new when embellished with allover nailheads or metal studs.
SPELLBOUND PANT
Denim or winter cottons are adorned with mystical-inspired motifs like celestial stars, suns or eclipses. It's a new take on 1960s bohemian style.
The tried-and-true shirt-jacket is elevated to a new place when rendered in leather or a high-gloss coating.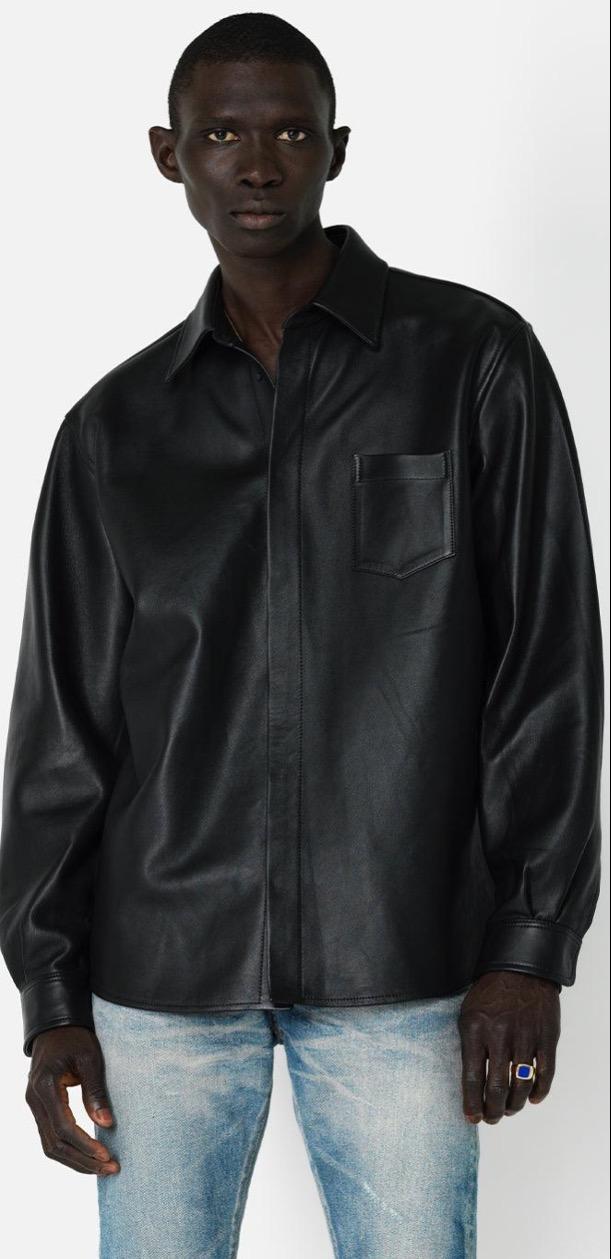 x FASHION SNOOPS
YOUNG MEN'S KEY ITEMS MYSTIC AW 23/24 DESIGN AESTHETIC
HI-SHINE SHIRT-JACKET
Zara
All Saints
Cout De La Liberte
John Elliot
KEY ACCESSORIES
LEATHER CUT-OUTS
Depths of color are explored through a shadowy take on nighttime hues in matte and metallic finishes.
Layered cut-outs and molded creases offer textural contrast against matte black leather for a sculptural spin on everyday assortments.
RUBBER CAPPED BOOT

Stealth and utilitarian, rubber toed boots are offer adjustable buckles and are outfitted with rugged lug soles, fit for traversing unknown paths.
Darkened silver metal is worked into form-fitting cuffs with the illustrative motif of double buckles.
x FASHION SNOOPS
MYSTIC AW 23/24 DESIGN AESTHETIC
MIDNIGHT TONES
DOUBLE BUCKLE CUFF
Jil Sander
MM6 Maison Margiela
Coach
London College of Fashion
Finishes for the season take on a more enchanted approach to adornment with techniques that push tactile boundaries with puckered and irregular textures.
Dark, inky glazes sink into hard or soft surfaces for a grounded almost night-inspired quality. Metallic yarns also work in a similar effect to excite and awe otherwise classic materials.
On the surface, these leathers offer a richly-colored appeal, but also support sustainable efforts thanks to chrome-free tanning or vegetable dyes.
Base layers continue to push construction boundaries with superlight but warming constructions. Opt for a delicate framework of micro gauge yarns that update sheers.

x FASHION SNOOPS KEY
MYSTIC AW 23/24 DESIGN AESTHETIC
MATERIALS
GRUNGY EMBELLISHMENT METALLIC YARNS & COATINGS
CHROME FREE LEATHERS
SUPERFINE GAUGE KNITS
Conceria di Urgnano
Bea Brucker System
A COLD WALL*
SUPERNATURAL SPECKLE
Deep jewel tones illuminate from the dark nocturnal backgrounds showcasing the intricate patterns that emerge through a spellbinding cloud of supernatural energy.
MINERAL MARBLE

Whispers of gold clouds bend and spin through the shadowed prints, swirling spells of opulent intrigue to emerge with a gilded boost of modernity.
SHADOW WORK DYES
Macabre-tinged dyes embrace the dark through an alchemical process, showcasing the effects of shadow work amongst murky ombrés and soot-swirled prints
NOCTURNAL TROPICS
Sweeping leaves take on a gritty wash of blurred formation, allowing the print to transform with a shadowed effect, swaying gently amongst whispers of fabled enchantment.
x FASHION SNOOPS
KEY
MYSTIC AW 23/24 DESIGN AESTHETIC
PRINT + PATTERN
Atmos X Descente
Marcell Von Berlin
Officine Generale
LGN Louis Gabriel Nouchi
TAKEAWAYS
HARNESS THE UNSEEN
By breaking free from our traditional ways of thinking and doing, we just might be able to stumble into the next great idea, innovation, or piece of art.
PROVOKE AWE
Think of how you can sprinkle some 'magic' into the everyday and provoke awe. Infuse moments of whimsy or a sense of play into visuals and language to elevate the mood.
DON'T BE AFRAID OF THE DARK
Make moments of moodiness more palatable by bringing in hints of levity, and invite your audience to explore these new worlds and ideas with open curiosity.

x FASHION SNOOPS
MYSTIC AW 23/24 DESIGN AESTHETIC
KEY
1
NOTES
2
3
Designer Credit: Hermes
POETIC 2

Looking at life through a decidedly softer lens, Poetic is all about bucolic charm. The focus here is on homespun knits that are time-honored in their influence, and impactful in their reminder of simpler times. There's a bit of irregular character and one-size-fits-all quality about these garments—a nod to general store provisions, and a much-needed charismatic quality of tradition that's often forgotten about in this era of fast fashion.
x FASHION SNOOPS AW 23/24 DESIGN AESTHETIC
The Masons
Andrew Nuding
Alibi Studio
Mikage Shin
The colors in POETIC are like rippling fragments of heart and imagination, full of earnestness and warmth. The left side of the palette represents the more eclectic part of a daydream, with Hazel, Oolong, Greige, Winter Sun, and Cherry Ice providing a kind of retro-inspired respite from the discord of everyday life. Brick, Introspect, and Baguette give us feelings of kindheartedness, while a temperate group of blues like Cascade, Aizome, Stormy Sky, and Ice go through a deep depth of emotions–from calmness and serenity to sincerity and gloom. Finally, some of the cooler pastels are a necessary balance to the warmer browns, emphasizing a wide range of sentiments

x FASHION SNOOPS Hazel Oolong Greige Winter Sun Cherry Ice Brick Introspect Baguette Cascade Aizome Stormy Sky Ice Cool Taupe Awaken Chai Spice Teak
COLOR
POETIC AW 23/24 DESIGN AESTHETIC
PALETTE

x FASHION SNOOPS
Hazel Brick Greige
Cascade Stormy Sky Oolong
POETIC AW 23/24 DESIGN AESTHETIC
Winter Sun Teak Baguette
COLOR USAGE
Jochen Muehlenbrink
Rich Stapletonn
Rich Stapleton
MEN'S CONTEMPORARY KEY ITEMS
EXTREME CABLE KNIT
Functional pockets and extra armholes cleverly concealed within oversized cable knits emphasize the importance of merging craft and utility.
COUNTRY LEISURE SET

Updating the matching set, and cut from cozy fine gauge knits rather than standard cotton jersey, these are styled like a 20th Century union suit, but more casual and luxurious.
ORIGAMI SWEATER
With exaggerated fits expected to be prevalent, ingeniously-placed seams create structural volume to emphasize the cozy, casual nature of oversized sweaters.
Thick, somewhat irregular pick stitching adds an old world quality with a handcrafted look. The more seemingly random the pattern, the better.
x FASHION SNOOPS
FARMHOUSE WORK JACKET
POETIC AW 23/24 DESIGN AESTHETIC
Dion Leey
Ferragamo
O8sircus
Bode
YOUNG MEN'S KEY ITEMS

'90s-inspired oversized fits are usually seen on woven shirts and pants, but their use on crafty sweaters is what is truly new. Raw surfaces and exaggerated details are key.
Elongated sweaters get a new lease on life with extended pattern panels, best done in a traditional motif like Fair Isle.
Bomber silhouettes become more formal with statement patterns. Consider jacquard and brocade patterns to elevate classic outerwear silhouettes.
As the cardigan continues to trend up, sleeveless styles with quirky intarsias are key. Tonal harmonies and pattern clashing make it younger.
x FASHION SNOOPS
POETIC AW 23/24 DESIGN AESTHETIC
Hed Mayner
Palomo Spain
Kosta Kara
CONVERSATIONAL LAYERS
NOVELTY OUTERWEAR
KITSCH INTARSIA
XXL SWEATER
Stefan Cooke
COZY COMFORTS

Accessories from knit hats to slip-ons emphasize the importance of of softcore via plush and comforting materials.
FELTED WORK CLOG
Soft but sturdy materials like felted wool and suede are placed on buckled clogs for a cozy contrast.
CROCHET BERET
Chunky crochet stitches revive the classic beret in a distinctly more slouchy shape, with a tinge of Wes Anderson-inspired nostalgia.
Plush shearling is worked into rectangular totes with an unstructured shape and carry-all capability.
x FASHION SNOOPS
POETIC AW 23/24 DESIGN AESTHETIC
KEY ACCESSORIES
SHEARLING TOTE
Kenzo
Paul & Joe
Etro
Dior Men
VINTAGE DENIMS
Surfaces that invite touch with brushed finishes, slubby yarns and novel embroidery treatments are welcomed updates for outerwear.
Vintage denims are updated with organic cotton blends and lowered water usage.
For finishes, a rustic simplicity is conveyed through uneven techniques.

HEIRLOOM-INSPIRED QUILTING
Quilting designed to comfort the mind and soothe the soul with familiar techniques updated with biodegradable fillings and new plaid.
Paying respect to humble ingredients, organic cotton, hemp, merino wool and flax are left raw and uncomplicated for crafted cable knits and simple wovens.
x FASHION SNOOPS KEY
POETIC AW 23/24 DESIGN AESTHETIC
MATERIALS
NOVEL WOOLENS
CRAFTED CABLES
Hannah Robinson
Lanificio Bigagli
Dior
Etudes
As daydreams merge with reality, comforting stripes with a melancholic palette invite a curiosity towards a quieter lifestyle one of tender sincerity that is rich in simplicity.
Charming scenes with a folkloric rhythm appear as threadbare graphics showcasing fables that have been passed down with printed sincerity.

An evolution of timeless patchwork with a hint of modern print splicing, it's like a cabinet of curiosities explored with repurposed craft and nostalgic newness.
Classic tartans, soft buffalo checks, and traditional plaid receives a clouded coating of whimsy blurring boundaries and easing silhouettes with a cozy comfort.
x FASHION SNOOPS
SENTIMENTAL STRIPE
PLAID VIGNETTE
FOLKLORE RHYTHM
KEY
POETIC AW 23/24 DESIGN AESTHETIC
CURIOUS CRAFT
PRINT + PATTERN
COS
Marrakshi Life Saturdays NYC
Jess Feury
TAKEAWAYS
TELL YOUR STORY
Engage on an emotional level to make your audience part of the message. Leverage modern mediums, from video to haptics, to construct an environment where fantasy and reality collide
ELEVATE THE FAMILIAR
Think of ways to bring new purpose or a second life to objects; and look to unexpected details, materials, and inner narratives. Honor the connections between the user and product

LEAD WITH YOUR INSTINCTS
Create environments that heighten the senses and provide plenty of room and time for introspection. Embrace the process of discovery by making it okay to fail.
x FASHION SNOOPS
POETIC AW 23/24 DESIGN AESTHETIC
Designer Credit: Dior KEY
1
NOTES
2
3
UNTAMED 3

Inspired by overgrown textures, soil influenced hues, and the patterns of nature, Untamed taps into a more organic, raw, and untouched version of the outdoors. While consumers continue to crave the outdoor experiences post-pandemic, this season brings a focus towards nature explorations that offer a slightly untangled sensibility and evoke a wild intrigue. It's about finding further meaning beyond the surface taking inspiration from the quietly thriving ecosystems surrounding us.
x FASHION SNOOPS AW 23/24 DESIGN AESTHETIC
Zegna
SHOOP
South2 West8
Matt Beach
The colors in UNTAMED are equal parts gritty and graceful, deep and delicate a palette that's somewhat uneasy on the senses with a chaotic, disheveled presence. Compost, Willow, Supernatural, Ochre, and Greige are impactful greens and taupes that go from lush to dry, but they emphasize an all-natural appeal. Fire, Burlwood, and
Winter Sun inject a much-needed naivety into an otherwise grainy group of hues, while Teak, Raisin, Timber, Cherry Ice, Grit Grey, and Black represent the angst-filled parts of our personality.

x FASHION SNOOPS Compost Willow Supernatural Fire Burlwood Ochre Greige Teak Eggplant Timber Winter Sun Latte Hazel Cherry Ice Grit Grey Black
UNTAMED AW 23/24 DESIGN AESTHETIC
COLOR PALETTE

x FASHION SNOOPS
USAGE UNTAMED AW 23/24 DESIGN AESTHETIC
Burlwood
Cherry Ice Black Grit Grey Supernatural Fire Ochre Latte Hazel COLOR
Esna Su
Tobias Nicolai
Ian Collings
Compost
MEN'S CONTEMPORARY KEY ITEMS
ERRATIC INTARSIA

Chaotic, fractured motifs on intarsia sweaters mimic patches of forest, grounded with a tonality of color.
TATTERED REPAIRS
Shredded surface treatments have an even more textural appeal when stitched over or repaired with patchwork throughout.
SHAGGY OUTERWEAR
Active-inspired sets feature shaggy piles of faux fur to take on an almost animalistic look, becoming a more novel way to do shearlings and sherpa.
With an almost burnt out effect, camouflage gets reinvigorated with wild abstractions and outlandish color combinations.
x FASHION SNOOPS
WILD CAMOUFLAGE
UNTAMED AW 23/24 DESIGN AESTHETIC
Zegnay
Givenchy
SHOOP
OAMC
STATEMENT PUFFER

After a few seasons of quilting techniques being key, the puffer sees another key update. A-line silhouettes and quirky quilting techniques embrace modern surrealism.
BRUSHED SWEATER
Novelty knitwear prevails, drawing inspiration from monsters and animation with extreme marls, and felted and brushed finishes.
OVERGROWN YARNS
Crafty, quirky yarns that appear to be overgrown and out of control are a great way to update otherwise classic sweater silhouettes.
The excitement around fashion denim has been a mainstay across social media. Twisted seams update classic silhouettes are a nod to Levi's twisted 1999 style.
x FASHION SNOOPS
UNTAMED AW 23/24 DESIGN AESTHETIC
TWISTED SEAMS
YOUNG MEN'S KEY ITEMS
Y Project
Off White Mugler
The Ragged Priest
MEN'S KEY ACCESSORIES
UNRULY TEXTURES
Textural paneling, hodge podge knit and crocheted surfaces indicate a more unrestrained approach to knit accessories.
BRIGHT HIKER
Straying away from muted earth tones, hikers incorporate a brighter palette that enliven function-forward utilitarian footwear.
KNIT BALACLAVA

Balaclavas take on a more handknitted appearance through alternating rib knits and asymmetrical color blocking.
Crocheted raffia inserts and premium grade leathers merge on crescent shape totes for an earthly mix of materials and texture.
x FASHION SNOOPS
UNTAMED AW 23/24 DESIGN AESTHETIC
RAFFIA INSET HALF MOON
Lukhanyo Mdingi
Eckhaus Latta
Matty Bovan
Tods
PLANT-BASED LEATHERS

From a performance standpoint, plantbased alternatives continue to gain traction. The same holds true for trims, labels and closures that all explore these organic alternatives.
TANGLED KNITS
Stylistic alternatives to compostinspired materials mimic the wild organic nature of root systems in tangled yarn forms and marled interest.
WOOLY FELTS
Revered for its natural thermoregulating properties, wool is updated to be more raw and unmanipulated in naturally felted compositions.
Accepting all the flaws and irregularities of the process, techniques embrace a more spontaneous sensibility. Surfaces appear unraveled from aggressive distressing that exposes the inner yarn.
x FASHION SNOOPS
UNTAMED AW 23/24 DESIGN AESTHETIC
KEY MATERIALS
DISTRESSED BASES
Stefanie Salzmann
Mirum
OAMC
Eckhaus Latta
UNCULTIVATED
Quietly secluded and wildly flourishing, camouflage keeps evolving through all-encompassing designs that celebrate an uncultivated intrigue.
MODERN BARK

Complex carvings with a highcontrast appeal sit alongside more artistic portrayals of watercolorwashed lines and metallic-infused prints.
VISCERAL WARMTH
Fiery prints invite a visceral warmth of activated color and spirited movement as an energetic new way to do abstract allovers.
Animal instinct merges with ultraorganic speckles for a textural update to traditional spotted patterns, complete with dramatic colorways.
x FASHION SNOOPS
KEY
UNTAMED AW 23/24 DESIGN AESTHETIC
SPOTTED SYNESTHESIA
PRINT + PATTERN
Paul Smith
Weekday
Tobias Birk Nielsen
Bassike
KEY TAKEAWAYS
FORAGE & FABRICATE
Encourage circularity by offering your consumers creative mending tutorials and ways to update your products with dyes and embellishments from foraged materials
LEVERAGE UNDERGROUND WISDOM
Immerse your audience in the magic of the underground through the powerful ingredients and eco-friendly materials that can be derived from fungi and soil microbes
LEAN INTO DISCOMFORT
Shying away from critical conversations may distance your brand from the increasingly conscious consumer. Consider providing room on your platforms to amplify influential voices that are demystifying taboo topics

x FASHION SNOOPS
Designer Credit: Gsll
UNTAMED AW 23/24 DESIGN AESTHETIC
NOTES 1
2
3
PARADOX

Paradox is a visual experiment in organic contrasts surfaces that provide warmth and protection alongside silhouettes and colors that are delicately refined. From tailored activewear to a utilitarian spin on luxury, this Design Aesthetic is an ultra-modern way to update the basic athleisure so prevalent since the beginning of the pandemic.
Objects of Common Interest
x FASHION SNOOPS AW 23/24 DESIGN AESTHETIC
08sircus
Kirsten Furlong
Sacai
4
The colors in PARADOX are like a visual push and pull of tones and shades that reflect the many contradictions of modern life. Sweet-natured pastels like Lucite, Snowdrop, Introspect, Latte, and Ice are highlighted and underscored in a more powerful way when sitting next to brights like Cherry Ice, Fizzle, Neon Night, Butterscotch, and Polaris. A small but impactful group of neutrals further ground an otherwise prismatic palette. The chromatic experiment in weight and intensity illustrates how opposites coming together are made even stronger.

x FASHION SNOOPS Lucite Cherry Ice Pomegranate Fizzle Snowdrop Neon Night Winterberry Smoke Introspect Latte Ice Aizome Coal Butterscotch Polaris Fire
PARADOX AW 23/24 DESIGN AESTHETIC
COLOR PALETTE

x FASHION SNOOPS
Fizzle Neon Night Butterscotch Smoke Ice
Coal Fire COLOR USAGE PARADOX AW 23/24 DESIGN AESTHETIC
Aizome
Pomegranate
Romain Lenancker
Jose Dávila
Romain Lenancker
Pieced construction with halved panels of opposing fabrics updates quintessentially utilitarian essentials like the cargo pant.
The classic sweatshirt is rendered in graphic quilted nylon for a nuanced take on an athleisure staple. Hi-shine surfaces elevate the look even further.
Moving on from gorpcore, expect an influx of more tailored outerwear with a dramatic silhouette, and are constructed from more refined fabrics.
Layered panels of self-fabric breathe new life into the traditional suit. This inside-out approach at utility emphasizes the need for protection.

x FASHION SNOOPS
MEN'S
PARADOX AW 23/24 DESIGN AESTHETIC
CONTEMPORARY KEY ITEMS
SPLIT PANEL PANT PUFFER SWEATSHIRT
TAILORED RUGGED FORMAL UTILITY
SWIRLY PUFFER

Cozy puffers get a futuristic makeover with a pullover silhouette, swirl texture, and candy-coated colors.
LEISURE SUIT
The leisure suit becomes all about casual comfort when paired back to pleated knits and a directional update to basic sweats.
TECHNO GLAM
Technical outerwear with a high-shine surface is unexpected with the fusion of glamorous colors and materials with outdoors-inspired silhouettes.
SOFT TAILORED
Otherwise tailored silhouettes for pants designed with drapey fabrics and pastel colors injects new, soft energy into a very traditional category.
x FASHION SNOOPS
PARADOX AW 23/24 DESIGN AESTHETIC
YOUNG MEN'S KEY ITEMS
Dior x Eri
Homme Plisse Issey Miyake
Acne Studio
Dior Men
KEY ACCESSORIES
GLOSSY BUCKET
Bucket hats are rethought in crocodile textures and quilted brims with distinctly glossy finishes and a monochromatic palette.
GEOMETRIC LOAFERS
Hard, geometric lines and proportions are worked into slip-on loafers to update the classic dress shoe with a modern edge.
ANGULAR FRAMES

Taking rectangular frames to the next level, pearlescent finishes and outsized logos bring a directional quality to more angular silhouettes.
Mini bags find newness in more structured shapes with unexpected elements like belt straps and postmodern blue hues.
x FASHION SNOOPS
PARADOX AW 23/24 DESIGN AESTHETIC
COMPACT BOX SHAPE
Hermes
Coperni
Fendi
MM6 Maison Margiela
PERFORMANCE SHELLS

High performing abrasion resistance shells maintain a higher level of use. Recycled superlight insulations that mimic the compressibility of goose down are key.
NEW REFLECTIVES
Digitally-inspired takes on reflectives emerge with customizable printed overlays and brighter bases. Allover interpretations for a dramatic luster.
WELLNESS FABRIC INFUSIONS
Peppermint finishes and other softeners present a unique opportunity to inject otherwise straightforward technical materials with an abundance of functional benefits. .
Evolving popular technical materials for colder seasons, satin jerseys and body hugging knits adopt a crisper finish, denser hand and more streamlined approach.
x FASHION SNOOPS KEY
PARADOX AW 23/24 DESIGN AESTHETIC
MATERIALS
CLEAN & CRISP SURFACES
Pyratex
Dion Lee
Majotech
Bianca Saunders
SPECTRUM
High intensity stripes with a spectrumdefying vibration create an ultramodern appeal allowing the pigments to shift between dazzling ombré dyes to radiating color blocks.
DICHOTOMY DIPTYCH
A true paradox of print and emotion, the push and pull of these diptych-inspired designs creates a modern balance of pattern showcasing two dimensions coexisting in organic unity.
REALITY MELT
Rippling prints issue an echo of surreality this season, melting classic color blocks and photo prints with a cascading cognition as fantasy slowly bends our concept of reality.
HEAT SIMULATION

Radiating heat emerges from within, igniting a spectrum-powered glow of tonal focused color for a modern update to classic ombré dyes.
x FASHION SNOOPS
KEY PRINT +
PARADOX AW 23/24 DESIGN AESTHETIC
PATTERN
Camerin Stoldt
Calida Garcia Rawles
CC Tapis
Igor Dieryck
KEY TAKEAWAYS
THINKING PHYGITALLY
Augment brick-and-mortar retail with digital flexibility, and elevate e-commerce with interactive 3D experiences. Offer your customers a blended experience that maintains ease and consistency no matter the channel
ACTIVATE OPTIMISM
Bring a sense of relief to your audience by incorporating playful irony. Leverage retrofuturistic aesthetics to inspire an optimistic outlook and spark the imagination
MOBILIZE PARADOX THINKING
The in-between Paradox space can lead to innovation by challenging us to think in new ways. Consider how your company can incorporate paradox thinking into design strategies and external engagement

x FASHION SNOOPS
PARADOX AW 23/24 DESIGN AESTHETIC
Designer Credit: Prada
NOTES 1
2
3
UNPACK THE TRENDS
Take a deeper dive into the concepts and key products presented in this guide at our digital discovery sessions, featuring FS' trend experts
AW 23/24 Women's Trends
AW 23/24 Men's Trends SS 24 Apparel Sourcing Trends

Michael Fisher
Vice President, Men's Fashion Snoops
Melissa Moylan
Vice President, Women's Fashion Snoops
Nia Silva Director, Materials Fashion Snoops
Each FS Edit for Men + Women will act as a guiding blueprint for the season, inspired by our Design Aesthetics, which provides actionable considerations for AW 23/24.
Discover emerging themes in material innovations that will influence trends and new color direction across apparel, footwear and accessories for SS 24.
x FASHION SNOOPS

x FASHION SNOOPS SUPPLY CHAIN TRANSFORMATION NEW AGE OF DESIGN MARKETING INNOVATIONS DISCOVER MORE INDUSTRY TRENDS + INSIGHTS Examine upcoming trends in fashion technology through our multi - part series THE EVOLUTION OF RETAIL Scan QR code to explore the series