Annual Report 2022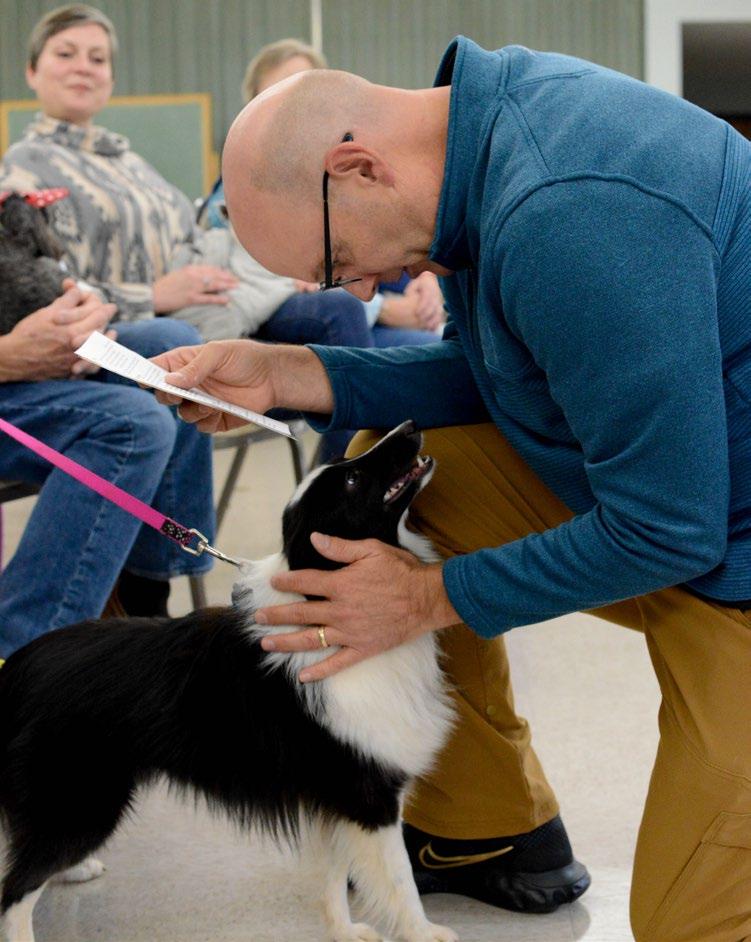 2
FROM THE SENIOR PASTOR
Dear friends and followers of our Lord Jesus Christ,
As God's chosen ones, holy and beloved, we are called to be compassionate, kind, and forgiving. We are encouraged to bear each other's burdens…cloth ourselves with love…let the peace of Christ rule in our hearts…and be thankful. With the word of Christ dwelling in us and gratitude in our hearts we sing psalms, hymns, and spiritual songs to God. And whatever we do, in word or deed, we do it in the name of the Lord Jesus (Colossians 3:12-17 paraphrased).
These words are a wonderful reminder of what it means to be Church. As we reflect on another year of God's ministry at Holy Trinity let us take this scripture reading to heart and be thankful!
In these pages, I hope you see the face of Christ and feel inspired to be active disciples who carry on the legacy of faith and welcome new people into our life and ministry together.
In 2022, God inspired our congregation to reconnect in worship, refresh our faith, rejuvenate our ministry, reach out to our community, and renew our vision for the future.
• More people are engaged, visitors feel welcome, and active participation is growing in Worship, Faith Formation, Music Ministry, and Fellowship events.
• Mission support remains generous and outreach was expanded to more local agencies during the God's Work. Our Hands. week of service.
• Long Range Planning Focus Groups developed a new 3-year strategic plan "Vision 2025"—with goals and outcomes that will enhance our ministry.
• A new Building Team was organized to plan needed restoration, renovation, and upgrades to our building/campus that will support our mission, ministry, and Vision 2025.
• And our church is blessed by your generous gifts, caring ministry, service to others, and array of talents that give glory to God!
I pray that the Holy Spirit will inspire us to share the Gospel in new ways and build relationships with new people—for the Lord Jesus and his Church.
Your brother in Christ and partner in ministry,
3
Pastor Chris Webb
The Reverend Christopher D. Webb
When Pastor Webb informed me Pastor Jasmine Tesdahl was leaving Holy Trinity and requested I consider serving as Interim Associate Pastor until a replacement for her could be found, I was humbled and honored. In spite of circumstances that turned an anticipated part-time ministry here into full time ministry immediately upon my starting in September, to have the opportunity to return to a faith community I had come to love while serving as the Interim Senior Pastor prior to Pastor Webb's becoming Senior Pastor, I was humbled that the congregation wanted me back during this vital transition time. And I was honored to be able to work with a good friend, Pastor Webb, and an outstanding staff. While certainly testing these old bones, having the opportunity to start off with a bang was less a burden than a joy.
The past three months have been for Shirley and myself a genuine homecoming experience. We love Hickory, we love Holy Trinity, and we love y'all! Now I pray for the wisdom and stamina to provide the congregation with what is needed as the exciting programs of ministry you have embraced grow and develop, and as the Spiritled search for the next Associate Pastor moves forward. It is a blessing for me to be part of the exciting "God-things" happening in the life of our church in 2023!
Christ came that all who listen to him might have life (John 10:10b). Live it up!
4
—Pastor Richard Graf
As I reflect on 2022, I am reminded of the tagline from Vacation Bible Camp this summer…."Awesome God!" As we celebrated each of our daily Bible points—God loves you no matter what; God is with you everywhere; God is in charge; God is stronger than anything; God is surprising—all 150 participants and volunteers would shout Awesome God! I continue to be grateful for our amazing Holy Trinity Family as we navigated through many uncertainties and changes in 2022 and am thankful for our Awesome God. We have many reasons to celebrate!
• We were able to worship, sing, play, pray, and fellowship in a near "normal" manner, due to decreasing Covid numbers. We celebrate everyone's patience as we navigated through the constant changes and thank the Covid Task Force for their leadership. Awesome God!
• We were able to continue our ministries at Holy Trinity, despite some full-time vacancies, due to wonderful additions to our staff and our dedicated volunteers. We celebrate all of the programs HTLC has to offer! Awesome God!
• We were able to surprise Pastor Webb for his 25th anniversary of his ordination. What fun it was to celebrate this milestone occasion together! Awesome God!
• We have dedicated call committee members who are working hard to find the right person to serve as our new Associate Pastor. In the meantime, we have Pastor Graf with us. Both are reasons to celebrate! Awesome God!
• We ended 2022 strong, with increasing attendance numbers, many visitors, baptisms, an adorable preschool pageant, and joyous Christmas Eve services with wonderful music and messages in a beautifully decorated sanctuary. We celebrated Jesus' birth in a magnificent way. Awesome God!
I am incredibly grateful for all of you: our church staff, volunteers, executive team and church council, preschool, and all of our committees, ministry teams, and programs. It has been a privilege to serve as your council president in 2022.
—Kimberly Vegter, Council President
5
JANUARY 18
No actions to report
JANUARY 24
Annual Congregational Gathering Congregation adopted the Proposed 2023 Budget of $1,224,750
FEBRUARY 15
Approved the reception of new members: Todd, Sara, and Amelia Cutter; Tom and Karen Smith; Lisa Anderson, Nick Byers; Betty Houston; Maude Shaw and Associate member, Nathan Shackelford.
MARCH 15
Approved a Congregational Retreat available for members on September 16-18 at Lutheridge.
Approved the formation of a committee with a couple members from Finance, Council, Property, and Long Range Planning along with a Pastor to discuss how to fund ongoing projects/requests.
MAY 17
Approved the position description for the Director of Youth and Family Ministry.
APRIL 12
Approved Wyatt Hager's Confirmation Faith project— "Blessing Box."
JUNE 21
No actions to report
JULY 19
Approved the reception of new members: Sherry Lynn Johnson by Baptism, Regis Marie Gilman, Daniel John Voelkert, Stephen Ross Hume. Others who may join: Bradley and Eileen Zins, Jill Holt and baby, Gary Eckley, Derek and Tammy Eckley, and Kenya Davis.
JULY 28
Special Council Meeting Approved the Ministry Transition Agreement for the termination of the call ministry relationship between Pastor Jasmine Tesdahl and Holy Trinity Lutheran Church, Hickory.
6