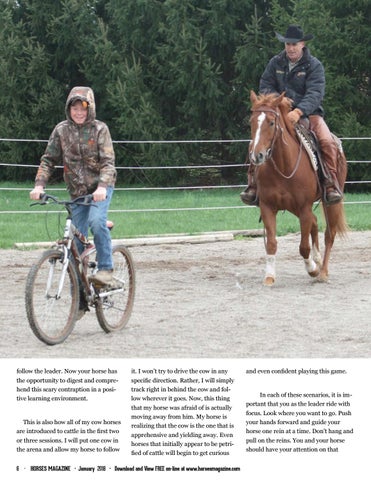 follow the leader. Now your horse has the opportunity to digest and comprehend this scary contraption in a positive learning environment.
This is also how all of my cow horses are introduced to cattle in the first two or three sessions. I will put one cow in the arena and allow my horse to follow
it. I won't try to drive the cow in any specific direction. Rather, I will simply track right in behind the cow and follow wherever it goes. Now, this thing that my horse was afraid of is actually moving away from him. My horse is realizing that the cow is the one that is apprehensive and yielding away. Even horses that initially appear to be petrified of cattle will begin to get curious
6 • HORSES MAGAZINE • January 2018 • Download and View FREE on-line at www.horsesmagazine.com
and even confident playing this game.
In each of these scenarios, it is important that you as the leader ride with focus. Look where you want to go. Push your hands forward and guide your horse one rein at a time. Don't hang and pull on the reins. You and your horse should have your attention on that
January 2018 Horses Magazine  
January 2018 Horses Magazine