lowering the horse's head sniffer horses the powerf U l scenting ability of h orses
health benefits of horses horses helping the community
a pain in the neck e QU itana Melbo U rn e
M inerals and la M initis o U t and abo U t how to prepare
A National Riding, Training and Horse Care Magazine . . . . incorporating The Green Horse -sustainable horsekeeping.
4: oFF For an ouTIng by Liz Tollarzo
Many riders can feel a little anxious when they're taking their horse off the property for a ride. Taking the time to prepare prior to departure, and having a plan in place before you reach your destination will help ensure the outing is a success.
10: When Is a horse no longer a green horse? by Ross Jacobs
Horses tend to be thought of as green or educated, novice or advanced, terms often used to describe the horse's level of education with no obvious or definitive meaning.
14: ManIpulaTIng MInerals For MeTabolIc synDroMe (eMs) by Dr Jennifer Stewart
While the awareness of laminitis and its debilitating effects has been increasing steadily in recent years unfortunately there appears to be an increasing number of horses affected by endocrine diseases.
20: so you WanT To be a saDDle FITTer by Amanda Dickerson
The second in our series on careers in the horse industry, what does it take to become a saddle fitter, and what does a saddle fitter's working day really look like?
24: WhaT Is operanT conDITIonIng? by Portland Jones
A big part of the 'language' that we use to communicate with horses; it's difficult to work with them without an understanding of the fundamentals of operant conditioning.
27: healTh beneFITs oF horses - horses helping the community Spending time with horses can be incredibly beneficial, the positive effects seen across equine therapy utilised in formal settings and enjoyed by those when being around them.
30: equITana Melbourne
After four long years Australia's favourite equestrian showcase made a triumphant return to the Melbourne Showgrounds in November with an action packed four days.
34: The european InVaD by Rhiannon Brown – Envirapest 35: FuTure MIce eraDIcaTIon 36: TrackIng up by Deidre Rennick 39: properTy plannIng property not against it by Teele Worrell 40: herbs For The hoo Ves by Country Park 42: suMMer pesTs by Tracy Weaver-Sayer
December/January 2022/23 - Page 2
Vol 44 -4 December /January 2022/2023 So You Want To Be A Saddle Fitter?
Summer Pests Inside
Equitana Melbourne
Off For An Outing
This time last year we mentioned how hopeful everyone was that life would return to a more 'normal' state in 2022, with no, or few, restrictions, and the return of equestrian events across the country. With two Hoofbeats staff - Sandy and Vicki - attending Equitana Melbourne in November, this event demonstrated that life has finally returned to a more 'normal' state as we 'live' with Covid. In fact, Vicki actually found herself 'living' with Covid on her return from Victoria …
For those that did attend Equitana, and those that did not, we hope you enjoy this issue's wrap up on this iconic event, which we will be following up in the Feb/March issue with a feature on 'Products you missed at Equitana'.
At the end of a very busy year it is time to reflect on the people who have so much to do with producing Hoofbeats and to thank them for their dedication, enthusiasm and hard work over the past 12 months. Tracy Weaver- Sayer manages the advertising and promotion and keeps the ad pages filled, Michelle Quinn produces stunning artwork, Celine Bonnelykke continues her role of 'right-hand person' even while she was living back in Denmark and now in Portugal, Vicki Yeates is helping with production of the WA insert, WA Show Scene, and Anna Marsden (ACT) has taken on the very deadline orientated role of proof reading after the retirement of long-term proof reader, Kaye Meynell.
From all of us at Hoofbeats we would like to wish all of our contributors, advertisers, readers and supporters a very merry Christmas and a safe and happy New Year. We hope that 2023 is a good year for everyone. Sandy and Bob Hannan, Tracy, Michelle, Celine, Vicki and Anna.
MANAGiNG EdiToR: Sandy Hannan
AdvERTiSiNG: Tracy Weaver-Sayer GRApHiCS Michelle Quinn, Jacqueline Anderson produced by HoofbEAT publiCATioNS 90 leslie Road, Wandi, 6167 ph: (08) 9397 0506 fax: (08) 9397 0200
Riding Overseas
44: TIMe saVIng hacks For horse oWners
by Liz Tollarzo
Identifying horse keeping chores and tasks that can be carried out more efficiently can help to save time and improve our productivity, giving us more time to do what we enjoy.
48: snIFFer horses by Wendy Elks
While dogs are well known for their sniffing skills and abilities, horses also have a powerful scenting ability, which with training, can be utilised.
50: scenTWork by Rachael Draaisma
Using scent work as a training activity can bring considerable benefits to the horse and help to improve the horse/handler relationship.
52:
a paIn In The neck by Dr Raquel Butler
There are a number of common conditions and developmental disorders that can affect a horse's neck, with signs of pain ranging considerably.
56:
The soFT Feel by Tanja Kraus
It's important to establish a good foundation in the horse's training before moving on to training for a more specific discipline, with self control and a soft feel two of the more important elements to establish.
58: lo WerIng The horse's heaD by Diane Bawden
Being able to ask your horse to lower its head on cue can be beneficial for all aspects of handling the horse, and it's something that they can learn with a simple pressure/ release cue.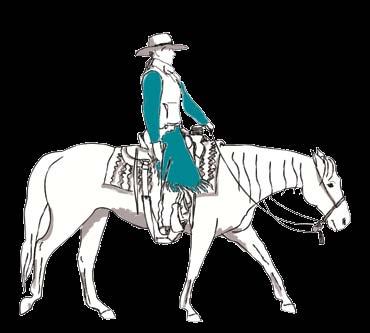 60:
rIDIng oVerseas
by Denise Legge
With restrictions lifting and travel back on the agenda many equestrians might be considering incorporating horses into their next holiday adventure.
co Ver phoTo - Vicki Yeates Photography
Having the ability to lower the horse's head on cue is an important tool to have. liz Tollarzo demonstrated how it is done with her lusitana stallion, Nemo, and vicki Yeates was there to capture the steps.
December/January 2022/23 - Page 3
opinions expressed in this magazine are not necessarily those of the publishers or the editor. Contents of advertisements are the responsibility of the advertisers Features and photographs are welcomed via email.
of any part of Hoofbeats is protected by copyright and only permitted when a written release has been received from the publisher.
CoNTACT Office/accounts: enquiries@hoofbeats.com.au Ads: ads@hoofbeats.com.au Editorial: editorial@hoofbeats.com.au hoofbeats.com.au MEDIA PARTNERs Equine Veterinarians Australia The
Reproduction
regular FeaTures : 23: proDucT neWs 64: horse FronT - neWs 65: subscrIbe and go
the draw to win ProflamAid Plus and EquiMetaBalance from Hi form. To subscribe go to: www.hoofbeats.com.au
eDITorIal:
in
A pain in the neck