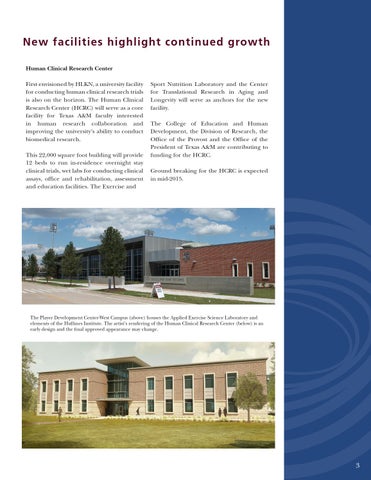 New facilities highlight continued growth Human Clinical Research Center First envisioned by HLKN, a university facility for conducting human clinical research trials is also on the horizon. The Human Clinical Research Center (HCRC) will serve as a core facility for Texas A&M faculty interested in human research collaboration and improving the university's ability to conduct biomedical research. This 22,000 square foot building will provide 12 beds to run in-residence overnight stay clinical trials, wet labs for conducting clinical assays, office and rehabilitation, assessment and education facilities. The Exercise and
Sport Nutrition Laboratory and the Center for Translational Research in Aging and Longevity will serve as anchors for the new facility. The College of Education and Human Development, the Division of Research, the Office of the Provost and the Office of the President of Texas A&M are contributing to funding for the HCRC. Ground breaking for the HCRC is expected in mid-2015.
The Player Development Center-West Campus (above) houses the Applied Exercise Science Laboratory and elements of the Huffines Institute. The artist's rendering of the Human Clinical Research Center (below) is an early design and the final approved appearance may change.
3
On The Move - 2014 SEC Symposium  
On The Move 2014 SEC Symposium (Special Edition)
On The Move - 2014 SEC Symposium  
Published on Sep 19, 2014  
On The Move 2014 SEC Symposium (Special Edition)