OKANOGAN LIVING | JUNE 2022 17 AUGUST 2022 $5.99 www.oklivingmagazine.com Embracing The Valley We Call Home 'Acts of kindness come back to you' Omak's signature event returns Aug. 11-14 RETIREMENT Longest county employee plans retirement PICTURE THIS A look at this year's 75th annual Pateros Apple Pie Jamboree OCTOBER 2022 $5.99 www.oklivingmagazine.com Embracing The Valley Family orchard harvests success, life lessons MARCH 2023 $5.99 www.oklivingmagazine.com Call Home BREWING Naillons share Pastime craft ON THE RAILS Exploring the History of Early-Day Railways Balloon Festival returns to Methow Valley March 3-5 BEST LAKE Bonaparte ranked second in nation
In
OKANOGAN LIVING | MARCH 2023 41 NV Star ad OKANOGAN LIVING | MARCH 2023 3
minds want to know.... Do you grow a garden? We want to see picture and hear your garden-related stories! Send email to editor@oklivingmagazine.com, call us at 509-486-8080, or write to us at PO Box 992, Tonasket, WA 98855 Beyond the Classroom, In the Kitchen, The Golden Days of Yesteryear, From the Past, What's Going On, Activities and more! Contents Page 6 Columns & Features Plus Rainbows Exploring the pot of gold at the end of a rainbow Page 14 Wintrhop Balloon Roundup returns March 3-5 Pages 8 Up & Away Brewing Success Looking back on the early rails in the Okanogan Highlands Pages 16 On The Rails
Inquiring
With spring in the air, it's time to think about starting seeds, planting gardens Page 21 Bonaparte Lake named top ice fishing destination...........12 Tips for planning a successful yard sale..............................13 Avoid penalties by setting withholdings properly.............19 Okanogan Living's Annual Planting Guide......................21 Local students named to honor roll...................................27 Why is my electric bill high in the winter?.........................30
The Garden
Early-day Loomis pioneer has moderate success with peanut crop Page 24
Peanut Farming
With the snow (mostly) gone and birds returning, it must mean one thing: Spring is in the air.
March is another one of those strange months as we transition from winter to spring, (which begins March 20). We also spring clocks forward on March 12.
Brock
Hires
But perhaps the greatest symbol that spring is here, is the amount of upcoming events this month.
From fundraiser dinners to variety shows, Okanogan Valley is full of family-friendly events this month.
And who could forget to wear green on March 17?
In this edition of Okanogan Living, we highlight Tim and Dianna Naillon, who are the owners of the Pastime Brewery in Oroville.
The history of the bar dates back nearly a century, but the craft brews inside are new and unique, including a Red Irish Ale, which will be ready just in time for St. Patrick's Day.
The Naillons are proof that even in a small town such as Oroville, one can still find unique and diverse entrepreneurship.
Did you know March is also "National Peanut Month?"
To celebrate this underrated holiday, we did some research and discovered a man once had moderate success in farming peanuts in Loomis. Who knew?
This month we also shine a light on the annual Wintrhop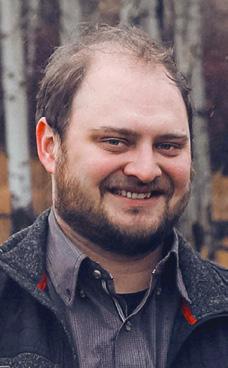 Balloon Roundup, the history of railroads in the Okanogan Highlands, the allure of rainbows and more.
And for the green thumb, we also include our annual garden planting schedule in this issue (see Page 21).
As always, we thank our
readers, contributing writers, photographers, and advertisers for making this magazine possible. ♦
— Brock Hires is the owner/ publisher of Okanogan Living. He can be reached at 509-4868080 or via email at editor@ oklivingmagazine.com.
42 OKANOGAN LIVING | MARCH 2023 OKANOGAN LIVING | MARCH 2023 5
Katie Wheat
A gaggle of Canada geese spread their wings.
[ FROM THE EDITOR ]
6 OKANOGAN LIVING | MARCH 2023
The original Pastime bar was built in 1925. Today, patrons can sit at the fully-restored bar which dates back to 1908.