for Living a Healthier, Happier Life! Health & Happiness U.P. Magazine, Fall 2022 1 Your Leading U.P. Made Independent GO TO for Living a Healthier, Happier Life since 2007 healthandhappinessupmag.com Fall 2022U.P. MAGAZIN E FREE in 8 U.P. Counties! Special Issue BUSTING for SPORTS
Beth Jukuri
The Co-op Corner: Prescription for Health Program Debuts at 10 Area Farmers Markets, Marquette Food Co-op
Health & Happiness U.P. Magazine is locally and independently owned, operated, produced, and published 4x/year, distributing 10,000 copies to Marquette, Alger, Baraga, Houghton, Iron, Dickinson, Delta & Keweenaw Co. to promote greater overall well-being through education and information
Women 11 Healthy
guidelines and info.
The
8
9 In
5
educate and inform, not prescribe, nor
its articles. It
Spotlight On.... Amelia's Craft Market & Boutique with Owner
and
Young
care decision. Views expressed by contributing writers do not
13 Green
Order
7
may choose to use or interpret such products or services or the contents
by
LLC. All
15 Health & Happiness Directory Check Out Your Online Guide to Good for You & the Planet U.P. Services, Products & Events at www.Yooptopian.com. *Tell us which Local Children's Organization YOU think should receive our next Annual Donation at www.Yooptopian.com!
to investigate any service, product, or information offered or described in this
making a
Val Wilson Living: Your Electric Car NOW!
Marketing
Senior Viewpoint: Evolving from Trauma to Wellness
Written
& the World
is not responsible for the
repro
Steve Waller
Distribution
and services
meant
nor
this publication. ©
care. Health
Antioxidant-Rich Wild Rice
Ad Sales:
any part of this publication.
Positive Parenting: Can Help Women through STEM, Chris Standerford Honor Cooking:
How You
Amelia McDonald, H&H
2 Health & Happiness U.P. Magazine, Fall 2022 Your Leading U.P.-Made, Independent Go-To James B. Steward * Angela M. Hentkowski * PracticeEmphasison Elder Law Medicaid Applications Nursing Home Issues Asset Protection Care Planning Estate Planning Blended Families Powers of Attorney Camps and Cottages Tax & Insurance Planning Probate Matters Estate & Trust ConservatorshipsGuardianshipsAdministration Estate planning is like a parachute; you may only need it once, but it better work! Attorneys Steward & Hentkowski have also been selected for the Michigan Super Lawyers ® ** listing. (906) 485-6311 205 South Main St , Ishpeming, MI * Certified by the National Elder Law Foundation as accredited by the American Bar Association **Selected through peer nomination & evaluation + independent research by Super Lawyers® rating criteria www.stewardsheridan.com STEWARD & SHERIDAN PLC The U.P.'s ONLY Law Firm with 2 Certified Elder Law Attorneys 3 Bodies in Motion: Adaptive Athlete Overcoming Hurdles for Self & Others, Julia Seitz 4
Creative Inspiration: Limit-Busting Community Artist Mary Wright Christine Saari
6
Editor: Roslyn McGrath Consultant: Kevin McGrath Roslyn McGrath
Proofreader: Tyler Tichelaar Coordinator: Kevin McGrath contents of this publication are to to substitute for professional health & Happiness products of its advertisers, for how the reader of is both the reader's right respon sibility periodical before health necessarily reflect those of 2022 Empowering Lightworks, rights reserved. permission is required to duce
U.P. MAGAZIN E submission on advertising in &/or distributing Health & Happiness, contact (906) 228-9097, hhupmag@charter.net. Subscriptions may be ordered for $15/year at healthandhappinessupmag.com.
For article
Velat ran for the Houghton High School Gremlins in varsity as captain of her team. She consistently held places in the top of results for cross country races. In the 2018 season, she made a personal record of 20:27.3 for the Women's 5,000 Meters Varsity.
for Living a Healthier, Happier Life! Health & Happiness U.P. Magazine, Fall 2022 3
The next step after hospitalization and recovery for Velat was returning to the field. "I had to figure out a way to do sports kind of differently than I was used to. So, I found the world of adaptive sports," said Velat. From running to hand-cycling, she found different ways to get back on the track through equipment such as track wheelchairs and sit-skis. She said adaptive sports are a different way to do sports but still in the same spirit.
Velat and other supporters pushed for a proposal to include adaptive athletes in races and to be able to score points for their teams. The MHSAA responded to their efforts. On January 26, 2022, a MHSAA committee hearing concluded an adaptive category needs to be set up before adaptive athletes can earn points for teams. There was no consensus on allowing team scoring in this category, however, future discussion on this is being considered. In the meanwhile, MHSAA decided wheelchair athletes can compete in regionals and finals in a few events, but cannot score points.
Ever since childhood, sports were part of Velat's identity. She played soccer, ran cross country, skied, and sailed. "All of my family does sports, so it's kind of always been a part of my life. Once I started school, I started joining teams," Velat said.
It wasn't until later in her sports career that Velat needed to change her approach. On October 2, 2019, Velat was transported to an Ann Arbor, Michigan hospital and diagnosed with transverse myelitis. The National Institute of Neurological Disorders and Stroke (NINDS) explains transverse myelitis is spinal cord inflammation. The spinal cord is responsible for sending messages from the brain to our nerves and sensory information back to the brain. It tells our body how and where to move, for example when you need to move your fingers to grab a plate. Our skin can feel when a pan is hot because our nerves tell the brain about that sensation. Transverse myelitis interrupts this connection between the brain and nerves, and now that they can't communicate, it will be hard for a person to move or feel.
"There are a lot of ups and downs with being disabled and fighting a system that isn't really built for you, but once you have any small successes, it really helps bring you back up, and then you see that you can have more successes in the future."
How do you keep your body in motion? Do you body-build in the gym, take a light jog around the block, or use a track wheelchair for racing 400m dashes? Maria Velat, an eighteen-year-old quadriplegic athlete, has a drive for sports and nothing will stop her.
"I'm still pushing to have [races] be more inclusive and have an ambulatory category so that people with amputations or cerebral palsy can also be in finals, and also get that point system in place so it's really being part of the team and not just running alongside it," said Velat.
The Keweenaw Community SparkPlug Awards recognized Velat's efforts to improve adaptive sports in her community, and she was nominated as the Youth Contributor of the Year. She urges others to become involved in their communities as well.
The change from running to wheels wasn't the only hurdle Velat faced during her comeback. Michigan's sports system itself presented quite a challenge. Velat learned she could participate in events but couldn't score any points for her team. A petition intended to change this Michigan High School Athletic Association (MHSAA) rule says, "Almost every state has some model in place to allow adaptive athletes the same opportunities for placing and advancement, but Michigan and thirteen other states do not." Participating in a sport means being part of a team, and if you can't contribute, you feel left out–a problem experienced by many para-athletes.
"There are lots of local programs. If there aren't any local programs, it's not that hard to just find adaptive equipment and get other people to start it," Velat said. For example, Cont. on p. 10
Bodies in Motion: Adaptive Athlete Overcoming Hurdles for Self & Others, Julia Seitz
My favorite part is that I can share our hard work and our passion for what we do and also support other small businesses.
What is Amelia's Craft Market & Boutique all about?
How did you and your husband become interested in making wood and laser products?
Nick grew up in construction and has always had a passion for woodworking. We started remodeling our home and then branched out. He stumbled upon videos about CNC machines and we took the leap and purchased one, and that led us to our lasers.
Sharing your work through craft shows and vendor events, you have to carry all your products there; you have to set them up and take them down. Wood products are very difficult because they're very heavy and can also get damaged being moving around. You have to fit multiple days on end into your schedule. We have set up our business so that our vendors don't have to work in the store. They can set up their merchandise and then it stays. Many also share their products at craft shows or other places. My husband and I have been able to downsize the amount of events we do.
Customers really enjoy our product choices. We try to be very selective to reach the Marquette area. They also comment on the openness and airiness of the store, and the Cont. on p. 11
My parents ran the Red Horse Ranch in Gwinn during my childhood. Mom has been in food service or retail ever since. My entire post-college life has included lots of customer service–first in the restaurant business and then in education. My husband went into construction and woodworking after twelve years in law enforcement. I just left my education career this spring so I could navigate my businesses. I was Dean of Students at an elementary school and an elementary school teacher prior to that.
What do you enjoy most about running the business?
Spotlight On…. Amelia's Craft Market & Boutique with Owner Amelia McDonald, H&H
What prompted you to open your shop?
Thirty to thirty-five other local creators and small Midwest businesses are represented in our store. We carry a wide variety of clothing, home décor, gifts, personal care items such as soaps, essential oil chap sticks, bug sprays and home cleaning products. We have merchandise for all ages and both genders. It's not just a ladies store; it's for everybody. We are always looking for other products to meet the interests of our UP audience!
What skills and experiences have helped you to open and run it?
4 Health & Happiness U.P. Magazine, Fall 2022 Your Leading U.P.-Made, Independent Go-To
What do customers enjoy most about your shop?
It's an opportunity for my husband and I to sell products that we create through woodworking and laser in our hometown, Oshkosh, Wisconsin, while also providing an outlet for other creators to sell their products too. We know how difficult the whole craft show business can be.
In August 2021, my mom, Barbie Ward-Thomas, was looking for other opportunities and I asked if she'd be willing to manage and run a store with my husband Nick and I. We live in Wisconsin so it wouldn't have happened if she wasn't willing to run it for us day-to-day. I thought my mom and husband would say I was crazy, but both said, "Let's do it!" The idea came to life on August 26 and we quickly began preparing. We opened on Front Street in downtown Marquette on October 9. The support of my mom for my dream had a huge impact on making it happen.
What do you find most challenging about running Amelia's?
It's technically business number three, and I'm a mom of four boys. Navigating family and multiple businesses can be challenging. I'm able to be successful due to the support of my mom and my family. Also, the weather in the UP makes a huge impact on small businesses, so you just never know what your business activity will look like from month to month.
The UP is a huge part of my and my husband's heart. I was born and raised here. Nick was raised in Lower Michigan and moved to the UP to go to college. We both went to Northern Michigan University. We moved to northern Wisconsin for job opportunities for ourselves and our children, but our hearts are still in Marquette and the UP. That's why we wanted our shop in Marquette.
When Mary Wright dreamed up these community efforts, the sky was the limit. No idea was too big or impossible to carry out. Her criteria for any of these undertakings were straightforward: The project had to involve fun, collaboration, and community spirit. Mary believed that every person has the capacity to be creative if provided the opportunity, and that working on joint art projects, reflecting the spirit of old-time barn-raising events, could create miracles. This community aspect was essential. All participants, from elementary school child to grandmother to prisoner, were welcomed. The wilder the inspiration, the better! If you wanted to cover the wall of your fish shanty with left-over socks gathered at laundromats, or hang shoes of your relatives from your family tree, why not?
Creative Inspiration: Limit-Busting Community Artist Mary Wright
Health & Happiness U.P. Magazine, Fall 2022 5
To make these complicated events happen required multiple skills. Mary had a knack for roping people in, persuading them to help paint a mural, create a prototype, drive logs from Munising to Marquette, give money, or procure materials. She networked with local and state art organizations, city government departments, labor unions, and corporations, found donors and sponsors, and worked with the news media. She made countless presentations in schools, clubs, and to any group. And she did it all without a computer or the Internet! Her persuasive powers and persistence were legendary. Mary Wright did not take "no" for an answer.
Mary Wright learned how to draw the attention of the news media. Her flamboyant way of dressing in bright exotic costumes, colorful hats, and artful jewelry made her stand out. She managed to get herself on the Today Show in New York, at which she presented a bench decorated with portraits of the show's luminaries. In the days before drones, she had an aerial photo taken from a helicopter to help advertise her book project. Family poles rode in the Fourth of July Parade. Outdoor working sessions gave visibility to a given project. There were interviews, photographs, and editorials in the newspaper. Mary's unique style is featured in Yoopera, Cont. on p. 12
for Living a Healthier, Happier Life!
L'Anse-raised Mary Wright was a homesteader, a teacher of health education, English, history, and art, a cancer survivor, and a feminist. Most people remember her, however, as a community art Wellorganizer.overthree-thousand
Mary Wright had a special gift for finding the perfect expression of a particular event: Blue and White Chairs, Finland's national colors, were the perfect symbol for FinnFestUSA, an annual international festival held each year in a different city. They gave people of Finnish heritage a chance to honor their families and to define what being Finnish meant to them. They were an expression of hospitality, an invitation to sit down to strike up a conversation, to recycle old furniture, to create an heirloom. All fifteen UP counties participated. Chairs were set up by their painters' regions, so visitors could find the chairs, benches, stools, and rockers they had decorated. A calendar was later created to provide a lasting souvenir of the event. Mary felt Fish Shanties symbolized the spunk, spirit, and sisu of UP winter culture. Some grandparents used them to create playhouses for their grandkids. Book Covers were a natural for a library fundraiser. The project was organized around city blocks. This created special pride for residents and helped distribute the covers widely. Family Poles were perfect to portray the 150-year history of Marquette. The many different stories of individual families and organizations told through these poles formed a kaleidoscope of the community's past and present.
Christine Saari
blue and white hand-painted chairs brightened NMU's campus during FinnFestUSA 1996 and 2005. 50 colorful fish shanties appeared at the Lower Harbor parking lot during the World Winter Cities Conference held in Marquette in 1997. Residents painted 400 book covers to represent their city block and raise money for their library. The history of pioneer settlers and families of today were recreated on one of the 500 Heritage Family Poles, set up to celebrate the Marquette Sesquicentennial in 1999. In 2007, 200 doors told the stories of grandmothers, past and current. Over the years, many thousands of people participated in these and other projects, and uncountable locals and tourists viewed them.
It became my priority to set my mind right. To bring it back to my body and reality. To use my mind and not let my mind use me.
Without a mind set in reality, you cannot see life or who you are clearly.
I became a new me with a voice and a choice.
The new me brought in new hurdles in many relationships. The open and free relationships welcomed the new me, and we experienced new levels of deep love and connection.
At forty-six, when a young niece shared with Family Protective Services that "Grandpa touched me," I became aware that I had been sexually abused as a child by my father.
It is ironic to see the darkest parts of your life, to feel the vast emptiness of losing so much and at the same time feel empowered, strong, brave, and deep levels of love.
I see this time in my life as one of my greatest achievements—leaving the cycle of abuse. I changed how I interacted with abuse and that changed the trajectory of my lineage. Cont. on p. 12
How would you rate your own health and happiness?
I was embracing my history of abuse and acting in the present with new information, and making new choices that honored me.
Senior Viewpoint: Evolving from Trauma to Wellness
The wellness of my mind and how it sits with reality is critical in my choice-making and ultimately how I live my life.
I had lived with so many falsehoods and ill-conceived ideas both of myself and the outside world.
If you were asked to write about health and happiness, what parts of your life would you think about? What parts of yourself would you focus on?
If on your stage of life, you don't see the backdrop and the other characters in their true form, how will you know how to interact with them?
6 Health & Happiness U.P. Magazine, Fall 2022 Your Leading U.P.-Made, Independent Go-To
My body and its unexpressed emotions, and the way it never lied showed me the fragility of my mind and its false nature.
At forty-six years of age, I woke up in my life and realized I had seen the stage incorrectly and I was playing a part in a play in which I no longer wanted to participate.
I also became aware that my body and its emotions and feelings always lived in the truth. My body shook and my steadfastness to stand by my niece and believe her was unshakeable.
The most sacred part of my wellness is my mind and how much I am able to challenge it.
The character of who I was fit into the play, but it had no place in reality and with the truth inside of me.
I was indoctrinated into a cult-like religion from birth. I didn't have access or control of my mind and its beliefs. The religion chose my life for me–where I went, who my friends could be, what I could or couldn't do with my body.
As I attempted to right my world and to re-adjust the stage, to find the character of me, I brought in new levels of happiness, joy, love, and peace.
The relationships that were conditional died.
Beth Jukuri
This did not serve the requirements of my family of origin. It did not serve the silence abuse needed in order to thrive.
This group, which includes twenty-five organizations, businesses, and individuals, envisions a collaborative food system in the Upper Peninsula that provides nutrition education and equitable access to wholesome, local, and affordable food for all residents. The first project the group took on is a Prescription for Health program, generously funded by the Superior Health Foundation. This Prescription for Health program is unique in that it addresses food access from both the customer and supplier side.
A second focus of the Prescription for Health Program is to ensure that the farms receive support to help them increase the produce available at farmers markets. Farm debt is a huge problem across the country—even small-scale farming requires a high debt burden that is difficult to pay back, especially with an income that varies seasonally. UPFE and the Food as Medicine team want to help alleviate the debt barrier that keeps farms from starting or expanding. The first ever UPFE mini grant program awarded nine farms $14,000 to increase their cold storage capacity. Funds can be used for the materials and labor to build new or additional facilities, as well as access to technical assistance for construction and HVAC. Grant recipients are also required to work with the U.P. Produce Safety Technician to ensure all the facilities and harvest systems are following best practices. This funding will support the increase of local food production by ensuring that farms have a place to safely store produce until it can be sold. Cold storage facilities are also essential for extending the agricultural sales season by providing space for keeping storage crops that can be sold well into the winter, directly supporting the growth of the U.P. farm economy and increasing access to local food for all residents. This year's grant recipients include Boersma Family Roots CSA and Farm, North Harvest CSA Farm, and Minnie Farms in the Western U.P.; Snowy Acres, U.P. Gourmet, and Full Plate Farm in the Central U.P., and Jere Farms, Gordon's Produce, and Dutcher Farm in the Eastern U.P.
To learn more about the Food as Medicine Program, visit upcap.org/program/food-as-medicine or email Sarah at smonte@marquettefood.coop. To become an owner of the Co-op and support future initiatives like Prescription for Health, visit marquettefood.coop/owners/ownership.
FULL SERVICE DELI / MEAT & SEAFOOD / SPECIALTY CHEESE BEER & WINE / NATURAL HEALTH & BODY CARE 502 W Washington St Downtown Marquette, MI 906-225-0671 • marquettefood.coop MORE THAN NEW PRODUCTS IN OUR REVAMPED WELLNESS DEPARTMENT! 800
This grant program was developed in partnership with UPFE team members that include: The Marquette Food Co-op and the U.P. Food Exchange, Western Upper Peninsula Planning District Region (WUPPDR), Bay Mills College/Waishkey Bay Farm, Fresh Systems LLC, Renegade Sheep, the Marquette County Conservation District/Michigan On-Farm Produce Safety, Portage Health Foundation, and the North Farm/Upper Peninsula Research & Extension Center. Many partners were instrumental in spreading the word about the grant opportunity across the Upper Peninsula. And of course, the Superior Health Foundation funding made this possible.
The current list of farmers markets includes Bay Mills/Brimley Farmers Market, Main St. Calumet Farmers Market, Depot Park Farmers & Artisans Market (Ironwood), Houghton Farmers Market, Hancock Tori & Farmers Market, Gladstone Farmers Market, Downtown Marquette Farmers Market, Munising Farmers Market, Newberry Farmers Market, and the Sault Ste. Marie Farmers Market. We hope that more markets can be added as the program continues.
for Living a Healthier, Happier Life! Health & Happiness U.P. Magazine, Fall 2022 7
One in 7 people in the U.P. are food insecure. At 14%, the U.P. has a higher food insecurity rate than the national average of 10.5%. Members of the U.P. community whose work is focused on food and health were invited to meet regularly to help direct these efforts. From those meetings, the Food as Medicine Partnership, a collaborative that is bringing Prescription for Health programs to communities across the Upper Peninsula, emerged.
A collaborative network is essential to make changes in our communities. To grow our local food system and increase access to healthy food for all residents, we must work together. We offer our thanks to all the UPFE, Food as Medicine, and farm market partners for their work.
Co-op Corner: Prescription for Health Program Debuts at 10 Area Farmers Markets, Article provided by the Marquette Food Co-op
The Prescription for Health program uses a medical referral process for enrollment. Participants receive a referral from a participating healthcare provider with a prescription for adding fresh fruits and vegetables to their diets. To qualify for the program, individuals must be at risk for or diagnosed with a chronic health condition, face economic barriers to food access, and be 18 years of age or older. Participants enrolled into the program will receive vouchers to purchase fruits and vegetables from participating local farms. Each participant will receive a total of $15 per week during the 20-week season. The referral process is administered by the Upper Peninsula Commission for Area Progress (UPCAP).
A goal of Food as Medicine and Prescription for Health is to provide these services as widely as possible. The U.P. Food Exchange (UPFE), a collaborative local food network the Co-op helps administer, has members located across the U.P. and active in local food and farmers markets. Members were able to help identify and onboard farmers markets that could participate in the program. This is more complicated than it sounds, as many markets in the Upper Peninsula are small and lack a market manager. For Prescription for Health to work, the market must have regular produce vendors and a market manager or fiduciary that can be a central contact for the Food as Medicine team to work with.
How we communicate is important; our choice of words matter. As parents, mentors, and role models, we must be diligent in how we talk about STEM with our children. First, we can communicate that it's not about being 'good at math or science,' or finding the 'correct answer.' Rather, it's about learning through our experiences and using our senses to notice things in the world, using our curiosity to ask questions about what we see, and leveraging multiple sources of information (i.e. text, conversations, pictures, experiences, models, etc.) to develop our ideas. Second, it is hugely important to caution ourselves against sharing our own bias with students and unconsciously portraying STEM as difficult, overly technical, being largely for boys, or some of us not being good at it. Have you ever heard an adult colleague, friend, or perhaps yourself say, "I was never very good at math"? This comment is easily spoken, but can leave a lasting impression on young minds. Much research has been done about the influence of our beliefs as a factor in feelingCont. on p. 10
As parents, mentors, and role models, we need to believe everyone can find joy, and yes, even a career in STEM so that the many complex issues facing the world today (i.e. social justice, medicine/health, energy, food shortages, climate change, etc.) can be better addressed. We need to first recognize that our own hobbies and interests are deeply connected to STEM in ways we perhaps haven't fully acknowledged yet.
Things We Need to Know
We also need to recognize and be aware of current trends and opportunities in STEM. Despite gains in the number of women pursuing some STEM careers, according to the National Center for Educational Statistics, women are proportionately half as likely as men to major in math, computer science, science, engineering, and technology. These fields are fast-growing, often more lucrative than those that were considered "women's fields," and in need of diverse ways of thinking. From data science to cybersecurity to advanced manufacturing, the need for talent and innovation is unprecedented.
8 Health & Happiness U.P. Magazine, Fall 2022 Your Leading U.P.-Made, Independent Go-To
Positive Parenting: How You Can Help Young Women & the World through STEM, Chris Standerford
As defined by Michigan, STEM stands for science, technology, engineering, and mathematics delivered in an integrated fashion using cross-disciplinary learning experiences that can include language arts, performing and fine arts, and career and technical education. By this definition, STEM is an integrated and authentic range of subjects and skills that work together and help us understand the world and find solutions to the problems we see. Put another way, humans are a part of both the natural and social worlds. Our curiosities and passions rely on skills such as observing, noticing patterns, understanding cause and effect, experimenting, troubleshooting, and so many more. These skills can bring joy and success to the things we love. And these skills are STEM skills.
Whether you love gardening, painting, tinkering in the workshop, yoga, paddling, camping, cooking, playing video games, performing, or lounging on the beach, STEM is a part of these experiences, and often adds a depth and a beauty to them. For example, when you garden, through understanding the needs of the plants you're raising, you're constantly learning and appreciating your garden ecosystem's complexity and how amazing those plants truly are, much more so than if you simply picked up the same vegetables from the grocery store. As community members, parents, and teachers we can help our children realize that the things they love to do are in fact how they are making sense of the world.
Did you know you can help young women increase their ability to create a prosperous, satisfying future for themselves and others through STEM?
Things We Need to Say
As parents, we can help our youth recognize the parts of their identity that are deeply connected to STEM. In fact, our communities need our help to inspire youth, particularly our young female students, to see themselves as capable, passionate, and successful in STEM.
To get started, let's break down our actions into three simple things that might help us inspire our youth, particularly our young females, to consider STEM in their futures: Things we need to know, things we need to say, and things we need to do.
for Living a Healthier, Happier Life! Health & Happiness U.P. Magazine, Fall 2022 9 helps you clarify & fully claim your gifts & let go of obstacles so you can truly flourish your purpose Are you a Highly-Sensitive Healer or Visionary who's yearning to create the powerful positive change you came to Earth for? Free educational events for highly sensitive healers & visionaries who want to share their gifts more fully with the world! Visit EmpoweringLightworks.com/4Events 1Health & Happiness Fall 2011 In Honor of Women Feet ReflexologyFirst! ZERO DEGREES ART GALLERY The businesses below have provided additional support for this special issue. The Brownstone Inn BOUTIQUE & Co.
• STEMinista Project
Velat will take her ambitions to the University of Michigan and pursue medicine, specifically neurology. Inspired by her own experience, she wants to help people and learn more about how the brain and body work. She will also be part of their new adaptive track and field team, noting that very few colleges have an adaptive sports program.
Adaptive Athlete (cont. from p.3 )
During hardships, Velat says it's important to set a goal for yourself and work toward it. Training her body to do sports differently was a huge shift, and support from family, friends, and the community support encouraged her to keep moving forward.
Julia Seitz is a Northern Michigan University student pursuing a Bachelor of Arts. You'll find her either writing creative fiction or researching a new fixation. She enjoys reading scary stories, but is too scared to watch horror movies.
"Just consider other people's situations, and if you find something you're passionate about, just work toward that goal, especially if it's something that can help you with your own health or helps other people."
For example, the Great Lakes Adaptive Sports Association (GLASA) supports aspiring athletes with disabilities by lending aid and sports equipment. Velat's community held a sled hockey clinic in which over a hundred people participated.
• Michigan Council of Women in Technology (MCWT) - K-12 Initiative
• Photo Essay: Women in STEM from The Michigan Daily
• Michigan Learning Channel STEM for girls content: Future of Me - Explore STEM (science, technology, engineering, and math) careers; Career Girls - Career guidance videos
Things We Need to Do
• Michigan Technological University Camps, Student Programs, and STEM degrees
https://www.youtube.com/watch?v=3mBZww1p8EE&ab_channel=IAmAnAthleteToo,Sources: https://www.change.org/p/i-am-an-athletetoo-integrate-disabled-children-into-school-sports, https://www.keweenaw.org/sparkplug-awards/, https://www.ninds.nih.gov/ transverse-myelitis-fact-sheet, https://my.mhsaa.com/portals/0/documents/BTR/commin22.pdf, https://www.glasa.org/
"If you see someone who you think might like adaptive sports, just let them know about it because they might not even know that it exists."
confident in our abilities in a subject. We need to do better to foster a strength-based mindset when we talk about STEM with students. Start with what children enjoy and accomplish well, highlighting those skills and building toward new learning and new skills over time.
10 Health & Happiness U.P. Magazine, Fall 2022 Your Leading U.P.-Made, Independent Go-To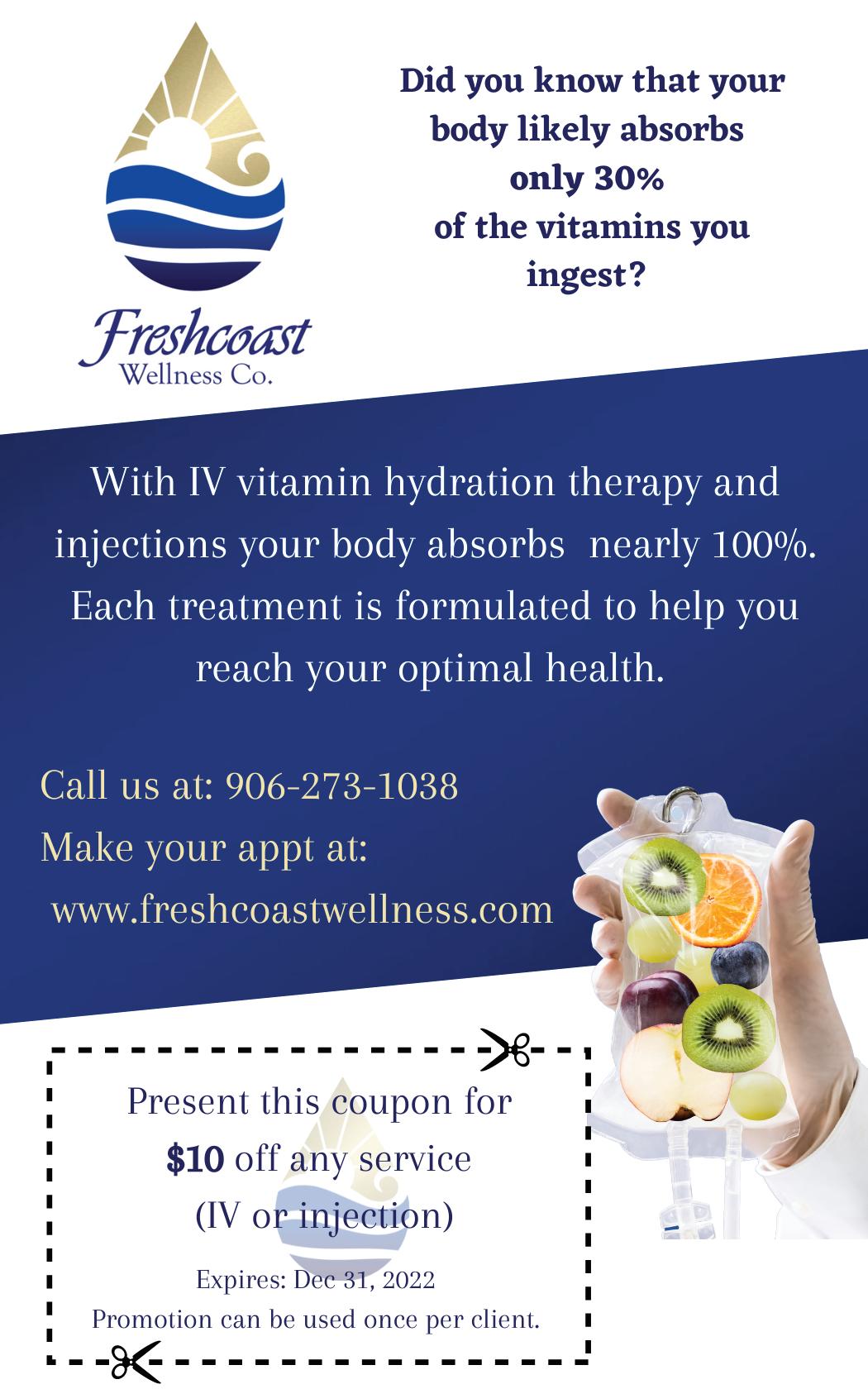 As parents, mentors, and role models, we need to seek out opportunities for children to have supplemental STEM experiences outside of school. These experiences can be organized camps offered through local libraries, churches, science or nature centers, non-profits, museums, schools and universities, or simple, impromptu nature walks with family. By encouraging students to make observations, look for patterns, and talk about what they are thinking, we open up their STEM mindset. We don't need to have all the answers to their questions. We simply need to be willing to ask our youth to say more about their thinking, and to encourage them to develop their ideas and understanding. If you are looking for more formal experiences, there are many resources in the Upper Peninsula and across the state to explore. The list below offers potential first steps, and connecting with your regional MiSTEM director may also help.
"[The University of Michigan] has taken initiative in the local schools to get adaptive sports into the gym programs. I'm really hoping to get kids into it so they can start earlier," said Velat. During college, she plans to continue working on the proposal to improve the MHSAA rules.
• Michigan Women Forward (MWF) - Empower Girls & HERstory
Chris Standerford serves as one of sixteen Regional Directors for the Michigan STEM (MiSTEM) Network. He works to connect, convene, and collaborate with stakeholders from business, community, and education. Mr. Standerford also serves as the director of the Seaborg Math & Science Center at NMU.
STEM (cont. from p. 8)
• Northern Michigan University Camps, Student Programs, and STEM degrees
1/4 tsp. rosemary 1/4 tsp. sage
1 1/2 cups water
1/4 cup short grain brown rice
1/4 cup wild rice
2 cups chopped assorted mushrooms (shiitake, maitake, cremini, or your favorite)
1/2tamaritsp. thyme
customer service experience. My mom has a lifetime of experience through food service and customer service. Our customers really appreciate her welcoming, friendly help.
What are your future plans for Amelia's?
for Living a Healthier, Happier Life! Health & Happiness U.P. Magazine, Fall 2022 11
2 T. minced parsley
1/4 tsp. sea salt
1 carrot (diced)
Chef Valerie Wilson has been teaching cooking classes since 1997. She offers weekly, virtual cooking classes that all can attend. Visit www.macroval.com for schedule, cookbook purchases, phone consultations, or radio show, and follow her on Facebook at Macro Val Food.
1/2 cup walnuts (chopped)
We will be having more classes on site, in our room at the back. Two of our other creators have already taught classes–one taught an acrylic painting class and another taught some jewelry making. Craft opportunities are there. We're also working very hard to have youth classes so kids can experience making crafts and other projects. We were recently approved to start selling off-premise beer and wine, so in the near future, customers will be able to purchase beers and wines from Michigan and the Midwest.
This has been a crazy dream and a lot of fun! We decided "Let's just have fun with this!" And we're really glad we can help other creators and the people who love their work.
1/4 cup long grain brown rice
2 garlic cloves (minced)
2 T. raisins (optional) toasted sesame oil
Directions
Wild rice is known for its rich, black color and mild, earthy flavor, but did you know that it is a fantastically healthy food that can help slow the signs of aging? Its high antioxidant levels, thirty times higher than other rices, can help do this and offer many other health benefits. Antioxidants neutralize free radicals, the dangerous by-product of cellular metabolism that may cause healthy cells to mutate or turn cancerous. Our bodies may form free radicals from eating refined processed food, smoking, drinking, environmental pollutants, eating sugar, and taking pharmaceutical drugs. When you eat wild rice, the high antioxidant content may help neutralize the free radicals that accumulate under the skin, which can cause wrinkles and other blemishes. It is important to note that white rice has no antioxidant capabilities.
1/2 onion (diced)
What else would you like our readers to know?
Put the rices and water in a pot and bring to a boil. Reduce to the lowest possible temperature, cover, and simmer for one hour until all the water has been absorbed. Sauté the onion in a little toasted sesame oil and tamari until soft and translucent. Put the sautéed onions in a large mixing bowl. Using the same pan, sauté the carrots in a little toasted sesame oil and tamari for a couple of minutes until they are browned and add to the bowl. Sauté the mushroom and celery the same way, then add to the bowl.
Wild rice offers other wonderful health benefits too. It has high fiber content, which can help improve digestion, is good for the heart, and may help reduce the risk of colon cancer. Wild rice's high phosphorus, vitamin K, and zinc levels are good for strong bones, bone mineral density, and healthy joints. Wild rice also contains vitamins A, C, E, B6, niacin, calcium, iron, magnesium, selenium, and omega-3 fatty acids. Wild rice is best cooked with other brown rices to create a nice chewy texture, sweet, earthy flavor, and colorful combination.
Wild Rice Mushroom Pilaf
2 celery sticks (diced)
Healthy Cooking: Antioxidant-Rich Wild Rice Val Wilson
Amelia's Craft Market & Boutique (cont. from p. 4)
Mary Wright's activities were not restricted to Marquette and Houghton. She organized over thirty-five community projects, including in places like Alpena, Ypsilanti, and Port Huron, and also worked internationally in Toronto and Finland. Her themes were often based on ordinary objects such as shovels, stepladders, pillow cases, spring flowers, or winter mittens. In 1999, she received Michigan's Governor's Award for Arts and Culture.
What I know to be sure is that health and happiness live with truth. They grow and thrive in its Mypresence.ability to be myself and to know myself and to love myself all stemmed from my ability to live with dark truths.
Participating in one of these community projects has had a lasting impact on many. Often it was the first time someone had created an art object. Mary Wright supporter Doug Hagley said about Family Poles, "Some families were reunited after years of separation. Dialogues were fostered… Children honored their parents and grandparents…. The community and its visitors experienced the healing and community-building power of art." School children became interested in their family history and realized that you could be an artist at any age. Poet Sandy Bonsall's experience painting blue and white chairs with her students prompted her to write My Mother's Story Is My Story. I myself was inspired to create a family pole to explore the Finnish background of my husband, and Grandma Doors led me to research the life of my Bavarian grandmother whom I had never met.
Austrian writer and visual artist Christine Saari has lived in Marquette since 1971. She has published memoir Love and War at Stag Farm (2011) and poetry book Blossoms in the Dark of Winter (2018). Find her visual work at The Gallery and Wintergreen Hills Gallery.
My breaking the silence and responding differently than my mother is the most difficult thing I have done, yet became one of the most healthy periods of my life.
Even my anger and rage and overwhelming sorrow—after expressed—left me in peace. I made sense. The world made sense. The truth is so much easier to live with than Cont. on p. 14
Mary Wright (cont. from p. 5)
It has no hidden agenda or the false realities such an agenda was based on. Nor is it dependent upon the behaviors of others. My happiness is based on me—how I see myself and my worth, and how I love myself.
As Gloria Steinem once said, "The truth will set you free; but first it will piss you off."
The levels of happiness I have found as I walked through decades of denial and recovered my innocence is life-changing.
We lost Mary in November 2021. To honor her and her work, the Beaumier Heritage Center at Northern Michigan University will feature her in an exhibit in the spring of 2023. If you are willing to loan Mary Wright project object for the exhibit, please contact Dan Truckey at (906) 227-3212 or email heritage@nmu.edu.
12 Health & Happiness U.P. Magazine, Fall 2022 Your Leading U.P.-Made, Independent Go-To
Trauma to Wellness (cont. from p. 6)
I broke out of the family dynamic that supported abuse for generations. The happiness that has slowly seeped back into my life is pure.
a film documenting the production of the Rockland opera and the creation of Mary's Storyline project in which thousands of white panels strung on wires fluttered in the wind like layered prayer flags from their spots around the Rosza Center and more Michigan Tech campus areas. Primarily made by schoolchildren, each panel had a photo transfer of someone's image and the story of that person's life told in the first person.
Steve Waller
We finally got our all-wheel-drive plug-in electric vehicle (PEV) no gasoline engine and no more CO2 emissions. We've been driving it hard for a couple of months and tallied over 6,000 miles, including a few 400-mile trips from the U.P. to Chicago and to Detroit. Based on my experience, you should order yours now because it takes 6 months to more than a year for delivery. As you hesitate to order, the prices keep increasing. They can now cost as much as a new crew cab fossil truck, but cheaper models are available.
Green Living: Order Your Electric Car NOW!
Michigan charges a $100 electric registration fee and a $40 electric tax to compensate for road maintenance gasoline taxes that PEVs don't pay. One month's gas savings easily exceeds Michigan's fees, so drive safer, save money, and stop emitting CO2. Order your PEV today.
for Living a Healthier, Happier Life! Health & Happiness U.P. Magazine, Fall 2022 13
Steve Waller's family lives in a windand solar-powered home. He has been involved with conservation and energy issues since the 1970s and frequently teaches about energy. Steve can be reached at Steve@UPWallers.net.
People worry that the batteries will die in a couple of years but federal law mandates that batteries be warrantied for a minimum of eight years or 100,000 miles. Old PEV batteries don't die, they just have about 5%-10% less range. Experts suggest today's batteries will last 10-20 years–300,000 miles or more.
On our 400-mile trips, after about 250 miles we needed to recharge as expected, but plenty of rechargers are available. We never experienced "range anxiety." It takes 20-40 minutes, depending on the recharger's power, to recharge to about 80% capacity, enough to finish the trip. Rechargers are usually in the parking lots of major grocery chains or near snack areas, and more are being added nationwide. Recharging takes just enough time to stretch your legs, tap a kidney, visit the stores, enjoy a snack, or just lay back and relax for a bit. After hours of continuous driving on a long trip, the break is welcome and healthy. We recharge while the car recharges. The experience of PEV driving is different tons of power, electric everything. It's like driving a computer with wheels except that PEVs often do much of the driving for you. With multiple cameras and sensors, PEVs are very good at adjusting your cruising speed to traffic, keeping the car centered in the lane, and avoiding hazards. It sees and senses more than you can and reacts faster, making PEVs some of the safest cars on the road. People express fears of battery fires, but records show that you are ten times more likely to have a gas-guzzler car fire than a battery-car fire.
Fossil gas drivers have "range anxiety" (fear of running out of battery) but PEVs today have plenty of range, some over 300 miles on one charge. We rarely drive more than 100 miles a day and we recharge at home. It's like having a gas station in your garage. Charge overnight with an ordinary 240V garage outlet and wake each morning to a fully charged vehicle ready for another long day of driving. For apartment dwellers, there are programs for owners to add parking lot chargers or just fill up at your local public charger, then drive home, just like you do with a gas guzzler. Either way, PEVs drive cheaper.
We drive electric for about $.04 per mile. Our gasoline car averages a respectable 28 MPG but still cost $.16 per mile. Our PEV gets 131 MPGe in the city and 117 MPGe on the highway. It's 75% cheaper to drive, saving about $300 per month in gasoline expense. Plus, there is almost no maintenance–no oil changes, muffler, catalytic converter, or tune-ups. PEVs have few moving parts, there is much less to fail so there are fewer repairs. We do occasionally add a windshield washer.
To me, health has always had an evolutionary spin to it—a feeling of growing and changing. Life is not static.
So began the second half of my life living life as Me.
I want others to know it is possible to live a good life after abuse.
Discovering and choosing what made me happy, what felt like love, where peace lived, and what I felt was true for me became my way of life.
14 Health & Happiness U.P. Magazine, Fall 2022
Abuse isn't who you are. It is what was done to you. A healthy response is one that honors and respects you.
I loved me, the broken, twisted me that stumbled out of denial. I loved her courage and the bravery she showed to admit she didn't know who she was.
To know joy.
At sixty-three, I feel very grateful for my mental wellness and the sheer amounts of happiness I experience. Perhaps it's because of all the years I lived codependent on others to make me happy that I am now so appreciative of my ability to find happiness alone.
I feel happiness comes when you are free in the spaces you live and the relationships you have. The freer you become, the more happiness you gain.
Your Leading U.P.-Made, Independent Go-To
I love this healthier me, one that is filled with so much happiness and knows deep love, even if she is completely estranged from her family.
Trauma to Wellness (cont. from p. 12)
trying to prop up a false relationship with both myself and others.
The new me was a stranger in my relationships.
Release Past Life Traumas
Just being at peace with who I am and the choices I have made, and who that makes me as a person, brings me great happiness.
To feel deep love of self.
To be happy.
Married thirty-five years, mother of four, grandmother of three, retired mail lady, and fiber artist Beth Jukuri's art has become her therapy, her therapy her art. She co-founded WIND (Women in New Directions) to explore oneself and grow more empowered through nature and art.
I woke up at forty-six a stranger to myself.
There are moments in our lives when we have the opportunity to become more ourselves or to find a deeper level of awareness. These are moments that will define your life either negatively or positively, with more growing or shrinking.
What I know to be true is that we love as deeply as we love ourselves.
for Living a Healthier, Happier Life! Health & Happiness U.P. Magazine, Fall 2022 15 Public Radio 90 is for KIDS too! Saturdays at 1 pm ET Go to WNMUfm.org to Find Out More PublicPublicRadio90WNMURadioRadio90 Or Listen Via Our App!
helenhaskell@yahoo.com
Iron River, MI
Clear mind
Email: info@drlinzi.com
Source:
Clear mind
Work with Dr. Linzi and follow a customized program that includes a 4-week meal plan, personalized nutrition and an individualized supplementation schedule to help with:
Sylvia Earle (b. 1935) set a women's depth record for suit diving and helped design research submarines, but is best known for advocating for protection of Earth's oceans. Her best selling writing increases public awareness of the ocean's ecological importance. She was Time Magazine's first Hero of the Planet in 1998, and in 2009 used money from a TED Prize to found Mission Blue, a non profit working to create protected marine preserves worldwide.
Brighter mood
906.829.0500
Restore your health, revitalize your life!
Now, more than ever, is the time to take control and optimize your health.
Increased energy
Better digestion
all l U nsula Natural Wellne !
Less pain and infl
Less toxic weight/ Fewer cravings
More restful sleep
Now, more than ever, is the time optimize your hea
Ema
Call, text or email Upper Peni Natural Wellness today!
401 Washington Ave
ContributionsU.S.HonoringWomen'sto
More mobility
Rosalie Barrow Edge (1877 1962) founded the Emergency Conservation Committee to protect all species of birds and animals, both common and rare, in 1929. She eliminated decades of hawk and eagle shootings on an Appalachian Mountain ridge by buying the property in 1934 and creating the world's first refuge for birds of prey, Hawk Mountain Sanctuary. The sanctuary later provided scientific data to Rachel Carson that helped her link the decrease in juvenile raptors to the unregulated spraying of DDT.
Call, text or email Upper Peninsula Natural Wellness today!
Naturalist, author, and adventurer Margaret Thomas Murie (1902 2003) spent nearly forty years studying wildlife with her husband on back county expeditions in Alaska and Wyoming. With U.S. Supreme Court Justice William O. Douglas's help, they convinced President Dwight Eisenhower to create the 8 million acre Arctic National Wildlife Refuge. Thirty years later, Murie worked on the Alaska National Interest Lands Conservation Act, which doubled the size of the refuge. In between, she helped to pass the Wilderness Act, which officially defined wilderness areas and created the National Wilderness Preservation System, which now protects over 100 million acres. Murie received the Audubon Medal and the Presidential Medal of Freedom.
Restore your health, revit
Call, text or email Upper Peninsula Natural Wellness today!
Work with Dr. Linzi and follow program that includes a 4-we personalized nutrition and an supplementation schedule t
Feature Sponsored by Protecting the Earth
Email:info@drlinzi.com906.829.0500401WashingtonAveIronRiver,MI
16
Groundbreakinghttps://www.amightygirl.com/blog?p=11863marinebiologistandoceanographer
Clean body
Clean body
Stronger immune