ISSUE 10, 2022/23 — CHF 12, EUR 12
THE JOURNAL
FOR GENERATIONS: PALACE.CH FOR GENERATIONS: PALACE.CH
FOR GENERATIONS: PALACE.CH
WHERE CONTINUITY ENABLES INNOVATION
This magazine is made possible by the substantial support of our partners. Together we award the most beautiful aspects of our region the space they deserve. We are united in our commitment to the Saanenland. Sustainability, authenticity and originality ― served with flair, straight from the heart. This is the bedrock on which we build our stories.
Andrea Scherz
6, 15,
E-Pics, a
the
of the Schweizerische Nationalbibliothek (pages 8/9, 10/11, 12, 13
of the
(pages 4, 5, 13 top, 15);
Palace Archiv (opening pages, page 35, closing pages);
Dhamaka (page 40);
Kapoor Khan Fanclub (page 41); Maurizio Paglino (pages 86 to 89);
BARBARA "BABE"
MORTIMER PALEY, DRESS BY TRAINA-NORELL, 1946, Horst Estate, Miami FL, USA ― special thanks to: Bernheimer Fine Arts, Munich and Meggen (page 38); Thömus (page 44); I.D. Swiss Botanicals, Babylon Sciences (pages 80, 81, 82); Lily of the Valley (pages 84/85); Kimera Automobili (pages 108 to 110); Silent Gliss (page 112) — ILLUSTRATIONS Les Nouvelles de Gstaad: PJ COMMUNICATION DESIGN Paola Slongo (pages 92/93); Endnote: Oliver Preston (page 113) PROOFREADING Astrid Freuler — PRINTING Kromer Print, printed on Planojet paper, white, offset, FSC© PRINT RUN 6500 copies NOMINAL PRICE CHF 12, EUR 12
Issue
PUBLISHER Gstaad
— CONCEPT & EDITING Andrea
Panta
PR Zurich — ASSISTANT Natalie Brezing — GUEST CONTRIBUTIONS Taki
— DESIGN & LAYOUT Sonja
Grafik AG, Zurich
PHOTOGRAPHY
IMPRINT THE JOURNAL
10, 2022/23
Palace, palace.ch
Scherz, Reto Wilhelm (rw),
Rhei
Theodoracopulos, Franz Bamert (fb), Heike Löw (hl), Stefan Ludwig (sl), Nina Rafaniello (nr), Anina Rether (REA)
Studer
TRANSLATION Astrid Freuler
Yannick Andrea; Baugeschichtliches Archiv Stadt Zürich (pages
90/91); HelveticArchives,
archives
bottom); Archiv
service
ETH-Bibliothek
Gstaad
Bollywood
Instagram Kareena
― NATIVE ADVERTISING Jewelry Oscar R. Steffen HORST P HORST
CUSHING
WORLD TRIP Aviation Pioneer 04 SWISS MADE From Balloons to Snow Mansion 20 NEXT GENERATION "I will come back soon" 32 INCOGNITO Kareena Kapoor and Ali Saif Khan 40 TRADITION Booming Bells below Ground 46 SUSTAINABILITY District Heating replaces Oil 50 ART Stage set for Rubens, Caravaggio & Co. 54 ART Hauser & Wirth in Conversation 64 PERSONAL Firmly in the Saddle: Barbara Branco-Schiess 72 MEAT FREE Tofu from the Klopfenstein Brothers 76 PHOTO SAFARI Master of the Animals: Maurizio Paglino 86 TAKI TALK The last fashion show 90 LES NOUVELLES DE GSTAAD In-house, local news, shopping, suggestions 92 SWEET SPECIAL Quattro Dolci Stagioni 94 CARS True Evolution 108 1 THE JOURNAL HIGHLIGHTS
Never seen before: Caravaggio. Rubens & Co visit the Palace. Andrea Scherz, Andrea Buschini and Franz W. Faeh are amazed by the masterpieces that Sira von Waldner, Claudio Metzger and Thorsten Zegrotzki, the exhibition organisers from AION, have combined into a unique exhibition. The event as made possible thanks to the kind support of Thomas Bittel and Moritz Bittel.
Beyond rare vintages
Recreating the perfect year
Grand Siècle Nº23 in magnum. On allocation. www.laurent-perrier.com - # grandsiecle
Valued friends of sophisticated communication, dear Palace friends
We have reason to celebrate. For ten years now, we have been tracking down the best stories, the craziest pictures and the most secluded treasures ― both in the Palace and all around.THE JOURNAL you are holding in your hands has become a permanent fixture, offering sophisticated information and entertainment in a 5-star format.
But we're not about to rest on our laurels. We like to keep our finger on the pulse, as we always have in our 110-year history. That's why the next generation has the first word, both in our magazine and our hotel. And the kids have been busy ― baking, riding and flying. Aerial mastery was also displayed by Swiss ballooning pioneer Eduard Spelterini, who photographed the world from above long before we could send drones up into the sky (one of my favourite pastimes, as you know). Talking of spectacular pictures: Did you know that our loyal Maître D' and chief Walig mountain lodge keeper Maurizio is a keen photographer in his free time? If not, you'll be surprised at his captivating photos of Africa's animal kingdom. Closer to home, we've also enjoyed catching up with some of our famous guests, for a snapshot into their lives and what brings them to "their Palace". Read on for a Lobby Bar rendezvous with the Kapoor Khan family, who have been coming here for over 12 years.
And as always, we're all ears. To make a good magazine, you have to be a good observer and an even better listener. So feel free to tell us: What would you love to see more of in our JOURNAL? What kind of story would you like to read? Suggestions are always very welcome. Just drop us a message!
We hope that this edition proves to be a page turner for you and look forward to welcoming you soon. Andrea Scherz
Photographer Iris VelgheDesign LUMA
3
99/100 19/20 98/100
EDITORIAL
PIONEER OF THE SKIES
Travelling in his custom-made hot air balloon Urania, Eduard Spelterini visited all the important cultural centres of his time — Athens, Bucharest, London, Moscow, Naples, Paris, Vienna, as well as Cairo, Copenhagen, Thessaloniki and even Johannesburg. And Zurich of course — shown on the left with Spelterini ready to depart on the Kasernenplatz grounds.
4
5
WORLD TRIP
6 7
Zurich with its grand and world-famous Bahnhofstrasse.
8 9
Copenhagen with Christiansborg Castle at the centre.
10 11
The Mont-Blanc group — Europe's highest mountain range.
12 13
From top left to bottom right: Johannesburg, Basel, Geneva and the pyramids of Gizeh in Cairo.
Passion creates progress.
His images are fascinating. Sometimes sharp, sometimes blurry, but always unique, due to the sheer boldness of his adventures in aerial photography. Spelterini, who was born as Eduard Schweizer (1852 ― 1931) and later took on his Italian name, was a Swiss pioneer of ballooning.
He was drawn to explore all corners of the world, combining his skills as a balloon pilot with his love of photography. It is said that in his 43 years as pilot he completed 570 flights and had 1237 passengers aboard. And according to legend, he always had a well-stocked picnic basket on board for his guests, complete with champagne. With his custom-made hot air balloon Urania, Eduard Spelterini visited all the important cultural centres of his time –Athens, Bucharest, London, Moscow, Naples, Paris, Vienna, as well as Cairo, Copenhagen, Thessaloniki and even Johannesburg. When he took off in Zurich on 16 July 1891, he was already famous and his ascent attracted wide-spread attention. In 1898, he demonstrated his courageousness with a spectacular crossing of the Alps. Another ten such trips would follow over the years, often for scientific purposes. Spelterini was welcomed all around the world. He was a well-regarded speaker and popular guest in royal palaces, and also met his contemporary flying pioneer Count Ferdinand von Zeppelin.
From a modern perspective, his photographs are remarkable witnesses of a particular era. They document a pristine Switzerland ― such as the iconic Jungfrau above ― and a world as yet unscathed by the First World War. The Graphic Collection of the Swiss National Library holds more than 130 of Spelterini's aerial pictures, either as vintage prints or as glass negatives. (rw)
The photographs have kindly been made available by the Swiss National Library's Graphic Collection, ETH Image Archives, helveticarchives.ch and Baugeschichtliches Archiv Zürich.
Audi RS e-tron GT, 598 HP, 24.2 kWh/100 km, 0 g CO₂/km, category A Future is an attitude 15
The fully electric Audi RS e-tron GT.
Majestic: Eiger, Mönch and Jungfrau in the Bernese Oberland.
THE FINEST EXTRAORDINARY SLEEP
Sleeping in an Elite Bed, custom-made for you, is like nothing you've ever experienced before. However, once you have enjoyed the health benefits and comfort yourself, you will understand the difference.
Elite Beds are made in Switzerland from the finest natural materials and certified with the European Ecolabel so you can enjoy the best night's sleep while making an eco-conscious choice.
Welcome to our Elite Gallery!
The lunchtime service is over. Edgard Bovier and Franz W. Faeh, two masters of their art, are sitting on a wooden bench on the terrace of the Café Du Cerf in Rougemont, dipping their forks in the fondue they are sharing.
Edgard Bovier, long-standing Chef de Cuisine at the Lausanne Palace and now semi-retired, has invited our Culinary Director Franz W. Faeh "chez soi" — to his café in Rougemont, where he has lived for the past 32 years. The two men are cut from the same cloth and share the same culinary philosophy – where authenticity of flavour rules.
For starters they tuck into one of Bovier's signature dishes — Malakoff, best described as wholesome miniature rarebits. Bovier originally created his version of this fingerfood for the Swiss delegation to the 2008 Olympic Games in Peking. The dish is accompanied by local cured meat and a delectable Chasselas. "I only stock Vaudois wines. In homage to my long-standing work in Lausanne and to the winemakers of that region, who are brilliant at what they do," Bovier explains. For the main course, chef Franz has chosen a hearty classic — fondue à la Bovier. No less than 12 types of cheese make up the special mix, which Edgard Bovier also sells online. Five Vacherins, five types of Gruyère as well as two select kinds of Etivaz, a unique mountain cheese from the Vaudois Alps, which is still made over an open fire today. And it tastes just the way it sounds — delicious, light and well balanced. "Not too rich and with plenty of pizazz," explains Bovier. A bowl of steamed potatoes is served alongside. For afters, Bovier fishes a real gem out of the oven – a caramelised Tarte aux Pommes, the like of which only a master of his profession can produce. The proverbial cherry on the cake comes in the form of locally sourced double cream. What else!? (rw)
by Edgard Bovier, available to take home or order online ― MAFONDUE.CH
16
SWISS MANUFACTURING SINCE 1895 FIND AN ELITE GALLERY CLOSE TO YOU ON: WWW.ELITEBEDS.CH
17
― DUCERF.CH
Fondue
RESTAURANT TIP
The House of Graff has always stood for the finest, the rarest and only the very best gems. Every high jewellery creation begins with the stones and their power to enthral, from a perfect 38 carat D flawless ExEx type IIa cushion cut white diamond to an unheated 109 carat Sri Lankan sapphire, a rare treasure that is emblematic of Graff's unparalleled collection of high jewellery.
The true artistry of high jewellery at Graff is revealed in some of the most flamboyant jewels ever crafted by the House ― intensely precious new creations that embody dreams and desires. Displaying greater than ever intricacy, diamonds and gemstones are forged into unique designs with myriad layers of detail that push the possibilities of Graff's craft like never before. Necklaces feature prominently in the collection, carefully orchestrated to display a captivating rhythm that runs with a beautiful fluidity from one gem to the next. "As designers, we listen to the inherent melody within the stones, focusing on the music and the rhythm," says AnneEva Geffroy, Design Director at Graff. "Like the ripples that emanate outwards when a stone is dropped in water, the tempo increases as the jewels grow in size until they reach their maximum intensity. We capture this in a central motif that allows the full power of these natural gemstones to radiate."
Contemporary motifs first seen in the Tribal collection have been further explored and expanded upon. This has challenged Graff's artisans to custom cut diamonds into innovative shapes to realise these creative arrangements, which are breath-taking in their three-dimensionality. Equally sublime is Graff's virtuoso use of colour, so precious in its intensity. Collected and cared for over many years, awe-inspiring sapphires, emeralds, rubies and yellow diamonds are masterfully combined in blazing displays of brilliance. (PR)
Porsche Service Center Gstaad B.I. COLLECTION Gsteigstrasse 182, 3784 Feutersoey/Gstaad +41 33 755 80 88 SERVICE – STORAGE – SALES – ACQUISITIONS 19 GRAFFABULOUS
― GRAFF.COM
HIGH JEWELLERY
SWISS MADE
FROM BALLOONS TO SNOW MANSION
20 21
24 25
Set against the grey December sky above the Saanerslochgrat, deep blue balloons of every shape stand out pointy, round, square and oval. As yet, they haven't quite vanished under their snow cover, even though Marius Mosimann and his team have been working through the night. It's hard graft nine balloons, each up to six metres high, need to be covered with a three-metre thick blanket of snow. Using shovels, snow blowers and snow groomers, they keep at it until only a series of white hills is visible.
As is so often the case, the weather is making life hard for the manager of Gstaad's igloo village: "The season started off very promising cold with heavy snowfall. Then we had a sudden spell of mild weather and constant wind, resulting in far from ideal conditions. Our schedule is tight. But we're a well-coordinated team, we'll get it done in time." And then he's off again, back to the snow blower. They're aiming to apply a final layer of snow to each balloon by evening, so that everything can firm up overnight.
Time is of the essence the first guests will already arrive in ten days. By then, the approximately 600 square-metre snow mansion with bedrooms, restaurant, bar and a wellness area including sauna and whirlpool will need to be finished.
It takes a strong team to turn this icy undertaking into reality. Yet igloo construction isn't a profession. The only way of doing it is by learning on the job. That's why Marius is glad he's been able to count on his seasoned 15-strong crew. The group includes people from the building trade, students, craftspeople and shop assistants a colourful bunch of idealists. Some of them have worked with him for years. Such as carpenter Dave Schürch from the Emmental, who occasionally is also in charge of site management at the igloo village. And Eric Abele from Alaska, who spends the winter in Saanen to help with the construction. Winter sports enthusiast Natascha Kehrli is also putting in a repeat appearance. "It's a tough job," she comments. "You barely get a day off, your place of work is at 1800 metres
27
SWISS MADE
above sea and we're completely at the mercy of the weather. Perhaps that's precisely why I enjoy it so much."
The three of them are standing in a container that serves as the tool store, warming up with a coffee and discussing the jobs for the next day. First task will be to let the air out of the balloons. Then they'll be making a start on the interior work: smooth down the walls, fit doors, dig out spaces for toilets and whirlpool, bank up the snow beds... the list is long. Their skis and snowboards are propped up against the outside wall. In the evening, when the day's work is done, they will glide down into the valley on them. "It's the highlight of the day," comments Natalie Kehrli with a wink.
When we visit the following morning, the balloons have vanished. The gently undulating snow mounds that have formed over them are reminiscent of a snowcovered sleepy Hobbit village. But far from it. The variably sized igloos, where classic fridge climate prevails, are abuzz with activity. While the construction team focuses on infrastructure, installing wood doors, setting up toilets or fitting sockets, the first snow artists arrive. Over the coming days they will work on the inside walls, using saws, sandpaper, knives, ice axes and even chain saws.
The range of different shapes and designs could hardly be greater. Each room becomes a unique work of art. What remains the same is the colour white on white.
The monochrome colour concept inevitably applies across the entire igloo village. Not surprisingly, this can become a little disorientating. Experienced igloo builder Dave Schürch knows from personal experience what effect white walls, white ceilings, white furniture and white floors can have on people's sense of direction. That's why brown boards are laid down to guide guests along the single passageway that connects all the bedrooms, the restaurant and the bar.
On his tour of the rooms, Schürch notices some light shimmering through the ceiling in one of the suites. "Igloo six needs another load," he informs his colleague, who is waiting outside with a snow blower. If the snow cover remained too thin, the worst that would happen is that a hole might form. The ceiling would never collapse. "Domes are structurally the safest form of building coverage, as the St. Peter's Basilica in Rome has been demonstrating for more than 400 years. But the igloo village won't need to last quite that long," he laughs. Indeed, this dreamy structure made of snow and ice will start to melt away in the spring sun in just four months' time. Then the power lines will be removed, the tools and construction material cleared away and the waste water safely disposed of. With a bit of luck, the last remnants of the melting igloos will still be visible into July, as a picturesque backdrop to the grazing cows. (rea)
28
29
IGLU-DORF.COM/EN/LOCATION/GSTAAD
pPILATUS ENGINEERS ARE FORBIDDEN
TO USE THE WORD COMPROMISE
The world's first Super Versatile Jet takes off! True to our Swiss heritage, the PC-24 is brilliant not only in performance and beauty – but also in practicality. From our unmatched reputation for precision comes knowledge: the PC-24 embodies all of this experience and represents the pinnacle of 80 years of careful aircraft manufacturing. Fly the Swiss way with the PC-24 – contact us now! pilatus-aircraft.com
e alone holds the key to the cellar — Andrea Buschini, Maitre d'Hôtel and Master of Food and Libations. Discreetly, he leads us underground for a special visit. We're on the hunt for some rare gems. A Grand Cru classification is a must, and ideally, we'd like to see , the 1.5 litre bottles. Double magnums (3 litres) would be better still, and per(6 litres).
Buschini is happy to oblige. He disappears behind the racks, then re-emerges with some extraordinary finds. Like sleeping babies, he carries them carefully against his shoulder. "Magnum bottles are generally better for the grapes, as they are able to mature more elegantly," he explains. "Large bottles always have to be stored on their side, so the wine is touching the cork. This keeps it nice and moist, and therefore airtight. We usually get through around 500 magnums over the course of a good winter season — including champagne and white wine. for 17,000 Swiss francs is nothing unusual, and not long ago, we sold two magnums." As he talks, Buschini arranges his most beautiful bottles on a table for us. His selection ranges from a moderate 520 franc 2015 Château Pichon-Longueville, via 1988 Château La Dominique, through to an impressive 1985 for 9000 francs. Should the wine in magnums be decanted? "I would generally only decant young wines, otherwise they lose some of their freshness and bouquet." Buschini opens these giants using his regular corkscrew. The removal of the wax seal is an art in itself, a task Buschini carries out with surgical precision.
The Palace is a Bordeaux "heaven", especially since Ernst Andrea Scherz took over. Around 40 % of the red wines stored in the cellar are from the Bordeaux — 30,000 bottles, 600 labels, with a purchase value of 1.8 million Swiss francs. Around 600,000 francs per year are invested in acquisitions. "On the whole, we are following the trend of drinking the wines younger," explains Buschini before safely returning his babies to their beds. (rw)
31
HIDDEN SECRETS
"I WILL COME BACK SOON"
Even if the world were to end at this very moment, Nikita, Daniela and the dozen other children in the Palace kitchen would probably barely notice. Immersed in their own bubble of space and time, they're far too busy with the icing bag, chocolate sprinkles, Smarties and other goodies supplied by Head Pâtissier Emanuele.
Their little hands are creating big works of art, from beautifully decorated Christmas tree biscuits to colourful gingerbread houses. Proud parents hover in the background, snapping away on their mobiles. And if those little hands are too tiny for a particular task, Emanuele, or even Culinary Director Franz, are on standby to help position a chimney on a gingerbread roof or make sure Father Christmas gets his buttons. They do this with such calm and enthusiasm, you'd never guess they still have a lavish Christmas menu to prepare.
Outside meanwhile, the world is showing no sign of ending, but the gods certainly haven't been sparing with the clouds, sending us sleet and snow in equal measures. But it would take more than a flurry of snow to spoil Mona and Sarah's fun. Two ponies, Speedy and Ronnie, have just appeared amid the wintery drizzle. And apparently, it's love at first sight. Even though the two girls have never ridden before in their young lives, they hoist themselves into the saddle, call out "Allez" and off they go. Mona and Sarah are beside themselves with excitement. "Go round again! Go round again!" they plead and set off on their last round… and then their very last round. From now on, there will be just one single word on their Christmas list: Pony!
33
NEXT GENERATION
Kids always get a warm welcome at the Palace, but at Christmas we have even more in store for them than usual. From our Christmas Cinema to the Pyjama Party and Crêpe Day through to Santa's Reindeer at the Palace, it's all happening here. The absolute highlight of the holiday season is the visit from the St. Bernard dogs. With their soft shaggy coats and the temperament of a teddy bear, the big friendly giants from the Fondation Barry du Grand-St-Bernard in Martigny are always a firm favourite with the kids.
34
"
THESE STRONG DOGS USED TO LIVE HIGH UP ON THE GREAT ST. BERNHARD PASS, THE CROSSING BETWEEN THE CANTON VALAIS AND THE SOUTH. IN WINTER, THEY FORGED PATHS THROUGH THE HIGH SNOW, AND ON FOGGY DAYS THEY WOULD GUIDE TRAVELLERS SAFELY HOME."
35
Saying goodbye to the animals is hard, very hard. Lucinda blinks back a tear, flings her arms around Xenia's comforting bulk one last time and whispers: "I will come back soon." (fb) Please contact our concierge for information and bookings.
Look beyond today and invest for the next generation
As a family-owned company, we take a long-term and holistic perspective when selecting the best investment opportunities for you and structuring your portfolio. www.lgt.ch
They started with soup, the kind that Mary Stuart much more recently ordered too (between you and me, that's cream of chicken). Next, there were Filets de Sole fit for a princess. These were followed by spring chicken ragout with mushrooms, Renaissance style. The Christmas meal served on 24 December 2013 at the newly built 'Royal-Hôtel & Winter Palace Gstaad', as it was then called, must have been a real feast. The visitors on that first Christmas enjoyed princely dining as well as a culinary tour of Europe. Venice was represented with delectable ice cream, Paris with a Mousseline de Foie Gras and Nice with its artichokes in Italian sauce. And the main course was saddle of venison with cherries and Cumberland sauce, with a lettuce heart salad on the side.
This is what we've learnt from a historic menu that has been handed to the Gstaad Palace. The observant heir of Joseph Dunofour, who was employed at the Palace as commis chef pâtissier during that first winter season, has kindly provided the valuable bit of paper. It's a delight for archivists and a superb slice of history for connoisseurs.
For your recollection: The grand opening of the Palace Hotel took place on 8 December 1913, under the management of Albert Steudler and Hans Pünter. It had 250 beds in 165 rooms, of which 70 were equipped with their own bathroom. With a further 20 shared bathrooms, central heating and an in-house telegrapher, the hotel offered highest standards of convenience. Guests from all over the world flocked to Gstaad, until the First World War put an end to the booming business. (rw)
36 © LIECHTENSTEIN. The Princely Collections, Vaduz–Vienna
37
FOREVER YOUNG
VINTAGE TIMELESS MODERN
In his "Salon de Joaillerie" in the heart of Zurich, Oscar R. Steffen presents a meticulously curated collection of jewellery dating from 1720 to 1970 ― timeless yet stylistically unique witnesses in the spirit of present times.
The address ― the guildhall zur Meisen at Münsterhof 20 in Zürich ― is as rich in history as the gems it is home to. The mastermind behind the collection, Oscar R. Steffen, was an entrepreneur in the creative industries for many years and held a leading position in the jewellery sector before setting out on his current venture. Our well travelled host speaks six languages. He continued his education at the renowned Gemological Institute of America, he is a diamond graduate.
His vision is to provide jewellery aficionados with access to unique historic pieces from across three centuries. He has scoured the globe in his search for the exclusive, the individual and the extraordinary – each piece is a witness of its time. That is why Steffen refers to his jewellery boutique as a "Salon de Joaillerie", a salon appointed with vintage furniture from the 20th century where his rare finds are brought together.
Jewellery of this quality draws in the eye of the beholder with its timeless beauty. "Sophisticated and unique, each piece tells its own story, exclusive and impassioned. What they all have in common is time-honoured craftsmanship, skills that must live on," explains Oscar R. Steffen. Most of these gems can be worn during daytime or evening. "My jewellery underlines the wearer's personality and stands for constancy of values, like the tender bond between two people, sealed by a rare gemstone." (rw)
38
Barbara «Babe» Paley, Horst P. Horst, 1946
39
― VOS RÊVES ONT UNE ADRESSE: JEWELRY-OSCARSTEFFEN.CH/EN/HOME/
EPOCHAL JEWELLERY
Art Deco Bracelet 1930 ― Oscar R. Steffen's collection brings together unique jewellery designed across centuries, from 1720 to 1970 ― pre-owned, pre-loved, sustainable.
FOR YOUR EYES ONLY BOLLYWOOD STARS in GSTAAD
INCOGNITO
Born into a royal family, Saif Ali Khan is the 10th Nawab of Pataudi. Currently based in Mumbai, he was educated in England. Saif is a prominent actor, producer and an entrepreneur. He is the son of "Tiger" Pataudi, legendary cricketer and Sharmila Tagore, actress.
40
41
Kareena Kapoor comes from a long line of screen actors, a veritable dynasty that has been in the Bollywood limelight for decades. Her great-grandfather Prithviraj Kapoor, grandfather Raj Kapoor and father Randhir Kapoor were all actors, and her older sister Karisma Kapoor is also an actor. Since 2012, Kareena has been married to actor producer Saif Ali Khan. The couple have two sons — Taimur (*2016) and Jehangir (*2021).
For once, Kareena Kapoor and her husband Ali Saif Khan are definitely not chasing the limelight. They are both Bollywood superstars, but when it comes to family holidays, they love bringing their kids to the Gstaad Palace for some much-cherished privacy.
Do you recall when you first stayed in the Saanenland? Saif: Absolutely. It was in 1992 and I was shooting my fir st Bollywood film, right here in Gstaad. Thanks to Jakob Tritten from Zweisimmen, who sadly passed away in 2003, I regularly visited the region for work. The mountains around Gstaad are world famous because of those films. They are very similar to the mountains in Kashmir, where unfortunately we could no longer shoot our films. There are many things for which I have Switzerland to thank.
Speaking of dreams: Is there a film from the past that you wish you could have played in? Kareena: Well, I would have loved to have a role in 'The Return of the Pink Panther', alongside Peter Sellers (she laughs). It was filmed in the Palace, after all. Saif: I would have liked to be in 'Butch Cassidy and the Sundance Kid'. Or in a James Bond film, that would have been really cool of course. There are so many characters we wish we could enact. Kareena: Any Meryl Streep film, that would be fantastic. She is such an exceptional actor.
Is that because of Netflix and all the new channels? Saif: Of course. Netflix and the like have completely changed the audience's perception. An actor always has to take into account where a film will be viewed. Cinema films are all about the big emotions, TV projects are more about nuanced themes and easy entertainment.
If you could start all over again, what would you do differently?
Saif: I guess there are one or two films I would do differently. But there isn't much that I would change.
Mrs Kapoor, you were born in Mumbai and live there with your family. How does it feel, swapping city life for the rural surroundings of Gstaad village? Kareena Kapoor: It feels wonderful. It's precisely why we come here. We don't want people to recognise us — we just want to be by ourselves. Saif Khan: Gstaad combines everything that's good for us — fresh air, sun, mountains and snow. It's a complete contrast to Mumbai — it's like being on the set of a fairy tale film. And don't get me started on the amazing chocolate. (At this moment their son Taimur joins them — swiftly reaching for a praline.) You see, the next generation is also a fan... (he laughs)
So, what in your opinion sets the Bernese Oberland apart?
Saif: We chanced upon Gstaad on recommendation by a friend who is a doctor. He said, go and stay somewhere in the Swiss mountains, where you can hide away for a little while. We immediately fell in love with the Palace — especially the heated outdoor pool is a dream for me. I can really switch off there and forge new plans.
Kareena: The great thing about Gstaad is also that it's equally lovely in summer and winter. Just being out among the wonderful scenery, whether you're skiing or hiking. In fact, the very first time we took our older son abroad was to come here to the Palace. I can clearly remember how he used to lie in the garden and play with the daisies when he was very little.
What kind of things? Saif: The Swiss have always been very accommodating towards me. And once, when I lost my passport during filming, the Swiss Embassy was hugely helpful in arranging a new visa for me. I was very impressed by how efficient the Swiss authorities operate.
We know Hollywood and Bollywood, and we know of Chinawood in Hong Kong. What makes Bollywood so special? Saif: I think there's room for all three. The advantage of Bollywood is that, regarding themes and issues, we have always been more geared towards the South-East and the southern hemisphere in general. That's why our films are so popular there. In Morocco for example, and in the Gulf States, where Bollywood films are best-sellers.
What fascinates you most about the acting profession? Saif: We are very fortunate to be involved in the world's most wonderful metier. We encounter so many fascinating people in so many different countries. I consider that a real privilege.
Would you say you are living your dream? Kareena: Yes, I think you could say that. Saif: Definitively. Of course, one always has other wishes too in life. For example, I've always wondered whether I could work and live in the US.
That brings me to my next question: Which actor from the past would you have liked to interview? Saif: Al Pacino — he's my absolute favourite actor. Watching a genius like him is an inspiration every time.
Is your profession a kind of addiction? Kareena: In some ways, yes. It's certainly a matter of passion. We want to be actors, first-class ones, of course. But definitely not superstars. You can't choose to be a star, you may become one though. Saif: I completely agree. Acting isn't so much a profession as a lifestyle. You can't say: 'I'll just briefly go and act that.' Your entire way of being — how you eat, drink, sleep, how you think your way into the role — it becomes your ethos. Like a religion.
A religion? Saif: Yes, absolutely. That's what it's all about. We have our own 'deities', role models, our own rules. And it all depends on what the camera wants. Was it a childhood wish, to become an actor? If I'm correctly informed, you studied law, Mrs Kapoor. Kareena: Well, I come from a family of actors and I always wanted to become one. I hope I can continue acting forever, until I'm 70 or older. Saif: I must admit, I didn't know what I wanted to do. Acting came along as an opportunity for me. I gave it a go and I liked it. Although the 90s weren't as interesting as things are today.
Kareena: I'm very satisfied so far. I couldn't wish for anything to be different.
And which of your films do you think you will show your children first? Saif: Good question. I guess I would let them watch a couple of our romantic comedies. Kareena: Yes, great, lots of comedies. What I probably wouldn't show them is one of the films we made together. It's called Omkara, it's a bit too dark and too mysterious.
And finally: What souvenirs do you like to bring your loved ones back from Switzerland? Kareena: There's a whole load of things. Chocolate of course, and lots of cheese.
Fondue is one of my favourite meals. But Mumbai isn't so ideal for the dish, as you can imagine. Saif: To be quite honest, instead of lugging lots of stuff back home, I'd much rather bring my mother to the Palace one day. After all, the best place to enjoy life's treats is always where they are made. (Interview: Stefan Ludwig)
42
43
WORLD CLASS FROM BERN
RECORD BREAKER
For over 30 years, Thömus has been synonymous with biking high tech from Switzerland. It's no wonder then that the company has been involved in elite sports for the past four years. As provider to the pro mountain bike team headed by Ralph Näf, Thömus is now among the very top bike builders world-wide. Based in Bern, the company is also looking to the future by supporting the Swiss junior team Thömus Akros Youngstars.
What a start to the Cross Country season 2022 for the Bern bike manufacturer: Between them, the Thömus maxon Swiss Mountain Bike Racing Team and the Thömus Akros Youngstars secured no less than eight medals at the Swiss Championships, from U17 to Elite four of them gold. This has never previously been achieved by any Swiss bike brand. And many international successes followed throughout the season.
And these are the star athletes: Alessandra Keller, the new figurehead of Thömus maxon Swiss Mountain Bike Racing, has found a firm place among the world's leading mountain biking athletes. After a series of problematic injuries over the past years, the current Swiss champion has been steadily improving her performance. Her hard work and perseverance have paid off. The 26-year-old from Canton Nidwalden finished the 2022 season as the overall World Cup winner in two disciplines, the Short Track XCC and the lead discipline Cross Country XCO. Among junior athletes, the Thömus Akros Youngstars Team is also in prominent position. Particularly notable is the 18-year-old Monique Halter from Canton Appenzell, who won every single one of the thirteen World Cup races in 2022. This means that Halter holds the Swiss Champion, World Champion and overall World Cup titles.
And how does a successful athlete achieve such fitness levels in the first place? Alessandra Keller splits her training into multiple sections. A training block in January with the national team in South Africa is followed by a block with the Thömus maxon team in February. But unlike many other top athletes, Keller does a lot herself. More specifically, she devises the form and intensity of her training and is her own boss, so to speak albeit in consultation with her colleagues, team leader Ralph Näf and trusted persons in her field. "The important thing is to continue developing your own training methods. This means asking yourself: Where do I stand? What do I need, to get to where I want to get to? And most of all, it means never giving up," Keller explains, in her modest way. (PR)
LESS THAN 15 KILOS When two Swiss firms pool together, you get pure Swissness: With the new Lightrider E Ultimate, Thömus is launching the world's first full-suspension cross country E-mountain bike weighing less than 15 kilos. This record weight is made possible by the small yet efficient maxon BIKEDRIVE AIR drive, combined with a Thömus Ultra High Modulus carbon frame. For Thomas Binggeli, CEO and owner of Thömus, this new development represents a milestone: "We designed the Lightrider E Ultimate in close collaboration with maxon and our World Cup team. The feedback from the training sessions regarding ride experience and the reduced weight is sensational. But the new E-bike isn't solely intended for the use of pro athletes — we want to ensure that every rider can enjoy the unique experience these bikes provide."
44
― THOEMUS.CH
BOOMING BELLS BELOW GROUND
Dead on time, the 15 members of the "Gsteig Trechlerklub" arrive in the car park of the Hotel Victoria Gsteig. Each of them is carrying a large Swiss cow bell, or "Trechle" as they are called in the local dialect. These are the "instruments" for an activity best described as "cow bell ringing".
Led by club president Silvan Haldi, they proceed — silently — to the underground car park that belongs to the neighbouring residential complex.
Many of the parking bays are empty, with just a couple of estate cars or dusty limousines taking up a space here or there. It's the perfect setting for an hour-long practice in the upper decibel range.
47
TRADITION
The farmer, fresh from milking his cows, greets the skiing instructor who has spent all day on the hillsides with a high-profile visitor. The 18-year-old mechanic apprentice has turned up too, as has Anita, who has come all the way from Meiringen — a 2-hour journey. In total 15 members are present today, among them four women — though some Trechler clubs are still an all-male affair. Everyone looks dapper, dressed in the official uniform of wine-red traditional shirt, a hat with the club logo and black trousers. Half of the bells they've brought with them belong to the club, the rest are privately owned. A magnificent bell like theirs weighs about 16 kilos and is worth around 2000 Swiss francs. It's the size and the shape of the bell that dictates the sound that these giants emit.
The members meet here in the underground car park twice a month throughout winter, in summer there are no rehearsals. "Our Trechler club was founded in 1982 by Gsteig resident Daniel Schallenberg, who worked as a postman in Unterseen at the time. There were 13 of us founder members. We all shared the aim of reviving the Trechlen tradition that has existed in the Bernese Oberland and in Central Switzerland for centuries," honorary president Adolf tells us. In addition to the Gsteig club, there is a second bell ringing group in the area. Based in Schönried, it was formed in 1992. The Gsteig group is a guardian of sorts to the younger Schönried club, but that doesn't prevent them engaging in a little friendly competition when they meet at regional Trechler gatherings.
The bell ringers are lining up now in a double row — time to get practising. Time for 60 minutes of intense concentration. Dynamic as it is, the activity also requires precision. All of them have protected their ears with earplugs, the noise levels created by these bells are phenomenal. "Ready!!!" the command goes out and then they set off. To and fro they walk, in a series of carefully choreographed patterns – offset countermarch, then weaving in and out, in star formation or in a circle. The sound, which varies from quiet to extremely loud, is caused by the bell carriers rhythmically nudging the bell with the front of their upper leg.
The bells seem to answer each other, with different notes ranging from very high to very low. The Gsteig Trechler club has ten pieces in its permanent repertoire, and new ones are routinely being added. The atmosphere is convivial, with the old hands coaching the younger members whenever they pause to discuss their manoeuvres.
The Trechler clubs have become a welcome feature of the Saanenland. Especially on New Year's Eve and New Year's Day, when they're out and about performing their pieces to ring the old year out and the new one in — at top volume. The Gsteig ensemble visited the Palace right from the start, in fact even before the club had officially been formed. Ernst Andrea Scherz, father of current owner Andrea, first hired them on New Year's Eve 1981 as a surprise for his international guests – although the security team took some convincing when the bell ringers turned up. Since 1982, the Gsteig Trechler have been a fixed element of the New Year celebrations at the Palace and an "instagrammable must" as they march along the corridors and down staircases, and eventually through the Palace kitchen.
"We usually get 400 francs for a 10 to 20-minute performance. The active club members come together for around 30 rehearsals and performances per year. The occasions range from birthdays, weddings and farmers' markets through to the annual Züglete in Gstaad, when the cows return home from their summer up on the alp meadows," Silvan Haldi explains. The highlight of the year is the club's get-together on the Vordere Walip Alp, hosted by the Perreten family. Known locally as a 'Suufsuntig', these events include prayers and the crowning of the most beautiful cow. The Perretens also own the Walig mountain lodge, the Palace's most luxurious suite in a former cow byre. The fees for the performances go to the club – to fund their bi-annual trips. These are usually to a Swiss destination, although they went as far as Canada one year. "But you have to regularly appear at practice sessions and performances to get included in the trips," we are told. To this end, the club keeps a signing in sheet — but that can wait until they re-assemble for a drink at their regular watering hole, the Restaurant "Heiti" at the campsite Bergcamping Gsteig. (rw)
48
49
DISTRICT HEATING WITH WOOD INSTEAD OF OIL
1968
HOW THE BEDS ARE MADE
There's nothing quite like freshly laundered bedding — washed, ironed and starched at "Laundry Gstaad". This pioneering project was co-founded by us. Today the local laundry runs on electricity supplied by the district heating plant and also contributes to reduced laundry transport and water consumption.
WHERE OUR STAFF LIVE
Our loyal, well-qualified and highly motivated employees are the recipe for the Palace's success. During the main seasons, the majority of them — around 250 people from 19 countries — live in "Marmite" and "Casa Bianca", both situated next to the Palace.
Sustainable mindset? Our 110-year history stands proof. The Gstaad Palace was built in 1913, long before the term sustainability became established, but the concept has always been with us. You could say that from the outset, we have carried the torch for sustainability. In 2008, the Gstaad Palace, as biggest customer, was instrumental in creating a district heating plant together with the local authority. A visit to the site highlights that this pioneering approach is more important than ever.
There was much excitement across the Saanenland when one of Switzerland's biggest wood chip heating plants to date was officially inaugurated in March 2009. Situated right behind Saanen Airport, the plant had already been supplying its first customer, the Gstaad Palace, since 1 December 2008. "The Gstaad Palace is one of our key consumers. The steadfast support we received from the owners encouraged us take this route at the time. Today, we are benefiting from that decision at several levels. In view of the complex global supply situation, heating with locally sourced wood has a clear strategic advantage. Not least because it provides our customers with the necessary autonomy," explains Rolf Schwenter, operations manager at the Saanen-Gstaad district heating plant. The site is operated by the energy contractor EBL (Genossenschaft Elektra Baselland). As such, EBL has been responsible for the construction, financing and further development of the plant, as well as all customer connections.
"
WE ARE FAMILY"
We named a restaurant in honour of our Gildo Bocchini. He was maître d'hôtel for more than 30 years and worked here for no less than 43 years. He is fondly remembered — with Restaurant "Gildo's". This is representative of many of our employees, whether they work in customer-facing roles or behind the scenes.
HOW WE HEAT
As the Gstaad-Saanen district heating plant's first and biggest customer, the Gstaad Palace heats the hotel and five additional buildings with renewable energy produced from local wood. But where we never heat is outside. Warm jumpers instead of patio heaters is our motto!
HOW WE PRESERVE OUR HERITAGE
We've leased a mountain chalet on the Walig alp that dates back to 1783. Situated at 1700 metres above sea, our most primal suite underwent only minimal renovation. It has no heating or hot water — and no Wi-Fi either.
Dinner is cooked on an open fire.
SUSTAINABILITY 51
1984 2003
2008
2008
Mountains of woodchips rise up beside the energy plant at "Dorfrüti". More than half a year's worth of energy is piled up here, protected from wind and weather by a modern building with a sweeping roof. "We have around 25,000 cubic metres of chips stored here. The huge advantage of wood is that this energy source grows in our region. And we know we won't be running low on this valuable resource in future either, as our woodlands around Gstaad are thriving," Rolf Schwenter tells us.
A grab bucket crane has just pulled up and is picking up a giant load of woodchips, to move them to the feeder silos for further processing. The crane's bucket is attached to a futuristic-looking telescopic arm, which is now extending outwards to allow the woodchips to be accurately deposited into the silos. From there they are then transported to the furnaces by an automatic feeder system. Operating the site requires elaborate logistics — three companies work hand in hand here. This is a decisive factor in allowing this type of district heating to be commercially viable.
"A great advantage of wood as a fuel is that it's CO2 neutral. The system we have here is called a closed loop. A similar thing occurs in nature, when the wood isn't taken for burning but is simply left to rot in the forest. Put differently: As long as we don't use more wood for energy production than is being regrown, the energy is classed as CO2 neutral.
WHERE YOU CAN RE-CHARGE
It's no secret that we have a passion for vehicles — and not just for classic cars such as our lovingly maintained Rolls Royce Silver Wraith built in 1952. Ever since the first Tesla hit Switzerland's roads, we've had charging stations for electric cars.
OUR LIGHT BULB MOMENT
For many years, LED lighting was a no-go in the luxury hotel sector.
We became LED trailblazers among our peers and made an early switch to a LED lighting concept. Even the soft hues of candlelight can be achieved the high-tech way — resulting in up to 80 % energy savings.
TALKING OF CANDLELIGHT
We systematically recycle our candles instead of throwing them away. Between 100 and 150 kilos of wax are collected this way each season.
2013
WHY WE PLANT TREES
In 1999, cyclone Lothar destroyed the Schafwald forest above the Palace. The Palace family invested 120,000 Swiss francs into planting 1500 new trees for reforestation and worked with local school children and the wider population to get them in the ground.
We guarantee optimal combustion, which ensures maximum efficiency," Rolf Schwenter elaborates. The two furnaces get through 47,000 cubic metres of woodchips a year. During the coldest period, from early December to mid-March, the two industrial burners run at maximum capacity. The annually consumed wood chip volume produces around 28 gigawatt-hours of energy. Among the consumers are hotels, public establishments, as well as small to medium buildings and even seasonally occupied holiday homes. At present, roughly 280 consumers are connected in total. Saanen-Gstaad district heating thus saves approximately 3.3 million litres of fuel oil, thereby directly and indirectly reducing CO2 emissions by 8745 tons.
Up until 2008, the Palace alone consumed more than 200,000 litres of fuel oil per year. Under the new system, water superheated to 125 degrees travels along an eleven-kilometre pipeline and reaches the Oberbort 25 minutes later. There it is distributed around the main building and five side buildings. Having cooled down to 55 degrees, it then flows back to the heating plant in Saanen. This isn't the first time that the Scherz family has relied on wood for heating, so the idea of a wood-based heating system has never been far from their minds. When World War II brought about a coal shortage, the family resorted to heating with wood. They travelled as far as the Col du Pillon to rip tree trunks out of the ground. Three large bandsaws were positioned behind the hotel for cutting the wood to size and no less than six employees had to be seconded to keep the hotel warm. (rw)
PARTNERSHIP PREVENTS FOOD WASTE
Our culinary director Franz W. Faeh is a founding member of the interest group 'Procurement Hotelierverein Gstaad-Saanenland', which sources local produce in partnership with other businesses. This means fewer shipments over shorter distances, and more local delicacies.
LESS IS MORE
The practice of minimising food waste continues in our kitchen — from the way we perform the miseen-place through to the portion sizes on the plates. In addition to preventing waste, we're also mindful of what we do with it, and therefore compost all garden waste ourselves — bringing the process full circle.
HOW WE KEEP OUT THE DRAUGHTS
From 1980 onwards, all new windows were fitted with double glazing. Now we're going a step further still. Any window that has been replaced since 2019 now features highly insulating triple glazing.
WHAT WE DO WITHOUT
There's no place for plastic in our amenities any more. And you won't find air conditioning here either. An open window does the job — and in summer, head out to the 'PISCINE' or up to the peaks.
52
2009
53
2011 2011
2021 2015 2015 2019
― EBL.CH
STAGE SET for RUBENS, CARAVAGGIO & CO.
54 55
ART
56 57
Safely arrived in Gstaad after a major logistical feat: One of Titian's few masterpieces still in private ownership.
Many years of intensive research: Claudio Metzger and Thorsten Zegrotzki present their painstakingly assembled collection of academic material on Titian's 'Portrait of Caterina Sandella'. The folder even includes the original 1932 paper by the famous art historian Guiseppe Fiocco, who wrote very enthusiastically about the painting.
Formerly part of the Henry Ford II collection: Renowned Rubens researchers consider this to be the most highly regarded 'Madonna and Child' painting by Rubens.
The paintings arrive very discretely, ETA unspecified, packed in large, wooden crates. They are accompanied by uniformed security, who swiftly carry the precious goods through the stage door and into the Salle Baccarat. The operation of getting them here followed a meticulously planned schedule, of which only few were informed.
Inside the hall, stage designers have been hard at work since the previous day. For once though, their focus isn't on the stage itself, where stars such as Ella Fitzgerald, Gilbert Becaud and Mireille Matthieu have appeared. Their task today is to build a black cube in the centre of the hall. With great care, the contractors manoeuvre the partitions around the crystal chandeliers after which the hall is named. And now, bit by bit, the treasures are revealed. The mini Louvre is gradually taking shape, like a pop-up museum for grand masters. The event was designed in every detail by Sira von Waldner, with a unique special selection of works. The aim is to present these remarkable paintings as part of an exclusive journey through the history of art.
Carefully cushioned, a Rubens is propped against a wall on its side. And gosh, is that a Campi emerging from behind a silk cover? It's mind-blowing when you realise the extent of the artistic riches that are coming together here at the Oberbort in Gstaad. Experts in white gloves are gradually bringing to light the precious artworks.
You can tell straight off that they're a well-rehearsed team. Sira von Waldner is responsible for the overall composition of this exhibition, the likes of which Gstaad and the Palace have never seen before. Cocurator is historian Claudio Metzger, who formerly specialised in numismatics and has since become an internationally recognised art expert and curator. Originally from St. Gallen and now based in Ascona, he and his partner look after a valuable collection of historic artworks works by great Renaissance, Baroque and Byzantine masters, as well as modern works.
As a homage to Gstaad, the exhibition designers have included the Swiss artist Cuno Amiet's portrait of his wife.
Over the past 30 years, Sira von Waldner and Claudio Metzger have made a name for themselves as art consultants for notable private collections. Thanks to the level of trust they have built up over the years, the collections in their care include works by Titian, Tintoretto, Raphael, Caravaggio and Rubens. They know all "their" paintings like the back of their hand. Being in charge of such renowned works necessitates fastidious examination of all related information, sources, letters, documents and export certificates, until the provenance and authorship of the relevant painting are beyond question.
The experts hold folder upon folder of secondary literature on each of the works. And they are probably among the most well-read on the topic. Such is their wealth of art historical facts and anecdotes that they can give impromptu half-hour or hour long talks on each of the exhibits.
The exhibition will be a unique and heady multi-sensory spectacle. In these inimitable surroundings, where time and space seem to dissolve, guests will be introduced to the exhibited masterpieces in an entertaining, individually tailored and professional form. A befitting musical backdrop, pleasant scents and finely-adjusted lighting will perfect the encounter — an incomparable and enriching experience offered to Palace guests.
Notably, it is also the first time that Michelangelo Merisi da Caravaggio's 'Boy Peeling Fruit' is being shown in Switzerland. It was exhibited in the Royal Academy in London in 1791, when it was still part of Sir Joshua Reynolds' collection, and has in recent years only been accessible at the most renowned museums, such as the Metropolitan in New York or the Palazzo Venezia in Rome.
61
Creative process: As the idea to stage an exhibition of world-famous paintings at the Palace Hotel in Gstaad took shape, a model was needed to aid the planning.
'
Boy Peeling Fruit' is thought to be Caravaggio's earliest documented painting. It is a metaphorical depiction of youth choosing the hardest and most sour of the fruit and peeling it, thereby facing up to life's challenges. Most scholarly experts on Caravaggio see this particular painting as the original prototype, which enjoyed such significant recognition even during Caravaggio's time that multiple copies were made.
Rubens has the greatest number of works in the exhibition. Alongside the prestigious 'A Statue of Ceres' there is a spectacular ' Arrival of Marie de Medici at Marseille' that was the model for the larger version held in the Louvre. The tender ' Madonna and Child' formerly belonged to Henry Ford II. Rubens is also represented with a rare 'Bacchus Seated On A Barrel', an unfinished sketch on paper — quite unusually showing sparkling white wine being poured. Perhaps it is a homage to the Champagne area of France, where Rubens owned a vineyard not far from that of the monk and cellar master Dom Perignon. The same joy and euphoria are expressed by Henrick ter Brugghen with his drinking violinists.
In contrast, we encounter Titian with a cautionary 'Ecce Homo', showing Jesus sacrificing his life for humanity. There is also the compelling juxtaposition of two portraits, both depicting Pietro Aretino's lover, painted by Titian and Jacopo Tintoretto respectively — the same subject portrayed by two rivalling masters.
Curator Claudio Metzger is visibly moved. " 'Boy Peeling Fruit' — in Gstaad! That's certainly a first for the Palace and probably also a first for any luxury hotel in the world. I'm all in a flutter, even I haven't seen 'my' pieces brought together side by side like this and in such concentration," he explains. Twenty masterpieces — presented by the Swiss AION Art Investment On
Next — will be on display for ten days. "We want to offer an interested clientèle a unique opportunity to enjoy these masterpieces in a relaxed setting," explains Thorsten Zegrotzki, CEO of AION in reference to his intention for this impressive event.
"That's a first!" Those very same words spontaneously pass Andrea Scherz's lips. Briefly, he is lost for words. Never before have so many exquisite artworks all been on show in a hotel at the same time. "We've had countless precious items under our roof — ranging from jewellery collections and vintage car auctions through to actual racing cars. But we've never had anything like this in the Scherz era. And of course I'm very proud that even Rubens is residing comfortably in the Palace," he says with a smile. Despite his packed schedule, the head of the house enjoys being guided through the exhibition by Claudio Metzger.
It took a considerable amount of work behind the scenes to make this possible. First agreement had to be obtained from each private owner for their pieces to be transferred to Gstaad and put on public display here. Then countless contracts with insurance and reinsurance companies had to be drawn up, before the valuable works could be transported to the Saanenland to be handed over to the curators. And finally, a comprehensive security concept had to be put in place, to allow the paintings to be on display in the hotel day and night. And that's exactly where the experience of the Palace team comes in.
Just now, the last protective coverings are removed, the paintings' name and history is mounted and lights are manoeuvred into position. Everything is ready — the stage is set for Rubens, Caravaggio & Co. (hl)
62
63
The beginning of an extraordinary career in the 17th century art world: 'Boy Peeling Fruit' dates from Caravaggio's early years in Rome, a period during which the young artist proved his outstanding talent.
― AION.ART
HAUSER & WIRTH AT THE «VIEUX CHALET»
64
ARTS
65
The door is slightly ajar, we go in. A Giacometti greets us in the hall, a Beckmann painting adorns the living room, pieces of furniture by Loose are carefully positioned around the room. James Koch, Partner & Executive Director at Hauser & Wirth affords us a warm welcome at their permanent outpost in Gstaad, the Vieux Chalet. Once the private chalet of legendary photographer Gunter Sachs, it was taken on by Hauser & Wirth in 2015. Now this remarkable gallery set in a residential space is used to exhibit a selection of masterpieces of classical modernism and contemporary art.
Mr. Koch, why did you choose an old chalet, of all things, for your purposes? We were looking for a residential house to present art in a domestic setting, so our clients can experience it as they would in their own homes. Another reason was that we wanted a private space where we can spend time with our collectors and have conversations with them.
When did you become active in Gstaad and in the Vieux Chalet? We have been resident at the Vieux Chalet since 2015, with regular exhibitions. We have also organised installations in public spaces and exhibited at Tarmak22, featuring artists such as Louise Bourgeois, Jenny Holzer and Paul McCarthy. This December, we will have an exhibition by the renowned Johannesburgbased artist William Kentridge at Tarmak22, alongside a presentation of two of his large scale sculptures in the gardens of the Gstaad Palace. This marks the first time the artist is showing his outdoor sculpture in Switzerland.
Do you regularly refresh the selection of works at the chalet? We display a new selection of works at the Vieux Chalet at the start of every season. The pieces are all for sale. Whenever a work is purchased, it is of course replaced by another. The Vieux Chalet provides the perfect environment in which to experience art in an intimate setting and invites you to linger, exchange ideas and discuss the exhibited pieces.
67
Hauser & Wirth is present in a range of locations — from New York and Monaco to St. Moritz and the Saanenland. Wherever possible, the gallery cooperates with local partners with a view to a long-term presence and commitment on the ground.
The fact that Hauser & Wirth has been active in Gstaad for more than seven years is largely down to James Koch himself. He was the driving force behind the project and still spends a lot of time at the Vieux Chalet.
Is there an educational intention behind your events? Naturally, all activities of Hauser & Wirth are about bringing art closer to its viewers. Installations in public spaces, such as Jenny Holzer's projected Truisms on the façade of the legendary Palace Hotel and the surrounding landscape, provide us with the opportunity to introduce the public to new art forms.
How does Gstaad differ from other hubs such as Miami or Monaco? Everything is more low-key here, a little calmer. Also, in the summer, during festival season, we see a different kind of audience. But whether summer or winter, our clients appreciate personal exchanges and our multi-faceted presence in Gstaad provides the necessary space for that.
Is the art trade in flux, are you sensing any new trends? Yes, definitely. We're currently seeing an increase in very young collectors as well as multi-generational family visits.
Which countries do your visitors come from? Here in Gstaad, ignoring the past two pandemic years, our loyal clientele is mainly from Europe and the US. Previously, we had been welcoming a growing number of people from Asia to the Bernese Oberland, but they haven't yet returned.
68 69
How many guests do you welcome each day? We arrange a maximum of one or two appointments per day. It's important to us to allow time for these conversations, which is why we make sure there is no pressure in terms of time and space.
How do the locals respond to Hauser & Wirth's presence? Very positively. We're on excellent terms with the hoteliers. This is particularly true in the case of the Palace, with which we have the privilege of collaborating on a regular basis.
Why did you choose the Palace for your installation? Because the iconic building was simply made for it. For over a century now, it has been a distinctive feature in the landscape a kind of foreign body, if you like while at the same time forming a permanent landmark in the life of both guests and locals alike. Besides, the Palace is visible for miles around and people all over the world know it. And in Andrea Scherz, we had the good fortune of finding a partner open to all sorts of creative ventures.
So, the Palace as the ideal screen on which to project ideas? Exactly. For dreams and new projects. And I can promise you, there's lots more to come! (rw)
70 71
Hauser & Wirth was founded in Zurich in 1992 by Iwan Wirth, Manuela Wirth and Ursula Hauser. A family business with a global outlook, Hauser & Wirth has outposts in Hong Kong, London, New York, Southampton, Los Angeles, Somerset, Menorca, Monaco, Zurich, St. Moritz and Gstaad. The gallery represents more than 90 artists and estates who have been instrumental in shaping their identity over the last quarter of a century.
― HAUSERWIRTH.COM/LOCATIONS/2252-GSTAAD/
FIRMLY IN THE SADDLE: BARBARA BRANCO SCHIESS
72
73
PERSONAL
You could say that she doesn't really need to travel for her holidays, because she lives where others come for theirs — on Chämelistrasse in Lauenen, high above Gstaad. Speaking of travelling: Barbara Branco-Schiess, our trusty Guest Relations Manager, likes to cover the miles on two wheels. Every day, she gets on her e-bike and rides down into the valley — and then up to the Palace.
It's just before 8 am and Barbara is sipping her green tea outside on the balcony, in the rocking chair specially crafted for her by her husband and Palace handyman Luis. The view is breath-taking and Barbara, originally from the lowlands of Canton Thurgau, will never tire of gazing at it. With commanding beauty, the Wildhorn Glacier, Muthore and Spitzhorn peaks soar above the sleepy hamlet of Lauenen, less than 10 kilometres from the sophisticated Gstaad. "You could almost think you're on another planet. And it's certainly a huge privilege to live where others come for their holiday," Barbara muses. Usually, she's the one organising excursions for others. Such as an e-bike tour to the legendary Lake Lauenen, or a trip to one of the other picturesque side valleys around Gstaad. But today she's showing us her own daily excursion ― her commute to work, which she always does on two wheels.
"Unless it's raining cats and dogs. Then I take the Postauto. After all, the stop is only two minutes away from our house."
Gathering her kit, she dons her elegant outdoor gear and grabs the battery. She always recharges it overnight, ready for the next day. Not that she needs it for her descent to Gstaad, but it comes in very handy for the climb back up to Lauenen, which usually takes her around half an hour. She disappears into the lift and down to the underground car park, where she keeps her bike. Helmet on, bag in basket and she's ready. A quick chat with Simon Oehrli, the local cartmaker, whose state-of-the-art workshop occupies the ground floor below the attic apartment where Barbara and Luis live. "By the way, Simon is Hans Ruedi Oehrli's son. Our regular guests will remember him, he was Chief Engineer at the Palace until 2018. And it was him who told us about this fantastic flat," Barbara enthuses. "Getting it was an incredible stroke of luck. That's the way it is in our Palace family, what goes around comes around. You help each other out whenever you can." Luis and Barbara, who has worked at the Palace for 24 years, used to live in a small rental flat in Saanen. "Now we have our own grand panorama and much more space."
Barbara makes her way to the main road, across meadows where cows are grazing. They don't even glance up at her, they're far too busy tucking into the juicy herbs and grasses. She exchanges a friendly 'good morning' with Mr Reichenbach. In his capacity as a coachman, he is also regularly seen at the Palace, taking guests out in the horse-drawn carriage. Then Barbara turns off onto the main road and heads down into the valley.
She cycles carefully, braking before the corners, as it's quite a steep descent. Then she reaches the plateau by the Enge, before breezing along beside the Louibach stream. Just before the sawmill, she turns left over the bridge and joins the official cycle path to Gmündten, which is closed to general traffic. Time to switch on the battery, this section of the route is quite a climb. But thanks to the extra burst of power, she has no problem tackling the steep ascent. It's not long before the white Palace with its yellow awnings comes into view, beckoning in the distance. Atop the hill, Barbara puts in the obligatory stop. "This is usually where the jacket comes off," she explains as she whips it off.
"Hoi!" Barbara calls out the customary greeting to an approaching group of fellow cyclists, and then a cheery
"Salut!" as she passes a farmer making hay. Another friendly hello goes to a dog walker enjoying a morning stroll with her Bernese Mountain Dog. Before too long, Barbara comes to the Wispilenstrasse junction and takes the left turn leading down past the Park Hotel. At the Ober-Gstaad car park she joins the main road and then it's soon time to gear up for the final sprint. Beyond Buure Metzg butchers and the cinema, the ominously steep climb up to the Palace looms.
One last time, she activates the battery. Just in that moment the Golden Pass Panoramic train glides past with a deafening whistle ― a scene that could be straight from the travel guide. Barbara is quick to overcome this final ascent, dismounts and parks her e-bike outside Casa Bianca, the staff house next to the Palace. Helmet tucked under her arm, bag over her shoulder, Barbara flies through the underground corridors to the changing rooms. A short, refreshing shower and she's ready, out front in uniform ― our Barbara BrancoSchiess, Head of Guest Relations. (rw)
Lauenen tour on Swiss e-bikes by Thömus Miloo, available to rent from the Palace concierge.
― THOEMUS.CH
74
75
TOFU FROM THE KLOPFENSTEIN BROTHERS
At a quarter past five in the morning, when Mr and Mrs Swiss are still tucked up in bed, it's all hands to the pump at the Bahnhofstrasse in Frutigen. Here, in a former butcher's shop, three men dressed in white from head to toe, and barely visible through the fog, flit through the rooms in their hygiene caps. Steam rises from giant vats and a sweet-salty aroma hangs in the air.
Dairy farming has long been a key industry in the beautiful Bernese Oberland mountains that surround Frutigen. But it's not cheese they're making here. Business owner Samuel Klopfenstein did in fact earn his living as a cheese maker for many years, before switching over to tofu and seitan. Now, Samuel is a master in the production of these originally Asian specialities, which are increasingly gaining in popularity. Tofu, which originated in China and is also known as bean curd, is produced from soya milk, while seitan is made from wheat gluten. Due to its meat like consistency, seitan is a popular choice for use in Japanese tempura dishes.
"We are seeing a clear trend towards more vegetarian and vegan nutrition. We recognised this early on, and now our pioneering spirit is finally paying off," Samuel Klopfenstein tells us. The history of the business goes back to 1992, when his pre-predecessor had the (crazy) idea to produce tofu in Frutigen. In 1998, Beat Schmid then founded the Futur Naturprodukte company. Klopfenstein joined the team in 2012 and was able to acquire the entire business in 2017. He now has three to four members of staff helping him. In 2017, the company produced 17 tons of tofu over 12 months. This has since increased to more than 30 tons. Samuel's twin brother Christian now works alongside him quite a change from his previous work as a bricklayer and machinist. Samuel Klopfenstein's other brother Martin, ironically a trained
77
MEAT FREE
butcher, has also joined the business. The two are currently busy making seitan "logs". Using their considerable strength, they knead and knead the seitan mass, which consists of pure plant protein. To produce seitan, the wheat flour is washed to remove the starch, leaving behind a sticky mass of high-protein gluten. This dough is then cooked in soya sauce.
"Seitan contains high-quality plant protein and is free from purines and cholesterol. It is nutritionally healthy, especially for people with diabetes, heart disease or circulatory disorders, but is also quite simply a tasty alternative for use in vegetarian cooking," Samuel Klopfenstein tells us. Futur's seitan logs are bathed in organic soy sauce. It took some searching, but the Klopfenstein brothers eventually found a traditional producer in China to source this from. The logs are left to steep in the highly aromatic stock for at least two hours to give them their distinctive flavour. They can later be sliced, diced or grated for incorporation in vegetarian dishes.
On this morning, the Klopfensteins and their helpers produce 130 kilos of seitan and 480 kilos of tofu. By lunchtime the steaming spectacle is over, the afternoon is then spent cleaning the facility. Where do you source your soya beans for the tofu from, we ask. "They're cultivated by
the Swiss federal research institute Agroscope," Samuel Klopfenstein informs us. The majority of it grows at elevations up to 550 metres above sea, in the Bernese Seeland and around Lake Neuchâtel and Lake Geneva. The rest comes from the Ticino. Incidentally, the cultivation of soya beans in Switzerland is not entirely new. The highly nutritious beans were also grown here during World War II, as part of the drive to increase domestic food production. The protein content of raw soya beans is around 36 to 40 percent, which drops to around 14 to 16 percent after they are processed into tofu. One kilo of soya beans makes approximately 1.8 kilos of tofu.
To make the tofu, the beans are first steeped in pure Bernese Oberland spring water and then left to "mature". The temperature of the water and the surroundings play an important role in this process. During this initial step, the whitish to pale yellow beans gain up to two thirds in volume. Hygiene is of supreme importance in the production of tofu. This explains why steam can be seen rising from all corners of the premises and why the men are clad in rubber boots, gloves and caps as they wield their hose pipes. Once the beans have swelled up enough, they are passed through a colloid mill, a contraption similar to a large passe-vite. The machine sucks the beans in and turns them into a purée, which is then heated to between 85 and 95 centigrade another hygiene requirement. The grinding, which takes around 30 to 40 minutes, allows at least 85 percent of the protein to be extracted from the beans. The resulting mass, also known as slurry, is then put into a press to separate the nutritionally valuable soya milk from the pulp. Nigari, a Japanese coagulant made from sea salt, is then added to the soya milk. This final step results in tofu, as well as the by-product soy whey, which is used in animal feed or for producing biogas. Finally, the tofu is pressed for around eight minutes, cut into pieces and cooled in water. "How much we press it is a matter of intuition and of course a company secret," we are told by Samuel, the former cheese-maker who now produces organic tofu in a range of flavours. (rw)
78
"
WE ARE SEEING A CLEAR TREND TOWARDS MORE VEGETARIAN AND VEGAN NUTRITION. WE RECOGNISED THIS EARLY ON, AND NOW OUR PIONEERING SPIRIT IS FINALLY PAYING OFF."
79
― FUTUR-NATUR.CH
NEUROCOSMETICS WITH SWISS CBD
SPA
Did you know that your skin and brain are closely linked? The science of neurocosmetics investigates the implications for our daily skincare regime. Could creams, oils and serums have a positive effect on our mental state?
It's a highly relevant question that goes more than skin-deep. I.D. Swiss Botanicals studies the interaction between skin and brain, and how we might benefit from the revolutionary plant-based active substance Cannabidiol (CBD) — 100% Swiss made.
Antioxidative, calming and regenerating: The I.D. Swiss Botanicals range includes a moisturizer, night cream, face mask and three different serums. The premium products manufactured in Lausanne consist of 99 % natural ingredients. All contain Swiss Cannabidiol and locally pressed organic hemp oil, as well as other components such as shea butter and Kakadu plum.
TRY THEM AT THE PALACE SPA: "I.D. Swiss Botanical Ritual" treatment with products by I.D. Swiss Botanicals.
They say that the skin is a mirror of the soul ― it's a notion that links in with a very current field of research. Our skin and our brain, two of the most complex organs of the human body, share the same origin. Both our neural system and our epidermis form on the 21 st day of embryonic development. Sometimes everyday occurrences make us wonder how closely skin and brain are linked, for example when a spot surfaces just before an important event, or when a love-struck friend seems to radiate happiness from every pore. But back to science, more precisely to neurocosmetics, which explores these connections.
If our mental state has a direct influence on the health and appearance of our skin, can the external application of creams, oils or serums have a positive effect on our mental well-being? "Yes," says Prof. Laurent Misery, Head of Department of Dermatology at the University Hospital Brest in France. Back in 2000, he coined the term neurocosmetics in relation to "products that are applied to the skin and trigger activity in the cutaneous nervous system". But the term sparked much debate. Consequently, the cosmetics industry now uses descriptions such as 'mood lifting' when marketing products that are intended to have a positive impact on a person's state of mind. It's certainly true that some beauty treatments and wellbeing rituals have a positive effect on our mood. But neurocosmetics aims to go beyond the psychological effects and work on a physiological level too. Brands such as I.D. Swiss Botanicals are conducting studies into how the mental state of a person can be positively influenced by the external application of oils, creams or serums.
Although the neuroactive properties of plants have been known to mankind for centuries, even millennia, we have only recently begun to investigate these complex connections. One of the currently most fascinating fields of research in neurocosmetics is the endocannabinoid system. This biological system, which is found in the brain and nervous system of all mammals (and thus in humans), regulates vital functions such as sleep and eating behaviours. It also plays a key role in mood disorders such as anxiety, hyperactivity or depression. CBD, the most thoroughly researched external cannabinoid to date, provides access to numerous receptors, channels and transporters inside the cells, especially those of the endocannabinoid system. Its antioxidant, anti-inflammatory and repair functions are already well known. But CBD can also have a positive effect on the microbiome and cell growth in the skin. Scientists in neurocosmetics intend this revolutionary substance to form part of an integrative therapeutic approach — the use of CBD as a complementary, supportive alternative, to reintroduce the peace and calm of nature into our stressful daily lives. Or in other words: to lead from inner to outer beauty and vice versa. (nr)
82
83
― EN.IDSWISSBOTANICALS.CH
ONCE UPON A TIME in SAINT-TROPEZ
DREAM HOTEL
There once was... a father and a daughter. They lived in one of the most beautiful corners of the world, the Côte d'Azur. Creative and resourceful, they kept asking themselves, how can elegance and wellness, pleasure and healthy living be brought together under one roof?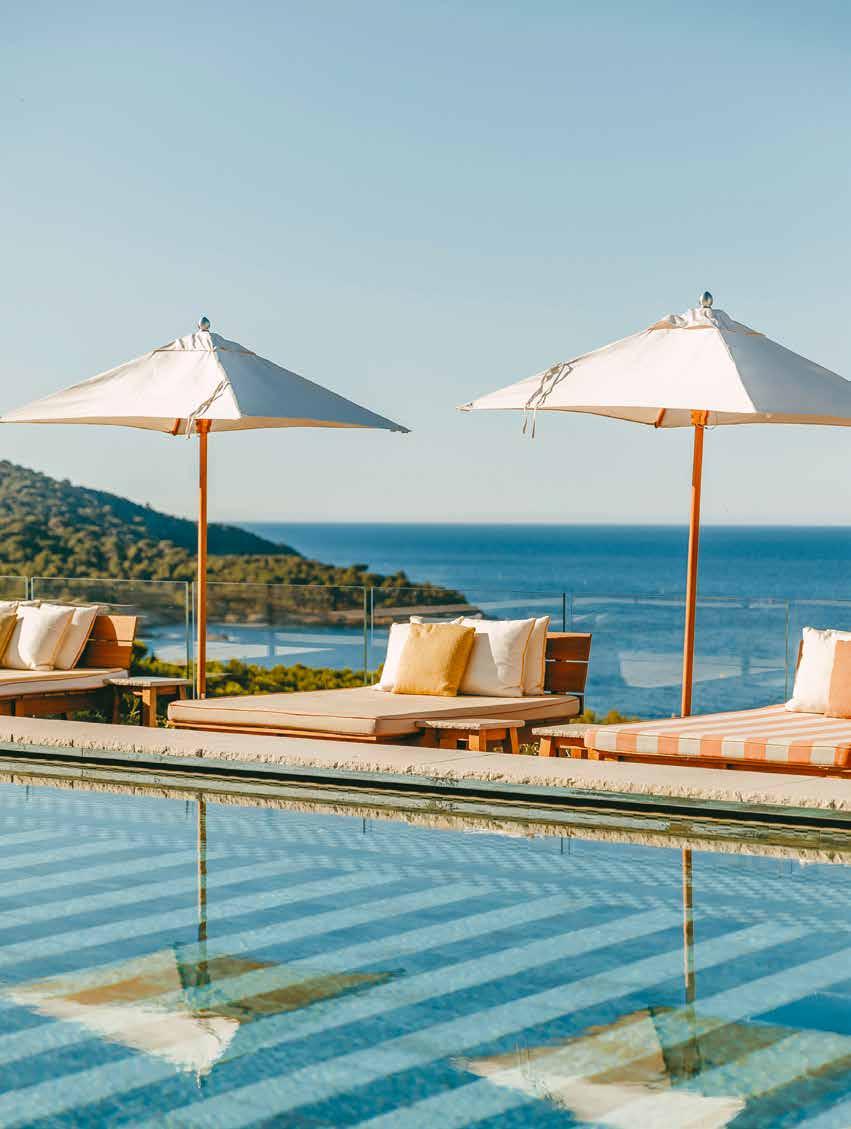 The result is "Lily of the Valley", a wellness resort inspired by Babylon's long lost Hanging Gardens of Semiramis.
"To my mind, what's been created here is like a fairy tale retreat, just a few kilometres outside Saint-Tropez. And they really spared no effort, if you'll forgive me the pun," enthuses Andrea Scherz. He is referring to the luxury hotel "Lily of the Valley" situated on the French Riviera. When he visited a few years ago, he was instantly smitten by the discrete resort. Designed by French star architect Philippe Starck, "Lily of the Valley" is an innovative wellness hotel with an inspired concept luxury in its most natural form. The complex, comprising 38 rooms and six suites, is harmoniously woven into the pine-dotted hillside, giving it a village feel. A further eight villas with private pools make up the Beach Club. The adjoining private beach, Plage de Gigaro, stretches out for almost six kilometres. Natural materials such as marble, leather and wood, as well as polished concrete dominate throughout the complex, which is nestled into spacious landscaped gardens.
Those guests who want to rapidly enhance their well-being choose the "TGV" programme. Named thus in playful reference to the French "Train à Grande Vitesse", it is a three-step body balance process devised by prominent nutritionist Jacques Fricker. The speed at which the unwanted extra pounds melt away is decided by the client. All programmes in the Valley Shape Club are custom-tailored by experienced personal trainers and can stretch over four, seven, ten or 14 days. No healthy body without a healthy mind and without delectable, flavoursome cuisine. At "Lily of the Valley", wellness includes all aspects of the dining experience. Chef de Cuisine Vincent Maillard has shared the kitchen with the greatest in his profession, including Alain Ducasse and Guy Savoy. When it comes to the epicurean satisfaction of his guests, he is a virtuoso. His Mediterranean cuisine places emphasis on locally sourced, seasonal ingredients for maximum taste. And what's the story behind the name "Lily of the Valley"? It's safe to say that the enticingly scented, eponymous queen of flowers is on no account suitable for consumption. Still, it's beautiful to behold when it comes into bloom among the Collines de Saint Michel around May-time. (rw)
84 85
― LILYOFTHEVALLEY.COM
MASTER of the ANIMALS: MAURIZIO PAGLINO
Everybody knows Maurizio Paglino. He's been a part of the Palace family for 39 years, as keeper at the Walig mountain lodge during summer and as maître in our Grand Restaurant during winter. But what hardly anyone knows is that Maurizio loves nothing more than to go hunting for the perfect shot. In his private time, he ranges far and wide across distant lands — together with his partner and friends from Italy. Now Maurizio has agreed to share some of his best pictures from South Africa and Namibia — exclusively for JOURNAL readers.
Maurizio Paglino keeps his Nikon by his side at all times. No wonder, seeing as it cost him a princely 7000 Swiss francs, plus a further 5000 francs for the top-of-the-range Leica lenses he uses. He always books at least 5 to 10 kilos excess luggage when he flies ― his valuable equipment is remarkably heavy. That's the way it goes when you travel with a pro. He's been a passionate photographer since he was 14.
Destination: Namibia. 2015. The red dunes of Sossusvlei where a must-see for Maurizio. He took his favourite shots early in the morning, just as the mists started to lift. On the Skeleton Coast he went in search of the best angles from which to capture the stranded wrecks of ships caught out by the treacherous currents. "It's the landscapes, the vastness, those poetic vistas that draw me in. And the animals of course."
PHOTO SAFARI
"They're so incredibly beautiful. And as they say: A picture is worth a thousand words." Fortunately, Maurizio has always had a steady hand, even that time in the Etosha Pan, when a bull elephant appeared just metres away from his Jeep, seemingly out of nowhere. Maurizio was in his element.
A year later, he found himself in a similarly sticky situation at the Ngorongoro Crater in Tanzania. A tyre needed replacing, right by a watering hole. And then another one. Even experienced traveller Maurizio started to feel a little uneasy, especially when the ranger got two tranquillizer darts ready, in case any lions came to check out the stranded vehicle. "It took a nerve-racking 45 minutes before we were up and running again," Maurizio remembers it all as if it were yesterday. "Once a year, I like to do a really long trip," he tells me. For his next destination, he fancies the Kruger National Park. Or perhaps he'll head to Botswana although the required Malaria prophylaxis makes him reluctant to venture into the wilderness of the Okavango Delta. A birdwatching safari is also on his wish list. One thing is clear, there's no stopping this determined globetrotter. (rw)
THE LAST FASHION SHOW
Surrounded by scintillating free spirits back in 1956, I hit the Palace Hotel running, as they say. My room overlooking the parking had no bathroom and it cost me five ― yes five ― dollars per day, as back in those halcyon days there were four Swiss francs and thirty centimes to the dollar.
The guests back then were less transitory, to say the least. By this I mean there were regulars that returned year in and year out, took the same rooms, and had their regular tables reserved in the hall and in the dining room by the always impeccably groomed staff. Regulars outnumbered new arrivals, hence both the summer and winter stays felt like a homecoming weekend.
The Goulandris, Livanos, Karras, Papastratos and Taki families were among the regulars, whose children and then grandchildren continued the process. There were many French, Belgian and Spanish families, and even a few English ones like The Warwicks, and the Brunsfields. I was a close friend of most of those mentioned above, but my closest ally was Leonida Goulandris, whose grandparents and parents were regulars. Leonida and I drank and chased women non-stop and got into trouble regularly, and the barmen knew our drinks and served them the moment we came into the hall.
One year the Palace organized a fashion show and Leonida had the bright idea to draw large numbers from one to ten and hand them out to other male friends. As the models strut showing the latest fashions, we flashed our numbers depending how pretty we found the models to be. Everyone was laughing including the models until couple of male models came out. Both got "1"'s and the place suddenly went quiet. It was rude but we meant it as a joke. Needless to say, the Palace has not held many a fashion show since, at least not one that had an invitation with Leonida's and mine name to it.
Taki Theodoracopulos (born August 11, 1936), best known as TAKI is a Greek-born journalist and writer living in New York City, London and Gstaad. Takimag.com
TAKI TALK
LES NOUVELLES de GSTAAD
IN-HOUSE
Deco style, the pool bar serves light and refreshing summer snacks, created by head chef Franz.
TAKE A LOOK: OUR NEW WEBSITE
"Gstaad Palace: It's not a fairy tale, it's real" is our new banner. In line with this, we have also turned a completely new page regarding our online presence. You will see — if indeed you haven't seen already — that our new site packs quite a punch. It is brim-full of surprises, content and stories never told in this way before. Doing away with the standard vertical scrolling, we are presenting our 110-year history through a horizontally moving composition that allows you to immerse yourself step by step. Not unlike a classic story book — except that in this case none of it is fiction and everything is real. Take a look and feast your eyes: palace.ch
ICONIC: "PISCINE"
After several months of work, our new pool bar was already up and running in time for the summer season 2021. The new format for our pool is also a return to the roots — to the classic "PISCINE" with it's Olympic-sized outdoor pool built in 1928. We wanted to make it "the place to be", for our hotel guests as well as outside visitors. Elegantly integrated in matching Art
Even our GreenGo is setting up camp by the pool: While the club is once again open to everyone for the entire season, the GreenGo now also has a stage by the "PISCINE". Resident DJ Jim Leblanc, mastermind of the GreenGo, will be providing cool sounds every Friday to Sunday evening. Enjoy trendy beats with your sundowner — for a classic Gstaad Palace summer.
GreenGo night club. The Spa design combines wood and brass elements with muted warm colours to create an elegant interior, interspersed with tropical planting for a hint of exotic glamour. The glorious view of Wispile mountain and the Diablerets range as seen from the jacuzzi is an added bonus. Meanwhile, the garden has also been transformed with a new planting scheme — welcome to our verdant recreation space.
LOCAL NEWS
SUGGESTIONS
ALL NEW: THE EGGLI
NEW ON THE BLOCK: GAGOSIAN
LEGENDARY: OUR INDOOR POOL
We've also pulled out all the stops for the indoor pool. The legendary relaxation space has undergone a complete renovation, and the outdoor pool area has been freshened up in stylish Art Deco fashion. The centre piece is the new bar, which serves freshly prepared smoothies and snacks during the day. State-of-the-art technology allows the bar to be transformed every evening to function as part of our
BOARDROOM: YOUR OFFICE IN THE MOUNTAINS
Workation at the Palace. Hold your meeting at our cool green natural stone table in the new boardroom. The conference room offers space for 12 people and features cutting-edge video conferencing facilities. Confidential meetings of any kind can be held here in a calm and collected working environment. An adjoining lounge area, equipped with a small kitchen, offers additional space for breaks and informal exchanges.
DIRECT LINK: LUCERNE MONTREUX
A day for the history books: From 11 December 2022, the GoldenPass Express of the Montreux Oberland Bahn (MOB) will be running a direct service from Montreux to Interlaken every 45 minutes. The vision of the railway pioneers has finally become reality: The Swiss tourism hotspots Montreux, Gstaad and Interlaken will be directly connected. This is thanks to a technical upgrade, Swiss made of course. Designed by MOB and developed and manufactured by Alstom, the new bogie system will switch between metre gauge (1 m) and standard gauge (1.435 m).
The premium rolling stock is supplied by the Swiss railway manufacturer StadlerRail, the driving trailer by Pininfarina.
Introducing the Eggli mountain to our guests would be like carrying water to the River Saane. Still, for those who haven't been here a while, it's good to know that lots is new on the Eggli. Gstaad's 'local mountain' is certainly a hotspot for those who enjoy the good things in life. Since 2019, visitors float up and down in the new 10-person gondolas designed by Porsche. And for sustenance there are now two options — head to Restaurant Eggli for a select cuisine or the Eggli Lounge for simple, local fare. A treat for everyone who appreciates lunch with a view.
NEXT STOP: THE STATION
It's not only in the Palace that our Very Important Kids (VIK) are treated like princes and princesses, there's also plenty on offer for them across Gstaad. Not least of all at 'Station Saanen' — an interactive adventure centre in the former fire station, supported by the Gstaad Palace. Skill-based games, a labyrinth for the senses and boxes and boxes of construction kits for budding engineers who want to build railway tracks, Eiffel towers or dream castles. At Station Saanen they can let their imagination run free.
Gagosian is the latest gallery to arrive in Gstaad — centrally located at the historic Promenade 79. The art experts from Los Angeles opened a permanent branch in Gstaad in February 2022 — their second location in Switzerland after Basel, where Gagosian has been present since 2019. Over the past few years, Gagosian has attracted attention in the Saanenland with a string of pop-up presentations, showing works by Giuseppe Penone, Andreas Gursky, Marc Newson and Ed Ruscha. The Gstaad gallery was designed by Rémi Tessier, who was also responsible for Gagosian's Paris quarters.
PALACE CHOICE: STEBLER UHREN BOUTIQUE
It's common knowledge that beautiful watches are greatly sought after. And that a Rolex is a Swiss cultural asset is also widely understood. For the Palace, it's simply a matter of honour that we bestow one of these to our most loyal employees — for the many years that they have devoted to us and our guests. The timeless presents come from Stebler Uhren & Schmuck, who have set up a Chalet Boutique at Promenade 55 in Gstaad, in the rooms formerly occupied by Villiger.
Sought and found by Andrea Scherz.
92
93
ART TOUR QUATTRO DOLCI STAGIONI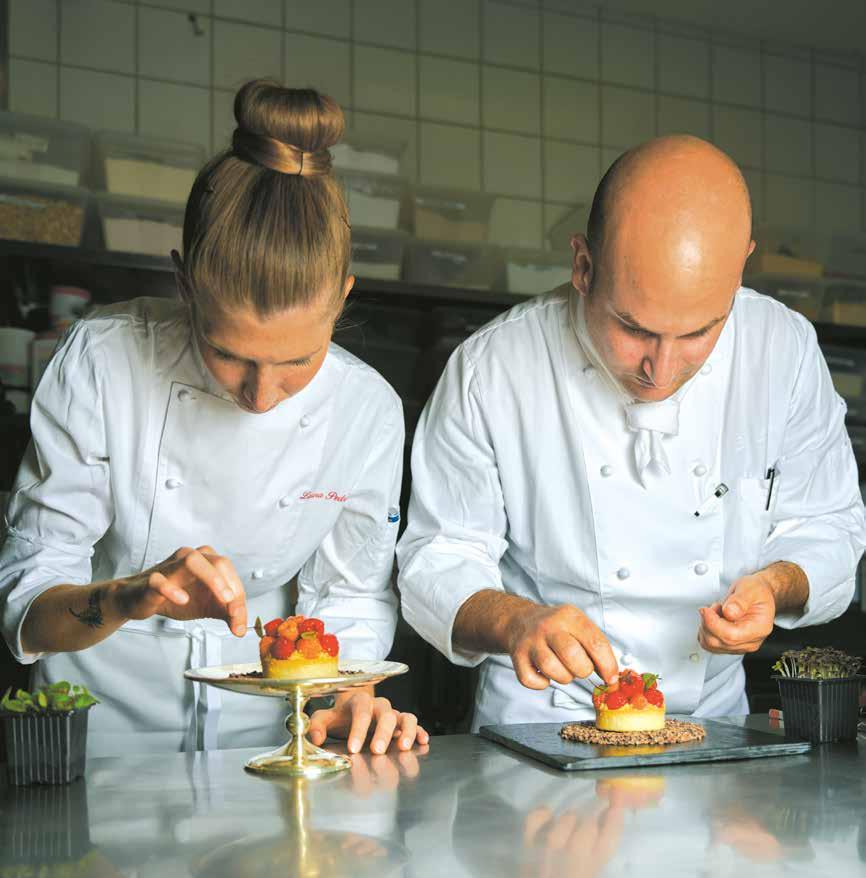 SPECIAL
SWEET
"I
found my love in Portofino": In 1959, this sweet tune penned by Leo Chiosso and Fred Buscaglione was picked up by French-Italian singer Dalida and took the world by storm. It is also the guiding theme for the double love story described on the following pages. For here at the Gstaad Palace it isn't just the patisserie recipes that hail from Italy, but also the experts who prepare them. Two experts, to be precise, who got to know and love each other in Portofino – Laura Pedrielli and Emanuele Lucania.
"During our childhood in Italy, Switzerland was seen as a highly desirable country to live in. We both always wanted to work here. The fact that we have achieved this, fills us with pride."
Laura Pedrielli & Emanuele Lucania
Both are dessert maestros, he from Palermo, she from Modena. They have travelled through life together for seven years now, in the kitchens of the world's grandest hotels and also privately. The two fell for each other while working at the "Splendido" in Portofino, formerly an Orient Express hotel, now part of Belmond. "I have Laura to thank for the fact that I've ended up at the Gstaad Palace. It was her who sent off my application — without telling me! Out of the blue, a call came from the Saanenland. Ed eccomi, here I am," Emanuele tells us with a smile. A short while later, another position became available in the patisserie department. So Laura, who originally trained in graphic design and changed career at 24, seized the opportunity and
applied. The two of them were frank with their new employer about being a couple and engaged, serving the fact up openly and honestly, on a silver platter so to speak. For five years, they have celebrated their passion for the sweet things in life at the Gstaad Palace. They have now created four compositions, one for each season — for Journal readers to recreate and delight their loved ones at home. (rw)
"I found my love in Portofino
Perché nei sogni credo ancor
Lo strano gioco del destino
A Portofino m'ha preso il cuor
Nel dolce incanto del mattino
Il mare ti ha portato a me
Socchiudo gli occhi a me vicino
A Portofino rivedo te"
Leo Chiosso & Fred Buscaglione
PS. For everyone with a sweet tooth, Laura and Emanuele have created their own brand of healthy chocolate cookies — quite by coincidence and off their own backs. When Emanuele brought his chocolaty triumph to a management meeting last year, head of house Andrea Scherz was instantly hooked and helped the couple put the final touches to the cookie recipe. The delicious treats are prepared with love and attention and can be found in the minibar of every room.
Recipe
SPRING: TROPICAL DECLINATION Recipe on page 102 SUMMER: VANILLA TARTLET WITH RASPBERRY MEDLEY
on page 103
COFFEE BREAK Recipe on page 104 100 WINTER: GSTAAD PALACE CHOCOLATE MOUSSE Recipe on page 106 101
AUTUMN:
SPRING: TROPICAL DECLINATION
SUMMER: VANILLA TARTLET WITH RASPBERRY MEDLEY
Batter for low-fat carrot and coconut cake (15 fairy cakes, diameter 6 cm) 75 g flour 20 g spelt flour 120 g icing sugar 4 g baking powder 2 g orange zest 3 g salt 125 g egg 120 g sunflower oil 50 g grated carrots 70 g desiccated coconut
Combine the first 6 ingredients in a bowl, then add the egg, oil and finally the carrots and coconut. Portion the batter out into suitable moulds and bake at 180°C for 15 minutes. Insert a toothpick to check the cakes are done. Gluten free version: Use rice and buckwheat flour instead.
Tropical sauce 3 fresh mangos 125 g coconut milk 20 g sugar (optional)
Peel the mangoes, purée in a food processor and mix with the coconut milk.
Yoghurt ice cream 80 g cream 210 g natural yoghurt 60 g sugar 3 g lemon juice
Bring the cream to the boil. Separately mix together the yoghurt, sugar and lemon juice. Add the boiling cream to the other ingredients and combine thoroughly with a hand blender. Place the mixture in an ice cream maker, to be stirred continuously in the freezer for 8 hours.
Mango chips 50 g mango purée 10 g rice flour 10 g sugar
Combine all ingredients in a small saucepan and cook until a hard consistency is reached. Thinly apply the mix to baking paper and dry in the oven for 4 hours at 50°C.
* * *
Place the cake in the centre of the plate and garnish with a scoop of yoghurt ice cream and mango chips. Arrange some diced mango around the cake, add the tropical sauce and serve immediately.
Shortcrust pastry (10 cakes, diameter 8 cm) 250 g flour 125 g icing sugar 125 g butter (room temperature) 60 g egg 1 g salt ½ vanilla pod
Combine icing sugar and butter (room temperature) in a bowl, add the salt and vanilla, then the egg and finally the flour. Shape the pastry to form a small square and cool for 8 hours wrapped in cling film. Roll out the pastry to 3 mm thick and cut with lightly buttered pastry cutter (round, or shape of your choice). Bake in the oven at 170°C for 12 minutes.
Vanilla cream 250 g milk 160 g cream ½ vanilla pod zest of 1 lemon 180 g egg yolk 30 g cornflour 110 g sugar
Warm the milk and cream and flavour with the lemon zest and vanilla. Combine the sugar, cornflour and egg yolk in a bowl. Pour the boiling milk and cream over the mixture and combine well. Return to the pan and bring to the boil again, transfer to a bowl and place in the fridge for 6 hours.
* * *
Top each shortcrust base with a small amount of vanilla cream ― add a second layer of whipped cream if desired. Finish by arranging the raspberries on top.
AUTUMN: COFFEE BREAK
Chocolate sponge mixture (30 x 40 cm baking tin) 270 g egg 180 g sugar 1 g salt 90 g almond flour 60 g flour 20 g cocoa 6 g baking powder 10 g sunflower oil 60 g plain chocolate
Combine the egg, sugar, salt and almond flour, then add the flour, cocoa and baking powder. Melt the chocolate in a pan with the oil, then add to the spong e mix until all the liquid has been absorbed. Pour the mixture into a springform tin lined with baking paper and bake at 170°C for 12 minutes.
Chocolate ganache 120 g cream 1 g salt 120 g plain chocolate 60 g milk chocolate 15 g soft butter
Heat the cream in a small saucepan. In a separate bowl, melt both types of chocolate in the microwave. As soon as the cream is hot, add the chocolate and combine with a hand blender, finally add the butter and mix thoroughly.
White coffee mousse — part I: Meringue 85 g pasteurised egg white 150 g sugar
Combine in a stand mixer at medium speed. Stop the machine as s oon as the meringue has reached 40°C. Continue with next steps.
White coffee mousse — part II: Mousse 230 g meringue (see meringue recipe above) 4 sheets gelatine (8 g) 12 g instant coffee 210 g white chocolate 1 g ground coffee 330 g whipping cream
Immerse the gelatine sheets in cold water. As soon as the meringue has reached 40°C, add the drained gelatine and instant coffee and liquefy in the microwave. Melt the chocolate in a separate bowl, add this to the meringue-gelatine mix, together with the ground coffee. Finally, fold in the whipped cream. Thinly apply the mix to baking paper and dry in the oven for 4 hours at 50°C.
Cocoa glaze 75 g water 150 g sugar 55 g cocoa 50 g cream 55 g condensed milk 4 sheets gelatine (8 g)
Immerse the gelatine in cold water. Heat the water and sugar to 40°C, add the cream, condensed milk and cocoa and bring to the boil. Remove from the heat, allow to cool, add the drained gelatine and combine with hand blender. Leave in fridge overnight to rest. Before applying the glaze: Heat the glaze to 35°C in the microwave and beat with mixer.
Cocoa sauce 20 g water 11 g sugar 8 g cocoa
Combine all ingredients in a small saucepan, bring to the boil while stirring continuously, allow to cool in the fridge.
Coffee ice cream 500 g milk 516 g cream 80 g reduced fat milk powder 440 g espresso coffee 280 g sucrose 60 g dextrose 60 g glucose syrup (25 DE) 9 g ice cream stabiliser 50 g inulin
Bring all ingredients to the boil. Transfer to an ice cream maker and allow to cool in the freezer for 8 hours with continuous stirring.
Cocoa meringue (decoration) 25 g egg white 25 g sugar 25 g icing sugar 6 g cocoa
(Optional: small chocolate chips or flakes) Beat the egg white a nd sugar until stiff peaks form, add the sieved icing sugar and cocoa. Thinly apply the mix to baking paper and bake at 100°C f or 2 hours until crisp.
Optional: Scatter the chocolate chips or flakes onto the meringu e mix before baking.
* * *
Prepare the tin (we use a square tin), place sponge on the base, use a piping bag to apply a thin layer of chocolate ganache, followed by white chocolate mousse, then continue adding layers of chocolate ganache and mousse. Freeze for 6 hours, apply the glaze and place in the fridge for 4 hours until ready to serve.
104
105
WINTER: GSTAAD PALACE CHOCOLATE MOUSSE
Dark chocolate sponge (vegan and gluten-free, 30 x 40 cm tin)
300 g plain chocolate (70%) 65 g apple compote 180 g sunflower oil 30 g sugar 250 g aquafaba (chickpea water) 3 g salt 130 g sugar 100 g gluten-free flour mix
Melt the chocolate with the oil in the microwave, add the apple compote and half the sugar. Whip the aquafaba, salt and remaining half of the sugar together in a bowl. Combine the two mixtures, then fold in the flour. Pour the mixture into a tin lined with baking paper and bake at 180°C for 12 to 14 minutes.
Dark chocolate mousse 170 g water 1.5 g salt 15 g sugar 4 g pectin (type x58) 210 g plain chocolate (70%) 110 g aquafaba (chickpea water) 50 g sugar
Heat the water and salt, add half the sugar and the pectin and stir. Boil for 30 seconds, pour over the chocolate and blend in with hand blender. Beat the remaining half of the sugar and the aquafaba until stiff peaks form. When the ganache has reached 35°C, fold in the whipped aquafaba.
* * *
Pour the chocolate mousse into a silicone mould, place a slice of the chocolate sponge on top and leave to chill in the fridge for at least 12 hours. Then place the mould in the freezer for a further 8 hours (important: first fridge,then freezer, to activate the pectin).
Glaze 150 g plain chocolate (70%) 15 g cocoa butter 10 g sunflower oil
Melt the chocolate and cocoa butter in the microwave at 40°C, then add the oil. When the glaze has a temperature of 30°C, pour it over the mousse. Store the mousse in the freezer or fridge until serving.
Cocoa flakes (vegan and gluten-free) 250 g water 390 g sugar 280 g cocoa
Combine all ingredients and bring to the boil. Thinly apply the mix to baking paper and bake at 170°C for 5 to 8 minutes until crisp.
Raspberry sorbet 60 g water 80 g sugar 240 g raspberry purée (sieved)
Combine all ingredients and bring to the boil, transfer the mix into an ice cream maker and place in the freezer for 8 hours, with continuous stirring.
Crumble (vegan and gluten-free) 50 g almond powder 50 g sugar 30 g rice flour 10 g cocoa 0.5 g salt 0.5 g gluten-free baking powder 50 g vegan butter
Mix all dry ingredients together in a bowl, add the vegan butter and rub until a sandy texture is achieved. Bake in a springform tin at 160 °C for approx. 20 minutes.
* * *
Apply the chocolate sauce to a plate with a brush, place the mousse on top (whole or cut in half), scatter the crumble and position a scoop of raspberry sorbet on top. Garnish with cocoa flakes.
106
107
TRUE EVOLUTION
CARS
The new edition of the legendary 1980s racing car is a thrilling continuation of history.
In 1983, the original Lancia 037 won the World Championship with Röhrl at the wheel. Now the 037 is back.
108
109
There's a spirit of optimism at Villa Kimera in the picturesque city of Cuneo. The developers of the EV037 at Kimera Automobili cite none other than Albert Einstein in reference to the reincarnation of their legendary 1980s car: "Imagination stimulates progress, giving birth to evolution." And evolution was the guiding principle in bringing back the Lancia Rally 037. First produced in 1980, the racing car is now set to conquer the world's public roads in customized edition.
An icon of car design, the Lancia found global fame in 1983, when it won the World Constructors' Championships with Walter Röhrl at the wheel and finished 2nd in the Rally World Championships. With its super-strong mid-mounted engine, it could accelerate from 0 to 100 km/h in 4 seconds. This makes the 037 the last Group B vehicle with rear-wheel-drive to win the World Rally Championship
Nearly 40 years later it is back, reinvented as the EV037. In minimal numbers though only 37 are being produced. The first one was delivered to its Dutch owner in St. Moritz on 26 February 2022. It was named 'Esmeralda', in a nod to the emerald green hues on the car's exterior and interior.
It is thanks to Luca Betti, founder and CEO of Kimera Automobili, that the dream ever became reality. His passion was the driving force behind this project, which was masterminded by Franco «Inox» Innocenti. Principal engineer Claudio Lombardi completely redesigned the engine, while Sergio Limone was responsible for the layout and chassis of the new edition. He had already been involved in the design of the original Lancia Rally 037 in 1980. Vittorio Roberti oversaw the entire assembly process, while Miki Biasion, Italian rally world champion 1988 and 1989, also participated in the project from the start. The new car is currently being tested by experts from the Martini racing team.
As previously, the EV037 design is based on the chassis of the Lancia Beta Montecarlo, featuring As previously, the EV037 design is based on the chassis of the Lancia Beta Montecarlo, featuring front and rear tubular subframes. Tuning garage Bonetto CV defined the set-up and dynamics of the vehicle on that basis. The EV037 is equipped with wide-base Pirelli tyres and a completely revised suspension with adjustable dual Öhlins dampers. The improved braking system by Brembo is available with traditional or carbon-ceramic discs. The engine adheres to the original monoblock format of the legendary Group B car, but was re-conceptualised by Italtecnica, under the guidance of the original designer Claudio Lombardi. Only the most advanced materials have found their way into the EV037 carbon, Kevlar, titanium, steel and aluminium. The result is a work of art and an exceptional sports car with over 500 bhp and 550 Nm torque. (rw)
110
4-cylinder
petrol
pump
gearshift + reverse Doors:
brakes:
self-aeration discs
brakes:
self-aeration discs
tyres:
111
Name: EVO37 Engine:
Fuel:
Engine capacity: 2150 cm3 Valves: 16 (4 valves per cylinder) Lubrication system: three-stage oil
Cooling: electronically controlled water pump Ignition: electronic Compression ratio: 7.5 Maximum power: 505 HP din @ 7000 7250 rpm Maximum torque: 550 Nm, of which 400 Nm at 2000 rpm Transmission: manual 6-speed
2 Front
4-pump
(365 mm) Back
4-pump
(365 mm) Front tyres: 245/35 R18 Back
295/30 R19
―
KIMERA-AUTOMOBILI.COM
SMOOTH
Beautifully smooth means wonderfully quiet, thought Alexander Weber when he invented the silent curtain track. He was fed up of his daughter being woken up late at night by the neighbours' loudly squeaking curtain tracks. The ingenious combination of aluminium track and plastic gliders brought the hoped-for peace — and when Weber patented his invention in 1952, the company Silent Gliss was formed.
Seventy years later, the research and development team at the company's headquarters in Bern continues to design innovative interior shading systems to improve living and working conditions. Among these is the new Metropole curtain pole, perfected during a two-year development period. The principle is attractively simple: A pole with an internal gliding channel allows the curtains to be directly suspended from the two-component Silent Gliss gliders. This means there is no need for curtain rings, while the traditional look of a curtain pole is still maintained.
The Metropole curtain system is a popular choice in chalets, where it perfectly matches the alpine chic of these dwellings. This, of course, also applies to the Gstaad Palace, where all suites and rooms are furnished to create the perfect combination of alpine cosiness and classic grand hotel glamour. As a decades-long Silent Gliss customer, the Gstaad Palace was happy to oblige the company's marketing team by providing a date for a photo shoot. For four whole days, the penthouse and several suites of the Gstaad Palace were turned over to the campaign. Windows were cleaned and the rooms were adorned with flowers. Meanwhile a technician and a fitter from Silent Gliss set about removing the existing curtains. To ensure none of the hotel fittings were damaged, separate wood supports were suspended in front of the existing surrounds and the new curtain poles were fitted to these. The resulting images were well worth the work and the shoot was declared a success. (PR)
― SILENTGLISS.CH
112 BEAUTIFULLY
— OLIVERPRESTON.COM ENDNOTE
COMFORT ZONE
113
GSTAAD «RACING THE CHILDREN DOWN AFTER A GOOD LUNCH»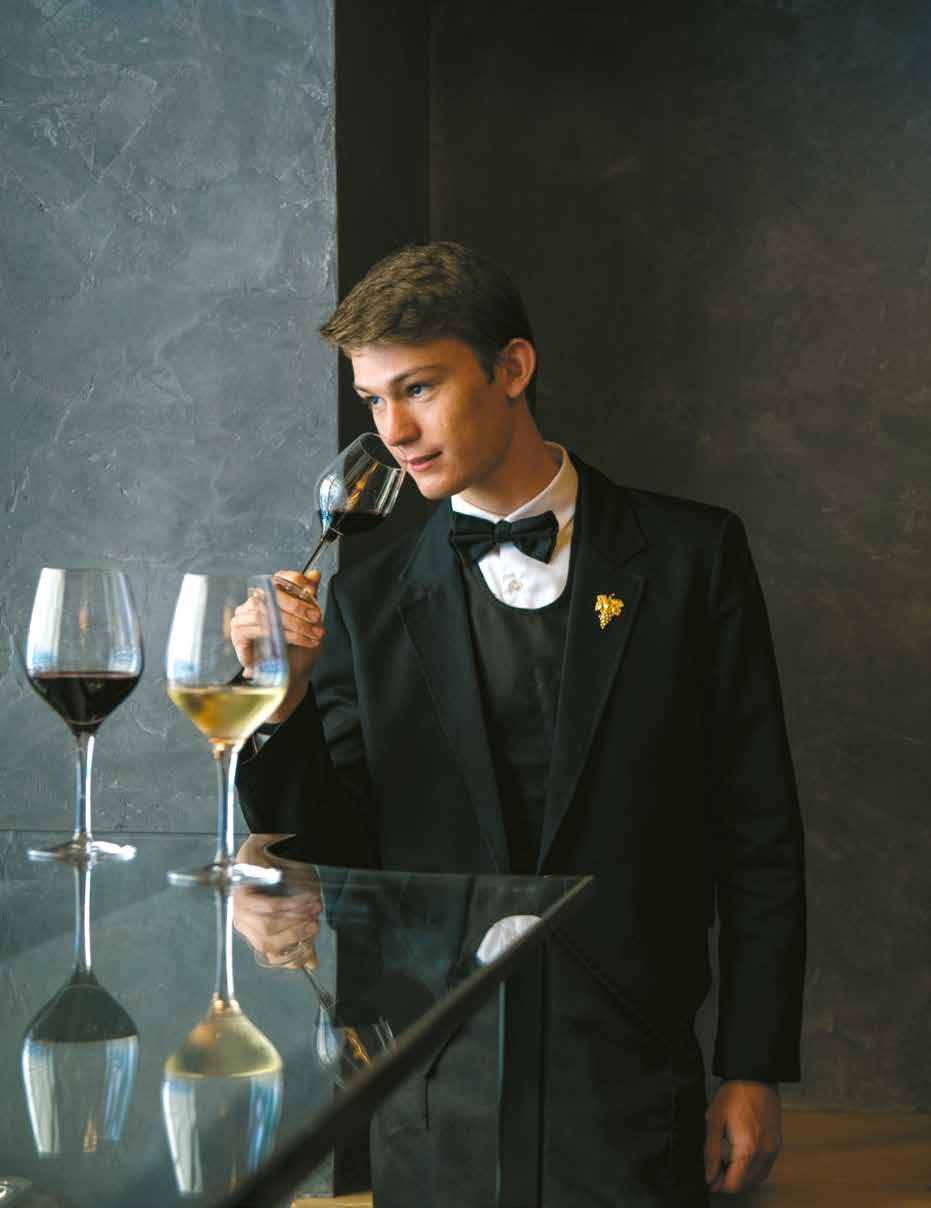 FOR GENERATIONS: PALACE.CH
FOR GENERATIONS: PALACE.CH