75 YEARS OF LOCAL TECH
TRENDS IN TECH
TALENT
BEYOND NOW NEXT
LEARNING FROM THE PAST, LOOKING TO THE FUTURE
PRODUCED BY
VC EXPERTS WEIGH IN
How do you take your business strategy from impossible to unstoppable in the digital world? ey.com/ca
© 2023 Ernst & Young LLP. All Rights Reserved. ED None. 4171116
CONTENTS
EDITOR'S NOTE + PARTNER FOREWORD
Is Ottawa's tech sector ready to step up? It's time for some swagger if "Silicon Valley North" is going to roar.
PART ONE
STATE
Back in the day ... there's nothing like a look back to inspire the way forward. We take you back 75 years to when it all began in Ottawa.
PART TWO
Who are the up-and-comers? We introduce you to some of Ottawa's hottest news stars.
NEXT-GEN COMPANIES
OTTAWA'S
OF THE LOCAL TECHNOLOGY SECTOR
08
16
04
DIRECTORY OF INCUBATORS AND ACCELERATORS 64 INTRODUCTION
PART THREE
OTTAWA'S FLAGSHIP COMPANIES
These companies are leading the way for others to follow in the ever-changing world of technology.
PART FOUR
EXECUTIVE SURVEY RESULTS
We asked some of the city's top tech executives about what keeps them up at night and what's next for the sector.
2022 VENTURE CAPITAL
DEALS
54
PART FIVE
FEATURES + EY EXPERT COLUMNS
Talent and money are two things the tech sector needs. We take a look at both.
36 46 52
"We can definitely see the path to a billion dollars now. Nineteen acquisitions and creating a true unicorn internally financed, there's probably not too many companies like that."
CEO David Ross, September 2022
A 'Fourth Era' is dawning for Ottawa's tech sector: Are we ready?
Welcome to the first edition of Techopia-EY Insights magazine, produced in collaboration with our partners at EY Canada.
In this inaugural issue, you'll find a wealth of information about Ottawa's tech community that we hope provides inspiration from the past, an appreciation of the present, and insights into the future.
A few things stood out for me. One was Luc Lalande's fascinating and funky look back at our local tech scene and the innovative people and products who brought us to where we are today. His insightful retrospective leaves us on the cusp of what he calls a "Fourth Era" in tech, which Lalande argues will hinge on a talent base that represents the next generation of innovators and tech company builders.
That brings to mind James Hale's piece on gender parity and diversity in the sector. To truly be competitive on the talent side, surely we can do better than go from "negative to neutral," in the words of Joanne Stanley, executive director of Ottawa-based Women in Communications and Technology. Are we leaving valuable talent on the wayside? If so, you can bet it will soon be snapped up by someone else.
The talent issue is also touched on by Kyle Braatz, a young tech phenom and OBJ's 2022 CEO of the Year, who argues that the local tech stars of the future need support and mentoring from those who have learned from the past, but who also see the future. The next generation of tech leaders certainly has big shoes to fill and big challenges — and
opportunities — ahead.
Then there's the imperative of beating Ottawa's drum on the world stage. "We just have to get louder about it," says John Sicard, CEO of Kinaxis, and "magnetize the city." What a great rallying cry, especially in these times of such fundamental change.
Of course, woven throughout this report is the recurring theme of the relationship between the tech sector and the federal government. As we know, this relationship has been, at times, characterized by dependence and competition, synergy and friction. It is an uneasy yet critical alliance. Which is as it should be, as any examination of the most successful tech ecosystems in the world will show.
What will our "Fourth Era" of tech look like? It's a great question and an important one as our federal government begins what will likely be a permanent contraction of its presence in Ottawa — not driven by political ideology but by basic yet tectonic shifts in the way we live and work.
Can Ottawa's tech sector step into the gap? We hope this publication will give you the confidence that the sector and its leaders — past, present and future — have the vision, the drive and the business smarts to do just that.
Anne Howland Editor in Chief, Ottawa Business Journal
4 TECHOPIA-EY INSIGHTS 2023 FOREWORD
Ottawa: Be bold It's time for Ottawa to regain its tech swagger
Ottawa, the bold.
At first glance, that might strike you as somewhat incongruous, given the city's typically subdued demeanour. Nevertheless, let that idea sink in for a few minutes, especially as you think about the region's technology sector.
As longtime technology business observer Luc Lalande outlines in the following pages, Ottawa's technology sector is celebrating a remarkable milestone ‒ its 75th anniversary. It's not only longevity that should impress, it's impact. The lead feature of this report demonstrates Ottawa's global impact when it comes to innovation. Sure, there were challenges and setbacks over this period, but how many cities in North America can claim the technology prowess of this city? Look no further than the continued presence of global players such as Nokia, Cienna and Ericsson, which employ thousands of research and development workers long after the Nortel breakup. There is a reason they stayed.
Ottawa isn't simply a telecom hotspot these days. The sector has diversified and found success in many technology niches. The homegrown examples are obvious: Shopify, Kinaxis, Ross Video, Calian Group, Fullscript and others.
I'm not alone in calling for some boldness. In the "past, present and future" feature in this report, Kinaxis CEO John Sicard echoed the same sentiment. In his words: "I think we're getting stronger. I really do. The evidence of successful technology companies, it's omnipresent."
Kyle Braatz of Fullscript touched on another key point when asked to contemplate the future of the tech sector
in Ottawa. Entrepreneurs in this city have a remarkable track record at tackling tough technical problems. "Overall, I think the tech scene is really strong. There are some amazing companies being built in Ottawa. The best ones are product-oriented. They are building the best user experience. They're not all smoke and mirrors and selling snake oil. They're really going out and they're building great products."
Let's not forget the city's tech titan, Sir Terence Matthews. Terry has spent an entire career identifying the next wave of technology and pouncing on commercial opportunities. If there ever was an example of boldness, Matthews personifies it.
The leadership team at Shopify, notably Tobi Lukte and Harley Finklestein, are also demonstrating this boldness as they look to go upstream, targeting larger enterprises with their world-leading e-commerce technology. (EY is happy to partner with Shopify on this.)
As Ottawans, we have a challenge. We are very humble by nature. Sure, we step out sometimes, but it's almost out of character.
We live in an age of accelerating disruption, with technology such as AI, life sciences, next-generation networks and autonomous vehicles. Why shouldn't Ottawa, for example, lead the way in innovating public service delivery? We have the technical know-how and the drive to help build a better working world.
With this Techopia report, EY wants to breathe some oxygen into the local tech sector.
Let's come together, identify the opportunities, take our turn at bat and swing for the fences.
Warren Tomlin Managing Partner, EY
TECHOPIA-EY INSIGHTS 2023 5
FOREWORD
LAUNCH TECHOPIA-EY EVENTS
Techopia live and interactive at EY Wavespace
Techopia isn't only a magazine and regular online news reporting. Thanks to a partnership with EY, Techopia gathers technology sector leaders for insightful interactive discussions at EY Wavespace, located at 99 Bank St. In November, EY partner Aaron Smith led a panel discussion on scaling tech ventures. That discussion featured Fullscript CEO Kyle Braatz, Bandzoogle CEO Stacey Bedford and Creative Layer CEO Nazim Ahmed. Look for more events in 2023.
6 TECHOPIA-EY INSIGHTS 2023 JHVEPHOTOSTOCK.ADOBE.COM
INVEST IN PEOPLE OR INVEST IN TECH?
SATISFY SHAREHOLDERS OR SATISFY CUSTOMERS? SAVE OR GROW? YES.
DISCOVER THE UNIFYING PLATFORM FOR DIGITAL BUSINESS THAT LETS YOU DO BOTH.
Today, businesses everywhere are facing tough choices. But what if you didn't have to choose?
Our unifying platform is the great simplifier, helping you say YES to leveling silos that stand in the way of your people. YES to every person, system, and process working together harmoniously. YES to working with what you have, unlocking value in days and weeks, not months and years. YES to digital solutions that deliver the agility, scalability, and simplicity your business needs now — and for what's next.
Discover the many ways we can help you put YES to work. ServiceNow.com/YES
TECHOPIA-EY INSIGHTS 7
75 YEARS
Northern Telecom SL-1 PBX
SL-1 was the first practical digital PBX (public branch exchange, or private telephone switchboard) and, in many ways, the first practical digital switch. It was developed in the early 1970s at Bell-Northern Research (BNR) and sold by Northern Electric (later Nortel). The SL-1 design was so successful, it was logical to extend the new powerful digital technology to the telephone central office. Thus, BNR developed the DMS-10 for small central offices in 1977, followed two years later by the DMS-100 digital switch for
Leigh Instruments Crash Position Indicator (CPI)
Originally invented at the National Research Council, the technology was subsequently developed and successfully commercialized by Leigh Instruments in Carleton Place. The CPI is the forerunner of today's aviation flight recorder or "black box" systems.
BY LUC LALANDE PHOTOS SUPPLIED BY LUC LALANDE
It will surprise many to learn that the technology industry in Ottawa can trace its origins back 75 years to the founding of the city's first true "startup" tech company — Computing Devices Canada — in 1948.
The emergence of that company occurred almost 10 years before the iconic Fairchild Semiconductor company itself became the incubator of Silicon Valley.
Who could have foretold that a small group of venturesome technology founders would have unleashed a wave of pioneering innovation and entrepreneurship that, 75 years later, established Ottawa as a globally recognized technology hub?
8 TECHOPIA-EY INSIGHTS 2023
From wartime needs to 'fresh founders,' the next era of tech in Ottawa will depend on talent
75 YEARS OF LOCAL TECH
The Three Eras of Ottawa's Tech Sector History
As with Silicon Valley, the Ottawa region played a significant role in advancing strategic and applied research during World War II, giving allies critical technological advantages in domains such as signals intelligence, counter-measures, microwave radar and much more. Central to the wartime scientific effort was the role of government research centres, notably
Northern Telecom Digital Multiplex System/DMS-100
The DMS-100 Switch Digital Multiplex System (DMS) was a line of telephone exchange switches manufactured by Northern Telecom. Designed during the 1970s and released in 1979, it can control 100,000 telephone lines. The development of Northern Telecom's digital telephone switching systems was made possible by the success of the E13 chip, an integrated circuit that housed filters, encoders and decoders — the workhorses of a digital telephone switch — on a single chip.
Gandalf Technologies radiobased mobile data terminal
Founded in 1971 in Ottawa by entrepreneurs Desmond Cunningham and Colin Patterson, Gandalf carved a niche as a pioneer in data communications, becoming a major player in products such as modems just as the market came into existence. In the early years, the technology was revolutionary, enabling users to connect with computers over the phone to create networks of systems in different geographic locations.
Mitel SX-200
The SX-200 system was Mitel's flagship since its introduction in 1978. Mitel's SX-200, a PBX that could handle 200 inside phone lines, was the smallest, most feature-rich and easiest-to-use PBX product on the market at the time. In 1978, sales of the SX-200 were on a rocket ship trajectory upwards.
the National Research Council of Canada (NRC). Research employment at the NRC ballooned from 200 in 1939 to over 3,000 by the war's end in 1945.
The First Era (1948–1994) marking the genesis of Ottawa's technology sector was, without a doubt, precipitated by the growth of government-led R&D fueled by WWII and the subsequent Cold War period. Government agencies such as the Defence Research Telecommunications Establishment
(now known as the Communications Research Centre), the Defence Research Board (1947–1977) and National Research Council of Canada seeded a talent pool of highly qualified scientists, engineers and technicians that most certainly influenced the fateful decision by Northern Electric to establish its new R&D labs in Ottawa in the late 1950s.
By the late 1950s, the presence of a large pool of local talent associated with "public R&D" played a crucial role in
TECHOPIA-EY INSIGHTS 2023 9
75 YEARS
NABU Network PC
The NABU Network PC was an early home computer system that was linked to a precursor of the World Wide Web, operating over cable TV. It operated from 1982 to 1985, primarily in Ottawa. Its functionality was then revolutionary, though it was not a commercial success. It has been called "The Internet — 10 years ahead of its time."
influencing the decision by Northern Electric (Nortel) to establish its new R&D labs in our region.
The "R&D Era" prompted an influx of talented engineers and scientists, particularly from the United Kingdom, attracting several of the future technology company founders that defined Ottawa's ascendancy and recognition as Silicon Valley North.
Newbridge MainStreet Family of Bandwidth Managers ATM
Newbridge, founded in 1986, reached its zenith in the early 1990s as an early provider of asynchronous transfer mode (ATM) switching systems through its MainStreet line for carriers and Vivid systems for public networks and large enterprises.
Lumonics LaserMark System
Lumonics took a Canadian-developed technology — the TEA CO2 laser — out of the government lab where it was first invented, beyond the university and government labs that were its initial customers, and successfully commercialized it into a reliable industrial tool. It was first used for marking best before dates on beer and soft drink bottles, with Coca-Cola being its first customer, initially in a bottling plant in Ottawa followed by others in Montreal and Toronto.
The Second Era of Ottawa's technology industry story (1995–2001), while short-lived, represented a golden period as the city came of age as a global technology hub, shedding its image as a boring government town. Optimism abounded on the growth potential of Ottawa's tech industry, with forecasts of employment surpassing for the first time in history the number of people locally
employed by the federal government.
Alas, the party didn't last as the reverberations of Silicon Valley's dot-com implosion spilled over to its northern neighbour. Nortel and JDS Uniphase bore the brunt of the tech bubble burst, shedding thousands of jobs in a span of a few months and abruptly ending the boomtown era.
The Third Era of Ottawa's technology
10 TECHOPIA-EY INSIGHTS 2023
75
YEARS OF LOCAL TECH
Corel Draw
In 1987, Corel engineers Michel Bouillon and Pat Beirne undertook to develop a vector-based illustration program to bundle with their desktop publishing systems. That program, CorelDraw, was initially released in 1989. The company arrived on the scene just as the tech revolution was hitting the publishing industry and for a period in the 1990s it was one of the biggest software makers in Canada with global sales and a leading market share of about 70 per cent of the graphics market.
QNX real-time OS (RTOS)
A commercial Unix-like real-time operating system (RTOS) aimed primarily at the embedded systems market, QNX was one of the first commercially successful microkernel operating systems. QNX became the leader in "embedded" technology with applications worldwide, ranging from manufacturing automation and process control to telecommunications, car navigation and medical imaging.
Ciena — 40G WaveLogic receiver chip
Coherent optical is a truly revolutionary creation that can almost magically transform old and overburdened fibre networks into superhighways of data. Ciena's main R&D facility in Ottawa pulled together an impressive collection of technology innovations that created a completely new way of transporting data over fibre and, in the process, helped change the direction of the entire optical networking industry.
Microsystems International Ltd. MF7114 Microprocessor
Between 1970 and 1972, MIL developed and manufactured Canada's first microprocessor — the MF7114. The MF7114 was an early four-bit single-chip microprocessor designed and built by MIL between 1970 and 1972. The MF7114's genesis is the design work on Intel's first microprocessor, the 4004.
industry history (2002–2022) has played out in two stages. The first stage of this era, coined by tech writer James Bagnall as "Tech's Lost Decade," reflected the long, drawn-out disintegration of Nortel until its ultimate demise in 2009.
While the fallout of Nortel's implosion played out, a new generation of "fresh founders" started to emerge in the mid-2000s launching startups such as
Shopify that were noticeably de-coupled from the historical R&D roots of Ottawa's technology industry.
There can be no denying that the COVID-19 pandemic represents a discontinuity for the global economy and, by implication, the tech sector in general. The disruption and after-effects caused by the pandemic, by default, signal an end to the Third Era of Ottawa's
technology industry history.
So, what can we expect in the Fourth Era and what are the potential implications for the future of the tech sector in our city?
No one can be sure what lies ahead, but one thing is certain. The future vibrancy of Ottawa's tech industry will depend on our ability to cultivate a talent base that will represent the next generation of innovators and tech company builders.
TECHOPIA-EY INSIGHTS 2023 11
PAST, PRESENT,
Kyle Braatz, CEO of Fullscript
Braatz was named CEO of the Year in 2022 by the Ottawa Business Journal and Ottawa Board of Trade. He is only the second recipient of the award who is under the age of 40. (The other was Tobias Lutke of Shopify.) Braatz has led his healthcare software company to annual revenues exceeding US$600 million and grown the workforce to more than 900 employees.
THE PAST
Past, present and future of Ottawa's tech scene
Three local industry dynamos share their thoughts
Ottawa has a long and distinguished history in the business of technology. Techopia asked three technology sector leaders — each representing a different generation — to share their thoughts about the local sector's past, present and future. Here are edited transcripts of what they told Techopia.
'It was a different world' "I think Ottawa's tech history is still extremely relevant. It takes courage to start and build a tech company. When you look back in Ottawa's tech history and see all that has been accomplished over the decades, it can inspire you. This inspiration can be a tipping point for future generations to pursue their tech goals. They can see that it has been done before.
"I think there's a lot of advice and support that you can get from past leaders. Having a network of individuals that have been there, done that. They can share their wisdom and tell stories about challenges and adversity. Also, they can tell stories about the triumph of building from the ground up. All of those things can inspire the next generation of leaders in Ottawa.
"I should add this, though. Past leaders should also recognize what they achieved was in the past. It was a different world. The way they built things was completely different. The type of technology they used was completely different and the playbook of the past is not the playbook of the future.
"The best kind of leaders who have been there, done that are the ones that actually take the time to empathize with what someone's going through today, what they're building, and share the stories that are relevant."
THE PRESENT
'We have great builders' "Overall, I think the tech scene is really strong. There are some amazing companies being built in Ottawa. The best ones are product-oriented. They are building the best user experience. They're not all smoke and mirrors and selling
12 TECHOPIA-EY INSIGHTS 2023
PAST, PRESENT, FUTURE
PRESENT, FUTURE
snake oil. They're really going out and they're building great products.
"That's one of the things we have here in Ottawa. We have great builders. When I think about the current state, the entrepreneurs who are the most successful in the technology world right now are the ones that are just putting their heads down and building.
"At the same time, you do have to think about the support system around them in Ottawa. I think we can do better, from my perspective. Look at the funding paths in Ottawa. I don't believe they're the strongest. We could do better.
"One of the other challenges is that the best entrepreneurs ‒ the ones who can make the biggest impact for less experienced entrepreneurs and CEOs
‒ are the ones with their heads down building the next big thing."
FUTURE
'The support network … needs strengthening'
"I think the support network that we have around young entrepreneurs needs strengthening. There are groups out there such as Fresh Founders that are working to make an impact. Groups like this really bring a more entrepreneurial perspective to these startups and growing tech companies. It's important to have this, not only service providers. The next generation needs people who have been in the trenches. They're maybe not getting the true education and help to really drive value."
John
Sicard, CEO of Kinaxis
Sicard is another CEO of the Year recipient, this time from 2020. He has worked at Kinaxis for almost 30 years, rising to CEO in 2016. He leads a supply chain management software company with a roster of clients that reads like a who's who of global manufacturing, including Procter & Gamble, Unilever, Nissan, Ford, Lenovo and Honeywell. This made-in-Ottawa solution has taken off during the pandemic, with global companies desperate to bolster their supply chain management systems. With regards to his comments below, John is an avid drummer, a passionate supporter of live music and, along with other notable tech CEOs, helped save the Rainbow Bistro in the ByWard Market earlier in the pandemic.
THE PAST
'History must repeat itself'
"I think history matters a lot. I moved to Ottawa from Montreal in 1994 to join Kinaxis. At that time, I think Ottawa was known as Silicon Valley North. It was a tech giant in the country. Tech talent was everywhere. There was definitely a tech buzz about the place and there was a tremendous amount of innovation coming out of this city.
"This is why I think history is important. Ottawa knows what success in tech looks like. We know what it feels like, we know what it means to Canada. I might even say this is where history must repeat itself. I'm going to do everything I can anyway to secure that outcome."
THE PRESENT 'Get louder about it'
"Well, I think we're getting stronger. I really do. The evidence of successful technology companies, it's omnipresent and it's not just the large and often mentioned Shopify. You've got many other notables. Nokia's expansion is a big statement about this region. You've got Ross Video absolutely dominating in its space all over the world. You've got Solace. You've got Assent, which, combined with Kinaxis, is making Ottawa
TECHOPIA-EY INSIGHTS 2023 13
Kyle Braatz
PAST, PRESENT,
way to magnetize the space above and beyond being a tech hub. Doing more to promote arts and entertainment and so on. Call it the way of life that we have here in Ottawa. That's really going to become important. We can't just look at this as being a tech hub. Let's get the tech leaders together and figure out how to amplify what we're doing. We have to collaborate with city leaders to magnetize the city."
Terry Matthews, Founder and Chair of Wesley
Clover International
Matthews is Ottawa's famed serial tech investor His impact on the technology industry in Ottawa is hard to summarize, in part because of the length of his career. Through his direct and indirect actions, he lays claim to founding more than 100 companies. A native of Wales, Matthews first visited Ottawa while on holidays in the 1970s, A friend arranged for a job interview. That interview resulted in an employment offer that tripled his salary. The rest, as they say, is history.
THE PAST
'We grew again and moved again'
"Mike Cowpland and I set up a little consulting company in 1972 called Advanced Devices Consultants. We started it with only $1,500. In June 1973, we changed the name to Mitel, which is the combination of Mike and Terry Ltd.
a supply chain technology hub.
"Speaking of hubs, we have Hub350, which opened its doors during the pandemic in Kanata North to serve hundreds of technology companies.
So I feel like we're starting to shed our perhaps timid nature and we're getting more confident in our posture as a world-class technology centre. And, like I said, the evidence is mounting. There's a tremendous amount of innovation coming from this region, perhaps as much or more than when I got here in 1994. We just have to get louder about it."
FUTURE 'Magnetize the city'
"When I think about the future, the term
collaboration really resonates. I believe in community-building. We are all living here in this wonderful community of Ottawa. It's not just the technology leaders that should be working closer together to amplify what we're doing here in this region. I think we have to find ways to magnetize the space that we're all living in here.
"It takes many key ingredients, I would say, to make a great hub. And maybe technology innovation is like pasta, but pasta without sauce, well, it's just pasta.
"We need to revitalize many of the attributes we once held strong. Maybe more collaboration with Mayor (Mark) Sutcliffe to bring a 'Nashville-Austin musical feel' to the city. It's another
"Mike had finished a doctorate degree at Carleton University. His doctorate was all about active filters using op-amps. Opamps were a big integrated circuit hit in the early 1970s. We used his R&D work to develop a new telephony tone receiver. So the product developed by Mike and me used op-amps for filters and we made a product that was only a single circuit card, much smaller than the products from the other companies.
"That really fired up Mitel in Canada. I rented a little space at 39 Leacock Way, just a little space. Then, as the company grew, we moved to what today is a big food store. Then we grew again and moved again.
"But imagine $1,500 to start a company
14 TECHOPIA-EY INSIGHTS 2023
PAST,
PRESENT, FUTURE
John Sicard
PRESENT, FUTURE
up with Mike Cowpland. Ten years later, that company went public. It brought in many new investors. Every dollar turned to two and a half million.
"In 1982-83, Mitel had 40 million shares and those were priced at US$60 a share. I'll leave it to you to multiply that, but it's more than $2 billion."
THE PRESENT 'It's the interaction that makes Ottawa work'
"We have, within the city of Ottawa, a next-generation technology community. We've got all kinds of interconnectivity with the community, with Carleton University, Ottawa University, Algonquin College. The L-Spark Accelerator is very active. Then there's the KNBA. You've got Michael Tremblay and company at Invest Ottawa, they do incredible work.
"So it's the interaction that makes Ottawa work. Whether that's QNX BlackBerry, Calian, Kinaxis, Nokia,
Ericsson, Ciena and Mitel. Then there's GaN Systems. I mean, good God, have you seen how many semiconductors there are in automobiles? A lot of those chips come with GaN Systems. Then there's the world of David Ross of Ross Video. And ProntoForms, automating the world of forms around the world. It has one hell of a large client list."
FUTURE
"I like looking at waves and there are many waves coming. If you look at your PC, then you're likely dealing with Microsoft. The world of Azure, this is the world of cloud computing. Look at the statistics. A few years ago, the world of Microsoft Teams was almost nothing and then it grew to 10 million users and everybody was impressed. Here we are coming into 2023, they could soon have 350 million regular users. How does this relate to Ottawa?
I started a company called Martello. It helps with higher uptime connectivity for Microsoft Teams users.
"In Ottawa, what have we got? Let's look at the back haul optical networks, which are growing at a hell of a rate. The biggest lab for Ericsson, one of the biggest vendors in the world of networks, is here. Nokia. Ciena. They're all in Ottawa. Then you look at the world of semiconductors. We have CMC.
"So how do I feel about the future? Are you kidding? The companies that I listed. Plus, DND, the federal government and IRAP (Industrial Research Assistance Program). I've done business around the world and IRAP is one of the best programs that I've seen.
"There's another wave called 5G. Ottawa has CENGEN (Canada's Centre of Excellence in Next Generation Networks). And Telus just put a 5G innovation network in Kanata North. I'm very pleased with all that is happening."
TECHOPIA-EY INSIGHTS 2023 15
'I'm very pleased with all that is happening'
Terry Matthews
NEXT-GEN COMPANIES
NEXT-GEN
HEADQUARTERS
Ottawa
YEAR FOUNDED
2017
SECTOR
Software
PRIVATE OR PUBLIC
Privately held
NUMBER OF EMPLOYEES
65 (global); 40 (local, including Eastern Ontario and Gatineau)
REVENUE RANGE
Less than $5M (CDN dollars)
FOUNDERS
Aydin Mirzaee, Amin Mirzaee, Sam Cormier-Ijima
CEO
Aydin Mirzaee
CTO
Sam Cormier-Ijima
CFO
Cory Michalyshyn
HR LEADER
Jennie Sanford
SALES LEADER
Joe Fleming
MARKETING LEADER
Manuela Barcenas
OTHER KEY EXECUTIVES
Amin MIrzaee, CPO
FUNDING
Angel, Venture Capital
MAJOR INVESTORS
Inovia, Felicis, Craft
IMPORTANT GEOGRAPHIC MARKETS
Canada, US, Europe
TOTAL FUNDING AMOUNT RAISED $10M-$24,999,999 (CDN dollars)
IN THE NEXT 12 MONTHS
PLAN ON RAISING FUNDS No
RANGE OF FUND RAISING $25M-$49,999,999 (CDN dollars)
HIRING NEW EMPLOYEES
1-49
FELLOW INSIGHTS INC.
WHAT WE DO
Fellow is the top-rated meeting productivity platform for managers and their teams. We enable organizations to build healthy meeting habits at scale.
HOW WE SOLVE OUR CLIENTS' PROBLEMS
Using purpose-built workflows and templates, Fellow helps leaders increase engagement and accountability through collaborative meeting agendas, automated follow-ups, and decision tracking. Ninety-two per cent of C-Levels agree that, with Fellow, meetings are more likely to end with clear takeaways. Eighty-four per cent of C-Levels agree that Fellow increases accountability.
MILESTONES WE ARE PURSUING
We've spent the last four years building the product and establishing our brand in the space with companies of all sizes and we're now focused on maturing and expanding the broad usability and feature complexity of the product to continue fast growth in all sectors, but primarily focused on larger enterprise opportunities.
AYDIN MIRZAEE, CO-FOUNDER AND CEO OF FELLOW
16 TECHOPIA-EY INSIGHTS 2023
"'Meetings' and 'delight' are not typically words that you hear in the same sentence. Fellow is changing that narrative."
Fellow Insights Team
NEXT-GEN COMPANIES
NEXT-GEN
HEADQUARTERS
Ottawa
YEAR FOUNDED
2016
SECTOR
Cybersecurity
PRIVATE OR PUBLIC
Privately held
NUMBER OF EMPLOYEES
180 (global); 160 (local, including Eastern Ontario and Gatineau)
REVENUE RANGE
$10M-$24,999,999 (CDN dollars)
FOUNDERS
Matt Holland, Andrew Loschmann
CEO + CTO
Matt Holland
COO
Andrew Loschmann
CFO
Peter Hunter
HR LEADER
Andrew Loschmann / Stefanie McNeil
SALES LEADER
Shri Kalyanasundaram
MARKETING LEADER
Shri Kalyanasundaram
OTHER KEY EXECUTIVES
Brad Peterson (CSO)
FUNDING
Venture Capital
MAJOR INVESTORS
Edison Partners
IMPORTANT GEOGRAPHIC MARKETS
Canada, US, Europe
TOTAL FUNDING AMOUNT RAISED
$10M-$24,999,999 (CDN dollars)
IN THE NEXT 12 MONTHS PLAN ON RAISING FUNDS
1-49
FIELD EFFECT
WHAT WE DO
Field Effect builds holistic cybersecurity solutions to effectively protect organizations in the under-served SMB market. Our flagship product Covalence is a complete Managed, Detection, and Response solution that combines the edge of human expertise with the automation needed to scale the application of that expertise throughout the product. Field Effect also offers Cyber Range, a simulation-based training platform, as well as a suite of expert-led professional services such as Incident Response and Virtual CISO services.
HOW WE SOLVE OUR CLIENTS' PROBLEMS
SMBs face cybersecurity threats but often don't have the expertise or the budgets to properly protect their IT ecosystems. Our products are approachable for a small business, in the sense of both ease-of-use and affordability, all while offering proactive, vigorous defense against modern threats.
MILESTONES WE ARE PURSUING
Field Effect has historically focused on product development. Our next major milestone will include building a world-class marketing program to help educate SMB audiences on cybersecurity and grow visibility of our brand in order to expand our market presence (specifically targeting growth within the United States).
No
HIRING NEW EMPLOYEES
"We have a ton of confidence in the product and what we bring. When you look at the scale of the U.S., taking that product, the service, the formula and bringing it to a larger market, it should be gangbusters."
FIELD
EFFECT CO-FOUNDER AND CEO MATT HOLLAND
18 TECHOPIA-EY INSIGHTS 2023
Andrew Loschmann
Matt Holland
NEXT-GEN COMPANIES
NEXT-GEN
HEADQUARTERS
Ottawa
YEAR FOUNDED
2020
SECTOR
Cloud computing and IT services
PRIVATE OR PUBLIC
Privately held
NUMBER OF EMPLOYEES
19 (local, including Eastern Ontario and Gatineau)
REVENUE RANGE
Less than $5M (CDN dollars)
FOUNDERS
Mohammad Hashemi, Harry Brundage
CEO
Mohammad Hashemi
HR LEADER
Jane Maguire
OTHER KEY EXECUTIVES
Kyle Tate, Head of Data
FUNDING
Angel, Venture capital
MAJOR INVESTORS
Sequoia, Bessemer, Greg Brockman (President OpenAI), Tobi Lutke (CEO Shopify), Vlad Magdalen (CEO Webflow)
IMPORTANT GEOGRAPHIC MARKETS
Canada, US, Europe
TOTAL FUNDING AMOUNT RAISED
$5M-$9,999,999 (CDN dollars)
IN THE NEXT 12 MONTHS
PLAN ON RAISING FUNDS No
HIRING NEW EMPLOYEES 1-49
GADGET SOFTWARE INC.
Who are the major investors?
WHAT WE DO
Gadget is a full stack development platform that lets developers build, test and deploy applications incredibly quickly by handling the boilerplate work and leaving the developer to focus their time on the logic that makes their application unique. The platform focuses on helping e-commerce app developers today, with plans on expanding to other verticals in the near future.
What is the total amount of funding raised by the company?
In the next 12 months, do you anticipate raising more money?
HOW WE SOLVE OUR CLIENTS' PROBLEMS
Gadget is the solution to needless repetition, frustration and inefficiency that plague software development. Gadget is a full stack development platform that includes hosting, databases, auth, logging, pagination, search, file uploads, and third party API integrations — all built in. You write code like you might elsewhere, but you sit atop a serverless database, a serverless runtime, an API generator, and a big list of built-in framework features you don't need to build yourself. This removes the accidental complexity involved in building web applications.
Which geographic markets are most important to the company?
How many new employees will be hired in the next 12 months?
MILESTONES WE ARE PURSUING
The next milestone we're working toward is taking the product to market and finding product-market fit. Over the next six months, we're focusing on growing the number of developers that try us and are delighted enough by our product and see enough value in it that they are willing to pay for it.
"We saw the amazing journey that Tobi and Co. got to go on and we want to do it again our own way."
HARRY BRUNDAGE – CO-FOUNDER OF GADGET
20 TECHOPIA-EY INSIGHTS 2023
Mohammad Hashemi
NEXT-GEN COMPANIES
NEXT-GEN
HEADQUARTERS
Kanata
SECTOR
Life sciences / health
PRIVATE OR PUBLIC
Privately held
NUMBER OF EMPLOYEES
55 (global); 50 (local, including Eastern Ontario and Gatineau)
REVENUE RANGE
$5M-$9,999,999 (CDN dollars)
FOUNDERS
Steve Edgett
CEO
Steve Edgett
CTO
Jeremy Bridge-Cook
COO
Sean Tomalty
CFO
Rick Clements
HR LEADER
Danielle Glazebrook
SALES LEADER
Halley Van Muyen
MARKETING LEADER
Frank Maiorino
FUNDING
Angel, Venture Capital
MAJOR INVESTORS
ICW Ventures, Casa Dea Finance Limited
IMPORTANT GEOGRAPHIC MARKETS
Canada, US, Europe
TOTAL FUNDING AMOUNT RAISED
$5M-$9,999,999 (CDN dollars)
IN THE NEXT 12 MONTHS
PLAN ON RAISING FUNDS
Yes
RANGE OF FUND RAISING $25M-$49,999,999 (CDN dollars)
HIRING NEW EMPLOYEES
1-49
GENOMADIX INC.
WHAT WE DO
Genomadix Inc. is a pioneer in sample-to-result, portable polymerase chain reaction (PCR) technology, dedicated to the highest level of customer satisfaction, quality and maintaining ISO 13485 medical device development and manufacturing standards certification. Its multi-use flagship product, the Genomadix Cube™, automates complex and tedious manual procedures, advancing sample to result DNA/RNA testing in clinical, environmental, infectious disease, and precision medicine.
HOW WE SOLVE OUR CLIENTS' PROBLEMS
The Genomadix Cube™ is a fast, accurate and portable molecular analyzer. The Cube uses the same gold standard of Polymerase Chain Reaction (PCR) technology as a full-service lab without the bricks and mortar. The power and accuracy of PCR is now decentralized, bringing portable lab testing to the masses and eliminating lengthy test result waiting times.
MILESTONES WE ARE PURSUING
The Genomadix Cube™ testing system already delivers environmental testing for potentially deadly Legionella bacteria in water sources such as building cooling towers and CYP2C19 genotype guided antiplatelet therapy in Europe with efforts underway for U.S. authorization. Additionally, a COVID-19 product has been developed with introduction slated (pending authorization) for later in 2022.
"It's a bureaucratic process with the health regulators. But we've crossed the finish line with all of our clinical trials and work like that."
GENOMADIX CHIEF EXECUTIVE STEVE EDGETT
22 TECHOPIA-EY INSIGHTS 2023
Steve Edgett
NEXT-GEN COMPANIES
NEXT-GEN
HEADQUARTERS
Ottawa
YEAR FOUNDED
2015
SECTOR
Software
PRIVATE OR PUBLIC
Privately held
NUMBER OF EMPLOYEES
83 (global); 48 (local, including Eastern Ontario and Gatineau)
REVENUE RANGE
$10M-$24,999,999 (CDN dollars)
FOUNDERS
Pierce Ujjainwalla, Brendan Farnand, Patrick Proulx
CEO
Pierce Ujjainwalla
CTO
Patrick Proulx
COO
Brendan Farnand
CFO
Christopher Chan
HR LEADER
Jennifer Turner
SALES LEADER
Tom Belhumeur
MARKETING LEADER
Tracy Harris
OTHER KEY EXECUTIVES
Kacyn Goranson, Growth Marketing & Rod Moshfeghi, Products
FUNDING
Bootstrapped, Venture Capital, Bank loans and debt, Government funding
MAJOR INVESTORS
Insight Partners
IMPORTANT GEOGRAPHIC MARKETS US
TOTAL FUNDING AMOUNT RAISED $25M-$49,999,999 (CDN dollars)
IN THE NEXT 12 MONTHS
PLAN ON RAISING FUNDS
No
HIRING NEW EMPLOYEES
1-49
WHAT WE DO
Knak is the first codeless campaign creation platform built for enterprise marketing teams. It empowers marketers to create beautiful, on-brand emails and landing pages with no coding or outside support required. Knak is platform-agnostic, allowing teams who use multiple leading email platforms (such as Marketo, Eloqua, Salesforce Marketing Cloud and others) in their enterprise to get to market faster. Trusted by some of the world's largest brands, Knak helps enterprise marketers get to market with digital campaigns in minutes or hours, rather than days or weeks.
HOW WE SOLVE OUR CLIENTS' PROBLEMS
Knak empowers marketers to be creative. Our customers gain efficiencies — such as DISH Networks, who cut in half the time it takes to create emails, or Tibco, who saw an 88 per cent reduction in email creation time. They also save money, as Knak can help save 10x the cost of a developer or 100x the cost of an agency. Finally, Knak's customers reach their KPI and revenue goals quicker, by getting their campaigns to market 95 per cent faster and helping to launch more and better campaigns.
MILESTONES WE ARE PURSUING
Knak is in a hyper-growth period, gaining new business and expanding existing clients, leading to a doubling of growth each year, which we are pursuing once again. Our growth in staff is also leading us to construct a new office, which we will move into before end of year, ending the year with a doubling of growth in staff as well.
KNAK
"I think we've been in stealth mode for a long time, and we're coming out of it now. I think people will be hearing a lot more about Knak in the future."
PIERCE UJJAINWALLA – CO-FOUNDER AND CEO OF KNAK
24 TECHOPIA-EY INSIGHTS 2023
Pierce Ujjainwalla
NEXT-GEN COMPANIES
NEXT-GEN
HEADQUARTERS
Ottawa
YEAR FOUNDED
2019
SECTOR
Life sciences / health
PRIVATE OR PUBLIC
Privately held
NUMBER OF EMPLOYEES
12 (global); 10 (local, including Eastern Ontario and Gatineau)
REVENUE RANGE
Less than $5M (CDN dollars)
FOUNDERS
Ashleigh Kennedy, Matthew Kennedy
CEO
Ashleigh Kennedy
CTO
Patrick Leckey
COO
Brent Anderson
CFO
Kim Butler
HR LEADER
Huma Abrar
MARKETING LEADER
Heather van Staalduinen
OTHER KEY EXECUTIVES
Lou Pino, Chief Innovation Officer
FUNDING
Angel, Government funding
MAJOR INVESTORS
Kruse Farms Investments, Capital Angel Network, Maple leaf angels, York angels, Ontario Brain Institute, Ontario Center of Innovation
IMPORTANT GEOGRAPHIC MARKETS
Canada, US, Europe
TOTAL FUNDING AMOUNT RAISED
$1M-$4,999,999 (CDN dollars)
IN THE NEXT 12 MONTHS
PLAN ON RAISING FUNDS
Yes
RANGE OF FUND RAISING $5M-$9,999,999 (CDN dollars)
HIRING NEW EMPLOYEES
1-49
Other key executives
NEUROVINE INC.
WHAT WE DO
How is the company funded?
Neurovine is a digital health company that provides an end-to-end care experience that navigates, connects and provides actionable insights for patients recovering from brain injury. More specifically, the NeurovineTM platform solution combines the Sensorband© (an EEG based brain wearable) with advanced neuro-analytics to provide a complete, data-driven assessment of brain health after injury.
What is the total amount of funding raised by the company?
HOW WE SOLVE OUR CLIENTS' PROBLEMS
We envision a world in which brain health is visible and accessible, empowering everyone to reach their full potential for health and wellbeing. We connect our users with their own brain data so they can be empowered on their path to improved mental health.
In the next 12 months, do you anticipate raising more money?
MILESTONES WE ARE PURSUING
If you are raising money in the next 12 months, in what range?
Our next milestones include full product launch, scale manufacturing and expand sales and marketing.
How many new employees will be hired in the next 12 months?
"The prescription piece for us is key to really making the technology accessible to patients."
NEUROVINE CO-FOUNDER ASHLEIGH KENNEDY
26 TECHOPIA-EY INSIGHTS 2023
Ashleigh Kennedy
NEXT-GEN
NOIBU
HEADQUARTERS
Ottawa
YEAR FOUNDED
2017
SECTOR
E-commerce
PRIVATE OR PUBLIC
Privately held
NUMBER OF EMPLOYEES
85 (global); 80 (local, including Eastern Ontario and Gatineau)
REVENUE RANGE
$10M to $24,999,999 (CDN dollars)
FOUNDERS
Kailin Noivo, Robert Boukine, Filip Slatinac
CEO
Rob Boukine
CTO
Filip Slatinac
HR LEADER
Sarah Crandlemire
OTHER KEY EXECUTIVES
President Kailin Noivo
IMPORTANT GEOGRAPHIC MARKETS
Canada, US, Europe
THE NEXT 12 MONTHS
WHAT WE DO
We are the market leader at e-commerce error monitoring. The platform powers the world's best e-commerce experiences. Originally conceived as a vehicle for offering 3D virtual tours of brick-and-mortar stores, the startup changed focus in 2019 to become a bug-detection platform for e-commerce sites.
HOW WE SOLVE OUR CLIENTS' PROBLEMS
We automatically capture and prioritize top errors. We help midmarket and enterprise retailers quantify how much their bugs are costing them. Our platform also allows them to resolve the bugs to increase conversion and revenue.
MILESTONES WE ARE PURSUING
Doubling next year. We are looking to have 1000+ enterprise clients in our pursuit to remain the leader in ecommerce monitoring.
IN
PLAN ON RAISING FUNDS No HIRING NEW EMPLOYEES 1-49
"We're on track to be the leader in this space. We expect our revenue to keep growing. Our focus on product has never been more sharp."
NEXT-GEN
28 TECHOPIA-EY INSIGHTS 2023
CO-FOUNDER FILIP SLATINAC
COMPANIES
Kailin Noivo, Filip Slatinac, Robert Boukine
NEXT-GEN COMPANIES
HEADQUARTERS
Ottawa
NEXT-GEN QUANTROPI INC.
YEAR FOUNDED
2018
SECTOR
Software
PRIVATE OR PUBLIC
Privately held
NUMBER OF EMPLOYEES
31 Global; 30 Local (Eastern Ontario and Gatineau)
REVENUE RANGE
Less than $5M (CDN dollars)
FOUNDERS
James Nguyen
Randy Kuang
CEO
James Nguyen
CTO
Michael Redding
CFO
Nik Mhidhara
HR LEADER
Lily Hawa
SALES LEADER
Raj Narula
MARKETING LEADER
Ken Dobell
OTHER KEY EXECUTIVES
Randy Kuang (Chief Scientist)
FUNDING
Angel, Government funding
MAJOR INVESTORS
Jeff York, Larry O'Brien
IMPORTANT GEOGRAPHIC MARKETS
Canada, US, Europe, Asia, South America
TOTAL FUNDING AMOUNT RAISED $10M-$24,999,999 (CDN dollars)
IN THE NEXT 12 MONTHS
PLAN ON RAISING FUNDS
Yes
RANGE OF FUND RAISING $25M-$49,999,999 (CDN dollars)
HIRING NEW EMPLOYEES
1-49
WHAT WE DO
A Canadian startup founded in 2018 with a purpose to defend Truth and Trust infinitely, Quantropi is the first and only quantum-secure communications company in the world that provides all three prerequisites for "TrUE" end-to-end quantum security: Trust (novel quantum-secure asymmetric PQC via MASQ™), Uncertainty (quantum-secure symmetric encryption via QEEP™), and Entropy (quantum key generation and digital distribution via SEQUR™). All three of Quantropi's cryptographic products are available and sold through the company's hybrid-SaaS platform QiSpace™, providing organizations, product managers and application developers with quantum-secure cryptographic functions to protect data, networks and systems. QiSpace™ seamlessly upgrades today's tech to protect the Internet, Applications and Devices Forever — enabling organizations to begin immediately transitioning to permanent quantum security with minimal investment in new hardware or infrastructure.
HOW WE SOLVE OUR CLIENTS' PROBLEMS
The Y2Q Quantum threat puts our $50T global digital economy at risk of extinction. Only Quantropi's QiSpace™ provides a TrUE end-to-end defense that is not only readily deployable and easily scalable, but also lightweight enough for embedded systems and high-performance enough to effortlessly secure massive telco networks. With no need for costly new hardware or infrastructure, QiSpace™ works over today's internet, even wireless networks, and supports NIST standard algorithms, plus Quantropi's proprietary algorithms for crypto-agility. So organizations spanning Telco 5G/6G, IoT (embedded devices), Space Comms (satellite), Blockchain (Web3), and Quantum Tech can continue delivering on their business and brand promise, now and beyond Y2Q.
MILESTONES WE ARE PURSUING
With $12M+ in seed funding, eight patents granted (+10 pending), 20+ peerreviewed academic papers (Springer, Nature…), Quantropi has implemented the first symmetric encryption on a quantum computer, quantum-secured commercial VPN & file sharing apps, posted a record-shattering Digital QKD performance, is a NATO Approved Supplier and Deloitte F50 Tech awardee. In addition to pursuing major customer wins, we are currently seeking a lead investor in pursuit of a Series A funding round in 2023.
"The threat is real and the risk is now. The fact is that all cryptography is about to be rendered obsolete. This requires new technologies."
JAMES NGUYEN – CO-FOUNDER AND CEO OF QUANTROPI
30 TECHOPIA-EY INSIGHTS 2023
James Nguyen
NEXT-GEN COMPANIES
NEXT-GEN
HEADQUARTERS
Ottawa
YEAR FOUNDED
2015
SECTOR
Cloud computing and IT services
PRIVATE OR PUBLIC
Privately held
NUMBER OF EMPLOYEES
135 (global); 69 (local, including Eastern Ontario and Gatineau)
REVENUE RANGE
$10M-$24,999,999 (CDN dollars)
FOUNDERS
Mike Potter, James Ciesielski
CEO
Mike Potter
CTO
James Ciesielski
HR LEADER
Kirsi Maharaj
SALES LEADER
Wayne Selman
MARKETING LEADER
Todd Mumford
OTHER KEY EXECUTIVES
Siobhan Devlin (CLO), Casey McKinnon (VP Product)
FUNDING
Venture capital
MAJOR INVESTORS
Insight Venture Partners, Inovia
IMPORTANT GEOGRAPHIC MARKETS
Canada, US
TOTAL FUNDING AMOUNT RAISED
$100M-$199,999,999 (CDN dollars)
IN THE NEXT 12 MONTHS
PLAN ON RAISING FUNDS No
HIRING NEW EMPLOYEES
1-49
REWIND
WHAT WE DO
Since 2015, Rewind has been on a mission to help businesses protect their SaaS and cloud data. Today, over 100,000 customers in more than 100 countries have used Rewind's top-reviewed apps and support to ensure their software-as-aservice applications run uninterrupted. The Rewind platform enables companies to back up, restore and copy the critical data that drives their business.
HOW WE SOLVE OUR CLIENTS' PROBLEMS
SaaS providers back up their entire platform but they can't use that backup to restore individual account-level data. This data is critical for the productivity, profitability and business continuity of our customers, SaaS and cloud users. Rewind allows organizations to restore their business-critical data in minutes at a granular level. Automated daily backups as well as advanced compliance features such as SOC 2 report, backup history log, military-grade encryption and more help users stay protected and audit-ready.
MILESTONES WE ARE PURSUING
Rewind aims to back up and secure cloud and SaaS data everywhere. We have expanded our suite of data backup and recovery apps to include eight solutions in verticals such as software development, ecommerce, and accounting. We will continue to launch new backup and recovery tools for commonly used SaaS platforms to ensure all critical cloud data is protected.
"We recognize that there's an opportunity here to expand the number of platforms that we back up and also go deeper in some of the platforms where we've seen success."
MIKE POTTER – CO-FOUNDER AND CEO OF REWIND
32 TECHOPIA-EY INSIGHTS 2023
Mike Potter
NEXT-GEN COMPANIES
NEXT-GEN
HEADQUARTERS
Ottawa
YEAR FOUNDED
2016
SECTOR
Software
PRIVATE OR PUBLIC
Privately held
NUMBER OF EMPLOYEES
25 (global); 14 (local, including Eastern Ontario and Gatineau)
REVENUE RANGE
Less than $5M (CDN dollars)
FOUNDERS
Elizabeth Audette-Bourdeau
CEO
Elizabeth Audette-Bourdeau
COO
Gabriel Rubio Maldonado
CFO
Susan Richards
SALES LEADER
Jeffrey Wright
FUNDING
Angel, Venture capital, Government funding
MAJOR INVESTORS
MaRS, Graphite, Revera, SoGal, Super Angel
IMPORTANT GEOGRAPHIC MARKETS
Canada, US
TOTAL FUNDING AMOUNT RAISED
$5M-$9,999,999 (CDN dollars)
IN THE NEXT 12 MONTHS
PLAN ON RAISING FUNDS
Yes
RANGE OF FUND RAISING
$10M-$24,999,999 (CDN dollars)
HIRING NEW EMPLOYEES
1-49
WELBI
WHAT WE DO
Welbi improves the quality of life of older adults like our parents and grandparents by transforming the way senior living communities provide care to them every day.
HOW WE SOLVE OUR CLIENTS' PROBLEMS
Welbi streamlines life enrichment processes so staff can spend more time engaging with residents within senior living communities. This allows them to enable a deeper connection with them and stay ahead of their needs so that no resident is socially isolated.
MILESTONES WE ARE PURSUING
By the end of 2023, reach $2.5 million+ in ARR, led by our expansion into the U.S market.
"COVID has really shown that there is a need, there is a problem, and Welbi is the solution. Recession or no recession, our seniors need our help."
CO-FOUNDER AND CEO ELIZABETH AUDETTE-BOURDEAU
34 TECHOPIA-EY INSIGHTS 2023
Elizabeth Audette-Bourdeau
COMPANIES
FLAGSHIP FLAGSHIP
PRIVATELY HELD SOFTWARE
1,000+ EMPLOYEES
CEO CHRISTA QUARLES
ALLUDO (COREL)
"This is a watershed moment for us. We're reimagining the way the world works by not just writing a new chapter, but a whole new playbook. We believe in working better and living better, and we want our solutions to deliver just that, boldly and intentionally. That's why we've decided it's time for a new brand.
36 TECHOPIA-EY INSIGHTS 2023
The changing of the name, it's time. They aren't what they were, and it's a different business.
CEO CHRISTA QUARLES, SEPTEMBER 2022
Christa Quarles
FLAGSHIP COMPANIES
FLAGSHIP
PRIVATELY HELD
SOFTWARE
800+ EMPLOYEES
ESTIMATED MARKET VALUATION: $1B+
CEO ANDREW WAITMAN
ASSENT
"Everybody is paying attention to sustainability and (environmental, social and governance topics) right now. We are the market leader. To maintain that and grab market share, that's the biggest thing.
But if you are a truly global player, (going public) has benefits. Do I see it as a high probability in our future?
Absolutely, I do. I'm not preoccupied with it, and now I don't need it for my balance sheet in the short term.
TECHOPIA-EY INSIGHTS 2023 37
CEO ANDREW WAITMAN, JANUARY 2022
Andrew Waitman
FLAGSHIP COMPANIES FLAGSHIP
CALIAN GROUP
"You just have to look at what we've delivered. People will say, 'OK, there's something there even if I don't understand it in 10 seconds or less.' You have to pay attention to the performance. You just can't ignore it. I think that's been a huge door-opener for us.
We're feeling pretty good. We've got a good backlog; we've got some good momentum. So I think it's just maintaining that and continuing to execute. If we keep executing here, it shouldn't be too long until we can actually say that we're a (billion-dollar revenue company).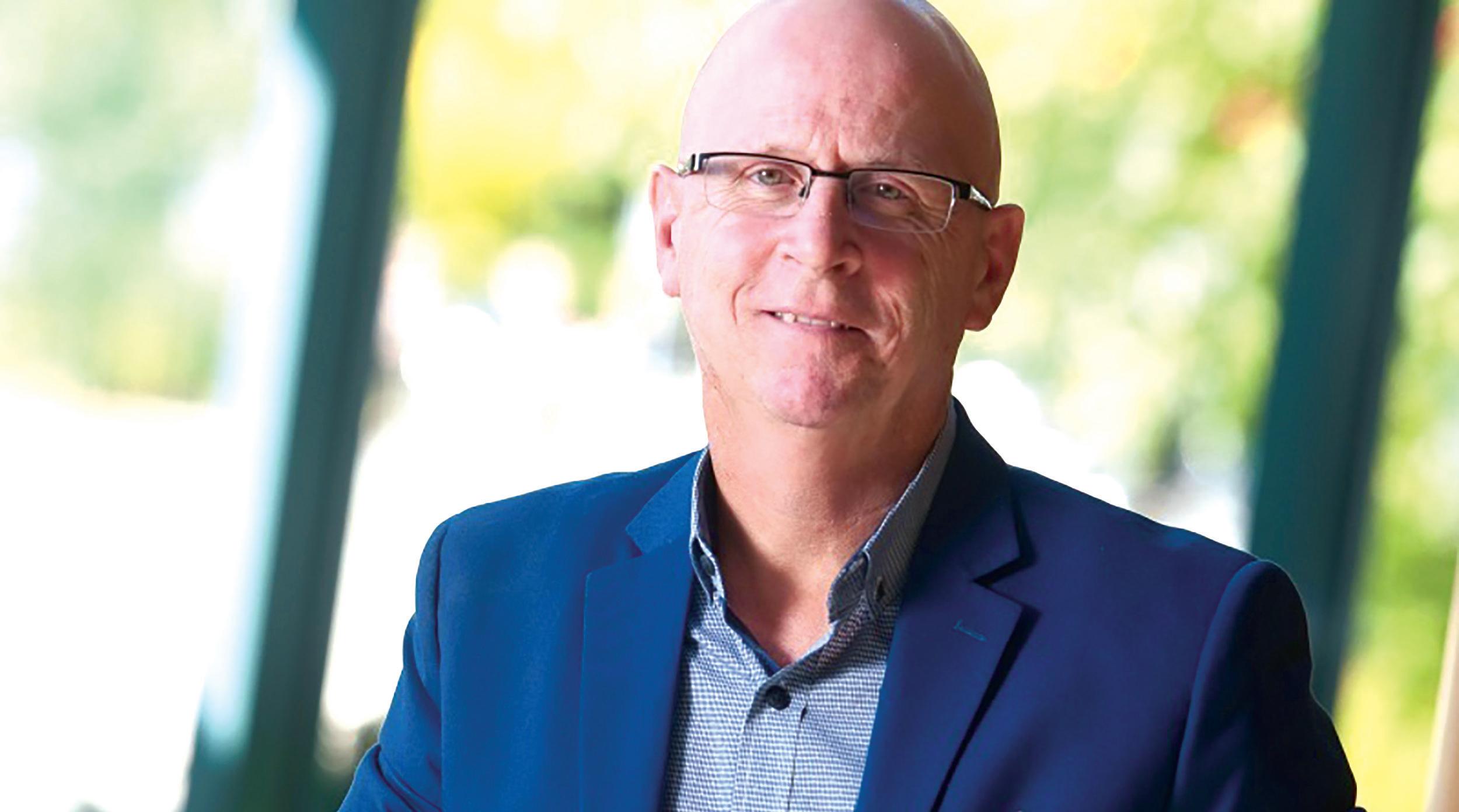 38 TECHOPIA-EY INSIGHTS 2023
CHIEF FINANCIAL OFFICER PATRICK HOUSTON, NOVEMBER 2022
PUBLICLY TRADED CONSULTING 3,000+ EMPLOYEES FISCAL 2022 REVENUE: $582M
KEVIN FORD
Kevin Ford
CEO
FLAGSHIP FLAGSHIP COMPANIES
KINAXIS
1,000+ EMPLOYEES
FISCAL 2021 REVENUE:
$250M US
CEO JOHN SICARD
"We've been experiencing a notable increase in demand for roughly two years now, and there are no signs of slowing down. This doesn't feel temporary one bit.
We're definitely seeing a consistent message from the market that this renaissance is absolutely real. This is just all proof of momentum in the business … The velocity and ferocity of disruption is not easing. It's just different. I don't see that letting up, frankly.
CEO JOHN SICARD, NOVEMBER 2022
TECHOPIA-EY INSIGHTS 2023 39
John Sicard
PUBLICLY TRADED SOFTWARE
FLAGSHIP COMPANIES FLAGSHIP
PRIVATELY HELD
VIDEO TECHNOLOGY
1,300+ EMPLOYEES
FISCAL 2022 ESTIMATED SALES: $350M
CEO DAVID ROSS
"It's mind-boggling, really. (Revenue growth) is accelerating, which is just counter to what everybody's telling us is supposed to happen when you get bigger. We are now starting to plan the next expansion before we're finished the current expansion.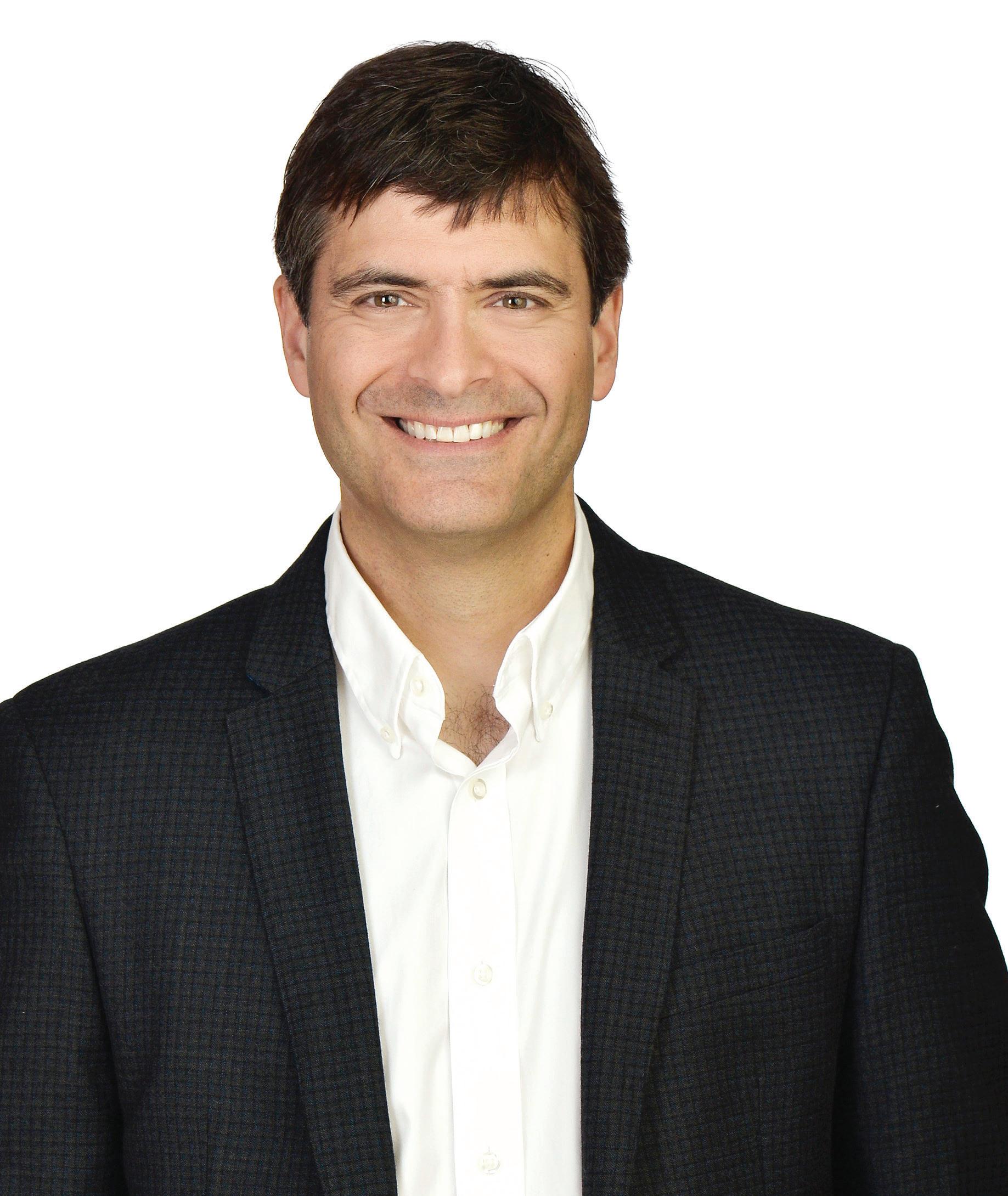 ROSS VIDEO
40 TECHOPIA-EY INSIGHTS 2023
We can definitely see the path to a billion dollars now. Nineteen acquisitions and creating a true unicorn internally financed, there's probably not too many companies like that.
CEO DAVID ROSS, SEPTEMBER 2022
David Ross
FLAGSHIP FLAGSHIP COMPANIES
PUBLICLY TRADED E-COMMERCE 10,000+ EMPLOYEES
FISCAL 2021 REVENUE: $4.6B
CEO TOBI LUTKE
SHOPIFY
"The past few years have been a time of incredible changes not just for commerce and e-commerce but for Shopify … We've had to make some tough decisions, obviously, last year, we had (job) losses … which are never an easy thing to go through, but one of the things that we've hopefully demonstrated to the world is that we're a company that is incredibly resilient.
TECHOPIA-EY INSIGHTS 2023 41
We always said we want to build a 100-year company and we have 84 years left.
PRESIDENT HARLEY FINKELSTEIN, DECEMBER 2022
Harley Finkelstein
FLAGSHIP COMPANIES FLAGSHIP
SOLACE
"We've been on an amazing run. I think, big picture, businesses have a need for faster data, real-time data. We tend to stay on the top of the priority list when things are being cut because when you have faster information, it drives better customer outcomes, and in some ways it drives lower costs.
PRIVATELY HELD SOFTWARE
500+ EMPLOYEES
ANNUAL REVENUE:$132M+
CEO DENIS KING
42 TECHOPIA-EY INSIGHTS 2023
The path to a billion is not unrealistic. I think we're doing all the right things to make it happen.
CEO DENIS KING, NOVEMBER 2022
Denis King
FLAGSHIP FLAGSHIP COMPANIES
PUBLICLY TRADED TELECOMMUNICATIONS
500+ EMPLOYEES
FISCAL 2021 CONSOLIDATED REVENUE: $758M
CEO DAN GOLDBERG
TELESAT
"We're not seeing anything out there in terms of the competitive environment that makes us think differently about our ability to be successful with Lightspeed.
We continue to see a huge amount of enthusiasm from the customers about the value proposition that we'll be bringing with Lightspeed. There's nothing that we're seeing that changes our thinking about that.
TECHOPIA-EY INSIGHTS 2023 43
CEO DAN GOLDBERG, NOVEMBER 2022
Dan Goldberg
10 tech firms you should know
in Ottawa
(but probably don't)
Invest Ottawa (IO) supported more than 300 companies in 2022. Of those, you've probably heard of many of the top guns: Assent, Rewind, Knak, Noibu, Rvezy, Mindbridge, Fellow and The Growcer, to name a few. But not all of the firms supported by IO hit the headlines and are widely known.
Here we shine a light on 10 "hidden gems" of the startup ecosystem in Ottawa, ranging from early stage startups with some initial traction, to burgeoning firms growing at a breakneck pace.
For more information on Invest Ottawa programs, visit www.investottawa.ca/ venture-path
IO FLEX
This IO program gives founders a select roster of the best business resources for every phase of their business, including early stage advisors, cost-saving startup perks, and a network of likeminded peers. Four firms to know:
Electric vehicle charging network for people living in condominiums and multi-unit residential buildings.
(formerly Nook)

An intelligent note-taking app built for capturing, organizing and surfacing information that puts your thoughts in context.
Corporate gifting solutions that make sending custom employee and client gifts seamless, allowing companies to make an impression and spark action with gifts that give back.
A matchmaking platform that facilitates athlete and brand connections to form meaningful and impactful marketing partnerships.
STARTUP ECOSYSTEM 44 TECHOPIA-EY INSIGHTS 2023
IO ACCELERATOR
This IO program provides founders and their teams guidance on finding product-market fit, securing funding, advice on building out business disciplines, and access to specialized peer groups. Three firms to know:
IO SCALEUP

This IO program is created for high-growth firms to help shorten the leadership learning curve, achieve rapid growth and compete globally. Three firms to know:
Professional-level healthcare training for family caregivers. Trualta's software enables families to transition aging loved ones from hospital to home and sustain independent living.
A digital growth platform providing a suite of learning, training and adoption tools for financial institutions and fintech firms.
High-quality international map publisher with secure print-on-demand technology and distribution model, allowing custom prints on a variety of materials in near real-time.
A multi-tenant, multi-tier platform for managed service providers (MSPs), providing unified management of Identity and SaaS applications from a single management interface.
Automated contextualization software and AI for manufacturers, analyzing data to provide clear timelines and reduce production losses.
A file transfer platform giving creative professionals the flexibility to send and receive large amounts of data (15 TB+) over the cloud.
TECHOPIA-EY INSIGHTS 2023 45
With macroeconomic challenges on the rise, what are the strategic priorities of tech companies? Techopia reached out to some of the city's top tech execs to get their sense of what's to come — both in the sector and for their own businesses. Here are their responses to four of the questions we asked.
What is your biggest opportunity?
One a scale of 1-5, how optimistic are you about the future of Ottawa's technology sector?
46 TECHOPIA-EY INSIGHTS 2023 EXECUTIVE SURVEY Sales growth Innovating your product or service Merger or acquisition New funding Improving productivity
67% 26% 26% 4% 4%
52% 41% 1 2 3 4 5 7%
"You can have all the plans in the world but if the economy truly crashes, tough luck."
What is your biggest barrier to growth?
Ability to recruit skilled employees
Funding
Customer acquisition
R&D obstacles
Macro-economic factors (inflation,interest rates etc.)
Awareness
Market Contraction and looming recession
Finding quality M&A targets at reasonable valuation
What should be the biggest priority for Ottawa's technology sector?
Attract new talent 25.9%
Market Ottawa's tech sector globally 29.6%
Attract new investors 18.5%
Advocate for better government support 7.4%
Collaboration with other companies 14.8%
Encourage more entrepreneurship 3.7%
TECHOPIA-EY INSIGHTS 2023 47
26% 19% 15% 22% 7% 4% 4% 4%
4% 15% 26% 30% 7% 19%
"It is a very difficult time to raise funding in Canada right now."
"Success will be won through consolidation and that begins with collaboration."
EY–Shopify Alliance
EY teams and Shopify aim to help enterprises activate and scale e-commerce businesses to increase the potential of online commerce and support the sale of regulated products
Customers are looking to purchase a wider variety of products online. Meanwhile, enterprises are struggling to service customers in the ways they expect. That's particularly poignant for the regulated products category. In addition to delivering a solid customer experience, regulated product merchants must also address specific cybersecurity and regulatory compliance considerations when selling online.
EY teams and Shopify provide robust cybersecurity and regulatory compliance insight, data analytics and support services as part of an integrated e-commerce platform. This leading-class digital experience:
• Supports enterprise merchants to sell regulated and controlled products over the Shopify commerce platform
• Helps enterprise retailers increase revenue potential, improve cost efficiencies, reduce tax risk and help deliver customized experiences
• Bridges deep insight drawn from thousands of EY consultants around the world with leading technology commerce platforms to provide a broad ecommerce approach
• Connects multi-disciplinary knowledge through powerfully united professional services teams
• Offers insight honed while helping deliver successful, integrated commerce transformation programs across a multitude of industries and sectors
• Provides enterprise clients access to global Shopify-EY experience centers to co-create transformational commerce experiences
Specifically, the EY–Shopify Alliance helps drive value by:
• Offering systems integration services with Shopify Plus, which include front-end development, back-end integration, commerce strategy and transformation management, that will give end customers an omnichannel shopping experience
• Supporting Shopify's enterprise clients on compliant entry into new regulated categories and ongoing compliance through the implementation of EY Virtual, an existing EY technology for compliance monitoring
• Assisting enterprise clients in establishing a commerce presence with rapid scale and value realization
• Allowing clients to have brand legitimacy in working with two trusted global brands, allowing for global platform integration and ease in implementation
• Providing clients with platform simplicity and flexibility in system integration that translates to a lower cost of ownership
There is a transformation happening in commerce. Driven by new customer expectations and evolving commerce models, enterprise merchants need to develop and adapt solutions that fit the future of commerce demands within their market. The EY–Shopify Alliance synergizes capabilities through one powerfully integrated solution to support retailers on the road ahead.
48 TECHOPIA-EY INSIGHTS 2023
SPONSORED CONTENT
NanoFab at the University of Ottawa
Cutting-edge nanofabrication and characterization tools
Open to academic and industrial researchers
Ideal for prototype development and fabrication
Photonics, quantum, aerospace, biomedical, security, internet of things, renewables
Open for innovation
Ottawa's new $3B hospital campus intensifies push for innovation in local health care
There is a once-in-a-generation project underway in Ottawa — a new campus of The Ottawa Hospital (TOH). With a price tag of almost $3 billion, the hospital promises to transform local health care.
The hospital aims to be the most technologically advanced in the country, driving industry-leading research and providing the most sophisticated clinical care to every patient.
The person leading that mission is Dr. Alan Forster, the hospital's vice-president of innovation and quality. Dr. Forster spoke with Aaron Smith, EY Canada's partner for public sector and health
care consulting. Earlier in his career, Smith spent almost a decade in various positions at Sick Kids Hospital, focused on innovation and strategy.
This is an edited transcript of their discussion.
SMITH: Can you explain your role at TOH?
DR. FORSTER: I've been working at the hospital for many, many years. I started as a medical student here, so I have seen a lot of different aspects of care. Ultimately, my job is to help our providers, help our staff, help our physicians deliver
excellent health care to our patients. We have a department of quality, we have a department of innovation and we have a department of analytics. Those groups work very closely together to identify issues that are getting in the way of excellent care and how to overcome those barriers.
My role in innovation is relatively new. Innovation for us means making new discoveries, bringing those into practice, and then demonstrating an improvement in outcomes, whether that be better patient outcomes, better staff outcomes or lower costs.
SMITH: Appreciating the role is new, I think you've had a tremendous impact. That will grow with the new hospital campus. What's the vision for innovation and how have you been able to make sure it's a strategic driver and not just something that's aspirational?
50 TECHOPIA-EY INSIGHTS 2023
The new campus of The Ottawa Hospital, with a price tag of almost $3 billion, promises to transform local health care.
HEALTH CARE
DR. FORSTER: There's a lot of different aspects to innovation. I would say health care has been a bit behind in terms of other industries, thinking about how innovation is encouraged.
We've done things that are unique to Ottawa within the Canadian context. We've recognized that, in order for innovation to happen, we need to work with entities outside of the hospital, whether that be universities or privatesector companies or others. There is a need for us to bring in those great ideas from elsewhere.
To be perfectly blunt, that has been a problem in health care for many years, especially in Canada, where we have a very government-focused and top-down approach. That has limited the ability for new ideas to permeate and get ingrained in the culture. So we are creating a platform for what we call open innovation, where outside interests can come in and work with us.
There has certainly been a great contribution by health-care providers to provide great health care during the pandemic, but there has also been a great flourish of private-sector solutions to problems. The perfect example would be COVID vaccines. Those were created by private-sector entities. In addition to that, we've seen a flourish of technologies that help people, whether that be at the point of care or whether that be virtual health care. We're working closely with the private sector and outside entities to bring new ideas to the table. That's number one.
The second thing is a recognition that we need to collaborate with others in the ecosystem. It's not just the private entities, it's also other hospitals and other health systems around the world. We've joined a network called the ARC network, which is based out of Israel, but has centres in the U.K., the United States, Australia and Canada. We are working with a network of hospitals to really push forward these ideas. You really can start to see improvements.
Then I would say the last thing is being very deliberate to focus on digital innovation. The big advances are going to come from digital technologies.
Even when we think of pharmaceutical products and medical devices, often it's the digital innovation that makes the difference. I foresee advances such as advanced decision support, where we use data to automate decisions. Information is provided to humans so they can make better decisions at the point of care.
The second area is within this careeverywhere concept, where people can get care, whether they're in their own home or in a hospital. We're seeing a whole bunch of new technologies there that are going to be very transformative.
we can't get a good connection between a technology company and a physician or a leader at the hospital, we will tell that tech company to go elsewhere. If they can't get that personal relationship with a champion inside, it's not going to work out.
You asked me to talk about some examples. We recently worked with a company from southwestern Ontario that does a COVID diagnosis using a light detection on your finger. It's a bit like Star Trek when you pass the tricorder. We're working with the company on privacy issues, the regulatory side of things, so that we can help facilitate that company's ability to get Health Canada approval.
SMITH: I couldn't agree more. Access to data is really the key to driving innovation. Through Techopia, we're shedding light into the broader tech ecosystem in Ottawa. What would you like the broader tech sector in Ottawa to know about TOH?
DR. FORSTER: First of all, I'm proud of this city. I think it's tremendous because of the tech sector. I do think health care could be an opportunity for us to take our city to the next level. And I would like local companies to know that we have a platform for open innovation. I welcome the opportunity to work with them and find a pathway for their products to go from an idea to an early version to scaling it up beyond the Ottawa setting.
The third area is really around this equity of care. How do we help populations of patients who perhaps have disadvantages in other ways? We want to make sure they have equitable access to services.
SMITH: On the digital innovation side of things, maybe you could speak to uptake with clinicians and researchers in terms of working with third parties. And if you could touch on projects that people might find interesting.
DR. FORSTER: You asked about the relationship between the practitioners and private-sector companies. That's actually a key success factor in our initiatives. If
There's tremendous benefits to companies working with us as partners as opposed to customers. And I think that distinction needs to be made. Ultimately, there is a customer relationship that will be developed. I'm not going to forget about that, but if the company starts with a view of TOH as its customer, I think that becomes problematic for creating the relationship. If, however, the company sees TOH as a development partner, as a stepping stone to a global market, that works.
Think of the impact we could have in developing markets and think of the opportunities that exist there. I would say TOH can serve as a stepping stone.
TECHOPIA-EY INSIGHTS 2023 51 OPEN FOR INNOVATION: THE FUTURE OF HEALTH CARE AT OTTAWA'S NEW $3B HOSPITAL YOUTU.BE/P0KJHBYDAVE
WITH DR. ALAN FORSTER, THE OTTAWA HOSPITAL, VICE-PRESIDENT OF INNOVATION AND QUALITY.
The money is out there for those
BY JAMES HALE
Whether you get your ancient history from the Old Testament or CBC Radio's Fireside Al Maitland, you've likely heard of the magi, the Persian wisemen who inspired Biblical scholars.
When it comes to tech, Ottawa has its own version of the magi, although they don't date even as far back as the glory days of the National Capital Region's tech boom in the 1980s and early 1990s.
Ottawa native Tyler Nelson comes the closest, having been a member of the executive team that maneuvered BlackBerry Mobile into the lead in the race to establish mobile telecommunications as the new business standard. Since then, Nelson has helped found and grow numerous enterprises, including Miamibased Ligo Partners, where he's a venture partner, and Consero Global of Austin.
Code Cubitt, who works as managing director of Ottawa-based venture capital and private equity company Mistral Venture Partners, began his career with the data networking pioneer Ciena and has since developed a long list of board memberships and involvement with various companies in Canada and the U.S. Executive vice-president of BDC Capital, Jérôme Nycz, has been with the federal business development bank for 21 years, following stints with the federal government as an economist.
Together, the three men have watched as the fortunes of the Ottawa region's tech companies have fluctuated and the types of investors have shifted.
When Nelson examines the current state of the local start-up landscape, he sees a new type of early stage investor; one that's more savvy and organized.
"It's easier today for early stage
businesses trying to validate a minimal viable product to go and find the venture capitalists," he says. "In absolute numbers of early stage investors, the market has grown dramatically. We have new segments of investors who are becoming professional. Family offices, like Ligo Partners, have become incredibly viable and competitive sources of early stage funding — competing with, and sometimes out-competing, traditional venture firms."
Cubitt agrees the power dynamic has shifted toward investors, saying there's more time to get deals completed.
"That's a good thing for investors," he says. "It means we can develop more conviction and spend more time getting to know companies before we invest. Pricing
has become more investor-friendly, but there's no shortage of problems to solve, or technology and paradigm shifts."
These factors combine to create a positive environment, says Nycz, pointing to the amount of funding that's available.
"There's never been as good a time to secure financing," he says. "Ten years ago, VC investment in Canada was about $1 billion a year. Last year, we hit the highwater mark, despite two years of COVID, at $15 billion of committed capital to the asset class."
Like a proud parent, Nycz says local investment is moving into its teen years in terms of the ratio of GDP to VC dollars, with Canada now ranking in the top three in terms of asset class development.
FINANCE
52 TECHOPIA-EY INSIGHTS 2023
"Today, we're seeing early stage investment funds, stage-up funds and continuation vehicles to look after highperforming companies in the portfolio,"
Nelson agrees, adding that, while there is a lot of "new" money around, the methodology required to find it and tap into it hasn't changed.
willing to put in the grit and the grind
says Nycz. "You're seeing creation of special entities so that they can continue to fund the growth of these companies, which is a far cry from five years ago, when people would just bail out, sell the company early and not really generate the anticipated wealth factor."
Looking ahead, Nycz forecasts major change, in terms of the source of capital and where the money is going.
"Looking back to the mid-'90s, you had a lot of tech activity in the region," he says. "Government was a good buyer of technology coming from tech companies. Now, with COVID being a factor, you're seeing increased diversity of portfolio companies and distance becoming less relevant than in the past. You're seeing a lot of U.S. investors who were only involved in late-stage investment with well-known companies in Canada entering the Canadian asset class at entry levels."
Cubitt is also bullish where U.S. investors are concerned.
"A big chunk of that is investors getting tired of the Silicon Valley pricing and so they're coming to Canada," he says. "Some of that is the maturation of our ecosystem, where there are a lot more seed funds and just Canadian funds in general that are mature and at scale. I don't think we have a funding problem. I think anybody who says that we do has a strategy problem. I think good ideas will always get funded and there's more places than ever to get it these days."
"There are no novel approaches," he says. "Raising capital is a very boring process. It's a numbers game. It's methodical and it's a grind."
He says the grind is exacerbated because there are so many places to look for investment.
"There are so many wallets you could tap," he says. "What's the right combination of wallets or funding models? You've got venture debt, growth equity. You have early stage, angels, family offices, VCs. It's finding the right combination that matters."
Tapping the right wallets is one thing; meeting the demands of the wallet owners can be another matter.
At some points in the past, companies in growth stage needing money had to give up control. In today's market, Cubitt says that, while board seats may still be at stake, early stage investors are showing little interest in gaining actual day-to-day control of nascent companies.
"Early stage investors have no interest in controlling these companies. For example, I sit on about a dozen boards. I have no interest in running any of those companies; I don't have the time or the skill set. So I have no interest in pushing out a CEO or influencing what they do. As investors, our goal is to find operators that know what they're doing and supplement them, not replace them."
One trend Nycz calls out is an increase in large corporations — both homegrown and from the U.S. — moving into the
market, providing more liquidity and more opportunities for founders and early stage investors to invest in other pursuits.
"Some of the U.S. corporates have been able to write cheques up to $200 million to some of these Canadian companies, enabling the early investors to take some money off the table. We've got tremendous momentum and there's still a lot of dry powder in the market. I think valuations might have plateaued. We're going to see repricing of portfolio companies and that will have an impact."
While Nycz sees unexploded gunpowder, Cubitt sees an enormous elephant, one that's large enough to contain the estimated $300 billion of venture capital he believes is looking for a home.
"There's going to be another wave of crazy valuations," Cubitt concludes. "There's a supply/demand equation to consider. On the supply side, there's that $300 billion of venture capital that's been raised over the last several years. Roughly a sixth of that will get invested every year, according to the status quo. On the demand side, the number of entrepreneurs looking for capital has grown faster, so the growth of late-stage demand for capital is far outstripping the growth of late-stage supply of capital. Another way to think about this: for every dollar of demand, 10 years ago, there was $2 of supply from the venture industry. Today, for every dollar of demand there is a dollar of supply."
Knowing that, he says, the smartest entrepreneurs are looking for funding on global markets from the beginning. He says there are many seed funds in the U.S. and farther afield looking to invest in Canada and taking advantage of those sources will require companies to not just look outside the country for funding, but also for ways of taking their products there, as well.
"The best entrepreneurs," Cubitt says, "are now not just thinking about getting across the border with their fundraising, but also with their product scope and their ambition. Companies need to be built to go global out of the gate, as opposed to just serving the Canadian market and thinking that will attract capital.
"The next couple of years are going to be terrific if you've got fresh capital. Now is the time to be deploying it."
TECHOPIA-EY INSIGHTS 2023 53
VENTURE DEALS
Notable VC deals in 2022
Assent
Assent, whose platform ensures that some of the world's biggest companies and their suppliers comply with an ever-growing list of government regulations on everything from human rights to health and safety standards, raised US$350 million in fresh capital to fund its ambitious global scaleup plans. Assent's latest round was among the largest in the capital's history and brings the firm's total VC haul to $640 million. Austin, Tex.-based Vista Equity Partners led the latest round. U.S. private equity firm Warburg Pincas, which financed Assent's previous $160-million series-C round in 2018, remains the firm's largest shareholder, while past partners Volition Capital, First Ascent Ventures and StepStone Group all remain investors in the company.
Field Effect
The fast-rising startup Matt Holland launched with business partner Andrew Loschmann six years ago raised a US$30million funding round led by New Jerseybased private equity firm Edison Partners. Holland and his team are looking to lean on Edison's sales and marketing connections south of the border to help Field Effect crack a market it has yet to really penetrate.
Unreserved
The Ottawa-based online home auction
platform raised nearly $34 million in seed capital as it gears up to expand across the country. Unreserved said it brought in $33.85 million from a series of investors. Founder and CEO Ryan O'Connor says he contributed $10 million of his own money to the startup. Other investors include Dmitri Vodiansky and John Hinton, two of O'Connor's partners in online car auction venture E Automotive, Jason Chapnik of merchant bank Intercap Equity and Simon Dean, the former president of Royal LePage.
Invert
The Ottawa startup that's aiming to make it easier for individuals to invest in projects that help counteract the harmful effects of greenhouse gas emissions announced it's closed a $25-million funding round led by mining company Altius Minerals. "They're a great partner," Invert executive chairman Mark Zekulin said of Newfoundland-based Altius, whose extensive holdings include significant investments in a variety of wind and solar energy producers south of the border.
Evidence Partners
The Kanata software firm that's streamlining the research process for
scientists racing to learn more about COVID-19 and other diseases closed a $20-million financing round led by San Francisco-based Thomvest Ventures with participation from Vancouver's Pender Ventures and Export Development Canada. Co-founder and chief executive Peter O'Blenis told Techopia the firm plans to use the fresh capital to expand its product engineering, sales and marketing, operations and customer service teams.
Spiderwort
The Ottawa biotech startup that's developing a process of regrowing body parts using plant-based materials said it closed a US$13.2-million series-A round led by Horizons Ventures, a Hong Kong-based venture capital fund that has previously invested in Facebook and Shopify and led Spiderwort's seed round two years ago. The latest raise brings the firm's total funding haul to more than US$15 million. The new round included participation from K5 Global, BoxOne Ventures and Break Off Capital.
Fieldless Farms
Founder and CEO Jon Lomow says Fieldless is poised to cultivate a bountiful crop of new market opportunities after finalizing a $17.5-million series-A
54 TECHOPIA-EY INSIGHTS 2023
John Proctor, president/CEO, Martello Technologies
Charles M. Cuerrier, CEO/co-founder, Spiderwort Marc Gingras, CEO, Nook Technologies
funding round led by Forage Capital Partners, a Calgary-based VC that primarily invests in agri-tech ventures. Farm Credit Canada and the Business Development Bank of Canada also contributed debt financing to the round.
Lytica
The Kanata-based firm announced a $13-million investment led by Baltimore's Resolve Growth Partners. The firm's subscription software platform uses artificial intelligence to compare prices of thousands of components that go into electronic devices such as computers and smartphones, helping manufacturers find the best deals.
Welbi
The six-year-old software company finalized a $6-million seed round led by Toronto's Graphite Ventures, with participation from MaRS IAF, SoGal Ventures, Roach Capital and a number of angel investors. Co-founder and CEO Elizabeth Audette-Bourdeau told Techopia the firm's fundraising efforts attracted so much interest that the company decided to limit contributors to those investors it felt "could really move the dial to the next level" as Welbi ramps up its expansion drive.
Tetra Bio-Pharma
The Orléans-based company that's spent years developing drugs designed to mimic the pain-killing and anti-inflammatory
benefits of cannabis without major side effects said it's agreed to issue up to $6 million worth of unsecured debentures and stock purchase warrants to Londonbased investment firm Alpha Blue Ocean Group. Chief commercial officer Steeve Neron said the deal should provide enough cash to keep the company afloat as it awaits the green light from Health Canada to sell one of its key products.
Giatec Scientific
The Ottawa cleantech company that's aiming to reduce greenhouse gas emissions from concrete production by hundreds of millions of tons a year secured a $5-million contribution from BDC Capital. It's the latest major capital injection for Giatec, which received $5.1 million in federal funding in 2021 and brought German building materials powerhouse HeidelbergCement on board as a minority investor earlier in 2022.
Martello Technologies
Martello got a multimillion-dollar funding boost as it looks to bounce back from a pandemic-fuelled slump that stalled a years-long stretch of virtually uninterrupted growth. The Kanata-based software firm landed $2.5 million from the Federal Economic Development Agency for Southern Ontario. Martello plans to use the fresh capital to expand its software development team and market its flagship Vantage DX troubleshooting software for Microsoft users.
Nook Technologies
The Ottawa startup behind a new app that aims to make workers more productive by aggregating information from platforms like Gmail, Slack and other sources has raised more than $2 million from a group that includes former Shopify executives and C-suite leaders at Apple and LinkedIn. Nook Technologies said it's secured nearly $2.4 million in pre-seed funding for its new product, which CEO Marc Gingras describes as a "personal information system that's disguised as a note-taking app."
Trellis
The Ottawa company that helps Amazon and Shopify merchants drive more traffic to their websites is hoping to make inroads on platforms such as Walmart. com and Google Shopping with the help of $1.5 million in new seed funding. Trellis – which uses artificial intelligence algorithms to help e-commerce merchants get more mileage out of their ad spending – closed the funding round led by Dallas-based Sentiero Ventures.
Trexity
A pair of Quebec-based funds, AQC Capital and Anges Québec, have invested a total of $1 million in the Ottawa-based startup. Trexity, which finalized a $5-million seed round in May, currently provides ondemand package and food delivery services in Ottawa-Gatineau, Calgary, Toronto and Winnipeg. The company says the latest investment will help finance its upcoming move into Montreal and Vancouver as it continues to extend its geographic reach.
Click Armor
Founded in 2019, Click Armor trains workers how to spot so-called phishing attacks. Originally bootstrapped, the startup joined Invest Ottawa's accelerator and Kanata's L-Spark incubator and found an enthusiastic backer in the Capital Angel Network. It announced its newest financing partner, the Business Development Bank of Canada, which is contributing to a six-figure funding round. Click Armor plans to use the fresh equity to beef up its sales and marketing team as it targets customers south of the border and beyond.
TECHOPIA-EY INSIGHTS 2023 55
Mark Zekulin, executive chairman, Invert Andrew Waitman, CEO, Assent
Balanced growth needed to entice investment into Ottawa's tech sector
BY AARON SMITH, PARTNER, PUBLIC SECTOR AND HEALTH CONSULTING; STEPHEN J MCINTYRE, PARTNER, ASSURANCE; CHRIS JEROME, PARTNER, PRIVATE TAX
Markets are volatile, but capital remains strong and stable in Canada. This environment holds a lot of opportunity for Ottawa's tech businesses — if they're willing to shift perspectives and demonstrate value based not on growth at all costs, but rather on balance.
Why is volatility shifting the investor focus to non-traditional metrics?
Canada's tech capital markets are resilient. Here in Ottawa, we've seen considerable growth and expansion across the sector — even over the last 12 months, as volatility became the word of the day.
Valuations and leverage multiples have certainly come down. This has
56 TECHOPIA-EY INSIGHTS 2023
CAPITAL MARKETS
created significant implications for financial sponsors looking to do deals using leverage, as well as strategic buyers who need to justify making accretive acquisitions.
At the same time, the venture capital (VC) that seemed so readily available for companies in Ottawa and elsewhere last year is certainly more limited in today's dynamic environment. Debt capital providers are becoming increasingly selective and cautious. This is particularly poignant when we consider the fact that much of the local and domestic tech investment has come from the U.S. in recent years.
It wouldn't be surprising to see VC backers in San Francisco and other parts of the U.S. continue to scale back the kinds of Tier 2 cluster investments that had become commonplace in Ottawa,
Calgary and other Canadian centres in favour of more scaled assets in Tier 2 buckets. Put simply, tech companies here must now compete for what could quickly become a much smaller share of international investments, as U.S. lenders assess a growing range of choice at home.
Taken together, these shifts bring a higher threshold around traditional deal priorities — think due diligence and cash flow generation — as well as renewed emphasis on an additional value driver: the ability to mitigate risk and thrive in spite of uncertainty.
What does that look like? As lenders become more selective with capital deployment, Ottawa businesses seeking investment will have to demonstrate exactly how they plan to dial down risk and navigate an operating environment that continues to evolve day over day. Investors today are looking beyond organizational fundamentals, business plans and structures for a clearer value proposition built around resilience and agility.
On the equity financing side, that dynamic means the focus has pivoted from growth at all costs to the importance of balance — profitable and sustainable growth.
Ottawa businesses that embrace this moment to double down on a strong business plan that seamlessly integrates risk mitigation can set themselves apart in the eyes of increasingly selective investors and lenders no matter what economic headwinds emerge next.
How can Ottawa's tech businesses transform today's uncertainty into tomorrow's success?
Focus on capital preservation and operational efficiencies. That's where equity investors are increasingly concentrating and Ottawa's tech companies should follow suit. Structured debt and an increase in the number of financial and non-financial covenants are evident as a way for lenders to
mitigate the uncertainty. As the cost of capital goes up on the debt or equity side, companies will need to look inward to execute on growth plans, fuel associated investments and make businesses more efficient.
Double down on long-term objectives to create scale and sustain stakeholder value. Doing so requires Ottawa's tech businesses to continually assess the best capital structure and then partner to help achieve those objectives. Ottawa — with relatively affordable talent along the Southwestern Ontario corridor and geographic proximity to the U.S. that makes it an easy flight away — continues to be a solid option for investors looking to diversify into Canada. Maintaining that competitive edge will require businesses here to stay focused on the fundamentals that make them ever more attractive.
Define growth objectives that reflect aspirational — but realistic — goals. Early stage companies will need to show a certain level of growth funding for parties to become interested. That's particularly poignant right now, as choice is up and capital investments are down.
What's the bottom line for Ottawa's tech sector?
The growth at all costs mentality that has spurred the industry forward could hamper efforts to grow in this dynamic market environment. Tech companies here can set themselves apart in a sea of investor choice by pursuing a more balanced strategy, one that manages risk and drives innovation in equal measure.
TECHOPIA-EY INSIGHTS 2023 57
'From negative to neutral'
when you look at the pipeline and how it's growing and where the funding or venture capital is going … A very common statistic is that only 2.3 per cent of venture capital funding over the last year was allocated to businesses with sole women founders and owners. That is a statistic that absolutely must change."
BY JAMES HALE
While progress has been made, industry observers agree that there's a long way to go before women are regularly taking on leadership roles in the tech sector — across Canada and here in Ottawa.
Although statistics pertaining to female leadership across the region's tech companies are not available, crossCanada results indicate that women fill just 10 per cent of C-suite positions, contrasted with 13 per cent in the U.S.
Women appear to be doing somewhat better — albeit still nowhere near parity — at the board level across Canada. According to Osler's seventh annual report on diversity, women hold 23.4 per cent of board seats among all companies listed on the Toronto Stock Exchange.
But, let's face it, that's still a failing grade.
The numbers don't appear much brighter if you look beyond the executive floor. The latest statistics from Ottawa-based Women in Communications and Technology (WCT) show that the percentage of technology-focused women employees throughout Canada's information and
communications technology sector has increased just 2.3 per cent, to 21.3 per cent, since 2011. As low as those numbers appear, the stats can actually be seen as good news, considering the percentage of women in all job categories across the sector has declined by 2.5 per cent over the same period.
"The dial is moving slowly," says Sonya Shorey, vice-president of strategy, marketing, and communications at Invest Ottawa. "It needs to move faster and the only way we can do that is through more systematic and intentional collaborations with everyone across society."
Shorey says the numbers are particularly worrisome when you look at how many young women are positioning themselves for jobs
To bolster her argument, Shorey points to a 2017 report by the McKinsey Global Institute, "The Power of Parity: Advancing women's equality in Canada," which concluded that Canada could add $150 billion in incremental GDP by 2026 if the country took steps to address the gender imbalance.
A generation older than Shorey and a mainstay of Ottawa's technology landscape for 30 years, Joanne Stanley, WCT's executive director, agrees there's been some progress, but says, "Our numbers really haven't changed very much. I would say they've gone from negative to neutral over the past 20 to 25 years."
Stanley says where the region has excelled has been in helping women entrepreneurs and female-led startups.
are concerning,
"We're doing really well in that regard," she says. "But if I scan the area for true role models — women CEOs who are
58 TECHOPIA-EY INSIGHTS 2023
Women remain under-represented at top levels of tech GENDER EQUITY
Workforce Diversity (Ottawa), 2021
*2016 was the most recent data available for the office-using industry. Source: Statistics Canada Census (Metro Area), April 2022.
young women must be both passionate about their career path and steadfast.
"It's really important to be very determined and remain open to opportunities," she says. "You have to trust your abilities … and understand the differences between how men and women achieve success. It's important to understand those differences, recognize them and accept that's the reality you have to work with."
As she looks at the coming three decades of her working life, she says she hopes for nothing more than fair treatment.
"The goal is to no longer be judged based on age, gender, appearance; just to get the equal opportunities. That would be the ideal situation."
That's a desire shared by Carrie-Anne Mercer, who says she's experienced a diverse range of treatment during her path to vice-president of brand marketing at Minneapolis-based Entrust, a cybersecurity company with an office in Ottawa. She says she's seen environments that ranged from challenging to outright hostile.
willing to step up and speak out — I don't see them. I don't have one contact like that in Ottawa, but I could name you four or five in Calgary."
Bucking that trend in Ottawa often means finding alternative routes to the C-suite, which can frequently mean using the federal government as a
29-year-old who was named WCT's Rising Star for 2022, is a leading example. A University of Ottawa graduate who majored in digital transformation and innovation at the
institution's School of Electrical Engineering and Computer Science, Qian currently holds the position of IT team leader at Environment and Climate Change Canada. After exploring positions in software testing, project management and data security, she says she's found her niche in a job that enables her to collaborate with a variety of business clients and IT teams.
far has taught her that
Adding to that, she says women still have a long way to go to escape stereotyping and unequal expectations.
"For example," she says, "most domestic work is still led and done by women. And so, when a woman shows up at work every day, she doesn't just get to wake up, roll out of bed into the shower and head into the office. Oftentimes, the male leaders, my male counterparts, never had to take full responsibility both in the office and at home."
Looking ahead, Mercer sees opportunities, but ongoing challenges, as well.
"I see my daughter's and my sons' generation as being much more open to diversity and change than my age group. So that gives me a lot of hope for our future leaders."
TECHOPIA-EY INSIGHTS 2023 59
Tech Talent Workforce (All Industries) Tech Industry Workforce (All Occupations) Office-Using Industry Workforce* (Non-Tech Occupations) Total Workforce (All Industries and Occupations) 0 20 40 60 80 100 21% 20% 43% 49% 51% 57% 80% 79% Female Male
Intelligent talent strategies start from within
BY JULIET NICOL, PARTNER, PEOPLE ADVISORY SERVICES, EY; AND KEVIN ROBSON MANAGER, PEOPLE ADVISORY SERVICES
Today's tech talent needs are gone as quickly as tomorrow. That's especially true now, as the global sector reels from three years of ongoing hard hits that aren't about to subside any time soon. Even so, Ottawa's tech sector is growing, scaling and well-positioned to continue making innovative waves — if companies here are willing to boldly embrace an intelligent talent strategy right now.
What's the tech industry up against in Ottawa now?
Competing amid the waves and tides of this market requires companies to retain the right talent. But, as we know, especially in the tech space, today's talent needs evolve very rapidly. That makes it absolutely critical for organizations to embrace an intelligent talent strategy now, one that's capable of identifying, retaining, upskilling and shifting talent to accelerate growth and drive Ottawa tech forward.
Even as our region's tech sector continues to thrive, a talent dilemma has taken shape across the space. The pace of change is perpetually accelerating. Functional areas are becoming more specialized and employees themselves are emerging from the pandemic fundamentally changed. They are exhausted and more focused than ever on the need for flexibility at work.
A recent EY study showed that, although employees felt empowered, nearly half were likely to leave their employer in the next 12 months. The tech sector is among those with the highest flight risk. In fact, 60 per cent of those working in the technology/hardware space thought they'd be changing jobs within one year — the highest of any sector included in the survey. This sentiment adds to a number of pervasive issues all pointing to a less than ideal employee experience.
In tech and beyond, employees are increasingly:
Busier. Weekly meeting time for the average Microsoft Teams user is up 252 per cent — and chats sent per person each week have jumped 32 per cent — since 2020. Meanwhile, workdays are longer and after-hours and weekend work are up 28 per cent and 14 per cent, respectively.
Stretched. The 2022 Asana Anatomy of Work Index statistics showed employees spent 129 hours in unnecessary meetings and 129 hours on duplicative work since 2021.
Burned out. The Great Resignation is driving a Great Exhaustion among those left behind. Some surveys indicate as many as 81 per cent of employees today are burned out.
Disconnected. Employees are looking for a different sense of culture and connectedness as the pandemic recedes.
On the one hand, 80 per cent of employees want to work remotely at least two days per week. In fact, nine out of 10 employees want flexibility and 54 per cent are willing to quit if they don't get it. That said, when they do come into the office, employees are seeking purposeful interactions and a strong value proposition. Where currently there is no differentiation, many employees are taking the same virtual meetings from an office desk rather than a kitchen table. In May 2022, Forbes reported in one of its career articles that some 42 per cent of workers plan to leave their current employer because of that employer's inability to maintain connectedness and culture.
Taken together, this reflects a perfect storm ahead for tech companies here and everywhere. Talent migration, which is traditionally higher in the tech space, could remain very unruly for the next 10 years. It will only be amplified by the mass departure of Gen X and boomers retiring in huge numbers between 2025 and 2040.
All of this means many senior, critical and hard-to-hire roles across Ottawa's tech sector will be impacted.
Riding shotgun with the incredible pace of technology is the need for emerging skills to deliver and compete. The emerging talent workforce complement and types of roles will be very different from today, but these core skill sets are needed today to keep up with tomorrow.
Industry transformation will also continue to shift the types of skills in demand. Where traditional industries and roles have cooled, technology, automation and other advanced industries in Ottawa and beyond are feeling the squeeze of surging demand for new skills and headcount. And identifying, attracting and retaining top global talent will become increasingly more challenging in the months and years ahead.
While recession-like employment stats redefined the market since last fall, tech organizations shouldn't bet on a slowed economy to tip the talent scales back in
60 TECHOPIA-EY INSIGHTS 2023 TALENT
their favour. There's simply too much happening at once for that to be the case.
How can tech organizations address widening talent gaps now?
Getting ahead of these challenges before they throw organizations — and their momentum — off course requires employers to widen their talent aperture and curate employee growth opportunities beyond current skills. In this environment, adapting and reskilling will be absolutely key. It's time to build an intelligent, data-driven talent strategy that's aligned with organizational goals, growth and diversification. What does that mean for tech companies here?
Ground your strategy in talent intelligence. Truly effective talent strategies are grounded in real-time analytics. Put simply: you must build skills in the organization before you go out and buy them in the marketplace.
That requires organizations to put humans at the centre of the strategy itself. This is key to generating the kind of agility and resilience Ottawa's tech sector will need to compete overall.
Flip the talent narrative toward skills identification and capability mapping. Across tech, hiring managers are looking less toward qualifications and experience and more toward skills and interests. And rightfully so. When you know more about the adjacent skills and capabilities the organization already has, you can build or transfer skills seamlessly. That understanding also empowers you to strengthen learning and development channels to support this approach. This makes organizations less reliant on external hires and better able to innovate, flex and seize opportunities quickly.
Differentiate employee experiences. Once recruited, employees need good reasons to stick around. Create that
environment by stepping away from the assembly line vibe that has defined the pandemic years — read endless emails, calls, tasks and machine-like functionality — to shift work culture and behaviour back towards face-to-face collaboration and celebration. That human connectedness and overall employee experience is a huge factor in driving overall success. You must first create room for employees to feel less busy and more engaged so they can become more productive.
Look inward and ask why top global talent should join your organization and invest in the purposeful factors that set you apart. Be deliberate and genuine in your approach.
Think longer term. To remain competitive and support growth over the longer term, your talent strategy must be well-defined and clearly linked to your five-year strategic plan. Integrating these two can help position talent as a strategic lever capable of delivering better business outcomes. This is how you tee the organization up to diversify into new products and sectors, explore growth through mergers and acquisitions, and so much more.
What's the bottom line for Ottawa's tech companies?
Intelligent talent strategies align what the business is trying to achieve with the people most needed to get there. An integrated strategy that's built on current data, tied to business imperatives and bolstered by smart investments empowers organizations to address gaps, needs and redundancies by mining internal talent. It offers up new ways to recruit and keep talent, becoming an attraction model in and of itself.
When your talent system is better than that of the competition, you unleash new ways to compete. After all, your company is the sum of its people, their capabilities and the working environment you create together. That's everything in a market that looks different every single day.
TECHOPIA-EY INSIGHTS 2023 61
innovative startups These are the ones to watch
BY JAMES HALE
Whether it's three guys in a garage with a cool idea or a few dozen staffers with a multi-year goal of achieving global approval of a new drug, startups can certainly take many forms but they share a core innovation, a goal, and a plan to go to market.
One additional thing they share: the pitch — a concise way of summarizing the seed, the journey, and the target.
Fortunately, the startup is alive and well in Ottawa and we reached out to four of today's leading contenders to learn how they plan to make their dreams come true.
Genomadix Inc.
Genomadix is a pioneer in sampleto-result, portable polymerase chain reaction (PCR) technology.
Interview with Steve Edgett, CEO
What is your foundational innovation?
The core to our intellectual property is the ability to get a highly accurate result from a dirty sample in a PCR test. Everybody else has some kind of sample preparation or clean-up step, but we just
take the raw sample and put it into our reaction and we're able to actually get an accurate result from that. How we do that is really what's core to our IP.
What will it do that's different or completely new?
You either have PCR that's happening at a centralized lab or those large, mainframe PCR platforms and staff who do different steps: collecting samples, sample preparation, testing, and so on. We don't do that. We use smart chemistry rather than trying to miniaturize the process that happens in a central lab. We've reinvented the workflow for PCR and the real benefit is that the cost of goods can be significantly lower.
Who's the market for your innovation?
It's kind of a three-legged stool. First, you have operators of large buildings, who have to deal with threats like Legionnaires' disease, which is caused by aerosolized bacteria. Second, there's the medical side, where we're looking at how you treat an individual with the right medication in near real time, based on their specific genetic makeup. We're using this to inform physicians in real time on what therapeutic outcome they should actually pursue for a person who's just presented to the hospital. Doctors need to figure out which medication is going to work. That's a big, emerging market for us. And then, of course, the last piece is on the infectious disease side, which gets us into lots of different point-of-care markets.
What stage of development/scale are you at?
We're at an inflection point where the company has gone from being pre-revenue to having our first three products in market and we have two products that are just awaiting regulatory approval. So we forecast a pretty significant revenue upswing. We're turning into a much more commercially oriented and focused organization. We've got our first few million dollars of revenue and we expect that to double for the next several years.
Invert
Invert is a specialized emissions reduction and carbon offsetting company that invests in carbon-offset projects around the world that create high-quality, verified carbon reduction and removal credits.
Interview with Rade Kovacevic, co-CEO
What is your foundational innovation? Our insight came from a few research studies that showed people want to act on climate change but don't know what to do. How do people become part of the conversation and how do they find ways to become part of the conversation off the bat and find attainable, practical ways to reduce their impact on climate change?
What will it do that's different or completely new?
The big difference with this product is it gives people a way to directly measure their carbon footprint, so they can look at what they can do every week to reduce it. Often, people look at calculators to show them the impact of a flight they take or what their hydro bill implies, but the feedback loop of, "I have a footprint; what daily actions can I take?" is not something that's been readily available. Then, we add a way for people to fund projects at scale, to remove carbon from the atmosphere to offset the remaining footprints. These capabilities have been available in various apps, but bringing them together into a single context
62 TECHOPIA-EY INSIGHTS 2023 UP AND COMERS
hasn't been done. That feedback loop, which needs to appear simple to the user, is very complex on the back end.
Who's the market for your innovation?
One is people who care about the environment and want to make a difference. Where we see this starting to push into is the enterprise space, which will create an opportunity for companies to use it as a way to engage their employees around their environmental, social and governance goals in a way that's not currently possible. At the outset, it's focused on people who are environmentally aware and are looking for a way to make a difference. For the everyday person, it's about simplifying climate change so people don't feel overwhelmed at not knowing how to take action.
What stage of development/scale are you at?
We're at the initial product rollout. We also view ourselves as a carbon finance company, so one of the things we do is finance projects. For example, we did $25 million of funding of CarbonCure in Dartmouth in April 2022. We've been doing a lot of work in terms of identifying projects that have long-term benefits. When we thought about the app, it was really about how to bring more people into the conversation in order to scale these opportunities. At the end of the day, you need to get capital in place to scale the carbon removal project. This initial rollout of the app will begin to evolve as we add functionality, based on user feedback. Having successfully launched the product in Canada, it's safe to assume we'll be launching in other countries as time goes by.
Quantropi
Powered by quantum mechanics expressed as linear algebra, Quantropi's technology encrypts data in transit and data at rest, defending against today's threats and tomorrow's quantum-based attacks, without requiring the processing power of a quantum computer.
Interview with James Nguyen, co-founder, president, CEO
What is your foundational innovation?
It really starts with my co-founder, Dr. Randy Kuang, who's a quantum physicist. He holds one of the first patents to two-factor authentication. The foundation of our innovation is, how do we ensure that information is secure in the era of quantum computers. Our innovation is we found a way to simulate quantum states with mathematics. In essence, our innovation is we find a way to use both the best of quantum key distribution and postquantum photography, minus all its disadvantages.
What will it do that's different or completely new?
Security hasn't really changed in half a century. So one big thing that's an issue is not only do you need a fully secure solution — one that's scalable and works in today's networks — but it has to be cryptoagile. Our solution was built as a platform, which gives customers an easy upgrade path to quantum cryptographic libraries.
Who's the market for your innovation?
Our market strategy is really a topdown, bottom-up approach. At the top, we are targeting the Global 2000 and government. And from the bottom up, we're also targeting app developers, the startup and developer communities.
What stage of development/scale are you at?
From a product standpoint, we're fully commercial. Our platform is available, so we're ready to go right now. As a startup, though, to really scale to multiple geographies and different verticals that requires more firepower — human capital as well as financial capital. So we're actively fundraising and aiming to close a large series A to help us scale.
Spiderwort Inc.
Spiderwort is a biotechnology company with a transformative platform of
cellulose-based biomaterials that will serve as the scaffolds for everything from regenerative medicine to lab-grown meat.
Interview with Charles Cuerrier, co-founder, CEO
What is your foundational innovation? Our proprietary plant-based scaffolding provides a framework for significant advances in regenerative medicine and tissue engineering. Some of our current work is in the areas of spinal cord injuries and the regeneration of soft tissues. When I was doing my postdoctorate at the University of Iowa, we were working on a new scaffold to see if we could use plants as a scaffold to originate tissues. I always kept in my mind that, at some point, I would bring what my colleagues and I were working on to the bedside, to patients.
What will it do that's different or completely new?
There is a global vision of a scaffold that is degradable — essentially cellulosebased biomaterial that stimulates the growth of host cells and regenerates damaged, diseased or aging tissues.
Who's the market for your innovation?
We see our product as a kind of a platform where the scaffold can be used in many different applications. At seven years in, we are still pre-clinical. It's a really long process, but together we all recognize that solutions like this are not developed in one day. It takes years and years. So we know that timeline, but we are starting to attend meetings to tell the world we exist and that we have an amazing product.
What stage of development/scale are you at?
I'm really happy with the work that was done in the past and where we are right now; it fits perfectly with the normal development of a device. I have to give credit to our amazing employees who are fully dedicated; they understand the mission, they understand that we will change the lives of so many people.
TECHOPIA-EY INSIGHTS 2023 63
STARTUP INCUBATORS/ACCELERATORS
Impact Hub Ottawa
ottawa.impacthub.net
No. of companies in residence: 25
Key local executive: Elizabeth Cleland, Managing Director
Year established: 2012
Length of program: Varies from program to program
Intake schedule: Ongoing. See website for
upcoming programs and initiatives
Notable startup tenants and graduates: Blue Sky School, Girls+ Rock Ottawa, Future of Good, Growcer, Hidden Harvest, Learn Leap Fly, NU Grocery, Ottawa Tool Library, QuakeLab, Timsle, Top 60 over 60, Water Rangers
Innovation Hub, Carleton University
www.carleton.ca/innovationhub
No. of companies in residence: 175
Key local executive: John Nelson, acting director, Innovation Hub; Dana Brown, Dean, Sprott School of Business
Year established: 2021
Length of program: 4-12 months, program dependent
Intake schedule: Ongoing. Notable startup tenants and graduates: Summer, Fall and Winter cohorts. Artemis (artemisco.ca) ; Reyahealth (www.reyahealth.ca) ; Stemminds (https://www.stemminds.com/); Refasten (www.refasten.ca)
IO Accelerator Program
Invest Ottawa at Bayview Yards www.investottawa.ca/venture-path/ accelerator
No. of companies in residence: 35
Key local executive: Nick Quain, Vice President, Venture Development; Michelle Younes Director, Venture Programs
Year established: 2018
IO Flex Program
No. of companies in residence: 208
Key local executive: Nick Quain, Vice President, Venture Development; Michelle Younes, Director, Venture Programs
Year established: 2021
Length of program: Ongoing
Intake schedule: Rolling intake
IO Ignition Program
www.investottawa.ca/venture-path/ignition
No. of companies in residence: Approx. 15-20 per cohort (60-80 per year)
Key local executive: Nick Quain, Vice President, Venture Development; Michelle Younes, Director, Venture Programs
Year established: 2018
Length of program: 10 weeks
Length of program: Ongoing
Intake schedule: Rolling intake Notable startup tenants and graduates: Rewind; GoFor; Knak; Relogix; Rewind; RVezy; The Growcer; Fellow
IO ScaleUp Program
Invest Ottawa at Bayview Yards www.investottawa.ca/scaleup
No. of companies in residence: 51
Key local executive: Nick Quain, Vice President, Venture Development
Year established: 2019
Length of program: Ongoing
Intake schedule: Rolling intake
IO Traction
(Pilot Program for women founders)
No. of companies in residence: 26
Key local executive: Nick Quain, Vice President, Venture Development; Michelle Younes,Director, Venture Programs
Year established: 2022
Length of program: 10 weeks
Notable startup tenants and graduates: Assent, Rewind, Field Effect, Mindbridge, Knak, Noibu, Fusebill, Solink, Rvezy, Fellow, GoFor
Notable startup tenants and graduates: Automate Medical; Floka; Gadget; Evoke Health;CANImmunize; Ekidna Sensing; LearnExperts; Planetary Hydrogen
Lead To Win leadtowin.ca
No. of companies in residence: 59
Key local executive: Tony Bailetti, Executive Director; Ludovico Prattico, Operations
Year established: 2002
Length of program: Three years to grow company to $1M revenue
Intake schedule: Pilot program. Applications launched early 2022 for program in 2022 Q2
Notable startup tenants and graduates: Evoke Health; Treehouse Medical; Braiyt; In the ClearZone; etc
Intake schedule: Four cohorts per year (one per quarter)
Notable startup tenants and graduates: LeanExperts, MyVeloFit, Click Armour; Vaultt; Sparkpath; Realize Medical; Treehouse Medical
L-SPARK
No. of companies in residence: 24
Key local executive: Patrick White
Year established: 2014
Length of program: 6 months
Intake schedule: Four cohorts per year (one per quarter)
Startup Garage
startupgarage.ca
No. of companies in residence: 8
Key local executive: Kathleen Kemp, uOttawa Entrepreneurship Hub Manager
Year established: 2010
Length of program: Ongoing
Intake schedule: Rolling intake
Intake schedule: Bi-weekly Notable startup tenants and graduates: N/A
Notable startup tenants and graduates:Heyday, Martello, Cybeats, Chata, Hippoc, Raven Connected, Fictionary
Notable startup tenants and graduates: Noibu, Thawrih, Hoppier, Transparent Kitchen, Welbi, Growcer, Hyre, Oat and Mill, Gamestrat, MicroMetrics
64 TECHOPIA-EY INSIGHTS 2023
© 2023 Ernst & Young LLP. All Rights Reserved. ED None. 4171116 C o mm i tt e d t o exc e l l e n c e . C o mm i tt e d t o yo u . Perlaw.ca
© 2023 Ernst & Young LLP. All Rights Reserved. ED None. 4171116 How can you turn today's limitations into tomorrow's breakthroughs? Now is the time to go beyond our own organizations to build alliances that deliver as-yet unseen opportunities. ey.com/ca/tmt