2005-2022 2005-2023 SEPTEMBER 2023 INSIDE HOW TO BALANCE QUALITY SERVICE WITH QUICK GROWTH p.22 5 PROBLEMS FOR SMALL PAVEMENT SWEEPING BUSINESSES p.26 ABQ POWER SWEEPING, LLC p.8 IN THE NEWS p.16 2023 INTERNATIONAL SWEEPER SUMMIT & EQUIPMENT EXPO p.18
Global Environmental Products 5405 Industrial Parkway, San Bernardino, CA 92407 USA • 909-713-1600 • www.GlobalSweeper.com The perfect choice for any Municipal/Governmental agency requiring highperformance, reliability, and ZERO EMISSIONS. INTRODUCING THE 1ST 100% PLUG-IN ALL ELECTRIC DRIVE THREE-WHEEL HEAVY-DUTY MECHANICAL STREET SWEEPER MADE IN THE USA The Ultimate Street Sweeping Machine
www.nasweeper.com SEPTEMBER 2023 NORTH AMERICAN SWEEPER 3
SUBSCRIPTIONS
Stockton New Jersey 08559
Opinions expressed in editorial submissions contributed to North American Sweeper Magazine are those of the individual authors exclusively and do not necessarily reflect the opinions of North American Sweeper Magazine, its staff, its advertisers, or its readership. North American Sweeper Magazine assumes no liability or responsibility toward independently contributed editorial submissions or any typographical errors, mistakes, misprints, or missing information within advertising copy.
4 NORTH AMERICAN SWEEPER SEPTEMBER 2023 Visit Us FEATURES 8 ABQ Power Sweeping, LLC, Albuquerque NM – Work & Family Balance 16 In The News 18 2023 International Sweeper Summit & Equipment Expo 22 How To Balance Quality Service with Quick Growth 26 5 Big Problems for Small Pavement Sweeping Businesses 34 Index of Advertisers/Classifieds CONTENTS SEPTEMBER 2023 | VOLUME 18 | ISSUE 9 CEO & PUBLISHER Gideon W. Smith SENIOR EDITOR Katherine Nolan ADVERTISING Tracy Rodean CREATIVE DIRECTOR Melissa Kennelly EDITORIAL MANAGER Heidi Karpinich CIRCULATION Noah Aiden Phoenix Global Media Inc. P.O. Box 235, Stockton New Jersey 08559 866-418-4400 phone 973-532-0319 fax sales@nasweeper.com North American Sweeper Magazine is published by Phoenix Global Media Inc. Copyright 2023 by Phoenix Global Media Inc. All rights reserved.
$15.00 per year,
eligible request.
or by
POSTMASTER: Please send changes to North American Sweeper Magazine P.O. Box 235,
6 NORTH AMERICAN SWEEPER SEPTEMBER 2023 Visit Us
BUILT FOR CLEAN . BACKED FOR LIFE . Questions? Ask an Expert! ©2023 Elgin Sweeper Company Broom Bear ® • Non-CDL version available • Mechanical sweeping to handle heavy applications like millings • Independent broom control for in-the-cut precision • Single engine for fuel economy and less maintenance • Simple start-up procedure with easy-to-operate controls THE LEGENDARY POWER BEHIND SWEEPING Multiple Fuel Configurations Diesel, CNG, Hybrid & 100% Electric
ABQ POWER SWEEPING, LLC
ALBUQUERQUE NM
WORK & FAMILY BALANCE
8 NORTH AMERICAN SWEEPER SEPTEMBER 2023 Visit Us SPOTLIGHT INDEX
This commercial pavement sweeping company was founded in 1993 by Patricio and Librada Ibuado (a.k.a. Papa and Mama-Lala). They operated their successful small business in Albuquerque for about two decades, until 2013. Their daughters, Yvonne Garcia and Hortencia Semeniuk McDonald, two successful professionals in other fields then stepped in. Yvonne tells the story. Our parents had been in the business for about 20 years and wanted to retire, or semiretire. They were around
76 and 72 years old. My sister and I thought — let's try to rebuild it.
Yvonne Garcia does not acknowledge any particular difficulties that she and her sister may have encountered in rebuilding a thriving business as Latino women in a very tough industry. They simply don't let anything stand in their way. But, Yvonne does reflect on what she knows about her parents' struggle to create and develop their business in the early days.
As immigrants, they did not speak the language and they met with many daily obstacles and larger barriers to success in the United States. But, they persevered. Along the way, they taught their children to respect and follow the rules and to
continued on page 10
www.nasweeper.com SEPTEMBER 2023 NORTH AMERICAN SWEEPER 9
value family bonds and a fierce work ethic above all. Inarguably, in addition to growing a strong business, they were highly successful in growing an exceptional family of hard workers who all continue to this day to love and help each other through their respective challenges.
SISTERS REBUILD COMMERCIAL PAVEMENT SWEEPING BUSINESS
My parents transferred all the work they had to us. So, we've had some clients for over 20 years. We changed the name of the business and rebuilt it. The equipment was run down. We got a little equipment from my parents and a few other things, but not much, and we were ready to give it a try. We got a small business loan for a used truck.
Yvonne laughs as she recalls buying that first sweeper truck. We went all the way to Alabama to get the truck, and it gave us trouble all the way back.
Our parents were always very hardworking people...
we finally told them — no more helping us. They had been driving, portering, and doing other work, but we finally had to tell them to just stay home...we just wanted them to take it easy and enjoy their lives.
But it lasted long enough for us to get another truck a couple of years later.
Our parents were always very hardworking people. About five years ago, we finally told them — no more helping us. They had been driving, portering, and doing other work, but we finally had to tell them to just stay home. We said that's enough. They were still healthy enough to work, but we just wanted them to take it easy and enjoy their lives.
FAMILY BUSINESS FUTURE – AT A CROSSROAD
We lost both our parents recently. This is a really hard time for us right now. My mother died from a tragic accident in March last year (2022). They had just celebrated their 60th anniversary. My dad found it difficult to stay at home and would come and do day jobs for us just to stay busy. In January of this year, he passed away too. He wasn't sick, but after 60 years together… They always worked together. The last 20 years of that was with their sweeping business and another five with us.
10 NORTH AMERICAN SWEEPER SEPTEMBER 2023 Visit Us SPOTLIGHT INDEX
We thought — should we even keep going, or sell it? But, it's a family business. We figured they'd all be proud of it, so we kept going. For the love they've all shown us, we've wanted to do it for them.
Our sister, Barbara Hill has helped us tons and tons and is still helping. Barbara's husband, Ken, helped us for years too. My kids and Hortencia's kids have all helped with it. Hortencia's daughters-in-law have helped. Barbara and Ken's kids have helped too.
Before the two women formed their partnership as entrepreneurs in the traditionally male industry of commercial pavement sweeping they were both professionals. Hortencia was in the military and then went on to earn a business degree. Yvonne was a nurse. Actually, I still keep my degree updated and my nursing status active. She jokingly notes, I'm always giving out bits of health advice, especially against smoking.
The business means a lot to us because it was founded by our parents, we do it for our parents and our entire family. We're always talking about them (Papa and Mama-Lala). They helped in every way possible. Our entire family has helped so much.
CURRENT STATUS OF ABQ BUSINESS HEALTH
We're doing better now than we ever have in this business. We serve a lot of HOAs and commercial parking lot owners. We do a lot of one-time jobs, monthly, and quarterly jobs. It all adds up. We work hard and we have good, hard-working, dedicated employees. We keep our trucks clean and well maintained. So, our customers know we are taking good care of our equipment and their properties.
We have 12 employees, including my sister and
me. My sister and I do most of the office work, paperwork, etc., and we use an accountant. Our brother, Art, is our Operations Manager. He also does a lot of the mechanical work, and we hire a mechanic occasionally for some of that. Art helped so much from the beginning. He's very knowledgeable. He's been a big part of the success of the business.
We have 3 trucks and we're still growing. We have a shop for working on our trucks. We have a shop where our equipment is stored and our office is at the shop.
We use Schwarze sweeper trucks, and we have an Elgin mechanical sweeper. (The company also has field support vehicles, including a Dodge Ram and a Ford 350 pickup truck, which they use to pull their pressure washer on a trailer.)
We have a few contracts for the pressure washer and usually have 2 people doing the portering. We do some work at night and some during the day. In the last 3 to 4 months, we've been able to hire 3 people. For a while after Covid we couldn't grow because we couldn't find people. Or, they'd come on for a month and then leave.
ABQ SUSTAINABLE FAMILY & TEAM WORK MODEL
Everybody we've hired in the past year has stayed. We do a little of everything. It's amazing how much we get done with what we have. We do construction cleanups with the mechanical sweeper. We do street sweeping, parking lots, and a lot of movie business. Last year we didn't do as much of it, but in previous years we've had a lot of that. The movie industry has been really big around here.
They had a lot of pressure washing work to do, and
continued on page 12
www.nasweeper.com SEPTEMBER 2023 NORTH AMERICAN SWEEPER 11
even indoor cleaning, and movie sets. They needed the dust from building the sets cleaned up. They needed help cleaning warehouses. There was a lot of stuff to do for them. That was good; it kept us running, and they were really helpful. Our kids were allowed to run around the sets.
So, we've done lots of work for the movies that the kids could help with. They've helped us clean. We helped with the cleanup of the area where they made the second Independence Day. That place was a disaster. They wanted us to clean it up afterward. It was awesome because we could take our kids. The
kids helped us clean it up. It was nice for our kids to get that learning experience to help them get the family work ethic too — as I learned from helping my parents.
When asked about the division of labor in the business, Yvonne explained their system. My sister is better at office management and paperwork. I do the errands and other things in the business and work once or twice each week at night. My brother was in the business with my parents and he stayed on with us. He is very skilled. He does the general sweeper truck maintenance and many other kinds of complex repairs and other work.
COVID 19 PANDEMIC IMPACT ON ABQ SWEEPING IN NEW MEXICO
We've been in the business for 10 years now, and we're doing better every year. Covid was rough, but we made it through that. We actually kept most of our contracts. We didn't lose any, but we cut back on the number of sweeps for some. So, we still had some income even though it wasn't what we were used to. But, we were able to keep our core staff.
COMPETITIVE SWEEPING MARKET IN ALBUQUERQUE, NM
We asked Yvonne about competitors in the Albuquerque market area. In the small city of Albuquerque, with a total population of just 563,000, the ABQ owners still focused on running their own race instead of worrying much about what their competitors were doing.
Yes, we definitely have competition. I think there are a couple of larger companies. But, a couple of our employees worked for them in the past and they say we're a lot better to work with, nicer, and offer an overall better quality of employment.
12 NORTH AMERICAN SWEEPER SEPTEMBER 2023 Visit Us SPOTLIGHT INDEX
I think it's because we're small and we still care. We just don't ever want to lose that. Fortunately, we don't have to watch our employees. We know they know the expectations and that they work hard and always try to meet or exceed them.
ABQ MARKETING AND SALES IN SMALL MARKET, ALBUQUERQUE NM
We don't have signage around town. We have logos on our trucks, and we use our slogan on everything, "Quality Service You Can Depend On." We also have a little broom logo (just a regular little broom like one you use to sweep your floors in your house). We have the slogan on our shirts too.
At one point, we started going out to make sales calls, but spent a lot of time and energy and didn't get too far doing that. So, we hired a new marketing company. They revamped the website. It was very basic before they improved it. The website is just easier for marketing and attracting new customers.
These days it's all about who you can Google. They (the marketing agency) send us reports about how many people are looking at it (the website), how long they stay on there, and other information. It's been really worth our money. We got three requests for quotes on Wednesday. We've recently got a few more contracts from marketing on the website. It's a learning process.
Some of our customers say, "You guys are always on
target, and if you have issues you send us pictures." We increase our business with those clients because they have no problems. When you have trustworthy employees that you know work hard, you don't have to worry much about keeping or replacing customers.
FUTURE PLANS FOR ABQ POWER SWEEPING, LLC
When asked whether ABQ has any plans for diversification of services, Yvonne offers a more straightforward plan for ABQ. We're not thinking of diversifying. I was thinking if we did branch out, we might do fleet cleaning. I can't stand to see the trucks dirty. That's a reflection of who we are. (It makes sense to Yvonne that fleet owners would naturally want their vehicles clean too.)
But, that's just an idea. Right now we're just focusing on the growth we've recently had as our priority. We don't want to grow so fast that we can't do a good job. Plus you have to have family time. I'm all for doing what it takes to succeed, but we also want to spend time with our family. It's a balance you have to maintain.
THE FAMILY BUSINESS DIFFERENCE
What's great about being in a family business? I've got a very supportive husband, Albert, and my sister's husband, Kerry, is very supportive too. Even the kids pitched in during our mother's illness. No one would have known anything was wrong. Because we don't stop during times of trouble.
continued on page
www.nasweeper.com SEPTEMBER 2023 NORTH AMERICAN SWEEPER 13
14
When you have trustworthy employees that you know work hard, you don't have to worry much about keeping or replacing customers.
My kids are 18 and 22 years old. Of course, the kids have their own lives beyond involvement with the family business, as Yvonne explains. My daughter just graduated from college with two degrees. My son is just starting at UNM. He's thinking of going to law school. My sister's son Jacob is a paramedic, Jackie is a registered dietician, Mike is a military medic in the Army Special Forces, and Kelly is a nurse. My brother's daughter, Ashlyn, is a school educator and Stephany works for a major financial planning and wealth management organization. We fully support their choices. As long as you're happy doing what you're doing, that's the important thing.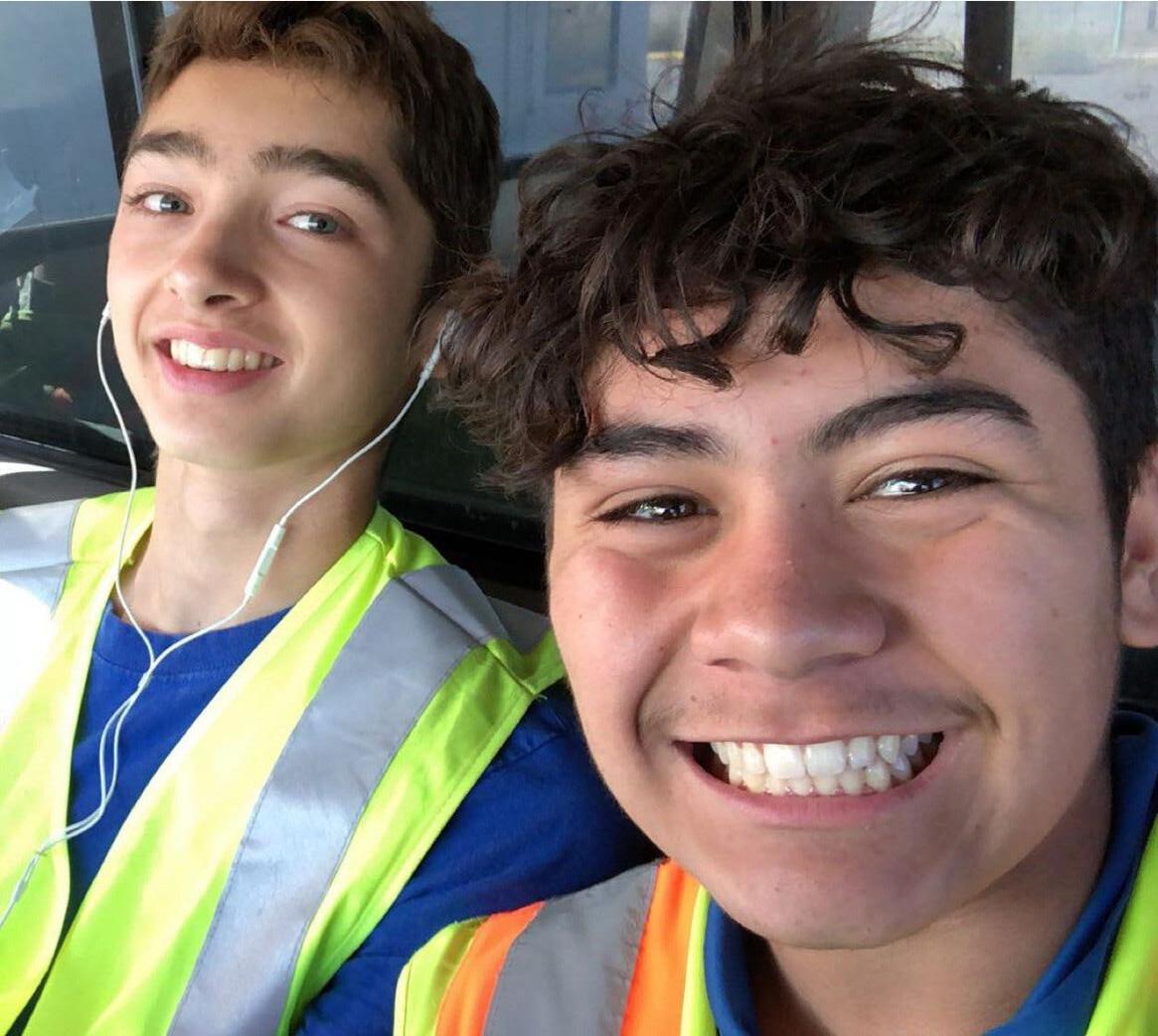 My parents, first and foremost, were very hard workers. They instilled that in us. My father pushed education. He really valued education, and he encouraged and supported us all in getting a good
education. He did the same with the grandkids. My mother was such a hard worker and an inspiration to everybody. She worked in the business and ran the home, and she never complained.
ADVICE FOR INDUSTRY NEWCOMERS FROM YVONNE GARCIA, ABQ POWER SWEEPING, LLC, ALBUQUERQUE, NM
Owning a business is a 24/7 operation. It's hard and it takes a lot of dedication. At a regular job, you go to work and come home and it's done until your next shift. But, in your own business, you never turn it off. There's always something you're thinking about. That's what makes it hard. You have to balance, otherwise, you'll make yourself crazy. If you don't care enough, the business won't work. But, if you don't balance, it won't all work well that way either.
The takeaway for us from our time with Yvonne was about the deeper value of family engagement in a business and what that means to the quality of family and work life for those with such close-knit families who can really make it work together. Listening to Yvonne, the overarching point to learn from ABQ becomes clear: Having a family business is much more than a job or a business — it's a way of life.
Yvonne's other primary point for the industry is also about balance. She spoke of managing quality during growth. That is a critical take-home message for any ambitious entrepreneurs who think that that is something to figure out later, or on the fly, during growth. Seasoned business owners in the sweeping industry understand the uncontrollable loss rates that can start to spiral profitability due to growth plans that do not account well enough for maintaining quality while resources are continuously pulled away for growth priorities.
14 NORTH AMERICAN SWEEPER SEPTEMBER 2023 Visit Us
SPOTLIGHT INDEX
REFLECTING ON ABQ AND THE NAS MOMENT WITH YVONNE GARCIA
We can't help wondering if there's ever been another family business in which so many members of the immediate and extended family have helped a company succeed. In Albuquerque, New Mexico, after two decades in operation, the emphasis of ABQ, and perhaps the true secret of its long success, remains the principle of balance.
Throughout the ABQ team, sustaining quality commitments to current customers and growth activities in the business are understood as equal priorities. And, prioritizing time in ways that work to sustain both business and family success is paramount in the ABQ company culture. For Yvonne and Hortencia, professionally and
personally, it's about honoring their father's and mother's legacy and example of a deep work ethic for their children, and it's about these forms of balance between work and family time. That's a simple-sounding message but with monumental implications for the rugged commercial power sweeping industry and every business owner in it.
For more information about ABQ Power Sweeping, LLC., Albuquerque New Mexico, call (505) 238-9181 or visit abqpowersweeping.com.
www.nasweeper.com SEPTEMBER 2023 NORTH AMERICAN SWEEPER 15