REPORT TO THE COMMUNITY 2021
2 Mission and Goals ��������������������������������������������������������������� 3 Message from the President �������������������������������������������� 4 Message from the Board Chair ��������������������������������������� 5 2021 Highlights ������������������������������������������������������������������� 6 Faculty Spotlight �������������������������������������������������������������� 10 Student Success Stories ������������������������������������������������� 12 Celebrating Academics ��������������������������������������������������� 14 Recognizing Excellence ��������������������������������������������������� 15 Eye on the Future ��������������������������������������������������������������16 Student Residences ����������������������������������������������������������18 Athletics Updates������������������������������������������������������������� 20 Social Media ���������������������������������������������������������������������� 22 Financial Report ��������������������������������������������������������������� 23 contents 2021 REPORT TO THE COMMUNITY
The College District shall:
• freshman and sophomore courses in arts and sciences;
32021 Annual Report
• compensatory education programs designed to fulfill the commitment of an admissions policy allowing the enrollment of disadvantaged students;
• technical programs up to two years in length leading to associate degrees or certificates;
• continuing adult education programs for occupational or cultural upgrading;
• adult literacy programs and other basic skills programs for adults; and,
• workforce development programs designed to meet local and statewide needs;
• continue to provide for a qualified and diverse faculty and staff through fair hiring processes and continuous professional development, as well as a competitive salary and benefits program accompanied by a healthy and safe work environment; and,
• such other purposes as may be prescribed by the Texas Higher Education Coordinating Board or the Galveston College Board of Regents, in the best interest of postsecondary education in Texas.
Access Providing an open door to learning while extending accessible educational opportunities to qualified students of all ages who can profit from instruction.
• continuing program of counseling and guidance designed to assist students in achieving their individual educational goals;
Integrity Fostering a culture of trust, honesty, openness, and fairness, while upholding high ethical standards.
Vision
The vision statement of the College is:
Respect Fostering an environment that seeks to understand and value the importance and contributions of each individual.
The Board of Regents has developed a list of seven values that are an integral part of the College Mission and Vision. The values reinforce the Board's desire to provide ethical leadership and are used in making decisions undertaken by the college community as the mission is operationalized. From the development of strategic goals to the simplest actions and decisions taken by college staff, these values will manifest themselves.
Stewardship Ensuring fiscally sound business practices to provide the resources necessary to foster teaching and learning for today and tomorrow.
In accordance with Texas Education Code, Section 130.003, the College shall provide:
• occupational programs leading directly to employment in semi-skilled and skilled occupations;
Purposes
Innovation Creating and developing learning opportunities that support business and industry through innovative teaching, learning methods and strategies.
Goals
Providing high-quality, learning-centered programs and services that focus on achieving student success and academic excellence while improving student learning outcomes.
• improve student success through highquality, learning-centered programs and support services that reflect the highest expectations and academic standards;
The mission statement of the College is: "Galveston College, an innovative public postsecondary institution dedicated to student success, teaching, and learning, creates accessible learning opportunities to fulfill individual and community needs by providing high-quality educational programs and services."
Academic Excellence and Student Success
• provide equipment, technology resources, facilities, and grounds that create a physical environment conducive to teaching and learning, as well as student success in the 21st Century.
"Galveston College - a beacon of light guiding lifelong learning." Mission
Values
Diversity and Inclusion Affirming and empowering members of the college community by celebrating diversity, inclusion, and cultural awareness.
• provide an open door to learning and extend accessible educational opportunities to students of all ages who are able to benefit from instruction;
OUR MISSION AND GOALS
In spite of these changes and challenges, we experienced many milestones during the past year. We launched an ambitious plan for the college's first major building program in 30 years - a 62,853 sq. ft., three-story nursing and health sciences education center on the main campus. We gained support for our Bachelor of Science in Nursing program, which we will launch in fall 2022, and we continued to offer outstanding academic offerings in various formats based on student needs and comfort levels.
I thank you for your support of Galveston College, for your belief in Galveston College, for making Galveston College your community college, and for entrusting our faculty and staff with the honor and privilege to serve our community by working to transform the lives of every student who comes to Galveston College in pursuit of a better quality of life.
4 Galveston College
W. Myles President,SheltonGalveston College "As your community college, we take pride in supporting students both inside and outside of the classroom."
Galveston College is a place where students from all walks of life come to expand their opportunities through academic, cultural, and social experiences. As your community college, we take pride in supporting students both inside and outside of the classroom.
MESSAGE FROM THE PRESIDENT
The past two years have been a challenging time to say the least. And I am proud of how our faculty, staff, and students have responded to the many changes we have implemented in a very short amount of time. I'm not a fan of the word "pivot," but I certainly think we have done our best to adapt our teaching, learning, student services, and campus technology to meet the growing needs of our students and community during these changing times.
is elected
residents
GalvestonChairKarenSincerely,FlowersCommunity
College District Board of Regents MESSAGE FROM THE BOARD CHAIR Mary R. Longoria Position 1 Raymond Lewis, Jr. Position 4 Norman S. Hoffman Position 7 Fred D. Raschke VicePositionChairperson2 Michael B. Hughes PositionSecretary5 Garrik Addison Position 8 Karen F. Flowers ChairpersonPosition3 Carolyn L. Sunseri Position 6 Armin Cantini Position 9 BOARD OF REGENTS
represent
nine-member
The Board of of Galveston College at-large by of Galveston Island, Port Bolivar, and Crystal Beach. These Regents give unselfishly of their time and their constituents for six-year terms.
Our 54th year as a college was filled with many accomplishments, new ideas, and wonderful people like you who made everything possible. We thank you for your tremendous support of Galveston College and, most of all, our students. With your encouragement, we continue to open doors and change lives on Galveston Island and beyond the causeway. No board could be prouder of its college and community. We are constantly amazed by the stories we hear, and we hope you share in the joys and success of our students, faculty, and staff. It truly is a great time to be a Galveston College Whitecap.
52021 Annual Report
Regents
As a board, we remain committed to keeping the cost of a college education extremely affordable and a higher education credential attainable for everyone who chooses Galveston College. We know there are many factors that influence an individual's decision to pursue a degree or certificate, and we don't want cost to be a Galvestonbarrier.College is successful only with the active support of our stakeholders who play a critical role in ensuring all community members have access to educational opportunities allowing them to advance as far as their abilities and aspirations will take them. Thank you for all you do to help make this possible.
As we pause briefly during these challenging times to contemplate the future goals and opportunities for Galveston College, please know that all of the board members join me in expressing gratitude for the continued support our college has received. It is an enduring privilege to serve your college and our mission.
Galveston College was named Best College – Gold in the annual Galveston.com Best of the Island Awards. Dubbed the "Oscars of the Gulf Coast" by The Houston Chronicle, the competition recognizes leading organizationsbusinesses,andpeople in dozens of categories.
Galveston College mourned the Jan. 13, 2021, passing of Dr. John Pickelman, 75, fourth president of Galveston College, following a lengthy battle with Alzheimer's. Dr. Pickelman served as president of Galveston College from 1983 to Galveston1991.College mourned the Jan. 15, 2021, passing of longtime business leader Charlie Thomas, 89, of Houston, who at one time owned multiple Texas car dealerships as well as the Houston Rockets basketball team. Through the generosity of Mr. Thomas and his family, Galveston College opened the Charlie Thomas Family Applied Technology Center in 2013 at the dealership's former Galveston location on Broadway Street as a commitment to provide multiple workforce and technology programs for residents to be trained to enter lucrative careers in the Galveston County area.
Kelly Merry joined Galveston College as director of development and the Galveston College Foundation. Merry has 18 years of experience working as a development professional, with individual success in major gift, planned gift, capital campaign, donor relations, and annual gift work, as well as organizational success in leading and growing a development team. For the first time, the Whitecaps baseball and softball teams hosted their Galveston College Island Invitational tournaments the same weekend, Feb. 5-6, at Bernard Davis Stadium and Lassie League Park. The tournaments featured teams from throughout Texas and the southern United States.
The Galveston College Foundation Board of Directors announced the creation of the Helen K. and Phillip A. Lohec Endowed Scholarship at Galveston College. Established by Mark T. and Pamela Lohec Stasney and family, the new scholarship is available to full and part-time students at Galveston College who are pursuing an associate degree or technical certificate and may be applied to tuition, fees, books or course supplies. The first recipient will be announced in spring 2022.
Galveston College, the city of Galveston, and the entire state of Texas, experienced a week-long freeze and power outage as a result of a severe winter storm that swept through the state. Classes were canceled, and the college was closed.
Galveston College announced an innovative training partnership generously funded by the Moody Permanent Endowment Fund that enables the college to offer free workforce training in pipefitting and computer support to Galveston clients of local social-service agencies and others in need of marketable skills.
6 Galveston College 2021
Galveston College received a $750,000 Texas Higher Education Coordinating Board Texas Reskilling Support Fund grant award from the Governor's Emergency Education Relief Fund. The funding provided emergency educational support to students who were most significantly impacted by the COVID-19 pandemic to aid in the continuation of their education and economic Dr.recovery.Thelma White, retired president of Elizabethtown Community College in Kentucky, spoke on "Diversity and Inclusion: Challenges and Opportunities in Higher Education" at the spring 2021 Faculty and Staff General Assembly, which was produced virtually. Professor Dave Fagundes, Baker Botts LLP Professor of Law at the University of Houston Law Center, presented a session titled "Who Owns Your Zoom Lectures?" at the spring 2021 faculty professional development session.
HighlightsJanuary February
Galveston College Nursing students obtained valuable clinical experience assisting the Galveston County Health District in clinicthroughatCOVID-19administeringvaccinationsthecounty'sdrive-massvaccinationcoordinatedbythe Galveston County Office of Emergency Management, the University of Texas Medical Branch and the Office of County Judge Mark Henry at Walter Hall Park in League City.
72021 Annual Report
The Core Vidas"theatrechamberperformedEnsemblethemusicwork"TresatGalveston College on March 24 virtually via Zoom videoconference.
March Galveston College Technical and Professional Education kicked off its spring Student Success Seminars series March 4 with a presentation titled "Progressing During Difficulty" featuring Mae Francis of Lookin' Up Consulting. Frances also presented sessions on "NoteTaking and Study Skills for Success" and "Communication Skills for Success in School and the ExecutiveWorkplace."Director of Historic Preservation and Collections and Robert H. Smith Senior Curator Dr. Susan P. Schoelwer of George Washington's Mount Vernon presented "What Can We Learn from the Exhibit 'Lives Bound Together: Slavery at George Washington's Mount Vernon'" on March 9 as part of the 2021 lecture series on Diversity, Inclusion and Empowerment at Galveston College.
The Galveston College Theatre productionswasTheatreAmericanKennedytoInvisibleproductionDepartment'sof"TheMan"advancedRegionVIoftheCenterCollegeFestival.Itoneofonly11fromcolleges and universities throughout a five-state region invited to the Feb. 26-28 regional festival, which was produced virtually.
The Galveston College Theatre Department brought back some of the most popular radio programs of the 1940s in its Feb. 26-28 virtual production of "The Vintage Radio Hour."
Galveston College launched a new Whitecaps Athletics website: gcwhitecaps.com. The website contains upto-date Whitecaps baseball and softball schedules and rosters. As statistics and schedules are updated in the NJCAA system, fans are able to view the updates on the gcwhitecaps.com site.
The Commission on Accreditation of Allied Health Education Programs, at its March 19 meeting, awarded programmatic accreditation to Galveston College's Diagnostic Medical Sonography program. The initial five-year accreditation followed a rigorous review process, including a self-study and virtual site visit to the Galveston College campus.
The Texas Women in Higher Education honored Dr. Cissy Matthews, vice president of instruction at Galveston College, on March 22 with the 2021 Contributions to Texas Women in Higher Education Award. The Contributions to Texas Women in Higher Education Award is designed to recognize a member of Texas Women in Higher Education and her outstanding contributions to TWHE and advancing women in the academy. The Galveston College Student itemsclothingprovideinitiativeWardrobeitsAssociationGovernmentlaunchednewWhitecapscollectionMarch24toprofessionalandothertostudents.
In conjunction with the Get Fit Texas Challenge, the Galveston College Employee Relations and Wellness Committee hosted a Walk Across the Island Challenge to promote health and fitness among faculty and staff.
The Galveston College Outreach and Retention Committee hosted its first-ever virtual Programs and Careers Conference Feb. 13 for high school and college students.
The Galveston College Public Affairs Department received a Paragon Award from the National Council for Marketing and Public Relations for the new Whitecaps logo. The award was presented at the March 16-18 NCMPR national conference.

Shelton, Galveston College president, chair of the Galveston Regional Chamber of Commerce workforce committee, hosted a roundtable of city and business leaders throughout the county on May 11 to identify barriers and find solutions to the current workforce crisis. Galveston College recognized seven graduating dual-credit students from Ball High School on May 24 with a drive-through celebration on campus. This was a record number of dual-credit graduates in one semester for Galveston College.
The Galveston College Faculty Professional Development Committee hosted a virtual lecture on April 13 featuring a panel of six scientists from the University of Texas Medical Branch who discussed their disciplines and latest research.
6.
The Galveston College Employee Relations and Wellness Committee, in partnership with the Galveston County Health District, hosted a COVID-19 vaccination clinic on April 8 with a administrationsecond-doseonMay
Dr. Cissy Matthews, vice president of instruction at Galveston College, received the Lindle Grigsby Leadership Award from the Texas Association of College GrigsbyEducators.TechnicalTheLindleLeadershipAward was created in 2012 to recognize one of the association's members who has demonstrated outstanding leadership skills and dedication to the Fromorganization.May7-23, the Galveston College Theatre Department presented the virtual comedydrama "One Year Later," a collection of scenes, monologues, skits and poems that examined the surreal experiences of individuals in the wake of the COVID-19 pandemic.
Galveston College continued its 2021 lecture series on Diversity, Inclusion and Empowerment April 27 with a virtual lecture "Black Hollywood: How African Americans Gain Agency and Empowerment in the Movie Industry" featuring Kimberly Fain, visiting professor at Texas Southern University and licensed attorney.
April May Galveston College 2020-2021 LECTURE SERIESGC.EDU DIVERSITY, INCLUSION AND EMPOWERMENT Kimberly Fain Visiting Professor Texas Southern University licensed attorney. Fain holds PhD Technical Communication and Rhetoric from Texas Tech University, from Thurgood Marshall School Law, MA from Texas Southern University, and Law Social Policy, JSTOR Daily, McFarland, Modern Fiction Studies, National Book Review, Ploughshares, Scarecrow, Southern Studies. For Fain's 2017 blog series Ploughshares, "The Black Aesthetic," she's published essays the musical revolution the cultural rhetoric Beyonce, Jay-Z, Kendrick Lamar, Prince, and SZA. Her series claims, Kimberly Fain, PhD Texas Southern University, Visiting Professor, Attorney, Author, Public Speaker Scan code below to access the event url: The meeting ID is: 841 3687 0565 Passcode: Galveston policy GalvestonCollege provideequalopportunitieswithoutregard age,race,color,religion,nationalorigin,sex,disability,geneticinformation veteranstatus. April 27, 2021 at 6:30pm via Zoom HOW AFRICAN AMERICANS GAIN AGENCY AND EMPOWERMENT IN THE MOVIE INDUSTRY 2021 CONT'DHighlights
Galveston andfamilywith34daytimeofcelebratedCollegethegraduationsClass6ofitsfull-time,programandClassofitseveningprogramvirtualceremoniesformembers,co-workersfriends.
8 Galveston College
Heating, Ventilation, Air Conditioning and Refrigeration (HVAC-R) and Quickstart+ HVAC Helper students had a 100% pass rate on the EPA Section 608 Universal certification exam at the completion of their training on April 9.
First-year Associate Degree Nursing students at Galveston College once again excelled in their annual studyfromallowedassignedMonth.duringpresentationresearchcompetitionNationalNursesGroupswereatopicthatforuseofmaterialclasslectures,labs,resourcesandnursing research within the last five Dr.years.Myles
The Galveston College David Glenn Hunt Memorial Library website was featured on Springshare Buzz as one of the academic examples by Simplified Design without a lot of coding requirements. Galveston College celebrated its 53rd Commencement Ceremony on May 14 in a virtual ceremony online via the college website, social media and a dedicated link sent to graduates and their families. This year's graduating class featured the first 13 recipients of the college's first bachelor's degree - the Bachelor of Applied Science in Healthcare Management. A total of 596 students received 735 associate degrees and certificates during the Galvestonceremony.College Nursing students and faculty member Jeff Eubank were in a story about COVID-19 vaccinations on ABC World News Tonight with David Muir. The students were shown staffing the Galveston County COVID-19 mass vaccination clinic at Walter Hall Park in League City.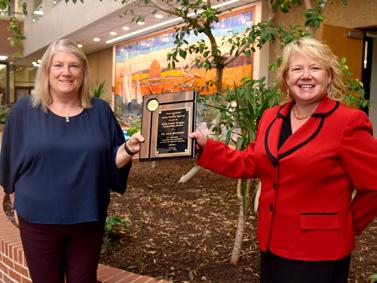 As Galveston College enters the final year of the 20172022 strategic plan, work began on the next strategic planning cycle. The process began in January 2021 when administration, faculty, staff and regents were surveyed about the college's vision, mission, values and goals.
Regina d Adams s Absolute Equa ity Mural 22nd & Strand, Galveston, Texas he p c o Ga es n Co ge o r v d eq a op o t n e w h u ega d o Feb. 1, Moody Lobby Black History Poste Di l Feb. 3 @ 10 a.m., T Harriet Tubman Play Free Tic Feb. 24 @ Lunch, M Black History Mon Feb 24 @ 7 p m Bingo with Cedric Baggett Live on Zoom email for link: rgraves@gc.edu Feb. 28 @ 1 p.m. Bingo with Cedric Baggett Live on Zoom email for link: rgraves@gc.edu FOR CALL RANDY GRAVES AT 409 944 1234
June July August
The Galveston College Employee Relations and Wellness Committee hosted a series of vaccination clinics to provide COVID-19 vaccines and other vaccines on campus.
President Myles Shelton announced emergency grants of up to $2,000 to enrolled students this fall to help ease the financial burden from the COVID-19 pandemic. Students received a payment if they were enrolled and attended classes for the fall 2021 semester and qualified under the federal Higher Education Emergency Relief Fund III (HEERF III) authorized by the American Rescue Plan.
Events
92021 Annual Report
The Galveston College Foundation welcomed six new members to its board of directors, including James Clark, Jason Hardcastle, Dr. Walter J. Meyer, III, Tom Schwenk, vice chair, S. Benjamin Shabot and Cynthia Smith.
Galveston College celebrated the signing of a bill by President Joe Biden establishing Juneteenth, the date commemorating the end of slavery in the United States, as a federal holiday. The college also recognizes Juneteenth as a holiday. Galveston College introduced myGC, a new self-service student planning and financial aid tool on the students' Whitecaps portal. Students can register for the classes they need–when they need them, and pay their tuition and fees via myGC. Four Galveston College dual-credit faculty members were selected for Galveston Academic Excellence Booster Club Top 50 Teachers honors, including Ashley Hart, instructor of English; Darin Larkin, instructor of History; Daniel Limmer, interim program director of Emergency Medical Services; and John Rimar, assistant professor of Mathematics and Computer Science. The Galveston College Cosmetology program ranked fourth on BestValueSchools.orgthe list of cosmetology programs in Texas.
Throughout February, GC Library Black History Books Featured Historic Figures Life Size Display Test Your Knowledge for Prizes
The Galveston College Foundation introduced a new Foundation logo that features beams of light radiating from a lighthouse and seabirds to emphasize the island community the Galveston College Foundation serves, as well as the college's mission to be "a beacon of light guiding lifelong learning."
MORE INFO
Month MEvents
Black BHistory lack History onth
Due to a high COVID-19 positivity rate and a significant increase in the number of COVID-19 cases reported in Galveston County, the City of Galveston and on campus, most on-campus classes at Galveston College moved online for the first three weeks of the fall 2021 semester.
The Galveston College Vocational Nursing Class of 2021 celebrated a 100% pass rate on the National Council Licensure Examination for Practical Nurses (NCLEX-PN). The NCLEX-PN exam is a standardized test that every state regulatory board uses to determine if a candidate is ready to become licensed as a nurse.
The Galveston College Outreach and Retention Committee hosted a series of virtual health and wellness workshops via Zoom videoconference.
The Greater Texas Foundation awarded Galveston College a total of $122,500 over a three-year period to be given to students facing unexpected and untimely crises that may prevent them from completing their
Community College District Board of Regents approved a partnership with the Galveston Independent School District to offer a new Hospitality certificate program designed to prepare graduates for in-demand positions in the hospitality industry.
Theeducation.Galveston
Dr. Norma Rubin and her children, Ross and his wife Michelle, Corey, and Jana and her husband Jesse, established the Dr. Sanford A. Rubin Memorial Scholarship in Nursing with the Galveston College Foundation in honor of Dr. Sandy Rubin.
The Galveston College Faculty Professional Development Committee kicked off its 2021-2022 lecture series on New Worlds with Nassau Bay Police Chief Tim Cromie, who spoke on "19-Year-Old DNA and New Technology: The Jennifer Schuett Case."
September NovemberOctober 2021 CONT'DHighlights
Government Association officers Dora Martinez, president, and Benji Shelton, secretary, were administered the oath of office in a ceremony in the Regents Hall courtyard. Not present was Ethan Fox, vice president. Galveston College won first place in the College/University category in the 2020 Galveston County Daily News Readers' Choice poll.
Hurricane Nicholas forced the closure of Galveston College and cancellation of classes from Sept. 13-17.
The City of Galveston Planning Commission presented a Planning and Design Award to Galveston College for the Abe and Annie Seibel Foundation Student Residences.
The Galveston Community College District Board of Regents approved a vaccination opportunity and incentive program for current students, faculty and staff at Galveston College. Funded by the federal Higher Education Emergency Relief Fund, faculty and staff who received the COVID-19 vaccine received $300 and students received a $200 bookstore gift Thecertificate.Galveston College Office of importantstudentSept.WhitecapsaCollegeDevelopment/GalvestonFoundationcelebratedsuccessfulinauguralGivingDayon18.Fundswereraisedforscholarshipsandothercampusinitiatives.Galveston
10 Galveston College
Longtime Galveston College professor Theron Waddell and his wife Jeri Jaquis established the M.T. Waddell Scholarship with the Galveston College Foundation to provide support for future students majoring in social or behavioral sciences for which there are teaching opportunities at the high school or college level.
Galveston College received a five-year, $2,887,872 National Science Foundation grant that focuses on enhancing the quality of undergraduate science, technology, engineering and mathematics (STEM) education and increasing the success rates of students pursuing associate and baccalaureate degrees in STEM.
College Student
The Food for Thought food scholarship program for Galveston College students returned to the college's main campus in an open-air market format. Galveston College received $435,561 from the Texas Reskilling and Upskilling Education (TRUE) Institutional Capacity Grant program to provide support for students on track to enter the workforce with high-value credentials and education in highdemand career fields.
Galveston College welcomed the Hospitality Educators Association of Texas (HEAT) to campus Nov. 14 for its culinary track featuring Chef Paul Mendoza of the Galveston College Culinary Arts Academy, Chef Mary Bass of La Cocina and Debbie Berger of Seeding GalvestonGalveston.College welcomed author Oscar Cásares who spoke and signed copies of his book, "Where We Come From," as part of the Galveston Reads "One Community, One Book" program.
Galveston College continued its 2021-2022 lecture series on New Worlds with a presentation on "Pillars and Practices for Healthier Life: An Introduction to Integrative Herbal Medicine" by Dr. Sagar Kamprath, assistant professor in Family Medicine at the University of Texas Medical Branch, on Dec. 2.
The Galveston College Community Chorale presented its 2021 holiday concert, "Shalom," on Dec. 13 at Moody Memorial First United Methodist Church in Galveston. Whitecaps baseball players volunteered with Galveston Urban Ministries to clean up a space that will function as a community and activity center and house out-of-town visitors and volunteers.
Introducing"Rip the Whitecap!"
The Galveston College Theatre Department rang in the holiday season with its festive production, "Christmastime," streaming on-demand on Vimeo from Dec. 10 - 31.
Galveston College Technical and Professional Education hosted a fall student success seminar series featuring Mae Francis of Lookin' Up Consulting.
112021 Annual Report
Whitecap.TheinfansAssociationGovernmentinvitedWhitecapsto"NameThatWhitecap"amascotnamingcontest.winningname?Ripthe
December
Galveston College celebrated the graduation of the seventh full-time, day-time class of the Galveston College Law Enforcement Academy on Dec. 15. The Galveston College Student
Galveston College delivered food"SharetheSchoolitemsnon-perishablemuch-neededfoodtoBallHighonDec.1during41stAnnualABC13YourHolidays"drive.
Galveston College
Simmons, the first Black student in Galveston College's dual-credit program to graduate with an Associate of Science in General Studies ahead of his high school diploma, graduated summa cum laude (with highest honors). He plans to attend Johns Hopkins University in the fall and study to become an orthopedic surgeon. Simmons also will play on the JHU baseball team. He set his sights on becoming a doctor in kindergarten watching his sister participate in a white-coat ceremony as part of Ball High Schools BioMed and STEM academies. Simmons says he hopes to inspire other students to achieve their dreams and pursue their passions. He says he is grateful to God for his continuous blessings, as well as his parents, family and friends who have been with him on his journey.
Two BHS Seniors Earn College Degrees Before High School Graduation
Two members of the Ball High School Class of 2022 can now list a major achievement in their high school yearbook – college Eyleengraduate.Fuentes and Renard Simmons, Jr., both completed their associate degrees at Galveston College in December 2021, a full semester before graduating from high school. Fuentes graduated from Galveston College with an Associate of Science in General Studies with honors. As the daughter of two immigrant parents and a first-generation college student, Fuentes says education has always been one of the most important and meaningful components of her life. She plans to continue her education at Texas A&M University in College Station. Fuentes desires to further her education through Texas A&M's Doctor of Veterinary Medicine professional program and pursue a Master of Science in Biomedical Sciences. Ultimately, she hopes to work as an equine veterinarian. She intends to positively impact the lives of the animals she treats and even their owners through wisdom, knowledge and compassionate care. Fuentes attributes the Galveston College Upward Bound program for helping her navigate through high school and begin the college admissions process. She says Upward Bound has become her second family and network of support that she will continue to carry with her moving forward.
12
STUDENT SUCCESS
132021 Annual Report
And now, Galveston College will benefit from his aptitude, training, enthusiasm and strong work ethic as he begins his new position as a maintenance technician in the Galveston College Facilities
Asdepartment.afull-timeemployee taking advantage of his already acquired knowledge in the HVAC field, he is now beginning his second associate degree in Computer and Network Administration hoping to complete it by 2023.
The Whitecaps student-athletes performed well academically, with 10 students earning recognition on the 2021 National Junior College Athletic Association All-Academic Team: Baseball Evan Cameron, First Team Tyran Norris, Third Team
Galveston College Quickstart Grad Finds New Career, Sets New Goals Ten Whitecaps Earn Spots on NJCAA All-Academic Team
After a series of discouraging, low-paying jobs with little hope for advancement, Anthony Sanabria decided to check out Galveston College's Quickstart Heating, Ventilation and Air Conditioning training program in the fall of 2019. Coming from a family with no college education and no understanding of its value, Sanabria was not sure this was a good path for him and had little confidence in his ability to handle the demands of college studies. After some time in instructor Karen Alsept's class, Sanabria found he enjoyed learning, had the aptitude for HVAC and realized that this was a good career path for him. When he completed the eight-week program and passed the Universal EPA test on his first try, he gained the confidence to enroll in the Associate of Applied Science degree program in HVAC and Refrigeration.
Aspyn Grossman, Second Team Jordan Rasmussen, Second Team Alyssa Castellano, Third Team Caitlin Denison, Third Team Bailey Groom, Third Team Chasity Kambitsch, Third Team
WHITECAPSGO
"No one told me how important college is and that I had the potential to succeed. Quickstart was the perfect opportunity to try out something new and see if it was a good fit," Sanabria said.
"It completely changed my life."
"He has undoubtedly been a great acquisition both for his quality as a human being and for his constant desire to help and to acquire new knowledge. Without a doubt, Anthony is a great addition to our department and his continued development will help our college to operate even more optimally."
"Anthony has demonstrated his great commitment and knowledge in the complex systems that we handle in air conditioning systems and digital platforms," said his former supervisor, Jorge Otero.
Softball Odette Lopez, First Team Makinzie Tomascik, First Team
14 Galveston College
Dr. Matthews has more than 20 years of experience in career and technical education (CTE). She started in CTE as an emergency medical services faculty member at College of the Mainland in Texas City in 1998. Later, she became the dean of workforce and continuing education at COM. While in this role, the college implemented several new CTE programs, particularly in allied health areas.
Dr. Matthews began her involvement with the TWHE Board of Directors in 2012 and served as president from 2016 to 2018. She has served on a number of TWHE committees, including the Nominating Committee, Institutional Representative Committee, Awards Committee and Social Media Committee.
Grigsby Leadership Award was created in 2012 to recognize one of the association's members who has demonstrated outstanding leadership skills and dedication to the organization. This award was presented to Lindle Grigsby the first year for his many years of dedication and service to TACTE.
"True leaders focus on a vision and lead others to join them in implementing that vision. Cissy has done just that with both her board positions—especially her leadership as president and continued influence as past president," Dr. Day said. "The vision of TWHE is to 'transform higher education leadership in Texas and beyond. Through her focus on that vision, Cissy has led TWHE to plan its work to achieve the vision through strategic priorities related to development, networking, advocacy, advancement and growthprofessionalofwomen in Texas colleges and universities."
Winning an award for academic leadership during a year besieged by a pandemic is quite an achievement. But winning two awards for outstanding leadership is nothing short of
"Dr. Matthews is responsible for the majority of the people that currently serve on the TACTE board through either individual recruitment or through her continued service as the chair of the TACTE Election Committee," said Alexander Okwonna, president of TACTE in announcing the award. "She has always been and continues to be a shining example of CTE loyalty, love and service."
In 2019, the college added its first bachelor's degree – a Bachelor of Applied Science in Healthcare Management, which allows graduates with associate degrees in allied health fields to pursue a fully online bachelor's degree at the cost of a community college education.
The Contributions to Texas Women in Higher Education Award is designed to recognize a member of Texas Women in Higher Education (TWHE) and her outstanding contributions to TWHE and advancing women in the academy.
Dr.monumental.CissyMatthews, vice president of instruction at Galveston College, received the Lindle Grigsby Leadership Award from the Texas Association of College Technical Educators in 2021, as well as the 2021 Contributions to Texas Women in Higher Education
Since Dr. Matthews joined Galveston College, where about 40 percent of the programs and enrollments are related to career and technical education, the college has added many CTE programs, including Cosmetology, Electrical and Electronics Technology, Computer and Network Administration, Surgical Technology, Diagnostic Medical Sonography, Instrumentation Technology, Logistics and more.
CELEBRATING ACADEMICS
TheAward.Lindle
Academic Leader Earns Pair of Distinctions
"From the list of positions she has held, anyone could surmise that Cissy has been a positive force for TWHE. Although her positions outline Cissy's time with TWHE, they do not adequately describe the true impact she has had on the organization," said Dr. Dani Day, immediate past president of TWHE, in presenting the award.
The initial five-year accreditation followed a rigorous review process, including a self-study and virtual site visit to the Galveston campus.
152021 Annual Report
and Regent Ray Lewis received awards for 10 years of volunteer service to the college.
The Commission on Accreditation of Allied Health Education Programs (CAAHEP), at its March 19 meeting, awarded programmatic accreditation to Galveston College's Diagnostic Medical Sonography program.
Retirees in 2020-2021 who were honored at the event included Valencia Allen, Jose Garcia, Pat Perry, Erma Phillips, Dr. James Salazar, and Tim Setzer. It was a virtual celebration of excellence on May 7, as the Galveston College campus community joined together via Zoom videoconference to applaud outstanding achievements and highlight college programs at the annual Employee Awards Celebration. With a theme of "Years of Wonderful Programs Creating a Brighter Future," the event featured last year's honorees in humorous video clips that showcased the college - from the Allied Health programs to the Whitecaps softball Twentyteam. faculty and staff members were honored with exceptional service awards and milestone awards for years of service at the Regentcollege.
RECOGNIZING EXCELLENCE
Carroll Sunseri with the Galveston Community College District Board of Regents received an award for 30 years of volunteer service to the college. Regent Armin Cantini
"Becoming an accredited program is a wonderful achievement for the college and our students," said Program Director Jaime Retiz. "This gives us recognition as a program maintaining national standards and quality and allows our students to be eligible for the American Registry for Diagnostic Medical Sonography (ARDMS) board registries.
The Galveston College Diagnostic TechnologistsRegistryisSonographyMedicalprogramalsoanAmericanofRadiologic(ARRT)recognized educational program. This recognition allows graduates to be ARRT – Sonography registry eligible upon completion of the program.
"We are very proud that our Diagnostic Medical Sonography program has achieved CAAHEP accreditation," said Retiz. "This demonstrates the quality of our program and the dedication of our faculty to ensure the program prepares students for success as diagnostic medical sonographers."
Cordetta Knatt, Amy Leuchtag and Eugene Walker received awards for 10 years of service. Kris Blackmon, James Love, Elizabeth Quilantan and Athena Sempe were recognized for five years of service.
Diagnostic Medical Sonography Gains CAAHEP Accreditation
Galveston College Recognizes Excellence at 2021 Employee Awards Celebration
Exceptional Service Award staff recipients included Jay Castillo, Financial Aid, and Maria Garcia, Office of the Vice President of Instruction and Kara Fahringer-Baer, Testing Center. Faculty recipients included Dr. Larry Blomstedt, History and Government, and Don Davison, Business Administration and Management. The adjunct faculty recipient was Brandi Castillo, Developmental MariMathematics.Maciasand Wayne Way were honored for 20 years of service to the college. Tia Campbell-Benson, Nikki Montoya, Pat Perry, Dr. James Salazar and Jonathan Walker were recognized for 15 years of service.
ON
The construction of this contemporary instructional facility is part of the college's strategic plan to cultivate these programs, grow enrollment and provide rewarding employment opportunities to the community.
Galveston College Moves Forward with Health Sciences Education Center
In February of 2021, the Galveston College Theatre Department's production of "The Invisible Man" advanced to Region VI of the Kennedy Center American College Theatre Festival Galveston(KCACTF).College's production was one of only 11 productions from colleges and universities throughout a five-state region invited to be presented at KCACTF Region VI Festival Galveston53.College
Eva Arita, Daniel Bourque and Alyssa Gudz each received an award for Meritorious Achievement in Acting for their performances. Program Coordinator for the Performing Arts Liz Lacy received a Meritorious Achievement award for Excellence in Direction. Additional outstanding company members include Dorion Alcantar, Elijah Barrie and Benji Shelton. Theatre department Advances to Kennedy Center American College Theatre Festival Regionals
16
EYE THE
FUTURE
Theatre company members also received a number of recognitions.
To meet the needs of local healthcare employers, the Galveston Community College District Board of Regents approved the construction of a 63,000-square-foot Health Sciences Education Center on the college's main campus at the corner of 39th Street and Avenue R in September 2021. Designed by PBK Architects of Houston, the center will be three stories tall with a footprint and layout similar to a medical center. The facility will align with the aesthetics of the campus and community and will contain classrooms, laboratories, simulation labs, lecture halls, student study spaces and offices.
We are excited to bring this project to the neighborhood and our students and grateful to the Seibel Foundation for making it a Thereality."college opened the new student housing in the fall under capacity due to the coronavirus pandemic. Furnished with comfortable contemporary furniture, each unit contains five bedrooms, kitchen, kitchenette, living room, dining room/study area and a balcony. The housing offers Galveston College students an opportunity for flexibility, versatility, space saving, and safety, in a family-like atmosphere. Each unit is equipped with programmable thermostats, accesscontrolled keypads, free laundry areas and free Wi-Fi.
Galveston College Celebrates Completion of Abe and Annie Seibel Foundation Student Residences with Socially Distanced Tours and Student Move-in Activities
A 13-year dream came true for Galveston College President Myles Shelton, several members of the Galveston Community College District Board of Regents and the Galveston College Foundation Board of Directors when the Abe and Annie Seibel Foundation Student Residences opened their doors in August 2021. Funded in large part with the generous support of the Abe and Annie Seibel Foundation, the seven units are designed to resemble the historical homes of Galveston. Each unit can house 10 students in the main residence and two students or a resident assistant in a garage apartment.
18
"This project is the second significant capital expansion grant from the Abe and Annie Seibel Foundation to Galveston College," Galveston College President Dr. Myles Shelton said in giving socially distanced tours of the new housing in early August. "Fewer than 10 years ago, Galveston College was given the means to build the Abe and Annie Seibel Foundation Wing allowing students and the community to gather for events ranging from civic, collegiate and evenings of powerful educational enrichment. Now the Seibel Foundation has bestowed the financial support necessary to realize the college's longtime dream of student housing.
STUDENT RESIDENCES
Coach Raines served as head softball coach at Howard College in Big Spring, Texas, from 2005 to 2021. During her tenure, the Hawks had 16 years of 30 or more wins in a season, won seven regional championships, claimed nine conference championships and placed fourth in the 2015 national tournament.
"Coach Raines' enthusiasm and excitement, her strong educational background, her knowledge of softball, and her goals and vision will be a tremendous boost to our program," said Dr. Van Patterson, vice president for administration and student services and interim athletic director. "She will hit the ground running on day one and take our program to the next level."
GALVESTON COLLEGE ATHLETICS
Coach Raines is an eight-time Western Junior College Athletic Conference Coach of the Year and a three-time recipient of the National Fastpitch Coaches Association Staff of the Year award. During her playing career at Pensacola Junior College and Lindenwood University, she was a two-time National Association of Intercollegiate Athletics All-American, National Fastpitch Coaches Association All-American, All-Region and All-Conference student-athlete. She is a member of the Lindenwood University Player Hall of Fame.
20 Galveston College
Prior to joining Howard College, Coach Raines served as head softball coach at her alma mater, Lindenwood University in St. Charles, Missouri, for two years and assistant softball coach at Midland College in Midland, Texas, for two years. During her time at Midland, the Chaps won two regional championships and two conference championships and finished fourth at the national tournament.
Coach Raines has a Master of Business Administration, a Bachelor of Arts in Physical Education, and an Associate of Arts. She has also taught undergraduate classes in sports management and business management.
"I am so excited to be a Whitecap," said Coach Raines. "I look forward to an exciting new chapter in my life and Galveston College softball."
New Athletic Director/Head Softball Coach Brings Energy and Experience
Galveston College brought on junior college coaching veteran Kelly Raines in December to serve as athletic director and to lead the Whitecaps softball program. "Coach Raines brings a vast amount of knowledge and experience with the National Junior College Athletic Association and Texas community college softball to Galveston College," said Dr. Myles Shelton, college president, in making the announcement. "Kelly has a tremendous dedication to student success – both in the classroom and on the field. She has been to the NJCAA national tournament seven times in her 16-year career. We are truly excited to have her join our Whitecaps family."
Two Galveston College Whitecaps softball players signed letters of intent to play with universities in Arkansas and Louisiana.
Infielders Blake Martin of Deer Park, Texas, signed with Alabama A&M University at Huntsville and Brandon Nicoll of Langley, British Columbia, signed with Southern Arkansas University at Magnolia. Pitcher Charles Peacock of Dickinson, Texas, signed with the University of Arkansas at Monticello.
Pitcher Odette Lopez signed with Louisiana State University at Alexandria, and infielder Bailey Groom signed with the University of Arkansas-Monticello. Conner Dykstra
Seven Whitecaps Student-Athletes Go on to Play at Universities
It was a great year for Galveston College Whitecaps athletics, with seven Galveston College student-athletes signing with universities in 2021.
21
Five Galveston College Whitecaps baseball players signed letters of intent to play with four-year universities. Pitcher Kurt Dillon of Cornwall, Ontario, signed with Louisiana Tech University at Ruston. Catcher Connor Dykstra of Chilliwack, British Columbia, signed with George Mason University.
22 Galveston College 1,2191,870651Fall2021Enrollment Total550Graduates (Entire FY2021) Female (65%) AGE BREAKDOWN Number and percent Under 18 319 (17.1%) 18 - 21 675 (36.1%) 22 - 25 279 (14.9%) 26 - 35 360 (19.3%) 36 - 45 153 (8.2%) 46 - 55 61 (3.3%) Over 55 23 (1.2%) ETHNICITY Number and percent African American 308 (16.5%) Asian 60 (3.2%) Hispanic 771 (41.2%) White 652 (34.9%) Other 79 (4.2%) 25AGEAVERAGEMale (35%) 320 230 Female (58%) Male (42%) WebEnrollment&Social Media Graduates ETHNICITY Entire FY2021, Number and percent African American 86 (33.3%) Asian 18 (17.45%) Hispanic 207 (41.6%) White 166 (33.3%) Other 21 (4.25%) DUE TO FACEBOOK CRASH IN OCT. & LACK OF ACTIVITIES ON DEPARTMENT PAGES FOUR ACCOUNTS MANAGED TOTAL AWARDS: 666 Entire FY2021, Number and percent Female 359 (53.9%) Male 307 (46.1%) BY THE NUMBERS SUBSCRIBERS148%INCREASETOPVIDEOVIEWS279,755487KVIEWS58%INCREASEWATCHTIME87%INCREASENEWSUBS215%INCREASEYOUTUBE TOP TROPICALLIBRARYTWEETS:INSTRUCTIONPRESIDENT'SLISTSTORMNICHOLASSTUDENTRESOURCESFAIRTWITTER16 NUMBERSMANAGEDACCOUNTSDOWN242,321PAGEIMPRESSIONS 284,00 IMPRESSIONSPAGE 15,794 INSTAGRAMFACEBOOKREACH 1.8K AUDIENCETOTALPINTERESTFOLLOWERS4,387 IMPRESSIONS4O2K UP 239 VIEWERS 158 PAGE VIEWS 6%LINKEDININCREASENEWWEBSITE IN SIGHT Digital Communications/Web Services maintained two websites while developing a brand new website with a new CMS. GC.EDU | GCWHITECAPS.COM 1,461TIKTOKLIKES BACHELOR OF APPLIED SCIENCE IN HEALTHCARE MANAGEMENT
232021 Annual Report Total Revenue Tuition and Fees (Net Discount) 2,708,288 State Appropriations 5,997,261 Grants and Contracts 4,325,009 Federal Title IV Grants 3,600,353 Ad Valorem Taxes 14,448,842 Investment Income 35,344 Other 223,278 Auxiliary 561,858 Total InstructionExpenditures 9,825,561 Public Service 4,434 Academic Support 1,911,094 Student Services 3,492,908 Institutional Support 5,415,899 Operation and Maintenance of Plant 2,743,768 Scholarships and Fellowships 2,862,901 Auxiliary Enterprises 1,009,202 Depreciation 1,176,955 Ad Valorem Taxes 45.3% State Appropriations 18.8% Grants and Contracts 13.6% Federal Title IV Grants 11.3% Tuition and Fees 8.5% Auxiliary 1.8% Investment Income 0.1% Other 0.7% Instruction 34.5% Institutional Support 19% Student Services 12.2% Scholarships and Fellowships 10.1% Operation Maintenanceandof Plant 9.6% Academic Support 6.7% Depreciation 4.1% Auxiliary Enterprises 3.5% Public Service 0.0% Revenue Expenditures10.4%18.5%13.3%34.1%0.1%6.5%8.4%2.7%3.6%2.4% FY2021 REPORT
24 Office of the President Galveston College 4015 Avenue Q Galveston, TX 409-944-GCGC77550 GC.EDU Opening ChangingDoors.Lives.