Mt. Juliet cyclist killed
Nashville celebrates newest sister city Erbil
BY MATT MASTERS
Nashville officially has a new sister city.
Erbil, located in the Kurdistan Region of Iraq, joins the list of Nashville's other sister cities including Belfast, Northern Ireland; Caen, France; Chengdu and Taiyuan, China; Edmonton, Canada; Kamakura, Japan; Magdeburg, Germany; Mendoza, Argentina; and Tamworth, Australia.
More than 100 community members joined Nashville government and community leaders in welcoming the Kurdish delegation at the Nashville Downtown Public Library after a week of events across the city.
Those events included visits to the National Museum of African American Music, The Hermitage Mansion and Museum, John Overton High School, Ft. Negley, the Grand Ole Opry and a Nashville Sounds game, while they also dined at The Hermitage Hotel, Tansuo and Prince's Hot Chicken, and met with
in
Friday evening Bellevue crash
STAFF REPORTS
A Mt. Juliet cyclist was killed on Friday evening when she was hit by a truck on Highway 100.
23-year-old Alyssa Milligan was traveling on a bicycle with another cyclist near Harpeth Trace Drive at approximately 6:45 p.m. when she was struck by the passenger side of a Ford F-150 pickup truck.
Milligan, a well-known athlete who was a member of the Nashville Triathlon Club, was thrown off her bike and died at Vanderbilt University Medical Center.
Metro Nashville Police said that the 46-year-old driver told officers that he saw a cyclist ahead of him on the right side of the roadway's fog line, and he attempted to change lanes, reporting that "after looking over his shoulder, the cyclist was suddenly in front of him."
Police identified the driver as Maryville resident Donald Mashburn, who they said did not show any signs of impairment when they said he failed to yield the right of way to Milligan.
Tennessee Gov. Bill Lee.
"The bonds between Nashville and Erbil transcends geographical boundaries, and it fosters cultural understanding," Nashville Mayor John Cooper said.
"Hopefully, this partnership will open doors for economic collaboration, and that businesses from Nashville and Erbil will find common ground to explore new markets and opportunities, and that there will be a people-to-people connection forged through the sister city relationship, to enrich the lives both of Nashville and Erbil, and to collaborate on various humanitarian and social initiatives to build solidarity to strengthen our friendship and compassion, through knowledge and understanding with each other."
In the 1970s, Nashville became the home of a handful of Kurdish refugees who helped to grow the Kurdish community to more than 20,000 residents, the largest in the
The crash remains under investigation and charges could be filed against Mashburn.
United States, in what Cooper called a "great achievement and friendship and partnership."
Erbil is the capital of Iraqi Kurdistan, a region in the north of the country, and one of the largest cities in Iraq.
"Every single one of the Kurdish people who came here to live in the city, they all have their own special stories," Erbil Governor Omed Xoshnaw said through an interpreter.
Xoshnaw thanked his hosts and several organizations, including Nashville nonprofit Kurdistan Cultural Institute, and noted the longstanding diplomatic and military partnership between the U.S. and the Kurdish people, who live in a region that stretches across portions of Iraq, Iran, Turkey and Syria.
"We would like to develop
9/11 REMEMBRANCE DRAPER JAMES SOLD PAGE 10 PAGE 5 PRESORTED STANDARD U.S. POSTAGE PAID NASHVILLE, TN PERMIT # 338 THENEWS @ FWPUBLISHING.COM | 615.298.1500 | INFO@THENEWSTN.COM TICKED OFF: tickedoff@fwpublishing.com
>> PAGE 2 SEPTEMBER 14, 2023 | VOLUME 35 | NUMBER 36
Nashville Mayor John Cooper and Erbil Governor Omed Xoshnaw exchange signed documents on Sept. 9, proclaiming each other as sister cities.
PHOTO BY MATT MASTERS
A girl wearing a dress bearing Kurdish and American flags presents Nashville Mayor John Cooper and Erbil Governor Omed Xoshnaw with flowers.
PHOTO BY MATT MASTERS
More than 100 people, composed of Nashville's Kurdish community, and government and community leaders of both Nashville and Erbil, Iraq, gathered at the Nashville Downtown Public Library for the Sept. 9 sister cities ceremony.
this relationship to a new level, to have economic [partnerships] nations, more educational schools with higher education, and with any other peers," Xoshnaw said, adding, "I hope that this will be a stage for
Kurdish people and for freedom."
The event included several other speakers, live poetry readings, refreshments and a panel discussion following the ceremony.
O'Connell laps Rolli in runoff fundraising
BY STEVE CAVENDISH, NASHVILLE BANNER
Freddie O'Connell raised $1.2 million during the runoff disclosure period, which bested the previous record of $1.1 million by Megan Barry in the 2015 election. The total was almost triple that of his opponent, Alice Rolli, who raised $441,729.
O'Connell's campaign spent $804,768 and had $474,214 for the final 10 days of the race, according to campaign finance disclosures filed Friday. Rolli spent $350,920 over the same period and had $142,378 cash on hand for the final stretch.
With the haul, O'Connell raised more during the six weeks of the runoff period than he did during the previous 15 months of his campaign.
"A lot of the candidates [in the Aug. 3 election] were running in the same direction," O'Connell told the Banner. "And so a lot of unified support is possible now that there is a runoff between two candidates who are clearly running in very different directions. We also know though — and this is true for the two of us who reached a runoff — that donor energy isn't exactly the same as voter energy. So our overall operation is focused on getting voters back out to the polls on Sept. 14 or during early voting."
O'Connell's disclosure, which included
totals from July 25 through Sept. 4, came in at 605 pages and temporarily choked the Davidson County Election Commission's campaign finance system. DCEC staff had to work with a technology vendor in order to make it public.
"That's a pretty impressive haul in a few weeks," said Pat Nolan, political analyst for NewsChannel 5. "That is another indication to me that if his idea was to bring together the progressive movement and the business community, it was a success."
Not in this disclosure were the totals from an interim report filed on Sept. 6, which included another $66,800 and featured an $1,800 donation from Bobby Joslin, who along with Bill Hostettler took out an ad attacking O'Connell in the Aug. 3 election. Three members of Hostettler's family also contributed the $1,800 each to O'Connell. A Sept. 7 interim filing reported another $26,400 for O'Connell.
On her Sept. 7 interim report, Rolli disclosed another $10,000 in donations.
The Rolli campaign gave no comment.
Meanwhile, the eight candidates for four remaining at-large Metro Council seats brought in a collective $643,120, led by Quin Evans-Segall, who raised $136,616. Top spenders were Jeff Syracuse, Burkley Allen and Russ Pulley, current councilmembers who each spent more than $100,000.
Nashville Police offer $5K reward for information in Sept. 8 road rage shooting
STAFF REPORTS
A Nashville woman was wounded in a Friday night road rage shooting on I-440 West, and now Metro Nashville Police are offering a $5,000 cash reward for information that leads to the arrest of the suspect.
The shooting occurred at 8:50 p.m. near the I-65 interchange when an unidentified driver of a car opened fire on a Toyota Prius driven by Davidson County Chancery Court Judge I'Ashea Myles who was struck by broken glass.
Myles' 25-year-old friend and frontseat passenger was shot in her hand and leg and is being treated at Vanderbilt University Medical Center for the "non-lifethreatening" injuries.
Police called the incident "an apparent random act of road rage."
"A late model white sedan with glossy paint and a temp tag was traveling at a high rate of speed and was weaving in and out of traffic," NPD said. "The white car came upon the Prius, which was traveling in the left lane of I-440, and passed it on the left shoulder. The white car then swerved into a lane to the right of the Prius and slowed down as shots were fired into
the passenger side."
The victims released the following joint statement:
"We'd like to thank our friends, family, neighbors, and the entire Nashville community for the outpouring of support after this unfortunate and dangerous road rage incident. The generosity and caring nature of the Nashville community is something special, and our family certainly feels that right now. We also want to thank the Metro Nashville Police Department, the Nashville Fire Department, the emergency first responders, and the medical team at Vanderbilt Hospital for their heroic efforts last Friday night. We are deeply saddened and angered by this senseless attack and hope those responsible are caught and brought to justice. We again thank everyone for their support as well as understanding our request for privacy."
Police released photos from a TDOT traffic camera of the suspect car, and they are asking that anyone with information about the car or the shooting to call Crime Stoppers at 615-742-7463.
This story is a partnership between the Nashville Banner and The News. Visit nashvillebanner.com.
2 THE NEWS Sister city CONTINUED
PAGE 1
FROM
Metro Nashville Government and MNPS leaders tour John Overton High School with a Kurdish delegation from Erbil, Iraq, on Sept. 8, 2023. PHOTO COURTESY OF METRO NASHVILLE GOVT.
PHOTO BY MATT MASTERS
Since 1998, Belmont Village has safely delivered an unparalleled senior living experience for thousands of families. Collaborations with experts from the nation's top healthcare institutions and universities, including Vanderbilt, have established our national leadership in demonstrably effective cognitive health and wellness programs. Combining the highest levels of hospitality and care, our communities make life worth living.
©2023 Belmont Village, L.P. | ACLF 59 Medication management with licensed nurse on-site 24/7 | Circle of Friends® award-winning memory care Dedicated Alzheimer's care | Physical therapy, rehabilitation and fitness | Nationally-recognized, highly trained staff
A LIFE WELL LIVED. A LIFE WELL EARNED. BelmontVillage.com/GreenHills
| 615-667-8473 GREEN
HILLS
What legislation did Lawmakers pass during the special session?
BY KELSEY BEYELER
It's difficult to pinpoint the most shocking moment of last month's special session, called by Gov. Bill Lee to address the Covenant School shooting in March, which left three students and three staff dead.
There were the new rules House Republicans implemented to limit internal debate and public participation. Then there was the enforcement of those rules, which led to the removal of gun-reform advocates who were holding signs. There was the subsequent lawsuit that ultimately led to a Davidson County judge blocking the House's no-signs rule, as well as the moment when Covenant School parents who were planning to testify were kicked out of a committee, along with others, because some people clapped. There was the stalemate between House and Senate Republicans, the moment Democrats left the House floor in protest of Republicans' silencing of Rep. Justin Jones (D-Nashville) and the confrontation between House Speaker Cameron Sexton and Rep. Justin Pearson (D-Memphis) immediately after the House adjourned.
What wasn't shocking was the fact that the Tennessee General Assembly left the Capitol without passing meaningful legislation to help prevent mass shootings. Members of the Republican supermajority weren't interested in taking up any such bills — not even extreme-risk protection orders, a form of legislation suggested by fellow Republican Lee. As with regular legislative
sessions, all the Democratic superminority could do was highlight their conservative colleagues' inaction. Rep. Jones also made an unsuccessful attempt to call a vote of no confidence on Speaker Sexton.
Tension between Senate and House Republicans dragged the session out days longer than many anticipated. House Republicans wanted to use it as an opportunity to pass other legislation, including a bill that would allow certain juveniles to receive blended sentencing that could put them in adult prisons. The Senate refused to consider all but four bills, opting to hash out more complex legislation when the body reconvenes in January.
What they did pass doesn't change much — the legislation lacks enforcement mechanisms or was already being implemented in some capacity. Take, for instance, a bill that encourages safe storage by providing free gun locks to Tennesseans, removing sales tax for safe storage devices, creating a public awareness campaign and emphasizing safe storage in forthcoming firearm training courses. These courses are optional following the permitless carry law passed in 2021, entities including the Metro Nashville Police Department have already been distributing free gun locks, and there's been a similar sales tax holiday in effect since 2021.
Another bill requires the Tennessee Bureau of Investigation to submit a report on human trafficking. The TBI already tracks
this information, but the new legislation will require the bureau to organize it into an annual report. The other bill legislators passed codifies an April executive order from Lee that shortens the timeframe in which courts must submit information to the TBI to inform background checks — though courts will not be penalized if they don't get that information in on time. In response to the April executive order, the TBI published a report that demonstrated the need for a centralized system that enables faster reporting, estimating that more than 700,000 cases were still pending. A bill was
filed to create a centralized system but was tabled by the Senate.
A spending bill was passed that allocates $110 million toward school safety, mental health supports and implementation of the safe storage bill. Sen. Charlane Oliver (D-Nashville) called it "a waste of taxpayer dollars" compared to other actions the legislature could have taken to curb gun violence. Of that money: $1.1 million will pay for the public campaign on safe storage; $10 million will be granted to charter schools and public schools that don't have school resource officers; $30 million is for higher-education safety grants; $12.1 million provides sign-on and retention bonuses to the Department of Mental Health and Substance Abuse Services and affiliated behavioral health professionals; $3 million provides public behavioral health scholarships; $4 million is reserved for the Behavioral Health Safety Net program, which provides resources to those who have mental health diagnoses without proper insurance to cover them; and $50 million of reverted TennCare funds will support community mental health organizations.
Covenant School parents were present throughout the week, sharing stories of what happened to their children and advocating for and against specific bills. They testified against a bill that would allow more guns on school campuses and supported one that would close the autopsy reports of minors killed in violent crimes and require schools to train on differentiating emergency alarms. They expressed immense disappointment after the session ended with no substantial action — some even hinted at future political campaigns, though nothing has been confirmed yet.
"We need legislators on both sides of the aisle to be able to have respectful, thoughtful debate," said Covenant parent Sarah Shoop Neumann. "We will work toward ensuring every one of those seats is replaced by someone who has a true desire to listen to their constituents over firearm association lobbyists."
This story was first published by our sister publication Nashville Scene.
4 THE NEWS
Rep. Justin Pearson prays with Covenant families following the end of the special session PHOTO BY MATT MASTERS
Protesters in the gallery during the special session PHOTO BY MATT MASTERS
Nashvillians pack thousands of meals for 9/11 anniversary, National Day of Service and Remembrance
BY MATT MASTERS
First responder agencies, government officials and citizens across Middle Tennessee took part in 9/11 memorial services on Monday, marking the 22nd anniversary of the terrorist attack that killed nearly 3,000 people, including one event which is framing the day as an opportunity to give back to fellow Americans.
In addition to Nashville's annual memorial service, hundreds of volunteers packed more
than 230,000 meals at Belmont University for Second Harvest Food Bank of Middle Tennessee, part of a new and larger 18-city initiative with the non-profit 9/11 Day to give back on what is now known as the National Day of Service and Remembrance.
"Today tens of millions of people from all walks of life will be spending their day helping others, either by volunteering, by supporting a charity or performing other
good deeds," Second Harvest President Nancy Keil said, adding that some 6.5 million meals are being prepared nationwide.
Nashville Fire Department Assistant Chief Tim Moyers led the group in a moment of silence and the ringing of a bell marking the national tragedy.
"It was the ultimate sacrifice that they
[first responders on 9/11] made," Moyers told The News. "So I just hope that everyone remembers that."
The event also featured remarks from Nashville Mayor John Cooper, Belmont University President Gregory Jones and a live performance of "America the Beautiful" by two Belmont students.
5 SEPTEMBER 14, 2023 GET TO
INSBANK
Genuine Matters. 15 month cd APY* % 5.50 *Annual Percentage Yield (APY) is accurate as of August 25, 2023. Limited time offer. The APY is subject to change at any time and without notice. APY assumes interest remains on deposit until maturity. The minimum balance required to obtain the advertised APY is $2,500 and maximum CD amount is $235,000. Interest on CDs longer than 12 months must be paid at least annually. Offers are good for consumer and business accounts only and are subject to terms and conditions of the new account agreement. Offers are not available for IRAs, public entities, brokered deposits, or other financial institutions. Penalties for early withdrawals may result in reduction of principal if accrued interest is not sufficient to cover the penalty. Member FDIC. 2106 Crestmoor Road, Nashville, TN 37215 I 5614 Franklin Pike Circle, Brentwood, TN
615.515.2265 • 866.866.2265 I WWW.INSBANK.COM
KNOW
Where
37027
Volunteers pack meals for those in need at Belmont University on Sept. 11, 2023.
PHOTO BY MATT MASTERS
Members of the Nashville Fire Department pose for a photo with the department's memorial bell at Belmont University, marking the 22nd annivesary of the 9/11 attacks on Sept. 11, 2023. PHOTO BY MATT MASTERS
A tribute to Jimmy Buffett, who left a lasting legacy in music
BY BILL FREEMAN
Nashville is of course considered the heart of country music, and has seen its fair share of musical legends. Icons including Dolly Parton, Johnny Cash and others who have called Nashville home have left an incredible and enduring mark on the music industry. But there was one man who — while he might not have been born in or spent decades in Music City — has certainly had an unforgettable impact on Music Row and the music made in Nashville: Jimmy Buffett. His recent passing has left a void that will long be felt in Nashville and in the world of country music.
As Rolling Stone aptly put it, "Jimmy Buffett was your favorite country singer's biggest influence." And as Axios noted, "If you've listened to the radio in the last 20plus years, you know Buffett's beachy vibes shaped a generation of Nashville stars." These include, of course, Kenny Chesney, who saw great success with hits like "No Shoes, No Shirt, No Problems" and "When the Sun Goes Down," songs that can transport the listener to a tropical paradise, much like Buffett's timeless tunes.
24/7 FOOTBALL
For ONLY 2 weeks in the year is Tennis played, and broadcast on cable only; if you don't have Cable, you're stuck! I grew up in
Chesney is just one of the many artists who have followed in Buffett's footsteps and pursued what Rolling Stone dubs the "tiki bar sound," and Chesney is credited for introducing "Buffett's island attitude to country music." Buffett's music seemed to resonate with artist after artist who found great success from their own sunny, beachy songs. Songs like "Some Beach" by Blake Shelton, "One Margarita" by Luke Bryan and "Day Drinking" by Little Big Town all reflect the influence of Buffett's carefree style. In his 2003 hit "It's Five O'Clock Somewhere," Alan Jackson famously asked, "What would Jimmy Buffett do?" Buffett himself joined Jackson on the track, and as noted by Billboard, it became one of the decade's biggest country hits.
I've long been an admirer of Buffett's music, and I can hardly think of anyone who doesn't enjoy the infectious vibes of his beachy melodies.
Buffett had a way of making the listener feel as though they were part of the very scene he was singing about. That's a true gift. Still, the singer-songwriter was not just
TICKED OFF!
Forest Hills,N.Y. county Queens where the "Davis Cup" aka"US Open" was played. I am sick of football, basketball, and soccer!
a music icon, but also a savvy businessman. "Margaritaville," from the 1977 album Changes in Latitudes, Changes in Attitudes, propelled Buffett to stardom. The song soon became a brand, and later an empire that extended far beyond the confines of the music industry. According to the Associated Press: "The song soon inspired restaurants and resorts, turning Buffett's alleged desire for the simplicity of island life into a multimillion [dollar] brand. He landed at No. 18 in Forbes' list of the Richest Celebrities of All Time with a net worth of $1 billion."
In Nashville, his impact was twofold. As The Tennessean's Marcus K. Dowling recently wrote: "Yes, in Nashville — or anywhere by land, sea, or even airport — there are nine different types of retail, resort, or vacation establishments attached to his name. One needs only to walk the six-block expanse from Buffett's Margaritaville bar on Lower Broadway to his recently opened Margaritaville hotel just south of Lower Broadway showcase to understand the power of his empire."
I think many of us could learn a lesson from Jimmy Buffett — especially when it comes to the way we live our lives. Are we just dreaming, or are we achieving? Do we wish to inspire others, or are we actually working to do just that? Jimmy Buffett successfully inspired many, many people for more than 50 years. Let's take a leaf out of Buffett's lifelong songbook and live our lives to the fullest each day. And remember the words shared by his loved ones upon his passing: "He lived his life like a song till the very last breath and will be missed beyond measure by so many."
Bill Freeman
Bill Freeman is the owner of FW Publishing, the publishing company that produces the Nashville Scene, Nfocus, the Nashville Post and The News.
LOGAN BUTTS
ASSOCIATE EDITOR
MATT MASTERS
NEWS REPORTER AND PHOTOJOURNALIST
NICOLLE S. PRAINO
STAFF REPORTER
LISA BOLD
PRODUCTION MANAGER
CHELON HASTY
SALES OPERATIONS MANAGER
HEATHER CANTRELL MULLINS
PUBLISHER
ELIZABETH JONES
CORPORATE CREATIVE DIRECTOR
TODD PATTON CFO
MIKE SMITH
PRESIDENT AND CEO
BILL FREEMAN OWNER
6 THE NEWS
OPINION
Jimmy Buffett
THENEWS @ FWPUBLISHING.COM 615.298.1500 | THENEWSTN.COM TICKED OFF: tickedoff@fwpublishing.com FW Publishing, LLC. 210 12th Avenue South, Suite 100, Nashville, TN 37203 FW PUBLISHING, LLC
The comments in the Ticked Off column do not reflect the views of FW Publishing.
LETTERS TO THE EDITOR
SMALL BUSINESSES RELY ON PHARMACY BENEFITS TO SURVIVE AND THRIVE
It's no secret that the current business climate in Tennessee is primed for entrepreneurs, specifically those looking to launch or expand a small business. As a proud owner of an independent business in Memphis, I understand that the ability to recruit and retain talented employees is a primary factor that determines whether or not your business will be successful.
As the opportunities for skilled professionals continue to expand, offering comprehensive and diverse health insurance options is essential to remaining competitive. Securing access to a sound health plan is more than a benefit – it's a strategic investment that shows employees that their employer is committed to their well-being. If employees are burdened with high health care costs, attracting and keeping a skilled workforce becomes challenging, ultimately hindering economic growth across the state.
That's why I hope our elected leaders in Washington think twice before supporting legislation that would curtail access to affordable pharmacy benefits that so many small business owners and our employees rely on. I urge Tennessee lawmakers to recognize the pivotal role pharmacy benefit companies play in reducing costs for thousands of patients across our state and address the actual root cause of the issue with free market solutions.
We all know that prescription drug prices have skyrocketed, making it increasingly difficult for so many Americans and their families to afford the medications they need to stay healthy. These concerns need to be addressed by our nation's policymakers, but in a manner that genuinely benefits the constituents they represent.
Rather than targeting pharmacy benefit companies, which work to help save employers like me nearly $900 in savings on prescription costs per patient annually, elected leaders who want to support the growth of our small businesses should focus on increasing competition in the pharmaceutical industry. It makes no sense to eliminate the one link in the chain that we know actually helps secure savings.
Along with securing savings for employers pharmacy benefit companies provide us with flexibility that is critical when designing what health benefit works best for our unique needs as a business. Implementing large-scale government initiatives that these benefits would create exorbitant upfront costs, specifically harming small businesses that have fewer resources and choices at their
disposal. Instead, we must actively honor free market principles by promoting healthy competition in the pharmaceutical sector.
Senator Rand Paul recently explained, "The truth is the left's bill is being rammed through the Senate because some special interests want to weaken PBMs. Drug companies don't like that PBMs have the size and bargaining power to cut into their profit margins, and they blame a complicated payment system PBMs use for why they won't lower prices. Drug companies want to sell as many prescription drugs as possible. They pay large rebates so PBMs will list their drugs in health plans where they will be prescribed to the most patients. When this system works properly, the drug company gets to sell the most drugs at the lowest price, and since the insurance company saves money, patients benefit from lower premiums."
What Senator Paul describes is a competitive market working at its best, but of course the left would rather undermine competition and serve special interests than protect the free market and the businesses who rely on them.
Giving the federal government a larger foothold in the pharmaceutical supply chain will directly inhibit this type of competition, which is vital to maintaining an open marketplace. If you look at the history of market economies, when government involvement becomes too prevalent or domineering, companies' competitive spirits get eliminated, resulting in a downturn of growth.
If legislators continue promoting policies that replace private industry with government, we risk smothering the driving force that helps deliver more accessible treatment options. This will only harm taxpayers and working-class Tennesseans and Americans seeking to make a living.
As a first-generation immigrant who has experienced firsthand the opportunities and freedoms our country offers, I believe in the power of a free market to drive progress and prosperity. As an entrepreneur, I've witnessed how a dynamic and competitive economic environment propels our nation and citizens to succeed. Rather than steering America towards a nationalized healthcare system, our lawmakers take this opportunity to preserve the vitality and longevity of our free-market system by protecting pharmacy benefits for businesses and patients alike.
Rafi Chowdhury is a first-generation immigrant and small business owner in Memphis, Tennessee.
Rafi Chowdhury
OPINION 7 SEPTEMBER 14, 2023
Send your comments to tickedoff@thenewstn.com
Find news most important to your neighborhood at TheNEWStn.com The new https://www.thenewstn.com/signup/ Sign up for weekly emails for news that is most important to your specific neighborhoods: Green Hills | Belle Meade | Brentwood | Franklin | Spring Hill 2324 Crestmoor Road Nashville, TN 37215 615-777-0001 Behind the Mall at Green Hills A Rochford Hotel Group Property • Banquet Space Available for up to 64 People • Complimentary Breakfast, Parking & Wi-Fi • Spacious Residential Suites / Beautiful Standard Rooms www.nashgreenhillssuites.hamptoninn.com Want to get something off your chest? Have a point of view that may resonate with others? Letter to the Editor | Ticked Off! | Opinion Let us know in our opinion pages: To submit, email : info@thenewstn.com or tickedoff@thenewstn.com
Republican focus on human trafficking surfaces once again
BY HANNAH HERNER
Last month's special legislative session on public safety called in response to the Covenant School shooting brought four bills to Gov. Bill Lee's desk. One requires the Tennessee Bureau of Investigation to put together a yearly report on human trafficking, and only one mentioned guns.
During the session, Aaron Gulbransen and Aaron Spradlin — executive director and board chair, respectively, of right-wing organization Tennessee Faith and Freedom Coalition — joined Senate Majority Leader Jack Johnson (R-Franklin), U.S. Rep. Andy Ogles of Tennessee's 5th Congressional District, House Majority Leader William Lamberth (R-Portland) and other Republican leaders to promote the toothless legislation, which the group called a "major victory in our war on child and human trafficking in Tennessee."
The report won't be breaking any new ground.
"Basically, what we'll be doing is cobbling together the information that lives elsewhere into a singular report about trafficking," says TBI spokesperson Josh Devine.
In the TBI's latest state report, human trafficking is mentioned 16 times, while gun violence is mentioned once and "gun" eight
times. The state received 1,268 tips related to human trafficking in fiscal year 20212022, with 621 involving minors, though it is unclear how many cases were pursued. Gun violence was the leading cause of death for children in Tennessee 2021, according to recent data from the Sycamore Institute, and overall 1,569 people died of gun violence that year.
Human trafficking is a common talking point for Gov. Bill Lee, who brought on expert and former executive director of Ancora (previously End Slavery Tennessee) Margie Quin as the commissioner of the Department of Children's Services a year ago. Earlier this year, DCS started the Human Trafficking Response Team within the Office of Child Safety, which hired 11 people. It was also Quin who built TBI's human trafficking bureau. The TBI has run a public awareness campaign on human trafficking for 10 years, and staffs a designated hotline. Devine explains that human trafficking involves sex or labor in exchange for money or an item of value, and in order to be categorized as trafficking, force, fraud or coercion must be proven. (If the victim is a minor, force doesn't have to be proven.)
Locally based organizations focus mainly
on women, and mainly on sex trafficking. Among the local groups are Thistle Farms, Ancora, Freedom's Promise, Hope for Justice, Nashville Anti-Human Trafficking Coalition (NAHT), and Rescue 1 Global. They bring in a combined annual total of nearly $27 million to the cause, according to Giving Matters data.
Ancora, which manages all human trafficking referrals for Middle Tennessee as part of the Tennessee Counter Trafficking Alliance, recently established a home for clients. NAHT is on its way to establishing a social enterprise called Sweet Daisy, similar to the Thistle Farms Cafe model, in which former victims of sex trafficking are given steady opportunity for employment.
Inextricable from the conversation around human trafficking this year is the conservative hit film Sound of Freedom. Ancora and NAHT have both expressed support for the movie raising awareness of human trafficking. NAHT founder and executive director Mary Trapnell recalls that in the group's monthly Zoom training session for volunteers following the film's release, 53 participants joined in, compared to a typical 15 to 20. The organization has also seen additional speaking engagements and tours, which she credits to the movie.
"The human trafficking industry is just exploding," Trapnell says. "It's through the internet. It's driven through pornography, driving demand. It's a business, you know, where there is demand, there will always be supply."
Ancora COO Leah Moyer says her group has seen an uptick in calls in the past year, especially regarding children — something Moyer credits to former boss Quin. Moyer points out, however, that Sound of Freedom, which is based on a true story, does not resemble the typical trafficking experience.
"Not to minimize any experience, because clearly that was a real, true story and experience, but it's just not necessarily how it looks here in the United States," Moyer says. "Let's make sure people understand what it looks like so that they can help, and I believe there's a place for everyone to help in this issue."
Meanwhile, organizations like the Tennessee Immigrant and Refugee Rights Coalition and Workers' Dignity point out that immigrant workers regularly experience wage theft and abuse at their jobs, but have few places to turn to.
"The broader narrative on human trafficking often highlights commercial sexual exploitation, which is a form of labor exploitation," says Judith Clerjeune of TIRRC. "However, it's crucial for us to recognize that a significant portion, if not the majority, of trafficking victims are trapped in coercive and exploitative labor situations."
Even the TBI says its main focus has been sex trafficking — and leans on federal counterparts for labor trafficking, an issue that often affects undocumented immigrants.
"We're continuing to try to learn more and more about labor trafficking and address cases as we see them," Devine says. "I think it is a complex kind of crime, there can oftentimes be connections to other states, so we've got to work with federal counterparts in a lot of those types of labor cases as well."
On Aug. 2, leaders of the Tennessee Faith and Freedom Coalition joined Republican presidential candidate Vivek Ramaswamy in Nashville to "demand" the release of the writings of the Covenant School shooter — an appearance that also saw Ramaswamy repeat his presidential campaign promise to defund and dismantle the FBI. Two weeks later, Rep. Ogles and Senate Majority Leader Johnson spoke at a TFFC event in Franklin, where Ogles also called for defunding the FBI.
"TBI is fortunate to have great relationships with federal partners in much of our work," Devine says. "That primarily includes [Homeland Security investigations] in the trafficking space, along with collaboration with the Federal Bureau of Investigation and the United States Marshals Service. We're hopeful those relationships continue to benefit our cases — and public safety in the state — for years to come."
Additional reporting by Matt Masters
This story was first published by our sister publication Nashville Scene.
Area businesses, governments targeted by hackers
BY STEPHEN ELLIOTT
Federal prosecutors this week unsealed multiple indictments charging Russian hackers with targeting government agencies and businesses in the Nashville area.
The U.S. Department of Justice said the ransomware deployed between 2020 and 2022 affected victims in 47 states and 31 countries.
In the Middle District of Tennessee, two businesses and one government agency, all unnamed, are listed as victims.
According to the indictment, a Nashvillearea government agency was successfully hacked by the Russian group and eventually paid $174,000 in cryptocurrency to retrieve its files, including those related to police and emergency services.
The hacker group allegedly demanded $950,000 in cryptocurrency to return access to one local business' computer systems. The business paid $460,000 to avoid the
publication of its files.
Another Nashville-area business refused a $3 million ransom demand and saw its annual audit and 401(k) files published online.
"The conspirators who developed and deployed Conti ransomware victimized businesses, governments, and non-profits around the world, including a sheriff's office and an emergency medical service in Tennessee," Henry Leventis, U.S. attorney
for the Middle District of Tennessee, said in a release. "We will continue to use the full power of this office to ensure that hackers can no longer hide behind their computer screens and to hold them accountable."
This story was first published by our sister publication Nashville Post.
8 THE NEWS
Sen. Jack Johnson speaks at a press conference alongside other Republican elected officials and representatives of the Tennessee Faith and Freedom Coalition.
PHOTO BY MATT MASTERS
Broadway viaduct partially reopens
$50M+
state project left downtown connector closed for two months
BY STEPHEN ELLIOTT
railing, lighting and other remaining elements. Intermittent closures on 11th Avenue below the viaduct will continue.
Urban planning experts and local officials criticized the plans to replace the 75-year-old structure with one substantially similar and without increased focus on pedestrian and transit use.
"This is not Nashville's design for this bridge, right?" District 19 Councilmember Freddie O'Connell, one of two remaining candidates for mayor, said earlier this year.
Arnold's Country Kitchen founder Jack Arnold dies at 85
BY STEPHEN ELLIOTT
A state infrastructure project expected to cost north of $50 million has been partially completed as four lanes of the downtown Broadway viaduct reopened Thursday.
The connector was closed for two months as crews rebuilt the structure.
According to a release from the Tennessee Department of Transportation, the project is 95 percent complete, though work will continue through October on fencing,
"This is being designed by state engineers, and they have so far rejected most of the feedback not just from myself as the representative of the district, but also some of the feedback from our design and architecture community, all of which are bringing phenomenal projects online on both sides of that bridge."
Nashville-based Gresham Smith designed the structure. Omaha-based Kiewit served as construction manager.
This story was first published by our sister publication Nashville Post.
Jack Arnold, who with his wife Rose opened famed meat-and-three Arnold's Country Kitchen in 1982, died on Monday, Sept. 4, of natural causes, The Tennessean reported. He was 85.
The business, from which Jack Arnold retired about 15 years ago, closed early this year, reportedly as developer SomeraRoad was poised to purchase The Gulch property owned by the family.
Arnold's son Kahlil Arnold has run the restaurant in recent years.
"He was always bigger than life, and he always made time for everybody," Kahlil Arnold said, according to The Tennessean. "And he was by far the best storyteller I ever met."
Arnold is survived by his wife, Rose, sister Tania Fielder and nine children.
This story was first published by our sister publication Nashville Post.
9 SEPTEMBER 14, 2023 ITALIAN... NASHVILLE STYLE MORE THAN JUST A MEAL - IT'S AN EXPERIENCE! S AME G REAT F OOD A ND S ERVICE Y OU L OVE 1808 H AYES S TREET NASHVILLE, TN 37203 VALENTINO'S RISTORANTE VALENTINO'S RISTORANTE 615.327.0148 | valentinosnashville.com DINNER Monday - Saturday: 5PM - 10PM Sunday: 5PM - 9PM LUNCH Friday: 11AM - 2PM
Arnold's Country Kitchen PHOTO BY ERIC ENGLAND
Broadway viaduct PHOTO BY TDOT_KIEWIT
Man suspected of operating 'chop shop', auto theft ring out of Nashville home
BY MATT MASTERS
A Nashville man is under federal criminal investigation for allegedly operating a "chop shop" from a Sylvan Park home as part of a multi-state vehicle theft ring.
As first reported by WSMV, the Circle Hill home of Robert Clinton Thomas, who was born in 1978 but whose exact age was not released, was raided by the Federal Bureau of Investigation on Sept. 6.
Unsealed court documents filed in the Eastern District of Michigan reveal that 45-year-old Thomas is suspected of transportation of stolen vehicles, sale or receipt of stolen vehicles, and wire fraud.
In 2019, Thomas entered a no contest plea on identity theft charges in Wisconsin and was sentenced to more than a year in prison.
Those documents detail that Thomas became a suspect in a nationwide auto theft ring centered in Michigan and Ohio
after a man named Ronnie Smith was arrested in April.
A law enforcement search of Smith's cell phone revealed text messages from MarchApril 2023 that the FBI said included "several instances" of Thomas sending Smith "fraudulent identifications, plates, titles and VINs so that stolen cars can be concealed, transported, and sold."
Some of those incriminating text messages were included in the affidavit, which further revealed that some of the fraudulent VIN numbers had been shipped to the United States from Kyiv, Ukraine.
Those text messages also included the name of another Tennessee man who was arrested in April by Brentwood Police when that department raided a home and "seized drugs, guns (including one stolen firearm), cars and nine counterfeit Vehicle Identification Numbers along with what appeared to be counterfeit temporary
registration plates and other assorted documents."
The FBI said that Thomas is the reported owner of Elite Auto Partners, a Nashville company they said has no business license or records.
Brentwood Police surveilled the Nashville home and "observed several suspects charged and/or suspected of being involved in stealing motor vehicles arrive and depart from the residence," in "high end motor vehicles" and interacting with Thomas.
On Sept. 6, the FBI raided the home where they confiscated fraudulent driver licenses, vehicle titles, manufacturer stickers, vehicle identification numbers, license plates, printers, heat sealers and stickers, blank vehicle registration applications, and key fobs, which law enforcement believe were created at the home that they called a "vehicle chop shop."
They also seized "window stickers corresponding to stolen vehicles, $2,700.00 in cash, and a Mercedes G63 Wagon and a Dodge Charger, which were both reported out stolen out of stolen out of California and Arizona, respectively.
During the raid, another unidentified man pulled up to the home in a Ford Bronco that was reported stolen out of Wisconsin, a vehicle that he told police had been lent to him by Thomas.
No further information about the case has been made public at this time.
Private equity firm buys Reese Witherspoon's Draper James
BY HANNAH HERNER
BUSINESS BRIEFS Home prices decrease slightly in August
STAFF REPORTS
Draper James
PHOTO BY ERIC ENGLAND
A New York-based investment manager has acquired a majority ownership stake in Draper James, the fashion and lifestyle brand founded by actress and entrepreneur Reese Witherspoon.
Consortium Brand Partners will now own approximately 70 percent of the company, according to a Thursday press release. Terms of the deal were not disclosed.
Witherspoon will remain a partner and board member for the business and continue to guide the business's direction and growth, according to the release. Draper James leadership, including CEO Erin Moennich, CFO and COO Sarah Foley and head of design Kathryn Sukey will remain on staff.
The brand is set to expand to department
stores and expand its partnership with Kohl's. Draper James currently has three locations, its flagship at 2608 12th Ave. S., a Nashville International Airport outpost, and a store in Lexington, Ky.
Draper James was founded in 2015 and is named for Witherspoon's grandparents. The brand offers clothes, accessories, books and decor inspired by her Southern heritage. Witherspoon was born in New Orleans though has become a figure in the Nashville community, including as a minority owner in Nashville SC.
"Draper James was inspired by a deep personal connection to my roots, my family, and the women who shaped me," Witherspoon said. "It's been so amazing to see so many women connect with this brand, our products, and our mission to bring a little southern joy into everyone's homes and wardrobes. We are excited to join forces with the team at Consortium, who understand our vision as a company and the importance of our community. They are the perfect partners for Draper James as we continue to grow and build this brand and I'm looking forward to this next phase in our journey."
This story was first published by our sister publication Nashville Post.
The Nashville area recorded 3,305 home closings in August, with higher interest rates but slowly decreasing prices.
The number of closings reflect a seven percent year-over-year decrease from the 3,556 closings recorded in August 2022, according to data compiled by Greater Nashville Realtors. However, home closings are up compared to July, which saw 3,001 closings.
In August, the median price for a residential single-family home was $476,559 and $350,000 for a condominium. This reflects a decrease in price compared to July, which saw a median price of $478,945 for a single-family home. For a condominium, the median price in July was $350,110. Prices increased slightly year over year in August, but more significantly since August 2019, which recorded a $315,862 median price for single family homes and $232,900 for condominiums.
There were 2,607 sales pending at the end of August, compared to 2,992 pending sales at this time last year, but a significant decrease compared to the 3,561 pending sales in July.
The median number of days on the
market in August was 42, in line with the medians for July and June, at 41 days each. Houses are selling more quickly than in the spring. The median number of days on the market was 48 in May, 53 in April and 54 in March.
Inventory at the end of August was 9,853, which indicates a six percent increase from the 9,302 active listings reported in August 2022.
"Up to this point in time we've been comparing sales in a low interest rate market," said Brad Copeland, Greater Nashville Realtors president. "August marks the one-year mark when we began seeing significant interest rate increases in 2022 that had taken full hold on the market by October. Flash forward to today, and the new buyer pool has adjusted to this higher interest rate environment."
The GNR data was collected from Cheatham, Davidson, Dickson, Maury, Robertson, Rutherford, Sumner, Williamson and Wilson counties.
This story was first published by our sister publication Nashville Post.
10 THE NEWS
Local, national experts talk Nashville housing market
BY NICOLLE S. PRAINO
Greater Nashville Realtors released August data on home closings this week.
Kevin Wilson, president-elect for the group, said that one of the highlights of the data was a slight uptick in the median singlefamily home and condominium sale prices compared to last year.
"We're not seeing a decline in the median home sale price, so there's not a plummet in our market," Wilson said. "Real estate is still a very strong investment."
The median price for a residential singlefamily home was $476,559 and a condo was $350,000, compared to $475,000 and $349,595, respectively, in 2019. Wilson said this was important to note despite information about the decline in the number of sales because usually month to month one of those categories sees a decrease.
"People are also still continuing to see the value in homeownership and that's why we continue to see a rise in the median price of condos," Wilson said. "I think it just speaks to affordability and people finding a pathway to homeownership to create stability, to create wealth and to create equity."
The group hosted Laurel Graefe from the Nashville office of the Federal Reserve Bank of Atlanta for their quarterly Nashonomics series on Thursday.
"Nashville and Middle Tennessee is really experiencing this tension right now around how do we grow in a way that we can support this new demand," Graefe said. "When I think about how Nashville compares to the rest of the country, I think one of the most prominent things that comes to mind is just we're seeing a shift and a
growth in who lives there and the way they're engaging in the economy in a way that is pretty unique."
Graefe said that the slowing of sales in the real estate industry is something that should be expected with the rise in interest rates.
"Rising interest rates tend to have some of the fastest impact on the real estate market," she said. "I think one of the surprises, frankly, is how well the industry has held up, especially on the pricing front. You see home prices, so many had predicted that we would have seen a really big decline by this point or a meaningful decline and that hasn't really happened to the greatest extent."
Overall, Graefe said the Fed's summary of economic projections right now don't just talk about when policy on interest rates might stop increasing but also when they
could come back down again and that's looking like it will be further into next year.
"I would love to see the Fed to begin being in a place where we're confident around inflation and can start moving policy down," she said. "That's not where we are right now. I don't have any expectation that's going to be in the near future."
While Graefe said she couldn't predict what was next, she said she would like to see the Fed feel solid about where the country is with inflation, the job market and wages to a point where it can start confidently telling the public and investors about the path to rate decreases. But, she said there is no guarantee the Fed will be able to provide that guidance to investors any time soon.
This story was first published by our sister publication Nashville Post.
Ensworth's Curtis, Lipscomb Academy's Spillman named to Butkus Award watch list
BY LOGAN BUTTS
Jusse Saros PHOTO BY DAVID RUSSELL
Predators will play 10 nationally televised games in 2023-24
BY JOHN GLENNON
The Predators will play in 10 nationally televised games during the 2023-24 season. The team's other 72 games will be televised by Bally Sports South, which will be anchored by Predators LIVE before and after every game.
Nashville's first nationally televised game will be the Preds' opener at Tampa Bay on Oct. 10. It will be the first contest of an opening-night tripleheader on ESPN/ ESPN+ and will start at 4:30 p.m. The Preds game will be followed by Chicago vs. Pittsburgh and Seattle vs. Vegas.
Here's the full list of 10 nationally televised Predators games:
Oct. 10 at Tampa Bay (ESPN/ESPN+)
Nov. 14 vs. Anaheim (ESPN+/Hulu)
Dec. 15 at Carolina (ESPN+/Hulu)
Jan. 18 at Los Angeles (ESPN)
Jan. 31 vs. Los Angeles (TNT)
Feb. 15 vs. Dallas (ESPN)
Feb. 22 at Los Angeles (ESPN+/Hulu)
March 8 at Minnesota (TNT)
March 21 at Florida (ESPN+/Hulu)
April 4 vs. St. Louis (ESPN+/Hulu)
This story was first published by our sister publication Nashville Post.
Last week, two local athletes were named to the Butkus Award watch list, which honors the nation's best high school linebackers annually.
Ensworth's Mason Curtis and Lipscomb Academy's Edwin Spillman were named to the 51-player watch list. The watch list features 51 players in honor of Pro Football and College Football Hall of Fame member Dick Butkus' professional jersey number.
The award semifinalists are set to be named on Oct. 31, while finalists will follow in Nov. 21. The winner will be named on or before Dec. 7.
"High school football is the soul of the
sport and I enjoy recognizing and watching players develop as athletes and young men," Butkus said in a news release.
"When an outstanding player receives the Butkus Award he will know two things: First, he is recognized as the best of the best linebackers in America; Second, and in the long run most important, he will understand this recognition brings a responsibility of giving back."
Curtis, a senior Michigan commit, and Spillman, a senior Tennessee commit, will face each other on Sept. 15 when Esnworth plays at Lipscomb Academy.
11 SEPTEMBER 14, 2023
SPORTS
Mason Curtis PHOTO BY JASON GOODE
Tennessee Historical Commission announces preservation grant fund recipient
STAFF REPORTS
The Tennessee Historical Commission announced on Tuesday that it has awarded 37 matching grants totaling over $1.1 million from the Federal Historic Preservation Fund.
The fund is allocated to nonprofits, municipalities, universities, and civic organizations across the state to support the preservation of historic and archaeological resources.
"Our Federal Historic Preservation Fund grant program is one of the main ways that the Tennessee Historical Commission makes meaningful contributions to the protection and study of our state's treasured historic places," Patrick McIntyre, State Historic Preservation Officer and Executive Director, said.
The Federal Historic Preservation Fund
reimburses 60 percent of the project costs with a 40 percent match of project funds from the grantee.
A list of local grant recipients includes:
DAVIDSON COUNTY
Andrew Jackson Foundation- $21,000 to restore the masonry on the smoke house at the Hermitage, a National Historic Landmark Metropolitan Historical Commission - $40,000 to fund third phase of the countywide cemetery survey and preservation plan $15,069 to fund neighborhood survey and preparation of a National Register nomination Centennial Park Conservancy - $25,000 to restore the windows of the Centennial Park Croquet Clubhouse building
Final 2023 Belle Meade garden tour set for Sept. 16
STAFF REPORTS
Cheekwood Botanical Garden and Museum of Art - $34,000 to complete a window preservation predevelopment planof the Cheek House
Preserve Lindsley Avenue Now$30,750 to restore stained glass windows of the Lindsley Avenue Church of Christ
MAURY COUNTY
James K. Polk Memorial Association - $10,000 to restore windows in the Polk Home, a National Historic Landmark
WILLIAMSON COUNTY
City of Franklin - $24,000.00 for development of a Preservation Assessment and Maintenance Plan for the Toussaint L'Ouverture Cemetery
The City of Belle Meade's Society of Ceres of will hold the final garden tour of 2023 on Sept. 16.
The tour is open to Belle Meade residents and their guests from 10:30 a.m.1 p.m. at the gardens of Jill DeBona and Martha Phipps.
Online registration is required in advance of the event, and more information about The Society of Ceres, including how to support their "preservation, education and beautification" efforts can be found at citybellemeade.org/ceres-society/ceres-giving/.
Five free and cheap family things to do in middle Tennessee
BY AMANDA HAGGARD
There's no excuse for not getting outside this week. Not just because the hottest of the weather feels behind us, but because there are several outdoor things to do with the kids this week.
La Vergne's Fall Festival is a good place to start. Jazz on the Cumberland will be an absolute treat in this kind of weather. The Nashville Fair is not free or cheap, necessarily, but there are some deals to be had on weeknights, so check out their prices beforehand and choose your night accordingly. And then there are still some
things for the inside kids: the Discovery Center in Murfreesboro has a free admission day and you can get them free admission for The Parthenon by going on one of their Kidsville Saturdays.
As part of our series on free and cheap things to do with the family, here is our weekly roundup of places to spend time together over the next week:
LA VERGNE FALL FESTIVAL
The La Vergne Fall Festival for 2023 is slated for Sept. 16. The morning begins with
a parade followed by a daylong outdoor event. At Veteran's Memorial Park, it begins at 10 a.m. and includes games, food and crafts for sale from local vendors. There are also new crafts for sale from local and regional vendors. The parade begins at Bicentennial Park at City Hall and ends at Veterans Memorial Park, where opening remarks will be given from the Board of Mayor and Aldermen and Parks and Recreation staff.
ALL ACCESS NIGHT AT DISCOVERY CENTER AND HISPANIC HERITAGE DAY (FREE DAY) AT DISCOVERY CENTER
There are two events at Discovery Center that are worth highlighting this week. All Access Night is a time for special-needs families to enjoy the Discovery Center's exhibits in a sensory-friendly environment. The evening is free, but registration is suggested. There's also a free day to celebrate Hispanic Heritage Month. All of the exhibits will be open, and there'll be special fall activities as well.
THE NASHVILLE FAIR
The Nashville Fair is ongoing through Sept. 17 and it brings "a nostalgic fair experience with a modern spin to Nashville's urban core." Admission to the fair is between $8-10, with added costs for everything from rides, food, games, dinner theater, wrestling, axe throwing, balloon sculpting and karaoke. Kids in Metro Nashville Public Schools receive free
admission in the weeknight evenings, so plan your best to get that discount.
JAZZ ON THE CUMBERLAND
Jazz On The Cumberland concert series is held on the third Sunday of the month through October from 5:30-8 p.m. The venue is located at Nashville Cumberland Park where attendees are encouraged to bring their favorite blanket or lawn chair for a night of jazz performances from artists from all over the country. The event is family friendly and pets can come, too. The series features local, regional and national acts, in addition to a "Youth Segment" as part of its Continuing Music Education Series in area schools and colleges.
KIDSVILLE AT THE PARTHENON
Kidsville at the Parthenon is hosting families with children ages 12 and under each Saturday for kid-centric events. Children will begin with crafts, and then there will be storytelling and a Back to Rock exploration of making music with instruments, voices and imaginations. Kids will then make art inspired by their time with the Bach to Rock musicians. Kidsville attendees must register before 11:20 a.m. the day of the event to receive free Parthenon admission.
12 THE NEWS
The Nashville Fair PHOTO BY THE NASHVILLE FAIR
'Strong Inside' to play at Nashville Children's Theatre through Sept. 26
BY AMY STUMPFL
It's not unusual for Nashville Children's Theatre to celebrate new works. In fact, five out of this season's six productions are world premieres for young audiences.
But with Strong Inside, NCT also celebrates a true Nashville hero. Based on the New York Times bestseller by Nashville author Andrew Maraniss and adapted for the stage by Tyrone L. Robinson, Strong Inside follows the story of Perry Wallace, who made history as the first African American to play college basketball in the deeply segregated Southeastern Conference.
The star Vanderbilt athlete would go on to become a successful lawyer, educator and civil rights activist.
"This is such a wonderful opportunity to put Nashville onstage, with an inspiring true story that reflects our community at a real turning point in history," says NCT's executive artistic director Ernie Nolan.
"It's a powerful story, and we're thrilled that Perry's legacy will live on with all the young people who see this show."
Directed by Nolan, along with Tamiko Robinson Steele, the cast includes Gerold Oliver, James Rudolph II and Will Henke.
Tickets for the show can be purchased www.nashvillechildrenstheatre.org
This story was first published by our sister publication Nashville Scene.
New musical inspired by Bluebird Cafe in the works
BY LOGAN BUTTS
According to a report from Deadline, famed Green Hills music venue Bluebird Cafe will be getting the stage musical treatment.
The venue that helped launched the careers of such iconic artists as Taylor Swift and Garth Brooks has inspired a story from the creators of the Tony award-winning Something Rotten!
"The Bluebird is our Ryman Auditorium, our Carnegie Hall," Something Rotten! co-creator Wayne Kirkpatrick, a Nashville resident, told Deadline. "If you know, you know. I can't
wait to share it with those who don't."
Exact details of the project, including the cast, plot, production timeline, and members of the creative team beyond Kirkpatrick and Something Rotten! songwriter-producer Don Chaffer, are still under wraps.
"I believe theater is the ideal vehicle to tell a vibrant and honest story about the creative community that the Bluebird inspires and nurtures," Bluebird Cafe general manager Erika Wollam Nichols said to Deadline. "It's incredibly exciting to watch this musical take shape."
AUCTION
Saturday, Sept. 23rd 10:00 AM
Exceptional Home with Acreage Pool, Detached Building & Personal Property
1674 E. PITTS LANE, MURFREESBORO
This certainly is a "must see" property in the county! Features include a 1995 brick home that has been totally remodeled with 3 bedrooms, 2.5 baths, kitchen, dining room, eating area, den with fireplace, butler's pantry, laundry room, and two car garage. Outdoors includes 2.25± acres, an in ground pool, a 46x30 multi-purpose building with two walkin doors, two garage doors, a car lift, water at one bay, and a half bath. There's also a concrete drive, great landscaping, and a beautiful lawn. This description only touches the surface of details of this home.
REAL ESTATE SELLS AT 11AM • OPEN SUNDAY, SEPT. 17th, 1-3PM Visit parksauction.com for more photos and information.
PERSONAL PROPERTY: Pit Boss grill, oak pedestal table, 2 vintage chairs w/leather backs, 2 vintage wood chairs, executive office furniture, 6 drawer chest, storage cabinet, prints, pictures, paintings, Jenny Lynn bed 3/4, antique glass lamp, cedar chest. Lazy Boy recliner, vintage records, CD's, 45 records, home decor, porch rockers, Pfaltzgraff dishes, 2 Craftsman shop vacs, 2 wheelbarrows, Honda power washer, 15 gallon spot sprayer, ladders, tools, Dewalt 24 volt power tools, outdoor pool chairs, lounges, tables, jewelry mirror, misc. jewelry, ladies diamond ring, side-by-side refrigerator, outdoor rugs, bar stools, bar table, round vintage table, Bose radio, new rollator, power washer scrubbing head, ice chest, outdoor umbrellas, misc shop accessories, 2 wheel dolly, German knives (3), German paper money early 1900's to mid 1900's, Nissan book about the beginning of Nissan in Smyrna, TN.
REFERRED BY: BARBARA CUNNINGHAM
DIRECTIONS: From Murfreesboro, take Lascassas Pike East to right on E. Pitts Lane.
TERMS: REAL ESTATE: $30,000 down day of sale, balance due in 30 days. PERSONAL PROPERTY: Cash, check, Visa, Mastercard or Discover day of sale. 10% Buyer's Premium added to bid to determine final sale price on personal property. TAXES: Prorated POSSESSION: With Deed
13 SEPTEMBER 14, 2023
AUCTIONEER: BOB BUGG Lic #4999 615-456-4042
www.parksauction.com | TOLL FREE 1.877.465.4600
ALL ANNOUNCEMENTS MADE DAY OF SALE TAKE PRECEDENCE OVER PREVIOUS ADVERTISING. ALL INFORMATION DEEMED RELIABLE BUT NOT GUARANTEED.
615-896-4600
If you are in need of prayer, Call 888-388-2683 The Billy Graham Evangelistic Association will have prayer partners available to talk with you 24/7. Feature your obituaries online for free. To add into the print issue, please contact info@thenewstn.com for pricing.
Need Prayer?
Roasted Red Bell Pepper Sauce With Chicken
BY EDIBLE NASHVILLE
This red bell pepper sauce is super versatile and great as a dip, spread on sandwiches and sauce for steak or halibut.
Stir it into pasta or orzo for a side or use in cocktail sauce for shrimp or vegetables. Here we've baked chicken in it for a zesty entrée.
ACROSS
1 Woodworker's file
5 Landlocked African countr y
9 Divulged
14 Barn bundle
15 Lofty beginning?
16 Eco-friendly party announcement
17 What's found under Casper's Christmas tree?
20 "Outlander" networ k
21 "Evil Woman" rock group, for short
22 Brillo competitor
23 Boardroom V.I.P.s
25 Alternative to a glossy finish
27 Rule that forbids singing hymns to the devil?
32 F ilmmaker ___ Lily Amirpour
INGREDIENTS
3 large red bell peppers
2 tablespoons extra virgin olive oil
3 cloves garlic, peeled and smashed
2 medium shallots or 1 white onion, peeled and coarsely chopped
1 3/4 teaspoon Italian seasoning or herbs de Provence
3/4 teaspoon each smoked paprika and crushed red pepper flakes
1. Preheat broiler. Cut peppers in half, remove stem and seeds. Place cut side down on a baking sheet lined with foil. Roast under the broiler until soft and charred. Wrap up in foil and let steam for 10 minutes. Peel and coarsely chop.
2. In a large pan, heat olive oil. Add garlic and shallot and sauté until translucent and fragrant. Add the spices and sauté 1 minute more. Add the peppers and remaining ingredients and simmer for 10 minutes.
3. Transfer to a blender or food processor, and blend until smooth. (Store in refrigerator for up to 5 days or freeze indefinitely.) Makes 3 cups.
4. Cut up a rotisserie chicken. Place 1⁄2
4 tablespoons tomato paste
1/3 cup chicken or vegetable stock
1 tablespoon red wine vinegar
3/4 cup heavy cream
3 ounces goat cheese
1 rotisserie chicken
8 large fresh basil leaves kosher salt and freshly ground black pepper
cup sauce on bottom of a baking dish. Place pieces on top of sauce. Spoon more sauce over chicken. Squeeze lemon over chicken and place wedges on side. Bake 20 minutes or until heated through. Serve hot.
ROASTING BELL PEPPERS
1. Cut peppers in half, remove seeds and stems.
2. Place cut side down on foil on a baking sheet. Flatten with your palm.
3. Roast under broiler for 5-10 minutes or peppers are blackened
4. Remove from oven, wrap peppers up in foil to steam. Remove charred peel
Follow Edible Nashville on instagram @ediblenashtn and their website ediblenashville.com. To subscribe to the magazine that comes out 6x/year, go to ediblenashville.com.
33 Nursing site
34 Baseball's "Big Papi"
36 Access to the company jet, for example
38 Feature of a satchel
41 N.Y.C. cultural institution that opened nine days after the 1929 stock market crash
42 Wedding dress fabric
44 "Indeed!"
46 Costume depar tment staple
47 Doctor's concern when a rival clinic opens up next door?
51 The "O" in EGOT
52 "Oh, fudge!"
53 Did a 5K or 10K
55 Teamwork inhibitor
56 Billiards ricochet
59 Evidence at the robber y crime scene?
64 Of little consequence
65 Island near the Big Island
66 Domesticated
67 Caving to gravity
68 Dance Dance Revolution move
69 Did in, as a dragon
1 Clinton's first appointee to the Supreme Court, informally
2 Partner of oohs
3 Place for a key card
4 Passover, in Hebrew
5 Some pizzeria offerings
6 "Watch it, man!"
7 Dada ar tist Jean
8 Classic show tune with the lyric "When you know the notes to sing , you can sing most anything"
9 Landlocked African countr y
10 June 18th
vis-à-vis Juneteenth
11 Part of La La Land
12 N.B.A. forward ___ Porter Jr.
13 Largest Scottish loch by volume
18 Option on Halloween
19 Distinctive flair
24 Bit of fantasy spor ts fodder
26 Word with paper or insurance
27 Catches some Z's
28 Famed backboardbreaking dunker of the 1990s
29 Activity for Bill Watterson or Bil Keane
30 29-Down output
31 One per customer, e.g.
35 Sudden turns
37 Bit of conical-shaped candy
39 Slightly
40 Cr unchy baked snack
43 "It's gonna take a lot more than that to fool me!"
45 High point of Exodus?
48 Pesters no end
49 A modern wedding might have two of them
50 Large, white waders
53 Turntable speeds, for short
54 Piece for one voice
57 Roller rink shape
58 Internet ___
60 Quaff for a caroler, maybe
61 What "Gras" means in "Mardi Gras"
62 What "Mardi" means in "Mardi Gras": Abbr.
63 Work with thread
ANSWER TO PUZZLE
Online subscriptions: Today's puzzle and more than 9,000 past puzzles, nytimes.com/ crosswords ($39.95 a year).
Read about and comment on each puzzle: nytimes.com/wordplay.
Crosswords for young solvers: nytimes.com/ studentcrosswords.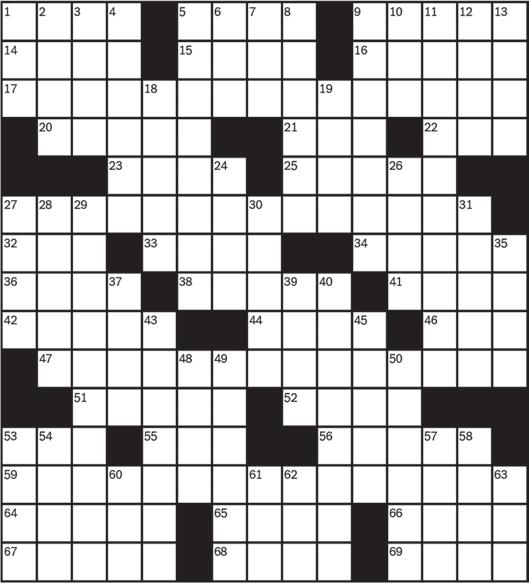 14 THE NEWS
DOWN
EDITED BY WILL SHORTZ NO. 0809
PUZZLE BY CARYN ROBBINS AND MATTHEW STOCK
15 SEPTEMBER 14, 2023 FLOORING HARDWOOD FLOORS • CLEANED • WAXED • BUFFED • SANDED • REFINISHED • RECOATED WITH POLYURETHANE Corlew & Perry, Inc. over 85 years in flooring 615-832-0320 corlewandperry.com CHAIR CANING T he CANE-ERY Franklin, TN 37064 615-269-4780/615-414-5655 15% Off caneseats@yahoo.com 46 Years Experience All Styles of Chair Weaving Lamp Rewiring & Parts Coupon must be presented before work begins. Appointments Only with this ad Air Duct & Pressure Cleaning Gutter Cleaning & Repair (615) 268-4276 (615) 382-5127 All Work Guaranteed • Licensed & Insured • Free Estimates Professional Experience GOODFRED WINDOW CLEANING & PROPERTY MAINTENANCE Residential/Commercial WINDOW CLEANING Electrician Priced Right! New Work, Old Work, and Service calls! Licensed-Bonded-Insured (615) 522-1339 www.lascustompowerandlighting.com/ 24/7Emergency Services 10% Senior Discount Licensed, Bonded, and Insured LA's Custom Power and Lighting ELECTRIC BBB Accredited with Reviews Driveway Cleaning Patios, Brick and Concrete propertypowerwashing@gmail.com PRESSURE CLEANING (615)424-5354 Call Kyle A d ve r t i s e Yo u r B u s i n e s s H e r e PLUMBING SERVICES 615-733-5665 Slab Water Leak Repairs Licensed Plumber Beariffic Plumbing Repair Services! Service and Maintenance Topping & Brush Chipping, Stump Grinding TREE SERVICES Top Notch (615) 834-6827 Insured & Free Estimates WINDOW CLEANING FLOORING Topping & Trimming, Deadwooding, Removals, Brush Chipping, Stump Grinding TREE SERVICES Top Notch Tree Service Call Mike (615) 834-6827 Insured & Free Estimates CHAIR CANING T he CANE-ERY Franklin, TN 37064 615-269-4780/615-414-5655 15% Off caneseats@yahoo.com 46 Years Experience All Styles of Chair Weaving Lamp Rewiring & Parts Coupon must be presented before work begins. Appointments Only with this ad FLOORING HARDWOOD FLOORS • CLEANED • WAXED • BUFFED • SANDED Corlew & Perry, Inc. over 85 years in flooring 615-832-0320 corlewandperry.com SERVICE & MAINTENANCE ADVERTISE YOUR BUSINESS HERE CALL 615.298.1500 FOR INFORMATION Air Duct & Pressure Cleaning Gutter Cleaning & Repair 268-4276 382-5127 All Work Guaranteed • Licensed & Insured • Free Estimates Professional Experience GOODFRED WINDOW CLEANING & PROPERTY MAINTENANCE Residential/Commercial WINDOW CLEANING a.chen@cruiseplanners.com | 615.961.6474 | simply-traveled.con SIMPLY-TRAVELED PLANNING YOUR VACATION FROM START TO FINISH! * Global travel planning * Large cruise ships, yachts, or river cruising * Family trips, destination weddings, company travel * All Disney and Universal Studio travel * Create memories that last a lifetime WOODMONT BAPTIST CHURCH 2100 WOODMONT BLVD | 615.297.5303 Join us for worship on Sunday morning or watch the broadcast at 10:30 am on WUXP MYTV30 Sunday 9:15am Children/Youth classes 9:15am Sunday life groups 10:30am Sun. morning worship 12noon Swahili worship service Wednesday nights 6:30pm OCT 20th & 21st FALL FARM DINNER Join us for our Fall Farm Dinner featuring the live-fire cooking of Panoram Asados Music• Uncle Nearest Whiskey• Botanist Gin Tickets and information at ediblenashville.com Heirloom Farm, Franklin, TN
Nashville Zoo's Sunset Safari
STAFF REPORTS
PHOTOS BY MATT MASTERS
Hundreds of people attended the Nashville Zoo's annual Sunset Safari fundraiser on Sept. 8, which featured food and drinks from more than 50 Nashville restaurants, live music and, of course, exotic animals.
Barbara and Greg Hagood, Robin and Richard Patton, Tara Scarlett and Michael Peacock, and Sally and Jim Hunt served as the honorary event chairs, while the fundraiser was also held in memory of Jim Hunt.
Julie and Adam Dretler and Alice
and Max Goldberg served as event host committee chairs.
Sponsors included Amazon, Big Visual Group, Curated Events, Famous Footwear, Frugal MacDougal, Solomon Builders and SSA. Additional sponsors include Allen Printing, American Paper & Twine, Enterprise Holdings Foundation, Peffen Cline Masonry Group and Sherrard Roe Voight & Harbison.
16 THE NEWS SOCIAL
Sunset Safari attendees enjoyed a variety of entertainment including performers on stilts.
Zoo ACE Team members Zackary, Michael and Brittany pose for a photo with Rosemary the skunk.
J.L. and Diane Holloway
Garet Davis, Brittany Treadway, Susan and Brendan Easterday
Sunset Safari attendees enjoyed samplings from more than 50 restaurant
Jessica Wilson, Carie Tillman, Emily and Daniel McCurdy
17 SEPTEMBER 14, 2023 SOCIAL
Callie Durham and Sam Fisher
Jackie and Lou Warner and Mike and Deanna Barba
Hall and Jennifer Simons
Grace Anderson and Ryan Charabowski
Emily Osborne and Olivia Nagy explore the Nashville Zoo's reptile exhibit.
Amber Pennybaker and Teresa Hanley
Maddie Jones, Caleb Opstein and Estrella Bencomo
JL Fulks
Sunset Safari attendees enjoyed numerous animal interactions including with Fern the sloth.
The Music City Sound
Food and drinks from more than 50 Nashville eateries were served.
A GOURMET MARKET OF CA Y MADE PROVISIONS FEATURING DOZENS OF MUSIC CITY-BASED FOOD VENDORS.
SEPT. 30 • ONEC1TY
11AM - 4PM
FREE TO A END!
UPGRADE YOUR EXPERIENCE WITH TICKETS TO THE BISCUITS & B ODY MARY GARDEN!
Enjoy unlimited biscuits & jam, a full size bloody mary with your choice of garnishes and a tote bag full of gi s from our sponsors! TICKETS ON SALE NOW!
SPONSORED BY
ME HUNGRY
In addition to all the delicious samples you'll get from our market vendors, enjoy incredible food truck fare from your favorites!
SPONSORED BY IN PARTNERSHIP WITH
NASHVILLE FOOD FAIRE
. COM
Hal Rosson Representing Real Estate Buyers and Sellers Since 1971 615-271-2705 halrosson@freemanwebb.com Green Hills 3600 Hillsboro Pike #F7 The Villager East 1 Bed, 1 Bath, 600 SF $209,500 Near Lipscomb 4400 Belmont Park Terrace#234 Arden Place 2 Beds, 2/1 Baths, 2222 SF $709,000
Green Hills 615.327.4800 | Williamson Co. 615.263.4800 www.FridrichandClark.com 2 Offices to Serve You SEAN SIMONS JILL TIDWELL O: 615.263.4800 | M: 615.496.4920 NashvilleRealEstate@gmail.com SeanSimons.com O: 615.263.4800 M: 615.561.9974 JillTidwellRealtor@gmail.com 108 Winged Foot Drive 104 Brighton Close 2901 Davis Ave 4 BR - 2/1 BA - 2289 SF 2 BR - 2/2 BA - 2475 SF4 BR - 2/1 BA - 2560 SF Grassland schools $749,900 Gated community $880,000 Spacious layout $755,000 Temple Hills West End East Nashville Sold Sold Just Listed 102 Adams Park 4 BR - 5/1 BA - 4292 SF Sought after Sugartree $855,000 Sugartree Under Contract Sought after Sugartree $855,000 M: 615.473.6998 chris@christophersimonsen.com Yours to count on CHRIS SIMONSEN 4215 Harding Pike # 503 - Windsor Tower For All Stages of Life 6532 Jocelyn Hollow - $3,250,000 ONE LIFE - ONE HOME This house embodies a lifestyle from professional career to retirement and everything between 4 BR | 6.5 BA | Upper Level Rec Room | 6348 SF 2 Beds | 2 Full Baths | 1316 SF $535,000 3 Beds | 2 Full, 1 Half Baths | 4240 SF | $1,975,000 Rare 1.49 acre retreat | Renovated 1520 Graybar Lane - Green Hills UNDER CONTRACT Elegant Mid-Town Living
CHERYL EWING O: 615.327.4800 | M: 615.319.7144 | cherylewing01@gmail.com LOOKING FOR LAND OR YOUR DREAM HOME? Fairview 5.26 acres level to rolling hills. Perked for 4 bedroom home, utilities at road, 2 parcels zoned RS-15, 1.5 miles to I-40 1183 Hwy 96 N mls 2546997 $650,000 Peaceful, country living on superb 22.17 acres. Staked and surveyed. Level to gently rolling, utilities at the road, 30 mins to Nashville 0 Myatt Loop mls 2533615 $525,000 Burns Mc Ewen 21.91 acres ready for your happy place. Create your escape with a fine home, horses, trails, hunting...Utilities at road At least 7 clear acres. 555 Tummins mls 2543489 $374,900 Dickson 0 Will Bell Rd mls 2531839 $169,900 7.31 acres and easy commute to Nashville. Serene and mostly level. Put your dream of living in the country into action. 2 Great Homes 4 BR | 4.5 BA | 3495 SF $2,700,000 5 BR | 5.5 BA | 7131 SF $2,200,000 Equestrian Farm on 34.89 Acres Piney River Frontage Gated Entry, Pool, Barn & Stable Gorgeous Home on 6.70 Acres Spectacular Views of Rolling Hills 220 JS Redden Cemetery Rd Dickson Kingston Springs 246 E Kingston Springs Rd Green Hills 615.327.4800 | Williamson Co. 615.263.4800 www.FridrichandClark.com 2 Offices to Serve You J erri D avis 615.210.9541 RefReshed Townhouse & Ready foR you Freshly painted Refinished cabinets New appliances 2-Car carport 2 bedrooms 2 full baths 1368 square feet 5961 M onroe X ing | $285,000 M: 615.210.6057 | O: 615.327.4800 slc.samcoleman@gmail.com Sam Coleman 2404 Oakland Ave Under Contract 108 Sheffield Court 137 Prospect Hill Sold 743 Harpeth Parkway W Sold Home. Life. Style. Community. let me help you find yours Belmont Area Green Hills Sugartree Harpeth Valley Park Under Contract
THE GREEN HILLS APARTMENTS
is no longer just for retired teachers. All seniors 62 and older may apply with no fee. Efficiencies start at $500 which includes utilities.
One bedroom & studio apartments available starting at $625 per month. Must be 62 and older and live independently.
615-297-7536
CaRe GiveR
22 See yourself here? Reach out to HMULLINS@FWPUBLISHING.COM SEPTEMBER 14, 2023 The new Find news most important to your neighborhood at TheNEWStn.com emails for news that is most important to your specific neighborhoods: Brentwood | Franklin | Spring Hill https://www.thenewstn.com/signup/ The Find news to your neighborhood TheNEWStn.com Sign up for weekly important to your Green Hills | Belle Franklin Find news most important to your neighborhood at TheNEWStn.com https://www.thenewstn.com/signup/ Sign up for weekly emails for news that is most important to your specific neighborhoods: Green Hills | Belle Meade Brentwood | Franklin | Spring Hill Residential Cleaning Where Quality & Respect Come First! www.lighthousecleaningservice.net (615) 957-7661 Licensed, Insured & Bonded CLeaninG svCs. I am super personal assistantHousehold / pet management, driver, security, business / legal consulting, problem solver. $50 / hr. Stellar References. (615) 292-7615
Rent/Lease Bellevue Home for Lease w/Option with office space. Large kitchen, New hardwood & tile. 3/4 acre lot, covered parking. Ideal for professional couple. 615-373-3003
CLASSIFIED
Rent/Lease
greenhillsapts@comcast.net
Advertise It in the Classifieds Call To Place Your Ad! (615) 298-1500 • Items for Sale • Services • Estate Sales • Home Imp • Landscaping • For Rent
Hardwood floors, cleaned, waxed, buffed, sanded and/or refinished. Over 75 years in flooring. Corlew
GutteRs
Goodfred Window Cleaning Gutter Cleaning
Gutters • Downspouts Cleaned
• Debris Removal
• Gutter Guards
• Gutter Repair (615) 382-5127
HOMe iMpROveMent
Complete Home Repair & improvements
Native Nashvillian in business since 1992.
Additions, Decks, Window Replacement, Furniture and Playground Equipment Assembly.
All Types of Repairs.
Licensed, Bonded, Insured Call Bob (615) 300-5558
paintinG/papeRinG
pRessuRe WasH
kyle's pressure Cleaning
Property Pressure
Washing:Driveways, Back Decks, Front Porch, Swimming Pool, Concrete & more. (615) 424-5354
tRee seRviCe
top notch tree service
pLuMBinG
Mt. Juliet plumbing and Leak Detection
"Beariffic Plumbing Repair Service!"
Local Licensed experienced Plumbers (615) 733-5665
Carter plumbing
Commercial & Residential New Installation & Repair Service
Drain Cleaning Service
Licensed, Bonded & Insured
All Work Guaranteed! (615) 232-9051
pRaYeR
need prayer?
LOCksMitH
Green Hills Lock & key Servicing the area since 1974!
Deadbolts Installed
Locks Re-keyed • Lockouts
Locks Repaired & Serviced (615) 269-3616
MOvinG/HauLinG
i HauL anYtHinG
- since 1990 -
Deliveries, Estate Property Clean Outs, Brush & Appliance Removal, Construction Waste, Demolition & more...
No Job Too Small!
Wyatt Mallonee
(615) 499-2218
If you are in need of prayer, call 888-388-2683
The Billy Graham Evangelistic Association will have prayer partners available to talk with you 24/7.
Topping & trimming, deadwooding, removals, brush chipping, stump grinding
Insured & Free Estimates Call Mike (615) 834-6827
Bulldog tree service
• Topping / Deadwooding
• Stump Removals
• Trimming
• Lot Clearing
Free Estimates. Insured. Call John 24/7: (615) 300-6254 (615) 313-7375
eric'stree service
Big, Tall or Small, We Do It All!
Insured • Free Estimates Call Eric / Owner (615) 779-1870
We BuY Vinyl Records, Comic Books, CDs, Blu-Rays,DVDs, Toys, Video & Role-Playing Games, CCGs, Stereo Equipment,Music & Movie Memorabilia,and much more. In business 40+ years; No collection too large or small.
Mention this ad when you call. BUY - SELL - TRADE the Great escape Call 615-364-3029
TheGreatEscapeOnline.com
Chair caning and all styles of weaving. Wicker repair available. Pick up and delivery. the Cane-eRY (615) 269-4780 / 414-5655
WinDOW CLean
all seasons Window Cleaning Specializing in residential windows. Serving Nashville over 38 yrs!
Licensed - Bonded - Insured Free Estimates
Low Prices (615) 889-9164
23 SEPTEMBER 14, 2023
(615)
FLOORinG
298-1500 (615) 298-1500 CLASSIFIED W E B U Y R E C O R D S 45'S, 78'S, LP'S We pay more than any store! Any Size Collection No Problem Also Buying Old Windup Phonographs Call Paul 615-953-7388 Paying TOP DOLLAR Over 45 Years Trees Trimmed / Removed Stump Removal, Great Clean-up Senior & Single Parent Discount Licensed & Insured, Free Estimates All Major Credit Cards Accepted 615-456-9824 www.gisttreeservice.com 24/7 EMERGENCY SERVICE HAZARDOUS WORK Wood tree service formerly Gist Tree Service INTERIOR • EXTERIOR • PRESSURE WASHING FINISH CARPENTRY • DRYWALL REPAIR TRIM REPAIR • CEILING DOCTOR Excellent local references FREE ESTIMATES Michael Ferrera 615-308-0211 Michael Ferrera 615-308-0211 THE REMODELING SPECIALISTS 3 7 Y e ar s o of R Re mo de li ng E xpe r ie nc e For All Of Your Home Renovation Needs www.broderickbuilders.com 615.385.3210 • Extensive reference list • Licensed & Insured 42 Years of Remodeling Experience WanteD tRee seRviCe KEN R. FRYE CONCRETE DRIVEWAYS, PATIOS, GARAGES, SIDEWALKS "all types of concrete finishings" 615-975-7970 PATIOS, DRIVEWAYS GARAGES, SIDEWALKS COnCRete/MasOnRY Get Results, Advertise Your Business in the News! $10 for the first 15 words, .30 cents each word extra. Call 615-298-1500 to place an ad Find It in the Classifieds! Call 615-298-1500 to place an ad eLeCtRiCian Priced Right! New Work, Old Work & Service Calls. 10% senior discount. Licensed-Bonded-Insured (615) 522-1339 BBB Accredited w/ Reviews 20 year advertiser! eLeCtRiCaL svCs. LanDsCape LanDsCape p & t Concrete Driveways - Sidewalks - Patios Landscaping, Mulch and Bobcat Work. Free Estimates Richard's Cell: 1 (615) 670-2273 (615) 755-3509 HistORiC CeMeteRY Repair & Restoration BRICK & STONE Walls • Steps • Walks • Etc. Build • Repair • Restore Tuck Pointwork Custom Entrances Small Job Specialist FIREPLACE REPAIR "For those who want it right the first time!" W.J. Miller (615) 890-0533 Buy American WiCkeR RepaiR
& perry, inc.
832-0320
(615)