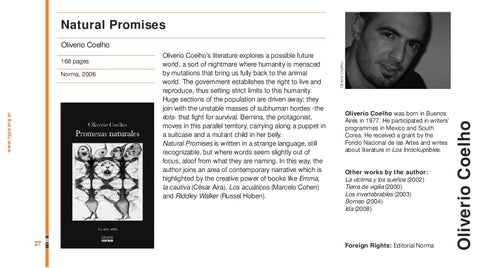 Natural Promises
www.typa.org.ar
Norma, 2006
27
Oliverio Coelho's literature explores a possible future world, a sort of nightmare where humanity is menaced by mutations that bring us fully back to the animal world. The government establishes the right to live and reproduce, thus setting strict limits to this humanity. Huge sections of the population are driven away; they join with the unstable masses of subhuman hordes -the ilots- that fight for survival. Bernina, the protagonist, moves in this parallel territory, carrying along a puppet in a suitcase and a mutant child in her belly. Natural Promises is written in a strange language, still recognizable, but where words seem slightly out of focus, aloof from what they are naming. In this way, the author joins an area of contemporary narrative which is highlighted by the creative power of books like Emma, la cautiva (César Aira), Los acuáticos (Marcelo Cohen) and Riddley Walker (Russel Hoben).
Oliverio Coelho was born in Buenos Aires in 1977. He participated in writers' programmes in Mexico and South Corea. He received a grant by the Fondo Nacional de las Artes and writes about literature in Los Inrockuptibles.
Other works by the author: La víctima y los sueños (2002) Tierra de vigilia (2000) Los invertebrables (2003) Borneo (2004) Ida (2008)
Foreign Rights: Editorial Norma
Oliverio Coelho
168 pages
Oliverio Coelho
Oliverio Coelho
Published on Oct 23, 2009  
30 Great Authors From Argentina  
30 Great Authors From Argentina  
Published on Oct 23, 2009  
A special committee selected 30 outstanding Argentine authors who haven't been translated, in order to make them known among international p...