cover by erick buendia
Fall 2022 Issue 4
DEAR READER...
What is the simple definition of regeneration? The renewal, regrowth, or restoration of a body or bodily part, tissue, or substance after injury; a normal bodily process
Fray Magazine was conceived of and created during a period of lockdown and isolation on campus; fashion, clothes and collaboration brought us together when physical closeness was not an option Our relationships to people and ourselves became fragmented, and Fray helped to renew, regrow, and restore these injured connections The past three issues have been organized, edited, and put together by a team of students who no longer occupy space here; this Fall 2022 issue represents Fray's future, resilience, and desire to regenerate
The REGENERATION Edition is Fray Magazine's fourth issue, and it's our best one yet This fourth issue has allowed us to regenerate Fray as a concept and incorporate more voices than we ever have before We mended old clothes, saved ourselves and the environment, reformed generations of fashion, and made new and unique choices REGENERATION would not have been possible without the hard work and dedication of our collaborators, team of organizers, and layout editors.
TABLE OF CONTENTS
Regeneration as Mended human nature... maisy lewis fitted sheet siggy soriano and victoria cornejo Regeneration as Saved viridescent pelumi sokunbi and imogen frazier ... it's a (drag) home... norman slate
Regeneration as Reformed dress up! anika kewalramani "earth rise" illustration... alec black bringing the past to the present.. teddy abt Regeneration as New positive feedback... owen forbes evolution of queerness a polaroid serie mackenzie interviews by jake gale
TEAM Organizers Layout Editors Ruby Baden Lasar Anika Kewalramani Siggy Soriano Victoria Cornejo Mia Foster Norman Slate Maisy Lewis Gaile Ng Pelumi Sokunbi
COLLABORATORS
pelumi sokunbi liam mackenzie norman slate michelle valentine owen forbes michael fadugbabe maisy lewis
mimi landes jenny ongele kailer brothers katie meyer asher minkoff bella rosenblatt olivia rosas sarah liu leo kaplan ella kramer ella kramer julia foley vansh kapoor amari stuppard abbi abraham
alec black
ava carbonara avery kelly mckenna blackshire dani monteys charit narayanan mirembe mcduffie thurmond kofi agyei yeboah
jake gale
minyoung huh laila kewalramani isa miranda keren miranda swaraj rai
isabella lozada jess jara williams imogen frazier erick buendia
carolyn neugarten wesleyan theater department
oluchi chukwuemeka teddy abt thibeaux hirsh lily hoeflin
SAVED /saved/ adjective
HUMAN NATURE HUMAN NATURE
My project is challenging the notion that beauty is confined to one type of person. I shot my photos on film, developed and printed them in the dark room, and embroidered my printed photos with flowers to convey the idea of growth and regeneration of beauty standards.
-Maisy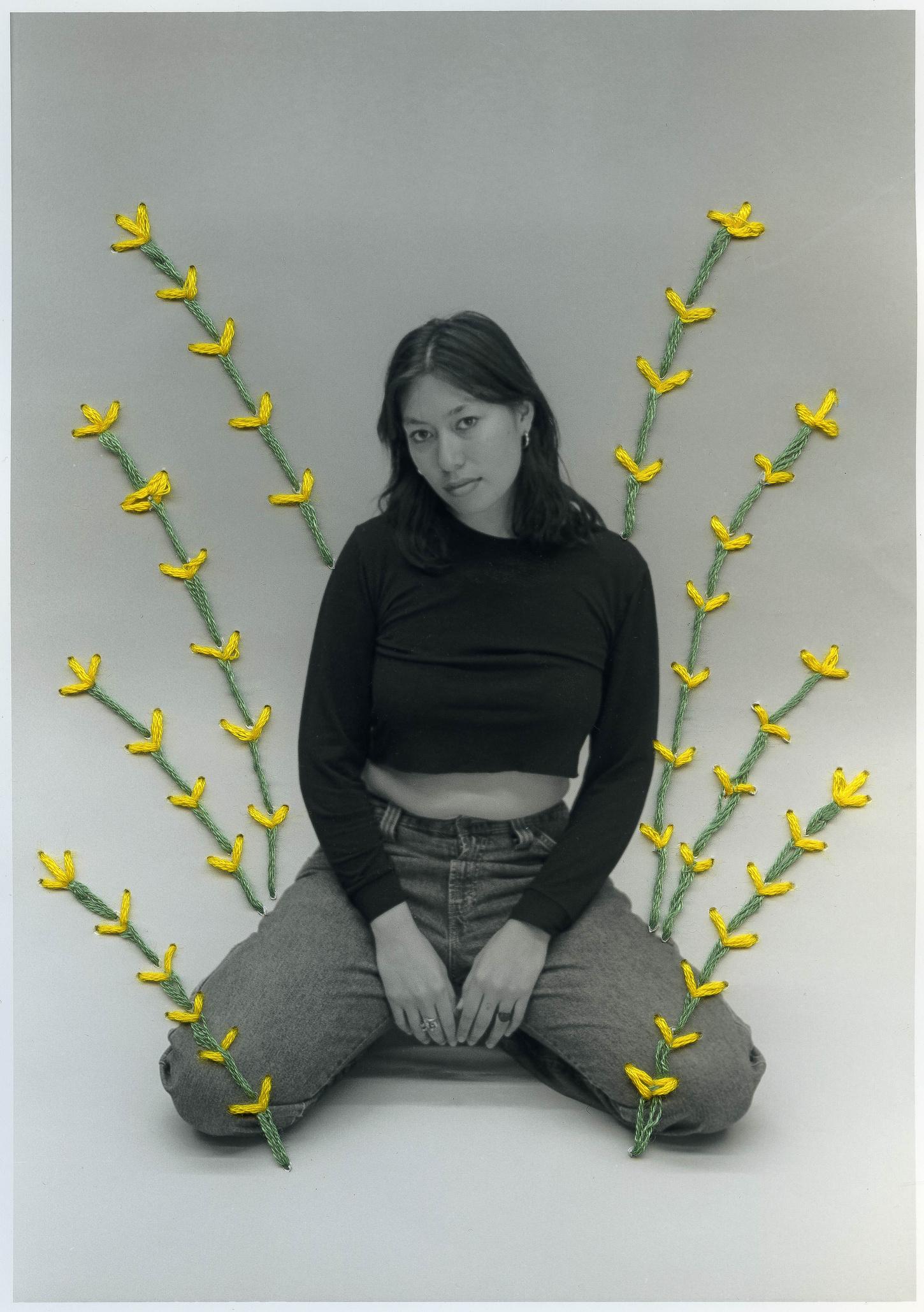 Models:
Ava Carbonara, McKenna Blackshire, Avery Kelly, Dani Monteys, Abbi Abraham, and Siggy Soriano
Special thanks to Thibeaux Hirsh, Jenny Ongele, and Lily Hoeflin
Photography and embroidery: Maisy Lewis
Photography + Creative Direction: Victoria Cornejo Siggy Soriano
Swaraj Raj Swaraj Raj
Jara-Williams Jess Jara-Williams
Jess
Isabella Lozada Isabella Lozada
Pelumi Pelumi
Siggy. Sophomore. She/Her.
J: Can you tell me a little about your least recent piece?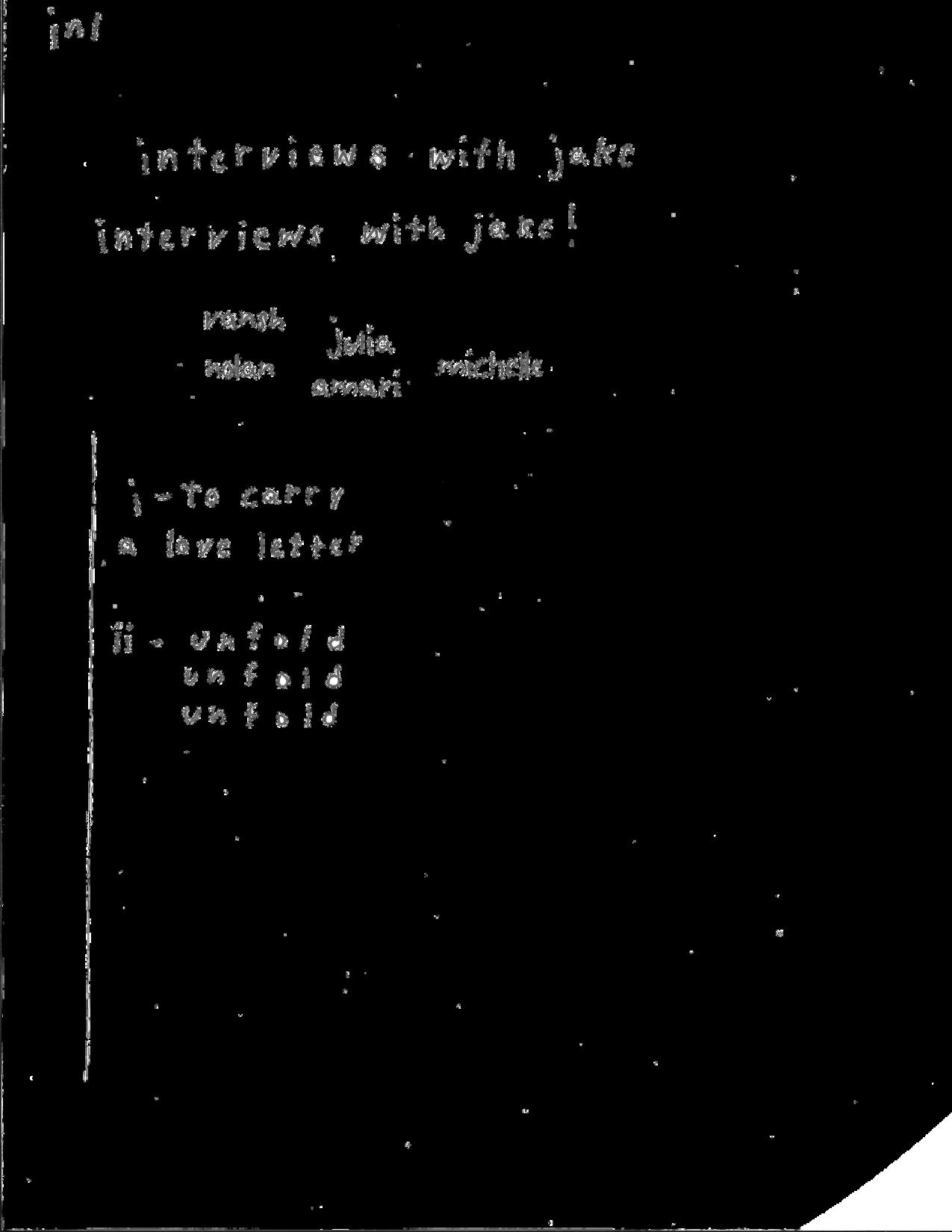 S: This is a t-shirt my friend Ryan got me for my eighteenth birthday. It's a plain white t-shirt that says FIERCE on it. He's a very straight white man, and I introduced him to a lot of gay terminology. But I kept saying things like, fierce and slay to him all the time. So he iron on-ed the word FIERCE on a big white t-shirt for me! He got me an extra-large because he knows I like to wear oversized things, which I thought was really sweet.
J: Do you wear it often?
S: I wore it to a function last year, and people didn't really get it. I also cropped it way too much so it's like, not fierce anymore. I cropped it right when I got it, but I cut it too short. So I don't wear it that much anymore. It's also like they might not get the irony.
J: Do you remember what you paired them with?
S: Yeah. I had these black-and-white pants I'd wear them with, but my style has sort of evolved past the piece.
J: What's your most recent piece?
S: I thrifted this over fall break while driving back to campus. I was in New Haven and went to Savers, and I got this. I was looking through the mens' sweaters out and didn't see it at first, but then I went another round and I saw it! I think because of the light color I associate it with my current style. It's sort of coquette-core, but with a masculine twist on it.
J: Have you been wearing it a lot?
S: Yeah, it's really comfortable My only big V-neck I wore it yesterday and another time last week. I like to pair it with a white shirt underneath, with dark jeans and black shoes.
Victoria. Sophomore. She/They.
J: So this is your least recent piece?
V: Yeah, I thrifted it last year. I found it last year and thought it was so cool, but I haven't worn it yet. I just haven't thought of what to wear it with yet. I love the pattern and texture of it. It reminds me of an archive piece, sort of from a different era. I love the abstract shapes and stuff.
J: How would you describe your current style, and why do you think it's been hard for you to integrate this piece into it?
V: I feel like right now, I'm realizing that when I shop, I only buy statement pieces but no basics, so I end up with a bunch of stuff that I don't know what to do with, but when it's in the store I'm like "I need this."
MENDED /mend/ verb
a (drag) home
lewis
... it's
makeup / michelle valentine, norman slate, nolan
photography / norman slate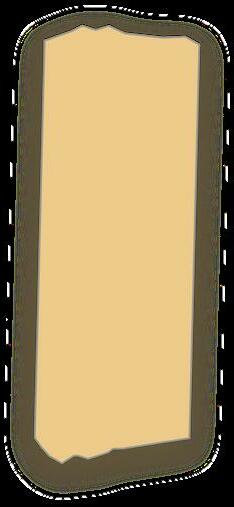 N J: N
fo bu we J: N at of gr J: N g
do
J: What do you think drew you to this piece out of all the clothes in the dress-up closet?
N: I think the crazy, clownlike quality to it! I can't imagine anyone actually wearing this, but they did I guess. These big shoulder pads are not very flattering on anyone. I thought it would be cool for drag, actually. That's why I brought it here. I thought it might make for a good photoshoot or something. I don't think it's particularly beautiful, but it's like something you'd see on a runway.
J: What's the most recent thing you got?
N: So, Michelle made this.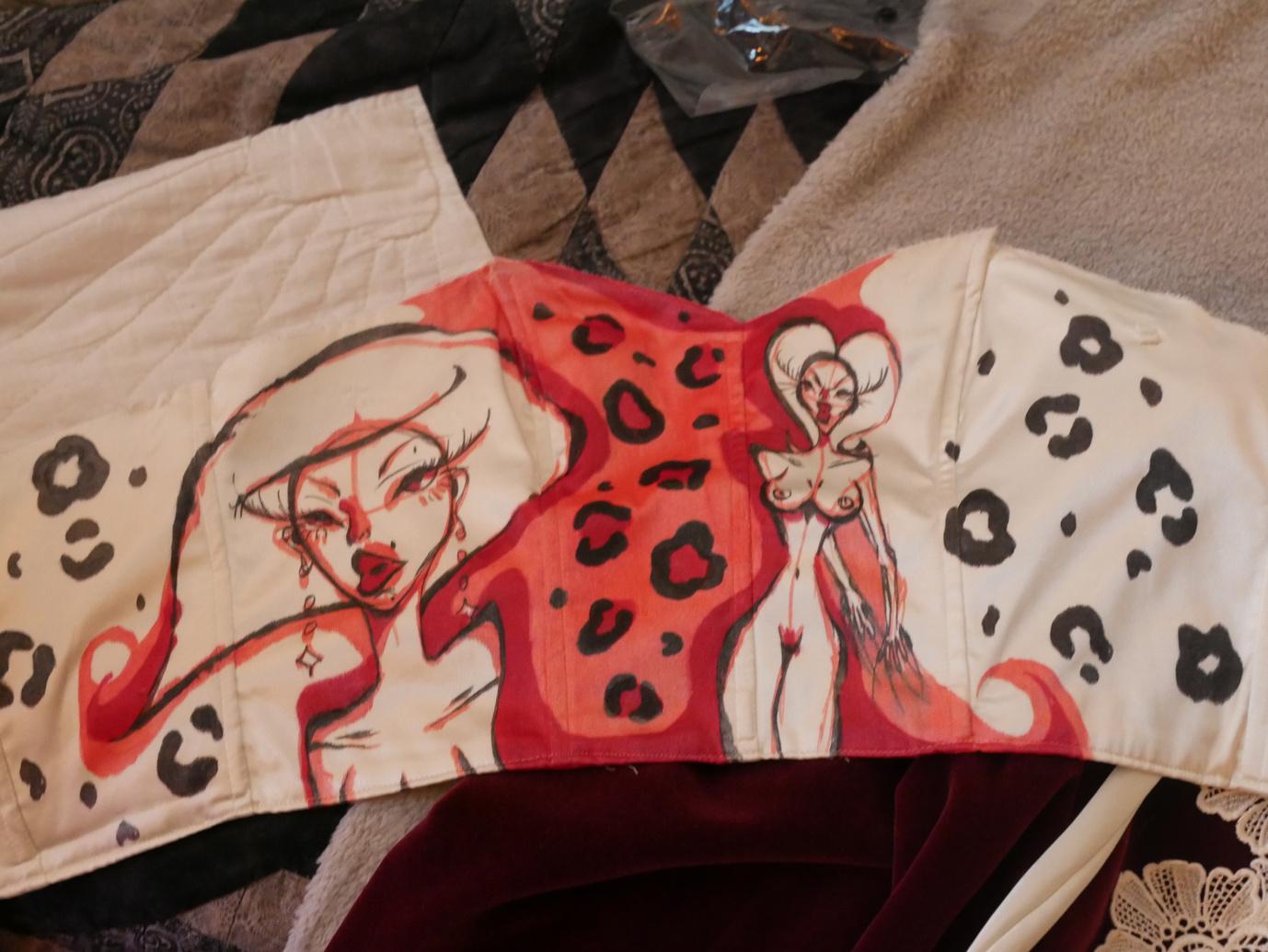 J: Oh word. Michelle, what was the idea behind this?
M: I just wanted something really hyperfeminine and sexual in a sort of powerful way, with very very bold colors I like to involve anything with transness and trans identities, and hyperfemininity. With drag, I love to just make things obnoxiously unrealistic.
J: Norm, why're you drawn to it?
N: I think this is my first actual corset, like for drag. It's a really special item to me, since it was a gift from Michelle. Michelle actually taught me how to walk in this! It's a perfect color scheme for me, and I love to wear it with a big brown skirt. I hope I get to wear it for a long time.
J: You've gotten into drag this year, right?
N: Yeah, last summer. I got top surgery, and before then I didn't really feel comfortable doing drag. And the second I got surgery, I was ready to really experiment with gender. Like if I was born like this, how I could've grown from there.
REFORMED re·formed adjective
DRESS UP!
LOVE, ANIKA
Here' s to embracing and nurturing the discomfort we may feel for the disconnects to our cultures. I hope for dress up to soothe the process of finding cultural fabrics and clothing intimidating, welcoming the fear and honest confusion. I hope that everyone apart of this project felt beautiful and in touch with their respective cultures. Here' s to normalizing and reclaiming a unique process of reformation and regeneration, and may it inspire you to play dress up some time soon
Kofi AgyeiYeboah
...A po . "I felt Ro
Shot by Jenny Ongele, Directed & Edited by Anika Kewalramani
"I was nervous at first as I have always had a complicated relationship with my body and how i'm seen ...
as i started getting into it, i felt more connected with myself.
Minyoung, wearing a jeogori
r e f e r e n c e p h o t o
reference photo... reference pho r e f e r e n c e p h o t o . . .
Minyoung Huh
Shot by Jenny Ongele, Directed & Edited by Anika Kewalramani
"
THIS IS MINYOUNG . WHO
HIS IS MINYOUNG . WHO IS MINYOUNG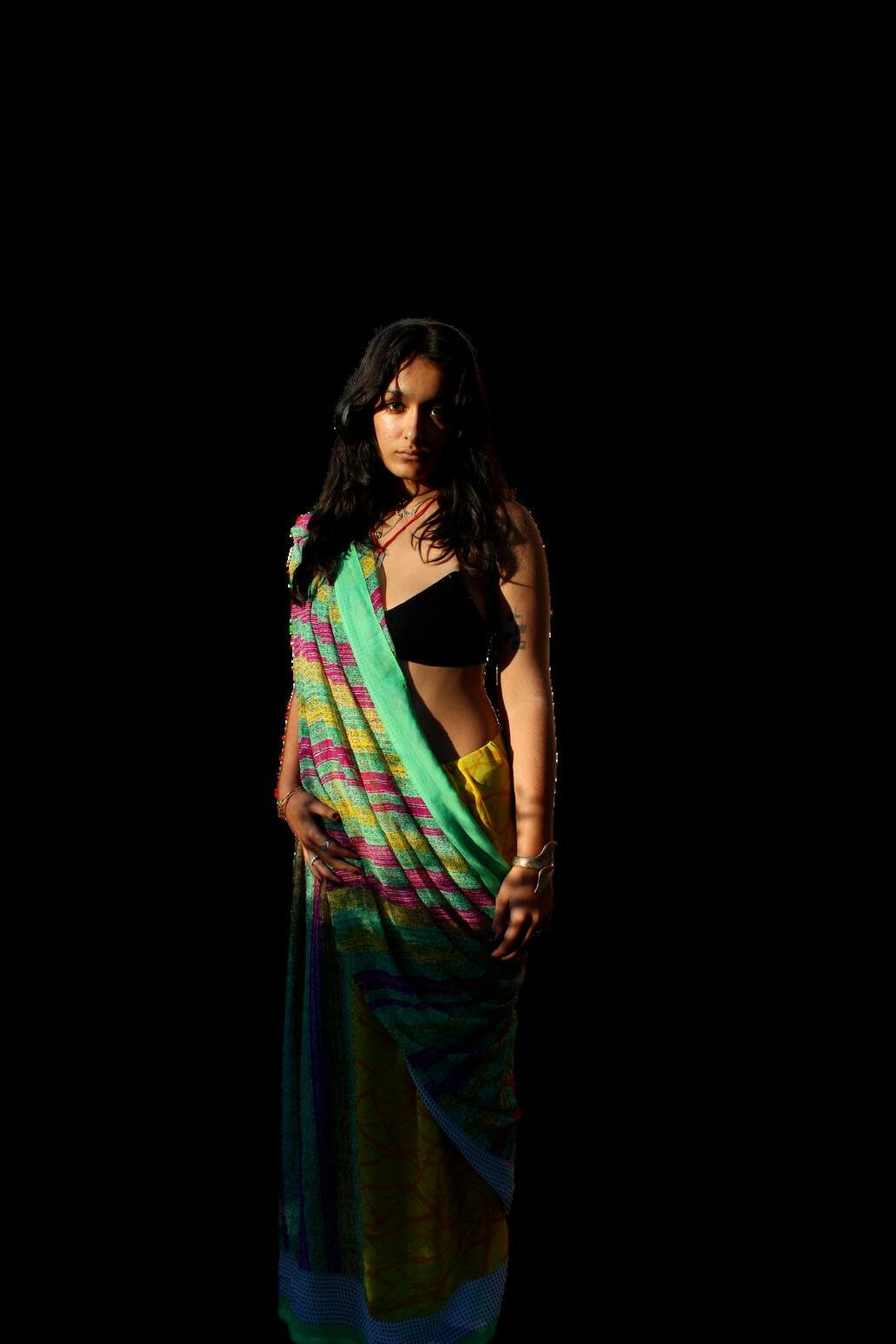 Laila Kewalramani
Reference Photo ... Reference Photo ...
"A dated photo of my aunt and uncle, Bharat and Deepika Kewalramani, today I felt a natural confusion and exciting discomfort, but most of all, empowerment " Laila, encompassed in sun & sari
Shot, Edited & Directed by Anika Kewalramani
Reference
Reference Photo... f e r e n c e P h o t o . . .
Photo...
Isa Miranda
"
Shot,
Edited
&
Directed by Anika Kewalramani
"I felt really empowered by my vulnerable younger self and reclaiming aspects of my cultre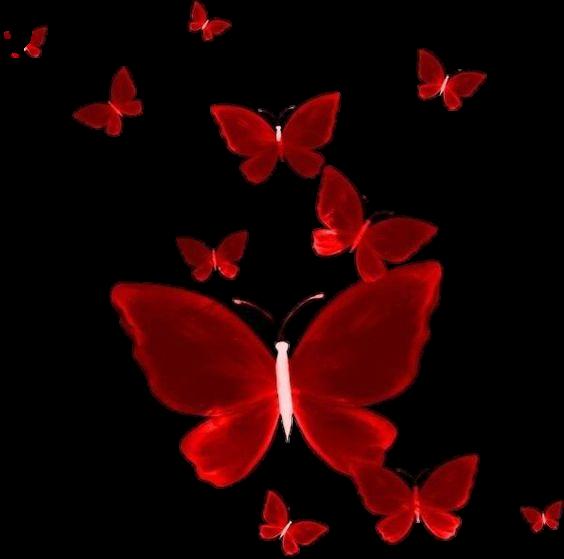 " mom said the picture was maybe 3 yrs old she had just come back fom Africa , summer of 2006
reference photo... reference photo... reference photo... reference photo...
Keren Mikanda
Shot, Edited & Directed by Anika Kewalramani
"i felt beautiful i always knew my mom as beautiful i hold so much love for her beauty as a young woman it's crazy that I've reformed that baby in the photo to a beautiful young woman just like my mom. "
REFERENCE PHOTO REFERENCE
PHOTO
Olivia Andrews
Shot, Edited & Directed by Anika Kewalramani
Olivia wearing a busuuti
Illustration by Alec Black
Fashion: BringingthePast TothePresent
By:TeddyAbt
Using the past as inspiration in fashion isn't a particularly rare choice, in fact, it's a staple of the industry While originality is an intrinsic part of making a collection, there isn't much left to invent when working with a medium that's existed for millenia.. Nearly every textile, silhouette, color, and construction has already been used, so true originality is found few and far between, if it is even possible at all. It's only logical that fashion designers then resolve to look at the past for inspiration, forming the basis of the twenty year trend cycle: the theory that fashion trends work in a cyclical nature.
While there is a lot of evidence to back this theory, it is not entirely accurate to portray fashion as simply bringing back the fashion of previous decades Instead, it's an appropriation of how we think people in those eras dressed. This is most evident in the resurgence of Y2k, where bits and pieces of somewhat accurate styles are taken from relatively niche people from that time period, and then applied to the entire decade In high fashion, brands like Blumarine, "rebooted the Y2k era" according to Vogue, but when comparing their Spring 2022 collection to the actual fashion of the early aughts, they aren't quite the same. This is because Blumarine isn't taking inspiration from the early 2000's as a whole, but rather early 2000s Destiny's Child and Paris Hilton.
This phenomenon isn't only limited to the recycling of the modern For example the corset trend, which owes some of its success to the popularity of Netflix's Regency period drama Bridgerton Shortly after its release, searches for corsets rose 123% according to the Daily Telegraph. However, in looking at the "Bridgerton inspired corsets" that were trending resemble nothing close to the actual corsets worn during the early 19th century. Instead, they are simply modern takes of a Victorian corset, Tudor era pairs of bodices, and modern bustier tops.
Blumarine's SS 2022 ready to wear collection "Beat", worn by Adit Priscilla
Much of the recycling of fashion trends are interpretations, not accurate portrayals. This raises the question of why trends are reproduced but not accurately replicated. The easy answer is to say that historic clothing is actually impractical and oftentimes ugly On a deeper level, we use fashion to romanticize the past, making things we imagine as being beautiful new again through contemporary designs.
We certainly aren't the first to bring back the fashion of an earlier period in an attempt to romanticize it either. Just like as we romanticize the Regency era, the people of the early 19th century romanticized the Greeks and Romans, which can be seen in a rise of neoclassical architecture to interpretations of their fashion As we come to better understand the rise and fall of trends, a deeper social critique arises in its romanticism of the past. The romanticization of the past can be problematic Making idols of the fashion of heiresses like Paris Hilton or colonialist monarchs may be more dangerous than we think The elegance of the early 19th century fashion was also heavily influenced by Joesphine Bonaparte and her imperialist husband Some designers, however, take a different approach. British designer Vivenne Westwood first rose to prominence as the designer for the punk band Sex Pistols. Her radical anti authortarian views paired with her turn to the past for inspiration cultivates a commentary on the fashions which she recycles.
"Portrait of Félicité Louise de Durfort, Maréchale de Beurnonville" by Merry Joseph Blondel, 1808
While other designers have romanticized history, Westwood has plundered it since the "Pirate" Collection of 1981 The collection takes inspiration from pirates of the 17th century, with colorful asymmetric garments. Westwood critiques the European plundering of the Americas, evident through the usage of Indigenous American patterns on the garments She takes pieces of historical garments and alters them to create a entirely new pieces, reconstructing to cultivate entirely new meaning Unlike the modern corset trend, Westwood took history's bourgeois undergarments and subverted them in her 1985 collection "Mini Crini." She subverts the coded modesty of the 19th century crinoline into something sensual, describing her creation as a mixture of "representing a mythology of restriction and encumbrance in woman's dress and an equally dubious mythology of liberation " She approached the corset in a similar fashion, using the undergarment as an outer garment. While we've become desensitized to the corset, it was historically analogous to a bra, so Westwood's subversion of it can be seen as a subversion to the rules of society Westwood applies sexuality to an area of history that is typically devoid of any, almost to the point of abrasiveness. In her 1994 Spring/Summer collection, titled "Cafe Society", a topless Kate Moss walks down the runway in heels, a micro mini skirt, and 18th century powdered hair, while licking on an ice cream bar. Westwood does not appropriate these garments in reverence, but as a way to make a political statement. She takes something old and then applies a new meaning to it that it hasn't had before, as she puts it, " "I take something from the past that has a sort of vitality that has never been exploited like the crinoline and gets very intense. In the end, you do something original because you overlay your own ideas "
Mini crini, corsets, and rocking horse ballerina shoes from Vivienne Westwood's FW 1987 1988 Harris Tweed collection, worn by Stella Tennant and Lily Cole for Vogue
Kate Moss for SS 1994, Cafe Society by Vivienne Westwood
Another mini crini corset combo from Westwood The MET says 1985 1990, but not the specific collection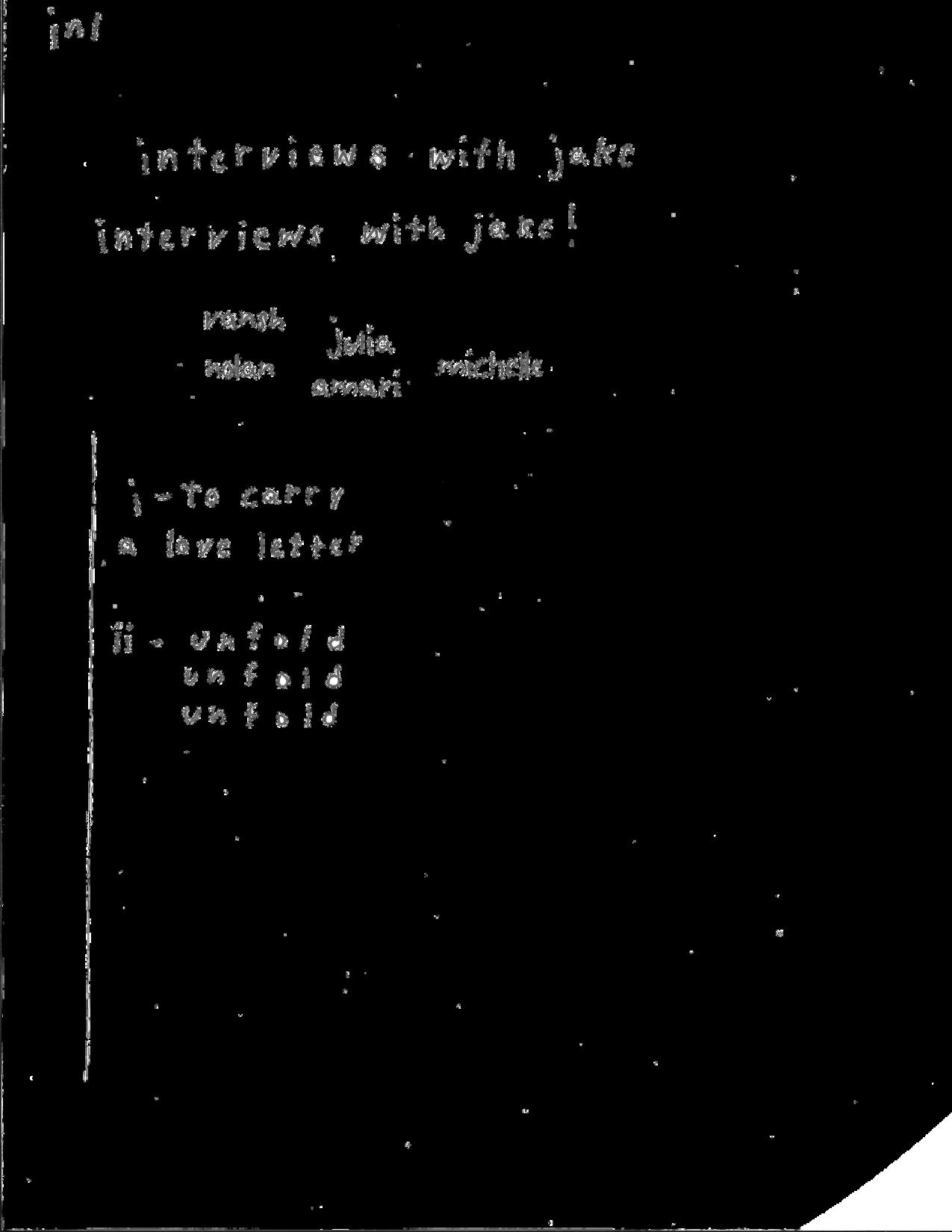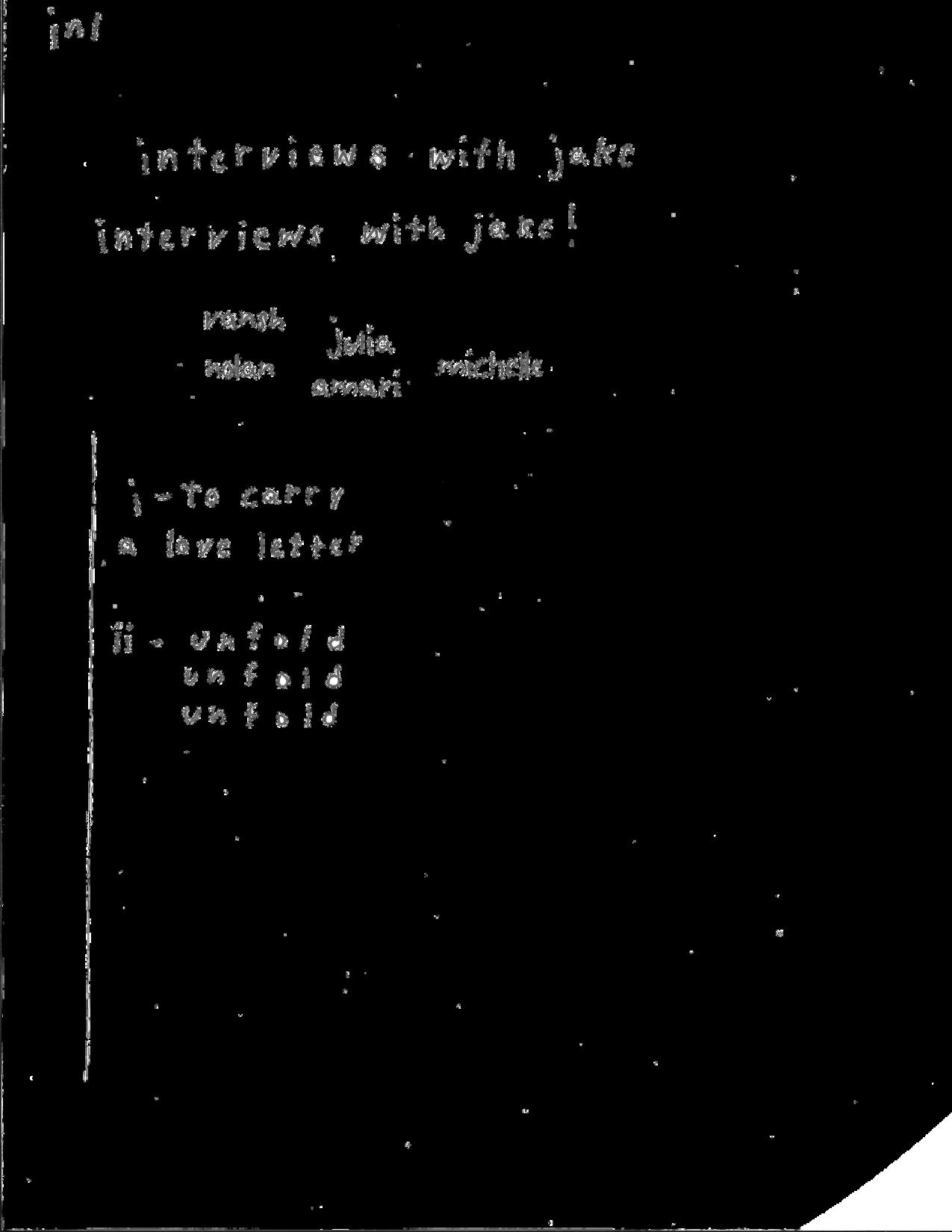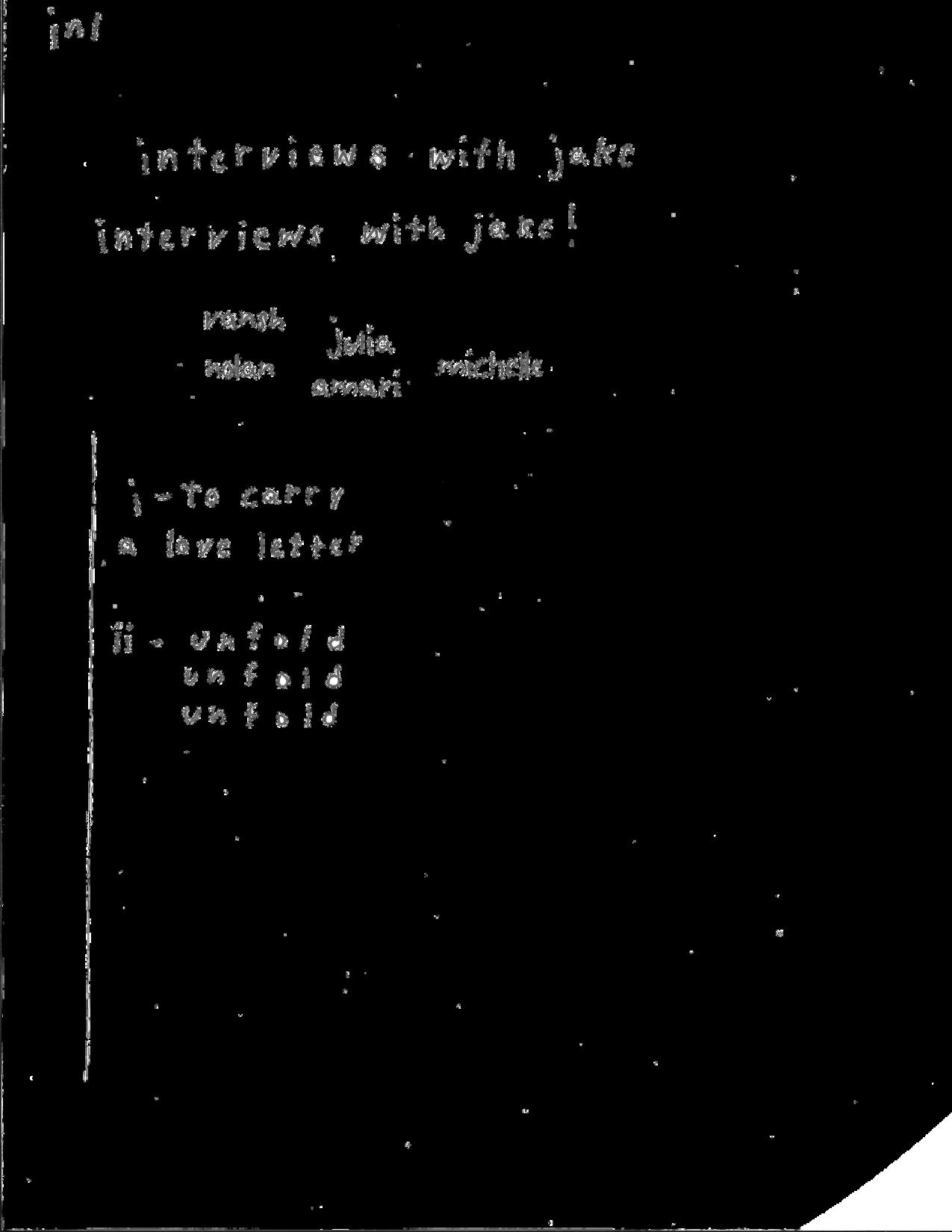 T: Yeah. I guess that the main thing is I only wore like, sweaters and pants as a child, even up until high school I would not wear short sleeves. I also couldn't wear jeans for a while because of a texture issue I have with the buttons on the back of it.
J: What brought you into the world of short sleeves?
T: I was just insecure about my body, which I think a lot of people are in middle school. I've gotten less insecure about my body and also like, I'd be in the hot summer sun in a sweater, and that was too much.
J: What are elements of your style that you ' re trying to grow?
T: I really want to wear more textures, like I love velvet. And I love historical fashions, and I'm trying to figure out how to bring that into a more modern outfit
new·er / new·est adjective
NEW
P POSITIVEFEEDBACK OSITIVEFEEDBACK
by Owen Forbes by Owen Forbes
The clothes we wear are a presentation of how we feel, what makes us comfortable, what gives us confidence, and ultimately an expression of creativity.
The clothes we wear are a presentation of how we feel, what makes us comfortable, what gives us confidence, and ultimately an expression of creativity.
Thus, after a couple weeks of satisfaction I inevitably feel stuck on what on earth I am going to wear. This project pays tribute to the cycle of feeling unsatisfied with my style and drawing inspiration from my friends. Each model has styled their outfit with their own clothes and tastes, with only one criteria, to take some form of inspiration from the model who preceded them, creating something like a fashion game of telephone, or a positive feedback loop.
Thus, after a couple weeks of satisfaction I inevitably feel stuck on what on earth I am going to wear. This project pays tribute to the cycle of feeling unsatisfied with my style and drawing inspiration from my friends. Each model has styled their outfit with their own clothes and tastes, with only one criteria, to take some form of inspiration from the model who preceded them, creating something like a fashion game of telephone, or a positive feedback loop.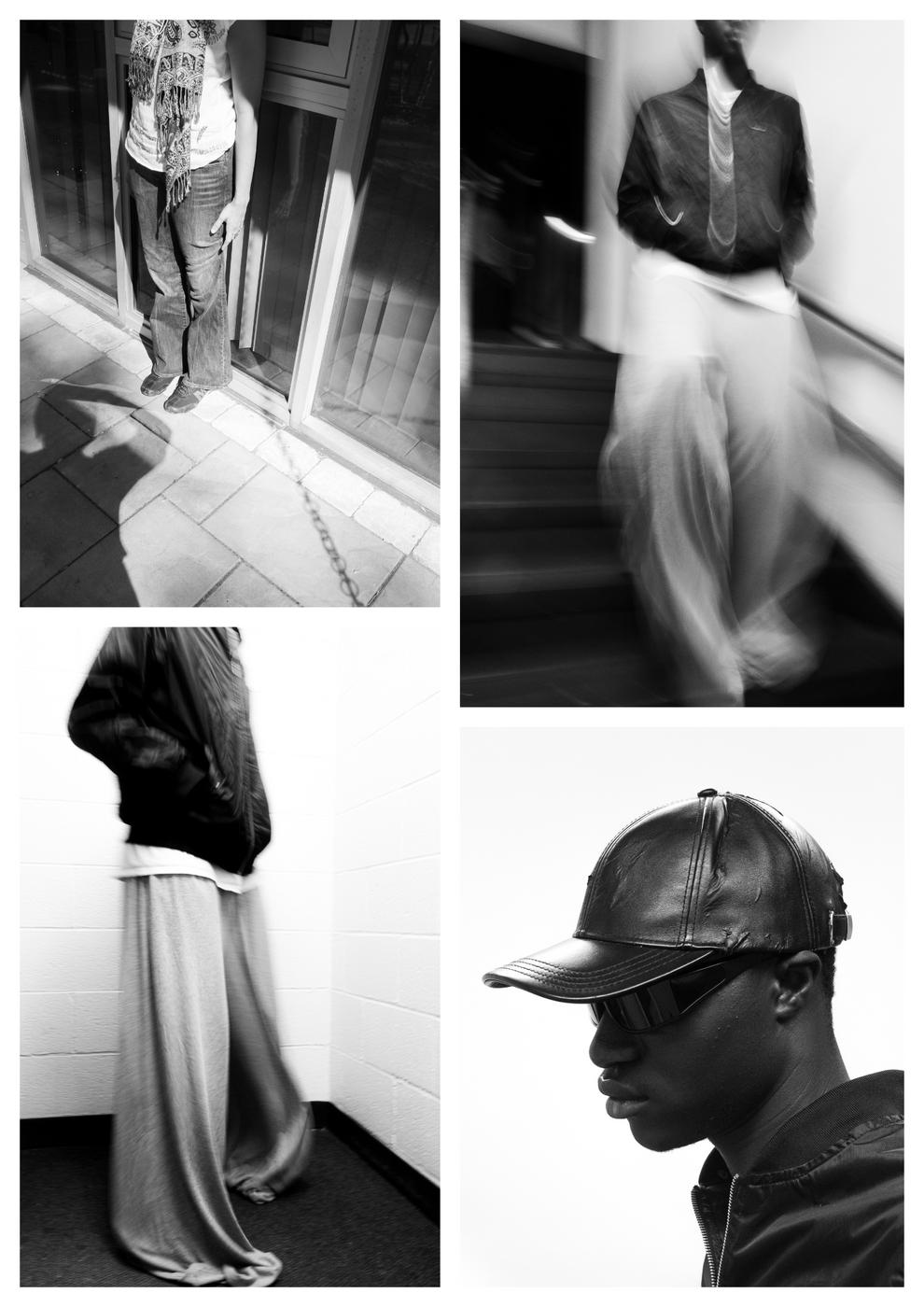 Models: McKenna Blackshire, Pelumi Sokunbi, Charit Narayanan, and Mirembe Mcduffie Thurmond
Photography: Owen Forbes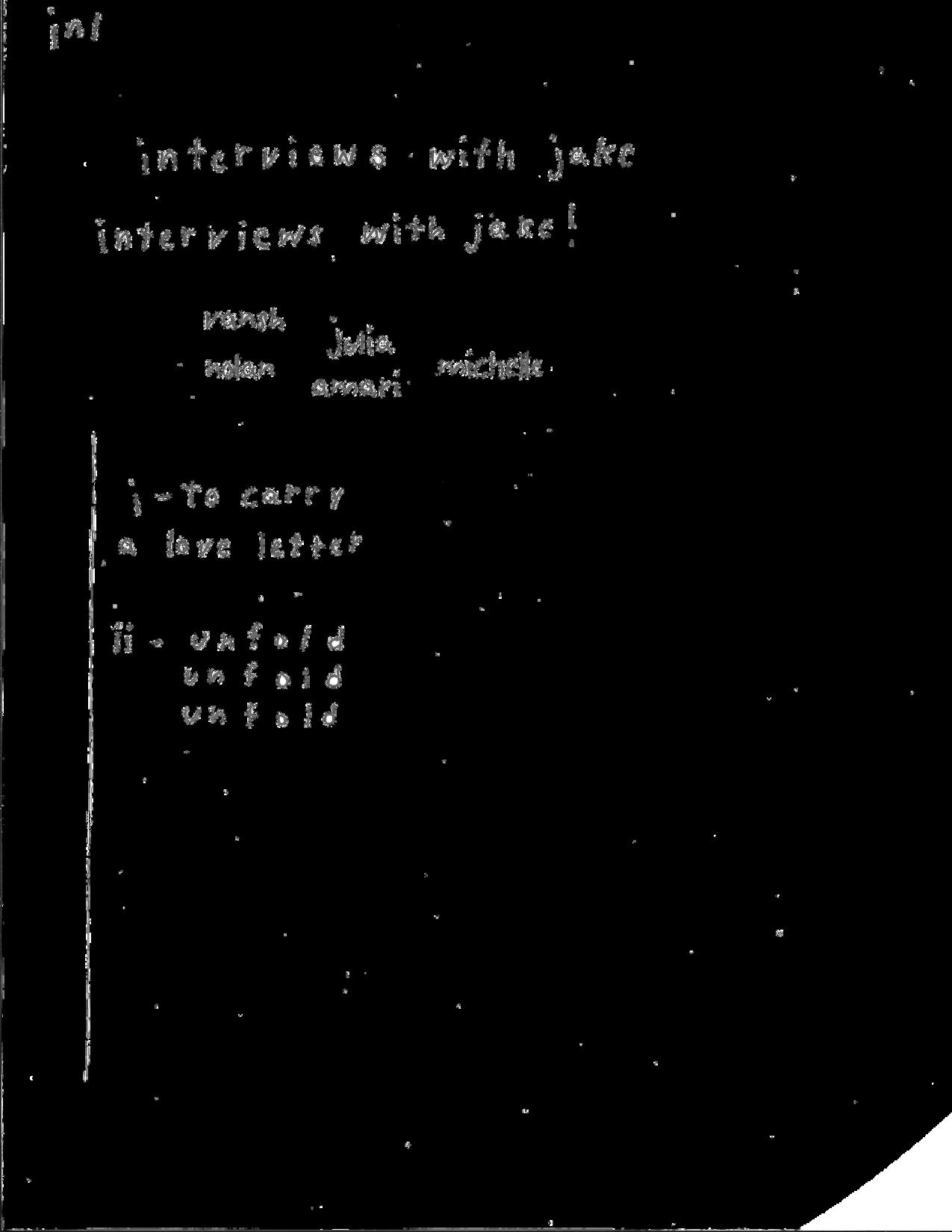 Ow J: W O: clo J: O O:
run sne it. J: H wa O: Th hig it j par mo int ins
ph
J: How do you think you were able to keep the jacket relevant within your wardrobe?
O: I think a part of it is luck. I outgrew a lot of stuff from my old wardrobe. The jacket has such an easy-to-wear silhouette, and back then this was the highest-quality piece of clothing I owned. Not that that matters all that much, it just made it easy to pair with other things. I mean the jacket itself isn't particularly experimental, but it's not a quiet jacket. So as I started wearing more different kinds of clothes, it became easier to pair. I also got more interested in vintage fashion, and vintage chore jackets, which this one takes inspiration from.
J: Can you show me your newest piece?
O: My newest piece is this pair of pants I got on Grailed. They're from a brand called Kapital. I pulled the trigger on buying them while in an art history lecture, which is the danger of long classes! I got them about a week ago. I'm always addicted to pants, and these are a little out there. People have told me it looks like my pants are falling down. I just like that they're something you wouldn't see any day, and I love clothes where the craftsmanship is obvious, which is why I love Kapital, even though the prices can be heinous.
Issue Four
FRAY's REGENERATION EDITION
Magazine
Wesleyan's First Fashion
12 2 2022