JULY 2023 Imprints Cares A Brighter Future for All Children
2 / FORSYTHFAMILYMAGAZINE.COM
Kids need good nutrition all year long. Let's come together, so that all children can access the nutrition they need to power through their days and thrive!
EVERY CHILD DESERVES TO EAT
FILL A PLATE. FUEL A FUTURE.
Give today at FeedCommunityNOW.org
Thispast month, I had the pleasure of attending the most unique and gorgeous wedding! Congratulations to Morgan and Deep Patel! Morgan is a lifelong family friend and also Robin Bralley's daughter (Robin is the former publisher of Forsyth Family).
This was my very first time attending an Indian wedding, and let me tell you, it did not disappoint. Forsyth Family loves celebrating family life, and this particular weekend celebrated two families and two cultures. I cannot even come up with the words to describe how beautiful it was. Stay tuned for an article all about this spectacular weekend in our next issue!
This month, we are honored to feature Imprints Cares on our cover. This amazing non-profit organization has been nurturing children of Forsyth County for more than 50 years, and last year alone, it served more than 7,400 local children. WOW! Head to page 30 to learn more about this organization as well as the team who makes it happen.
We know our readers love recipes, and we're pleased to bring you not one, not two, but THREE recipe columns!
• Peanut Soba Stir Fry (page 28)
• Oven Baked Crispy Parmesan Potato Wedges (page 42)
• Chuck Roast Burnt Ends (page 48)
And, if you are on the hunt for more recipes, you can find content from all of our past issues on our website! Forsythfamilymagazine.com.
Speaking of food, I can't think of a better month for ice cream than July (ok maybe August… and September). Twin City Sweets
is our dining guide feature this month! They have the most incredible sundaes, and the atmosphere is unmatched. String lights, yard games, themed weeks and a brand new XL Adirondack chair. I had to take my pups to go check out this perfect photo opp. Read all about Twin City Sweets (and grab a coupon!) on pages 54-55.
We're thrilled to announce that we've recently launched a Facebook group! Check out the Forsyth Family Magazine Readers group on Facebook to engage in intentional discussions with other local readers.
Wishing you a July full of pool time, ice cream and quality time with family and friends!
PUBLISHER
Brooke Eagle • Brooke@ForsythMags.com
SENIOR ACCOUNT EXECUTIVE
Tamara Bodford
ACCOUNT EXECUTIVE
Robin Bralley
ADVERTISING
Advertising@ForsythMags.com
COVER PHOTOGRAPHY
Sail Off Photography
CONTRIBUTING PHOTOGRAPHERS
Jodie Brim Creative JEJ Photos
Sail Off Photography
*others contributed throughout accordingly
CONTENT EDITOR
Meghan Corbett
EDITORIAL DIRECTOR
Robin Shupe Keller
SENIOR STAFF WRITERS
Martie Emory Carolyn Peterson
OTHER CONTRIBUTING WRITERS
Casey Cheek • Karen Cooper
Damian Desmond • Amy Hill
Brian Jared • Taryn Jerez
Robin Shupe Keller Katie Maxey
Susan Boyoung Bailey Schabacker
Lauren Sephton Renee Skudra
Leslie Speas Megan Taylor
Keith Tilley Susan Woodall
*others credited throughout accordingly
GRAPHIC DESIGN & PRODUCTION
Laurie Dalton
WEB DESIGN/MAINTENANCE
Next Wave Services
CONTACT
.forsythfamilymagazine.com
888-892-3204
BFORSYTH FAMILY DISCLAIMER Please note that the inclusion of stories and articles in Forsyth Family magazine does not imply endorsement of products or people. The views of the authors are presented for information and entertainment only, and may not necessarily reflect the views of Forsyth Family. Specifically, Forsyth Family in no way endorses any claim associated with health and/or well being with respect to any particular person. We disclaim all warranties, express or implied,including, but not limited to, implied warranties of merchantability and fitness for a particular purpose. We will not be held responsible or liable, directly or indirectly, for any loss or damage that is caused or alleged to have been caused in connection with the use of, or reliance on, any content in this magazine. Forsyth Family reserves the right to deny any advertisement or listing that does not meet Forsyth Family standards. Submissions are welcome but unsolicited materials are not guaranteed to be returned. Forsyth Family assumes no responsibility for information, products, services or statements made by advertisers or editorial contributors. All rights reserved. Reproduction in whole or in part without written permission from the publisher is prohibited. ©2007 by Forsyth Family Magazine, Inc.
4 / FORSYTHFAMILYMAGAZINE.COM
L to R: Julie Spitzer, Brooke Eagle, Robin Bralley, Morgan (Bralley) Patel, Briana (Bralley) Holt, Keela Johnson
JULY 2023 / 5 Become a scroll stopper! Natalie Sahloff | Owner/Photographer Sailoffphotography.com | Natalie@sailoffphoto.com 336.407.2655 Winston-Salem Commercial & Portrait Photography HEADSHOTS BRANDING PRODUCT
52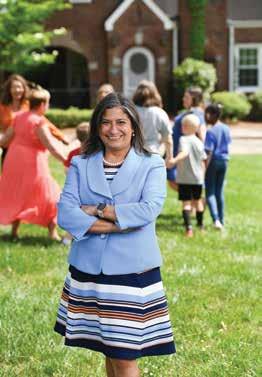 6 / FORSYTHFAMILYMAGAZINE.COM 10 Summer Fun: Creating a Unique and Fun Ice Cream Sundae Bar 16 "Men Who Cook" Fires Up Family Friendly Fundraiser 20 Making Insecurity Insignificant 26 Anger Management Features TABLE OF CONTENTS 12 30 COVER STORY
Child Safety Series: Beat the Heat
Meal Planning with your Family
36
40
Rural Hall: A Study in Small Beauties
Emoji Day, July 17th Celebrating the Universal Language of Emojis
62 World
JULY 2023 / 7 All Types of Bowls 28 Reflections of a Southern Yankee 34 The Fancy Fork 42 Out & About in Winston-Salem 46 The View from My Section: A Father's Perspective 50 Dining Guide 54 Triad Moms on Main 56 It's a Grand Life 58 Every Issue 54 52 JULY '23
JULY 2023 / 9
Eye Center of Winston-Salem offers exceptional eye care and advanced treatments for a range of conditions including cataracts, corneal disease, glaucoma and dry eye.
more at DukeEye.org Expert Eye Care in Your Community Duke Eye Center of Winston-Salem 1340 Creekshire Way, Suite 100
Duke
Learn