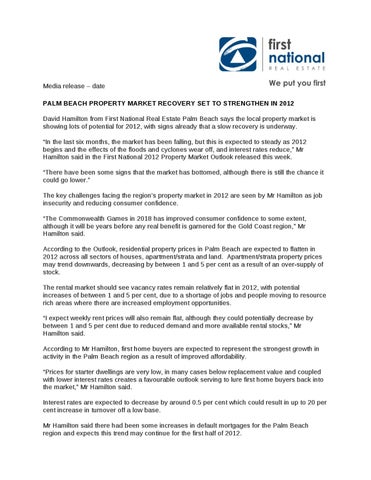 Media release – date PALM BEACH PROPERTY MARKET RECOVERY SET TO STRENGTHEN IN 2012 David Hamilton from First National Real Estate Palm Beach says the local property market is showing lots of potential for 2012, with signs already that a slow recovery is underway. "In the last six months, the market has been falling, but this is expected to steady as 2012 begins and the effects of the floods and cyclones wear off, and interest rates reduce," Mr Hamilton said in the First National 2012 Property Market Outlook released this week. "There have been some signs that the market has bottomed, although there is still the chance it could go lower." The key challenges facing the region's property market in 2012 are seen by Mr Hamilton as job insecurity and reducing consumer confidence. "The Commonwealth Games in 2018 has improved consumer confidence to some extent, although it will be years before any real benefit is garnered for the Gold Coast region," Mr Hamilton said. According to the Outlook, residential property prices in Palm Beach are expected to flatten in 2012 across all sectors of houses, apartment/strata and land. Apartment/strata property prices may trend downwards, decreasing by between 1 and 5 per cent as a result of an over-supply of stock. The rental market should see vacancy rates remain relatively flat in 2012, with potential increases of between 1 and 5 per cent, due to a shortage of jobs and people moving to resource rich areas where there are increased employment opportunities. "I expect weekly rent prices will also remain flat, although they could potentially decrease by between 1 and 5 per cent due to reduced demand and more available rental stocks," Mr Hamilton said. According to Mr Hamilton, first home buyers are expected to represent the strongest growth in activity in the Palm Beach region as a result of improved affordability. "Prices for starter dwellings are very low, in many cases below replacement value and coupled with lower interest rates creates a favourable outlook serving to lure first home buyers back into the market," Mr Hamilton said. Interest rates are expected to decrease by around 0.5 per cent which could result in up to 20 per cent increase in turnover off a low base. Mr Hamilton said there had been some increases in default mortgages for the Palm Beach region and expects this trend may continue for the first half of 2012.
---
"The recession on the Gold Coast has gone on for 18 months now and spare cash is running out for small businesses," Mr Hamilton said. "In addition, capital values have turned negative for some investors." The economic events in Europe and America will continue to impact the Gold Coast property market, possibly resulting in panic interest rate drops, increased budget deficits and a drop in the share market affecting super values and consumer spending. The introduction of the carbon tax is also expected to impact on the property market, further reducing consumer confidence. -
Copy ends –
Issued by: First National Real Estate. For further information or to receive a copy of the 2012 Property Market Outlook, David Hamilton, Principal from First National Real Estate Palm Beach, on 07 5534 6755.
Palm Beach - Media Release