VOLUME 118 - ISSUE 5
FOOTBALL
Florida pulled off its first win against an AP top 25 SEC opponent
Napier, Gators get much-needed rivalry win against Tennessee UF loses Top 5 ranking
By Jackson Reyes
Sports Writer
Florida head coach Billy Napier and the Gators dominantly turned a corner Sept. 16 against the thenNo. 11 Tennessee Volunteers.
The Gators started off on the wrong foot after they surrendered a touchdown on the Volunteers' first drive of the game. Florida never wavered, however, and rattled off 26 straight points — including a 20-0 second quarter — and pulled off the upset.
The victory secured Napier's first rivalry win at Florida after the Gators fell to Tennessee, Georgia, Louisiana State and Florida State last season. The win also launched the Gators into The Associated Press Top 25 rankings for the first time since they dropped out in the Sept. 24, 2022 poll.
The No. 25 Florida Gators (2-1, 1-0 SEC) defeated the now-No. 23 Tennessee Volunteers (2-1, 0-1 SEC) 29-16 in Ben Hill Griffin Stadium Sept. 16. The matchup marked the second largest crowd in the Swamp in the Tennessee-Florida matchup at 90,751 people.
Gators sophomore running back Trevor Etienne ran the ball 23 times for a career-high 172 yards and added a score on the ground.
Napier said the victory will help build a sense of belief within the team. The win felt like a return on the team's investment with the work they had put in during the offseason and in practices, he said.
"The thing that it gives you is it validates your plan; it validates what you're selling, to some degree," Napier said.
The victory not only marked Napier's first rivalry win at UF but snapped a six-game losing streak to AP Top 25 opponents.
The Gators showed massive improvements from last season as they dominated the Volunteers in the first half, despite early troubles from the special teams and injury troubles.
Redshirt junior quarterback Graham Mertz diced up the Vols all game long and exhibited confidence in the pocket. He finished 19-of-24 for 166 yards and had two total touchdowns.
Mertz emphasized how important it was to execute. The redshirt junior quarterback said Napier always talks about "making the play," and he thought the team did that.
"I think across the board we saw guys from — young guys, old guys, across the board, guys were just making that play," Mertz said. "So I'm definitely proud of this group."
He spread the ball around completing passes to seven different players. The Wisconsin transfer relied heavily on freshman receiver Eugene Wilson III in the first quarter but still found open players after Wilson went down with an injury toward the end of the first.
The running attack also contributed to the Gators' success on offense. Etienne scored UF's first points after he exploded up the middle and bounced off a Vols defender en route to a 62-yard touchdown run.
The Gators' ability to convert third downs also contributed to the rivalry victory. Florida came into the matchup just 6-for-19 on third-down conversions. However, Mertz and UF cashed in on the "money down" seven out of eight times in the first half against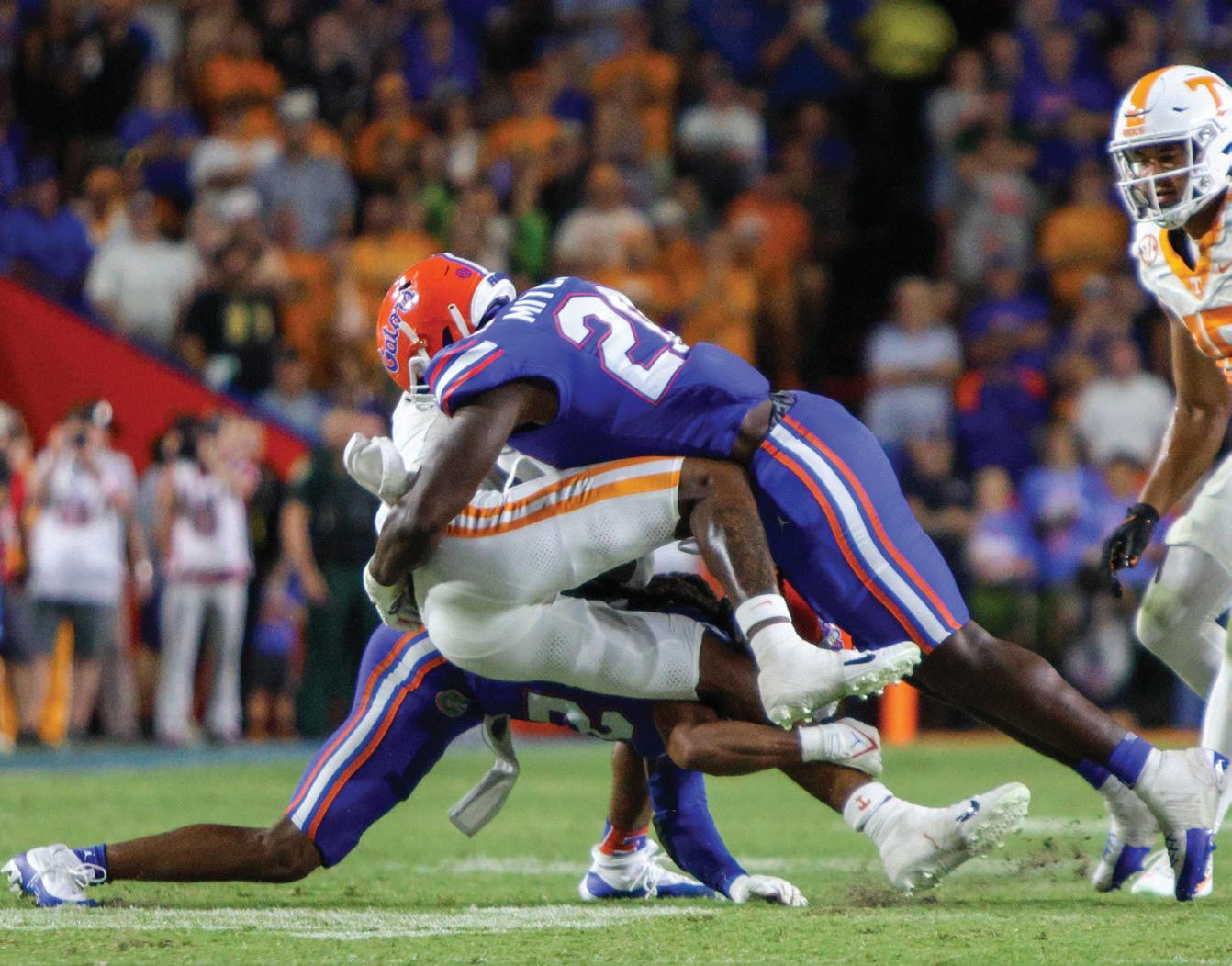 Kelley enters second year
Sean Kelley steps in as the voice of the Gators. Read more on pg. 11.
A new methodology ranked the university No. 6 among public universities
By Garrett Shanley Alligator Staff Writer
The university fell from No. 5 to No. 6 among national public universities, according to U.S News & World Report Best College rankings released Sept. 17. The drop follows U.S. News' sweeping changes to its ranking criteria, which it described in a press release as the "most significant methodological change in the rankings' history."
The announcement comes nearly two weeks after the Wall Street Journal ranked UF as the best public university in the country.
Ryan Friedenberg // Alligator Staff
Redshirt Senior Linebacker Teradja Mitchell makes a tackle during the Gators 29-16 win over the Tennessee Volunteers on Saturday, Sept. 16, 2023.
Despite losing its status as a Top 5 public university, UF reclaimed its No. 28 spot in overall national university rankings — which include private and public universities —
SEE RANKING, PAGE 4
Abortion care providers, advocates navigate statewide restrictions
Health care providers, activists weigh in on local options and limitations
By Valentina Sandoval Alligator Staff Writer
Over a year since the Supreme Court overturned Roe v. Wade, Florida lies at a tipping point that will decide the future of reproductive care in the state.
The Florida Supreme Court heard oral arguments Sept. 8 for the landmark case Planned Parenthood of Southwest and Central Florida v. State of Florida, which challenges the 15-week ban on abortion in Florida's House Bill 5.
Although the case has not reached a verdict, if the court rules in favor of the state, a six-week ban signed into law by Gov. Ron DeSantis in April will go into effect within 30 days.
Five of the court's seven justices were appointed by DeSantis, who is an adamant supporter of HB 5's restrictions on abortion. The remaining two were also appointed by a Republican governor.
Local and statewide reproductive health providers and advocacy organizations are leading efforts to offer women abortion care resources in the face of uncertainty.
Statewide restrictions
Florida providers, like Dr. Kanthi Dhaduvai, grapple with what it means to have limits on their practice as the legality and morality of abortion care are balanced on a scale.
"It is frustrating for me because I can't provide the compassionate, evidencebased care that I've been trained to provide," Dhaduvai said.
Dhaduvai, an abortion provider at the Planned Parenthood Jacksonville Health Center, said abortion is often a siloed issue, so people forget it is an important aspect of reproductive health care.
Apart from the current and pending limitations on abortion, there is also a 24hour waiting period for the procedure established in the Florida statutes. The law requires a patient to meet with a physician who will perform an abortion at least 24 hours before the procedure to discuss its risks and health effects.
The rule presents a time-consuming obstacle for patients who have to take time off work, make accommodations and schedule more than one appointment to get abortion care, Dhaduvai said.
Dhaduvai worries that a six-week ban on abortion care in Florida, combined
with the existing 24-hour waiting period, will make it virtually impossible to access the service.
"It's called the six-week ban but in reality, this is like a near-total abortion ban in the state of Florida, because six weeks is very, very early in the pregnancy," she said.
If their period is regular, most people find out they are pregnant two weeks after a missed period, Dhaduvai said, and even then, a lot of them don't find out until after six weeks.
Florida's 15-week ban is one of the most lenient in the Southeast of the U.S., with nearby states like Georgia and South Carolina having six-week bans, and Alabama maintaining a total ban.
Planned Parenthood clinics in Florida have seen an influx of out-of-state patients who have traveled to get an abortion, Dhaduvai said, especially since the overturn of Roe.
There have been over 4,600 abortions for out-of-state residents as of Sept. 2, according to data from the Florida Agency for Health Care Administration.
"Patients who are beyond the limit of
SEE ABORTION, PAGE 5
We Inform. You Decide. www.alligator.org Not officially associated with the University of Florida Published by Campus Communications, Inc. of Gainesville, Florida
description finish with comma, pg# Drug Safety Students encourage UF to provide free Narcan on campus, pg. 5 Human Rights Coalition Local program looks to recoup SB 1718 budget cuts, pg. 6
SPORTS/SPECIAL/CUTOUT Story
MONDAY, SEPTEMBER 18, 2023
FOLLOW US ONLINE FOR UPDATES @FloridaAlligator @TheAlligator_ @TheAlligator @thefloridaalligator
FOOTBALL, PAGE 11
SEE
Sweetwater apartments delay move-in, students left homeless
THE APARTMENT COMPLEX DELAYED ITS MOVE-IN DATE AGAIN
By Vivienne Serret & Melanie Peña
Alligator Staff Writers
Sarina Phipps lives with a quarter of her belongings at the Holiday Inn. When the rush of game day weekends arrives, and the hotel becomes overbooked, she quickly gathers a small bag of everything she owns and stays at a friend's place.
During the day, she scrambles from classes to involvements, finding time whenever possible to study for upcoming midterms. All the while, thoughts of where she can sleep at night weighing on her mind.
"I literally feel homeless sometimes because I walk around with like a little trash bag full of clothes," Phipps, a 20-year-old UF industrial and systems engineering junior, said.
This has been Phipp's and many students' realities since they were told by Sweetwater Gainesville Apartments, days before their move-in day Aug. 10, the apartment wouldn't be ready.
Sweetwater, which has marketed itself as "dreamy" student living near UF, has delayed its move-in for future residents for a third time.
The apartment complex announced Aug. 10 move-in would be delayed and at the latest, residents would be able to move in by Sept. 7.
Another announcement was made in an email to residents Aug. 30, stating that the projected movein days would be Sept. 14 and Sept. 15.
Sweetwater then posted another update on its website Sept. 12.
"At this point, based on our progress with inspections, we regret to inform you that move-in will be at the latest on September 29, 2023," the update read.
Sweetwater provided two options of reimbursement for applicable residents in an email.
The first would provide $200 in the form of a gift card or rent credit per day provided until a unit is ready for move-in, abated rent and reimbursement in the form of a rent credit up to $500 for any travel, moving or storage costs incurred due to delayed move-in.
The second option offered assigned hotel accommodations until a unit is ready, abated rent and reimbursement in the form of a rent credit up to $500 for any travel, moving or storage costs incurred due to delayed move-in.
Phipps decided she would take the money, and in the worst case scenario, she could use the money to pay for a hotel room, she said.
As an out-of-state student, she couldn't go home. At first she stayed with friends, moving to a new place every two or three days. Then, her friend, who was also displaced due to the Sweetwater situation, reached out and asked her to stay at the Holiday Inn with her.
"We thought maybe two weeks max, and we can do this for two weeks," she said.
When Phipps learned about the Sept. 29 extension, she went down to the Holiday Inn front desk, and, as she had done after the previous delays, asked for an extension to her stay. Staff informed her that the hotel would be completely booked until the last week of September.
Phipps was told about the delay by email Sept. 12 at 9:49 p.m. She was kicked out of the Holiday Inn Sept. 14, she said.
The Holiday Inn is not disclosing information or giving out official comments on the Sweetwater situation at this time.
"I feel so overwhelmed that I'm just like, 'Whatever,' because it's out of my control,'" Phipps said. "It's not like I can do anything about it."
Ella Cimino, a 19-year-old UF animal science sophomore, was supposed to move into Sweetwater on the original move-in date.
She feels misled by Sweetwater, and the stress has affected her mental health and grades, she said.
Cimino said she hasn't received her $200 credit as promised by Sweetwater since Aug. 25 and was charged for August and September rent.
"I set up an auto payment that would clear my balance on the first of every month," Cimino wrote. "I didn't remove it when all of this started because I believed they wouldn't charge me as they stated in the email. But now I have paid for two months rent at an apartment that isn't even finished."
"I am fed up with Sweetwater and just want somewhere stable to live," Cimino wrote.
Last school year, when UF English senior Mariana Mejia visited the Sweetwater office for a tour, she fell in love with the amenities, location and daily free coffee.
It was pretty easy to sign the lease, the 21-year-old said.
She received an email about the delay Aug. 4, but the email stated her unit was not impacted. She was sent a link to sign up for her move-in time and coordinated with U-Haul to have a vehicle ready.
"It said only a couple apartments were affected, and then in bold my email said 'Your unit is not affected by this delay,'" she said.
She found out through a Facebook group, Sweetwater Apartments Gainesville Parent Group, that her move-in day was delayed.
When she called Sweetwater to ask if it was true, they confirmed that the date had been moved to Sept. 7.
She quickly had to find a hotel and storage unit for her belongings.
The move-out day for her old apartment in Century Town Center was Aug. 25, but her parents helped her move out furniture Aug. 22. With nowhere to stay, she planned to sleep on the floor of the apartment.
"Thankfully, my friends who were helping me move my stuff out were like, 'No, you're not sleeping on the floor,'" Mejia said.
She stayed with her friends for two nights, and booked a room at Hotel Eleo.
Mejia condensed all of her belongings into one suitcase and a duf-
Have an event planned?
Add it to the alligator's online calendar: alligator.org/calendar
fel bag. She created a system to keep her sweatshirts in her car and things she really needed in the suitcase.
The hotel's location and valet situation led to her having to order an Uber or asking a friend for a ride to get in and out of campus. She was only supposed to stay until Sept. 8 but had to book an extra weekend after the delay to Sept. 29.
She felt like she was in a warped version of The Suite Life of Zack & Cody, she said.
Mejia decided to move out of Eleo and find a more permanent situation after she learned the room rate could jump to $800 a night on weekends. She now lives at StadiumHouse with family friends.
At first, Mejia found the situation amusing and funny, but the latest delay announcement really hurt, she said.
She was in the office two days before the announcement and noticed the employees were coordinating move-in packets.
"I assumed the people working here are getting ready for move-in; it's going to happen," she said. "And then two days later, when I saw the email, I was like, 'Are you serious?'"
While her professors have been understanding, the situation has made her schoolwork and extracurricular activities more challenging.
"I think it was hard because classes are actually picking up. I'm having exams now and essays being due. And just trying to get to campus on time," she said. "I don't think I've ever had a place to feel at home because I didn't even [feel at home] at the hotel."
Mejia also misses her puppy, Lorenzo, who she got for her birthday. Lorenzo has been with her parents in Boca Raton, Florida, since summer. She thought when she moved out of Century Town Center and into Sweetwater, they would be reunited.
"My dog's been with my family for like months now, and he's a puppy, so I'm missing his puppy years," she said. "That made me really sad."
Students across Gainesville are dealing with the added pressure of figuring out their living situation while attending classes and studying for exams. Now that the movein day has been set to Sept. 29, some are hopeful and others worry there may be another delay in their future.
"I think if I get another email delay, I'm actually going to break down because I can't do it anymore," Mejia said.
@vivienneserret vserret@alligator.org
@MelanieBombino_ mpena@alligator.org
ISSN 0889-2423
Not officially associated with the University of Florida
Published by Campus Communications Inc., of Gainesville, Florida
352-376-4458 NEWSROOM:
Editor-In-Chief
Engagement Managing Editor
Digital Managing Editor
Isabella Douglas, idouglas@alligator.org
Claire Grunewald, cgrunewald@alligator.org
Emma Behrmann, ebehrmann@alligator.org
Jackson Castellano, jcastellano@alligator.org
Amanda Friedman, afriedman@alligator.org
Metro Editor
Senior News Director Enterprise Editor University Editor
the Avenue Editor
Siena Duncan, sduncan@alligator.org
Aidan Bush, abush@alligator.org
Peyton Harris, pharris@alligator.org Nicole Beltrán, nbeltran@alligator.org
Aubrey Bocalan, abocalan@alligator.org
Assistant Sports Editor
Multimedia Editor
Opinions Editor El Caimán Editor Copy Desk Chief Bari Weiner, bweiner@alligator.org
Sports Editor Editorial Board
DISPLAY ADVERTISING
Advertising Office Manager
Jackson Reyes, jacksonreyes@alligator.org
Topher Adams, tadams@alligator.org
Lauren Whiddon, lwhiddon@alligator.org
Isabella Douglas, Claire Grunewald, Emma Behrmann, Peyton Harris
352-376-4482
Sales Representatives Cheryl del Rosario, cdelrosario@alligator.org
Sales Interns
CLASSIFIED ADVERTISING
Tessa May, Sydney Thieman, Sophia Handley, Nicole Hausmann, Avery Brennan
Kate McCroy, Brianna Rivera, Anna Grace Coffing, Madison Kahn
352-373-3463
Classified Advertising Manager Ellen Light, elight@alligator.org
352-376-4446 BUSINESS
Comptroller Delia Kradolfer, dkradolfer@alligator.org Bookkeeper Cheryl del Rosario, cdelrosario@alligator.org
Administrative Assistant Ellen Light, elight@alligator.org
ADMINISTRATION
352-376-4446
General Manager Shaun O'Connor, soconnor@alligator.org
Administrative Assistant Lenora McGowan, lmcgowan@alligator.org
President Emeritus C.E. Barber, cebarber@alligator.org
SYSTEMS
IT System Engineer Kevin Hart
PRODUCTION
Production Manager
Namari Lock, nlock@alligator.org
Publication Manager Deion McLeod, dmcleod@alligator.org
Got something going on? Want to see it on this page? Send an email with "What's Happening" in the subject line to engagement@alligator.org. To request publication in the next day's newspaper, please submit entries before 5 p.m. Please model your submissions after the above events and keep them to 150 words or fewer. Improperly formatted "What's Happening" submissions may not appear in the paper. Press releases will not appear in the paper.
The Independent Florida Alligator is a student newspaper serving the University of Florida, published by a nonprofit 501 (c)(3) educational organization, Campus Communications Inc., P.O. Box 14257, Gainesville, Florida, 32604-2257. The Alligator is published Monday mornings, except during holidays and exam periods. The Alligator is a member of the Newspaper Association of America, National Newspaper Association, Florida Press Association and Southern University Newspapers.
The Alligator offices are located at 2700 SW 13th St. © Copyright 2020. All rights reserved. No portion of The Alligator may be reproduced in any means without the written consent of an officer of Campus Communications Inc.
Subscription Rate: Full Year (All Semesters) $75
The Alligator strives to be accurate and clear in its news reports and editorials. If you find an error, please call our newsroom at 352-376-4458 or email editor@alligator.org
Today's Weather
2 ALLIGATOR MONDAY, SEPTEMBER 18, 2023
VOLUME 118 - ISSUE 5
Globe-trotting brass ensemble performs at Santa Fe College
THE COLLEGE HOSTED THE RODNEY MARSALIS PHILADELPHIA BIG BRASS AS PART OF THE SF MASTER ARTIST SERIES
By Bailey Diem
Alligator Staff Writer
Audience members flooded the Jackson N. Sasser Fine Arts Hall Sept. 15, swaying along to Bach, clapping to the beat of marches and rallying players through trumpet solos with shouts of "olé."
The Rodney Marsalis Philadelphia Big Brass performed at Santa Fe College as a part of the SF Master Artist Series, a program that gives fine arts students the opportunity to learn from professional performers.
Seven members of the ensemble's 11 were present at the performance. The band played classical arrangements from artists such as J.S. Bach and John Phillip Sousa, as well as popular pieces from West Side Story, Elvis Presley and Earth, Wind & Fire.
Rodney Marsalis, a widely renowned trumpet player and the band's namesake, said that the band has performed across the globe.
"We travel a lot in this group," he said. "We have been all over the United States. We've been to Europe. We've been all around Asia and South America."
Traveling has given him and other members of the ensemble the opportunity to interact with people of many backgrounds, Marsalis said.
"One thing that we've learned from meeting so many different people in so many different places is that there is just one race and that's the human race," he said. "We're all in this together."
Gregory Freeman, the ensemble's trombone player, said however diverse the band's members are, they have a strong sense of connection and community.
"One of our core beliefs in this group is that, while we all come from a variety of backgrounds," he said, "one of the things that ties everybody together and gives us a human connection is love."
A goal of the band is to inspire youth and encourage them "to reach for their dreams," according to its website.
The SF Master Artist Series, which brought RMPBB to the college, is a program that works to do just that, Sarah White, SF's theatre manager, said.
"We don't just get people to come and perform," she said. "We want
them to engage with our students."
As part of the series, the performing artists teach master classes to SF students and perform privately for them, White said. Band students from Buchholz High School have also benefited from the program in the past, she said.
"They are showing students that it's possible to follow your passion and make a living in the business,"
she said. "For kids to get these kinds of life skills and tips from these professionals that are out there doing it, that's super important."
Admission to SF Fine Arts events is free for SF students, faculty and staff. Upcoming events can be found on Showpass.
@BaileyDiem bdiem@alligator.org
MONDAY, SEPTEMBER 18, 2023 ALLIGATOR 3 Student Discount on Wednesdays $15 Haircut with Student ID Student Discount on Wednesdays $18 HAIRCUT with Student ID* *Other services extra
Gracie Kurtz // Alligator Staff
The Rodney Marsalis Philadelphia Big Brass ensemble performs in the Santa Fe College Master Artist Series at Jackson N. Sasser Fine Arts Hall at Santa Fe College on Friday, Sept. 15, 2023.
UF conservative voices persist among Gen Z
YOUNGER VOTERS TEND TO LEAN LIBERAL, BUT NOT ALL
By Sophia Bailly Alligator Staff Writer
As an incoming freshman searching for new friends, Abigail Echenique, who is conservative, sought to find a community within her political affiliation.
Her search was over once she joined the Network of Enlightened Women, a conservative nonprofit organization that fosters political discussions among college women, in 2021. The now 20-year-old UF nursing junior served as the vice president of the organization last year. The group currently has about 60 members.
"I think that a lot of times girls are more hesitant to come forward and say that they are conservative," she said. "There's more room for judgment because the narrative of women in college is that they're liberal."
Younger generations historically lean more liberal on the political spectrum, namely Gen Z, or people born in the 1990s and early 2000s, according to data from the Pew Research Center. But that trend doesn't reign true for younger conservatives like Echenique. In Alachua County there are 4,291 active registered Republican voters ages 18-24.
Besides the Network of Enlightened Women, she said young conservatives like political commentator Candace Owens provide mainstream representation for fe-
male conservatives. Echenique said Republican values are commonly associated with older white males.
"Stereotyping doesn't serve anyone," she said.
Liberal and conservative voters tend to be divided on topics pertaining to abortion, immigration, international relations, gun rights, race and equity and LGBTQ+ rights. Recent years have seen political disconnect over the Black Lives Matter movement, the overturning of Roe v. Wade and transgender rights and gender-affirming care.
Stephen Craig, a UF political science professor, teaches a political behavior course. The class examines the relationship among age demographics, political beliefs and voting patterns.
Younger generations tend to vote more left, which is not a new phenomenon, he said. There is also an ongoing pattern of voters leaning more conservatively as they age.
"The idea is that as you get older, and your life becomes more settled, and you are more likely to get married and start a family and such, that you tend to become more conservative," he said.
In 1972, the baby boomer generation, which includes people ages 57-75, voted in favor of Democratic presidential candidate, George McGovern over Republican presidential candidate, Richard Nixon.
Even though majority support for McGovern was a slim difference, Craig said the trend of baby boomers beginning to vote conservatively into the 2000s indicates the com-
mon trend of how people vote over time.
Generational turnover, or the influx of new voters, is not a new concept that researchers and scholars look to for understanding voting behavior, he said. Incoming generations tend to become more liberal and favor things like racial and ethnic diversity and more involvement from the government.
Brandon Ludwig, the 23-year-old chairman for Florida Young Republicans, said misconceptions about most younger conservative voters lead to infighting within Gen Z.
"There's a lot of things, believe it or not, that young conservatives and young progressives will agree on," he said. "Unfortunately, you have some people that just focus on the few things that do divide us."
Ludwig, who graduated from the University of North Florida in 2020, originally planned on pursuing a career in broadcast journalism but turned to politics after COVID-19 hurt the job market, he said.
Having interned for former U.S. Rep. Ted Yoho in high school, he turned to U.S. Rep. Kat Cammack's campaign to help engage rural voters in Clay, Bradford and Union counties. Now with the Florida Young Republicans, he works to recruit, train and elect young conservatives to office.
"The Democratic side — they elevate these younger voices," he said. "Whereas on the Republican side, we need to do a better job of doing that."
Younger conservatives make
up a more diverse voting populace than people might expect, he said, especially among Florida Young Re publicans' more than one thousand members. The Gen Z voting demo graphic might not be as divided on key issues as others think, he said.
For instance, Cammack was among the 47 House Republicans who voted in favor of the Respect for Marriage Act, which "establishes statutory authority for same-sex and interracial marriages." President Joe Biden signed the bill into law Dec. 13, 2022. The decision reflects the sentiment among most of Ludwig's cohort about limited government, he said.
"If you turn off these national outlets and you read your local paper or things of that nature, people aren't really sitting there hating on each other day in and day out," he said.
Dismantling the idea that most younger Republican voters are hateful is important to Michael Andre, an 18-year-old UF finance freshman. He joined UF College Republicans to find like-minded people with the expectation that the college demographic would feel largely liberal.
"I do think that most of the time when I walk in the room, my opinions are not the most widely held," he said.
Andre champions harsher immigration regulations to prevent demographic replacement, which predicts in the following decades white Americans will no longer be the racial majority in the U.S.
However, this predominantly conservative view does not make him or his Republican peers racist or xenophobic, Andre said. The mainstream media's portrayal of Republican voices paints them as hateful, which might make up-andcoming conservative voices hesitant to share their ideas, he said.
"We hear about getting canceled," he said. "We hear about it maybe affecting our jobs and quite frankly, that is a scary and not even a completely irrational thought."
@sophia_bailly sbailly@alligator.org
Florida ranked sixth
RANKING, from pg. 1
after briefly falling to No. 29 last year. UF also jumped 32 spots to No. 20 on the list of Most Innovative Schools and 28 spots to No. 37 on a ranking of Social Mobility.
UF Spokesperson Brittany Wise said the university continued its upward trajectory in the rankings.
"Since 2017, UF has sprinted from No. 50 to No. 28 in U.S. News' overall public and private rankings — and the university continues to work to break into the top 20," Wise wrote.
In May, U.S. News announced sweeping changes to its ranking methodology that place a greater emphasis on social mobility and student outcomes.
Five metrics, which previously accounted for a cumulative 18% of a school's ranking, were removed from the methodology — alumni giving rates, faculty with terminal degree, class size, high school standing and proportion of graduates with debt.
UF previously cited alumni giving rate as a "key metric" in rankings criteria. The university's alumni giving rate rose to 20% last year, one of the highest among public universities, according to a press release.
Several metrics were given an increased weight in the methodology to account for the newly created percentage gap. The graduation rate and performance of Pell grant students now accounts for a cumulative 11% of the methodology, a
6% increase over last year. The proportion of college graduates earning more than a high school graduate, a new metric, now accounts for 5% of the methodology.
Faculty salaries, student-faculty ratio and the proportion of full-time faculty were given a combined increase of 6% weight in the methodology.
U.S. News' new emphasis on social mobility and student outcomes mirrors the Wall Street Journal's ranking methodology. To rank universities, the Wall Street Journal weighted student outcomes at 70%, learning environment at 20% and diversity at 10%.
Wise said the ranking "focuses on realworld benefits for students, including how much a university improves students' chances of graduating on time and how much it boosts the salaries that students earn after graduation."
UF posted a video Sept. 15 promoting new banners that read "#1 public university," which can be found across campus. The university posted a second video the same day satirizing the rampant theft of Top 5 banners. The video featured two UF facilities workers, Shane and Trevor, who urged students to "do the right thing" and purchase No. 1 banners from the UF Bookstore instead of stealing them.
@garrettshanley gshanley@alligator.org
4 ALLIGATOR MONDAY, SEPTEMBER 18, 2023
Ryan Friedenberg // Alligator Staff Students wait in line under the new No. 1 Public University banner outside of Emerson Alumni Hall on Friday, Sept. 15, 2023.
Courtesy to The Alligator Brandon Ludwig addresses the audience at the Young Republican National Convention in Dallas, Texas on Tuesday, Aug. 18, 2023.
Students urge UF to provide free on-campus Narcan
By Jinelle Vazquez Alligator Staff Writer
When UF sophomore Ella Raney decided she would go to her first electronic dance music festival, EDC Orlando, she quickly became concerned about the risk of witnessing substance abuse or an overdose.
"I don't take anything myself that could cause problems, but a lot of people do at festivals," Raney said.
Although the 19-year-old plans to buy a dose of Narcan before attending the festival in November, she said she wishes the life-saving resource was provided to UF students on campus for free.
Narcan is a nasal spray medicine that rapidly reverses an opioid overdose, according to the National Institute of Drug Abuse. It can quickly restore normal breathing to a person but has no effect on someone who does not have opioids in their system.
A nationwide opioid epidemic has led to significant increases in fatalities involving synthetic opioids, like fentanyl, since 2013.
Substance use is common at EDM events, which are popular among college students. While universities across Florida have established Narcan distribution programs to provide students with free and easy access to the vital drug safety resource, UF has not implemented an on-campus program.
UF Narcan distribution
Narcan is available to students at the UF Student Health Care Center Pharmacy for pick-up, Laura Tipton, the manager of the
pharmacy, said.
The SHCC is staffed by licensed pharmacists, who are authorized by Florida law to prescribe naloxone, which is the generic name for Narcan.
Two doses of Narcan nasal spray costs around $50 without insurance and the price with insurance coverage is based on the individual's plan, Tipton said.
"I think it would be covered by most plans," Tipton said.
Raney is aware of the option to purchase Narcan at a lower cost through insurance, but doesn't want her parents to be misled about her own substance use.
"I would rather fork over the [money for it] over the counter," Raney said.
Linda Cottler, UF epidemiology professor and director of HealthStreet, works with UF student organizations to increase on-campus access to cost-free Narcan.
HealthStreet is a community engagement program at UF that works primarily to serve community needs like food insecurity, HIV and the opioid epidemic through assessments and local events.
"We didn't realize that there was really no one giving out Narcan on the [UF] campus," Cottler said.
HealthStreet visits locations such as GRACE Marketplace, Tower Road Library and the YMCA to distribute Narcan to speak with community members about their needs concerning safe substance use. However, Cottler supports the idea of including on-campus visits in its weekly rotations.
"Everyone should have [Narcan] with them because you never know when you're going to
need it," Cottler said.
Comparison with other state universities
Rose Rezaei is the Center for Health Advocacy and Wellness director and co-facilitator of the Narcan distribution program at Florida State University. The program provides participants with Narcan kits and information regarding suspected overdoses.
The initiative began with FSU students' request for reliable access to Narcan, leading to a meeting between FSU's University Health Services and the Department of Children and Families (DCF).
"Universities are in a position to provide students with education around fentanyl, signs of an overdose… and how to administer lifesaving naloxone," she said. "I would love to see a state-wide
Abortion restrictions
ABORTION, from pg. 1
the state need to, if they have the resources, travel many many hours," Dhaduvai said. "I've seen the way this takes an emotional toll on patients."
Local abortion care
Alachua County and Gainesville abortion and health care providers continue to work under the current ban, offering a variety of resources for reproductive health care.
Gainesville has two medical centers that perform abortions: the All Women's Health Center of Gainesville and the Bread and Roses Women's Health Center.
The Planned Parenthood health center in Gainesville is also only two miles from UF's main campus.
Michelle Quesada, the vice president of communications, brand and marketing for Planned Parenthood of South, East and North Florida, shared the organization's concern about HB 5 and efforts to protect abortion access, she said in a statement to The Alligator.
"[The bill] has forced many people to either travel long distances out of state or to carry pregnancies against their will, subjecting them to the life-altering and sometimes life-threatening consequences," Quesada wrote.
The center offers low-cost STI testing,
HIV/STI treatment, contraception, emergency contraception, well-person exams, pregnancy tests and services, abortion referrals and mental health services, among other resources, Quesada wrote.
For preventive care, Quesada said the health center also offers free medical education to school-aged teens on contraception, sexually transmitted infections, teen pregnancy and abstinence.
'Pregnancy resource centers'
Local religious groups like the Saint Augustine Church and Catholic Student Center aim to offer women alternatives to abortions at their "pregnancy resource centers."
May Oliver, director of the Human Life and Dignity Office at the Saint Augustine diocese, said their organization supports pregnancy care through resource centers, maternity homes and post-abortion counseling in 17 Florida counties.
"Pregnancy resource centers" or "crisis pregnancy centers" have been highly criticized by pro-choice activists. Organizations like Planned Parenthood claim the facilities deliver inaccurate information on reproductive health, lack proper medical resources and focus on tactics to discourage abortions.
Although the centers mostly provide counseling and guidance for pregnant women, some of the centers also offer ultrasounds and pregnancy and STI testing, Oliver said.
coordinated effort."
The FSU community has received 381 Narcan kits since the program started in February, Rezaei said.
Megan Giddens, assistant director of the University of Central Florida's Substance Use Disorder Services Clinic, was initially met with pushback from administration when beginning its Narcan distribution program in June 2022.
"There were concerns if we would be enabling students if we were providing Narcan for free… so it was a team effort to make this happen," Giddens said.
With Giddens' persistence, the UCF administration eventually approved the clinic's request to begin to offer Narcan at the school's health center pharmacy, residence halls and football game tailgates.
Other Florida schools have also implemented similar Narcan distribution programs. The University of Miami established the Little Pill Big Risk, which aims to provide students with information about the dangers of fentanyl-laced drugs and harm reduction tips.
The EDM community
UF students have created their own standards for harm reduction in the EDM community.
Molly Allen, a 20-year-old UF sustainability studies and economics senior, said she has asked friends for Narcan in case she witnessed a situation while attending a festival.
One study by the International Journal of Drug Policy estimated that 33.5% of the EDM festival attendees surveyed experienced drugrelated adverse effects in the past year.
Oliver said she believes some of the alternatives to abortion at the centers are hidden from patients because of criticism.
"[Adoption] is a very positive, positive thing," Oliver said. "But our culture has vilified the whole adoption discussion I think."
There are four pregnancy resource centers in Alachua County that fall under the diocese: A Woman's Answer Medical Center, Caring Choices Pregnancy Services, Community Pregnancy Clinics and Sira.
Unlike abortion clinics, these centers work under the Florida Pregnancy Support Services Program, which is funded by the state's Department of Health.
Funds come from a state grant that increased in July from $4.45 million to $25 million. There are 192 centers operating in Florida.
Planned Parenthood is funded on a federal and state level through Medicaid reimbursements and Title X grants. The South, East and North Florida branch reported revenue of roughly $1.8 million from grants in 2020.
Abortion ballot initiative
Aside from their efforts on the court to win the case, pro-choice activist groups like Planned Parenthood, Florida Rising and ACLU came together for a statewide campaign called Floridians Protecting Freedom.
The initiative aims to add to the 2024 election ballot a state constitutional amendment that will limit government interference with abortion. The group is advocating to get the amendment on the ballot through a peti-
The most important thing to do for those taking substances is to test their drugs, Allen said.
"At least use a [fentanyl] strip, but the best thing is to make sure that whatever substance you have is actually what you think it is," Allen said.
Any drug that dissolves in water can be tested using a fentanyl strip, according to the Centers for Disease and Control.
Hanna Barbaree, a 20-year-old UF plant science sophomore, said their family member was given Narcan for a suspected overdose after taking Ketamine, a dissociative anesthetic that has some hallucinogenic effects.
He was in the middle of the crowd at EDC Orlando and people had to shine flashlights on him to wave down medical attendees, Barbaree said.
"If there was better access to Narcan for people at these festivals, he wouldn't have had to wait for medical attention," they said.
Besides drug safety measures, Barbaree recommends students bring a CamelBak that holds a hydration bag and purchase a pashmina shawl that offers dust protection for EDM festivals.
Festivals have at least three or four water fill-up stations and a pashmina can bring someone comfort if they are having any negative effects, Barbaree said.
"Everyone just wants to have fun and no one wants to take their drugs to the point of an overdose," Barbaree said.
@vazquezjinelle jvazquez@alligator.org
tion signature collection.
Damien Filer, a spokesperson for FPF, shared in a statement to The Alligator that the goal of the campaign is to return the decision on abortion to Florida voters.
"Regardless of the court's ruling, we are working to give voters the opportunity to decide for themselves whether we should limit government interference in personal medical decisions," Filer wrote.
FPF announced Sept. 6 that the initiative gained enough verified signatures to qualify for a state Supreme Court review, according to a press release.
MONDAY, SEPTEMBER 18, 2023 ALLIGATOR 5
vsandoval@alligator.org
@valesrc
Diego Perdomo // Alligator Staff
Diego Perdomo // Alligator Staff
Substance use is a common activity in the Electronic Dance Music community
El Caimán
La Coalicion de Derechos Humanos [Human Rights Coalition] apunta a recaudar $20.000 perdidos a causa de Senate Bill 1718 por el 24 de Sept.
Los patrocinadores brindaron sus copas de vino en apoyo del derecho humano de identificarse en Superette Wine and Provisions el 15 de septiembre. Durante la próxima semana hasta el 24 de septiembre, una parte de cada venta de vino por copa en Superette Wine and Provisions apoyará el programa de identificación comunitaria de la Coalicion de Derechos Humanos [Human Rights Coalition] después de sus recientes recortes de financiamiento.
Gob. Ron DeSantis firmó el proyecto de ley del Senado 1718 en mayo y la ley tomó efecto
en julio. Esta legislación fortalece la aplicación de identificación de trabajadores inmigrantes y recorta todo financiamiento de los condados para programas de identificación comunitaria. Además del programa de la coalición en Alachua, programas en los condados de Palm Beach, Broward y Miami-Dade también fueron afectados.
"Por las leyes que han pasado aquí en Florida, mucha de la población de inmigrantes está preocupada por un agente policial [y] ser atrapado", dijo Mary Nutter, una notaría voluntaria de 81 años del HRC.
La identificación comunitaria es reconocida por muchas facilidades y se puede usar en interacciones con agentes policiales, bancos de alimentos, hospitales, el alquiler y educación.
"Como un trabajador indocumentado, no pudes hacer nada sin uno", dijo Jackie Davis, una patricipante del recaudación de 67 años. "No podes mandar a tus hijos a la escuela. No podes tener una cuenta del banco. No podes alquilar un apartamento. Es vital para la sobrevivencia".
Después de esta nueva legislación de inmigración, la Coalicion de Derechos Humanos, la cual ha expedido 793 identificaciones comunitarias en los últimos 14 meses, perdió $20.000 en fondos de beca del condado de Alachua. Como consecuencia, han necesitado fondos de la comunidad por eventos como lo de Superette.
Veronica Robleto, la directora del programa de 43 años, comparte el impacto de estos recortes.
"En general nuestra organización está mal financiada", dijo. "Hasta los fondos del condado solo son para dos años, entonces estamos buscando para que el programa sea sostenible".
Mientras que la intención fue enfocar en la identificación comunitaria específicamente, las consecuencias de esta ley son más grandes, de acuerdo con Robelto. La HRC tiene programas además de la identificación comunitaria, los cuales pueden ser impedidos debidos a una falta de financiamiento general.
"Hacen solicitudes de acompañamiento, lo cual significa ir con gente que necesitan que alguien lo maneje hasta sus citas, puede ser citas de ciudadanía, citas de inmigración o si es una cita de doctor", dijo Gracia Hernandez, una voluntaria de 28 años.
La HRC también provee servicios de navegación legal, promueve acceso al idioma de la comunidad y conduce planificación de emergencia en casos de deportación y separación familiar. En el último año, la HRC ha provisto servicios de navegación legal para 204 personas, ayudado con planificación de emergencia para más de 55 familias y acompañado 30 individuales a citas de inmigración.
Como una organización sin fines de lucro, los voluntarios son el alma de la Coalición de Derechos Humanos. Desde 2022, han registrado más de 500 horas entre 50 voluntarios por todos sus programas.
"Lo que amo de la HRC es que veo que gente vuelve a voluntariar con nosotros porque se sienten bien en ayudar la comunidad", dijo Robleto. "No tengo que rogarles, vuelven y me
preguntan, '¿Cuándo puedo ayudar otra vez?' Ha sido muy humilde verlo. Me hace sentir optimista para el futuro".
La HRC también opera detrás de la Iniciativa de Inclusión de Vecinos Inmigrantes de Gainesville [Gainesville Immigrant Neighbor Inclusion Initiative], una organización que focaliza en hacer Gainesville una comunidad más inclusiva. Trabajando con GINI, la HRC ha propuesto y confirmado que el Departamento Policial de Gainesville [Gainesville Police Department] va a revelar un anuncio de servicio público en inglés y en español con acuerdo de cómo van a operar debajo de esta ley.
"Las dos agencias nos han asegurado que no cambiarán lo que van a hacer día a día", dijo Robleto. "No están interesados en la ejecución de inmigración y aduana, que es un tema federal. No van a buscar personas indocumentadas".
El anuncio oficial de GPD no tiene una fecha programada.
A pesar de los cambios hechos por SB 1718, la HRC continua proveer sus servicios a la comunidad de inmigrantes del condado de Alachua con el ayuda de su recaudación en curso.
"Es una lucha real y cuesta arriba trabajar con personas que se encuentran en un lugar muy marginado de la sociedad", dijo Mary Fukuyama, una ex voluntaria de 75 años y continúa defensora del HRC. "Estoy muy contenta de que esto todavía esté sucediendo".
@Eluney_G editor@alligator.org
Local community ID program hosts fundraiser after Senate Bill cuts thousands of dollars from budget
THE HUMAN RIGHTS COALITION AIMS TO RAISE $20,000 LOST DUE TO SENATE BILL 1718 BY SEPT. 24
By Eluney Gonzalez
Alligator Staff Writer
Over sixty patrons raised their winOver 60 patrons raised their wine glasses in support of the human right to identification at Superette Wine and Provisions Sept. 15. For the next week, until Sept. 24, part of the sale of each wine glass at Superette Wine and Provisions will support the Human Rights Coalition's community ID program after its recent funding cuts.
Gov. Ron DeSantis signed Senate Bill 1718 into law in May and it went into effect in July. This legislation strengthened enforcement of immigrant labor identification and cut all county funding for community ID programs. Alongside the coalition's program in Alachua County, programs in Palm Beach, Broward and Miami-Dade counties were also
affected.
"Because of the laws that have been passed here in Florida, a lot of the immigrant population are worried about law enforcement [and] being caught," said Mary Nutter, an 81-year-old HRC volunteer notary.
The community ID is recognized by a number of facilities and can be used in interactions with law enforcement, food banks, hospitals, rent and education.
"As an undocumented worker, you can't do anything without one," said Jackie Davis, a 67-year-old fundraiser participant. "You can't put your kids in school. You can't get a bank account. You can't rent out an apartment. It's vital for people to survive."
After this new immigration legislation, the Human Rights Coalition, which has issued 793 community IDs in the past 14 months, lost $20,000 in grant funding from Alachua County. As a result, it has resorted to community funding like the fundraiser at Superette.
Veronica Robleto, the 43-year-old director of the program, shared the impact of these cuts.
"In general, our organization is kind of underfunded," Robleto said. "Even the county funding is only for two years, so we are still looking to make the program sustainable."
Although meant to target the community ID specifically, the implications of this law are much greater, according to Robleto. The HRC hosts programs aside from the community ID, which could also face impacts due to a general lack of funding.
"They'll do accompaniment requests, which [means] going with folks who need a ride to their appointments, whether it be citizenship appointments, immigration appointments, or if it's a doctor's appointment," said Gracia Hernández, a 28-year-old volunteer.
The HRC also provides legal navigation services, promotes community language access and conducts emergency planning in case of deportation and family separation. In the past year, the HRC provided legal navigation services for 204 people, helped over 55 families with emergency planning and accompanied 30 individuals to various immigration
appointments.
The HRC also provides resources such as Red Cards in English, Spanish, Chinese and Thai that inform citizens and noncitizens alike of their Fourth and Fifth Amendment rights in case of an encounter with law enforcement.
As a nonprofit organization, volunteers are the lifeblood of the Human Rights Coalition. Since 2022, they have logged over 500 hours spread across 50 volunteers throughout all its programs.
"What I really love about HRC is that I see people coming back to volunteer with us because they feel good about helping the community," Robleto said. "I don't have to beg people, they come back and they're like, 'When can I help you again?' It's been really humbling to see that. It makes me feel hopeful for the future."
The HRC also operates under the Gainesville Immigrant Neighbor Inclusion Initiative, an organization which focuses on making Gainesville a more inclusive community, especially for immigrants. In conjunction with GINI, the HRC has advocated
Síganos
for and confirmed the Gainesville Police Department will release a public service announcement in English and in Spanish regarding how they will operate under the new law.
"Both agencies actually assured us that it didn't really change what they do day to day," Robleto said. "They're not interested in immigration and Customs Enforcement, that's a federal issue. They're not going to be looking for people who are undocumented."
The official announcement from GPD has no scheduled date.
Despite the changes prompted by SB 1718, the HRC continues to provide its services to the Alachua County immigrant community with the help of its ongoing fundraiser.
"It's a real, uphill struggle to work with people who are just in a very marginalized place in society," said Mary Fukuyama, a 75-year-old former volunteer and continued supporter of the HRC. "I'm so pleased that it's still happening."
@Eluney_G editor@alligator.org
LUNES, 18 DE SEPTIEMBRE DE 2023 www.alligator.org/section/elcaiman
actualizaciones
para
actualizaciones
Para obtener
de El Caiman, síganos en línea en www.alligator.org/section/elcaiman.
día
Live After Death
Mantente al
con El Caiman en Twitter. Envíanos un tweet @alligatorElCaiman.
Comedian Ben Wasserman brings comedy, grief to Gainesville Read more on pg. 8.
Por Eluney Gonzalez Escritor de El Caimán
Programa de identificación comunitaria local acoja un recaudación después de un proyecto de ley del Senado recorta miles de dólares de su presupuesto
Diego Perdomo // Alligator Staff Veronica Robleto, directora del programa de identificación de la Coalición de Derechos Humanos del condado de Alachua, explica la función de las tarjetas de identificación comunitarias en una recaudación de fondos en Superette el viernes 15 de septiembre de 2023.
Staying in check: The crucial need for mental health awareness
Editor's note: This article contains mentions of sensitive mental health topics including suicide.
In early spring of my freshman year, my younger sister made an attempt to take her life. Just over 300 miles away from me, she was battling depression and suicidal thoughts.
Ironically, a mental health magazine launch that I helped organize would take place the next week at the Reitz Ballroom. The week after that, I was in Fort Lauderdale visiting her. Just a few days later, I was in Marston studying for my Arabic final exam.
With a heavy heart and a numb mind, I kept going. My role as a student collided with my role as a sister. It was one of the most difficult times of my life, and it wasn't even about me. I couldn't share, I couldn't process, I just had to keep going.
Starting Sept. 11 through 14 is National Suicide Prevention Week. At the same time, Hallmark starts to introduce its spooky season, and new Starbucks drinks make my daily coffee commute longer.
These distractions sweep over the seven days the government meaningfully reflects on suicide prevention.
The UF Counseling and Wellness Center offered a "Build Your Gator Wellness Toolkit" week of events. Despite the new Wall Street Journal "#1 public university" flags unveiled this week, there are no blue and orange banners that say "Suicide Prevention Week" on campus.
The Student Health Psychiatry has moved from the Counseling and Wellness Center to the new Student Health Care Center. Placing mental health resources and physical health resources in the same building seems to be a silent win. It wasn't front page news, but to me, it was huge. However, while UF has made great strides in the accessibility of mental health resources, there is still progress to be made.
Last year my best friend from high school said she wouldn't mind not waking up the next day. Practically rotting away in her Infinity Hall dorm room, she felt no value in her life. Following a walk to the Hub, a bus ride to the CWC and an awkward silence in the waiting room, I was the one who filled out her sign-in extensive questionnaire. Almost every alarming sign of depression was checked off on that guide. Two weeks and a 15-minute zoom call later, she remained unmatched with a therapist.
There is something even more excruciating about mental health problems than any physical injury. You can't see them. We can sympathize with physical pain because it is universal. Just the sight of someone's injury can initiate a wince at the idea of your body undergoing physical trauma. But sitting on the bus to class with a crowd of students won't give any insight to what's going on in their heads.
Not only do I struggle with anxiety, but I have a family history of mental health. While the person sitting next to you on the bus may not have a diagnosed mental disorder, perhaps their mother does, or their sibling or their grandparent. About a quarter of Americans aged 18 or older struggle with a diagnosable mental disorder every year. That means any of those four people in that aforementioned scenario are at odds to suffer with a mental disorder. It's not taboo, and it's not unseen or unspeakable; it's everywhere and real. It's crucial to recognize that mental health is equally as vital as physical health — both can be a threat to your life.
The Center for Disease Control and Prevention states that, "between 3 and 11% of the U.S. population gets infected and develops flu symptoms each year." The CDC's data also shows that Florida's suicide death rate was 14% in 2021.
I mention this comparison because as I received emails from the Student Health Care Center encouraging me to get my free flu shot, I never got a follow up email offering a free therapist. Granted, those comparisons are a stretch, but on a personal level, both are just as important.
It's not to say this campus isn't full of wonderful professors who openly speak about the importance and understanding of mental health. As I enter my sophomore year, I have yet to encounter a professor who hasn't been understanding of my complicated family life and how it affects me. But that's because I sought out help. Every individual's struggles are different, and not everyone is willing to get help.
When a student has a cast on their leg, it's not uncommon for their professor to ask what happened. In the same way, emotional concerns and signs of distress should be checked as well — offering mental health resources is not enough. Advocating for and spreading awareness of what the school can do for the students it houses and educates is. It's important to keep the university accountable for vouching for its students.
I emphasize that my experience is one of 60,000. I'm lucky enough to come into school with a therapist, but not everyone has one. Every student who needs to be seen for a physical exam is assigned a primary care provider, but not immediately assigned a therapist.
Everyone needs a therapist, just like everyone needs a doctor. The more casual and normalized we speak of therapy, the more awareness is spread on the prevalence of mental health. The more collective that effort is, the less alone students will feel in a common struggle.
Noor Sukar is a UF journalism sophomore.
Editor's Note: The Alligator wrote an article where President Ben Sasse refuted anonymous professor claims to change tuition costs.
In his State of the University Address, UF President Ben Sasse said something that should concern every student who receives Bright Futures or other financial aid: "We lose money on every student."
In my view, this is not a tragic boon like Sasse is implying. A public service, which I view a public university as a type of, should not be run with profit in mind.
In particular, he criticized that many students get a refund from UF on excess financial aid. He derisively called UF "writ[ing] them a check," perhaps revealing either ignorance or malice.
"We have an economic model that is very different than every other Top 30 school," he said in reference to price controls on tuition.
Other universities, by contrast, take money from tuition and put it into research and other efforts, Sasse said.
In my previous column about Sasse's plans for UF, I gave very tepid critiques of his AI policies. His general vision was good, but the specifics were blurry.
I am angrier, by contrast, with his comments on our economic model. He directly criticized Bright Futures, seeing it as a tax-payer subsidization of our students.
I would begin by reminding Sasse that the money comes chiefly from the Florida Lottery. I would continue by noting that those same lottery dollars primarily come from lower-income families. That money, in turn, gives those families a greater chance to have their children go to UF.
Bright Futures is not always dolled out equally, as reported in the Orlando Sentinel. This is something Sasse can and should be lobbying to fix in Tallahassee. His critiques in the address, however, concede an ignorance of the benefits felt by so many students.
I once fought alongside fellow students against a bill by Senator Dennis Baxley, R-Ocala. Senate Bill 86, in 2021 proposed to limit funding to students based on their major.
Although SB 86 eventually died, it was after a long fight.
Students gave public comments in every Florida Senate committee, murals were painted in Gainesville, and thousands of emails from concerned parents and students flowed into Tallahassee.
I will repeat some of the key points from my 2021 Tampa Bay Times column. College cannot be simplified to "job training." It should not be barred from those of lower socioeconomic standing.
An appeal to the wealthiest at the cost of excluding the disenfranchised is a common trait of our peers Sasse failed to explore at the State of the University Address.
One only needs to look at the legacy admissions discussions that have emerged with the affirmative action ruling to see this favoritism. Looking farther back, the revelations that celebrity children get special treatment also come to mind. The subsidization of education is one of the reasons we rose to our place as the Wall Street Journal's No. 1 public university, not a "headwind" as Sasse put it. Truthfully, we should be a model for the Top 30, not the reverse.
Our low costs, combined with the generous aid, keep students here. Whether it be based on merit, like Bright Futures, or need, we should be empowering people to stay.
I honestly thought this discussion over our educational model was settled in 2021. Now we have a politician-turned-president bringing back old talking points about the need for a shakeup.
Fortunately, much of the decision-making on UF's economic model is made in the Florida Legislature. Unfortunately, Tallahassee in 2021 showed their willingness to fundamentally reorganize our higher education.
With the president of Florida's flagship's backing, a new attempt may be successful compared to the collapse of SB 86.
Myself and the other 23,000 students who receive Bright Futures want to tell you: Keep your hands off.
The model needs reform, but the core must remain. We do not need a politician from Nebraska telling us how bright our futures could be.
The views expressed here are not necessarily those of The Alligator.
MONDAY, SEPTEMBER 18, 2023 www.alligator.org/section/opinions The Alligator encourages comments from readers. Letters to the editor should not exceed 600 words (about one letter-sized page). They must be typed, double-spaced and must include the author's name, classification and phone number. Names will be withheld if the writer shows just cause. We reserve the right to edit for length, grammar, style and libel. Send letters to opinions@alligator.org, bring them to 2700 SW 13th St., or send them to P.O. Box 14257, Gainesville, FL 32604-2257. Columns of about 450 words about original topics and editorial cartoons are also welcome. Questions? Call 352-376-4458. Column Keep your hands off our Bright
Futures
Column
Ronin Lupien is a UF electrical engineering senior.
Noor Sukar opinions@alligator.org
Ronin Lupien opinions@alligator.org
ENTERTAINMENT
Comedian brings death jokes, grief show to Gainesville
HIS GAINESVILLE PERFORMANCE IS THE FIRST OF A NATIONAL TOUR
By Bea Lunardini Avenue Staff Writer
Death is tragic and grief can be heartbreaking. For Ben Wasserman, a 35-year-old comedian, it can also be a little funny.
Wasserman is the creator and star of his "Live After Death" comedy show, a spectacle of dancing, spinning a "wheel of vulnerability" and Wasserman's highlight: the crowd work.
"I honestly think my favorite part is in the vulnerable moments," he said. "It is when I get to hear people's stories, laugh with them about the people that they lost or their experience about grief."
The crowd work was also a highlight for Victor Remley, a 19-year-old UF zoology sophomore who watched Wasserman's Gainesville show.
"There was a lot of audience participation," Remley said. "I liked, in the juggling, the banter that he had with the guy who was up there."
Despite having performed his show more than 50 times over the course of two years, Wasserman can still remember some of the crowd interactions he's had clearly.
"There's a moment in the show where I perform a seance to try and get in touch with either one of my loved ones or someone's in the room." he said. "I opened the floor to see
FOOD & DRINK
if anybody wanted to try and reach out to someone that they lost, and this dude in the back was like, 'I'd like to talk to my dad.'"
After Wasserman got some information from the audience member on his dad and their relationship, he swept his arms grandly to perform the seance "magic" and announced to the room that the man's dad was officially with them. He set the stage for the man to talk to his father and the whole room waited with bated breath.
"The guy just said 'Dad, I'm gay,'" Wasserman said, "and then that was it."
Those three words were enough to send the majority of the audience, including Wasserman, into tears. Those tears may not sound like a good sign for a typical comedy show, but the trek that Wasserman takes his audiences through grief and loss wouldn't be complete without the full spectrum of human emotion.
"I am a comedian first and when I set out to do the show, I set out to put on like a really f*cking funny, entertaining show that no one has ever seen before," Wasserman said. "I'd be lying if I didn't say it feels really nice when people come up to me after the show and just ask for a hug or cry with me or thank me for giving them the space to talk about their loved ones."
Wasserman may be getting tearful hugs after his shows now, but the show's first two performances in 2021 were met with shock.
"There was a lot of blood in the first two versions of the show," Wasserman said.
He had a bowl of marshmallows sitting
alongside him on stage, some of which had index cards with prompts for bits and memories in them, and some of which had razor blades.
"The whole gag was, 'I'm afraid of dying, I'm afraid of death, I don't want to die, but I have to confront that fear,'" Wasserman said. Confronting that fear meant that he did, at times, eat razor blades.
"I do a little bit of magic and so I know how to eat a razor blade without hurting myself," Wasserman said. "But I also had a lot of fake blood coming out and people were, like, really turned off."
From the beginning, Wasserman knew he needed a performance space as offbeat as his show and settled on a funeral home. He invited a funeral home owner to his first show to try and persuade her to let him bring his show to the space.
She was overwhelmingly excited about the prospect and agreed that the show would be a good fit for the funeral home. Her one condition: "none of that blood sh*t."
Wasserman readily agreed, and the show began to happen at funeral homes across his native New York City. His Gainesville show is an exception, not occurring at a funeral home but benefiting one instead, the Natural Burial Society.
The Natural Burial Society, run by Jane Roy and William Heath, is a resource center for end-of-life operations. The group, supported in part by the fundraising efforts of Wasserman's show, plan to open a funeral home in Gainesville offering a "holistic end of life
approach."
In addition to addressing issues in the deathcare industry, a major facet of the Natural Burial Society's work surrounds the affordability of death. William Heath, a 45-year-old licensed funeral director, outlined the costcutting changes that the Society plans to implement in its own funeral home.
"Natural burial doesn't include a vault," he said. "The casket is biodegradable and accordingly, a much less expensive object. It makes the burial more affordable, significantly more affordable."
After hearing about the work Roy and Heath are doing, Wasserman jumped at the chance to partner with them for this show. Their atypical approach to death mirrored his show, a performance that values tears and reflection almost as much as it does laughter.
"The material itself, when I first started coming up with it and performing it, was incredibly cathartic for me," Wasserman said. "The material was really just like a cathartic kind of pressure valve being released and letting stuff out."
As he has let his emotions out and come to terms with his grief, Wasserman has seen that the show is just as much for his audience as it is for him.
"It has been a really powerful experience being able to hear people's stories and connect with them, both me feeling less alone and them feeling less alone," he said.
@bealunardini blunardi@alligator.org
just can't keep up': Starbucks stores across Gainesville undergo a pumpkin spice crisis
SEVERAL LOCAL STARBUCKS STORES, PARTNERS EXPERIENCE SHORTAGES OF FALL PRODUCTS IN WAKE OF RELEASE
By Jared Teitel Avenue Staff Writer
The end of August is a time long awaited for many devout disciples of the Siren's empire.
As soon as the pumpkin spice lattes, cold brews and chai teas grace the menus of Starbucks stores worldwide, fans come running to get their hands on the new beverages synonymous with the fall season until there are none left.
Jay Boykin, a 23-year-old Starbucks barista, knows all too well of what is to come every year when the fall lineup releases in stores. As social media blows up in a frenzy over
the fall flavors of pumpkin spice and apple crisp, lines at the nearest Starbucks stores grow longer and longer.
"This is the trend right now," they said. "This is what everyone thinks of when they think of fall."
Boykin said everyone thinks of fall so much so that the pumpkin and pepita loaf, a year-round item in stores, is ordered far more during Starbucks' fall season because "it's pumpkin time."
Since pumpkin spice and other fall flavors were released in stores Aug. 24, many Starbucks locations across Gainesville and UF have experienced significant shortages of syrups on several occasions, according to employees and customers.
In addition to its popularity among students and locals across the city, pumpkin spice products experienced delayed delivery to Gainesville locations due to the onset of Hurricane Idalia, Boykin said. With the combination of these two factors, it
was only a matter of time pumpkin spice would become scarce.
"We have to have way more people scheduled during pumpkin spice time," Boykin said. "We just can't keep up."
Kaylie Coatney, a 21-year-old UF industrial engineering senior, always looks forward to the fall in anticipation for the pumpkin cream cold brew to hit local Starbucks stores.
"It's my very, very favorite," she said.
The Marston Science Library on UF's campus is one Starbucks location Coatney frequents as a student of the university. In light of the release of the fall menu items, she could not have been more ready to race to the front of the line for her favorite beverage.
But upon her attempt to mobile order through the Starbucks app, she was disappointed to find the coveted cold brew was, once again, out of stock.
"[Marston] is always out of the pumpkin stuff," she said. "I would always have to go to the Reitz [Union] to get [the pumpkin cream cold brew]."
In addition to pumpkin spice products, Coatney said chai syrups have also been a top seller at local Starbucks stores during this time and have gone out of stock on various occasions as well.
However, Leila Barq, a 19-yearold UF political science and international studies sophomore, has successfully avoided being infected by the Starbucks fall fever so far. A loyal customer to Starbucks for over a decade — frequenting the shop every day of the week as a college student — she never misses an opportunity to snag her favorite item, the vanilla sweet cream cold brew, while others scramble for anything pumpkin spice.
"I can make really good coffee at home," she said. "But the whole vibe
of going to Starbucks very much hits different to me."
A native of Orlando, Barq said that Starbucks stores in Gainesville tend to be much more crowded, in general, than the larger locations in her hometown. To her, the pumpkin spice crisis came to no surprise, especially since the Thursday deal Starbucks implemented this year.
"Because of the buy-one-get-onefree, everyone is going to get these fall drinks," she said. "There has been a lot sold out…Literally, almost everything."
Adding to the shortage of chaitea items, Barq described having to "drive to the end of the Earth" with her friends to find a Starbucks location with chai syrup in stock.
As the fall season passes by each day, customers can only hope that this crisis eventually comes to a close.
@jaredteitel jteitel@alligator.org
Keep up with the Avenue on Twitter. Tweet us @TheFloridaAve. MONDAY, SEPTEMBER 18, 2023 www.alligator.org/section/the_avenue Scan to follow the Avenue on Spotify
'We
Football Gators topple rival Tennessee at home. Read more on pg. 11.
How to Place a Classified Ad:
BUY IT. SELL IT. FIND IT. 373-FIND
NOTE: This newspaper assumes no responsibility for injury or loss arising from contacts made through advertising. We suggest that any reader who responds to advertising use caution and investigate the sincerity of the advertiser before giving out personal information or arranging meetings or investing money.
SS & VA ARE WELCOME! $660/BedRoom
2
2BR
5
12 Autos
CASH FOR UNWANTED CARS / TRUCKS
Running or Not. Top Dollar Paid Call 352-259-2020
8-16-23-12
DONATE YOUR VEHICLE to fund the SEARCH FOR MISSING CHILDREN. FAST FREE PICKUP. 24 hour response. Running or not. Maximum Tax Deduction and No Emission Test Required! Call 24/7: 866-471-2576
9-18-39-12
New Paint, New Tires. GREAT CAR! Everything works. Runs well. $3750. Contact Joe 352-792-2564 9-11-23-2-12
The American Cancer Society Road to Recovery Volunteers Needed! VOLUNTEER DRIVERS NEEDED to transport cancer patients to treatment. Flexible schedule. Training and liability insurance provided. Please call 800-227-2345 if interested.
6
You need the money to do what you will. Rich at Best Jewelry and Loan has the cash for those bills.
15 Services
DISCOUNT AIR TRAVEL. Call Flight Services for best pricing on domestic & international flights inside and from the US. Serving United, Delta, American & Southwest and many more airlines. Call for free quote now! Have travel dates ready! 866-245-7709 9-18-18-15
Planning to liquidate stereos, TV's, instruments and tools?
See Rich At Best.
He'll give cash for your jewels.
523 NW 3rd Ave 352-371-4367
12-4-16-15
BATH & SHOWER UPDATES in as little as
ONE DAY! Affordable prices - No payments for 18 months! Lifetime warranty & professional installs. Senior & Military Discounts available. Call: 888-460-2264 9-18-15-15
Leading smart home provider Vivint Smart Home has an offer just for you. Call 833303-0851 to get a professionally installed home security system with $0 activation. 9-18-11-15
The surf's up at "Pawn Beach" we're all making the scene.
If you're in need go see Rich, Best Jewelry and Loan's got the "green". 523 NW 3rd Ave 352-371-4367
12-4-16-13
NEED NEW FLOORING? Call Empire Today® to schedule a FREE in-home estimate on Carpeting & Flooring. Call Today! 855-919-2509 9-18-58-15
Los Angeles Times Daily Crossword Puzzle
Los Angeles Times Daily Crossword Puzzle
CASH FOR UNWANTED CARS / TRUCKS Running or Not. Top Dollar Paid Call 352-259-2020
8-16-23-13
● ● DORM-SIZE FRIDGE ● ● NEW LG - 44"H x 21"W, 6 cu ft, single door. Top freezer, refrigerator w/inverter compressor & a pocket handle. Platinum silver. New was $430, will sell for $350 Call 352-840-3421
9-18-23-2-6
●UF Surplus On-Line Auctions● are underway…bikes, computers, furniture, vehicles & more. All individuals interested in bidding go to: SURPLUS.UFL.EDU 392-0370
8-16-23-13-10
15 Services
PROTECT YOUR HOME from pests safely and affordably. Pest, rodent, termite and mosquito control. Call for a quote or inspection today 888-498-0446
ANSWER TO PREVIOUS PUZZLE:
UPDATE YOUR HOME with Beautiful New Blinds & Shades. FREE in-home estimates make it convenient to shop from home. Professional installation. Top quality - Made in the USA. Call for free consultation: 866-6361910. Ask about our specials! 9-18-59-15
ATTENTION HOMEOWNERS! If you have water damage to your home and need cleanup services, call us! We'll get in and work with your insurance agency to get your home repaired and your life back to normal ASAP! Call 877-712-2609 9-18-2-15
www.alligator.org/classifieds
Corrections and Cancellations: Cancellations: Call 373-FIND M-F, 8am - 4pm. No refunds or credits can be given. Alligator errors: Check your ad the FIRST day it runs. Call 373-FIND with any corrections before noon. THE ALLIGATOR IS ONLY RESPONSIBLE FOR THE FIRST DAY THE AD RUNS INCORRECTLY. Corrected ads will be extended one day. No refunds or credits can be given after placing the ad. Corrections called in after the first day will not be further compensated. Customer error or changes: Changes must be made BEFORE NOON for the next day's paper. There will be a $2.00 charge for minor changes. Online: w/ major credit card at www.alligator.org/classifieds In Person: Cash, Check, MC, Discover, AMEX or Visa @The Alligator Office: 2700 SW 13th St. M-F, 8am - 4pm By E-mail: classified@alligator.org By Fax: (352) 376-4556 By Mail: P.O. Box 14257 G-ville 32604 See alligator.org for more information Call 352-373-FIND for information. Sorry, no cash by mail. Credit cards or checks only. MONDAY, SEPTEMBER 18, 2023 Corrections and Cancellations: Cancellations: Call 373-FIND M-F, 8am - 4pm. No refunds or credits can be given. Alligator errors: Check your ad the FIRST day it runs. Call 373-FIND with any corrections before noon. THE ALLIGATOR IS ONLY RESPONSIBLE FOR THE FIRST DAY THE AD RUNS INCORRECTLY. Corrected ads will be extended one day. No refunds or credits can be given after placing the ad. Corrections called in after the first day will not be further compensated. Customer error or changes: Changes must be made BEFORE NOON for the next day's paper. There will be a $2.00 charge for minor changes. 1 For Rent furnished 1 Legal expert 1 Fairly 5 Brazilian dance 2 sale 6 Later 3 Frightten 7 Least 4 Type of polecat U J S T R I T J Y U L S A B A M S E T A R F M E R U M G A L T T R E S A S E W T F E R T R F E E :SREWSNA tsiruJ-A1 abmaS-A5 retfA-A6 tseweF-A7 tsuJ-D1 y egammuR-D2 eltratS-D3 terreF-D4 ymmiJ-B teffuB 9-18-23 ACROSS DOWN CLUE CLUE ANSWER ANSWER by David L Hoyt Complete the crossword puzzle by looking at the clues and unscramb ing the answers When the puzzle is complete unscramble the c rc ed letters to so ve the BONUS How to play & Hoyt Des gns A R ght Rese ved 2023 Tr bune Con en Agency LLC J U M B L E J U M L R M Send comments to TCA - 560 W Grand Avenue, Ch cago, I no s 60654 or DLHoyt@@Hoyt nte act veMed a com 1 6 2 5 3 7 4 CLUE: He is one of the world s richest musicians wiith a net worth of about $1 billion (as of 2023) BONUS 10 For Sale solution on page 10 13 Wanted Submit your ad today! www.alligator.org/classifieds 12345 6789 10 11 12 13 14 15 16 17 18 19 20 21 22 23 24 25 26 27 28 29 30 31 32 33 34 35 36 37 38 39 40 41 42 43 44 45 46 47 48 49 50 51 52 53 54 55 56 57 58 59 60 61 62 63 64 65 66 67 68 By Dan Caprera ©2023 Tribune Content Agency, LLC 09/18/23
09/18/23
Edited by Patti Varol and Joyce Nichols Lewis
Release Date: Monday,
ACROSS 1 Cheese __: Wisconsin snack 6 October birthstone 10 Solemn oath 13 Turner of "Game of Thrones" 14 Lymph __: immune system part 15 Amazement 16 *LGBT+ organization founded in 1990 18 Bumped into 19 Bone parallel to the radius 20 __-mo replay 21 Open, as a keg 23 Use an abacus, perhaps 24 *"Chin up!" 29 Sample size? 31 The North Star 32 Hi-__ graphics 34 Doja Cat genre 35 Mineral that adds shimmer to cosmetics 36 *Musical film about a convict who learns to play the guitar in prison 40 Glass unit 41 Name on a 1950s campaign button 42 In a funk 43 Part of a bedroom set 45 Kidney-related 49 *Completely unapproachable 53 Egg cells 54 MyHeritage sample 55 Bonfire residue 56 Sink annoyance 57 Sci-fi vehicle 59 Prepare a deck before dealing, and what the answers to the starred clues literally do 63 Clever remark 64 Reflex hammer's target 65 Literary comparison 66 Body spray with a Dark Temptation scent 67 Transgressions 68 Fresh DOWN 1 Might've 2 Radically changes 3 Actress Perlman 4 N, NE, or NNE 5 __ of humor 6 Leading the pack 7 Finger food at luaus 8 "Much __ About Nothing" 9 Soup legume 10 Like some "What We Do in the Shadows" characters 11 Have an open tab, say 12 Not just damp 13 Crouch down 17 Keg filler 22 Très chic 24 Topple (over) 25 Hot springs 26 Sulks 27 "The Last of Us" actor Offerman 28 Agcy. managing federal real estate assets 30 Tests for fit 33 __ away from 34 Actress McClanahan 36 Pickle containers 37 Often-amusing story 38 Gumbo thickener 39 Hard to come by 40 Tech replaced by smartphones 44 Trousers 46 Former "All Things Considered" host Michele 47 With zeal 48 Run out, as insurance 50 Fills fully 51 "Kinda" 52 Game with grandmasters 56 River blockers 57 Actress Thurman 58 Crafty one 60 Mono- kin 61 X, at times 62 Spy-fi org. By Susan Gelfand ©2023 Tribune Content Agency, LLC 09/12/23
September 18, 2023
Lewis 09/12/23 ANSWER TO PREVIOUS PUZZLE: Release Date: Tuesday, September 12, 2023 ACROSS 1 Skyline obscurer 5 Slight fabrications 9 Lengthy exam answer 14 Afghanistan's __ Bora region 15 Wrinkle remover 16 Teatime treat 17 Condo division 18 *Food stalls offering filled tortillas 20 Liberated 22 Meaner than mean 23 *Kits that include pots for melting cheese or chocolate 26 Verdi opera about an African princess 30 As of now 31 Rodent that followed the Pied Piper 32 Finalized, as a deal 34 Relishes 37 Indiana NBA player 38 *1933 comedy starring Marie Dressler and John Barrymore 41 Treasury secretary Yellen 42 __ Berry Farm: Southern California amusement park 43 High regard 45 "Let's call __ day" 46 Heat in the microwave 49 Norse god of thunder 50 *Ingredient amount in a recipe for paella or risotto 54 Barnett of CBS News 56 Therefore 57 Unexpected charges, and a feature of the answers to the starred clues 62 Over again 63 Relating to birds 64 Rights org. since 1920 65 Checkout queue 66 Marriott rival 67 Car roof with removable panels 68 Life partner DOWN 1 In need of some fresh air 2 "Some Like It Hot" star Marilyn 3 Get situated 4 Like some private communities 5 In shape 6 Nest egg letters 7 Italian bowling game 8 Pig sound 9 East, in Spanish 10 Rascals 11 Prodigal __ 12 "Wait, there's more" 13 "You bet!" 19 Figure (out) 21 Vaudeville legend Jimmy 24 Roof edge 25 Bird on birth announcements 27 Snowfall accumulation unit 28 Song for two 29 Tax-paying mo. 33 Words set in stone? 34 Looked down on 35 Competed in a sprint, say 36 Unflappable 38 Sprinter's race 39 Enamored of 40 Caesar's rebuke 41 Airport arrival 44 Eve's opposite 46 Colorful annual 47 Regional manner of speech 48 Baseball Hall of Famer Reese 51 Like some lean dairy products 52 Put into office 53 Domain 55 Landlord's income 57 "A likely story!" 58 Climbing vine 59 Day in Durango 60 "Xanadu" rock gp. 61 "How's it goin'?" 9/5/2023
on page 10
King Features Synd., Inc.
Edited by Patti Varol and Joyce Nichols
answer
©2023
ad today! www.alligator.org/classifieds
found it in The Alligator!
Need some help? Submit your
Say: I
● No Deposit! ● Furnished Cable ● Internet ● Utilities "Call or Text" 352-246-3418 12-4-16-1
unfurnished
For Rent
2BR FOR RENT
12-4-23-16-2
$500/mo Call: 352-647-6632
Real Estate NEW
For
CONDOS-WALK TO UF
Info on ALL Condos for Sale, Visit www.UFCONDOS.COM or Matt Price, University Realty, 352-281-3551 12-5-23-16-5
Furnishings
523
12-4-16-6
NW 3rd Ave 352-371-4367
9-18-18-15
2003 TOYOTA COROLLA
Florida takes down Tennessee
FOOTBALL, from pg. 1
the Vols.
On Florida's second scoring drive, UF faced a 3rd-and-12 play. Mertz rolled out of the pocket and delivered a ball to redshirt sophomore wide receiver Kahleil Jackson, who clung to the sideline to make the toe-tapping catch for 18 yards and moved the sticks.
Mertz found senior wide receiver Ricky Pearsall on a pass to convert another third down, and junior running back Montrell Johnson Jr. eventually punched it in to give the Gators a lead they'd never give back up.
"Some of those third downs were epic," Napier said. "We
stayed on schedule. Ultimately, the plan that we had worked."
Mertz also displayed moxy on a 3rd-and-5 to close the first quarter. He rolled-out and pump-faked to make a Tennessee defender jump and pointed to the player as he jogged to move the sticks.
"It's kind of funny," he said. "We just talked about it a bunch in meetings. And we're like, 'Look, if you ever get down there, just try the pump fake.'"
The defense also continued its hot start to the season. New UF defensive coordinator Austin Armstrong has the Gators ranked No. 10 in the NCAA in total defense.
Armstrong's unit generated one of the biggest momentum shifts in the game. Vols quarterback Joe Milton dropped back to pass the ball but the UF defense quickly broke through the offensive line and swarmed Milton.
Junior defensive lineman Desmond Watson laid a massive hit on Milton as he heaved the ball into the air. The errant pass floated into space occupied solely by the UF secondary. Sophomore cornerback Devin Moore sat underneath the ball and pulled in his first career interception.
Moore raced down the sideline for a solid return and the Gators got the ball at the Vols nine-yard line after a late hit penalty on UT. Mertz eventually punched it in for another UF score.
"Those guys played their tails off, man," Napier said. "I can't imagine playing much better outside of that first possession."
The Gators picked up just 68 total yards in the second half — including just 15 in the third quarter — but the defense held strong only conceding nine second-half points.
"I probably was a little too conservative in the second half," Napier said. "All that being said, when it's a three-touchdown game and your defense is playing well, you're trying to get to the house with a W."
The Volunteers managed to move down the field but failed to convert in crucial moments. Florida forced three turnoveron-downs as Tennessee was forced into four-down territory in the second half.
The Gators' young players proved that experience is not necessary to compete at the SEC level. Freshman safety Jordan Castell led the team with 10 total tackles and also made one pass breakup.
Redshirt sophomore linebacker Scooby Williams pounced all around the field and made eight tackles including one for a loss on a crucial fourth down stop in UF territory.
Tempers flared toward the end of the game, as a UT defender laid a late hit on Mertz as he knelt the ball to run out the clock. The incident sparked a brief scuffle between the two sides as players ran to Mertz's defense.
"That just shows what this locker room is about," Mertz said. "I can say from my end, I love every single guy in that locker room, and I'm going to fight with them every single day."
He noted the bizarre ending to the game but chalked it up to that's just how it goes sometimes, he said.
Ryan Friedenberg //
Florida Football head coach Billy Napier celebrates as Trevor Etienne rushes for a 62 yard touchdown during the Gators 29-16 win over the Tennessee Volunteers on Saturday, Sept. 16, 2023.
PROFILE
The defense only got to Milton for one sack, but pressures and hurries kept the redshirt senior quarterback off balance all night as he only completed 59% of his passes. The loud crowd also disrupted the offensive line for false start penalties which kept the Vols behind schedule.
Tennessee netted 393 total yards of offense but a majority came in the second half as the Volunteers attempted to piece together a late comeback. The Gators' run defense held the Vols' talented running backroom to just 106 rushing yards.
Napier's Gators showed they could not just keep up with the upper echelon of the SEC but also win these crucial conference matchups. The road to rebuilding can be daunting, especially in the SEC, but a key rivalry win over a top-15 opponent is a good start in year two of Napier.
The Gators will take on the Charlotte 49ers at 7 p.m. Sept. 23 in Ben Hill Griffin Stadium. The game can be streamed on ESPN+ or SEC Network+.
@JacksnReyes jacksonreyes@alligator.org
Veteran sports broadcaster brings lessons from year one into UF's 2023-2024 athletic year
By Brandon Hernandez Sports Writer
Settling into his new home in Gainesville last August, veteran play-by-play broadcaster Sean Kelley sat down on a call listening to an iconic Gators noise.
It was the sound of the former voice of the Florida Gators, Mick Hubert, welcoming him to the city, but the call wasn't filled with guidelines for Kelley's new position.
The phone call from Hubert was an act of moving on from 33 years on the job for UF. He gave Kelley a debrief on the weight of becoming just the fourth ever voice of the Gators.
"He said sometimes there are rough moments with that, but for most times it's fulfilling and rewarding," Kelley said. "Go be you. That was plenty of advice and great advice. I was grateful to get it."
Becoming the voice of a team is an opportunity in sports sought out by thousands. For Kelley, this op-
portunity came last year with the Florida Gators. Now, he takes his experience with him from year one into year two.
Kelley came into the Florida job with a diverse resume. The St. Louis, Missouri, native found his first job calling play-by-play for the Missouri Tigers baseball in the late 1990s after graduating from Southern Illinois University.
His start in baseball led to a career that included becoming the voice of the Tulane Green Wave, the radio play-by-play voice of the New Orleans Pelicans for 14 years, and hundreds of college football calls for ESPN Radio.
While living in New Orleans, Kelley also served as a firefighter with the St. Tammy Parish Fire District 13 from 2012 to 2017.
Kelley's prior experiences didn't calm his nerves going into his first year replacing Hubert, Kelly said.
"I was nervous for sure and I felt that was good, it was healthy," Kelley said.
Kelley, over the years, has strayed from the broadcast booth
and gone into grade school classrooms to discuss the difference between being nervous and scared. Being nervous is a healthy emotion and helps you keep sharp, Kelley said.
Kelley embraced this emotion through Florida football's 2022 campaign in places he only dreamed about calling. One of them was in Jacksonville at TIAA Bank Stadium when the Gators faced the Georgia Bulldogs.
The venue and atmosphere of the rivalry clash were something he never experienced in person as a broadcaster. He got to mark the game off his broadcasting call-list, Kelley said.
The veteran crossing over the St. Johns River that day found a scene exploding with color going into the stadium. The atmosphere was a totally new experience.
"I've never — and I've been to most every great venue in college football — I've never seen a scene like that before outside of the stadium," Kelley said. "I think that it makes it one of the more unique
weekends in college football."
The game he remembers the most from last year was when Hubert came back to be honored at Ben Hill Griffin Stadium. UF lost to Louisiana State that day, but Kelley was still grateful to have Hubert there.
"In a lot of ways it felt like there was a bit of a bridge there between Mick and myself, and mostly anything else I wanted him to be able to come here and just get that giant hug that so many people wanted to give him after 33 years on this job," Kelley said.
Kelley's schedule heading into the holiday season is usually his busiest time of the year.
The former firefighter covered UF versus Oregon State in the Las Vegas Bowl Game in Las Vegas Dec. 17. He then flew across the country to Boston to call an NBA Christmas Day game.
He then trekked south to cover the Sugar Bowl on New Year's Eve in New Orleans.
Traveling is all part of the job for Kelley. Balancing differ-
ent games while also focusing on Florida men's basketball during December was made easy for him with one simple rule: stay ahead as much as possible, but focus only on what's in front of you, Kelley said.
"You may not serve the thing that's going on that week without looking too far ahead," Kelley said. Kelley describes himself as a process guy. The veteran walks into work on gameday early, calls his wife Kimberly and works his schedule around when the coach is available for an interview. During the men's basketball season, however, he brought back an old ritual of his.
Back in his NBA days with the Pelicans, radio analysts John DeShazier and David Wesley would join Kelley pregame in trick-shot shootarounds after the team warmed up and left the floor.
Kelley revived the tradition last season with Gators Men's Basketball Analyst, and former player,
SEE PROFILE, PAGE 12
MONDAY, SEPTEMBER 18, 2023 www.alligator.org/section/sports Follow us for updates For updates on UF athletics, follow us on Twitter at @alligatorSports or online at www.alligator.org/section/sports. Follow our newsletter Love alligatorSports? Stay up to date on our content by following our newsletter. Scan the QR Code to sign up. alligatorSports has a podcast! The alligatorSports Podcast releases episodes every Wednesday and can be streamed on Spotify, Apple Podcasts or your other preferred streaming platform.
Alligator Staff
Sean Kelley became the fourth ever voice of the Florida Gators July 6, 2022
Voice of the Gators
Lee Humprey. The two challenged each other with hook shots throughout the season, but never in an actual shootaround. Humphrey's still got it, Kelley said, referring to the former shooters routine before games.
The shootaround before games for Kelley wasn't about just getting a shot up for fun, but to build a connection.
"It was my way of doing something with them," Kelley said. "I'm big into building bonds with coworkers and who's on your team. So, a lot of times if I'm with former players that's kind of their world, their comfort zone. I participate in it in my own little way."
The connections he built throughout his first season went beyond his broadcasting coworkers and into the programs he represented. Kelley called the first games of both Football Head Coach Billy Napier and Men's Basketball Head Coach Todd Golden.
Kelley loved watching the pair of first-year head coaches begin to build a program. Having some part of that journey is something he privileges, Kelley said.
"When you transition from that first season to the next you start to build some familiarity with them as people, as players, and how a team and a roster evolves," Kelley said. "That'll be the next thing that I'll be looking forward to."
Kelley was exposed to the bug of broadcasting while growing up in St. Louis. He listened to his idols Jake Buck and Mike Shannon call St. Louis Cardinals games from Busch Stadium. That bug, which latched onto the 51-year-old throughout his career, followed him back to baseball when
he began preparation for the Gators 2023 baseball season.
Kelley kept a close eye on UF's baseball program and realized early on that the group was special. The anticipation of calling baseball again grew for Kelley. He was excited to get to the season with his analyst Jeff Cardozo, he said.
That excitement gushed even more when the Gators advanced to the 2023 College Baseball World Series — an event Kelley hadn't called since 2005 back when the venue in Omaha, Nebraska, was called Johnny Rosenblatt Stadium.
The competition at the CWS that year was remarkable, Kelley said.
"The whole town, and everybody there, is there for one reason, and that's to enjoy college baseball, which is uniquely its own experience," Kelley said. "To see that again in my career, but to do it again in my new job — moments from my first year, that's as important as anything else."
The feeling of being welcomed by the Gator nation and his coworkers is something Kelley can't stop thinking about, he said. The broadcaster's first year as the Gators' voice was reinvigorating to his life and career. The feeling of freshness is something he expects going into year two on the job.
"Not everybody gets to step into a great situation and work with people that they really enjoy being around," Kelley said. "I'm old enough and experienced enough to know that's not always the normal, but it was for me last year."
Kelley looks forward to calling the 2023 Florida football team, who he believes is better than what most people think. He believes we'll see tangible signs of Napier's first-year jump into this season, he said.
"Where do you find that sweet spot in watching the evolution of a program and being patient while doing that?," Kelley said. "I think that's something to think about for not just me, but for all of (UF's) fans and I'm looking forward to new road games and new experiences."
Kelley continues his work after UF's underdog 29-16 victory over No. 11 Tennessee Sept. 16 by preparing his notes for the Gators' next game against the Charlotte 49ers at The Swamp at 7 p.m. Sunday.
@BranH2001
bhernandez@alligator.org
12 ALLIGATOR MONDAY, SEPTEMBER 18, 2023
PROFILE, from pg. 11
Lauren Whiddon // Alligator Staff