Issue 7 / September 2022 FLORENCE CONTEMPORARY GALLERY
Welcome to New Visions.
Since its foundation, Florence Contemporary Gallery has been an artistic disse mination platform, a meeting place among artists, institutions, collectors, cura tors, and art lovers, an active artistic community that rewards art over "names". Our goal is presents a selection of carefully selected contemporary artists the career of deserving emerging artists selected from all over the world
Michele Morelli FCG chief curator Curatorial statement
First of all I would like to thank all the artists, selected and not, for their commitment and dedication in creating extraordinary works of art, your thoughts and vision enrich our contemporary society. As with any art form, especially visual art, there are many ways an artist can bring a work to life, in this edition we explore some of these different art forms and hope you admire the various techniques used, also through the pages of this catalog, art in its conglomerate of forms has the power to stop us in our tracks, flood our minds with different emotions and does not push us to achieve the impossible, therefore, savor it with us , absorb the emotion portrayed in the selected works. For this edition, the title was "New Vision," a term and theme deliberately left open to any pos sible development by the artists, in order to left a lot of room for action and choice, and the result was a selection of exceptional works that you can find on our website. In the pages of this catalog you will find the artists and works selected during the call with the addition of three more works for each of them.
Index 6 10 14 18 22 26 30 34 38 42 46 50 54 58 62 66 70 74 78 82 Gabriella Karimi Manuel Langstadlinger Lucia Boaghe Hassiba KESSACI Wendy Cohen La Chigi Nelly Gay Linda Werner Eliza Pieri Cristian Diez-Sanchez Anastasiya Bulye Clara (Eunkoung) Kim Teclan Steve Jensen Radoslava Hrabovská Dimitra Gounari Helena Barbagelata Gretel Warner K.P. Nordmann Eun Gyeong (Anais) Kim
86 90 94 98 102 106 110 114 118 122 126 130 134 138 142 Ashlee René Thompson Owen Brown Lexygius Sanchez Calip Maria Goretti Bello Serans Stefanie Schairer Katerina Orel Elena Bondarenco Michael J Stokely Michael Wagner Thoma Sehnsucht Eric Lee Mariam Nasrashvili Cesar Vianna Olivier Mboma Elsa Papagiannopoulou
6 | FCG: New Visions
IStatement:beganmy work with relief printing, driven by a curiosity to explore form through light; the human figure as my muse. With this as my foundation, my current work centers on creating a narrative about body in space through exploration of the female figure specifi cally. Inspired by her physical form, I aim to create paintings evocative of her presence through an abstracted lens. I work in the mo ment: using layered media, energetic strokes, and bold palettes to reveal an image that lives in both abstract and figurative worlds. My recent series 'Reworked' revisits and reworks paintings of mine from the past; building upon and integrating their original materials, structures, colors, and conceptual forms to depict a transformation. A metamorphosis. Each piece is a unique study of movement and form growing forth from a layered foundation. What is left on the canvas has been molded by converging experien ces, emotions, and forces. Complete in their current versions, but always open for change. Website: Email:Instagram:Gabriellakarimi.comgabriellakarimi_artGabriella.c.karimi@gmail.comIIWomenAcryliconcanvaswithnewspaper38.5x36in
Gabriella Karimi is a painter/printmaker based in Atlanta, Georgia. She draws her inspiration from the human figure, specifically fe male, to create a narrative about form in space. Her years of training in medicine have strengthened her understanding of the body and intensified her interest in the way the body interacts with its surrounding elements: light, energy, and other figures.
Gabriella Karimi
FCG: New Visions | 7 Bout To Go Off Acrylic on canvas with oil stick and36.5newspaperx47.5in2021
8 | FCG: New Visions Woman I Acrylic and oil stick on canvas 48 x 39 in 2021
FCG: New Visions | 9 Wvvvy Acrylic on canvas 38 x 32.52021in
10 | FCG: New Visions
201829,05ColorAddictionInstagram:langi1@live.atManscheypencilonPaperx41,09cm
Manuel Langstadlinger was born the third child of four in the small town of Neulengbach, Lower Austria, on 08/18/1990. He grew up there and still lives in this place today. As the son of a Sinto (m) ("Sinti" are a sub-group of the Roma), his talent attracted attention even as a small child. Inspired by his own father, who was an artist himself, the first years were characterized by realism. During this time, many different motifs were created, most of which were portraits and even then the focus was on imaginative sce narios. Later, art quickly functioned as a place of refuge in which he could process everyday problems in the family, the outside world, as well as emotions. This provided an important anchor for the artist to protect and save himself. In 2006 the first exhibitions of the artist began. A few years later, in 2008, further instruction in painting and graphics began with Mag.art Maria Savchenko-Terzinsky, who taught theory and practice in Neulengbach. In 2010 Langstadlinger began studying graphic design at the New Design University, St.Pölten, which he later dropped out of. In the years that followed, the artist worked full-time as a graphic designer and illustrator for various companies and design agencies. Despite the enthusiasm to be able to show his artworks as part of an exhibition, the artist decided in 2012 to hold his last exhibition for the time being, which took place in Club B72 in Vienna, together with the artists Marcin Glod, Belinda Swoboda & Melanie Morawetz. The mostly negative experiences within the art scene over the years and the deterioration of his brother's health finally confirmed this decision. In the years that followed, the artist began to work intensively on his own art and continued his education in design and art. Today he holds degrees from the Sgd Hessen, OfG Lippstadt and the Deutsche Pop Academy. Langstadlinger finally successfully completed his degree in graphic design at the OfG, Lippstadt. In 2019 he returned with an exhibition in Vienna. This was initiated by MBA Franz Erhard Lerch, Chairman of the Vienna Art Forum. This was immediately followed by a joint exhibition with artist Michael J Masata at the same gallery. Today Langstadlinger works as a freelance graphic designer and artist and can be seen at various exhibitions. as physical expression of my own thoughts, feelings, meditations and reflections about life. I process my experien ces and senses. Email:
IStatement:seemywork
a
Manuel Langstadlinger
FCG: New Visions | 11 Family Color pencil on Paper 29,05 x 41,092013cm
12 | FCG: New Visions ColorSorrowpencil on Paper 29,05 x 41,09 cm 2013
FCG: New Visions | 13 The Storyteller Color pencil on Paper 21,00 x 29,052013
Lucia Boaghe
202028x24CeramicAFacebook:Email:Instagram:luciaboaghe.co.uk/sculpturelucia_boaghe_artlucia.boaghe@yahoo.comlucia.boaghemigratingsoulsculpturecm
14 | FCG: New Visions
Lucia Boaghe is a London based artist. Born in Moldova, with a BA in philology and interior design background Lucia shifted to the Fine Arts for the last 8 years. In July 2017 she had her first solo exhibition in London and decided to follow her passion with further education, followed by many group exhibitions. During the Foundation at Hampstead school of Arts in 2018 she participated at Picture the Heath event, part of the Hampstead Summer Festival and became the face on the event's poster for the next few years (until now), appeared in the local Ham&High newspaper in June 2018 and the Artists & Illustrators magazine in March 2019. Graduated from MA in Fine Art course at Chelsea College of Arts, UAL where her work in collaboration with her daughter "LandEscape" was presented at Tate Britain at Late at Tate event (online). Shortlisted for the Bloomberg New Contemporaries 2021. One of the 40 artists chosen to be represented by Made in Arts London from around the six UAL Colleges in 2021 LuciaStatement:Boaghe's Art is about immigration as a psychological experience and as a part of contemporary life. Her experience of immi gration has an emotional impact on her work. The interest in psychology has played an important role in her practice. The change of national identity in a multinational environment led to the idea of translating this through sculpture, showing the psychological emptiness in a modified, distorted identity.. the internal modification as a result of assimilation and influence of new cultures. Her works explore the psychological trauma of a migrant and the excitement of a new beginning at the same time. Lucia Boaghe's work represents the modern life of a soul with light and dark, black and white, positive and negative spaces as these are the places for Website:creation.
FCG: New Visions | 15 The flower of peace Ceramic67x30x10sculpturecm2020
16 | FCG: New Visions Flying 202015x10Ceramicflowersculpturecm
FCG: New Visions | 17 CeramicAspirationsculpture17x13cm2020
HerStatementcreation is part of a poetic apprehension of reality. Pursuing obsessions, not without risks, until their elucidations or not, translated into the artistic object, borrowing from fiction and the arts as a whole to fill the gaps of reality, her progress in art goes through an hallucinated wandering of reality. Then, intelligence through the image and the sensitive approach through art makes reality intelligible. But this is not enough. It also needs the stress and the carnality of the experience that reintroduces a temporality to come and free from the captivity of hallucination.
Hassiba KESSACI is a painter, illustrator and monotype engraver based in Rennes (France). She short trained in illustration at the EDAA ar tschool (France) and in fashion illustration at the London College of Fashion. Her artworks are characterized by the permanency of drawing -expressive, delicate and minimalist with the influences of Egon Schiele and Jean Cocteau-and a visual language by color - sometimes in tension and saturated -, whether in inkmonotypes, works in dip pen and Indian ink, expressive sketches with fine felt or dot made drawings with dip pen.
Implicitly, it is a question of alienation and of getting out of this captivity to allow, at first, the entelechia --that is to say, the realization of what was in power, by which the being finds its perfection--, then the entry of the Real which is finally this Absent. The pursuit of obsessions manifested itself in the artistic exploration of fashion, driven by an irrational fascination. Fashion as an emanation of the human condition: between spirituality and desire, between individuality and society, between sensitivity and rationality, the question of gender. Fashion, emanation or, as Oscar Wilde said, "the truth of masks", in other words, behind the visible, the true mystery of masks and not the invisible, by which we mean the elusive real. Her new series related to childhood combining monotype and dot drawing with an engraving rendering is part of the same artistic approach that explores the trauma manifested by an immoral diversion directly in the creative act.
The intention is the emergence of the Absent whether he is the conscious prisoner of the unconscious, the meaning blurred by nonsense, the sensitive cut by reason, the elsewhere confronted with anchoring.
Hassiba KESSACI has been finalist at the Florence Contemporary Gallery Competition in January 2021. She has been published on April 2021 in the social media of the Chinese fashion brand MUKZIN who defiled at the New York Fashion Week in 2020. Hassiba KESSACI won the certificate of artistic merit of the prestigious Luxembourg Art Prize on December 2021.
18 | FCG: New Visions Hassiba KESSACI
under a cold sun Monoprint and dip pen 42 x 29,7 cm 2019
Email : BehanceInstagramSaatchiWebsitehassibakessaci@gmail.com:hassiba-hk.ultra-book.comart:saatchiart.com/hassibakessaci:hassiba.kessaci:behance.net/hassibakessaciàPARToraPART-Fourteenagers
FCG: New Visions | 19 à PART or a PART - 16 Monoprint and dip pen (limited edition) 42 x 29,72019cm
20 | FCG: New Visions Blue Mixed4 media on Fine Art paper 29,7 x 42cm limited edition 1/5
FCG: New Visions | 21 Blue Mixed media on Fine Art paper 29,7 x 42cm limited edition 1/5
22 | FCG: New Visions
Wendyv Cohen is a Sydney-based artist who has earned BFA and MFA degrees. She has exhibited several times at The New York Art Expo, Art Spectrum Miami, Art San Diego and The Other Art Fair, Sydney. She has been published in various art books and has received a Top 60 Masters by Art Tour International award 2021 and was named an Artist of the Future by Contemporary Art Curator, 202. Her practice depicts energy and movement that rotates with an interplay of various shapes, tones of colour, and light. The viewer is invited to participate in the depth and mystery of the 3D effects created with diverse shapes. As a result, her works are imbued with a sense of curiosity, wonderment and intrigue that is open to the viewer's interpretation. Observation, intuition and imagination are key to 's process as she responds to the magnificence of the interconnectedness of the world. But most importantly, she welcomes the viewer to participate in the creativity and mystery of her works that she translates onto the canvas with a synco pated rhythm and beat.
Wendy Cohen
Email: Instagram:Website:wendycoh@bigpond.net.auwendycohen.net.aucohen123UnravellingRibbonRollsAcrylic,collagematerialsoncanvas92x102cm2022
Acrylic,
FCG: New Visions | 23
Portals of Light Beams photographs on canvas 60 x 762022cm
24 | FCG: New Visions Clouds, Waves, Reflections Acrylic, inks, collage on canvas 62 x 62 cm 2022
FCG: New Visions | 25 Doesnt Rain It Storms Acrylic, paper, inks, on linen canvas 92 x 122cm2022
Born in Bassano del Grappa (VI), she lives and works in Trento. She holds a degree in Modern Literature with a major in Art history (Trento). La Chigi began her artistic activity in the early 2000s. She works with unconventional materials and "objets trouvès" on the theme of the "House", a physical space and the place of the soul, and on the (often problematic) relationships between its inhabitants. Through installations and ready-made, she distills their feelings into small ironic and apparently light skits.
borrowed from reality, often discarded, making a discard ironic and playful from their traditional use. The discard is an opportunity for art and ecological and polemical choice against the dominant disvalues of society, in the search for new authenticity and a new way to tell and encounter the present. I am currently exploring the theme of the House, physical place and space of the soul with ready-made-installations and objects, and the relationships with and between its inhabitants.
Website: MixedDestinyEmail:Facebook:Instagramlachigi.it,la.chigi.artla.chigi.artla.chigi.art@gmail.com(seriesJanas)technique,aluminum,paper,
IStatement:usematerials
His works have been presented in collective exhibitions both national (San Giacomo, Trento, Pergine, Asolo, Milan, Venice, Mestre, Ponte in Valtellina, Foligno, Guardamiglio, Torino) and international (Rovereto, Agropoli, Trieste, Rome and London). She held personal exhibitions (Ponte in Valtellina, Cagliari, Trento, Pergine, Rovereto, Bassano del Grappa).
She has been a finalist in the "Festival DeSidera" (2021) and in the competition "ArtKeys prize 02" (2020).
Food containers or boxes have become dwellings and settings for miniature people who are thus able to narrate, with out-of-scale objects and through metaphorical symbolization, the dreams, desires, expectations - and problems - of all humanity.
26 | FCG: New Visions La Chigi
plastic resins 5x10,5x2 cm 2020
FCG: New Visions | 27 Faith (series Janas) Mixed technique, aluminum, paper, plastic12x12x3resinscm2020
28 | FCG: New Visions Illuminations (series Janas) Mixed technique, aluminum, paper, plastic resins 5x11x2,5 cm 2020
FCG: New Visions | 29 Model, Models (series Janas) Mixed technique, aluminum, paper, plastic 5x10,5x2resinscm2020
MyStatement:digitalcollage
30 | FCG: New Visions
Email : Instagramtropicalmoderne@mail.pf:@nelly.g_tahitiAmoraddiditDigitalcollage,Fineartprint Limited edition, signed 30 x 30 cm 2021
work is like an open window where my mind navigates freely according to my readings, my story or my thoughts, often in a feminine universe where reason can sometimes escape but not a certain truth. It starts with a word, an image or a rea ding, which will develop in an imaginary setting sometimes seductive, sometimes enigmatic or strange, sometimes questioning our behaviour, our beliefs, and our actions on earth where we are only invited.
Nelly Gay
Born in Burgundy, France in 1971, Nelly Gay studied architecture in Paris. After ten years spent in the french's capital, she arrived in 1999, with her partner Eric Raffis, also architect, in Tahiti, which became their adopted home. Together, they created their architectu re studio a.maramarama in 2002, and used their leisure time to explore other art forms: for him, it was photography, for her, visual arts such as drawing or digital collage. Her graphic explorations allowed her to create an original wallpaper "Polynesian Reveries" for some privileged bungalows of the Intercontinental Tahiti Resort or to participate in local collective exhibitions. Her taste for arts, where poetry, imagination and culture mingle, translates into waking dreams, where everyone can reflect its own visions.
FCG: New Visions | 31
Exhilaration of mountains collage, Fine art print Limited edition, signed 30 x 302022cm
Digital
32 | FCG: New Visions Mystic Red Digital collage, Fine art print Limited edition, signed 30 x 30 cm 2021
FCG: New Visions | 33
Digital
signed 30 x 302022cm
On the possibility of a thing collage, Fine art print Limited edition,
34 | FCG: New Visions System wardrobe In the work "System Wardrobe" the jackets of the recipients are hung on a lightly rotating wardrobe system. The rotation creates a floating moment that makes the jackets themselves appear as individuals. They move randomly towards and away from each other. The movements give form to relationships and acts.
Linda Werner
TheStatement:direct, human surrounding space sets the individuum in relation to sociality. Different variants of interhuman distance are visualized in a sphere model. From proximal to distal forms of action the frist sphere beginns with the skin around the body, including the di- rect privacy. The second sphere between individuals incorporates more gene ral, social forms of action. It transfers to a distance refe- rence as form of communication. During shifting forms of space to digitality, data becomes the direct skin of the individuum and passivity of action. The ad- aption between human and maschien generates new forms of action. In my own virtual and real practice experience situations are created for imaging phenomens directly. The space of reality changes processes of perception in and surrounding human.
Simultaneously, however, the movements are more detailed perceived in the overview.
In scientifique analysis self-perceptions of participants are evaluated in connection with the experience situation. To emphasize the experiencing moment in prospective actions, the individual influence of the artist is reduced.
Instagram: in_ectskin Facebook: linda.werner.773 Email: linda.werner@gmx.net
In a situative momentum individual experiences are arising. New recognitions in interindividual exchange manifestate the occurrance. References between self-perceptions are forming social relevance. In present times digital and technoid phenomena are changing the space of human action. Emotional and affective impacts in new forms of action are in the center of my interests.
The result is a mechanical theater composed of representatives of the exhibition visitors. Thus, through a temporary image of the work, a contemporaneous analysis of the visitors to the Bauhaus Dessau can be recon Instructed.theinstallation on the Oskar Schlemmer stage, the interplay becomes a stage piece, whose individual movements are accentuated by the screeching of the motors randomly playing against each other. The static position of the viewers in front of the stage limits the immediate possibilities of interaction.
The social researchs aspire to obtain new results about contemporaneity.
Intensional alexithymia
In this performance, the body is inside a human adapted ice cube. The height of the ice cube corresponds approximately to the size of the actor. The interior space results from the diagonal of the body. Enveloped in a blanket the performer endures the inner cold until it is possible to step out of the ice cube. The perceived coldness increases towards the bottom. Standing in the cube, the actor is often addressed by recipients,due to exhibition context. During the melting process energy is used partly from the ambient temperature and partly directly from the human body in space. In enduring the extreme conditions, immense physical abilities are developed: after seven hours the ice cube has melted sufficiently to free the performer. After twenty hours, the ice has completely melted and there are no relicts from the action.
FCG: New Visions | 35
EverySurfacelaughing,
every sensation changes the aura of one person. Individual mimes sign parts of a multifaceted expression for your counterpart. The entire image defines the individual. The emotion has a common social meaning, which is immediately and intuitively apparent. It is simultaneously determined by subjective moves. Each single frame is temporary, ephemeral, and difficult to permeate. It disappears and is replaced or it is only interpreted in ambivalence. In the work "surface" the uniquely sensation is captured. The image signs a moment of expression. Temporality is reflected in the pictures surface. What does our face reflect about ourselves? Which sensation is visually shown? Can the emotion be directly recognizable in all movements? Or is the face motionless, without any statement about itself? Self-controls and presentation are daily influencing the visual appearance. The individual image of ourselfs changes our face along general lines, whereas emotions are changing the image to the smallest detail every day. The work analyzes the face based on a temporary record of the human being. Mimes are captured as well as the character of the individual. Lines around movements and facial characteristics mark the subject. Distances between lines and facial edge points construct values, which are in relation to emotions. The subject is categorized in evaluations. The value and its numerical designation provide information about the degree of mimic distortion and individual cha Finally,racteristics.theinterpretation of the participant requires to understand the subjective evaluation. Temporary changes are related to the situation and the social environment. The variation in action as well as their interpretation provide a great field of knowledge about judgement in society. The partcipant enters the space of interaction. If she*he decides to participate the action, she*he must sign a privacy form. The face is going to be traced, detected and photographed. Distances between facial edge points are messured and classified into a system of characteristics. The new distances are relating to normal values of previous participants. Finally the participant is rated according to the the big five personality model from Mc Crae and Costa. Contentwise, the characteristics refer apart from mimical interpretations to proverbs from the past, to stereotypes from the present time and to aesthetic analysis from the area of fashion and marketing. During the evaluation participants are acting in different ways, which relate to their personalities. Therefore, each process of action is unique.
36 | FCG: New Visions
FCG: New Visions | 37
Cell phone Participantsdrawingsfromall over the world have the possibility to call a designated cell phone. The called cell phone lies on a frame for conducting vibrations. Due to the vibration during the call, a unique random pattern is created, which is drawn on photographic paper in a line of light. The amplified movements of the cellphone light are captured analogously and result in an individual symbol. It references the call and simultaneously visualizes it in an image. The image is the trace of the partly-technoid and ordinary action
Email: Instagram:Telephone:elisapieri@gmail.com+35799458785enlefko
My works contain recurrent symbols that resemble the primitive, linear drawings found in palaeolithic caves: ladders, antennae, wheels and odd quadrupeds; organic figures, peculiar letters of an unknown scripture or shapes reminiscent of numeric symbols. Combined, all this imbues the first reading of my work with a naive, almost childlike character in marked contrast to signs of a violent use of colours and materials. Even though the final outcome looks like a swift, random arrangement of expressionist elements on a painting surface, in truth I am very strict with the components of my works. My quest for balance, harmony, symmetry or motion makes the whole process last longer than at first sight discernible. Over the last few years I have come to perceive the different elements that make up my works as functional parts of a bigger mechanism that interact to produce a form of energy. These parts include linear symbols and shapes, but also colors, brushstrokes, textures and the rest of the adhered elements. The painting's dimensions, and even the spectator's gaze, are also functional parts of this mechanism.
The work of art is not completed upon the painting surface. Fine branches at the end of the visual stimuli probe deep into the spectators' consciousness, emotionally engaging them in a perpetual process of multiple receptions of each different artwork.
Moving City Mixed media on wood 125 x 125 cm 2022
38 | FCG: New Visions Eliza Pieri Born in Belgrade, Serbia, in1972. Studied Painting in Italy at the «Pietro Vannucci» Academy of Fine Arts, Perugia, from where she graduated in 1995. Her primary media is painting, using a wide variety of techniques and materials. She also works with video art and short experimental films. She participated in various group exhibitions in Cyprus and abroad. Lives in Nicosia where she works as an artist and runs her own art classes at her private studio.
My paintings are either small or big tesserae from an immense mosaic that depicts an entire invisible world that only I can see. It is revealed to me bit by bit as I draw, fully aware of the fact that I am striving to build an image that I know will never be complete. To me, this does not equal a vain task; instead, it represents awareness of the responsibility that every artist bears for their mission.
IStatement:practicemy art as a process of automatically recording sensory responses without attempting to rationalize the visual meaning. Keeping well away from pictorial representations, I focus instead on images built with colours and motion drawing. Even when I'm using fragments from randomly found images, I do so in order to visually enhance the composition rather than incorporate them in a narrative theme of my work. I usually employ mixed media and keep reworking the surface by adding layers of paint or joined paper scraps. I am very much inte rested in exploring different textures and have no reservations about scraping my paintings with tools, writing over fresh paint with pencil or altogether removing every element before the painting dries and starting from scratch.
FCG: New Visions | 39 Fish Mixed media on wood 70 x 50cm2022
40 | FCG: New Visions MixedUnemployedmedia on wood 80 x 60 cm 2022
FCG: New Visions | 41
Study 3 Grey Mixed media on wood 90 x 602022cm
Cristian Diez-Sanchez
The leitmotif of the work realized in these years focuses on the human figure, the way in which he expresses himself, his movements and how he relates to his environment, often related to the confrontation between him and his environment that always leads to violence, the repression and the cruelty of power against the people that is repeated cyclically in history. Isolation and loneliness, lack of dialogue and misunderstanding are recurring themes expressed in the work that goes in series that follow one another or are intertwined in time.
The idea of going to the base removing everything that could be superfluous, a constant in the work, has appeared even more clearly in recent series where the only material used is bare cardboard. And Rationalism because nothing that has been done has been improvised; the different stages have been developed to build on them the following steps. They are all steps that need constant planning and organization without leaving anything to chance. As for the work done, the theme varies constantly since it is a way of constantly forcing the imagination, with the need to have several projects in a row waiting to be developed when one is finished without interruption; or even develop two or three different projects at the same time to keep your mind always working. Where the passion is, there must be work and more work. Within all these variables, the human figure is the center of the work and the human being and his ability or not to relate to others is the constant that relates everything. Expressed in different states of abstraction and in different ways of relating to others, solitude being a constant that ends up giving order to the entire work. The work that continued to move between the values of decomposition, loneliness and movement in a moment of personal confinement, prior to the pandemic, opens as a reaction against Covid to new personal ideas and a different vision of work adding values of movement and exercise, to fight against the stagnation in the pandemic. Dancing and training become healing motifs. Exercise of cleansing of mind and body and of movement, related to music, functioning as a personal instrument and also as a way of relating to others by sharing experiences
42 | FCG: New Visions
The concept of Arte Povera is linked to the work carried out with the use of basic materials and tools and related also to the concept of Minimalism simplifying the figure to its limits and achieving a strong expression with minimal elements. Even though the work is completely defined by these two concepts, two others can be added; Brutalism through the expressive violence that the works, reduced to their minimum expression, manage to extract from the creative base within. The simpler the figure, the cruder the reality it expres ses, without traps or veils.
Email: Instagram:hopcris@gmail.comcristiandiez_sculptor sculptures_cristiandiez Facebook: cristian.diez.906 Confussion 61, In the Street (from the Series "Confussion") Plywood, Chalk paint 50x49x14 cm 2022
MENINA VI (prototype) (from the Series "The Meninas") Cardboard, recycle cardboard packaging, acrylic paint, 95x51x14argile.cm2017
FCG: New Visions | 43
44 | FCG: New Visions Pause 2_1 (from the Series "Al Tramonto") Corten Steel, Weathering 200x50x40 cm 2022
FCG: New Visions | 45 Confussion 8 1st Edition (from the Series "Confussion" ) Corten Steel,51x15x13Weathering.cm2021
2007 - graduated from the BSPU named after M.Tank, Faculty of Folk Culture. Specialty: artist, teacher-artist.
2012 - graduated from the course: Furniture Design 2012-2015 - Head of sales in the furniture industry. 2016-2018- designer of Scavolini salon furniture 2019 - 2020 - interior decorator designer Malevich 2020 - return to painting. 2022 - participation in the exhibition dedicated to the lithography of Marc Chagall "La Bible" anastasiyabulle Email: trusxas@mail.ru
Instagram:
Inland waters Acrilic on canvas 90x70 cm 2022
2008 - graduated from the course: Graphic Design. 2008-2012 - graphic designer of the Reiplats company. 2010-2012 - organizer of the art events "Suitcase" within the city galleries.
Anastasiya Bulye
2002 - graduated from the art school in the class of academic painting and drawing, art history.
46 | FCG: New Visions
FCG: New Visions | 47 If your feeling had a color, what would it be? Acrilic on70x70canvascm2022
48 | FCG: New Visions Awakening hope Acrilic on canvas 202270x90cm
FCG: New Visions | 49 Creativity in the Void Acrilic on80x60cmcanvas2022
Clara (Eunkoung) Kim
Pattern No.1 Wax and Oil on Wood Panel Triptych 1 of 12"x 9" and 2 of 12"x 10" 2021
She is a Toronto-based artist, born and raised in Seoul, Korea, and graduated as a music major. Later accepted to the conserva tory of music in L'Aquila Italy. But in order to make her long-hidden dream of art come true, she graduated from the bachelor of fine arts program at OCAD U in Toronto Canada. Her inspiration for her work is based on the emotional and psychological sufferings of women, the initial blow, the shattering of the known life, but also the resilience to place the pieces back together in a new way. Her medium of expression uses common materials such as paper and nails but focuses on arranging the pieces to create different colors or shadows depending on lighting, by tearing or crushing the materials to create individual shapes. . With this archetype, she creates collages and paintings in an abstract and conceptual manner, expressing the tender femininity which transforms trauma or pain into beauty and strength.
Instagram: clarettissima Website: clarakimgallery.com Pattern No.1 Artist Statement One: One is lonely. You just find others. We have no choice but to lean on each other and live together. Expressing the individual in the imperfect white surface left by the softness of wax and the black marks from black oil paint.
50 | FCG: New Visions
No Title Series Artist Statement:
No Title series represents a symbolic recreation of women's transformation through life with paper. This piece attempts to reflect the sadness, pain, and wounds of women in a softer and more feminine manner. The creases and rumples of the final result expressed in three-dimensional formats result in beautiful shadows when exposed to light, a testimony of past experiences' capacity to result in excellent outcomes
No Title Paper and Acrylic on Wood40"Panelx30"2021
FCG: New Visions | 51
52 | FCG: New Visions No Title No.2 Mixed Media on Wood Panel Diptych 2 of 24" x 30" 2022
FCG: New Visions | 53 No Title No.3 Mixed Media on Wood24"xPanel30"2022
Instagram: teclannn teclanegro@gmail.com
Teclan
Email:
54 | FCG: New Visions 202263x40PhotographyHoneycm
Born in Milan in 1998. My first approach to the vast possibilities of media through which I could express myself were discovered during my high school years. There, I found interest in the themes of decay, the putrid and what is commonly thrown away. To eternalize this garbage, I started creating sculptures with it, using gelatin to hold everything together and then I scanned them; a method l still use today. I then graduated from the English school in Milan in 2017, which gave the opportunity to do my first exhibition and I also mana ged to sell my first art work, it consisted of a photograph of my bedroom's bin trash embedded in jelly. During my studies at the New Academy of Fine Arts in Milan (2017-2020), I worked around the theme of the religious icon, in particular, I studied the history of the Virgin Mary and I created works in which the holy icon was combined with gelatin. After graduation I participated in two residences, one in the Canary Islands and one in Amsterdam; the final works were always with a religious theme. In 2021 I began to be interested in the theme of the archive, and I started a series called "Biographies", images of personal archive objects of a specific person, embed ded in a circular gelatin sculpture, therefore a vision of their being; thus being a unique biography. In early 2022, I focused my work on creating abstract images, hence scanning gelatin and other materials and taking photographs of the details that were most meaningful to me. This new phase marked a momentary (perhaps) departure from the philosophical, anthropological and social themes to which I have always been attracted to.
TodayStatement:Iwant to create something in which to get lost and get found the same time, through subjugation to uncontrollable aesthetics. The scans of materials such as gelatin, metals, plastics and various fluids allow the vision of the smallest details, present in every part of the work. The waves, the folds, the bubbles, which are repeated individually and in groups, and the vision of all these together allow you to get lost in a sort of meditation, which is nothing more than a continuous search for details.
FCG: New Visions | 55 March Photography4th63x40cm2022
56 | FCG: New Visions 202263x40PhotographyMedusacm
FCG: New Visions | 57 Rotten PhotographyIV63x40cm2022
58 | FCG: New Visions Ghost Ship from Lindblas Cove
In the age of Corona virus and global warning, I am expressing and recognizing the fragility of life on this planet.
Website: Email:Instagram:stevejensenstudios.comstevejensen55jensenstudios@aol.com
Steve Jensen
ForStatement:me,the boats are meant to symbolize a voyage or journey, perhaps it is the voyage to the other side or a journey into the unknown. My parents are from Norway. My father was a fisherman. My grandfather was a fisherman. My other grandfather was a boat builder. Upon the death of both of my parents, I made a boat for their ashes and buried them at sea. Something like a contemporary Viking funeral. I also made a boat for my best friend and former partner of 24 years, again burying them at sea. These deaths were extremely tragic. My best friend died of AIDS, my father committed suicide, my mother fell apart emotionally and physically and my former partner from alcoholism. What I am attempting to do is to take something that was personally painful and turn it into something beautiful.
Steve Jensen has been a working artist for over 40 years. His current body of work, "VOYAGER" are boats that are meant to symboli ze a voyage or journey, perhaps it is the voyage to the other side, or the journey into the unknown. Steve comes from a long tradition of Scandinavian fisherman and boat builders. He grew up on and around his father and grandfather's fishing boats in the Seattle shipyards. From 2015 through 2022, Steve has solo exhibited at "SAM" Gallery, at the Seattle Art Museum, The Bainbridge Island Museum of Art, Foss Seaport Museum, Tacoma, WA, Vashon Center for the Arts, Northwind Arts Center, Port Townsend, WA, Schack Art Center, Everett, WA, San Juan Island Museum of Art, Friday Harbor, WA, and Gallery at the Park, Richland, WA. This work was featured by Channel 9 "Art as Voyage" Steve Jensen's Nordic Heritage.
FCG: New Visions | 59 Frozen Skull
Life Raft for the Orca
60 | FCG: New Visions
FCG: New Visions | 61 Viking Ship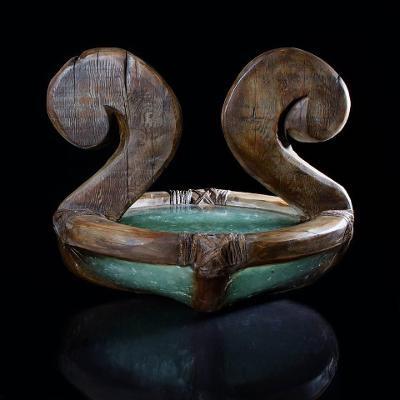 62 | FCG: New Visions
What is new in our world, whose events repeat themselves cyclically?If we live with open eyes and mind, we perceive the world and the events around us.Human-man is a visionary and unstoppable progress. Maybe faster today than ever before. I am worried about information about the advancement of artificial ion intelligence. About the emergence of its consciousness and the desire to have children. Family. Artificial intelligence was created by man...it acquires consciousness.It paints, ....thinks? Feels? I am inspired by the rioter Carravagio. His technique of dark light expresses my fears. But I am inspired by his work Medusa.The image on the monitor, when the TV is not broadcasting, the monoscope is the source of the subject. The jellyfish is reflected in it. Her image is disturbed as if by a bad signal and a broken image.I had to respond to my fears about artificial intelligence. Not the dangerous game of engineers and scientists.The mythical Medusa is a lesson. Even now, TV screens and computer monitors, or mobile phone displays - everything behaves like the head of a Medusa. People are as if stoned and hypnotized under the influence of...There is no need to explain. We need to read history and learn from it. We need to focus on ethics and morality and stop unethical and immoral progress.I found this definition on the internet. What does Medusa symbolize?
Radoslava Hrabovská is a Slovak artist. Life is a source of inspiration for her. Through her artwork she tells art stories using different design techniques and materials. She experiments through drawing, transferring the graph onto glass and processing tissue in the oven. Transfers of images are executed from 2D to 3D objects. Solo and group exhibitions have been held in Europe, America and Asia, and the artist has participated in residences in textiles, graphics and painting.
The most common interpretation of Medusa suggests she is an apotropaic symbol used to protect from and ward off the negative, much like the modern evil eye. She represents a dangerous threat meant to deter other dangerous threats, an image of evil to repel evil. ...in my opinion, artificial intelligence is a threat. The vision of a genius brain can turn out not only positively. Be careful.
Instagram: radkamoncekovahrabovska Email: radoslava.hrabovska@gmail.com Radoslava Hrabovská Beware of artificial intelligence 202250x50Acrylic
NewStatement:visions.
FCG: New Visions | 63 Touch30x40Linocutwith...IIcm2022
64 | FCG: New Visions Not Alone Anymore 202130x40Linocutcm
FCG: New Visions | 65 60x80DrawingBikecm2022
DimitraStatement:Gounari presents a series of photographic landscapes embodying multi-layered perspectives through her use of mirrors. By using mirrors, she invites viewers into the artist's world and makes them feel part of her experience. The body and the landscape are presented in multiple deconstructions in a confusion of reflections in order to highlight a new multi-layered interpretation of rea lity, where the different parts recreate our relationships with the 'other' and the natural landscape. Such an artistic approach to the landscape reveals a new way of seeing our environment. It is like borrowing a new 'mirror' each time so that the viewers approach the same landscape in a different way, mediated by their experiences.
Dimitra Gounari is a lens-based practitioner working and living in Athens, Greece. She is a PhD candidate at the Department of Sound and Image of the Ionian Universityin Greece, she holds a Master of Arts in Image and Communication from Goldsmiths College-University London U.K., with a scholarship from the Greek State Scholarship Foundation and is a graduate of the Depart ment of Photography of the Athens University of Applied Sciences. She has taught at the Department of Photography and Audio visual Arts of the University of West Attica in Greece, the Visual Arts course at the IB Diploma of Geitona School and she is an IB DP Visual Arts examiner. She has been involved with creative photography and has worked on educational research projects about audiovisual material management, creativity, collective artistic and scientific action. Her artistic work has received distinctions and awards from institutions and photography competitions such as the Ministry of Cultu re of the French Community of Belgium etc. At the same time, it has been exhibited in art spaces in Greece, Belgium, Switzerland and the United Kingdom, while it has been published in catalogs in the Greek and international press. Part of her artistic work can be found in private and public collections.
Dimitra Gounari states: "Mirrors, which complete the landscape, act to break down our fixed perceptions of our world, while at the same time they offer new dynamics for a new repositioning of human coexistence with the natural landscape. The mirror represents fragility and the exploration of 'self' which is always a starting point for me".
200440x60DigitalUntitledInstagram:Linkedin:gounari.dimitra@gmail.comdimitragounaridimitragounariPhotographcm
66 | FCG: New Visions
Dimitra Gounari
Email:
FCG: New Visions | 67 Untitled Digital Photograph40x60cm2022
68 | FCG: New Visions 202240x60DigitalUntitledPhotographcm
FCG: New Visions | 69 Untitled Digital Photograph40x60cm2022
ForStatement:anartist like Barbagelata, art is an open dialogue with the world, where the other side of the mirror reflects a sphere of experien ces in which the physical and the abstract coexist harmoniously. It is as if a unique environment of perceptions emerged, mixing the real and the oniric, the lived and the imagined - an intersection between the palpable and the invented, where we perceive the succes sion of life's many layers. Website: Email:Instagram:helenabarbagelata.pb.stylehelenabarbagelatahelenabarbagelata@mail.com
70 | FCG: New Visions Helena Barbagelata Helena Barbagelata (1991). Model, multidisciplinary artist, researcher and activist. PhD in Philosophy from the University of Salaman ca. She has received several artistic, literary and scientific awards from the Onassis Foundation, Ministry of Culture and Sports of the Greek Government, Università di Trieste, Universitat de València, Universitat de Barcelona, among others. Member of the Society of Jewish Artists (SoJa), the Israeli Artist Network/America-Israel Cultural Foundation, and the Organization for the Democratization of the Visual Arts (OBDK). Her works combine painting, drawing, photography, sculpture, video, sound art and printmaking. She held numerous solo and group exhibitions in Europe, Israel, South America, Australia and the United States. Her most recent projects include: "ZENAM", Passover Exhibition 2021, Israeli Art Market, March-June, 2021. ART/HELP. Expanding the Limits of the Visible", curated by Alexandra Danilova, Saint Petersburg Repin Academy of Fine Arts and the HSE Art and Design School. Muzeon Art Center, Moscow, Russia, 2021, "World of Estrangement", Supersonic, curated by Dasha Birukova, with the support of Atelier Concorde, Lisbon City Council, "COLIBRÍ", Totomej Sanili (ed.), Fondo de Conservación el Triunfo (FONCET), Artac (International Association of Mexican Artists with the support of UNESCO). Museo Zacatlán (MUZA), Mexico City, Mexico, 2021, "SPLIT OPEN – IDENTITY, CONNECTIVITY & COMMUNITY", Kulturschöpfer, Green Hill Gallery, Berlin, Germany, 2021, "Project Lazaretta: Digital Stories from the Old and New World" , curated by Filia Milidaki, Eyes Walk Festival, CulturePolis, supported by the Ministry of Culture and Sport of the Greek Government, 2021.
The Movable Limit I Acrylic on canvas 120 x 140 cm 2021
FCG: New Visions | 71 The Movable Limit II Acrylic on canvas 120 x 1402021cm
72 | FCG: New Visions The Movable Limit III Acrylic on canvas 120 x 140 cm 2021
FCG: New Visions | 73 The Movable Limit IV Acrylic on canvas 120 x 1402021cm
74 | FCG: New Visions
Gretel aims to regain ownership of the archetypal nude, celebrating the female body & experience in its most natural form -unfiltered and honest- something that she feels is exceedingly important in today's social media-crazed society. Her work is ultimately a celebra tion; an instrument to empower and encourage a healthy relationship between our minds and our bodies.
Website: Email:Instagram:gretelwarner.comgretelwarnergretelwarner1@outlook.com
Through her practice Gretel escapes the fast-paced and demanding world in which she finds herself. Gretel uses movement and colour to explore the fluidity of identity and the fluctuation of the human body. It is integral to Gretel to create work that honestly en compasses the experiences of being a young woman today, but just as importantly, to create a space of escapism and a place where thew viewers, and herself, are able to transcend the potential limitations of their physical body and appearance
Gretel Warner Don't Be a Stranger Acrylic and oil paint 101x80 cm 2021
Artist Gretel Warner paints the female nude through a saturated and dream-like lens.
FCG: New Visions | 75 Putting More Than Her Cards on the Table Acrylic, oil and spray 120x100paintcm2022
76 | FCG: New Visions In Her AcrylicThrownandspray paint 120x100 cm 2022
FCG: New Visions | 77 The Pursuit of Equilibrium Acrylic paint, oil paint and spray 150x100paintcm2022
78 | FCG: New Visions K.P. Nordmann
Inspired by the Korean-Japanese art movement "Mono-Ha" and the Italian movement "Arte Povera" K.P. Nordmann began with the implementing of his own ideas and philosophies. His images and paintings are a calculated play with forms and structures. On the one hand, we perceive shapes and outlines, on the other hand, every shape also has a surface. It is in this connection that our perception, aesthetics and emotion arise. We are in the realm of metaphysics and meta-levels. An important role is played by the chemical reaction of substances and materials to each other, which are placed in a new context.
How do colors and substrates react to liquids such as water or acids? What surfaces and structures are created, what visual language emerges?
Structures and forms are taken from the real everyday environment and get a new meaning through the transformation into a different context. We see images that describe a spiritual state. Through the reduction in the visual language in combination with surfaces and their impression they expand the consciousness into the infinite, comparable to a view of the universe. A pulsating field of tension between surfaces and graphic elements. The works invite interpretation. If one lets oneself in for it, one experiences the emergence of new fields of force between the lines, structures and surfaces. The image as a concretely experienceable object, the effect of the image as a game with metaphysics.
Klaus-Peter Nordmann, born 1957 in Ramstein, Germany. From 1978 to 1982 he studied communication design at the University of Applied Sciences in Wiesbaden, Germany. His main subjects were graphic design and photography. Diploma in Design. For more than two decades K.P. Nordmann worked as a freelance photo designer in the advertising- and fashion industry now. He was involved in the development and realization of photographic image concepts. These were used extensively to promote the image of leading international brands and companies. 2009 end of a successful career as a photographer and art director. Since 2015, K.P. has been exploring other, new art concepts with his background as a graphic designer and photographer.
Website: 202180x60UVTheEmail:Instagram:.kpnordmann.artk.p.nordmannmail@kpnordmann.deGardensofKatsuraprint,acryliconaluminiumcm
FCG: New Visions | 79 Trust Painting, acrylic on aluminium30x30cm2019
80 | FCG: New Visions Between nothing and everything Giclée pigment print on handmade paper 60x45 cm 2020
FCG: New Visions | 81 Days of isolation UV print, acrylic on aluminium45x80cm2018
82 | FCG: New Visions Eun Gyeong (Anais) Kim Graphic designer and part artist graduated from London Website: Anaiskimeungyeong.com Email: Instagram:e.factory7575@gmail.comvieagramUntitledInteraction,print, typography 594 x 841 mm For more info: vimeo.com/705848294
FCG: New Visions | 83 Fläche Interaction, video, typography52seconds For more info: vimeo.com/700822442
84 | FCG: New Visions HAIES 26Installation2022x26x100 cm For2022more info: https://vimeo.com/705848294
FCG: New Visions | 85 AcrylicInstallationUntitledmetal2022
86 | FCG: New Visions
canvas 60" x 60" 2022
Ashlee René Thompson is a contemporary visual artist from Montgomery, Alabama. She recently received her MFA and Certificate in Museum Studies from The University of Alabama. In prior academia, she earned her MLA degree and BA in Fine Art with a minor in Art History from Auburn University at Montgomery. Thompson is an adjunct instructor at The University of Alabama as well as Auburn University at Montgomery. Her artworks have been juried into art exhibitions both nationally and internationally. Thompson currently lives and works in Tuscaloosa, AL.
ArtisticStatement:expression and exploration with materials drives Thompson's work and provides a means and context for introspection. Con cepts associated with memory and interpersonal relationships, as well as the connection between the mind and body inspire her current practices. The paintings stem from honest considerations of her role in society as a Southern woman who is challenging generational cycles. Thompson explores femininity, societal pressures, cultural norms, and my subjective experiences with barriers and judgments. Recent artworks juxtapose improvisation and intentionality as she continuously reacts and responds to the painted surface. Impulsive mark-making paired with chaotic and ordered gestures reflect irrational and calculated thoughts. Painting on an unstretched canvas grants Thompson the agency to work in and around her composition; sewing and gluing collaged elements allows Thompson to incorporate fragments of her past into her present. Thompson appreciates the freedom in making the work as well as coming to terms with her innermost thoughts and feelings. Website: Email:Instagram:artbyarthompson.comartbyarthompsonrene.thompson1989@gmail.comPullAcrylic,oilpastel,andcollageon
Ashlee René Thompson
FCG: New Visions | 87 Removing Toxicity Acrylic, oil pastel, and collage on48"canvasx36"2022
88 | FCG: New Visions Damn AcrylicEdgesandcollage on canvas 48" x 36" 2021
FCG: New Visions | 89 Woman's Flesh Acrylic, oil pastel, collage, and graphite on48"canvasx36"2021
90 | FCG: New Visions The Carnage Diptych Acrylic, spray, photo on canvas 81 x 74 x 2 cm 2022 Owen Brown
Owen Brown was born in Chicago, trained as a classical musician, took his first art class at 23, and much of what he's wanted to do since then has been paint. Brown holds degrees from Yale College and the University of Chicago, and was a degree student at California College of the Arts. He lived for over 30 years in San Francisco, where he was represented by Meridian Gallery. He now lives in Minneapolis. Brown has exhibited in juried shows and solo exhibits throughout the United States, Europe and Canada. His works have been acquired by the Fine Arts Museums of San Francisco, the Minnesota Orchestra, the Nature Conservancy, the Minnesota Historical Society, the University of Chicago and the Weisman Museum of Minneapolis, and can be found in collections in this country, Europe, and Asia. Brown has had residencies at Air Le Parc in France, and at the Land Institute in Kansas, where he crea ted his first installation: "Units of Measure." He is represented nationally by Holly Hunt and Gallery 13, he shows regionally at Veronique Wantz and Grand Hand, and has collaborated with artists of other disciplines, such as Emily Wolahan and Anat Shinar.
ThinkingStatement:is more interesting than knowing, but less interesting than looking. The source of my practice is the world with all its beauty and confusion – nature, so alien and alluring, the social, equally baffling but no less wonderful, and the uncomfortable friction between that, and our internal interpretations. Life eludes easy understanding or conclusion: what are we seeing when we really think about it and how did we miss it before?
Website: Email:Instagram:owenbrownartist.comowen_artistowenbrownartist@gmail.com
FCG: New Visions | 91 Four views of a girder Acrylic, spray, on coldpress paper 81 x 1472022cm
92 | FCG: New Visions The 2021132Acrylicintubatedoncanvasx112cm
FCG: New Visions | 93 Minneapolis in winter Acrylic on canvas 46 x 562020cm
| 01:27 2020
Website: lexygiuscalipart.com/ Email: Single-channelWishInstagram:lexygius.calip8@gmail.comlexygiusYouCouldStayABitLongervideoperformance
Lexygius Sanchez Calip. A Philippine born American art practitioner and scholar. He is an Anne Bremer Memorial Award recipient for Outstanding Achievement in the Arts, and the Excellence in Scholarship Master of Arts Thesis Award at the San Francisco Art Institute. He is a Graduate Fellow for the Headlands center for the Arts, a Freeman Foundation Fellow for the Vermont Studio Center in Johnson VT, and an awardee for the Murphy Cadogan Art Awards in San Francisco. His works has been exhibited nationally and internationally, such as the Con-temporary Art Observatorium in Lavagna, and the Anima Mundi International in Venice, Italy; the deYoung Museum, the Walter and McBean Galleries, the Schafer Gallery at the Fort Mason Cultural Center, and SOMArts in San Francisco California; The Brickton Art Center, and The Hairpin Art Center in Chicago, Illinois; the Bliss on Bliss Art Projects in New York, NY and Bogota, Colombia; the UAMO Festival in Munich, Germany; the EWNS Art Project in Paris, France; the Metropolitan Museum, the Jorge P. Vargas Museum, the Ateneo Museum of Modern Art, the GSIS Museum of Art, and the Cultural Center of the Philippines in Manila among others. He received his Bachelor of Fine Arts degree in New Genres, Master of Fine Arts degree in Studio Art, and the Master of Arts degree in History and Theory of Contemporary Art at the San Francisco Art Institute. He is a Lecturer for the Art and Art History Department at San Jose State University, and a current Artist in Resident at the Headlands Center for the Arts in Sausalito CA. He currently lives in San Francisco.
94 | FCG: New Visions Lexygius Sanchez Calip
MyStatement:works,I regard as gifts; presents that underscore a reality—uncertainty, impermanence, and constant change. They hold a fragility that is mine, a fragility that makes me feel worthy and unworthy at the same time. They are a subtle yet vibrant recollections that sheen momentary chronicles that eventually wither; delicate expressions of the absences and presences that I endure and overcome. They speak of my liminal affairs with time, space, and place; romances that occur within thresholds that briefly open for me to pass through. They tell my reminiscences and experiences that remain intangible and profound. My work are lexes of delicate memories that are always ever fragile, for once it has gone, like life, it never comes back the same as it was.
FCG: New Visions | 95 Minding the Gap Single-channel video performance | 00:342021
96 | FCG: New Visions Me, Me, 2021SizeSite-specificMe…Installation/InterventionVariable
FCG: New Visions | 97 It Shall Loosen As You Nudge Site-specific Installation/InterventionSizeVariable2021
Dancer Traditionaljoy leadlight - stainglass 120 x 80 cm 2021
Working with stainglass allows me to create my artwork (replicas of my oil paintings - all original one offs pieces) using the colours not only to enhance the meaning of the artwork but to allow colour and texture to cascade into a space with the ever changing light of the day, the art stain glass piece transmits different feelings.
98 | FCG: New Visions Maria Goretti Bello Serans
Email: Instagram:Facebook:Website:belloamigo@gmail.comarlequinadiseño.comiofusionarlequinadesign/
As an artist I have worked across many mediums over the last 40 years, from furniture design, video installations, theatrical dance performances, painting, and now stainglass. I work with colour and light to create a sensorial experience, using colour therapy to trigger the senses.
FCG: New Visions | 99 Dancer spirit Traditional leadlight120stainglassx80cm2020
100 | FCG: New Visions Mi Traditionaljuana leadlight - stainglass 100 x 80 cm 2021
FCG: New Visions | 101 Owl wisdom Traditional leadlight100stainglassx80cm2020
I try to avoid explicitness and clarity..so it remains open to what feelings or memories it evokes in others and everything is allowed to be. So in my series "Experimental Landscapes" for example I avoid "clear" titles. I use consecutive numbers, numbers, let ters, combinations and it resembles a "Bureaucratic Act" for order. In my work I see an interplay of all observations, experiences, which I make in my environment and people, which drives me and inspires. The sculptor Isamu Noguchi once said "We are a landscape of all we have seen". I think this quote hits the core. Whereby I think that all senses play a role. In 2020, I started my series "Experimental Landscapes" during the pandemic. So far, more than 100 works on paper on Yupo in various formats have been created. My "Landscapes" consist of diverse color carpets and different lines. A play is created between expansion and delimitation in a particular environment. Form and color evoke memories and thus create a connection to experienced moods and feelings. They are a tribute to our blue planet, its uniqueness and us humans. We can remember and thus create a connection to ourselves and our surroundings. A small seed that can help us open our eyes. In Greek mythology, Mnemosine is the goddess who reminds us. Memory is a source for all that may come, we draw from the past the ideas and visions for what is to come."
Website: Facebook:Instagram:stefanieschairer.comstefanieschairerstefanie.schairer
Stefanie Schairer (1965) mostly lives and works in in Berlin, Germany. In recent years, she has often collaborates with artists form South Korea and NYC, USA. Collaborations with other artists have been on the same themes but in different places. She works mainly in painting, video, installation and interactive/immersive happenings/performances in public spaces. Her background is in art therapy (MA) and social work. In her abstract, playful paintings she uses color as an initial starting point. Her observations and explorations of the relationships and interactions of the different materials and the relationships between people are the source for her creativity work. She uses mixed media and paint and experiments with different shapes, forms and textures in her work.
InStatement:allmywork
Stefanie Schairer
102 | FCG: New Visions Experimental Landscape z27 Acrylic on Yupo paper translucent DINA 3 2022
FCG: New Visions | 103 Experimental Landscape z24 Acrylic on Yupo paper translucentDINA32022
104 | FCG: New Visions Experimental Landscape z35 Acrylic on Yupo paper translucent DINA 3 2022
FCG: New Visions | 105 Experimental Landscape z37 Acrylic on Yupo paper translucentDINA32022
Site: Telegram:Instagram:Email:www.katerinaorel.comkaterina.orel@outlook.com@katerina_orel@KaterinaOrelFearOiloncanvas60x50cm2022
106 |
Katerina Orel Born in 1989, graduated "History of Art" from St. Petersburg University of Humanities and Social Sciences.
My work is intuitive and sensuous, balanced between expressivity and clarity of forms. Visual erudition helps me feel materials, pick a technique and experiment. I love to work with colors and play with textures. Diversity in my approach and in media use are explained by the fact that the idea is the primary thing: it defines a form and direct a visual language in every work series. I am exploring human emotional world, female body and personality using myself as a basis and depicting various self-portraits with full range of feelings. My second love is architecture and city image - with focus on geometric shapes, perspective, typically free of people as the space is open to the viewer. Memories and feelings captured during travelling along 53 countries and over 250 cities are the ones to be depicted: not the places I've visited but my reflection of it. My special value in art is to spread the feeling or emotion I experienced with the viewers, make them feel what I felt, make them fall in love with what I did.
FCG: New Visions
Shows in 2022 include: "Naked Nature", Nikolskaya Gallery, London; "Naked Nature", G Gallery, Samara; "Changes", Pop Up Museum, Moscow; "PASA" Festival, Seoul, South Korea; "Peace to the body", YY Modern Art Fond, Moscow; "Our life during the Pandemic", Young Artists, Orenburg; "Moscow and its people", Union of Artists, Moscow.
FCG: New Visions | 107 I have a voice Acrylic on70x50canvascm2021
108 | FCG: New Visions AcrylicPears on canvas 60x70 cm 2020
FCG: New Visions | 109 Wind of change Oil on60x40canvascm2022
110 | FCG: New Visions
Email:
Instagram:eworrkk@gmail.comnobodyknowzzzzzSkyDigitalart,photo print 21x 29,7 cm 2013
Elena's paintings were bought by a delegation from the Japanese University of Arts, and in private collections in Russia
Elena Bondarenco
Elena Bondarenko is a contemporary art artist and abstractionist. Elena has Ukrainian roots, based in Russia at the moment, the Far East. She studied at the academic art school in Russia in Birobidzhan, and also studied at the Art University in Khabarovsk. Her work is mostly done in mixed technique, experimenting with paint and materials. Elena has found her own recognizable style. The images can be expressive but neat, they delicately invite the viewer to step beyond the usual perception. Creativity for Elena is love, life. These messages are embedded in each picture, it is her way of offering the viewer her vision of reality, her signs. The paintings are born in a moment of inspiration in a natural way, artistic skills, are only a tool to convey a tran scendent state. An analysis of her paintings has many references in various philosophical teachings Elena's paintings were at an international exhibition at the Russian Far East Museum. Elena's first solo exhibition was held in Birobidzhan at the State Museum of Modern Art, the second was in the House of Creative Intelligentsia in Khabarovsk, and the third in Birobidzhan, in a private gallery.
FCG: New Visions | 111 Two men Oil, x-ray photo, mixed technique 24,2 x 30,32011cm
112 | FCG: New Visions Plato's cave Digital art photo print 21x 29,7 cm 2013
FCG: New Visions | 113 True sky Digital art photo print 21x 29,72012cm
Instagram:
PAINTING 348 Digital Painting Unique Digital Print on German Etching Fine Art Paper 116 x 162 cm ( Framed ) 2022
114 | FCG: New Visions
I am strongly influenced by atmosphere and ambience. My penchant for travel, unleashed a passion for colour and shape, line and form, structure and experimentation. I initially recorded my visual contemplations using traditional tools, but my technique has evol ved to a more technologically based mode of producing work. Movement has always been an inherent part of my practice, allowing me to easily transition to a new chosen medium. My digital canvas is free of the encumberments of tradition that are associated with the mores of painting. My process consists of translating thoughts into documents. It is based on seeing beyond what is obvious, extracting elements from recorded spanning from the mun dane to the unexpected. My work is non-representational, possessing an interpretive, emotive and expressive voice. The depicted forms are softly contoured and refined, driven by intuition. Lines are drawn to create contrast, dynamism and energy michaeljstokely Email: michaeljstokely@gmail.com
Michael J Stokely
FCG: New Visions | 115 PAINTING 352 Digital Painting Unique Digital Print on German Etching Fine Art Paper 116 x 162 cm ( Framed2022)
116 | FCG: New Visions PAINTING 349 Digital Painting Unique Digital Print on German Etching Fine Art Paper 116 x 162 cm ( Framed ) 2022
FCG: New Visions | 117 PAINTING 351 Digital Painting Unique Digital Print on German Etching Fine Art Paper 116 x 162 cm ( Framed2022)
Website: projekt-visuell.com Email: wagnerpost@online.deBeweglicheStatikDigitalgraphic/Printon canvas 80 x 80 cm 2022
WorksStatement:ofart reflect the world. Thus, Michael Wagner's works are also mirror images of the present time. However, it is not a mirro ring of the outer appearance, not an abstraction of the mimetic world, but a mirroring of the inner constitution. Wagner's works arise from sensations. They mirror, so to speak, the feeling of the time and represent ciphers for the present time.
Thinking and feeling, geometry and color - between these poles Michael Wagner explores his pictorial possibilities, whereby playful and poetic components are always involved despite all seriousness. Thus he develops a pictorial world that has its roots in the rigor of the constructive-concrete, but at the same time is also based on individuality and spontaneous intuition.
118 | FCG: New Visions
Michael Wagner
Born in Heidelberg in 1953, Michael Wagner used every free minute for artistic studies during his studies at the Mannheim Universi ty, and then concentrated entirely on the fine arts after completing his degree. Since 1981 he lives and works as a freelance painter, graphic artist and photo artist (self-taught) in Heidelberg.
While Michael Wagner initially worked in the representational field, depicting landscapes and people, he gradually developed an artistic conception that focuses on color and its manifold possibilities. On this path Michael Wagner opened up the world of the constructively concrete. Geometry joined color, became an equal partner and provided stability and continuity. Thus color was not given an expressive quality, but rather a purely visual meaning. It does not "jump" into the space, but it has a high presence, a great impact potential. Michael Wagner designs his works on this basis, trusting in the power of color and geometry.
FCG: New Visions | 119 Curling Digitalgraphic/ Print on canvas 80 x 802022cm
120 | FCG: New Visions Digitalgraphic/Energieströme Print on canvas 80 x 80 cm 2022
FCG: New Visions | 121 Perspektiven Digitalgraphic/ Print on canvas 80 x 802022cm
Thoma Sehnsucht is a construct. Because there is no greater challenge than the gazes of two perfect strangers meeting inside an image, putting egos aside, standing still and just looking...and looking again.
Because, in the end, whether we like it or not, the art object is meant to survive the author. So why bother with the individual?
Chances are we will never meet in a lifetime anyway.
Instagram: whokilledotzi Email: Website:sineirastudio@gmail.comsaatchiart.com/diagoras
Thoma Sehnsucht
122 | FCG: New Visions AcrylicZoomachyonCanvas Board 24 x 30 cm (34 x 40 cm framed)
Thoma Sehnsucht is a persona.
Thoma Sehnsucht is a shadow.
It then follows that whatever biography I would attempt to write it will end up being more fiction than reality.
FCG: New Visions | 123 Who Killed Ötzi? Acrylic on Canvas Board 20 x 30 cm (30 x 40 cm framed)
124 | FCG: New Visions Small Acrylic,BangInkand Stones on Canvas Board 30 x 20 cm (40 x 30 cm framed)
FCG: New Visions | 125 Tribù Acrylic, Ink Canvas Board 30 x 20 cm (40 x 30 cm framed)
Eric Lee is an American digital artist from Northbrook, IL, a North Shore suburb of Chicago. Eric is well-known for his digital artwor ks that embody contemporary abstract and surreal design with vibrant color. Although he was born with minor speech and small motor skill disability, he has always aspired to pursue excellence to his best ability and have found his place in the world of digital art whereby he can utilize his computer skills to create digital painting or digital collage by using Adobe Photoshop/Illustrator tools. Eric received his B.A. in Graphic Design from Lewis University in Romeoville, IL and Graphic Design Certificate from School of the Art Institute of Chicago, Chicago, IL. Eric's artworks have been exhibited in M.A.D. S' NFT New Forward Thinking Exhibition and Liquid Arsenal Exhibition in Milan, Italy (a new form of NFT art gallery specialized in mixed art media by using huge widescreen displays to exhibit and virtual NFT gallery artworks). He has won multiple Outstanding Achievement Awards at Chicagoland's renowned art festivals. MostStatement:ofEric's artworks are inspired by his passion for animals, nature, or lyrics from his favorite musicians. His abstract, surreal, complex and vibrant digital artworks usually begin with digital vector drawings from Illustrator, photos, or personalized custom 3-D figures meticulously developed in Daz Studio software, then imported them into Adobe Photoshop to be created with twelve or more layers. Eric 's unique artworks have received high compliments from art galleries, art connoisseurs, customers and peer artists. Website: Mail:Instagram:ericlee25.comericleedigitaleric.leegraphic@gmail.comAbstractVenus DigitalPainting 66x66cm2022
126 | FCG: New Visions
Eric Lee
FCG: New Visions | 127 Abstract Marilyn Digital81Paintingx60cm2022
128 | FCG: New Visions
Black 202260DigitalSwanPaintingx45cm
FCG: New Visions | 129
Cutie Panda
Bubble Tea Digital Painting 60 x 762022cm
When I am working on portraits, I enjoy creating new souls with their personalities. When I am creating cities or landscape pictures I consider them also as characters having personalities living everyday life, struggling, and enjoying life. My work explores the pro blems our society faces in everyday life in unrealistic ways. My art is on the edge of a real and unreal world. And it is on based on two things idea and emotion. My greatest dream is to share my art and perspective with the world. Because I truly believe that art has the power to inspire, change, and make people feel certain ways.
I was born in Tbilisi, Georgia back in the 90s during the darkest times in my country in double meaning. Times, when having a pencil and paper was making you feel lucky and rich. Regardless, since I was 5, I was always finding broken pencils and yellowish papers to express myself on paper. I did not have the chance to attend art school for many different reasons, but it only affected me in a good way because when nobody tells you how to do this or that freedom float and makes new waves. Therefore, after so many years I determined the true nature of my artistic portrait here in the United States.
It'sStatement:likewriting the story. First, the body feels the emotion. Inspiration occurs spontaneously commonly from within, or it could come from any word, move, or object. Then I'm developing the idea on canvas by following my hand to trace the first lines. There is the be ginning, culmination, and end. Finalizing work may take months because every line, shape, and color have to perfectly express the idea. I prefer to work with oil paint on canvas or wooden panels. The painting will guide me if any other media or medium is needed.
202216x20OilOthersonwoodinches
130 | FCG: New Visions Mariam Nasrashvili
Instagram: masho_mas_art Website: Mashomasartroom.com Email: mashomasartroom@gmail.com
FCG: New Visions | 131 Blind Lambs Oil on canvas 24x30 inches2021
132 | FCG: New Visions 202211x14OilUntitledonwoodinches
FCG: New Visions | 133 Night Oil on board 16x20 inches2021
Cesar Vianna
For several years I taught how to draw and art history. I arrived in Canada in 2012, where I obtained another degree in Visual Arts at Laval University. I have lived and worked in Rouyn-Noranda, province of Quebec, since 2014. For several years I taught how to draw and art history. I arrived in Canada in 2012, where I obtained another degree in Visual Arts at Laval University. I have lived and worked in Rouyn-Noranda, province of Quebec, since 2014. Among my multiple skills, the most important is illustration. Also, I have skills in photography, acrylic painting, watercolor, pastel, screen printing, lithography, wash-off, scratchboard, wood burning and some non conventional materials (such as eye shadows, for example). My work is very eclectic. In my journey, I explore different techniques (conventional and non conventional). My principal goal is illustration. I draw with pencils, brushes, wood burners and other tools. I look to create an impact on the public with my art. As a citizen of 2 countries, I don't have any specific aesthetic. My work is at times realistic, at others surreal / abstract. I seek the perfection of images from the classical past combined with the attitude and abstraction of contemporary arts. The nature and com plexity of human forms are my sources of inspiration. I use vibrant colors and strong contrasts on minimalist representations. My work is very luminous and vibrant. After the pandemics, I realized the world was really dark, almost miserable because of the situa tion. I canalized all negative energy at that moment and started to explore and research. Pandemics opened a new door for me, the world's door. I started to know people from different parts of the planet and inspire my artwork on those people. All characters I had in my 2020, 2021 and 2022 production are inspired by real people from different countries. Ordinary people with real problems that never thought one day could be in an art piece. At last, I draw what I see, what I feel and I do it with passion and instinct.
I am a multitasking Canadian / Brazilian professional artist, I am a member of the International Association of Visual Artists (IAVA). I was born in Sao Paulo (where I studied design and architecture).
EyeFleetingshadows on watercolor paper 30.4 x 30.4 cm 2021
134 | FCG: New Visions
Email: Facebook:Instagram:Website:Linktree:cesaravnunes@yahoo.calinktr.ee/czarnuneswww.gallea.ca/en/artists/cesar-vianna-nunesczarnunes-gay_art_2020cesar.nunes.77770
FCG: New Visions | 135 paper Memory Eye shadows on watercolor paper 30.4 x 30.42021cm
136 | FCG: New Visions EyeEphemeralshadows on watercolor paper 30.4 x 30.4 cm 2021
FCG: New Visions | 137 Reflexion Acrylic on canvas 51 x 402020cm
Olivier Mboma also known by his artist name artVIJERA, is a German-Congolese artist. Born in Kinshasa (Congo), his family emigrated to Germany in the 1990s, where he spent his childhood in Wuppertal. He completed his studies in Belgium and now lives in Germany again. Besides his full-time job as a paediatrician, he tries to find the time to paint. He has been artistically active since childhood. In his youth, he was a member of an acting dance group that allowed him to develop his artistic curiosity through various intercultural encounters. The opportunity to travel to Accra, Ghana, made a big impression on him. Even to day, he tries to visit as many exhibitions as possible and get to know other artists in order to mature not only artistically but also as a person through stimulating conversations with them. His artworks address specific socio-political issues, with his cultural background as an important source of inspiration. The deliberate counterfactual representation of certain subjects helps to take the viewer on a journey where social filters are challenged by contemporary is the abstraction of one's own experiences onto canvas. Each brushstroke, blob and choice of colour reflects the artist's deep longings, fears, desires and dreams and allows the viewer not only a glimpse into the artist's mind, but also a resonance of their own soul to get to know themselves a little better. Weaknesses and strengths are inherent aspects of life and should not stop us from reaching out to each other. Art is used to create a safe space that challenges and even removes societal filters to create more acceptance in this someti mes difficult world. Show me your art (collection) and I will show you who you are. My main source of inspiration is my cultural background, but also the life around me. In my various series, I try to show, among other things, strong black women in various complex haute couture dresses, but deliberately reduced to two dimensions in strict but also ephemeral geometric orders. The traditional African hairstyles adorned with gold serve to emphasise the importance of this cultural heritage. Further more, it is important to me to have an intentional counterfactual narrative of the famous sujets and artworks in history. In doing so, I seek to challenge the common representations of black and white in contemporary society with my own vision of contemporary eroticism and encourage the viewer to allow for other narratives, with the hope and invitation to open the Eurocentric narrative to a cosmopolitan one in which Afrocentrism, Asiocentrism and any ethnocentrism can find equal acceptance. Music plays an essential role in my creative process. Rhythms and melodies help me to guide the brush strokes and make the sketch in my head a reality. The mood of the song channels the energy and allows me to focus more on my work and switch off at the same time. I work in different media such as acrylic, charcoal, pastel, oil and gold leaf, always trying to explore my main muses through the great masters of art such as Gustav Klimt, Pablo Picasso, Egon Schiele or Jean-Michel Basquiat.
138 | FCG: New Visions
ForStatement:eroticism.me,art
Website: Email:Instagram:oliviermboma.com/artvijeraartvijera@hotmail.com
Mikubu // combing hair violet Acrylique, pastel, feuille d'or 24 carats (24K) sur toile 100x150 cm 2022
FCG: New Visions | 139 Mikubu // diptychon green II Acrylique, pastel, feuille d'or 24 carats (24K) sur 60x80toilecm2022
140 | FCG: New Visions Mikubu // study of violet I Acrylique, pastel, feuille d'or 24 carats (24K) sur toile 80x100 cm 2022
FCG: New Visions | 141 Mikubu // diptychon green I Acrylique, pastel, feuille d'or 24 carats (24K) sur 60x80toilecm2022
142 | FCG: New Visions Elsa Papagiannopoulou
I was born on March 8, 1965 and I live in Thessaloniki, Greece. I have worked at Alpha Bank for 28 years. I resigned from my job in 2010 and started my university studies. In 2018 I received a degree in European Civilization and in 2020 a master's degree in Public History from the School of Humanities of the Hellenic Open University, Patras. Today I attend the Department of Fine and Applied Arts at the Faculty of Fine Arts of the Aristotle University of Thessaloniki, which I will complete in 2024. My involvement with art began in my teenage years but only from 2010 until today I have participated in several group exhibitions regarding painting and engraving. As a visual artist I also create art in various forms including sculpting, installations, and lately digital.
RegardingStatement:
my works Scaffolding 1: Preserving the Past (White,2021), Scaffolding 2: Preserving the Past (Black, 2021) and Scaffol ding 3: Preserving the Past (2022) after the II World War and for many years our new visions were about destroying the recent past for the sake of a futuristic urban environment. Only about the last 3 decades has the preservation of architecture from the early and mid-20th century been implemented to preserve recent memory. Scaffoldings binds and holds the facades of neoclassical buildings while the rest of the building is being demolished. The facades are attached to new structures made of concrete and glass designed to highlight the beauty of the old building. Plaster decorations, sophisticated gutters, ornate cornices reflect on glass mirrors combining the past with the present and the future. My artwork Industrial Heritage: Factory 1 (2020) regards yet another new vision in urban landscapes which concerns the recon struction and reuse of factory facilities. The so called Gentrification transforms factories into cultural temples of every art form, creating new social hubs in contemporary cities.
E-mail : 2022180x90AcrylicsScaffoldingInstagram:Facebook:elsapapag836@gmail.comElsaPapagiannopoulouelsa.g.pap3:PreservingthePastoncanvascm
FCG: New Visions | 143 Scaffolding 2: Preserving the Past (Black) Acrylics on 108x85,5canvascm2021
144 | FCG: New Visions Scaffolding 1: Preserving the Past (White) Acrylics on canvas 108x85,5 cm 2021
FCG: New Visions | 145 Industrial Heritage: Factory 1 Digital art 100x772020cm
PublishedINSTAGRAM:FACEBOOK:EMAIL:WWW.FLORENCECONTEMPORARY.COMFLORENCECONTEMPORARY@GMAIL.COMFLORENCECONTEMPORARYGALLERYFLORENCE_CONTEMPORARY_GALLERYbyFlorenceContemporaryGallery©2022
WWW.FLORENCECONTEMPORARY.COM