Your guide to creating a wardrobe.versatile CORPORATE SMART CASUAL HOME OFFICE
Create a flexible working wardrobe with a selection of interchangeable pieces that complement each other. All Biz Corporates styles are designed to work together, creating outfits that can be worn everyday, everywhere. options.EndlessVersatility.Comfort. WWW.BIZCORPORATES.COM 321 Select pieces to suit your business function and roles. Mixing casual and corporate pieces allows your team to dress within their own style but remain part of a cohesive image. Select a colour palette that complements your business branding. We recommend selecting one primary colour and complementing with neutrals such as white, black or silver. Select a range of styles to suit varying body shapes and climates. This ensures longevity of your uniform pieces. We recommend: • 4 - 6 Tops or dresses • 4 - 5 Lowers • 2 - 4 Jackets or knits
1 RBL068L ARDEN BLAZER IN NAVY This capsule contains 14 pieces that can create 20+ effortless outfits, providing corporate, smart casual and working from home options. Use this as a guide to create your team's unique look. To see the full range or find your local stockist visit www.bizcorporates.com NEW RGP263L TRAVELLER SLIM CHINO IN DESERT NEW RGS264L TRAVELLER CHINO SKIRT IN DESERT 10722 SIENA ELASTIC WAIST PANT IN BLACK 60719 SIENAJACKETMID-LENGTHINBLACK 20717 SIENA PENCIL SKIRT IN BLACK NEW RJK265L MELBOURNE JACKET IN NAVY Available from February 2023 NEW RLC267L SOFIA CARDIGANWATERFALLINNAVY RD974L SIENA DRESS IN BLACK RS968LL CHARLIE LS SHIRT IN WHITE NEW RB261LS VIENNA SS BLOUSE IN COBALT BLUE 44412 BLAISE T-TOP IN IVORY NEW RB260LN SEVILLE LAYERED BLOUSE IN BLUECOBALT RD069L CHLOE DRESS IN NAVY DRESSES&JACKETSLOWERSTOPSKNITS
2 1
3 1. 44412 BLAISE T-TOP, NEW RLC267L SOFIA CARDIGAN, 10722 SIENA SLIM PANT 2. RD069L CHLOE DRESS 3. NEW RB260LN SEVILLE LAYERED BLOUSE, 10722 SIENA SLIM PANT 4. 60719 SIENA JACKET, NEW RB261LS VIENNA BLOUSE, 20717 SIENA PENCIL SKIRT 5. 44412 BLAISE T-TOP, NEW RGS264L TRAVELLER CHINO SKIRT, NEW RA268U CASUAL BELT 2 3 4 5
4 2 3 4 5 1. RBL068L ARDEN BLAZER, RS968LL CHARLIE SHIRT, NEW RGP263L TRAVELLER SLIM CHINO PANT 2. RBL068L ARDEN BLAZER, 44412 BLAISE T-TOP, 10722 SIENA SLIM PANT 3. NEW RB261LS VIENNA BLOUSE, 20717 SIENA PENCIL SKIRT 4. 44412 BLAISE T-TOP, NEW RJK265L MELBOURNE JACKET, NEW RGS264L TRAVELLER CHINO SKIRT 5. RD069L CHLOE DRESS
5 1
6 1
7 1. 60719 SIENA JACKET, NEW RB261LS VIENNA BLOUSE, 10722 SIENA SLIM PANT 2. 60719 SIENA JACKET, RD974L SIENA DRESS 3. NEW RB260LN SEVILLE LAYERED BLOUSE, NEW RGP263L TRAVELLER SLIM CHINO PANT 4. RS968LL CHARLIE SHIRT, 20717 SIENA PENCIL SKIRT 5. RD069L CHLOE DRESS, 60719 SIENA JACKET 2 3 4 5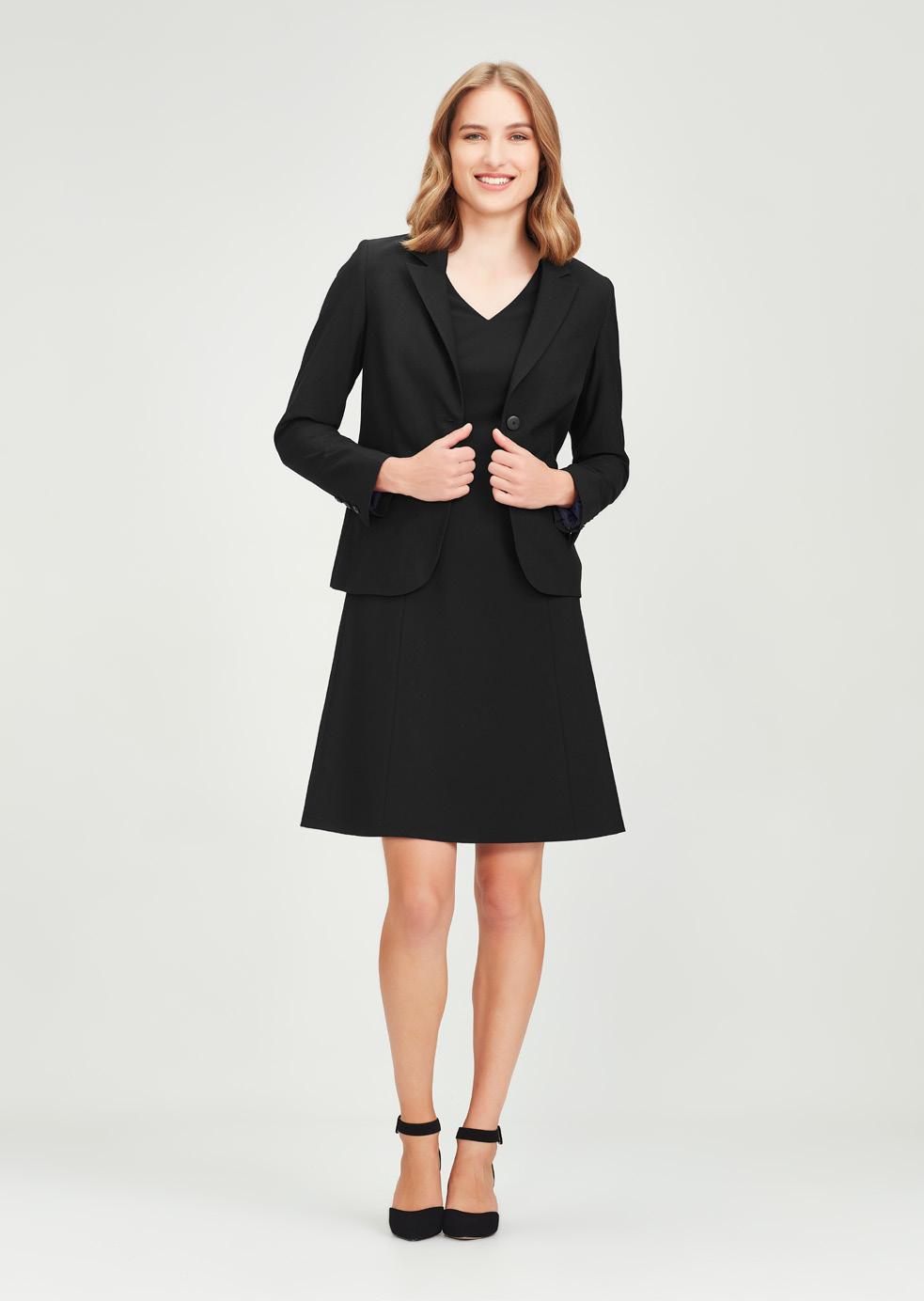 8 1. RS968LL CHARLIE SHIRT, NEW RGS264L TRAVELLER CHINO SKIRT 2. NEW RJK265L MELBOURNE JACKET, RS968LL CHARLIE SHIRT, NEW RGP263L TRAVELLER SLIM CHINO PANT 3. NEW RB261LS VIENNA BLOUSE, NEW RLC267L SOFIA CARDIGAN, 10722 SIENA SLIM PANT 4. RBL068L ARDEN BLAZER, 44412 BLAISE T-TOP, 20717 SIENA PENCIL SKIRT 5. RD974L SIENA DRESS 2 3 4 5
9 1
10 WWW.BIZCORPORATES.COM Create a flexible working wardrobe with a selection of interchangeable pieces that complement each other. All Biz Corporates styles are designed to work together, creating outfits that can be worn everyday, everywhere. A asthatwardrobeversatileadaptsyoudo. 321 Select pieces to suit your business function and roles. Mixing casual and corporate pieces allows your team to dress within their own style but remain part of a cohesive image. Select a colour palette that complements your business branding. We recommend selecting one primary colour and complementing with neutrals such as white, black or silver. Select a range of styles to suit varying body shapes and climates. This ensures longevity of your uniform pieces. We recommend: • 4 - 6 Shirts or tops • 4 - 5 Lowers • 2 - 4 Jackets or knits
11 RBL068M ARDEN BLAZER IN NAVY NEW RGP263M TRAVELLER TAPERED CHINO IN DESERT 70716R SIENA SLIM PANT IN BLACK NEW RGP263M TRAVELLER TAPERED CHINO IN BLACK 80717 SIENA JACKET IN BLACK RGP976M SIENAPANTADJUSTABLEINBLACK NEW RJK265M MELBOURNE JACKET IN NAVY Available from February 2023 NEW RJP266M OSAKA KNIT JUMPER IN NAVY RS969ML CHARLIE LS SHIRT IN WHITE 43420 SPRINGFIELD SHIRT IN FRENCH NAVY RS968MS CHARLIE SS SHIRT IN NAVY CHAMBRAY RS070ML NOAH SHIRT IN WHITE/STORM BLUE&JACKETSLOWERSSHIRTSKNITS ZH135 STREETWORX TEE IN WHITE P105MS CITY POLO IN WHITE TOPS This capsule contains 14 pieces that can create 20+ effortless outfits, providing corporate, smart casual and working from home options. Use this as a guide to create your team's unique look. To see the full range or find your local stockist visit www.bizcorporates.com
12 1
13 1. NEW RJP266M OSAKA JUMPER, ZH135 SYZMIK STREETWORX TEE, NEW RGP263M TRAVELLER CHINO PANT, NEW RA268U CASUAL BELT 2. RBL068M ARDEN BLAZER, RS969ML CHARLIE SHIRT, NEW RGP263M TRAVELLER CHINO PANT 3. 43420 SPRINGFIELD SHIRT, NEW RGP263M TRAVELLER CHINO PANT, 99300 LEATHER BELT 4. RS070ML NOAH SHIRT, 70716R SIENA SLIM LEG PANT, 99300 LEATHER BELT 5. P105MS BIZ COLLECTION CITY POLO, RGP263M TRAVELLER CHINO PANT, NEW RA268U CASUAL BELT 2 3 4 5
14 1. 80717 SIENA JACKET, NEW RJP266M OSAKA JUMPER, RS070ML NOAH SHIRT, RGP976M SIENA ADJUSTABLE WAIST PANT 2. NEW RJK265M MELBOURNE JACKET, NEW RJP266M OSAKA JUMPER, RS969ML CHARLIE SHIRT, NEW RGP263M TRAVELLER CHINO PANT 3. RS969ML CHARLIE SHIRT, NEW RGP263M TRAVELLER CHINO PANT, NEW RA268U CASUAL BELT 4. RBL068M ARDEN BLAZER, ZH135 SYZMIK STREETWORX TEE, NEW RGP263M TRAVELLER CHINO PANT 5. RS968MS CHARLIE SHIRT, ZH135 SYZMIK STREETWORX TEE, NEW RGP263M TRAVELLER CHINO PANT 2 3 4 5
15 1
16 1
17 1. 80717 SIENA JACKET, P105MS BIZ COLLECTION CITY POLO, 70716R SIENA SLIM LEG PANT 2. NEW RJK265M MELBOURNE JACKET, RS969ML CHARLIE SHIRT, RGP976M SIENA ADJUSTABLE WAIST PANT 3. NEW RJP266M OSAKA JUMPER, RS070ML NOAH SHIRT, RGP976M SIENA ADJUSTABLE WAIST PANT 4. ZH135 SYZMIK STREETWORX TEE, NEW RGP263M TRAVELLER CHINO PANT 5. 43420 SPRINGFIELD SHIRT, ZH135 SYZMIK STREETWORX TEE, NEW RGP263M TRAVELLER CHINO PANT, NEW RA268U CASUAL BELT 2 3 4 5
18 1. 80717 SIENA JACKET, 43420 SPRINGFIELD SHIRT, 70716R SIENA SLIM LEG PANT 2. 80717 SIENA JACKET, ZH135 SYZMIK STREETWORX TEE, NEW RGP263M TRAVELLER CHINO PANT 3. NEW RJK265M MELBOURNE JACKET, ZH135 SYZMIK STREETWORX TEE, NEW RGP263M TRAVELLER CHINO PANT 4. RS969ML CHARLIE SHIRT, RGP976M SIENA ADJUSTABLE WAIST PANT, 99300 LEATHER BELT 5. RBL068M ARDEN BLAZER, P105MS BIZ COLLECTION CITY POLO, NEW RGP263M TRAVELLER CHINO PANT, NEW RA268U CASUAL BELT 2 3 4 5
19 1
20 Biz Corporates is evolving its product offering to suit the modern day worker. Our new 2022/23 styles and colour palette have been designed to work seamlessly with any working wardrobe. See our full range at www.bizcorporates.com 2022/2023 New Style Guide SEVILLE WOMENS SLEEVELESS LAYERED SOFT BLOUSE A staple in any wardrobe, Seville features a double layered front, back neck opening and our popular mandarin style collar. Relaxed fit, designed to be worn out. Featured on the Cover, pages 3 and 7. STYLE RB260LN FABRIC 100% Polyester Georgette SIZE 4 - 20 BLACK STORM BLUENAVY COBALT BLUE VIENNA WOMENS SHORT SLEEVE SOFT BLOUSE Designed to sit loosely on the body, Vienna features breezy sleeves and a longer curved back hem. Wear tucked in or out. Featured on pages 3, 4, 6 and 8. STYLE RB261LS FABRIC 100% Polyester Georgette SIZE 4 - 26 BLACK STORM BLUENAVY COBALT BLUE MALI WOMENS EASY FIT STRETCH TUNIC T-TOP Lightweight jersey t-top featuring pleated front and gathered back. Longer front and back hemline for extra coverage. Suitable for maternity. Easy care, wash and wear. STYLE RT262LS FABRIC 95% Polyester 5% Elastane SIZE 6 - 26 BLACK NAVY TRAVELLER WOMENS SLIM LEG STRETCH CHINO PANT Designed to be a mid-rise fit, with a close fit through the thigh and leg and a narrow leg opening. Fabric has added stretch for comfort. Featured on pages 5, 7 and 8. STYLE RGP263L FABRIC 97% Cotton 3% Elastane, carbon peached finish SIZE 4 - 26 BLACK DESERTNAVY TRAVELLER WOMENS MID WAIST STRETCH SKIRT WITH BELT A modern chino skirt in a pencil shape, with back kick pleat for movement. Detachable belt included. Fabric has added stretch for comfort. Featured on pages 3, 4 and 9. STYLE RGS264L FABRIC 97% Cotton 3% Elastane, carbon peached finish SIZE 4 - 26 BLACK DESERTNAVY WOMENS
added stretch for comfort. Featured on pages 10, 12, 13, 14, 17 and 18. STYLE RGP263M FABRIC 97% Cotton 3% Elastane, carbon peached finish SIZE 72R - 127R BLACK DESERTNAVY MELBOURNE MENS COMFORT JACKET Available from February 2023 Soft and versatile jacket that can be worn all day long. Features detachable hood, internal and external pockets. Button and zip front closure. Machine washable. Featured on the pages 14, 17 and 18. STYLE RJK265M FABRIC Main Shell: 45% Cotton 44% Polyester 11% Nylon with Water Repellent for light showers; Lining:100% Polyester, Back Yoke: 100% Cotton SIZE S - 3XL BLACK NAVY UNISEX CASUAL BELT A modern woven belt that stretches to allow for the perfect fit. Leather trim and metal hardware. Wear with jeans, chinos or corporate lowers. Featured on the pages 3, 12 and 13. STYLE RA268U FABRIC 75% Polypropylene 25% Elastane, with metal buckle and leather trims SIZE XS - S, M - L, XL - 2XL, 3XL - 4XL BLACK/BLACK NAVY/BROWN MENS
RLC267L FABRIC 50%
The perfect year-round knit that can be dressed up or down. Cotton provides breathability whilst still keeping you warm. Modern V neck designed to sit closer to the neckline. Featured on the pages 10, 12, 15 and 17.
STYLE Main Shell: 45% Cotton 44% Polyester 11% Nylon with Water Repellent for light showers; Lining:100% Polyester, Back Yoke: 100% Cotton SIZE XS - 2XL BLACK NAVY OSAKA MENS PINEAPPLE KNIT JUMPER
STYLE RJP266M 55% Cotton 45% Acrylic SIZE XS - 3XL, 5XL BLACK NAVY TRAVELLER MENS TAPERED STRETCH CHINO PANT
FABRIC
RJK265L FABRIC
MELBOURNE
Soft and versatile jacket that can be worn all day long. Detachable hood, longer back hem, adjustable waist. Button and zip front closure. Machine washable. Featured on the pages 4 and 8.
Designed to sit on the waist, close fit through the thigh and leg, narrow leg opening. Fabric has
SOFIA WOMENS WATERFALL CARDIGAN Wool blend provides warmth and easy care properties. waterfall starts closer to the neckline allowing embroidery to be visible. Featured on the pages 2 and 8.
STYLE Wool Acrylic SIZE XXS - 4XL BLACK NAVY CAMEL WOMENS COMFORT JACKET Available from February 2023
50%
WWW.BIZCORPORATES.COM