2022 FALL
GIVING
and HOLIDAY
CELEBRATING THE
SEASON
APPRECIATION AND GRATITUDE
It is our favorite time of year in the vineyard.
With the rush of harvest behind us and over 153 tons of Pinot noir and Chardonnay delivered to nearby winemakers, our vineyard is a blanket of gorgeous hues and a grateful hush lingers in the fall air.
It's a beautiful culmination to a memorable growing season.
As the vines and forest transform around us, we look forward to the holidays and sharing our wines with you.
For the giving season, enjoy $25 ground shipping with any magnum purchase.
Shop our selection of unique wine collections that celebrate noteworthy vintages and embody the nuances of our diverse vineyard.
For our Wine Club, review available member exclusives ideal for gift giving.
A happy and healthy holiday season to you from our Fairsing team.
With appreciation and gratitude, Mary Ann and Mike McNally
Scan to review 2022 fall and holiday favorites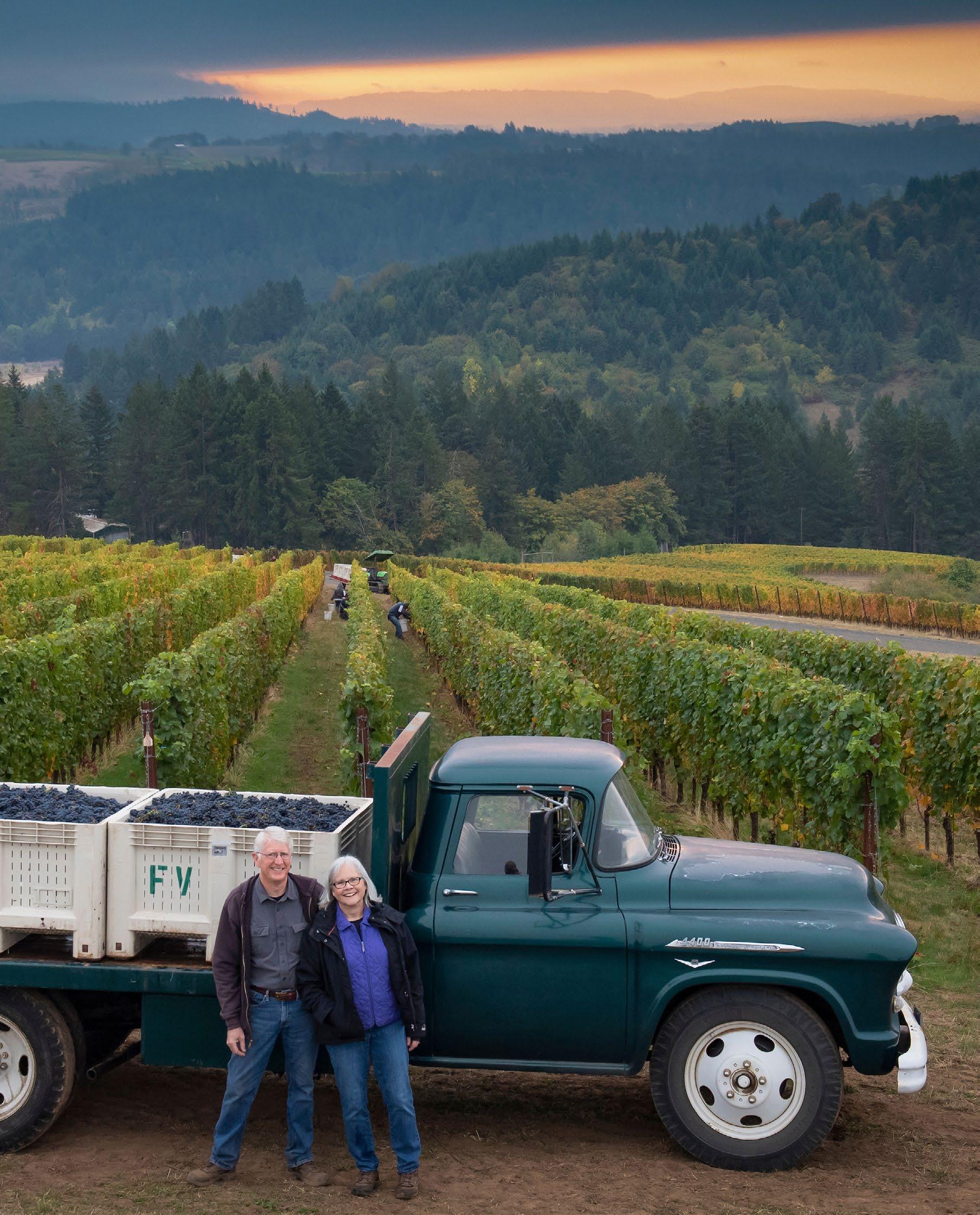 BARREL SELECT
FÁINNE PINOT NOIR
Our Fáinne Pinot noir honors the intertwining farming and merchant heritage of previous generations.
Each vintage is meticulously cellar-crafted from select barrels encompassing the finest fruit from across the estate. This dense and enveloping Pinot noir bears the footprint of the vineyard and the deft touch of our winemaker.
Latest Release
2017 FÁINNE PINOT NOIR
Framed by refined tannins and a dense immersive texture, this wine reverberates on the back palate with dark fruit flavors. Distinguished by its finesse and structure, this Pinot noir is bound for elegant development in the cellar. 110 case production / 30 magnums
$95 Bottle / $225 Magnum $80.75 / 191.25 Labyrinth Club $76 / 180 Crimson & Celtic Knot
FÁINNE TRINITY COLLECTION
The barrel select Fáinne showcased in a vintage vertical. This trinity includes the 2017 Fáinne Pinot noir, the 2016 Fáinne Pinot noir, and our inaugural 2015 Fáinne Pinot noir.
Wines of silky texture and density now, these vintages will reward the collector in years to come.
$285 Fáinne Trinity Collection $242.25 Labyrinth Club
$228 Crimson & Celtic Knot
2022 Fall & Holiday Giving • fairsingvineyard.com
FLAGSHIP PINOT NOIR FAIRSING VINEYARD VERTICAL
2022 Fall & Holiday Giving • fairsingvineyard.com
The Fairsing Vineyard Pinot noir expresses a true sense of place. Each vintage embodies the estate's confluence of varied topography, diverse microclimates, and unique maturation profiles. A flavorful mosaic of Fairsing Vineyard representing three vintages. Exceptional now, these wines will cellar beautifully. $145 Fairsing Vineyard Pinot Noir Vertical $123.25 Labyrinth Club $116 Crimson & Celtic Knot 2016 FAIRSING PINOT NOIR 92 Points - James Suckling 90 Points - Wine Spectator 2017 FAIRSING PINOT NOIR 94 Points - James Suckling 91 Points - Wine Spectator 91 Points - Vinous 2018 FAIRSING PINOT NOIR 93 Points - James Suckling
FAIRSING PINOT TRIO
Three charming Pinot noir expressions to give and to receive. Fairsing Pinot noir is crafted from the finest clonal selections hand-harvested from across the vineyard.
These wines from three distinct vintages inspire us with their depth, complexity, and seamless elegance.
In this dynamic trio we're pleased to include the sought-after 2021 Rosé of Pinot noir with our flagship 2017 and 2018 Fairsing Vineyard Pinot noir. A collection ideal for gifting.
Noteworthy and expressive, these wines are ready to celebrate the season.
$128 Fairsing Pinot Trio
$108.80 Labyrinth Club
$102.40 Crimson & Celtic Knot
2022 HOLIDAY COLLECTIONS
2022 Fall & Holiday Giving • fairsingvineyard.com
2022 HOLIDAY COLLECTIONS
FAIRSING WINTER WHITES
Enchanting Chardonnay selections to warm any occasion. This collection is a wonderful expression of Fairsing's Chardonnay program, Enjoy one bottle each of the Fairsing Vineyard Chardonnay from the beautiful 2017 and 2019 vintages and the lastest addition to our Matriarch Series, the 2019 McCarthy Chardonnay. Winsome and balanced, these wines will continue to develop in the cellar.
$159 Fairsing Winter Whites
$135.15 Labyrinth Club
$127.20 Crimson & Celtic Knot
2022 Fall & Holiday Giving • fairsingvineyard.com
2022 HOLIDAY COLLECTIONS
THREE WISE WOMEN
Three Matriarch Series wines from incredible vintages.
As Fairsing honors the traditions and trades of Irish ancestors, our Matriarch Series pays tribute to wise and industrious women across generations.
The wines in this collection are nuanced and reflect variations across the vineyard in aspect, exposure, soil depth, and clonal selection.
While these limited-production wines are showing beautifully now, they are bound for unparalleled development in the cellar.
2016 DARDIS PINOT NOIR 92 Points - James Suckling 90 Rating - Wine Advocate
2017 KENNEY PINOT NOIR 91 Rating - Wine Advocate 91 Points - Wine Enthusiast
2018 SULLIVAN PINOT NOIR 93 Points - James Suckling
$196 Three Wise Women
$166.60 Labyrinth Club
$156.80 Crimson & Celtic Knot
2022 Fall & Holiday Giving • fairsingvineyard.com
FAIRSING VINEYARD ESTATE WINES
$25 MAGNUM GROUND SHIPPING
The gift of a wine magnum speaks volumes. For the giving season, magnum bottles are the perfect choice for family dinners and special occasions.
At 1.5 liters, a magnum is the equivalent of two standard wine botttles - equating to 10 full glasses of wine.
For the collector, magnums cellar wonderfully as their volume lengthens the aging process and rewards those able to delay enjoyment.
Click to view available magnums, vintage composition, reviews, and other details via fairsingvineyard.com
STOCK UP FOR WINTER CELLAR-BRATION SIX COLLECTION
A cellar-worthy mix (three each) of the 2017 and 2018 Fairsing Vineyard Pinot noir.
A collection of six bottles to have and to hold for the winter months ahead.
Exclusive pricing extended to our Fairsing Vineyard WIne Club members
$276 Fairsing Cellar-bration Six $250 Wine Club
$212.50 Labyrinth Club $200 Crimson & Celtic Knot
FAIRSING VINEYARD ESTATE WINES
10% CASE SAVINGS
Mix and mingle any twelve bottles of wine and enjoy 10% case savings. Ideal for gifting or stocking the cellar with our wine collections and library favorites. Wine Club member savings equates to 15% Labyrinth and 20% Crimson & Celtic. Gift enclosure cards available.
2022 Fall & Holiday Giving • fairsingvineyard.com
GIFT CERTIFICATE ELEVATED SEATED TASTING
Share Fairsing with family, friends, and colleagues. Give the gift of a guided Elevated Seated Tasting combining our wine flight with an array of culinary selections.
Each experience is guided by a Fairsing team member.
Certificates available for groups of up to six (6) guests
Reservations required Tastings $60 per guest
GIFT CERTIFICATE WINE CLUB MEMBER EXCLUSIVE
An exclusive for our Wine Club members to honor the giving season. Share the gift of an Elevated Tasting at Club member pricing. Incorporates guided wine flight and culinary complements incuding charcuterie, cheeses, nuts, fruits, and spreads. Includes 10% savings on purchases for Guests the day of experience.
Certificates available for groups of up to four (4) guests
Certificate to be redeemed December 1, 2022 through March 1, 2023.
Reservations required Club Tasting $35 per Guest
To arrange purchase of and Elevated Tasting Gift Certificate, connect with our Hospitality Team 503.560.8266.
& Holiday
2022 Fall
Giving • fairsingvineyard.com
MISO MUSHROOM ARANCINI & BLACK GARLIC AIOLI
Makes 3 dozen Prep and cook time: 60 minutes, plus chill time
A flavorful take on the Sicilian staple named for its resemblance in shape and color to oranges. Don't be intimidated by the steps to making arancini as they show incredibly well at gatherings and the recipe is easy to adapt for taste preferences.
Risotto
1/4 cup Olive Oil
4 tsps vegan Butter
1 White Onion, chopped
5 cloves Garlic, minced
2 cups Arborio Rice
1 1/2 cups Chardonnay
6 cups Vegetable or Mushroom Stock
16 oz Mushrooms, diced
4 Tablespoons Miso Paste (white)
Salt and Pepper to taste
Stuffing
2 Shitake Mushrooms, diced
2 Green Onion, sliced
2 Tbs Sesame Oil
Arancini
3 large Eggs, beaten
3/4 cup all purpose Flour 2 cups Panko Bread Crumbs
Air fryer or 6 cups cooking oil
Aioli
1 large Egg, pasteurized
1/4 tsp Salt
1/4 tsp Dijon Mustard
1 1/2 tsp Lemon Juice
1 tsp White Vinegar
3 cloves Black Garlic
1/2 cup Avocado Oil Black sesame seeds (to garnish)
Risotto - Melt butter and olive oil in heavy pan, add onions and cook 5 minutes, add miso paste, garlic, and uncooked rice and mix to coat rice with the mixture. Simmer one minute and then add the white wine to deglaze pan and stir until evaporated. Slowly add one cup of broth to pan, and continue to cook, adding one cup at a time, stirring continuously for 24-30 miuntes until rice is al dente. Add sliced mushrooms and stir. Set aside and allow to cool.
Spread cooled risotto on baking pan lined with parchment and cover with plastic wrap. We recommend placing the pan in the freezer for an hour or so to chill mixture to make hand-forming small balls of the risotto and stuffing easier.
Stuffing - While risotto mixture is chilling, in a small pan sauté shitake mushrooms and green onions in sesame oil over medium heat 2-3 minutes and set aside.
Arancini - Place beaten eggs, flour, and Panko in separate bowls. Form small risotto balls from chilled mixture, including a small amount of stuffing in center. Dredge the formed risotto balls in flour, followed by the beaten eggs, and roll in Panko crumbs. Set balls aside.
In heavy pan, heat cooking oil to 350º F and, working in small batches, fry arancini balls until deep golden, turning occasionally. Transfer to wire rack set over a baking sheet to drain. For an extra crispy texture, use an air fryer set at 400º F for 12 minutes.
Aioli - Combine room temperature ingredients in a jar or bowl using an immersion blender or similar to mix until smooth. Garnish aioli with black sesame seeds. Serve as a complement to the arancini.
Crowdpleasers in our tasting room, the flavors of the arancini and savory aioli marry wonderfully with both Fairsing Pinot Noir and Chardonnay.
Notes: As presented, this version is dairy-free, but feel free to play with your own combinations. The risotto mixture can be prepared days in advance for day-of assembly. Arancini freeze well for several months. Make in advance and pull them out for something special at the last minute.
A BRANDY GREY ADAPTATION
CREAMY POTATO AND LEEK SOUP
Makes 8 Portions, 1.5 cups each Prep and cook time: 60 minutes
A warm nod to our Irish heritage and to Fairsing matriarch, Claire Kenney McNally's signature cheesy potato side dish.
Soup
3 Tbsp Olive Oil
2 tsps minced Garlic
8 to 10 petite Red Potatoes, quartered
2 cups thinly sliced Leek (white & pale green portions)
1 Yellow Onion, diced
1 Tbsp Parsley
1 tsp Salt
1 tsp Cracked Black Pepper
6 cups Vegetable Stock
3 Tbsp Corn Starch
3 Tbsp cold Water
1/8 tsp Cayenne Pepper
2 cups Whole Milk
16 oz. Cheddar Cheese, shredded
Baked Mushroom
8 oz White Mushrooms, sliced
2 Tbsp Olive Oil
2 Tbsp Tamari
2 Tbsp Honey
Garnish
1/2 cup Sour Cream
6 Green Onions, sliced
Soup - heat olive oil in stockpot/soup kettle over medium heat. Add minced garlic and cook until fragrant (45-60 seconds). Add diced potatoes, leeks, onion, parsley, salt, and black pepper. Cook, stirring occasionally, until onion is softened (5 to 6 minutes). Add vegetable stock, bring to gentle boil and reduce heat. Simmer, uncovered, over medium-low heat for 35-40 minutes or until potatoes are fork tender.
Mushroom garnish - preheat oven to 375º F. Line a baking sheet with foil or parchment paper and set aside. Combine in a small bowl sliced mushrooms, olive oil, tamari, and honey (we prefer our Fairsing Clover Cuvée) and toss to coat. Let stand 10 minutes. Drain and place mushrooms in a single layer on prepared baking pan, Bake 10 to 15 minutes at 300º F or until tender.
Soup - Remove stockpot from stove. Reserve one cup of potato mixtue and set aside. Using on immersion blender, blend mixture in stockpot until smooth. Whisk together corn starch and water in small bowl and stir into soup mixture. Return stockpot to stove and bring soup to a simmer over medium-low heat, stirring constantly. Using a fork, loosely mash reserved potato mixture and return to stockpot.
Soup - Stir in milk, 8 to 10 ounces of shredded cheddar cheese (Tillamook cheddar is a favorite), and cayenne pepper. Cook for another 4 to 5 minutes or until slightly thickened (stirring occasionally).
Serve - Ladle soup into serving bowl, drizzle with sour cream, and top with cracked black pepper, shredded cheddar cheese, diced green onion and baked mushrooms. Serve with warm baguette.
This vegetarian and gluten-free soup pairs well with Fairsing Vineyard Pinot noir or Chardonnay.
A WINTER FAVORITE
FROM OUR HOSPITALITY TEAM CONCIERGE SERVICES
Complimenatry assistance with gift giving, selecting wines, shipping, and more. Consult with our team and leave the finishing touch to us.
Whether it is one gift or multiple, we will work with you to deliver this holiday season. Connect with us by phone Sunday - Thursday 11am - 5 pm (PST) via 503.662.5930 or by email wineclub@fairsingvineyard.com
GROUND SHIPPING and SECOND DAY SERVICE HOLIDAY ORDER DETAILS
Shop and ship early this season.
Weather delays, heavy holiday volume, and shipping restrictions to some states may cause unforeseen delivery delays by our third-party carriers. We recommend shipping as early as possible for holiday delivery.
Shipping wine is weather dependent. With colder temperatures, we encourage opting for second day services.
Order deadlines for December 24 delivery:
• Ground shipping (Arizona and Texas metro areas) - Monday, December 5
• Ground shipping - Wednesday, December 14
• Second Day Services - Monday, December 19
Fairsing offers flat rate shipping for parcels of 3 to 12 bottles (case) or up to 3 magnums.
IMPORTANT DATES FAIRSING WINTER HOURS
Open December 24
Closed December 25 - 27
Open December 28 - 30
Closed December 31 - January 6, 2023
2022 Fall & Holiday Giving • fairsingvineyard.com
family-owned vineyard in Oregon's Willamette Valley 21455 NE Burkett Hill Road Yamhill, OR 97148 Open by appointment Tasting room 503.560.8266 • Wine Club and shipping services 503.662.5930 www.fairsingvineyard.com