2022
ANNUAL REPORT
TABLE OF CONTENTS 01 Message from Our Leaders 02 2022 Board of Directors 03 Our New Strategic Plan 04 VOICE 05 Juneau Fly-In 07 Committees 08 COMMUNITY 09 Positive Picketing 10 Leadership Fairbanks 12 Operation: Standing Together 13 Political Forums 14 52nd Annual Military Appreciation Banquet 16 Golden Days 17 FACILITATE 18 Weekly Business Luncheons 19 Ribbon Cuttings 20 Annual Awards 21 Diversity of Membership 22 Our Executive Partners 23 Closing Message from Our Leaders 24 2023 Board of Directors & Staff
I took over as President & CEO on December 1, 2022 and will co-lead the Chamber along side, Patrick Cotter, Chairman of the Board of Directors, in 2023. Fairbanks is my home, and it is an honor and privilege to work with the talented Chamber staff, business and community leaders, and all of the current and future members to advance the business advocacy efforts of the Chamber. A focus we have is to demonstrate value to you, as a chamber business member. The Chamber is going to do that by advocating for business interests, based on what you as members are telling us, and keeping you informed of important issues. I want your input, so please consider joining us to make your voice be heard.
PRESIDENT & CEO JEREMY JOHNSON
GREATER FAIRBANKS CHAMBER OF COMMERCE PAGE 01
APPOINTED DIRECTORS
2022 BOARD CHAIR
JENNIFER THOMPSON, CENTURY 21 GOLD RUSH
ELECTED DIRECTORS
PAST CHAIR
TREASURER
CHAIR ELECT
GREATER FAIRBANKS CHAMBER OF COMMERCE PAGE 02
ANNA ATCHISON Kinross Alaska
LISA CASSINO Usibelli Coal Mine
JIM CULLEY Mt. McKinley Bank
CHRIS DARRAH Shannon & Wilson, Inc.
KEN HALL Lynden Transport
JACOB HOWDESHELL Laborer's Union, Local #942
JENNIFER IMUS First National Bank
TANYA KAQUATOSH Doyon, Limited
TOGI LETULIGASENOA Brice Companies
WENDIE MACNAUGTON Northern Star Resources Limited
SCOTT MCCREA Explore Fairbanks
JULIET SHEPHERD Shepherd et al.
SARA SMITH MAC Federal Credit Union
ELENA SUDDUTH Interior Gas Utility
KATHLEEN THOMPSON Alliance CPAs LLC
DAVID VAN DEN BERG Downtown Association of Fairbanks
MEADOW BAILEY Golden Valley Electric Association
TIMOTHY CAREY McKinley Orthopedics, Sports Medicine & Spine
STEVE LUNDGREN Denali State Bank
DEREK MILLER UAF College of Engineering & Mines
ANGIE TALLANT Somers Sotheby's International Realty
KELLY WARD Robinson & Ward, PC
PATRICK COTTER RESPEC Company, LLC
OUR NEW STRATEGIC PLAN
During a one-day Board of Directors retreat, our organization's leaders worked through the process of developing a road map to guide our work going forward. The strategic plan developed is meant to lead our organization for the next three to five years, helping us to stick to our priorities. This work was guided largely by Bob Harris, CAE, a world-renowned expert in board education. His knowledge, resources, and guided conversations helped our Board of Directors to create a strong and intentional strategic plan that now serves as a solid foundation to all of the Chamber's work.
VOICE COMMUNITY FACILITATE
The Chamber examines, amplifies, and advances the most critical issues.
Government Relations – Be the primary conduit for strong advocacy on behalf of business and community.
Federal Appropriations – Recognize the federal allocations and maintain preparedness to respond. Explore opportunities to diversify the Interior economy.
Issues Forums – Provide platforms and opportunities to engage business and organizations in examining and advocating for improved public policy.
Advocacy Strength – Maintain the strength of the Chamber 's advocacy program and keep members informed how government relations benefits business and community.
Military Relations – Support engagement for the mutual success of military and business.
Academic Relations – Build relationships with the University of Alaska and academic institutions to promote pathways, job readiness, worker advancement, and opportunity creation.
Leadership Fairbanks® - Provide training opportunities that strengthen and position future leaders in the community and Chamber.
Community Organizations – Build and support coalitions with organizations that work to enhance community.
CHAMBER STRENGTH
Signature Events – Provide events for business and residents to interact, share, and promote mutually beneficial outcomes.
Member Connections – Provide the opportunities and platforms that allow members to establish and sustain meaningful connections.
Demonstrate Value - Attract a diverse representation of businesses community, ensuring every demographic sees value in Chamber membership.
The Chamber is respected for its leadership, structure, and strategy.
Governance - Create a governance structure that supports the Chamber's strategic goals and continued growth
Professional Staff - Provide professional development opportunities and support to attract and retain quality staff.
Finances - Maintain and protect the Chamber 's financial and organizational assets while implementing innovative approaches to opportunities and revenue.
Impact - Gauge community and business awareness of the Chamber 's impact and culture, allowing the board to make knowledge-based decisions.
The Chamber improves our community through collaboration and leadership.
The Chamber facilitates prosperity by being a hub and resource for business.
GREATER FAIRBANKS CHAMBER OF COMMERCE PAGE 03
The Greater Fairbanks Chamber of Commerce is the leading voice advocating for community by supporting business prosperity in the Interior.
VOICE
The Chamber examines, amplifies, and advances the most critical issues.
2022 TOP PRIORITIES
LONG-TERM FISCAL PLAN
Support responsible, comprehensive, long-term sustainable fiscal plans that fund essential programs and strategic investments that promote long-term economic growth and diversification while balancing revenue against expenses.
ADEQUATE SUITABLE HOUSING FOR SERVICE MEMBERS
Urge local and state government to swiftly implement effective solutions to the shortage of suitable housing for current and incoming service members, leveraging existing policy and programs while also pushing for creative solutions to support current and future investors. Adequate, suitable housing for military personnel will maximize the economic benefits associated with the buildup of Alaska military installations.
GREATER FAIRBANKS CHAMBER OF COMMERCE PAGE 04
JUNEAU FLY-IN
The 2022 Juneau Fly-In was a successful event, and a wonderful return to being in-person down in Juneau. We were represented by 15 members who separated into 4 groups, connecting with 52 legislators, members of the Governor's cabinet, state executives, as well as the Lt. Governor and Governor Dunleavy. Our participants attended a record number of meetings, totaling to over 60 meetings.
During the two-day event, teams met with legislators and staff, leadership from both the House and Senate as well as breakfast with Commissioner Mahoney of the Department of Revenue, and a decadent lunch at the restaurant SALT with Commissioner Anderson of DOT&PF. Individual teams had the opportunity to meet with Commissioner Sande of the Department of Commerce, Community and Economic Development, as well as Directors at the Department of Commerce, Community & Economic Development. Additionally, teams also met with Director Steininger at the Office of Management and Budget and Commissioner Brune from the Department of Environmental Conservation.
We were honored to receive an invitation to have breakfast at the Governor's residence. We listened to remarks from the Governor, as well as a presentation from staff members about the Governor's proposed budget for the coming year. This breakfast was delicious, and full of great discussion and opportunities for questions from our participants – as well as discussion of our two 2022 Advocacy priorities.
Wednesday evening, we hosted over 120 legislators, administration representatives, and Juneau staff at our annual Legislative Reception. We offered an incredible spread of hors d'oeuvres at the Centennial Center on the downtown Juneau waterfront.
VOICE PAGE 05
ENERGY, ENVIRONMENT & NATURAL RESOURCES
The Energy, Environment, and Natural Resources committee explored a number of topics and issues in 2022, including air quality regulations, mining activity, and renewable energy. The committee engaged the Alaska Department of Environmental Conservation's commissioner's office to discuss proposed wood stove regulations and the certification program, as well as submitted comments to EPA regarding wood stove testing protocols. We heard from groups developing railbelt energy infrastructure, including pumped hydro, wind farms, and upgraded transmission lines. Presentations on mineral exploration and development across the Interior covered critical mineral prospects and mine clean-up activities.
EDUCATION & WORKFORCE DEVELOPMENT
The Education and Workforce Development Committee spent time in 2022 refining their position statement on Support for Quality K-12 Education; the position was approved for inclusion in the 2023 Advocacy Agenda. The committee tracked several bills on apprenticeship expansion, affirmative action, early education programs and the Alaska Reads Act which was signed into law in 2022. We hosted presentations from Wonderschool on Enhancing the Quality and Stability of Child Care Programs Across the Country; State Representative Prax on the Alaska Reads Act (SB111); the CTC/UAF Applied Business and Accounting Program on the use and value of Microcredentials; UAF's E-Campus; the Associated General Contractors; the FNSB Transportation Director on busing issues and Mayor Bryce Ward on Education Authority and Funding.
GOVERNMENT RELATIONS
The Government Relations Committee met throughout the year to discuss a variety of topics relevant to a healthy and sustainable business climate for Interior Alaska. The GRC met with the Interior Delegation to the Alaska Legislature biweekly during this year's legislative session. These meetings provided the GRC with a direct line of communication to lawmakers, allowing us to offer our perspective on proposed legislation and to focus our advocacy in a timely and relevant manner. Separate from the Interior Delegation meetings, the GRC heard presentations from outside speakers on topics with national relevance (Forced Arbitration Injustice Repeal Act, Taxpayer Penalty Protection Act); statewide relevance (Alaskans for Sustainable Budgets, Defend our Constitution); and local relevance (UAF budgets, FNSB Comprehensive Economic Strategy Development planning).
MILITARY AFFAIRS
TRANSPORTATION & INFRASTRUCTURE
Meeting every Thursday morning, the Transportation & Infrastructure committee was able to host a variety of speakers for updates on the following topics: Alaska Long Trail, Alaska Railroad, Statewide Comprehensive Outdoor Recreation Plan, the Polaris Building, FAST Planning, Airport Way Pedestrian Improvements, DOT & PF projects, Explore Fairbanks, the Port of Nome, FNSBSD transportation, STIP amendment 4, Chena River Recreation Site, Northern Pacific Airways, Richardson Highway 205-235 project, Alaska State Broadband, Doyon Denali Airport, Tanana River Recreation Area, Totchaket Road, Alaska Climate Adaptation Science Center, Alaska International Airport System, J-1 Visas, and ACUASI.
The Military Affairs Committee moved significantly back toward a pre-COVID normalcy in 2022 with hybrid in-person and virtual meetings and the return of the Military Appreciation Banquet and Operation Standing Together. Committee business was primarily oriented toward addressing the housing concerns within our community; standup of the Army's newest division, the 11th Infantry Division (Airborne); the Army's efforts to reduce Soldier suicides; quality-of-life initiatives; and basing plans for four additional KC-135 Stratotankers at Eielson Air Force Base.
VOICE PAGE 06
- CHRIS DARRAH, CHAIR
- PATRICK COTTER, CHAIR
- JANET DALEY, CO-CHAIR
- MELISSA OSBORN, CHAIR
-TIM JONES, CO-CHAIR
COMMITTEES
Advocacy committees advise the Chamber on issues that may affect our members, and are the backbone of our advocacy work. They provide a platform for members to engage with, examine, and improve public policy. Their work ensures that the greater Fairbanks area remains a great place to live, work, and do business. In 2022 we had help from Blueprint Alaska, a public relations and advocacy firm.
Blueprint Alaska assisted with advocacy and committee work during GFCC's search for a new executive director. Blueprint led the effort to organize monthly committee meetings for the five committees, from drafting agendas, organizing presenters, prepping materials, recording minutes and more. They also drafted several position letters for different causes, and created an internal advocacy guideline for Chamber staff and committees. Lastly, they brainstormed a new social media campaign, Fiscal Notables. For it, they researched information for captions, created graphics and launched the campaign, helping explain Alaska's fiscal scene in a digestible way.
DID YOU KNOW?
• Any employee from a member business can apply to join one of our advocacy committees! Get involved to make your business's voice heard.
• If you don't want to commit to committee membership, come to the meetings that interest you! All committee meetings are open to our membership public. Listen in as a guest.
VOICE PAGE 07
COMMUNITY
The Chamber improves our community through collaboration and leadership.
GREATER FAIRBANKS CHAMBER OF COMMERCE PAGE 08
© Greg Martin Photography
POSITIVE PICKETING
Members of our Education & Workforce Development committee spearheaded two Positive Picketing events this summer to recognize and celebrate those working for the Fairbanks North Star Borough School District. Firstly gathering at Nordale and Joy Elementary Schools, we showed our love and support of their last school year before permanent closure. Chamber staff and community members later assembled at the teacher inservice kicking off the 2022-2023 school year outside of Hering Auditorium.
This is one of our favorite traditions. Prepared with coffee, donuts, and 'pump-up jams' participants welcome educators and staff back to school while waving around positive signage.
COMMUNITY PAGE 09
© Fairbanks North Star Borough School District © Fairbanks North Star Borough School District © Fairbanks North Star Borough School District
CLASS OF '22
Fairbanks International Airport Christel Burgess
Greater Fairbanks Chamber of Commerce Emily Coppinger
Interior Gas Utility Zachary Dameron
Morris Thompson Cultural and Visitors Center Sara Harriger
Robinson & Ward PC Erin Hayes
Aurora Audiology Lily Hughes
Usibelli Coal Mine Amy Isaacson
Shannon & Wilson, Inc. Cyndi Jaffa
University of Alaska Fairbanks Paula Kennedy
Spirit of Alaska Federal Credit Union Michele Mace
Fairbanks North Star Borough Cecily Manning
Thrivalaska Sarah Newton
Mt. McKinley Bank Kareston Robinson
Fairbanks International Airport Amanda Stonecipher
Explore Fairbanks Leslie Young
CLASS OF '23
Teal Belz Golden Heart Performing Arts
Rylieh Bodyfelt Rylieh Real Estate, LLC
Tania Clucas Morris Thompson Cultural and Visitors Center
Terrell Echols FNSB Parks and Rec
Tina Ferringer F&H Fitness Studio
Darrah Fitzpatrick Fairbanks North Star Borough
Maria Garcia MAC Federal Credit Union
Jessica German Greater Fairbanks Chamber of Commerce
Marina Jones Design Alaska
Stephen Ketzler Mt. McKinley Bank
Tirza Knix Candlewood Suites Fairbanks
Natalie Lyon RESPEC
Cynthia Morgan Alliance CPAs
Jasmine Pletnikoff Mt. McKinley Bank
Natalia Ruppert University of Alaska Fairbanks
Sarah Schlichting Alaska DOT
Mckinlee Webber University of Alaska Fairbanks
Rachel Willis Shannon & Wilson, Inc.
Angellynn Wing Alaska Universal Productions
COMMUNITY PAGE 10
Congratulations, Leadership Fairbanks Class of '22!
Welcome, Leadership Fairbanks Class of '23!
© Greg Martin Photography
"Each year we work through topics like self-management, communication, building trust, and servant leadership, while spending a great deal of time building peer-to-peer relationships through in-class discussions and exercises. My focus has always been on helping students develop meaningful connections with one another so they have a network of people they trust to help them through the challenges they will inevitably face in the future. This means no two cohorts have been quite the same, but each has left with a strong sense of community and that their needs were central to our work together."
"I looked forward to every session of Leadership Fairbanks. I was eager to hear what topics were going to be discussed, who our guest speaker was going to be, and what relationships I could build with my classmates. It was a valuable learning experience that I will never forget. At Leadership Fairbanks you learn how people are leading today, and in the future. It taught me to be a grateful leader, one who listens and knows how to cultivate a work environment where everyone thrives."
"Leadership Fairbanks was top-notch, as is Geoff Welch. The topics of discussion were engaging, my colleagues turned into friends and the smaller class size allow our group to develop lifelong connections. This class helps individuals strengthen their speaking abilities in a group setting and hone in on business acuities to handle difficult discussions and challenging roles we face as leaders."
"Two words: LIFE CHANGING. I am incredibly thankful for my experience in Leadership Fairbanks and would highly recommend the opportunity to anyone in any profession within our community. I grew personally and professionally and created life-long friendships that I will be forever grateful for. I have applied several tips and tricks learned during my time with such a fabulous group of people!"
COMMUNITY PAGE 11
Lil
yHughes, Class of'22
o
'2 2 Z a c h a r y Dameron,Cla s s of '22 Geoff Wel c h, ClassFacil i t at o r
Leslie Young,Class
f
BUILDING CONNECTIONS
We hosted our eighth annual Operation: Standing Together, welcoming sixty seven civilian and military leaders to an evening reception. Those in attendance spent the evening networking in a casual atmosphere, exchanging contact information, and learning about ways they can collaborate. Between military PCSs, elections, and promotions within the business community there is a constant changing of faces. This event allows leadership to reestablish connections and put faces to names.
COMMUNITY PAGE 12
POLITICAL FORUMS
FAIRBANKS CITY COUNCIL
Seats C & D
FAIRBANKS CITY MAYOR
GUBERNATORIAL
Governor & Lieutenant Governor
Political forums are an opportunity for the community to learn more about the candidates running for office so they can make informed decisions at the polls. 2022 was a busy election year. We hosted forums for the Fairbanks City Council seats, the Fairbanks City Mayor candidates, the Borough Assembly seats, and the Interior Delegation House and Senate seats. We also had the pleasure of co-hosting the candidates running for Alaskan State Governor and Lieutenant Governor, as well as the U.S. House candidates, with the Alaska Chamber of Commerce. Our attendance among all of our forums totaled to 533 community members. Questions covered a wide variety of topics ranging from the budget and the Permanent Fun Dividend to workforce shortages and resource development. There was also opportunity for candidate-to-candidate questions and the crowd favorite, yes/no questions. Overall this year's political forum season was a resounding success.
CONGRESSIONAL
U.S. House
BOROUGH ASSEMBLY
Seats B,C & I
INTERIOR DELEGATION
House Seats 31 & 32 | Senate Seat P
House Seat 34 | Senate Seat Q
House Seats 35 & 36 | Senate Seat R
COMMUNITY PAGE 13
© Greg Martin Photography
General Mattis is a living legend, one of the most revered Marines, and a true American hero. Few have been a better partner for Alaska over the course of decades or know more about our state's critical role in America's defense.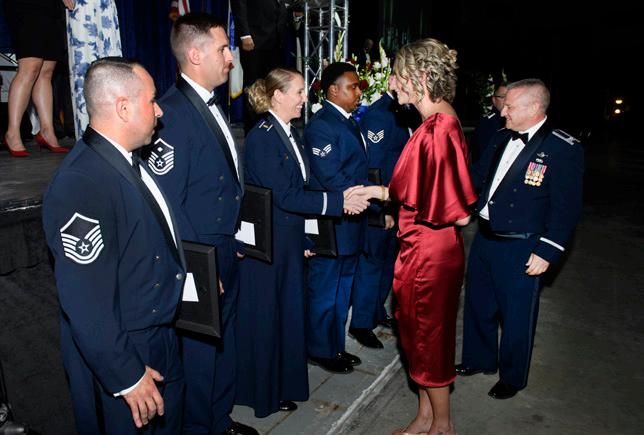 The 52nd Annual Military Appreciation Banquet was the highest attended banquet in history. We welcomed more than 700 guests to the Carlson Center to honor military personnel from Interior Alaska for their excellence, leadership, and commitment to service in our armed forces. Our Senior Senator, U.S. Senator Lisa Murkowski brought U.S. Marine Corp Retired General and 26th U.S. Secretary of Defense Jim Mattis to be our keynote speaker for the evening; an incredible privilege for the Fairbanks community. We recognized fifteen honorees from U.S. Army Alaska, Alaska Army National Guard, the 354th Fighter Wing, and the 168th Wing for their notable efforts of service to our country. Nathan Bergerbest was awarded the 2022 Messer Award. He was integral to the collective effort to save Eielson, while also convincing the Air Force to bring the F-35s here. He was a dedicated public servant who fought hard for our state, and especially the military communities in the Interior. The Hometown Hero Award was created and awarded to Lieutenant General Retired Keith Stalder, a Fairbanksan who had a successful 40 year career in the Marine Corps and Department of Homeland Security. What started as a dinner party at home with Jim and Rosemary Messer has now grown into a well-loved and time-honored tradition in the Golden Heart Community. The Greater Fairbanks Chamber of Commerce is honored to be part of it.
COMMUNITY PAGE 14
By unifying around our that is how we could meet over to the next generation,
2022 KEYNOTE SPEAKER General Jim Mattis U.S. Marine Corps (Ret.) 26th U.S. Secretary of Defense
U.S. Senator Lisa Murkowski Senior Senator of Alaska Honorary Host
HONOREES
U.S. ARMY ALASKA 1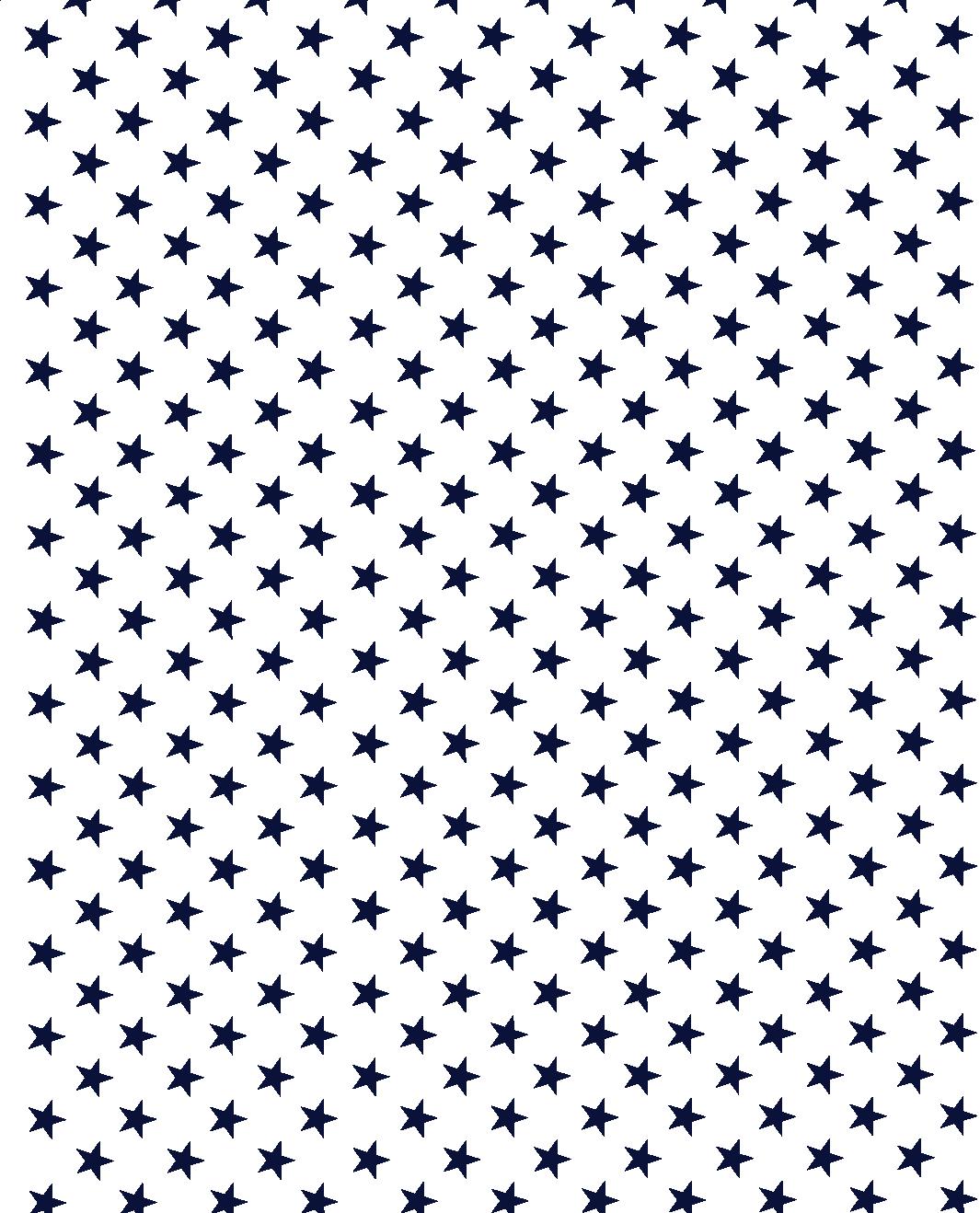 Captain Douglas Cichowicz
Captain Benjamin Krzeczowski
Sergeant Tyler Falci
Sergeant Colton Wilson
354TH FIGHTER WING 1
Second Lieutenant Aidan Kress
Master Sergeant Richard Skelly
Staff Sergeant Kalvin Gilhousen
Senior Airman Herman Washington
ALASKA ARMY NATIONAL GUARD 1
First Lieutenant Jose Montalvo
Sergeant First Class Blake Trahan
168TH WING 1
Master Sergeant Carla Carey
Master Sergeant Chad Hill
Master Sergeant Robert Rosa
VOLUNTEERS OF THE YEAR 2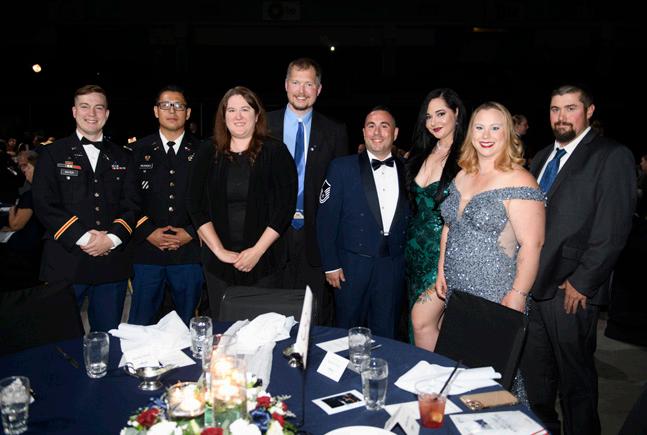 Ruth Fuller
Carinell Feliciano Moya
2022 MESSER AWARD WINNER
Nathan Bergerbest 3
HOMETOWN HERO AWARD WINNER
Lieutenant General (Ret.) Keith J. Stalder 4
our radical idea of what is said in our constitution; meet our ultimate responsibility to the fallen: to turn generation, a republic in better shape than we received it.
COMMUNITY PAGE 15
1 2 3 4
Golden Days2022



Fortune favors the GOLD! We celebrated the founding of Fairbanks with our traditional events, and even brought back the beloved Comedy Night. We kicked off the Golden Days week by releasing clue one for our annual Poke of Gold hunt. Our friends Robert, Kelly, and Walter found the hidden scroll on day three!
GOLDEN DAYS LUNCHEON
On the Tuesday of Golden Days week our membership gathered to hear a presentation from Steve Mitchell on Judge Wickersham and his role in the founding of our Golden Heart City. The staff dressed up in Golden Days regalia and cheered on our guests as they participated in a "duck hunt." Fun was had by all and was exciting to see attendance growing back to its former glory.
COMEDY NIGHT
The return of this fun Golden Days event was well received by our community! We gathered with 111 golden heart community members for an evening of laughs. Jerry Evans and Glenner Anderson opened for local favorite, and big star, Jamie Lissow. Jamie had us rolling in our seats as we enjoyed an evening of drinks and jokes as we prepared for our culminating weekend.
4,337 yellow ticket numbers went into the tumbler for the 2022 Early Bird Drawing.
COMMUNITY PAGE 16
Stevie was our Early Bird winner with ticket #2356, winning $1,500!
Robert, Kelly and Walter found the poke of gold!
GRANDE PARADE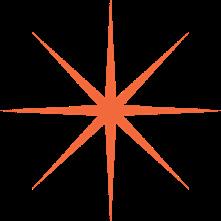 The community came out to line the streets as we welcomed the highly anticipated return of our Golden Days Grande Parade! 61 floats and entries wound through downtown Fairbanks showcasing our pioneers, classic cars, mining machinery, campaign floats, our Golden Days jail, and so much more. After two years of a stationary parade, it was wonderful to see the smiling faces of our community as the parade passed by.
STREET FAIR
Our small but mighty staff hosted 61 booths at this year's Street Fair. Kids played in the Kidz Korner enjoying face painting, bounce houses, and balloon animals. There were back-to-back performances on the Golden Days stage with a beer garden. And, of course, lots of food and shopping with our Alaskan artisans and vendors.
RUBBER DUCKIE RACE
And last, but not least, our community cheered on our 8,000 Rubber Duckies as they raced down the Chena River. The Chamber sold 14,185 tickets and had 82 lucky duck winners receiving $34,834 worth of cash and prizes! Ticket #2844 was the lucky one this year! The yellow ticket holder with that number won $10,000 and the pink ticket holder with that number won $5,000.
COMMUNITY PAGE 17
FACILITATE
The Chamber facilitates prosperity by being a hub and resource for business.
GREATER FAIRBANKS CHAMBER OF COMMERCE PAGE 18
The Greater Fairbanks Chamber hosts weekly luncheons featuring a wide variety of educational and informative guest speakers to discuss topics important to the business community. These luncheons also serve as great networking opportunities for our members to interact. In 2023 we hosted 33 Weekly Business Presentations in 2022 with a total attendance of 1,780 individuals representing our members and community. Featured below are our top five attended luncheons.
CELEBRATING MINING DAY
in partnership with the Alaska Miners Association
THE UNITED WAY CAMPAIGN KICKOFF
featuring Amanda Hanson, Executive Director, United Way of the Tanana Valley
OPPORTUNITIES AND OBSTACLES IN ALASKA'S OIL AND GAS RESOURCES
featuring Kara Moriarty, President and CEO Alaska Oil and Gas Association
STATE OF THE GARRISON
featuring COL Nathan Surrey, U.S. Army Garrison Commander, Fort Wainwright
THE NEW ARCTIC
featuring Dr. Mike Sfraga, Chair, Polar Institute, Chair, US Arctic Research Commission
FACILITATE PAGE 19 WEEKLY
LUNCHEONS
BUSINESS
ARBY'S
grand opening | new location
2022 RIBBON CUTTINGS
YUKON EYECARE PROFESSIONALS
grand opening
SPRUCE TREE MONTESSORI SCHOOL
1,000 sq. ft. expansion
907 VACATION RENTALS
grand opening
FAIRBANKS YOUTH SOCCER ASSOCIATION
grand opening of multi-sport courts
JUST THE TIPS CAFE + WELLNESS CO.
grand opening
FIRST NATIONAL BANK ALASKA
centennial anniversary
reopening of Golden Valley Branch
FACILITATE PAGE 20
BERNICE M. JOSEPH EDUCATION ADVOCATE OF THE YEAR
Brianna Gray
BILL STROECKER BUSINESS OF THE YEAR
Lat 65 Brewing Company
GEORGE NEHRBAS VOLUNTEER OF THE YEAR
MAC PAC
2023 ARTIST OF THE YEAR
Anya Toelle
NEW! LISA CASSINO EXEMPLARY SERVICE AWARD
Lisa Cassino
KNOCK YOUR SOCK OFF AWARD
Fairbanks Youth Soccer Association
ARTIST OF THE YEAR Lyndsi Harris
We enjoyed working with our 2022 Artist of the Year, Lyndsi Harris of Evolutionary Thread. Throughout the year we featured her winning piece on all of our thank you cards, sponsored her booths at the Midnight Sun Festival and the Golden Days Street Fair, provided an hour of business consulting with Geoff Welch Consulting, and hosted her at our office for a First Friday event in November!
We were happy to see Lyndsi grow by capitalizing on the benefits of our Artist of the Year program.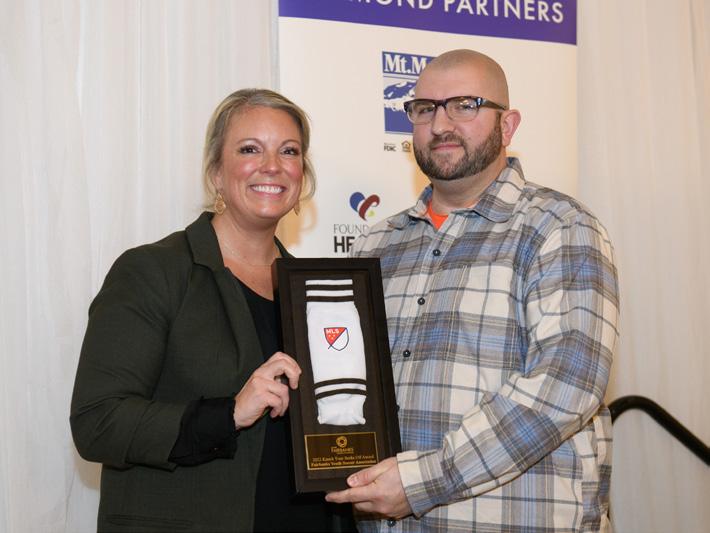 FACILITATE PAGE 21
DIVERSITY OF MEMBERSHIP
NEW MEMBERS
907 Vacation Rentals LLC
Alaska Resource Education
Alaska Satellite Internet Corp
Alaskan Ecotours
Alpine Medical Group
American Heart Association, Alaska Region
Apex Realty Group with Real Broker LLC
Barbara Haney
Beyond Blessed Travels, LLC
Black Gold Transport
Centinel Pacific Accounting LLC
Century 21 Gold Rush
DeMars Engineering, LLC
Elite Landscaping LLC
Fairbanks Assisted Living
Fairbanks Urology
Fairbanks Youth Advocates
Felix Gold Alaska Operations Inc
First Command
Gabriel King Photography LLC
GBA Assaying & Refining
Geotemps, Inc.
Golden Heart Performing Arts
Golden Heart Treats, LLC
Golden North Inn
Greater Fairbanks Racing Association
HD Clean Heart & Soul CPR
HomeLight Inc.
HQ-Legal, Inc
JC Services LLC
Jones Auto Detailing LLC
Just The Tips Café + Wellness Co. LLC
Lat 65 Brewing Company
LifeTyme Financial, LLC
McDonald's of Fairbanks
McGraw IT Services
Medphysicals Plus
Mike Ferguson
Moda Health & Delta Dental of Alaska
MTA
NAMI Fairbanks
North Star Ballet
Northern Homes
Nuvision Credit Union Alaska
Panda Express
Powered By Lymburner Realty
Resource Center for Parents & Children
Rylieh Real Estate LLC
SPITwSPOTS, Inc.
The Local Pages Inc.
Timber Creek Senior Living Top-Shelf Views
U-Haul of Alaska
Wells Fargo Bank
William B Stapp Agency
Yukon Eyecare Professionals
FACILITATE PAGE 22
OUR EXECUTIVE PARTNERS
Our Executive Partners recognize the value and impact of the Fairbanks Chamber. Our strength comes from our members and their support as Executive Partners sustain our efforts throughout the year. They share their knowledge and support which help us advocate for a pro-business environment in Alaska. We work with local, state, and federal officials, as well as key stakeholders across the state, to ensure that all understand our members' needs. Together, we can all go farther and build greater success.
GREATER FAIRBANKS CHAMBER OF COMMERCE PAGE 23
2022 BOARD CHAIR
JENNIFER THOMPSON
My dad taught me to leave or return something in better shape than when I found it. And during my year leading the Chamber, I have done that. But it was not a solo effort. At last year's annual meeting, I ended my comments with, I quote:
"As 2022 unfolds, all ofus are adding to the Fairbanks tapestry, and I lookforward towhatwe choose to create."
The truth is, the success of the Chamber is because of YOU, our MEMBERS, and the amazing volunteers we have had throughout the year! My time in this role as Chair has been full of personal and professional growth. I am blessed to have had such an experience and to have worked with so many amazing people. The work of the Chamber is both fulfilling and rewarding, and I'm thankful for the opportunity to serve in this capacity.
I'm honored and humbled to be the Board Chair for 2023, and I look forward to connecting with our businesses, committees, elected officials, and non-profits to identify and advocate for the issues that matter most to our community. The Greater Fairbanks Chamber of Commerce is what we, the members, make it, and I genuinely believe that through our collective efforts we can continue making a positive difference in our community this year. I encourage our members to take an active role in the Chamber through volunteering at events, attending weekly luncheons, joining a committee, or simply providing feedback on your concerns.
2023 BOARD CHAIR PATRICK COTTER
JENNIFER THOMPSON, 2022 Board Chair
GREATER FAIRBANKS CHAMBER OF COMMERCE PAGE 24
2023 BOARD OF DIRECTORS
ELECTED DIRECTORS
JENNIFER THOMPSON
Past Chair
Century 21 Gold Rush
JIM CULLEY Treasurer
Mt. McKinley Bank
KELLY WARD Chair Elect Robinson & Ward, PC
LISA CASSINO
Usibelli Coal Mine
CHRIS DARRAH
Shannon & Wilson, Inc.
REBECCA DEAN
Dean & Associates LLC
KEN HALL Lynden Transport
MARC HARMON Golden Heart Utilities
JENNIFER IMUS First National Bank Alaska
TANYA KAQUATOSH Doyon, Limited
WENDIE MACNAUGTON
Northern Star Resources Limited
SCOTT MCCREA
Explore Fairbanks
JULIET SHEPHERD Shepherd et al.
SARA SMITH MAC Federal Credit Union
JOMO STEWART Fairbanks Economic Development Corporation
ELENA SUDDUTH Interior Gas Utility
DAVID VAN DEN BERG Downtown Association of Fairbanks
APPOINTED DIRECTORS
MIKE DAVIS GHEMM Company ARLETTE EAGLE-LAVELLE Lavelle's Taphouse
ISAIAH MANGUM Fairbanks Brand Studio
HONORARY DIRECTORS
COLONEL DAVID BERKLAND 354th Fighter Wing Commander
COLONEL MICHAEL GRIESBAUM 168th Wing Commander
MAYOR DAVID PRUHS City of Fairbanks
COLONEL NATHAN SURREY Fort Wainwright Garrison Commander
MAYOR BRYCE WARD Fairbanks North Star Borough
KRYSTAL WESTER Evergreen Eatery
MAYOR MICHAEL WELCH City of North Pole
CHANCELLOR DANIEL WHITE University of Alaska Fairbanks
GREATER FAIRBANKS CHAMBER OF COMMERCE PAGE 25
KATIE YARROW Membership Development Manager
AMANDA BOHMAN Advocacy Coordinator
EMILY COPPINGER Marketing & Communications Coordinator
JEREMY JOHNSON President & CEO ELORA SWAN Event Coordinator
MISSION The Greater Fairbanks Chamber of Commerce is the leading voice advocating for community by supporting business prosperity in the Interior. Greater Fairbanks Chamber of Commerce 100 Cushman Street, Suite 102 Fairbanks, AK 99701 (907) 452.1105 info@fairbankschamber.org www.fairbankschamber.org