4 minute read
Experience A Family Weekend in Drumheller
from 2019 Experience the Dinosaur Trails
by experiencetravelguides
The wind tousles our hair as we clickety-clack down the track pulled by Linda, Atlas Coal Mine's 90+ year-old locomotive. Jessica, our guide, tells us "there were 139 coal mines in the valley and 1.5 million boxcars; enough to go around the world" at the height of the coal boom. Across the Red Deer River, coal seams are visible in the badlands. Years ago, as a Geography student, I hiked those hills, sketched and labelled the rock layers, and wondered at seashells that were left behind when an inland ocean covered the land. Now, I witness the wonder in my children's eyes as they take in the scenery, history, and recreational opportunities Drumheller has to offer.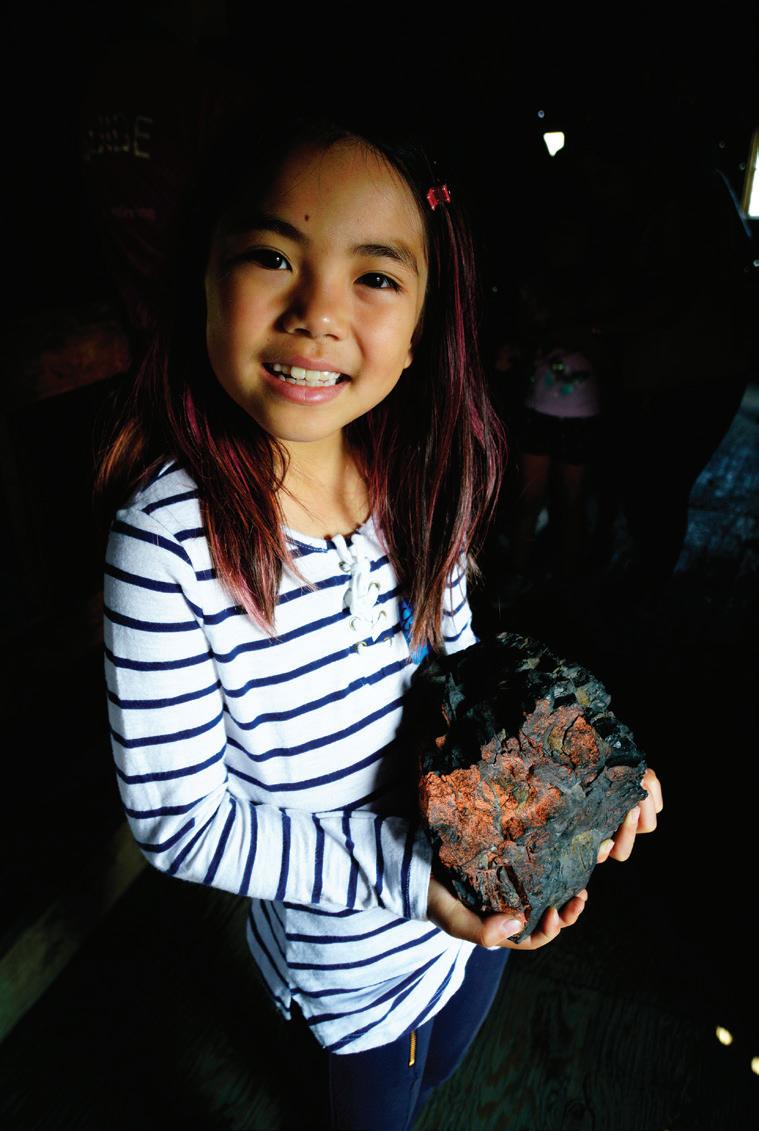 Atlas Coal Mine
Of all the historic sites in the valley, Atlas Coal Mine gives the best picture of mining life when coal was king. In fact, it's Canada's most complete historic mine! Enthusiastic guides show off artefacts and share colourful stories about miners who lived and worked here. Memorable tales from the 1 km train tour involve trapper boys, rum smuggling, and how to trick ponies into pulling more coal cars.
At the office, guide Amelia pays us our wages, tells us about the different jobs and how dusty coal miners were identified on pay day (by their voices!), then lets us in on 1930s hiring practices. It was a little dodgy to say the least. Teenage boys easily got jobs by claiming to be 18, the minimum legal age to work in the mines. In the manager's office, we keep an eye out for the paranormal. The office is rumored to be haunted by the ghosts of Dr. Omer Patrick, President of Atlas Coal Mine and Johnnie Vasco, pit boy. On occasion, they have even untied visitors' shoelaces or given them a push!
Finally, it's time to walk the gantry (ramp) to the top of the last wooden tipple in Canada. What's a tipple? A processing plant where coal is sorted, stored, and loaded onto trains. "The tipple was the worst place to work," Amelia declares. It was extremely noisy, dusty, drafty, and dangerous. At shift change 150 men called it a day and another 150 took over.
After a picnic lunch, we don headlamps and hardhats for the Tunnel Tour. It gets darker and quieter the further we travel into the hillside. When we turn out our lights, we can't see our hands in front of our faces! We are told tales of hazing rituals, rescue protocol, and the legendary Steamshovel Pete who shoveled 12 - 14 tons of coal per day for 70 cents a ton!
East Coulee School Museum
Kids will enjoy the scavenger hunt (don't forget to claim your prize!), being a pioneer student (watch out for that strict school marm!), and having homemade pie in the Willow Tea Room.
For a one-of-a-kind experience, sign up for the Mine and Dine program in partnership with the Atlas Coal Mine. Be a 1937 miner for a day (gear up, make your own brass tag, go into the mine, and earn a commemorative pay cheque), then head to East Coulee School Museum to make noodles from scratch and enjoy a Hungarian family-style meal!
Hoodoos Trail
Sunrise and sunset are the best times to visit Drumheller's most impressive hoodoos, ten mushroom-shaped geologic wonders 1-3 m tall, backdropped by badlands. Interpretive signs along the 500 m trail reveal how the hoodoos formed.
Historic Wayne
Drive or bike the 11 bridges to Wayne! The 6 km drive from Rosedale to Wayne is in The Guinness Book of World Records for having the most bridges per distance. Enjoy dinner and live music at the Last Chance Saloon (est. 1913), then get an ice cream at Jojo's Haberdashery. Recognize the Rosedeer Hotel? Shanghai Noon and In Cold Blood were filmed here!
Rosedale
The 35.6 m long Star Mine Suspension Bridge was built in 1931 and spans the Red Deer River. Once used by miners, the bridge provides access to fishing and hiking.
Drumheller
Cool off at the spray park, climb inside the World's Largest Dinosaur, then bike to the Royal Tyrrell Museum. The 7 km ride goes through Midland Provincial Park and McMullen Island Park. After visiting Canada's pre-eminent dinosaur museum, hike the scenic Badlands Interpretive Trail (1.4 km loop), then visit The Little Church.
DinoWalk is a fun stroll around town. Look for replicas of 20 dinosaurs discovered in the area. Start at the Info Centre.
Whether you spend a day or weekend here, there's tons of fun to be had, history to discover, and world-class attractions to bring it to life. Start planning your Drumheller getaway now!
Photos and Story By: Karen Ung