2 minute read
Experience Calgary
from 2019 Experience the Dinosaur Trails
by experiencetravelguides
Calgary is located at the confluence of the Elbow and Bow Rivers, it has a population of 1.2 million people, making it the largest city in Alberta.
In July, during a 10-day celebration of our authentic western heritage, The Calgary Stampede hosts more than one million attendees to the greatest outdoor show on earth. To learn more, pick up a copy of Experience the Cowboy Trails.
This vibrant community hosts numerous other annual events, such as: the Calgary International Film Festival, Calgary Folk Music Festival, Beakerhead Arts, Science and Engineering Festival, FunnyFest, Folk Festival, Greek Festival, GlobalFest, the Calgary Fringe Festival, Summerstock, Calgary Pride, and many more. visitcalgary.com/things-to-do/festivals
This young city's history dates back to 1875 when a troop of North West Mounted Police (NWMP) found the ideal place to build a fort. In honour of his home town in the Scottish Highands, Colonel James McLeod came up with the name "Fort Calgary". Located east of the downtown on 9th Avenue South, come discover the rich scarlet history of the NWMP.
Other major attractions are located close by, including: The Telus Spark – a science museum with interactive exhibits, multimedia presentations and educational demonstrations; the Calgary Tower – stand on the amazing glass floor for a spectacular 360-degree view of the bustling city, the majestic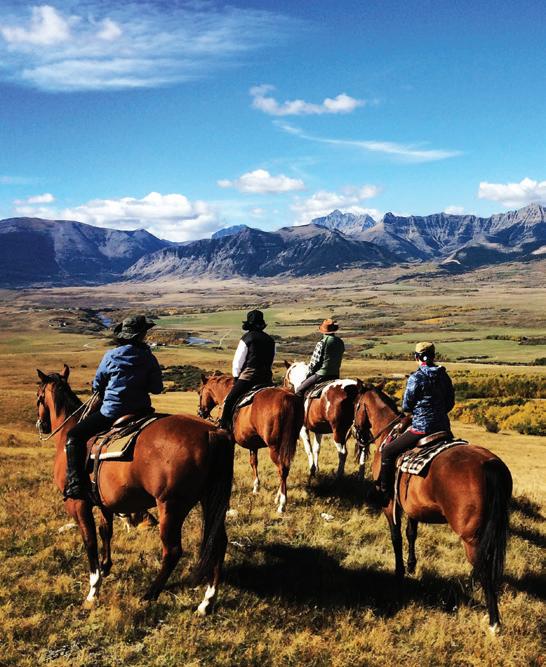 Rocky Mountains, and the prairies; and Glenbow Museum – a key cultural cornerstone for 50 years.
Other family-friendly attractions include: Heritage Park, the Military Museum, Spruce Meadows, Canada Olympic Park, Calaway Park, and the Calgary Zoo.
Open 364 days/year, the zoo hosts about 800 animals from around the world. Already Canada's most visited zoo, they expect 1.5 million visitors over the next year, in part because the Giant Pandas arrived in 2018 and continue to be a big draw!
After many years of planning, and $100 million in upgrades, the Calgary Zoo opened its state-of-the-art Panda Passage in May 2018. Bringing the pandas was part of an international agreement signed in 2012 between China and Canada.
"Not only is Panda Passage the most unique animal habitat we've ever created, but we have also renovated every corner of the zoo," says Dr. Clément Lanthier, President and CEO.
Other important changes include the opening of an $8 million Land of Lemurs, a new wayfinding system, widened pathways, an expanded parking lot and new play features in Canadian Wilds and the Prehistoric Park.
That's right, when you visit the Calgary Zoo, you should expect to see dinosaurs!