GA R DEN
TRADE SPECIALIST
Volume 2 Issue 24
BOOK YOUR TICKET NOW FOR GLEE 2023!
The international Festival for Garden, Leisure and Pet will soon be here!
Trade shows LANDSCAPE and SOLEX partner for second year
Celebrate Summer at Solex The only show or ganised by the industr y for the industr y 10-12 July 2023 Hall 5. NEC , Birmingham 01952 977569 | solex@lofa.com solexexhibition.com
10 Ashfield Road, Chorley, PR7 1LJ
Tel: 01257 267677
Fax: 01257 267711
MANAGING DIRECTOR
Emma Hatherall
EDITOR
Nick Lavigueur
nick@euromediaal.com
ADVERTISEMENT SALES
Julie Cross & Nichola Newton
PRODUCTION MANAGER
Sheila Helm
GRAPHIC DESIGN
Elle Creamer
PRINTED
pring has sprung and summer's just around the corner - finally!
You don't need me to tell you that this is the time of year that consumers begin to think about maintaining and improving their outdoor spaces. The question is how are you going to capitalise on that? If you read on you'll find plenty of industry news and products that hopefully will give you the edge over those who don't read Garden Trade Specialist!
The gloomy economic predictions following the turbulent political autumn/ winter of 2022 don't appear to have impacted the sector as much as some and it feels like the industry is still thriving with many of the customers won during Covid staying loyal, especially to in-store catering services. With the unpredictable weather during the first quarter of the year bringing us first the driest February in 30 years, and then the wettest March in 40 years, there was bound to be an impact on sales. But cafes and food sales in general have kept many retailers ticking over and proved the value of diversification.
The hot topic of the upcoming peat ban is also featured inside. I doubt you missed
it, but if you did, the Government finally confirmed in March that all retail sales of peat would cease at the end of 2024 with nurseries to no longer use peat after 2026. The Garden Centre Association has criticised the plan and is campaigning for a slower transition.
Its CEO, Peter Burks says: "Firstly, we believe there needs to be government support to enable good quality, alternative substrates to be available in sufficient quantity to replace all the peat currently in use. This needs to be made available to both growers and retailers to ensure neither is trying to make do with a poor product.
"Secondly, we are concerned that British nurseries have neither the time, nor the capacity to make up the deficit on imported plants, if plants grown in peat abroad are not going to be allowed to be imported. More time needs to be allowed for this change.
"Allowing plants grown in peat to be imported into the country in direct competition with our own growers, who would be 100% peat free, would be very difficult in what is sure to be challenging times."
I hope you enjoy our magazine and if you have any feedback or news you'd like to submit please contact me via nick@ euromediaal.com
[ 3 ] Garden Trade Specialist
PUBLISHED BY EUROMEDIA ASSOCIATES LTD
Garden Trade Specialist magazine would like to thank the advertisers that appear in this publication for their support and wish them continued success. Garden Trade Specialist is an independent publication and has no affiliation with any other organisation. The views expressed in Garden Trade Specialist do not necessarily reflect those of the publisher, Euromedia Associates Ltd and its employees. Similarly the efficacy of any products and services featured are the sole responsibility of the supplier / manufacturer. Editor's
ALL INFORMATION CORRECT AT THE TIME OF GOING TO PRESS. PLEASE SEE INDIVIDUAL ADVERTISER'S WEBSITES FOR UPDATED INFORMATION.
BY Buxton Press Ltd.
LETTER S
front cover & inside back cover images courtesy of Adobe Stock Photos
CONTENTS Features 6 Growing British Garden Centres chain reveals new 2 million plant capacity nursery 8 SOLEX 23: A Celebration Of Summer 11 GCA reveals sales trends for February and March 14 Perennial invited employers to tackle mental ill-health 18 Book your ticket now for Glee 2023 30 Behind the scenes: all the latest updates from Glee 2023 32 Motivate your customers to get back in the garden... and the saddle 39 Christmas Tree Growers issue 2023 buying advice 42 "PAWS" for thought: Pet and Animal Wellbeing at Glee 45 FEM extends its range of Cambro Basics shelving 49 Four reasons why electric heating offers multiple efficiencies 50 Trade shows LANDSCAPE and SOLEX partner for second year
Regulars 6 In the news 18 GLEE 32 Product Showcase 36 Christmas 37 Chrustmas Trees 41 Pets 45 Shelving 46 Home, Gifts & Cards 48 Plants 48 Outdoor Living 49 Outdoor Heating 50 Trade Shows
The glasshouse, tunnel and open-bed nursery site was built to the highest specification by the team at Hawkesmill Nurseries in 2017 and is now under the control of BGC.
"As British Garden Centres, it won't surprise anyone that we are increasing our production facilities in the UK," speaking before he left his role as Plants and PR Director at the end of April, Boyd J Douglas-Davies, Plants & PR Director for the group.
"I've known the incredible plants that Hawkesmill has produced for years from this unit and their other sites so jumped at the opportunity to take on this nursery."
The new nursery, to be known as Temple Nursery in recognition of the local area, will complement the growing the business already undertakes at its
IN THE NEWS Growing British Garden Centres chain reveals new 2 million plant capacity nursery
British Garden Centres (BGC), the UK's largest family-owned group of garden centres, has taken on a new, state-of-the-art, nursery production unit in Warwickshire.
Woodthorpe Nursery - the birthplace of the BGC group - and Fretherne Nursery, a site leased from Glendale Horticulture. Speaking of the lease deal, Richard Evans Director of Hawkesmill Nurseries said "My brother, John, and I have weighed up our many options and decided that the team at British Garden Centres were best placed to take on the unit at Temple and develop further the original vision for it. Their ambitious production plans and the guaranteed customer will ensure many jobs are available for the local workforce."
British Garden Centres has taken on five growers for the new site, including the newly appointed Group Nursery Manager, Nigel Coombs, and will be looking to recruit additional colleagues this year.
Talking of what will be grown at Temple
Boyd said: "Whilst this additional unit will give us the potential to produce 2 million retail ready plants a year it won't take away anything from our UK suppliers as our rate of growth, combined with our planned move towards more British plants, will absorb these plants and more."
British Garden Centres operates 62 garden centres in the UK. It sold over 8 million plants in 2022. The group is very focused on all things gardening; plant sales account for nearly 30% of the business.
Employing 3,000 people across the business, it is the UK's largest familyrun garden centre business. Founded by brothers Charles and Robert Stubbs in 1987 it continues to be led by the Stubbs family.
[ 6 ]
Boyd J Douglas-Davies, image courtesy of BGC
[ 7 ] Garden Trade Specialist
SOLEX 23: A CELEBRATION OF SUMMER
The Summer Outdoor Living Exhibition is the exclusive event for LOFA (Leisure & Outdoor Furniture Association) the United Kingdom's official trade body for the luxury outdoor living sector, who's mission is to support, inspire and promote these luxury brands across the UK. The show highlights all the exciting new designs and developments within this exciting industry for both the retail and contract markets.
If you haven't visited SOLEX before it is a great place to do business, this relaxed and friendly industry exhibition is where you can establish new relationships
and develop existing ones. SO, whether you are a visitors or exhibitor Solex has everything you could possibly want of need for the garden. This year Solex is once again partnering with the BBQ Magazine who will be hosting the Loving Outdoor Living area where you can sample some tasty treats from our BBQ brands, you can immerse yourself in our new product area where you will be able to see the new and innovative products from our exhibitors, take a mini health check with Perennial who will be manning a special LOFA branded booth across the 3 days and visit the Landscape Garden provided by the Landscape Show one of our SOLEX partners.
SOLEX attracts quality buyers and visitors from multiple and independent garden centres, high street and department stores, online retailers, DIY Stores, and other industry professionals.
9 SECTORS
Garden Furniture | Shading | Outdoor Living Accessories | Barbecues | Garden Decoration | Garden Leisure Buildings
| Outdoor Heating | Outdoor Health | Outdoor Entertainment
BRANDS ON DISPLAY
4Seasons Outdoor UK | Alexander Rose
|
Ascalon | BBQ Gourmet | Beefeater
|
Bramblecrest | Celtic Spa | Charbroil
|
Daro Trading | Extreme Lounging
|
Firepits UK | Gardeco | Garden
Furniture Global | Glencrest | Garden Impressions | Hartman | Hex Living | Innovators International | Kamado Joe | Kettle Interiors | Kettler | Leisure Grow
| Lifestyle Appliances | Lifestyle Garden
| Mercer Agencies | Minster Stylish
Living | Munro Importers | Norfolk Leisure | Outback International | Pacific Lifestyle | Quest Leisure | Supremo | Tobs | Tramontina | Tripod Home
ATTRACTIONS
Exciting Furniture & Accessories | New Products | Loving Outdoor Living Area | BBQ Magazine | Perennial Health Check Area | Landscape Garden
Register Today To Be Part Of The Only Exhibition Organised By The Industry For The Industry
https://bit.ly/registerforsolex
[ 8 ]
In the news
SOLEX is the biggest three-day event in the outdoor living trade calendar. 10-12 July 2023, Hall 5, NEC, Birmingham. It is an essential event to see what new and what's on trend for the new Spring/Summer Season 2024.
images courtesy of Premier Promotions & Exhibitions Ltd
Dobbies' food waste scheme saves CO emissions equal to charging 30 million phones
Dobbies garden centres have saved wasted emissions equivalent to charging a phone 30.7 million times, the retailer has claimed.
The UK's largest chain released the results of its partnership with Too Good To Go, on Stop Food Waste Day (26 April). The partnership, which began in February 2021, has seen 69,880 Surprise Bags of food sold, which would have otherwise gone to waste.
Over 174 tonnes of CO2 emissions have been saved from going to waste by Dobbies' participation in the scheme, the same amount as flying from London to New York almost 200 times.
Customers can purchase a Surprise Bag in 53 Dobbies' food halls across the UK, filled with quality surplus food that would ordinarily go to waste. With an RRP of £12-14, the Surprise Bags are available to buy for £3.99.
Roz Docherty, Senior Food Buyer, at Dobbies said: "Our partnership with Too Good To Go highlights our understanding that our customers care about the environment, whether it be through reducing food waste or gardening in a sustainable way.
"Too Good To Go is simple to use. Customers simply download the free app and search for nearby businesses with unsold produce. They then purchase a Surprise Bag and collect it at an allotted time."
Sophie Trueman, Country Director at Too Good To Go UK and Ireland added:
"It's fantastic to see our partnership with Dobbies continue to pave the way for a more sustainable future. At Too Good To Go, our mission is to make sure good food is enjoyed, not wasted. Our app users get great meals at a great price, businesses reach new customers and we're reducing the harmful impact of food waste on our planet – it really is a win-win-win!"
Too Good To Go is a certified B-Corp
and tech-for-good company powering the world's largest marketplace for surplus food. Founded in 2016, Too Good To Go has saved more than 200 million Surprise Bags of food from being wasted across 17 countries.
Working with businesses from local restaurants, cafes, bakeries, to hotels, manufacturers and supermarkets, Too Good To Go connects consumers to surplus food that would otherwise be
thrown away simply because it hasn't sold in time.
The app provides a simple way for food businesses to redirect their surplus and recover sunk costs, and consumers to help fight climate change in a fun, delicious and cost-effective way
For more information about the Dobbies partnership with Too Good to Go please visit:https://www.dobbies.com/too-goodto-go
[ 9 ] Garden Trade Specialist In the news
image courtesy of Too Good To Go
Wyevale Nurseries hosts first Retail Forum for garden centre customers
One
Garden Centre to its forum at the end of February.
Head of Business Support at Wyevale Nurseries, Carol Dickinson explains: "It was a brilliant discussion forum with some of our lovely retail customers and a great way to give each other plenty of feedback and support. It was hosted by several key members of our team, who gave short presentations to start each discussion topic.
hope to hold further similar events this year, so watch this space! If you'd like to attend the next one, which we're hoping to host in the summer, do get in touch with us to register an interest and we will keep you updated."
Wyevale Nurseries invited representatives from plantarias at William Strikes/Klondykes Garden Centres, British Garden Centres, Haskins Garden Centres and Tong
"The day was the first of its kind where buyers from different companies joined us to discuss the marketplace and us as a supplier, and how we can all shape things to come.
"Our attendees told us the forum was a great idea and showed a willingness by us to listen to our customers. We
Among those that attended the recent event were Andrew Smith and Jo Cooke from William Strikes/Klondykes Garden Centres, Julian Palphramand from British Garden Centres, Andy Harriss and Richard Lockwood from Haskins Garden Centres and Sharon McNair and Steve Smith from Tong Garden Centre. For further details about Wyevale Nurseries, which is based in Hereford, please call 01432 845 200 or visit www. wyevalenurseries.co.uk.
[ 10 ] In the news 0800 001 4544 Mon - Fri, 8am-6pm pplprs.co.uk/gts23 In our recent survey, we learnt that 82%* of gardeners enjoy listening to music whilst planting and pruning, with 'happiness' being the emotion most commonly felt. Playing music whilst gardening doesn't just have a positive impact on your well-being though, it also has an effect on your plants as well. Plants are more like us than you think and we've cooked up some musical recipes so you can help keep your plants in harmony and growing happily. Scan the QR code or visit pplprs.co.uk/gts23 to discover them today!
can help
*We surveyed 1,000 people in the UK who are interested in gardening and/or houseplant owners in October 2022 via Attest. Scan to learn more Half-Page-Advert_Plant-Growth_PPLPRS_Issue-24.indd 1 30/03/2023 09:36:40
Playing music
your plants grow!
of Britain's leading commercial nurseries recently hosted its first ever Retail Forum with garden centre customers to discuss current market trends and to boost future plant sales.
Head of Business Support at Wyevale Nurseries, Carol Dickinson
GCA reveals sales trends for February and March
Catering and gardening categories were the standout successes according to the Garden Centre Association's (GCA) Barometer of Trade (BoT) report.
February
Sales in catering were up 15.8% compared to the same month in 2022. Outdoor plant sales were up 6.58%, seed and bulbs up 8.76% and garden sundries 6.31%.
GCA CEO, Peter Burks explains: "It was great to see customers out in good numbers and spending well in cafés and restaurants in February. It shows the value of having these sort of additional attractions to keep customers visiting all year round. Food hall and farm shop sales were also up 5.21%. February was a very dry month for the time of year, which could explain the positive sales in more traditional categories as gardeners made the most of the weather and made a start on their gardening jobs for the season.
"Furniture was one of the worst performing categories of the month with sales down -28.04%. Lots of centres had furniture marked down in January sales, so customers were able to pick up bargains then and sales have since slowed down, however, we haven't had any weather to encourage sitting out in the garden yet, which is of course needed to prompt outdoor furniture sales. All in all, it has been an encouraging start to the year, given the general economic concerns everyone is facing."
Pets and aquatics sales were down -8.81%, gift sales were down -2.99% and hard landscaping sales were down -21.26%. Clothing sales were down -6.65% and houseplant sales were down -8.88%.
Overall sales for the month were up 1.29% with a year-todate variance of -1.02%.
March
The wettest conditions for 40 years for much of the country failed to dampen sales for many. Catering sales were up 13.48% compared to March 2022 and food hall/farm shop sales were also buoyant at 10.73%.
Peter Burks, commented: "It's great to see restaurants and farm shops/food halls doing so well, which gives me a lot of confidence that customers have not forgotten us during the traditionally quieter gardening months and are coming in to meet friends and family, to get out of the house, even with the threat of a downpour, and to buy their groceries or gift food items at our member garden centres.
"As is always the case when we get a wet month, gardening and outdoor product sales figures suffer. Outdoor plant sales were down -32.01%, seed and bulbs down -13.08% and garden sundries -31.82%."
The GCA's March BoT figures also showed, perhaps unsurprisingly, that furniture & BBQ sales were down by -57.95%.and hard landscaping sales by -42.59%. Pets and aquatics sales were down -5.17%, clothing sales -2.4% and gift sales -1.57%.
Overall sales for the month were down -21.42% with a yearto-date variance of -10.87%.
Peter adds: "Of course, we should also remember that the trading landscape was very different this time last year. Covid was still very much a looming presence and people were just emerging from another worrying period, so were keen to get out and about and were spending more at the same time."
For further information, please visit www.gca.org.uk.
[ 11 ] Garden Trade Specialist In the news
GCA CEO Peter Burks
GIMA members hear positive outlook from Dobbies Garden Centres and British Garden Centre Group
A positive forecast from two industry juggernauts and a deeper dive into customer and staff retention provided inspiration for confidently moving forward in a turbulent market at the recent GIMA Day Conference.
Leading the conversation were representatives from Dobbies and British Garden Centres who unveiled their plans for the future and how suppliers have an important role to play
within these development plans. Graeme Jenkins CEO, and Richard Hodges, Commercial Director at Dobbies joined the conference (14th March, Wyboston Lakes, Bedford), explaining
to delegates how the group is all set up to deliver now they are debt free following the recent refinancing by Ares Management.
He described the company's five-point growth including enhancing existing sites and restaurants; driving digital engagement; securing customer loyalty through continued growth of their successful customer loyalty programme; as well as opening a new site at Antrim, redeveloping Reading, and rolling out more Little Dobbies branches.
British Garden Centres' Boyd DouglasDavies, who has since left his role as PR and Plants Director, and Amy Stubbs, Project and Development Manager, outlined the family history and values of the business being flexible, adaptive, reactive, and sustainable. They also spoke of the unique business philosophy that empowers the managers across all 62 stores to decide on stock to ensure a localised customer experience. The independence of stores is the key differentiation as each is unique for its loyal customer base. This builds a
[ 12 ] In the news
strong family relationship with each local community which is demonstrated by the high engagement through its Family Loyalty Card.
Elsewhere, delegates learned from Scarlet Opus' Phil Pond more about the new types of consumers that are creating a new narrative in-store and paving the way for future sales. These included "Freethinkers" who are questioning everything after the distrust that has occurred over the past few years and the "Modern Stoics" who want their garden products supercharged with benefits to enhance their lives, as well as the "New Protagonists" who are looking to achieve long-lasting wellbeing improvement through their gardens. Jack Sweeney, Director at JDS Strategists, led a 'Catchphrase' themed session, exploring the business-critical difference between data and insight, and why insight work is so important to making better decisions. He argued the case that quantitative data has become too dominant in our world, meaning many businesses don't unlock the power of qualitative data. Furthermore, too much employee time is spent generating reports, as opposed to actually trying to make sense of them.
Jack offered solutions including his top tips on personal mindset and company culture and left delegates with a distinct takeaway: 'Data – Insight - Action' or "What? So What? Now What?'. Through the action of asking these questions, Jack believes it becomes easier for businesses to join the dots, connect the jigsaw and ultimately, deliver business
growth.
Tor Newcombe, Senior Recruitment Consultant at More People discussed the "War for Talent", which focuses on skill shortages in the sector and the current low-employee market. Tor's session highlighted the importance of keeping current staff engaged as well as attracting new talent into your business. Tor emphasised how staff retention is key and how you can motivate through a company's culture and values, management structure, responsibility, and upskilling current staff and providing them with the tools to succeed. She also highlighted the company's ethos of promoting the garden industry to new starters by talking with
universities, colleges, and schools to educate those entering work about the benefits of working in such an exciting sector.
GIMA's Director, Vicky Nuttall said: "As an industry trade association, we recognise that we have a responsibility to our members to provide a platform for discussion and thought leadership following what has been an unstable couple of years. We'd like to thank all speakers for inspiring the attendees with the knowledge and skills to navigate the many external pressures that have impacted our industry and we hope they take the insight back to implement in their business for future growth."
[ 13 ] Garden Trade Specialist
In the news
images courtesy of GIMA
Perennial invites employers to tackle mental ill-health
Charity aims to create a culture of mental wellbeing throughout the horticultural community by training a Mental Health First Aider in your workplace
Since last year, over 55 individuals from 33 companies have successfully qualified as Mental Health First Aiders as part of Perennial's pilot programme, offering an invaluable first point of contact for those in their workplace that may be struggling. Trained to have an understanding of mental health and the factors that can affect wellbeing, as well as the practical skills to spot the signs and symptoms, these MHFAiders® are there to step in, reassure and support their colleagues.
However, according to Clare Downs, Head of Preventative Services there is still the opportunity for more employers to step forward and join Perennial in tackling the issues and widening the conversation around mental health.
"We are absolutely delighted that so many different horticultural employees, from grounds maintenance to managers to HR personnel, have become trained MHFAiders® and champions of the importance of health and wellbeing
within the workplace and beyond. But we also know from our research and experience that mental health issues remain one of the biggest contributors to ill health within the industry.+ We welcome organisations to join us in continuing to raise awareness, support more staff to be trained and influence the wider horticulture community to help create a culture of positive mental wellbeing for all."
As one recently trained MHFAider® says, "We are at work a lot of hours each week and probably spend more time with our colleagues than our family and friends. I want all my colleagues to feel they have a safe and open environment to speak to a person, who can listen and not judge – and hopefully help them understand and find the support they need. Since doing the course, I think it should be mandatory along with physical first aiders within a business."
If you are an employer with over 30 employees who proactively wants to
increase their team's mental health and wellbeing, please contact Helen Waddington to find out more about this pilot programme at hwaddington@ perennial.org.uk.
Free limited places are now available for training courses being held during May, July, October and November 2023. Perennial's pilot programme is delivered in partnership with Mental Health First Aid England.
+ Perennial's Health & Wellbeing Survey (2021) found that mental wellbeing was among the biggest perceived challenges for people working in horticulture.
• 85% of people's mental wellbeing was poor or below average
• 26% of people listed depression, anxiety, and stress as critical issues
• 22% said they did not recognise when they were unable to cope or how to deal with these circumstances
For the full findings visit perennial.org. uk/survey
[ 14 ] In the news
image courtesy of iStock
24 garden centre staff take part in Glee Talent Store training day
Staff from garden centres across the country took part in a training day at Millbrook Garden Centre Gravesend recently with expert mentors as part of this year's Glee Talent Store (March 2023).
The Glee Talent Store, in collaboration with the Garden Centre Association (GCA), aims to nurture and encourage the next up-and-coming stars of horticultural visual merchandising. Matthew Mein, Event Director at Glee, said: "The training day was a great success and we had 100% attendance from our students, despite snow in parts of the country. Twenty-four students joined us from 18 garden centres across the UK.
"The day began with presentations on the basics of visual merchandising from Talent Store mentor, Debbie Flowerday, a Visual Merchandising Consultant who has worked with the likes of Selfridges, Gucci, and John Lewis, followed by trend insights from TrendBible's Home & Interiors Trend Editor, Wendy Lowe,
and some plant inspiration from Michael Perry, aka Mr Plant Geek, a plant expert and leading horticultural influencer. "The second half of the programme was more interactive with the students putting their abilities to the test by creating mood boards and shop floor displays. At the end of the day, students were put into four groups and tasked with creating a pop-up store concept and design for either houseplants or outdoor plants. These designs have now been submitted to Glee and the decision on which will be chosen to be built at Glee 2023 will be announced very soon! "I would like to say a big 'thank you' to GCA Chairman, Tammy Woodhouse, and all of the team at Millbrook Garden Centre, who were fantastic hosts for the training day."
Glee will take place at the NEC Birmingham from June 27 until 29, 2023. Peter Burks, Chief Executive at the GCA, said: "It's fantastic to see so many students in the Talent Store, which is in its first year this year, who are keen to show off what they know already, as well as learn more about visual merchandising. I can't wait to see the submitted designs and wish everyone luck for the competition."
The GCA represents nearly 200 garden centres nationwide.
Through sharing information and its inspection programme the GCA helps members to achieve high standards in customer service, plant quality and reliability.
For further information, please visit www.gca.org.uk.
[ 15 ] Garden Trade Specialist In the news
image courtesy of Glee Talent Store
GCA GROW releases new 'Till Security' module for members
THE Garden Centre Association (GCA) has introduced a new module on till security through its Garden Retail Online Workshops (GROW) e-Learning platform.
The GCA's 'Till Security' GROW module will help its members prevent losses at the tills.
Antony Snow, Instructional Designer for GROW at the GCA, said: "We're delighted to be offering this new Till Security module for our members. Each year, retailers throughout the UK lose significant sums of money, and therefore profit, from theft or by becoming the victim of a scam or other fraudulent activity, so this course will help our member garden centres and their staff to prevent losses at the tills."
The GCA's GROW modules cover a range of valuable topics to help employees gain knowledge and confidence in products and services to provide customers with the best advice.
The new module is available immediately to existing subscribers and the GROW e-Learning facility is available to GCA member garden centres, as well as to Horticultural Trades Association (HTA) garden centre members too.
Peter Burks, GCA Chief Executive, said: "We are always looking ahead to improve GROW, which is one of our most vital services we provide for our GCA members. This recent addition has been carefully put together by Antony to
complement our existing offering.
"Many of our members have commented on how effective our service has been to bring education and training to employees, which improves their knowledge to assist others in the workplace, whether colleagues or customers.
"It's available 24/7, so garden centre staff can update their expertise when it's suitable for them. It's a cost-effective way of delivering training and personal developments too, which, in turn, benefits customers' experiences when visiting a garden centre and this is good for everyone."
GROW started as an initial idea, thought up during a strategy meeting of the GCA's executive committee, to bring education and training tailored to individuals employed in the garden centre industry. It is a self-funding and non-profit making facility with any surpluses being reinvested into the ongoing development and improvement of GCA GROW. Currently there are 105 modules and more than 12,000 users throughout the UK.
The 105 modules include a wide range of topics that cover horticulture, customer service, food safety, regulated
sales and health and safety.
The accredited food safety and health and safety topics are categorised as either level one or two.
All the modules have been written by experts in their field and are designed to apply to a garden centre environment, with the content for the horticultural modules drawing on the vast experience of members within the GCA.
Peter added: "Users can be assured that they are always receiving the correct, practical and unbiased advice, as well as solutions to problems and help with gardening projects."
"Garden centres interested in signing up to GROW can enquire online at www. gca.org.uk/gca-grow-information or contact grow@gca.org.uk for further information."
The platform is also available to HTA members.
The GCA represents more than 200 garden centres nationwide. Through sharing information and its inspection programme the GCA helps members to achieve high standards in customer service, plant quality and reliability.
For further information, please visit www.gca.org.uk.
[ 16 ]
image courtesy of iStock
Quest to find sustainable alternative to peat boosted by £320,000 investment and unique collaboration
Newly founded environmental innovator Sizzle has brought together organisations including waste management companies, garden retailers, trade bodies, NGOs and academics to explore new sustainable alternatives to peat and how to make it easier for people to select a greener choice.
The funding will support an initial 18-month trial that will look to enhance the quality and consistency of composted materials derived from waste streams, in a specific area. The resultant materials will then potentially have a wider range of uses helping to reduce the amount of raw materials needed by the industry. We aim to explore the use of derivatives from green, agricultural and food waste streams and work closely with the local authority and waste processor to deliver key messages and increase the quality of feedstocks and resultant compost.
The project will also demonstrate to gardeners how best to use peat alternatives as a growing medium and highlight how composting and the use of wormeries can create mulch and soil enhancers.
A location for this trial is currently being sought and if successful, the results will be openly shared, enabling it to be rolled out on a national level.
The UK and Welsh Government are currently leading the way in banning retail peat based growing media sales in horticulture. Scottish Government is currently consulting on this issue. This welcome step will help towards tackling the climate and biodiversity crises and support the transition to net zero; seeks to help gardeners transition successfully to peat free and provide evidence to inform legislation change to increase the replacement of peat with more sustainable peat alternatives.
The growing media industry has been moving to peat free but also needs support to find alternatives at scale that are of high quality, consistent and readily available. This trial will help address changes that are required across the whole system, including the legislative framework, business practices and citizen behaviour. Areas of focus include reducing contamination from waste streams to enhance the quality of materials that could be part of the peat replacement process and identifying potential legislative blockers which might unexpectedly hinder the use of waste derivatives as part of the transition from peat.
Trewin Restorick, founder of Sizzle said: "We must hasten the transition from the use of peat in horticulture to more sustainable alternatives, however to achieve this we need systemic change, from producers through to customers. We're particularly keen to explore whether a sufficiently high volume of
well-composted waste derived material could be used at the scale and quality required by the industry.
I'm optimistic that with new levels of collaboration between organisations who haven't previously connected, plus this fantastic funding boost from Esmée Fairburn Foundation to run a localised trial, we can show what's possible and provide some innovative solutions at scale.
We are now looking for a location to run this trial and are very keen to hear from local authorities and waste management companies within the UK that have ambitious targets for cutting carbon emissions and have a desire to reduce waste contamination and build more circular solutions."
Organisations interested in supporting the trial or being involved in the wider development of activities, please contact trewin@sizzle.org.uk or visit www.sizzle. org.uk
[ 17 ] Garden Trade Specialist In the news
Replacing the estimated 1.7 million cubic metres of peat used in horticulture with sustainable alternatives is a huge challenge, but one which has been boosted by £320,000 of grant funding secured from the Esmée Fairbairn Foundation.
image courtesy of iStock
Book your ticket now for Glee 2023
Glee 2023 - the International Festival for Garden, Leisure and Pet – will soon be here (27th – 29th June, NEC Birmingham).
An unrivalled platform, Glee connects the garden industry to inspire change, drive growth and launch innovation, and this year will be packed full of extra value for retailers. Here we find out four undeniable reasons why you should be booking your ticket now!
Hundreds of brands, thousands of new products
Perhaps the most exciting aspect of Glee is the sheer volume of brands and products for retailers to get up close and personal with. For three days buyers will have the opportunity to meet with over 400 exhibitors, all ready and willing to inspire and to extend their retail network. Thousands of new products will be launched at Glee, with the New Product Showcase the essential hub to see these products in one handy location.
Summer of love for gardening
Taking place in late June, the summer timing will firmly shape Glee's content, creating a festival feel throughout. From the Glee party on Tuesday 27th to the newly located Fire, Grill & Chill area –find it outdoors at the front of the NEC near the Hall 6-8 and hall 20 entrances – there is plenty to keep the summer vibes going.
As always, Glee's Green Heart will return to the light-filled Atrium area, where the newest plant varieties and bestselling blooms can be viewed, alongside leading suppliers that are looking to build new retail relationships, whilst the all-new Talent Store will inspire indoor and outdoor plant visual merchandising ideas and celebrate emerging industry talent.
The June timing of Glee also provides the perfect opportunity to preview new collections and place orders for the upcoming gardening season, selecting from the thousands of existing products and thousands of new products exclusively launching at the
show. With the busy summer season on the horizon, Glee is also the ideal for sourcing seasonal products such as outdoor furniture, garden heating and garden décor.
Glee expands to reflect the needs of the industry
Visitors to Glee this year are set to see new and enhanced product sectors, reflective of the exciting diversification that is shaping the future of garden retail.
Joining the line-up will be a new dedicated DIY sector, full of everything consumers need to spruce up their home and garden, including power tools, fixtures and fittings, and coatings. This area will offer significant potential for retailers who want to develop their role as 'green department stores'. Elsewhere, Glee Home, Gift & Clothing will be transformed into a dedicated sector for trend-driven garden home and giftware suppliers and buyers, whilst Outdoor Entertainment will see its representation increased significantly. This is reflective of the predicted growth for this area, as the country continues to view their home as sanctuaries during a time of economic turbulence. Finally, Glee 2023 will see the
introduction of Sourcing at Glee, an important destination for major wholesale buyers and procurement experts.
Network, inspire & educate Glee 2023 will be home to a comprehensive seminar programme, where sustainability and how it will impact garden retail will be hotly debated, with further showcases visible throughout the event. Elsewhere the show will facilitate important conversations, such as how we can futureproof our industry or how we can better service ethical consumers. Throughout the exhibition, Glee will provide multiple opportunities for garden retailers to network with industry peers, gain insight into industry trends and best practices, and attend seminars and workshops to expand their knowledge and expertise. Register now!
Online registration for Glee 2023 is now open. All visitors need to visit www. gleebirmingham.com/visitor-registration to secure their free digital ticket. Find out more about Glee 2023 please visit www.gleebirmingham.com. To enquire about exhibiting please call +44 (0)203 3545 9752.
[ 18 ] GLEE
image courtesy of Glee
[ 19 ] Garden Trade Specialist GLEE
Natural plant food that is made from plants, for plants!
Why not choose a totally natural, sustainable alternative instead?
Apsley Farms Natural Plant Food is a sustainable by-product of green energy production and approved by the Soil Association for organic use.
This is not just your average NPK liquid fertiliser. By the time it reaches you our plant food has already helped to heat thousands of houses with green gas instead of fossil fuels. So every
drop of our plant food is good for your garden and good for the planet too! Our plastic containers are fully recycled and recyclable too, of course.
The Natural Plant Food range delivers the full package of macronutrients, micronutrients, and beneficial microbes. That means vigorous growth, bigger fruits and flowers, tastier and more nutritious veg. Plus improved soil fungal activity and therefore improved soil
structure.
Visit our Stand 7G71 at Glee, Hall 7 from 27-29 June 2023 for more information on Natural Plant Food, Natural Tomato Food, Natural Tub & Basket Food and Natural Houseplant Food ranges or contact Robin Stewardson on r.stewardson@apsleyfarms.com, 07932096453
[ 20 ] GLEE
Have you ever thought about where your usual shopbought liquid plant food comes from? Chances are it's made specifically for the purpose of feeding your plants by using raw materials and creating a carbon footprint in the process.
image courtesy of Apsley Farms
[ 21 ] Garden Trade Specialist NATURAL PLANT FOOD MADE FROM PLANTS, FOR PLANTS! Nutrient-rich liquid feed that's a by-product of renewable energy production at Apsley Farms. •GREEN GAS & ELECTRICITY • CONTRACT FARMING • CO2 FOR FOOD & DRINKS • GARDENING PRODUCTS For use on Organics 100% Recycled Bottle Approaching Net Zero Nutrient Rich • W e are expandingour gnideef !egnar 2023 For further information, please contact Robin Stewardson r.stewardson@apsleyfarms.com | 07932096453 Find us at Glee Hall 7 Stand 7G71
Sustainable Baskets and Trolleys for Retailers
With many options to consider Formbar make it simple. All the black baskets we sell are made from 100% recycled plastic, this includes two hand basket models and a basket on wheels with telescopic handle. They are equally as strong and durable as the non-recycled coloured alternatives. The handles are not made from recycled plastic but the basket itself is.
This month we have sourced and introduced a range of coloured baskets which are also available in a variety of shapes and sizes in 95% recycled
plastic. These baskets have the added advantage of a closed loop recycling service.
All baskets Formbar supply can be printed with a logo or strap line which can slow the rate of theft. All baskets are also fully recyclable at the end of their life.
Formbar also supply a wide range of shopping trolleys from traditional metal to hybrid to all plastic models, manufactured in Spain and the UK. Spare parts can be supplied for all models. We support our customers to
improve sustainability by offering on site servicing of all makes, models and ages of trolleys. By regular maintenance trolleys can be kept in a good and safe condition enabling much longer usage. If you can only change the wheels and keep the trolley for another few years in use rather than scrapped, it is an environmental win!
Please contact us if you would like any further information.
www.formbar.co.uk
Tel: 01235 85036
Email: info@formbar.co.uk
[ 22 ] GLEE TROLLEY & BASKET SPECIALISTS We offer a comprehensive range of shopping trolleys and baskets for Garden Centres For more details visit us online T: 01235 850368 E: info@formbar.co.uk formbar.co.uk #Formbar Limited
When making purchasing decisions there have always been different competing factors: price, quality, service and design... Garden Centres are now increasingly prioritising the environmental sustainability of their chosen product.
image courtesy of Cube Studios
C M Y CM MY CY CMY K Est 1983 Become a stockist: 01749 344697 Email: sales@protekproducts.co.uk www.protekwoodstain.co.uk Made in the UK Eco-friendly water-based garden paints and stains Add colour to your outdoor space TORCHES | HEADLAMPS | WORKLIGHTS | LANTERNS | KIDSLIGHTS HOME & GARDEN D.I.Y. PET SEE US ON STAND 8E43 PROFIT FROM THE POWER OF A PROVEN BRAND IDEAL FOR: E: rfuller@ledlenser.co.uk T: 01344 876 222 M: 07872 069767 GLEE
Entry to the 2023 GIMA Awards now open
Don't miss the June 2nd entry deadline
June 2022 to May 2023. It has also been confirmed that this year's judging day will take place on July 11th and 12th. Once again, these days of deliberation will take place at Warwick Racecourse, with the judging panel set to be confirmed shortly.
there's never been a better time to start your 2023 entry. Don't miss out!
The 2023 GIMA Gala Awards dinner (19th October, Celtic Manor) may yet be six months away but suppliers who want to be in the running to win one of the highly coveted awards need to start thinking about their
2023 entries.
The deadline for all GIMA Award product and marketing awards has been confirmed for June 2nd. Entry stipulation for these awards states that all entries must have been launched during the period
Last year's winners included Westland, Primeur, The Garden Village, Treadstone Products, Willsow, Wildlife World, Smart Garden Products and The Solar Centre. With 10 product awards, three marketing awards plus the coveted Gardenex-sponsored 'Export Achievement' award, the GCA-sponsored 'Supplier of the Year' award and the award-of-awards 'Sword of Excellence' up for grabs,
This year, the GIMA Awards will be sponsored by a wealth of fantastic industry brands, including Glee which returns, once again, as headline sponsor, as well as the HTA, GCA, Gardenex, Garden Trade News, Gardenforum, Horticulture Week, Decco, CM Ventures, and Hornby Whitefoot PR. Sponsorship opportunities are also available - please contact GIMA to find out more.
To enter the 2023 GIMA Awards or to book your place at what is set to be a night to remember please visit www. gima.org.uk
HEAVY DUTY BENCH RANGE
With over 30 years experience manufacturing quality garden products, EKJU use durable timber from northern European forests, proven to be ideal for garden furniture. The Heavy Duty Bench range provides the most robust bench yet, with pressure-treated FSC wood specially selected to last the test of time.
[ 24 ] GLEE
Email us today to discuss our range of quality garden furniture! www.ekju.com austris.intenbergs@ekju.lv NEW!
image courtesy of GIMA
Commissioned by William Strike Ltd, this canopy is now in full swing, protecting bedding plants and colourful displays for year-round customer retail, no matter the weather.
This canopy is constructed from galvanised steel and roofed in our bespoke Opal 60 membrane, therefore minimising the need for electrical lighting during daylight hours whilst complimenting Klondyke and Strike's existing canopy on site. This widened transitional space covers pergola products, plants, trees, and shrubs, ready for purchase, making the best of every space under the cover. This installation was in reaction to the demand and need for extension of facilities to new and repeat customers as outdoor protection, since it's a fast becoming requirement across the retail
Call GLEE Stand 6G61
you 01243 554455 info@fordingbridge.co.uk www.fordingbridge.co.uk From Growers to Garden Centres, Fordingbridge has you covered With over 55 years experience in supplying Garden Centre and Retail business, we are proud to apply designs to help your business grow.
01243
Our broad portfolio covers plant area canopies, sustainable buildings, trolley bays, and covered walkways The possibilities are endless. We would love to discuss your plans and see what we can bring to your business.
[ 26 ]
us today to see how we can help
and your business –
sector as climate change continues and customers value comfort and protection from the elements. 554455.
Fordingbridge
Byrkley Garden Centre is home to a Fordingbridge twin span taper trellis canopy; designed to enhance the outer spaces at the rear of the garden centre.
Timber Displays can offer you the very best quality in pressure treated timber display products at affordable prices.
Our products are designed to increase your turnover by showing your merchandise to its full potential and to add an attractive feature to your Garden Centre or store.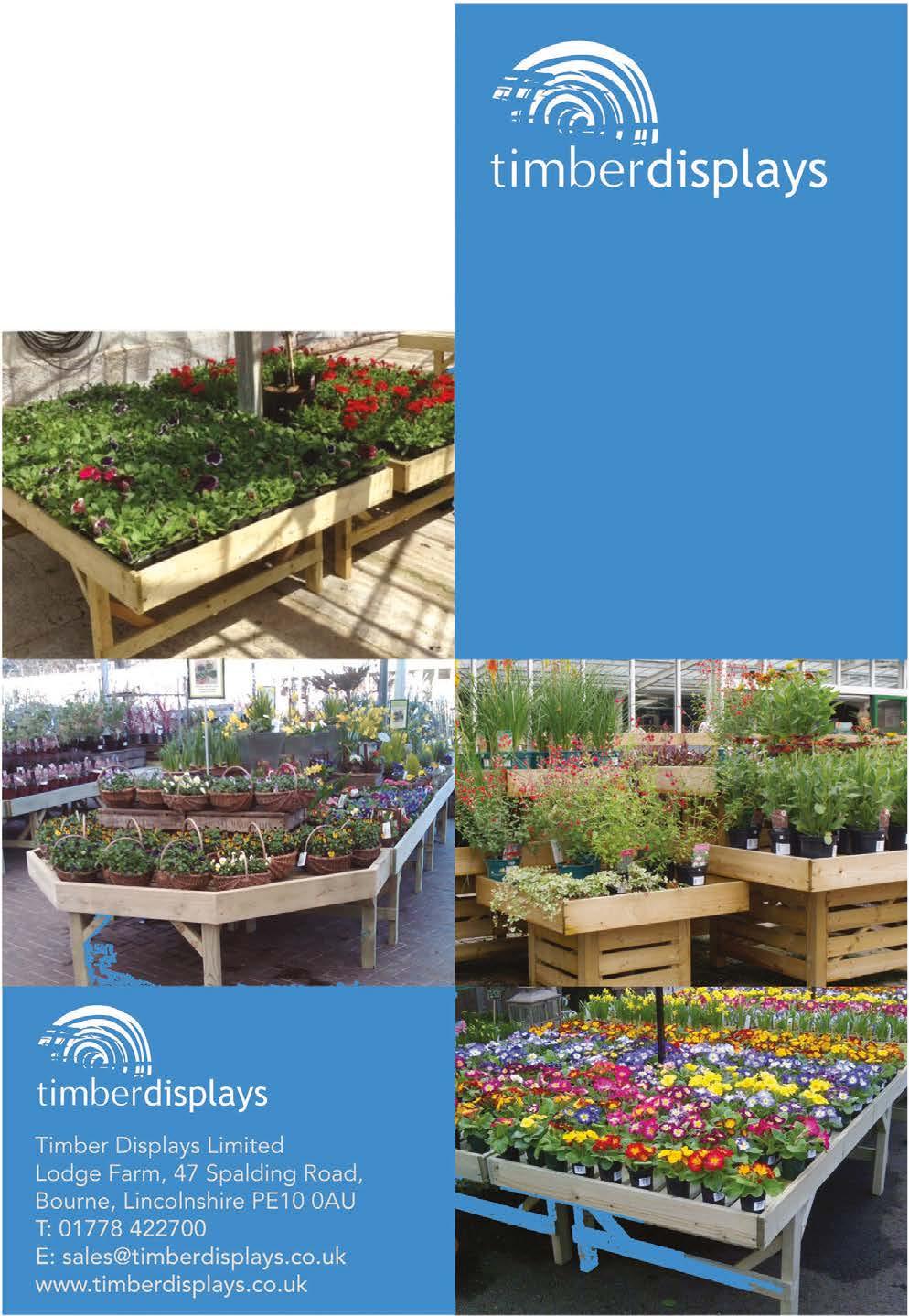 We are the leading company in flood benching, saving you time and money hand watering.
POLYCARBONATE
POLYTUNNELS AND GREENHOUSES
[ 27 ] Garden Trade Specialist GLEE
[ 28 ] GLEE
@artonscarves @artonscarves
Art on Scarves was founded by North Wales based artist, Lucy Hay Lucy showcased her original drawings and paintings by hand printing them onto luxurious Cashmere Blend and Cashmere Feel Scarves
Art on Scarves was founded by North Wales based artist, Lucy Hay. Lucy showcased her original drawings and paintings by hand printing them onto luxurious Cashmere Blend and Cashmere Feel Scarves.
These unique accessories proved so popular, allowing Art on Scarves to thrive and to grow and the Company now prints designs from 10 British Artists onto their gorgeous Scarves
The scarves are super soft and absolutely lovely to wear These perfect accessories continue be both designed and Handprinted in the UK
These unique accessories proved so popular, allowing Art on Scarves to thrive and to grow and the company now prints designs from 10 British Artists onto their gorgeous scarves.
his Year Art on Scarves have launched their ground breaking Eco Scarves These amazingly silky and soft accessories are recycled from PET Plastic Bottles before being printed with our original drawings and designs
Packaged in cute, printed pillow boxes that are also recycled A must- have fully sustainable accessory for 2023
The scarves are super soft and absolutely lovely to wear. These perfect accessories continue to be both designed and handprinted in the UK.
ECO Scarves, recycled from plastic bottles and printed with original designs
This year, Art on Scarves have launched their ground breaking Eco Scarves.
These amazingly silky and soft accessories are recycled from PET plastic bottles before being printed with our original drawings and designs.
Packaged in cute, printed pillow boxes that are also recycled. A must-have sustainable accessory for 2023!
E: lucy@artonscarves.com
T:+447592451667
W: www.artonscarves.com
• Generate a revenue at no extra cost to you - no capex or opex required.
• Drive footfall by providing an essential service for current customers while attracting new ones.
• Future-proof your asset by securing grid ahead of competitors.
• Demonstrate sustainability commitments and build a brand for the future.
• Meet planning requirements.
Interested
[ 29 ] Garden Trade Specialist
in partnering with a trusted and market-leading charging network? Contact us today to learn more about our full turnkey solution. property@ospreycharging.co.uk ospreycharging.co.uk
Contact us! Find us!
Follow us:
Pendragon Lodge The Village St. George LL22 9BW
Clearview garden buildings are a UK based manufacturer of timber greenhouses. Year on year we grow from strength to strength, taking pride in our reputation for making top quality timber greenhouses and potting sheds at an affordable price. The manufacture, delivery and installation are all included in the retail price making the process as easy as possible for your customer. Contact us T: 01709 252322 E: sales@clearviewgardenbuildings.co.uk W: www.clearviewgardenbuildings.co.uk Clearview Garden Buildings Ltd, Ashton lane, Braithwell, Rotherham, S66 7RL
Behind the scenes: all the latest updates from Glee 2023
As the garden retail sector ramps up activity ahead of the International Festival of Garden, Leisure and Pet, Glee 2023
Here, we find out more about the latest developments shaping the industry's leading exhibition.
Talent Store update
Glee's new Talent Store – which celebrates emerging visual merchandising talent and will culminate in two live retail sets at the show in June – saw its bootcamp take place in early March. 24 nominees from 18 garden centres joined the Talent Store's visual merchandiser expert, Debbie Flowerday, Wendy Lowe from TrendBible, and Glee ambassador, Michael Perry, at Millbrook Garden Centre in Gravesend to enjoy a day of inspiration and hands-on merchandising experience. Throughout the day the delegates heard about the latest trends shaping consumer spend such as wellbeing, and how pastel shades have come back in a big way. Michael Perry also shared details of how
his travels inspire his work. The 'students' – made up of many enjoying second careers within garden retail - worked in groups to develop their pop-up store concepts, which were judged by Debbie and Michael. Twelve of the group have now been chosen to showcase their designs at Glee.
Outdoor plants:
Freya Markwood from Perrywood Garden Centre, Sudbury
Louisa Power from Ongar Garden Centre – British Garden Centres
Amber Dowsett from Perrywood Garden Centre, Tiptree
Katherine Davies from Pugh's Garden Village, Wenvoe
Nathan Evans from Bents Garden & Home
Damian Walker from Harrogate Garden Centre – British Garden Centres.
Houseplants:
Clare Forster from Braintree Garden Centre – British Garden Centres
Hazel Woodward from Millbrook Garden Centre, Staplehurst
Alison Smith from Chessington Garden Centre
Clare Baker from Bents Garden & Home Matthew Bone from Thurrock Garden Centre
Wendy Jones from Pugh's Garden Village, Wenvoe.
Exhibitor update
Dozens of brands never before seen at Glee have booked their places over the past few months while numerous companies are returning to the 2023 event.
Look out for newbies across Glee's eight product sectors, including Andermatt, Better Home Products UK LTD, CleverPaint Ltd, Coconut Woods, Heat, Ivy & Twine Candles, KandyToys, KW Metal Flowers, Lawn & Grounds Ltd, Midtherm, Naked Shells Ltd, Nordlux (UK & EIRE) Ltd, Pioneer Brush Co. Ltd., Pricecheck Toiletries Ltd, Storm Skin Ltd, The Candle Brand, The Crop Candle Company Ltd, The Giggle Gift Company, The Wasabi Company, Tumblebug Ltd, TurfSolv, Unipet International Ltd, Vennersys Ltd, Victoria Eggs and Waspinator Ltd.
Returning brands coming back to Glee 2023 will include Green & Home Ltd, Haws Watering Cans
Jonart Design, Mele & Co, Natures Menu Ltd, Pet Rebellion Ltd, Phoenox Textiles Ltd, Robbie Toys Ltd (RTL), Shoptek UK, Tailored Planning Solutions and The Wheat Bag Company.
Glee's international reach continued to grow this month with the US' Gozeny Inc, Danish-based Dymak, Austrian Biohort GmbH and Cellfast from South Africa all confirming their presence.
[ 30 ] GLEE
– taking place at the NEC in late June (27th – 29th) – the team has been busy behind the scenes to ensure that this year's edition of the show will be bigger and better than ever.
images courtesy of Glee
On the road
February and March have been busy months for the team, as they take to the road to join colleagues, friends and key stakeholders at other industry events.
February 21st saw the team exhibiting at the Garden Press Event, sharing with the visiting editors, writers, authors and influencers the vision for Glee 2023 and beyond. During the day, the Glee team was able to open new dialogue with some key influencers regarding Glee's seminar programme. To-date the Glee seminar programme is shaping up well with big names confirmed. Look out for Dora Clarke from Osprey Charging who will be busting common electric vehicle charging myths; the HTA's David Denny will be sharing the latest market updates; and Michael Perry - aka Mr Plant Geek - will talk through his tips and tricks for the horticultural industry. The team has also attended the GIMA Day Conference at Wyboston Lakes, where a host of trend experts and strategists offered insight into everything from the three groups of new gardeners that could pave the future for industry sales, to the "War on
Talent" and staff retention – topics that Glee's own educational programme will also address in June.
On March 24th, the Glee team also put their best foot forward, as they joined the annual Garden Re-Leaf Sponsored Walk and Cycle Challenge. The walk was the brainchild of Glee Director Matthew Mein, and he has since taken part in every walk. To support the team please visit www.justgiving.com/fundraising/ glee-birmingham-show where the team hope to raise over £1,500 for the Greenfingers Charity, further bolstering the £6,000 that the team raised for the children's hospice charity throughout 2022.
Find out more
Glee is the UK's leading garden retail show, focusing on building year-round profits for buyers and suppliers within the core gardening and outdoor leisure product categories. To keep up to date on the latest Glee news visit www. gleebirmingham.com.
To enquire about exhibiting at Glee 2023, which will take place June 27th –29th, please call+44 (0)203 3545 9752.
Ever since Nordlux was established in 1977, it has been our goal to deliver quality lighting at attractive prices!
We are a Danish, Scandinavian lighting manufacturer of Indoor and outdoor lighting including garden lighting and patio lighting.
We sell to over 5000 companies and 8 different countries and Nordlux is one of the leading lighting manufacturers for all areas of home and Garden. Nordlux has now launched our new wire-free Range of Take me Anywhere lighting with our innovative designs and use of recyclable materials and new battery and solar technology.
Why not visit our website www.nordlux.com and search through our outdoor section to see all our Beautiful Ranges of outdoor lighting!
[ 31 ] Garden Trade Specialist GLEE
Get in touch Exhibiting at Glee T: +44 (0) 12 00 42 27 77 E: salesuk@nordlux.com Stand number: 7G70
Motivate your customers to get back in the garden… and the saddle
As we spend more time in our gardens or more time on our bikes, our hands and feet will start to feel the pressure a little more. With this in mind we thought it the perfect time to tell you about two of their popular product sets, Pure Gardeners and Pure Cyclists, specifically created with these audiences in mind.
Pure Gardeners
For hardworking hands and to soothe and relieve tired muscles. Pure Gardener contains:
• Chamomile, Calendula & Hyaluronic
Acid Hydrating Hand Balm
• Black Pepper, Ginger & Chamomile
Muscle & Joint Bath Soak
• Black Pepper, Ginger & Chamomile
Muscle & Joint Balm
• Chamomile, Eucalyptus & Tea Tree
Gardener's Skin Repair Bar
One Customer Quoted "I bought the Gardening Gift Set for my wife, who is a volunteer gardener with the Knutsford Grow charity. Every week she helps tidy up gardens for local pensioners and people who no longer have the mobility to tend to their gardens. She loves all the products in the pack. Thank you for bringing all these items together in one amazing presentation." George W Pure Cyclist
For a comfortable cycle ride and a soothing, restorative recovery, this cyclists' gift set uses blends of essential oils to awaken and soothe hard-working muscles. The Cyclist Chamois Wax is very special and very positively reviewed. Riders say that it's equally as good used after the ride as a restorative cream as it is beforehand to avoid chafing.
The Pure Cyclist gift set contains:
• Eucalyptus, Shea Butter & Beeswax
Cyclist Chamois Wax
• Black Pepper, Ginger & Chamomile
Muscle & Joint Bath Soak
• Tea Tree, Rosemary & Geranium Foot Gel
• Black Pepper, Ginger & Chamomile
Muscle & Joint Balm
Retailers can apply for a wholesale account on the Pure Lakes website or call 015395 80119
image courtesy of Pure Lakes
GARDEN CREATION & CARE
Platform for green technologies, water and light in the garden, tools, smart gardening and battery pack technologies. Furthermore, the trendsetter in the section of plants, their cultivation, soils, fertilisers and substrates.
GARDEN LIVING & GARDEN UNIQUE
The world's biggest selection of outdoor furniture and decoration, garden sports & games, camping and garden leisure items.
MAKE SURE YOU ARE THERE — SECURE YOUR TICKET NOW AT SPOGAGAFA.COM/TICKETS
Looking forward to seeing you in June at spoga+gafa in Cologne and all the year round on the digital matchmaking platform, spoga+gafa 365!
[ 32 ] Product showcase THE WORLD'S BIGGEST TRADE FAIR FOR GARDEN LIFESTYLE FLOURISHING BUSINESS ORDERED @SPOGA+GAFA 2023 THE WHOLE WORLD OF THE GARDEN AT ONE TRADE FAIR — SUCCESS GROWS HERE Exciting themes, innovative products and sustainable solutions: spoga+gafa is the one-stop shop for the entire green industry. TOPICTREND2023 SOCIAL GARDENS 18.06.–20.06. 2023 International Business Media Services Ltd. info@koelnmesse.co.uk | Tel.: +44 1425 48 68 30 #spogagafa #socialgardens
BBQ & OUTDOOR KITCHEN The largest BBQ trade fair in the
— and the hotspot of the grill
GARDEN
world
scene.
SPG2023_Garden-Trade-Specialist_183x126_Motiv_Allgemein_GB.indd 1 14.04.23 14:15
The team at Pure Lakes Skincare, who have just relocated to a brand new studio in a remote part of Cumbria called Far Sawrey, are feeling rejuvenated and inspired by the forthcoming season.
Are you looking for products that:
Are low in chemical inputs?
Harness the power of pure biology?
Are derived from sustainable and natural ingredients?
Have RHS endorsement?
That are organic or vegan friendly?
Increase the spend value from your customers with Empathy
We have new merchandising solutions to help you get the right Empathy products with the right function in the right place
Our gloves, we think you will agree, are stylish and practical.
Offered in vibrant colours to cheer up all those garden chores and in a more robust design for those heavy-duty garden tasks. Sizes for Men, Ladies' and Children.
We have added galvanised raised beds, garden landscape fabrics and other garden sundries to complete our range.
Check out the full catalogue www. hansongarden.co.uk.
MOQ - £200.00 with free delivery, credit accounts subject to T&Cs.
[ 33 ] Garden Trade Specialist Product showcase
• 01795 411527 • sales@rootgrow.co.uk
rootgrow.co.uk
Hanson's Garden Tel: 01327 878625 E-mail: sales@hansonsgarden.co.uk CONTACT US!
Eco-friendly Muckster Lite Clog now available for retailers
Introducing an innovative one-piece clog from The Original Muck Boot Company.
and debris.
The entire clog is constructed from Bio Lite which is eco-friendlier than many other injection moulded foams in the market.
Bio Lite has been granted a Green Leaf certificate by Intertek, an accredited independent 3rd party testing facility, verifying that this product will properly biodegrade in bioreactor landfills. Landfill bio-degradation validated utilising the ASTM D5511-18 test method, ISO 15985.
perfect for pursuit, fishing, camping and off-road sports, while doing double duty as a light work boot.
This outdoor boot has a 5mm neoprene base layered with air mesh for improved airflow, with Nzyme™ treatment for odour control. It also has added Achilles reinforcement for support, and aggressive waffle outsole that grips.
www.muckbootcompany.co.uk
Inspired by their beloved Muckster collection, the Muckster Lite Clog is 50% lighter and provides excellent support and comfort for all-day wear.
The Muckster Lite Clog is built from a high performance, lightweight foam called Bio Lite which is ultra-durable and easy to clean.
The upper features side ventilation holes for breathability and drainage for water
Shop Equipment & Design Ltd has over 35 years of experience, specialising in manufacturing and supplying an extensive range of shop shelving, manufacturing bespoke shop counters, and stock garden centre trolleys and baskets.
From 'off the shelf' items, to bespoke, specially designed items to suit your purpose. Rest assured all your shop equipment queries will be deal with by one of our professional, efficient and friendly sales team.
contact us:
Telephone: 01202 864510
Website: www.shopequip.co.uk
Email: sales@shopequip.co.uk
or find us at:
Regus, 1010 Cambourne Business Centre, Cambourne, Cambridge. CB23 6DP
The Muckster Lite Clog offers a lighter footprint for your feet and the planet. Men's – Black, Kangaroo - £60, Women's – Black, Resida Green - £60, Floral - £70 The Edgewater Ankle
Get comfortable. Get the Original. The Edgewater Classic brings back the boot that started a revolution. The reinforced and protective shell makes this boot
Shop Equipment & Design Ltd caters to all your shop equipment needs!
[ 34 ] Product showcase
images courtesy of The Original Muck Boot Company
[ 35 ] Garden Trade Specialist Product showcase
Book your visit to the Ivyline Showroom
View the new Christmas Collection in comfort at Stoneleigh House
at Stoneleigh House in Kenilworth.
From brand new Christmas ranges to the Royal Botanic Gardens, Kew Licensed collection; from Grow Your Own accessories and SpringSummer lines to AutumnWinter style, retailers can see it all at the Ivyline showroom in the heart of Warwickshire.
If you missed seeing Ivyline at Spring Fair but are keen to discover what this fantastic British supplier has new for 2023, have no fear! Retail buyers are warmly invited to view the Ivyline collection in full at the company's dedicated showroom
Already a well-established and preferred supplier in the garden centre trade, Ivyline also has much to offer gift and home retailers, especially those who are seeking beautifully coordinated merchandise for the aspirational lifestyle. Functional beauty is the order of the day at Ivyline, achieved through excellence in design and sustainable manufacturing principles which run through the offering and across all seasonal collections. Many collections are made from recycled materials – be it glass or ceramic-based, jute, rattan or seagrass - and are handmade or handfinished close to home in Europe by carefully selected manufacturing partners who adhere to high ethical standards.
Christmas Spirit
Pride of place will be given to Ivyline's sensational new Christmas collection, which includes a broad selection of ornamental candleholders and tealight glasses, stunning Advent centrepieces, Christmas tree skirts, stocking hooks and decorative wreaths. All with the creative flair and special touch of luxury which is the hallmark of Ivyline's covetable product portfolio.
If you're more interested in Spring-Summer lines, you'll be delighted by the
Royal Botanic Gardens, Kew (RBGK) licensed collection, which features distinctive RBGK artwork on some of the most giftable pieces, complete with eco-friendly gift boxes. Elegant watering cans and plant misters are also great for gifting, whilst stylish zinc or stoneware pots make for eye-catching home accessories. A breath-taking array of indoor and outdoor planters in all shapes and sizes will leave you spoilt for choice, alongside 95% recycled glass vases that will elevate any tablescape or merchandise display. With so many
houseplant lovers out there – and millions more Brits joining the ranks of devoted gardeners - Ivyline's extensive offering has something to suit any gift or homeware retailer who wants to make the most of this unstoppable lifestyle trend.
The showroom is open Mon-Thurs 8am – 5pm, Fri 8am – 3pm and all visitors are treated to a complementary lunch. To book your visit or request a brochure email: marketing@ivylinegb.co.uk or call 024 7633 9180.
To find out more about the Ivyline difference visit www. ivylinegb.co.uk.
[ 36 ] Christmas We're attending Glee 2023! Come see us on stand 8F80 YOUR PARTY BAG AND WRAPPED GROTTO TOYS SPECIALISTS WWW.ANDERSONSWHOLESALE.CO.UK 01842 824505 | INFO@ANDERSONSWHOLESALE.CO.UK USE CODE GTS10 FOR 10% OFF
Christmas Trees Christmas Tree Stands and Skirts Netting Funnels and Accessories • • • Pin Stands and Drilling Machines Commercial Tree Display Systems www.thechristmascabin.com Cadeby Tree Trust Specialist Christmas Tree Growers & Contractors 07786 678113 01455 292267 sales@cadebytreetrust.co.uk www.cadebytreetrust.co.uk Member of:
Are Christmas Trees Green?
With consumers becoming increasingly concerned about the environmental impact of all purchases including their choice of Christmas Tree, UK Christmas tree growers are ideally situated to answer all the right questions. Traditionally a large percentage of fresh Christmas trees sold in the UK were imported from Denmark, however vast improvements in the quality and availability of UK grown trees over the last ten years has meant that retailers are now able to find exactly what they want at the right price, right here in the UK.
Charlie Spurway of Country Business is a prime example of just such a grower. A quick visit to his plantation on Harburn Estate in Scotland demonstrates an impressive attention to detail amid seemingly never ending fields of high quality Nordman and Fraser Fir grown with a very low carbon footprint. As Charlie Spurway says, "The important thing is to be able to demonstrate that we are farming sustainably with one eye on improving
biodiversity, and that is exactly what we do. If customers feel that they are contributing to deforestation by buying their tree, then they are clearly not going to do so. It is therefore critical that we can demonstrate that by making their purchase they are helping to maintain a sustainable form of forestry and a healthy environment". This approach has certainly paid dividends for Country Business recently, with an increasing number of retailers choosing to buy direct from the Grower maximising the traceability and affordability of what really is a very natural product.
For more information contact Country Business on 01506870033 or info@ countrybusiness.co.uk or www. countrybusiness.co.uk
[ 38 ] Christmas Trees
Christmas Tree Growers issue 2023 buying advice
The British Christmas Tree Growers Association (BCTGA), which represents more than 300 real Christmas tree growers, has issued some advice to help both buyers and growers get the best out of their trees.
The BCTGA said it was a successful season for British growers last year despite the challenges of increased living costs.
Many members reported 2022 sales which were as expected or higher than the previous year which had seen more than 8 million real Christmas trees providing the festive focal point in homes across the UK. As well as a demand for real trees from the public, BCTGA said Members are seeing an increase in demand from buyers for early deliveries.
A spokesperson said: "We would advise buyers to talk to their supplier and take their guidance on recommended
delivery times. Everyone in the supplier and retail chain needs to be aware and react accordingly to the growing and seasonal weather conditions.
"We would also advise considering a split delivery to avoid stock being stored on pallets for too long before being displayed.
"By keeping the lines of communication open, suppliers can provide the freshest, quality Christmas trees for their customers, while buying British will reduce your 'tree miles' and help ensure a lower carbon footprint.''
[ 39 ] Garden Trade Specialist Christmas Trees Growers of quality Christmas trees in Lincolnshire. We are able to supply cut and pot grown trees including: Nordmann Fir (high needle retention) Norway Spruce (traditional UK tree) Blue Spruce Omorika Fraser Fir Trees can be reamed or supplied on wooden blocks to suit the customer. All trees are cut as late as possible to maximise freshness and aid needle retention. Nationwide, flexible deliveries including palletised loads on request. Advice and after sales support is available direct from the grower.
Christmas Trees Tel: 01427 667014 • email sales@fillingham-trees.co.uk web: www.fillingham-trees.co.uk
Fillingham
Christmas Trees
NORDMANN
[ 40 ]
are one of
largest Wholesale Christmas Tree Growers & Suppliers in
England
Hampshire-Grown
We
the
Southern
producing
FIR & NORWAY SPRUCE Quality trees at competitive prices Freshly cut and available in a range of sizes Plantation visits by appointment only For more information please contact our Sales Manager NIGEL CRONSHAW - 07861 647310 info@woodmanntrees.com www.woodmanntrees.com 01256 830870 Members of the British Christmas Tree Growers Association Contact Hans Rafn: E: hansrafn@festivefir.co.uk T: 07738 321919 W: www.festivefir.co.uk Delivered direct from Aberdeenshire to retailers throughout the UK Plantation visits welcome - 30 min from Aberdeen Airport ▶ Nordmann from 80 cm to 8 m ▶ Premium Noble Fir ▶ Premium and Standard Nordmann ▶ Potgrown trees QuoteGTS5 for5%discount!
Noble
Large Nordmann Fir
Fir Foliage
Fraser Fir ~ Nordmann Fir ~ Norway Spruce Pot Grown Norway Spruce and Nordmann Fir. All grades available, delivered direct anywhere in the UK. Tel: 07939929096 Email:brian@taysideforesrty.co.uk Templeton Christmas Tree Farm, Strathmartine, Dundee, DD3 0PP www.taysideforestry.co.uk
Noble Fir Tree
Customers Order in Store, We Deliver to their Door!
The new in-store display bay, with fully integrated ordering system, has a multitude of advantages for both retailers and customers, compared with conventional dog bedding displays. So how does it work?
collection of dog bedding and accessories through the in-store iPad terminal, or by visiting our website on their own device. This means, although the retailer stocks just a few beds, the customer will be able to access 100's of different bed styles online.
any returns or exchanges are handled directly by George Barclay.
There are two retail display options, an in-store display bay with brochure support, or a fully integrated in-store ordering system (as pictured).
Customers are able to view and compare a selection of George Barclay dog beds in store. These are contained in a single display bay, with a good selection of beds, allowing the customer to familiarise themselves with our products.
They'll be able to access our full
When placing an order with George Barclay, customers are incentivised to use a 'Retailer Code', to receive complimentary delivery. This same unique 'Retailer Code' will link customer orders to the retailer's George Barclay affiliate account, adding a commission value to the retailer's account.
Retailers will be able to earn commission 24/7, without an ongoing stock commitment, carriage charges, restocking or soiled stock. There's no need for retailers' to setup new product data on their till systems, plus
In-Store Display Bay – supplied with six premium dog beds, themed with our George Barclay – England, lifestyle branding. Plus, retailers will receive a supply of George Barclay brochures, with their unique retailer's code.
Fully Integrated In-Store Ordering System – featuring all the benefits of our in-store display bay (above), plus an integrated iPad terminal. Now customers can order in-store! For further information, please contact George Barclay on 01722 437477, or e-mail: sales@georgebarclay.com.
[ 41 ] Garden Trade Specialist Pets
image courtesy of George Barclay
Pet Supplies
What sets Su-Bridge apart is their commitment to delivering top-quality products, exceptional customer service, and dependable support to their partners. Their extensive product range, including leading brands and exclusive items, makes them the ultimate onestop-shop for all your pet supply needs. By partnering with Su-Bridge, you're choosing a company that is dedicated to helping you grow your business and succeed. With their proven track record of driving sales through range recommendations and fixture refreshes, you can trust Su-Bridge to help you achieve your business goals. So why settle for anything less than the
best? Choose Su-Bridge Pet Supplies as your partner and experience the difference that their quality products, exceptional service, and dependable support can make. Contact National
Sales Manager Lynne Hopwood today at lynne@su-bridge.co.uk or 07500905739 to take your business to the next level.
"PAWS" for thought: Pet and Animal Wellbeing at Glee
PAW: Pet and Animal Wellbeing
NEC Birmingham)
The UK is a pet loving nation
Recent research from the Pet Food Manufacturers' Association revealed that 3.2 million UK households have acquired a pet since 2020, and its data is predicting that by the end of 2023 16.2 million (households, or 57% of the population, will have a pet. With dogs remaining the most popular choice with over 12 million households being home to a pooch, and 11 million the domain of cat owners, it's little wonder that the pet products that address animals' distinct
requirements and foster stronger connections between owners and their pets have witnessed exponential growth in the last three years.
Pet within garden retail HTA Retail Monitor shows that pet sales within garden centres were up 31% in February 2023 compared to the same month in 2021. With sales rising, and pet owner numbers staying strong, now is the optimal time for garden retailers to review their pet offering to establish
pound'.
an offering that focuses on trends, core lines and gifting opportunities to suit the many demands of these so-called pet parents. Perfectly positioned to support this potential is PAW at Glee, where a host of established and emerging pet brands come together to showcase new products and pet services, whilst helping retailers to understand the value of the pet pound and how the humanization of pets is changing the landscape.
[ 42 ] Pets
Su-Bridge
is the clear choice for businesses looking to take their pet supply offerings to the next level.
As the winner of the highly coveted PIF Wholesaler of the Year Award, Su-Bridge is a proven leader in the industry, with over 4 decades of experience.
at Glee (27th-29th June 2023,
- will showcase pet care and wellbeing with the best of British and overseas pet suppliers to garden centre buyers who are capitalising on the 'pet
[ 43 ] Garden Trade Specialist ESSENTIAL PET SUPPLIES this summer Midlands Matt Bond 07730 529250 London & South East Tracey Clark 07894 586648 South West Emma Frake 07747 031878 North East & Scotland Ian Pullman 07387 023977 North West Cheryll Flanagan 07443 072244 National Sales Manager Lynne Hopwood 07500 905739 East Midlands Jacky Rees 07889 167348 East Anglia Liz Matthews 07827 963931 www.su-bridge.co.uk Tel: 01953 882485 • Wholesaler of the year • Taking care of all your pet supply needs for over 40yrs • Nationwide coverage • Dedicated area sales manager • Extensive product range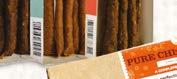 [ 44 ] 100% natural, single source protein treats. The way nature intended. Are you stocking our range? If not, why not!? You really should give us a try... ! Proven market leading brand in natural dog treats Over 200 products available, 95%+ in-stock rate Tasty profit margins Register Now! Take advantage of our bespoke business website: portal.jrpetproducts.com Become a Stockist • Trade only o ers • New product alerts • View the whole range • Starter packs available • Seamless and easy ordering • Up-to-date prices, RRPs and more... Order before 3pm for same day dispatch and 24hr delivery Professional 1st class customer service Lightning fast, free delivery* *UK Mainland, excludes Highlands & Islands ODOURLESS ODOURLESS High protein PURE PATÉ SIGNATURE RANGE PURE RANGE OSTRICH RANGE PRIMAL RANGE We have something for every dog, no matter how complex their dietary needs!
FEM extends its range of Cambro Basics shelving
FEM has extended its full range of Cambro Basics Plus Camshelving to include add-on units, shelf kits, corner connectors, dunnage stands and additional starter unit widths.
The Basics Plus shelving allows operators to quickly and easily create the perfect configurations for dry storage and coolers, with a lifetime guarantee against rust and corrosion. Strong yet cost-efficient, the extended shelving range can handle the demands of any foodservice operation. The extended range allows better organisation of storage items and greatly enhances the flexibility of shelving arrangements. The shelving units are now available in two depths (460 and 610mm) and six different widths (765, 915, 1071, 1220, 1375 and 1525mm) with a standard height of 1830mm for a four-tier vented shelf unit.
Basics Plus starter units have a maximum weight-bearing capacity of 800kg per unit. Easy to put together with a breakaway dovetail connecting design speeding up installation, while a large traverse end piece wraps securely onto the post for maximum stability. For added support and to increase weight-bearing capacity, Basics Plus dunnage stands are now available in low (171mm) or tall (273mm) heights for both 460 and 610mm deep shelving. The new corner connectors can be used to build corner and u-shape units so users can maximise shelf space with more versatile setups. The patented design of these accessories allows for
minimal loss in weight capacity while maintaining the shared post design of the original shelving units.
The Cambro Basics Plus shelving is extremely durable, the shelf plates easily wipe clean or can be removed to run through a commercial dishwasher. Antimicrobial protection is permanently moulded into shelf plates, while vented shelves allow for maximum airflow around perishable products. Prices start at £245.00 for the 765mm wide by 460mm deep starter unit. For more information and details of local stockists call FEM on +44 (0) 1355 244111, email sales@fem.co.uk or visit www.fem.co.uk
[ 45 ] Garden Trade Specialist
Pets / Shelving
image courtesy of FEM
Distributing Yankee Candle®, Woodwick® and Chesapeake Bay Candle® to the UK market. It's an exciting time for Enesco to join forces with Newell Brands as Yankee Candle® prepares for its biggest launch ever in 2023, Signature Candle.
Signature large and medium sized candles are made of a premium soy-wax blend, and feature multiple wicks for an even burn and beautiful ambience.
[ 46 ] Home, Gifts & Cards ProudlyMadeinTheUK thewheatbagcompany.co.uk E:sales@thewheatbagcompany.co.uk T:01747840499 Bespoke DisplayStands Available Enesco recently announced that they are in a distribution agreement with newell brands ENESCO LIMITED, Brunthill Road, Kingstown, Carlisle, Cumbria, England,
UK Customer Services Telephone: 01228 404022 Email:
Overseas Customer Services Telephone: +44 (0) 1228 404066 Email:
YANKEE CANDLE ™ is a registered trademark of The Yankee Candle Company, Inc. www.enesco.co.uk
CA3 0EN
uksales@enesco.co.uk
eurosales@enesco.co.uk
00001-00001_mkt3821-yankee-garden-trade-half-page-apr-23.indd 1 11/04/2023 15:46
[ 47 ] Garden Trade Specialist Eco-friendly - recycled & recyclable Fairtrade & handmade by Indian craftsmen NEW FOR 2023 Tilnar Art is very proud to have designed and be launching our new AluminArk Collection of Recycled Aluminium Penguins, Puffins, Walking Elephants, Geckos, Rhinos, Hippos, Keyrings and many more additions to our current collections Visit us at Glee – NEC27-29 June 2023 - Hall 6 Stand A47 sales@tilnarart.co.uk www.tilnarart.co.uk
Hedging - Topiary - Buxus - Laurus Nobilis
Shrubs & Trees
Plants & Sundries for the Trade
The
Hedging - Topiary - Laurus Nobilis - Shrubs & Trees
Huge range of shrubs from 3 Litre - 15 Litre
Alpines & Perennials. Seiont Nurseries. Young Plants. Pack bedding & Vegetables.
Added Value Lines - April onwards:-
Hanging Baskets, Planted Patio Pots, 13cm potted Zonal Geraniums, Fuchias, Osteospermums, Marguerites & Standard Fuchias in 10 litre pots.
Sundries - Garden Stoneware - Yorkshire Flowerpots - Draper Tools
Garden Furniture - Italian & Spanish Stock - Extensive Pot Range
FOUR OAKS CASH & CARRY
Longshoot Road, Lower Withington, Macclesfield, Cheshire SK11 9DX Tel: 01477 571797 Fax: 01477 571314
marlon@fouroaks-nurseries.co.uk www.fouroaks-nurseries.com
GA R DEN
TRADE SPECIALIST
[ 48 ] Plants / Outdoor Living
Stop Shop" in the UK Over 1500 lines of trees and shrubs from starter to mature specimen sizes.
largest horticultural "One
Four reasons why electric heating offers multiple effciencies
With summer in touching distance, consumers across the country will very soon start to think about updating their outdoor spaces and this will include looking at how they extended those summer evenings with outdoor heating solutions.
Whilst traditional styles will remain popular, many consumers may be looking for more cost-effective solutions, which is where La Hacienda – part of the AMES UK family of brands - comes into its own with its extensive range of energy and cost-efficient electric heaters. Here the team outlines four key reasons why 'going electric' might be better than you think.
1. The most cost-effective solution
When thinking about the main outdoor heating fuels – wood, gas and electricity – many people would rank electricity as the most expensive option, but the truth of the matter is simple - electric heating is the cheapest outdoor heating solution. Whilst the initial outlay might
be higher, electric heating is much more cost-effective in the long run. The average cost of running an electric heater starts from as little as 31p an hour*, whilst gas comes in at £1.35£2.38 per hour and wood almost six times as much as electric at £3.78 per hour.
2. Energy efficiency
Unlike gas and wood-fuelled fires, electric heating offers not only targeted heating, but it also provides more energy-efficient heating with little to no heat loss. Wood and gas distribute heat via convection, which means they only warm the air around them and this can be greatly impacted by weather – one gust of wind and flames can be easily extinguished. By comparison, electric heating uses infrared to provide a more targeted and controlled heat. Utilisation of wavelength also means electric heating solutions can be tailored to suit different needs, with heaters designed for both larger open areas and smaller garden spaces, something that neither gas nor wood can boast.
3. Convenience
Electric outdoor heaters are, quite simply, easier to use than gas or woodfuelled heaters. All La Hacienda's heaters are 'plug and play' designs, where users only need to select the heat/light setting of their choice. Gas and wood-fuelled heaters require fuel, such as propane or wood, to be purchased and stored, whilst lighting the heater itself often comes with complications, most notably
weather-based impact.
4. Safety first
Another benefit of electric heaters is that they are safer to use than gas or wood-fuelled heaters. Gas heaters can pose a risk of gas leaks or explosions, whilst wood-fuelled heaters can pose a fire risk.
Light up your outdoor heating sales with La Hacienda's updated electric heating range
Offering solutions for all garden sizes and consumer needs, La Hacienda proudly offers five unique electric heater collections for the 2023 season: standing, tabletop, hanging, parasol and portable – made up of 18 SKUs. The ranges consist of a combination of quartz, carbon fibre and halogen heating elements, which offer differing heat and lighting intensity, and are fully supported by new point of sale displays, available for delivery into store now. These half pallet FSDUs – delivered flat pack – clearly outlines the benefits of electric heating and can stock up to eight products. New lifestyle imagery and updated digital assets have also been made available to retailers, to help them educate and inspire consumers via social media and in-store.
Find out more
To find out how you can start stocking La Hacienda's 2023 electric heating offering, please visit www.la hacienda. co.uk. The 2023 product catalogue can also be viewed by visiting https:// lahacienda.co.uk/catalogu
[ 49 ] Garden Trade Specialist Outdoor Heating
image courtesy of La Hacienda/AMES UK
Trade shows LANDSCAPE and SOLEX partner for second year
LANDSCAPE – The Industry Trade Show, LOFA- The Leisure and Outdoor Furniture Association, and SOLEX - The Summer Outdoor Living Exhibition are teaming up to champion the outdoor industry and promote the benefits of in-person connection.
With just a few weeks until SOLEX returns at the NEC and a few months ahead of LANDSCAPE, garden retailers are being reminded of the huge benefits of attending the events now that the pandemic is officially over.
With a combined 68 years of experience, LANDSCAPE, LOFA and SOLEX know the value of collaboration and connection. This year alone, LANDSCAPE hosted over 40 CPD accredited seminars and other learning opportunities to advocate a supportive community that shares knowledge and grows together.
Both LANDSCAPE and SOLEX pride themselves on creating a relaxed and friendly atmosphere, whilst working to promote the newest and most innovative products and ideas within the outdoor industry.
Part of the partnership sees a feature stand area at each event. LANDSCAPE will create a garden display space with exhibitors at SOLEX 2023 and, likewise, LOFA will build a LOFA Lounge with members at LANDSCAPE 2023. The LOFA Lounge and LANDSCAPE Show Garden each aim to highlight the vast
array of companies to discover and things you can gain from trade shows and membership hubs that are tailored to you and your business.
LANDSCAPE is constantly working to best serve the industry that they represent and delight in finding collaborative partners who share similar
visions with a principled outlook. The LANDSCAPE team, for example, have recently banned artificial grass suppliers from their show, which has been met with great support and they continue to adapt in order to best serve the landscaping field. SOLEX also prides itself on being organised by the industry for the industry, having best interests at heart. While each show represents different areas and buying processes within the outdoor market, there is lots to share, and the events are keen to support each other moving forward. LANDSCAPE has over 100 media and trade association partners globally, making them a key platform to network, learn and be inspired. LANDSCAPE's delegates are involved in some of the most prestigious and valuable projects across the UK and beyond, so come and visit the LANDSCAPE 2023 Show Garden at SOLEX to get a taste of their 2023 Show!
Both events are held at the NEC, Birmingham with SOLEX on the Monday 10 July – Wednesday 12 of July, and LANDSCAPE on the 27th - 28th of September 2023.
[ 50 ]
Trade Shows
2023 TRADE SHOWS
RHS Chelsea Flower Show
23rd - 27th May
Amazing garden designs, gorgeous floral displays and exclusive shopping.
Gardeners World Live
15th - 18th June
Stunning garden and planting ideas, shopping, expert advice, and entertainment for all the family.
GLEE
27th - 29th June
The International Festival for Garden, Leisure and Pet, showcasing the most innovative new products and exciting brands across 10 product sectors.
SOLEX
10th - 12th July
This unique event brings together all the leading manufacturers of outdoor living products
Autumn Fair
3rd - 6th September
the UK's leading wholesale marketplace for home, gift and fashion, showcasing fantastic new products from the best brands in retail.
Four Oaks Trade Show
5th & 6th September
An international exhibition covering the whole of commercial horticulture.
LANDSCAPE Show
27th & 28th September
The UK's leading trade event dedicated to products, services & innovation for the design, build & management of exterior & interior landscape projects