from Riverfront Times, March 25, 2020
by Euclid Media Group
We probably won't survive." Not five minutes after David Sandusky sent out a press release announcing that he would be shuttering BEAST Butchery & Block for everything but takeout and dining services, the pitmaster and restaurateur offered a sobering analysis of his future in the industry. Not yet a year ago, Sandusky and his wife, Meggan, took a huge leap, expanding their critically acclaimed Belleville smokehouse, BEAST Craft BBQ, to this side of the river. Their vision was ambitious: A smokehouse, butcher and grocery shop and a live-fire demo kitchen and events space where Sandusky planned to offer a chef's table-style, fine-dining take on barbecue.
From June 2019 until March 16, 2020, the Sanduskys were chugging along. There had been struggles along the way – business had started out slower than they'd hoped, bills piled up – but they'd made the right adjustments and seemed to be finally figuring things out. Then COVID-19 hit.
"I had to lay off 45 people," Sandusky says. "I think the restaurant industry needed a correction, but not like this. This is devastation. We're going to be lucky to come out of this. I'm hopeful people will come out on the back end of this and want to spend money on dining and stretch their legs again, but I am worried that they will be extremely conservative with their cash – and rightfully so. If this isn't a long thing, I hope we can pull out of this. Barely."
The Sanduskys are far from alone in their struggles. In mere weeks, the St. Louis restaurant community as a whole has gone from touting several James Beard Award nominations as a sign of its ascendance to having its very existence threatened by a global pandemic. The speed with which the coronavirus disaster hit business owners, employees and vendors has been dizzying. At the beginning of March, the local restaurant scene was collectively urging diners to come out and show their support for the hospitality industry by patroniz
ing local businesses. By the month's second week, most businesses had gone to takeout and delivery operations only. Those who hadn't made this move had the decision made for them on March 17, when leaders from St. Louis city, St. Louis County, St. Charles County and Franklin County ordered all restaurants and bars closed for dine-in service. At press time, no timeline has been given for how long the restrictions on dine-in business will last.
St. Charles County Executive Steve Ehlmann struck an optimistic, tonedeaf, chord at the press conference announcing the declaration, saying that, while he understood the negative impact this would have on small businesses, he was confident they would figure it out.
"We're not closing businesses. We're just changing the way they do business," Ehlmann explained. "Personally, I have a lot of faith in our small business people, our restaurateurs and all the people impacted Continued on pg 14
by this. They're going to find a way to still provide the services that they provide and make the money that they need to make to pay their bills and pay their employees. I predict you're going to see some very original thinking here. I know for sure people aren't going to stop eating …" What Ehlmann's Pollyanna-like optimism in the restaurant industry's ability to problem solve its way out of this mess fails to get is that in the food business there is no time allowance for "original thinking" – what we are looking at is the distinct possibility that the St. Louis restaurant scene, like every restaurant scene around the world, will look vastly different when the threat from COVID-19 is over.
Joel Crespo, who co-owns Guerrilla Street food with his business partner, Brian Hardesty, has a bleak picture of what that future might look like.
"Your favorite places are going to be gone," Crespo says. "Then they'll be replaced by what? Big corporate places and chains and places with milliondollar investors? That's what the landscape could look like when all of these great places go away. This is going to be earth shattering for a lot of people." Crespo's bleak assessment comes from the lack of substantive help the restaurant industry has so far received as it struggles to balance doing the right thing for public health and following government directives with basic survival. Though government officials have paid lip service to the pain that those in the hospitality industry are experiencing, there has been little in the way of actual assistance. At the time of this writing, the federal government had yet to pass legislation aimed at addressing the crisis and was still debating the best way to do so. Cash payments to households, an airline bailout and expansion of unemployment benefits have been discussed, but nothing has yet to go into effect, let alone get into the hands of those who need it. Crespo cannot help but feel frustrated with what he sees as inaction. "There are concrete things that can be done – Small Business Administration (SBA) loan relief, rent relief, expansion of unemployment – but there is no direction," Crespo says. "We live in a world where people are two paychecks away from being homeless, and restaurants are the equivalent of that. We're facing an existential crisis and things need to happen fast. We can't wait for federal aid six months from now. We're wondering if we're going to have a restaurant in two weeks."
Crespo's cries for help and guidance are echoed by two of the St.
St. Louis restaurants transitioned to curb-side pickup after the coronavirus forced them to close their dining rooms. | TRENTON ALMGREN-DAVIS
" I want to say in my heart that I will fight to the death to save my restaurant – I have come so far and worked so hard for it."
Louis restaurant community's most prominent voices: chef Gerard Craft of Niche Food Group and restaurateur Mark Hinkle of Olive + Oak and the Clover and the Bee. Both have been lobbying state and congressional officials to take immediate action that they believe could give restaurants and related businesses the lifeline they need to keep from going under during this business disruption. Craft's efforts have included lobbying at the federal level to have all restaurant employees placed under the Family and Medical Leave Act umbrella to ensure that their jobs are protected, then give all of those employees paid leave. He has also asked for sales tax relief for those who remain open for takeout and delivery and SBA loan relief. Hinkle echoes these proposals and has also asked Missouri Governor Mike Parson to declare a disaster so that SBA disaster loans can be made available to the state's small business community and to issue a temporary mora
Melanie Meyer had to shut down Tiny Chef completely. | ANDY PAULISSEN
torium on eviction for non-payment of rent for residential tenants.
On March 19, Parson took one of those steps, directing the Missouri State Emergency Management Agency and the Missouri Department of Economic Development to seek assistance for small business through the SBA's Disaster Loan Program. This will allow small business impacted by COVID-19 to take out loans up to $2 million at an interest rate of 3.75 percent. As of this writing, the program has yet to take effect.
"We're saying look, if you want to bail out airlines, fine, but restaurants are the economy these days," Craft says. "The hospitality industry as a whole – commercial developers look to restaurants because there is no more retail left, airlines are using us in in-flight magazines or they have menus by some great chef, and local restaurants are in airports now. Food and hospitality have become such a huge part of our economy, and we could quite easily lose 50 percent of Missouri restaurants in the next two months if you don't do something. It could happen easily. You can only weather this for so long. For most, not at all."
Melanie Meyer is one of those restaurant owners who fear that her business might not weather the storm. Last April, she and her part
Chefs David Sandusky, left, and Gerard Craft say restaurants will be destroyed without help. | KATIE COUNTS/JENNIFER SILVERBERG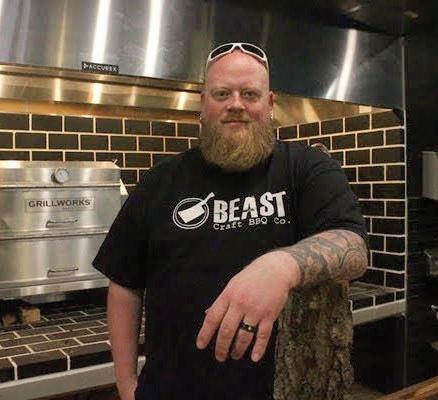 ner Chris Ward opened their small food counter, Party Bear Pizza and Tiny Chef, inside the Silver Ballroom. For Meyer, the restaurant is the realization of a dream that has quickly turned into a nightmare.
"This is my baby. I've never done anything like this, and I'm trying to think about how I am going to survive this and bring it back when it's over," Meyer says. "I don't want to lose this. I want to fight for it because this is all I've ever wanted."
Unlike many of her peers, Meyer is unable to offer takeout and delivery because of logistics. The Silver Ballroom is closed, and her restaurant is so small, it doesn't even have a landline to take calls from people to place orders. Additionally, she says that, because COVID-19 originated in China, many have ignorantly avoided Asian restaurants. She has also experienced racism in the form of dirty looks and rude gestures – an uptick she says is due to the coronavirus. Though government intervention will not help the latter problems she's experiencing, she feels that the only chance her business has to survive is government action that involves a cash infusion into people's hands so they can pay bills, and an immediate halt to things like rent and utility payments. So far, she is not optimistic that the help she needs is on the way, and wonders how she will be able to recover.
"Bouncing back means not starting from ground up but from six feet under and working your way up toward the ground," Meyer says. "I'm hopeful that we will find a way, but literally there is no action being taken. The worst part is sitting in limbo. Am I going to be OK? Pay bills? Not have a home or have a restaurant? Staying in limbo until something is decided is the worst, because we are in fear right now. I want to say in my heart that I will fight to the death to save my restaurant – I have come so far and worked so hard for it."
" Your favorite
places are going to be gone. Then they'll be replaced by what? Big corporate places and chains and places with milliondollar investors? That's what the landscape could look like when all of these great places go away."
With the lack of government action to help the hospitality industry, the only lifelines on the immediate horizon are various online fundraising campaigns, ad-hoc drives organized by those in the industry, and support of the local community. These, coupled with the takeout operations some businesses are doing, might stave off disaster for now – but how long will they last?
"It's like putting a Band-Aid on a flesh wound," Crespo says. "We are doing everything we can possibly do, and it's great that we have a wonderful restaurant community here in St. Louis. We need to support each other, but we're not going to get through this by holding hands and singing kumbaya. We need real help."
Sandusky echoes Crespo's insistence on the industry's need for help, citing the misconception that the restaurant business has the deep pockets to sustain such a blow.
"The guys that are millionaires are one percent of restaurant owners – and good for them – but most of us didn't get into it to be millionaires," Sandusky explains. "Most got into it because we are good at what we do, have a passion for it and want to pass along our hospitality. The margins are ultra slim. If you are really good at what you do and own your building, maybe you make fifteen percent in profit, but most don't own our own buildings. If we are renting and really good at budgeting, we are lucky to see ten percent hit the bottom line. That means for every $5,000, you are lucky to bring $500 to the bank – and that's if you are really good. A lot live in the five, six, seven or eight percent margin."
As it waits for the government to act, Craft hints that the industry might see a lifeline in the form of large-scale philanthropic efforts by prominent patrons in the community. Though these have yet to be formalized, the point is to get help to businesses immediately so that they might serve as a bridge until the government acts. In these dark times, it – coupled with the outpouring of support from their customers – is the thing that gives small business owners like Craft, Crespo, Meyer and Saudusky hope.
"Hopefully, the restaurant community won't look that different at the end of this," Craft says. "I'm only hopeful because of the awesome people I've come in touch with who are selflessly trying to keep this industry going. That's what it's going to take. We need all the help we can get – government, philanthropic, gift cards, whatever. If we can save the restaurants we all love, we will be in a better place." n
THREE MONKEYS THREEMONKEYSRESTAURANT.COM INFO@THREEMONKEYSRESTAURANT.COM 314.772.980 3153 MORGANFORD RD. ST LOUIS, MO 63116
Under new ownership, Three Monkeys has transformed into one of the best neighborhood restaurants & whiskey pubs in the area. With an ever-growing list of over 60 whiskeys, 16 craft beers on draft, specialty cocktail & an exciting new menu of gastro pub favorites - they have something for everyone. The menu is ample with offerings, including some of St. Louis's best hand-tossed pizza, great shareable appetizers, burgers, vegetarian options, pasta, steaks & more. Embracing the price point of other south city pubs, Three Monkeys offers a great happy hour! Come enjoy $6 select appetizers, including the best fried Brussels sprouts in town, $5 Manhattans, Sazeracs & Old Fashions, as well as discounts on wine & craft beer. Sunday features one of the most extensive brunch buffets in the city, loaded with your favorite breakfast items, an omelet & pasta station, plus seafood, appetizers, desserts, & many other goodies. Located in Tower Grove South, it's the perfect place to have dinner, share a pizza with family, or just belly up to the bar with your favorite drink.
BLK MKT EATS BLKMKTEATS.COM
314.391.5100 9 S. VANDEVENTER AVE. ST. LOUIS, MO 63108
The fast-fresh, made-to-order concept has been applied to everything from pizza to pasta in St. Louis, but the sushi burrito surprisingly had no Gateway City home until BLK MKT Eats opened near Saint Louis University last fall. It was worth the wait, though, because BLK MKT Eats combines bold flavors and convenience into a perfectly wrapped package that's ideal for those in a rush. Cousins and co-owners Kati Fahrney and Ron Turigliatto offer a casual menu full of high-quality, all-natural ingredients that fit everything you love about sushi and burritos right in your hand. The Swedish Fish layers Scandinavian cured salmon, yuzu dill slaw, Persian cucumbers and avocado for a fresh flavor explosion. Another favorite, the OG Fire, features your choice of spicy tuna or salmon alongside tempura crunch, masago, shallots, jalapeño and piquant namesake sauce; Persian cucumbers and avocado soothe your tongue from the sauce's kick. All burrito rolls come with sticky rice wrapped in nori or can be made into poké bowls, and all items can be modified for vegetarians. 9 SOUTH VANDEVENTER DINE-IN, TAKEOUT OR DELIVERY MON-SAT 1 1AM-9PM NOT YOUR AVERAGE SUSHI SPOT 9 SOUTH VANDEVENTER DINE-IN, TAKEOUT OR DELIVERY MON-SAT 1 1AM-9PM NOT YOUR AVERAGE SUSHI SPOT
CRAWLING CRAB
314.328.3421 6730 PAGE AVE ST. LOUIS, MO 63138
Looking for the best seafood in St. Louis or the Midwest—don't fret, Crawling Crab is now open! Here, we drizzle everything in garlic butter and then sprinkle on our magic dust! In a fun and casual atmosphere, you'll enjoy fresh, hand-cleaned seafood ranging from lobster, shrimp, and of course crab legs. All platters come with corn sausage potatoes and Cajun boiled eggs and shrimp that won't disappoint. For those pasta and veggie lovers out there, there is a spot for you here too! Enjoy our double dipped garlic butter rolls along side with your meal. And if you are still not stuffed, we have homemade dessert on the menu too! Have a big family coming in or an event coming up? Enjoy our family meal options and our beautiful seafood tables. As we continue to grow, we are excited to add new items to the menu, get creative with new recipes, and give back within the community. Join us on the first Tuesday of the month for $20 platter specials, and $5 appetizers on every Wild Wednesday! Open Tuesday thru Saturday 4pm-10pm, currently located in the 24:1 Coffee House Cafe.
CRISPY EDGE CRISPYEDGE.COM
314.310.3343 4168 JUNIATA STREET ST. LOUIS, MO 63116
What began in 2013 as a passion project in the founder's kitchen has now grown into a retail and wholesale potsticker manufacturing facility located right in the heart of Tower Grove South. Crispy Edge believes that potstickers are the perfect vehicle to explore authentic global flavors from breakfast to dessert: handheld, wrapped in dough, and CRISPY! The restaurant features indoor and dog-friendly outdoor seating, private dining room, and a café lounge. The full bar and hot beverage program highlight local specialty coffee, cocktails, and beers. All products are made in-house and sourced from the finest ingredients. From Ordinary to Extraordinary - Crispy Edge is a global community for those who want something fun, tasty, social and exciting to eat.
CARNIVORE STL CARNIVORE-STL.COM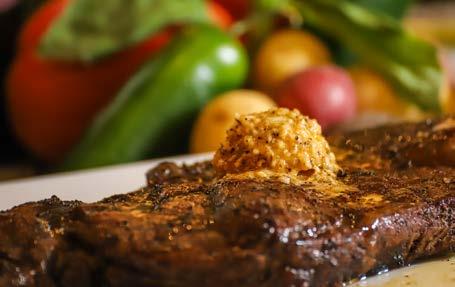 314.449.6328 5257 SHAW AVE, ST. LOUIS, MO 63110
Carnivore fills a nearly 4,000-square-foot space on The Hill with a dining area, bar lounge, and adjoining outdoor patio gracefully guarded by a bronze steer at the main entrance. Always embracing change, Joe and Kerri Smugala, with business partners Chef Mike and Casie Lutker, launched Carnivore STL this summer. As the Hill's only steakhouse, Carnivore offers a homestyle menu at budget-friendly prices appealing to the neighborhood's many families. Steak, of course, takes center stage with juicy filet mignon, top sirloin, strip steak and ribeye leading the menu. Customize any of the succulent meats with sautéed mushrooms, grilled shrimp, or melted housemade butters, such as garlic-and-herb and red wine reduction, on top of the flame-seared steak. Other main dishes include a thick-cut pork steak (smoked at J. Smugs) and the grilled chicken with capers and a white wine-lemon-butter sauce. St. Louis Italian traditions get their due in the Baked Ravioli, smothered in provel cheese and house ragu, and in the Arancini, risotto balls stuffed with provel and swimming in a pool of meat sauce. With an exciting new brunch menu debuting for Saturday and Sunday, Carnivore should be everyone's new taste of the Hill.
THE KICKIN' CRAB THEKICKINCRAB.COM
314.888.8688 9616 OLIVE BLVD OLIVETTE, MO 63132
The Kickin' Crab has joined the Crustacean Nation and is here to satisfy your taste sensation. The Kickin' Crab is a fun-filled Cajun seafood destination where patrons come and escape into flavor paradise. Offering a distinct ambiance to enjoy the finest and freshest Cajun seafood around! Kickin' Crab is a great place to hang out with friends, family, or both! No plates... no utensils! Just your hands, a bib, and our unique and absolutely irresistible KC sauces - a combination of spicy, sweet and tangy flavors - over freshly prepared seafood that will give your taste buds satisfaction unlike anything else you've ever tasted. Join us and partake in the festivities and quality of seafood that The Kickin' Crab has to offer.