2 Estrella Publishing - Main Street magazine May 2023 IS YOUR A/C OVER TEN YEARS OLD? SCHEDULE YOUR FREE ESTIMATE AND LOCK IN THESE GREAT BONUSES. Schedule your FREE Estimate and Consultation Today. 623.233.0049 $59 $59 Call before 5/31 $89 $89 Call after 5/31 Keeps equipment warranties valid. Prevents major breakdowns Extends the life of your system Inspecting the entire system Cleaning and lubricating all components. Adjusting parts for optimal efficiency. Spring is the best time for a system tune-up. Regular maintenance: Our 35-point tune-up checklist includes: Cannot be combined with other coupon offers KEEPING YOUR VERRADO COMMUNITY COOL AND COMFORTABLE FOR OVER 27 YEARS. www.callAQuality.com 520 North Bullard, #43 Goodyear, AZ 85338 ROC 255316, 255314, 255315 623.233.0049 ★ $1,500 off any system ★ A Free Nest thermostat with your system ★ Free 1-year club membership. Best guarantees in the business. 10-year parts and labor warranty. Lifetime warranty on compressors Payment plans as low as $4 35 per day Highest-rated A/C company in the valley with Call today to see why A Quality HVAC is different from the rest of the valley companies: over 700 5-star Google reviews.
Estrella Publishing - Main Street magazine May 2023 if your roof "springs" a leak, give us a call... Spring has Sprung!  New Construction, Repairs, Recovers, Maintenance  Installation of Gutters  Shingles, Tile, Built Up Single Ply, Foam & Coatings, Metal, Shake Financing available 9.9% APR *Subject to credit approval. Exclusions apply. Ask for details! financing for 15 months if paid in full 0% * * ROC #'s: 061127 - 287012 - 198009 - 082024 - 318282 We're Here To Answer Your Questions. Give Us A Call! www.JBSroofingAZ.com
Majestic Beauty Spa
Jamie Farnham, RN
Botox | Dermal Fillers | Kybella
50% Off 1st Injection of Semaglutide for Weight Loss
Up to $600 Off Laser Hair Removal Pkgs
20% Off All Injections for Mothers
50% Off Lip Blush
FREE Angel Card Reading with Reiki
Mom/Sister/Friend/BFF BOGO Angel Card Reading
MajesticBeautySpa.com 623-986-5790
MajesticBeautySpa@gmail.com
Catherine Uretsky, Publisher and Editor 623.398.5541 info@EstrellaPublishing.com
Al Uretsky, Publisher and Sales Executive 623.398.5541 info@EstrellaPublishing.com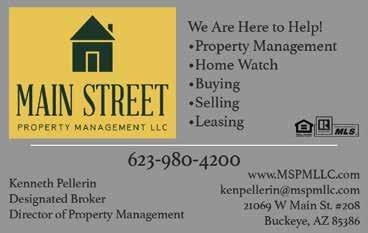 All contents © 2010-present day Estrella Publishing LLC. All Rights Reserved. Reproduction in any form, in whole or part, without written permission from Estrella Publishing LLC is prohibited. Estrella Publishing accepts freelance contributions, there is no guarantee that materials will be used or returned. Some content is provided by Brandpointe and Family Features. Estrella Publishing is not responsible for the views of contributing writers and assumes no responsibility for errors appearing within. Opinions expressed are those of the writers and not necessarily those of the Publisher or Advertisers. Estrella Publishing reserves the right to restrict all advertisement to their proper classification and to edit or reject any copy at its sole discretion. Neither this publication nor Estrella Publishing is an agent of or in any way affiliated with the associated Developer nor Homeowners Association, or any of their respective affiliates. This publication has not been approved by, sponsored by, or endorsed by the associated Developer nor Homeowners Association in any way.
4 Estrella Publishing - Main Street magazine May 2023 Published by Estrella Publishing LLC, PO Box 6962, Goodyear AZ 85338. Additional copies and article reproductions can be obtained for a fee by contacting info@ EstrellaPublishing.com