Magnificent Pine Marten Photographer Brad Manard captured a photo of this elusive pine marten. They can be found in coniferous/pine and mixed decidu ous forests, especially in the high country. Their fur color can range from yellowish to brown to near black. Photo by Brad www.rmnphotographer.comManard
XXII-1133 September 2, 2022Estes Park News is printed weekly and is always free online daily for the most current updates 48FREEPAGES
Portions of Elkhorn Avenue and U.S. 34/U.S. 36 will reopen to vehicles after the parade passes and pedestrians are clear of the roadway. Law Enforcement Park Center). This service will be a con tinuous loop until 9:15 a.m. Please look for "Scot Fest Express" signage near the Scot Fest Entrance, at the Visitor Center and on the shuttle vehicles. Additionally, the Estes Transit Red Route (Trolley) will shuttle help shuttle pa rade attendees from the Estes Park Visitor Center to West Park Center (parade starting point) from 8:30 – 9:30 a.m. The Trolley will suspend reg ular service until the parade has concluded and Elkhorn Avenue has been reopened (approximately 11 a.m.). All other Estes Transit shuttles will be gin service at 9 a.m., and all shuttles should be running their regularly-sched uled daily routes by 11 a.m. Please visit www.estes.org/shuttles for detailed in formation on Estes Transit impacts. The Rocky Mountain National Park (RMNP) Hiker Shuttle will maintain normal operations on Saturday, Sept. 10. For more information about the Hiker Shuttle's schedule or to make a reserva tion, please tle-buses-and-public-transit.htm.www.nps.gov/romo/planyourvisit/shutvisit will advise when the route has been re opened. Side streets along the parade route will remain open during the pa rade, but access to the parade route will be prohibited until law enforcement re opens the roadway. To avoid the parade route and bypass the downtown area, motorists may use alternate routes in cluding the Moccasin bypass, a portion of Moraine and Riverside, Mall Road, and U.S. 34 and Wonderview Avenue. Due to the parade and related street closures, shuttle service provided by the Town of Estes Park (Estes Transit) will be impacted. Beginning at 7:30 a.m. on Saturday, Sept. 10, Estes Transit will provide "Scot Fest Express" service starting at the Estes Park Visitor Center (EPVC) to the Scot Fest stop (on the corner routethebeginningRoad,Manfordbusenue),ManfordDriveCommunityofandAvtotheshelterontotheofparade(West
The annual Longs Peak Scottish-Irish Highland Festival Parade will travel through downtown Estes Park beginning at approximately 9:30 a.m. Saturday, Sept. 10, 2022. The pa rade will start on Elkhorn Avenue at Spruce Drive and end at the U.S 34/U.S. 36 8:30rade.nightwillonspaces/loadingintersection.On-streetparkingzonesElkhornAvenuebeclosedthebeforethepaAtapproximatelya.m.,theEstesPark
Police Depart ment will close eastbound and west bound traffic on Elkhorn Avenue from Filbey Court to Spruce Drive. At approx imately 9 a.m., the remainder of the pa rade route will close (prohibiting east bound/westbound traffic) from Spruce Drive to the intersection of U.S. 34/U.S. 36 and from Hwy 7 at U.S 36 to the U.S 34/U.S. 36 intersection. Westbound traf fic from U.S 34. will be diverted onto East Wonderview. Southbound traffic from East Wonderview at U.S 34 will be diverted eastbound onto U.S. 34. North bound Hwy 7. traffic at U.S. 36 will be diverted eastbound onto U.S. 36. West bound U.S 36 traffic at Hwy. 7 will be di verted southbound onto Hwy. 7. East bound Moraine traffic will be diverted southbound to Crags Drive. North bound Crags Drive traffic will be di verted westbound onto Moraine.
2 » Friday, September 2, 2022 epnews.com 6,400 copies were printed this week, and distributed FREE to hundreds of Estes Valley locations including Allenspark, Glen Haven & Lyons. A National Online Audience With Loyal Local Readership Ph: (970) 586-5800 Fax: (970) 692-2611 Opinions of our columnists are not necessarily the opinions of this newspaper. Owners/Publishers: Gary & Kris Hazelton Editor: Kris Hazelton Operations Manager: Andrew ads@estesparknews.comDonaldson Office Manager: Tim office@epnews.comBuck Press releases: kris@estesparknews.com All editorial, photo content & graphic design is copyright of Estes Park News, Inc. & can not be reproduced without the expressed written con sent of Estes Park News, Inc. ©2022 For subscription information contact us. DEADLINES Reserve space: Monday by 4:00 pm Final submissions: Tuesday by Noon Classifieds: Deadline Wed. by Noon Estes Park News, Inc. is Independent & locally family owned. Our Main Headquarters is at 1191 Woodstock Drive Suite #1 Mail: PO Box 508 Estes Park, CO 80517 Scan for the 2022 Estes Transit Summer Schedule Get your Estes Park collectible pin riding the Red Route! Estes Transit Park for free at the Visitor Center Parking Garage and ride with us!
Street Closures In Effect For Sept. 10 Scottish-Irish Highland Festival Parade; Shuttle Routes Adjusted
• Smoke Investigation:
handsornament.www.estes.org/helpingmayThe970-577-3567.orern@estes.orgkimmceachMcEacherncontactpleaseKimatbycalling2022ornamentbeviewedat 2022 Collector Holiday Ornament
• Alarm Activation:
Friday, September 2, 2022 « 3epnews.com
The charge(s) are merely an accusation and the defendant is presumed innocent until and unless proven guilty. On 8/28/2022 at 5:24 p.m. police stopped a known stolen vehicle in the 500 block of Big Thompson Avenue. The 20 year old male driver from Estes Park was arrested and charged with First De gree Aggravated Motor Vehicle Theft. He was also found to be wanted on two warrants, both for Failure to Appear on a DUI offense. The male was arrested and transported to the Larimer County Jail. Since 1986, the Town of Estes Park employees' Helping Hands Committee has created commemo rative annual holi day ornaments for purchase by the public. The pro ceeds from orna ment sales are used to provide high school roadsinsistancescholarshipsseniorandastoindividualsneedthroughCrossMinistry.The2022 or nament features a photo of the ma jestic Bald Eagle taken in Estes Park. Photo credit to Jimmy Bowser.Ornaments are avail able for $15 each. Ornaments are available for pur chase at the Fi nance Depart ment of Town Hall, 170 Mac Gregor Ave. Orna ments are also avail able for purchase at Peak's Hallmark in Up per Stanley Village, 459 E Wonderview Ave #4. To order by mail, please send request and payment (no cash) to: Town of Estes Park Helping Hands Com mittee at P.O. Box 1200, Estes Park, CO ments is $12.50, and shipping for four ornaments is $13. Payment with a card is an option; however, additional fees will apply. For more infor mation or to pay with a card, Available For Purchase
Town of Estes Park municipal offices will be closed Monday, Sept. 5, in observance of Labor Day. Offices will resume normal operating hours Tuesday, Sept. 6. For more information, please call the Public Information Office at 970-577-3701.
EVFPD firefighters generally respond to medical calls in their personal vehicles, al lowing for a faster response. On other in cidents, firefighters respond to a fire sta tion to respond in department apparatus with specialized equipment. During the week of August 21, the Estes Valley Fire Protection District (EVFPD) responded to 17 calls for serv ice. This included: • Emergency medical (assist EPH): 5 3 1 1 Vehicle Crash (MVC): 4 2 1
• Assist:
Town Offices Closed In Observance Of Labor Day
• Swiftwater:
• Motor
• Odor Investigation:
shippingmentspingmentforcosts.Please80517.calculatetheordertotaltoincludeshippingShippingoneornais$6,shipfortwoornais$6.50,forthreeorna
People Are The Heart Of Estes Park
As your mayor, I have many responsi bilities. I am very serious about fulfilling each and every responsibility. One re sponsibility involves encouraging people to contribute to betterment of Estes Park. I use various means for fulfilling it. Read on to learn about two such means.
On August 25th, Wendy Koenig, Mayor of Estes Park, presented and read this proclamation to Pi oneer Award winner Marty Yochum Casey during the annual meeting of the Estes Park Museum Friends and Foundation.
4 » Friday, September 2, 2022 epnews.com
The Estes Park Museum Friends and Foundation annually presents its Pioneer Award to a townsperson that has con tributed to the history and positive legacy of Estes Park. Last Thursday, dur ing the organization's annual meeting I had the special privilege of pre senting the award and reading a mayoral proclamation to this year's recipient, Marty Yochum Casey. Marty's contributions are well known. They include service to the museum organization and the sharing of her gifts and talents with the community through her cooking, entrepreneurship, partic ipating in projects, historic preser vation efforts, managing the Stan ley Hotel Museum and creating of the Historic Home Tours. Further, Marty established Friends Press, which publishes books about the history of Estes Valley and she wrote and illustrated a book of po etry about her walks in Rocky Mountain National Park. The following day I'm at the Art Center of Estes Park. There, man ager Lars Sage greets me with a big smile, hands me a slip of paper, then tells me to take as much time as needed to select the piece of art that will earn the Mayor's Choice Plein Air Award. I begin by walk ing from piece to piece. Going clockwise, I make my way through the gallery, pausing to experience each piece. As I make a second pass through, I appreciate the variety of scenery and themes that the pieces by the artists from 35 states had so skillfully captured. As I start a third pass, my heart takes charge of my mind. I feel a watercolor of Sprague Lake pulling me to it. Its colors are so delicate, and clouds just the right height for the time of day the lighting suggests. As serenity and calm fill my being, I know Connie Schmidt's "Waiting for Moose" deserves the award from this mayor. The awe-inspiring Plein Air pieces are on display at the Art Center for the next several weeks. I encourage you to stop by and check them out, then let me know which one is your favorite. Closing out this report out, I readily see that presenting the Pioneer Award to Marty and selecting Connie's Plein Air piece for the Mayor's Choice award helped me end the week on an upbeat note. For that I am grateful. It does, however, take further reflection for me to understand that it's the heartfelt man ner through which each woman so gra ciously gives of her talents and gifts, not the awards and proclamations they re ceive, that makes Estes Park better. That I, as your mayor, have a responsibility to serve in a similar heartfelt manner and encourage others to do likewise. And when I do, I am better, as is our town.
Mayor Koenig presents artist Connie Schmidt with the Mayor's Choice Plein Air Award.
Beginning on September 1, park offi cials will put annual closures in place for travel on foot or horse off established roadways or designated trails from 5 p.m. to 10 a.m. In 2020, the closure time extended to 10 a.m. from 7 a.m. due to a significant increase in visitors approach ing elk when the morning meadow clo sures lifted. These closures last through October 31 and are effective in Horse shoe Park, Upper Beaver Meadows, Moraine Park, Harbison Meadow and Holzwarth Meadow in Rocky Mountain National Park.
Friday, September 2, 2022 « 5epnews.com
The Estes Chamber and Visit Estes Park are proud to announce a new initiative designed to support the future growth of Estes Park.The Chamber and Visit Estes Park are teamingup to give locals a be hind-the-scenes look at the operations of the town and a front row seat to unique learning opportunity. It's called Estes Next. Anyone who works in Estes Park is invited to attend the monthly seminars covering topics like workforce housing, entrepreneurship, digital marketing, personal branding, the state of tourism, small business de velopment, and much more. "Our goal is give everyone greater ac cess to local businesses and to support their personal growth. We have so many young people with entrepreneurial spir its who need access to resources to real ize their dreams, and thanks to this partnership with Visit Estes Park, we can help them get there," said Colleen DePasquale, Estes Chamber Executive Direc tor."Developing Estes Next is important to Visit Estes Park as a commu nity-first organization committed to our town's success," says Rebecca Domenico-Gelsinger, Deputy Director of Visit Estes Park. "We're very excited to support the Chamber and the next generation of Estes Park."
Get Ready: Estes Next Kicks-Off September 15th
Disasters in Larimer County have sup ported the need for well-connected and resilient communities. The Larimer County Office of Emergency Manage ment is conducting a community assess ment survey. The pub lic input will inform the Office of surement,leadership,ture,tivity,munityManagementEmergencyoncomsocialconneccommunityculcommunityengageandtrusttoenprogramsaredesigned to positively impact the community. The survey is now open for responses until Oct. 8, 2022. Access the English Survey: uaciondeResilienciasilienceCommunityAssessmentbit.ly/ReAccesstheSpanishSurvey:bit.ly/EvalLasdesastresenelCondadode
Fishing in the Fall River, Thompson River or Colorado River within the posted areas remain the same as previ ous years and are closed from 5 p.m. to 7 Thea.m.purpose of the closures is to pre vent disturbance and harassment of elk during their fall mating period and to enhance visitor elk viewing opportuni ties. As always, elk calling and the use of spotlights or vehicle headlights for spot ting wildlife is prohibited in Rocky Mountain National Park.
Resilience Community Assessment
Larimer han apoyado la necesidad de comunidades bien conectadas y re sistentes. La Oficina de Manejo de Emergencias del Condado de Larimer está llevando a cabo una encuesta de evaluación de la comu nidad. El aporte del público informará a la Oficina de Adminis tración de Emergencias sobre la conectividad social de la comunidad, la cultura de la comu nidad, el liderazgo de la comunidad, el compromiso y la confi anza para asegurar que los programas estén diseñados para tener un impacto positivo en la comunidad. La encuesta está abierta a respuestas hasta el 8 de octubre de 2022.
If these walls could talk, they would tell you a compelling tale of mountain life in early Estes Park through the eyes of the influential Flora & Freelan ("F.O.") Stanley and the domestic help who maintained their house, property, and way of life. To enter the door of the Stanleys' 1904 Colonial Revival home is to pass through a frame into a painting, one with a time and life of its own. Be inspired as you take a step back in time with a guided tour of the original mountain home of the Stanleys. Advance reservations are suggested and tickets can be puchased online at www.StanleyHome.org
The kick-off event will be held Sep tember 15th at VERT CoWorking from 5-7 p.m. Stay tuned for more details by following the Estes Chamber on social media @esteschamberofcommerce on Facebook and Instagram.
TOUR THE STANLEY HOME MUSEUM tickets@StanleyHome.orgwww.StanleyHome.org970-235-0062
Acceda a la encuesta en bit.ly/EvaluacióndeResilienciabit.ly/ResilienceCommunityAssessmentinglés:Accedaalaencuestaenespañol:
The Estes Chamber of Commerce and Visit Estes Park Team-up to support the town's next generation
Annual Meadow Closures During Elk Rut Season In Rocky Mountain National Park
The full tour experience lasts two hours, with each tour beginning at the Estes Park Visitors Center. A well-marked shuttle will pickup guests from the east parking lot (near the electric vehicle charging stations), at the top of the hour.
6 » Friday, September 2, 2022 epnews.com
Please read, heed, and weed responsibly!
The Estes Land Stewardship Association (ELSA) has been serving the Estes Valley for over 15 years in promoting good land stewardship, weed identification and edu cation, and free educational materials in cluding the most popular Twenty ObNoxious Weeds in the Estes Valley Identification and Management Guide. Now is the time to remove mature noxious weeds that contain seeds that will be next year's and many more years weeds. The next Monitored Weed Drop-off will be held Saturday, September 17 from 9:00 a.m. to noon located north of the Waste Management transfer station at 666 Elm Road. No early birds or illegal drop-offs; the gate will be closed until the 9:00 a.m. start. Do not block the driveway entrance shared with recycling. The line will form up-the-hill/north of the entrance on the east-side of Elm Road. Estes Land Stew ardship Association (ELSA) volunteers will be on hand to answer weed questions at-a-distance and direct traffic flow. You will unload your paper yard bags into the dumpster or truck. We have limited dumpster capacity, so a maximum ten pa per yard bag limit will be imposed – no plastic bags. When we are at full capacity, the drop-off will end. Noxious weeds only, not native plants! No slash, pine needles, pine cones, trash, yard waste or dirt! Please remove/shake off dirt from plant roots. Excessive weight of wet weeds and dirt is a safety hazard for our volunteers. Bag flowers and seed heads rather than entire plants. Read our weekly Estes Val ley's Weed Alert articles (published April through September in EP News) to help identify invasive plants and manage seed producing plant parts for disposal. Unau thorized drop-offs at this location (w/video surveillance) are considered theft of services. No bags of non-noxious weed materials or general yard waste will be accepted at this event. Paper yard bags are available for purchase at local hard ware stores. If you want ELSA to continue to sponsor these events, please adhere to the guide lines. Owning property in the Estes Valley can be challenging and different! Bagging mature weeds this time of year is not ideal weed management and not how you want to spend your time. Be proactive – learn your native plants and manage the inva sive plants in a timely manner with a weed management specialist if you don't have the time, energy or expertise to man age your property. A list of weed manage ment specialists who can help is available at
propertyThanksELSAatber)monthELSAEstestronicPublicHardware,roundGuideValleyTwentyWeedtionsingLarimerardshipwithHelpfulplicatorslarimer.org/naturalresources/weeds/apAlsorefertotheinformationandDocumentsatestes.org/weedsTheseeventsarebeingmadepossiblethesupportfromEstesLandStewAssociation,TownofEstesPark,County,anddonations.Dependonparticipantadherencetoregulaandfundingsources,MonitoredDrop-offswillbeheldin2023.FreeOb-NoxiousWeedsintheEstesIdentificationandManagementweedbookletsareavailableyear-attheEstesValleyLibrary,AceTrueValue,andTownHallWorksandPoliceoffices.ElecversionsarepostedontheTownofParkwebsite:www.estes.org/weedsmeetsthefirstThursdayofthe(February,March,April&Novemat9:30a.m.intheGeorgeHixRoomUSBank.Formoreinformationaboutcontact:elsa.weeds@gmail.comforbeinggoodstewardsofyourandsurroundingareas! Last Monitored Weed Drop-Off September 17 Just some of the weeds and some of the crew halfway into the drop-off last Saturday.
In 1905, Cornelius Bond and the Estes Park Town Company hired Abner Sprague to plat the downtown district. Within weeks, lots along Elkhorn Av enue were taken up and new businesses were established. Over the course of a decade, the basic footprint of the town we know today was established by many of the buildings that started out as ho tels, schools, private homes, and busi nesses.Offered every Thursday morning throughout September, tours meet at 10:00 a.m. at the northeast corner of Bond Park (next to the bronze Enos Mills sculpture at MacGregor and Park Avenues). The tour group will walk west through town, and return to the same site by 11:30 a.m., and travel a distance of 0.7 miles; good walking shoes are en couraged. For information regarding parking, please www.estes.org/paidparking.visit:
Friday, September 2, 2022 « 7epnews.com bySTUDIOOPENARTappointmentonly JamesContactBiggers970-231-4125CathyGoodale970-227-8577 SEMINAR & TASTING September 9th 5:30pmFeaturing:8pm 10 Year, Quarter Cask, Lore & 25 Year...Plus a fewTickets:surprises!$85 THE BARREL PRESENTS
Discover the past on a walking tour of downtown Estes Park with the Estes Park Museum. During the tour, partici pants will be guided by trained docents to explore historical photographs from the Museum's collection to aid in com paring the past to the present.
September Historic Downtown Walking Tours
On Tuesday, September 6 at 9:00 a.m. join Estes Park Museum docents on a hike while they tell the tales of the his toric Birch Ruins and Cabin at the Cen tennial Open Space at Knoll-Willows. This program is free and open to the public and is illustrated with historic photographs. Good walking shoes and a water bottle are recommended for the mile long hike, which includes hills along a gravel path. The tour will begin near the northeast corner of Bond Park (next to the bronze Enos Mills sculpture at MacGregor and Park Avenues). No reservations are required. For informa tion regarding parking, please visit: www.estes.org/paidparking.Thisone-hourtourwillexplore the his tory of the site, including the story of Denver Post editor and promoter, Albert 'Al' Birch, who spent his summers in Estes Park. In 1907, his bungalow caught fire leaving only the stone ruins. After the fire, Birch built a small cabin lower on the knoll. Additionally, do cents will discuss the growth and devel opment of Estes Park, the landscape and nature of the area and its breathtaking mountain views, and F.O Stanley and his famous hotel. This tour allows you to enter and explore the interior of the Birch Cabin, typically not open to visi tors.Today, the Estes Park Museum main tains the cabin and ruins in collabora tion with the Town of Estes Park and the Estes Valley Land Trust. The site is listed on the Colorado State Register of His toric Properties.
History Hike Tours
fighter Foundation. Schedule for the 2022 Estes Park 9/11 Memorial Stair Climb & 5K Walk Sunday, September 11, 2022 Estes Park Visitor Center 500 Big Thompson Avenue Estes Park, CO Stair Climb Schedule Onsite Registration: 7:00 a.m. Opening Ceremony: 8:00 a.m. Climb Start: 8:46 a.m. Climb End: 11:00 a.m. 5K Walk Schedule Onsite Registration: 5:30 a.m. 5K Start: 6:40 a.m.This event is open to theEstesVrainStationp.m.8:00Sept.pickSept.tion$35mation:ImportantcommunityinforRegistrationisOnlineregistrawillclose4thEarlypacketupstarting1Monday-Fridaya.m.-5:00EstesValleyFire901N.SaintAvenuePark,CO. 9/11 Memorial Stair Climb And 5K Event In Estes Park
8 » Friday, September 2, 2022 epnews.com
Respect. Reflect. With Every Step From the Estes Valley Fire District We are excited to announce that we will be hosting our first 9/11 Memorial 5k and stair climb this year! The event will be on September 11th and will honor those who lost their lives 21 years ago. The event is open to all, with details and registration nfff.akaraisin.com/ui/estesparkhere:Eventslikethishelpustohonor those who came before and were willing to sac rifice for the good of their communities. It's also an opportunity to recognize all those who flinch forward every day to serve.More details will continue to be posted to the tionalsupportthisRunningtheofEstesPostAmericanFlinchParkRecreationEstesofcludingportedwhoThankswebsite.toallthosehavesupsofar,intheTownEstesPark,ValleyandDistrict,Forward,Legion119,VisitPark,BankColoradoandEstesParkClub.ProceedsfromeventwilltheNaFallenFire
The Milner Pass Parking Area and trailhead will be closed to all users be ginning on Wednesday, September 7, for the construction of a new vault toilet fa cility. This project is anticipated to be completed by mid-October, as weather and conditions permit. Located 4.3 miles west of Alpine Visitor Center along Trail Ridge Road near Poudre Lake, the Milner Pass Parking Area, as well as all access trails from this parking area, will be closed for visitor safety while this area is under construc tion. All visitors planning to hike on the Ute Trail and other connector trails in the area should plan to access these trails from the Alpine Visitor Center. For more information on Rocky Mountain National Park, please call the park's Information Office at (970) 5861206 or visit our website at www.nps.gov/romo
© 2022 Sarah Donohoe Join us as we catch THEGAMEBIG
Friday, September 2, 2022 « 9epnews.com These days much of our banking can be conducted from our computers and even our phones, but online banking is not al ways the transaction mode of choice. Some people prefer the face-to-face in teraction, the pen-to-paper signature, and they like to take a piece of candy from the bowl on the counter while they're in the (usually luxurious) bank lobby. Sometimes the only way to con duct our business is to be there in per son. For example, we can only have ac cess to our safe deposit box if we are in the actual bank building (so far, any way). Or we need a notary, we want to exchange currency, or we want to cash in some coins—these are all transactions that are best handled in person.Other bank clientele may opt for the drivethru, which is kind of a hybrid between in-per son and online. We do our banking at the physi cal bank building but we interact with the teller on a screen. Making a cash deposit, a cash with drawal, and acquiring a cashier's check—these are matters that can take place without getting out of your airconditioned car. It's lazy banking—and not very environmentally friendly—un less drivers turn off their cars while sit ting at the drive-up window. Me? I go to the bank for one reason and one reason only: to get our dog Chance a treat. I will make up all sorts of reason to go—which are truly imaginary excuses—just to give our little man the thrill of a ride and a treat. It doesn't get any better than that, Chance tells us. Each day, twice a day, when we ask Chance if he's ready to go for a walk, he says yes in dog dialect. He gets up from wherever he has been lounging, curls his long-haired tail into a perfect arch and wiggles it so it looks like a cheerleader's pompom, goes to the front door and then waits. We have to put our shoes on, visit the loo, get a drink of water, find our sunglasses and hats, and finally we're ready to snap on his collar and leash and head out the door. After nearly two years of this, Chance has learned to curb his excitement until he sees that we're seri ous about taking a walk. No sense hurry ing up just to wait. His patience has been tried much too often.
Join us for food, beer, & football broncos & Nfl kick off party September 12 | 5 pm | the Barrel SPONSORED BY
Milner Pass Parking Area Will Be Closed To All Users Beginning Wednesday, September 7 For Construction Of A New Vault Toilet Facility
If we say, "Ride" instead, it's a whole other tail/tale. Then our fun-loving, ad venture-seeking pup goes crazy with glee. His tail does the helicop ter dance, he literally squeals with joy, and he hops around like a kangaroo. "Ride! Ride!" we can tell he's thinking. "I get to go for a Ride!" So we take him for a ride. To the drivethru window at the bank. He knows the routine: when we stop at the window he charms the teller with his Lassie pose (back feet in the passenger seat, front paws on the console, head held high, nose pointed directly at the teller). Somehow he knows to looks straight at the camera with those big, brown doeeyes. Several tellers have become famil iar with him and will comment about his visit while they drop a bone-shaped treat into the carrier and send it to us via the pneumatic tube. He watches intently, takes the treat with utter grace, and then chomps away as if it were his last meal. Chance is adorable. This opinion was made fact the other day when we were walking him in the neighborhood park. Two bicycle-patrol police officers ped aled by on their bikes. One of them turned on his flashing red and blue lights and as he passed us he said, "It's il legal to be that cute." Although I have nothing to do with Chance's good looks, I still beamed with pride. There's a rea son our vet (who happens to be Joe's sis ter) says Chance thinks he's the "cock of the walk." I'm afraid we don't deter him from believing it. Daily I tell him he's precious. Cute. Handsome. Silly. And loved.He'sbanking on it. You may let The Thunker know what you think at her e-mail address, dono holdt@gmail.com.
Catching a ride on the Town's downtown trolley is about to be an even more reward ing experience! Beginning this week, locals and visitors of all ages who catch a ride on the Red Route (downtown trolley) can re quest a free, commemorative pin from the trolley driver. The pin – which features a whimsical illustration of a trolley filled with some of the wildlife that can be seen in and around Estes Park – will be available through the remainder of the trolley sea son, which ends Sunday, Oct. 16.
10 » Friday, September 2, 2022 epnews.com We have the right home loan to serve you through all stages of your life. MemberClose is a Joint Venture of Pivot Lending Group and CCUA. Pivot Lending Group. NMLS# 109995. Copyright © 2022, Pivot, All Rights Reserved. Pivot Financial Partners, Inc. dba Pivot Lending Group. 10397 W. Centennial Rd. Littleton, CO 80127. Pivot does business in accordance with the Fair Housing Law and Equal Credit Opportunity Act. For more information regarding our company or employee licenses please go to https://nmlsconsumeraccess.org. Talk to us today to learn more! www.bankofestespark.com • 970.586.4485 Powered By
Estes Transit Invites All Ages To "Come Ride With Us" And Collect A Commemorative Pin esteslegion.org or (970) 586-6118 LUMPY RIDGE BEER!! HAMBURGERS AND HOT DOGS, SIDE DISHES, MUSIC!! 3 pm Outdoor BBQ -6 pm Show David Starr Jackson Emmer Susan Gibson $20 BBQ, $30 Concert, $40 Both
"The idea to offer the pins grew out of discussions with downtown business own ers and community stakeholders about fun ways to encourage those visiting down town to 'park once' and catch a ride on the free, electric trolley," said Manager Vanessa Solesbee, with the Town's Public Works Department. "The pins were designed to reflect the welcoming and nostalgic feel of our downtown and to celebrate some of the wildlife that makes visiting our Town soRidersunique."can catch the downtown trolley at any stop along the Red Route and request a pin. Pins are limited to one per person and are available while supplies last. Red Route service begins at 9a.m. daily at the Estes Park Visitor Center and then travels west into downtown with nine stops along Elkhorn Avenue. Westbound stops include Bond Park/Town Hall, The Ore Cart Rock Shop, Tregent Park, West Park Center, and west of Maxwell Inn. Eastbound stops include Mrs. Walsh's Gar den, The Grubsteak Restaurant, and Moosely T's, with a final stop at Thirty Be low Leather before returning to the Estes Park Visitor Center. The final trolley leaves the Visitor Center each evening at 8:30 p.m., with service concluding at 9:00 p.m. Served by the Town's electric trolley, the Red Route runs daily (Monday through Sunday) through Oct. 16. A complete guide to Estes Transit's 2022 summer service – available in both Eng lish and Spanish – can be found at www.estes.org/shuttles. Questions about the trolley pin program can be directed to Vanessa Solesbee, Mobility Services Man ager, at vsolesbee@estes.org or 970-5773957.
Announcing Table Settings "101"
Everyone seeking information and guidance for the Estes Park Museum Friends' annual table setting competition this November is cordially invited to one of the two information sessions. The first will be held Sunday afternoon, Sept. 11 from 1-3 p.m. at the Museum, the second on Tuesday, Sept. 13, from 5:307:00 p.m., in the Hondius Room at the Estes Valley Public library. Come and participate with resident ex perts, Nancy Thomas and Andy Smith, in the 2022 Tablesetting 101 presenta tions. Nancy and Marty Casey were the originators of this exciting event in 2016. Andy Smith has been a first-place awards winner at every event. In 2021 Andy was the first and second place winner in the informal competitive divi sion, and she also took home the distin guished Julie Farnham Memorial Award. The location of this year's competition will be The Dunraven at The Estes Park Resort, on November 19th and 20th. The theme is Celebrations, Then and Now!
As in years past, the "101" sessions will address any and all questions regarding rules and policies for tablesetting cate gories vestments.com.blescapes/friends.org/creative-colorado-taavailablebeatregistertablealternativeopportunityalsoevaluationjudgingformal/informal/freestyle],[competitive/noncompetitive;explaintheprocess,anddiscussthenewrubrics.Theprogramwillfeatureaninteractive"hands-on"forattendeestobrainstormdesignideasusingsamplelinens,dishes,andsilverware.AttendeeswillhaveanopportunitytofortheNovembercompetitionthe"101"sessions,andhandoutswillprovided.Registrationformsarealsoonlineat:estesparkmuseumQuestions?Email:tara@aspenbrookinSeeyouthere!
Friday, September 2, 2022 « 11epnews.com
meetingclubchessadultOur
Making a difference and going beyond what is expected is a way of life to those who live here in Estes Valley. These traits are apparent whenever trials hit our small town and the members within it. Our friends and neighbors show up to lend a hand with support in times of need. This spirit of giving and going the extra mile is a basic tenant of the REAL TOR® community. Estes Valley Board of REALTORS® (EVBOR) and our Affiliate Business Partners (Affiliates) have pledged their commitment to honesty, integrity, professionalism, and commu nity service. The EVBOR and Affiliates, partnered with many local businesses, work together to put on three major fundraising events each year. The bene fits support local High School College Scholarships (two $1,500.00 scholarships given each year), Estes Valley Housing Assistance, rental assistance, and other local housing needs through Crossroads Ministry. This year we organized special assistance to our neighbors in the Re treat to help with flood mitigation. Our membership's volunteer commitment becomes more powerful when coupled with the other community organizations that share our vision for a better Estes Valley. Our members collectively volun teer nearly 5000 hours a year with the following organizations. EVBOR mem bers are honored to represent these or ganizations that give aid and support within our community. Thank you for what you do. We are all better and reap the benefits because of what you give.
takes place every Thursday afternoon at 3:30 p.m. at the Estes Park Community Center.Wehave doubled in size and now have several competitive games for players at all levels, each week. And of course we aren't just folks who wear tape on their glasses and stare at a game board – we even play golf and hike and play pickle ball too! We like to keep it free and easy…yes, free as in no membership re quirements or dues, just adult fun. To at tend you will of course need to meet the requirements for the facility (some of us have "Silver Sneakers" accounts with our Medicare or whatever so we don't pay annual fees), and the people at the front desk are quite helpful. Please join us and bring your quests andWequestions.canbecontacted by phone (John Gintert @ 720-217-6677 or Michael Sisk @ 970-277-5232), or feel free to just drop in on Thursday afternoons at 3:30 p.m. You will be welcomed!
Thank you to Junior Achievement, Ro tary International- Morning and After noon Clubs, Estes Valley Recreational Basketball, Estes Park Non-Profit Re source Center, Habitat for Humanity, Estes Valley Fire Department, Glen Haven Fire Department, Estes Valley Land Trust, Crossroads Ministry, Estes Park Quota Club, Estes Park Pet Associ ation, Estes Park Housing Authority, Gideons International, Stanley Home Museum, Labor Day Weekend Arts & Crafts Festival, Bright Christmas, Flat Irons Community Church-Estes Park, Rocky Mountain Evangelical Church, Project Wildfire, State of Colorado, Estes Park Senior Citizens Center, Fel lowship of Christian Athletes, Estes Park Newcomers, Estes Valley Chamber of Commerce, Christian Church of Estes Park, Economic Development Corp., Estes Park Education Foundation, Estes Park Health Foundation, Estes Park Learning Place, Estes Park Museum Friends & Foundation,Western Heritage Foundation, Estes Valley Crisis Advo cates, Estes Valley Library Friends & Foundation, Estes Valley Restorative Justice Partnership, Estes Valley Water shed Coalition, EVICS Family Resource Center, Girl Scouts, Boy Scouts, Rocky Mountain Conservancy, Plant a Book, Grow a Child, YMCA of the Rockies and American Legion Post 119. Every one who lives here in Estes Valley knows how special it is, but it is because of you! Those who give! Your expertise, re sources, commitment, and most impor tantly your time. It is those that get in volved that make the difference. Thank you!
FDI-1916K-A © 2022 EDWARD D. JONES & CO., L.P. ALL RIGHTS RESERVED. > edwardjones.com | Member SIPC We're more than just a great rate. Bank-issued, FDIC-insured Minimum depositAPY*
Adult Chess Club Meets Thursday Afternoons Finding a great rate on a CD is nice, but if you want to get the most out of your CDs, you need a strategy. If you're looking for potential ways to generate additional income without tying up your money for years, to learn more, call today.
REALTORS® Give Thanks As They Give Back
%
* Annual Percentage Yield (APY) effective 08/30/2022. CDs offered by Edward Jones are bank-issued and FDIC-insured up to $250,000 (principal and interest accrued but not yet paid) per depositor, per insured depository institution, for each account ownership category Please visit www fdic gov or contact your financial advisor for additional information. Subject to availability and price change. CD values are subject to interest rate risk such that when interest rates rise, the prices of CDs can decrease. If CDs are sold prior to maturity the investor can lose principal value. FDIC insurance does not cover losses in market value. Early withdrawal may not be permitted. Yields quoted are net of all commissions. CDs require the distribution of interest and do not allow interest to compound. CDs offered through Edward Jones are issued by banks and thrifts nationwide. All CDs sold by Edward Jones are registered with the Depository Trust Corp. (DTC) Derek Vinge Financial Advisor 501 Saint Vrain Lane Suite 202 Estes Park, CO 80517 970-586-9078 3.15 $50000 1-year
12 » Friday, September 2, 2022 epnews.com
On
Photo by Scott Rashid Photo by Jim Ward
When Should I Take My Hummingbird Feeders Down?
Your Job. Helping You Get There Is Ours.
of us love feeding the humming birds, but when should we take you feed ers down? Also, will keeping feeders up stop hummingbirds from migrating?
www.edwardjones.com
1186 Graves Suite C Estes Park, CO 80517 970-586-9969
Friday, September 2, 2022 « 13epnews.com
Up the Ideal Retirement
Avenue
learn more about why Edward Jones makes sense for you, call or visit a financial advisor today. Derek Vinge Financial Advisor 501 Saint Vrain Lane Suite 202 Estes Park, CO 80517 970-586-9078 Mark
The supplement to their diet. Hummingbirds get their protein from insects. The Rufous Hummingbirds began ar riving in July. When we see them, the birds are already migrating south. These hummingbirds have a circular migra tion. They winter in Mexico and move up the west coast to nest from Northern California to Southeastern Alaska. After they finish nesting they move east and migrate through Colorado and other western states to make their way to Mex ico to winter. The tiny Calliope Hummingbird makes a similar migration. Like the Rufous Hummingbirds, the Calliopes begin ar riving in July as they have finished nest ing and are migrating south. Both species spend a few weeks in the area, fattening up, prior to continuing their southern migration. After mid-August it is best to empty and refill you hummingbird feeders every two-three days, as the sugar water tends to get rancid. Once the sugar water goes bad, the hummingbirds will not re turn to your feeders. Hummingbirds re member every feeder they go to each day; this is why it is good to keep them up until mid-October. Once migration begins, adult male hummingbirds migrate first; followed by adult females, and then the young birds begin leaving. Evidently, adult hum mingbirds do not teach the young birds when to migrate, or where to migrate to. Migration appears to be innate in hum mingbirds as it is with most species. We have had hummingbirds remain in Colorado until November. One year, a Broad-billed Hummingbird was found in Colorado in November. These hum mingbirds are normally found from Southeastern Arizona to Southern Louisiana. So keep your eyes and ears open, especially if we have a mild winter, as you may find a rare hummingbird at your feeder. weeks after you see your last humming bird.The answer to the second question is, No! Keeping you feeders up will not stop hummingbirds from migrating, but it will give any late hummingbirds a shot of energy to migrate. The sugar water that we feed hummingbirds is simply a
answer to the first question is; we recommend taking you feeders down ei ther on or about October 15th, or two
By: Scott Rashid
Dreaming Is
Member SIPCDerek Vinge Financial Advisor 501 Saint Vrain Lane Suite 202 Estes Park, CO 80517 970-586-9078
To Purdy
Financial Advisor
Many
Come enjoy the only juried arts and crafts fair in Estes! This fun and unique shopping experience showcases world class artists from Colorado and neigh boring Western states. Shoppers will dis cover hand woven garments, paintings, jewelry, metalwork, photography, sculp ture, pottery, and more. The festival will take place September 17th and 18th in Bond Park; Saturday from 9:00 to 6:00 and Sunday from 9:00 to 4:00. Admis sion is free. Visit www.fineartsguild.org for more information.
under Dr. Jerry
live in
Texas.
He Pastored Heritage of Faith
14 » Friday, September 2, 2022 epnews.com
Arts And Crafts Fair Comes To Estes For Its 47th Year! REV. ALLEN SHOOK COMING TO ESTES PARK INTERNATIONAL CHURCH AT THE LODGE Saturday1820DIRECTIONS:SStVrainAveEstesPark,COSept.10th.@ 6pm. Sunday Sept. 11th. @ 10am. Everyone is welcome! Pastor Allen has raised the dead Allen Shook Pastor, In 1986 he founded Faith Christian Fellowship of Fort Worth Texas. His Son Jesse Shook now pastors the church. (Ovation
Fine Church). Church Savelle Allen has Allen Loves his Him and his Denise now Itasca,
and was an instructor at the Heritage of Faith Bible School. Pastor
traveled to Indonesia, Nigeria, Kenya, Mexico, and Albania doing missions and establishing churches. Pastor
walk with Jesus and wants to share
wife
with the World. He
Septiembre es el Mes Nacional de Edu cación sobre el Colesterol. Este es un buen momento para controlar su coles terol y tomar medidas para reducirlo si es alto. El colesterol alto se puede con trolar mediante cambios en el estilo de vida y/o mediante medicamentos. El colesterol alto por lo general no pre senta ningún síntoma; muchas personas no saben que sus niveles de colesterol son demasiado altos. Su proveedor de salud puede hacer un simple análisis de sangre para controlar su colesterol. El colesterol alto es un factor de riesgo im portante para la enfermedad cardíaca, la principal causa de muerte en los Estados Unidos.Losniños, los adultos jóvenes y los es tadounidenses mayores pueden tener el colesterol alto. Más de 90 millones de adultos estadounidenses (20 años o más) tienen niveles de colesterol total de 200 mg/dl o más, que está por encima de los niveles saludables. Más del 7% de los niños y adolescentes estadounidenses de 6 a 19 años tienen colesterol total alto. La clínica de Salud Estes Park, ubicada en 1950 Redtail Hawk Drive, está acep tando nuevos pacientes. Para obtener más información, visite saludclinic.org. Para programar una cita, llame al (970) 586-9230.EnSalud Family Health, brindamos servicios de atención primaria de salud asequibles y de calidad para que usted y su familia, se mantengan saludables. Servimos a todos los miembros de la co munidad independientemente del es tado del seguro o la capacidad de pago. Salud acepta Medicaid, Medicare, CHP+ y la mayoría de los planes de seguro pri vados.
The Salud Estes Park clinic, located at 1950 Redtail Hawk Drive, is accepting new patients. For more information, please visit saludclinic.org. To schedule an appointment, call (970) 586-9230.
At Salud Family Health, we provide quality, affordable primary health care services to keep you and your family healthy. We serve all members of the community regardless of insurance sta tus or ability to pay. Salud accepts Medi caid, Medicare, CHP+, and most private insurance plans.
to register: col.st/jwlDq. Registration is required due to limited space at each meeting.Pleaseconsider pre-purchasing lunch for the presentation at EPSCC. Meals are available to eat-in or take home. The cost of a meal is $7 for EPSCC members or $10 for non-members. Please order your meal before 1:00 p.m. on Friday, Sept 16th. For more information about the Estes Park Senior Citizens Center or to order a meal for the presentation, please call the Coordinator, Tonya Mar tin at 970-599-4671. Purchasing lunch is not a requirement for attending this free presentation.Pleasejoinus so that your voice can be heard! On Aging Presentation
September is National Cholesterol Ed ucation Month. This is a great time to get your cholesterol checked and take steps to lower it if it is high. High choles terol can be controlled through lifestyle changes and/or through medications. High cholesterol usually does not have any symptoms; so many people do not know that their cholesterol levels are too high. Your health provider can do a sim ple blood test to check your cholesterol. High cholesterol is a major risk factor for heart disease, the leading cause of death in the United States. Children, young adults, and older Americans can have high cholesterol. More than 90 million American adults (20 years or older) have total cholesterol levels at or above 200 mg/dl, which is above healthy levels. More than 7% of U. S. children and adolescents ages 6 to 19 have high total cholesterol.
Salud Familiar-Septiembre es el Mes Nacional de Educación sobre el Colesterol Bundleauto,homeandlife forbigStateFarm® discounts. SoletmeshowyouhowStateFarm canhelpprotectallthethingsthat mattermost-foralotlessthan youthink GETTOABETTERSTATE.® CALLMETODAY. Builda bundle. Savea bundle. 1203025 SusanJFereday,Agent 501SaintVrainLane EstesPark,CO80517 Bus:970-586-9547
The Larimer County Office on Aging will be hosting Community Conversa tions across Larimer County to gather feedback and suggestions on how to make Larimer County a great place to grow up and grow old. One of these events will be hosted by the Estes Park Senior Citizen Center located at 1760 Olympian Lane on Monday September 19th from 12-1 p.m. Come join us to dis cuss questions on how your community can support you as you age and more. Thoughts shared will be utilized in the development of the Office on Aging four-year area plan. Please use this link
Friday, September 2, 2022 « 15epnews.com
Salud Family Health-September Is National Cholesterol Education Month
Larimer County Office
The regional event takes place this year on Saturday, Oct. 29 from 9 a.m. to 4 p.m. It features free parking, free admis sion, several food trucks, a bake sale and more than 45 vendors welcoming the public at the Fairgrounds, 1125 Rooftop Way, Estes Park. The event will be in doors at the main event center.
wishes,towhichmonkey'smummifiedceivingloween.forjustOctober,intimeHalAfterreapawpromisesgrantthreetheWhite
Last year more than 600 people at tended, even though masks were re quired.
"It's a win-win situation," added Hills. "So if you are a vendor looking for a prime location, send me an email to re serve your spot and I'll see you in Octo ber. If you are a shopper getting ready for the holidays, you will find bargains and treasures here."
fam ily becomes plagued with death and misery. Read and enjoyed since its publication in 1911, this caution ary tale still gives audiences goose bumps as it warns to be careful what you wish for. Three males and two fe males are needed for the play. The audi tions will consist of a cold reading from the script. No prep is necessary. Audi tions will be held September 11th from 2-5 p.m., and September 12th from 6-8 p.m. at the Art Center of PerformancesEstes.are Oc tober 21st, 28th, and 30th at 7 p.m., and October 22nd at 4 p.m.
Vendors from as far away as Cheyenne, Wyo. and Colorado Springs come to Estes Park every fall for the eclectic Treasure Tables Arts and Crafts Sale and Festival, sponsored by a nonprofit phil anthropic educational organization.
Area Vendors Sought Now For Regional Arts And Crafts Festival In Estes Park
Treasure Tables is sponsored by a local chapter of a nationwide nonprofit phil anthropic educational organization, P.E. O. Chapter IY, with all IY proceeds go ing to benefit women in furthering their college education.
And if you are a craftsperson, show off your work at this festival. "We are look ing for vendors of every type," added Hills. "Please contact me at peotrea suretables@gmail.com if you are inter ested in being a vendor."
"We have moved to a new bigger loca tion and are opening up the sale to more vendors, " said Nancy Hills, event organ izer. "We are looking for vendors from Estes Park, Berthoud, Longmont, Boul der and throughout the Front Range. "
The Fine Arts Guild of the Rock ies is excited to announce a call for actors to join the upcoming play, The Monkey's Paw. This adaptation of W.W. Jacob's classic hor ror short story will take place at the Historic Park Theatre at the end of
16» Friday, September 2, 2022 epnews.com Register to stay informed trailblazerbroadband.com 970.577.3770 Over 2,000 Trailblazers Now Have TRUE 1 GIG Blazing-Fast Internet 1for$20.00 2for$35.00 AllDayFriday 10:00-6:00 Tie-DyeFriday AllDayDrop-InClass Saturday&Sunday HydroDippingTumblers HydroDippingTumblers $25 'MyFavoriteThings' Birdhouse Collage 'MyFavoriteThings' Birdhouse Collage $40 Felted Hummingbirds Felted Hummingbirds$35 InktensePainted ToteBag InktensePainted ToteBag $35 WoodBurning MobileClass WoodBurning MobileClass$40 FusedGlass Necklace FusedGlass Necklace $45 AcrylicPour Painting AcrylicPour Painting$40 AlcoholInk Landscapes AlcoholInk Landscapes $35 138MoraineAve.-(970)685-8818 www.inspiredartexperiences.com
"This year even more people are expected," said Hills. "It's a wonderful day to come up to the mountains to buy treasures, enjoy the colorful aspen, and listen to the elk bugle." Inside the Event Center, myr iad items will be for sale from fresh flowers, glassware, fanciful soaps, lotions and essential oils, keepsakes or ornaments, art work, candles, stained glass art, books, pottery, household and food products. If you are trying to get ahead of holiday shopping, this is the place to be!
Estes Park Community Theatre Auditions
Friday, September 2, 2022 « 17epnews.com
The Estes Valley Model Railroaders will be meeting Wednesday, September 7 at 6:00 in the Hondius Room at the Estes Valley Library. Our meeting this month will be putting the finishing touches on our upcoming Rails in the Rockies 25th Anniversary Model Railroad Show. We also will be sharing member projects and ideas. All interested folks are welcome to at tend one of our meetings just to see what we are about. We have variety of interests in the membership from oper ating trains, to modeling buildings and scenery, to history and train travel. Our members like to share their expertise or budding expertise with others so if you are thinking about knowing more or need help with a project, come join us. For more information or to be put on our email list for future events, email info@railsintherockies.org.
All pets are offered through the Pet As sociation of Estes Park, a non-profit or ganization that is your local humane soci ety. You can make a tax-deductible donation to the Pet Association by send ing your check to P.O. Box 4342, Estes Park, CO 80517.
Ezra and Tia are three year old siblings that are very loving, sweet, calm and friendly. They are kennel trained and complete angels in the car and for the vet. Ezra is the more chocolate one and he weighs about 78 pounds and Tia, the orange one, weighs about 68 pounds. They get along with other dogs and hardly ever bark. They seem to be really happy together so we are hoping some one would be interested in adopting both.
Estes Valley Model Railroaders Meet September 7 At The Library
Need?
Tia And Ezra Need A New Loving And Forever Home
Estes Park Pet Association is trying to help find someone for these sweet dogs. Please call (970) 286-1652 if you'd like to meet them.
To The Editor: Being long-time (43 years last June) residents of Estes Park, we know we are very lucky to be in such a caring com munity. Several months ago my physi cian prescribed for me to receive home care services which at this point in time I receive once a week. Not only does my care representative help me but also others in the community. She has a long-time live-in friend who is quite disabled and requires care several hours daily.Recently my helper's landlord gave her notice they must vacate their current apartment by November 1st. My caregiver qualifies for Low Income Housing and needs help in finding a place that meets her needs and ability to pay. Spe cific needs: ground floor - no more than two (2) steps to get into living quarters; one or two bedrooms; shower with tub if possible and no carpet. Electric heat and windows for air circulation are im portant, if possible. A garage apartment would work well. And a plus, my friend enjoys doing a little yard work. From past experience I know Estes Park is a very concerned giving com munity for those who need help in dif ferent ways. I hope and pray someone will come forth with help for this spe cial care-giver. Should you know of a possibility, please call 720-839-8751. Thank you so very much for your help. In
Pat Newsom Can You Help A Resident
Aldridge!BirthdayHappy15thGraceLovefromournewhomeinKyle,Texas,Grammy&Gramps
The Estes Park Genealogical Society will meet Thursday, September 8, 2022 at 1:00 p.m. in the Hondius Room of the Estes Valley Public Library. Professional genealogist, Harry Ross, presents the program "The Kilted Triangle: Ancestry, FamilySearch and ScotlandsPeople." This presentation will show how these three popular websites can work to gether to help you build your Scottish Family Tree. As a lead into the upcom ing Longs Peak Scottish-Irish Highlands Festival, clan members and anyone with Scottish ancestry are especially welcome to attend Harry's program.
Harry Ross has been researching his family history since a 1990 visit to Scotland. He earned a Bachelor of Sci ence in Education from the Ohio State University and retired as a Theatre Manager of the Regal Entertainment Group, one of the largest Motion Pic ture Theatre companies in the United States. He has researched ancestors in the United Kingdom, Ireland, the Netherlands and Germany and how some of them immigrated to the US. He is a member of the Association of Professional Genealogists, the Ge nealogical Speakers Guild, the National Genealogical Society, the Longmont Genealogical Society, the International Society of British Genealogy and Fam ily History, the Aberdeen and North east Scotland Family History Society. He is Past President of the Colorado Council of Genealogical Societies and of the Longmont Genealogical Society. Come to the next EPGS meeting to learn more about ways to discover your Scottish ancestors! The EPGS meets the second Thursday of every month from January through November in the li brary, offering a wide variety of pro grams and workshops. More informa tion about the Society, including how to become a member, can be found on its website publicsearchinety.weebly.com.estesparkgenealogicalsociAllwhoareinterestedgenealogyandfamilyhistoryrearewelcometoattendthesefreeprograms.
18 » Friday, September 2, 2022 epnews.com
Estes Park Genealogical Society September Program
Knowledge, experience, skills to assist and educate individuals with and about wildlife encounters/situations. Specialty is elk, deer, bears, mountain lions. Part of Rocky Mtn. Cat Conservancy Research. If you see a kill site, call asap, or if you want more information or help with a wildlife situation, call Jayne the "Bear Lady" at 970-685-8756.
AvailableResponderWildlifeToHelp
Overall Winner Gymkhana 2022 Sue Fereday with Luna. Congratulations to Dawson Ash, the Estes Park High School Student of the Week for September 2, 2022. Dawson is the son of Kevin and Wendy Ash.School activities he enjoys are wrestling and baseball and his favorite class is as tronomy.Outside of school he enjoys hanging out with friends and going on walks. He prides himself on being a bug fighter.
Team Ruckus Wins Softball Tourney!
Dawson's favorite place to visit is Venezuela.Hisfavorite quote is "Hey snowflake, in the real world you don't get a participa tion trophy, not everyone is a winner, there are no 'safe spaces', screaming doesn't make you right, no one owes you anything, crying doesn't solve problems, nothing is free, people are going to say things you don't like and you are not spe cialThe." best piece of advice he's ever re ceived is, "Hard work only gets you so far."After high school, Dawson said, "I plan to devote my days to becoming the bug fighting world champion." Ash 12th Grade
A group of hearty riders joined in the classes and games this year. The Gymkhana attracted participants mostly from Estes Park. Sherlyn and Dean Gar routte judged the equitation classes and timed events as well as skill events while Kim Lankford, in an adjacent arena, judged and assisted participants through a challenging trail course. Ribbons were awarded to the winners of each individ ual event. Additionally, prizes were given to the overall winners of the day in four age Gymkhanacategories.usuallyrefers to equestrian games and is designed to test the team work and strength of the relationship between horse and rider to perform challenging, coordinated tasks, often at speed, such as barrel racing and pole bending.Thetrail course is designed to present horse and rider with obstacles they might find on any of the trails in our area as well as some surprise elements they might never have seen. In both the equestrian classes and the trail course, participants not only compete, but they learn how to improve their skills for fu ture classes and for training their horses to negotiate unanticipated obstacles they might encounter on any outing. The overall winner and Trail Class winner this year was Sue Fereday of Estes Park riding Luna. In each age group trophies were awarded to Camille Arlin (0-7), Shaylee Yaeger (8-12), Bella Walker (13-18), Ruth Walker (19-45) and Sue Fereday (45+).
The Estes Park Equestrian Club (EPEC) held its 15th Annual Gymkhana at the Fairgrounds at Stanley Park on Saturday, August 13th
epnews.com Friday, September 2, 2022 « 19
Estes Park Woman's Club
Fun At Gymkhana 2022
Dawson
Our Annual Trunk Treasures, Craft & Bake Sale will be held in the parking lot of Mountain View Bible Fellowship (corner of Hwy. 7 & Peakview) from 8 a.m.- 1 p.m. All proceeds go to the Estes Park Woman's Club. This is a major Fund Raiser for the Club which supports the Estes Park community by giving to the library, EP schools, RMNP, Crossroads and other local organizations.
Saturday, September 3
Congratulations to Team Ruckus - winners of the Estes Park Brewery Summer Siz zler Softball Tournament last weekend! We would like to give a big shout out to Tyler of Estes Park Brewery and the Estes Valley Recreation and Park District for sponsoring the event, as well as the EVRPD umpires and scorekeepers for making this event a success.
EPWC Celebrating 110 Years Of Community Work
Trunk Treasures Sale This Saturday
Order Pasties And Chutney From St. Bartholomew's
Partners needs mentors in both our School-Based and Community-Based Mentoring Programs! Seven youth are already enrolled, and more youth are be ing enrolled at this time. Our mission is to empower youth to achieve their full potential, and we are seeking more posi tive adult role models to help us! If you would like to BE the difference in the life of a local youth and you have time to give, please consider becoming a men tor. Mentors help youth gain confidence, social skills and hope, all while becom ing part of our supportive and inspiring community. Visit www.poweredbypart ners.org to learn more and sign up! If you are in the Estes Valley, you can also call 970-577-9348 or directly.kwhitacre@poweredbypartners.orgemail
Prayer Quilts Available
20 » Friday, September 2, 2022 epnews.com
The glercontacttooneforrequestIffromvarylevelmorningsmeetstionalannityprayer.fromtheylifeemotionalperiencingforquiltsneedsfreelapPrayerCommunityQuiltershavequiltsavailableforanyonewhoprayers.Prayerareappropriateanyonewhoisexaphysical,orspiritualcrisisandfeelswouldbenefitbeingcoveredinTheCommuPrayerQuiltersisinterdenominagroupthatonWednesdayinthelowerofMountCalChurch,acrossthefirestation.youwouldliketoaprayerquiltyourselforsomeelse,orwouldlikevolunteer,pleaseJohannaGenatjogengler@gmail. com.
It is a long jour ney from Corn wall, England to Estes Park, but the pasties (passtees) are here! A pastie is a round piece of dough filled with savory meat and vegeta bles. It is folded in half to make a "D" shape with a crimped erseatenTraditionallyedge.bytinmininCornwall, it is an easy hand-held sandwich. Several parishioners at St. Bartholomew's Episcopal Church are currently busy in the kitchen making pasties!St.Bartholomew's has served our com munity with this pastie tradition since 1986, and we need your help to continue our fundraiser tradition! All the profits from this fundraiser will go to local, na tional, and international non-profit or ganizations. In the past, some of these organizations have included Salud, Crossroads, and Habitat for Humanity of the Estes Valley. Order your pasties by going to the church website at www.stbartsepisco palchurch.org. On the website you will find the order form to fill-out and sub mit to the church office. We suggest you place your order early because there is a limit of two bags of pasties / customer and two jars of chutney / customer. Cur rently, we are sold-out of gluten-free pasties, and we are getting close to sell ing out of the regular pasties and chut ney! However, please email the church office if you would like to be placed on a waiting list in case more gluten-free pasties become available. A bag of regu lar pasties (6 pasties / bag) costs $25 and a bag of gluten-free pasties (6 pasties / bag) costs $27. Half-pint jars of chutney cost $10 / jar. Your order will be avail able for pick-up on October 8th (time TBD) at the church (880 MacGregor Avenue). We can accept cash, check, or credit card as forms of payment. We will also have a Food Court on October 8th to include a variety of baked items, can dies, frozen foods, jams or jellies, and other specialty food items. If you have any questions, please contact the church office office@stbartsepiscopalchurch.orgat or call 970-586-4504.
School-Based And Community-Based Mentors Needed Now
Friday, September 2, 2022 « 21epnews.com
Mary Mesropian has lived in the Estes Park area since 1994 and is a Celebrant, officiating weddings and other cere monies. Her email maryruthdancer@yahoo.is Comments, thoughts, sharing is welcome. Dutch House
An old New Yorker cartoon shows one lone guy sitting in the middle of a large, empty auditorium. The caption is, "Con ference of Functional Families." Growing up, I thought I was the only person liv ing in an unhealthy family. Not that we said that out loud to anyone. I certainly knew without being told that in troubled families, bad things are permitted to happen but talking about those things was forbidden. I read instead. I did not speak of my family life until years later when I attended a meeting of Adult Children of Alcoholics. When I finally started talking out loud I realized I wasn't alone and that there were lots of dysfunctional families in the world. For tunately for me, I also realized there were lots of happy and functional fami lies out there as well and I even met some. I can now speak about my three parents and five siblings. In this story, however, I chose to focus on the rela tionship between me and my brother. Every once in a while a book seems to speak directly to us as if written for us alone. Catcher in the Rye by J. D. Salinger was such a book when I was 13. The Dutch House by Ann Patchett is one of those books for me today. The charac ters in this book seem eerily familiar to me. While Cyril, the father of the family, is not an alcoholic, he is aloof and in volved in his family as it suits his needs. The mother, who abandons her family early on, reappears after her children have become adults when she is a grayhaired, old woman. It's hard to get a feel for her. She is a ghost to me and as I write this, I realize I can't even remem ber her name. Names can be funny things. My mother, who also disap peared from my life when I was four and didn't pop back in until I was eighteen changed her name from Elsie to JoAnn. Something about a cow. The relationship between the brother and sister is very much like the one I had with my younger brother growing up. Like the older sister, Maeve, I was desig nated to take care of my brother and took that assignment extremely seri ously, sometimes to his detriment. The story of The Dutch House in a nutshell is how difficult it can be to overcome your past. Danny, the younger brother, and Maeve are only completely themselves with each other. They speak the same language because of their shared experi ences. I can relate to that. Recently I said to my youngest sister, "Do you remem ber Mom as being really angry?" She re sponded, "Angry? No. Not at all." Same family. Different experiences because of birth order and many, many years be tween our ages. "Do you think it's possible to ever see the past as it actually was?" Danny asked his sister, Maeve in The Dutch House. I have often asked myself that question. Through the years I'm sure I have an ex aggerated view of some things, forgotten some things, and minimized others. We all do this. My brother, John, however, was the one constant in my life. I watched over him when he was a tod dler, teased him mercilessly when we were in grammar school as only an older sister can, and mostly ignored him as a teenager when we were out in pub lic. We shared secrets, knew each other's friends, and covered for each other when necessary. I washed the dishes and he dried them. He was "Johnny" to me his whole life even when he was married with three kids. We were "Mary and Johnny."Ofcourse, The Dutch House isn't my story so there are differences. When the mother returns to the lives of Danny and Maeve, Maeve is excited and wel coming. Danny stays aloof and does not welcome her back into his life. It is here that the book and my life start down different paths. Johnny, like Maeve, was the welcoming one - creating space for her in his life and even inviting her to his wedding knowing full well that would mean our parents would not at tend. I, on the other hand, was more confrontational, demanding answers to why she left, why Johnny was in the hospital when he was a baby, why she never contacted us. It was a tenuous re lationship. Elsie-JoAnn and I would have times of getting along and then something would happen and we'd be on the outs. Like Danny in the book, it's not that I couldn't forgive, more like didn't want to or didn't find a reason to. It's like I couldn't remember her name. It's difficult to write about your own life and things that are personal, but it's even more difficult to write about others who have experienced those things with you. Danny from The Dutch House in reality was nothing like my brother. The years wore on and my brother and I continued our long-distance relation ship with letters, calls, and visits. I knew Johnny had issues with drugs and alco hol starting way back in high school. At first, I thought it was all fun and games but as he went on with his life the drink ing became more frequent and the drugs more lethal. The last time I talked to him we were still playing out the same old roles – I was the older, respon sible sister who would help him out of whatever disaster was playing out at the time. He was the wild younger brother but now with a family. He died of an overdose in 2004 when he was 50. There is no one now to speak the language only we shared for so many years. I miss him. Oh, how I miss him.
The
Estes Park Woman's Club 110 Years Of Service To The Editor: The north Front Range area, which in cluded Estes Park, (see map linked be low) has been in violation of the EPA air quality thresholds for ozone ever since they were created in 2008. The EPA will soon downgrade part of this nonattain ment area from 'serious' to 'severe', and the Air Quality Control Commission is required to make a new State Implemen tation Plan to address this. The Col orado Department of Public Health is telling Coloradans to drive less to solve the problem, when in reality oil and gas operations cause 1.5 times more ozone pollution than driving cars! The Polis administration, Air Quality Control Commission and CO Oil and Gas Con servation Commission need to hold the oil and gas industry accountable and stop oil & gas production during ozone season in the summer. The State Imple mentation Plan rule making will happen in December and public comments will be taken until September. Commenting soon and often will be the best way to influence the developing rule. Go others_2008.htmlwww3.epa.gov/airquality/greenbook/co8toThanksfortakingactionandurgingtomaketheirvoicesheard!
Estes Park Special Olympics
Members will be contacted via email to make reservations and menu choices. Deadline for luncheon reserva tions is Friday, September 9th. The Estes Park Woman's Club supports the library, EP schools, RMNP, Salud Clinic and other non-profit organizations in the Estes Valley area. the United States, Colorado chapter. The Estes Park Woman's Club began in 1912. The club meets the 2nd Wednesday of each month September through May at various locations. Any woman inter ested in joining the club or attending the luncheon should contact the club EstesParkWomansclub1912@gmail.com.at
Kay Rosenthal
Time To Take Action On EPA Air Quality
Estes Park Special Olympics organizers are now hosting bowling fun at the Bull Pin, 555 S. St. Vrain Ave. on Tuesdays from 3:30-5 p.m. All ages are welcome to participate.Formoreinformation, contact Audri Smith at 970-451-3762 or epspecialolympics@yahoo.com.email
22 » Friday, September 2, 2022 epnews.com Estes Park Woman's Club will begin the 2022-2023 year with a meeting at the MacGregor Ranch, 1301 Clara Drive, on Wednesday, September 14, 2022. The meeting will start at 11:30 a.m. ending around 1 p.m. as members gather for a box lunch from the Big Horn Restaurant. MacGregor Ranch has been in continu ous operation since 1873. The program will be Jayne Zmijewski with her dog Kodi who will present the program after lunch. Kodi, a chocolate Labrador Retriever, is trained as a search and rescue dog and works with the Larimer County Search and Rescue Team as well as the Search and Rescue Dogs of
BowlingTuesdayFun
epnews.com Friday, September 2, 2022 « 23
Never, ever imitate an elk call or bugle during the rut. This can endanger you and the elk. Please respect private property. Elk know no boundaries and are found all around town. If they are in a private homeowners yard, please watch the ani mals from a public area. Never get between two bull elk. Situa tions can change very rapidly during the rut and you never want to be caught in between two rival animals. Don't ignore the cows, they can still be dangerous, any time of year, not just during calving season. Remember – elk are wild animals. Be aware and be respectful. View quietly from a safe distance. Never attempt to touch or feed wildlife, it's dangerous and illegal. Keep dogs leashed and quiet and when photographing, use your zoom, give them room. Photos shown are what NOT to do.
24 » Friday, September 2, 2022 epnews.com
Watch And Enjoy Elk Rut In Safety
All photos by Kris and Gary Hazelton, Estes Park News
The annual elk rut has begun and the bull elk are already busy bugling, gather ing their harems of females and chal lenging one another for breeding rights. The elk are amazing and wonderous animals that are fun to watch but re member, these are wild animals compet ing for dominance and the bulls are es pecially "pumped-up" at this time of year.Avoid potential accident, injury or death by always viewing from a safe dis tance. If an animal is carefully watching you and appears "jumpy," you are way too close. Avoid eye contact and back away. Raise your arms to make yourself look larger. For photographers, a good rule of thumb is "give them room, use yourKeepzoom."youdog leashed and quiet. Do not allow them to bark, lunge at or chase wildlife. Elk view your dog as a predator. Never block traffic. "Elk jams" are a danger to everyone – blocking traffic on single lane roads creates all kinds of po tentially dangerous situations. Be sure to pull completely off the roadway, out of the way of through traffic.
By: Kris Hazelton
The Art Center can be viewed not only on our (www.artcenterofestes.com)website but we are on Face Book (Art-Center-of-EstesPark), Instagram (artcenterofep) and Twitter (artcenterestes).
Plein Air
Satellite Exhibits: A new exhibit is now on display at the Estes Park Health featuring Eileen Van Baren, Sally Richmond and Bruce Boyn ton. VERT has a number of Art Center artists on dis play. An ex hibit newlywashung at our most re cent addition to a Bank.hibitwentLongWinery.SnowydisplaySatelliteisatPeaksJohnjustonexatUS
« 25epnews.com
Jenifer Cline- Landscape Painting in Oil or Pastel from photos with Cliff
Blick Art Supply Jack Richeson & Co SouthwestSourcetek Magazine
andtechniquesexploreopportunitygiveworkshopexcitingbers:$150,ter2,SeptemberAustin1and10-4.ArtCenmembers:non-mem$167.Thistwo-daywillstudentsthetovariousinoilpastelforapproaching
landscape painting. Paint the Fall Colors with Cathy Goodale September 14, 10-4. Art Cen ter members: $72, non members: $80 We will paint Plein Air if possible. The study for the day is to paint your subject in bright sunlight and then in a different light like dull over-cast, threatening storm, dusk, fog? Plein Air Painting in Layers with Marie Massey September 15 and 16 2022 10-4:30 first day, 9-5, second day. Art Center members: $112, non-mem bers: $125.00. Award-winning artist, Marie Massey, has been painting profes sionally for 20 years and teaching the "Painting in Layers" method adults working in oil and acrylic for 10 years.
News From The Art Center Of
Show Winner Andrea
The Art Center of Estes Park is a non profit organization which provides a fa cility to support the work of local and re gional artists, striving to promote exhibition, education, and excellence in the visual arts. Proceeds benefit the artist and contribute to the Art Center's education and community outreach. The Art Center is located at 517 Big Thomp son Avenue, in Middle Stanley Village, below Safeway and above Subway. For more information, please call the Art Center at 970-586-5882 or visit our web site at www.artcenterofestes.com.
Park Best
Gal leriesAnonymousTownMayor Wendy Koenig Chris Wood/Castle Mountain Lodge & McGregor Mountain Lodge Mary DavidMurphy&Michelle Hall/UPS Estes Arts District Bank of Colorado Lee DeShaies & Scott Adolf/Rocky Mountain Majesty Dr. Guy & Leslie Van der Werf Bank of Estes Park Chris Switzer Town of Estes Park Seth Richmond/St Bartholomew's Epis copalKindSnowyMacgregorChurchRanchPeaksWineryCoffee
who likes this colorful quilt square ala Zentangle® style. Annie Reiser, Certified Zentangle Teacher, CZT, will teach you at least five tangle patterns (or design your own tangled spaces if you're already familiar with the Zentangle drawing method).
Art
The Art Center is open daily 11-5.
Tangled Quilt Squares with Annie Reiser September 24, 2022 1:00-4:00 p.m. Art Center members: $32.40, nonmembers: $36. Tangling quilters and quilting tanglers, this class is for you and anyone else Estes of Gabel
Classes: Detailed information on all classes can be found www.artcenterofestes.comat
Also on display in the gallery are the outstanding work of the other Art Cen ter artist members, including other works in oil painting, watercolor, pastel, jewelry, ceramics, charcoal, graphite, glass, wood, sculpture, fiber, photogra phy, printmaking and mixed media.
Magazine
First Friday: The Art Center will be open 5 – 7. Along with our Estes Valley Plein Air Exhibit, Artist Member Jenifer Cline will be doing a demonstration demonstra tion. $35 for 35 Campaign: As we enthusiastically step into the next 35 years, committed to remaining relevant and viable, we ask for the con tinued support of our community and patrons, by sug gesting a gift of $35 to our $35 for 35 Campaign. Our goal is to raise enough funds to support hiring a part-time em ployee who can serve as a Project Manager for familiarevents.fundraisingall-importantourThemostofthese events to the community is the annual Art Market event, held over Memorial Day weekend in Bond Park. This highly successful event has been operated by the Art Center for nearly 25 years.
Friday, September 2, 2022 On Exhibit: "4th Annual Estes Valley Plein Air" 34 artists, representing 15 states includ ing CO, participated in the Art Center's 4th Annual Estes Valley Plein Air. Start ing August 20 with Quick Paint at River side Plaza and concluding with the Gala Opening and Awards Ceremony August 26, these artists now have their creative works on display until September 25. This year's award winners are: Quick Paint - First Place-Richard Sneary, Second Place-James Sampsel, Third Place-Cecy Turner, AC Board of Directors-Cliff Austin, Mayor's AwardConnie Schmidt, Nocturne-Lorie Mer feld-Batson, Honorable Mention-Ann Salviazul, Miniatures-Richard Sneary, Honorable Mention-Lee MacLeod, Artist Choice-Ritchie Vios, Poster/Post card/Wine Label Contest-Richard Sneary, Best of Show-Andrea Gabel, Sec ond Place-Richard Sneary, Third PlaceLynn Mehta, Honorable Mention-Con nieThanksSchmidt.toRed Snyder who judged Quick Paint and Margaret Jensen who judged the main exhibit. Also thanks to Marissa Walters who did a dynamic job auctioneering for Quick Paint. We also wish to give recognition and thanks to or sponsors/donors:DeniseShankJill&DaleHurdACBoardofDirectorsRon&AnnWilcocks/Earthwood
Social Me dia:
Tabs for Tough Times Locations: • Summit Church kids (& parents) • NAPA Auto Supply • The Glen Haven General Store • Bank of Colorado • US Bank • Ace Hardware • Town Hall • Premier Members Credit Union • Rocky Mountain Gateway • Sandwich Mafia on Cleave Street • School District Office • Larimer County Office • All Public Schools: Teacher Lounges In addition to the businesses and or ganizations in Estes, a 'shout out' to sev eral families from Glen Haven and Estes Park, who drop off tabs at our home. Bless your commitment to others! You know who you are! Tabs For Tough Times Update September 2 8 STAR TREK II: THE WRATH OF KHAN 40TH ANNIVERSARY Sun Sep 4th at 4p Thu Sep 8th at 7p PITCH PERFECT 10TH ANNIVERSARY Sun Sep 11th at 3p Wed Sep 14th at 7p LIFEMARK Tue Sep 13th at 7p SILENT COMEDY MOVIE FESTIVAL Wed Sep 14th at 2p
One of the charities that my wife and I support regularly is St. Jude's Hospital, known for its compassionate care for children dealing with cancer and other life-threatening diseases. It came home to me more vividly this week. I was greeting people and punching tickets at the Mustang Mountain Coaster this week when a family with two elementary-age sons, came through for their ride. As they went in I asked where they were from and welcomed them…and noticed the t-shirt the dad wore, carrying the logo of St. Jude's Hospital. After their ride, as they prepared to exit, I asked about the shirt. The father explained that their young son, Ian, had just been released from St. Jude's, after surgery and treatment for a cancerous brain tumor. St. Jude's had done their work well. He stood there bright-eyed and smiling, obviously happy from his ride. I asked if they would like to go again, as I handed them each a free ticket. They smiled, accepted, and I punched their tickets. As they headed up, I told Cody and the deck crew about the family. When the family came down, they were immediately put on other sleds and sent up the hill. As they left after those rides, I wished the family the best and told them they would be in my prayers. They smiled and expressed their gratitude for all the kindnesses. So, please pray for Ian and his family. Before they left I told them about a similar situation that I hoped would en courage them.Two decades ago, a thirteen-year-old high school student collapsed on the court in the middle of a Durango basketball game. He was rushed to Denver to Children's Hospital where he was diagnosed with, and operated on for a brain tumor. They peeled his scalp back, opened his skull and removed the tumor. That boy was my grandson. Many were concerned about his welfare, sending their regards, and offering their prayers. The Colorado Avalanche heard that he was an AVs fan, and sent him a signed AVs sweater. As many people would, fam ily members wondered about how his ordeal would affect his future…if there would be one. We all longed for encouraging words, which, for us, came from an Ironman athlete competing in the Ironman World Championships in Hawaii. My wife and I had embarked on a short mission trip to Kona, on the Big Island of Hawaii, when we learned that one of the men competing in this worldrenowned triathlon had had a brain tumor removed when he was younger. Martha and I searched out Brad, a very spiritual young man, and he joyfully shared the story of his ordeal, his surgery, his recovery, and, now, he was ready to begin the 2.4 mile swim, the 112 mile bike ride, and the 26.2 mile run, that was the Ironman Championship triathlon. Needless to say, we were anxious to get back to tell our grandson that his ordeal would not keep him from becoming even a world champion. Today, he is an electrical engineer designing airline engines. We were happy to share those two stories with the family of young Ian and they were so appreciative and en couraged. So who are YOUR 'Ians' and families who need your experiences shared to give them hope and the will to go on? If you have overcome a disease, injury, or sickness, you can share that with others who are wrestling with the same. If you are a successful parent whose children have turned out well, you probably know people who would love to 'pick your brain' about things they could try to help their children move ahead in positive ways. If your marriage is seen as a successful relationship you can help couples you know who are struggling to find some answers. It's true also in areas of finances, chemical use…even spiritual things. If you've found answers that work, please don't 'keep them to yourselves', share them with others who can profit. In the Bible there is a story of a city that was surrounded by enemy soldiers to the point that the city's inhabitants were starving. Some lepers decided to 'take a chance' and ven ture outside the city, even if it meant dying at the hands of the enemy. They found that the enemy had fled in terror, leaving food, drink, other supplies, behind. At first the lepers were con tent to indulge themselves, then one said, "This is not good. This is a day of good news and we aren't telling anyone." So they re-entered the city, shared about the bounty outside and all were blessed. If you have 'good news', tell those who need to hear it. You and they will be blessed. Bob Lewis 68 Pounds Of Tabs = Free Money
26 » Friday, September 2, 2022 epnews.com
PRAY FOR IAN
Tim Van Ryn, Associate Director at Crossroads Ministry of Estes Valley re ceives a check from recycled aluminum tabs from Susan Yarrington, Glen Haven, aka 'The Tab Lady'. At the end of the summer of 2022, 62 pounds of tabs and other metals, netted $100.00 for needy families and individuals in the EstesIndividuals,Valley. businesses and service or ganizations place aluminum tabs from soda, beer, pet foods, soups, some canned vegetable, iced tea, energy drinks, tuna cans, etc. in collection con tainers around Estes Park and volunteers take the tabs, recycle them for cash, then donate the cash to help local at-risk indi viduals and their families, served by Crossroads Ministry of Estes Valley. I'm retiring! If someone is interested in taking over this volunteer position as December 1st, 2022, I will be glad to show you what I have done so you can add to the project. Contact me at: sgyrarrington@gmail.com for more info. If you are interested in helping Cross roads receive 'free' money, start collect ing aluminum tabs at home, family/friend gatherings, work, etc. then deposit them at a local business/service industry (see list below) or contact Su san for your own container at sgyarring ton@gmail.com.
600
Rich Flanery Loan Officer –
Mountain
Flanery
At the Rich Team, we've helped people call the home for more than 25 years. Whether you're looking to upsize, downsize, refinance, or even purchase a second home, we can help you, too. That's what makes us the Rocky Lender. Get started today at RockyMountainLender.com. Nicholson
Meet Abner Sprague, F.O. Stanley At The Y Equal Housing Lender ©2022 Mortgage Solutions of Colorado, LLC, dba Mortgage Solutions Financial NMLS #61602, headquartered at 5455 N Union Blvd, Colorado Springs, CO 80918, 719-447-0325. AR 104413; AZ BK-0928346; CO Mortgage Co. Registration; FL MLD902; MT Lender & Servicer Licenses 61602; TX-SML Mortgage Banker Registration & Residential Mortgage Loan Servicer Registration; WY MBL1022. RIch Flanery NMLS #256117. MSFR_04-14-2022 NMLS# 256117 (970) 577-9200 South Saint Vrain #4, Estes Park, CO 80517
Phone
Avenue,
Rocky Mountains
GET A ROCKY MOUNTAIN MORTGAGE FROM THE ROCKY MOUNTAIN LENDER. Photo by Tim
& Lord Dunraven
epnews.com Friday, September 2, 2022 « 27 Twin From $249 | Full From $289 | Queen From $299 | King From $599Twin From $249 | Full From $289 | Queen From $299 | From $599 THE ANNUAL tony.gittings@cfsbeds.com Benefits Students at EPHS! © COPYRIGHT 2022 CUSTOM FUNDRAISING SOLUTIONS FREE SHEETS WITH ANY MATTRESS PURCHASE BENEFITS ESTES PARK HIGH SCHOOL ESTES PARK HIGH SCHOOL For more info: facebook.com/cfsfrontrange Massage Chair Every BenefitsPurchaseStudents at EPHS! SUN. SEP 18 @Estes Park 11AM-5PMHS Meet some of the famous early innkeepers of Estes Park and hear their fascinating stories as portrayed by speaker/actor Kurtis Kelly on Monday, September 5th at 7 p.m. at the Maude Jel lison Library on the YMCA of the Rock ies campus. Abner Sprague, F.O. Stanley, and Lord Dunraven are just a few of the characters you will meet and listen to as they bring back the "good-ol'" days of yore.Directions to the YMCA library: upon entering the YMCA off of Spur Highway 66, take the second left and then the first right into the parking lot of Hyde Me morial Chapel where you may park and easily access the Maude Jellison Library which is directly behind the chapel. Call Robert at the library at 970-586-3341 ex tension 1133 with any questions.
A Teaching Moment
CPR & First Aid Teens & Tweens: Saturday, September 10, 1-5 p.m., Hondius Room Adults: Saturday, September 17, 1-5 p.m., Hondius Room CPR, AED, and First Aid certification. Free to attend; sign up required at estesvalleylibrary.org.
FRIENDS & CliffhangerFOUNDATIONUsedBooks
Cliffhanger Used Books, located next to the Post Office, is operated by the Li brary Friends & Foundation, offering gently-used books, movies, and music at discount prices. Open daily for sum mer hours, from 10 a.m. to 6 p.m. necklaces, and even a chandelier from old library cards. All ages welcome, no sign-up required.
SUMMER HOURS
Library Two-Hour Parking Library patrons may use any of the seven free parking spaces marked "Li brary Reserved" during open hours. The spaces offer a two-hour time limit, for use while inside the library. These are lo cated along the library's northeast perimeter. No payment or permit re quired.
Dr. Yang was born and raised in China, and has always been passionate about literature – a dangerous career during the Cultural Revolution when libraries were closed and bookstores only carried political works. She chose a safer path of studying science. After graduating from Wuhan University and at the age of 23, with limited English and only $500, she came to the United States as a graduate student at the University of Rochester. She received a Ph.D. in molecular biol ogy and published a number of scien tific papers. And yet, her passion for creative writing remained. Dr. Yang's short stories have won contests, she has been featured on National Public Radio, and she was a guest speaker at the Fly ing Tigers WWII Veterans Reunion in 2019.The Flying Tigers Trilogy has been called well-crafted, heart wrenching, and truly moving. The novels follow tales of immeasurable strength and re silience during a time of great sadness and war. To learn more about Dr. Yang and her work, visit irisyang-author.com. To sign up for Dr. Yang's Books & Au thors talk this Thursday, September 8, visit estesvalleylibrary.org. Iris Yang Tigers Trilogy
Curbside Services
Thursday, September 8, 6-8 p.m., Hondius Room Join author Iris Yang and learn about the Flying Tigers, a small group of American aviators hired by China to de fend against Japan during WWII. WORKSHOPS Sign up at estesvalleylibrary.org Exploring Nature with Kevin Cook
Books & Authors: Dr.
COMMUNITY CONVERSATIONS
KIDS & FAMILIES Library Storytimes Baby Storytime: Thurs. and Fri. at 10 a.m.Preschoolers: Thurs., Fri., and Sat. at 10:30Policea.m.Officer Storytime: Sat., Septem ber 3 at 10:30 a.m. Read to Therapy Dog "Bo": Tues., Sep tember 6 at 10 a.m. & Tues., September 20 at 10 a.m.
What's Happening At The Estes Valley Library
28 » Friday, September 2, 2022 epnews.com
Tuesdays-Thursdays, 9 a.m.-8 p.m. Fridays & Saturdays, 9 a.m.-5 p.m. Sundays & Mondays through Septem ber 5, Closed Holiday Closed Monday, September 5 for Labor Day
World War II history. Heroism. A glimpse into China during the war years, through the Cultural Revolution. And a woman's own journey from grad uate student in a foreign country, to molecular biologist and postdoctoral fellow, to historical fiction author. Join us on Thursday, September 8 in the Hondius Room at the Estes Valley Library to hear from Dr. Iris Yang, the author of three novels about the Flying Tigers. Formally known as the Ameri can Volunteer Group, the Flying Tigers was a small group of American aviators hired by China to defend against Japan during WWII. Dr. Yang will present a lively talk starting at 6 p.m. about the in spiration behind her books, including her own family's story as well as her per sonal writing journey.
And Her Flying
LEGAL SELF-HELP Free Legal Self-Help Clinic Wednesday, September 14, 2-5 p.m., Library Study Room One-on-one legal advice for library patrons who do not have a personal at torney. Appointments are necessary and can be scheduled by calling 970-5868116. More information estesvalleylibrary.org/legalclinic.at
Pick up books, movies, audiobooks, magazines, kits, even Chromebooks. Available Monday-Saturday. Learn more at estesvalleylibrary.org.
Pajama Storytime: Wed., September 7 at 6 Pajamap.m. Storytime with Nancy Bell: Wed., September 14 at 6 p.m. Storybook Explorers: Sat., September 17 at 11:15 a.m. TEENS & KIDS Sign up at estesvalleylibrary.org Safety Sticker Making Saturday, September 3, 2-3 p.m., Mak erspaceRepeated Tuesday, September 13, 5-6 p.m.,LearnMakerspacehowtouse the tools and equip ment in the Makerspace, and adorn a tote bag with a reflective safety sticker –perfect for Halloween. Pill Bottle Survival Kits Tuesday, September 6, 10:30 a.m.-12 p.m.,RepeatedMakerspaceSaturday, September 10, 34:30Repeatedp.m. Tuesday, September 13, 1:303 Createp.m. a pill bottle kit that could help you survive if stranded in the wilderness. All supplies provided. Art Work PiggybankWednesday:Painting Wednesday, September 7, 10:30-11:30 a.m.,RepeatedMakerspaceWednesday, September 21, 4:30-5:40Experimentp.m.with different art mediums and styles. All skill levels welcome. MAKERSPACE Sign up at estesvalleylibrary.org Learn the 3D Printer Friday, September 2, 2-3:30 p.m. repeated Friday, September 16, 2-3:30 p.m.For ages 15 and up. Learn the Laser Cutter Saturday, September 10, 9-10:30 a.m. For ages 15 and up. BOOKS & AUTHORS Sign up at estesvalleylibrary.org Book Club for Mortals: The Gentle Art of Swedish Death Cleaning Thursday, September 8, 1-2:30 p.m., Hondius Room or on Zoom Explore döstädning, the process of clearing out unnecessary belongings, in The Gentle Art of Swedish Death Clean ing by Margareta Magnusson. Dr. Iris Yang & Her Flying Tigers Trilogy
A monthly series on how to engage with the wonders of Life on Earth. In "The Comprehension," explore the par allel between symbiosis among wildlife and friendship among people. Play-Learn-Grow / Juega, Aprende, Crece para padres y cuidadores Wednesday, September 14, 10-11 a.m., HondiusRepeatedRoomWednesday, September 14, 4-6 p.m., Hondius Room Explore hands-on ways to infuse everyday activities with literacy and sci ence to better equip young children to thrive. This bilingual (English/Spanish) program is presented by Melody Garcia, Literacy Specialist from Colorado State Library, in partnership with EVICS Family Resource Center.
ALL AGES Fire Safety: Meet Smokey the Bear! Tuesday, September 6, 4-5 p.m., Hondius Room Make crafts, play games, and hear from the Colorado State Forest Service and Smokey the Bear about fire safety and impacts. Library Card Crafting Wednesday, September 7, 4-5 p.m., MakerspaceDropinto create earrings, guitar picks,
Monday, September 12, 4-5:30 p.m., Hondius Room & on Zoom
Guns & Responsibility: A Living Room Conversation Tuesday, September 13, 3-4:30 p.m., WassonDevelopRoomadeeper understanding of the opportunities and challenges surround ing gun ownership. In collaboration with the Estes Valley Restorative Justice Partnership. Space is limited; sign up at estesvalleylibrary.org.
Our community is no stranger to emergencies. Fires, floods, landslides, or snowstorms: each season can bring its own risk. Throughout these disasters over the years, we have learned many lessons, including the importance of be ingTheprepared.libraryjoins agencies and organi zations across the country by participat ing in National Preparedness Month this September. Let's take a close look at our level of readiness and find out what to do when disasters or emergencies arise.Patrons of all ages can learn what it means to be prepared by attending one of our many prep-themed programs. You won't want to miss a presentation by the Colorado State Forest Service this Tuesday, September 6: Smokey the Bear will be teaching us about fire im pacts and what we can do to keep our forests safe and healthy.
Estes Park Senior Citizens Center Menu
Ever heard of a Pill Bottle Survival Kit? We're hosting four different dates in the Makerspace when you can make your own. This compact-and-convenient craft is perfect to toss in your backpack when you are out exploring the wilder ness. To prepare for potential medical emergencies, two separate classes will be held to teach the basics of CPR & First Aid. Tweens and teens can get their two year certification on Septem ber 10; adults get their turn on Septem berKids17.can get creative by making reflec tive safety stickers in the Makerspace, which are themed for Halloween and will be an excellent addition for that candy bag. Or, come paint your own piggy bank and learn what it means to be financially prepared. Families: there's preparedness fun for you, too! Bring the littles to Police Sto rytime this weekend. On Saturday, Sep tember 3 at 10:30 a.m., we'll be reading and singing with School Resource Offi cer Paul Mieszala. Later in September, we will have pre sentations from Estes Park Health and Estes Valley Fire Chief David Wolf about how you can be more prepared in the face of both health and climate emergencies.Throughout the month, stop by the li brary and pick up a copy of The Home Ignition Zone from Colorado State Forest Service, or Larimer County's Emergency Preparedness Guide. You can get tips on preparing your home for wildfire and steps you can take to day to be ready for the next emergency event.While you're in the building, we can help you register for NOCO Alerts with Larimer County or Boulder County Office of Emergency Manage ment. You'll be rewarded with your choice of a hand crank flashlight, water straw, or an emergency sticker that lets first responders know how many peo ple and animals are in your home Looking for something to do from the comfort of your own home? Complete the online scavenger hunt – partici pants will be entered into a drawing for an Emergency Preparedness Kit from the Red Cross. We can all do our proactive part to be ready for the next disaster or emer gency. Learn more about National Pre paredness Month, and all of these great programs, at estesvalleylibrary.org. Let's get preppin'!
Thursday, Sept 15 Chicken Parmesan w/ Spaghetti, garlic bread & side salad Friday, Sept 16 Trout (4 oz) w/ Baked Potato & soup of the day
Let's Get Prepped In September
Thursday, Sept 8 Meat Lasagna w/ garlic bread & side salad
Friday, Sept 9 Shrimp Basket (8 fried) w/ Homemade Chips & soup
The Center is OPEN (Monday, Wednesday, Thursday & Friday 10-1; Tuesday 10-2) TriFit (MWF 10:30-11:15); Yoga/Balance (TT 10:15-11:15) Mahjong (Tuesdays 10-2); Crafts (Tuesdays 11:30-1)
Meals are $7 for current 2022 EP Senior Citizens Center members and are by reserva tion only. (Or 3 meals for $20; use pre-paid meal tickets.) Exact cash or check payment required. Reservations must be made by 1:00 PM at least one business day in advance. Note, if you want to reserve a meal for Tuesday, Sept 6th, you need to call before 1:00 PM on Friday, Sept 2nd. For reservations call 970-581-2195 and leave a detailed message. Pre-paid meal tickets and membership forms are available at the Estes Park Senior Citizens Center located at 1760 Olympian Lane and at estesparkseniors.org
Tuesday, Sept 6 Country Fried Steak w/ Mashed Potatoes, gravy & vegetables Wed., Sept 7 Philly Chicken Sandwich (topped w/ mozzarella cheese, green peppers & onions) w/ Potato Salad
By: Barbara Jo Limmiatis, Technology Arts Librarian
Monday, Sept 12 BBQ Platter – Pulled Pork & Beef Brisket w/ Mac 'n Cheese & corn bread
Sept 5 – 9 Sept 12 – 16
Golf Tournament To Support Our Lady Of The Mountains Youth Programs
Monday, Sept 5 CLOSED
Tuesday, Sept 13 Fried Chicken (3 pc) w/ Mashed Potatoes, gravy & vegetables Wed., Sept 14 Taco Salad w/ Ground Beef
On Friday, September 23rd, Our Lady of the Mountains Catholic Church will host a golf tournament at the 18-hole golf course. This year, the proceeds from the golf tournament will benefit the youth programs at the church, including the summer bible camp. The tournament will be a four-person scramble format with at 1:30 p.m. shot gunWestart.need golfers and supporters for this event - play golf, sponsor a team or a hole, provide prizes. Anything you can do to support our youth is greatly appre ciated. For more information, contact the church office at 970-586-8111.
Two Bridge Groups: 1st, 3rd, & 5th Wednesday of the month & Every Thurs 12:30-4 PM Reserved Meals-to-Go delivered to your vehicle or EAT at the Senior Citizens Center Check out our website: estesparkseniors.org or call for the latest information
Cedar Waxwing photo by Jim Ward
epnews.com Friday, September 2, 2022 « 29
The Estes Park MTB Team is a fall coed sport, open to 7th-12th grade students performance racers. High School stu dents on the Estes Park MTB Team are able to race in the Colorado High School Cycling League with over 2000 other students from across the state of Col orado, including parts of Wyoming and New Mexico. The Estes Park MTB Team is always welcoming of new riders and racers at any time - contact us at es tesmtb.com or on Instagram @estesmtb if you have a student who is interested or has questions.
The final race of the day was an Indi vidual Time Trial for all the Freshman Boys and GIrls where the student ath letes gave it their all, racing the clock for 12 miles. Freshman Wyatt Morris was excited for his race and finished with a strong 65th Place out of 90 first time
JV Girls Racer Isabella Put man and Sophomore Girls Racer Nora Harrison raced next for the team giving it their all for 12 miles of racing. JV Is abella Putman had a great start to her 4th year of racing with the Estes Park MTB
30 » Friday, September 2, 2022 epnews.com
racers. Way to go, Wyatt! Thanks to the incredibly strong show ing of all six of the high school student athletes on the Estes Park MTB Team, the team brought home the 1st Place Team Trophy for their Division 3! Way to go, EP MTB Team! The 2nd of their 4 regular season races is on September 11th at the Cloud City Challenge in Leadville,CO, where the Estes Park MTB Team hopes to continue showing off all their hard work! Go, Estes Park, Go!
The Estes Park Mountain Bike Team is off to an amazing start for their 2022 race season bringing home a well-de served 1st Place Divisional Team Trophy at the Frisco Bay Invitational in Frisco, CO, on August 27th! Six Estes Park MTB Team high school student athletes gave it their all on a beautiful day of racing with Freshman, Sophomore, and JV Boys & Girls racing 12 miles and Varsity Boys & Girls racing 18 miles on the fun Frisco course that runs along the southern edge of the Dillon Reservoir. The day started with Sophomore Boys and Owen Brandewie was able to race his first ever mountain bike race after an injury made him unable to race his Freshman year. He had to start in last place for Sophomore Boys, with his wave starting five minutes behind the first wave, but over the course of his 12 mile race Owen was able to pass not only the 37 racers in his wave but also catch up to and pass 30 more racers who had a five minute head start. Owen finished with an impressive 11th Place Finish out of 78 Sophomore Boys! Congrats, Owen! For the Estes Park MTB Team's first time ever, they had two Varsity racersSenior Sam Honda and Junior Odin Rhode. With 18 miles, Sam and Odin raced their hearts out against the fastest racers in our Conference. As a Junior, Odin Rhode had to start at the back of the pack but he worked his way up and finished in an impressive 13th Place. Sen ior Sam Honda also worked his way to finish a stellar 25th place. Way to go, Sam andSeniorOdin!and
Team finishing strong in 26 of 40 JV Girls. Great job, Isabella! Soph omore Nora Harrison gave it her all by passing most of the racers in her wave and a dozen in the wave ahead of her to finish 3rd Place in Sophomore Girls! Congrats, Nora!
Isabella Putman Nora HarrisonOdin Rhode Owen Brandewie Sam Honda Wyatt Morris
Estes Park Mountain Bike Team Wins 1st Place Divisional Team Trophy
epnews.com Friday, September 2, 2022 « 31 Each Office is Independently Owned and Operated Scott Each Office is Independently Owned and Operated Scott www.EstesParkHome.comScott@EstesParkHome.com970-590-9941Thompson1692 Big Thompson Avenue, Ste 201 Estes Park, CO 80517 • Spectacular views & 1000 SF deck • Beautifully updated • 8.4 secluded acres • Borders National Forest • 16 x 33 detached workshop 1572 Moss Rock DriveOpen$1,125,000HouseSat.,Sept. 3 11am 1pm • Carriage Hills 4 bed/2 bath • Overlooks grassy meadow & ponds • Updated bathrooms & kitchen • Huge rec room with wet bar • Quiet cul-de-sac location 2070 S. Sharon CourtOpen$974,900HouseSat., Sept. 3 11am 1pm Enter to win a $50 Amazon gift card from each home • Gorgeous North End property • 3 bed/3 bath home with bonus room • Magnificent 360 degree views • 4.39 acres of native flora & fauna • Oversized garage 255 Little Beaver DriveOpen$1,250,000HouseSat.,Sept. 3 11am 1pm ListingNew
32 » Friday, September 2, 2022 epnews.com HistoricRiverCabin.com $595,000 338 Waltonia River Court • On The River 3 bed, 1 bath, .51 acres Call Kirk LongsPeakViews.com $849,000 1440 Bluebell Drive • Desirable High Drive Area 3 bed, 2 bath, .45 acresCall Kirk Motivated Seller Mountain Brokers 1200 Graves Avenue, Estes Park Office: 970-586-5324 The Mountains Are Calling... www.WeSellEstesPark.com YourEstesHome.com $990,000 870 West Lane • Longs Peak Views 3 bed, 2 bath, 3 Acres, 5 Car Garages Call Kirk 1930 N. Sharon Ct $1,090,000 Call Gene 1010 S St Vrain Unit A3 $315,000 Eagles Landing Condo Call Renee 639 Park River Place $710,000 Call Carla 11543 County Rd 43 $1,150,000 19.6 Acres Bordering National Forest Call Kim 1050 South S Saint Vrain Ave L-4 $275,000 Call Cindy 260 Steamer Court $820,000 Call Javier or Maria 230 Old Man Mountain $889,000 3 bed 2 bath, fully renovated...must see Call Javier or Maria 2719 Sunset Lane $895,000 Call Javier or Maria Sold Kirk Fisher Broker Owner CRS, CMAS, CLHMS Peggy Lynch CRS, GRI, CDPE, ABR, SRES, QSC, CLHMS 970-586-1000 Javier Gomez Broker, CRS, CMAS 970-213-8692970-586-1000 Maria Gomez Broker 970-213-9479 Renee Hodgden Broker, SRES, ABR 970-232-6231 Dave Kiser Broker 970-231-2989 Dave Lasota Broker 970-412-7283 Kim Lemirande Broker, SRS, CMAS, GRI 970-481-1880 Carla SprengWebb Broker 480-695-9293 Gene Whannel Broker 970-481-7002 Cindy Miller Broker, ASP, ABR, CDPE 970-888-1654 Becky Robbins Broker 281-989-5587 New UnderPriceContract UnderTBDContractHigh Drive $475,000 Zoned A, Multiple Homes Possible Short Term Rental Permit by Right Call Kirk New Listing New Listing
Friday, September 2, 2022 « 33epnews.com CALL/TEXT 970-231-8570 FIRSTCOLORADOREALTY COM CHRISTIAN COLLINET 2325 Ute Lane $300,000 2841 Wildwood Lane $595,000 Daily Donut $195,000 Hire SupportLocal.localbusinessinEstesPark. BUSINESSUNDER.88/ACRECONTRACTOPPORTUNITY LOCATED IN LOWER STANLEY VILLAGE 1600CircleWapiti#51 2568 HighwayW34
Feel free to reach out directly via email centerstagedanceep@gmail.com.to Regis ter soon – class size is limited. Center Stage School Of Dance & Gymnastics Opens Fall Registration For All Classes
Estes Park's Center Stage School of Dance and Gymnastics has started registration for the fall session of children, teen and adult classes. The fall session will run for eight weeks, starting on Mon day, September 12th and running through Friday, November 4th Center Stage offers weekly classes to children starting at age two, all the way up through adult classes. This year we are offering multiple classes in hip-hop, jazz, contemporary, tap, lyrical, ballet, technique, gymnas tics, and toddler dance/tumbling classes. We are also continuing with a new season of Competitive Dance Teams where children ages nine through 18 have the opportunity to compete at regional competitions throughout the state of Colorado. We are also excited to announce that Ballet Renaissance will also once again be teaching classical bal let at Center Stage, on Saturday's, this fall. Beginners of all ages are always wel come - we will find the perfect class for classes start out at only $10.00 per class and vary slightly in price, based on the length of class cho sen. Thanks to the Estes Park Duck Race, financial aid scholarships are still available to children that need financial assistance with their fall tuition. To see a complete fall schedule of all available class days and times or to register on line, via the contact us page, please visit our website at @centerstagedanceestesmessageStagephone,Tostagedanceestespark.com.www.centerregisterorinquirebypleasecallCenterat(970)714-0755,orusviaFacebook park.
you!Weekly
34 » Friday, September 2, 2022 epnews.com Mike Richardson Broker/Owner GRI, CNE, ABR, NAR Green Designation (970)Mike@EstesPK.com215-2722 Mindy Stone BrokerCMASAssociate mindystone99@gmail.com Aaron Busche BrokerCMAS,AssociateCNE Aaron@EstesPK.com(970)470-9962 650 Lakewood Court • Serene mountain retreat on 7.8 acres • 7 bedrooms, 7 bathrooms, includes 3 suites • Private apartment lower level • Currently operates as a Bed & Breakfast Don't miss out on seeing this amazing property, call Mike for a tour today! $2,200,000 1845 Jacob Road • 16 acre retreat offers a nature's paradise • 3 bedrooms / 2 bathrooms • Custom home full of luxury features • Exceptional design & private setting Call Mindy today to take a look! $1,150,000 512 Columbine Avenue • 3 bedrooms / 1 full bath • Nicely cared for ranch style home • Private backyard with basketball hoop • Close to schools & downtown Just $460,000 2392 US Highway 34 • Riverfront Property, Grab Your Fly Rod • 3 Bedrooms / 1 Full Bath • Just 3 Miles From Estes Park • Fully furnished for an easy getaway Call Mike Today To Take A Look, Rocky$459,900Mountain Splendor in Estes Park, Colorado • 5281 sf main house • 3 bed/2 bath plus lots of office/ studio/recreation space • Charming 1930s guest cabin, lovingly restored • 2.21 acres at the base of Lumpy Ridge • Magnificent panoramic views of the Continental Divide • Attached 2 car garage, detached 2 car garage plus workshop This opportunity for a mountain home or retreat is being offered at $1,500,000. A must-see to appreciate the unique character of this mountain gem! Call Mike for an appointment to explore. New Listing TOM'STEAMATFCR FIRSTCOLORADOREALTY 970-481-3619 LovingMountainLiving.com UNDERCONTRACT UseyoursmartphonetoscantheQRcode toreadourblogpostsaboutwhatthis meansforbothHomebuyersandSellers. THEMARKETISSHIFTING... CHALLENGEOROPPORTUNITY? 503FALLRIVERLN#A$319,000 1516FISHHATCHERYRD24$449,000 1760MOONTRAILWAYSOLDAT$795,000 #webroughtthebuyers 2HOMESLISTEDBYTOMTHOMAS #webroughtthebuyers BUYER SELLER JUSTSOLD LISTEDBYTOMTHOMAS Where the Estes Valley has been coming for real estate solutions since 1985! THE GLOBAL STANDARD IN LUXURY REAL ESTATE World Class Properties • World Renowned Service 970 222 6692 HVICKYOLLER 970 231 0495 MIKE & MARIE EDWARDS 970 624 9700 LORADANIELS MMARYURPHY RTYLERYAN 303 219 0670 SLINDACHNEIDER 970 227 0998 Starting at $2,500Rams Horn Timeshares $900,000497 Pine River Ln $710,000315 Big Horn Drive, Unit I 970 214 6350 Each office independently owned and operated 320 E. Elkhorn Estes Park, CO 80517 • 970.586.4425 WWW.ESTESPARKREALESTATE.COM Why Buy a 2nd Home you'll use only a few weeks a year? There is a variety of timeshares at Rams Horn Resort. Awarded Gold Crown Distinction. You'll have a wonderful experi ence on your Rocky Mountain getaway to Estes Park. Unique River Front Property.1700 st ft building & .82 of an acre w/over 300 ft of riverfront. Zoning is Commercial Outlying. Building has large reception/of fice area, storage, bath+two 12 ft tall garage door bays. Fenced area in back. Includes lot to the east w/greenhouses & patio area near the river. Maybe a great addition for fishing business or a garden center? Add your creative ideas to this opportunity . Searching for that perfect place that offers top of the world views and showcases Longs Peak? See this Mountain Gate condo that is perched on a private knoll overlooking Estes Park. 1/2 duplex condo with a sun filled open floor plan and vaulted ceilings, fire place and patio doors that lead to a spacious private patio for dining and entertaining. Primary bedroom suite with 5 luxury bath and walk in closet. In-floor Radiant Hot Water Heat.
Come home to this 3 bedroom/3 bath condo embed ded in the Stanley historic district & call the most no table property in Estes Park your neighbor. Whole top floor is the spacious master suite with walk-in closet & double sinks plus enjoy reading a book in the bonus sitting nook. Basement has 2 additional bed rooms & the family room with a walkout patio. Main floor has your living spaces, laundry & spacious deck. Enjoy the breathtaking views from every win dow & outdoor space. Listed at $820,000
PRICE REDUCED
607 Park River Place
living,
Find beauty, peace, solitude and privacy in this 8.9 acre property with a 3 bed 2 bath true log cabin. This heavenly parcel is mostly wooded with pines and aspens and has a pond and seasonal stream. It includes a heated 2 car garage with separate apartment above, a second garage for an RV with space for a shop or additional storage and a gen eral purpose barn with hay loft and 2 stalls plus a loafing shed. Perfect for a farmlet or just a place to get away from it all. Wild life abounds or you can bring your horses, goats, chickens, llamas. Great views of Mount meeker and Taylor Mountain, Isolation Peak and others. 5 Minutes from Wild Basin area of RMNP. 20 minute drive to Estes Park or Lyons. 35 minute drive to Nederland and skiing at Eldora. A must see! Listed at $1,395,000
BUSINESS OPPORTUNITY! Fabulous established floral business in Estes Park in opera tion for 15 years. Custom wedding and funeral arrange ments, fresh cut bou quets, and the most adorable live plants around! The Fairy Gardens are so special and unique. Located in one of the most desirable wedding and travel destinations in Colorado, this bright, cheery and cre ative shop can be yours. A wonderful book of business, rental supplies, and history in the community that would be a wonderful investment for you. Only 275k, plus inventory. Great location and a calendar full of events already! Showings by appointment only. Call list ing office for details.
At Men on Fire we understand the critical nature of "house building" as well as "housekeeping! " Every day we use a hammer and nail to build our lives and are be coming more diligent and aware of whom or what we en tertain in our "house. " We are excited to be men living in such a time as this. With the cultural, political and social challenges facing us, our families, friends, churches, community and country we remain committed to standing for what is right, not ashamed of the truth and be ing men of action when necessary. My brothers at Men on Fire recognize our gross—and I do mean gross—im perfections, frailties and character de fects. We're very ordinary guys striving to be better men—salt and light—as the Lord calls us to be. And we're commit ted to the hardest thing Jesus asks us to do. Love. If you love a good adventure come hang out. Men on Fire meets Saturday at the American Legion, 850 N. St. Vrain at 8:00 a.m. for "Breakfast with a Purpose!" We're a non-denominational rag-tag bunch of guys of all ages repre senting many churches in the Estes Val ley and Front Range. Bring your house building tools. We can use the help. Stay Strong! Lead On!
212 Valley Rd
230 Old Man Mountain Must See! Fully remodeled main level living home with vaulted beamed ceilings and open floor plan on private lot and amazing mountain views from living room win dows and private deck. Master bedroom is large with walk-in shower and big walk-in closet + own entry to deck. New fireplace. Lower level w/all tile floors has 2 large bedrooms, laundry, bath, 3 large storage rooms & family room leading out to lower patio w/salt water jacuzzi. In private neighborhood yet walking distance to downtown. Listed at $935,000 bedroom 2 bath condo perfect as a starter home or va cation getaway. Open concept living area upstairs maxi mizes the great views of Longs Peak and lake Estes. Private bedrooms in the basement. Sit on the deck and enjoy the views and the wild life as they graze below you in the lawn. Recent updates include appliances, flooring and paint. Quiet neighborhood away from hustle and bustle but still close to everything. Walk to the lake trails in minutes. rentals allowed at all. at $430,000 main level no stairs! This 2 bedroom, 1 bathroom condo features wonderful sliding barn doors and wood floor upgrades. Loads of natural light filter in from the sliding doors off the en closed brick floor patio. Walking paths that go for miles nearby, Golf Course just a skip away, and all the views and wildlife expected from enchanting Estes Park.
NEW LISTING 1776 Olympian Lane Unit G 2
Beautiful home with unparalleled mountain views on 1.3 acres. Very private. Open floor plan with single level liv ing. 2 bedrooms and two baths on the main floor, kitchen, dining room, living room, two car garage with additional room on the side for a shop or home gym. Upper floor has a third bedroom, full bath, study/office, rec room and lots of storage. 2 fireplaces. Lots of up dates including new flooring, walls, bathrooms, owned solar system. Great views of Twin Sisters, Mt. Meeker and the Mummy Range from the spacious deck. Listed at $925,000 1765 US Hwy 34. Drake Private & cozy sunny cottage in Big Thompson Canyon with great views of the river and canyon!. Enjoy a large living room with a wood burning stove, large dining area & an eat-in kitchen. The downstairs has flexible space for a studio, office or rec room. Home is surrounded by a lush flower with a large garden area to set up your lawn furniture & enjoy taking in the scent of lilac. Home has a sun room looking out at the garden area. Only 15 min utes to Estes Park. Make this your vacation getaway or forever home. Listed for $575,000
2719 Sunset Lane
Come check out this great condo with transferable STR license sold turnkey! 3 bed/3 bath open concept living. Upper level has master bedroom, living area & kitchen decked out with stone counters & beautiful cabinets. Lower level has 2 bedrooms, full bath, family room, laun dry & 2 car garage. Central A/C and soundproof windows round out the amenities. Close to town, walk to restau rants & recreation. Less than 2 miles to RMNP south en trance. STR managed by Sky Run. Listed for $855,000 UNDER CONTRACT
Friday, September 2, 2022 « 35epnews.com 1200 Graves Avenue, Estes Park Javier Gomez estesparkproperties@gmail.comBroker 970 Maria213-8692Gomez maria@estesparkproperties.realestateBroker 970 213-9479 THE GOMEZ TEAM Mountain Brokers
PRICE REDUCED
Listed
No
By: Larry Strong, Team MOF The career carpenter decided he was ready to retire. He informed his em ployer-contractor of his plans to leave the house building business and live a more leisurely life with his wife en joying his hobbies and family. He knew he would miss the paycheck but was confident they could get by. He truly felt the time had come to hang up his tools and retire. The contractor was sorry to see his good worker go and asked him if he could build just one more house as a personal favor. Out of loyalty the carpenter said yes, but in a short time it was easy to see his heart was just not in his work. He resorted to shoddy workmanship and used inferior materi als. It was an unfortunate way to end a successful and dedicated career. When the carpenter finished his work the contractor came to inspect the house. He handed the front door key to the car penter and said, "This is your house, my gift to you!" The carpenter was shocked! What a shame! If he had only known he was building his own house he would have done it all so differently. In the parable of the Two Builders (Matthew 7: 24-27), Jesus teaches the vital importance of building your house on solid ground. We're all building our houses (lives) on something or around someone. When things are going well and life is great, a house built with infe rior materials or on a shaky foundation may not come under stress and be re vealed. But how often is everything in your life all peaches and cream?
260 Steamer Ct
UNDER CONTRACT 970.586.2950 www.KeyToEstesPark.com 170 S. St. Vrain, Estes Park, CO 80517 Eric Blackhurst Broker Associate AbbeyPontius Broker 1010 S. SAINT VRAIN AVE C3 $299,000 Walk into comfort and no fuss. All
NEW LISTING
The Carpenter
Estes Park Rotary's Karen Thompson honored Scott and Katie Webermeier Aug. 11 with a certificate of appreciation and other Rotary-themed gifts for their extraordinary support of the Friendship Card through their business, The Coun try Market. Over a four-year period, sales of the Friendship Card have raised approximately $30,000. Of that amount, Friendship Card sales at Country Market have totaled nearly $18,000! Thank you, Scott and Katie!
tella already knows many of our mem bers from her time as a server for Rotary luncheons in previous years. Thank you, Estella! Proceeds from the Friendship Card have been put to good user both locally and internationally. (See insert) The Friendship Card offers discounts to all those who show their card at over 70 participating merchants in the Estes Valley. And it only costs $10. Learn more www.facebook.com/estesparkrotary.www.clubrunner.ca/estespark.at:LikeusonFacebook:
Sharing in the honors is Estella Conejo who has worked at the Country Market for several years. Estella is a champion of the Friendship Card at Country Market and continually en courages her cus tomers to purchase a Friendship Card, which offers a 10% discount on all pur chases over bershipPark,taryMemberhereffortsnizedAnnieMembership$20.ChairSlackrecogEstellaforherandnamedanHonoraryofTheRoClubofEsteswithfullmembenefits.Es
Supporters from The Country Market Come learn more. Estes Park currently has Girl Scout troops for second grade and older. We are looking for adult lead ership to start a Daisy troop for kindergarten and firstWhen?grade.Sunday, September 18 from 4 –6 Where:p.m. Stanley Park, Bluebird Pavilion Questions? Text Laura Reese at 214733-0746.
Girl Scout Roundup, Save The Date!
A Warm Welcome To New Rotary Member, Jim Jonell
Crona & Associates PC, CPAs, Country Market Village In-Kind Sponsors: Nick Molle Productions: Publicity EP News: Publicity Trail Gazette: Publicity Estes Valley Community Center: Youth ActivitiesTheLearning Place Board: Children's ActivitiesChristmas Cabin: Lodging O'Reilly Auto Parts: Car Show Ditty BagsStoner Speed Shop: Car Show Ditty BagsState Farm: Car Show Ditty Bags Sinclair Quick Go: Ice Donut Haus: Donuts at cost Edward Jones, Mark Purdy: Raffle Special Events Sponsor: Thrivent AG Music Stage Sponsor: SkyRun Estes Park Vacation Rentals AG Kitchen: Community Hearing CenterAGBeer & Wine Garden: Aldrich BuildersAGClassic Car Show: Richardson Team Realty AG Band Sponsor: Visit Estes Park A&C Music Sponsor: Town of Estes ParkFace Painters: Estes Park Team Realty
The Estes Valley Sunrise Rotary Club expresses sincere gratitude for this year's sponsors.Rotary's mission is "Service Above Self," and our sponsors enable our club to award thousands of dollars in scholar ships for graduating EPHS seniors (over $13,000 annually) and community grants for local non-profits (over $20,000 annually). For many years, generous sponsors have annually supported our signature fundraising events: The Labor Day Arts and Crafts Show (September 3rd-5th) and the Autumn Gold Festival (September 24th-25th). Sunrise Rotary could not as sist the Estes Valley Community without the steadfast support of our sponsors. Please join our club in recognizing and honoring this year's sponsors: Diamond Sponsors: Estes Park Mountain Shop, Edward Jones: Derek Vinge Mountain Sage Consulting Platinum Sponsors: The Town of Estes Park Mueller, Pye & Associates CPA, LLC. Gold Sponsors: Bank of Estes Park, Chrysalis Gift Shop Bank of Colorado T.W. Beck Architects & Planners Silver Sponsors: Jim & Karen Daugherty, Robert H. Fos ter, LLC.
Rotary Honors Friendship Card
Join us for a Girl Scout Roundup! Cookies! Door prizes! Fun with friends! Hope to see a lot of new and returning faces.Are you interested in Girl Scouts?
36 » Friday, September 2, 2022 epnews.com
Sunrise Rotary Thanks 2022 Sponsors homeSittingin re justtirementisn't in the cards for 32-yearingSinceJimMemberRotarynewJonell.retirfromaca reer in clinical psychology, Jim has dived into a whole new life here in Estes Park. He enjoys wildlife photography, his grandchildren and volunteering with Restorative Justice, Meals on Wheels, Hospice, Estes Valley Suicide Task Force and the Presbyterian Church of the Rockies.Turnsout helping others is a family af fair, as Jim's wife, Joanie, serves on the board of Crossroads and has sewn and quilted with Trail Ridge Quilters for many years to earn donations for the Estes Park Medical Center Foundation. Jim was inducted into the Estes Park Rotary by Annie Slack after being spon sored by his long-time friend, Jim Whiteneck. Closely aligned with Ro tary's goals, Jim's interests lie in promot ing the wellbeing of children, education, the environment and in alleviating poverty.Abigwelcome, Jim. We are so happy you are part of our Rotary family!
The Rotary Club of Estes Park meets for fellowship and lunch on Thursdays at 11:30 a.m. at the American Legion Post 119, 850 N. St Vrain Ave., Estes Park. The weekly program begins at noon. Visiting Rotarians and anyone with a passion for local and worldwide service are invited to visit. Learn more www.facebook.com/estesparkrotary.Likewww.clubrunner.ca/estespark.at:usonFacebook:
David White, Steve & Joelma Misch
Estes Park Women's Golf Association
Like To Sing?
Results Of Play For 8/30/2022
Congratulations to the Winners! If you are interested in the Estes Park Women's Golf Asso. Please contact Carla carla.spreng@gmail.comSpreng-Webb
The game today was Wolf. In a team of four, one person on every 4th hole was responsible for the team score on that hole.The team winners were: 1st Place Team: Carrie Logan, Jennifer Gergen, Diane Butler and karen Saucier 2nd Place Team Carol Felner, Claudia Irwin, Johanna Gengler and Laura Mulder
Tennis Anyone?
Friday, September 2, 2022 « 37epnews.com
The Estes Park Chorale will begin re hearsals for its 53rd season on Wednes day, September 14th from 7:00-8:30 p.m. at the Presbyterian Community Church of the Rockies. New singers are always welcome. No audition is required, just a desire to sing and the ability to attend Wednesday rehearsals.
The Estes Park Chorale performs a va riety of music for mixed choir. Our first concert will be held on December 10th and will feature songs for the holiday season.Ifyou love to sing and would like to find out more about the chorale, please join us for our first rehearsal. We have a special need for more tenors and basses, but all voice parts are welcome! More information www.estesparkchorale.com.at
Residents and summer visitors are in vited to join the Estes Park tennis com munity. We play at the courts in Stanley Park, near the high school. Men's and women's doubles on weekday mornings – mixed doubles on Sunday late after noon. We would love to see you out on the courts. For more information, call Sally at 970-577-9752.

Community Bible Study Is Celebrating 30 Years In Estes Park
Photo by Douglas Stytler
Photo by Tim Nicholson
38 » Friday, September 2, 2022 epnews.com "Come and see what the Lord has done! " This call from Psalm 66:5 is the theme for the 30th anniversary of Community Bible Study classes in Estes Park! We're celebrating with a reunion/open house on September 17 from 2:00 to 4:00 p.m. at the Mountain View Bible Fellowship church (corner of Hwy. 7 and Peak View). Current and former class mem bers and our Estes Valley community are warmly invited to come reminisce and share in anniversary cake and other goodies. Although childcare will not be provided at the open house, children are welcome to come. We've got Informative displays, and a brief program will take place at 3:00 p.m. Bonus! Kimm Carr, Community Bible Study's Executive Di rector from the Ministry Service Center in Colorado Springs, will be joining us.
Local Wildlife
Photo by Micael Barringer
Photo by Micael Barringer
Community Bible Study (CBS) began in Washington DC in 1975. It has grown into an international ministry which provides in-depth Bible studies for over 600,000 adults and children in 122 coun tries worldwide. We started CBS in Estes Park in 1992 with the Day Class for women and pre-school children. This class now serves women and children from infants through grade 6. The Day Class meets on Tuesday mornings at Mountain View Bible Fellowship from 9:15 to 11:15. We started the co-ed evening class in 2002 so that CBS could available to working people. It is now a "hybrid" class, with both in-person and Zoom discussion groups for men, women, coed, and teens. The adult in-person group meets Monday nights from 5:30 to 7:00 at Shepherd of the Mountains Lutheran Church, across from Good Sam's. The teens meet Tuesday afternoons at the Christian Church on US 36. Our 2022 study in Estes begins Sep tember 12 (Evening class) and Septem ber 13 (Day class) with a 12-week study of Daniel. We will then begin an 18week study of Revelation in December. For more information about the 30th Anniversary or the Estes CBS classes, please call Nicole Cousineau, 970-3718888 (Day Class) or Robbi Telfer, 970586-5260 (Evening Class, please leave message.)Comejoin us!
Alcoholics Anonymous Meetings
By: Brian Schaffer
Message About Suffering And Compassion From Flatirons Church
AA of Glen Haven- Every Monday night at the Town Hall at 6:30 p.m. Also Thursday at 6:30 p.m. at Glen Haven Town Hall. Book study meeting. Early Worms-Monday thru Saturday at 7:00 a.m. (Tues., Thurs. & Saturday hy brid meetings with Zoom #796 839 839 PW:Worms20) at St. Bartholomew Church, 880 MacGregor Ave. Fall River Group
In my 82 years, I have listened to many sermons, some were in the great cate gory and some just good. I have seldom heard what I would consider a bad ser mon. I heard a sermon from the Flatirons Community Church Teaching Pastor, Ben Foote, that I would put in the great category. Not so much because of its delivery which was quite good as usual, but more for the exceptional clar ity it Theprovided.launching passage was one we have been dealing with for several weeks. 1 Peter 1:6-7 says, "In all this you greatly rejoice, though now for a little while you may have had to suffer grief in all kinds of trials. These have come so that the proven genuineness of your faith—of greater worth than gold, which perishes even though refined by fire —may result in praise, glory, and honor when Jesus Christ is revealed." The big question is what that verse means in the context of current suffering. Yes, we can look back on past suffering with great clarity and see the greater good that resulted from it. Ben asked us to consider how much it means when we are suffering and we want to feel compassion and care, not platitudes.Toaccomplish his point, Ben went to a passage often quoted and often misun derstood, Romans 8:28. "And we know that in all things God works for the good of those who love him, who have been called according to his purpose." The rest of the sermon made two vital points when reading and understanding the Bible. First, in my current suffering, does God really care, or does he just have the long view, "Buck up and do not whine for a better tomorrow is coming?" It might be easy to read or hear someone quoting Romans 8:28 and come to the latter view. Or, we might feel judged be cause our faith does not quite measure up in our moment of suffering. The sec ond lesson we all know is that context is everything. I understand what Romans 8:28 really means when I, (1) understand the theme of the book I am reading and who its intended audience is and, (2) reading the verses before and after the verse I am trying to conceptualize. That is the gist of what Ben said, but you must listen to gain the full power of the sermon. You can find it at www.flatironschurch.com. I felt the power of the sermon because I am cur rently undergoing suffering and by faith, I believe good will come from it, but I still must engage with my fears and anx ieties. To avoid gross detail, my plumb ing is not working well in my body. I will be undergoing a procedure this Tuesday to correct the problem, but my urologist does not paint a positive pic ture of success. I announced this at serv ice and people gathered around to pray for me. To say the least those prayers and compassion meant more to me than if they had quoted Romans 8:28. I felt loved and cared for by the people I wor ship with. It was so refreshing to see Ben give an example of putting a verse in the Bible, in context, using the whole of Romans 8 to indicate that God suffers with us in our times of struggle. Given the preced ing verses, we can see the importance of the long view but to also know it does not negate our feelings of pain and suf fering. Ben emphasized that it is not an either/or but both/and. Yes, we keep our eye on the goal but, can also enjoy a God who grieves in our suffering. He shows kindness and compassion. He never wanted it this way. Mankind made a choice that broke all of creation. Jesus paid the cost to restore us from broken people into people who can celebrate in victory that will be realized when Jesus comes again. Until then, we live in a very broken world that is full of trials and tribulations. The note of compas sion, if not joy, is Jesus never leaves us to suffer alone. We have a God who is, es pecially in time of trouble, closer than a brother. A timely reminder, for me, and I hope others who have or will suffer in this world. We have a Savior who has suffered also and knows what it means and what we need in the middle of our troubles.
Crossroads Gets Ready For Move To New Location
Over the past couple years, our com munity has experienced seasons of isola tion and this has created more loneliness among the neighbors we serve. It's heart breaking to know there are people who live among us who are struggling in quiet places with no one in their corner to help them, so we are working hard to make personal connections with each of our neighbors. Our underlying desire is to do more than just supply programs or distribute items. We want to engage at a deeper level, listen closely, stay in touch, and build authentic relationships with our neighbors. As we learn more about their specific needs, we are committed to do all that we can to provide the neces sary resources to help them experience the abun dant life they were created for.In the coming weeks we will be packing up and getting ready for the move to our newer and more spacious building. Even though we're only moving about 400 yards up the road, it will still be a labor intensive process to make it happen. We have a great group of volun teers who will be supporting us in the transition, and for this we are extremely grateful. Many hands does make for light work; especially if my hands aren't on the heavy stuff… Just kidding. I've moved a few times over the years, so I've seen a hide-a-bed come undone in midflight down a stairway, tape lose its stickiness on the bottom of a box filled with dishes, great-grandma's antique table get scratched, and last, but not least, a coffee maker slide out of the Uhaul when the back door is being raised and the glass carafe shatter into hun dreds of tiny pieces. I told the guy it must have been made by Maxwell House, because it was good to the last drop. Things happen during moves and for the most part we've not experienced anything that a little laughter didn't make feel better. Therefore, we intend to whistle while we work and laugh as often as possible to make sure we make some good memo ries to be celebrated at our 40th anniversary on Friday, October 21st, from 4-6 p.m. I hope you're planning to join us for this special occasion. Our new address is: 1753 Wildfire Road. Just up the road from the corner of Dry Gulch & Wild fire.
Friday, September 2, 2022 « 39epnews.com
By: Dr. Larry Yarrington
St. Bartholomew's Episcopal Church
New Church Service Times
New Service Times
Alcoholics Anonymous meetings are held at 453 West Elkhorn: Sunday 6:00 p.m. Mon., Weds., Sat. Noon Fri. Noon and 7:00 p.m. Zoom Meetings-Everyday at noon Zoom #999 829 166 (no password needed).Monday Zoom Big Book study at 7 p.m. #654 598 884 (no password needed).Wednesdays at 7 p.m. Zoom #999 829 166 West Side Estes Park AA, meets at 2515 Tunnel Road, Estes Park and it takes place Saturdays at 2:00 p.m. in the Dannen Library - located on the lower level of the Legett Christian Center. The AA Meeting website has over 6,000 members and there are 69 AA Meetings a week plus NA has 30 meet ings a week. Go www.intherooms.comto
In-person Holy Eucharist services every Sunday at 9:00 a.m. This service is also available via YouTube (www.stbart sepiscopalchurch.org).In-personHolyEucharist every Wednesday at 10:00 a.m.
• They can research, discuss, and con sider Community Solar, placed upon large, empty public rooftops and demon strating to the visiting public local sup port of cool, clear, breathable air.
Arleta Bell
• Make landfill diversion a personal goal.•Reduce CO2, methane, and other greenhouse gases at every opportunity.
In lieu of flowers, the family has established memorials at the United Methodist Church, 1509 Fish Hatchery Road, Estes Park, CO 80517 and Au dio Reader at the University of Kansas, 1120 W. 11th St, Lawrence, KS 66044.
• They can appoint one individual em ployee to be the point of contact for all ecological concerns and solutions in the Municipality, County, State, or Country.
• They can expand collection and transportation of specific recyclable items not included in Larimer County single stream. Perhaps these items could be chosen by a public vote.
lives in Beau fort, South Carolina, his two children, Shaundra and Richard and three grandchildren.Davidretired from Kodak and has been working at the Estes Park Safe way since October of 2009.
• They can create a food waste com posting system and require all restau rants to use it.
• They can publicize on their websites, using visible, easily located links, to edu cate the uninformed public about the benefits of sound ecological practices in cluding insulated, well-sealed buildings, energy saving and water saving options, healthy habits and available waste dis posal redirection advantages.
• They can provide well-labelled (picto rial and language) waste disposal bins in public areas, always pairing recycling with landfill.
• Check both local and national news papers for climate action news. Then let elected officials involved know that you support what they are doing.
• Vote for real climate action. Both for issues that create viable climate solu tions and for candidates who will pro mote and protect the environment.
• Remember that you are alive at just the right time to change everything!
• They can offer banks of electric vehi cle chargers in convenient locations.
By: Judi Smith Like any non-profit, a government can encourage positive ecological sustain ability by education, demonstration, and event sponsorship. (See last week's arti cle.) However, a government, at any level, is in a unique position to take posi tive action on our ecological sustainabil ity. There are multiple ways that govern ments can influence public opinion, directly and indirectly and, likewise, there are multiple ways a democratic public can influence government.
• They can incentivize by offering local tax-credits and fee waivers for ecological improvements.•Theycanminimize governmental red tape required to implement net-zero so lutions.•They can write code which encour ages ecological sustainability by incen tivizing new technology like vertical windmills and heat-pumps.
• Attend Town and County (State?) meetings when ecology is on the agenda. Let them see you are interested.
• They can collect the fees for the recy cled paper bags that are replacing plastic, mandated by Colorado HB#1162, and use those funds to act ecologically.
• They can convert power tools to clean energy versions and encourage individu als to do the same.
As an individual citizen, interested in local sustainability, you can:
• They can insist all pubic buildings of fer alternatives to landfill.
• They can establish resilient microgrids and perhaps pumped hydro-energy – in preparation for future interruptions in power from unforeseen climatic episodes.•Theycan convert their own fleets to electric vehicles (including hybrids where appropriate) and publicize the savings attained by doing so.
Unique Actions Available To Governments
40 » Friday, September 2, 2022 epnews.com
• They can, better than anyone, create a climate action plan and set progressive goals.•They can regulate public utilities, in sisting upon legitimate progress toward environment goals.
• Talk to each candidate about their philosophy concerning ecological sus tainability. Support the candidate who will support a sustainable Earth.
David will be missed by his family, his many friends/co-workers at Safe way and the Safeway customers who have become good friends due to David's amazing friendly customer service.
• They can write code which requires actions for the public good.
• They can establish universal curbside waste service for landfill, recycling, and compost.•Theycan insist that landfill disposal cost more than recycling or composting, for both businesses and residents. If ab solutely necessary, they can add a "land fill collection fee."
• They can create and support public transit, safe streets, trails, and bike lanes.
• They can require all lodging facilities to disburse Town provided literature ex plaining the local disposal system and delineating what goes in which trash can, with explanation of restrictions in size, color, or shape.
David Adams Arleta Bell died peacefully on Saturday, August 27.
• Volunteer for positive climate action. If no organization exists, organize one.
• They can write code prohibiting ac tions which endanger the public. This is absolutely an incomplete list.
• Many people doing small things make a big difference.
Actions As An Individual:
• Hold candidates and officials ac countable for their pledges. Track their votes and see if they still feel the same. If they vote against effective climate ac tion, ask for their reasoning.
• Individual action inspires systematic change. Be that individual.
David Alan Adams was born on April 11, 1949 and he passed away on August 11, 2022. (He was born on his sister Linda's sister,hisbyswornrineservedschoolswimmerCatholic.andEaton,birthday).fourthHegrewupinColoradowasraisedDavidwasainhighandthenintheMaCorp.(Hewasintoservicehissister).Heissurvivedbyonlysibling,hisLindaPriestwho
• Insist on honesty in climate risk dis closure.•Electrify everything.
Some creative suggestions from the re cent Ecological Sustainability Task Force included special parking privileges for electric vehicles, hosting an annual trade show of ecological products, and repainting trash bins in a color scheme that differentiates between landfill, recy cling, and compost. All too often citi zens ignore the government until the group does or does not do something the individual did not foresee.
A Celebration of Life will be held at 10 a.m. on September 24 at the United Methodist Church in Estes Park.
• They can apply for and obtain federal grants available to ecological endeavors by public entities.
Full obituary to follow next week.Toleave a message for the www.allnuttestespark.com.visit
• Make climate an issue at local debates and meetings.
• They can plan, comprehensively and strategically, for a sustainable commu nity prepared for life's future challenges.
Twenty four members of the Estes Park Men's Golf association teed it up this past weekend for the annual Ryder Cup format tournament. Each team of twelve, Blue and Red, participated Saturday in nine holes each of team best ball, scram ble and alternate shot for a total of twenty seven holes. Sunday's round in cluded twelve best ball matches of eight een holes. It was a close match with the Red Team winning by three points. The winning Red Team consisted of: Scott Logan – Captain Will Casey Brad Doggett
Offering a diverse range of comprehensive health and welfare benefits to meet your needs and support you throughout your career with us. Benefits include: Medical, Vision, Dental and Resort Discounts!
Van Horn Engineering is looking for a part-time office as sistant to help with phones, walk-ins, filing, scanning, and other office duties. Strong computer skills and communication skills are re quired. $18-$20 an hour. Submit resume info@vanhornengineering.comto
Estes Park Men's Golf Association Annual Ryder Cup Competition Results For August 28 & 29 Congrats To All Winners – Net scores Score Ron Thomas 64 Don Bryson 65 Dustin Brown 69 Don Saucier 69 Scott Dorman 69 Jim Toresdahl 70 MikeRiley 70 Tony Paglia 70 Pete Johnson 71 Roger Galloway 72 Mike Williams 72 SteveNagl 72 John Minier 72 Larry Murphy 73 Mike Johnston 73 Stan Osborne 73 Jim Sulzbach 74 AlWagner 74 Mike Bryson 74 Charlie Hanchett 74 Wayne Andersen 74 Chuck Slicker 74 Henry Glover 74 John Tessler 74 Pete Hogue 74 Tom McNeil 74 Brad Anderson 74 Jim Matthies 75 Rod Unruh 75 BillHarms 75 Frank Bartholomew 75 Paul Beeson 75 Estes Park Men's Golf Association Results For Week Of August 29, 2022 Rod Unruh, John Copenhaver, Drew Webb, Will Casey, Brad Doggett, Henry Glover, Captain – Scott Logan, Jim Matthies, Tony Paglia and Russ Schnieder. Way Finder Cleaning is hiring!! Great Pay! Year round work! Great work environment!! No experience necessary. Join Way Finder Cleaning Services, a growing local family-owned company! Great tips! Paid Vacation and sick leave. Birthday & Holiday bonuses! We care about our team members and their families. Paid weekly, earn up to $22 hourly, 4% matching approximatelyflexible(720)-570-6944Wayfindercleaning.com401k.calltodaytoapplyortofindoutmore!Youwillbegladthatyoudid.LookingforcleaningwithhoursatamallindowntownEstes.$900for12hoursaweek.7daysaweekwithonlylighterhoursontheweekends. The Clock Tower at the Water Wheel on West Elkhorn was repaired and reinstalled.
epnews.com Friday, September 2, 2022 « 41 EMPLOYMENT » Place and View Ads at EPNews.com « Guidelines for Equal Pay for Equal Work https://cdle.colorado.gov/equalpaytransparencyAct
Photo by Tim Nicholson
WorldMark Estes Park Now Hiring for Full Time positions starting at $18/hr!
Jim TomRussTonyRodTomJohnHenryDrewMatthiesWebbGloverCoppenhaverKeyworthUnruhPagliaSchniederWashburn

g
Part-time Wedding & Tour CDL Drivers with Class B passenger endorsement required. Flexible year round employment. $25-30/hr. Apply within at: Estes Park Shuttle 551 South Saint Vrain Ave
The
Jubilations Catering is hiring event staff. No experience necessary. $22-24/hr. Very flexible scheduling.
Please apply at opportunities/eph.org/job-FullTime
Maintenance Tech Full Time General maintenance skills - plumb ing, carpentry, drywall, painting, caulking, heating, A/C, yard work, troubleshooting, etc. Other light maintenance duties as assigned. English preferred, Spanish acceptable. $18 - $20 per hour. Work Th to Mon. Weekend and holiday availability, and driver's license required. Company vehicle provided. Benefits for https://app.joinhomebase.com/loc/FT.estes-park-skyrun-vacationa-rentals/job/maintenance-tech-3
Are you an enthusiastic, detail-oriented, hardworking individual looking for a long-term career in Estes Park?
information Resumes are accepted and encouraged. Completed EPHA Employment Application MUST be submitted for consideration
HIRING
NOW Payroll Accountant
If so, Estes Park Housing Authority invites you to apply to our fast-paced and growing organization. This Property Manager role requires strong communication and effective customer service skills to deliver our services and products to the Estes Valley Community.
employment.
Now Hiring
www.wo r k i nth er ock ie s.o r
The hiring range is $43,000 to $48,000 for this full-time position and includes health, dental, vision and PERA retirement benefits.
Employment Opportunity with Estes Park Housing Authority
epnews.comEMPLOYMENT » Place and View Ads at EPNews.com « EMPLOYMENT42 » Friday, September 2, 2022 •MaintenanceExperienced Starting at $17.00 per hour •andLandscapingHotTubs Starting at $16.00 per hour • Front Desk Starting at $16.00 per hour • Housekeeping Starting at $15.00 per hour Apply at, mail or email resume to: Fawn Valley Inn, 2760 Fall River Road, Estes Park, CO 80517 Email: Jamie@RockyMtnResorts.com NOW HIRING! Full-Time and Part-Time Positions Available for Tire Technician Perform tire related and light automotive services. $15 - $20/hr depending on experience. Flexible time off options, at cost vehicle repairs. Valid drivers license required. Apply in person at 1633 Raven Ave or call (970) 586-8085 or office@estestireandauto.com.email Now hiring: Front Desk Clerk Evenings required, Full time $17/hr - $20/hr DOE, Benefits Must be non-smoker. Maintenance Full time Apply in person: 1260 Big Thompson Ave. or email info@estesresort.comresume: SilverInnSaddle Help Wanted Pharmacy Sales Clerk Full Time/Part Time available Starting wage $17 hour Sign on bonus! Employee Benefits & discounts at Rocky Mountain Pharmacy and our sister store Bart's Liquor Stop by for an application and join our team! (970) 586-5577 YMCA OF THe rOCKieS 2515 Tunn e l road est e s Pa r k, Colo r ado, 80511 CAbi n A d OPTiO n A nd CAPiTA l PrOjeCTS MA n AGer Responsible for all aspects of the cabin donation/adoption program and its revenue implications. Also responsible for supporting capital projects funded through Philanthropy Department. $42,000 - $53,163/year with full benefits, on-site child care center, YMCA membership, and more. www.wo r k i nth er ock ie s.o r g YMCA OF THe rOCKieS 2515 Tunn e l road est e s Pa r k, Colo r ado, 80511 HO u SeKeePer Responsible for successfully cleaning cabins and lodges, emphasizing quality, accountabil ity, efficiency, and timeliness in preparing guest accommodations. $14 - $16/hour with full benefits, childcare assistance, and generous PTO/vacation. www.wo r k i nth er ock ie s.o r g YMCA OF THe rOCKieS 2515 Tunn e l road est e s Pa r k, Colo r ado, 80511 A nnu A l Givi n G MA n AGer Primarily responsible for the successful implementation of the annual fund, the retention of annual fund donors, and staff giving campaigns. $44,000$50,050/year with full benefits, on-site child care center, YMCA membership, and more.
Pay Range: $20.49-$27.87
Knowledge of property management and Housing Tax Credits is preferred. Duties will include maintaining current compliance with various state, federal, and local programs. This necessitates management of property and residential needs, as well as a variety of administrative tasks requiring proficiency in computer skills. Applications and job description available at the EPHA office or on our website esteshousing.org 363 E Elkhorn Ave Suite 101, Estes Park, CO 80517 Or call 970-591-2535 for additional of Position open until filled. Estes Park Housing Authority is an equal opportunity employer. txt: nick@jubilationscatering.com720-805-7030
Full-time Administrative Assistant I/II Civil Engineer I/II Emergency Services Dispatcher I/II/III Facilities and Parks Manager Groundworker (Limited Term) IT Systems Administrator I Line Equipment Specialist I Mechanic II/III Planner I/II Police Officer I/II/III Street Equipment Specialist I/II/III Town Engineer Seasonal Positions Event Maintenance Worker The status of applications will be communicated via e-mail. By choice, the Town of Estes Park is an Equal Employment Opportunity Employer. JOIN OUR TEAM! Full details on employment opportunities and the application can be found at estes.org/jobs.
EMPLOYMENT » Place and View Ads at EPNews.com « EMPLOYMENT Friday, September 2, 2022 « 43epnews.com We're hiring for the following positions starting at $21.01/hr.: • Drive-up & Go Service Helpers • Checker • Courtesy Clerk • Day-Stocker • Overnight Stocker • Bakery Clerk • Deli Clerk • Produce Clerk • Seafood Clerk • Cake Decorator • Meat Cutter Get your application at: www.albertsoncompanies.com After your application has been completed, please call our hiring manager Ann at 970.586.4447. Help us help others. Become a CAREGiverSM Apply online HomeInstead.com/NorthernColoradoatorcallformoreinformation970.494.0289 • Starting at $19 • NO Medical Background Required • Flexible Schedule • Training & Local Support Provided • Rewarding & Meaningful Job! Each Home Instead® franchise is independently owned and operated. © 2022 Home Instead, Inc. Part-time/Full-time year round employment. Clean Valid Colorado Driver license (no special license needed). $17-20 an hour Apply within at: Estes Park Shuttle 551 South Saint Vrain Ave Now hiring Shuttle Drivers YMca oF tHe rocKies 2515 tunn e l r oa d e stes P ar k, c o l ora d o , 80511 PrescHooL teacHer Responsible for collaborating with co-teachers and the Preschool Director in teaching preschool age children using nature-based curriculum. Full-time, year-round position paying $19-$21/hour with full benefits and employee perks. www.w or k i n t h eroc k ies or g PTAssistantofHost/FrontHouse apply/send resume to twinowls.net Join Our Team at Bank of Colorado! Full Time Year Round Positions With Excellent Benefits Teller - $19-21/Hr Customer Service Representative (Retail Banking Assistant) - $21-23/Hr Ideal Candidates Should Have Prior Cash Handling And Customer Service Experience Please View More Details & Apply Online bankofcolorado.com/careersAt:MemberFDIC NOW HIRING Patient PayCustomerPleaseRepresentativeAccessapplyateph.org/job-opportunities/ServiceExperienceNeededRange:$15.21-$20.69,dependingonexperience. Warehouse posi ons  Full me; year round  $16.50 – $17.00/hr with benefits  Assis ng manager with merchandise flow, pricing, stocking, delivery, and computer help. See full posi on descrip on on our website before applying Call 970-586-0121 for applica on informa on, ques ons, or to apply, or Opportunity@RMConservancy.orge-mail:RMConservancy.org Rocky RetailConservancyMountainWarehousePositions Seeking team players to work with the Conservancy's retail team in warehouse opera ons in RMNP. NOW HIRING Medical- Surgical RN National Average Nurse to Patient Ratiosometimes less Time to get to know patients better Healthy work-life balance Pay Range: $34.14-$51.20, depending on experience. Perks of Working in Med-Surg: Shifts: Full Time, Part Time, PRN (per diem, as needed) $20,000 Sign on/Retention Bonus Available! Please apply at opportunities/eph.org/jobYMca oF tHe rocKies 2515 tunn e l r oa d e stes P ar k, c o l ora d o , 80511 B u iL d i n G Mai n te n a n ce tecH n icia n Ho u si n G avaiLaBLe This position focuses on the maintenance and repair of all aspects of the Estes Park Center facilities. $18.75 - $22.28/hour with on-site housing, full benefits, childcare assistance, and generous PTO/vacation. www.w or k i n t h eroc k ies . or g Rams Horn Village Resort has year round full time and part time positions available in our Guest Services/ Housekeeping Department: $16-18/hour, plus tips, a summer bonus up to $1500, and benefits package for full time employees. We are looking for energetic, dependable people who are able to perform physical labor and who have strong customer service skills. Fridays and Saturdays are required. Fill out an application at Rams Horn Village Resort, 1565 Colo. Hwy 66. EEOE Estes Park School District R-3 is accepting applications for SCHOOL BUS DRIVERS. Salary range $17.21 - $19.46 with single benefits. Class B with SP2 endorsement preferred. Training will be provided. Questions, please call Dave Coleson at 970-577-0211 ext. 3401 Apply online at EstesOnlywww.applitrack.com/estesschools/onlineapp.onlineapplicationsaccepted.Positionopenuntilfilled.ParkSchoolDistrictR-3isanequalopportunityemployer ESTES PARK VACANCYDISTRICTSCHOOLR-3ANNOUNCEMENTBUSDRIVER YMca oF tHe rocKies 2515 tunn e l r oa d e stes P ar k, c o l ora d o , 80511 Gro und s Mai n te n a n ce cre w Lea d er Responsible for assisting the Grounds Maintenance Supervisor in supervising seasonal crews in the upkeep and projects of the Estes Park Center grounds and landscaping. $15 - $18/hour with full benefits and employee perks. www.w or k i n t h eroc k ies or g
Part-Time Front Desk Attendant at the Recreation Center
Recreation Coordinator This full-time benefited position will be responsible for planning and administering youth and adult sports and enrichment programs. Custodian Work part-time at the Recreation Center helping us maintain the building. In addition to a competitive salary, we offer employee discounts and free membership to the Recreation Center. Apply on-line at evrpd.com. Estes Valley Recreation and Park District is an equal opportunity employer.
This position will work night and weekend hours and will perform a variety of guest services functions to include general cashier duties, customer service and maintaining a pleasant and clean environment.
ESTES PARK PRESCHOOLVACANCYDISTRICTSCHOOLR-3ANNOUNCEMENTPARAPROFESSIONAL Full and part time jobs 970-518-4001available. Doggy daycare Elena's Barking Lot is hiring. Full time, part time and year-round positions PleaseExperienceavailable.isaplus,butnotnecessary.emailyourresume elenasbarkinglot@gmail.comto Looking for Associate/CustomerSaleService. Full time/Part time Flexible hours. Weekend required. Contact Rocky Mountain SereniTEA Tel. 970-308-8248
EMPLOYMENT » Place and View Ads at EPNews.com « EMPLOYMENT44 » Friday, September 2, 2022 epnews.com RENTALSRENTALSRENTALS SALESREAL ESTATESERVICES Commercial Rentals Three professionalpersonClass A office. Located in Bank of Estes Park building on Saint Vrain. Previous attor ney occupied for over 20 years. Two private offices with reception, onsite park ing. Adjacent tenants are State Farm and Edward Jones. $1,600 per month plus utilities. Contact Thom at Verus Commercial,303-589-1543Inc. Office Spaces for Rent 1191 Woodstock Dr. Newly Remodeled 1200 Sq. ft w/ great park ing. Near Hwy 7 & Fairgrounds. 402-730-4080Callor970-420-4388 OFFICE SPACE 6 Offices/Whole 2nd Floor 850 sf, Yr. Lease Min. Private Parking, ReasonableKitchenette,Bathroom,A/C.Rates.QualityFinishes.LocatedonRiver.CallBretFreedman970-215-2494 OFFICE SPACE For Rent 970-290-4488 Looking for commercial space to rent. Need 1500 - 3000 sq ft. 970-214-9735.CatherineContactat Wants To Rent Small soap business seeking workspace w/ power (Shed, garage, etc.) Budget is limited; however, free products are avail able. Plumbing would be a (970)bonus.518-5235 Homes Charming two bedroom secluded cabin located between Estes Park and Allenspark. Spacious living areas and huge decks with great views. Pot-bellied wood stove and woodburning fireplace plus propane heaters. Recently remodeled with new kitchen and appliances and new bath and fixtures. Very private acreage 1/2 mile down Big Owl Rd from highway 7; ten miles from Estes Park, 7 miles from Allenspark. Close to Long's Peak and Twin Sister's trailheads. Rent Lease negotiable.terms/durationPetsMAYbeallowed.$1850/mo.Call970-646-8234or970-685-7740.
Quiet Pinewood Apt in Large Home for One! $1400 + 1/2 Util. Lease until next July w/poss. re newal. Large 1 bed/ba, bonus rm. Shared laundry. N/S, 420 OK. 28yrs+ 1 Dog w/OK. Forest & views. Chill vibe, lots of windows & decks. Please text only Roofing has the experience to handle all size jobs! Call us today at 855-4-CAPITAL! name is Darrel and I'm the owner of Darrel's remodel and handyman. I have been in construction for over 40 years. I just moved to beautiful Estes Park and I'm trying to es tablish myself in the withschools/onlineapp.www.applitrack.com/estesOnlyonlineapplicationsaccepted.Salaryrangeis$16.23to$18.38singlebenefits.Uptofiveyearsofsimilarworkexperiencemaybegranted.Seefulljobdescriptionat:https://www.applitrack.com/estesschools/onlineapp/adminPositionisopenuntilfilledEstesParkSchoolDistrictR-3isanequalopportunityemployer
My
707-706-3781$2300/mo. Apartments
area. No job is too small. I am fully insured and can pro vide references for work I have done in the Denver and surrounding areas. Call Darrel 720-235-7413@ for your free estimates. Landscaping Mowing, Rock work, Fencing, Shrub Removals, Flagstone, Tree Trimming & Rockpointlandscapellc@970-308-0049More!gmail.com Sewing/Alterations Remixed Custom Sewing Cushions,Servicescampers,outdoorfurniture, benches, leather and Industrial Repair. Local - call 970-492-5446Beth Piano Tuning Susan Novy, local piano www.estesparkpianoCalltuner.forappt.577-1755tuner.com HOUSEHOLD Furniture Old Hickory Dining Chairs, Set of six, Each labeled Schelbyville, IN Asking $900 or best offer. 303-941-6366 REAL ESTATE Commercial CommercialSpacesforsaleandlease. Call AndersonEric.Realty.586-2950 Vacation Homes Host Your Space on EstesPark.com BUSINESS Business For Sale $40,000 Hair-Nail Salon 30-years in Business Private Entrance 3 Stations-1 Nail Table Call Bret Freedman Estes Park Home 970-215-2494Finders SALES Garage Sales Multi Family Garage Sale Sat. Sept 3, 8 to noon S. St. Vrain to Morgan. 1st left to University GARAGE SALE! Sat (Sept 3) & Sun (Sept 4) 9am-4pm Cameras, lenses, photo printer, wood work ing tools, R/C airplane, Fred Bear recurve bow, etc. Clearing out 10x20 storage shed. Too many items to list all. Bargains Galore! Lake View Storage, 621 Lone Pine Dr., Estes Park. NOW HIRING Apply at 854 Dunraven Street, Estes Park mtnvalleyestes@gmail.com970/586-1085CO Garage Sales EPWC 2nd Annual Trunk Treasures, Craft & Bake Sale. Saturday September 3rd 8AM-1PM in the parking lot of MVBF Churchcorner of Hwy 7 and Peakview 625 PONDEROSAAVENUE FRI. 9/2 & SAT 9/3 9 a.m. - 1 p.m. Snowblower, camping equip, craft supplies, wheelbarrow, quilting fab ric/books, tools, ladders, golf games/toys/puzzles,clubs/accessories,char.smoker,linens,gardentools,showerchair,lumber,firepit,patiotable/chairs,furniture&misckitchen Estate Sales SALE Sat 8-2, Sun 9-1 Follow Org & Grn Signs to 1970 Tanager (off High Dr) Lumber, Flooring, TV Wall Mount, Storage Bins, Electronics, Antiques, Collectibles, Furniture, Horse Reins and Bridles, Books, Dishes, Baskets, Silver, Rugs, Wii, Luggage, and more. ESTATE/MOVING SALE Need to have one, but seems overwhelming. We do the work, you make the $. Local, Affordable, References. CALL 970-215-5548JUDI Full Time Strip/Prepper Full Time Laundry Attendant for Solitude Cabins Day shift hours, 5 days a week. Pick up application or call and ask for Kay or Becca. 1885970-577-7777SketchboxLn. GENERAL REQUIREMENTS: • Assist the preschool teacher with meeting student educational goals and maintaining a safe and positive classroom learning environment in the classroom and on the playground SPECIAL INSTRUCTIONS: Apply online at
Condos Condo for Lease 3 bd, 2.5 ba. Great unit and location. Unfurnished, 1 year lease, NP, NS.
303.594.5451 Vacation Rentals Host your home on EstesPark.com SERVICES Home Repair/Service Roof Damage? Capital
Friday, September 2, 2022 « 45epnews.com PROFESSIONAL BUSINESS BUILDER ELECTRICIANS CLEANING SERVICES COMPUTER SERVICES cont. CARPETCHIMNEYCLEANINGSWEEPATTORNEYSCAMERASARCHITECTURE EYECARE/GLASSES APPLIANCE REPAIR theapplianceservicecompany.com 970-586-2557 Dr. Amber 600www.aspen-eyecare.com970-586-4418BuscheSSaintVrainAve-Suite 5 •equipped to evaluate macular degeneration, glaucoma and cataracts •same day appointments for eye pain and emergencies •referral access to specialized surgeons & advocacy for the best care •full service optical for specialized eyewear Comprehensive Eyecare Right Here in Estes Park! SERVING ESTES PARK FOR 20 YEARS (970)-577-9855 parkflooring.com FLOORING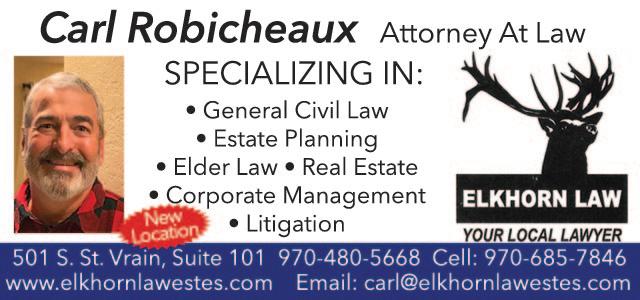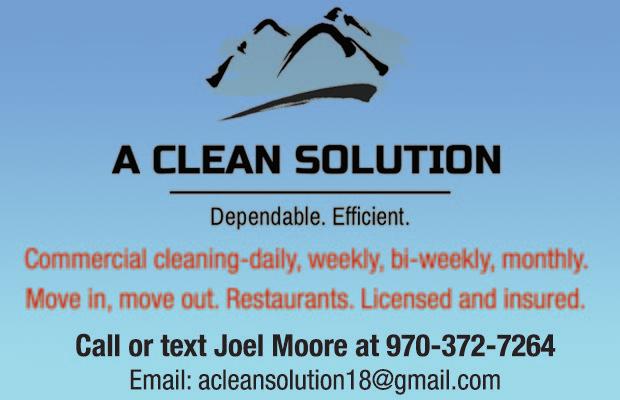 46 » Friday, September 2, 2022 epnews.com HOT TUBS & POOL INSULATIONSERVICES PROFESSIONAL BUSINESS BUILDER Cory D. Workman, Au.D. Phone: 970-586-5255 1186 Graves Ave., Ste. B Estes Park, CO 80517 Fax: drcory@estesparkaudiology.com970-577-7260www.estesparkaudiology.com • Hearing Aids / New & Repair • Hearing Evaluations • Hearing Protection • Ear Care / Wax Removal • Dizziness / Balance HEARING & TINNITUS CARE 970-586-1685 Custom Homes, Additions, Kitchens, Baths, Historic Renovations, Remodels and Design Work Full service general contracting since 1998 Charles Santagatiglaciercreekinc.com1191 Graves Ave GENERALFLOORINGCONTRACTORcont. MAINTENANCE/REPAIR SERVICES LANDSCAPING CajunOffice:NoServicesHandymanJobTooSmall!970-586-2109Cell:970-443-5613 CallsSameReturnedDay! cajunhandymanservices21@gmail.comBrianThibodeaux-owner D DIAMOND D HANDYMAN SERVICE Home Maintenance & Repairs Yardwork & Mowing "Consider It Done!" Licensed & Insured Dave 303-877-2007 JR Services, LLC • Landscaping • Fencing • Lawn Maintenance • Retaining Walls • Flagstone • Raking • Snow Removal Call 970-590-8015 or 970-689-1393 Attic insulation upgrades, new construction, additions and remodels. Insulation A+ service. BBB accredited with a plus rating positive reviews. Licensed Estes Park contractor. communityinsulationdrywall.comsprayfoammyhome.com Call 720-934-7094
Friday, September 2, 2022 « 47epnews.com PROFESSIONAL BUSINESS BUILDER TREE SERVICE POWER GENERATION REAL ESTATEPESTPROPANEPRINTINGCONTROLPAINTING SECURITY HOME WATCH WINDOW CLEANING PROPERTY MANAGEMENT PROPERTY DOCUMENTATION •FreeEstimates/24HourEmergency •TreeTrimming&Removal •FireMitigation/YearRoundService •PineBeetle/MistletoeManagement •ScenicViewEnhancement •FullyInsured•30YearsExperience affordabletreesrvc.com 10%SeniorOrMilitaryDiscounts Business........................................................970-586-4046 Cell..............................................................970-568-6685 Aaron L. Busche CMAS, SRS, CNE Broker Associate Aaron@EstesPK.com Cell: (970) 470-9962 RichardsonTeamRealty.com 255 Park Lane, Ste 203 Estes Park, CO 80517 Simply. Elevated. Real Estate. MAINTENANCE/REPAIR SERVICES cont. Callusforallofyourpaintingorstainingneeds! •Residential/Commercial•Interior/Exterior •LogHomes/Decks•PowerWashing •FreeEstimates•LocalReferences •4YearWarranty•Licensed&Insured TimStolz,Owner• 970-518-4001• 26YearsExperience e-mail:testolz@hotmail.com•www.bestway-painting.com Alpenglow Custom Blinds and Shades Local Sales, Installation, Service, and Repair www.EstesParkBlinds.com - 970-235-1133 WINDOW COVERINGS ESTES PARK ELK VIEW PROPERTY MANAGEMENT AND CLEANING SERVICE • Long Term Properties • Vacation Rentals • Construction Clean • Residential • Cabins • Carpet Cleaning Call 970-646-8234 or 970-685-7740 Mark Matson and Elvira Matson markmtns@gmail.com elviramatson4321@gmail.com FUTURE OFPROPERTY PROOF Proof in Pictures
48 » Friday, September 2, 2022 epnews.com Call us to use our FREE Moving Truck. Happy Labor Day! 514 Grand Estates Drive, G-6 $399,500 604 Aspen Avenue $450,000 175 Bill Waite Road $479,000 Thunder View Lot 3 $595,000 11947 Peak to Peak Drive $529,000 1760 Moon Trailway $795,000 2.5ACRES SOLD SOLD SOLD