HEALTHY LIVING
Tuesday, May 16, 2023
E G
CrossWinds Counseling and Wellness to grow offerings, services under new CCBHC designation
Robotic-assisted surgeries offer benefits to patients
Page 4
Page 3
T
THE GAZETTE, EMPORIA, KANSAS Page 2 VVV VVV Tuesday, May 16, 2023
CROSSWINDS COUNSELING AND WELLNESS TO GROW OFFERINGS, SERVICES UNDER NEW CCBHC DESIGNATION
By Shayla GauldinG shayla@emporia.com
CrossWinds Counseling and Wellness is making huge strides towards the future of mental health, as it prepares to receive the Certified Community Behavioral Health Clinic designation this year.
In 2021, Gov. Laura Kelly signed a bill identifying the Certified Community Behavioral Health Clinics (CCBHC) model as a "solution to the mental health and substance use crisis." Under the new law, all Kansas Community Mental Health Centers will be designated as a CCBHC by July 2024.
For CrossWinds, that timeline is a year earlier, as the organization stays on the cutting edge of mental and physical health care.
"This is probably the biggest thing to happen to mental health in my lifetime," Development Director Lucas Moody said. "This is really the opportunity for the federal government, the state legislators to really recognize the importance and the impact that mental health has on people's lives."
According to Moody, the CCBHC designation allows CrossWinds to start working and caring for its consumers in a manner that is built for the future, after years of underfunding for mental health services.
Under the new designation, consumers will see a drastic change in the continuum of care and the model of how CrossWinds cares for its consumers. According to Project Director Lauren Rickner, the shift to treating a patient fully — from mental to physical health — has always been the goal.
"Not just that they are equally important,
Who We Are
CrossWinds is dedicated to providing individuals with the tools they need to better cope with and manage the circumstances of everyday life. We are committed to helping improve mental wellness as a crucial part of overall wellness through a variety of services including:
• Counseling (Individual, Family, Couples & Group)
• Animal-Assisted Therapy
but that they are also connected," Rickner said. "If we only address one, we are really doing a disservice to the person and we are not going to make the same progress as if we were to address both — or consider all three if we are looking at substance abuse issues as well."
• Substance Abuse Services
• Medication Services
in reaching with that mobile response, 24 hours a day, seven days a week," Rickner said, adding that Crosswinds will be "moving towards a co-responder situation, where we can get out in the community in a safe manner and really address those needs and try and reduce the strain on law enforcement and our hospitals."
where we want to be. We are really hopeful that shifting this model to open access will allow at least a first contact at the moment when those people need it. That's of paramount importance to us, to be able to make that shift and be able to provide those services as they are needed."
• Evaluations and Testing
• After-Hours Counseling
• Emergency Services
• Community Services
To implement the new model of care, Rickner said CrossWinds will be working to help patients establish a primary care physician.
• Mental Health First Aid Courses
Office Locations
• Alma - Wabaunsee County
• Burlington - Coffey County
• Cottonwood Falls - Chase County
• Council Grove - Morris County
"Your mental health is connected to your physical health and we want to make sure that we are building those resources and building those relationships," Rickner said.
• Emporia - Lyon County
Additionally, patients will see an expansion and growth of services, such as the Assertive Community Treatment team, which focuses on serving high needs consumers and reducing hospitalizations and criminal justice involvement; spreading the reach of the supported employment program into all CrossWinds service areas and a return to substance use services, which is a requirement of a CCBHC.
For Rickner, expanding access to services is priority number one.
• Eureka - Greenwood County
• Osage City - Osage County
Quienes Somos
"... Sometimes, it's that they simply don't know how to do that. It's been on the todo list for a bit but now we can really talk to them about why it's important and just make that phone call right on site."
Crosswinds se dedica a proporcionar a individuos las herramientas que necesitan para acoplarse y manejar las circunstancias de la vida cotidiana. Nosotros estamos comprometidos en ayudar a mejorar el bienestar mental como una parte crucial del bienestar general por medio de una variedad de servicios incluyendo:
"We have lived in a world here, a little bit, of wait lists and barriers to service and it doesn't feel good," Rickner said. "That's not
"What CrossWinds has always looked like in the past and what we have always done in the past is had our consumer care as our number one priority," Moody added. "We want to make sure that we are taking care of people who have needs. That's not changing. … What we are really excited about is that this kind of moves the fence for us and says, 'Now you can do the things you always dreamed of doing. Now you can serve and treat people in the manner they need to be treated and provide mental health services in a capacity that is healthy and individualized and works for the communities you are working in.' To me, that is a huge celebration."
• Asesoramiento (Individual, Familiar, Parejas y Grupos)
• Terapia asistida por animales
• Servicios de abuso de sustancias
• Servicios de medicamento
• Evaluaciones y Exámenes
• Asesoramiento fuera
• Servicios de emergencia
• Servicios comunitarios
• Cursos de primeros auxilios en salud mental
Ubicaciones de oficina
• Alma - Wabaunsee County
The CCBHC designation will also allow CrossWinds to expand existing crisis services, allowing for open access hours where patients can come to CrossWinds and see a professional the same day — as well as allowing CrossWinds professionals to go into the community. Currently, CrossWinds utilizes a mobile crisis service, staffed by both in-house clinician and contracted services to help facilitate a 24/7/365 response for mental health crises.
• Burlington - Coffey County
• Cottonwood Falls - Chase County
• Council Grove - Morris County
• Emporia - Lyon County
• Eureka - Greenwood County
• Osage City - Osage County
"That will take coordination from a lot of different community partners and we are working on those steps already but are looking to have some good success on that
crosswindsks.org
THE GAZETTE, EMPORIA, KANSAS VVV VVV Tuesday, May 16, 2023 Page 3
Robotic-assisted surgeries offer benefits to patients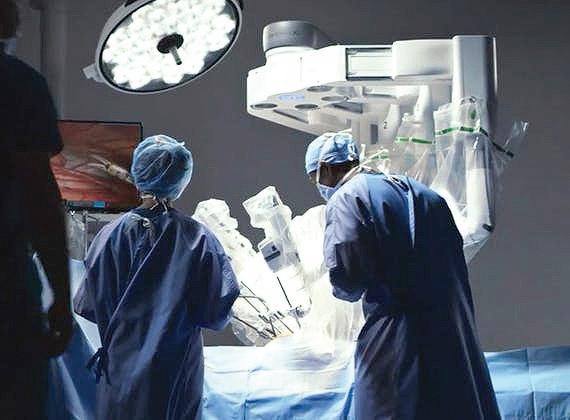 By Ryann BRookS brooks@emporia.com
Newman Regional Health is celebrating a year of bringing in the latest in robotic-assisted equipment to the hospital.
The da Vinci Xi robotic surgery system was introduced to the community in June 2022, helping local surgeons make complex surgical procedures better for the patient by offering quicker healing times and less complications.
Dr. Tim Harris, who performed the first da Vinci-assisted surgery in Emporia last year, said the technology does not replace the need for highly skilled surgeons in the operating room. Instead, it enhances a surgeon's ability to perform complicated surgeries in a less invasive manner than open surgery.
"It's essentially called a roboticassisted laparoscopic procedure," Harris explained. "The Laparoscopy just means you're looking in with a telescoping camera, but with this situation, the robot is a separate device that's put over the table over the patient."
Surgical tools are attached to robotic arms and, from a bedside console, the surgeon controls the robot while it performs "tremor-free, intricate movements of surgical instruments" at the end of the robotic arms. Harris said the robotic wrists allow for 360-degree
movement — something that is impossible otherwise — and allows the surgeon to enhance their view of the surgical field by up to 10-power magnification.
"It gives you much more ability," Harris said. "The bottomline is, you're doing a fairly big surgery through little holes and so the recovery afterward is significantly improved for the patient."
Harris said some benefits of the robotic-assisted surgeries include less complications and less need for blood transfusions, fewer postoperative infections, lower lengths of stay at the hospital and a reduced need for additional surgical procedures.
Procedures performed by the da Vinci Xi robotic surgery system at Newman Regional Health include:
✦ General surgery
✦ Gallbladder surgery
✦ Ventral, Inguinal and Hiatal Hernia surgeries
✦ Prostate surgery
✦ Hysterectomies
✦ Colorectal surgery
✦ Other gynecologic surgeries
Harris said prior to having the da Vinci Xi system, patients undergoing surgeries for colon cancer could expect hospital stays of up to 10 days and recovery times of up to six - eight weeks.
Today, the same surgery has patients home within two days with recovery times in about two weeks.
"The recovery has drastically improved," he said.
Harris said the technology also enables surgeons to operate for longer periods of time — and have longer careers.
"You're not on your feet for long hours of time, contorting your body trying to operate," he said. "That's been a secondary benefit."
Harris said being able to offer robotic-assisted surgeries in Emporia is also a huge benefit for families and caregivers. Instead of having to drive out of
town for treatment, now they can stay right here in town to receive the care they need.
"All of their follow-up care is here in Emporia, they're not going back and forth," he said. "We're doing the same surgeries that they would have done somewhere else. Now that we offer those services, a majority of patients are going to want to stay local."
Patients are encouraged to visit www.newmanrh.org/davinci to learn more or speak directly with their healthcare provider for more information on the robotic-assisted surgical procedures available at Newman Regional Health.
THE GAZETTE, EMPORIA, KANSAS Page 4 VVV VVV Tuesday, May 16, 2023
THE GAZETTE, EMPORIA, KANSAS VVV VVV Tuesday, May 16, 2023 Page 5
According to a study published in the journal Progress in Neurology and Psychiatry, in a given year about 5 perce nt of the population of the United States experiences seasonal depression, a condition also known as seasonal affective disorder, or SAD. A separate study published in the journal BMC Psychiatry in 2021 found that 12.7 percent of students attending higher education or vocational schools who responded to a survey showed SAD. The organization Mental Health America notes that SAD is a subtype of depression or bipolar disorder that occurs and ends around the same time every year, typically beginning in fall and continuing into the winter. Curiously, the study published in Progress in Neurology and Psychiatry found that the main age of onset of seasonal depression is between 20 and 30.
Data from the Centers for Disease Control and Prevention indicates that rates of anxiety and depression rose dramatically after the onset of COVID-19. According to the CDC, the range of average monthly percentages of adults in the United States reporting symptoms of anxiety between January and December of 2019 was 7.4 percent to 8.6 percent. Between April 2020, or roughly three weeks after the World Health Organization declared a global COVID-19 pandemic, and August 2021, the average submonthly percentages of U.S. residents reporting symptoms of anxiety was between 28.2 percent and 37.2 percent. That means the rate of anxiety rose by about
Despite what people may believe, colds are not exclusive to the cold weather months and early spring. Although a person is more likely to catch a cold during the winter, it's still possible to get a cold in the summer. During colder months, people tend to stay indoors in close proximity to others. That can make it easier for contagious cold viruses to spread. In addition, during the winter, the air is cold and dry, and these conditions are hospitable to cold viruses. In the summer, humidity can impede the common cold's easy spread, but air conditioning units with recirculated air can reverse the protective nature of this humidity. Even though people may spend more time outdoors during the summer, on especially hot days they may retreat indoors to cool off. That's when cold viruses can thrive. Symptoms of summer colds aren't different from winter colds. However, the heat and humidity of the summer months can make a person feel miserable. Also, when cold symptoms keep people from fun summertime activities, it can seem more impactful than suffering in winter when there's not much to do.
four times between April 2020 and August 2021. A similar spike was prevalent among U.S. adults reporting symptoms of depression during that same period. Though percentages were between 5.9 and 7.5 percent between January and December 2019, they rose to between 20.2 and 31.1 percent between April 2020 and August 2021. These figures are important to keep in mind as the world tries to move on from the pandemic. Despite individuals' best efforts, rates of anxiety and depression could remain significantly higher than they were in 2019, underscoring the need for accessible education about each disorder.
HABITS THAT AFFECT COGNITIVE HEALTH
Various changes to appearance and health are associated with aging. Issues such as diminished vision, waning muscle strength and gray hairs are among the more common and noticeable side effects of aging. Cognitive decline is another symptom often associated with aging, even if that needn't be the case.
Certain lifestyle choices can protect against cognitive decline and dementias. While there is no surefire way to prevent dementias, here are some good habits for maintaining cognitive function well into your golden years.
Exercise frequently
Harvard Health reports that exercise, in addition to the many other benefits it provides, may help improve cognitive function in people who have already experienced memory issues. Exercise may be particularly advantageous to people who carry the APOE4 gene variant, which makes people more susceptible to Alzheimer's. Speak with a doctor about how much exercise is needed and what is safe for your age.
Enjoy video games
Playing a favorite video game may improve long-term cognitive function. Researchers at Cambridge Brain Sciences found study participants who played non-cognitive-training video games were associated with better performance in several cognitive domains, but only
for younger (age 18 to 64) participants. Cognitive training games, on the other hand, were not associated with any cognitive improvement.
Stay socially engaged
According to a study published in the journal Experimental Aging Research, seniors who have high levels of social engagement also have better cognitive function. Getting together with friends, participating in a club, attending religious studies, and any other activity that gets you out with other people can help with cognitive function.
Eat a healthy diet
Eating a diverse array of healthy foods is beneficial. Nutritious diets can help reduce the risk for illnesses that may affect cognitive ability. Eating well also helps keep the brain healthy. A Mediterranean diet appears to lower the risk or slow the progression of dementia in people who have the condition.
Get help for sleep disorders
Lack of sleep can affect memory and learning. By getting help for sleep disorders, you may reduce your risk for cognitive issues. While it is not possible to prevent or cure cognitive conditions like dementias with lifestyle changes, certain behaviors can lower the risk of developing these illnesses or reduce their severity.
THE GAZETTE, EMPORIA, KANSAS Page 6 VVV VVV Tuesday, May 16, 2023
THE GAZETTE, EMPORIA, KANSAS VVV VVV Tuesday, May 16, 2023 Page 7
THE GAZETTE, EMPORIA, KANSAS Page 8 VVV VVV Tuesday, May 16, 2023