Closer Than You Think
Reward yourself with the lifestyle you deserve atPlantation Bay Golf and Country Club Priced from the $400s - $4 million. Call today to schedule a VIP appointment! (844) 325-1658 / ORMONDPlantationBayGolf.comBEACH,FLLocated in the charming seaside town of Ormond Beach, Plantation Bay Golf and Country Club boasts a twenty-year reputation for being among the best private golf course communities in Florida. An unhurried pace, year-round warm weather, and a lower cost of living offers superb value. Beyond championship golf, our residents can enjoy stunning amenities such as two resort-style pools, a state-of-the-art fitness center and spa, tennis and pickleball courts. • 2 NEW NEIGHBORHOODS • 24 HOUR GUARD-GATED SECURITY • 45 HOLES OF CHAMPIONSHIP GOLF • 10 MINUTES TO THE BEACH • BRAND NEW CLUBHOUSE COMING SOON! • HOMES ARE AVAILABLE FOR EVERY LIFESTYLE, FROM LOW MAINTENANCE GOLF VILLAS TO LAVISH ESTATE HOMES.
Natural beauty, exceptional golf, and nine great courses from which to choose. Scan this code to plan your golf getaway today, or visit tnstateparks.com/golf Beautiful Incredibleparks.golf. Shown is the golf course at Montgomery Bell State Park.
Harris, MI www.islandresortgolf.com MAKE YOUR PLAY · 877.ISL.GREEN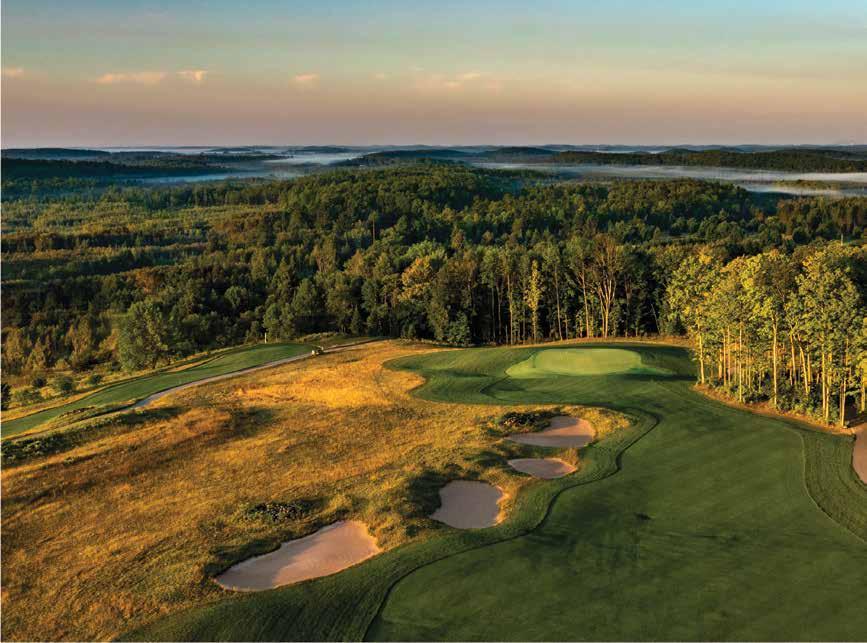 Cart Girl 18 Kayci Lindquist FEATURE 10 Boyne, Michigan Golf Bachelor 36 Mike Dynda Golf Fore Charity 12 First Tee at Carrollwood Golf Travel 28 Branson, MO 38 Gaylord Golf Mecca Improving Performance 24 V1 Golf App Special Events 14 Epson Tour at French Lick Turf Life 52 Sunniland Super Spotlight: Don Johnson 54 Performance Nutrition 56 Turf Pirate's Journal 58 Palmetto Hall Golf & Country Club 60 Modern Turf What's New 32 The Buddy Golf Club Cleaner Departments 20 Georgia Golf Trail 26 Fore Your Health 34 Caribbean Golf Central 40 Product Showcase 44 Kentucky PGA 46 South Florida PGA 48 North Florida PGA 50 Georgia PGA golfcentralmag.com Feature Article Pg 10-11 CloserThanYouThink Volume 23, Issue 5 60 14
IS ANOUR 19 TH HOLE ENTIRE RESORT The experiences you'll take away can't be recorded on a scorecard. With world-class, award-winning golf, a luxurious spa, championship sporting clays courses and exquisite cuisine, The Omni Homestead Resort was made for making memories. Discover more than 30 recreational activities, all conveniently located on a 2,300-acre mountain estate. OmniHotels.com/TheHomestead 800-838-1766 HORSEBACK RIDING | FLY FISHING | MOUNTAIN BIKING | FALCONRY | HIKING | ZIP LINE | WINE TASTING ROOM
August is National Golf Month! Founded in 1993 by the PGA, it was created to promote golf as an inclusive sport that is accessible to all genders and ages, no matter your skill level. Keep that summer fun rolling on! Whether you're planning to hit the links with a co-worker, play a few rounds with friends, book a lesson with your favorite PGA Pro, or work on your short game right in the back yard, there are plenty of ways to celebrate National Golf Month while also improving your game! Don't forget to be patient with those "newbies" as they take those first swings and don't forget that special someone who introduced you to the game. Give them a call, send an email, invite them to go play! This gift will last a lifetime and for kids, who knows – learning to play might lead to a future scholarship, exciting career or even a place on the PGA TOUR. Hats off to the USGA who hosted the inaugural U.S. Adaptive Open Championship last month at Pinehurst Resort and Country Club. Indeed, the 96 players in the field – which included entries in each of eight impairment categories from 29 states and 11 countries – drew plenty of inspiration from one another. Ken Green, 63, a five-time winner on the PGA Tour, who lost his leg in a 2009 RV accident, placed sixth overall.
©2022 Golf Central Magazine. No portion of this publication may be reprinted without the prior written permission of the Publisher. Editorial contributions are welcome, but Golf Central Magazine assumes no responsibility for unsolicited proposals, manuscripts and photographs. All materials submitted not accompanied by a selfaddressed stamped envelope will not be returned. Mailing, electronic mailing or faxing of contributions constitutes an expressed warrant on the part of the contributor that all material is original and does not infringe on the rights of others. Golf Central Magazine retains all reprint rights and reserves the right to edit any submitted material to meet our specifications for publishing and or use in advertising or promotion. The Publisher and staff are not responsible for any loss or grievance by any person or persons whatsoever, due in any way or in part to the content of this publication. The Publisher reserves the right to refuse to accept any material deemed inappropriate or in bad taste. Florida 23, Issue 5
publisherthefrom 2009 North
We salute the many organizations around the country furthering diversity in the game including the United Way's New York City program, Together We Thrive, and All Access Golf, two fantastic organizations dedicated to increasing the visibility, relatability, and accessibility for minorities in golf. While learning anything new can seem daunting and scary, the game of golf will lead you on a wonderful journey. A love affair that's worth every twist and turn and penny. Never give up because F.A.I.L. simply stands for First Attempt In Learning. Celebrate and Enjoy National Golf Month!
PGA Amateur of the Year Volume
8 Golf Central • Volume 23, Issue 5
Influencer/Ambassador: Chad Smith Contributing Writers: Jay Golden, PGA; Bob Bolton, Greg Corbo, Elisa Gaudet, Holly Geoghegan, Mike Jamison, Mike May, Anthony Williams Editor Emeritus: Joel Jackson, CGCS Retired Turf Tender: Rich Havyer Regional Partner: Doug Hollandsworth, Founder-Georgia Golf Trail Golf Central Magazine is published monthly by: Sand Hill Publishing & Public Relations 4313 Berwick Dr, Lake Wales, FL 33859 NEW PHONE: 863.875.6863 E-mail: info@golfcentralmag.com
Publisher: Terrie L. Purdum Edi tor in Chief: Shannon Coates Graphic Design: Melahn Cable, Golf The Wise Way: Greg and Beverly Wise, Photojournalists
Photographers: Lynn Pelham, Brion Price, Peter Hakansson Mike Coonan, Becky Galloway, Madison Coates, Mac Carraway, Greg Corbo Senior Correspondent: Rick Harris, Sr. International Correspondent: Dove Jones
SummerLove
From mile after mile of humbling-beautiful Lake Michigan coastline, towering sand dunes, idyllic small towns, deep hardwood forests, vast serene lakes, meandering rivers, breathtaking elevations, and long summer days, Northern Michigan is as uncannily pure as they say and as enchanting as any golf destination in the country. Many seasoned visitors will suggest booking your first foray "Up North" with the region's leading brand in resort golf experiences, BOYNE Golf. With 10 acclaimed golf courses, across three separate and distinctive resort properties, they offer an abundance of packages to fit a broad array of itineraries. You can't go wrong putting your next golf trip in the hands of the folks who've been curating the destination in Northern Michigan for more than 70 years. Traverse City's Cherry Capital Airport offers direct flights from 17 U.S cities and serves as the gateway to BOYNE Golf. A breathtaking 70-mile drive on Highway 31 North along Lake Michigan takes you to Petoskey and the stately Inn at Bay Harbor. Once you lay eyes on the red-roofed Victorian-style Inn at Bay Harbor and the beaming shoreline, you will understand why it has been dubbed "The Pebble Beach of the Midwest". Inn at Bay Harbor
10 Golf Central • Volume 23, Issue 5 feature
Bay Harbor Links Hole #7
Bay Harbor Quarry Bay Harbor Links Hole #3
By Carl Mickelson
Pondering the natural scenic splendor of Northern Michigan, I'm reminded of a standout line from an early season of Mad Men, "You have everything… and so much of it."
The Inn at Bay Harbor features 116 guest rooms and suites and 35 two- and three-bedroom cottages at the Lakeside Cottages and Cottages at Crooked Tree, offering views of the famous Million Dollar Sunsets.
BOYNE Golf Shines in America's Summer Golf Capital
Bay Harbor Golf Club offers 27 dazzling holes designed by Arthur Hills that are played in three 18-hole combinations (Links/Quarry, Quarry/ Preserve, and Preserve/Links). With its thrilling views and excellent shot values, Bay Harbor's Links/Quarry routing has been a staple on Golf Digest's biannual list of America's 100 Greatest Public Courses as well as their Editor's Choice for Best Golf resorts. The Links Nine is full of memorable holes, but the reachable 490-yard, par5 seventh providing big-time views
The Highlands Ross Hole #10
The Highlands Resembling a Scottish country estate with its deep wood accents, tartan plaids and massive fireplaces, The Highlands is a cozy escape just 15 miles north of Bay Harbor. The Highlands is home to BOYNE Golf's first golf property and a multi-course template many resorts have replicated through the years. BOYNE Golf was also recently recognized among The 25 Best U.S. Golf and Ski Resorts by Golf Pass. With four different courses, The Highlands is perfectly-suited for golf buddies trips. The timeless parkland allure of The Heather (the original Boyne course by Robert Trent Jones Sr.) and the natural beauty of the Arthur Hills course, which features a 30-story drop off from the tee at the par-5 13th, stand tall as must-plays on a visit to Northern Michigan. The Heather is also on Golf Digest's list of America's 100 Greatest Public Courses and, in 2019, was named the National Golf Course Owners Association's Golf Course of the Year. The Donald Ross Memorial is an extremely well-executed tribute course comprised of holes inspired by famous Ross designs that have hosted three Ryder Cups, eight U.S. Amateurs, 11 PGA Championships and 14 U.S. Opens. Some golfers consider the easy-going Moor Course, where a round feels like an escape through the woods, the most enjoyable of the four. Boyne Mountain Resort Boyne's southern-most resort, Boyne Mountain offers the walkable and fun allure of a European alpine village. Boyne Mountain plays up the village theme beautifully. The 4,500-acre property includes a variety of accommodations and two fun courses that offer tremendous views of nearby Deer Lake. The Monument and The Alpine zigzag through tree-lined slopes before winding down to tamer, rolling terrain. Both courses begin with a scenic 10-minute cart ride up the ski hill to their respective first tees.
Boyne Mountain Monument Hole #18
The Highlands Moor Hole #18 The Highlands Ross Hole #8 Boyne Mountain Alpine Hole #18
The best way to experience the quality and quantity they offer is the Michigan's Magnificent 10 Golf Vacation where golfers custom-build a five-night golf trip complete including two rounds at Bay Harbor Golf Club and UNLIMITED golf on seven additional courses. BOYNE Golf, named one of the Best Golf Resorts in the Americas by Golf Digest, is the largest golf resort in America north of Pinehurst. The destination is centered amid one of America's most beautiful vacation spots and scenic Lake Michigan beach towns of Charlevoix, Harbor Springs, and Petoskey. For more information on BOYNE Golf and to plan your summer golf adventure, visit visit BOYNEgolf.com or call 855.427.6316.
11Golf Central • Volume 23, Issue 5 looking west over Lake Michigan. The Quarry nine is full of fantastic holes, including the strategic par-5 fifth. The eighth and ninth holes, plays into and along the picturesque lakeside setting, is easily one of the most picturesque finishes in the country. While more understated in its routing, The Preserve nine plays well up to the lofty standards of the Links and Quarry. Winding extensively through the hardwoods for much of the nine, The Preserve, like the Quarry, also opens up to the calming Lake Michigan shoreline. A very short drive away, scenic 18-hole Crooked Tree Golf Club delivers stellar panoramic views and an underrated stretch of quality, finely-maintained golf holes.
First Tee of Tampa Charity Golf Tournament
As an occasional writer/contributor to Golf Central Magazine over the past 10+ years, I've told stories of other people's tournaments, but this time, I get to tell you about hosting my own tournament benefiting the First Tee of Tampa. As an Advisory Board Member of the First Tee of Tampa I hosted a 4-person scramble tournament at Carrollwood Country Club on July 18th. Professional and personal friends, and folks just wanting to support the First Tee came out to play and enjoy the camaraderie and compete for trophies, and awesome prizes! We dodged a few rain showers, but for this time of the year in Florida, the morning served up partly cloudy and breezy conditions for some great competition. We had a 3-way tie for first place, and had to go deep into a scorecard playoff to crown the winner. Big "Thanks" to the Tampa Bay Rays, Innisbrook Resort, Lakewood National, Edwin Watts, Garrison Brothers Bourbon, Proximo Spirits, Brittany Sales Fine Wine & Spirits, Horse Soldier Bourbon Whiskey, and Carrollwood Country Club. LPGA/World Golf Hall of Famer Jan Stephenson was kind enough to donate several bottles of wine and spirits for the lucky winners of the Closest to the Pin contests, and several of the raffle baskets.
I promised breakfast, a 4.5 hour round, lunch, and great auction and raffle items. We didn't fall short of expectations. If you are interested in participating in July 2023 Tournament as a participant, sponsor, or would like to make a donation, please contact Bob Bolton, bbolton@teetimeflorida.com.
12 Golf Central • Volume 23, Issue 5
By Bob Bolton
Transitions and the swirl are registered trademarks and Transitions Adaptive Lenses is a trademark of Transitions Optical, Inc. ©2012 Transitions Optical, Inc. transitions.com
On the PGA TOUR®, vision is a golfer's most important equipment. Transitions lenses adapt to changing light to help golfers see more comfortably in all light conditions and help protect eyes from the sun's harmful UV rays.
Kenny Perry and Trevor Immelman have made Transitions® lenses part of their game.
13Golf Central • Volume 23, Issue 5 P E R F O R MA N C E SU N W E A R
1 0 0 % o f a l l p r o c e e d s g o d i r e c t l y t o h i g h i m p a c t P a r k i n s o n ' s r e s e a r c h p r o g r a m s . Sunday, October 16, 2022 2 5 p . m . E D T | 1 4 p . m . C D T 1 1 2 p . m . M S T | 1 1 2 p . m . P D T 2ND 2ANNUAL ND ANNUAL TARGETING A TCURE ARGETING A CURE FOR FPARKINSON'S OR PARKINSON'S A c h a r i t y , b e s t b a l l s t y l e t o u r n a m e n t o c c u r r i n g s i m u l t a n e o u s l y a t m u l t i p l e T o p G o l f l o c a t i o n s w i t h a l i v e l e a d e r b o a r d . P h o e n i x , A Z E l S e g u n d o , C A T a m p a , F L A u g u s t a , G A A t l a n t a , G A G e r m a n t o w n , M D - C h a r l o t t e , N C O k l a h o m a C i t y , O K E d i s o n , N J H o l t s v i l l e , N Y A u s t i n , T X w w w . t o p g o l f . m i c h a e l j f o x . o r g
Visit your local Vision Source doctor, Dr. James Podschun, located at 2828 Casa Aloma Way, Suite 400 in Winter Park, FL 32792, to ask which Transitions lenses are right for you. 407-671-0960
Story and Photos by Greg and BeverlyyyrtjtyjtyjWise
2022 French Lick Charity Classic Where
Xiaowen Yin – Champion 2022 French Lick Charity Classic
14 Golf Central • Volume 23, Issue 5 eventsspecial
The 2022 French Lick Charity Classic, was contested on The Pete Dye course at French Lick Resort in early August. This Epson Tour event boosted the largest purse on the Tour. A total of $335,000 was large enough to draw out the best players to compete on this challenging track, with the winner receiving $50,250. As the tournament came to a close… Xiaowen Yin, from Tianjin, China found herself on the top of the leaderboard for the 2nd straight week. Recording a 7-under par, 281 total for the 72-hole event. Finishing one stroke ahead of Gabriella Then of Rancho Cucamonga, California, finishing with a 282 total. Both ladies stumbled coming down the stretch. Yin found herself at 9-under after birding the 16th hole. Realizing that she had a one-stroke lead over Then. The wheels seem to fall off, bogeying both 17 and 18, posting the 7-under par 281 total. Now it was just a waiting game. Gabriella coming up the 17th hole, now tied with Yin, had a 2-foot putt for par on the 17th hole that literally rimmed the cup and set on the front edge of the cup and wouldn't fall, forcing her to tap in the for the bogey that put her one stroke back. Needing a birdie on the 18th hole, Then put her 3rd shot in position 7-feet below the hole with a chance for the birdie and the tie. Pulling the putt left, assured the Yin had her second straight win on the Epson Tour and vaulting her into 2nd place on the "Race to the Card" scoreboard, less than $5,000 behind Luci Li with 6 events to go before the year ending Epson Tour Championship. History… Meets the Future Stars of the LPGA
15Golf Central • Volume 23, Issue 5
French Lick Resort – Springs Hotel, Conference Center and Casino Dani Holmqvist, Xiaown Yin, and Mi Hyang Lee with the Riley Kids, Brian Faus, and BJ Yoho, that were announcing on the the first tee.
Tuesday Ladies Day with the Players Pro-Am on Wednesday morning gets off to a tremendous start.
16 Golf Central • Volume 23, Issue 5 Ladies Day on Tuesday with the lessons from the Epson Tour players Gabriella Then Daniela Darquea Xiaowen Yin – Champion 2022 French Lick Charity Classic Riley Kids Pizza Party on Saturday night Pizza Party Saturday Night
TALAMORE 36 Holes by Arnold Palmer & Rees Jones Historic Village of Pinehurst Area of North Carolina (800) www.TalamoreGolfResort.com/GolfCentral552-6292 FREE $50 RESORTMentionCREDITCode:GOLFCENTRAL Where You'll Always Get More... • Access to 30+ Area Golf Courses • Luxurious, On-Course Accommodations • Daily Breakfast Delivered to Your Door* • Carolina Pig Pickin' with All the Fixin's* • New! Toptracer Range & Putting Course
What is your idea of "the perfect date"? Skydiving! The intense rush of adrenaline is where you get to know someone best!
LindquistKayci
What is your most memorable moment working as a cart girl? When a deer jumped right out in front of me! What is the funniest thing you've ever seen on the golf course? I saw someone hit a terrible shot and break his club in half. What type of music do you prefer? Country What hobbies do you enjoy? Hanging out with my son!
Favorite comedian? Kevin Hart Favorite type of movie? Romantic Comedys Favorite charity to support? Boys and Girls Club
What is your favorite sport to play? Favorite to watch? Soccer, Soccer Do you enjoy playing golf? Are there any golfers in your family? Yes even though I'm not very good, yet.
18 Golf Central • Volume 23, Issue 5 girlcart
What do you feel makes this club special? The environ ment, there are no strangers and everyone is family.
Relaxed evening at home, or nightclub and cocktails? Both! Love being at home and spending time with my son, but also love to get out and have some drinks with my girls!
What is your favorite part of being a cart girl? What is your least favorite part? Everything, being outside and watching the game! How hot it can get sometimes! If you weren't a cart girl, what would you be doing? Probably on the course trying to get better!
Where did you grow up? I was born in Citrus County Florida, Inverness. Which group of people did you associate most with in high school? Athletes
What else would you like for us to know about you? I am a very easy going, outgoing person! I love to make sure people are enjoying their day just like I am!
www.nonablue.com
Highland Walk There are many scenic selfie 'hot spots' at Highland Walk Golf Course (706-245-6770) at Victoria Bryant State Park in Royston. At Highland Walk, there are many uphill and downhill tee shots. The best photo 'opp' locale is the signature hole -- the 17th.
The "Peaches" Along the Georgia Golf Trail
Arrowhead Pointe At the Arrowhead Pointe Golf Course (706-283-6000) in Elberton, visiting golfers will discover a 6,800-yard course situated on a peninsula within the Richard B. Russell State Park. Arrowhead Pointe deserves to be called the 'Crown Jewel' of the Georgia Golf Trail. Here, 10 of the 18 holes border Lake Richard B. Russell The Creek The Creek Golf Course (706-557-3006) at Hard Labor Creek State Park in Social Circle is a joy to play. Here, the sternest test is the tee shot on the parfour 10th hole, formerly the opening hole, which used to be considered "the hardest first starting hole in Georgia."
Brazell's Creek
The Brazell's Creek Golf Course (912577-7745) at Jack Hill State Park in Reidsville is a well-designed par-71 layout. At Brazell's Creek, a 1,500-yard winding bridge through a canopy of trees connects the front nine with the back nine. The back nine was built on a windswept, open landscape
Of the 20+ golf courses on the Georgia Golf Trail, nine of them are tucked away in nine of Georgia's state parks.
While these golf courses may be off the beaten path, so to speak, they are worth making the effort to go play. "Our state park golf courses in Georgia are terrific golf destinations. They are incredible designs which are very well maintained and fairly priced," said Doug Hollandsworth, Founder, Georgia Golf Trail. "The affiliation of these golf courses with amenity filled state parks makes them a perfect place to visit, especially with your families."
By Mike May
The Creek Signature Hole #4
20 Golf Central • Volume 23, Issue 5 trailgolfgeorgia
Highland Walk Signature Hole #17
Brazell's Creek View From First Tee Little Ocmulgee Fairway which has a links-style look to it. The front nine is tree-lined and the greens have some creative contours.
The Lakes The Lakes Golf Course (912-285-6154) at Laura S. Walker Park in Waycross is the southern-most golf course on the Georgia Golf Trail. It features large, undulating greens. The fairways and landing areas are defined with gentle, links-style mounds that accent the course's three large lakes. Loblolly pines are a common sight at the Lakes GC, which is an easy course to walk. Meadow Links The Meadow Links Golf Course (229768-3714), located in the George T. Bagby State Park in Fort Gaines, opened in 1998. Meadow Links was ranked by Golf Digest as "the nation's sixth best new affordable public course." Each day, when the sun sets in the west, the views resemble a picture postcard.
21Golf Central • Volume 23, Issue 5
Brasstown Valley Reosrt & Spa Golf at Brasstown Valley Resort & Spa (706-379-9900) is refreshing, delightful, and scenic. The views of the surrounding mountains from the golf course are stunning. This golf course is in terrific shape. Afterwards,
22 Arrowhead Pointe Golf Course Overlooking Lake Russell Brasstown Valley spend the night at the resort and eat at Brassie's Grill. It's a total escape! Wallace Adams Once you arrive at the Wallace Adams Golf Course (229-868-7474), located in the Little Ocmulgee State Park outside McRae, you'll quickly see that you'll want to play more than you had originally intended. This golf course has an Augusta National Golf Club look and feel to it. And, it's true. Georgia Veterans The Georgia Veterans Memorial Golf Course (800-459-1230), located at the Lake Blackshear Resort and Golf Course near Cordele, has been labeled the "best value in the South." Once you walk off the 18th green, head to the Cypress Grill. There, you can relive your experiences on the "best value in the South." For more information about these golf courses in many of Georgia's state parks, access www.gastateparks.org or www.GeorgiaGolfandTravel.com.
The launch of the V1 GOLF Mobile App supports a broader plan to accelerate learning through video analysis, ground pressure data, on-course performance, online lessons and content, so golfers have access to new tools and resources to learn anytime, anywhere, and in any environment. Backed by key enhancements to the New V1 GOLF app, users caneasily capture swing videos, automatically save and organize them by session, then connect with a coach to expedite game improvement. To date, more than 4 million golfers have used V1 GOLF software to optimize performance, while 10,000+ coaches, including some of the world's best instructors use the V1 Pro software every day. "We are thrilled to introduce our new and refined V1 GOLF Mobile App to the millions of golfers looking to improve their performance every day, as well as casual golfers looking to increase their enjoyment of the game," said Bryan Finnerty, CEO, V1 Sports. "The past two years have been transformative for V1 with tremendous development and enhancement of our products and services." Finnerty adds "The new app reflects our commitment to a better user experience and fervent dedication to improving workflows for those using it, and we remain as committed as ever to listening to our users to help guide future refinements."
V1's mission of bringing elite level instruction to all athletes is what drew investment backing from the Black Cat Ventures Technology Fund, founded by legendary athlete Michael Jordan and managed by his partners Ken Weyand and Darren May, the general manager and golf coach at The Grove XXIII in Hobe Sound, FL, respectively.
• Content streaming to quickly download and view tips and drills.
Golf Central • Volume 23, Issue 524 performanceimproving
• Online lessons: Connect with the right coach anytime and anywhere. V1 Golf makes it easy to send in swings and receive a swing analysis back with custom content attached, from top coaches such as Mike Bender, Dana Dahlquist, Jake Thurm, or Tom Saguto.
• Drill videos are filmed exclusively for V1 Sports - and can't be
Among the key features of the new V1 GOLF Mobile App, include:
• V1's Model Swing library, filmed on tour and by top instructors, features the top playing professionals of today and from the past, for use in the app for powerful and insightful swing comparison.
V1 Sports New V1 GOLF App Improves Category Leading Video Analysis, Online Lessons And Instruction Content Offerings For Golfers
V1 Sports (V1), the leading developer of video and ground pressure analysis, online lessons, and on-course shot and stat tracking technologies for athletes and coaches, has debuted the New V1 GOLF Mobile App featuring a modern user interface, innovative features and workflows, and new content from V1's team of leading professional coaches. The New V1 GOLF Mobile App for golfers of all levels is part of a larger ecosystem that includes the V1 PRO app for coaches and allows athletes to learn faster and coaches to teach more effectively by keeping them connected.
Backed by the Black Cat Ventures Technology Fund, Founded by Legendary Athlete Michael Jordan, the New V1 GOLF App Delivers Elite Instruction to Athletes, While Offering Unprecedented Connectivity to Coaches Anytime and Anywhere
Bryan Finnerty CEO, V1 Sports
• Exclusive Model Swings and Drill videos from an extensive network of V1 Pros and content ambassadors, with new, curated content delivered every month.
• Enhanced workflow to quickly capture or import, review and analyze swing videos in sessions, which automatically groups videos by day.
• Automatic storage where videos are saved to the cloud and all video history is preserved.
• Innovative app designed with easy-to-navigate content interface.
25Golf Central • Volume 23, Issue 5 found anywhere else - by leading coaches and instructors across the world like Nancy Quarcelino, Tina Tombs, Claude Brousseau, and Devan Bonebrake. V1 GOLF offers several features at the free level but subscribe to V1 GOLF+ for access to all of the premium features and content for only $9.99/month or $59.99/year. All new users can redeem a free trial of V1 GOLF+ to try the premium app. Adds Finnerty, "For more than 25+ years, V1 Sports has been passionate about game improvement in sports. This passion is what fuels our innovation and new developments and we are excited to bring this new app technology to golfers around the world. Our goal is to continually offer solutions that help athletes optimize performance, while bringing more enjoyment to the games they play." To download the new V1 GOLF Mobile App, click here: golf.onelink.me/JNjk/Presshttps://v1-
About SknVue SknVue, a leading skin cancer nonprofit organization, focuses on education and early detection of skin cancer, which now is the most common cancer in the world. To learn more, visit www.sknvue.org and connect on Instagram, Facebook, Twitter and LinkedIn.
• 1 in 5 Americans will develop skin cancer by the age of 70.
Skin Cancer Facts
SknVue® Launches Year-Long Campaign Aimed at Golfers
26 Golf Central • Volume 23, Issue 5 healthyourfore
• Over 70% of Americans do not visit a dermatologist for preventative care.
More information can be found on SknVue's website: www.sknvue.org.
SknVue,® a new 501(c)(3) nonprofit organization created to promote awareness and educate the importance of early detection, is focused on providing new solutions for skin health while specifically encouraging golfers to take charge and manage their skin wellness. By targeting the millions of active golfers, SknVue hopes to motivate everyone to take the necessary precautions against the consequences of skin damage from sun exposure. During every hour spent on the golf course, recreational golfers can receive 3.5 to 5.4 times the amount of UV radiation exposure needed to cause sunburn. That's a serious amount of skin-damaging rays. All this excessive UV radiation can lead to skin cancer, a disease that affects more than 3.5 million Americans every year, according to the American Academy of Dermatology. In fact, one in five Americans will develop skin cancer by the age of 70, so it is especially critical to educate youth early about the importance of skin cancer prevention. SknVue was developed by California entrepreneur Randy Wyant who spent more than 40 years as a health care executive, and most recently with a for-profit skin cancer company. "We want to help everyone, and especially the golf community, become more aware of the actionable steps that should be taken to ensure their skin wellness," said Wyant. "We are focusing on golf for obvious reasons as the incidence of skin cancer is high among professional golfers, amateurs and weekend golfers who spend many hours in the sun. All golfers need to have a plan in place when they head outdoors to protect their skin." To help spread awareness to the country's golfers, Wyant formed the SknVue Legendary Advisory Board with LPGA legends Nancy Lopez, Juli Inkster, Dottie Pepper and Helen Alfredsson. Also on the Board are skin cancer survivors Andy North and Randy Jones, as well as former LPGA Commissioner Charlie Mechem. According to Lopez, "It's time to take a big swing at skin cancer. We need to do much more to combat this deadly disease, and SknVue is poised to save many lives. I am proud to put my skin in the game for this important endeavor."
• More than 2 people die of skin cancer in the U.S. every hour.
• When detected early, the 5-year survival rate for melanoma is 99%. This means education and early detection are of paramount importance.
Randy Wyant
"The incidence of skin cancer is rising at an alarming rate and necessary restrictions during the COVID-19 pandemic have caused even more concern with the need for a greater sense of urgency to educate people about this deadly disease," said Wyant. In an effort to help raise funding, SknVue, along with the Payne Stewart Kids Golf Foundation, will be hosting a special golf tournament on Wednesday, September 21 at Cowboys Golf Club in Dallas. Playing spots are $250. Celebrity golfers will be mixed-in with the teams for a fun day.
store.turflife.club Become part of the Turflife Club! Grab a Decal from the Website
28 Golf Central • Volume 23, Issue 5 travelgolf 10 million things to know about Branson Golf in the SW Missouri Ozarks
By Rich Styles
Ozark's National Golf Course Hole #8
Payne's Valley Golf Course Hole #4 and #5 That's right – 10 million visitors traveled to Branson, Missouri lasts year. Why?Dozens of live entertainment shows (more than on Broadway or in Las Vegas), three enormous lakes, 10 award-winning golf courses, plus a plethora of family friendly activities. (explorebranson.com) My trip to Branson was my first, but it won't be my last. I was impressed with all the things to do, which was evident from the moment I checked into the very fine Hilton Branson Hotel & Convention Center. It is ideally located between historic downtown Branson on one side, and the modern waterfront Branson Landing town center on the other. Branson Landing is a oneblock walk from the hotel, and it features too many restaurants and bars to count, clothing shops, a moonshine purveyor complete with samplings, a Bass Pro Shop, and numerous other venues. With a great group of guys from various cities, we enjoyed seven golf courses in four days. The courses were designed by a veritable "Who's Who?" of golf icons –names like Tiger Woods, Jack Nicklaus, Gary Player, Bob Cupp, Tom Fazio and Bill Coore and Ben Crenshaw. They all feature first-class playing conditions, and five of them have earned Audubon International Cooperative Sanctuary Program for Golf certification, meaning they're as environmentally friendly and sustainable as they are inspiring to play. Our group started on Tiger's Payne's Valley course with its incredible 19th hole complete with Tiki Bar, waterfalls and teedone.golfTigerdisappointcascadinglimestonehundreds-year-oldcliffswithwaterfallsdownthem.Payne'sValleydidnot–thefirstpublicWoods-designedcourseisverywellWitheightdifferentcombos,itplaysfrom
29Golf Central • Volume 23, Issue 5
Johnny Morris, Big Cedar and Bass Pro Shops founder, worked closely with Fazio to redesign the course after Morris purchased it. The result is an amazingly pretty course with numerous memorable holes and more eye candy than most courses in the world. Exposed limestone outcroppings, waterfalls, creeks, hills, valleys, and wooden covered bridges are some of the features.
Top of the Rock Golf Course View of First Hole Tee and Stone Church Overlooking Table Rock Lake –Photo Courtesy of Big Cedar Lodge7,370 to 4,957 yards. Winding through the valley, impressive movement and elevation change define the TGR designed layout. After the risk-reward par-5 18th hole - which is a great finishing hole often requiring a player to decide if he wants to try and reach the green in two and bring danger into the equation or play it as a three-shotter and rely on your short game to give you a chance at birdie – awaits The Big Rock at Payne's Valley. That's the name of the 19th hole, which was designed by Bass Pro Shops Founder Johnny Morris. Morris also founded Big Cedar Lodge, home of five of Branson's 10 superb golf courses. To reach The Big Rock, you drive your Taking cart through stone pathways and through water features that trundle down across the switchback path. Ahead of you lies the astounding par-3 hole. It can play from 100 to 140 yards. Par is good, birdie is better and a hole-in-one – of which there have been a few – wins you a $1,000 gift certificate to Bass Pro Shops and a few other awards for a feat that many wish for and few ever achieve. Payne's Valley is rated No. 4 in Missouri in Golfweek's "Best Courses You Can Play by State" and was named America's Great New Public Course by Golf Digest when it opened in 2020. The three courses in front of it in the Golfweek list are all located in Branson, too. All told, five of the state's top 10 courses are in this rising-star golf destination including the top four. After an early morning wake-up call, flight to Springfield-Branson
The Bog Rock at Payne's Valley Branson Hills Golf Club Fairway
International Airport (SGF) – which is an easy, scenic 45-minute drive to Branson –then 19 holes of golf, we were famished. Lucky for us, dinner was a 2-minute walk from our spacious rooms (including kitchenette, living room, bedroom, and bathroom with shower and tub with water jets in it) at the Hilton Branson Convention Center Hotel. With many restaurants to select from, we chose Cantina Laredo in Branson Landing. A full Tex-Mex menu beckoned complete with personalized handmade guacamole at your table. Ironically, our group got a local tip from our driver to ask for the rib-eye at Cantina Laredo, even though it's not on the menu. Boy, were several of us glad we did.
Day Two began with a good cup of coffee and a breakfast sandwich from Starbuck's which is across the street from the hotel. Then Joe Gunnells, our driver for the week from VIP Tours of Branson, drove us to Tom Faziodesigned Buffalo Ridge Golf Course, one of the five Big Cedar Golf layouts.
Ozark's National Golf Course
30 Golf Central • Volume 23, Issue 5
While a short course with nine par 3's, Big Cedar is a stout test of golf, as was evidenced during the tour event when even the world's best players often had their work cut out making par on many holes given the swirling winds,
LedgeStone Country Club Hole #16 Branson Hills Par 3 #16 Hole Green Buffalo Ridge comes by its name honestly. Buffalo roam adjacent to the course including a white buffalo, a former resident of Yellowstone National Park. You see the beasts as you drive up to the No. 1 tee box. It's a wonderful welcome and unique way to start a round. The course was played as part of the PGA TOUR Champions Legends of Golf tournament for several years, and Buffalo Ridge is currently ranked No. 2 in Missouri by Golfweek and a Top 100 Public Course by GOLF Magazine. After lunch, we traveled to an 18-hole course at LedgeStone Country Club, designed by Tom Clark. Golf Digest describes LedgeStone as "a masterpiece of mountain golf architecture." And it's a roller-coaster of a layout for sure. With five sets of tees measuring 4,906 to 6,881 yards and many elevation changes, Ledgestone requires accurate shot shaping and distance control. Several of the memorable, ingenious holes are literally named and others more obtusely. Sidewinder, The Slot, and The Quarry let players know what's to come. Others like Deception, Temptation, and The Big Chill hint at what's to come. After 36 holes, we walked to Branson Landing from the hotel again, this time to Black Oak Grill. Scanning the menu, we went from fried pickles and goat cheese, to seared Ahi Tuna, to an "Ozark Burger" with bacon and a fried egg. Grilled meatloaf, pot roast, ribeye's, and grilled salmon were other choices. Our next round was a delight – that is, if you like nature, history, and natural beauty. Top of the Rock is a 9-hole short course designed by Jack Nicklaus. Like Buffalo Ridge, it was played as part of the Legends of Golf event, making it the first par-3 course to be included in a professional tour event. Perched high above Table Rock Lake, flowing waterfalls, wondering creeks and bass filled ponds proliferate, as do giant boulders and flowering trees and bushes. Located next to the first hole is the Chapel of the Ozarks and a Civil War-era cabin that was transformed into a luxurious lodging option.
Both renowned conservationists, Morris and Player combined their love for nature and golf to create this brilliantly routed course that tests the finest players but is playable for beginners and families. Before leaving, make sure to challenge your friends on Missouri native Tom Watson's putting course. Designed with creative avenues to each of the 9 holes, World Golf Hall of Famer Watson authored a fun, dramatic exclamation point to begin or end your day at Mountain Top. I've been to many courses and golf destinations around the globe, and I have to include Branson as bucket-list worthy. The golf is great as is the afterplay things that golfers care about most – restaurants, great lodging choices, and lots of mountain and water views.
After lunch, we capped our week of golf on Gary Player's Mountain Top Golf Course – a 13-hole, walking only short course. Like several Big Cedar Golf courses, exposed limestone formations are strategically woven into some holes. Not only are they visually stunning, but they inspired Player to label them as "beyond belief."
@explorebransongolf.@bransongolf,ExploreBranson.com/golf,visitFacebookorInstagram
For more information,
31Golf Central • Volume 23, Issue 5 Buffalo Ridge Springs Mountain Top Hole #2 Par 3 uphill 185 yards multitude of hazards, and tricky greens. After golf we ventured into Arnie's Barn for lunch amidst 150-year-old wood beams that were relocated from Arnie's backyard in Latrobe, Pa., to Branson, Mo. As you walk to your table you will see pictures and other memorabilia from Arnie's life all over the cavernous barn that was reassembled and enhanced by Mennonite craftsmen. The menu features Texas BBQ and fine Mexican cuisine coupled with fine wines and other tasty beverages. Top your day off with a spectacular dusk firing of a Civil War-era cannon as a bag pipesman in authentic Scottish attire plays and the sun sets on Table Rock Lake. We started Day Three at Branson Hills Golf Club. A Chuck SmithBobby Clampett design rated by GolfPass and Golf Advisor as one of the "Top 50 Courses in the U.S.", the challenging course tests your game unrelentingly from start to finish. On the first tee you are greeted with a 130-foot drop from tee to green as you begin your round through the carved Ozark Mountains' layout. Branson Hills has six sets of tees ranging from 5,323 to 7,324 yards. On several holes, you may want to take an extra club to reach the immaculate greens. Several holes could be called "signature holes" as many have such distinctive features that they qualify. For instance, the par-5 fourth hole is a risk-reward tantalizer that requires a 200-yard-plus carry over water on the approach shot to get home in two. And the 175-yard 16th hole is a gorgeous par-3 with narrow green guarded by sand bunker in front, water on the right, and fescue covered hill behind the slim putting surface. You'll work up an appetite playing Branson Hills. Fortunately, there's Level 2 Steakhouse inside the Hilton filets,infraredTunafrommenufrequenttheknivespersonalizedtheconnoisseurs,steakhouseHotel.ConventionBransonCenterThisisafortypewherearekeptatrestaurantforvisitors.AnexpansiverangingGrilledAhiSteaktogrilledribeye's, Kansas City Strip, and Wagyu. Don't skip dessert here as the vanilla bean Crème Brûlée, 7-layer chocolate cake, and mind-blowing "Missouri Mess" (an over-the-top-sweet butter cake) are some of the choices. On our final full day, after watching the sunrise, our group walks a couple blocks through historic downtown Branson to Clocker's Café. Explore Branson's Lynn Berry, Director of Communications, is our host as we hear fascinating stories about the town's history Branson and that of the region. You never know who will be at Clocker's Café – from locals to national celebrities/ entertainers – who love the quaint café filled with interesting artifacts. Our morning round was at Ozarks National, designed by Bill Coore and Ben Crenshaw, and named Best New Public Course by Golf Digest when it opened in 2019. Like Buffalo Ridge, it is rated a Top 100 Public Course by GOLF Magazine. Two-time Masters Champion Crenshaw said Ozark National is "gorgeous" given the panoramic views in every direction. Known for their minimalist designs, Coore and Crenshaw let the Ozarks terrain dictate the course's "flow" and a mesmerizing flow it is. Blind shots, winding fairways, and elevated greens are some of the defining features.
The Buddy Golf Club Cleaner Adds New Features, Customizable Fan Base Options
32 Golf Central • Volume 23, Issue 5
he Buddy Golf Club Cleaner, a small Georgia golf company that launched in 2020 during the pandemic, has been keeping golfers happy and smiling with clean golf clubs – both on and off the golf course – ever since. The secret to the Buddy Golf Club Cleaner is its "Trifecta" cleaning sys tem that leaves your club heads free of debris and dirt and always ready for the next shot. The Buddy is porta ble or can be installed permanently on any golf car or pull cart. Every Buddy Golf Club Cleaner is solution free so there's no water, no mess, no nasty wet towels. Here's how The Buddy works: the main cleaning chamber has two brushes that start the cleaning pro cess. The "Entry Brush" cleans most of the surface debris off the club head as it enters the chamber. The second, soft elongated "Rubber Brush," attached to the top of the chamber, massages off the main debris. Final ly, the "Divot Brush," attached on the outside and the bottom of the unit, removes any stubborn dirt or grime that gets stuck in your grooves. New for 2022 is the Buddy Mist'R. The Buddy-Mist'R is a portable two ounce water bottle that nests in a small circular chamber on the top of the cleaner. It's convenient and easy to reach. Use the Buddy Mist'R to assist with any tough dirt and simply dry with a golf towel. It's great for cleaning golf balls too. The Mist'R is free and included with every Buddy model.The Buddy Golf Club Cleaner comes in a standard black model as well as a pink "Bosom Buddy" to support breast cancer awareness and the red, white and blue "Patriot Buddy" to support our troops.Fall is just around the corner. Display your favor ite football team colors and logo with the new Custom Buddy. Whether a college or pro team, the company will provide you with everything you need to customize your Buddy and you will be the talk of your club! For more info or to pur chase, go to:
Who's Your Buddy?
T
http://thebuddygolfclubcleaner.com newwhat's 32
BoyneGolf.com Non-stop flights from U.S. 17 cities to TVA will make a great golf trip get even greater. So why wait? Call 855-427-6316 to plan your 2023 trip today. 2023 is closer than you think. s o is michigan's magnificent 10.
The Riviera Maya, Mexico Located miles away from Tulum and integrated into Mexico's Bahia Principe Complex, the PGA Maya Riviera golf resort was recently acknowledged by Golf Digest Magazine to be among the best resorts in Mexico and the Americas. Play to the breathtaking backdrop of the Mayan Jungle, cenotes and limestone, as you traverse the course built into the natural environment, creating a unique challenge only found in Mexico's Caribbean coast. Designed by world-renowned golf course architect Robert Trent Jones II and an official partner of the PGA of America, the PGA Riviera Maya gives guests a rewarding challenge every time they step on the green. A course fit for international competition, welcomes guests to join the club, take a swing at the driving range, sign up for private or group courses to improve your game, and even rent TaylorMade and rental shoes for the duration of your stay.
The course is made for players of all levels and a special discount for hotel clients with reservations. At the end of the game, a course of the
Golf lovers will adore this halfday excursion available at Bahia Principe's Luxury Akumal, Luxury Sian Ka'an and Grand Tulum hotels. Try your hand on the 18-hole, 72-par course or our shorter 9-hole course for an early morning or midday session.
La Romana, Dominican Republic
AlongGolf Caribbeanthe shore
34 Golf Central • Volume 23, Issue 5 centralgolfcaribbean
Apart from being a perfect vacation destination, Bahia Principe Resorts & Spa caters to its golf lovers with exotic and world-renowned golf courses. Overlooking impressive landscapes, the Riviera Maya, and Dominican Republic are perfect destinations for fanatics to explore top golf resorts along with a variety of offerings such as club houses with robust cuisine, quality and service, equipment.
La Romana, Dominican Republic
35Golf Central • Volume 23, Issue 5 18-hole, 72-par course or the shorter 9-hole course, visitors can enjoy drinks and food in the modern café found in the middle of an elegant atmosphere with views to the golf course.
· Special rate
Located in Dominican Republic's east coast with a picturesque Caribbean backdrop, La Romana Golf Club also boasts an executive golf course and exclusive amenities for its guests. Designed and built by world-renowned golf course design company, Maverick Design & Construction, Grupo Piñero (owners of Bahia Principe Hotels & Resorts) the golf course is also home to a Club House that features a restaurant and bar with international gourmet cuisine and a boutique with golf equipment and sports clothing. PGA Ocean's 4 accounts for 18 holes par 72 with a wide and diverse variety of settings symbolic to the golfing world, perfectly set up for the enjoyment of all kinds of players and levels. The combination of dense greens, grand lakes, proximity to the sea and lush forest, has an impressive impact on the golfer from any point of the course at all times. In addition to this, they offer a 9-hole par 3 executive course for less experienced players who like to play in areas that are full of challenges. Lastly, the facilities include a majestic Practice Range, Putting Green, Chipping Green, and Practice Bunker. Guests of Grand Bahia Principe La Romana and Luxury Bahia Principe Bouganville are invited to tee off at La Romana Golf Club to complement their memorable stay. With exquisite, personalized service, comfortable and elegantly appointed accommodations and a robust culinary offering, Bahia Principe properties in La Romana offer vacation experiences that are equal parts relaxing and exciting, ultimately allowing guests to truly experience exclusivity. All Bahia Principe guests benefit from special discounts at La Romana Golf Club.
THE GREEN FEE INCLUDES:
· Golf buggy For more information and other destinations, www.bahia-principe.com
The Riviera Maya, Mexico
THE GREEN FEE INCLUDES: Special Transferratefrom/to the hotel Golf cart equipped with GPS
· Transfer from/to the hotel
Golf Central • Volume 23, Issue 5 bachelorgolf
Where were you born? Did you grow up there? Washington DC. Did not. What do you do for a living? I coach golf and rep a great putter company, Makefield Putters. Aside from golf; what do you prefer for fun and relaxation? I like all outdoor activities. Sporting events. Boating. Drinking beer. Whom do you most admire for their inner and outer beauty? My daughter. Tell us something about yourself that only your closest friends know. I have a huge .... Heart. Name the three most important things to you in this world. My daughter, my health, and my family. Given the choice; would you select love, success, or money to keep yourself happy? A drive in the fairway What do you fear the most? Snakes Relaxed evening at home, or nightclub and cocktails? Home with cocktails music and fire pit. Favorite comedian? Steve Martin Movies:…..comedy, drama, action, romance? Rom coms Favorite television channel? Weather Channel Last book you read? A Course Called Scotland. I'm in it. Favorite charity to support? J. Wood Platt Caddie Trust
DyndaMike
38 Golf Central • Volume 23, Issue 5 travelgolf
The leaves on the trees of Northern Michigan become Mother Nature's extraordinary canvas of color, and the Gaylord Golf Mecca has trees – millions of them – and that is not an exaggeration.
The views are incredible from many tees on any of the 17 golf courses that partner with the Mecca, which is celebrating its 35th year of cooperative marketing in the Gaylord, Michigan, area. Playing golf in the Mecca in the fall is world-class golf combined with a world-class color tour. One of our Mecca partners is aptly named after the trees. Treetops Resort has five courses full of beautiful treetops. As the story goes, golf course architect Robert Trent Jones was looking over his Masterpiece course design under construction at a jaw-dropping par 3 that descends a large hill and noticed thousands of treetops. He suggested the name and it was a perfect fit. Just a few miles away is The Tribute course at Otsego Resort, which offers incredible views for miles, and again we are not exaggerating. The Sturgeon River Valley is beyond stunning in the fall with every color of the rainbow it seems. In nearby Lewiston, the colors contrast with pure blue bodies of water and streams on four courses at Garland Lodge & Resort. Indian River Golf Club, Lakes of the North, The Natural, The Pines course at Michaywe,' Gaylord Golf Club and Black Lake Golf Club are color tours, too. Black Lake, in fact, is cut through hundreds of acres of trees by architect Rees Jones for an isolated, peaceful, beautiful tour of Northern Michigan, especially in the fall. The second half of September leading into October is a perfect time to consider visiting the Mecca. Fall rates, as in falling rates, means golfers can play for less money, too. The Mecca offers a tremendous range of golf pricing among its members to match any and all price points, and they only get better in autumn. It's also a little less crowded in the Mecca in the fall. The Mecca is busy in the traditional golf weeks of the season but once school starts more tee options and lodging options with our 21 lodging partners are available. Hunting and fishing can both be combined with golf, too. Since we are in the heart of the state and surrounded by forest land and lakes, hunters and anglers make up many of our fall visitors. Otsego County reports as many as 30 or more Master Angler catches of Pike, Walleye and Trout in single years. As for rounding out visits, there are great fall extras like craft beer, dinner with regional favorites, By Greg Johnson
Fall For It: Visit The Gaylord Golf Mecca Cabin on The Natural Michaywe Pines
crisp candy apples, and more. In recent years, Gaylord has opened up several new restaurants to go with some traditional great ones, and like golf, they offer various price points and menu options. In many cases you never have to leave the resort where you land for golf that day. Picture playing a round, then having chili or steak or both for dinner on a beautiful deck, a glass of locally produced wine or craft beer and a cozy lodging spot with a fireplace in the evening. That's the Gaylord Golf Mecca in the fall, and really any time. Visit and learn more at gaylordgolfmecca.com or call 800-345-8621. 39Golf Central • Volume 23, Issue 5 Fall Fishing Treetops Resort Otsego Resort Otsego Resort Garland Lodge & Golf Resort Treetops Resort
40 Golf Central • Volume 23, Issue 5 showcaseproduct DO YOU EVER LEAVE YOUR PHONE IN THE GOLF CART? Don't worry, from the golf courses we've talked to you're not alone, they average about 5 to 10 cell phones left behind each day. Usually, people toss their phones in the dash compartments and forget about them while loading up their golf bag and other gear to go home. There is nothing more annoying than getting halfway home and not being able to find your phone or call the course to check (since, ahem, you don't have your phone). It's no fun for the golf course either as they must keep your phone safe while waiting for you to return a collect it. The dash compartments aren't the best place for cell phones anyway as the phone can bounce around and end up soaking in whatever liquid has dripped into the compartment from empty drink cans. Wouldn't it be great if there was a simple device that held your phone on the golf cart and kept the screen in view for texting or other communications? Then, you would know exactly where it is when you're ready to film that 15-foot birdie putt and you would no longer leave it behind at the end of the round. Every once and a while a simple idea comes around that is a game-changer, and Cell Phone Seat is changing the game for golfers everywhere. Cell Phone Seat is the EASIEST cell phone mount to install in a golf cart. It fits right into the cup holder while still leaving room for your tasty beverage. Cell Phone Seat holds any size phone, vertically or horizontally, and works with most cases and accessories. Cell Phone Seat is also MADE IN AMERICA by a Veteran-Owned company! So stop leaving your phone in your golf cart and put it in a Cell Phone Seat. Order FOURRRR at www.cellphoneseat.com today and get free shipping. Use code GOLFCENTRAL for an additional 10% off. Will you go low if you get high? Golfers looking for something different from the beverage cart or the bar at the 19th hole may find soon find out. If California-based (but long-time Floridian) entrepreneur Alan Pleskow has his way, golfers outside of the Golden State will be sipping Pleskow's new line of THC infused beverages called "Deep Desert Spirited Infusions" (www.drinkdeepdesert.com). Is Pleskow trying to turn your country club into Caddyshack? Not at all, says the company founder and "mid-handicap" golfer. "Deep Desert contains a low dose of THC," he tells Golf Central. "In terms of the high, it's more like drinking a beer than crushing a six-pack."
Cannabis and golf have a long, if anecdotal, shared history, but only recently – and only in some States – is it legal to take your grass to the grass. Especially for people who live in cities and suburbs, a round or golf is a day surrounded by nature, and a perfect place for cannabis. Pleskow grew up hearing about the joys of golfing-while-high, but the illegality was a problem for the former attorney. "I'm delighted that so many states have finally legalized cannabis," he noted. "Like alcohol, cannabis can be used safely, responsibly and regulated effectively."
And the risk of over-indulging with Deep Desert is low, Pleskow told us. "Too much THC, like too much of anything, won't be good for your golf game," Pleskow observed. "But the low dose in Deep Desert means that golfers can get relaxed enough to enjoy their game without losing control that can result from too much cannabis." An added benefit for golfers used to drinking beer or sugary soft drinks is that Deep Desert contains no sugar, calories or artificial flavorings and is easily mixed with juice or other mixers. For the moment, Deep Desert is only available in California, so golfers elsewhere will have to wait. But Pleskow insists that it's only a matter of time before Deep Desert is available on courses in Florida and other golfing havens. "Stay tuned," he says. "We'll be there soon." Pleskow tells us that in the meantime, golfers can get a "taste" of Deep Desert by checking out his line of active, comfortable leisurewear at livedeepdesert.com.
The VERO X2 is the second iteration of OnCore's VERO X1, one of the most awarded direct-to-consumer golf balls in recent years. Engineered using a proprietary formulation and manufacturing process, it boasts a high modulus, metalinfused mantle connected to a thin, cast urethane cover by a nano-engineered transition layer. The VERO X2 has a higher compression rating than the VERO X1 – 95 vs. 85 – and firmer feel optimal for players with high swing speeds.
NOW PLAYING: ONCORE'S VERO X2
41Golf Central • Volume 23, Issue 5
Now, the patented MagnaReady magnetic closure technology is used in pants, polos, short sleeve camp shirts, sleepwear, and athletic apparel. And just recently, YARROW by MagnaReady, the first magnetic apparel line for women launched. Learn more and shop at www.magnaready.com
VERO X2 features OnCore's proprietary perimeterweighting that significantly reduces sidespin and bores through headwinds and crosswinds. OnCore has cultivated a loyal stable of professional golfers, including PGA TOUR / Korn Ferry Tour player Erik Compton, who originally switched to the VERO X1 after extensive testing and numerous practice rounds. Compton, who put the VERO X2 in play at the BMW Charity Pro-Am in Greenville, S.C. in June, described the ball as "crazy hot, baby!" The VERO X2 also landed on Golf Digest's 2022 Hot List before officially hitting the market.
MAGNAREADY APPAREL MagnaReady is the first magnetic apparel company that features golf polos, chino pants and shorts, track pants and jackets with magnetic buttons making it easy for someone who has limited mobility or arthritis to dress without assistance.  Maura Horton created patented magnetic closures for clothing after her husband, who was a college football coach, was diagnosed with early-onset Parkinson's disease at age 48 and started to struggle with the buttons on his dress shirts.
Fresh off the release of its enhanced ELIXR three-piece golf ball in May, OnCore Golf has done it again. The Buffalo, N.Y.based technology company unveiled the VERO X2 in August, and early results and reviews indicate it's a Tour-caliber ball to be reckoned with.
Visit www.oncoregolf.com to purchase OnCore golf balls, with free shipping on purchases of $100 or more.
One day after a game, Don was dressing in the locker room with the team and found he simply could not move his fingers to grip the button and push it through the buttonhole. NFL quarterback Russell Wilson, who was still in college at the time, came to Don's aid. But upon hearing this story Maura never wanted Don to experience feeling helpless again. Because his job required him to travel with the team, Maura could not always be there to help Don, so she searched online for solutions. Instead of buttons, she thought why not magnets that would essentially be able to button Don's shirt for him? The initial idea was inspired by the magnetic closure on an iPad case. It took some time to research and find the right type of magnets and perfect the design. While a variety of magnets were strong enough to reliably hold a shirt front closed, they could not survive in the washer and dryer, a feature Maura deemed critical for success and ease of use. Eventually Maura was able to create a dress shirt that looked no different to the unknowing eye, but that could restore independence to someone with upper body mobility challenges.
Leveraging the same unique core, mantle and cover integration as the VERO X1, the VERO X2 delivers low driver spin and a high, wind-penetrating trajectory for even greater distance and accuracy. This combination brings an optimized spin profile with irons and a trajectory engineered for stopping power on firm greens.
42 Golf Central • Volume 23, Issue 5
A shaky hand or other environmental factors such as wind, won't slow down your game with the ULT-S Pro Rangefinder
OIS ("Optical Image Stabilization") technology INSTA-READ TECHNOLOGY Get a fast precision reading of your target within ± 1 yard in a record 0.3 seconds, through spectacular crystal clear lenses that TecTecTec! is world-renowned for. RED TOLED DISPLAY Four luminosity settings make the ULT-S Pro Rangefinder readings bright and easily visible in a red font over a variety of backgrounds and in low-light conditions. This rangefinder also has a Fog Mode feature that emits a more powerful laser to take measurements through dense condensation. TARGET LOCK TECHNOLOGY WITH VIBRATION Lock onto flags instantly at up to 450 yards and hazards at up to 1000 yards. Up to 8 seconds of continuous measurement as you pan across numerous targets, including flagsticks, trees, and hazards. The Target Lock Technology will vibrate at the point you lock onto a target. SLOPESimplyMODEpullthe faceplate out to turn the Slope Mode on for calculating distance when there are undulations. Red = Slope ON. A closed faceplate is USGA Tournament Rule 14-3 Compliant.   Available at golf retailers nationwide and online at www.us.tectectec.com. BONUS OFFER - FREE Personalized Magnetic Leather Sleeve ($50.00 Value) $349.00
SWAG GOLF MLB COLLECTION- BOSTON RED SOX
"Boston sports fans are often spoiled in a way most fans dream of and have an embarrassment of riches in the W column; they expect the best. It was a fun creative challenge to design the Red Sox suite to capture the essence of their fandom in our signature style," said Nick Venson, founder and CEO of Swag Golf. Swag products are some of the most sought-after merchandise in the golf world - often selling out in mere minutes. The Red Sox are just the latest MLB club to get the Swag treatment, with previous limited-edition headcover designs including offerings for the Chicago Cubs, LA Dodgers and Atlanta Braves. For the latest product releases, company updates and ambassador signings, fans can follow along at @SwagGolfCo on Instagram, Facebook and Twitter. To snag some Swag of your own, please visit SwagGolf.com.
The headcover suite pays homage to one of the most historic fields in baseball, and a pilgrimage in its own right for many fans: Fenway Park. After the success of Swag's first Red Sox headcover featuring the Green Monster released last fall, the 2022 collection has expanded to include iconic images of the infamous the Red Seat (available in both Driver and Fairway) and the Kenmore T stop. The premium headcovers are designed and manufactured in the USA and feature plush protective interiors and durable UV resistant vinyl.
No one does sports quite like the city of Boston - with 12 championships in 21 years to prove it - and now, Boston Red Sox fans can showcase their passion with bold, signature style. Swag Golf, the premium, limited-edition golf equipment, accessory, and apparel company, has expanded its available designs of Boston Red Sox headcovers. Officially licensed by MLB, the designs are now available for purchase on www.SwagGolf.com.
ULT-S PRO RANGEFINDER by TecTecTec  THE FULL BUNDLE: In the box, you will receive a ULT-S Pro Rangefinder, which is rainproof and moisture resistant. There is a zippered case with a quick closure option to keep your rangefinder protected, a long lasting CR123 lithium battery, wrist strap, microfiber cleaning cloth, and an instruction manual. A lifetime of friendly free customer support is part of the deal, and in case of any unforeseen issues, we offer a two-year warranty.
FEATURES: UNSTOPPABLE RAPID STABILIZED MEASUREMENTS
ElevateWithYour Game A seemingly weightless precision shoe equipped with an EVA upper that hugs your foot, yet remains flexible, giving you both reassurance and very little resistance in your swing. My favorite golf shoe hands down Johnny Damon BIIONFOOTWEAR.COM Add a shock absorbing, dual density mid-sole, and get into a game improved technically, and made more enjoyable. Welcome to Biion Golf. Try on a Biion for 25% off with promo code: GOLFCENTRAL
Texas native Hannah Randolph becomes Kentucky's first PGA WORKS Fellow
Golf Central • Volume 23, Issue 544PGKentuckyPGAKentuckyPGAKentuckyPGAKentuckyPGAKentuckyPGA
Golf House Kentucky and its respective organizations look forward to welcoming Hannah to the team and eagerly await the impact she will make during her Fellowship. Randolph's contact info will be provided on the organization's staff directory once finalized.
About Golf House Kentucky: Golf House Kentucky is the umbrella organization of the Kentucky Golf Association, Kentucky PGA Section and Kentucky Golf Foundation. Known as Kentucky's Family of Golf Organizations, it is the goal of Golf House Kentucky to provide tournaments, resources, and tools to help further enjoyment of the sport and support those who work in the golf industry. The organization is headquartered on the property of Persimmon Ridge Golf Club in east Louisville.
The PGA WORKS Fellowship is a program that offers access to individuals from diverse backgrounds – whether by gender, age, or race – into the golf industry to gain experience in all facets of the golf industry. Since 2017, nine Fellowship alumni from other PGA Sections across the country have obtained full-time jobs in the golf industry. With Randolph being Kentucky's first Fellow, a great deal of excitement surrounds her arrival. "We are very excited to welcome Hannah to the team as our first ever Kentucky PGA WORKS Fellow," said Sally Morgan, PGA Interim Executive Director at Golf House Kentucky. "This is an outstanding program which deepens the bench of talent within the golf industry. While Hannah will be primarily focused on work within the Kentucky Golf Foundation, we look forward to seeing her growth and success across all areas of the Golf House Kentucky operation."
Golf House Kentucky has hired Hannah Randolph to be the organization's first PGA WORKS Fellow. Randolph, a native of San Antonio, Texas began her tenure on Wednesday where she will primarily concentrate on initiatives of the Kentucky Golf Foundation, with a focus on PGA HOPE, PGA Jr. League and Youth onTheCourse.Alamo City native recently obtained her bachelor's degree in sports management from Texas Tech University and will be stepping foot in Kentucky for the first time via this move. She comes to the Commonwealth with the ambition of furthering her career in the golf industry, hoping to work within tournament operations or as a junior golf director in the future. "I am excited to meet new people and start my career in the golf industry," said Randolph. "As someone who is fairly new to the industry, I hope to learn new aspects of the sport as I further my career."
Helpful Hands, Inc. Presents A DAY OF GOLF AT ISLEWORTH I T INERARY: • Personalized lunch to be provided at Champions Grille • Curated tee gift package presented pre-round (details to follow) • Range usage before the round • Shotgun start at 1:00 P.M. (shamble format) with a forecaddie to accompany you on-course for helpful tips • Drinks and snack provided during the round • Post-round drinks and dinner in the Ballroom followed by awards ceremony $3 , 750 PER FOURSOME * Limited hole sponsorship opportunities available. For more information about Helpful Hands, Inc. ple a se visit www.help f u lhands.org. MONDAY, NOVEMBER 14, 2022 Feel like a Member for the day and experience an opportunity to treat yourself, your friends and customers to a one-of-a-kind event hosted at the celebrated Isleworth Country Club! A l though you are the focus for the da y, your participation will assist Helpful Hands, Inc. to continue t heir work in helping families in crisis within our community!
The South Florida PGA Foundation will begin building its 10th Habitat for Humanity Home this month in Port Saint Lucie. In addition to its financial contribution, The South Florida PGA staff, volunteers and PGA Professionals and will commit volunteer hours over the next several months to turn a dream into a reality for the receiving family of the home. With the home, the South Florida PGA Foundation will be one step closer to building a home in each of the counties in the Section, including Puerto Rico.
Ryan Fountain Wins the Assistant Championship
46flnorthPGAfloridanorthPGAfloridanorthPGAfloridanorthPGAfloridanorth Golf Central • Volume 23, Issue 5southPGAfloridasouthPGAfloridasouthPGAfloridasouthPGAfloridasouth
Cameron Swartz 100 Holes of Golf Fundraiser Raises Over $5,000 for Smiling Fore Life Program
Cameron Swartz – 100 holes of golf Habitat for Humanity
The funds raised through Cameron's 100-hole marathon will benefit this SFPGA Foundation program.
The Top Five finishers earned spots in the National Car Rental PGA Assistant Professional Championship on November 17-20 at PGA Golf Club in Port St. Lucie. They included the trio at 6-under 138: Ben Spector of Jonathan's Landing Golf Club, Tyler Collet of John's Island Club and Andrew Filbert of West Bay Club.
Ryan Fountain Wins National Car Rental South Florida PGA Assistant Championship
In conjunction with the South Florida PGA Foundation, Cameron Swartz, an SFPGA junior tour member completed his 100 HOLES OF GOLF fundraiser, benefiting the SFPGA Foundation Smiling Fore Life program on July 18th at Lost City Golf Club, raising over $5,000. Playing alongside close friend and fellow junior tour member, Haris Khan, the two teed it up on the first hole of Lost City Golf Club at 8 a.m., before finishing their 100th hole nearly 12 hours later, just before 8 p.m. Cameron's desire to give back stems from his brother's diagnoses with Type 1 Diabetes nearly eight years ago. Confined to a hospital room for a week, Cameron would visit his brother daily, bringing games and stories to help pass the time, which of course included golf. As time went on, Cameron, an active junior tour member since 2017, learned about the SFPGA Smiling Fore Life program, where PGA Professionals visit local children's hospitals to provide patients an outlet from their everyday struggle to enjoy some fun outside of their hospital room.
Ryan Fountain, PGA of Jupiter fired a 6-under 66 during the final round, to win the South Florida PGA Assistant Professional Championship at Bocaire Country Club. Fountain, a PGA Assistant Professional at the Bear's Club in Jupiter, finished at 12-under 132 to win by five shots over Domenico Geminiani of Old Corkscrew Golf Club. Fountain made only one bogey in the 36 holes despite lengthy weather delays Tuesday. Fountain said he was motivated to play well after finishing 47th in last month's E-Z-GO South Florida Open, when he shot rounds of 67-78-80. "It didn't go the way I wanted at the South Florida Open, and I wanted to prove I'm a better player than that," said Fountain. " I got to prove it to myself that I can do it and I did it against some of the best players in the country. This one feels really good."
South Florida PGA Foundation Set to Build 10th Habitat for Humanity Home
July marked another eventful month for the North Florida PGA. Right in the swing of tournament season, two major Senior Championships took center stage: the Senior Match Play Championship at Crane Lakes and the Senior Professional/Section Championship at Omni Orlando Resort at ChampionsGate. And there was one common denominator of both events: David Hronek. Hronek (GOLFTEC- Sarasota), the current reigning NFPGA Senior Player of the Year, secured victories at both events this month, completing the trifecta of NFPGA Senior events this tournament season: March's Senior Stableford Championship, the Senior Match Play Championship and the Senior Professional/Section Championship. The Senior Match Play Championship occurred at Crane Lakes Golf and Country Club from July 11-13. The qualifying round kicked off the event on Day 1, with Senior Players aiming to make the top 32. The top seed was Barry Cheesman (Longboat Key Club- Harborside Course), 2021 Senior Match Play Champion. Day 2 saw the top 16 and top 8 battle it out after two rounds of play. Heading into the event's final day, four players remained and the round of four matches were set: Hronek vs. Mike West (Chi Chi Rodriguez Golf Club) and Keith Kulzer (Golf Grove Learning Center) vs. Bryan Moran (Lone Palm Golf Club). After the semifinal round, two players competed for the coveted title: Hronek and Kulzer. Hronek secured the victory after finishing 3&2 over Kulzer! The Senior
twoChamapionsGateatChampionshipProfessional/SectionhitthecoursetheOmniOrlandoResortatonJuly25thforroundsofplay.Theconclusion
of Round 1 saw Mike Miles (The Yards) enjoy a slim lead over Jonathan Mansfield (Clearwater Country Club) and Hronek. Miles ended the round at 68, while Manfield (69) and Hronek (70) trailed behind. On Day 2, Hronek pulled ahead after an impressive round of play, finishing at -6 (66) for a two-round total of -8 (136). Miles fell to second place and finished behind Hronek at -7 (137). Manfield rounded out the top 3, finishing at -4 (140). Hronek, Miles, Mansfield, Kulzer, Jason Hrynkiw (Oceanside Country Club) and Jeff Leonard (The Club at Cheval) have all qualified for the Senior PGA Professional Championship following their top 6 finishes. By Daniel Calderon David Hronek wins Senior Match Play
48 Golf Central • Volume 23, Issue 5flnorthPGAfloridanorthPGAfloridanorthPGAfloridanorthPGAfloridanorth
David Hronek wins Senior PPC
The Charlie Yates program is spearheaded by Lead PGA Professional Beth Blevins. Blevins, a US Army veteran, is passionate about giving back and looks forward to serving her fellow veterans with two 6-week sessions in For2022.additional information on PGA HOPE, contact Hailey Estes via email at hestes@pgahq.com
GEORGIA WOMEN'S OPEN SUMMERTHROUGHSWINGINGTITLE
50 Golf Central • Volume 23, Issue 5sectiongeorgiaPGAsectiongeorgiaPGAsectiongeorgiaPGAsectiongeorgai By Hailey Estes
A new era in women's golf teed off this weekend at the Georgia Women's Open presented by The East Coast Women's Professional Golf Tour (ECWPGT) and Mizuno Golf at the University of Georgia Golf Course in Athens. The Georgia PGA teamed with the ECWPGT, a women's professional golf developmental tour to raise the level of the premier women's event in Georgia. Ji Eun Baik of Cumming, Ga lead wire-towire claim the 28th edition of the championship with a two-stroke victory over amateur Nataliya Guseva of Coral Gables, Fl. Baik, the 2018 Georgia Women's Open Champion became just the fourth player with multiple wins in the 28-year history of the event. Baik opened round one with a 4-under par 68 to lead by one over professional Elizabeth Moon WHAT'S NEW IN THE GEORGIA SECTION of Orlando, Fl. Guseva fired a second round 2-under par 70 to close within one shot of Baik heading into today's final round. Both went out in even-par 35 and played steady golf on the back nine, but ultimately Baik was able to pull away for the victory and the $2,500 first place check. For her efforts, Guseva was awarded Low Amateur Roundinghonors.outthe top five was a trio tied for third including Moon, professional Victoria Huskey from Greenville, Sc, and amateur Thanana Kotchasanmanee of Rome, Ga. Kotchasanmanee also captured the Georgia PGA Junior Championship at the UGA Golf Course in early June. PGA HOPE COMING TO CHARLIE YATES GOLF COURSE Georgia PGA is pleased to announce that a new PGA HOPE chapter is coming to Charlie Yates Golf Course in 2022. PGA HOPE, the flagship military program of PGA REACH provides free golf instruction to military veterans and active duty service members. All instruction is provided by local PGA Professionals with specialized, adaptive golf instruction. The goal of the program is to introduce golf as a therapeutic tool for to enhance physical, mental, social and emotional well-being..
BAIK CLAIMS SECOND
FOR ITANDGOLFALLISALLCANBEUSGA.ORG
52 Golf Central • Volume 23, Issue 5 SunnilandSUPERSpotlight:
What makes the course of Wekiva Golf Club outstanding? My team is an amazing group of men who truly care for and love this golf course. They go out of their way to make the golf course the best it can each day.
How did you get your first job on the golf course? At 18 years old after finding out about Lake City I went to a local golf course, Casselberry Golf Club, talked to the superintendent Bill Watson who agreed to give me a job so that I could start my one year of golf course experience.
How has the experience here helped to develop your career?
My first assistant job was with Jeff Brewster, CGCS he challenged me mentally and made me use my education in figuring out the why's and how's a golf course is maintained.
If you were to give advice to someone starting in the field what would that advice be? Some type of education is needed to propel upwards at a quicker pace in this field. You need to understand the basics of agronomy to understand what you are seeing happening to the turfgrass. Hard work is essential, but loyalty and dependability will be much more cherished by your employer.
How did you plan to pay it forward with others that work in golf course maintenance? I feel that I have left my mark around the world, teaching others all that I can about golf course maintenance, who many had never even seen a golf course. Many of my assistants have gone on to become superintendents, crew members moving up to assistants, and I hope that I played a small part of their success.
Did you play any sports? I did a lot of motocross riding, water skiing and jet skiing. I even competed professional in jet skiing racing while working in Dubai.
Who are your mentors and how do you consider them to be your mentors? The first golf course superintendent I worked for Bill Watson, he taught me by example that hard work pays off and entrusted this 18-year-old with a lot of responsibility.
Don H. Johnson, CGCS – Golf Course Superintendent, Wekiva Golf Club
How did golf come into play? Working on a golf course for one full year was the requirement to enroll at Lake City.
What do you enjoy most about your job here? The challenge to bring Wekiva Golf Club back to its original glory. When did you start working here? January 2022
Where were you born? In Ft. Lauderdale, Florida, my parents moved to Longwood, Fl when I was 6 years old. After 27 years of working internationally, (Dubai, Costa Rica, Canouan, Anguilla, Mexico, Egypt, Anguilla again) I finally moved back last year to Longwood. It is great to be home with family and friends.
Every course I have worked on brings on new challenges. I truly enjoy learning new methods and managing new growing conditions. This course just changed ownership and with an influx of new funding we are starting a journey for a well needed upgrade.
What was your major in school? Associate of Science in Golf Course Operations, Lake City Community College
What got you interested in turf grass? I knew in High School that I didn't want to wear a suit and tie to work every day, and that I did want to work outside. My dad who worked at our local community college found the golf course program at Lake City and I applied immediately.
Sunn 28-0-0 GUARANTEEDITEMN-SURE#160031 ANALYSIS Total Nitrogen 28% 20.2% Slow release Nitrogen 7.8% ......................... Urea Nitrogen Sunn KTS PRO LIQUID FERTILIZER Item# GUARANTEED160041 ANALYSIS Soluble Potash (K2O) .............. 25% Total Sulfur (S) ......................... 17% 17% combined sulfur 0% free sulfur Derived from: potassium thiosulfate Sunn 6-0-0 Blend PRO LIQUID FERTILIZER Item# GUARANTEED160010 ANALYSIS Total Magnesium (Mg) 0.50% Soluble Magnesium (Mg) 0.50% Soluble Iron (Fe) ................... 3.40% Chelated Iron (Fe) 1.60% Total Manganese (Mn) .......... 0.25% Soluble Manganese (Mn) 0.25% Soluble Zinc (Zn) 0.10% Sulfur (S) combined 3.50% Derived from: Manganese Sulphate, Zinc Sulphate, Iron Glucoheptonate, Iron Sulphate, Magnesium Sulphate. Sunn 12-0-0 Blend PRO LIQUID FERTILIZER ITEM# GUARANTEED160021 ANALYSIS Total Nitrogen 12% 12% Urea Nitrogen Chlorine not more than 2% SECONDARY PLANT FOODS Iron as Fe ................................... 6% Manganese as Mn 2% Derived from: Urea, Iron Glucoheptonate, Manganese Glucoheptonate Minors Blend LIQUID FERTILIZER ITEM GUARANTEED#160000 ANALYSIS Total Magnesium (Mg) 0.50% Soluble Magnesium (Mg) 0.050% Soluble Iron (Fe) ................... 3.40% Chelated Iron (Fe) 1.60% Total Manganese (Mn) .......... 0.25% Soluble Manganese (Mn) 0.25% Soluble Zinc (Zn) 0.10% Sulfur (S) combined 3.50% Derived from: Manganese Sulphate, Zinc Sulphate, Iron Glucoheptonate, Iron Sulphate, Magnesium Sulphate. Manufactured by SUNNILAND CORPORATION PO Box Sanford,8001Florida 32773-8001 www.sunnilandcorp.com Share your photos & videos #sunnilandcorp Follow us @sunnilandcorp www.sunnilandcorp.com • 800-432-1130
• Enhances fertility and pesticide programs; • To deliver value to our customers each time, every time. Is Our First Name®
54 Golf Central • Volume 23, Issue 5 Who We Are PERFORMANCE NUTRITION® was established in 1999 to develop new eco-responsible products and programs for the agricultural and turf market. The Performance Nutrition product line of specialty performance products is tailored to meet the ever-increasing de mand for new and safer plant disease control and nutritional products. Through the innovation of its staff of technical and product develop ment professionals, the Performance Nutrition division has assembled an ever-expanding array of unique and powerful bio-pesticides, patented che lated micronutrient solutions, specialty fertilizers, soil inoculants, humic acids, plant extracts, soil amendments and fertilizer additives that are not only effective but environmentally and ap plicator friendly as well. Performance Nutrition agricultural fertility and specialty products are sold across the country by local dealers familiar with local growing practices and problems. Today, Performance Nutrition product lines include KaPre® soil amendments and surfactants, Pennamin® water-sol uble amino acid products, Nutrol® BioPesticides, tank buffer & water-soluble fertilizer, Prudent® patented phosphite fertilizers, Vibrant® premium foliar fertilizers, Krystal Klear® chelated mi cronutrient solutions, Kelpene® plant extracts, Korban® Humic acid solu tions, Varnimo® microbial fungicide, nematicide and PGR and others. These patented products are used together in patented PERFORMANCE® Treatments, which address the critical parameters of healthy ecosystems. Performance Treatments are available for aerification, seeds, soil and foliar nutrition. Custom programs can also be developed to deliver season-long fertil ity and pest management and others. Our Mission LidoChem Inc.'s Performance Nutrition Division's Mission is:
• To develop & market economical, effective and "greener" products & programs for crop, turf and orna mental fertility anddisease control;
• To amend and correct "stressors" that inhibit plant performance and vitality;
• To respect, support and maximize the contribution of each component of the natural ecosystem;
Performance
• To utilize the available natural resources to provide nutrition for plants and soil microbes;
Sea Kelp + Amino Acids A match made for Superior Greens • Promotes vigorous rooting, stress relief and overall turf health • Delivers Naturally Occurring Growth Promoters • Delivers 18 water-soluble free L-amino acids • Delivers an assortment of key vitamins R DOWNLOAD THE NEW PERFORMANCE NUTRITION MOBILE APP Search through our complete list of Performance Nutrition products and programs tailored to meet your specific needs. Contact your Performance Nutrition representative for more information (732) 888-8000 | www.pnfertilizers.com
CGM
By Anthony L. Williams, MG, CGCS,
Greetings Turf Pirates and welcome to another edition of a Turf Pirate's Journal rising swiftly from the scribes at the Galactic headquarters of the Ancient and Honorable Tribe of Turf Pirates. Today we focus on the many branches of the Turf Pirate's Family tree. In this case literally the tree itself or more specifically those close cousins better known as Tree Pirates. The International Society of Arboriculture is the gold standard for tree care certifications ranging from Certified Arborist to Master Arborist to name two and home base to many Tree Pirates. Yes, there are connections throughout the turf and tree world so it is no surprise to those in the know that many Turf Pirates share deep roots with Tree Pirates. It is not so well known that Tree Pirates actually pop out of the ground from rotten poplar stumps. See the rare photo of a Tree Pirate actually being born. Yes, I know that it's hard to believe that the legend is true. Tree folk often hire Tree Pirates to either save a struggling tree or remove a dangerous or rowdy tree. Tree felling is one of the most dangerous jobs in the green industry and when an expert Tree Pirate works their magic it seems to be not dangerous at all but as an ISA Certified Arborist with decades of tree experience I assure you that when least expected the danger shows up and you had best be prepared to react with precision or you will see the "Stitcher" (ER Doctor who stitches you back up) in your local emergency room or worse. I have acquired a few scars of wisdom over the years but have been blessed to avoid serious injury. A Lace Bark Elm in a precarious bind gave me a unique bear claw shaped scar on my left forearm and now that it has aged I realize that it was way cheaper than a tattoo and has a better back story. It also reminds me that we can be injured 1,000 different ways on any given day, safety must be front of mind. I hope that you are now scared straight about the dangers of tree work or at least I got your attention. I want you to also know that it's the joy of climbing the big ones, saving the rare ones and dropping the impossible tree with an expertly crafted Humboldt notch or sliding out of your escape route avoiding a barber chair that makes a tree pirate worth his/her salt. Clearly it's the joy and pain of riding the razors edge that keeps us all in the industry. Tree Pirates and Turf Pirates are joined by the call of the outdoors and the thrill of simply being tougher than the average obstacle. It is rare but certainly understandable that a person may be both an accomplished Turf Pirate and an accomplished Tree Pirate but the key is you have to earn your stripes from both elders. This is the way. I am not sure which came first my love of turf or my love of trees but what I do know is the golf industry has allowed me to master them both and that is the point. You do not have to choose one over the other but you must deliver the skills and product equally when called upon. There is an old saying, "Jack of all trades master of none" used by those who cast stones but in Turf Pirate lore it sounds a bit different, we say "Jack of all trades, master of some". Tip your hard hats Tree Pirates, loosen your chain resistant chaps and sit around the tribal fire as welcomed elders. The Turf Pirate's family tree has many branches and even deeper roots, may we always bend and never break.
56 Golf Central • Volume 23, Issue 5
A Turf Pirate's Journal ( The Family Tree ) Tree Pirates
57Golf Central • Volume 23, Issue 5
58 Golf Central • Volume 23, Issue 5 South Carolina is home to more than 350 golf courses, 23 of which are located on Hilton Head Island. Amongst these courses is Audubon International certified member, Palmetto Hall Golf and Country Club, a 36-hole premier golf facility nestled in the low country, minutes from the Atlantic Ocean. As you can imagine, environmental sustainability is of utmost importance in a sensitive setting like an island. Through the Audubon Cooperative Sanctuary Program for Golf (ACSP-G), courses receive educational materials and are encouraged to expand their sustainability efforts while pursuing 3rd party verification of their initiatives.
1) Utilizing the Environmental Impact Quotient to identify worker, consumer, and ecological risk of active ingredients and applications.
2) Reducing managed turf to reduce inputs like fertilizers, water and chemical applications.
3) Setting thresholds for diseases and pests to identify when a pest has reached a level that requires action such as a treatment or removal. Since becoming involved with the ACSP for Golf program, the courses have seen a remarkable decrease in acreage that receives inputs such as irrigation and pesticides.
Palmetto Hall Golf and Country Club achieved certification as an Audubon International Sanctuary in 2015 after the completion of the following six focus areas: environmental planning, chemical use reduction and safety, wildlife habitat management, water conservation, water quality management, and outreach and education. Audubon eachcertificationInternationalisuniqueinthatfocusareaisapplicableto all property types and each member has the opportunity to utilize their own imagination to expand or highlight certain projects. At Palmetto Hall Golf and Country Club, their chemical use reduction and safety, wildlife habitat management, and outreach and education are top notch.
Wildlife Habitat Management & Outreach and Education In addition to 36-holes of golf, Palmetto Hall Golf and Country
A Peak at Palmetto Hall Golf and Country Club's Environmental Efforts
Photo compliments of Palmetto Hall Golf & Country Club's social media pages
One of the most important and impactful ways to improve sustainability is through a well thought out Integrated Pest Management (IPM) plan. IPM is best described as "a process you can use to solve pest problems while minimizing risks to people and the environment. IPM can be used to manage all kinds of pests anywhere–in urban, agricultural, and wildland or natural areas" (University of California). Since golf courses often cover large tracts of land, there's a lot of room to make strides in the Chemical Use Reduction and Safety focus area. Palmetto Golf and Country Club does this in 3 different ways:
Chemical Use Reduction and Safety
Photo compliments of Palmetto Hall Golf & Country Club's social media pages
59Golf Central • Volume 23, Issue 5 Club has many wetlands, ponds and marshes throughout the property that provide various habitats for wildlife, and to supplement this natural habitat, Palmetto Hall also provides nesting structures for Bluebirds and Purple Martins as one of their Wildlife Habitat Management initiatives. Through their sound management practices, Palmetto Hall continues increasing local awareness of the course's ecosystem diversity and concern for the surrounding wildlife and vegetation. In fact, the club has established a bird monitoring program where participating members meet periodically to collect and record data on nesting success as part of their Outreach and Education efforts. In addition, Palmetto Hall proudly displays their Audubon International certified status on their scorecards. More about ACSP-G & what you can do on your course. The ACSP for Golf certification is a tool to educate and assist golf clubs minimize their environmental footprint through best management practices, while at the same time maintaining a quality golf experience for patrons. To learn more about how your local golf course can gain recognition for your environmental efforts and learn how to expand your initiatives through Audubon International's numerous environmental certifications, www.auduboninternational.org.visit
Photo compliments of Palmetto Hall Golf & Country Club's social media pages
Behind the Curtain at Modern Turf: Hank
Hank Kerfoot comes from a golf-rich family background. His father, who is 87 years old, is an accomplished golfer that went to Wake Forest and played golf with Arnold Palmer. Kerfoot grew up as a caddy for his dad at their local country club in Arlington, VA. "I just grew up around golf grass. I started mowing lawns when I was 12 and started caddying when I was 12. I started working on a golf course when I was 15 and just always have had a little bit of a green thumb," Kerfoot said. He said he barely graduated high school, let alone with a diploma and spent several years after graduating trying his hand in different careers. From cooking to installing computer cables in old buildings in Washington, D.C. to working on golf courses, Kerfoot was looking for the right fit. "I just kept coming back to golf courses," he said. He decided to take community college classes so universities would consider accepting him and ended up going to what at the time was called Lake City Community College in Lake City, Florida. He said to even be enrolled at Lake City when he applied, there was a requirement you'd worked on a golf course for at least a year. "So, you couldn't just graduate high school and decide you wanted to go into turfgrass, you had to have experience." Kerfoot appreciated the fact that they shared and applied the knowledge from their experiences working on golf courses in the classroom and into real life. He started the three-year program for the Associate of Science Degree in Golf Operations when he was 23 years old. At that time, Kerfoot had a lot of experience working on coolseason grasses in Virginia, Maryland and the Washington, D.C. area. "By then I'd also worked as a bellman in the Florida Keys at the Ocean Reef Club. I'd had a little taste of the South and had decided that I felt like there was more golf for more days of the year the further south you went and more opportunities," Kerfoot said. "I figured if I went to a Southern school and I had Northern experience then I could go anywhere."
60 Golf Central • Volume 23, Issue 5
Kerfoot completed internships at TPC Avenel in the D.C. area and at TPC Prestancia in Sarasota, Florida. He worked at TPC Sawgrass all through college. His first job out of college was in Bermuda working as the assistant golf course superintendent at Port Royal Golf Course for three years. Next, he moved to Charlotte where he was the superintendent at Carmel Country Club for four years. Then, Kerfoot got involved in building golf courses. He helped build Firethorne Country Club in Charlotte and rebuilt Smoky Mountains Golf Club in Whittier, N.C. He got involved with a company that was going to buy, build and manage golf courses in the Carolinas. As they were looking for projects, the company sent Kerfoot to Puerto Rico Cecilia Brown Kerfoot
By
61Golf Central • Volume 23, Issue 5 to put a sod farm in for a client there. "To back up to when I was a golf course superintendent; I was always fascinated with new grasses. I would find them, I would plant them, I would try to kill them- which I'm apparently successful at. But I would just try to learn about it because it's just my thing," Kerfoot said. Kerfoot worked as an assistant superintendent and superintendent for almost nine years altogether between his various jobs with Port Royal and Carmel Country Club.
Kerfoot said for anyone who doesn't understand the turfgrass industry, like with other industries, continuing education is a must. When he was in college and they had classes in the late afternoon explaining new varieties, many of his friends would skip and go out to the bar for a beer. But not Hank. Kerfoot said he was in the front row trying to learn about all the new grasses.
Kerfoot said he was outspoken and enjoyed being involved. At his first Turfgrass Producers International (TPI) meeting, they tried to recruit him onto the board, but he felt like it was too early for him to contribute. Plus, he had three young children at the time and was getting his sod business up and running.
Kerfoot's college roommate at Lake City Community College in Florida was John Holmes, president of Atlas Turf. He said that it's pretty cool that they get to do business together.
Sod Farming As he was working on the course in Puerto Rico, Kerfoot started thinking about what was next for him in his career. He and his wife, Mary, started looking at some new opportunities, like maybe owning a mom-andpop golf course in Myrtle Beach. Kerfoot said he loved being a golf course superintendent but thought sod farming would be intriguing because he could use all his knowledge and contacts to help him as he started off. Also, he and his wife were starting their family at that time, so he was excited about switching to a job that allowed him more time spent with them instead of traveling for work. The Kerfoots have three children who are all young adults now: Henry, Sarah and Libby. "We decided to look for some flat land in central South Carolina that had access to water and an interstate. We found the Rembert farm, our first farm and bought it in February 2000," he shared. After a few years they realized they needed more land. At that time Kerfoot was able to find another farm 10 miles down the road which he purchased.
"I knew what Paspalum was before anybody could even say Paspalum," he joked. "I was curious and just thought it was cool to hear the talks on new grasses."
Turfgrass Industry
"The turfgrass industry is a small fraternity. If you've been around long enough, it's pretty specialized. It's highly intelligent people who are very motivated and very passionate about what they do," he added. He estimates maybe 15 of the guys he went to college with are still in the industry in golf or turfgrass. "I think the people that are in it for the long haul just have a genuine love for it," he added.
Turfgrass Producers International
In his early days as a sod farmer, Kerfoot became involved with Randy Graff, founder of Graff's Turf Farm in Colorado, who discussed raising the prices of sod. Then, he recalled attending his first SC Sod Producers meeting around that same time and hearing that they hadn't raised the prices of sod in almost 20 years.
About ten years ago members started to recruit Kerfoot again to join TPI's board. Now, he's served on the executive committee, as president and as past
"I almost threw up because my business plan didn't show that. As I became more involved, I ended up becoming the president of South Carolina Sod Producers and led it for almost 10 years straight," he said.
At Modern Turf, the core four employees (Hank, Randy Allen, Buddy Smith and B.J. Haunert) are all former golf course superintendents and a few other guys on staff worked on courses in the past as well. "We've had more on staff before that were golf course superintendents before as well. It helps. We grow three different types of bermudagrasses and we all do installs ourselves and participate. Some of us have been doing it for 20 years and we aren't getting any younger," Kerfoot said. "You gotta have someone that can walk the walk and talk the talk on a golf course, in my opinion, to be able to go out there and have credibility. You need that when talking with them about fertility, chemicals and plants and benefits and all that. And not just for the golf course superintendent, but when you're out there planting them it's like Christmas Day for these clubs when they are getting new greens. Golf is about greens, no matter what anybody tells you it comes down to the greens," he said. Kerfoot said when they install new greens, it's a great public relations opportunity for Modern Turf, even if the club has skilled laborers that could plant it without them because their staff knows the ins and outs of the grass. He said whether members or staff come out to help, their team has to know the lingo, know the ins and outs and how to maneuver around on the course properly with maintenance etiquette to make sure their tractors and trucks don't mess up the course.
"It's been a very enriching, very valuable process. One, to be able to contribute to the greater good of the sod-producing community but then also the personal payback and what you get through, meeting regularly with other industry leaders throughout the world, particularly in the US but Canada and internationally as well," Kerfoot said. He explained that serving on the board allowed him to broaden his horizons and enjoy being in a group whose goal is to make sod farmers comfortable sharing information with each other. He explained that when he was in the golf industry, everyone shared information with each other to make all better. He said he is trying to get that cooperation across in the sod industry, an industry that is more competitive because the farmers are essentially competing for the same dollar, in some sense. "There's a camaraderie but it's not the same. But, when you go to TPI you can talk to a guy from Texas who grows the exact same grass as you do and you can talk about equipment, you can talk dollars and talk about things without feeling like you're giving away your greatest trade secrets." He said that younger generations don't always see the value in associations because they can get information and network online or through social media. Kerfoot is hopeful things come full circle and younger generations realize the human condition makes us want to be in a room with other humans. "That's the magic of TPI. We, as the board, always say if we can just get them to come to one annual conference and let them see, smell, touch, feel and be around the camaraderie and the actual education you get from other people. For me, in my background with turfgrass that's been from day one," he said.
Kerfoot said that they're going to eventually need to find younger leaders and supervisors with golf backgrounds to help with overseeing installs.
"Also, the sensation of having really good greens. It all comes down to the greens. When you're on a golf course you get judged by the putting greens. If you could manage the greens then the golfers were happy," he said.
Golf Specialization Kerfoot was very involved in theater in both high school and college. He said when you look at professional golf tournaments, part of the appeal to him was the stage. The PGA Tour to him was like a great drama. "It's impromptu and that you don't know the outcome. It's great theater, especially if you love the game and I have a deep love for the game (of golf)," he shared. Being able to be outside and not in an office with four walls and being able to interact with people is something Kerfoot is very thankful for. His experience caddying and working on different golf courses allowed him to learn what that atmosphere was like. "I was very comfortable around the members and I just loved it. In the mornings and in the afternoons and just the peace of it all and the beauty of being outside.
62 Golf Central • Volume 23, Issue 5 president of the organization. He served as President of TPI for the February 2020 TPI conference in Orlando, Florida and his reign was through the COVID-19 pandemic. Now, his time on the board is nearing its end as the February 2022 TPI conference in San Diego, CA approaches.
The pH of this. The growth of that. Too much moisture. Not enough moisture. Looking out for the environment. Looking out for the health of the course. And that's just over coffee. So say thanks to your golf course superintendent. Or make that, thanks a million. AND YOUR GOLF COURSE SUPERINTENDENT IS THINKING ABOUT THEM ALL. THERE ARE A MILLION THINGS THAT NEED TO HAPPEN FOR YOUR COURSE TO BE PLAYABLE. To learn more visit gcsaa.org/GC