EAT DRINK READ THINK edibleISSUE 52 • FALL / HOLIDAY 2022
Where possibilities become possible
Together we can expand the possibilities for your business! Visit us at AmericanRiviera.Bank • 805.965.5942
21
Heidi Cummings, VP Twenty one years of banking on the Central Coast
American Riviera truly understands the seasonal challenges of the agricultural sector and respond quickly to our changing needs.
—RANDY HEINZEN, VINEYARD PROFESSIONAL SERVICES
Best Urban Tasting Room Santa Barbara, —The Independent
95 Points–2019 Vintage, —Vinous Media Winemaker of the Year Nomination, —The Wine Enthusiast
SMALL PRODUCTION. SAVORY EATS. FUNK ZONE. 19 East Mason Street, Santa Barbara, California. 805.845.8435.
"Chef Carolyn turns Tasting Room into Popular Restaurant", The Independent
page 18 page 16
Holiday
Departments 6 Food for Thought by
8 Small Sips Tasting
10 More Small Sips Slow Food
13 In Season 14 Seasonal Recipe Lemon Pistachio Cake by
16 Seasonal Recipe The Ruby Old Fashioned Mocktail and Cocktail by
18 Seasonal Recipe Pickled Red Onions by
20 Edible Reads Excerpt
Slow
An Unexpected Life in Food Politics
22 Drinkable Landscape An Apple Acid Test by
54 Support Local Guide 56 The Last Bite Fall's Don't-Miss Dish Braised Short Rib with Vegetables at Sear Steakhouse by Liz Dodder ® edible GALLOIS PHOTO
Fall/
2022
Krista Harris
the Ocean in Santa Barbara Wines by Anna Maria Giambanco DiPietro
– Slow WIne
Krista Harris
Jane Chapman
Krista Harris
from
Cooked:
by Marion Nestle
George Yatchisin
4 | EDIBLE SANTA BARBARA FALL / HOLIDAY 2022
Issue Condiments 18 Pickled Red Onions Salads and Main Dishes 50 Green Apple, Herb and Green Tomato Salad 52 Whole Roasted Chicken in Clay Pot with Almonds, Dates and Lemons Desserts 37 Crisp Cornmeal and Pecan Waffles 14 Lemon Pistachio Cake 37 Maple Pecan Puffs 53 Pan-Roasted Pears with Vanilla and Cloves 38 Walnut Cake with Apricot or Raspberry Preserves Beverages 23 The Apple Ginegar Cocktail and Apple Shrub 17 The Ruby Old Fashioned Mocktail and Cocktail ® edible page 50 PASCALE BEALE Features 24 Blood from a Stone by Adam McHugh 29 Up on the Farm by Jennifer LeMay 35 Thinking Outside the Almond by
Knight 41 A Soulful Connection to the Land by Hana-Lee Sedgwick 48 Fruit Fall by Pascale Beale
Recipes in This
Janice Cook
ABOUT THE COVER Alice Anderson of Âmevive Wine in the Ibarra-Young Vineyard. Photo by Max Threlfall.
® certi edhumane.org
FOOD FOR THOUGHT
One of the reasons I started Edible Santa Barbara is that I have had a long love affair with magazines and reading. I grew up with parents and grandpar ents who always had magazines in the house and bookcases filled with books.
Before I could read, I would look at the pictures in magazines. And once I started reading, I was never without a book (or several) that I would read at home or in the car whenever we went anywhere. Somewhere in the junior high years, my cousin and I used to play at being magazine editors—cutting up pages of old copies of Seventeen, Harper's Bazaar and Vogue and pasting photos and text together to create our own "magazine." Much has changed since then, but I do love a good book and sharing them in the pages of this magazine is a delightful treat.
In this issue we have excerpts from two new books. First, Marion Nestle's memoir Slow Cooked: An Unexpected Life in Food Politics. And closer to home, Adam McHugh's Blood from a Stone, which details his journey of finding a new life in the vineyards of Santa Ynez Valley. I highly recommend that both these books find their way to your reading list.
My own reading list is quite lengthy right now—thanks in part to visiting the Planned Parenthood Book Sale this past September. In my stack, I have a wonderfully preserved copy of The Modern Woman's Cook Book from 1939 that will join a shelf full of old cookbooks. I also picked up Alone in the Kitchen with an Eggplant, a collection of essays by some of my favorite food writers, including the one who inspired the title, Laurie Colwin.
I also plan on reading and rereading some classics this year, such as David Copperfield. And to go with it, again at the book sale, I found a tiny book called Drinking with Dickens by Cedric Dickens, great-grandson of Charles Dickens. And it's filled with cocktail recipes and references to Charles Dickens's writings. I'm not sure how many of his cocktails one could consume and still make their way through any Dickens book.
Whether you read this issue accompanied by a cocktail, a glass of wine or a good hot cup of tea, I hope it brings you joy. Happy holidays and cheers to the new year!
Edible Communities
James Beard Foundation Publication of the Year (2011)
PUBLISHER & EDITOR
Krista Harris
RECIPE EDITOR
Nancy Oster
COPY EDITING & PROOFING
Doug Adrianson
DESIGNER Steven Brown
SOCIAL MEDIA Jill Johnson
CONTRIBUTORS
Pascale Beale
Jane Chapman
Janice Cook Knight
Liz Dodder Silas Fallstich
Anna Maria Giambanco DiPietro
Jennifer LeMay
Adam McHugh
Marion Nestle
Hana-Lee Sedgwick Summer Staeb Max Threlfall
Carole Topalian George Yatchisin
ADVISORY GROUP
Pascale Beale, Jordan benShea, Rosminah Brown, Janice Cook Knight, Katie Hershfelt, Jill Johnson, Nancy Oster
ADVERTISING
ads@ediblesantabarbara.com
Visit our website at www.EdibleSantaBarbara.com and follow us on social media @edibleSB
Visit our website at EdibleSantaBarbara.com and sign up for our email newsletter or go directly to EdibleSantaBarbara.Substack.com/welcome.
Edible Santa Barbara® is published quarterly and distributed throughout Santa Barbara County. Subscription rate is $28 annually. All rights reserved. No part of this publication may be used without written permission from the publisher. Publisher expressly disclaims all liability for any occurrence that may arise as a consequence of the use of any information or recipes. Every effort is made to avoid errors, misspellings and omissions. If, however, an error comes to your attention, please accept our sincere apologies and notify us. Thank you.
6 | EDIBLE SANTA BARBARA FALL / HOLIDAY 2022
Krista Harris with some of her childhood books.
Member of Edible Communities
edible
Krista Harris, Editor and Publisher
®
Success Starts With Great Soil
G&B Organics Soils & Fertilizers are made from quality ingredients that build life in the soil for gardening success.
7 Day Nursery 3301 State Street Santa Barbara, CA 93105 (805) 687-8036
Carpinteria Valley Lumber 915 Elm Avenue Carpinteria, CA 93013 (805) 684-2183
Farm Supply - Buellton 700 McMurray Road Buellton, CA 93427 (805) 688-8101
Farm SupplySanta Maria 1920 N. Broadway Santa Maria, CA 93454 (805) 922-2737
Harrison Ace Hardware 1051 Edison Street Santa Ynez, CA 93460 (805) 688-4614
Miners Ace HardwareGoleta 125 N Fairview Ave, Goleta, CA 93117 (805) 679-5185
Pro Garden Supply 18 N Milpas Street Santa Barbara, CA 93103 (805) 965-4619
San Andres Hardware 635 West Micheltorena St. Santa Barbara, CA 93101 (805) 965-2737
Santa Barbara Home Improvement Center 415 E Gutierrez St Santa Barbara, CA 93101 (805) 963-7825
Santa Ynez Valley Hardware 1665 Mission Drive Solvang, CA 93463 (805) 688-4191
Terra Sol Garden Center 5320 Overpass Road Santa Barbara CA 93111 (805) 964-7811
GB-Organics.com
Use
For Organic
OMRI.org
Available ONLY at Independent Garden Centers
TASTING THE OCEAN IN SANTA BARBARA WINES
Merriam-Webster defines terroir as "the combination of factors including soil, climate and sunlight that give wine grapes their distinctive character." Oxford breaks it down as "the complete natural environment in which a particular wine is produced, including factors such as the soil, topography and climate." Terroir is arguably the most fascinating and misunderstood component of winemaking and tasting.
Esteemed wine writer Matt Kramer refers to it as the "somewhereness" of a wine. Marketing ephemera touts it, folks butcher its pronunciation (it's "ter-WAH") and casual enophiles, somms and scientists alike can discuss it 'til the cows come home. But when it comes to the relationship between terroir and wine, not everyone's on the same page.
A French word with Latin roots meaning "land" or "ground," terroir is more than just the influence of a geological site. It's an amalgam of the effects of socioeconomical, political and cultural aspects; human stewardship of the land and vines (including the native flora and fauna on and surrounding the vineyards); production methods; and the climate of a grape-growing region.
All of these things contribute to the finished product. Is terroir real? Can a vineyard, AVA or region magically "appear" when you uncork or uncap a bottle?
By no means am I indicating that upon opening a bottle of, say, Greg Brewer's Diatom Chardonnay (named for "diatomaceous earth, which is a plankton fossil found in the oceanic landscape of Santa Barbara County), or Justin Charbonneau's Rio Vista Vineyard Pinot Noir, briny sea water, kelp and uni will come pouring out.
I'm talking about the Pacific's influence. The wind, ancient seabeds, fog and how they inform the Carignan, Clairette Blanche and Pinot Gris of California's Central Coast winemaking sweet spot.
In Vintners' Voices
WORDS BY Anna Maria Giambanco DiPietro FRAN COLLIN
"Winemakers here will often call out 'salinity' in tasting notes, which may be unusual and definitely does not mean 'salty.' When we say we can taste the sea in our coastal wines, it's that sense one gets when walking on a beach with crashing waves hitting the sand: a crisp, refreshing and almost crunchy sense of clean. The vines are caressed by maritime breezes from the Pacific Ocean and our soils do include ancient diatomaceous earth from when the sea covered the land, so there are minerally notes in the wines as well. But it's really the 'feeling' that one remembers when enjoying our wines!" —Karen Steinwachs
Karen Steinwachs
8 | EDIBLE SANTA BARBARA FALL / HOLIDAY 2022
SMALL
sips
"The east-west transverse mountains create a funnel that opens up to the Pacific Ocean at the western end of the Lompoc Valley where the Santa Ynez River meets the sea. When it gets hot inland (SY Valley) in the afternoon, the heat rising creates a vacuum effect that pulls the marine layer in from the Pacific Ocean. Lompoc just happens to be right in the middle of that wind funnel."
—Justin Charbonneau
"Our proximity to the cold Pacific is the only reason we are able to grow these grapes here in Sta. Rita Hills. Everything revolves around that coastline. As with everything in wine, the final product is the result of thousands and thousands of micro and macro influences. That being said, when one tastes a Sta. Rita Hills Chardonnay, it is immediately obvious that this is a coastal region. One can taste the salt, sense the freshness and feel the cool ocean breeze. Chardonnay and the sea have an amazing relationship."
—Matt Dees
"With our ancient ocean earth providing the perfect base for our vines and our east-west mountain ranges that give us the direct impact of the (Pacific Ocean) marine influence, this really is the ideal place to grow grapes."
—Jessica Gasca
Matt Dees
Justin Charbonneau
Jessica Gasca
EdibleSantaBarbara.com FALL / HOLIDAY 2022 | 9
ERIN
FEINBLATT
JUSTIN WALKER
JEFFREY BLOOM
"For the 34 years of my career at Fiddlehead, I've always sought to acquire grapes from growing districts perfectly suited to the varietal. Pinot Noir, in particular, demands a cool climate to attain that extraordinary balance and texture that I love in wine. I planted Fiddlestix Vineyard with this mantra because of the influence of the nearby Pacific, and living within those vines so fully embraces the sea's influence. We are blessed with fog-laden mornings and sun-kissed afternoons, and the noticeable daily breezes sustain our cool temperatures."
—Kathy Joseph
"Perhaps nowhere else in the world is the influence of the ocean on its local viticultural districts as profound as it is on California's South Central Coast. Here, within Santa Barbara and San Luis Obispo Counties, we find three major maritime valleys that are like open climactic channels to the ocean, inviting cool ocean air deep into their interiors throughout their wine-growing seasons. Like nowhere else, the Santa Ynez, Santa Maria and Edna Valleys create an almost venturi-like effect (a reduction in fluid pressure that results when a fluid flows through a constricted section of a pipe), sending cool air inland to bathe and calm their vineyards with lower temperatures—leading to longer growing seasons and deeper, more intensely flavored fruit for wine. This tectonic gift of nature, along with a tremendous diversity of soils, creates an absolute cornucopia of winemaking opportunities that range from our surf to our inland mountains."
—Bryan Babcock
Rajat Parr
"The Pacific Ocean is the most important influence on our wines. It controls the temperature, ensuring we have cool nights all through the summer. We rarely have long heat spells due to the cool ocean." —Rajat Parr
Bryan Babcock
BIMARIAN FILMS
JEREMY BALL
Kathy Joseph
10 | EDIBLE SANTA BARBARA FALL / HOLIDAY 2022
FRAN COLLIN
The Taste of a Place
Some might consider it an utterly romantic notion, but I really do feel that a bottle of wine can hold the taste of a place. And even though terroir is a French word, it's a global term. Here in Santa Barbara County, living on soil loaded with marine sediment among the vines, I can't help but see the obvious correlation between the fog rolling in over Lompoc and the wines produced by my neighbors. Starting at about 4pm today, the Pacific sent in that marine layer, and now as it seeps in, rolling over the curves of the Sta. Rita Hills outside my window, the ocean air kisses the vines on Santa Rosa Road and a bit further down on 246, into Buellton; she tucks the vines in and sends them to bed, helping the berries cool off after another dusty, dry, hot Central Coast day.
We'll see what transpires as Jessica, Bryan, Kathy, Karen, Justin, Greg, Rajat and their peers harvest this year. Bottling the sea. Capturing the taste of this place, with its tiny fossils, cool coastal climate, sandy, alluvial soil and unique east-west mountain range. It's the perfect storm for balanced wines of character. Each vintage is a message in a bottle to the rest of the world—from Santa Barbara County, with love.
Anna Maria Giambanco DiPietro is a writer based in Santa Barbara County. With her WSET 2 with distinction certificate in tow, she writes for numerous publications focusing on the wine and food scene. You'll likely find her tucked away among the vines planning her next pairing. IG: @AnnavedaBeauty
SLOW FOOD – SLOW WINE
It should come as no surprise that Slow Food USA, a grassroots organization promoting good, clean and fair food, would be interested in the concept of Slow Wine. And they have released a guide to help consumers understand the Slow Wine movement and to learn more about wineries who are prioritizing sustainability and making land stewardship one of their primary goals. Fortunately, many of those wineries are right here in Santa Barbara County.
Santa Barbara Area Wineries Featured in the 2023 Slow Wine Guide USA:
A Tribute to Grace, Âmevive, Beckmen, Bien Nacido and Solomon Hills, Brander Vineyard, Camins 2 Dreams, Casa Dumetz, Demetria, Domaine de la Cote, Dragonette, Gleason Family Vineyards, Grimm's Bluff, J. Dirt, Jonata, Kings Carey, Larner, Le Piane, Lieu Dit, Lo-Fi, Luna Hart, Piazza Family Wines, Piedrassi, Rusack, Sea Smoke, Solminer, Spear, Story of Soil, Tatomer, Tercero, The Joy Fantastic, Turning Tide, Vega Vineyards & Farm
For more information on the Slow Wine movement and to purchase a copy of the Slow Wine Guide USA, visit slowfoodusa.org/product/slow-wine-guide-usa-2022.
—Krista Harris
EdibleSantaBarbara.com FALL / HOLIDAY 2022 | 11 sips MORE SMALL
ERIN FEINBLATT
12 |
/
2022
EDIBLE SANTA
BARBARA FALL
HOLIDAY
Season this fall in
FALL PRODUCE
Artichokes
Asparagus
Avocados
Basil
Beans, green Blackberries
Blueberries
Brussels sprouts
Cabbage
Cantaloupe
Celery
Cherimoya Chiles
Chives Cilantro Collards
Corn Cucumber Dill
Eggplant Fennel
Figs Grapefruit Grapes
Kiwi
Lavender
Limes Melons Mint Mustard greens
Nectarines
Onions, green bunching
Papayas
Peaches
Peppers
Persimmon
Plums/Pluots
Pomegranate
Raspberries
Squash, summer Strawberries
Tangerines/Mandarins
Tomatillo
Tomatoes
Turnips Watermelon
YEAR-ROUND PRODUCE
Almonds, almond butter (harvested Aug/Sept)
Apples
Arugula Beans, dried Beets Bok choy Broccoli Carrots Cauliflower Chard Dandelion Dates (harvested Sept/Oct)
Edible flowers Garlic (harvested May/June)
Herbs (Bay leaf, oregano, parsley, rosemary, sage, thyme)
Kale
Leeks
Lemons Lettuce Mushrooms
Onions, bulb (harvested May/June)
Oranges
Pistachios, pistachio oil (harvested Sept/Oct)
Potatoes
Radishes
Raisins (harvested Sept/Oct)
Spinach
Sprouts
Squash, winter (harvested July/Oct)
Walnuts, walnut oil (harvested Sept/Oct)
Yams (harvested Aug/Sept)
FALL SEAFOOD
Mussels Ridgeback shrimp Rock fish Sardines Spiny lobster Swordfish White sea bass Yellowtail
YEAR-ROUND
SEAFOOD
Abalone (farmed) Black cod Clams Oysters Rock crab Pacific sand dabs Urchin
OTHER YEAR-ROUND
Eggs Coffee (limited availability) Dairy (Regional raw milk, artisanal goat- and cow-milk cheeses, butters, curds, yogurts and spreads)
Fresh flowers Honey Olives, olive oil
Meat (Beef, chicken, duck, goat, rabbit, pork)
Potted plants/herbs Preserves Wheat (Wheat berries, wheat flour, bread, pasta and baked goods produced from wheat grown locally)
BOK CHOY
SPINACH
POTATOES
URCHIN
SPINY LOBSTER OYSTERS
ALMONDS HONEY
BRUSSELS SPROUTS
PASTA
EGGPLANT
SQUASH
GRAPES
EdibleSantaBarbara.com FALL / HOLIDAY 2022 | 13
TOMATILLOS
seasonal Recipe Lemon Pistachio Cake
Icreated this cake after visiting the Santa Barbara Pistachio Company's harvest in Cuyama with writer Nancy Oster for our article in the Fall 2011 issue. I wanted to create a cake that used the nuts as flour and as garnish along with the beautiful green pistachio oil that you can find at their stand at the Santa Barbara farmers market and on their website (www.SantaBarbaraPistachios.com). You could probably substitute other nut meal flour and nut oil, but using all three forms of the pistachio nut is what makes this cake special. And this time of year, it makes a festive but simple holiday dessert.
MAKES 9 SERVINGS
1 cup flour
1 cup pistachio meal flour*
3 ⁄4 teaspoon baking powder
1 teaspoon ground cardamom
1 ⁄2 teaspoon salt
8 tablespoons butter (1 stick)
1 ⁄4 cup pistachio oil
1 cup granulated sugar
3 large eggs (preferably local, free-range)
1 ⁄4 teaspoon Nielsen-Massey lemon extract
1 ⁄2 cup whole milk
Zest of 1 small lemon
Juice 1 small lemon (about 3 tablespoons)
2 ⁄3 cup powdered sugar
1 ⁄3 cup shelled, chopped unsalted pistachios
Pinch of sea salt flakes
Butter and flour a 9-inch square baking pan. Preheat oven to 350°F. Whisk the flour, pistachio meal, baking powder, cardamom and salt together and set aside. Using an electric stand mixer, cream the butter, oil and sugar until light and fluffy. Add the eggs one at a time, followed by the lemon extract, and beat until well incorporated. Add the flour mixture, alternating with the milk until just combined. Pour into the prepared pan and bake for 35–40 minutes, or until a tester comes out clean.
Meanwhile, whisk together the zest and juice of the lemon with the powdered sugar until smooth. Pour over the hot cake when it comes out of the oven and then sprinkle with the chopped pistachios and a pinch of sea salt flakes and press down lightly over the surface.
* Pistachio meal flour is available from Santa Barbara Pistachio Company, or you can make it by grinding up raw, shelled pistachio nuts in a blender or coffee grinder until fine. You can also use a food processor, but keep an eye on it—if you run it too long your pistachios will become a paste.
—Krista Harris
ERIN FEINBLATT
seasonal Recipe
The Ruby Old Fashioned Mocktail and Cocktail
by Jane Chapman
16 | EDIBLE SANTA BARBARA FALL / HOLIDAY 2022
GALLOIS PHOTO
This is one of my favorite drinks this time of year because it is simple, versatile and gorgeous. The Ruby Old Fashioned may be prepared ahead, batched to order and will stretch to serve a small gathering. The dried hibiscus flowers create a rich ruby color and a tartness that make this drink both luscious and inviting. This recipe is easily adaptable. Serve it on the rocks or shaken, batch it per glass or make an entire pitcher. Garnish with a generous strip of orange peel and seasonal edible flowers. The hibiscus tea is made ahead and easily transitions from a refreshing "mocktail" to a spin on a classic cocktail, the Old Fashioned.
You can find the yuzu-flavored Sideyard Shrub at www. DrinkSideyard.com. The addition of T.W. Hollister & Co. Sweet Red Vermouth (www.TWHollister.co) and bourbon are a perfect combination in this winter cocktail.
THE RUBY OLD FASHIONED MOCKTAIL AND COCKTAIL
This recipe yields 2½ cups of concentrated hibiscus tea that you can store in the refrigerator. And then I've given preparation instructions for a single cocktail. To make a larger batch in a pitcher, simply use the one-to-one ratio of sparkling water to tea for the Ruby Mocktail and the one-to-one ratio of sweet vermouth to bourbon for the cocktail.
FOR THE HIBISCUS TEA CONCENTRATE
1 ⁄2 cup dried hibiscus flowers
2 1 ⁄2 cups water
3 teaspoons honey, or to taste
1 1 ⁄2 teaspoons Sideyard Yuzu Shrub (fruit-infused vinegar)
FOR THE MOCKTAIL Sparkling water
FOR THE COCKTAIL
1 ounce T.W. Hollister & Co. Red (sweet) Vermouth
1 ounce bourbon
Orange peel and seasonal edible flowers, for garnish
Brew and steep ½ cup dried hibiscus flowers and 2 ½ cups water. While cooling but still warm, add the honey. Once at room temperature, add the Sideyard Yuzu Shrub. Steep for at least 30–45 minutes, until a deep ruby color, then strain. Refrigerate and store until ready to prepare your drinks. You may store this hibiscus tea concentrate for up to a week. To prepare a Ruby Mocktail, fill your glass with ice and equal parts tea concentrate and sparkling water. Garnish and enjoy.
To prepare a Ruby Old Fashioned, fill your glass with ice, and then add 1 ounce each of the tea concentrate, sweet vermouth and bourbon. Garnish and enjoy.
Jane Chapman is a Santa Barbara native whose parents, Mark and Margaret Huston, are both professional chefs and the owners of Jane restaurants and the beloved Montecito Café. After 20 years of experience in the restaurant business, Jane's newest venture, The Communal Table Santa Barbara, combines her love of food with meaningful and curated conversations for women. www.CommunalTableSB.com
EdibleSantaBarbara.com FALL / HOLIDAY 2022 | 17 Winery & Vineyards 6905 Foxen Canyon Rd Los Olivos, CA 93441 www.zacamesa.com | (805) 688-9339 Tasting Room Open Daily 10AM-4PM WINE TASTING PRIVATE TOURS WEDDINGS & EVENTS
seasonal Recipe
Pickled Red Onions
Here's one of those trendy recipes that lives up to the hype. With just a few ingredients, you can easily make a quick batch of pickled red onions that will enliven your salads, tostadas, avocado toast and countless other things you want to garnish. Most recipes call for white vinegar, but I prefer apple cider vinegar for its flavor and health benefits. You could also use red wine vinegar, homemade vinegar or experiment with whatever vinegar you have on hand.
MAKES ABOUT 8 OUNCES
1 red onion
1 cup apple cider vinegar
1 teaspoon sugar
1 pinch salt
Cut the onion in half from the top to the root end and peel. Then cut in thin strips vertically from top to root end and then cut off and discard the root. You'll end up with curved strips that are similar in size. Blanch the onions by pouring boiling water over them for just 5 seconds, drain, and then put them in a canning jar or storage bowl and add the vinegar, sugar and salt. They should be submerged in the vinegar mixture. Stir and then cover and put in the refrigerator. Let them sit for several hours or overnight, and then they are ready to use. Scatter them over your salad or other finished dish; you can also chop them up in a fine dice and use them in sauces. They'll keep in the refrigerator for at least a month.
—Krista Harris
KRISTA HARRIS
EdibleSantaBarbara.com FALL / HOLIDAY 2022 | 19 388 Bell Street, Los Alamos, CA 93440 805.344.1900 CasaDumetzWines.com Thu–Sat noon–7pm, Sun noon–6pm, Mon noon–4pm, Tue–Wed by appointment Extra virgin olive oils, flavored olive oils, olive tapenades, table olives, gourmet vinegars, local food products. Open Thursday through Monday 11am–5pm 2901 Grand Ave., Los Olivos 805 693-0700 olivehillfarm.com ella & louie flowers for celebrations of all sizes delivering Santa Barbara and Santa Ynez www.ellaandlouie.com
For nearly half a century, I have been teaching and writing about the effects of politics on what we eat and, therefore, on our health. I began my career fascinated by nutrients, every one of them, but I ended up viewing foods, diets, and entire systems of food production and consumption as far more significant. Food companies, as I like to explain, are not social service or public health agencies. They are businesses required by stockholders to prioritize profit above all other values—human, social, and environmental.
Since the early 2000s, I have been writing books about food politics. Some have won praise and prizes and are considered highly influential. But as careers go, mine got off to a late start. My first book, Nutrition in Clinical Practice, came out in 1985 when I was teaching nutrition—and nutrients—to medical students. It took another seventeen years to produce the one for which I am best known: Food Politics: How the Food Industry Influences Nutrition and Health.
By then, I was sixty-six years old, a late age to be starting on the most active, productive, and rewarding years of my academic life.
My late start was, in part, due to the realities for working mothers in the 1960s. I earned my doctorate in molecular biology 1968, with two kids at home, and planned for a bench science career until I had what I call the swimming pool epiphany. I was a postdoc at Brandeis—a temporary position only slightly better than that of a graduate student—whereas my husband, Zach, was a tenuretrack assistant professor in a prestigious department at a prestigious medical school. We both viewed his job as more important than mine…On Saturdays he went to his lab to work; I stayed home with the kids.
In my third year as a postdoc, Brandeis began to offer Saturday morning swimming lessons to children of faculty and staff. These usually lasted less than an hour, and I hung around to chat with the other parents while the kids swam. But on one of those Saturday mornings, the instructor announced a double session. The kids would be in the pool for nearly two hours. This would be time enough for me to pop into the lab and get a little work done while nobody else would be around to distract me.
I was in for a big shock. When I walked into the lab, everyone was there: the head of the lab, the graduate students, the other postdocs, even the lab technician. Everyone but me, apparently, worked in the lab on Saturday mornings. No wonder nobody took my work seriously. No wonder my progress was so slow. But even if I wanted to be in the lab on Saturday mornings, how could I do it? I doubted I could find, let alone pay, someone to watch my kids. Any thoughts I had entertained of a career as a research scientist ended that morning.
There may have been women scientists who could manage both laboratory work and a family back then, but I was not one of them. I lacked not only the necessary financial resources but also a social or professional support system that might have made it possible. I did not even know such support existed.
By the time I was finishing up my postdoc, I had started looking for my next position… I held academic jobs, but these were lower-level, untenured positions I could manage along with family responsibilities. Nobody supervising those early positions took my work seriously, and neither did I.
Nevertheless, those jobs gradually allowed me to acquire enough teaching research, and administrative skills to qualify for a high-level staff position in the federal government, which, in turn, qualified me for a tenured position as chair of the Department of Home Economics and Nutrition at New York University, the life-changing job I started in 1988.
Until NYU hired me, I had never thought about what kind of work I might want to do if I had choices. I did not think I had any. The NYU position came with what I viewed…as miraculous benefits: job security as a tenured full professor, a salary adequate to live on…and a solid platform from which to reach, write, and speak publicly. By then, my children had finished college and were on their own as young adults. I could finally get to work.
20 | EDIBLE SANTA BARBARA FALL / HOLIDAY 2022
Adapted from Slow Cooked: An Unexpected Life in Food Politics by Marion Nestle, published by the University of California Press. © 2022
edible READS
Marion Nestle is the Paulette Goddard Professor of Nutrition, Food Studies, and Public Health, Emerita, at New York University and author of a wide range of books about the politics of food, nutrition, health, and the environment.
EdibleSantaBarbara.com FALL / HOLIDAY 2022 | 21 The SBCC Promise Your gift makes it possible.
sbccfoundation.org | (805) 730-4401
school graduates
College.
supplies
private gifts. FOXEN® VINEYARD & WINERY Foxen's historic tasting Shack is now open! Open Daily by Reservations | 7600 & 7200 Foxen Canyon Road | 805.937.4251 | www foxenvineyard.com Sustainable Wine Growers Since 1985
Photo: Nell Campbell
The SBCC Promise has provided more than 6,000 local high
with the opportunity to pursue their dreams at Santa Barbara City
Created in 2016, the SBCC Promise covers all required fees, books, and
for two years, and is completely funded by
An Apple Acid Test
WORDS BY George Yatchisin
I'm not sure anyone celebrates autumn anymore by having their kids bob for apples, but that doesn't keep apples out of my mind when it comes to fall delights. That's even more true given we have the good fortune to have several apple trees in our yard, and therefore are ever on the lookout for ways to use the ones the birds and bugs don't devour.
That's how I discovered shrub, which had only been waiting around for a few centuries for "discovery" (actually, shrub might date all the way back to the Bible and Ruth—now that's a heritage drink). Shrub is an acidulated beverage, so it's worth concocting just to use the word acidulated. Throw together some fruit, vinegar and sugar and you're in business— regular readers of this column might recall I've suggested plum shrub before. And while apples grow on trees, the term shrub comes from the Arabic word sharab meaning "to drink."
Back in the American Colonial era, before refrigeration, shrub was a great way to preserve fruit. People got a bit silly with claims for how good it was for you, but while it might not be a miracle tonic, it's certainly delicious. It's also great to have on hand for nonalcoholic drinks that still seem festive—mix up an ounce of shrub, some tonic and a squeeze of lime and you've got a tasty pour suitable for all ages.
The Apple Ginegar Cocktail, though, was an adventure in bartending. I went in determined to savor delights that
signaled fall, thinking the vanilla in bourbon would make for a hearty apple-pie-reminiscent pairing. Somehow that never quite worked, despite trying to work in sweet vermouth for length, or rum for depth and more seasonal good cheer. I promise cocktail taste testing isn't always a series of inebriated joys—too often flavors seem muddled or watered down, even when there's no water added (beyond the ice that melts during shaking). There's plenty of trial, disappointed face-making and error.
So I turned to gin, and not just because it's my favorite spirit. Its clean lines tend to accent other flavors in the mix, plus the juniper notes, redolent of evergreen, always seem to suggest heading into winter. To help smooth out the sometimes-prickly zip of the shrub's vinegar, there's also some Lillet Blanc in the mix, which I like to think of as the place where vermouth and wine meet—a teensy bit sweet, but then spicy and herbal too. Of course it's often paired with gin in classics like a Corpse Reviver #2 or a Vesper. So that means it works here and you will find plenty of uses for that bottle you purchase (just keep it refrigerated after opening, as it's more like a wine than you think). That little bit of Meyer lemon juice adds a sweet-tart to the puckering-tart of the shrub, so don't forget it.
For garnish, you can certainly buy apple rings, but storebought tend to be a bit rubbery, and their weight makes them
22 | EDIBLE SANTA BARBARA FALL / HOLIDAY 2022 LANDSCAPE drinkable
unstable on the glass rim. To step up your game a notch, take another one of those Gravensteins and slice it, top to bottom, in cardstock thick slices with a mandoline or a very sharp knife and remove the core.
Put them on a Silpat on a baking tray in a preheated 300° oven. Turn the oven off. Give the slices about 30 minutes so they dry out but do not get very brown. (You can do a quick brush with some lemon juice if you want to be sure to prevent browning and to add a bit more flavor.)
These will last you for a week if you keep them in a lidded container and can keep yourself from snacking on them. When it's time to add them to the drink, make a cut so you can slip them on the rim; they will still be tasty if they wind up in the glass.
George Yatchisin happily eats, drinks and writes in Santa Barbara. He blogs at GeorgeEats.com.
RECIPE
MAKES 2 COCKTAILS
4 ounces gin (a London Dry—Ford's works well)
2 ounces Lillet Blanc
1 1 ⁄2 ounce apple shrub
1 ⁄2 ounces fresh Meyer lemon juice
2 dried apple rings
Add the first 4 ingredients to a cocktail shaker full of ice. Shake well. Drain into 2 coupes. Garnish each glass with an apple ring.
Apple Shrub
4 medium apples (Gravenstein are a good choice)
1 cup apple cider vinegar
2 ⁄3 cup granulated white sugar
Use a box grater to shred the apples to their cores (don't use core or seeds). Scoop all the apple flesh and any juice into a clean mason jar (you don't have to do any sanitizing). Add the vinegar and sugar. Stir with a spoon. Screw on the lid, and give it a really good shake to fully incorporate.
Put the jar in the back of your refrigerator for 4–5 days. Take it out and check—is the sweet-sour balance good to you? If so, use. If not, seal it back up for a few days.
When you like the taste (and it mellows over time), drain out all the apple solids, being sure to give them a squeeze with your clean hands to get as much liquid out as possible. Put that juice in a clean jar. Refrigerate again. It will stay good pretty much indefinitely but is best used in the next month.
EdibleSantaBarbara.com FALL / HOLIDAY 2022 | 23
Garden or Indoor Dining Wednesday - Sunday weekend brunch picolosalamos.com
The Apple Ginegar Cocktail
A RTI SAN BR EAD HAND-MADE I N S MALL BATCHE S 2449 Baseline Ave, Ballard, CA 550 Bell St, Los Alamos, CA One of the "Top 15 Amazing Small Town Bakeries" in the U.S.! - Travel & Leisure info@BobsWellBread.com • BobsWellBread.com Visit Us At One Of 2 Locations!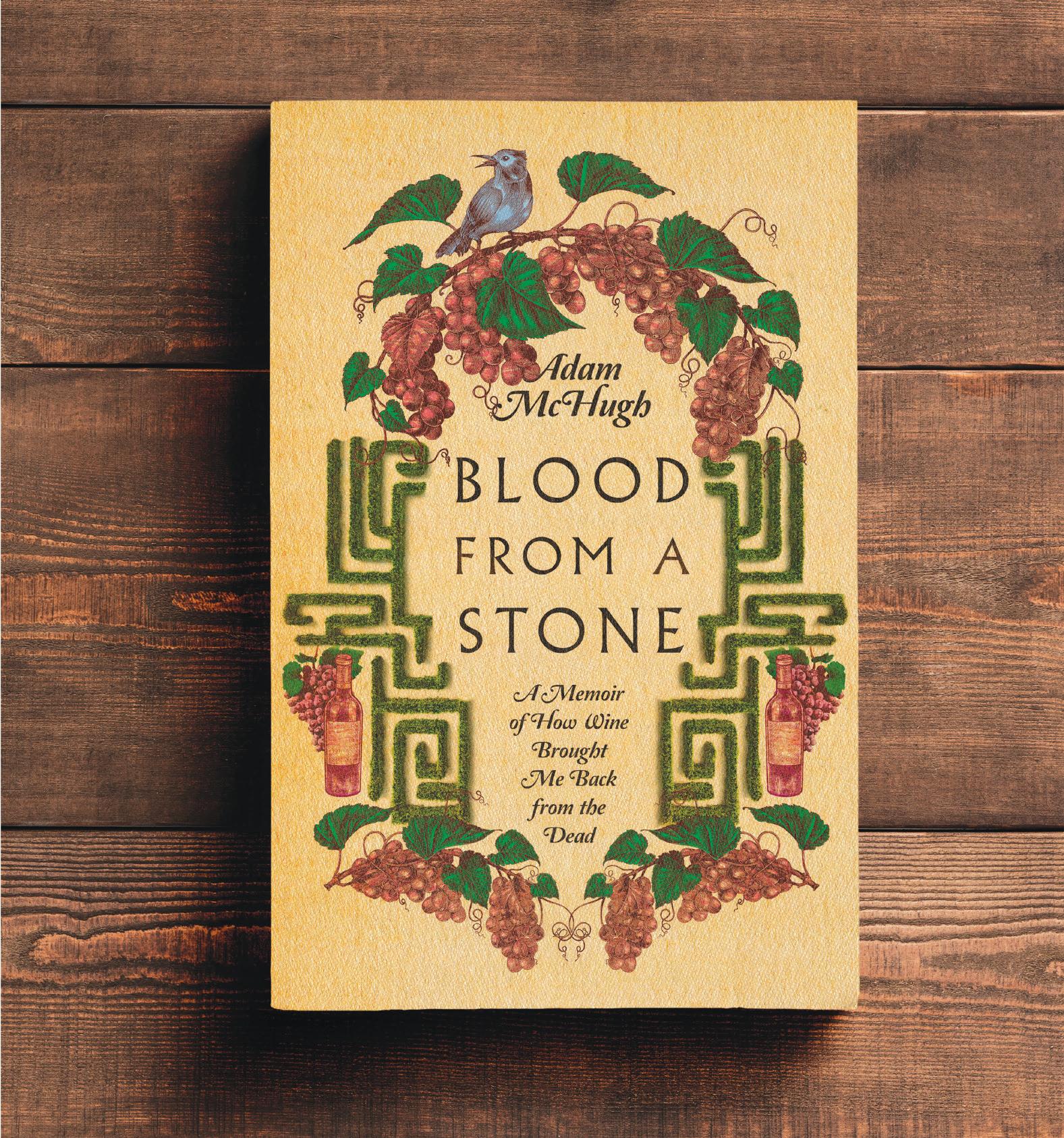 BLOOD FROM A STONE
WORDS BY Adam McHugh
This article is adapted from the recently released book Blood from a Stone by Adam McHugh. Adam is a former hospice chaplain and grief counselor in Pasadena, who fell in love with the Santa Ynez Valley and now works as a wine educator and tour guide in Santa Ynez. His book tells the story of how he got there.
The first time I visited Santa Barbara, that Mediterranean seaside village that washed up on the shores of the Pacific, I set out to participate in the most sacred of western rituals: the grand, collective pause to bid the sun bon voyage on its nightly passage into the sea. On my way, I ambled along State Street, which pours down the center of town like a river on a direct course home to the ocean. State dips under the 101 Freeway overpass, where locals like to boast that the last remaining traffic signals on the route from Baja, Mexico, to San Francisco forced drivers to brake and admire Santa Barbara until the early '90s, and then meets Stearns Wharf at the beach, a former working wharf turned tourist pier that glides out a half-mile into the water. The Pacific, frigid and tumultuous just 60 miles north, here in the Santa Barbara harbor is idyllic and unperturbed, with waves gentle enough to remind you of a baby splashing in a bathtub.
Stearns Wharf is a collection of trinket kiosks, ice cream shops, a tasting room known more for its views than its wines, and seafood shacks. I passed fathers and sons with fishing lines dangling off the wharf, and interested seagulls plotting to snatch their catch or else deposit their displeasure on those refusing to share. I edged around the shack of lobsters and crabs at the Santa Barbara Shellfish Company, the saline aromas of steamed clams combining with the briny air, and claimed my viewing spot at the end of the pier. It was a sparklingly clear afternoon, and I could make out every ridge of Santa Cruz Island, the largest of the Santa Barbara Channel Islands that have been transformed into a pristine if unfrequented National Park. What I didn't see was the sunset. To do that, I had to swivel my head to the right.
I double-checked my internal compass, and my sobriety level. This third-grade Geography Bee champion felt reasonably certain that the Pacific Ocean is to the west of California and that the sun falls on the portside of the continent. It should be directly in front of the wharf's edge, I swear. What sort of wizardry is this? Is Santa Barbara so enchanted that a sorceress cast the sunset into the north?
The answer, I would learn, is this: The sun sets on the side here, because Santa Barbara County is turned sideways. g
Allow me to get tectonic on you for a few moments. That's the only way we can get the sunset back where it belongs.
Around 135 million years ago, the Pacific Plate, sliding east under the ocean, collided with the North American Plate and formed the dread San Andreas Fault. San Andreas runs the length of most of California and is the battle line where the two plates square off. This is the fault that gives California its shaky reputation in other parts of the country, and why my parents sent me to college with an emergency preparedness kit. San Andreas is called a transform boundary, or by a much cooler name, strike-slip boundary, meaning that instead of one plate subducting and one plate consuming, the two plates grind and bump and strike against each other, an aggressive dance that sends cracks and seizures in every direction. Now the Pacific Plate is traveling northwest, and the North American Plate is heading southwest, and they are both filled with road rage because they are literally going three inches a year. When ridges of the two unyielding plates catch on each other and their gears stall, an earthquake alleviates the pressure, and Californians check real estate listings in other states.
EdibleSantaBarbara.com FALL / HOLIDAY 2022 | 25
The San Andreas Fault is not a straight line. It runs in a roughly northwest direction through the middle of Southern California, but then above LA it swoops west for six miles before veering north again. Geologists call this the Big Bend. Around 20 million years ago, basically yesterday in geological timelines, a portion of the Pacific Plate pushing north struck the Big Bend and the force was so great that a teardrop-shaped section of land broke off, except for its northeastern point. The still-attached point acted as a hinge, and the rest of the broken piece would slowly rotate clockwise 90 degrees, from 6pm to 9pm. It was like a gate swinging open, to welcome into its paths the bracing, salty winds of the Pacific. Santa Barbara County turned sideways.
This is all to say that when you stand on Stearns Wharf in the afternoon looking directly over the Pacific Ocean, you are facing south. When you turn right, you are looking west. Santa Barbara is quite a magical place, but the sun does still set in the west.
g
I visited Santa Barbara for the first time after I watched a movie. That movie is called Sideways. If you listen carefully, you may be able to hear the gathered voices of all residents of the Santa Ynez Valley groaning in exasperation at the mention of this title. Though Sideways now feels like an old, obscure movie to the rest of the world, in Santa Ynez they continue to live it, day after day after day. Its impact is called "The Sideways Effect." The film's influence upon the once-sleepy hollow of Santa Ynez was so momentous that now you cannot tell its story without Sideways as a character, and I cannot tell my own story without it either. The hills around Salzburg have The Sound of Music, the South has Gone with the Wind and, for better or worse, the Santa Ynez Valley has Sideways.
Sideways was set and filmed in the Santa Ynez Valley, a place that has about an acre of vines for each of its 20,000 residents. Yet until I saw the movie, I had never heard of Santa Ynez, even though I lived three hours away. I used to drive right by on the way to Napa and Sonoma, another six hours north, when I could have been going west. The title of the film seems to rattle with several meanings, and I can't tell if [author Rex] Pickett or [filmmaker Alexander] Payne intended a whisper of Santa Barbara County's epic westward slide in the name. In the book, the phrase "getting sideways" means getting drunk. I like to think that this wine-drenched valley got sideways a few million years ago and never got back up.
On my first visit to the Santa Ynez Valley, after the quick stop in Santa Barbara for a slanted sunset, I was immediately bewitched. Like everyone hurtling out of LA smog, the first feature I noticed in Santa Ynez was the light. I am convinced this is a land graced with more photons than other places. Not only does the light sparkle in endless skies, but it seems to impart a little of itself in everything it touches. The hills glint in straw-gold fire, and the vines glow in greens so vivid they seem illuminated from within. The air has a transparency and a
purity here in this valley devoted to Saint Agnes, patron saint to virgins, that unveils the brightest days and darkest nights I have known since moving to California.
I felt I had hiked into the wine backcountry. I rumbled along gravel paths between vines and through dribbling creeks to drink Chardonnay in tumbledown shacks. I tasted Pinot in a corrugated blacksmith shop from the 1800s and Syrah in a century-old gas station that had been relocated from Santa Barbara for $10. I drank wine in A-frame barns and in weathered houses. I knocked on the unmarked door of a winery in a nondescript cement building adjacent to an auto repair shop, like I was slipping into a Jazz Age speakeasy with a twodrink minimum and a complementary smog check.
Then, just beyond a tunnel of towering pines, there was The Hitching Post, perched on a bluff above an ostrich farm and the westward trickle of the Santa Ynez River, announced from the road by a high sign in school bus yellow. From the outside, the building looked to me like a mahogany red house popping up out of a wooden cigar box. Inside, on the wood-paneled walls were portraits of horses and flowery drapes that transport you to Sunday dinner at Nana's house, with the same beige tablecloths and low post-war ceilings built to withstand an air raid. The cen terpiece of the dining room was the grill, on display behind glass, where cuts of steak, swordfish, garlic bread, and artichokes sizzled in butter over a fire of red oak harvested from the Central Coast.
They trotted out a multi-course menu of peculiar, nostalgic delights. Their best wines are named after fishing terms, like Highliner and Perfect Set, perhaps because after a day on the Sideways Tour people were drunk like fishes. The Hitching Post version of antipasto is a basket of crackers and a relish tray of carrots, celery, radishes, green onions, olives, and pickles. Then came the world's smallest shrimp cocktail and a salad assembled mostly as a leafy venue for their house-made blue cheese dressing. The basket of garlic bread was accompanied by a side of salsa, which violates all common culinary decency. Then, after you have tried it a few times, you will go to an Italian restaurant and say, "You forgot the salsa" when the server brings the garlic bread, and he will slap your face. Finally came a smoky, buttery filet with prolifically seasoned fries crisped in duck fat, served on old plates wreathed with burgundy floral patterns that I think match Nana's drapes. At the bar and around the crowded restaurant tables of people were sharing their wines with others at adjacent tables, the only place I have ever seen this happen. It felt like the entire valley was gathered in the dining room by the red oak fire for Sunday dinner. Everyone seemed familiar with each other or were just a charitable pour of wine away from knowing each other. Looking around, I thought to myself, This valley is a strange and backwards and beautiful place. I need to come back.
You can read the rest in Adam's book Blood from a Stone: A Memoir of How Wine Brought Me Back from the Dead. Connect with Adam on Instagram @adammchughwine © 2022 by Adam S. McHugh. Published by InterVarsity Press, Downers Grove, IL.
26 | EDIBLE SANTA BARBARA FALL / HOLIDAY 2022
Tasting Room & Wine Library 12-6 PM Mon-Fri 11AM-6 PM Sat & Sun Taking tasting reservations on Tock 813 Anacapa Street, Santa Barbara 805-963-7999 ~ www.aubonclimat.com wines of vision, balance and character EdibleSantaBarbara.com FALL / HOLIDAY 2022 | 27
Up On The Farm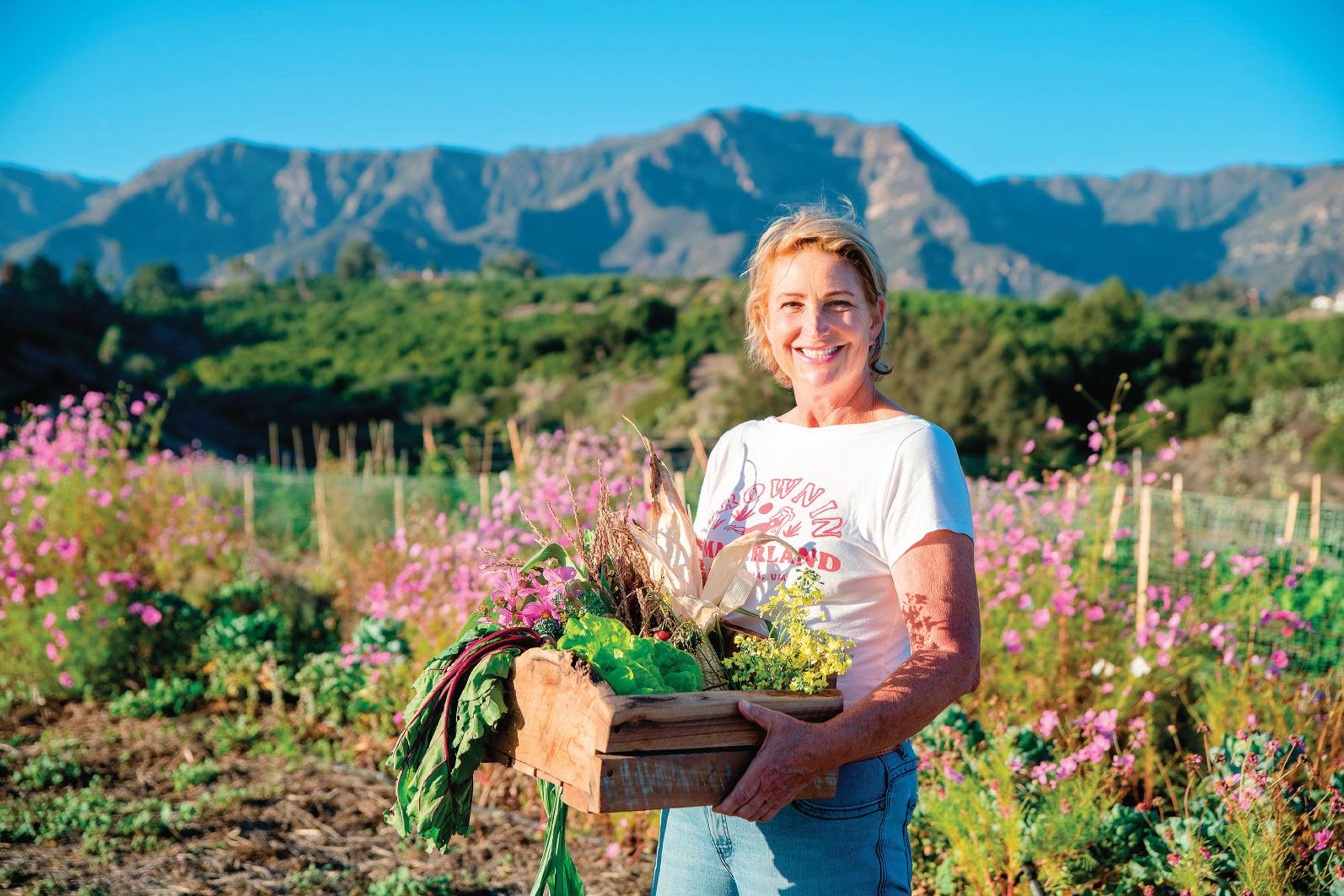 WORDS BY Jennifer LeMay PHOTOGRAPHY B Y SILAS FALLSTICH
28 |
/
2022
Leslie Person Ryan at her seven-acre Summerland farm.
EDIBLE SANTA BARBARA FALL
HOLIDAY
When her daughters' pleading turned to chanting—"Granadilla, granadilla!"—Leslie Person Ryan knew she would have to grow some on the farm. Granadilla is orange and sweet, in the same family as passion fruit, and just one of the unusual crops grown at Sweet Wheel Farm & Flowers in Summerland. On top of a hill overlooking the Pacific Ocean, this seven-acre farm churns out incredibly fresh, organic, delicious produce for sale at their farm cart just a few blocks below on Lillie Avenue.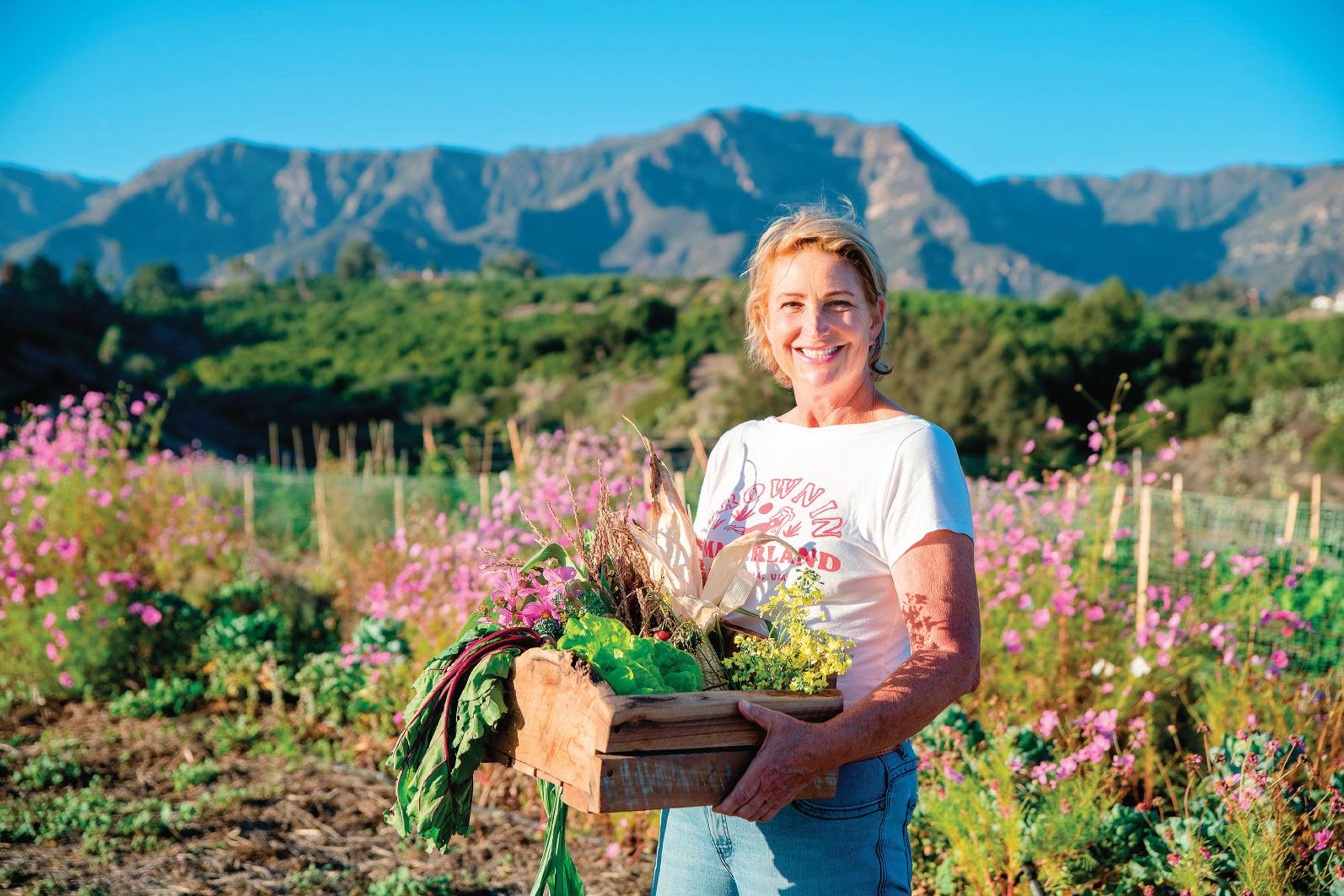 Leslie grew up in a lemon grove in Southern California, enjoying her mother's cooking and visiting her grandparents nearby, who had an avocado orchard. Her grandfather was a member of the International Wine & Food Society. In her teens, she traveled to Mexico with her family, fell in love with the cuisine, and soon learned to make a mean pico de gallo. Later came cooking classes in Oaxaca and searching for local makers of truly fresh tortillas and chips.
Visiting the farm this summer, I saw the heirloom corn growing tall against the backdrop of the Santa Ynez Mountains, composed of six varietals: blue, purple, red, black, yellow and white. These beautiful kernels are harvested at their driest to make tortillas and chips that are sold at the farm cart and the Saturday Farmers Market in Santa Barbara.
EdibleSantaBarbara.com FALL / HOLIDAY 2022 | 29
Heirloom corn.
Leslie explained that corn is one of the most problematic crops in our food system, as it's often genetically modified and has lost much of its nutritional value. At the farm, one of the overriding goals is to grow the typically worst-grown foods differently—in the best way, sustainably and ethically—and to make them accessible to the community.
In front of the corn, rows of bean plants were flowering. "These are Oaxacan micro black beans," Leslie said as she scooped a handful of gorgeous, shiny beans out of a basket. They don't need to soak, and there's no need to discard their cooking water as it's full of flavor and great for soups and stews.
A lot of chefs in town come to the Sweet Wheel Farm cart to find unique produce to add to their menus, such as blue masa (a dough that comes from corn used to make tortillas), various types of tomatillos and the small, delicious and fragile Fraises de Bois strawberries. Some other crops you'll find at the farm include cucumber melons, chard, lots of peppers, pineapple, chayote, Italian and Egyptian basil and various flowers.
The flowers add beauty and attract pollinators, Leslie said. "When people ask about them, I say, 'Smell this bouquet,' and they say, 'I'll take four!'"
For many years, Leslie ran Letter Perfect, a popular stationery store in Montecito. While she enjoyed managing the business, farming and cooking were never far from her mind. "I have a unique skill set—I know marketing, retail and farming," she says. "And honestly, I know hard work."
When tragedy struck in late 2017 and early 2018, by way of the Thomas Fire and resulting debris flow, Leslie's life started to head in a new direction. Her store on Coast Village Road had to evacuate multiple times, and she experienced firsthand how Summerland residents were cut off, as they lacked access to food for several days.
"Summerland is one of two certified food deserts in the county," she explained. This realization prompted her to look for ways to build food resilience in the community. She started by selling local food from a cart towed behind her solar-powered bicycle (the origins of Sweet Wheel) and eventually growing her own food on a farm in Orcutt and leasing the plot in Summerland.
The community has enthusiastically embraced the farm, which has become a vital resource. Thanks to a successful fundraising campaign, the land where Sweet Wheel Farm operates was purchased in 2021 from the Carpinteria Unified School District by the farm's newly formed nonprofit, the
30 | EDIBLE SANTA BARBARA FALL / HOLIDAY 2022
A lot of chefs in town come to the Sweet Wheel Farm cart to find unique produce to add to their menus.
Sweet Wheel Farm is located on top of a hill overlooking the Pacific Ocean.
EdibleSantaBarbara.com FALL / HOLIDAY 2022 | 31
Leslie grows heirloom corn and many varieties of vegetables and flowers.
Santa Barbara Agriculture & Farm Education Foundation. Its mission of providing "sustainable solutions for food-fragile communities" is carried out daily as the farm grows food sustainably, donates to those in need and hosts educational programs for local schoolchildren.
A sign at the farm cart asks visitors if they know anyone who needs food but can't afford it. Once per week, food is provided to those in need, including veterans, medically fragile people and parents whose children have not enjoyed fresh produce for a long time. "The calls and referrals come in daily," Leslie said. Giving back to the community, and providing the freshest and healthiest food possible to those who need it, is central to Sweet Wheel Farm's mission.
I asked Leslie how she got started with her farming venture to address the food crisis in Summerland and where she learned to farm. Growing up around farming certainly played a role. Also, a mentor and farming partner in Orcutt helped her get started by sharing space on his farm and showing her how to drive a tractor.
Leslie's passion and drive to experiment have fueled her knowledge and ensure that the farm will continue evolving. She's excited about upcoming experiments to increase plant resilience with mycorrhiza (the symbiotic association between a fungus and a plant, which plays an important role in plant health). She plans to install Warka water towers to harvest water from moisture in the air. She also looks forward to planting hundreds of fruit and nut trees around the farm's perimeter to serve as a windbreak.
Keeping up with unwanted visitors to the farm also requires creativity and ingenuity. Apparently, the deer love crunching on romaine lettuce but leave the other lettuces alone. A mechanical owl sitting in a row of herbs turned its head and hooted when I walked by.
Upon mention of gophers, Leslie told me a story about Steve. When high school visitors at the farm were alarmed to come across a snake, she was quick to let them know he was a friend. "That's Steve—he's our farm snake," she explained, "and we count on him to help with the gopher problem!" At least a few of the students probably viewed snakes in a new light.
Sweet Wheel Farm & Flowers recently opened a new shop, Farm to Paper, next to its cart in downtown Summerland. The shop will offer custom stationery and artisanal products from the farm, including jams, tortillas and salsas. Hands-on workshops will extend the educational component of the farm, and the shop will serve as a community gathering space. I'm excited to see how the farm and the shop grow and evolve as places to preserve, protect and enhance life through organic farming and to serve the community
32 | EDIBLE SANTA BARBARA FALL / HOLIDAY 2022
Jennifer LeMay is a writer, designer and artist. She's grateful for great local food, our bountiful farmers market and all those who work to make our community and food system more resilient.
At
Get fresh updates on our work to ensure the future of agriculture includes all Americans.
farmland.org
Discrimination against marginalized groups in agriculture negatively affects all Americans by limiting the opportunities for farmers, workers, and consumers. AFT is raising up diverse voices in agriculture, because we believe diversity contributes to a more resilient agricultural system, a stronger economy, and a more equitable society.
EdibleSantaBarbara.com FALL / HOLIDAY 2022 | 33
American Farmland Trust, we believe agriculture is strengthened through diversity, just like the soil.
THINKING OUTSIDE THE ALMOND
WORDS BY Janice Cook Knight
Americans have gone wild for almonds in recent years. We love to eat them by the handful, raw or roasted. The price has more than tripled since 2010, and almonds can be found in food products we once thought could only come from cows: almond milk, almond cheese and almond yogurt, to name a few. Almonds ground into meal or flour have become incredibly popular for baking, especially in gluten-free recipes. And let's not forget almond butter!
Almonds and English (aka Persian) walnuts are both native to Iran and the surrounding area. These nut trees began to be plant ed all around the Mediterranean, southern Europe and North Africa, wherever the climate was favorable. Both almonds and English walnuts eventually made it to California. Close to 80% of the world's almonds are now grown here. A whopping 99% of English walnuts grown in the U.S. are from California, too.
While I love almonds, my attention has been drawn to news reports about the amount of water it takes to grow them. Most of California's almonds are grown in the Central Valley, which is suffering from extreme drought and an extremely low water table. And bees, another struggling population, are needed to pollinate the trees. Growing almonds uses about 10% of California's total water, a staggering fact. However, almonds are also California's largest agricultural export. It's an approximately $11 billion industry (depending on sources), and more than half of the almonds grown here are exported to 90 other countries.
I wondered if other nuts required less water for production. I thought that if I used walnuts, for example, or pecans or hazelnuts, they might require less water. Unfortunately, not really. While numbers vary, all tree nuts, including pistachios, require lots of water, at least several hundred gallons per pound of nuts harvested.
In my research, I went down a kind of rabbit hole. The issue of growing almonds in California is incredibly complex. Almond growers have many ways of practicing farming. How are they conserving water? What sustainability practices are they using?
Are they growing organically? If so, that's good for the bees, as well as the agricultural workers. One website, foodrevolution. org, covered the issue more thoughtfully than most.
It does make sense to me to grow tree nuts in areas that have abundant water available. While California's Central Valley may have the perfect climate for almond growing, available water, given our ongoing drought, will continue to be a big issue.
In Santa Barbara County, we're lucky that several nut growers come to our farmers markets. They have smaller family farms and use sustainable practices. We can purchase pecans, walnuts, pistachios and, yes, almonds, and we can talk to our farmers about the water situation and their land. Supporting these smaller, sustainable farms is what the farmers market and eating locally is all about. g
Since I eat mostly gluten-free, I have developed quite a few recipes using nut flours over the years. It's easy to make your own nut flour. While nuts are easily ground in a food processor, I have a small hand grinder that I often use (see Resources, page 38) because the nut flour will have a finely shredded, softer texture.
Baking with nut flours is not a modern innovation: Recipes have been found going back for at least several hundred years. Almond macaroon recipes may have originated in Sicily, then spread to other parts of Europe. There are a variety of Spanish recipes for almond cakes, similar to the walnut cake recipe on page 38. Eastern Europe, especially Hungary, the Czech Republic and Austria, has a rich tradition of using nuts and nut flours in baking recipes, especially walnuts. Italy is famous for using chestnut flour in cakes and in pasta, and Italians adore hazelnuts, too.
I travel frequently to Austin, Texas, where two of my children live. There we visit a pecan farm just out of town (a giant squirrel on the highway gets your attention). Sometimes the farm stand offers as many as four varieties of pecans, and we usually bring a few pounds back in our suitcases. Pecans are native across the southern United States and into the Midwest. Other native American nuts to try are hazelnuts (native to the East and Midwest, though most of what's available has been hybridized with larger European hazelnuts and grown in Oregon), and black walnuts, native to Canada, the Midwest, the East Coast and parts of the South.
I've used pecans and walnuts in the following recipes. Feel free to experiment with other types of nut flours, too, keeping in mind that the oil contents of nuts vary.
EdibleSantaBarbara.com FALL / HOLIDAY 2022 | 35
36 | EDIBLE
FALL / HOLIDAY 2022
SANTA BARBARA
JANICE COOK KNIGHT
Maple Pecan Puffs
I love these simple cookies and make them every year for Christmas. They are similar to a Mexican Wedding Cookie, though less sturdy. The powdered sugar melts as it touches the warm cookie, forming a lovely glaze. Because there is so little flour, the cookie is delicate. It literally melts in your mouth, bathing your palate with buttery roasted pecans. Adapted from similar recipes in The Christmas Cookie Book, by Virginia Pasley (Little Brown & Co., 1950) and Joy of Cooking, by Rombauer & Becker, 1975 edition.
MAKES ABOUT 40 (1 1 ⁄2 -INCH) BALLS
1 ⁄2 cup unsalted butter at room temperature
2 tablespoons maple sugar
1 teaspoon vanilla
1 cup shelled pecans, very fresh
1 cup sifted whole-wheat pastry flour or whole-spelt flour (sift before measuring), or 1 cup unsifted buckwheat flour, light or dark
Additional maple sugar for powdering, about 1 ⁄4 cup, see note following recipe—or about 1 ⁄4 cup regular powdered sugar
Preheat oven to 300°F.
With a wooden spoon or an electric mixer, beat butter until soft. Add maple sugar and blend until creamy. Stir in vanilla and set aside. Measure pecan meats first, then grind them in a nut grinder or very briefly in a food processor until a fine meal is formed. (If using food processor, just pulse a few seconds, or you will get nut butter.) Stir the ground pecans and pastry flour into the butter mixture. Roll dough into small ball, about 1¼ inch in diameter. Place balls on greased cookie sheets about ¾ inch apart. Bake on upper rack of oven for about 20–25 minutes, until cookies have a nice roasted smell and bottoms are just lightly browned (check periodically to make sure bottoms are not browning too quickly—if so, reduce heat to 275° and continue). Roll gently while still warm in powdered maple sugar (see note) or powdered sugar. (If using buckwheat flour, they are especially delicate!) After cooling, store these in an airtight container. I imagine they would keep for about a week, but they never last this long!
Note: To make powdered maple sugar, place about ¼ cup of maple sugar in an electric coffee grinder, spice grinder or the small (1 cup) attachment to a blender. Grind at high speed for about 20 seconds, or until sugar is very fine and powdery (it won't be as fine as regular powdered sugar). Use to roll hot cookies in.
Crisp Cornmeal andPecan Waffles
Ilove cornmeal in pancakes and waffles. It gives a crunch and crispness that is delicious to me, with much more flavor than just regular old wheat flour. If you enjoy the taste of buckwheat, substitute buckwheat flour, either light or dark, for the cornmeal. It also makes crispy, light waffles.
MAKES 3–4 DOUBLE WAFFLES
4 tablespoons unsalted butter, melted and cooled
1 cup stone-ground fine yellow cornmeal
1 cup plus 2 tablespoons finely ground pecans, made in a food processor or hand-cranked grater
2 teaspoons double acting baking powder
1 ⁄2 teaspoon baking soda
1 ⁄4 teaspoon salt
2 cups buttermilk (or goat yogurt thinned with water to butter milk consistency to equal 2 cups)
2 large eggs, separated
Maple syrup or berry syrup, for topping
Fresh blueberries
Preheat a deep double (Belgian) waffle iron. Melt the butter and reserve. In a large bowl whisk together the cornmeal, ground pecans, baking powder, baking soda and salt. In another bowl, whisk the egg yolks until smooth, then beat in the buttermilk and melted butter. Beat the egg whites until soft peaks form. Combine the dry ingredients with the liquid, mixing just until combined. Gently fold in the beaten egg whites.
Lightly oil or spread ghee or clarified butter on your waffle iron. I give the iron a light spread of ghee before each waffle.
Spoon out about ½ a cup of batter on the hot iron, spreading gently to fill out to the edges. Close the lid and bake until browned and crisp, about 4 minutes. Serve waffles immediately or keep warm until serving in a low oven. After cooling, waffles may be tightly wrapped and frozen, then reheated in a toaster.
From the blog Tried and True Kitchen by Janice Cook Knight and Sarah Barnes.
EdibleSantaBarbara.com FALL / HOLIDAY 2022 | 37 RECIPES
JANICE COOK KNIGHT
Walnut Cake with Apricotor Raspberry Preserves
Adapted from Sarah Copeland for Food and Wine, Sept. 2013.
MAKES 8–10 SERVINGS
10 ounces very fresh walnut halves or pieces (about 3 cups)
2 ⁄3 cup organic, unbleached sugar
2 teaspoons baking powder
6 large eggs, separated
Pinch of cream of tartar
1 ⁄2 cup apricot or raspberry preserves Powdered sugar for dusting
Whipped cream, for serving Fresh apricots or raspberries (optional)
Preheat oven to 325°F. Butter and flour a 9-inch springform pan. Pulse the walnuts in a food processor with 2 tablespoons of the sugar, until very finely ground. You should have about 4 cups. Add the baking powder and pulse briefly.
In a large mixing bowl, beat the egg yolks with the remaining sugar at medium high speed until mixture is pale and thick, 3 or 4 minutes. Turn speed to low and use the paddle attachment to mix in the ground walnuts.
In a separate bowl, beat the egg whites with a pinch of cream of tartar, at high speed just until soft peaks form. Gently stir one-third of the egg whites into the batter. Use a rubber spatula to fold in the remaining whites in two batches, folding until no white streaks remain.
Scrape the batter into the springform pan. Bake for about 40 minutes, or until cake is golden and springy. Let cool in the pan on a rack. To unmold it, run the tip of a dull knife around the cake. Using a serrated knife, split the cake horizontally. Place the bottom layer on a cake plate and spread with the apricot or raspberry preserves. Replace the top layer. Dust with the powdered sugar. Cut into 8 or 10 wedges, and serve with whipped cream, and fresh apricots or raspberries if available.
Resources
Cookbook for baking with nuts:
This book is out of print but readily available at used book sources. It's a favorite, and uses all kinds of nuts for baking, including Brazil nuts, peanuts, cashews and chestnuts.
Nut grinders/graters for making nut flour: You want a rotary grater, not one that is used just for chopping. I have used a variety of tools like the Vekaya Manual Cheese Grater shown here.
For another nut recipe: See the Pistachio Lemon Cake on page14.
38 | EDIBLE SANTA BARBARA FALL / HOLIDAY 2022
Fabulous and Flourless: Cakes, Tarts, Tortes, Roulades, Puddings, Souffles, Cookies and More, by Mary Wachtel Mauksch (Macmillan, 1997).
STEVEN BROWN
EdibleSantaBarbara.com FALL / HOLIDAY 2022 | 39 ChocolateMaya.com 15 West Gutierrez Street • Santa Barbara, California 93101 Phone: (805) 965-5956 Support Local! Holiday Gift Certificates Available We deliver directly to your door—the best our community has to offer: local organic produce, grass-fed meats, hormone-free poultry, local seafood, fresh baked pies and breads, cheeses, coffees, artisan food specialties created by local chefs and much more… • Subscriptions start at just $25.00 • Delivery options include weekly or every other week • Freedom to suspend your delivery • Weekly billing • Various box sizes available www.PlowToPorch.com FRESH LOCAL Huge Variety of Local Foods! RENAUD'S PATISSERIE Santa Barbara | Long Beach | La Canada | Montecito www.renaudsbistro.com email Krista Harris at info@EdibleSantaBarbara.com We are looking to add to our plate… Do you have a passion for local food? You might be the perfect partner for us! We are looking for people to join our team in ad sales, promotions and other aspects of the business. edible SANTA BARBARA
40 | EDIBLE SANTA BARBARA FALL / HOLIDAY 2022
SUMMER STAEB
Sheep and other animals are actively rotated throughout the vineyard, naturally fertilizing and mowing the vineyard while improving soil health.
A Soulful Connection to the Land
Alice Anderson uses regenerative farming to produce consciously made wines
WORDS BY Hana-Lee Sedgwick PHOTOGRAPHY B Y SUMMER STAEB AND MAX THRELFALL
Most people would argue that quality farming is an essential part of producing good wine. As the saying goes, "You can make bad wine from good grapes, but you can't make good wine from bad grapes."
The seamless connection between farming and winemaking is a substantial reason why many winemakers take special care to source fruit from vineyards that are farmed in a way they respect and agree with. To further strengthen that connection, some producers choose to farm their own grapes—much like they do in many Old World wine regions— which allows them to have direct control over how the grapes are grown. Alice Anderson is one such young producer.
As farmer and winemaker for her small label Âmevive (pronounced "AHM-veev" and meaning "lively soul"), made from grapes she regeneratively farms at the Ibarra-Young Vineyard, Alice is proving you don't need a family farming heritage or even decades of experience to grow and make conscious wines of quality. You just need a lot of "passion, respect for the land and definitely a bit of grit," she says.
Alice grew up in Modesto, where she constantly surrounded herself with horses and farm animals. While attending Cal Poly to study agriculture, she took a viticulture class that
changed the trajectory of her studies, leading her to pursue a Wine & Viticulture degree. Upon graduating, she traveled to New Zealand to work a vintage at the family-owned Rippon Vineyard, where she got her first taste of biodynamic viticulture.
After a year in New Zealand, Alice headed to France to work at Domaine Pierre Gaillard in the Northern Rhône, where she would spend the next two years. "France is where I first fell in love with wine, but it's also where I first identified with the 'grow your own food, grow your own grapes' mentality," she says. "It's where I first felt the importance of the relationship between a farmer and a winemaker and where I first felt drawn to be fully connected with the land that my wine grapes grow on."
Empowered by local friends around her age who planted their own vineyards and started their own wine brands, she headed back to the States, zeroing in on the Central Coast to further develop her craft, with the goal of one day growing grapes for her own label.
Back in California, Alice spent time working at Tyler Winery under Justin Willett, who taught her the "importance of precision and being intentional in the cellar," she says, followed by a harvest at A Tribute to Grace with Angela Osborne, who showed her how to trust her "emotions and intuition."
EdibleSantaBarbara.com FALL / HOLIDAY 2022 | 41
"Our goal is to rebuild an ecosystem of native species that live alongside our vine rows, regenerate soil health and grow the highest-quality grapes this site can give."
42 |
EDIBLE
SANTA BARBARA
FALL / HOLIDAY 2022
Alice and her partner Topher de Felice at Ibarra-Young Vineyard in the Los Olivos District.
EdibleSantaBarbara.com FALL / HOLIDAY 2022 | 43 MAX THRELFALL
Since 2019, Alice has been with Graham Tatomer, working as assistant winemaker for his eponymous label focused on Austrian varietals. "I've been able to take knowledge from my varied experiences with different producers and apply it to my current work, but Graham has taught me invaluable lessons about the business side of things," she explains. "He's been an inspiration as a winemaker and business owner, and is always willing to share his insights."
During her first year with Tatomer, Alice discovered the Ibarra-Young Vineyard, located in the Los Olivos District AVA of Santa Barbara County. That same year, she launched her own label, Âmevive, for which she produced small amounts of Rhône varietals, including from Ibarra-Young. Just one year later, the stars aligned when she took over the lease for Ibarra-Young.
First planted in 1971 by Charlotte Young and vineyard manager Miguel Ibarra, followed by plantings in 1973, Ibarra-Young Vineyard was leased from 1986 to 2018 by Bob Lindquist, who started employing organic farming practices in the 1990s. Just 10 acres in its entirety, this small but mighty vineyard is home to own-rooted Syrah, Mourvèdre, Marsanne, Graciano and Tempranillo.
Since taking over the lease of the vineyard, which is still owned by the Young family, Alice along with her business and life partner, Topher De Felice, have been devoted to turning Ibarra-Young into a regeneratively farmed property, driven by intense earnestness and a shared holistic vision. Working in conjunction with nature, they farm with respect to the entire ecosystem in order to increase biodiversity and soil health, which ultimately eliminates the need for synthetic fertilizers and pesticides, is healthier for the land, and reduces their carbon footprint.
"Our goal is to rebuild an ecosystem of native species that live alongside our vine rows, regenerate soil health and grow the highest-quality grapes this site can give," says Alice. "We believe the best wine grapes are grown with holistic inputs and non-dogmatic vineyard management."
Using compost as an essential building block for achieving balanced soil health at Ibarra-Young, Alice and Topher make several of their own biodynamic composts, which, she explains, give the vines "the proper soil microbial balance in order to make nutrients more available to our vine roots." She adds, "We also make a compost used as a foliar tea spray to inoculate our vineyard canopy with a healthy colony of microbes to grow with the canopy as it grows. This helps with the vines' natural immunity and deters leaf feeders from finding the vines."
Incorporating animals is another vital part of their soil health and land stewardship plan. "We actively rotate chickens, sheep and ducks throughout the vineyard, and we are completing our fourth year of no till," she says. "We've also built large owl boxes, an important aspect of our healthy no-till vineyard, as the owls prey on gophers and mice, making them important employees on the vineyard team. And bluebird boxes and bat boxes are going to be installed soon!"
|
SUMMER STAEB
SUMMER STAEB
Alice takes a holistic approach in the vineyard, using regenerative farming practices to make her soulful small-lot wines.
EdibleSantaBarbara.com FALL / HOLIDAY 2022 | 45 SUMMER STAEB
Conscious farming allows the vineyard to grow alongside a healthy living ecosystem.
Alice Anderson's Âmevive wines are made to express the land on which the grapes are grown.
46 | EDIBLE SANTA BARBARA FALL / HOLIDAY 2022 SUMMER STAEB
For Âmevive, it's not surprising that Alice takes an equally thoughtful approach to producing wines she describes as "energetic, soulful and made in a playful California fashion." Unfined and unfiltered, the wines are lively, layered and full of soul, harmoniously capturing the essence of their French name.
While Alice sources grapes from other vineyards through out Santa Barbara County, the majority of her 1,200–1,600 case production is dedicated to highlighting the nuances of Ibarra-Young. From her Syrah to Marsanne, the wines reveal the wild, natural soul of the property through what's inside (and outside) the bottle. Not to be overlooked, the beautiful labels—featuring artwork by Alice and her mom—depict the native flora and fauna of the vineyard, painting a visual, quite literally, of where the wine is from.
"We truly believe that there are many ways to farm consciously. This is our way," says Alice. "It's an honor to be able to farm this magical vineyard and make wines the way we want to make them. It's physical, it's agricultural, but it's also an art form to express the land and wines that make me happy. We hope it all translates into each bottle."
Hana-Lee Sedgwick is a Santa Barbara native who writes about wine, food and travel. When not keeping busy as a freelance writer and editor, she happily spends her downtime eating, drinking and wandering up and down the West Coast. Follow her on Instagram @wanderandwine.
EdibleSantaBarbara.com FALL / HOLIDAY 2022 | 47
STAEB
MAX THRELFALL
SUMMER
Fruit Fall
WORDS AND PHOTO GRAPHY BY Pascale Beale
"Fruit, more than any of the other foods we consume, has the power to go right to the heart of our being. Fruit is sweet. Fruit is beautiful to look at and beautiful to smell. Fruit teaches us the meaning of time and eternity."
—Alice Waters, Chez Panisse Fruit
Rereading this passage from the introduction to Alice Waters' delicious fruit cookbook made me think about patience, and the life cycle of plants and trees—fruit trees in particular. Is there anything more satisfying than watch ing something you have planted grow and bear fruit?
The life cycle of almost any fruit tree echoes the seasons—a cool dormant winter, the flourish of blossoms in the spring, the tantalizing ripening in the summer, followed by a gratifying harvest.
I have, sporadically, over the past three years, planted an assortment of fruit trees. I've planted a lemon, fig, peach, donut peach, nectarine, apricot and apple in the hope that they will blossom and bear a prodigious quantity of fruit I can subsequently eat, cook with and preserve.
I had hoped for a six-month-long feast of fruitful fecundity, beginning with divine Blenheims in June, ending with crunchysweet tangy Fujis in mid-autumn, with a final flourish of magnificent Meyers to cap off the winter months. The results have been very mixed, due in large part to their being planted in pots, albeit very large ones, and my belief that they will just get on with the business of growing, blossoming, pollinating and producing a juicy product without my having to intervene too
much. I had chosen varieties with the shortest requirement of chill hours and fed them before they blossomed. However, three years and a fruit harvest that has gone from satisfying to abysmal have put paid to any notions of my fruit tree husbandry.
As I stood in the garden earlier this summer, surveying my fruitless—and I do mean completely fruitless—apricot, peach and nectarine trees, wondering what had gone wrong, I suddenly thought about my grandmother Genevieve, her garden and my culinary apprenticeship at her side.
As a child, I learned to pick and choose fruit in her garden or at the market. She would assess them, smell them, and choose only those that were perfect. She would wait patiently for the fruit she grew—whether an apricot, cherry, red currant or plum—to be just so, just at their height of sweetness, before picking them. Jams and jellies were resplendent representations of fruit at their acme. Her apricot jams were the color of an orange sunflower, her red currant jelly a glistening ruby red. Desserts at her house were often a single piece of fruit, but what a piece of fruit it would be.
After all the hard work of harvesting them, we ate them reverently, eyes almost closed, savoring their juiciness! She came
EdibleSantaBarbara.com FALL / HOLIDAY 2022 | 49
to my mind when I read this quote from John Keats: "Talking of pleasure, this moment I was writing with one hand, and with the other holding to my Mouth a Nectarine—how good, how fine… all its delicious embonpoint melted down my throat like a large, beatified Strawberry."
If plums, peaches and nectarines are the glory bombs of summer, apples and pears are the fireworks of autumn. They might not be quite as colorful or juicy, but they are versatile and can be transformative. They are cloaked in the seasonal colors of falling leaves, from pale yellow sunset to burnt orange and sage.
These are the fruit that carries us from the first chill of autumnal air to bundled up on those longed-for rainy days. These are the fruit that are the harbingers of festive feasts, the promise of delicate pies, of scented cakes and luscious puddings, married with cinnamon, cardamom, pecans and nutmeg.
As the air cools, these autumnal fruits come to the fore, keeping us company, wrapped up in cozy blankets of deliciousness. Persimmons made into pudding, pomegranates scattered like glistening jewels over autumnal salads with the golden palette of fall citrus, a caramelized tarte tatin, a classic apple pie, a Waldorf salad, a roast with apples and prunes, a cider-basted chicken, a Poire Belle Helene, a fine quince tart, a candied apple, oodles of hearty crumbles or a delicate winepoached pear.
Homer referred to pears in the Odyssey as "the gift of the gods," and they have long been revered and seen as a precious, seductive and almost luxurious item. There is something very sensual about pears. Hidden beneath the drab exterior of a Bosc is an aromatic, sweetly spiced flesh that is perfect for baking or poaching. Slice open a pink-tinged Comice and discover a creamy, sweet juicy fruit that is an ideal complement to cheese.
Small, heirloom Forelle pears with their beautifully speckled red blush over greenish-yellow skin taste extra sweet with cinnamon spice overtones and are marvelous poached in wine or saffron syrup, a dish my grandmother made with great aplomb.
I resolved to exercise a little more patience, to channel my inner Genevieve, to see if my mini "orchard" would yield anything edible this year. Finally, to my delight, it was the smallest of the trees, the Fuji apple with its spindly trunk, that has produced an extraordinary number of marvelously sweet, crunchy apples, its little limbs bent over under their weight. I covet them! They are perfect for salads, to be eaten out of hand, or sliced alongside a nutty piece of parmesan or cheddar.
Evidently, certain years produce a spartan crop, all the more reason to treasure it. Now the question is, do I dare add a pear tree to the mix?
RECIPES
Green Apple, Herb and Green Tomato Salad
I recently found some irresistible gooseberry-like green tomatoes at the farmers market. They had almost translucent, iridescent skin that glistened as the sun shone on them. They had a firm texture and nice acidity, which oddly made me think of crunchy green apples. Once back in my kitchen, I made a small salad trying the two together and was delighted that the two fruits worked so well together. Paired with the freshness of mint leaves and perfume from lemon basil, the salad was bright and light.
MAKES 8 SERVINGS
FOR
THE SALAD
4 green crunchy unpeeled apples, very thinly sliced, on a mandoline if possible
1 ⁄2 pound green (or yellow) variety of cherry tomatoes, quartered
30 small mint leaves
30 small lemon basil leaves (if you cannot find lemon basil, use regular Italian basil)
1 ⁄4 cup lightly toasted pine nuts
FOR THE VINAIGRETTE
3 tablespoons olive oil
Zest and juice of 1 lemon 1 tablespoon lime juice
Coarse sea salt
Black pepper
Completely cover a large platter with the apple slices, overlapping them slightly. Scatter the tomato pieces, mint and basil leaves and toasted pine nuts over the apples.
In a small bowl, whisk together the olive oil, lemon zest and juice and lime juice to form an emulsion. Immediately pour the vinaigrette over the apples to prevent them from discoloring. Sprinkle the salad with a generous pinch of salt and 5–6 grinds black pepper.
50 | EDIBLE SANTA BARBARA FALL / HOLIDAY 2022
Green Apple, Herb and Green Tomato Salad
Whole Roasted Chicken in Clay Pot with Almonds, Dates and Lemons
I received my clay pot as a gift. I'll be honest and tell you that it sat, collecting dust, for a very long time. I mistakenly thought that it would be a chore to use. Finally, prompted by another article raving about this cooking method, I took the plunge. Ah, what a discovery! Now, close to 30 years later, my very dependable clay pot (yes, the same one) has produced many a succulent meal. Chicken cooked this way melts in your mouth. The combination of the lemons with the sweetness of the dates and the crunch of the almonds is one of my favorites.
Don't wait to use your clay pot!
6–8 shallots, peeled and quartered pound Barhi or Medjool dates, pitted
2 cloves garlic, peeled and minced 1 (4- to 5-pound) chicken or 2 (3-pound) chickens
Coarse sea salt and black pepper
NOTE: Do not preheat oven. Place the rack in the middle of Soak a large unglazed clay pot (top and bottom) in water for
Put the shallots, dates, lemons and garlic in the bottom of the clay pot. Rest the chicken, breast side down, on top of the lemons. Whisk together the honey and orange juice with a pinch of salt and 8–10 grinds of fresh black pepper and then pour over the chicken. Cover with the clay top and place the pot on the center rack of a
Set the oven to 450°F and cook for 45 minutes. Remove from the oven. Lift the lid cautiously, avoiding the steam. Turn the chicken breast side up. Add the almonds, replace the lid, and cook for an additional 40 minutes.
Remove the clay pot from the oven and rest it on a wooden surface, cork trivet or folded kitchen towel. A cold surface may cause the
Serve the chicken with the roasted lemons and dates. This is excellent served with sautéed greens.
52 | EDIBLE SANTA BARBARA FALL / HOLIDAY 2022
Pan-Roasted Pears with Vanilla and Cloves
I love pears. There is a moment when they are perfectly ripe, slightly firm, juicy and sweet. When cooked they take on another dimension as their flavor is enhanced.
Certain spices evoke seasons, and the aroma of vanilla, cinnamon and cloves speak of a winter's day when you smell baking gingerbread cookies or mulled wine. These pears encompass all of these delicious traits.
MAKES 8 SERVINGS
2 ounces butter
2 tablespoons light brown sugar
2 vanilla beans, split lengthwise and seeds scraped out (or 2 teaspoons vanilla paste or pure vanilla extract)
1 stick cinnamon
1 pinch allspice
3 cloves
8 pears, peeled, cored and quartered
1 ⁄2 cup crème fraîche
Zest of 1 lemon
Place the butter in a large shallow pan over medium heat. Once melted, add the sugar, vanilla bean seeds, the vanilla beans themselves (if using), the cinnamon stick, allspice and cloves. Cook for 2 minutes so that the sugar has started to melt, stirring frequently.
Carefully add the pears to the pan. Turn and coat the pears with the buttery-sugary mixture and cook for 10–15 minutes, turning them once or twice. The pears should be a golden-brown color and smell heavenly.
Remove from the heat but leave the pears in the pan until you are ready to serve.
Combine the crème fraîche and lemon zest in a small bowl. Serve a good spoonful on each plate alongside the warm pears.
Pascale Beale grew up in England and France surrounded by a family that has always been passionate about food, wine and the arts. She was taught to cook by her French mother and grandmother. She is the author of The Menu for All Seasons, Salade II, Les Fruits and Les Legumes. Visit her website and blog: The Market Table at PascalesKitchen.com.
EdibleSantaBarbara.com FALL / HOLIDAY 2022 | 53
SANTABARBARA & WINE COUNTRY
SUPPORT LOCAL GUIDE
Now more than ever, it's important to seek out and support local businesses. Here is our guide of the current advertisers that we fully support and hope you will, too. Visit the websites to get more information about what they offer and any updated hours of operation.
Farms & Ranches
Babé Farms 805 925-4144 www.BabeFarms.com
Babé Farms boasts a year-round harvest of colorful baby and specialty vegetables, grown in the Santa Maria Valley. Family-owned and -operated, Babé Farms is the "couture" label top chefs and fine retailers look to for their gourmet vegetable needs.
Winfield Farm 805 686-9312 www.WinfieldFarm.us
Taste the magic of Winfield Mangalitsa! Mangalitsa ground pork (the real hamburger) and hickory-smoked bacon are now featured in the Larder Meat Company's Larder Club meat box, delivered monthly throughout California (sign up at www.LarderMeatCo.com). You can also order through our Mangalitsa Market on the Winfield Farm website—please call first! Follow us on Facebook (WinfieldFarmBuellton), Twitter (@WinfieldFarm.us) and Instagram (Winfield_Farm).
Food & Restaurants
Bob's Well Bread
550 Bell St., Los Alamos, CA 805 344-3000 2249 Baseline Ave., Ballard, CA 805 691-9549 www.BobsWellBread.com
Now in two locations with convenient online ordering, Bob's makes bread the old-fashioned way: handcrafted in small batches with the finest ingredients and baked to perfection in a custom-built stone-deck oven. Drop in to taste what visitors and journalists are raving about as "worth the drive" about—signature Pain au Levain, award-winning artisanal breads, croissants and specialty pastries. All-day menu of made-to-order breakfast, lunch and weekly special dishes. Indooroutdoor picturesque café. Los Alamos: Thu–Mon 7am–4pm. Ballard: Thu–Mon 8am–4pm. Café closes at 3pm. Closed Tue and Wed.
Bree'Osh
1150 Coast Village Rd., Montecito, 805 969-2500 2700 De la Vina St., Santa Barbara, 805 770-2238 www.Breeosh.com
Bree'Osh is a French artisan bakery café specializing in sweet and savory brioche bread made with traditional sourdough. Featuring local, organic, highquality ingredients. Serving breakfast and lunch daily 7am–2pm (kitchen open until 1:30pm).
Chocolate Maya
15 W. Gutierrez St., Santa Barbara 805 965-5956 www.ChocolateMaya.com
Chocolate Maya handmade chocolate confections: a variety of velvety truffles and chocolate-dipped temptations that are made from the highest-quality chocolate (Valrhona, Felchlin, Conexion, including small bean-to-bar artisans couverture) fresh local ingredients and exotic findings from their travels overseas. Covid-19 hours noon–5pm every day. Closed on Wednesday.
Il Fustino
La Arcada 1100 State St. San Roque Plaza, 3401 State St., Santa Barbara, 805 845-3521 www.ilFustino.com
Il Fustino is Santa Barbara's first and finest olive oil and vinegar tasting room. Il Fustino purveys only the finest and freshest olive oils, all grown and milled in California. They also provide an unparalleled selection of artisan vinegars. San Roque Plaza: Open Mon–Sun 11am–5pm. La Arcada: Open Thu–Sun noon–4pm.
Olive Hill Farm
2901 Grand Ave., Los Olivos 805 693-0700 www.OliveHillFarm.com
Specializing in local olive oils, flavored oils and balsamic vinegars as well as many locally produced food products. Olive oil and vinegar tastings with fresh local bread available. Open Thu–Mon 11am–5pm.
Pico
458 Bell St., Los Alamos 805 344-1122 www.PicoLosAlamos.com
Located in the historic 1880 General Store, offering a casual dining experience with innovative cuisine made from locally sourced ingredients. The extensive wine list has earned a Wine Enthusiast "Top 100 Wine Restaurant" award two years running. Open Tue–Thu 3–9pm; Fri–Sat noon–10pm; Sun Burger Night noon–9pm.
Plow to Porch
805 895-7171 www.PlowToPorch.com
Plow to Porch Organics is a local organic/pesticide-free produce and grocery delivery service to members who subscribe. They simplify the purchase of local fresh organic produce and other organic, local foods in order to inspire good nutrition, support local farmers, protect the environment and make eating healthy food fun! Subscriptions start at $22.50.
Renaud's Patisserie & Bistro
3315 State St., Santa Barbara 805 569-2400
1324 State St., Santa Barbara 805 892-280
1187 Coast Village Rd., Montecito 805 324-4200 www.RenaudsBistro.com
Renaud's is a bakery specializing in French pastries and French-style cakes, as well as a bistro offering an extensive menu for breakfast and lunch. Open Mon–Sat 7am–4pm; Sun 7am–3pm.
Wine & Beer
Au Bon Climat
813 Anacapa St., Santa Barbara 805 963-7999 www.AuBonClimat.com
The tasting room and the Jim Clendenen Wine Library are known for world-class Chardonnays and Pinots, yet other varietals are available. Jim Clendenen made wines of vision and character for over 30 years. Amazing lineup of current releases and library wines on hand. Tasting room open Mon–Fri noon–6pm, Sat and Sun 11am–6pm. Outdoor wine tasting daily. Reservations recommended.
54 | EDIBLE SANTA BARBARA FALL / HOLIDAY 2022
edible COLIN QUIRT
ROB HATHERILL
STEVEN BROWN
Babi's Beer Emporium
380 Bell St., Los Alamos 805 344-1911 www.BabisBeerEmporium.com
Great beer. Impeccable selection. Great fun. Adventurous beer drinkers can discover unique, hardto-find craft beers, ciders and special projects—on tap or in bottle. Stay to have a bite from Dim Sama's menu. Thu–Sat noon–7pm, Sun noon–6pm, Mon noon–4pm, Tue–Wed by appointment only.
Buttonwood Farm Winery
1500 Alamo Pintado Rd., Solvang 805 688-3032 www.ButtonwoodWinery.com
Since 1983, the vineyard and its award-winning wines have been hand-raised and hand-crafted with the goal of environmental responsibility. The vineyard now has 38,000 vines highlighted by Sauvignon Blanc and Cabernet Franc, along with small blocks of Semillon, Grenache Blanc, Chenin Blanc, Grenache, Syrah, Merlot, Malbec and Cabernet Sauvignon. Tasting daily by appointment 11am–3:30pm.
Casa Dumetz
388 Bell St., Los Alamos, 805 344-1900 www.CasaDumetzWines.com
A boutique winery specializing in Rhône varietals crafted with premier Santa Barbara County fruit. Their wines are sold almost exclusively at their tasting room in historic Los Alamos and through their wine club. Thu–Sat noon–7pm, Sun noon–6pm, Mon noon–4pm, Tue–Wed by appointment.
Foxen Vineyard & Winery
7600 Foxen Canyon Rd., Santa Maria 805 937-4251 www.FoxenVineyard.com
The Foxen Boys' winery and tasting room features Burgundian and Rhône-style wines. Visit the historic shack "Foxen 7200" for Italian and Bordeaux-style wines. Picnic tables and scenic views at both locations. Open daily by reservation.
Margerum & Barden
Tasting Room at the Hotel Californian, corner Winery Tasting Room, 59 Industrial Way, Buellton; 805 686-8500 www.MargerumWines.com
Enjoy wine tasting, order from their menu and stock up on provisions at the combined Margerum and Barden Tasting Room across the street from Hotel Californian in the Santa Barbara Funk Zone. Indoor and outdoor patio seating, with an indoor mezzanine that can host private events. Handcrafted Rhône varietal wines from Margerum Estate Vineyard and from grapes grown at top Santa Barbara County vineyards. All complemented with a simple fare menu—cheese and charcuterie, pizzas, paninis, salads and other foods to complement the wine. The winery in Buellton is open by appointment for wine tasting and winery tours.
Meritage Wine Market
18 W. Anapamu St., Santa Barbara 805 845-0777
SantaBarbara.MeritageWineMarket.com
Meritage Wine Market offers the best personal wine experience with the core belief that making great wine is a complex process but choosing one shouldn't be. They manage their customers' needs with wine selections specifically chosen for their individual purpose and fulfilling the highest-quality wine within budget. Open Tue–Sat 11am–6pm.
Refugio Ranch Wines
2990 Grand Ave., Los Olivos 805 697-5289
www.RefugioRanch.com
Refugio Ranch is a 415-acre former cattle ranch nestled into the Santa Ynez mountains. The 28 acres of vineyards are farmed and harvested by hand, with a focus on low yields and concentration of fruit. Visit the tasting room in Los Olivos—a converted early-1900s warehouse now home to two tasting bars, a VIP lounge and an expansive outdoor deck.
Riverbench Vineyard & Winery 137 Anacapa St., Ste. C., Santa Barbara 805 324-4100
6020 Foxen Canyon Rd., Santa Maria 805 937-8340 Riverbench.com
Established in 1973, when the first Chardonnay and Pinot Noir grapes were planted on the property. For years since then, some of the most renowned wineries have purchased Riverbench fruit for their wines. In 2004, Riverbench began producing their own still and sparkling wines in limited quantities, with many available exclusively through their tasting rooms in Santa Maria and Santa Barbara.
Santa Barbara Winery 28 Anacapa St., Santa Barbara 805 963-3633 www.SBWinery.com
Santa Barbara Winery is the oldest winery in Santa Barbara County. Established in 1962, Pierre Lafond pioneered the commercial vineyard business under the Santa Barbara Winery label in the Sta. Rita Hills. The winery and tasting room is located in Santa Barbara's Funk Zone and is one of the only fully operating wineries of its kind in the urban district. Tasting room open 11am–6pm daily.
Zaca Mesa Winery 6905 Foxen Canyon Rd., Los Olivos 805 688-9339 www.ZacaMesa.com
Since 1973, Zaca Mesa Winery has crafted distinctive wines from their unique mesa-top vineyard. As an early pioneer of the region, they now have 150 acres planted, specializing in the production of estate-grown Rhône-style wines. Tasting room and picnic area open daily 10am–4pm. Call for more information on winery tours and private event space.
Specialty Retail
ella & louie www.EllaAndLouie.com
Floral designer Tracey Morris has two great loves: flowers and people. Relying on more than 25 years of design experience, Morris helps clients celebrate their big occa sions with exquisite and expressive floral arrangements. Ella & Louie produces a range of looks from classic elegant designs to unusual and stylish. Local delivery.
G&B Organics
GB-Organics.com
The success of your organic garden starts with the soil. Ideally, you want your soil to support a rich life of beneficial microorganisms that promote plant growth. G&B products meet stringent National Organic Program
(NOP) standards, independently verified by the Organic Materials Review Institute (OMRI) and the California Department of Food and Agriculture's Organic Input Material (OIM) program.
Montecito Country Mart
1016 Coast Village Rd., Montecito, 805 969-9664 www.MontecitoCountryMart.com
The Town and Country–style village anchored by a market offers organic eateries, bespoke fashion, cu rated home goods, local conveniences and community events. Around the central courtyard, punctuated by edible landscaping and intimate outdoor seating, you will find boutique shops in combination with neigh borhood services and eateries.
Professional Services
American Riviera Bank
525 San Ysidro Rd., Montecito, 805-335-8110 www.AmericanRivieraBank.com 1033 Anacapa St., Santa Barbara 805 965-5942 www.AmericanRivieraBank.com
Offering a local and sustainable approach to banking. The founders of American Riviera Bank are a carefully selected group of successful, prominent, experienced and influential community and business leaders who understand the unique needs of the Santa Barbara community. Montecito branch open Mon–Thu 9am–5pm; Fri 9am–5:30pm. Santa Barbara branch open Mon–Thu 8am–5pm, Fri 8am–6pm.
Change Home Mortgage
310 927-2467 www.ChangeMtg.com
Change Home Mortgage offers traditional and nontra ditional loans as diverse as the borrowers they serve.
Monterey County SeeMonterey.com/Now
SBCC Foundation 805 730-4401 www.SBCCFoundation.org
The SBCC Foundation was established in 1976 to provide Santa Barbara City College with private phil anthropic support. The foundation acts in partnership with the college and bridges the gap between avail able public funding and institutional need, as deter mined by the college leadership. The SBCC Foundation provides more than $4 million annually for student success programs, scholarships, book grants and other critical needs of the college in order to support SBCC students as they prepare for careers, transfer to fouryear universities and pursue lifelong learning goals.
Santa Barbara South Coast Chamber of Commerce www.SBSCChamber.com
Representing 1,100 businesses and 75,000 jobs from Carpinteria, Santa Barbara, Goleta and everything in between, the Santa Barbara South Coast Chamber of Commerce is proud to advocate for business, support economic development and promote tourism and visitor services.
EdibleSantaBarbara.com FALL / HOLIDAY 2022 | 55
Fall's
Don't-Miss Dish
WORDS AND PHOTO GRAPHY BY Liz Dodder
Braised Short Rib with Vegetables at Sear Steakhouse
When cold weather rolls around in the Santa Ynez Valley, we start to crave comfort food. We want slow-cooked and braised meats, long-simmered vegetables and rich sauces… like Grandma used to make. Sear Steakhouse, under the direction of new owner and Chef Nathan Pietso, is serving just that with an "elevated pot roast" this fall in Solvang.
Pietso is a new valley resident, a secondgeneration farmer from Ventura County, and a farm-to-table restaurateur (formerly in Los Angeles). For Pietso, "farm" is a way of life: His mother was part of the early movement, supplying greens to Alice Waters, and has now added growing and milling local wheat and polenta to the farm. In addition to his family's products from Roan Mills and Kenter Canyon, Pietso is sourcing from local SYV and Santa Barbara County producers.
Pietso prefers the character and flavors of products that come from small farms, and he also loves the sense of terroir that comes with food grown so close to the restaurant. For the beef ribs, he sources from Santa Barbara Meat Co. at Pork Palace. "You can taste the terroir, the grasslands here in Santa Barbara County," he says. "There is more minerality and more beefy flavor, plus the animals are treated well and fed no hormones, which all contribute to the taste. It's perfect for slow-and-low roasts like this."
You'll see plenty of local meats on Sear's menu, reinvented classic steakhouse items, more Santa Barbara seafood and creative spins on vegetable dishes. His goal is a casual, friends-and-family joint with elevated-quality food. "I cook food that I would want to eat myself every day," Pietso says. "And I want to give people what they want."
To make the short rib, start with the best-quality beef ribs you can find. Pietso uses a large cut, called a dino rib, in sections of 3–4 ribs. (Using bone-out ribs also works.) Trim away the gristle and membrane and sprinkle generously with salt and pepper. In a Dutch oven, heat olive or cooking oil over high heat. When very hot, sear all sides of rib rack until browned. Add coarsely
chopped red onion, carrots and garlic and some oregano. Add beef stock to almost cover the meat. Bake at 350°F for at least 4 hours.
Roast all vegetables at 350°, separately, after tossing them in olive oil, salt and pepper. Five whole carrots (35 minutes); two red onions, cut in sections (25 minutes); shiitake mushrooms, quartered (15 minutes); and tomatoes or any fall vegetables/squash cut in sections (20–30 min utes). Make polenta using half cream, half veggie stock for liquid, adding parmesan cheese at the end. Toss finished vegetables in braising liquid. Meat is done when a fork can easily pierce and twist in the meat; cook longer if desired. Place polenta on a plate, top with one rib, add vegetables and more braising sauce and garnish with chives.
Liz Dodder is a drinker, eater and traveler who has eaten five kinds of foie gras in one day. She's also a blogger, writer, photographer, recipe developer, web designer, social media maven and Certified Specialist of Wine (CSW). www.CaliCoastWineCountry.com
56 | EDIBLE SANTA BARBARA FALL / HOLIDAY 2022
T H E L A S T
montecitocountrymart.com • @montecitocountrymart SHOPS BEAUTY HABIT • CLARE V. • CLIC • CYNTHIA BENJAMIN • DÔEN • FARMSTAND • GEORGE • HUDSON GRACE • JAMES PERSE • KULE POP-UP • MALIA MILLS • MATE GALLERY • MONTECITO MERCANTILE MONTECITO NATURAL FOODS • POPPY MARCHÉ • TOY CRAZY • VON'S DINING BETTINA • CAFFE LUXXE • MERCI PANINO • PRESSED JUICERY •  RORI'S ARTISANAL CREAMERY SERVICES MONTECITO BARBERS MONTECITO CLEANERS • UNION BANK • U.S. POST OFFICE COMING SOON ALMA FONDA FINA EMBRACE THE SEASON