E x e c u t i v e A g e n t M a g a z i n e . O r a n g e C o u n t y, C A . J u n e, 2 0 2 3 Shauna & Leita Executive Agents of the Month AGENT MAGAZINE
®
EXECUTIVE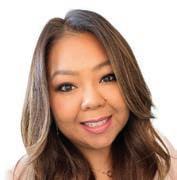 ALAN CIPOLLETTI Sr. Mortgage Advisor NMLS-653005 c 949-394-1757 MARIO PIERCE Sr. Mortgage Advisor NMLS-491911 c 714-317-7553 JOHN KRAMER Sr. Mortgage Advisor NMLS-282232 c 949-620-0637 NANCY CONNORS Sr. Mortgage Advisor NMLS-240768 c 951-212-3044 HANH DUONG Sr. Mortgage Advisor NMLS-352080 c 949-620-0646 LYNN NELSON Sr. Mortgage Advisor NMLS-653022 c 714-412-8608 BOB SNOWDEN Sr. Mortgage Advisor NMLS-662201 c 949-510-3284 JIM THIEL Sr. Mortgage Advisor NMLS-907893 c 949-521-0039 We offer in-house agent marketing support providing the following services: POSTCARDS | FLYERS | VIDEO | PHOTOGRAPHY IRVINE BRANCH 420 Exchange, Suite 250 | Irvine | CA, 92602 We've Moved! New Company Name, Same Great Service! JOHN REED Branch Manager | Sr. Mortgage Advisor NMLS-869516 c 714-305-2912 RYAN PRISCO Sr. Mortgage Advisor NMLS-987736 c 626-818-1919 pacresmortgage.com | 420 Exchange, Suite 250 | Irvine | CA, 92602 ©2022 Pacific Residential Mortgage, LLC | Terms subject to change without notice. Qualified borrowers only. Credit on approval. This is not a commitment to lend. Call for details.
Reaching LOCAL & GLOBAL Markets The POWER of PRINT & DIGITAL MAGAZINES Please contact us at: farrias45@gmail.com Tel: 949.702.9577 www.ExecutiveAgentMagazine.com
Shauna & Leita Executive Agents of the Month
Among the top one-half of 1 percent of Realtors® nationwide, Shauna Covington brings unrivaled expertise to the process of buying or selling a home in coastal Orange County. With more than $1 billion in career sales for a median sale price of $3.5 million, her award-winning approach to real estate has made her the number one choice in Laguna Beach every year since 2003.
21 COVER STORY 4 ExEcutivE AgEnt MAgAzinE
28 30
34 32
345 Heather Pl, Laguna Beach, CA $5,600,000 SOLD
165 Dumond, Laguna Beach, CA $6,500,000 SOLD
214 High Drive, Laguna Beach, CA $3,695,000
32651 Sea Island, Monarch Beach, CA $5,995,000
Shauna's Properties
-Tony Alessandra
-Steve Cook
PRESIDENT & CEO
EXECUTIVE PUBLISHER
Fred Arrias
VICE PRESIDENT
GRAPHIC DESIGN
-Steve
Garon Arrias
EDITOR
Trudy Vanderhoff
PROFESSIONAL PROFILES
H.K. Wilson
CONTRIBUTING WRITERS
Herbert Clark
Charlene Gates
John Harris
Chris Richards
Ronald Taylor
Crystal Widen
PHOTOGRAPHY
iPhotography Studio
Ian Wiant EXECUTIVE AGENT MAGAZINE PO Box 73384 San Clemente, CA 92673
Ph: (949) 702-9577
farrias45@gmail.com
www.ExecutiveAgentMagazine.com
© Copyright 2023 Executive Agent Magazine. All rights reserved. Reproduction in whole or in part without written permission is prohibited. Although every precaution is taken to ensure accuracy of published materials, Executive Agent Magazine cannot be held responsible for opinions expressed or facts supplied by its authors.
5 ExEcutivE AgEnt MAgAzinE
CONTENT 40
of Humor
June, 2023
Sense
Faith And Trust Will Lead to Success
Having
-Mark Victor Hansen
16
You Lazy Enough to be a Great Manager
Kleiman 44 Setting Expectations -Peggy L. McNamara 36 Sales Motivation -Kevin Ngo Like a Pro
Cook 10 06 Better is Something You Become
Rohnke a Pro -Steve Cook
Cook
Are
-Mel
-Steve
-Jim