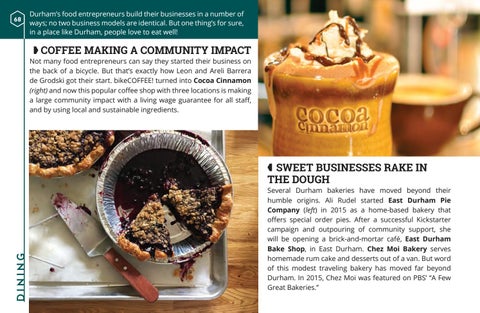 68
Durham's food entrepreneurs build their businesses in a number of ways; no two business models are identical. But one thing's for sure, in a place like Durham, people love to eat well!
COFFEE MAKING A COMMUNITY IMPACT
Not many food entrepreneurs can say they started their business on the back of a bicycle. But that's exactly how Leon and Areli Barrera de Grodski got their start. bikeCOFFEE! turned into Cocoa Cinnamon (right) and now this popular coffee shop with three locations is making a large community impact with a living wage guarantee for all staff, and by using local and sustainable ingredients.
dining
SWEET BUSINESSES RAKE IN THE DOUGH
Several Durham bakeries have moved beyond their humble origins. Ali Rudel started East Durham Pie Company (left) in 2015 as a home-based bakery that offers special order pies. After a successful Kickstarter campaign and outpouring of community support, she will be opening a brick-and-mortar café, East Durham Bake Shop, in East Durham. Chez Moi Bakery serves homemade rum cake and desserts out of a van. But word of this modest traveling bakery has moved far beyond Durham. In 2015, Chez Moi was featured on PBS' "A Few Great Bakeries."
2018 Official Durham Visitor Inspiration Guide