Happy New Year!
Door County Historical Society
The Door County Historical Society strives to collect, maintain and share the history and heritage of Door County through preservation, education and programming.
2023 is upon us and with it a new year for the Door County Historical Society. Planning is now underway for what we want to accomplish in the coming year.
When I was young, my family took vacations to Florida. In fact, we visited Disney World the first year it opened. This year they celebrate their 50th anniversary. Our first time my family of six went to Florida with $500 and came home with money left over! Those days are history.
At Disney World you hear a lot about wishes....dream wishes, wishing upon a star, three wishes, etc. In that spirit, here are my three wishes for the Door County Historical Society:
1. Eagle Bluff Lighthouse
2022 saw our Lighthouse Committee step up and operate the lighthouse when our manager resigned and staff was extremely limited. Interviews are coming up for a new manager and hopefully filling staff positions. Volunteers are also needed to operate the lighthouse. Consider volunteering or filling a staff position this summer.
The other big wish for the lighthouse is fundraising for restoration of the lighthouse and reconstruction of the barn. Amy is hard at work and has commitments from a number of foundations for grants to do this project. You'll hear more about this in the coming months.
2. Heritage Village at Crossroads
2023 will see a lot more activity at our village. The Village Committee has a
list of repairs and upgrades to make. We also plan to return to educational events for our members and for young people to learn about history. Watch for monthly events and find out how you can get involved.
3. Monthly Dinner Programs
The Program Committee is finalizing plans for our monthly dinner programs. February and March events will be the last Saturdays at noon...better to meet during the day if the weather is bad. We will meet around the county at a number of venues throughout the year. Look for details in this issue of the newsletter.
Amy has really freshened up our office on N Fourth Avenue. Stop by and visit with her or give her a call to set up an appointment to discuss how you can help out. She has some wonderful goals for the Door County Historical Society this year.
That's all for now. I wish you good health and happiness in 2023! I hope to see you at one of our upcoming events!
Jay Zahn President
BOARD OF DIRECTORS Jay Zahn President Bill Chaudoir VicePresident Charlene Viste Treasurer Renee McAllister Secretary Pat Blizel Linda Faust Julie Gebauer Tom Groenfeldt Steve Jorns Keith Nerby Ann Schmitz Ann Sheridan Justin Skiba Mark Stephenson EXECUTIVE DIRECTOR Amy Frank 130 N 4th Ave PO Box 71 Sturgeon Bay, WI 54235 920.421.2332 doorcountyhistoricalsociety.org
Dinner (and lunch) Programs
The first program of the new year will take place on Saturday, February 25, 2023, at Stone Harbor Resort in Sturgeon Bay. The menu includes soup, sandwiches, and salads, with dessert and coffee. The doors open at 11:30 and lunch will be served at noon.
Following lunch will be a program titled Ida Bay Site: 1000 Years of Indigenous Life in Sturgeon Bay, featuring Dr. Robert Jeske and Coggin Heeringa.
For nearly a decade, archaeology professionals have been digging into the past at the Ida Bay Preserve in Sturgeon Bay. They have found flintknapping residue from tool making, intact arrowheads and clay-pot fragments believed to have been made and used by people who lived during the Middle Woodland (300 BCE – 400 CE) and Late Woodland (400-1200 CE) eras, between 1,200 and 2,000 years ago.
Archaeologists also found the dark stains that are cultural features indicative of past human activity, including a semi-subterranean, keyhole-shaped, wigwam type of construction. Archaeologists found arrowheads and pottery shards in quantities that indicated a settlement of some kind.
The archaeological dig at Ida Bay Preserve combines research and education by allowing school groups, as well as adults to participate. People of all ages are learning about First Peoples' way of life and finding artifacts such as projectile points, pottery, scrapers, recracked rocks and stone tools.
Dr. Jeske's research interests include archaeological method and theory, particularly how economics and population interactions foster group identity and ethnicity. He also actively investigates stone tool production and use, survey methods and settlement models, mortuary studies, canine activities, site formation processes, and experimental archaeology. He received a Ph.D. from Northwestern University.
Please join us on Saturday, February 25, at Stone Harbor, 107 N First Avenue, Sturgeon Bay. A portion of each admission fee will be placed in the Door County Historical Society's Endowment Fund.
You can sign up via mail, using the form in this newsletter, sign up online (www.doorcountyhistoricalsociety.org), or call the office at 920-421-2332.
Saturday, March 25 (lunch) Roadside Chapels Door Country Event Venue
Monday, April 23 (dinner)
Program: TBD
Al Johnson's
Monday, May 22 (dinner)
Monday, June 26 (dinner)
Monday, July 24 (dinner)
Monday August 28 (dinner)
Monday, September 25 (dinner)
Monday, October 23 (dinner)
Monday, November 27 (dinner) Annual Meeting
Mark your calendars for the upcoming programs (more details will be announced soon.)
Dr Robert (Bob) Jeske
"Telling The Full History" Grant Work Begins
In 2022, the Door County Historical Society received $25,000 from the Telling the Full History Fund a grant program from the National Trust for Historic Preservation and made possible through the National Endowment for the Humanities' American Rescue Plan Humanities Grantmaking for Organizations.
The grant will fund the Heritage Village at Big Creek: First Peoples of Door County project. DCHS staff will research and become educated in the traditions, culture, and stories of the First Peoples of Door County and add an accurate, truthful history of these communities to Door County's records. The research will then be compiled into a publicly accessible exhibit at the Heritage Village at Big Creek. The goal is to engage visitors and share the stories and histories of Door County's First Peoples.
To assist with this project, the DCHS has hired Michaela Kraft, of Encounter History, as project consultant. Kraft, who grew up in Brussels, holds a bachelor's degree in theatre from UW Stevens Point and a master's degree in museum studies from
her knowledge of Door County make her the perfect person to conduct this research, make connections with representatives, and write the stories of the First Peoples."
Kraft is not new to the Door County Historical Society. While in high school and college, she often volunteered at both the Eagle Bluff Lighthouse and Heritage Village at Big Creek.
Work on the this project has already begun and will continue through the summer. The first step involves research, outreach, and relationship building with representatives of the tribes that have history with Door County. Kraft has been working on this since December 2022.
The second step is writing the stories of these tribes, accurately and thoughtfully, in consultation with the tribes' representation. Then we can design the exhibit that will be permanently installed at Heritage Village at Big Creek to engage and educate visitors.
"We hope to have an exhibit designed by spring, fabricated and installed before the end of the season," said Frank.
The Door County Historical Society is one of 80 organizations that received $25,000 and $50,000 grants to interpret and preserve historic places of importance to underrepresented communities. Telling the Full History grants support the core activities of humanities-based organizations as the organizations recover from the pandemic and use historic places as catalysts for a more just and equitable society.
The National Trust for Historic Preservation
The National Trust, a 501(c)(3) organization, is a privately funded nonprofit chartered by Congress in 1949 to protect the nation's historic places. Today, the organization is deeply committed to utilizing preservation as a tool to advance justice and equity for all Americans. They are guided by four strategic priorities: Saving America's Historic Sites, Telling the Full American Story, Building Stronger Communities, and Investing in Preservation's Future. The National Trust for Historic Preservation was recognized by the National Endowment for the Humanities with the National Humanities Medal in 2001.
Michaela Kraft
Eagle Bluff Restoration Project: An Introduction
On October 15, 1868, atop a bluff in Fish Creek which juts out into Green Bay's Strawberry Channel, the lamp of the Eagle Bluff Lighthouse was lit for the very first time. Now a National and State Registered Historical Landmark, this iconic lighthouse has been a continuous navigational aid for 154 years and counting.
At the time of its construction, Eagle Bluff Lighthouse was desperately needed. The shoals along the Green Bay water route used for transporting travelers, goods, and supplies to and from the city of Green Bay, created a faster, albeit dangerous passage. In 1868, the same year as the completion of Eagle Bluff Lighthouse, the Green Island Lighthouse keeper noted 7,338 ships passed his light making deliveries to various settlements on the peninsula. Today, Eagle Bluff Lighthouse carries on its role providing a safe passage for Great Lakes boats and ocean-going vessels.
With its unique architecture, the Milwaukee Cream City brick structure combines the keeper's residence and light tower into a single building via one staircase. It is an excellent example of functional design and efficient utilization of working and living quarters for a lighthouse keeper. Keepers at Eagle Bluff lived onsite with their families for the entire year. However, they did not experience a lonely, bleak, and isolated life typical of other lighthouse keepers. Located close to Blossomberg (now Ephraim) and Fish Creek, the lighthouse was a lively gathering place all year.
the State of Wisconsin in 1936 and Peninsula State Park used the keeper's residence for park employee housing. Eventually, the state's interest in Eagle Bluff Lighthouse faded and the building stood vacant through the 1950s.
In 1960, the Door County Historical Society signed an agreement with the State of Wisconsin to restore and operate the Lighthouse as a museum. Volunteers led a three year long restoration process and the keeper's residence and light tower opened for public tours in 1963. The early restoration was one of the first on the Great Lakes. Eagle Bluff Lighthouse is one of only a few Door County lighthouse sites providing docent-led tours.
For more than 60 years, the DCHS has maintained and managed the lighthouse, sharing its fascinating history with residents and visitors. However, the restoration
In 2019, recognizing the ever-increasing need for major restoration, the DCHS renewed their commitment to preserve Eagle Bluff Lighthouse by commissioning a Historic Structure Report (HSR). An HSR report is considered the industry standard for establishing a background, assessment, and restoration plan of action for the lighthouse and site. Thanks to the support of many donors and The Jeffris Family Foundation, an HSR for Eagle Bluff Lighthouse was completed in 2021 by Preserve LLC - an architectural firm from Whitefish Bay that also participated in the restoration of Cana Island Lighthouse.
The DCHS now has a roadmap to fully restore and protect the Eagle Bluff Lighthouse. The key goals for the renovation project are to:
• Protect and preserve Eagle Bluff Lighthouse, a significant part of Door County's maritime history
• Become the preeminent lighthouse in Door County through the creation of accessible exhibits and educational spaces
• Work with the Wisconsin State Historic Preservation Office to restore the keeper's residence, light tower, oil house, and entry alcove to meet preservation standards
• Accurately convey a specific time period in Eagle Bluff Lighthouse's history: the tenure of the Duclon Family (1883–1918)
• Use the physical site and architecture to reinforce the Lighthouse's social history and interpretive programs
understand the challenges and realities of life during the period of significance
• Increase interactions with area residents, including schools and other organizations.
Time is of the essence. If existing building conditions are not addressed, deterioration will increase rapidly. Work to stabilize and restore the keeper's residence, light tower, oil house, and built site features is of the utmost importance.
The complete restoration is expected to cost $3 million. The DCHS has received a $1 million Challenge Grant from the Jeffris Family Foundation to kickoff the fundraising effort. We have set an ambitious goal to raise $2 million by summer to complete this challenge.
If you would like to make a contribution to this exciting project, please arrange a time to talk with Amy
Membership News
New in 2023—Membership Cards!
All active and up-to-date members of the Door County Historical Society will receive a membership card. Watch for it in the mail. Be sure to keep this in a handy place, so you can take advantage of all the benefits of membership, including free admission to Historical Society merchandise, invitations to special events, discounts on the dinner programs, and more!
Additionally, if you notice an error in any of your information, please do not hesitate to contact us so we can make the necessary corrections in the new system. Call the office (920-421-2332) or email mary@doorcountyhistoricalsociety.org.
Time Travelers Network
As a member of the Door County Historical Society you are included in the Time Travelers program.
Time Travelers is a free reciprocal membership network for historical museums, sites, and societies throughout the United States. The Missouri Historical Society created the program in 1998 so that members of historical institutions could receive exclusive benefits and privileges at museums and historical sites nationwide. Currently, the Time Travelers program includes over 400 organizations in more than 45 states across the country.
memberships, and event registrations.
As you can imagine, switching systems for data management isn't easy. Our staff has been working diligently throughout the months of December and January to implement the new software.
If you made a donation to the Door County Historical Society after September 1, 2022, you will automatically receive an acknowledgement letter in the mail even if you've received one previously.
Likewise, if you renewed your membership or became a new member since September 1, 2022, you will receive an acknowledgement letter in the mail even if you've received one previously.
"We want to make sure we're covering all bases and haven't missed anyone," said Amy Frank. "We'd much rather thank you twice, than not at all!"
Members of these organizations can receive a variety of exclusive benefits and privileges, such as free admission, gift shop discounts, and much, much more. To see a list of participating museums, go to the DCHS website and click on the Time Travelers logo on the home page.
Tadych's Community Care Program
Save your receipts from Tadych's Market Place Foods! We receive 1% cash back when we return them to the store (grocery receipts only does not include receipts from the service counter). Drop off your receipts at the DCHS office or send them in the mail. 130 N Fourth Ave, PO Box 71, Sturgeon Bay, WI 54235.
DCHS Order Form
I would like to donate to the following funds:
GENERAL FUND: Support the day-to-day operation of DCHS.
EAGLE BLUFF RESTORATION: Support the current restoration project of the Eagle Bluff Lighthouse in Fish Creek.
ENDOWMENT FUND: Donations to this fund are invested, allowing the fund to grow over time.
I would like to attend the following programs:
IDA BAY SITE: 1000 YEARS OF INDIGENOUS LIFE
Saturday, February 25, 2023. Stone Harbor, 107 N 1st Ave, Sturgeon Bay. Doors open at 11:30 am. Lunch served at noon. Program to follow. *A portion of the proceeds goes to the DCHS Endowment Fund. Deadline: February 17.
ROADSIDE CHAPELS OF SOUTHERN DOOR
Saturday, March 25, 2023. Door Country Event Venue, 7153 Hwy 42/57, Sturgeon Bay. Doors open at 11:30 am. Lunch served at noon. Program to follow. Deadline March 17.
I would like to renew my membership:
Name Street City, State, Zip
Phone Email
Guests names (If applicable)
Payment Method:
Check (made out to Door County Historical Society)
Credit card
Card # Exp CVV
Please return to Door County Historical Society, PO Box 71, Sturgeon Bay, WI 54235
______Members @ $35 = _______Guests @ $40 = ______Members @ $25 = _______Guests @ $30 = $ $ $ $ $ $ $ $
Individual
Couple
Business
Family $75 Nonprofit $35 $ GRAND
$35
$50
$100
TOTAL
For nearly a century, private homes and businesses in Door County relied on ice harvested from Green Bay or Lake Michigan for refrigeration purposes. To serve both local and regional demand, many companies large and small operated up and down the peninsula.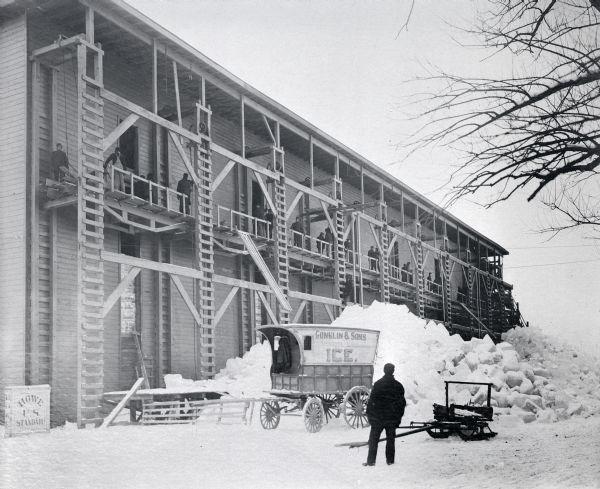 Edward Schreiber explains in the introduction to Fish Creek Voices that "ice harvesting to fill the ice houses in the village was an activity that lasted about three weeks each February and employed many of the town's menfolk. Most of the teams and bob-sleds in town
many ice houses in the village. The cakes were cut almost through with a large motorized circular saw and then separated with an ice chisel.
Once cut, they were guided to a narrow channel where they were lifted out of the water by an endless chain fitted with lugs and deposited onto a large loading platform.
The blocks were then loaded onto waiting bob-sleighs and transported to the ice-houses."
Once they reached the ice houses, the ice blocks were packed with sawdust to insulate and keep them from sticking together. As amazing as it may seem today, this storage method worked well enough to allow local residents and business owners to keep their ice boxes and coolers full throughout the summer and fall.
(Excerpt from The Peninsula Pulse, Nov. 15, 2006)
Non-Profit Org. U.S. POSTAGE P A I D Sturgeon Bay, WI Permit #55