Clothes make brands.
In people, clothing and personality are closely related. When personality and public image are in harmony, people appear authentic. And in the case of companies, too, the way they present themselves to the outside world allows conclusions to be drawn about their own identity. Customized clothing concepts therefore not only strengthen the "we" feeling internally, but also communicate non-verbally to the outside world as a textile business card. Wearing fashion with an individual message or your own logo not only changes the way you feel, think and behave - it also changes the way you and your team are seen. For your inspiration, we've put together a selection of tried-and-true styles as well as new ones. From warming sweatshirts for cooler days to a variety of fleece and softshell jackets to padded winter models, the styles are waiting for your message.
Mission: Sustainability
Giving credible substance to one's own sustainability vision is not always easy. One convincing option is certified textiles - with your logo if you like. Can be found on p. 7, 9, 10, 11, 18, 19, 22, 27 & 33.
The prices stated in this magazine are indicative prices excluding VAT and decoration/customization.
2
Hoodies 4/5 Fleece 6/7/8/9 Outdoor 10/11 Hybrid 12/13 Softshell 14/15/16/17 Parka 18/19 Padded 20/21 Crossover jackets 22/23 Streetstyle 24/25 Warm Jackets 26/27 Workwear 28/29/30/31/32/33 Accessories 34/35
Relaxed evergreens. So simple that they even fit into the office.
1 Russell | 265M 2 Russell | 265F
Hoodies
white black* convoy grey sport heather light oxford* urban grey mocha olive bottle green classic red burgundy fuchsia mineral blue indigo blue bright royal french navy* white black convoy grey light oxford bottle green classic red burgundy fuchsia bright royal french navy
3 James & Nicholson | JN 756 4 James & Nicholson | JN 755 1 Russell | 265M 10.265M Men's Authentic Hooded Sweatshirt XS – 4XL € 35,15 2 Russell | 265F 10.265F Ladies' Authentic Hooded Sweat XS – XL € 35,15 3 James & Nicholson | JN 756 02.0756 Men's Hooded Sweat Jacket S – 5XL € 31,60 4 James & Nicholson | JN 755 02.0755 Ladies' Hooded Sweat Jacket XS – 3XL € 31,60 Zip hoodie as a statement Perfect for casual layering looks. white black graphite dark grey grey heather ash brown olive dark green lime green yellow gold yellow orange red wine pink sky blue royal dark royal navy petrol turquoise
1 Tee Jays | 9120 2 Tee Jays | 9122 black/black deep green/ black black/black deep green/ black
7 3 DARE2B Elite | DPK001 4 DARE2B Elite | DPL002 5 DARE2B Elite | DPL003 black/amber glow charcoal grey/ black nightfall navy/ ebony grey black/black charcoal grey marl/ebony grey 1 Tee Jays | 9120 18.9120 Men´s Fleece Jacket "Mountain" XS – 3XL € 83,30 2 Tee Jays | 9122 18.9122 Men´s Fleece Bodywarmer "Mountain" XS – 3XL € 77,05 43 DARE2B Elite | DPK001 35.K001 Knitted Pullover with 1/4 zip XS – 3XL € 81,30 4 DARE2B Elite | DPL002 35.L002 Stretch Jacket XS – 3XL € 92,30 5 DARE2B Elite | DPL003 35.L003 Stretch Sweater with 1/4 zip XS – 3XL € 39,50 black ebony grey/ black amber glow/ black nightfall navy nightfall navy/ dark methyl

1 Kariban | K911 2 Kariban | K907 3 James & Nicholson | JN 762 4 James & Nicholson | JN 761 white black dark grey convoy grey snow grey beige camel heather chocolate green olive forest green green marble heather kelly green sage lime yellow fluorescent yellow fluorescent orange orange red wine purple sky blue cloudy blue heather tropical blue true indigo ash heather deep blue royal blue french navy heather navy white black convoy grey dark grey snow grey natural beige camel heather chocolate green olive forest green green marble heather kelly green sage lime yellow orange red sky blue cloudy blue heather tropical blue ash heather deep blue true indigo royal blue french navy heather navy dark grey melange/silver light grey melange/red kiwi melange/ royal royal melange/ red dark grey melange/silver light grey melange/red kiwi melange/ royal pink melange/ off white royal melange/ red
5 James & Nicholson | JN 1818 6 James & Nicholson | JN 1817 7 Promodoro | 7700 8 Promodoro | 7705 1 Kariban | K911 20.K911 Microfleece Jacket "Falco" S – 4XL € 23,15 2 Kariban | K907 20.K907 Ladies' Microfleece Jacket "Mau reen" S – 4XL € 23,15 3 James & Nicholson | JN 762 02.0762 Men's Knitted Fleece Jacket S – 3XL € 60,70 4 James & Nicholson | JN 761 02.0761 Ladies' Knitted Fleece Jacket S – XXL € 60,70 5 James & Nicholson | JN 1818 02.1818 Men's Knitted Fleece Jacket XS – 6XL € 60,70 6 James & Nicholson | JN 1817 02.1817 Ladies' Knitted Fleece Jacket XS – 4XL € 60,70 7 Promodoro | 7700 40.7700 Men's Workwear Knitted Fleece Jacket S – 5XL € 54,70 8 Promodoro | 7705 40.7705 Ladies' Workwear Knitted Fleece Jacket S – 3XL € 52,30 Fleece From a practical outdoor all-rounder to the new favorite of trendsetters. black melange/ black/silver carbon melange/ black/red navy melange/ navy/royal black melange/ black/silver carbon melange/ black/red navy melange/ navy/royal heather graphite heather grey heather royal heather graphite heather grey heather royal
1 James & Nicholson | JN 1180 02.1180 Men's Outdoor Softshell Jacket S – 3XL € 105,50 2 James & Nicholson | JN 1179 02.1179 Ladies' Outdoor Softshell Jacket XS – XXL € 105,50 black black/carbon/light red carbon/bright yellow/ carbon light red/black/ light red bright blue/navy/ bright blue navy
11 3 NEOBLU | Andrea 4 Tee Jays | 9602 5 Result | R189X 3 NEOBLU | Andrea 24.3781 Unisex Windbreaker XS – 3XL € 52,60 4 Tee Jays | 9602 18.9602 Club Jacket XS – 5XL € 83,20 5 Resuld | 189X Rain Jacket XS – 3XL € 31,50 Outdoor Pieces The combination of fashion and function is in. deep black deep khaki night blue black* dark grey deep green red navy black/orange fennel/pink lime/royal raspberry/lime royal/lime navy/lime

1 Tee Jays | 9110 2 Tee Jays | 9113 3 Tee Jays | 9114 1 Tee Jays | 9110 18.9110 Men's Hybrid Stretch Jacket S – 3XL € 93,30 2 Tee Jays | 9113 18.9113 Ladies' Hooded Hybrid Stretch Jacket S – 3XL € 93,30 3 Tee Jays | 9114 18.9114 Men's Hybrid Stretch Bodywarmer XS – 3XL € 87,50 4 James & Nicholson | JN 772 02.0772 Men's Knitted Hybrid Jacket S – 3XL € 65,50 5 James & Nicholson | JN 771 02.0771 Ladies' Knitted Hybrid Jacket S – XXL € 65,50 black/black deep green/black navy/navy black/black deep green/black navy/navy black/black deep green/black navy/navy
4 James & Nicholson | JN 772 5 James & Nicholson | JN 771 Hybrid Styles Multifunctional all-round jackets for always and everywhere. grey melange/anthracite melange light melange/anthracite melange kiwi melange/anthracite melange royal melange/anthracite melange grey melange/anthracite melange light melange/anthracite melange kiwi melange/anthracite melange pink melange/anthracite melange royal melange/anthracite melange
14 Promodoro ♂ 7850 | ♀ 7855 James & Nicholson ♂ JN 135 | ♀ JN 137 Result ♂ R231M | ♀ R231F James & Nicholson ♂ JN 1148 | ♀ JN 1147 Result ♂ R232M | ♀ R232F Russell ♂ 141M | ♀ 141F Kariban ProAct PA323 Result ♂ R121X | ♀ R122F James & Nicholson ♂ JN 1172 | ♀ JN 1171 Tee Jays 9510 Tee Jays 9514 Kariban ♂ K424 | ♀ K425 World of Softshell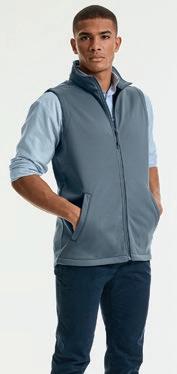 Kariban ♂ K401 | ♀ K400 Russell ♂ 140M | ♀ 140F James & Nicholson ♂ JN 1122 | ♀ JN 1121 Kariban ♂ K403 | ♀ K404 James & Nicholson ♂ JN 1130 | ♀ JN 1129 Russell ♂ 520M | ♀ 520F James & Nicholson ♂ JN 1128 | ♀ JN 1127 B&C ♂ Hooded Softshell /men ♀ Hooded Softshell /women James & Nicholson ♂ JN 1098 | ♀ JN 1097 James & Nicholson ♂ JN 1146 | ♀ JN 1145 SOL'S ♂ Relax | ♀ Roxy Russell ♂ 410M | ♀ 410F SOL'S ♂ Race Men | ♀ Race Women James & Nicholson ♂ JN 136 | ♀ JN 138 James & Nicholson ♂ JN 1020 | ♀ JN 1021 B&C ♂ ID.701 | ♀ ID.701 /women Result Core ♂ R209M | ♀ R209F James & Nicholson ♂ JN 1022 | ♀ JN 1023 Result Core ♂ R230M | ♀ R230F SOL'S ♂ Replay Men ♀ Replay Women Promodoro ♂ 7820 | ♀ 7821 SOL'S ♂ Race BW Men ♀ Race BW Women James & Nicholson ♂ JN 1170 | ♀ JN 1169 Result Recycled ♂ R902M | ♀ R902F Result R123X Result ♂ R128M | ♀ R128F Russell ♂ 040M | ♀ 040F SOL'S ♂ Rallye Men ♀ Rallye Women Result Recycled ♂ R900X | ♀ R900F James & Nicholson ♂ JN 1088 | ♀ JN 1087 Russell 041M Result Recycled ♂ R901M | ♀ R901F Result R120X Kariban K422 NEOBLU ♂ Achille Men | ♀ Achille Women SOL'S ♂ Falcon Men ♀ Falcon Women
16 3 Kariban | K400 4 Kariban | K401 5 Kariban | K402 1 Russell | 140M 10.140M Men's 3-Layer Softshell Jacket XS – 4XL € 80,85 2 Russell | 140F 10.140F Ladies' 3-Layer Softshell Jacket XS – 4XL € 80,85 3 Kariban | K400 20.K400 Ladies' 3-Layer Softshell Jacket S – 4XL € 45,25 4 Kariban | K401 20.K401 Men's 3-Layer Softshell Jacket S – 4XL € 45,25 5 Kariban | K402 20.K402 Kids' 3-Layer Softshell Jacket 6-8 – 12-14 € 39,75 Softshell Classic reinterpreted with stylish details. black titanium bottle green classic red azure blue french navy white black titanium marl grey chocolate bottle green marl green kelly green red aqua blue dark royal blue navy white black titanium marl grey chocolate bottle green marl green kelly green fluorescent yellow fluorescent orange red aqua blue dark royal blue navy black marl grey red aqua blue navy
17 6 Result | R231M 8 James & Nicholson | JN 1148 9 James & Nicholson | JN 1147 7 Result | R231F 6 Result | R231M 30.231M Men's 2-Layer Softshell Jacket Prin table S – 4XL € 29,80 7 Result | R231F 30.231F Ladies' 2-Layer Softshell Jacket Printable XS – XXL € 29,80 8 James & Nicholson | JN 1148 02.1148 Men's 2-Layer Melange Softshell Jacket S – 3XL € 54,80 9 James & Nicholson | JN 1147 02.1147 Ladies' 2-Layer Melange Softshell Jacket XS – XXL € 54,80 white/black black/black black/orange charcoal/black vivid green/black yellow/black red/black purple/black navy/navy navy/royal dark melange/black dark melange/green dark melange/ yellow dark melange/red dark melange/royal
18 2 Kariban | K677 3 James & Nicholson | JN 1175 4 James & Nicholson | JN 1176 1 NEOBLU | Achille Men 1 NEOBLU | Achille Men 24.3793 Men's 3-layer Softshell Coat S – 4XL € 79,50 2 Kariban | K677 20.K677 Parka XS – 4XL € 54,50 3 James & Nicholson | JN 1175 02.1175 Ladies' Business Parka XS – XXL € 105,50 4 James & Nicholson | JN 1176 02.1176 Men's Business Parka S – 3XL € 105,50 Elegant and casual at the same time The comeback of parkas! black convoy grey dark grey beige chocolate forest green kelly green yellow orange red sky blue light royal blue navy deep black* night blue black olive green navy
19 5 NEOBLU | Achille Women 6 Tee Jays | 9608 7 Tee Jays | 9609 5 NEOBLU | Achille Women 24.3794 Ladies' 3-layer Softshell Coat S – 3XL € 79,50 6 Tee Jays | 9608 18.9608 Men's Parka S – 3XL € 141,55 7 Tee Jays | 9609 18.9609 Ladies' Parka S – 3XL € 141,55 deep black night blue
DARE2B Elite DPP001 DARE2B Elite DPN001 Promodoro ♂ 7860 | ♀ 7865 Tee Jays ♂ 9630 | ♀ 9631 Kariban ♂ K677 | ♀ K6108 SOL'S ♂ Rock Men | ♀ Rock Women Tee Jays ♂ 9660 | ♀ 9661 B&C ♂ Real + /men | ♀ Real + /women Tee Jays ♂ 9646 | ♀ 9647 Kariban K657 Kariban K639 World of Padded Jackets
James & Nicholson ♂ JN 1174 | ♀ JN 1173 Result Recycled R240X James & Nicholson ♂ JN 1000 | ♀ JN 1001 James & Nicholson ♂ JN 1054 | ♀ JN 1053 James & Nicholson ♂ JN 1050 | ♀ JN 1049 James & Nicholson ♂ JN 1134 | ♀ JN 1133 Result Core R233M Result Urban ♂ R194M | ♀ R194F James & Nicholson ♂ JN 1154 | ♀ JN 1153 Result ♂ R400M | ♀ R400F James & Nicholson ♂ JN 1168 | ♀ JN 1167 James & Nicholson ♂ JN 1082 | ♀ JN 1081 Result R068X Result Core R207X Stedman ♂ Padded Jacket Men ♀ Padded Jacket Women Result Urban ♂ R192M | ♀ R192F
2 Tee Jays | 9644 1 Tee Jays | 9646 3 Tee Jays | 9648 4 Tee Jays | 9647 black Crossover jackets with feel-good factor. black deep green navy black deep green dusty orange navy black deep green navy
23 5 Kariban | K6110 6 Kariban | K6111 9 James & Nicholson | JN 1140 10 James & Nicholson | JN 1139 7 James & Nicholson | JN 1138 8 James & Nicholson | JN 1137 1 Tee Jays | 9646 18.9646 Light Hooded Quilted Jacket XS – 3XL € 108,15 2 Tee Jays | 9644 18.9644 Light Quilted Jacket XS – 5XL € 99,80 3 Tee Jays | 9648 18.9648 Lightweight Quilted Vest XS – 5XL € 83,25 4 Tee Jays | 9647 18.9647 Lightweight Ladies' Hooded Padded Jacket S – 3XL € 108,15 5 Kariban | 6110 Lightweight Men's Hooded Padded Jacket S – 4XL € 79,95 6 Kariban | K6111 20.6111 Lightweight Ladies' Hooded Padded Jacket XS – XXL € 79,95 7 James & Nicholson | JN 1138 02.1138 Men's Down Bodywarmer S – 3XL € 78,60 8 James & Nicholson | JN 1137 02.1137 Ladies' Down Vest S – XXL € 78,60 9 James & Nicholson | JN 1140 02.1140 Men's Down Jacket S – 3XL € 91,30 10 James & Nicholson | JN 1139 02.1139 Ladies' Down Jacket S – XXL € 91,30 * this color is available for JN 1139 & JN 1137 (ladies) only white black marl dark grey marl silver red light royal blue navy off white/off white black/silver graphite/silver silver melange/graphite fern green/silver burnt orange/silver magenta/silver* red/silver cobalt/silver indigo blue/silver navy/silver
24 1 Tee Jays | 9610 2 Tee Jays | 9611 3 James & Nicholson | JN 1156 4 James & Nicholson | JN 1155 1 Tee Jays | 9610 18.9610 Men's Outdoor Crossover Jacket S – 3XL € 89,45 2 Tee Jays | 9611 18.9611 Ladies' Outdoor Crossover Jacket S – 3XL € 89,45 3 James & Nicholson | JN 1156 02.1156 Men's Quilted Jacket S – 3XL € 84,70 4 James & Nicholson | JN 1155 02.1155 Ladies' Quilted Jacket XS – XXL € 84,70 Street style trends for outdoor and sports. black/black melange space grey/grey melange navy/navy melange black/black melange space grey/grey melange navy/navy melange black/black graphite/camou flage red/black blue/navy navy/silver
4 DARE2B Elite | DPN001 5 DARE2B Elite | DPP001 6 DARE2B Elite | DPW001 4 DARE2B Elite | DPN001 35.N001 Winter jacket "Hot Shot" XS – 3XL € 98,90 5 DARE2B Elite | DPP001 35.P001 Wintersport Jacket "Emulate" XS – 3XL € 142,90 6 DARE2B Elite | DPW001 35.W001 Winter Sports Trousers "Standfast" XS – 3XL € 98,90 ebony grey/ black amber glow/ black dark methyl/ nightfall navy black/ebony grey amber glow/ black dark methyl/ nightfall navy black ebony grey nightfall navy
1 Russell | 440M 10.440M Men's Nano Hooded Jacket S – 4XL € 99,2 Russell | 440F 10.440F Ladies' Nano Hooded Jacket XS – 3XL € 99,Cold outside. Warmth inside. Warm must-haves! black dark olive iron grey french navy
6 Result Recycled | R238X 5 Result Recycled | R237X 4 Result Recycled | R240X 4 Result Recycled | R240X 30.240X Winter Jacket "Black Compass" XS – 3XL € 73,90 5 Result Recycled | R237X 30.237X Hybrid Jacket "Black Compass" XS – 3XL € 53,10 6 Result Recycled | R238X 30.238X Hybrid Vest "Black Compass" XS – 3XL € 44,60 black/black black/grey black/lime black/yellow black/orange black/red black/royal