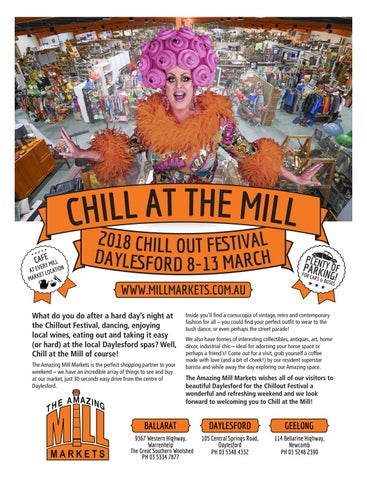 What do you do after a hard day's night at the Chillout Festival, dancing, enjoying local wines, eating out and taking it easy (or hard) at the local Daylesford spas? Well, Chill at the Mill of course! The Amazing Mill Markets is the perfect shopping partner to your weekend – we have an incredible array of things to see and buy at our market, just 30 seconds easy drive from the centre of Daylesford.
Inside you'll find a cornucopia of vintage, retro and contemporary fashion for all – you could find your perfect outfit to wear to the bush dance, or even perhaps the street parade! We also have tonnes of interesting collectibles, antiques, art, home décor, industrial chic – ideal for adorning your home space or perhaps a friend's! Come out for a visit, grab yourself a coffee made with love (and a bit of cheek!) by our resident superstar barista and while away the day exploring our Amazing space.
The Amazing Mill Markets wishes all of our visitors to beautiful Daylesford for the Chillout Festival a wonderful and refreshing weekend and we look forward to welcoming you to Chill at the Mill!
The Local Issue 117 February 12, 2018