1 March 8, 2023 Special Issue March 8th, 2023, No. 1
Pages 18 & 19
Turkey-Style Earthquake could also hit Greece
It isn't every day that the foreign ministers of Turkey and Greece are photographed in a bear hug, but that is what transpired on Sunday as Mevlüt Çavuşoğlu. Nikos Dendias ditched any semblance of frostiness upon the latter's arrival in earthquake-shattered eastern Turkey.
Although relations between Ankara and Athens have been increasingly antagonistic, last week's cataclysm dialed them back, if only temporarily. It also underscores how the ultimate foe can sometimes be ground underneath one's feet and Greece's own vulnerability should it be hit by a devastating earthquake.
As the death toll from the 7.8-magnitude temblor that shook parts of Turkey and Syria on February 6 approached 34,000, Mr. Çavuşoğlu accompanied his Greek counterpart as they met with members of a Greek search-andrescue mission that was operating in areas that suffered heavy damage. The visit included a stop at the rescue operations center at the hard-hit city of Antakya, which the Greeks refer to by its ancient name of Antioch. Since the quake struck a week ago, the war in Ukraine has receded mainly from the Greek headlines. Instead, news reports have been dominated by heart-wrenching scenes of
destruction around Turkey, sprinkled with articles about the impact of the disaster on President Erdogan's political fortunes and upcoming elections in Turkey. More prevalent is coverage of how vulnerable Greece is should a similar disaster strike: For a country whose modern economy mainly depends on tourism, the implications could not be more profound.
When in March 2020, images of morgues overflowing with coronavirus victims emanated from Bergamo, Italy, Greece looked west to its Mediterranean neighbor with something close to panic. The following weeks saw Athens impose some of the most authoritarian lockdown
measures
on the Continent to keep the pandemic under control. Now, Greece is looking at its fractious neighbor to the east with growing alarm as the realization sinks in that calamity could strike Greece at any moment.
In a sense, it already has. Like Turkey, Greece is crisscrossed by faultlines, some very well known, others yet to be discovered, and all ultimately unpredictable, just as in antiquity. Iconic ruins that litter both sides of the Aegean coasts are reminders that while empires
may crumble over time, the earth itself has the unique power to turn glorious cities into poetic piles of rubble. Speaking to the television station MEGA, a Greek professor who studies natural disasters, Konstantinos Synolakis, said that "the last major earthquake in Crete occurred in 1403, and it is estimated that such earthquakes occur every 600 to 800 years." He added that Greece is already "at the window" of the century when "we may see a large earthquake in the Greek arc of magnitude 8.5 on the Richter scale."
Source: Pam Price
2 March 8, 2023
Sometimes he stumbles, sometimes, he gets lost, and sometimes he falls off his bike. But, then again, he seems determined and strong.
At 80, Joe Biden is the oldest president in U.S. history. If he wins re-election next year, the Democrat would be 86 by the end of his second term.
Biden's annual health checkup was looked forward to with anticipation in the United States. His physician, Kevin O'Connor, examined the president with a vast team.
These are the results: The heart was found to be in atrial fibrillation, a latent cardiac arrhythmia.
Due to spinal arthritis, a nerve disease in the feet, and a previously broken ankle, the doctor judged: Biden's "gait remains stiff"!
The president, he said, had come through his covid infection in July of the previous year well, with no after-effects ("long covid"). Biden was also found to have elevated cholesterol levels, lost about 2.7 kilograms compared to 2021, and his blood oxygen saturation (98%) is within the normal range.
A comprehensive brain scan also gave the all-clear: no previous strokes, multiple sclerosis, or Parkinson's disease were detected. However, it remained unknown whether Biden also underwent a mental capacity examination.
The doctor concluded that Biden could " fulfill the duties of the president's office.
But until 86? This debate will not go away.
3 March 8, 2023
"How are you, Mr. President?"
Five-page medical bulletin
JOE BIDEN, THE MOST POWERFUL MAN IN THE WORLD, I.S. 80 - HEALTH CHECK!
President Joe Biden with his physician Kevin O'Connor.
Joe Biden was vaccinated against Corona several times but fell ill twice. What is the health status of the U.S. President?
BHAKTI FEST RETURNS
THE
YOGA & CONSCIOUS
MUSIC EXPERIENCE OF A LIFETIME IS
BACK! After a 3-year hiatus, Bhakti Fest is finally returning to its magical home in Joshua Tree, California!
This is the longawaited revival of our premiere 3-day Yoga & Conscious Music Festival, offering music all day, every day and a wide variety of yoga, breathwork, sound healing, spiritual and wellness workshops - all in a magical highdesert setting at the Joshua Tree Lake & Campground from September 1517, 2023. We can't wait to gather with you again at the one-
of-a-kind festival with love at its heart.
Extra-EarlyBird tickets are on sale now!
Purchase yours and join us for the 12th celebration of Bhakti Fest. More details and the initial lineup are coming soon, so keep your eyes on your inbox and our Facebook and Instagram. https:// www.bhaktifest.com/ bhakti-fest/
If you purchased
tickets for our canceled 2020 Shakti Immersion, you would receive your transferred tickets to this event within the next month. If you have any questions about your access or would like information on how to transfer them to a future event instead, Email: info@ bhaktifest.com
Source: Jackie Devereaux
4 March 8, 2023
Former President Jimmy Carter Will Be Receiving Hospice Care at His Home
The 98-year-old former President Jimmy Carter will receive hospice care at his home in Plains, Georgia. He has been suffering from multiple health issues and has undergone several hospital stays recently.
A Democrat, Carter served as President from 1977 to 1981. His work promoting democracy, conflict resolution, and human rights earned him a Nobel Peace Prize in 2002. He is the oldest living former President.
US President Jimmy Carter is the oldest living former President, and he will receive hospice care at his home in Plains, Georgia. The 98-year-old former President
has been diagnosed with cancer.
As President, Carter accomplished many essential things in his four-year term, including deregulating the energy industry, establishing a national energy policy, and expanding national parks. He also pushed for civil service reform and bolstered the social security system.
Despite losing the 1980 presidential election to Ronald Reagan, Carter turned his life into an advocate for peace, democracy, and human rights, building a global organization in Atlanta called The Carter Center that works to resolve conflicts, promote elections and eradicate diseases. He received the Nobel Peace
Prize in 2002 for his efforts.
During his presidency, Carter and his wife, Rosalynn, frequently traveled abroad to work on their philanthropic projects. They still take a week out of the year to volunteer with Habitat for Humanity, an organization they have been involved with for decades.
He has been suffering from multiple health issues.
Jimmy Carter has been suffering from multiple health issues, including falls, skin cancer, melanoma, and a bleed to his brain. On Saturday, the Carter Center said he opted to receive hospice care at his home in Plains, Georgia.
During his presidential Continues on page 9
5 March 8, 2023 Max Liebermann Publisher Editor-in-chief 760-808-7104 max@desertlocalnews.com NEWS ROOM DesertLocalNews JustTheFactsMax WeGoViral DesertFox STAFF WRITERS JTFMax Pat Krause Robert Kinsler Pam Price George Paul ADVERTISEMENT Javier Soto Desert Local News is a Membership 'DLNews1' Online E-Newspaper For more information email: info@dlnews1.com HTTPS://DesertLocalNews.com
THE DAUGHTER OF JACK NICHOLSON SPILLS THE BEANS
Tessa Gourin is 28 years old. She was born in 1994 after her mother, then a waitress reportedly had an affair with one of Hollywood's biggest stars, Jack Nicholson (85).
The illegitimate daughter only recently spoke about her father – in an essay for "Newsweek," she explained, among other things, that she never had a career advantage from the famous father.
At "DailyBeast," she continues to unpack about dad: Nicholson's paternity to Tessa is considered an "open secret" in Hollywood.
"My mother told me from a young age not to tell anyone I had a famous father," says Gourin.
Gourin grew up with her mother in Manhattan's Upper East Side. She attended private schools said to be paid for by her superstar dad - she says she got kicked out of several schools.
Gourin was never able to develop a real fatherdaughter relationship with Nicholson; she doesn't know him well. "My mother wanted me to have a relationship with him, but he said he wasn't interested," Gourin said. Papa Nicholson has not had contact with her for years.
"A single mom raised me in an intense, difficult situation," explains Gourin.
Why does the father want nothing to do with his daughter? Gourin: "I don't think anyone has ever given me a concrete answer.
BUT: "I formed my own opinion. He's a complicated person, and my mother struggles with her demons. So with the combination of both, I was just collateral damage."
She realized she had similarities to her father when she read interviews or saw him give Oscar speeches. She shares his humor, his madness.
I'm freaking crazy," the daughter explained. "I'm not the poster child for sanity, and I think I'm a little like my father from what I've read."
And like her father, Gourin wants to make it big in Hollywood. "I drew a shitty lot, but I won't let it destroy me. On the contrary, I will use it to get going."
Jack Nicholson lives in seclusion in the former home of his actor buddy Marlon Brando († 80). He hasn't appeared in a movie since 2010.
He has at least five children with four different women. Ex-wife Sandra Knight (83) and Nicholson fathered daughter Jennifer Nicholson (59) - also an actress.
He is also the father of Lorraine Nicholson (32) and Ray Nicholson (30) with his ex-girlfriend Rebecca Broussard (60). In addition, he is often photographed with the kids and aspiring actors on the LA Lakers' sidelines.
With Susan Anspach († 75), he became the father of Caleb Goddard (53). However, Nicholson only publicly admitted that he was his son at 28 - the same age as Gourin.
The actor is also father to Honey Hollman, 41, who descended from a brief romance with Danish model
6 March 8, 2023
"I am not supposed to tell anyone!"
Winnie Hollman. But, again, Nicholson didn't admit that he was the father.
Tessa Gourin claims: I am Jack Nicholson's daughter Little Tessa
7 March 8, 2023
Jack Nicholson with his son Ray Nicholson on the sidelines of a basketball game pic
Nicholson can also be seen doing sports with his daughter Lorraine – and enjoys the time with her.
Jack Nicholson is one of Hollywood's most famous actors
Tessa wants to be an actress like her father
Nicholson in the 1969 film Easy Rider - he was 32 at the time - just four years older than his daughter Tessa is today
Nicholson won a total of three Oscars! He won the prize for his performance in "One Flew Over the Cuckoo's Nest" with Louise Fletcher († 88)
FAMILY FEATURES
Americans should brace for a potentially cold and wet winter, according to NOAA and this year's Farmer's Almanac Winter Outlook. That means now is a perfect opportunity to think about preparing your family and home for the colder months ahead.
From heating homes with a high-performing furnace or fireplace to keeping children warm and comfortable on school buses, propane can help keep families cozy this winter.
Relying on a diverse energy mix – including propane, solar and wind – can help ensure you're prepared for whatever winter brings and reduce the strain on the fragile electric grid. Plus, propane is a stable energy source that is stored on-site and can keep homes operating during severe weather or utility power interruptions. Using propane also produces 43% fewer greenhouse gas emissions than an equivalent amount of electricity generated from the grid. Get winter-ready with these tips from the experts at the Propane Education & Research Council:
Have Your Furnace Serviced. Proactively think about ways you can reduce the demand on your heating system. In addition to scheduling routine maintenance by a trained professional, there are a few things homeowners can do. First, open all air vents and make sure they are uncovered as blocked airflow forces the furnace to work harder.
Check the thermostat to ensure it's working properly by increasing the temperature by 5 F and waiting to hear the furnace turn on. Consider setting the thermostat a couple degrees cooler than what might feel comfortable as doing so not only saves money but lessens the load from your furnace. Keep thermostats at 65 F during the day and 55 F at night, closing off rooms that don't need to be heated.
Using a programmable thermostat can save homeowners as much as 10% per year on heating costs, according to the U.S. Department of Energy. It's also a good idea to replace air filters every 1-3 months to help keep your furnace working efficiently and effectively.
Upgrade Your Furnace. If it's time to upgrade your home's climate control system, it's a smart idea to do your homework and explore your options. There are several state and federal incentive programs to help homeowners upgrade their current systems to a clean energy option like propane. Propane is an affordable, comfortable, reliable and efficient energy source. It's also a clean, low-carbon option. What's more, propane-powered furnaces last 50% longer than electric heat pumps, which means a lower lifetime investment. Propane furnaces also provide warmer air than other heat sources (115-125 F), are less impacted by outdoor temperatures and produce 50% fewer greenhouse gas emissions than electric furnaces and 12% less than fuel oil furnaces.
Rethink Your Boiler System. For a home that runs on a boiler system, you can make upgrades that improve performance while providing space savings and the versatility to provide heating, hot water and even snow melt. High-efficiency propane boilers can last up to 30 years and have significantly lower emissions than those fueled by heating oil.
Take Advantage of Your Fireplace. The warm glow of a fire isn't only comforting; it can be a practical and effective way to increase the heat inside your home. Not only do propane fireplaces offer 5-6 times the heating capacity of electric fireplaces, they're also more energy efficient, environmentally friendly, convenient to use and easier to install than woodburning models. They also emit less soot and other emissions.
Be Efficient with Water Heating. Water heating can be a large expense, accounting for 14-18% of home utility bills, according to the U.S. Department of Energy. Set your water heater no higher than 120 F and install low-flow shower heads or temperature-sensitive shower valves to reduce energy consumption. High-performance propane tankless water heaters can reduce a home's energy consumption because it only heats the water when you need it, ultimately saving you money.
Find more tips to prepare your home for winter weather at Propane.com.
Before, during and after a storm, consider these key factors to help keep your family and home as safe as possible.
Have an Adequate Propane Supply
Discuss the possibility of scheduling regular winter visits with your propane supplier so you always have an adequate supply of propane in your tank. This can reduce your chances of running empty in times of heavy snowfall when roads may be inaccessible for delivery.
Create an Emergency Plan
Work with your family to create a plan in the event of a winter storm. Gather contact information for emergency services and utility companies, including your local propane supplier, along with instructions for turning off your propane, electricity and water. If you turn off your propane, contact a service technician to inspect your system before turning it back on.
Install Carbon Monoxide Detectors
Because carbon monoxide is an odorless, colorless gas that is highly poisonous, the International Association of Fire Chiefs recommends installing a carbon monoxide detector listed by Underwriters Laboratories (UL) on every level of your home, including
the basement. Make sure to follow the manufacturer's instructions regarding installation, location and maintenance.
Plan for Communications
Keep a battery-powered radio handy, so you always have a way to receive updates on weather conditions. As storms approach, it's also smart to charge your smartphone to use as an additional tool for communication through a power outage. Purchasing a propane generator is another option to ensure you always have reliable power, even during blackouts.
Inspect Damage Cautiously
If a storm causes harm to your property, be careful when assessing damage. Downed power lines, damaged gas lines and dislodged propane tanks can lead to dangerous situations. In the dark, use a flashlight instead of candles to avoid combustion if there is a leak.
Call the Experts in Dangerous Situations
Your utility company, fire department and propane supplier have expert training to handle your home's systems in potentially dangerous situations. Additionally, if a storm damages your property, it's a good idea to have a qualified service technician perform a complete inspection of your propane system to look for damage.
8 March 8, 2023
Photo courtesy of Getty Images
years, Carter championed human rights and served as a mediator during the Camp David Accords, a landmark peace agreement between Israel and Egypt. He also built on President Richard Nixon's opening to China and helped Latin America rise from dictatorship to democracy.
After his time in office, Carter founded the Carter Center. The organization has monitored at least 113 elections worldwide since 1989 and has promoted health campaigns to reduce diseases in developing countries.
Rosalynn Carter's work to improve mental health services has profoundly impacted the lives of people with mental illnesses. Her passion and commitment
have fueled a mental health movement that is now stronger than ever.
He has the full support of his family.
Jimmy Carter, who is 98 years old and the oldest living former President, will receive hospice care at his home in Georgia. He will be spending his final days with his wife Rosalynn, the Carter Center said in a statement Saturday.
According to The Carter Center, he has the full support of his family and friends. After a series of short hospital stays, he has decided to spend his remaining time at home with Rosalynn and receive hospice care instead of additional medical intervention, the organization says.
He has been battling multiple health issues in recent years, including skin cancer that spread to his brain and liver. He has also been confined to the hospital several times because of falls. Yet, he has often expressed a strong sense of calm and strength as he battled his health problems.
"He is at peace"
On Saturday, a statement from the Carter Center confirmed that Jimmy Carter would be receiving hospice care at his home. Unlike other medical treatments, the priority of hospice care is to provide comfort towards the end of life rather than a cure.
The former President
has been battling several health issues recently, including cancer, which he had successfully treated in 2015 with an experimental drug that removed a small mass from his liver. He and Rosalynn live in Plains, Georgia, where he was born and worked as a peanut farmer before going into politics.
He served as President from 1977 to 1981 and was widely revered for his commitment to human rights and social justice. He also played a pivotal role in brokering one of history's most important peace deals, the Camp David Accords between Egypt and Israel. In addition, he founded the Carter Center in hopes of advancing world peace and health.
9 March 8, 2023 JIMMY CARTER WILL BE RECEIVING HOSPICE CARE AT HIS HOME From page 5 _______________________________ Spring Checklist for Pets 6 ways to keep your pets happy and healthy FAMILY FEATURES Warmer weather means it's time to spring clean, get grooming and prepare your pets' diets to support them through the season. Keep your furry friends happy and healthy this spring with these six tips from the experts at Zesty Paws, an awardwinning pet supplement brand: Give Skin and Coats a Little TLC: Many pets form winter coats during the colder months to help them stay warm and comfortable then shed the coats in the spring to prepare for warmer temperatures. Some pets may need extra help maintaining their shiny, healthy coats, especially if mats have formed in their fur or if they are breeds that develop a thick undercoat. Professional grooming, at-home brushing and regular bathing can all be helpful ways to speed up the process to remove some of the extra fur and decrease the prevalence of dander, dust and pollen that can attach to fur and skin through the season. Add Seasonal Allergy Support with Supplements: Just like humans, furry friends can develop and experience seasonal allergies, too. Giving your pets' immune systems some extra support can help ease some common allergy symptoms. Supplements like Zesty Paws Aller-Immune Bites for Cats and Aller-Immune Bites for Dogs are chewables that provide seasonal allergy support by aiding normal immune functions, skin health and gut flora, and may also help maintain normal histamine levels. Ease Back into Exercise: The change in weather means more time for outdoor adventures with your pets, but don't forget to cool down and warm up as you and your pets ease back into the season. Planning for short, leashed walks and timed play sessions can help your pets gradually prepare their hips and joints for fun, warm weather activities. Watch Out for Pet Pests: Once temperatures start to rise, the tiny, creepy critters start crawling. Fleas, ticks and other pests can cause serious health concerns for pets. This spring, make sure your pest control programs are primed and ready for added protection. Talk to your veterinarian about the best routine and products for your pets. Freshen Up Bedding and Bowls: It's important to keep a clean environment by scrubbing, sweeping and vacuuming regularly to decrease allergens in the home. When you're tackling this year's spring cleaning, remember to put your pets' bedding and bowls on the list, too. Updating or disinfecting your pets' blankets, litter boxes, toys and other supplies is a good way to keep them feeling safe and comfortable in the home. Schedule an Annual Vet Visit: Spring is a good time to schedule your pets' annual vet visits. Make sure they're up to date on all vaccinations, get their dental health checkups and re-evaluate nutrition plans. Find more advice for keeping your pet healthy and happy at zestypaws.com.
$15 Million Settlement Against 'The Pill Club' for Medi-Cal Fraud Scheme
OAKLAND — California Attorney General Rob Bonta announced a $15 million settlement against The Pill Club, a Silicon Valley startup operating an online pharmacy for birth control and contraceptives. The California Department of Justice (DOJ) investigation found that The Pill Club defrauded Medi-Cal of millions of dollars by dispensing and reimbursing for expensive products that customers had not asked for and submitting reimbursements for ineligible services and prescriptions.
"The Pill Club unacceptably siphoned off MediCal funding intended to help vulnerable communities access essential healthcare," said Attorney General Bonta. "I am grateful to the whistleblowers and our investigators who held The Pill Club accountable. The Pill Club was formed in 2016, offering California patients, including Medi-Cal beneficiaries, an online-only
prescription and delivery service for reproductive care-related products. The DOJ's Division of MediCal Fraud and Elder Abuse (DMFEA) found over a threeyear-long investigation that the company defrauded the Medi-Cal program in several ways, including by: Billing for services it had never rendered. For example, investigators found multiple instances in which the company had submitted claims for 30-minute faceto-face counseling sessions when The Pill Club's nurse practitioners had no direct or real-time contact with those patients. In addition, investigators found as many as 3,000 Medi-Cal claims submitted by the Pill Club for purported medical
services that were never rendered. Dispensing enormous quantities of costly products its customers had not asked for. For example, DOJ investigators found that The Pill Club distributed shipments of FC2 female condoms to multiple women who were Medi-Cal beneficiaries but who had no interest in receiving or using these devices. The company billed Medi-Cal for these products at prices that were, on average, 250% higher than the retail price. FC2 would be sent out as part of a 'bundle' when patients requested emergency contraception. Patients could not easily opt out of the bundle. In addition, the Pill Club regularly sent the
maximum quantity of FC2 to new patients and with refills. As a result, MediCal beneficiaries were sent massive amounts of FC2 — sometimes as many as 96 were dispensed at a time — and The Pill Club was, in turn, reimbursed as much as $2,253.80 for a single prescription delivery. The DOJ investigation found that The Pill Club continued sending many patients large quantities of condoms and submitting Medi-Cal claims for the condoms, even after the patients asked to stop receiving them.
The claims resolved by the Settlement are allegations only, and there has been no determination of liability.
10 March 8, 2023
SECOND RAPE PROCESS
Harvey Weinstein (70) will receive 16 years for rape and sexual assault.
The ex-Hollywood producer had already been found guilty of three sex crimes at a criminal trial in New York in March 2020 and sentenced to 23 years. A judge in Los Angeles sentenced him to another 16 years behind bars, again for rape. Unfortunately, he is unlikely to get out of prison alive, as he now serves 39 years.
Weinstein had protested his innocence in court in LA: "I maintain that I am innocent. I never raped or sexually assaulted Jane Doe
1." The plaintiff also sat in the courtroom during his speech, bursting into tears. Because: just moments
before, she had to describe judge Weinstein's assault at the time. "Before that night, I was a pleased and confident woman. I valued myself and my relationship
She continued, "I was nervous about my future. Everything changed after the defendant brutally assaulted me. Unfortunately, no prison sentence is long enough to undo the damage."
with God," said the plaintiff, referred to only as "Jane Doe 1" in the trial.
The revelations about Weinstein led to the birth of the #MeToo movement just over five years ago. In total, nearly 90 women, including Hollywood stars Angelina Jolie (47), Gwyneth Paltrow (50), and Salma Hayek (56), have accused Weinstein of harassment or assault.
11 March 8, 2023
Harvey Weinstein is already in jail since 2020.
Trump could be sued for storming the Capitol
The US Department of Justice believes that ex-President Donald Trump (76) is being sued under private law because of the storming of his supporters on the Capitol on January 6, 2021 (5 dead) - and in the event of a conviction can be forced to pay compensation.
The most recent legal tug-of-war began with a lawsuit filed by two Capitol Police officers injured in the bloody riots at the time. They had argued that the then President had incited his supporters to storm the Capitol in a speech with slogans such as "Fight like hell."
An unleashed mob then violently broke through
police barricades and devastated the heart of US democracy.
Just before 1 p.m.: The mob breaks through the barricades on the west side and marches toward the Capitol From the northwest, rioters are climbing up the walls of buildings
They gain access to the 2nd floor via scaffolding Barricades are also
broken through on the east side, and the building stormed
Around 2 p.m.: Rioters fight with police in the hallways of the building. Senators and journalists flee to the Senate Chamber, which is then locked
Just before 3 p.m.: An ambulance pulls up at the southwest corner of the Capitol after a woman was
shot inside the building
Around 6 p.m.: The demonstration breaks up in the forecourt, the building is secured by the police, and the Congress resumes the session
Trump's attorneys initially argued that a president would always and blatantly be "immune from civil lawsuits." Even if the "statement constitutes an incitement to direct violence." The court had been asked to dismiss the lawsuit. However, this attempt failed.
So when Trump appealed, the appellate judges also wanted to get the Department of Justice's (DoJ) opinion.
So, there are now: On 32 pages, the lawyers argued that Trump's "categorical immunity argument" could not be asserted and that he could be prosecuted for behavior clearly outside his presidential obligations.
The appellate judges
12 March 8, 2023 WILL THIS COST HIM THE PRESIDENCY?
Former US President Donald Trump speaks to his supporters after losing the election: a short time later, a mob stormed the Capitol
Supporters of US President Donald Trump stormed the US Capitol building on January 6, 2021
were therefore advised to allow the police complaint. It's a bitter defeat for Trump. If convicted, there is a risk of high compensation. And by setting a possible precedent, more civil lawsuits could follow.
After all, 138 law enforcement officers were wounded during the orgy of violence at the Capitol. Many are still traumatized to this day.
The timing of the setback is highly unfavorable to Trump. He is intensifying his campaign to return to the Oval Office, which he launched last November. In addition, Saturday evening (local time), a speech at
for the "Make America Great Again" president who was voted out in 2020. The "Axios" portal even located a "bounce": According
dangerous rival, Florida Governor Ron DeSantis (44 ). At the beginning of February, DeSantis was still in the lead.
Special Counsel Jack Smith is investigating whether Trump broke any laws in his attempts to reverse the 2020 election result (culminating in the storming of the Capitol). Smith is also investigating allegations that the expresident illegally hoarded highly confidential White House documents at his Mar-a-Lago resort.
The US state of Georgia is investigating whether Trump and his advisors' interference in counting votes was criminal. A grand jury there had just recommended charges. So far, however, it has remained unclear against whom.
the conservative meeting "CPAC" is planned.
Most recently, there were encouraging poll numbers
to the "Yahoo News/ YouGov" survey, Trump is now well ahead of his most
So Trump's chances remain intact. He could prevail in the party's internal primaries and win the Oval Office race - most likely against Democratic incumbent Joe Biden (80).
Trump and the judiciary
Above all, however, hangs the sword of Damocles from numerous civil and criminal investigations. If convicted, there is a risk of fines or, in the worst case, even imprisonment.
In Manhattan, prosecutors are investigating whether Trump can be charged with hush money to exporn actress Stormy Daniels (43), with whom he is said to have had an affair.
There are also numerous other civil lawsuits against the former real estate entrepreneur. Trump regularly speaks of a "witch hunt" against him. Yet, in political circles, it is doubted whether even a criminal charge would throw him politically off track.
13 March 8, 2023
Security forces arrested some Capitol Strikers
Stormy Daniels
Supporters of US President Donald Trump in the US Capitol on January 6, 2021
WORLD TOUR CANCELED Great concern for Justin Bieber
Health is the highest good.
Pop star Justin Bieber (29) also had to realize this. After the singer postponed his "Justice World Tour" several times, Bieber fans must be intense now: the 29-year-old canceled his world tour.
This was announced on the official Justice World Tour Twitter account. So far, neither the organizer nor the pop star celebrating his birthday today has commented on the background.
Bieber has struggled with his health in the past. In June 2022, the 29-yearold contacted his fans and said he had Ramsay Hunt Syndrome. In rare viral diseases, the ear and facial nerves are attacked.
The singer also shared a video on his Instagram channel at the time, which shows the extent of the syndrome: Bieber had hemifacial paralysis. Due to serious health problems, the concert drama about the pop star has been going on for a long time. As a result,
the tour was suspended for the first time in June 2022 and interrupted again after just a few dates in early September, when Bieber was back on stage.
At his last concert on September 4, 2022, in Brazil, the pop star weakened and explained afterward that he was
utterly exhausted and could no longer stand on stage for the time being. Due to serious health problems, the concert drama about the pop star has been going on for a long time. As a result, the tour was suspended for the first time in June 2022 and interrupted again
after just a few dates in early September, when Bieber was back on stage.
At his last concert on September 4, 2022, in Brazil, the pop star weakened and explained afterward that he was utterly exhausted and could no longer stand on stage for the time being.
14 March 8, 2023
Bring On Dessert with Better-for-You Sweets
FAMILY FEATURES
If healthier eating holds a prominent spot on your list of goals, you may feel it's necessary to eliminate some of your sweetest favorites. However, committing to a nutritionally friendly way of life doesn't have to leave desserts by the wayside.
Instead, rethinking nighttime treats with better-for-you ingredients like California Prunes as a quick substitution can make healthier eating easy. As a versatile ingredient that can replace added sugar, fats and eggs in all kinds of recipes, prunes can also add nutrients important for bone and gut health.
Plus, the copper in prunes inhibits bone breakdown, while boron plays a role in calcium metabolism and polyphenols can help decrease bone breakdown through their antioxidant power. As a fruit that's high in vitamin K, which helps improve calcium balance and promotes bone mineralization, prunes are also a "good gut food," meaning a single serving (roughly 4-6 prunes) can help support a healthy microbiome.
They're easy to use in recipes that can become favorites in your household such as these Chocolate Energy Balls. Enjoyed as an easy, on-the-go snack, they're a perfect way to refuel for an adventure, recharge after a workout or to simply savor as a healthy snack.
Chocolate lovers rejoice: This rich, delicious, gluten-free, grain-free Chocolate Covered Prune Fudge Cake is naturally sweetened using prunes instead of added sugar. If brownies are more your style, prunes can also take the place of eggs in these Vegan Brownies for a family-friendly treat that won't wreck your eating plan.
To find more better-for-you desserts, visit californiaprunes.org.
Vegan Brownies
Prep time: 10 minutes
Cook time: 25 minutes
Servings: 9
Prune Puree:
16 ounces pitted California prunes
1/2 cup hot water
Brownies: nonstick cooking spray
6 ounces unsweetened chocolate
1/2 cup California extra-virgin olive oil
2 cups light brown sugar
10 ounces California prune puree
1/2
1
cups all-purpose flour
1 tablespoon baking powder
1/4 cup cocoa powder
2 teaspoons vanilla extract
flaky sea salt, for garnish
To make prune puree: In blender, combine prunes and water. Pulse to combine then blend until smooth, pourable consistency forms, scraping sides, if necessary.
Store puree in airtight container in fridge up to 4 weeks.
To make brownies: Preheat oven to 350 F. Line 9-by-9-inch baking pan with parchment paper then lightly grease with nonstick cooking spray.
Using double boiler, melt chocolate and olive oil. Whisk in sugar and prune puree; mix until dissolved.
Into large bowl, sift flour, baking powder and cocoa powder. Gently fold in chocolate and prune mixture then add vanilla.
Spread batter in prepared pan, sprinkle with flaky sea salt and bake 20-25 minutes, or until top starts to look dry and brownies are just beginning to pull away from sides of pan.
Cool in pan. Remove then cut brownies into 3-inch squares.
Chocolate Energy Balls
Recipe courtesy of Meg van der Kruik on behalf of California Prunes
Prep time: 10 minutes
Cook time: 30 minutes
Yield: 24 pieces
Prune Puree:
16 ounces pitted California prunes
1/2 cup hot water
Energy Balls:
1 cup old-fashioned or gluten-free oats
2/3 cup toasted, unsweetened shredded coconut
1/2 cup creamy natural nut butter (peanut or almond)
1/2 cup pecan meal
1/2 cup prune puree
1/4 cup unsweetened cocoa powder
1 teaspoon vanilla extract
To make prune puree: In blender, combine prunes and water. Pulse to combine then blend until smooth, pourable consistency forms, scraping sides, if necessary.
Store puree in airtight container in fridge up to 4 weeks.
To make energy balls: In mixing bowl, stir oats, coconut, nut butter, pecan meal, prune puree, cocoa powder and vanilla until completely combined.
Cover and chill in refrigerator 30 minutes. Once chilled, use small cookie scoop or measuring spoon to measure equal-sized amounts of mixture then form into balls by applying gentle pressure to dough using palms. Do not roll as balls will break apart.
Store covered in airtight container in refrigerator up to 1 week.
Chocolate Covered Prune Fudge Cake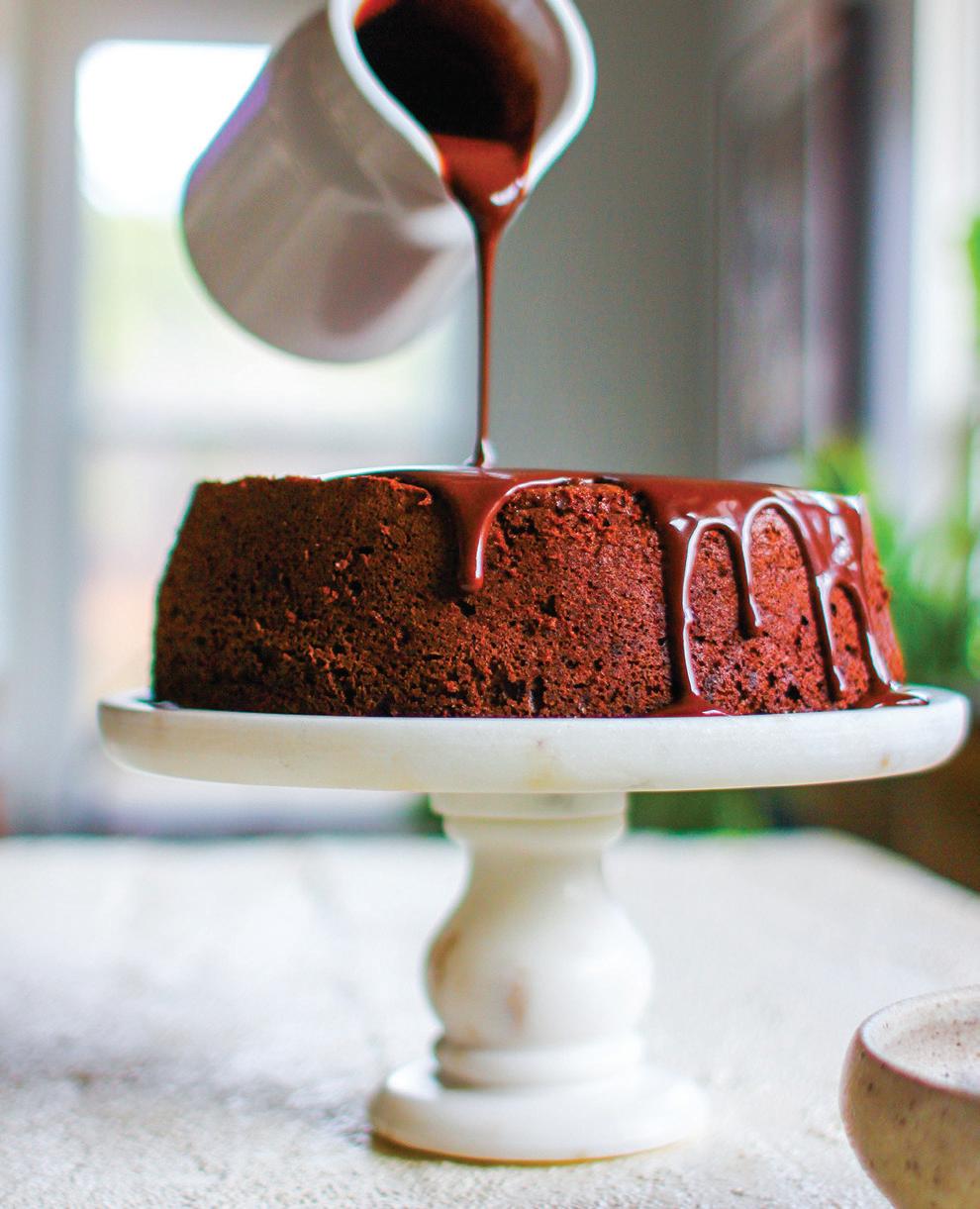 Chocolate Covered Prune
Fudge Cake
Prep time: 15 minutes
Cook time: 55 minutes
Yield: 1 cake (8 inches)
Cake: Coconut oil spray
14 tablespoons butter, chopped
2 teaspoons vanilla extract
3/4 cup cocoa powder
10 soft, pitted prunes, chopped small
1/3 cup maple syrup
6 eggs
1/2 cup coconut sugar
1 cup almond meal
Ganache:
1 cup full-fat coconut milk
1 1/3 cups dark chocolate morsels
To make cake: Preheat oven to 300 F. Lightly spray bottom and sides of 8-inch springform pan with coconut oil spray. Place round piece of parchment paper in bottom of pan and lightly spray with coconut oil spray.
In small saucepan over low heat, place butter and vanilla. Use sieve to sift cocoa
into saucepan. Stir with spatula until completely smooth. Remove from heat and set aside.
In bowl of food processor fitted with "S" blade, place prunes and syrup. Top with cooled butter mixture then process until smooth. Transfer to large mixing bowl, scraping all chocolate mixture from food processor with spatula.
In bowl of stand mixer fitted with whisk attachment, whip eggs and coconut sugar on high speed 7 minutes, or until tripled in volume.
Add one-third of egg mixture to bowl with chocolate mixture. Using spatula, gently fold together until completely combined. Add almond meal and remaining egg mixture to bowl and gently fold to combine.
Pour batter into prepared pan and bake 55 minutes, or until set. Once cooked through, transfer cake to cooling rack and cool completely in pan.
To make ganache: In top of double boiler, melt coconut milk and dark chocolate until completely smooth. Pour prepared ganache over cake. Serve immediately for molten fudge effect or allow to completely set.
Vegan Brownies
15 March 8, 2023
Energy Balls
Chocolate
Healthy Habits for Your Home
FAMILY FEATURES
If you're like most Americans, health is an important aspect of your resolutions when each new year rolls around. While factors like diet and exercise are keys to healthy living, so are the ways you care for your home and belongings.
Your home living environment plays a major role in your health and comfort, so incorporating some new habits like these from the cleaning experts at Swash Laundry Detergent can help you establish a healthier lifestyle.
Control Air Quality
Especially during the winter months when your home tends to be closed tight, air can grow stale. Do your best to keep air quality strong by opening windows on mild days to circulate fresh air, using an air purifier to remove irritants and pollutants, frequently vacuuming and sweeping to keep floor dust and debris under control and regularly cleaning textiles that can trap allergens and other particles.
Scale Back Detergent Use
Using too much laundry detergent isn't just risking buildup and unnecessary wear on your washer and dryer; it can also increase
5
the residue and buildup in your clothes, which can lead to skin irritation and damage fabric faster. Using only what you need helps protect your belongings and your skin. An option like Swash Laundry Detergent, which features a Precision Pour Cap, dispenses the detergent for you, so you only pour what you need to effectively clean each load and fight stains. A single bottle of the ultra-concentrated formula – available in Simply Sunrise, Free & Clear and Pure Linen scents – washes up to 83 loads while taking up less space than traditional, bulky detergent bottles.
Make Use of Natural Light
When winter brings day after day of dark, dreary weather, it can take a toll on your mood. Brightening your living space with natural light can positively influence your emotional state while helping with your electric bill. If you're concerned about privacy, utilize window treatments at night, but let the sunlight bring good cheer to your living spaces during the day.
Switch
Bedding on Schedule
While you sleep, your body sheds oils, cells and elements you carry into your home like pollen. Sheets should be washed once a
week on the hottest water setting your fabric will tolerate (check tags for laundering directions on your sheets before washing). If your schedule makes weekly washing, drying and remaking the bed unrealistic, consider having a couple sets you can rotate so you always have fresh, clean sheets waiting to remake your bed on laundry day.
Work Up (and Wash Out) a Sweat
The materials that keep you feeling cool and fresh by wicking away sweat can quickly get stinky, but over-washing can make them lose their shape and fade. Even so, washing after every use is a must. Washing workout clothes inside out exposes the surfaces that have absorbed sweat and body oil to detergent and agitation. Be sure to close zippers, buttons, clasps and other fasteners to prevent snags. Pre-soaking with equal parts vinegar and cold water can also help eliminate odors, and washing in a gentle, cold-water cycle and drying on low heat can help protect the fabric's elasticity and wicking properties.
Start your year off right with more advice for healthy habits around the home at Swash.com.
Ideas for an Organized, Intentional Laundry Space
Having an organized and decorated laundry room can ease the weight of your to-do list and the tension you feel from the day-to-day grind. It can also help keep your laundry routine simple, orderly and organized. Consider these tips from the laundry experts at Swash:
1. Think like a minimalist. Empty your laundry space and sort through what you need and what you don't. Eliminating the extras leaves room to evaluate your space. Consider whether you could organize differently to make frequently used items more accessible and make the most of your storage space. Cutting down on clutter may even make it possible to incorporate shelves or cabinets that add stylish functionality.
2. Update your space with open shelving. Open laundry shelves offer a sense of more space, and the horizontal lines can lend a sense of calm. For an easy and attractive upgrade, try hanging 2-3 open shelves within easy reach. If you're hesitant about the open feel, limit to just one shelf for the everyday necessities and keep the rest of your laundry supplies out of sight in a complementing cabinet. Baskets offer another option for concealing your belongings, whether you use them on the open shelves or inside cabinets to keep things tidy and clutter-free.
3. Create a practical workspace. Mundane laundry chores like folding can be more enjoyable when you have a comfortable, dedicated space for the job. An open counter or table that folds down from the wall gives you the surface you need to fold clothing within your laundry space without disrupting the rest of the house. Other ways to add practical space include areas for sorting garments that need special attention and a place to hang items that shouldn't be dried in the dryer.
4. Use colors and materials that evoke calm. Natural materials and a neutral color palette can lend to a more peaceful space. Lighter neutral colors reduce stress and anxiety, promote relaxation and can even make a space feel more expansive. For a calm, refreshing area, start with a base of white then add natural textures like woven baskets, faux or real plants and marble stone accents in the tile flooring or backsplash. Add a calming color like blue to evoke the tranquility of the sky or ocean, or consider green to incorporate the soothing effects of nature.
5. Invest in products that bring you joy. Choose quality pieces that aren't overly trendy and will stand the test of time. Consider how your investment of laundry decor, including your washer and dryer, will serve you in the space in the coming years.
16 March 8, 2023
Photo courtesy of Getty Images
17 March 8, 2023
Following a successful series debut this summer, the Palm Springs Cultural Center is returning its outdoor film series, Movies in the Park, to Downtown Palm Springs Park for the Spring of 2023. The season will kick off on
Wednesday, March 8th, with the classic musical rom-com GIGI, starring Leslie Carron and Maurice Chevalier, directed by Vincente Minnelli. Movies in the Park is a free community event thanks to the generous
support of ……
The Summer 2022 Movies in the Park series featured three of Marilyn Monroe's most iconic films to celebrate the Forever Marilyn statue. In addition, the 2022-2023 season will continue screening classic comedies of the fifties and
sixties, with beloved stars such as Audrey Hepburn, Doris Day, Cary Grant, and Jane Fonda, and Palm Springs icon Marilyn Monroe.
The movies are scheduled to start at 7 pm, but show times will vary slightly in the late spring, depending on sundown. Attendees of
18 March 8, 2023
these free community events are encouraged to make an evening of it by enjoying downtown shops and dining before the events.
"We were delighted to see how much fun people had at the summer Movies in the Park series, and we're thrilled to continue giving back to the community with this program," said Executive Director Michael C. Green.
Film Schedule:
March 8 - GIGI, starring Leslie Caron and Maurice Chevalier
Gaston (Louis Jourdan) is a restless Parisian playboy who moves from one mistress to another while also spending time with Gigi (Leslie Caron), a precocious younger friend learning the ways of high society. However, the platonic relationship between Gaston and Gigi changes when she matures, but the possibility of something lasting seems unlikely since he won't commit to one woman. However, Gigi refuses to be anyone's mistress, and Gaston must choose between her and his carefree lifestyle.
March 22 - HOW TO
MARRY A MILLIONAIRE, starring Marilyn Monroe, Lauren Bacall, and Betty Grable
Schatze Page, Loco Dempsey, and Pola Debevoise (Lauren Bacall, Betty Grable, Marilyn Monroe) are three women on a mission: They all want to marry a millionaire. So they move into a fancy New York City apartment to accomplish this task and begin courting the city's elite. They have no problem meeting rich men, but unfortunately, most are creeps or cons. Eventually, they must decide: Is a life of luxury more vital to them than finding true love?
April 12 - CHARADE –starring Audrey Hepburn and Cary Grant
After Regina Lampert (Audrey Hepburn) falls for the dashing Peter Joshua (Cary Grant) on a skiing holiday in the French Alps, she discovers upon her return to Paris that her husband has been murdered. Soon, she and Peter are giving chase to three of her late husband's
World War II cronies, Tex (James Coburn), Scobie (George Kennedy), and Gideon (Ned Glass), who are after a quarter of a million dollars. The quartet stole while behind enemy lines. But why does Peter keep changing his name?
April 26 - BAREFOOT IN THE PARK – starring Jane Fonda and Robert Redford
In this film based on a Neil Simon play, newlyweds Corie (Jane Fonda), a free spirit, and Paul Bratter (Robert Redford), an uptight lawyer, share a sixth-floor apartment in Greenwich Village. Soon after their marriage, Corie tries to find a companion for their mother, Ethel (Mildred Natwick), who is alone and sets up Ethel with neighbor Victor (Charles Boyer). Unfortunately, inappropriate behavior on a double date causes conflict, and the young couple considers divorce.
May 17 - THE GIRL CAN'T HELP IT – starring Jayne Mansfield and Tom Ewell, featuring Little Richard
Hefty hoodlum Marty "Fats" Murdock (Edmond O'Brien)
employs has-been agent Tom Miller (Tom Ewell) to transform his girlfriend, Jerri Jordan (Jayne Mansfield), into a singing star because he trusts Tom not to make a pass at her. However, the more time Tom spends with the stunning blonde, the more smitten he becomes. His troubles multiply when he realizes that Jerri can't sing a note, is not in love with Murdock, and wants to settle down with a nice man like himself.
May 31 - FUNNY FACE, starring Audrey Hepburn and Fred Astaire
Dispatched on an assignment, New York Citybased fashion photographer Dick Avery (Fred Astaire) is struck by the beauty of Jo Stockton (Audrey Hepburn), a shy bookstore employee he's photographed by accident, who he believes has the potential to become a successful model. So he gets Jo to go with him to France, where he snaps more pictures of her against iconic Parisian backdrops. They fall for one another in the process, only to find hurdles.
19 March 8, 2023
Energy is a great sector to investment
By Janis Gough
Energy affects our daily life in almost every way. When the energy price is high, it shows up in the grocery store prices. It shows up in the gas you pay for to drive to the grocery store. This super-cycle might decide if you buy an electric vehicle or a car with better gas mileage. It may determine if you fly somewhere far away for vacation or stay closer to home. The energy was the bestperforming asset we've seen recently...
The fate of an entire continent lies in the balance thanks to this crisis, which could topple governments. This facility is built from 89,000 tons of structural steel.
It uses 400 miles of pipe to stretch from New York City to Cleveland, Ohio.
Every day, a liquid form of natural gas is loaded up on huge tanker ships at places like these... shipped to locations like Germany, France, and China.
As you can see, there's lots of heavy machinery all around. The temperature of the liquefied natural gas in these pipes is negative 260 degrees. Shipping liquefied natural gas, a significant new energy source, to nations worldwide, including Germany, France, and China.
If you haven't guessed by now, this "1,000% Windfall" opportunity has to do with the energy markets...
That's 20 times more returns than conglomerates, the second-best sector...and 40 times more than the
third-best sector, retail.
Meanwhile, every other sector in the stock market LOST money, with technology stocks losing more than 20%... So it's no wonder the world's top investors and Wall Street "insiders" have been piling into this sector... Billionaires like Stan Druckenmiller loaded up on energy stocks last year, and David Tepper has invested $338 million into energy. Carl Icahn – one of the 50 wealthiest men in the world – put $661 million into power. And Warren Buffett, the world's most significant investor, invested a mindblowing $38 billion in energy last year...
The immediate problem is simple: There is not enough fuel and, therefore, not enough electricity, so prices have skyrocketed for both. To a large extent, this is a result of decreased Russian exports of oil, natural gas, and coal, which have been hit by western sanctions and other policy efforts to curb Russian revenues..."Natural gas is a significant new energy source for nations worldwide, including Germany, France, and China. This problem isn't going away anytime soon. And the CEO of Saudi Aramco, the largest oil producer in the world, recently issued a dire warning about oil prices, saying they could quickly spike. According to this CEO, one of the most influential men in the energy market...
"The world should be worried. The fate of an entire continent lies in the balance. There's an energy crisis in Europe due to sanctions against Russia and its retaliation. This is a big problem, of course. While Europe has had some success in quickly finding other energy sources, and it's fortunately been a mild winter so far, this still may be the most significant economic problem in the world right now. The energy problem is more important than inflation because high energy prices are a big culprit
in the higher prices we've seen at the grocery store lately. And energy is a significant source of the political problems we see with Russia and China.
Every person on earth needs energy. Energy is as essential as food and water for every human. There is a limited supply of energy sources, from fossil fuels... to nuclear... to renewables. And these resources often exist in a limited number of places but not others. These energy sources are spread all over the planet. Somehow we must get these energy sources into the power plants and gas tanks to power the global Economy. It comes down to supply and demand and getting the energy where it needs to be. If this supply and demand dynamic gets screwed up, energy prices rise because supply is not meeting demand.
Consider the Strategic Petroleum Reserve. This is an emergency stockpile of crude oil maintained by the United States Department of Energy. It is the largest publicly known emergency supply in the world. Unfortunately, because of this energy crisis, the Biden Administration has sucked out this strategic reserve to its lowest levels since 1984. Over the past year, the account has been down 36%. It's now going to have to be filled back up!
The total capacity of the underground facilities is 714 million barrels. Thus, if they wanted to fill it up, we'd need about 324 million more barrels of oil. If we assume $80 a barrel... and if we filled it, that's $25 billion. This should give you a sense of the scale of the shortages we're dealing with here. If oil goes up to $160 a barrel, it'll cost double that: $50 billion...
Energy isn't being produced to scale globally, and energy needs to be supplied to where it needs to go.
20 March 8, 2023
S i n c e 1 9 7 8 G o u g h I n s u r a n c e & F i n a n c i a l S e r v i c e s h a s h e l p e d m a n y c l i e n t s w i t h S o l u t i o n s i n a l l c a t e g o r i e s o f I n s u r a n c e R e t i r e m e n t a n d E s t a t e P l a n n i n g & L o n g T e r m C a r e P l a n n i n g E x p e r i e n c e d a n d K n o w l e
ARE YOU IN THE DARK?
LIVING TRUST
What are the advantages of a living trust!
Avoid Probate
Tax Planning
Control
Privacy
How do I set up a Living Trust?
Give us a call today so that we may help you!
This applies to oil, gas, green energy, and this energy, liquefied natural gas, or LNG. The exciting thing for investors is that LNG remains a "secret corner" of the energy markets. Consider that 25% of the EU's energy consumption comes from natural gas. Most Americans are clueless about what a goldmine this LNG could be for investors right now! Due to the Russian invasion, their natural gas is almost running out. The U.S. has more LNG than all other countries, Literally in our backyard. Natural gas can also power the electrical grid, power plants, and factories. Now keep in mind that the U.S. is overflowing with natural gas.
We have nearly 3 trillion cubic feet of natural gas. EU has None! EU's energy consumption comes from
natural gas. Right now, Liquifying the natural gas we have in America makes it possible to put it on ships and send it to Europe. As a result, America is positioned to transport cheap American shale gas worldwide through LNG. America became the single largest exporter of LNG, displacing long-time front-runner Qatar. If European countries don't get this energy from our LNG, their economies could crash and burn. There is also massive demand from China, and this energy demand is making Americans much money. We are also building a fully integrated LNG business, which means it will be the first integrated LNG business in America when it's entirely up and running.
That means it'll control every aspect of the business. It will drill for natural
gas, funnel it through a pipeline to its LNG facility, then ship it to places like Europe. Liquefied natural gas is a game changer for the world. It has already paid off with ten times returns for many investors who got in early. And I'm forecasting the same kinds of gains from the energy markets very shortly.
Janice Gough is a Financial consultant located at 1111 E. Tahquitz Cyn. Way, Palm Springs, Bldg.#120. For a complimentary review, call on us at Janice@GoughFinancialSvcs.com or phone at (760) 251-7724 or (650) 200-8291(mobile)
21 March 8, 2023
D O N ' T K N O W W H A T T H E F U T U R E H O L D S ? L E T ' S W O R K T O G E T H E R !
u r p r i m a r y g o a l i s t o h e l p y o u g r o w m o n e y w i t h a p e a c e o f m i n d .
O
d g e q u a l i f i e s m e t o b e Y o u r F i n a n c i a l A d v i s o r . S a f e S o u n d S o l u t i o n s f o r t h i s e v e r c h a n g i n g f u t u r e ! Gough Insurance & Financial Services ( 6 5 0 ) 2 0 0 - 8 2 9 1 & ( 7 6 0 ) 2 5 1 - 7 7 2 4 j a n i c e @ g o u g h f i n a n c i a l s v c s . c o m CA License # 0561021 Don't pay attorney fees! w w w . g o u g h f i n a n c i a l s v c s . c o m We will give you a great price!
THE NUCLEAR DISARMAMENT TREATY ON HOLD
Kremlin dictator Vladimir Putin (70) gave a long-delayed speech to the Russian Federation Assembly on Tuesday afternoon. Putin said the West wants to inflict a "strategic defeat" on Russia. "It's about the existence of our country."
The speech is due to the upcoming war anniversaryon February 24, 2022, Putin began the "military special operation" in Ukraine. This is how the Kremlin describes the brutal war against all of Ukraine to this day, in which the Russian army killed tens of thousands of Ukrainian civilians.
It was a speech full of propaganda lies - the only significant announcement Putin had saved for the end...
Putin puts the nuclear disarmament treaty on hold.
After over an hour, Putin spoke for the first time about nuclear weapons. And it was announced that Russia is pausing its participation in the New START agreement!
That means: Putin is putting the nuclear disarmament treaty on hold! The New START agreement is a disarmament agreement negotiated
between the United States and Russia to reduce strategic nuclear weapons delivery systems jointly gradually. New-START limits the number of long-range nuclear warheads they can deploy and restricts the
The agreement extension was signed in 2021 for a
In his address, the Kremlin dictator also said that Russia must be ready to resume nuclear weapons testing - but only if the US does.
Putin: West and the "Kyiv regime" responsible for the war
The Kremlin dictator had previously announced in his speech that Russia would "step by step (...) carefully and consistently solve the tasks ahead of us". The Donbas "believed that Russia could come to the rescue."
further five years. In August 2022, however, Russia's foreign ministry temporarily suspended nuclear stockpile controls under the deal. At that time, however, Russia
Russia did "everything possible to solve the problem peacefully." But "another scenario was being prepared behind our backs," Putin said at the beginning of his speech.
That means: Putin blames the West and the
use of missiles capable of carrying nuclear weapons.
said it would continue adhering to New START.
"Kyiv regime" – as he describes the democratically
22 March 8, 2023
PUTIN PUTS
Kremlin tyrant Vladimir Putin during his speech in Moscow
Kremlin tyrant Vladimir Putin
elected government of Ukraine President Volodymyr Zelenskyj (45) –for the war he started.
Particularly perfidious: "We are trying to end the war," said Putin. In his propaganda fantasy, Ukraine has waged war against Russianspeaking Ukrainians, funded by the West.
The West and the "Kyiv regime" alone are responsible for all the victims in Ukraine - not Putin's murderous army.
While the Kremlin dictator was still delivering his speech, Mykhailo Podoliak (51), advisor to Ukrainian President Zelenskyy, said that Putin had lost touch with reality.
"He is in a completely different reality where there is no opportunity to have a dialogue about justice and international law," Podoljak said on Tuesday. Instead, Russia is stuck in an impasse, and everything it does worsens things.
Russian state media collapsed during the speech.
Meanwhile, during the live transmission of Putin's speech in parliament, the websites of Russian state media collapsed. Reuters journalists at several locations could not access the State Television and Radio Corporation (VGTRK) website and live-streaming platform Smotrim during the speech.
A message on the VGTRK website
stated, "technical work is being carried out," while the Smotrim website could not be loaded.
According to the state news agency RIA Novosti, the outage resulted from a DDoS attack (Distributed Denial of Service). A
website is quickly flooded with requests, causing it to crash due to overload.
BATTLE FOR BACHMUT Putin threatens military embarrassment on the anniversary.
23 March 8, 2023
The view from the stage: Parliamentarians, military officials, and Putin confidants gathered in Moscow on Tuesday to listen to the Kremlin tyrant's speech
Mykhailo Podoliak (51), adviser to Ukrainian President Zelenskyy
THAT'S WHY EXPERTS FROM THE EUROPEAN UNION LEADERS AND PRESIDENT BIDEN FAILED
At first, hardly anyone wanted to believe that Putin would attack Ukraine - and when the war started, the heads of government in the western world thought Ukraine would lose it very soon.
Why were the experts of the heads of government of the European Union and US President Joe Biden (80) wrong?
Russia's army was strongly overestimated, and the Ukrainian military capacity was significantly underestimated - and
this failure had severe consequences because the belief in a quick defeat in Ukraine prevented the West from supplying Ukraine with heavy military equipment at an early stage.
Only after the Ukrainians were able to reject the Russian Mega convoy (64 kilometers) toward Kyiv did the government advisors check their previous predictions from Washington to Berlin. And according to a report by "Voice of America" (VOA) found three reasons for their stark misjudgments.
1. Hardly any knowledge of Russia, almost no knowledge of Ukraine
"Very few people understand Russia sufficiently, and even fewer people," Ukraine, "said Alexander Vindman, a director of European
affairs for the United States National Security Council. For example, they would have ignored that Ukraine had been with Russia in war since 2014.
For example, Western analysts have not taken into account the reform of the Ukrainian army since 2014 and rely too much on "anecdotal studies of the Ukrainian skills of 2014/2015", says George Barros, an analyst for Russia and Ukraine at the "Institute for the Study of War "In Washington.
"The majority of the western expert opinion was based on the stories that Russia has promoted in the past 30 years," said the Ukrainian ambassador to the USA, Oksana Markarova, in an interview with VOA. Russia is, therefore, a great military power, and Ukraine is a weak company that
would welcome Russian troops.
The Ukrainian-British political scientist Taras Kuzio said that posts Vic history is mainly based on the Russian perspective, so Russian stories had found their way into the western analysis— for example, the fairy tale of the east-west division in Ukraine.
These governments are usually experts in Russia. They believe they have a god-given right also to be experts for the other 14 republics of the former USSR, which is ridiculous. It doesn't happen anywhere else in the world. If you are an expert in Argentina, you are not an expert in Brazil or Mexico, "he said.
"Many in the West wrongly thought that Ukraine was just like Russia, but weaker, more corrupt and chaotic," said Orsia Lutsevych, head of the Chatham House Ukraine Forum, in an article for the newspaper "The Guardian." " Ukraine is by no means perfect, but more agile and decentralized than the autocratic and rigid Russian state."
2. Overlooked an important military factor
These governments are usually experts in Russia. They believe they have a god-given right also to be experts for the other
24 March 8, 2023
The Ukrainians were able to reject the Russian Mega convoy successfully
14 republics of the former USSR, which is ridiculous. It doesn't happen anywhere else in the world. If you are an expert in Argentina, you are not an expert in Brazil or Mexico, "he said.
"Many in the West wrongly thought that Ukraine was just like Russia, but weaker, more corrupt and chaotic," said Orsia Lutsevych, head of the Chatham House Ukraine Forum, in an article for the newspaper "The Guardian." " Ukraine is by no means perfect, but more agile and decentralized than the autocratic and rigid Russian state."
3. Limits of the analysis not recognized
"Military analysis is not a fortune telling," explained Michael Kofman, director of the program for Russian studies at the Center for Naval Analysis. Instead, some things need to be simplified to be predicted correctly.
"There was little knowledge of the defense plan of Ukraine and no indications of systematic preparation," said Kofman, who believes that Russia was not so overestimated but rather underestimated Ukraine.
Some factors that influenced what happened could not be accepted. For example, the strength of the Ukrainian society, or more difficult: how strongly the Russian secret service FSB would have permeated the Ukrainian elite.
But Kofman also says: "I think we were never seriously asked before the war how it could look when the USA supports Ukraine," he said.
25 March 8, 2023
Alexander Vindman worked as a director of European affairs for the United States National Security Council
The Ukrainian Ambassador to the USA: Oksana Markarova
26 March 8, 2023